We test and review fitness products based on an independent, multi-point methodology. If you use our links to purchase something, we may earn a commission. Read our disclosures.
Finding the best cardio machine for your home gym really comes down to your workout preferences. There are so many different kinds of cardio machines–rowers, ellipticals, treadmills, air bikes, stationary bikes, and ski machines. It would be almost impossible for us to pick just one overarching best cardio machine because each one does something different.
Our team at GGR, which consists of certified personal trainers, triathletes, marathoners, CrossFit L1 trainers, and elite athletes, have personally tested more than 100 cardio machines. We use an in-depth fitness equipment testing methodology to rate machines from 1 to 5 on factors that include:
Durability: We look for weight capacity of 300+ pounds, and we test machines at high speeds to note any shaking
Workout Programming: We favor machines that offer preset workout programs
Technology: We rate machines high for Bluetooth connectivity to apps, heart rate monitoring, and easy-to-operate consoles
Ergonomics: We assess how the machine feels and its ability to adjust to accommodate a variety of body types
We combine our personal experience with machines with factual knowledge of what makes a cardio machine great to settle on the below list of the best cardio machines.
The 15 Best Cardio Machines
Best Treadmill: NordicTrack Commercial 1750
Good for: People who want interactive programming with versatility
If you're looking for the best treadmill, the NordicTrack Commercial 1750 is it. Several people on our team have used it and gave it perfect 5 out of 5 marks for programming, durability, conveniences, technology, and ergonomics.
"I have personally tested probably two dozen treadmills, and the 1750 is still my favorite," says GGR's Head of Content Kate Meier. "Probably the coolest feature is decline training, something most treadmills in this price range don't offer."
The 1750 has a great -3% decline to 12% incline range as well as speeds of 0 to 12 MPH. Plus, it comes with a free 30-day trial of iFIT, which is interactive, live and on-demand programming for cardio workouts as well as strength, HIIT, yoga, and more.
iFIT is right up there with Peloton programming. There are hundreds of classes and you get to utilize all of them with the subscription. Once your free trial is up, you can continue with a family iFIT membership for $39 per month or $396 per year.
At just under $2,300, the NordicTrack Commercial 1750 treadmill isn't exactly a budget option. If you're looking for a more affordable version, check out our NordicTrack Commercial 1250 review, and you'll find a very similar machine at a slightly lower price point.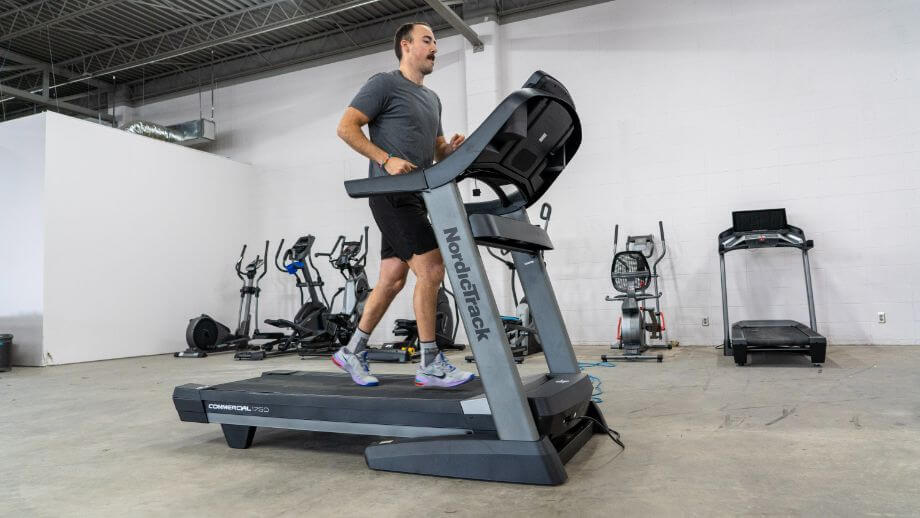 With the 1750, you're paying for two major components: the machine's technology and its exceptional construction.
Technology-wise, you'll find a 14-inch touchscreen, Bluetooth speakers, cooling fans, and app compatibility. The picture quality is nice and I like being able to see information about my distance, heart rate, calories burned, speed, and time elapsed.
In our testing, we found that there is also little to no shaking on this tread when running, even at high speeds. It features a spacious 22-inch-by-60-inch running surface, ideal for even tall runners. Also, there is a 300-pound weight capacity on this machine, which comes with a 10-year warranty on the frame.
I wouldn't recommend this treadmill if you're tight on space. The 1750 has a large footprint and is heavy at 339 pounds. You'll also need to make sure you're near an electrical outlet since it needs to be plugged in to work. I also wouldn't suggest the Commercial 1750 to those who don't want to pay additional money for interactive programming. Without iFIT, there are only a few free built-in workouts you can do.
For more on this machine, read my full NordicTrack Commercial 1750 treadmill review.
| | |
| --- | --- |
| Dimensions | 80" L x 38" W x 65" H |
| Weight | 339 lbs |
| Speed | 0-12 mph |
| Weight Capacity | 300 lbs |
Best Value Elliptical: Sole E25 Elliptical
Good for: People who want incline training on a budget
The Sole E25 elliptical is a little more than $1,000 and is a great value cardio option. This was one of the first machines we put through our elliptical testing methodology, and it remains one of our favorites even though it doesn't have all the bells and whistles other machines might have.
"You have great built-in workouts, as well as a place to hold a tablet if you want to watch something," says GGR Head of Content Kate Meier, who used the E25 for several workouts. "Conveniences like a fan and Bluetooth speakers are a deal at this price." handlebars or use the included Bluetooth heart rate strap.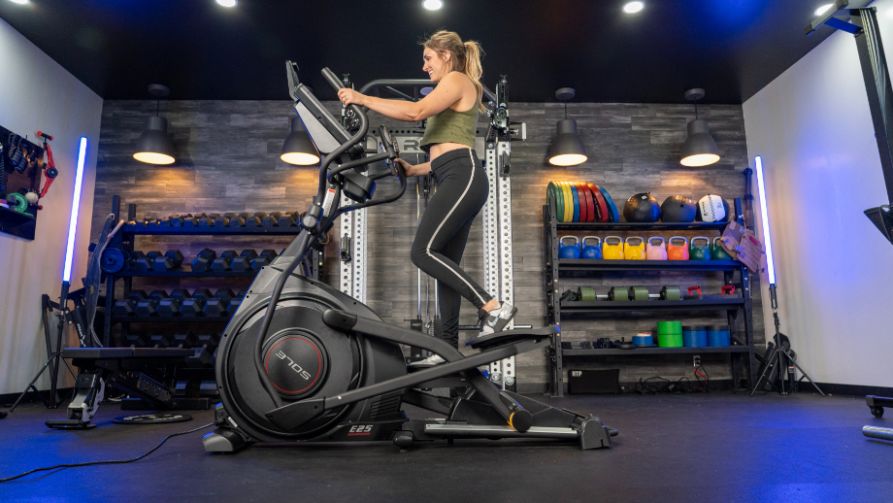 In 2022, Sole also partnered with Studio to deliver interactive programming, which you can stream from your own device. We haven't had a chance to try Studio yet.
Another impressive feature of this machine is a 350-pound weight capacity, which is above the industry standard of 300. The E25 also has a water bottle holder and plug-ins on the dashboard.
In our testing, we found this to be a quiet workout machine. We gave it a 4.5 out of 5 for ergonomics, because it comes with a long, 20-inch stride suitable for even taller people. The pedals are textured, which helps keep your feet from slipping, and there are two sets of handles—fixed and moving.
The E25 has a large footprint, so you'll need a dedicated workout space to use it. I don't think this is your best option if you're in an apartment or another small space. There are no included floor stabilizers, so the E25 moves ever so slightly when in use. It was definitely not major, but in the future, I'd love to see Sole include this.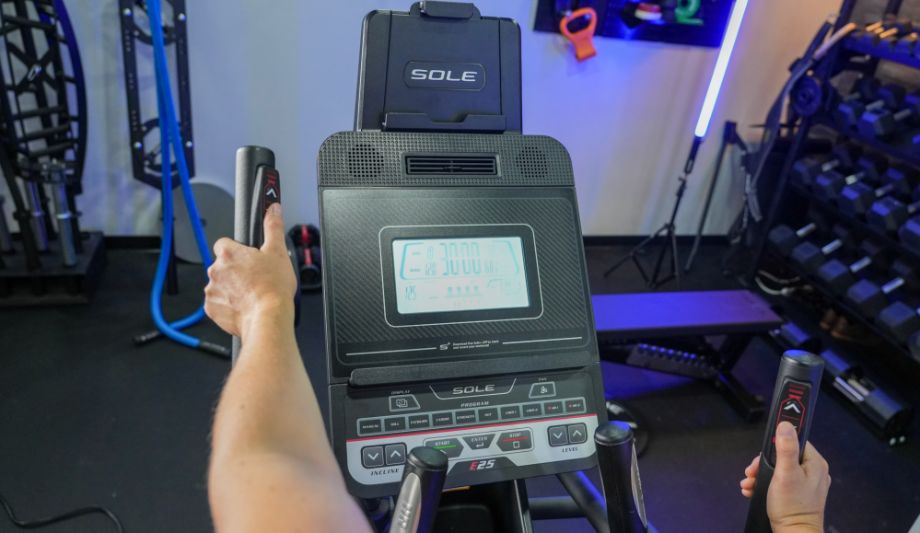 Kate put this machine together herself and found the assembly was very difficult and the instructions were unclear. I'd recommend getting a professional to assemble this if you can.
Even more details are over on my Sole E25 review.
| | |
| --- | --- |
| Dimensions | 71" H x 70" L x 24" W |
| Weight | 212 lbs |
| Resistance Levels | 20 |
| Weight Capacity | 350 lbs |
Best Folding Treadmill: Horizon 7.0 AT Treadmill
Good for: People who want an affordable treadmill that folds.
We formerly had the Sole F63 in this spot, which is a great machine, but due to a better price of under $1,000, the Horizon 7.0 AT takes the title. It folds using a hydraulic system, which means it won't slam to the ground and endanger anyone. The deck lifts and locks into place when not in use, which can save space.
"I was pleased with my overall workout experience," says Caroline Lubinsky, GGR product tester who gave this a 4.5 out of 5 in the workout performance category. "The deck of the treadmill is great, and the machine did not shake while in use."
The Horizon 7.0 has a lifetime frame and motor warranty plus overall durable construction, making it one of the best folding treadmills. There are a variety of nice conveniences that make this treadmill a great deal — a cooling fan, two speakers, a device holder, and a USB port to charge your devices
With a user capacity of 325 pounds, this treadmill supports a range of users. In testing, we also found the general setup to be very user-friendly and a good option for beginners. You just plug the treadmill into the wall, make sure the safety key is in place, and start one of pre-programmed workouts.
Horizon does not disclose motor size, but we do feel this is a machine that can handle running.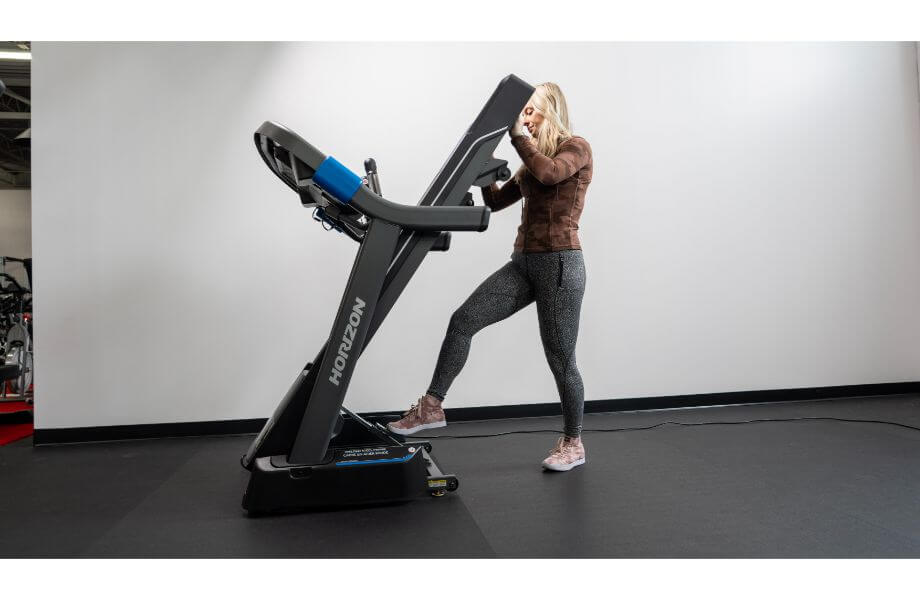 The 7.0 AT has a spacious running deck at 20 inches wide by 60 inches long, and I like how cushioned it feels. The speed range of up to 12 MPH is great for just about anyone, and you also get up to a 15% incline for hill training.
The lack of interactive programming can be a con for some people, but if you like doing your own workouts, you probably won't miss it. You can also sync this treadmill with apps like Zwift or Peloton and stream it from your own device.
Check out our full Horizon 7.0 AT Treadmill review.
| | |
| --- | --- |
| Dimensions | 76.5″ L x 36″ W x 59″ H |
| Weight | 2543 lbs |
| Speed | .5-12 MPH |
| Weight Capacity | 325 lbs |
Best Full-Body Workout Cardio Machine: Concept 2 SkiErg
Good for: Serious athletes that want a different way to get cardio.
Let me be clear – I don't think the Concept 2 SkiErg is the best cardio machine for most people. However, it is my personal favorite for people looking for a full-body workout, and I rated it a 4.5 out of 5 when it comes to ease of use because just about anyone can use this.
GGR's Head of Content found the SkiErg to be a great way to get her cardio in when she had a broken toe. "I couldn't run, rowing and biking hurt, but I really wanted to breathe hard, so I put a chair in front of the SkiErg at the gym, and I just kept pulling," she says.
It provides a challenging workout that engages a variety of muscle groups and increases your heart rate, making it one of the best cardio machines for weight loss. Also, it's used in the CrossFit Games, so it's just a badass machine to have in your garage.
The Concept 2 SkiErg is supposed to simulate Nordic skiing, which essentially translates to me pretending I'm in the winter Olympics multiple times a week. It sure does feel like you're doing an Olympic sport since you have to engage your core, arms, and legs to properly use it.
If you purchase the wall-mounted version of the Concept 2 SkiErg, it'll run you around $850. If you also want to purchase the floor stand, it's an additional $180. I personally would recommend purchasing the floor stand as well because it gives you more options as to where you can put the SkiErg.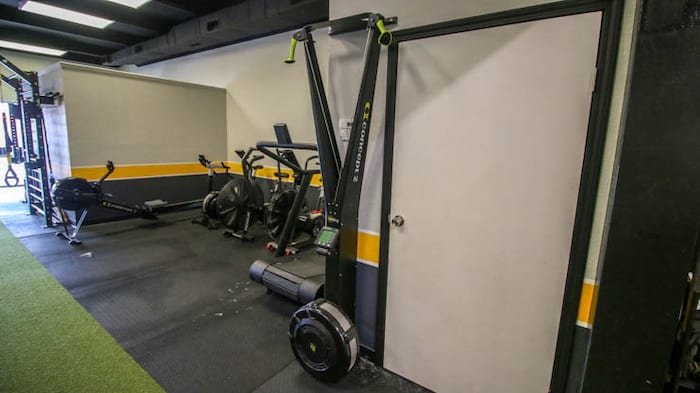 Before I used the SkiErg, I was worried my hands might slip due to sweat when using the handles but luckily Concept 2 thought of everything. The texture of the handles seems to prevent sweat from penetrating the material which helps improve your grip.
The monitor is an awesome tool to track your progress and keep you accountable. It certainly doesn't let you overestimate your workout. It tracks things like calories/hour, and projected time, plus has buttons to view the menu, display, and units.
Read our full Concept 2 SkiErg review.
| | |
| --- | --- |
| Dimensions | 21″ L x 19: W x 49″ H |
| Weight | 46 lbs |
| Resistance | Flywheel |
Best Exercise Bike: NordicTrack S22i
Good for: People who want the best exercise bike on the market today
With an overall rating from our expert testers of 4.5 out of 5, the NordicTrack S22i is one of the best exercise bikes on the market today. Although there are certainly better-value exercise bikes, the $2,000 NordicTrack S22i still packs a lot of bang for your buck, offering silent magnetic resistance for a quiet ride as well as a cooling fan.
However, its coolest feature is the incline and decline settings that help simulate outdoor bike rides, a feature that is rare on stationary bikes. Thanks to its compatibility with iFIT, changing speeds and incline can be controlled by the iFIT program, or you can do it manually.
"The adjustment feels smoother when controlled via iFIT than when done manually," says Kate Meier, GGR's head of content who personally assembled and tested this bike.
The iFIT programming is another reason why I love this bike so much. It rivals the Peloton app with its world-class programming. The instructors are thorough and engaging, the workouts are effective, and you'll never run out of options.
The 22-inch touchscreen is beautiful, and it fully rotates, which allows you to follow along for any off-bike workouts. Speaking of the screen, it's pretty big and weighs a lot, and causes some problems when you're trying to move the bike, Kate warns. On that note, the NordicTrack S22i weighs nearly 200 pounds and doesn't have a handle, so it can be difficult to move.
While I didn't have this experience, some of the GGR testers found the seat to be pretty hard. Kate, a certified personal trainer, says, "If that matters to you, you either might need to wear padded shorts or swap the seat out for a more comfortable option, though the slider-style seat rails might make finding a seat that fits difficult."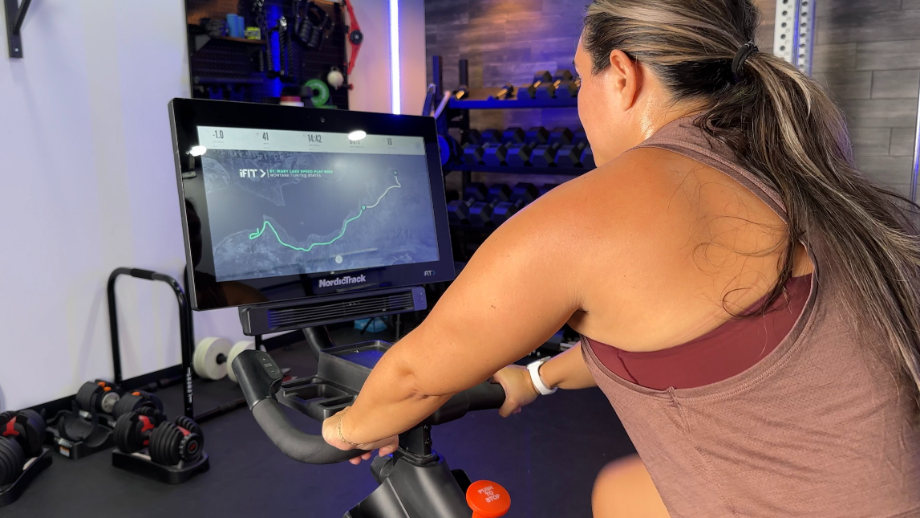 The assembly process is complex, as the large screen can be difficult to wire and attach on your own, Kate says. NordicTrack does offer professional assembly for an additional $199.
Read my full NordicTrack S22i review for my full thoughts on this bike.
| | |
| --- | --- |
| Dimensions | 63" L x 22" W x 60" H |
| Weight | 203 lbs |
| Resistance | 24 Digital Resistance Levels |
| Weight Capacity | 350 lbs |
Best Value Cardio Machine: Titan Fitness Fan Bike
Good for: People looking for a cheaper air bike with thoughtful features.
The Titan Fitness Fan Bike is under $700 and has a variety of extras that make this a great choice for people looking for a budget cardio machine as well as one of the best air bikes. This bike comes with a phone holder, fan guard, and water bottle holder for the users' convenience.
The first time I got on this bike, it reminded me of the AssaultBike. The construction and monitor is very similar. The Titan, however, comes with these huge front transport wheels, which make moving it much easier than moving the AssaultBike.
The durability of the Titan Bike is solid, earning it a 4.25 out of 5 on our rating metric. That's because it's made mostly of steel and has a high user weight capacity of 350 pounds. I also appreciate the little details Titan added such as the knurled handle and turf tires to make it easier to move around within my garage. You can also easily wheel the bike into your driveway as I do, and workout since it is user-powered and doesn't need to be plugged into the wall.
Similar to the Assault Air Bike, the Titan Fitness Fan Bike has a chain drive system. This is probably very familiar to you if you're someone who enjoys CrossFit workouts. The noisy chain drive system does require more maintenance over time because it has to be lubed and greased properly to work its best.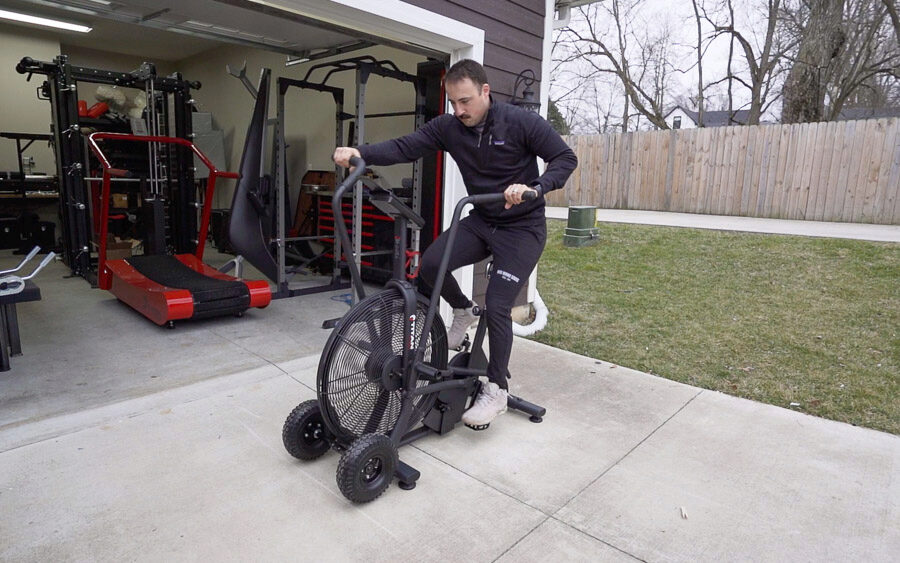 I'm not a huge fan of the monitor. It seemed to glitch occasionally and I found the buttons to be too small for my personal liking. I would definitely want to see Titan improve this feature in the future.
Check out my Titan Fan Bike review.
| | |
| --- | --- |
| Dimensions | 50.25" W x 20.375" L x 50″ H |
| Weight | 111 lbs |
| Drive system | Chain |
| Weight Capacity | 330 lbs |
Best Compact Elliptical: ProForm Carbon HIIT H10
Good for: People with a small amount of space who still want a heart-pumping cardio machine.
An elliptical is usually a very large machine, but the ProForm Carbon HIIT H10 gets a 4 out of 5 for its footprint, and makes it a great piece of compact exercise equipment. Its vertical design does make this more of a stair stepper rather than a gliding elliptical, but you still get a high-intensity, low-impact workout.
"You can only travel in that forward motion on this, whereas on a traditional elliptical, you can go backward," warns Nicole Davis, GGR senior editor who tested the H10.
(Looking for more compact cardio equipment? Check out our list of the best folding exercise bikes.)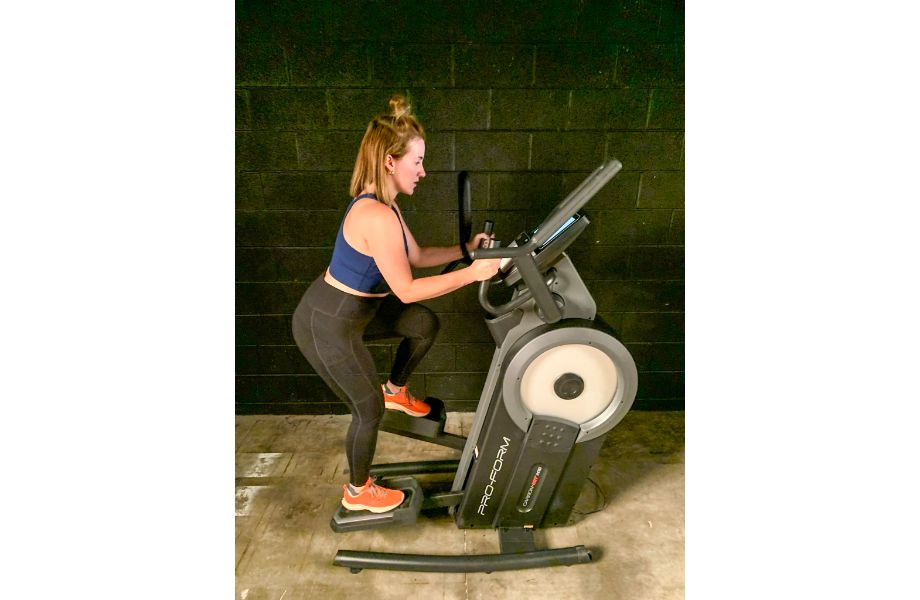 My prior choice for the best compact elliptical was the Bowflex M6, which I still recommend. Bowflex's machine is also more of a stepper. This type of workout will light up your quads and glutes.
When it comes to technology, this machine has a lot to offer: a 10-inch touchscreen, Bluetooth speakers, and pulse sensors to measure your heart rate.
"A 10-inch screen would normally feel kind of small, but I think because this is a compact machine and you're closer to the screen than you would be on a treadmill, it's not too bad," Nicole says.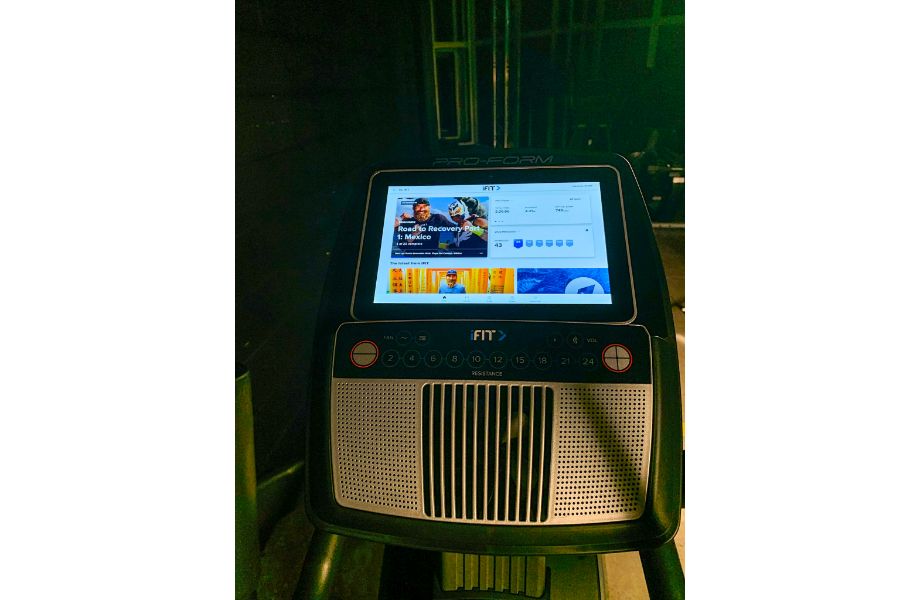 Another great feature is that this compact cardio machine is compatible with iFIT programming, which means you have access to thousands of live and on-demand workouts. During her workout, Nicole noted that the 24 levels of silent magnetic resistance are, in fact, pretty quiet. Also, when she took it to top speeds, she didn't notice any movement or wobbling.
For more, check out our in-depth ProForm Carbon HIIT H10 review.
| | |
| --- | --- |
| Dimensions | 52″ L x 29.25″ W x 66.7″ H |
| Weight | 225 lbs |
| Resistance | 24 levels of silent magnetic resistance |
| Weight Capacity | 325 lbs |
Best Non-Motorized Treadmill: AssaultRunner Pro
Good for: People who want a durable treadmill that will help improve their form.
Non-motorized, curved treadmills are awesome tools for correcting running form issues and controlling your own pace. The AssaultRunner Pro is one of my favorites and it's on this list because it scores a perfect 5 out of 5 for value due to its more affordable price point and overall durability.
I have used just about every single one of the machines from Assault, including the Assault Elite, which has a better construction than the Pro but a much higher price tag.
The belt is made of rubber slats and helps your shoes get a good grip on the deck. The way the treadmill dips helps you be mindful of striking mid-foot when running. I like how smoothly the belt moves when in use. I don't anticipate having to do much maintenance on the belt or deck, which is much more than I can say about any motorized treadmill I've ever owned.
At around $3,000, the AssaultRunner Pro is surprisingly the budget alternative to the $6,000 TrueForm Runner. The TrueForm Runner is essentially bomb-proof. Okay, not really, but if the world was to end, I firmly believe cockroaches and all TrueForm Runners would be left unscathed.
RELATED: TrueForm Trainer review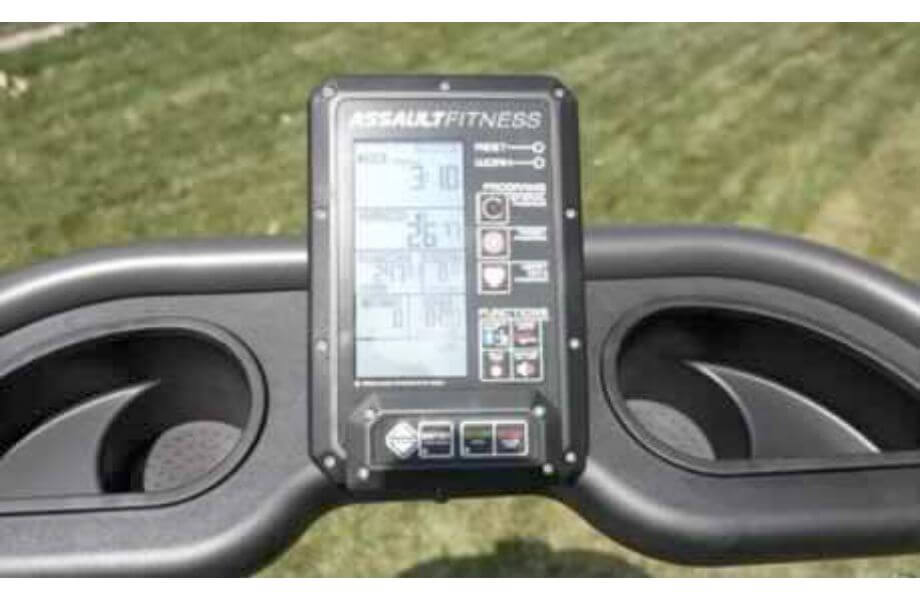 The AssaultRunner Pro has a solid steel frame but has plastic pieces that I normally would feel uneasy about. However, since the base is metal, I feel good recommending this piece durability-wise for a home gym owner. Also, the plastic means this is lighter weight. Though this weighs hundreds of pounds, it comes with transport wheels and a handle, so it is actually easier to move around than you would think.
The monitor is extremely simple. You won't find a touch screen or any interactive programming but that's probably not why you want a non-motorized treadmill. The only stats you'll see are speed and distance traveled. However, the machine is now compatible with the Assault app and Zwift, and it has Bluetooth and ANT+ compatibility.
Read more in my full AssaultRunner Pro review.
| | |
| --- | --- |
| Dimensions | 69.9" L X 31.7" W X 64.4" H |
| Weight | 289.2 lbs |
| Belt Lifetime | 150,000 miles |
| Weight Capacity | 350 lbs |
Best Luxury Cardio Machine: Hydrow Rower
Good for: People who want a well-designed luxury piece of cardio equipment.
I don't say this often, but the Hydrow Rower is a beautiful piece of cardio equipment. The lines are sleek, and the 22-inch touchscreen adds to the air of luxury surrounding this rower.
We rated this a perfect 5 out of 5 in customizations, programming, and tech capabilities. Hydrow has interactive programming, though it's an additional cost of an extra $456 per year. You get 2,000+ workouts to choose from. I like that rowing is just a part of the digital experience, and you can do yoga, strength training, and pilates classes as well.
The graphics for the classes are high-definition and you can view stats like distance, calories burned, time remaining, and class rank when competing with other Hydrow users.
Starting at $2,500 and going up from there, this isn't a cheap option. However, if you can afford it, it's really fun to use and delivers a full-body workout that uses a variety of muscle groups. If you're looking for a Hydrow discount code, we can help.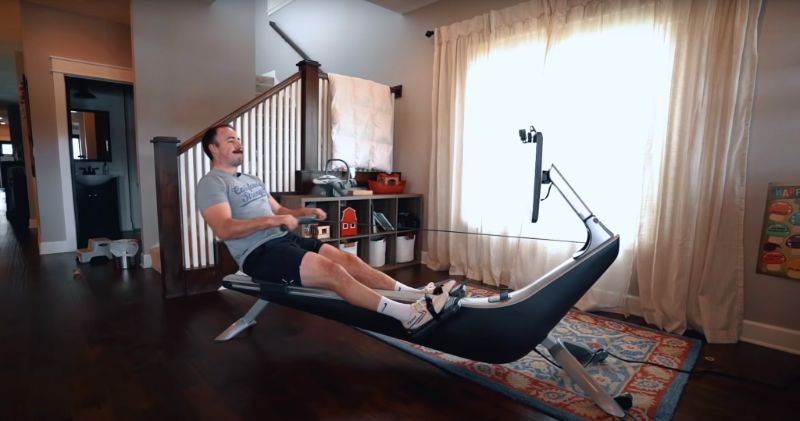 With a weight capacity of 375 pounds, the Hydrow can give a variety of users a high-intensity, low-impact workout. The electro-magnetic resistance is quiet and smooth compared to air resistance that a lot of other rowers use.
I like that the footbeds can be adjusted depending on the person using the rowing machine. The grips are also ergonomically friendly because they're designed to give you a comfortable place to hold.
Check out my full Hydrow Rower review.
| | |
| --- | --- |
| Dimensions | 86″L x 25″W x 47″H |
| Weight | 145 lbs |
| Resistance | Dynamic and responsive computer-controlled resistance |
| Weight Capacity | 375 lbs |
Best Space-Saving Cardio Machine: Echelon Stride Auto-Fold Connected Treadmill
Good for: People who have limited space but still want a great cardio workout.
Plenty of people want the best cardio machines in their home gym, but space can often be an issue. One of the main reasons I like the Echelon Stride Auto-Fold Connected Treadmill is its ability to fold and be moved easily.
Kate Meier, GGR's head of content, owns the Echelon Stride and keeps it on her three-season porch. "I just fold it up and put it against the wall when I'm not using it," she says.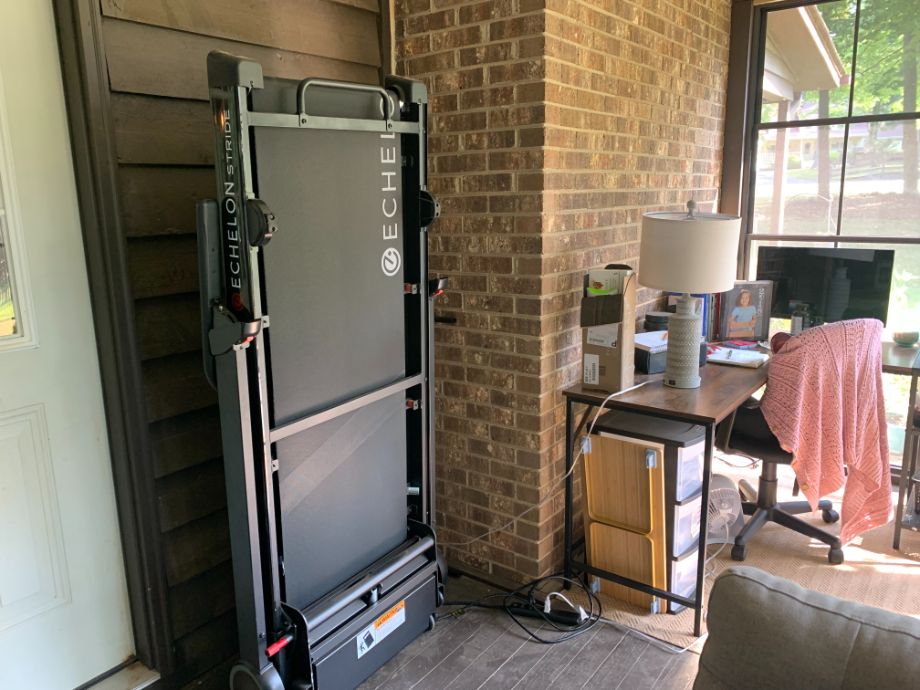 The Echelon Stride can actually fold completely flat to 10.25 inches in depth. "It can fit under my bed," Kate says. It is also 156 pounds and comes with transport wheels, which Kate says make it easy to move around a flat space, but lifting it up stairs requires two people.
The treadmill essentially comes almost fully pre-assembled. Kate says the hardest part of the assembly process was getting the well-wrapped box open. From start to finish, the entire process took her 10 minutes.
Echelon has its own dynamic programming subscription that you can pair with the Stride called Echelon Fit. For $39.99 per month or $33.33 per month for a year, you get access to a variety of classes – some include the bike and others like yoga or kickboxing require no equipment. I like that there are options to do live classes (like Peloton), on-demand classes, and compete with friends and family who also use the Echelon Fit app.
Keep in mind that for the streaming programs, you have to utilize your own tablet or phone because the Stride doesn't have a built-in touchscreen.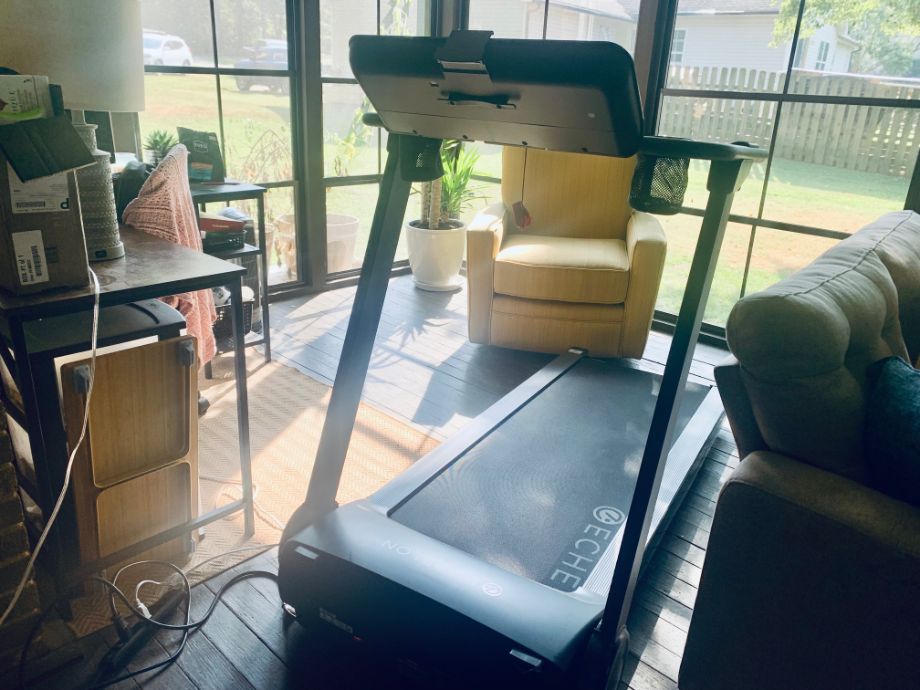 There are preset workouts on the Stride, though Kate says she usually just keeps it in manual mode and adjusts the speed and incline using the buttons on the handrail.
The LED display shows stats like time, incline, calorie burn, distance, and pulse while you workout. I think this gets the job done but I would prefer a touchscreen.
With a 1.75 continuous power motor, the under-$1,300 Echelon Stride only gets a 3 out of 5 on durability for us. It is ideal for walkers and joggers, but not quite for a serious runner, as Kate says it shakes a lot when she runs on it. Generally speaking, you want a motor of at least 3.0 continuous power to do sprinting intervals or vigorous running.
For more on this treadmill, check out my full Echelon Stride review.
| | |
| --- | --- |
| Dimensions | 69.3″ L × 31″ W × 49.2″ H |
| Weight | 156 lbs |
| Speed | 0-12 MPH |
| Weight Capacity | 300 lbs |
Best Under-Desk Cardio Machine: WalkingPad Folding Treadmill
Good for: Those who want to walk while they work 
For those who like to multitask, using one of the best under-desk treadmills is a way to get in your steps as you work. The WalkingPad Folding Treadmill is small at just 57 inches long, and it's easy to move because it only weighs 66 pounds. Beyond that, it will literally fold in half, like a sandwich, so if you don't want to use it, it's easily stowed under a bed or in a closet.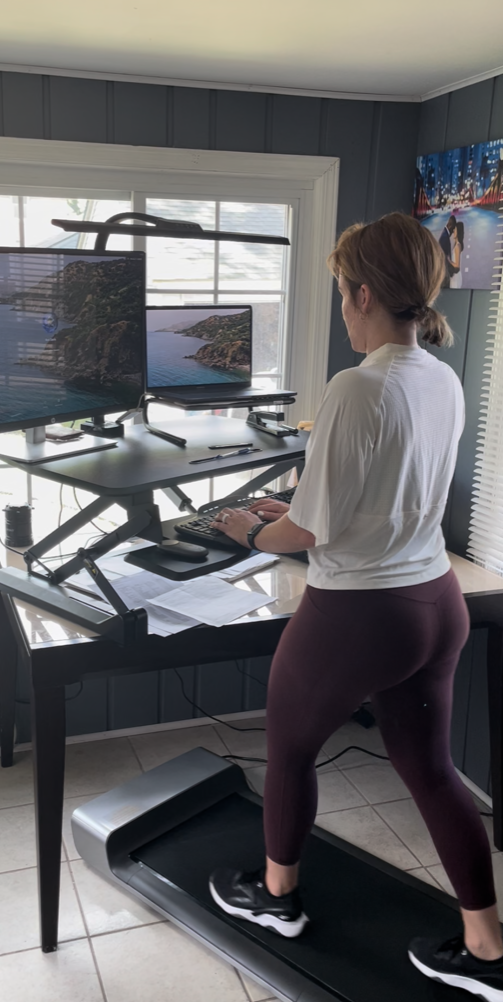 Nicole Davis, GGR senior editor and certified personal trainer, owns the WalkingPad Folding Treadmill. "It feels pretty sizable," she says, even though the walking surface on this machine is only 47 inches long. "It's comfortable for me, but my husband has also used it comfortably, and he's 6 foot, 2 inches."
When we put treadmills through our in-depth testing, we typically look for high speed ranges, incline, and a cushioned deck. Because of the nature of this machine, you won't get any of those things. The speed goes up to 4 MPH, and it doesn't have any incline. However, that's perfectly suitable for a walking treadmill.
Also, Nicole did give it a perfect 5-out-of-5 score on assembly because it ships free with Amazon Prime. You don't have to assemble it; you just unbox it and plug it in.
The WalkingPad works comes with a remote to make speed adjustments. It also has sensors that adjust your speed based on where your foot strikes; the brand says the belt turns faster if you walk toward the front of the machine, and slower if you're walking toward the back.
"I used this, and it did seem to work," says Nicole. "However, I was more comfortable using it at a fixed speed because I was using my laptop while on it."
| | |
| --- | --- |
| Footprint | 57″ L x 20.3″ W x x 4.9″ H |
| Weight Capacity | 220 lbs |
| Speed | 0.5 – 4 MPH |
| Weight | 66 lbs |
Best Exercise Bike for the Money: Schwinn IC4 Indoor Cycling Bike
Good for: People who want a cheaper indoor cycling alternative to a Peloton.
For under $1,000, the Schwinn IC4 is a solid purchase and one of the best exercise bikes if you're looking for a Peloton alternative. The flywheel on the IC4 is a hearty 40 pounds, which is slightly bigger than the 38-pound one found on the Peloton bike. This means the ride will be smoother because you can increase your momentum easier.
In testing, we found that this bike is incredibly sturdy, even at top speeds. We gave it a 5 out of 5 for durability after performing workouts that required sprinting, standing, and leaning over the handles.
RELATED: Peloton Bike Review
Extras-wise, the IC4 does have dual water bottle holders, 3-pound dumbbells with holders, and a device holder. These are all nice additions for a bike in its price range.
Although there is not an included touchscreen to view programming on like on the Bowflex Velocore, however, you can put your own phone/tablet in the device holder. I really like that you can specifically hook up apps like Peloton or Zwift to the bike in order to keep track of your cadence. You can get the Peloton experience for a few hundred dollars cheaper.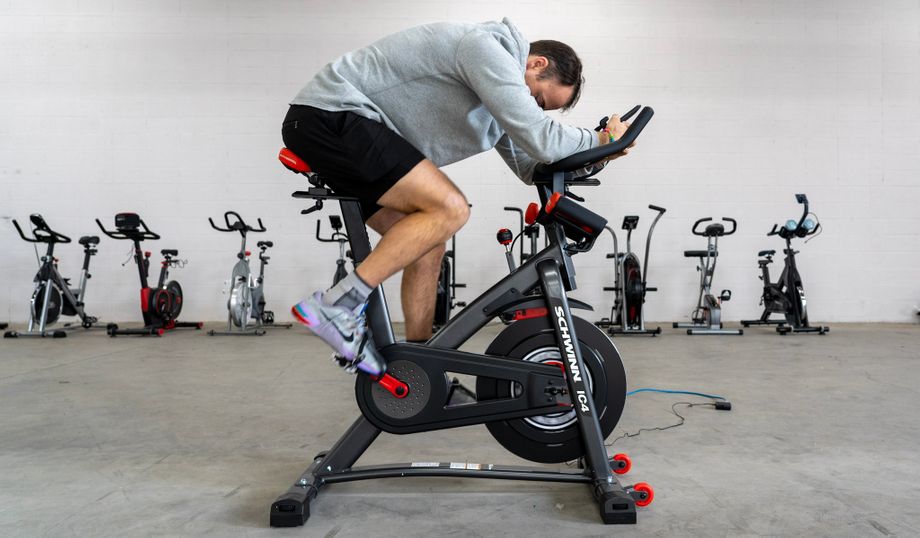 The IC4 is only 106 pounds, so it is easy to move with the attached wheels. I appreciate the dual-sided pedals – one side has a place to clip-in cycling shoes and the other side is caged for sneakers. Similar to the Carol Bike, where you don't have to buy separate shoes (like you have to do with a Peloton), so I like that there are both options present.
The LCD monitor is small and basic. It displays a few metrics but isn't exactly knocking it down in the technology department. You do get an included heart rate monitor with the purchase of the IC4, which I think is a nice addition if you don't already have a wearable fitness tracker.
Our full Schwinn IC4 review gives even more information on this bike.
| | |
| --- | --- |
| Dimensions | 48.7" L x 21.2" W x 51.8" H |
| Weight | 106 lbs |
| Resistance | 100 micro-adjustable levels |
| Weight Capacity | 330 lbs |
Best Air Bike: Rogue Echo Bike
Good for: People that want a durable and long-lasting air bike
I've had the Rogue Echo Bike in my personal training gym for almost two years. During that time, tons of people of various weights have used and abused it. However, it looks the same as the day I got it. Even better, I haven't done any maintenance on it and it runs perfectly fine. Plus, CrossFit just announced that the Echo Bike has replaced the Assault Bike as the official machine of pain for the sport. So if you do CrossFit, having an Echo Bike around is a good idea.
The under $900 Echo Bike has a belt-drive system versus a chain-drive system so it is a lot quieter than other air bikes. I like the knurled pegs for your feet if you want to only use your upper body.
This is a super durable bike made of metal and earned an almost-perfect 4.8 out of 5 rating for its construction. At almost 150 pounds, it's a hefty weight too. You can expect to use it and not worry about it shaking or moving when in use.
I like the sleek black-powder coat that Rogue chose for the Echo. It blends in well in a variety of home and garage gym setups and oozes cool. I would recommend this air bike to pretty much anyone looking for a long-lasting piece of cardio equipment. Due to its longevity, this bike is one of the best air bikes out of these in my opinion.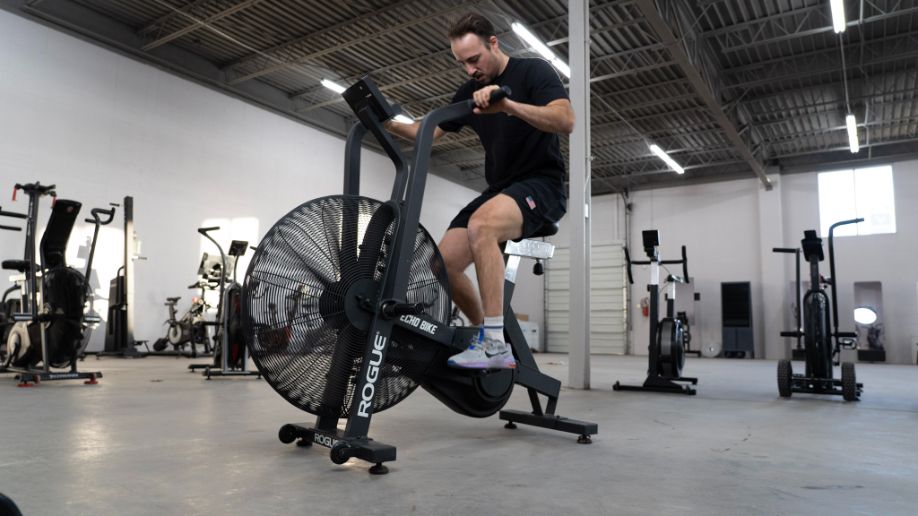 I would like to see multiple grip options on the bike, but that is more of a personal preference. The monitor is pretty basic and shows things like your heart rate, calories burned, intervals, and targets you want to hit.
Check out my full Rogue Echo Bike review.
| | |
| --- | --- |
| Dimensions | 58.8" L x 29.8 W x 52.75 H |
| Weight | 127 lbs |
| Drive system | Belt |
| Weight Capacity | 350 lbs |
Best Rowing Machine: Concept 2 RowErg Rower
Good for: A serious rower who needs durability and quality.
Rowing workouts are some of the best cardiovascular activities because you're engaging all parts of your upper and lower body including your hamstrings, quads, core, lats, and glutes. The Concept 2 RowErg (formerly called the Model D Rower) is a favorite amongst serious and novice rowers because it is commercial-grade and easy to use.
"I've logged probably thousands of miles on the RowErg," says GGR Head of Content Kate Meier, who has owned her Concept2 for nearly five years. "It still operates just as well as it did on Day One."
The star of the Concept2 RowErg show is the PM5 performance monitor. No, it's not a fancy touchscreen, but it does have preset workouts, all the metrics you could ever want, and even games to play. Metrics include the usual time, distance, and pace, but you can also get stroke rate, watts, meters, calories, and more. Additionally, you have the ability to change up the way the screen presents the information depending on what numbers you want to see.
This is an air resistance rower, so it isn't quiet; there is a steady "whoosh" as you pull the handle toward you, engaging the flywheel. While there aren't technically resistance settings, there is a damper on the side of the flywheel that controls how much air is allowed into the wheel; the higher you push the damper, the more challenging it may be to row.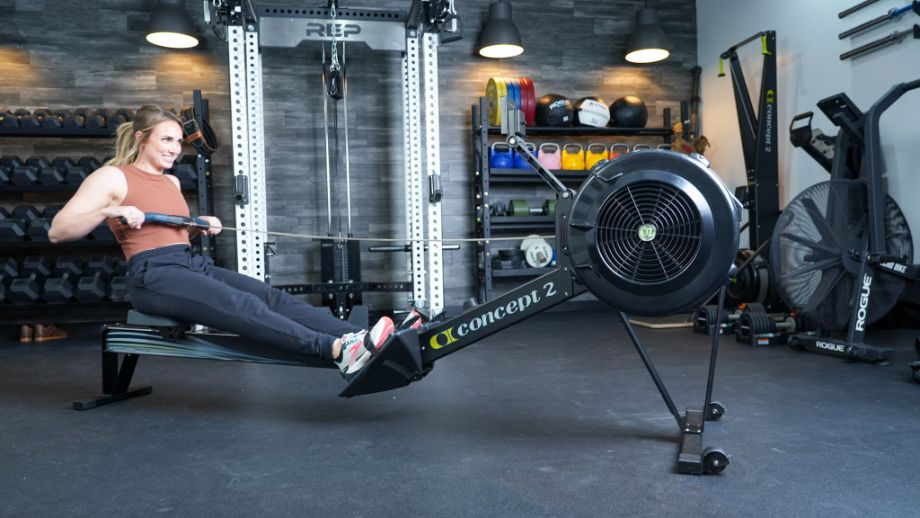 We gave this a 4.75 out of 5 for construction, only knocking the Concept2 because it uses a chain, not a belt, though in our experience, the chain is very smooth. Chains typically require more maintenance than belts. ("I have never once maintained the chain on my rower, and it's still great after five years," Kate admits.)
The seat features a curved ergonomic design, though it isn't padded. Some people may find the seat to be hard, though Kate says she has done multiple 5K rows without issue. The footrests are adjustable, so you can move the heel up or down so the strap can be tightened over your foot in the appropriate place.
Lastly, we love that this rower is light and moves extremely easy over carpet, rubber flooring, and hardwood, thanks to the front transport wheels. It's also easy to store upright when not in use.
Get an even deeper look at this rower over at our Concept 2 RowErg review.
| | |
| --- | --- |
| Dimensions | 95″ L x 24″ W x 14″ H |
| Weight | 57 lbs |
| Chain/Cord | Nickel-plated steel |
| Weight Capacity | 500 lbs |
Best Vertical Climber: CLMBR
Good for: Those looking for a unique cardio machine with great interactive workouts
Vertical climbers provide some of the most effective and intense cardio workouts out there because they work just about every major muscle group while raising your heart rate. Luckily, the folks at CLMBR thought to include some of the best music options we've seen in any piece of exercise equipment, so at least you'll have some tunes to accompany your sweat session.
You'll certainly feel the burn on this machine, but that burn won't be felt in your joints since vertical climbers are low-impact, especially when compared to running.
To address the elephant in the room, yes this machine starts at $3,500 and requires a monthly subscription to access all the features (most high-end cardio machines require some sort of membership). But GGR product tester and fitness writer Caroline Lubinsky thinks it's well worth it.
"I was really impressed with the CLMBR," she says. "Construction-wise, the CLMBR felt durable and sturdy."
Our only caveat is vertically gifted people may find it difficult to use this climber comfortably (GGR product tester Anthony O'Reilly, who's 6 feet, 3 inches tall, felt like he couldn't get into a good stride on it).
Take a look at our full CLMBR review for more on this machine.
| | |
| --- | --- |
| Dimensions | 35″ L x 32″ W x 88″ |
| Weight | 180 lbs |
| Resistance | Discrete magnetic resistance; 11 settings |
| Weight Capacity | 350 lbs |
Other Cardio Machines We've Tested
To be perfectly honest, we have tested far too many machines to list them all here. However, we can provide a list of our favorite cardio machines based on certain specifications.
How We Picked and Tested the Best Cardio Machines
It's hard for us to compare a rower and a treadmill, or an elliptical and a bike, because these are inherently different machines, and therefore, they are all rated differently. However, there are some commonalities we look at in cardio equipment in general.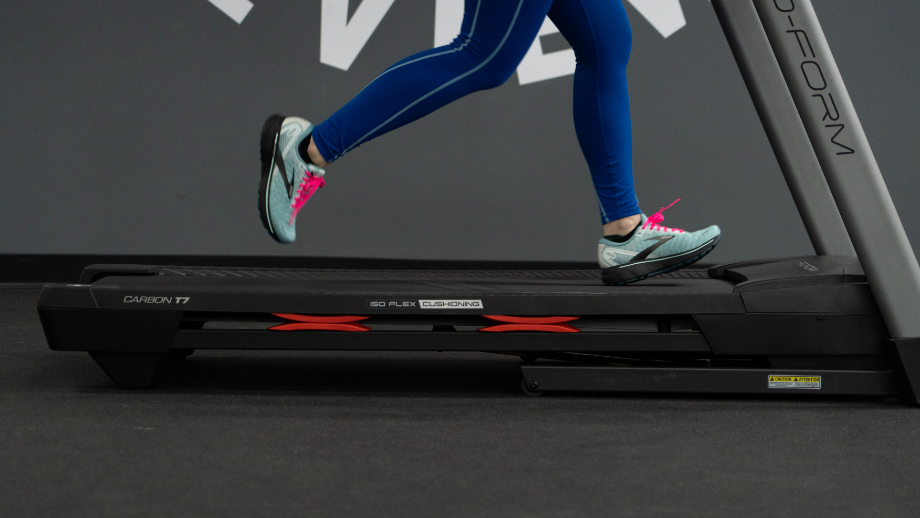 We started with our full testing lists of all cardio machines, which means we were looking at hundreds of pieces of equipment. We narrowed those lists down into the best in each category, based on rating scores of 1 to 5 these machines received in categories such as:
Footprint and Portability
Because we write for home gym owners, we know that space matters. Cardio machines tend to be large pieces of equipment, so we favor those that fold, can be easily stored, and those that can be easily moved around a space.
Workout Experience
We have personally used each of the machines on this list, rating it for its ability to deliver a good workout for users at all fitness levels. We evaluate the feel of the machine, how smoothly it operates, how loud or quiet it is, and anything else we notice during our workout.
Durability
There are a few ways we test the durability of a machine. First, there are objective facts, like the materials used in construction and the user weight capacity. We also gauge how the machine feels using it at high speeds or if there is any wobbling during use.
Customizations
Customizations look different on each machine: speed range on a treadmill, incline on an elliptical, resistance on a bike. We evaluate the range of options users have and favor machines that provide automatic changes through those ranges.
Ergonomics
Cardio machines that can accommodate a range of users (meaning, a range of body types) is an important factor for us. We like to see adjustable seat heights, foot straps, wide running surfaces, and other indications that the machine can work for most people.
Value
Because we are in the business of reviewing cardio machines, we understand price points and what people can expect if they pay a certain amount for a product. We assess whether the price is right, or whether our readers should save their money.
Benefits of Cardio Machines
There are tons of benefits as to why you should do cardio. Here are a few of my reasons:
"Exercise gives you endorphins. Endorphins make you happy. Happy people just don't kill their husbands, they just don't." Okay sorry, Mean Girls reference. Elle Woods is right though, doing exercises like cardio do give you endorphins!
It can be fun (That's how I feel about the Ski Erg at least)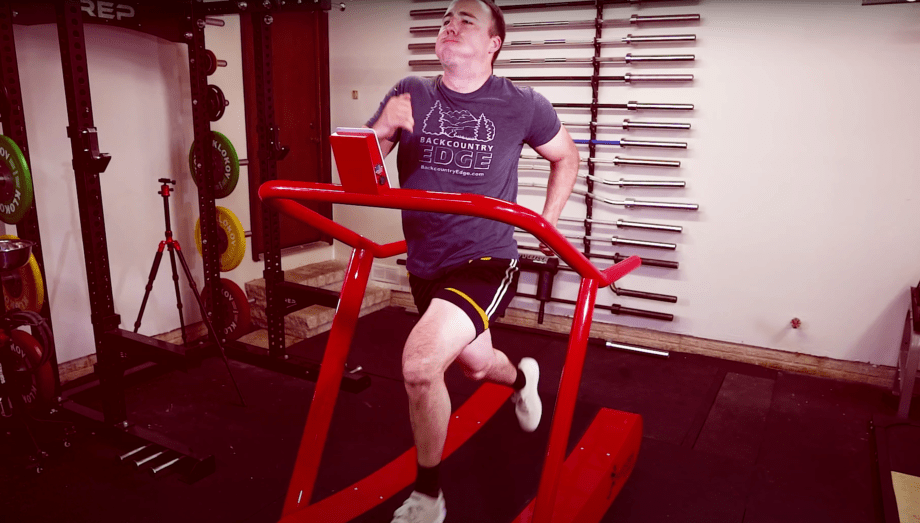 How to Find the Best Cardio Machine
Even with me kindly narrowing down the dizzying amount of cardio machines for you (you're welcome), you still might not be 100% sure which one of the 12 you want to purchase. Here are some things to consider:
Technology
Do you like having interactive programming with your cardio machine, or do you prefer to do your own thing? This is an important question to ask yourself because some of the machines are only worth their price tag if you want to utilize compatible programming. Other machines may be a better buy for you (like the Concept 2 Model D) if you prefer doing your own thing versus wanting to follow along with a class (like you would get with the Hydrow).
Price
The prices of the 14 best cardio machines on this list vary greatly between $600-$4,000. I would recommend figuring out what you can afford or seeing if the piece of equipment you really want has a financing option available.
Your Goals
If your goal is to find a treadmill that can support your sprinting intervals, don't pick a treadmill with a motor weaker than 3.0 CHP. Make sure you have a clear idea in mind with what you hope to achieve with your new cardio machine.
Space Considerations
"Measure twice, cut once," as the old saying goes. In this case, measure twice, and buy once. Make sure you know how much space you have to work within your home before buying a treadmill, stair stepper, or stationary bike that has a bigger footprint than you can handle. (Want to make the most of your space? Check out something like the ProForm Hybrid Trainer, which is an elliptical and a bike all in one!)
RELATED: Exercise Bike vs Treadmill
Enjoyment
If you hate using the Stairmaster or dread riding recumbent bikes, don't buy them! That seems obvious, but I've seen people buy cardio equipment that they knew they didn't enjoy using and ended up having an expensive place to throw things on top of in their garage. Try out a variety of cardio equipment and decide what seems like the best and most enjoyable method for you. You may be lucky enough to find something you love as much as I love my Ski Erg.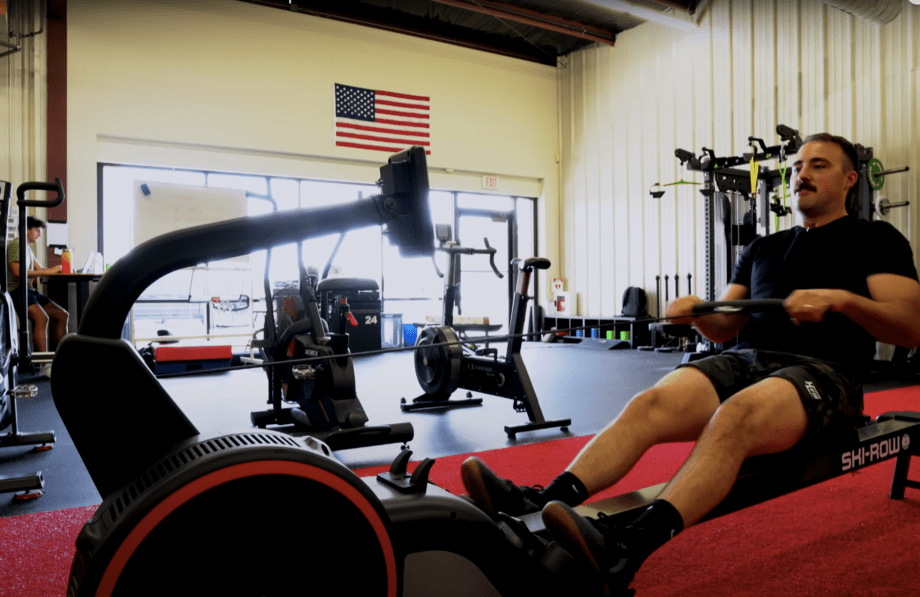 Best Cardio Machine FAQs