We test and review fitness products based on an independent, multi-point methodology. If you use our links to purchase something, we may earn a commission. Read our disclosures.
Although Peloton has been around since 2012, the company can truly thank the pandemic for making it a household name. Its connected fitness equipment, namely its Peloton Bike, made ditching the gym membership and working out at home cool for many people and has truly revolutionized the home fitness industry.
The product that started it all—the original Peloton Bike—allows you to hop on and experience an immersive, motivating cycling class from the comfort of your home gym. This bike isn't exactly considered a budget exercise bike, but in our Peloton Bike review, we're going to give you our honest opinion about the bike that transformed indoor cycling. Is this smart bike worth the hype?
Editor's note: Peloton in May 2023 announced a voluntary recall of all original Peloton Bikes sold from January 2018 to May 2023 because of a defect with the seat post that causes it to break while in use. Peloton has identified 35 reports of broken seats, resulting in 13 injuries including a wrist fracture, lacerations and bruises.
The original Peloton Bike can be identified by "its PL-01 model number on the label located on the inside front fork (near the flywheel), the red 'P' logo followed by the white-colored' 'Peloton' brand name on the Bike's frame, and by its non-swivel display."
If your bike is impacted or if you have any questions, call Peloton's support team toll-free at 866-679-9129 from 6 a.m. to 12 a.m. ET, 7 days a week or by visiting onepeloton.com and clicking on Product Recalls at the bottom of the page.
How We Tested the Peloton Bike
We've been going HAM on exercise bikes. In fact, our team of expert product testers—who are also certified personal trainers and CrossFit coaches—has easily tested more than two dozen of the best exercise bikes and researched dozens more. We know where the bar is set for bike functionality and performance, as well as interactive programming and more.
Plus, rest assured that just because Peloton is a darling of the fitness industry, doesn't mean we won't give you our honest opinion about its OG bike. It's an investment, and we want to ensure that you're spending your hard-earned dollars on something that's worth it for you.
What is a Peloton Bike?
It's no secret that Peloton has been going through some changes lately. From a scary recall of the Peloton Tread to wide-ranging layoffs, to a drop in the price of the Bike plus an increase in the monthly subscription price in mid-April, the company is trying to find its footing post-pandemic high.
Rewind to mid-2020, and Peloton had announced that its sales had surged a whopping 172 percent. And even in the first few months of 2021, the company was struggling to keep up with demand for its bikes as more and more people saw them as a solution to keeping active amidst shutdowns.
But just as quickly as it rose, it fell. In August 2021, Peloton slashed the price of its bike from $1,895 to $1,485, trying to hedge decreasing demand. And then once again, in April 2023, the price of the Bike dropped again, down to $1,195. Since then, the price has gone back up to $1,445.
Despite this trend, the Peloton Bike remains one of the most iconic and trending pieces of digitally integrated fitness equipment on the market, and in our Peloton Bike review, we're going to give you our honest opinion.
With all the stationary bike benefits, and to get right to the point, our hot take is this: While the Peloton Bike itself is pretty good, the interactive programming is even better.
Before You Buy
The Peloton requires Delta-compatible cycling cleats.
You'll want to budget for the monthly subscription to get ultimate functionality out of the bike.
Take full advantage of the class offerings off the bike, too, to really get the most bang for your buck.
Be prepared for shipping delays—or even customer service delays—as Peloton continues to navigate rapid changes.
Peloton Bike Video Review
Is the Peloton Bike Worth It?
I'm just going to say it: While we don't love everything about the bike itself, the experience that you get when you ride on a Peloton is top-notch. However, it's an investment. Here's who I think a Peloton would be good for, and who I think should pass.
Great for:
A rider who wants to replicate the boutique cycling class experience at home
People who like competition
Those who are invested in cycling as a form of exercise
Not recommended for:
Someone who wants a budget exercise bike
A casual rider
Super tall people
Peloton Bike Specs
| | |
| --- | --- |
| Footprint | 59" L X 53" H X 23" W |
| Weight | 135 lbs |
| Weight capacity | 297 lbs |
| Height range | 4'11" to 6'4" |
| Display | 21.5-inch HD touchscreen |
| Resistance | Magnetic with manual knob |
| Frame | Welded steel, ED & powder coated |
| Flywheel | 38 lbs |
| Drive | Belt |
| Pedals | Delta-compatible aluminum |
| Seat | Vertically and horizontally adjustable sport series saddle |
| Handlebars | Vertically adjustable |
| Subscription | Yes, $44 monthly |
| Live programming | Yes |
| Sound system | 2-channel rear-facing stereo system |
| Tech extras | Video camera, microphone, USB microport, headphone jack |
| Warranty | 5 years frame, 12 months touchscreen, components, pedals, and labor |
Workout Experience on the Peloton Bike
Having read and heard so much about Peloton before actually testing its bike, I had an idea in my head of what kind of experience I was about to have. And honestly, I have to say that it lived up to the hype.
After adjusting the seat and handlebars, connecting my AirPods (which actually took some messing around with), and choosing my ride, I was ready to rock. My first class was with Tunde, and I loved it—the playlist, her energy (and stamina!), and surprisingly, the leaderboard. During the HIIT class I took I got my cardio in, my legs were on fire, and I gave a Peloton high five to some fellow riders. Let's take a closer look at the whole shebang below.
RELATED: HIIT Bike Workout
Setup
We ordered our Peloton Bike and it took about a month to get delivered, which isn't Prime Delivery on Amazon, that's for sure. Delivery windows vary based on how busy they are, so you may experience a speedier process all together. Delivery and setup of your Peloton Bike costs an extra $250, and that's automatically tacked onto the purchase price.
Our Operations Manager Sam "AsSAMbly" Presley was particularly enthused about the Peloton Bike assembly because for once, he didn't have to do it.
"The delivery guys had it built when they got here except for the screen," Sam says. "It took them about 15 minutes to put that on, but overall it was a great experience for us and I think it will be great for most people."
After the bike is assembled and connected to your WiFi network, you'll also want to ensure that the seat and handlebars are at the appropriate height for you, so take some time to do this before you hop on for your first ride. Peloton has a great video to guide you through this process if you need help.
It's worth noting that the Bike Basics package doesn't come with a bike mat. You'll probably want to order one separately, especially if the bike will be inside your house somewhere, like in your living room.
Footprint
The Peloton Bike measures 59 inches long by 53 inches high by 23 inches wide and has a 4-foot-by 2-foot footprint. Not bad, right? The Peloton Bike may be a good choice if you're really tight on space, but for those people, also check out one of our best folding exercise bikes.
RELATED: Best Compact Exercise Equipment
But wait: On its website, the company recommends a minimum ceiling height of 8 feet, as well as 24 inches on all four sides of the bike for ample room to ride (and store it afterward). That means you need an area of about 8 feet in length and 6 feet in width to safely get your sweat on. Suddenly, this bike just became a bit less compact.
And although Peloton explicitly says you need 24 inches on all sides of the bike, a blog post on their site about using a Peloton Bike in small spaces shows that they maybe don't take this recommendation too seriously.
Portability
The Peloton Bike has wheels on the front for easy portability. Nathan, GGR's videographer, moved it all around GGR HQ on his own to shoot stills without any issue. I was also able to move the bike fairly easily.
Durability
The Peloton Bike provided a sturdy and stable ride for me, but it's worth noting that I'm a petite person. However, fellow GGR writer and exercise bike aficionado Anthony O'Reilly, who is 6 feet 3 inches tall, felt the same.
The flywheel weighs 38 pounds, which is respectable against industry standards and helps provide a smoother ride. User weight capacity is 297 pounds, which, for a bike at this price point, is just OK. For reference, the $1,400 Peloton competitor MYX II Bike has a weight capacity of 350 pounds, and even the Bowflex C6—which costs $1,000—has a weight capacity of 330 pounds.
Despite our impressions, reviewers do have gripes with the bike's durability. Issues with the hardware—particularly the WiFi not connecting, the screen cutting out, pedals breaking and issues with the bearings—were the most common.
Design and Display
The Peloton bike looks and feels sleek.
The frame of this stationary bike is made of powder coated welded steel.
The resistance system is magnetic, which is smoother and requires less maintenance than friction resistance, and is adjusted with an ergonomic resistance knob.
The drive system is belt-driven, which again is smoother and requires less maintenance than a chain drive.
The pedals are aluminum.
The handlebars have a bullhorn design, which adds to the ergonomics of the ride.
Ergonomics and Performance
My maiden voyage on the Peloton Bike did not disappoint. It's a smooth ride—smoother than many other bikes I've been on—and because of the magnetic resistance, each tiny twist of the knob provides just a bit more for you to pedal against. There are 100 resistance levels, which means you can customize your workout in pretty much any way that suits you.
If you decide to buy a Peloton, you will have to purchase the accompanying cycle shoes, or buy Delta-compatible cleats to clip in to the pedals. It's another expense—Peloton Cycling Shoes are $125—and each person who uses the bike will need their own pair, except if by a long shot you wear the same size. I prefer the toe cage option on exercise bikes, but that's just me.
The seat is not super comfortable, I won't lie. You are able to swap it out for a seat of your choosing, or try a padded seat cover over top. But especially if you're new to consistent cycling, it may just take some time to get used to the hardness of the seat, so don't give up too quickly.
The seat is adjustable vertically and horizontally, but the handlebars can only be adjusted vertically, which I don't love. I'm pointing this out because this may impede your ability to find a comfortable riding position, particularly if you're on the short side or on the tall side. It's common for exercise bike handles to adjust horizontally, and I'm surprised this isn't a customization feature on a luxury bike like the Peloton.
Technology Benefits
The Peloton Bike is built around technology and connectivity. The machine is WiFi- and Bluetooth-enabled, and the 21.5-inch HD touchscreen displays all the workouts with a pristine crispness—and can be tilted up and down to accommodate different heights—while the two-channel stereo speaker system plays the music and cues of the instructor.
Because the speakers are rear-facing, I did feel like sound wasn't directed at me, but away; I had no problem hearing it, and actually ended up pairing my AirPods to it during my rides, but if noise level is a concern, this is something to note. I consider myself a pretty technologically savvy person and I did have some issues connecting my AirPods to the bike; it eventually worked though.
The Peloton Bike also has a built-in front-facing camera and microphone so you can video chat with a fellow rider during a class, or video chat with the support team if you're having an issue with your bike. Although the instructor cannot see you, and only someone who you're video chatting with can view you through your camera, there is a privacy screen you can slide over the camera for your own peace of mind.
I didn't use the camera during my Peloton rides, but I've seen others post about how they use it to work out with their friends and family in real time (virtually, of course), boosting accountability. Cool concept, although plenty of reviewers said the camera is low-quality so its use is limited.
Related: Check out our Peloton Guide review.
There's also a USB port and headphone jack on the back of the screen for charging and plugging in, respectively.
Other Features
The Peloton Bike comes equipped with two water bottle holders, as well as dual dumbbell holders on the back. There is no media shelf, as you're using the included touchscreen for video and music, but you can buy one online if you want a place to mount your phone during your ride. Same goes with a fan—there isn't one included, but there are plenty available online from different manufacturers.
The bike itself is pretty quiet—although I actually think the MYX II Bike is quieter—and you also have the option to pop in your wireless headphones to listen directly in your ear.
Classes
This is where the Peloton Bike really shines.
For $44 monthly, you'll get an all-access membership to the Peloton app, which gives you full access to thousands of on-demand and live Peloton classes on your bike. Each member of your household can have their own profile, and you can take classes like cycling, of course, but also running, strength, bootcamp, yoga, and more.

Peloton instructors are now pseudo celebrities in their own right, many with huge endorsement deals, shaking it on Dancing With the Stars, and writing best-selling books. My advice is to take the time to find an instructor who you connect with, as so much of your Peloton experience will center around their energy. There's someone for everyone, that's for sure. (My faves are Tunde Oyeneyin and Jess Sims.) You can even pick a genre of music you love, or an artist, and narrow down rides from there.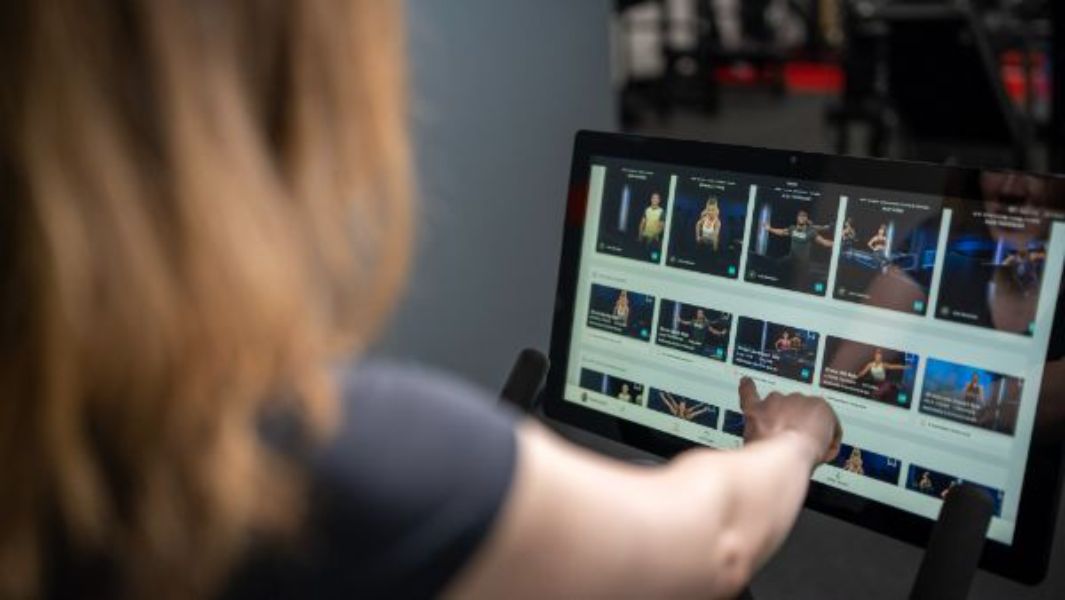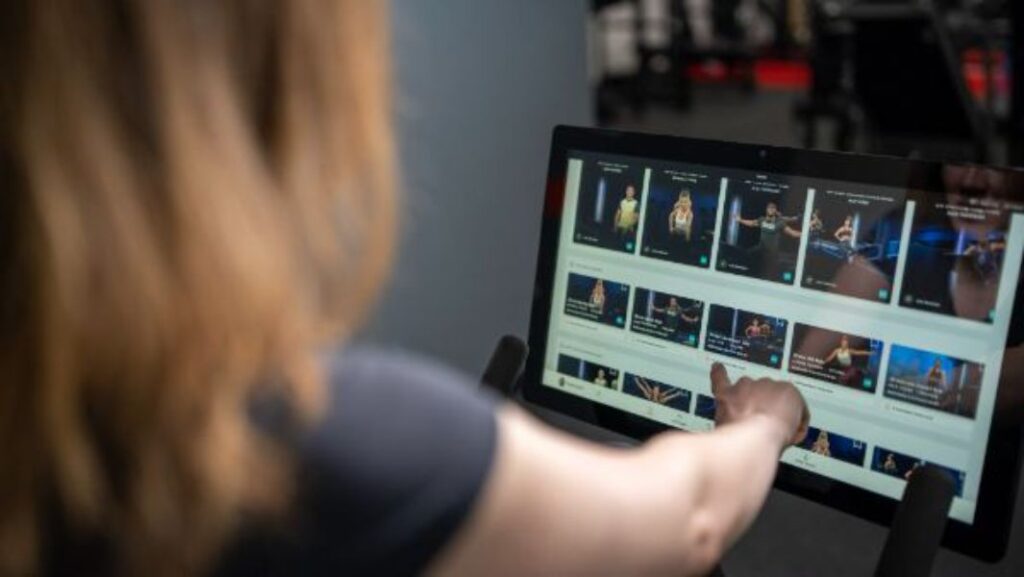 During a cycling class you'll see metrics on screen like Cadence (measured in rotations per minute (RPM), Resistance, Output (measured in watts), and Total Output (measured in kilojoules). Instructors will cue you throughout class to be at a certain resistance level or RPM and you'll adjust your ride accordingly. During live classes they'll shout out participants for milestone rides and other notable things, which I think is fun. Some people find this distracting or unnecessary—they just want to focus on working out—and I get that, too.
If you have an all-access membership to the Peloton app, you can use it on your Android or iPhone as well to complete running, strength, bootcamp, and yoga workouts, plus more. If you don't have a Peloton Bike but want to use the app for these classes—or if you have a different bike and want to utilize the on-demand cycling workouts—the membership fee is $12.99 per month.
Peloton Bike vs Peloton Bike+
The Peloton Bike Plus is the souped-up version of the base model, and is really meant to offer an immersive cycling and strength training experience. The main difference between the bikes is the tech.
Now available for just about $2,500, with the Bike+ you'll get a 360-degree rotating touchscreen—even bigger at 23.8 inches—so you can easily shift between the bike and the floor. The Bike+ also integrates with Apple GymKit to track your workouts via syncing your Apple Watch. There's also an auto-resistance option on the Bike+, which means the machine will automatically adjust to match the instructor's cues.
The Bike+ is slightly larger than the Bike—it's 59 inches high, versus the Bike at 53 inches high—and it weighs slightly more, but the user height and weight capacities are the same.
Is the Bike+ worth the $1,000 extra dollars? It depends. If you have the money to spend and appreciate the best technology, the rotating screen and automatic resistance adjustment could be enough to convince you. Otherwise, the OG Bike will provide more than enough in terms of a good cycling experience, which is why you buy a Peloton in the first place.
| | | |
| --- | --- | --- |
| | Peloton Bike | Peloton Bike Plus |
| Price | $1,445 | $2,495 |
| Footprint | 59" L x 53" H x 23" W | 59″ L x 59″ H x 22″ W |
| Weight | 135 lbs | 140 lbs |
| Weight capacity | 297 lbs | 297 lbs |
| Height range | 4'11"-6'4" | 4'11"-6'4" |
| Display | 21.5" touchscreen | 23.8 rotating touchscreen |
| Resistance | 100 micro-adjustable magnetic levels | 100 micro-adjustable magnetic levels |
| Pedals | Delta-compatible | Delta-compatible |
| Seat adjustment | Horizontal and vertical | Horizontal and vertical |
Peloton Bike vs. MYX II Bike
The MYX II Bike Plus is a Peloton Bike alternative that's been buzzed about. The Plus version of the brand's bike is the same as the MYX II, but packaged with a selection of dumbbells, resistance bands, foam roller, exercise mat, and stability mat for the bike.

When the MYX Bike originally came onto the market it was cheaper than a Peloton, and thus may have made sense as the preferred buy. It does have respectable stats, including a 350-pound user weight capacity, a 41-pound flywheel, a nice 21.5-inch touchscreen, and an included Polar OH1 heart rate monitor.
Related: MYX vs Peloton
Now though, the Peloton is nearly the same price point as the MYX II bundled package, and still, we think it provides a superior experience. It offers magnetic resistance, and thus provides a much smoother ride than the MYX II Bike, and the caliber of Peloton workouts is just better, from the programming to the instruction. Plus, MYX does not offer live cycling classes via its MYX+OpenFit platform, which we thought was a big misstep for a product like this.
Peloton Bike vs. NordicTrack S22i
The NordicTrack S22i is another Peloton Bike alternative that features interactive programming via iFIT and lots of tech. It's about $2,000—quite a bit more expensive than the Peloton Bike—but it does have the features to back up the price.
RELATED: Peloton vs iFIT
The S22i is larger than the Peloton Bike by several inches in each dimension, and is quite a bit heavier at 203 pounds, versus 135 pounds for the Peloton. It's more akin to the Peloton Bike+ in that it offers automatically adjustable resistance. And, it also boasts incline and decline training, something very unique for exercise bikes but potentially very useful for you.
Plus, NordicTrack boasts AutoAdjust technology that controls resistance settings, incline, and decline based on coaching cues or the topography of a scenic ride. Our iFIT reviews have more details on this unique feature.
If you're a diehard cyclist and would appreciate the automatically adjustable resistance and incline/decline training, the S22i may be worth the investment.
Customer Experience
Peloton offers a limited warranty on its Bike and Bike+: five years on the frame, and 12 months on the touchscreen, components (like the belt, resistance, handlebars, etc.), pedals, and labor. This is not a great warranty policy, and one of the biggest complaints in reviews on the Peloton website is the lack of customer service when a bike needs to be repaired.
A bright spot: Peloton does offer 0% APR monthly financing, and you could pay as little as $38 per month for the bike if you qualify. You can also try the bike for 30 days with the 30 Day Home Trial program. If you decide you don't want to keep the machine, it will be picked up and you'll receive a full refund.
Customer Reviews
The Peloton Bike has an average of 4.8 out of 5 stars on the company's website with nearly 20,000 reviews. And as of this writing, you can't purchase a new Peloton Bike anywhere but from www.onepeloton.com.
Most reviews are overwhelmingly positive, complimenting the instructors and class variety.
Complaints mention problems reaching customer service, as well as the aforementioned hardware issues with the touchscreen, pedals, and more.
Final Verdict of Our Peloton Bike Review
Is the Peloton Bike worth it?
If you're looking for a top-notch boutique cycling experience in your home, Peloton is the way to go. They live and breathe cycling, which is clear by the programming they offer. While the bike itself isn't bad (but it's definitely not the most impressive available on the market), what you're really paying for is the whole experience.
Peloton Bike Rating
Peloton Bike
Considering a Peloton Bike for your home gym? We'll dish all the pros and cons in our Peloton Bike review.
Product Brand: Peloton
Product Currency: USD
Product Price: 1720.00
Product In-Stock: InStock
Peloton Bike Review FAQs
Is the Peloton bike worth it?
If you have the money to spend and you're looking to replicate the boutique cycling experience at home, then yes, we think the Peloton Bike is worth it.
Does the Peloton Bike work without a subscription?
You can ride the Peloton Bike without a subscription. You'll be able to use manual mode (the Just Ride feature) or access three pre-recorded classes. We will say though, that the magic in a Peloton Bike is by taking advantage of the interactive programming, so we wouldn't recommend buying a Peloton Bike if you're not planning on also purchasing a monthly membership.  
How much is a Peloton Bike?
Although there has been a lot of price fluctuation, the Peloton Bike currently costs $1,445 (plus $250 for delivery and setup). And if you want the Peloton subscription that's going to cost you an extra $44 per month.
How much does a Peloton Bike weigh?
The Peloton Bike weighs 135 pounds.