We test and review fitness products based on an independent, multi-point methodology. If you use our links to purchase something, we may earn a commission. Read our disclosures.
Even though its popularity has declined in recent months, many people are still absolutely bonkers for Peloton. We don't blame them; the company has stellar interactive programming and a trendy bike to match.
However, there are great alternatives to the infamous indoor exercise bike, whether you're looking for a more durable bike, something a little more affordable, or want more features. We've tried out dozens of the best exercise bikes for home gyms in the quest to find the best Peloton alternatives.
Dozens of Exercise Bikes Tested
We may have seven Peloton alternatives on our list here, but we've tested far more than that in our search to find the best home gym equipment for your needs. The Garage Gym Reviews team is filled with fitness enthusiasts, certified personal trainers, and CrossFit coaches who have pedaled on dozens of exercise bikes both for research on lists like this, as well as just for fun.
That experience allows us to know what to look for in terms of the durability of exercise bikes, the functionality of things like pedals and seats, and how certain tech features impact the workout experience.
Oh, and if you're curious what we think of the bike we're comparing all these to, check out our full Peloton bike review.
7 Best Peloton Alternatives in 2023
Best Peloton Alternative Overall: Echelon Smart Connect EX-5
Good for: Those who want a Peloton-like experience at a more affordable price
Best Peloton Alternative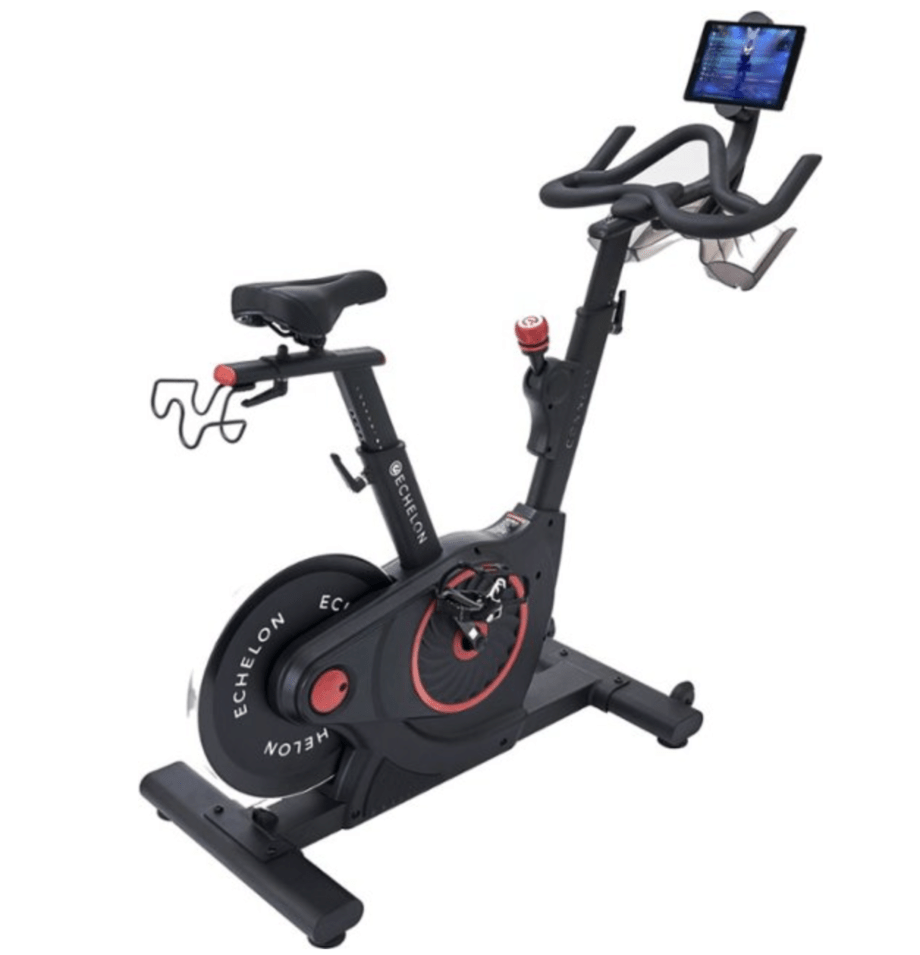 Echelon Smart Connect EX-5
If you're looking to get the Peloton Bike experience without paying the Peloton Bike price, the Echelon Smart Connect EX-5 is one of the best options out there. The bike offers 24 levels of digital resistance, hybrid pedals (SPD clips and adjustable toe cages), and a ventilated competition-style bicycle seat. Although we haven't tested this specific model yet, we've tested some of Echelon's similar offerings and can vouch for the company's quality.One drawback of the Smart Connect series is that the lower-cost don't have a built-in monitor, but the media device holder is sturdy and can swivel 180 degrees to allow you to follow off-bike workouts. Echelon is equipped with Echelon Fit capabilities.
Pros:
Costs around $999
32 levels of digital resistance
Hybrid pedals
Device holder turns 180 degrees
Ventilated bicycle seat
Cons:
No built-in monitor
Flywheel is only 28 pounds
12-month warranty only applies to parts and labor
Echelon's Smart Connect Bike series has been one of the top competitors to Peloton, and you really can't go wrong with any model, but the Echelon Smart Connect EX-5 is our top pick. To be fair, we haven't tested the EX-5 but we've tried its younger brother, the Echelon Smart Connect EX-3, and the two are very similar so we're confident in recommending this one.
The EX-5 offers smooth and quiet magnetic resistance, and has great workout programming to keep you motivated to reach your fitness goals (how can something endorsed by Pitbull not want to make you move your body?). You get to choose from dozens of daily live classes, as well as more than 3,000 on-demand ones.
One of the biggest draws of the Echelon Smart Connect Bikes is that they're more budget-friendly than Peloton, even as the latter continues to decrease its prices. The EX-5 sell for around $1,000, but the drawback is it doesn't have a built-in monitor.
The bikes, though, have sturdy device holders capable of holding smartphones or tablets of various sizes (the EX-5 can hold devices from 5.5 inches to 12.5 inches). We found that no matter how hard we pedaled our smartphone stayed in place for the duration of the ride (for what it's worth, GGR product tester and fitness writer Anthony O'Reilly is one of those crazy people who has no case on his iPhone and he had no problems).
The EX-5's flywheel only clocks in at 28 pounds, so it wasn't quite as smooth as Peloton's (which has a 38-pound flywheel) but for most home gym owners we don't think this will be a problem.
To see more of the differences between the two brands, check out our Echelon vs Peloton comparison.
| | |
| --- | --- |
| Footprint | 58″ L x 20″ W x 55″ H |
| Weight | 106 lbs |
| Weight capacity | 300 lbs |
| Resistance | 32 magnetic resistance levels |
| Pedals | Dual-sided pedals; SPD clips/adjustable toe cages |
| Programming | Echelon Fit |
| Display | None |
Best Peloton Alternative for Studio Classes: Schwinn IC4
Good for: People who want to access studio classes similar to Peloton's without paying Peloton prices.
Best With Peloton App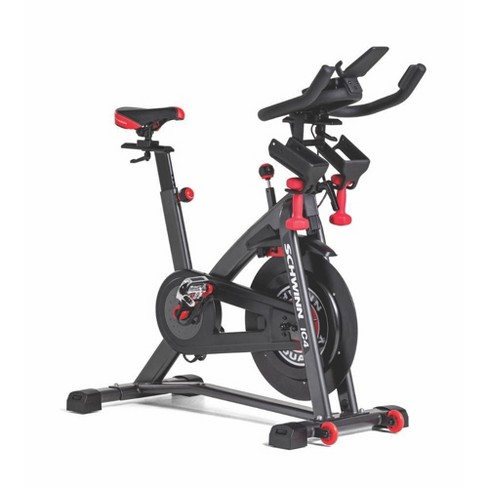 Schwinn IC4
Designed to work with the Peloton® and Zwift® apps, allowing you to stream thousands of classes directly into your home and compete against others in a virtual world that motivates you at every mile. Access the Explore the Worldâ"¢ app and digitally immerse yourself in a world of virtual races, exotic locales, and stunning trails from around the globe. Smooth, magnetic resistance. Full color backlit LCD display. Media rack. Slim, comfortable Bluetooth® LE (BLE) heart rate armband. 3 lb. dumbbells with easy-reach cradles. USB charging station
Pros:
Compatible with just about every cycling app (except iFIT)
100 manually adjustable mirco-resistance levels
Under $1,000
Sturdy but lightweight at 106 lbs
Cons:
Doesn't have a built-in screen; only LCD monitor
Unclear assembly instructions
No live chat option to contact customer service
Metrics differ between apps
Besides the Schwinn IC4 being under $1,000, the best feature this fitness bike boasts is its ability to connect with just about any interactive programming app (outside of iFIT), including Peloton, Zwift, Sufferfest, Rouvy, TrainerRoad, Fulgaz, and Tacx. Depending on the app, the bike tracks things like power, speed, RPM, distance, and heart rate. That said, the metrics can sometimes differ from app to app so there may be some inconsistencies in your ride history.
The reason this bike is so affordable relative to the Peloton is that it doesn't have a built-in monitor; instead, you'll have to supply your own smart device to stream the above-mentioned apps. The good news is that the IC4 has a device holder for your iPad or smartphone.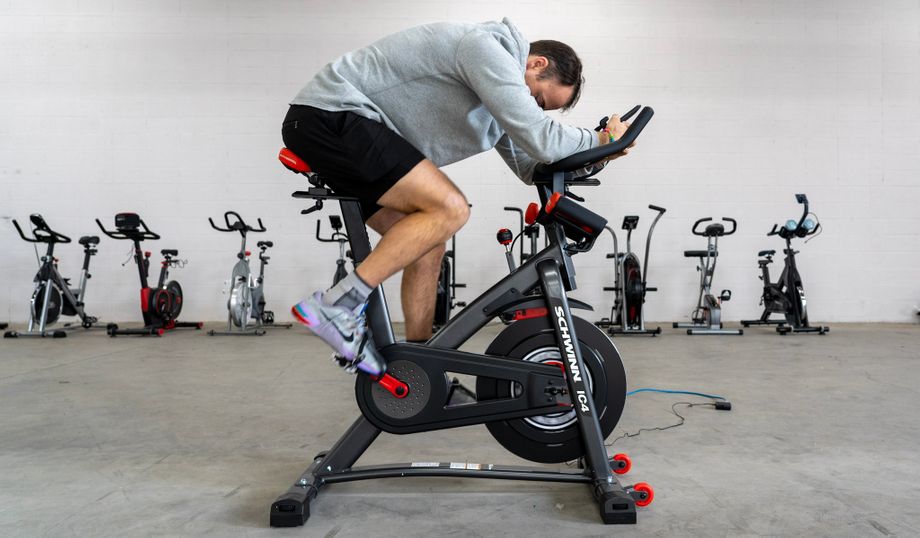 For the price, this exercise bike is extremely sturdy, and we were pleased that there was little to no shaking, even when riding out of the saddle. This is especially impressive considering the IC4 only weighs 104 pounds, and 40 pounds of that is the hefty flywheel.
The IC4 has some great extras for the price – expect to see two water bottle holders, two 3-pound dumbbells and dumbbell holders, a USB charging port, and an included heart rate monitor armband. I'm a big fan of the dual pedals because you're able to ride with regular cycling shoes or use the toe cages with sneakers.
With a weight capacity of 330 pounds, the IC4 is hitting above the industry standard. I am also impressed with the 100 levels of magnetic resistance you can switch between with this bike. This is just like what the Peloton has to offer.
In terms of things that aren't our favorite, this bike was a real pain in the butt to assemble. You're going to need some patience and probably a cup of tea to calm you down after you see how vague the instructions are. Customer service is also fairly difficult to reach, so you're honestly better off trying to figure out whatever question you have yourself by googling it.
Check out the full Schwinn IC4 review.
It should also be noted that the Bowflex C6 is very similar to the Schwinn IC4 — both have similar specs, cost the same, and are owned by the same parent company, Nautilus. So if one's out of stock or unavailable in your area, you can simply go for the other and have the same experience (the Bowflex C6 also connects to multiple cycling apps).
| | |
| --- | --- |
| Footprint | 48.7" L x 21.2" W x 51.8" H |
| Weight | 106 lbs |
| Weight capacity | 330 lbs |
| Resistance | 100 microadjustable levels |
| Pedals | Dual sided: Adjustable toe cages/SPD clips |
| Programming | Peloton, Zwift, JRNY, Sufferfest, Rouvy, Fulgaz, Tacz, TrainerRoad, MyFitnessPal |
| Display | Backlit LCD |
Best Budget Peloton Alternative: ProForm Carbon CX
Good for: People who want a studio cycling experience while shopping on a budget
Budget-Friendly Peloton Alternative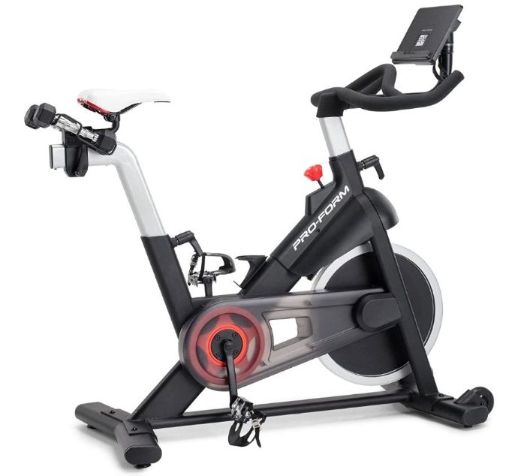 ProForm Carbon CX
The ProForm Carbon CX is a budget-friendly Peloton alternative that, despite the lack of a built-in monitor, has many tech features that make it a great value for its price point (just around $600). Best of all, the iFIT-enabled bike has automatic tension control, which allows trainers to adjust the resistance on the bike for you mid-workout for a hands-free experience.What this bike lacks in built-in tech it makes up for in functionality. Even our tallest product tester, 6-foot-3-inches Anthony O'Reilly, didn't feel much wobble when riding this. That said, even the highest resistance setting won't be much of a challenge for the conditioned athlete (pun intended there).One thing we don't like about this bike is the very small display that shows all your metrics, but if you connect your smartphone or tablet you can see everything there. The device holder is sturdy and you should have no problem following your workouts on whatever screen you use.
Pros:
Costs around $600
Automatic tension control
Interchangeable pedals and seat
Uses magnetic resistance and belt drive
Cons:
LCD display is basic, small, and not well-lit
Only has a 250 pound weight capacity
No dynamic programming
Only 16 resistance levels, and not that challenging
We've tried a lot of budget home gym equipment, and the ProForm Carbon CX is one of our favorites when it comes to cardio equipment. At only $600, it's chock full of features including automatic tension control (which allows iFIT trainers to adjust the resistance mid-workout), silent magnetic resistance, adjustable leveling feet, and Bluetooth connectivity.
In terms of functionality, the bike is solid for something that's considered budget-friendly. There was no wobbling, even as 6'3" product tester Anthony O'Reilly came out of the saddle, and both the handlebars and seat are adjustable to help find a comfortable position no matter who's in the seat.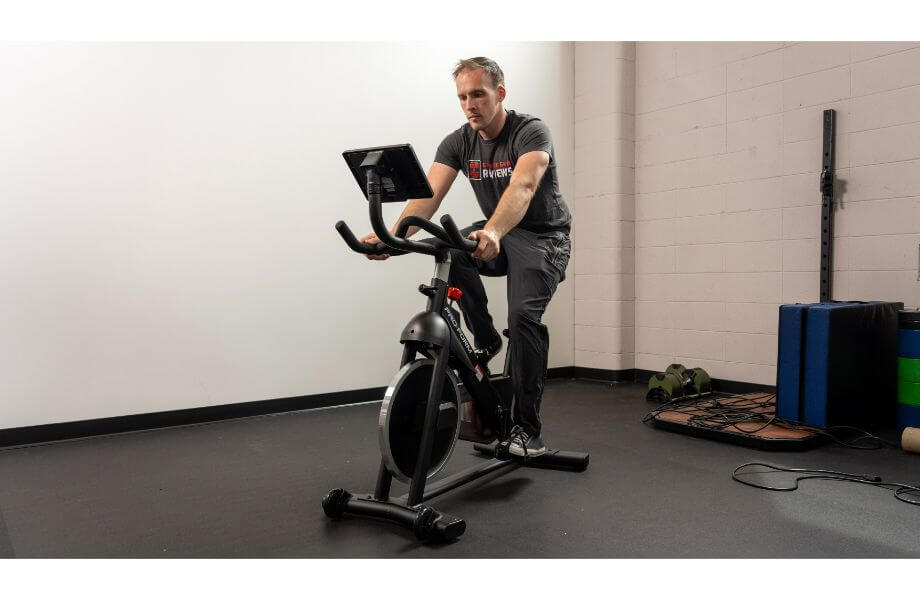 That said, the max user weight is only 250 pounds (below the industry standard of 300 pounds), and the resistance at its highest level might not be challenging enough for avid cyclists (it will be just fine for those just looking to get a quick cardio workout in the comfort of their own home).
One of the reasons this bike is affordable is because there's no built-in screen, but the LCD display comes with Bluetooth connectivity to help you stream workouts from your smartphone or tablet. We recommend downloading the iFIT app to your smart device to keep track of your metrics, because the display itself is subpar to say the least.
Is the ProForm Carbon CX our favorite exercise bike? No, but we've also tested many others that are much more expensive than it that don't come with half the features it does. And if you're simply looking for a bike that will challenge your cardiovascular fitness and lower-body muscles, this will more than get the job done.
| | |
| --- | --- |
| Footprint | 51" H x 21.9" W x 52.5" D |
| Weight | 125 lbs |
| Weight capacity | 250 lbs |
| Resistance | 16 levels of digital resistance |
| Pedals | Adjustable toe cages |
| Programming | iFIT |
| Display | LCD |
Best Peloton Alternative for Small Spaces: Sunny Health & Fitness Synergy Magnetic
Good for: Those who have compact home gyms or live in apartments
Best Compact Peloton Alternative
Sunny Health and Fitness SF-B1002 Belt Drive Indoor Cycling Trainer
STATIONARY BIKE: The sturdy steel frame, heavy 49 lb weighted flywheel and 275 maximum user weight gives this bike a rock solid build that will keep it moving ride after ride. RESISTANCE: Resistance system gives you the experience of a realistic, real-road feeling. Push down emergency brake will bring the bike to an immediate stop. SILENT RIDE: Experience a smooth and quiet ride with the maintenance free belt drive system which allows you to workout without interrupting your workout or anyone around you. CUSTOMIZABILITY: 4-Way adjustable seat and 2-way adjustable handlebars adapt to any user type. Use the toe clip pedals with straps to keep your feet in place. BOTTLE HOLDER: Stay hydrated throughout your workout. This convenient bottle holder is built into the frame for easy access.FOOT PEDAL STYLE: caged
Pros:
Compact 49″ L x 22″ W x 50.5″ H footprint
Lightweight, at 88.2 pounds
Smooth transport wheels
Magnetic resistance
Comes with sturdy device holder
Cons:
No attached screen for interactive programming
275 lb weight capacity
No Bluetooth connectivity
Basic LCD display
Coming in at just over four feet in length, and less than two feet in width, the Sunny Health & Fitness Synergy Magnetic Exercise Bike is a compact piece of exercise equipment that should fit in just about any home gym or apartment. It also weighs less than 90 pounds and comes with transport wheels, so if you're someone who's constantly playing Tetris with their living space, you can easily move it out of the way when needed.
And though it is little, this exercise bike is fierce. With a 49-pound flywheel, this bike rides very smoothly and doesn't have a lot of shake. It also comes with magnetic resistance and a smooth belt drive operating system, which is impressive considering this bike sells for less than $600.
Unlike other Peloton alternatives that don't come with a screen, Sunny Health doesn't have Bluetooth connectivity. That said, there are free bike workouts that Sunny Health and Fitness provides on their website. You can follow 10- minute HIIT rides, 60-minute endurance cycling classes, and a variety of others all for no cost. If you want the feel of interactive programming without a monthly subscription, this could be a great option for you.
Of course, you always have the option of downloading the Peloton app and riding along; the Sunny bike won't sync with the app, but you can make the resistance adjustments yourself (and save a LOT of money).
Don't just take our word for it, though. With more than 500 reviews on Amazon, this bike maintains an impressive 4.5 average rating. Not that you should base your purchase off that, but it also says something that so many people had positive things to say about it.
| | |
| --- | --- |
| Footprint | 49″ L x 22″ W x 50.5″ H |
| Weight | 88.2 lbs |
| Weight capacity | 275 lbs |
| Resistance | Magnetic microadjustable |
| Pedals | Adjustable toe cages |
| Programming | None |
| Display | LCD |
Best Adjustable Peloton Alternative: Keiser M3i Indoor Bike
Good for: People looking for highly adjustable handlebars and seats
Best Adjustable Peloton Alternative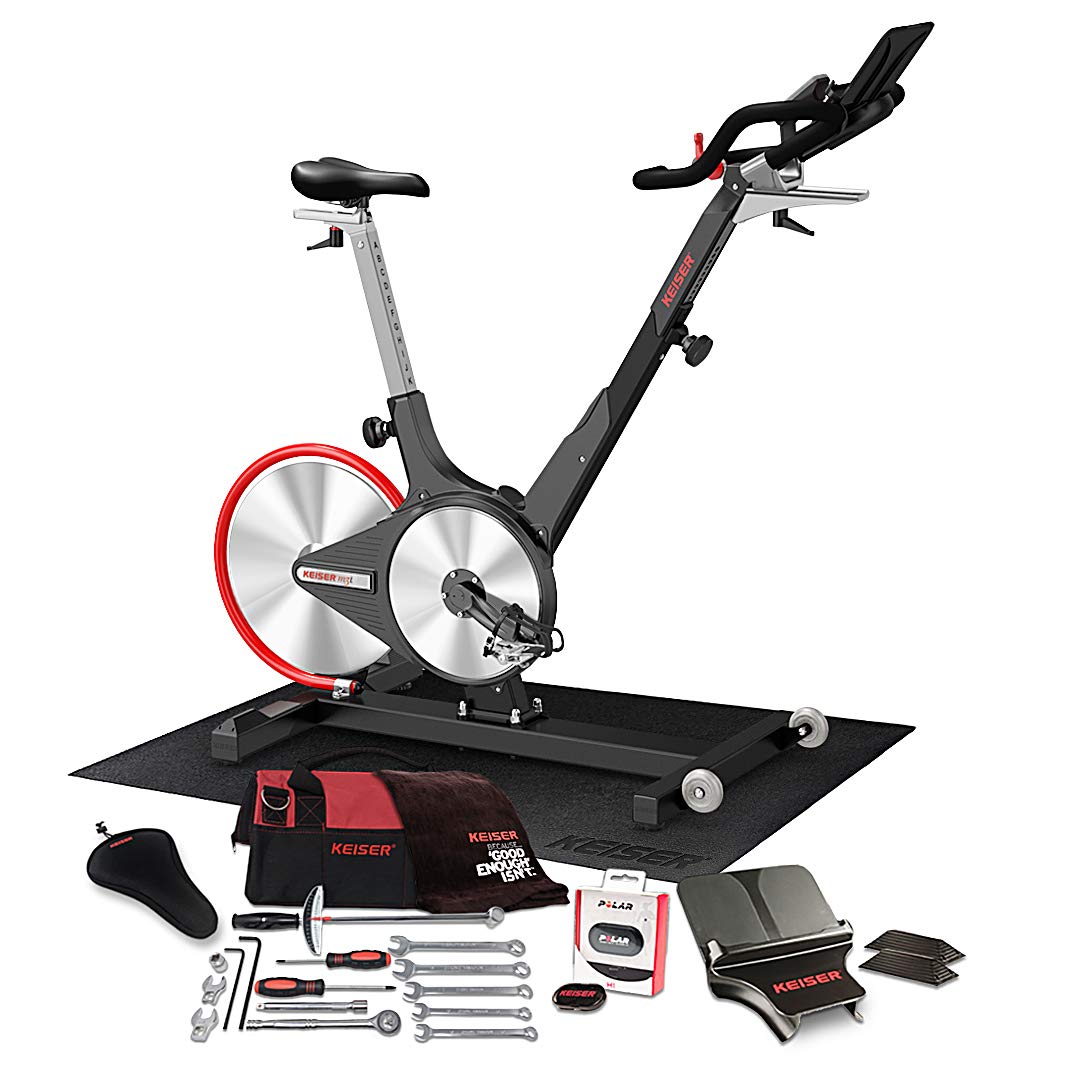 Keiser M3i Indoor Cycle
More than 20 years ago, Keiser set out to create a bike that would exceed the demands of indoor cycling. Designed around you, an indoor bike that fits riders of all body shapes and sizes; a bike that achieves a quiet but true road bike experience inside your home; and the only stationery bike built in the United States to ensure the tightest quality control.And we accomplished it all with THE SIMPLEST OF ENGINEERING DESIGNS.The use of any exercise equipment, including the Keiser M3i bike or any fixed gear bike, without proper instruction and supervision violates the terms of this agreement for purchase of such products. The inability to stop pedaling on a fixed gear bike before the flywheel stops may be dangerous to anyone riding, especially anyone that does not recognize or respect the potential danger. Therefore, users, agents, or anyone directing the use of said equipment shall determine the suitability of the product for its intended use, and said parties are specifically put on notice that they shall assume all risk and liability in connection herewith.
Pros:
Adjustable seat that accommodates people from 4'10"- 7'
350 lb user weight capacity
Only $6.99 per month for interactive programming access
Extremely smooth ride
Cons
More than $2,400
No built-in screen to view interactive programming on
Primitive and small display
A lot of people think the Peloton is the cream of the crop for exercise bikes. Don't get me wrong; it's a solid piece of equipment. But if you just want a really well-built bike, the Keiser M3i Indoor Bike is worth a look.
If you've ever been to a cycling class in a studio, you may have already come across one of these bikes and not even known it. The M3i is generally thought of as the gold standard for durable exercise bikes in commercial gym settings. These things are sturdy and don't require much maintenance, but they come with an expensive price tag: more than $2,400.
What we like best about the Keiser M3i is its ability to be adjusted to accommodate a very wide range of heights. If you're particularly short or extremely tall, you may have trouble finding an exercise bike that will adjust accordingly, but it is likely you won't have that problem with the M3i. Both the seat and handlebars are able to be adjusted to fit heights between 4'10"-6'10".
The Keiser may be one of the smoothest stationary bikes we've ever used. There is little to no shaking whether you're out of the saddle or are using heavy resistance. This bike was designed with strict quality standards and it shows.
Although there isn't an attached screen, the M3i does have a tablet holder for you to use your own smartphone or tablet. Keiser also has its own interactive programming called "The Ride" for only $6.99 per month. The Ride features a variety of on-demand classes for improving stamina and strength or just riding to the beat of the music.
| | |
| --- | --- |
| Footprint | 51″ L x 26″ W x 49″ H |
| Weight | 92 lbs |
| Weight capacity | 350 lbs |
| Resistance | 24 levels of magnetic resistance |
| Pedals | Adjustable toe cages |
| Programming | Keiser app |
| Display | Backlit LCD |
Best Peloton Alternative With Leaning Mode: Bowflex VeloCore
Good for: People looking for a cardio workout with added core engagement
Best Leaning Peloton Alternative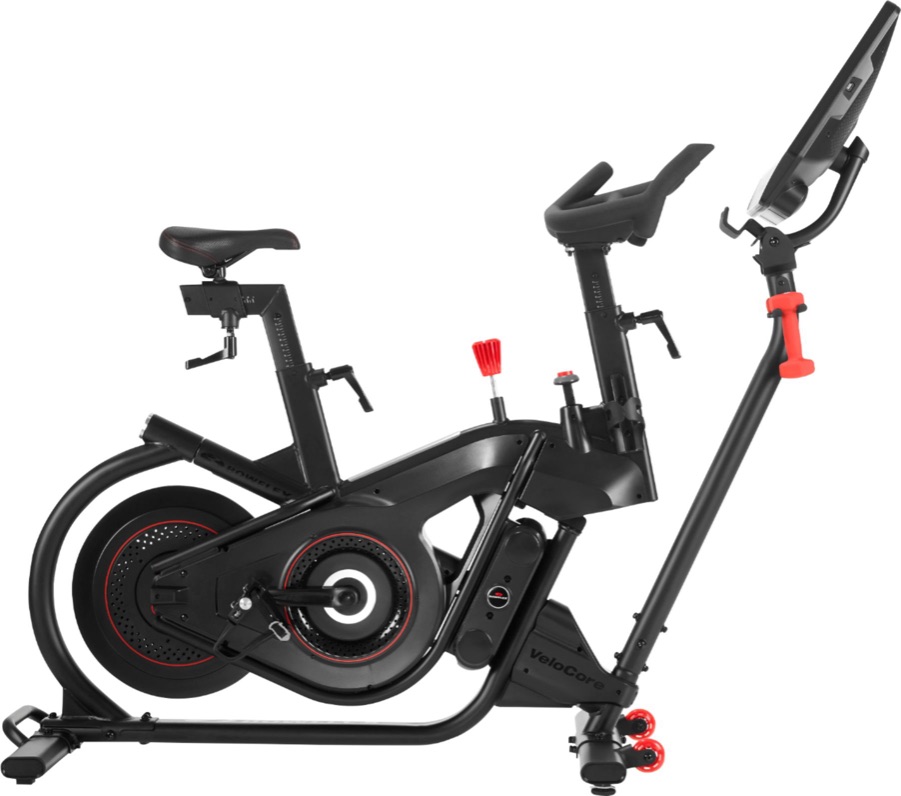 Bowflex VeloCore
Meet the indoor bike that's thoughtfully engineered with leaning mode to create a wildly immersive riding experience. You'll rock, sway, and bend to life down winding roads. Tilting gently from side to side as you sprint like a banshee toward the finish line. It's a high-intensity escape that'll help to ignite your arms, core, and your thrill for epic outdoor adventure…all from your living room.Take a look at our full Bowflex VeloCore Bike review.
Pros:
Leaning mode is easy and fun to use
Expansive monitor mimics Peloton's
Ability to watch Netflix, Hulu, or Disney+ on the screen
325 lb weight capacity
Cons:
Very difficult to assemble solo
Around $2,000 (depending on which console you purchase)
JRNY interactive programming music selection is underwhelming
The Bowflex VeloCore isn't a cheap bike; at about the same cost of a Peloton Bike+, you may be asking yourself why you should choose the VeloCore over the Peloton. Let me answer that for you: the extremely fun leaning mode. The leaning mode is easy to activate – with the push of a button, you're able to rock side to side like you're on a carnival ride. It sure makes cardio seem more fun and also mimics the feel of taking turns on the road.
Not only does the leaning mode make your rides enjoyable, but it also increases stability and core engagement. Certain on-demand rides offered by the JRNY interactive platform include this feature in the instructions. You can also do a manual ride and lean to your heart's content if you prefer.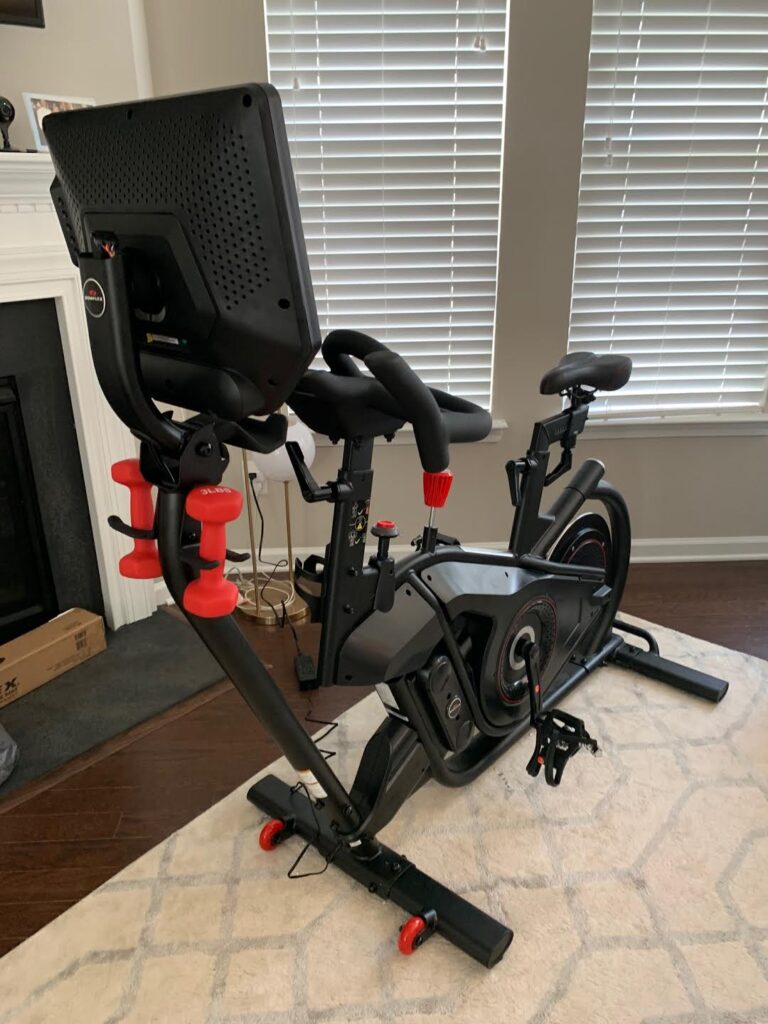 For all you people out there asking me if you can watch Netflix while you're cycling, I can finally say, "Yes!" The Bowflex VeloCore allows you to download and watch the Disney+, Hulu, and Netflix apps right to your gleaming monitor (with the purchase of the JRNY interactive programming). This is not something you can do with the Peloton Bike+.
The JRNY platform underwhelmed me with the music selection. I do like that you can completely turn off the music if you'd like to just zone out and follow along with the instructor. The cost per month is $19.99, so pretty reasonable in the grand scheme of things.
Although this bike is technically compatible with the Peloton app, I'm disappointed that you aren't able to view it on the monitor. You'll have to use your phone or other devices, which is a pain considering there is a 22" screen right in front of you.

Take a look at our full Bowflex VeloCore review.
| | |
| --- | --- |
| Footprint | 59.8″ L x 24.1″ W x 55.3″ H |
| Weight | 158.3 lbs |
| Weight capacity | 325 lbs |
| Resistance | 100 microadjustable levels |
| Pedals | Dual-sided pedals; SPD clips/adjustable toe cages |
| Programming | JRNY |
| Display | 16" or 22" HD touchscreen |
Best Peloton Bike+ Alternative: NordicTrack S22i Studio Bike
Good for: People interested in interactive programming and adjustable incline options
Best Peloton Bike+ Alternative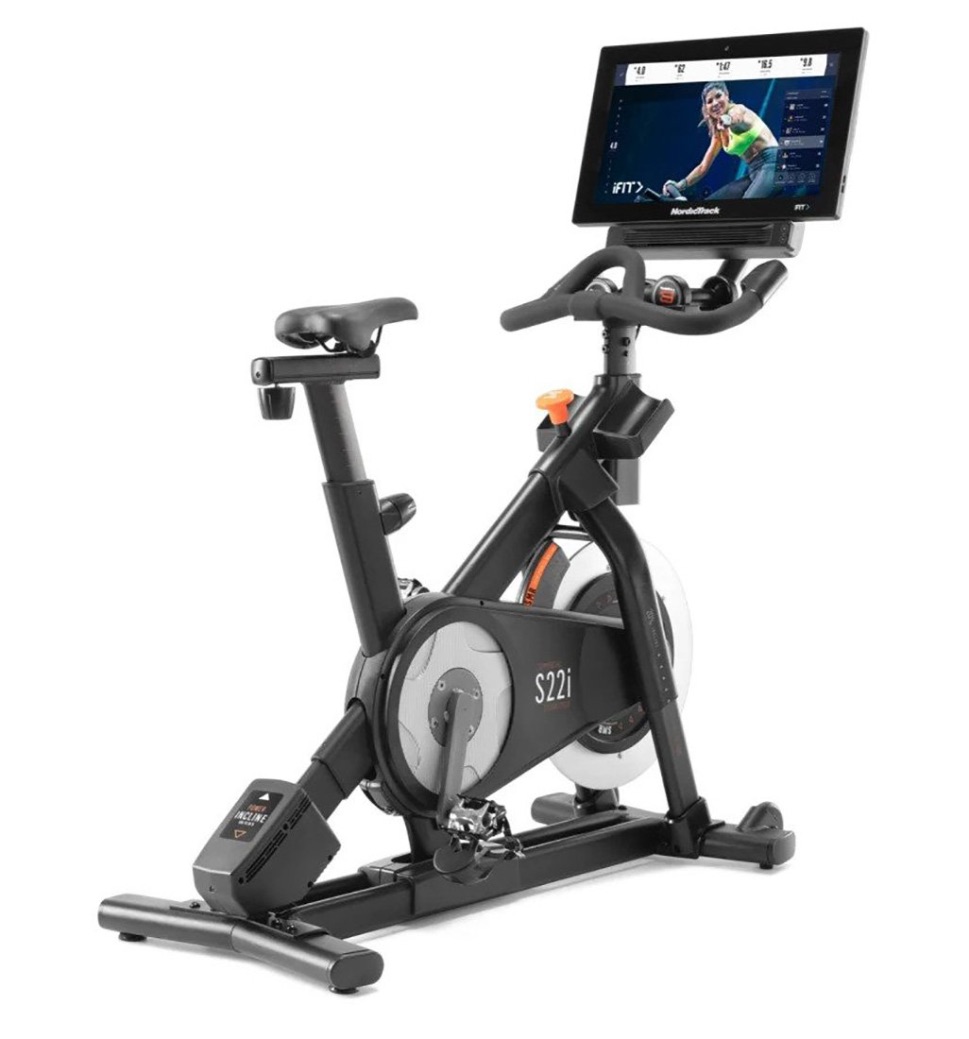 NordicTrack S22i Studio Bike
Join high energy studio classes, mountain bike rides in Moab, or ride a Tour de France stage all from the comfort of your home. Access on-demand classes with the world's best personal trainers for beginners or the hard-core cyclist. Interactive Personal Training comes to life as your personal trainer controls the incline, decline and resistance of your ride, a truly Interactive Experience.
Pros:
Compatible with iFIT interactive programming
22" swivel touchscreen
-10% to 20% incline
Both the seat and handlebars can be adjusted
Cons:
No attached transport handle makes this bike hard to move solo
Uncomfortable seat
Voided warranty if it's put in a garage
When comparing the NordicTrack S22i Studio Bike to the Peloton Bike+, you'll see that they both have some things in common: a rotating HD touchscreen, engaging interactive programming, both come with a pair of dumbbells, and a resistance knob that can automatically adjust to follow the class you're taking (with the option to do manual adjustments as well).
However, there are also key differences. For starters, the S22i is $100 less than the Bike+. NordicTrack's also has incline and decline features (neither of Peloton's bikes have this). Also, the S22i has cage pedals. The Peloton pedals require specific shoes you have to buy separately; with the S22i, you can throw on any old shoes you want.
Another great choice, and more affordable one as well, would be the NordicTrack S15i, which is similar to the S22i but with a smaller screen and two fewer resistance levels. The S15i still comes with incline and decline and costs around $1,300 ($600 cheaper than the Peloton Bike+)
Although we personally like Peloton's interactive programming the best out of any out there, iFIT (available on NordicTrack's cardio machines) is a close second. You can take classes focused on cycling, walking, running, strength training, yoga, and more. There are a variety of instructors to choose from for each category.
For our full thoughts on the app, check out our iFIT reviews.
You can get a one-year family membership for $396 or a monthly membership for $39 ($5 cheaper than Peloton's all-access membership). If you only want one profile, an individual yearly membership is $180. Compared to the cost of a gym membership, this doesn't seem bad to me. Another plus is the recently added live class feature where you can follow along in real-time, just like Peloton.
This bike isn't exactly the lightest we've ever tried. At 203 pounds, you may need to recruit a friend or family member to help you move it. The lack of a transport handle doesn't help the cause either. Also, the assembly is a real pain, so you might want to spring for professional assembly. However, the footprint of 63" x 22" x 60" is pretty standard and should be fine in most garage or home gyms.
For more, check out our full NordicTrack S22i review.
| | |
| --- | --- |
| Footprint | 63" L x 22" W x 60" H |
| Weight | 205 lbs |
| Weight capacity | 350 lbs |
| Resistance | 24 digital resistance levels |
| Pedals | Hybrid pedals: SPD clips/adjustable toe cages |
| Programming | iFIT |
| Display | 22" HD touchscreen |
The Competition
There are some studio cycle bikes that we've heard quite a bit about, but have unfortunately not been able to get our hands on yet. And then there are others that we have tested that, while they might work for some people, just weren't worthy of a top spot on this list.
Echelon Smart Connect Bike EX-5s: We're excited to test this bike out very soon. The Echelon EX-5 has a 22-inch screen to view Echelon Fitpass programming. The programming starts at $11.99 per month and has a variety of class types including yoga, weight training, and cycling.
MYX Fitness The MYX II Plus: For $1,599, this bike boasts a 21.5" screen and includes a set of small dumbbells, a kettlebell, and an exercise mat for a complete home workout. However, we felt the overall construction of the bike was a bit underwhelming, and the resistance was very inconsistent. People have also complained that the only way to reach MYX customer service is through email.
Bowflex C6: This bike has similar specs to the Schwinn IC4, costs the same, and is owned by the same parent company, Nautilus. It's a great bike, but we didn't want to name something so comparable to a bike already on this list. But really, it's a matter of which one you can get your hands on first.
SoulCycle At-Home Bike: This overbuilt exercise bike has a commercial-grade steel frame capable of holding up to 350 pounds, and can be adjusted for riders ranging from 4'10" to 6'10", a high-resolution touchscreen, and online reviews claim it has one of the best speaker systems found on an exercise bike. We've yet to test it, but seeing as it's partnered with Equinox we have to imagine it's a hell of a riding experience.
Stryde Bike: Many of the reviews of this bike say it gives you a great riding experience, but it falls short on the tech (some complained of faulty speakers and of the Stryde app crashing mid-workout). It also lacks heart rate data, and its workout library isn't as expansive as Peloton's, iFIT's, or Echelon's).
Sunny Health And Fitness SF-B1002 Belt Drive Indoor Cycling Trainer: Another great budget option, but if you're going for a Peloton feeling we prefer the brand's synergy magnetic model because the ride is a little smoother.
How We Tested the Best Peloton Alternatives
After testing the Peloton Bike and the Peloton Bike+, and its programming, we had a better idea of the type of bike we were looking for. We then tested dozens of different exercise bikes and scored each on the following categories:
Footprint – How well does it fit in a home gym or apartment?
Portability – Is it easy to move around?
Delivery & setup – Did it get to us in good condition, and was it easy to assemble?
Durability – Will it last a while?
Customizations – Can it be personalized to our liking?
Adjustability – Can it fit people of multiple sizes?
Ergonomics – Does it feel good in use?
Technology – Does it come with a screen or other tracking services?
Programming – Does it have built-in workouts?
Conveniences – Does it have water bottle holders and/or a media stand?
Value – Are we getting a good bang for our buck?
Customer Service – Does the company respond to and take action on customer complaints?
Warranty – Is the bike cover in case of manufacturing defects?
These specifics helped the team determine what exercise bikes would make this roundup and which didn't make the cut.
Benefits Of Peloton Alternatives
Although the Peloton Bike is a crowd favorite, there are many reasons people might want to select an alternative for their home gym. Here are some of the benefits of picking something else:
Cheaper price
Better quality
Different features
Extended warranty
What to Look for When Choosing the Best Peloton Alternative
Budget
Deciding what you're looking to spend on your bike will help you hone in on options you can afford. You should also consider the monthly or yearly cost of a subscription service for interactive programming. Make sure to calculate your cost for everything before purchasing or even opt to finance your bike.
Interactive Programming
With so many options for interactive programming, it's up to you to decide what suits you best. iFIT with NordicTrack has a variety of guided outdoor fitness classes while the Peloton app focuses on motivational studio workouts. Some bikes support a variety of different platforms while others stick to only one. Some programs, like Peloton and iFIT, give you leaderboards so you can see how you rank against other people doing the same workouts or races you do.
RELATED: Indoor vs Outdoor Cycling
Resistance Levels And Type
If you're more of a beginner, you might not need 100 levels of micro-resistance. However, if you're a more experienced cyclist, you might need to make sure your exercise bike can accommodate the level of resistance you need to get a great workout.
Also, consider the type of resistance: The Peloton (and the NordicTrack S22i) have both digital resistance as well as manual resistance. Digital resistance means you push a button to make a change in the resistance level; manual resistance means you turn a knob. One isn't necessarily better than the other; it just comes down to personal preference.
Monitor
The majority of today's exercise bikes have some type of monitor. Some are equivalent to the Peloton's large, 22-inch color screen (like the NordicTrack) while others are more basic like the Keiser. Determining how you prefer to view your interactive programming and data from your rides will help you decide which bike to purchase. Keep in mind that the more advanced the screen is, the more money you'll have to shell out.
Subscription Costs
Some bikes require a monthly subscription to services like iFIT or Zwift to access its full features, and while some are affordable others may cost a pretty penny. You should factor this into the cost of your Peloton alternative to see if it ends up being the right choice for you.
Shipping Costs
Getting the bike delivered to your home can sometimes be as expensive as the bike itself. Look at how much a brand charges for shipping, or see if there's an option to pick it up from a company warehouse to cut down on shipping costs.
Accessories
Not every Peloton alternative comes with a water bottle holder or media stand. If these are important to you, make sure it's on the bike of your choice.
Peloton Tread Alternatives
Peloton, of course, makes more than just bikes. You may have heard of its treadmill, the Tread. Now, the Tread has made waves (and not the good kind) for its recall due to safety concerns. Here are a few alternatives if you're feeling a little hesitant about purchasing the newly redone Tread from Peloton:
NordicTrack Commercial 1750 Treadmill: NordicTrack rivals Peloton classes with its excellent iFIT programming. However, this treadmill is special because it provides both incline and decline levels (-3% decline and 15% incline). However, it has recently come to our attention that the brand will void a warranty related to this product (and others) if it is used in a garage.
ProForm Pro 9000: With a large 22-inch touchscreen, the Pro 9000 makes viewing interactive programming from iFIT a breeze. Also notable? The Space Saver Design, which allows you to fold the treadmill when it isn't in use. This makes it an ideal choice for a small space. The ProForm is unfortunately another example of a treadmill that cannot be placed in a garage, otherwise the warranty cannot be used.
Echelon Fitness Stride: This treadmill is specifically designed to meet international safety standards, so you can feel good about putting an Echelon Stride in your home. Plus, at $1,299, it's cheaper than a Peloton Tread and still offers interactive programming options.
FAQ About Peloton Alternatives
What is a good alternative for Peloton?
Whether you're looking for something cheaper, more compact, or prefer different workout programming, there are plenty of great Peloton alternatives on the market. Our top pick would be the Echelon Smart Connect Bike Series, but we would also recommend these bikes: 
NordicTrack S22i 
Schwinn IC4
ProForm Carbon CX
Bowflex VeloCore 
Which bike is most similar to Peloton?
The Echelon Smart Connect Bike Series offers similar construction and live and on-demand cycling classes that you can find on the Peloton bike, but for less than $1,000. The only drawback is the Echelon bikes require you to bring your own screen.
Is Echelon as good as Peloton?
In terms of functionality and durability, Peloton and Echelon are about on par with each other. The main difference is going to be your preference in cycling classes and instructors, but both are high-quality.
Can you watch Netflix on Peloton?
No, you can't watch Netflix on your Peloton bike but other indoor cycling bikes, such as the Bowflex VeloCore, allow you to stream Netflix, Hulu, and Disney+.
Is a subscription necessary for Peloton?
You don't need a subscription to use a Peloton Bike, but you'll have limited access to all the bike's features.