We test and review fitness products based on an independent, multi-point methodology. If you use our links to purchase something, we may earn a commission. Read our disclosures.
If you're looking for the best weighted vests, you've come to the right place. A weighted vest can take any workout from "eh" to "I might die" in a matter of minutes. All jokes aside, training with a weighted vest can improve your fitness—particularly your stamina and muscular endurance—by adding resistance to basic exercises like push-ups, squats, lunges, pull-ups, and running or walking.
Weight vests are a great way to increase the intensity of your workouts, especially if you're looking for a relatively small and inexpensive piece of fitness equipment (compared to items like squat racks, barbells, and weight plates).
We've In-Vested A Lot to Test Out the Best Home Gym Equipment
After scouring the web for weighted vests and taking stock of what products are currently available, my team and I tested more than 50 weighted vests and put them up against criteria like comfort, fit, durability, versatility, price, warranty, and customer experience. We created a shortlist of weight vests we think are worth considering, and then ran those through a series of workouts.
Not only were these products put to the test by myself and others on the Garage Gym Reviews team, but I've been interacting with and buying from most big fitness equipment brands for years. This means I have a pretty good sense of the customer experience and product quality you can expect from these brands.
The end result is this guide to the best weighted vests.
Best Weighted Vests for 2022
Video Review
Best Weighted Vest Overall: Rogue Plate Carrier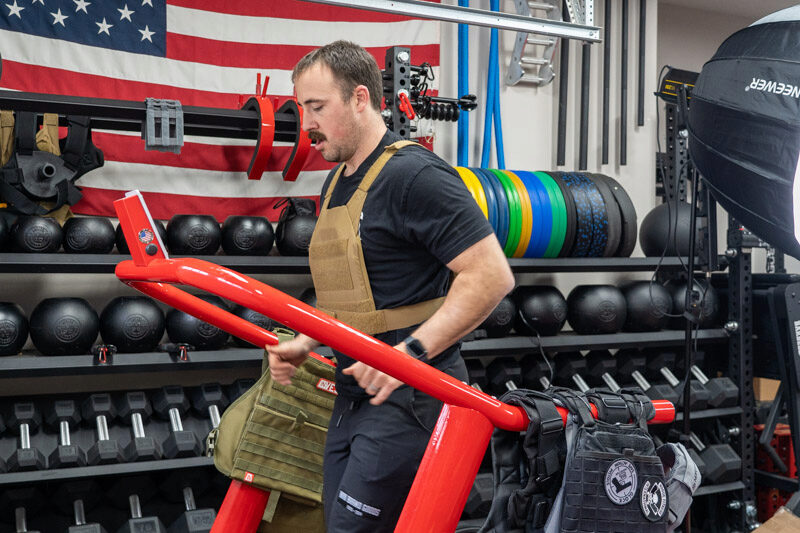 Best Rated Weight Vest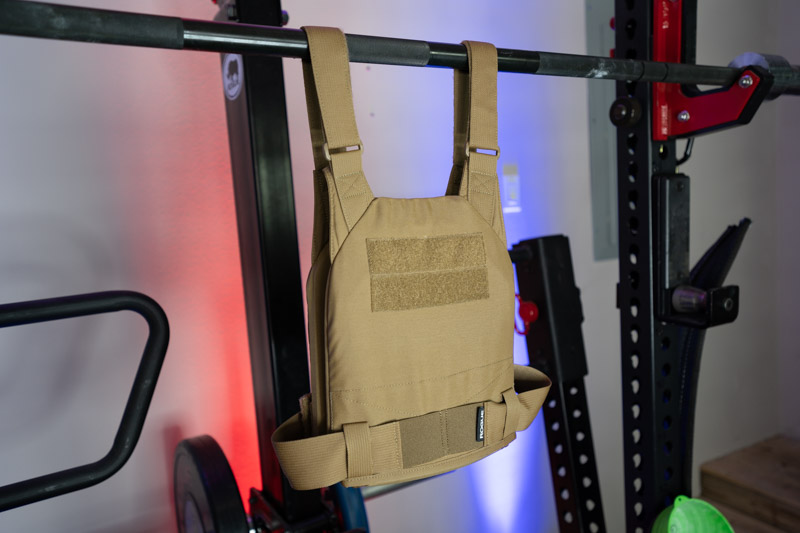 Rogue Plate Carrier
The Rogue Plate Carrier is an American-made, heavy duty weight vest optimized for use with our contoured USA Cast Plates and Echo Cast Plates (up to 20 LBS). This simple but robust design was co-developed with Dave Castro, and features a 1000D and 500D Cordura® construction with USA Velcro® straps/fasteners and X-box reinforced stitching. By delivering functional precision and a stabilized fit without the added bulk of unnecessary bells and whistles, the Rogue Plate Carrier offers high-performance athletes a uniquely streamlined, no-nonsense take on the modern tac-style training vest.We're currently offering the Rogue Plate Carrier in three adjustable sizes and four different colorway options: Black, Ranger Green, Coyote Brown, and Gray. The plate pockets on all versions measure 10.25" (outside width) x 12.25" (outside height), and include a 1000D Cordura® lining. Extra foam padding, stretch woven fabric, and minimized seams on the inside of the vest help prevent chafing and discomfort while on the move, and a short section of elastic at the back of the waist strap makes it easy to facilitate a consistent, snug fit.Specifications:Made In USA Patent Pending Design - Co-Developed with Dave Castro Material Type 1000D & 500D Cordura Weight (Unloaded): 1.12 LB (Medium Size) Size Options: Small, Medium, Large Plate Pocket Width: 10.25" (outside width) Height Plate Pocket: 12.25" (outside height) Compatible with Rogue USA Cast Vest Plates and Rogue Echo Vest Plates Color Options: Black / Ranger Green / Coyote Brown / Gray Care Instructions: Hand Wash, Line Dry USA Velcro fasteners and front/back loops for patches
Good for: Everyone who wants a tactical-style weighted vest that's been optimized for fitness training.
Pros:
Designed specifically for use in functional fitness scenarios
Made in the USA
Very reasonably priced at less than $130
Durable but comfortable
Cons:
Could have thicker shoulder padding for long-term wear
If you get the wrong size, it'll definitely jostle while running (measure!)
Steel plates sold separately
The Rogue Plate Carrier is our best-rated weighted vest largely due to its value proposition. In a nutshell, you get a made-in-the-USA vest designed specifically for its ability to reach up to 40 pounds, is extremely comfortable and priced very competitively. For most people, this is the best option for those reasons alone.
Believe it or not, most weight vest designs you see were intended for military and law enforcement use. It just so happens that the ballistic plates originally intended for the plate carriers can be subbed for cast iron or steel plates and used for working out.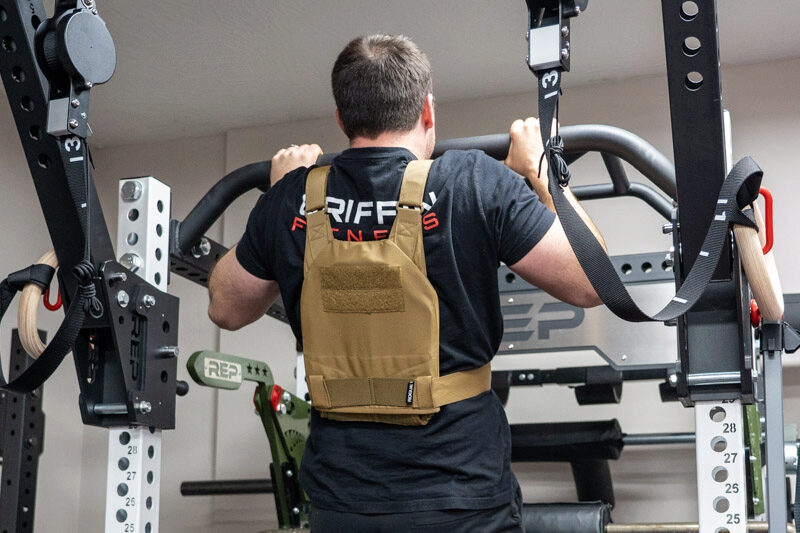 Many fitness weight vests still embody the traditional tactical design, but Rogue dwindled down all of the unnecessary "tacti-cool" elements (although I do think vests like the 5.11 Weight Vest look cooler) for their plate carrier and kept the features that matter most. This allows for a Rogue weight vest that is extremely compact, streamlined, and useful. It has everything you want and nothing you don't (including no chafing).
Most people use weight vests for running, bodyweight exercises, and general CrossFit-style workouts. This is why we recommend the Rogue Weight Vest Plate Carrier. It excels at these things and offers extreme durability thanks to the Cordura fabric and reinforced stitching. Strategically placed padding and stretch-woven fabric keep you comfortable for long and intense workouts. It also manages to have a relaxed fit without compromising security.
Over time, many weight vests fade and lose their stiffness or edge. Being that this vest is made using 500D/1000D Cordura fabric (medium and heavyweight nylons sporting polyurethane and urethane coatings), tear strength and abrasion resistance should make trainees feel at ease knowing they should stand the test of time and use. These fabrics also have resistance to rot and mildew, which is good because you'll definitely be getting sweaty in this thing.
This weighted vest can be used by both men and women, like all fitness equipment, but we're calling this the best weighted vest for men because there are vests out there specifically designed for women (we'll get back to that later).
Read my full and in-depth Rogue Plate Carrier review.
Best Weighted Vest for Running: Hyperwear Hyper Vest Elite Weight Vest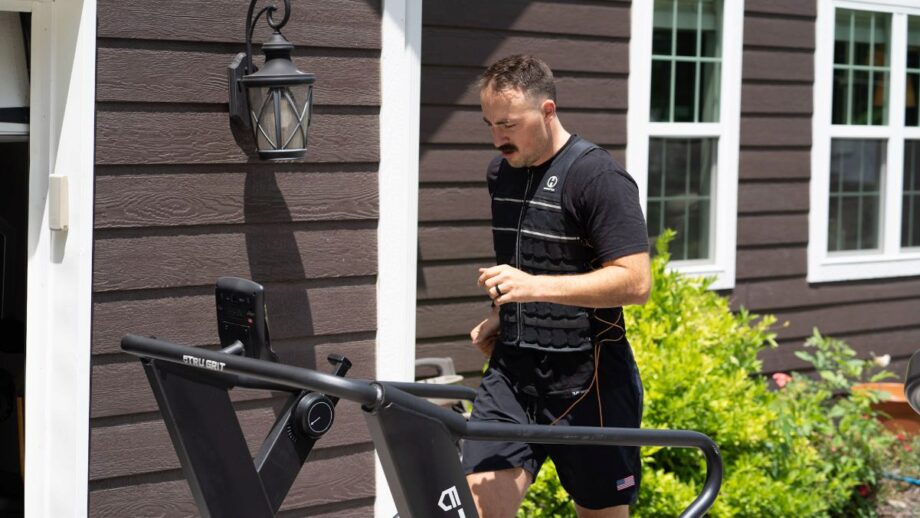 Best Fitted Weight Vest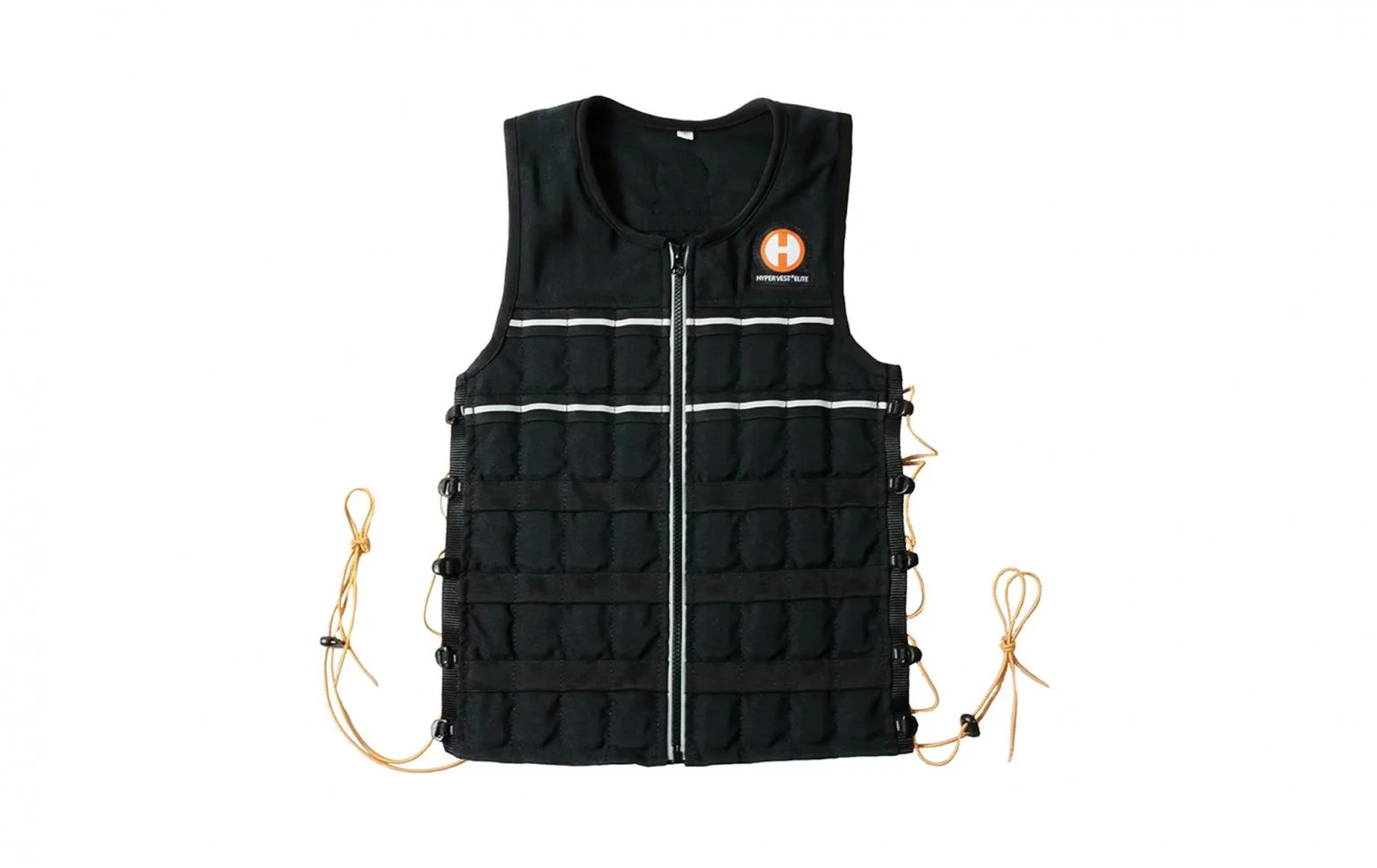 Hyper Vest Elite
Hyper Vest ELITE is the sleek 2.0 to our original durable, adjustable and form-fitting weighted vest. The innovative design features a unique fabric control system that hugs the body for an extremely comfortable fit, but does not restrict range of motion. The heavy-duty CORDURA® material is ready to withstand your toughest workouts.The vest's patented design flexes more in the horizontal plane and less in the vertical plane, allowing for full chest expansion while keeping the weights in place even during vigorous, multi-plane movements.The breathable, odor-resistant fabric and generous open side panels provide superior ventilation, and reflective striping provides added safety during night runs. Its highly adjustable reflective orange side lacing and slim profile allow for exceptional fit and comfort.SpecificationsUnisex patented design for exceptional comfort Breathable, odor resistant, wicking Cordura® fabric Open side panels provide superior ventilation Thin profile allows for full range of motion Reflective, flexible side lacing for highly-adjustable fit Small available in 10LB or 15LB - M,L, and XL available in 10LB or 20LB
Good for: Anyone who needs to minimize jostling and shifting of their weight vest while running.
Pros:
Lightweight, breathable fabric
Tight fit that doesn't bounce around
Thin profile feels like a second skin
Cons:
Expensive, starting around $300
Not as durable as some of my other top picks
Material doesn't wick moisture as well as I'd like
If you tend to avoid weighted vests because you haven't found one with a secure fit that doesn't bounce or jostle around while training, you need to check out the Hyperwear Hyper Vest Elite Weighted Vest.
Thanks to the lack of side panels, an elastic adjustment system, and tightly pocketed weight bars, this vest provides an ultra-contoured fit that hugs your body even during high-impact movements. The fabric is a thin Cordura and, in combination with the open sides, makes for a super breathable weighted vest.
My favorite thing about this vest is that it feels more like a weighted T-shirt than an actual vest. I can foresee some problems with durability due to the fabric thickness and single-stitching, but after using it for about a year, it's still holding up pretty well. It also has great weight distribution thanks to the small steel removable weights (as opposed to a larger steel plate in front and back).
At a price point near $300, I would definitely make sure this is the type of weight vest you want before committing. The Hyperwear Hyper Vest Elite is unique, but not everyone will enjoy the tight fit and contour. For me, however, it's a big bonus to not have to deal with weight shifting or shuffling during runs, box jumps, burpees, and the like.
Overall, I feel like the Hypervest Elite allows for more range of motion than most weight vests, which is ideal for anyone who regularly wears a weighted vest for running or high-intensity workouts with a lot of impacts.

Read my full in-depth Hypervest Elite Weighted Vest review plus, check out the Best Fitness Gifts list (this Hypervest made the cut!).
Best Weighted Vest for Women: Hyperwear Hyper Vest Fit
Best Weighted Vest for Women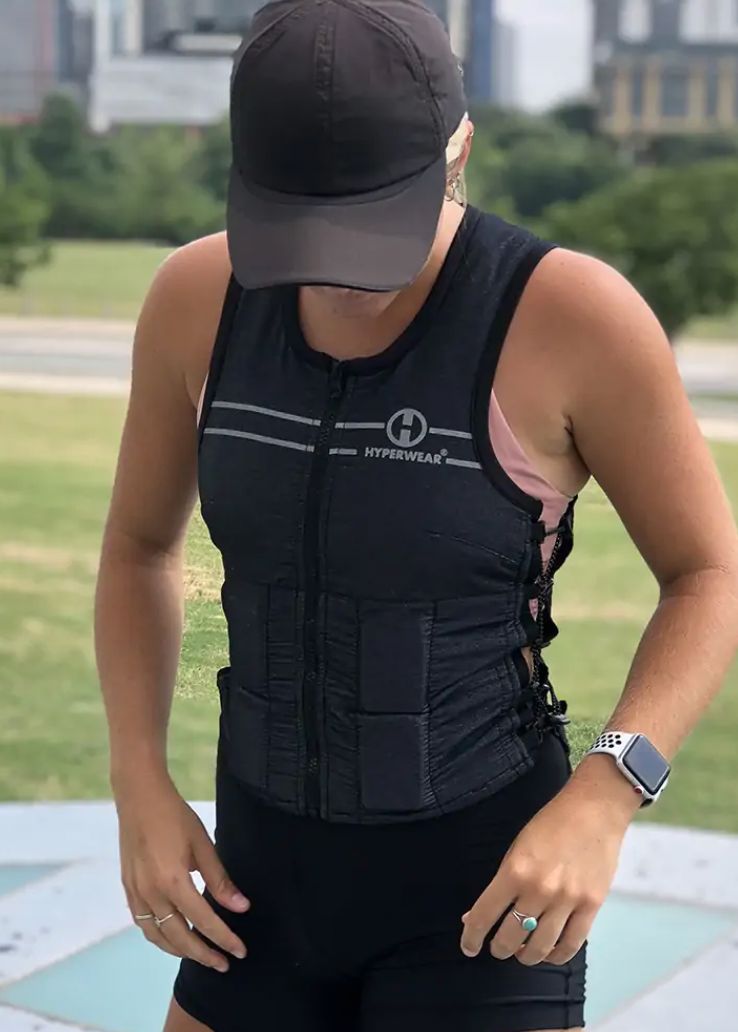 Hyperwear Hyper Vest Fit
There are a lot of weighted vests out there. There are not a lot of weighted vests engineered specifically for women. Hyperwear designed the Hyper Vest Fit with the female body in mind, so unlike most other weighted vests, the Hyper Vest Fit does not have any weight in the chest area. All of the weight is contained to the midsection of the vest -- the stomach and back areas -- to prevent compression and discomfort in the chest.The Hyper Vest Fit is adjustable and holds a maximum of 10 pounds. The removable weights are made of steel shot (small balls of steel) encased in thick, durable plastic. To adjust the weight, add or remove the weights to the individual sleeves in the vest. Each weight weighs half a pound. It can be a little tricky to get the weights in at first, so have some patience.The vest is made of Cordura fabric, a durable nylon blend. It zips up the middle and has elastic side lacing for a custom fit. Hyperwear provides a size chart to help you select the right size for you; our product tester recommends considering sizing down, as she ordered a medium based on the size chart but was left with a lot of excess elastic after tightening the vest.
Good for: People looking for a vest designed specifically to fit the female body
Pros:
Patented design for women
Breathable construction
Fitted design doesn't jostle around during training
Cons:
Only goes up to 10 pounds
Zipper closure is prone to damage over time
Uses steel shot, not plates
Another pick from Hyperwear, the Hyper Vest Fit was designed specifically for women. The vest consolidates all of the weight into the abdomen and back, leaving the chest panels free of added weight.
This vest uses a steel shot enclosed in hard plastic casings, which I think is a phenomenal improvement over fabric-encased steel shots. There's way less of a chance that you'll experience spilled or leaked steel shot with the plastic weights. They weigh half a pound each. The slots for them in the vest begin just beneath the sternum area, and the vest can hold up to 10 pounds.
I don't love that this weighted vest only goes up to 10 pounds. The standard prescribed weight for CrossFit workouts is a 14-pound weighted vest for women, so this one won't do for any RX CrossFit ladies. However, this is a solid choice for any woman looking to add a bit of weight to their walks, runs, hikes, or bodyweight workouts.
Like the Hyper Vest Elite, the Hyper Vest Fit has open side panels with adjustable elastic closures. It's made of Cordura fabric with one-way stretch to minimize bouncing and shifting. Hyperwear says this vest is safe to toss in the washing machine (without the weights), which is a major bonus.
I don't think the zipper on this vest is the most durable, but it should hold up for a few years at least. Hyperwear does specify that the Fit vest is intended for lighter intensity activities, so I would choose something else if you plan to put your weighted vest through the wringer.
Best Weighted Vest for CrossFit: 5.11 TacTec Plate Carrier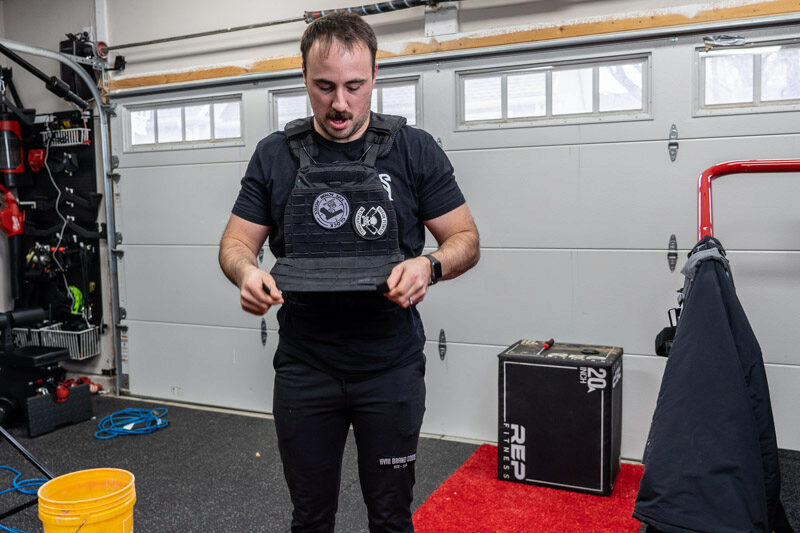 Best Weighted Vest for CrossFit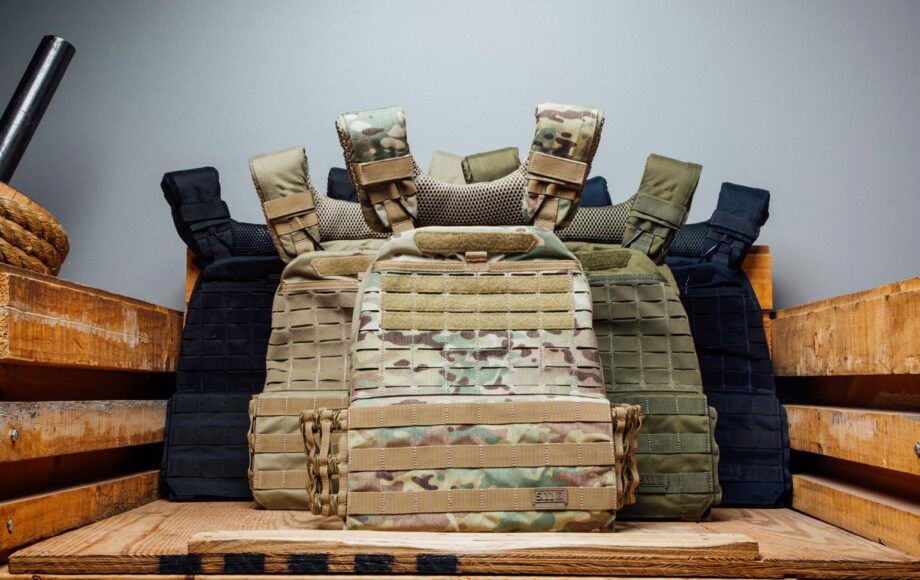 5.11 TacTec Plate Carrier
Made from an ultra-durable, water-resistant 500D nylon, the 5.11 TacTecâ"¢ Plate Carrier Vest is uniquely designed to give the wearer an increased range of motion with a lightweight feel and optimal breathability. Unlike some comparable weighted vests or flak jackets in the industry, the 5.11 Tactical Weight Vest can hold medium and large ballistic plates–front and back–without the restrictive bulkiness. Yoke shoulder pads reduce friction, adjustable tensional bands improve stability, and innovative air flow channels and aerospace mesh ensure sustained comfort.The 5.11 TacTec Plate Carrier Vest weighs 2.5LB on its own, and can be ordered as part of a package with a set of compatible plates–including your choice of the original Rogue Vest Plates or our new USA Cast Weight Vest Plates (you can compare options below). All weight vests come with durable Duraflex® hardware, a laser-cut micro-loop web platform, and an extended drag handle and quick release system.An athlete doesn't need to sacrifice comfort or mobility to get all the benefits of a top-tier weighted vest. 5.11 Tactical has created a uniquely lightweight and body-contoured plate carrier, weighing just 2.5LB unloaded, and capable of holding both medium and large ballistic plates, front and back. The carrier is made from durable 500D nylon, and features yoke shoulder pads to reduce friction, adjustable tensional bands for stability, and innovative air flow channels for sustained comfort.
Good for: People who need an ultra-durable weighted vest for long-term wear
Pros:
Sweet tactical design (makes you look badass)
Extremely durable and long-lasting
Sweat and water-resistant
Cons:
Bulky design can be uncomfortable for long workouts
Expensive, starting at over $200 for just the vest
Only two weight options (14 and 30 pounds)
The 5.11 Tactical TacTec Plate Carrier is our previous top pick and is still a vest we'd recommend. The 5.11 TacTec Plate Carrier was, at one time, the best and pretty much only option if you wanted a high-quality weighted vest. To be honest, it became a popular kind of by happenstance.
Like I mentioned before, the TacTec Plate Carrier is one of those vests that wasn't initially meant for use as a fitness tool. It was designed as a flak jacket to hold ballistic plates for operators in the military, and 5.11 realized those ballistic plates could easily be replaced with steel plates for improving fitness.
Soon after its release, the TacTec Plate Carrier was repurposed by CrossFit athletes and has been used in countless CrossFit games events, including the infamous Murph. The TacTec Plate Carrier is definitely one of the most tacti-cool looking weighted vests, however, that style means it has some unnecessary features that add to overall bulk.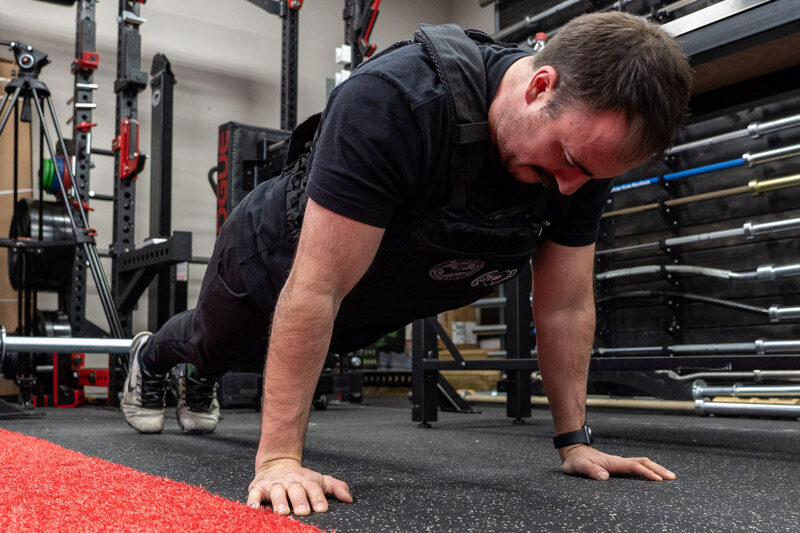 If you like the look, want a vest that's extremely durable, and don't mind paying for it, the 5.11 Tactical Weight Vest is still a great option; it's just not our favorite option anymore. The 5.11 Weighted Vest has been copied hundreds of times over, but that's exactly why it's no longer our pick for the best weighted vest overall. The Rogue Plate Carrier is the perfect example of how many companies took the best of the TacTec Plate Carrier and got rid of unnecessary features.
We do think the 5.11 weighted vest is a good option for CrossFit specifically because of its sheer durability. This vest will last for years no matter how many insane CrossFit workouts you put it through. It's also a great weighted vest for obstacle course races, such as Tough Mudders and Spartan Races, where your vest is sure to get beat up. That's why it also gets the distinction of being the best weighted vest for workouts.
One specific feature of the 5.11 vest I really like is the yoke. The shoulder straps feature thick, foam-filled pads with mesh backing to allow breathability. I prefer the minimalist design of the Rogue Plate Carrier, but for extremely long rucking and training, the shoulders on the 5.11 Vest will prove to be a bit more comfortable.
Finally, the price is a bit high. The cost of just the vest is $210, and that doesn't include shipping or the cost of the weight plates. For comparison, Rogue Plate Carrier is made in the U.S. and is $85 cheaper for just the vest.
RELATED: Best CrossFit Equipment for Home Gym
Best Budget Weighted Vest: Condor Sentry Plate Carrier
Best Value Weighted Vest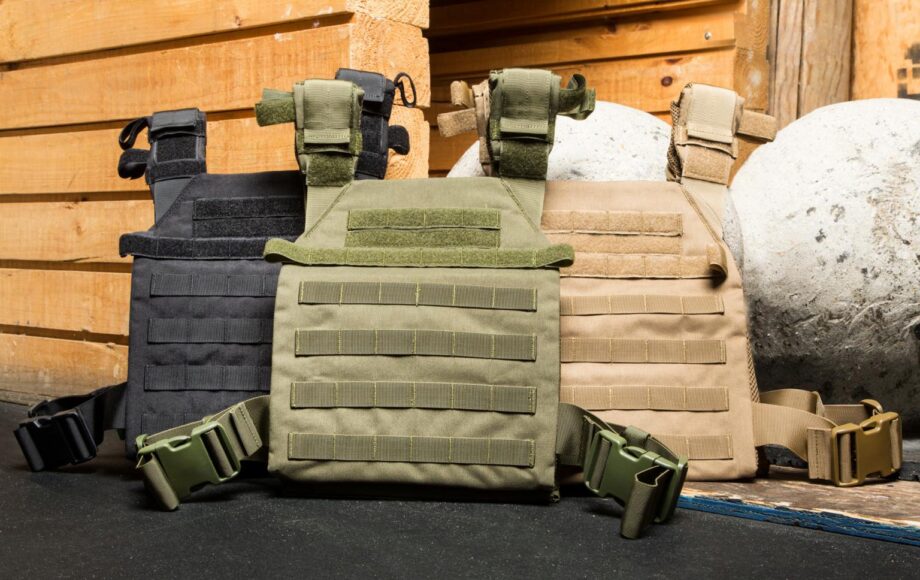 Condor Sentry Plate Carrier
The Condor Sentry Plate Carrier is a minimal-bulk, high-performance tactical vest with full adjustability for a custom fit. The carrier's durable, easily accessible plate pockets are specially designed to hold both medium and large ESAPI standard plates up to 10.25" x 13.25". You can order your vest on its own or with a set of compatible Rogue Weight Vest Plates (5.75LB and 8.75LB available)Because it's built for a comfortable fit and greater range of motion, the Sentry Plate Carrier is well suited to a wide array of training programs. The adjustable sizing covers a waist size range of 30" to 46", and the vest is equipped with a number of unique features, including heavy-duty webbing for modular attachments, a padded mesh interior lining for optimal breathability, quick adjust cinches, and quick release buckles. Secure, front hook-and-loop webbing also allows for easy shoulder strap adjustments and the attachment or removal of the padded mesh shoulder pads. The vest is available here in black, tan, or olive drab.Specifications:Durable, lightweight construction with reduced bulk (1.5LB unloaded) Hook-and-loop webbing Adjustable shoulder straps for custom fit Padded mesh interior lining for comfort, breathability Plate Pockets compatible with standard Medium or Large ESAPI plates up to 10.25" x 13.25" Emergency drag handle Removable padded mesh shoulder pads with hook and loop guides Heavyweight webbing for modular attachments Color Options: Black, Tan, Olive
Good for: People looking to maximize their budget without sacrificing quality
Pros:
Budget-friendly price of $50
Made with tactical-grade materials
Compatible with Rogue Fitness Vest Plates
Cons:
Not a fan of the buckle closure on straps
Not as comfortable as our other top picks
Not compatible with laser-cut vest plates
If a low price is a high priority, but you still want something that's high quality and can take a beating, then the Condor Sentry Plate Carrier is what we recommend. Although this isn't the cheapest option (look at our ultra-budget pick for that) and it isn't the highest quality either, the Condor Sentry Plate Carrier combines elements of the 5.11 TacTec Plate Carrier and Rogue Plate Carrier for a very reasonable price.
The vest itself is available on Rogue Fitness for a hair under $50. When you buy from Rogue, you have to choose the Rogue Vest Plates, as the Condor Sentry is not compatible with the laser-cut plates. Even with the heaviest weight option (20-pound pairs), your total will only amount to $125. That's the cost of the Rogue Plate Carrier without the steel plates. So again, if you want to maximize your budget and score a decent quality vest from a well-known brand, go with the Condor Sentry Plate Carrier.
We're fans of this vest at the price point for those who want a vest designed for rucking, metcons, hero-WODs, and calisthenic exercises. Just keep in mind that it's not actually designed for fitness—if you go to the Condor Outdoor website, you'll notice that the product description mentions rapid-response and line-of-duty situations.
I have a few qualms with the Condor Sentry: The straps on the side use buckles that can come loosened during training, and there have been quite a few reports of the buckles breaking. The yoke straps are too narrow for me, which causes discomfort and scraping on the neck. Also, there have been reports of the plates breaking through the nylon fabric. However, there are plenty of positive customer reviews, too.
Best Backpack-Style Weighted Vest: GORUCK Plate Carrier 2.0
Best Backpack-Style Weighted Vest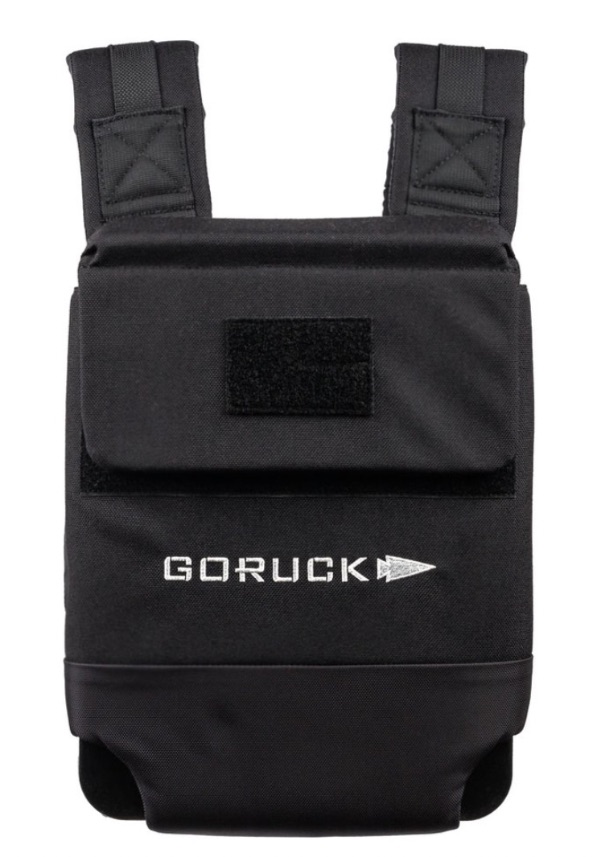 Good for: Exercisers who want to consolidate the weight to their back and keep their chest free of constriction
Pros:
Backpack design leaves your chest open
Lumbar padding makes for a comfortable fit
Made of durable Cordura fabric
Cons:
Kind of defeats the purpose of weight vests, which is to evenly distribute weight
Not everyone will like the backpack-style straps
Could use a hip strap in addition to the sternum strap
At first glance, the GORUCK Plate Carrier 2.0 entirely defeats the purpose of a weighted vest. Weight vests intend to evenly distribute a load around your entire torso, preventing the weight from centering on your back. The GORUCKPlate Carrier purposely centers the entire load on your back and leaves the chest and abdomen open in this backpack-style vest. When you consider the activity of rucking and all of GORUCK's other gear, this makes perfect sense.
Rucking is simply walking with a weighted pack or weighted vest. A great way to get in your low-intensity cardio workouts, rucking is rooted in Special Forces training, but anyone can do it, with any weight and for any distance. GORUCK made this plate carrier specifically for rucking, with features that keep the weight secure and close to your back to promote good posture. This is the ultimate weighted vest for anyone who just can't stand closing up their chest and abdomen inside a vest.
The benefits of this backpack-style weighted vest include breathability and optimized mobility. Centering the weight in your mid-back also promotes good posture by pulling the shoulder blades back and down. If you struggle to keep your chest up while wearing a regular weighted vest, the GORUCK Plate Carrier 2.0 would be a good option for you.
As far as construction goes, GORUCK clearly prioritized durability and longevity with the Plate Carrier 2.0, as well as comfort. The vest features thick, padded shoulder straps and a wide sternum strap to keep the weight secure. I wish the carrier also came with a hip strap to help the weight distribute more evenly and minimize bouncing. It looks like you can buy those separately for the Rucksacks, so maybe GORUCK will create a hip strap for the Plate Carrier in the future.
The Plate Carrier 2.0 is made primarily of heavy-duty Cordura fabric and has EVA foam padding in the lumbar region for extra support. The shoulder straps also contain EVA foam padding for comfort. One nice touch is the extra padding on the top lip of the back panel, which provides a cushion for your upper back when doing bear crawls, burpees, or other movements where the weight may shift. Adjustable straps allow for fit customization.
This weighted vest comes in three sizes-small, standard, and large—and you do have to buy the plates separately. This is pretty standard when it comes to weighted vests, and with the Plate Carrier 2.0 listed for under $100, it's a pretty good bargain even when you factor in the cost of the plates.
I generally recommend GORUCK products based on their durability and versatility (I love the GoRuck Sandbags), and the GORUCK Plate Carrier 2.0 has my full recommendation based on those qualities.
Best Weighted Vest for Walking: Fringe Sport WODMaster Weight Vest
Best Weighted Vest for Walking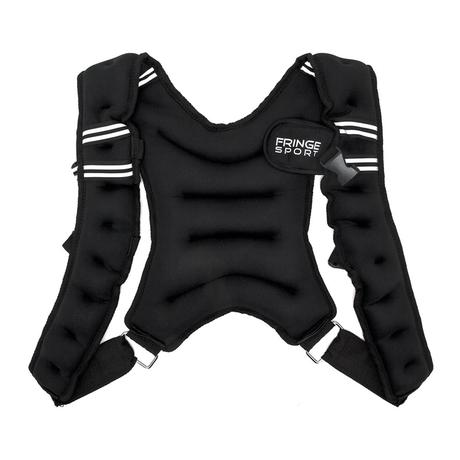 Fringe Sport WODmaster Weight Vest
Grab the only weight vest specifically designed for WODs like Murph and Clovis with the Adjustable WODmaster Weight Vest.The weight is fixed at 20lbs - exactly the right weight for most Hero WODs! Has reflective stripes on front and back for night workouts. Unlike most vests on the market, the WODmaster weight vest is designed to hug the body and has 6 points of adjustment to snug the vest tight against your body.The WODmaster weight vest was designed and tested with running, pushups, kipping pullups, normal pullups, squats, burpees, thrusters, and more. It safely and comfortably hugs your body through all these movements!
Good for: Anyone who values mobility more than weight and wants something comfortable to wear for long periods of time
Pros:
Minimalist design supports full range of motion
Super breathable and comfortable
Has six points of adjustments to achieve the best fit
Cons:
Weight is fixed; no adjustability
Neoprene construction isn't the most durable
Design and shape can cause some rubbing on the ribs
The specific weight vest design you see in the Fringe Sport WODMaster Weight Vest is ideal for walking and hiking long distances because it largely leaves the torso unobstructed, which makes for a much more breathable fit. Yes, the name is "WODMaster," suggesting the vest is made for CrossFitters, but we like this design a lot for walking.
Instead of covering the chest, abdomen, and entire back, this vest features a minimal profile that covers just the mid-back and traps, with two weighted straps that wrap from the front of the shoulders, across the pecs, and to the lats. The result is a comfortable, open-fit that stays snug during long endurance workouts.
Made primarily with neoprene, this isn't the most durable weighted vest available. But if you're only using it for walking, that shouldn't matter. The outer neoprene casing holds a tightly packed steel shot that's held in place with double stitching. Unfortunately, you can't remove or add any sand or steel shot, so this weight vest is fixed at 20 pounds.
I like that Fringe Sport had the forethought to add reflective strips to this weight vest, knowing that many people go on their walks in the early morning before the sun comes up, or in the evening after it's set. Safety first!
This vest only comes in two sizes (M/L and L/XL), but it has six adjustment points, so you shouldn't have any problem adjusting the vest to get a good fit.
We're not sure how long the buckles and velcro closures will last on this vest, but as a general rule, velcro starts to suck after a while if it's not of the highest quality. Just try to keep dirt and sweat out of the velcro and you should be able to enjoy this weighted vest for years.
Speaking of sweat, I worry about the long-term odor resistance of the WODMaster weighted vest because of the neoprene construction. This is the stuff of wetsuits and anyone who's left a wetsuit without a wash for too long knows they can start to smell pretty funky. My advice is to make sure you hang up your WODMaster vest after each walk or hike to air dry it and occasionally rinse the entire thing in a tub of cold water.
Best Ultra-Budget Weighted Vest: CAP Adjustable Weight Vest
Best Budget Weighted Vest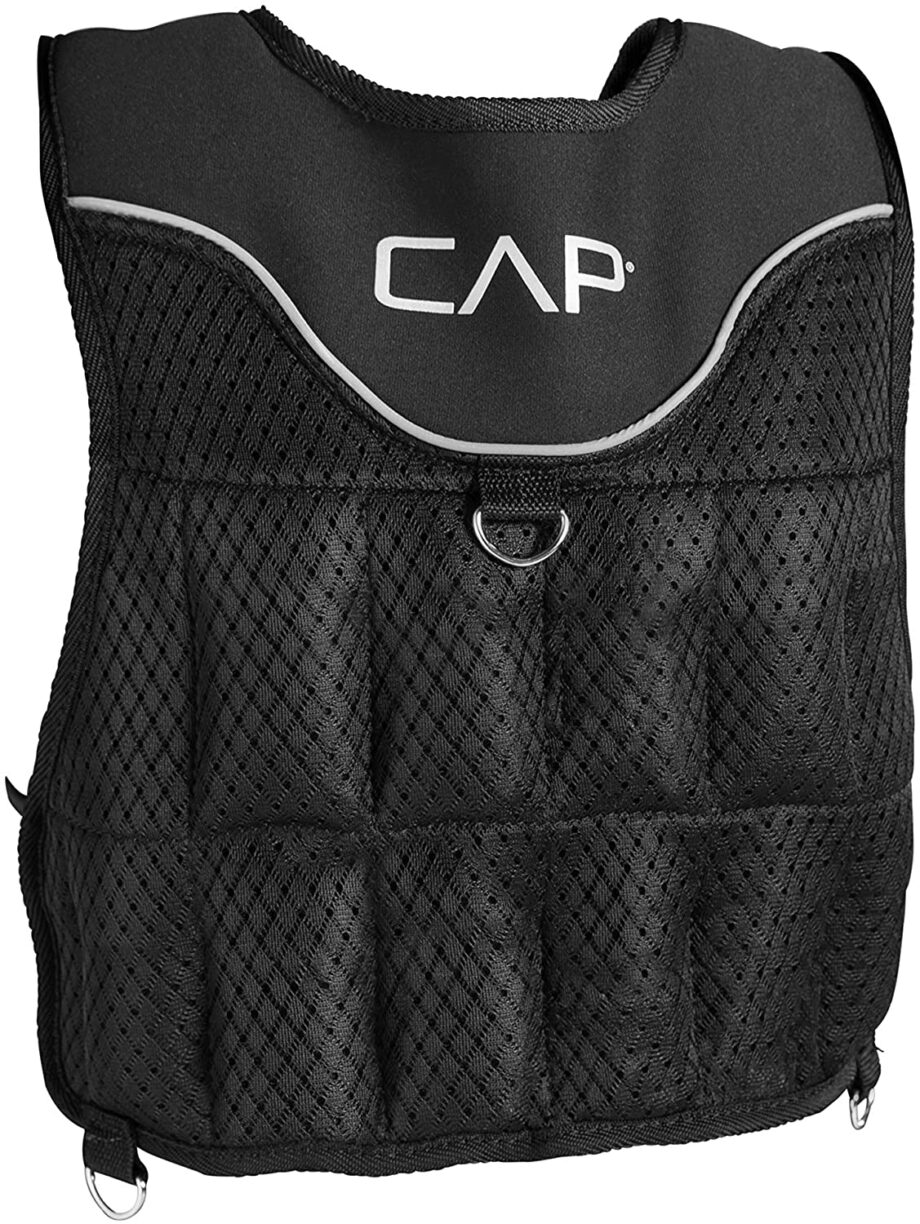 CAP 20 LB Adjustable Weight Vest
Adjustable conditioning vest with steel-shot weight packets, weighing approximately 0.75 lb Helps you gain strength and burn additional calories Adds up to 20 pounds of resistance Neoprene padding for comfort; Integrated pocket for cell phone The vest is made with breathable mesh with adjustable clips to match your body type. Width: 14.50; Height: 16.50; Depth: 5.00 & Weight: 20.00 Lbs
Good for: People looking for a cheap vest they can use for a couple of years before upgrading
Pros:
Delivered to your door for less than $50
Relatively comfortable with a flexible fit
Super entry-level option for people just starting out their home gyms
Cons:
Fabric rips easily
You will need to upgrade after a year or two
Uses sand instead of plates
The cheapest adjustable weighted vest we recommend is the CAP Barbell Adjustable Weighted Vest, and we are somewhat wary of doing so. For the price, it's a good value as it weighs in at 20 pounds and is shipped to your door for under $50.
However, in our experience, you will eventually want to upgrade and we don't suggest using the adjustable weight feature unless you want grains of sand to fall out on your floor (this is the weight that's used). It's cheap, it's (close to) 20 pounds, and it has a snug fit thanks to its neoprene material. Understand though, you get what you pay for with this vest. It doesn't have shoulder pads, though. It's also unisex and one-size-fits-all, so beware if you have a very petite frame, as you might find yourself swimming in this vest.
I want to make this clear: The CAP Adjustable Weight Vest is not great. It won't last for years like the other options I recommend, but if you're on a budget and understand that you'll likely have to upgrade eventually, it's your best option.
I've used many of the cheaper weight vests and the problem is most either don't get heavy enough or are too uncomfortable to really even be useful.
At 20 pounds, this weighted vest is perfect for typical CrossFit Hero WODs like Murph) and feels very much like a weighted shirt. The side wraps are made of a flexible neoprene fabric that isn't very breathable but allows the weighted vest to sit close to the body.
Instead of plates, the CAP Weighted Vest uses little bags of iron sand, which consists of leftover flakes of iron after manufacturing processes. This is one of the reasons they can sell it for as cheap as they do as sand is extremely cheap. (CAP calls the product steel shot in product descriptions because it sounds better, and while it's somewhat similar—small particles of steel—it's not technically the same.)
It's nice that the bags can be removed and therefore the vest is adjustable in weight, but the material used is so thin, cheap, and badly stitched that I've had the bags break, leaving iron sand all over my gym floor. It's annoying and it's a prime example of trying to make a product as cheaply as possible.
Your best bet is to just use the vest as-is. Don't adjust the weight, don't take the little sandbags out of the vest, just use it as is and forget about the adjustability feature. Most of these downsides are lifted when you realize the vest is available for less than $50 with free shipping. Honestly, it's insane how cheap it is for so much weight.
RELATED: Best Budget Home Gym Equipment
Best Heavy Weighted Vest: Kensui EZ-VEST Plate-Loadable Weight Vest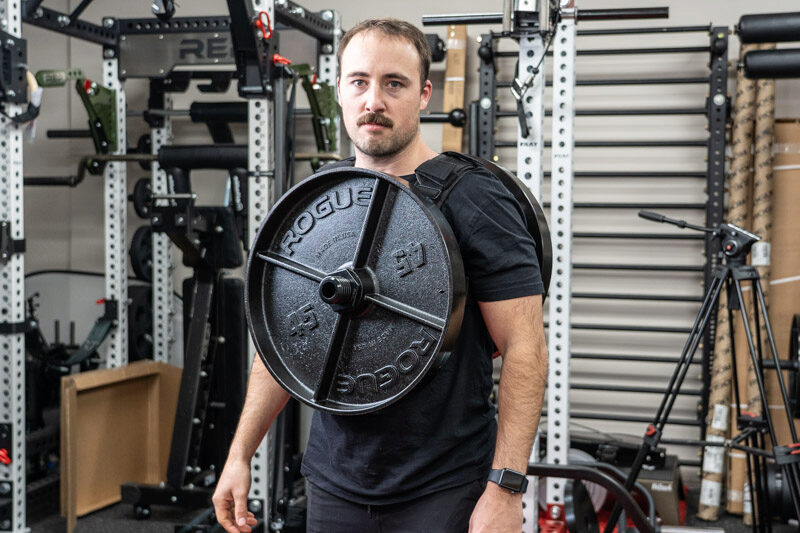 Best Heavy Weighted Vest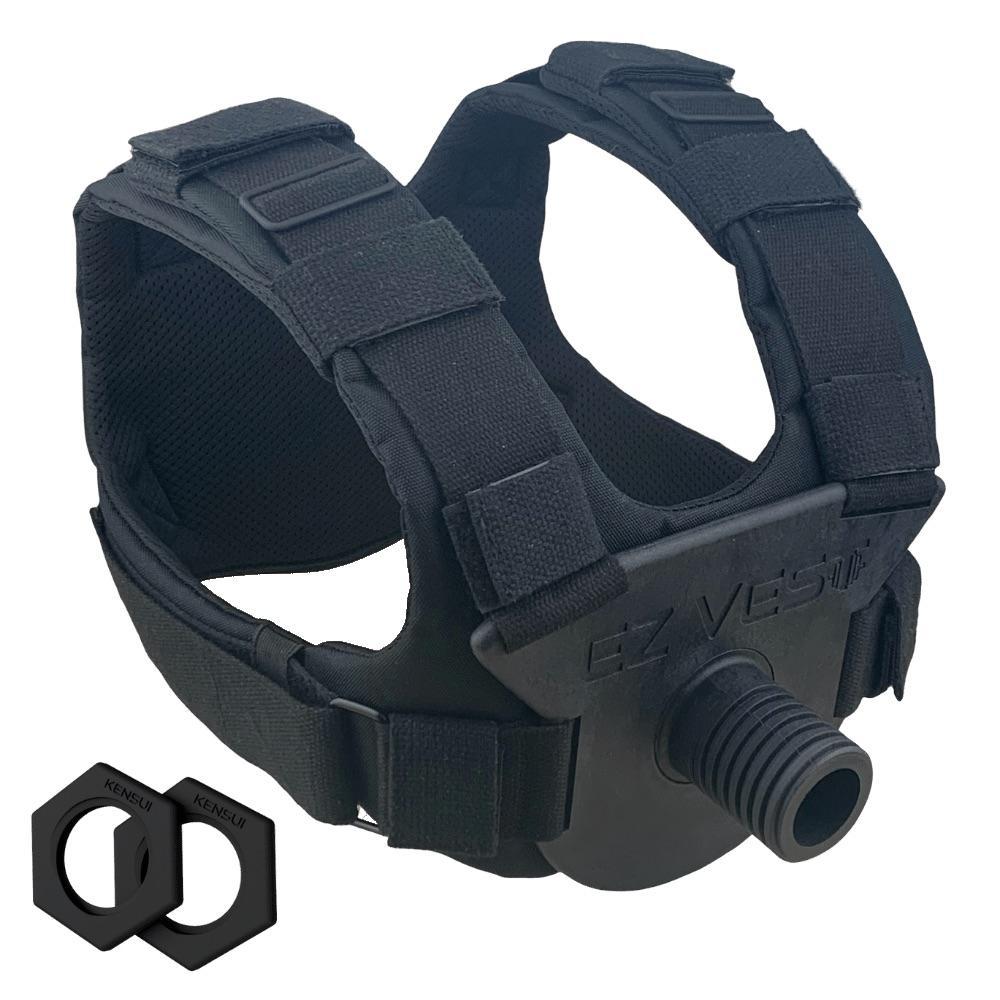 Kensui EZ-Vest
Our innovative patent-pending weight-loading vest compatible with all weightplates. The EZ-Vest® allows you to up the intensity and get more out of each rep.Perfect for weighted running, weighted pushups, squats, rows, pullups, dips, handstand pushups, jumps, planks, and many more exercises!• Removable & breathable leather lining • Machine-washable padding • Light-weight and Portable (4lbs) • Doesn't require custom weights • Weather Resistant Powder-coating • Aircraft Grade Aluminum • Heaviest weighted vest • Comfortable Seamless binding • Fits all weight plates • Adjustable Shoulder Strap • Heavy Duty 1680D Ballistic Nylon • Includes 2x Olympic spin-lock collars • Removable Sleeves for compactness • Training guide with 30+ workouts
Good for: People who need a weight vest heavier than 40 pounds
Pros:
Loadable up to 225 pounds
Unique Olympic plate-loaded design
Great for straight-set weight training
Less expensive than other vests because you don't have to buy the steel separately
Cons:
Can feel awkward to use at first
Not ideal for CrossFit-style workouts or running
Can get uncomfortable to wear as the weight gets higher
Oh, you're so strong that a 40-pound weighted vest just won't do? Well, we have you covered. If you're looking for a weighted vest to use for more strength training than conditioning (or you're just an absolute unit that can do Murph with more than 40 pounds on your torso), we recommend the Kensui EZ-VEST Weight Vest.
The Kensui EZ-VEST is the most unique weighted vest in our breakdown and likely one of the most unique in the world (except for that one vest called the Power-Pohl that looks like something out of a horror movie.)
What separates this Kensui vest from every other weighted vest on the market is its method of resistance. Rather than using small steel plates made to fit into the sleeve of the vest, the Kensui EZ-VEST uses Olympic weight plates, increasing the max weight capacity compared to standard vests. You could maybe try using bumper plates, but you wouldn't have much room on the sleeve.
In addition to the benefit of a higher weight capacity, this also means that instead of buying new steel weight plates to fit your vest, you just use the weight plates you already have in your home gym. So not only can you use more weight, you don't have to pay extra to do so.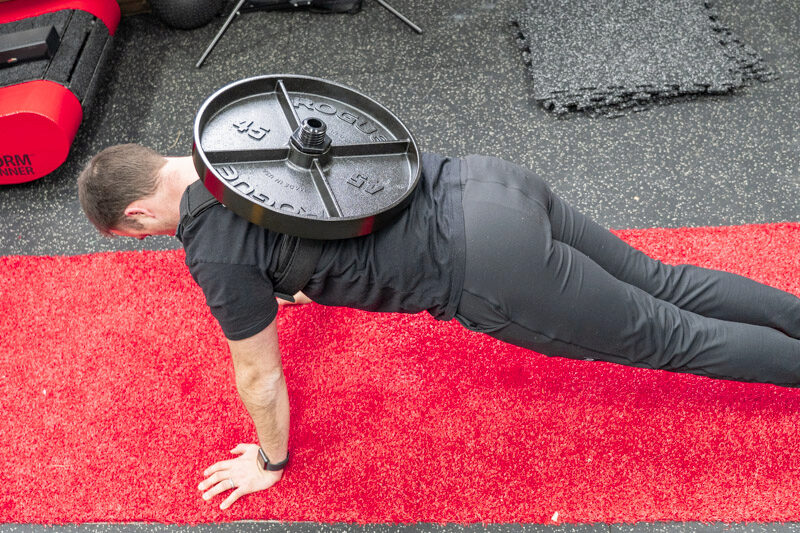 For this reason, the EZ-VEST from Kensui is the best weight vest for those that want to add weight to various bodyweight movements and aren't looking exclusively for a vest for conditioning and metcons (like what our best-rated vest, the Rogue Plate Carrier, is best suited for).
I think most people are best off with a weight vest they can use for conditioning, which is why we place the Rogue Plate Carrier as our top pick. The Kensui EZ-Vest can certainly be used for dynamic movement, but it's not as well suited for it as others.
However, where the EZ-VEST shines is in its ability to progressively overload pull-ups, dips, push-ups, and other calisthenic movements. This is very difficult to do with other vests or belts, but the EZ-VEST is great for just this purpose.
The ease of using the system is handy as well. The plate sleeves feature a locking nut that is easy to hand tighten and stays pretty tight. The sleeves are removable in case you're doing push-ups and want weight on the back, but not the front sleeve to get in the way when going chest to deck.
Kensui has multiple EZ-VEST models; the Max is the one that supports a load of 225 pounds.
I will say, although the weight capacity is high, that doesn't mean it's incredibly comfortable at those weight increments. Using 45-pound plates on the vest does feel a bit awkward as they can get in front of your chin and bounce a bit—this type of vest will just never have the same weight distribution as a plate carrier.
All in all, I'm surprised how much I like the EZ-VEST. I was skeptical and I do think it could be improved in some minor ways (find out how in my in-depth Kensui EZ-VEST Weighted Vest review), but there really isn't much not to like. It has my full recommendation.
Benefits of Weighted Vests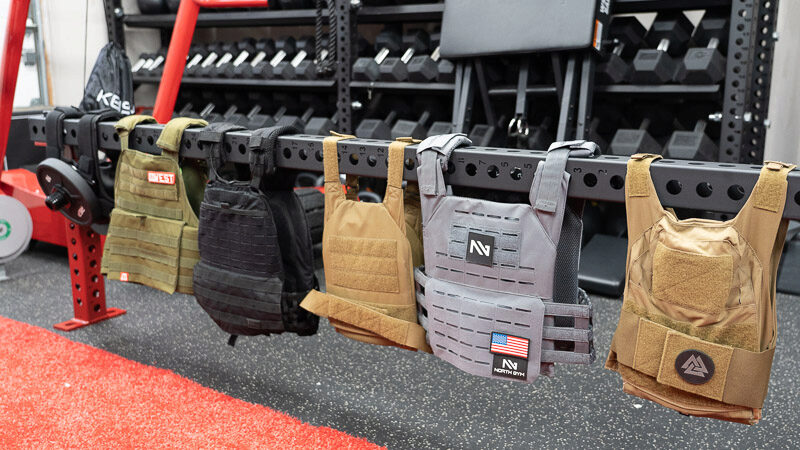 Wear a weighted vest during your workouts a few times a week and you'll begin to notice the following benefits:
Cardiovascular Fitness
Weighted vests put stress on your respiratory muscles, which makes it slightly harder to breathe and therefore increases your heart rate. Over time, your heart will learn to get accustomed to the stress and become stronger, thereby increasing your overall cardiovascular fitness.
Stamina
Using a weighted vest during endurance training activities can help you go the distance when it's race day. Running, walking, and hiking with a weighted vest increases your capacity to travel long distances under physical stress.
Strength
If you're feeling stuck in your pull-ups, push-ups, or other calisthenic movements, try adding a weighted vest. You'll initially have to lower your reps, but you'll soon find that your bodyweight strength has increased.
Muscular Endurance
Muscular endurance refers to how long your muscles can sustain repeated contractions under a given load. In other words, how many air squats you can do without giving up due to lactic acid buildup or succumbing to muscle failure. Wearing a weight vest for exercises like squats, pull-ups, and push-ups trains your body to do more reps with more weight—so when you take that vest off, you'll feel like Superman.
What to Consider Before Buying a Weighted Vest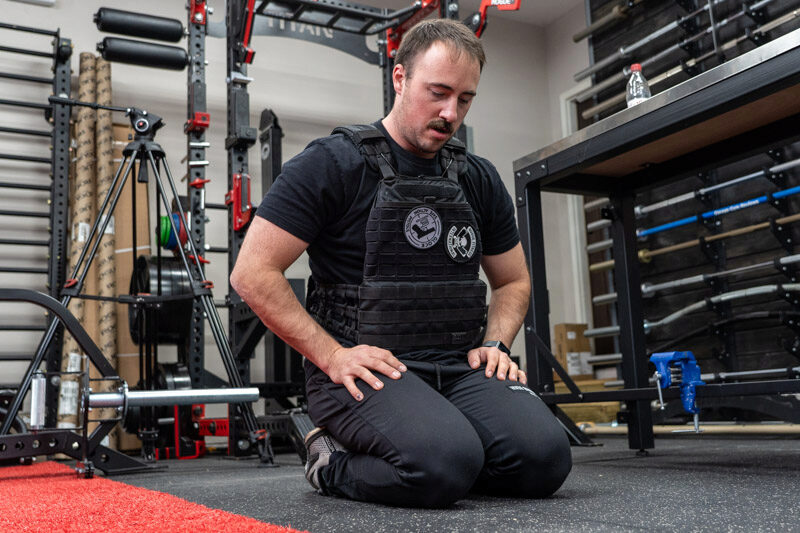 Before you buy a weighted vest, consider these factors to choose the best one for you.
Primary Use
As with most items that you plan to fill your home gym with, I recommend taking a look at the movements you most often do. Do you do a lot of running or quick, explosive movements? Then you'll want a vest that you can use for those purposes without flopping around. However, if you do more pull-ups and dips than sprints and longer distance runs, then a vest that has the capability of getting heavy may be a better option.
Here's the thing: there are vests that can do it all. However, they often lack in some areas if they can do everything. For instance, a vest that can get heavy and be used for running is often time-intensive to adjust the weight and won't feel very secure during runs. This is why for most people, we suggest a vest that isn't crazy heavy but instead can add 20 pounds or so to your body weight as it will feel the most comfortable and be the most versatile.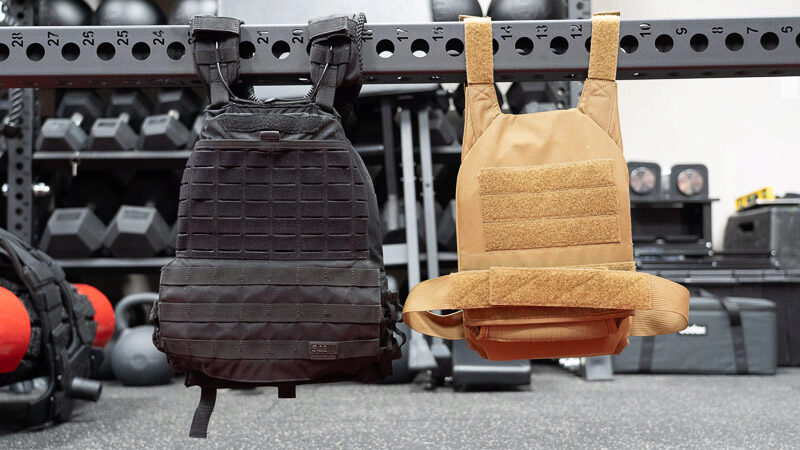 Size
This goes hand-in-hand with the primary use you need a vest for. Tighter fits tend to be better for running, jumping, and other bouncy movements. You probably don't need something fitted if you only plan on using your weighted vest for pull-ups, squats, lunges, and the like.
Construction and Durability
Look at what the vest is made of and what you plan to use if for. Materials like Cordura and other heavy-duty nylon blends are best if you plan to put your weighted vest through intense workouts and expose it to the outdoor elements. Some higher-end weighted vests have thin water-resistant coatings for extra durability. Analyze the closure systems, too: Does it use buckles, straps, or velcro, and will the specific closure system serve your needs?
RELATED: Outdoor Training Guide
Check to see if you can take the vest apart for washing it, and if you can toss it in the washing machine or if it must be hand-washed.
Finally, check for any extra features you may want. Do you want a mesh pocket for storage, or maybe even a bottle holder? Some next-level weighted vests come with those cool features, but you'll probably pay a premium.
Proper Weight
On average, weighted vests range from 10 to 40 pounds. However, some vests go heavier, such as the Kensui EZ-VEST we recommend. Most people don't need or want a weighted vest heavier than 40 pounds, but it all depends on your fitness level and how you want to use the vest.
Fit
A weighted vest should fit like a good shirt: Not too tight, not too loose. You'll want it to be secure as you move around during your workout, but not so tight that it restricts movements.
Loading
Some people may prefer a back-loaded weighted vest over one where the weight sits on your chest, and others may prefer a plate-loaded vest over one that's pre-loaded. Find one that works for your workout needs.
Type of Weights
Different vests are compatible with different kinds of weights. Most of the weighted vests we recommend use steel or iron plates, but others use bags of sand or steel shot. Some unique vests, such as the Hyperwear models, use miniature steel plates that are about the size of Pez dispensers. Factors such as budget and primary use will determine which type of weighted vest is best for you.
Aesthetics
Don't fall into the trap of buying the coolest-looking weighted vest. Seriously, the looks of the vest are secondary to the function and feel of the vest (and this rings true for pretty much all of the best home gym equipment.) But we still recognize that aesthetics are important to most people, and most want a vest that looks cool. So don't buy one you hate the look of, but don't base your entire decision around style alone.
Budget
Of course, budget plays a huge role in purchasing decisions. That's why we've provided a comprehensive list of the best weighted vests in different price ranges.
How We Picked the Vests
Any fitness product that doesn't require an entire room to be used (i.e. a squat rack) and can be had for those on even the most strict budgets will have many companies selling their own version.
There are many weighted vests on the market, especially with the continued interest in working out at home. However, there are not as many different types of vests as you'd guess after doing a quick Google search. The fact of the matter is, despite all of the brands selling weighted vests, many of them are using the same manufacturers and designs and are simply having their logo placed on the product. This happens a lot in the fitness industry; barbells are notorious for it.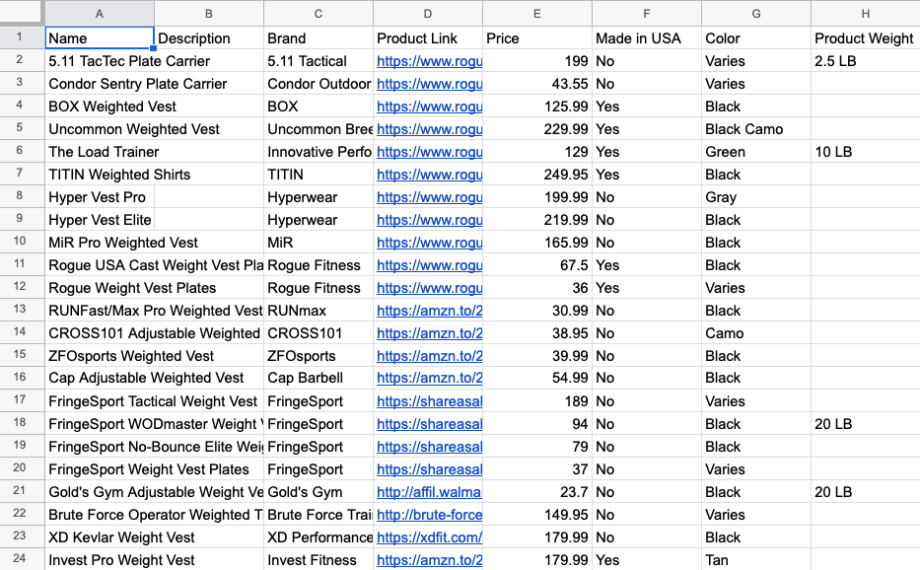 So, what we did was first take stock of what we had on hand in both my home gym and my personal training studio. Turns out we had more than 10 different models already from doing various reviews over the years.
I then began to scour manufacturers' websites to see what was available that I wasn't aware of. When I found a vest that was a unique design or one I hadn't used, I bought it and we began throwing it in workouts to see how it felt.
In total we found over 50 different weight vests being sold by companies, but not nearly as many unique designs. The versions we brought in-house for testing were ones we had either prior experience with, looked intriguing, or we had been asked to review it.
In an effort to provide a wide variety of weighted vests, we also took a couple of things into consideration.
Material
Were these vests made of durable material that could not only support the weight, but wouldn't tear mid-workout?
Design
How did the vests look and feel? And were they comfortable?
Loading
How were the weights distributed on the vests? And could you add more weight if you wanted?
How We Tested the Weight Vests
Once we narrowed down the weight vests to the ones that we felt were worth paying some attention to, we ran them through various workouts.
Depending on what its use case is, a weight vest should perform differently.
For the vests we thought were more suitable for a heavyweight, we loaded them up to their maximum suggested weight (and often more) to see how they felt. In addition, we would jump (as much as we could with a few hundred pounds on the vest,) run, bound, and just overall shake to see how if the weight stayed secure and tight to the body.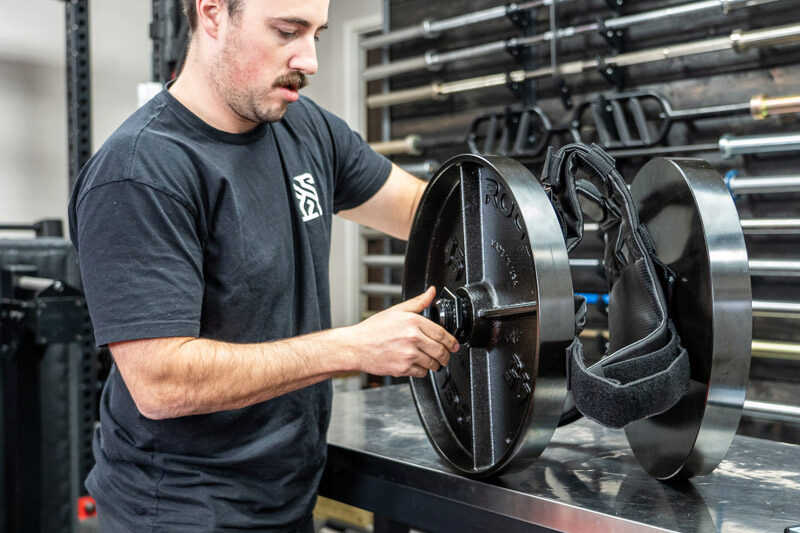 Most of the weight vests use velcro as the securitization system, so we tested how many times we could place and pull the velcro tabs apart to see how many it would take before we found a noticeable change in the holding power.
For the vests designed to be used for most everything, we used them for almost everything. We put them on for runs, used them in workouts that they're really designed for, like Murph, as well various bodyweight workouts such as push-ups, squats, pull-ups, and box jumps.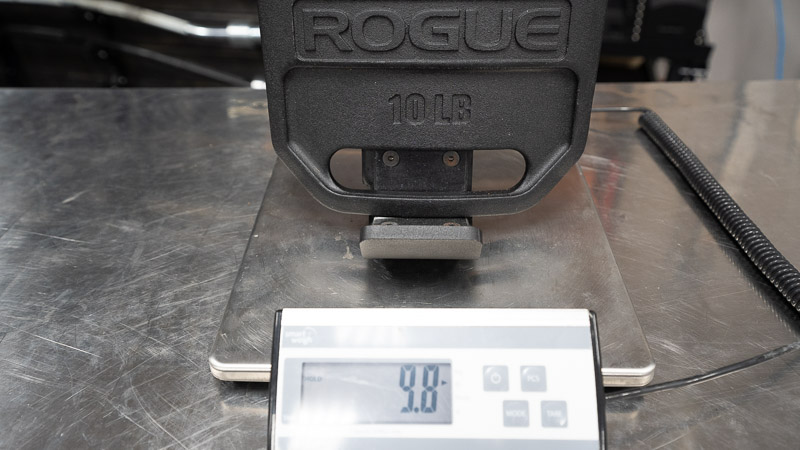 Lastly, we weighed the vests and their weight plates (if they came included) for accuracy to their stated weight as we do with all of our barbell and weighted plates.
The Competition
North Gym Adjustable Weighted Vest: This was originally our pick for the best value weighted vest. Unfortunately, the price has increased significantly since the last iteration of this guide. We still love the North Gym Adjustable Weighted Vest, and we'd call it the best adjustable weighted vest, but the price is around the same as the Rogue Plate Carrier, which we feel is too expensive for the quality you get with the North Gym vest. The Condor Sentry Plate Carrier has replaced it as our value pick.
Hyperwear Hyper Vest PRO: This is basically the same as the Hyperwear Hyper Vest Elite, which I like, except the PRO is capped at 20 pounds.
Aduro Sport Weighted Vest: This is just like the Fringe Sport WODMaster weighted vest, but we don't think the quality is up to par. In our experience and in reading other opinions and reviews, the steel shot that fills the vest falls out pretty quickly along the seams. In addition, with only one adjustment option, it can fit awkwardly on certain body types. Also, the vest isn't adjustable. It's inexpensive, but will ultimately disappoint over time.
RUNFast/Max Adjustable Weighted Vest: This was, at one point, a best seller on Amazon, likely because it's available with up to 140 pounds of weight. That's a massive amount for a sand-filled weighted vest. It's clear that the materials used to make this vest are cheap and the sewing is poorly done, which means you won't be enjoying 140 pounds of sand for very long.
miR Weighted Vest: The miR Weighted Vest is made by the same company that makes the RUNFast/Max. The miR is a very similar design, but made with better materials and is, therefore, more expensive. I like the design, but I haven't had enough use with the vest to recommend it at this point. I will update when I do.
V-FORCE Weight Vests: V-FORCE is one of the original made-in-the-USA adjustable weight vest designs. They have a simple strapping system with an extremely high max weight that's been copied the world over. I'd like more time with the vest before recommending it. I've used it and it didn't feel as form-fitting as some of the other options, however, the weight options are high.
V-MAX Weight Vests: These are the same as V-FORCE but with a wider belt and different designs while costing more. Seems redundant.
BOX Weight Vests: Again, the same as the V-FORCE and V-MAX Vests but marketed towards CrossFit Athletes.
Titan Fitness Adjustable Weighted Vest: Although the weight is cast iron and they can go up against heavy, the vest itself is very cheap, uncomfortable, hard to breathe in, and the adjustment system is weak and simple. Just okay, although cheap.
Brute Force Operator Training Vest 2.0: I haven't used this vest yet although the reviews give me an idea as does looking at the design. Appears to be high quality with good materials, but it doesn't come with a weight and isn't very breathable.
Invest Pro Weight Vest: I've had and been able to test and review the Invest Pro Weight Vest since it was released a couple of years ago. It's a good vest, again, modeled after the 5.11 Tactical Vest, but doesn't do anything better than the 5.11 vest except at a lower price. This vest is imported, however, compared to many of its competitors, it feels overpriced as many others have come to market. This vest does lack breathability as the sides have no way for airflow and there is a double velcro system that makes the vest secure, but also difficult to take off. You can see our full in-depth review of the Invest Pro Weight Vest for more information.
TRIBE WOD Weighted Vest: This is another vest designed after the 5.11. I haven't used it, but it appears to be very similar to the North Gym Adjustable Weighted Vest, as they both use 600D nylon and are imported. The price on this is more expensive and I don't like the side strap design, as I don't think it will be as secure over the long term.
Cross101 Adjustable Weighted Vest: This is a decent budget-friendly option. It's made by the same company that makes the miR Weighted Vests, but it's a much cheaper design. The fit is pretty bad though, and most people will practically swim in the vest. The weights are also very cheap and use sand as the filler which will inevitably leak.
FAQs About Weighted Vests
What is the best weight for a weighted vest? 
For men, I usually suggest a vest that adjusts up to 20 pounds, as that's the weight used in most CrossFit workouts. For women, the typical prescribed weight is 14 pounds. The most important thing is to buy an adjustable vest that allows you to add additional weight over time. For example, if you're new to fitness, choose a vest that ranges from 10 to 20 pounds. That way you can add extra weight as your fitness improves.
Are weighted vests good for training? 
Weighted vests make a great addition to your arsenal of training tools. Wearing a weighted vest during workouts increases your strength, stamina, and endurance, especially when used during cardio training. 
What's the best weighted vest for Hero WOD Murph?
Murph is a legendary CrossFit workout that involves a 1-mile run, 100 pull-ups, 200 push-ups, 300 air squats, and another 1-mile run, all done while wearing a 20-pound weighted vest. It's an absolutely brutal workout and I dread it, yet look forward to it every year (I don't know how this makes sense).
The best weighted vests for Murph are breathable, secure, and can support up to 20 pounds (14 pounds for women). The Rogue Plate Carrier is the best weight vest to be used for Murph in our opinion.
What plates do you recommend for weight vests?
If you want weight vest plates made in the US, the Rogue USA Cast Weight Vest Plates feature a fantastic shape that wraps around the body. If you want the best value, the WOLF TACTICAL Vest Plates are a good option.
Does it matter if the vest is adjustable in weight or not?
Yes. You're likely to use an adjustable weight vest more often, meaning you'll get your money's worth out of it. 
Should I get a ladies-specific weight vest?
This may sound weird, but if you have a really large chest, I'd suggest it. If not, I don't think it matters. Ladies' weight vests are supposed to leave room so the vest isn't compressing the chest. They can be helpful, but they can also look kind of weird. For most, I think it's more of a gimmick, but some women do really like them.