We test and review fitness products based on an independent, multi-point methodology. If you use our links to purchase something, we may earn a commission. Read our disclosures.
If you plan to run when light is low, whether that's in the early morning, at night, or in poor weather conditions, it's proper running etiquette to wear reflective running clothes and gear. It's a simple step that keeps you in the line of sight of drivers, cyclists, and other passers-by, allowing them to safely avoid and move around you.
While this seems like common sense, there's actually science to support it: A 2012 report in the journal Accident Analysis & Prevention, researchers state, "The use of reflective markings on a pedestrian's major joints to facilitate the perception of biological motion has been shown to greatly enhance pedestrian conspicuity at night." They then conducted a study with cyclists and found that reflective markings at the knee and ankle increase the likelihood that drivers will see them.
If you're a runner and your gear closet doesn't yet have any reflectivity, don't wait any longer: Shop our guide to the best reflective running gear so you can stay safer out on the road or trails.
RELATED: Best and Safest Cities for Running
Best Reflective Running Gear
Best Reflective Running Vest: Amphipod Xinglet Reflective Vest
Good for: wearing on top of non-reflective clothing
A reflective vest is a simple, inexpensive piece of gear you can easily add onto any running get-up for extra visibility—such as when all of your actual reflective clothes are in the dirty pile; and you need a quick fix for tomorrow's early morning session.
I've been using this Amphipod Xinglet Reflective Vest for a couple of years now. I originally got it for sunrise/sunset hiking on a road trip I once took, but I now use it for a variety of activities, from low-light runs to before-dawn bike rides.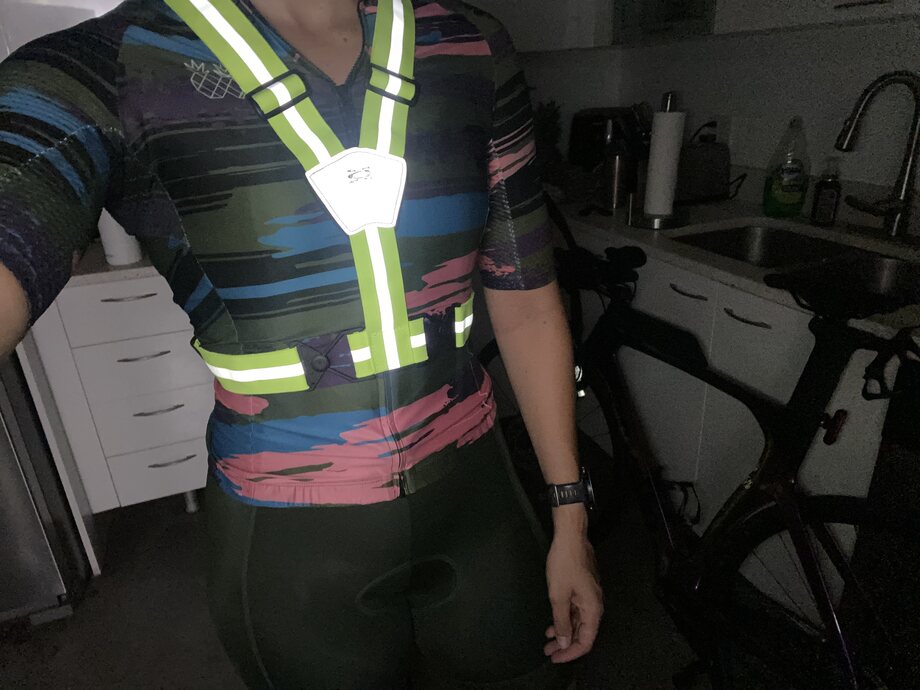 It's adjustable and fits waists from 27 to 47 inches. My waist is about 28.5 inches, and I can confirm that there isn't much adjustability left for it to go smaller. The Xinglet is available in three colors (silver, neon yellow, and hot pink—I got neon yellow), and all of them feature 360-degree reflectivity. The vest is minimal, making it breathable and perfect for hot, humid weather.
One big thing: Due to the way this vest adjusts, there are no straps that hang down and flap around, which is the main reason I'm awarding the Xinglet "best reflective running vest." No one wants straps flying around during their run.
RELATED: Best Running Apps
| | |
| --- | --- |
| Fits | Waists from 27″ to 47″ |
| Sizes | One size fits most |
| Colors | Gray, High-Vis Green, Bright Pink |
Best Reflective Running Hydration Vest: Nathan QuickStart 2.0 Hydration Pack
Good for: long runs in low light
Nathan Sports is a reputable brand and a favorite among runners for good reason: The company makes good gear that doesn't cause sticker shock. The Nathan QuickStart 2.0 Hydration Pack is the perfect example.
Constructed of soft, flexible fabric that moves with you, this running vest earned a spot on our guide to the best running hydration vests with high marks for comfort, adjustability, and water capacity. Its total storage capacity is 6 liters, and it fits a 1.5-liter water bladder (although I have managed to fit a 2-liter bladder). You'll love the surplus of pockets, zippered and not, and secure fit.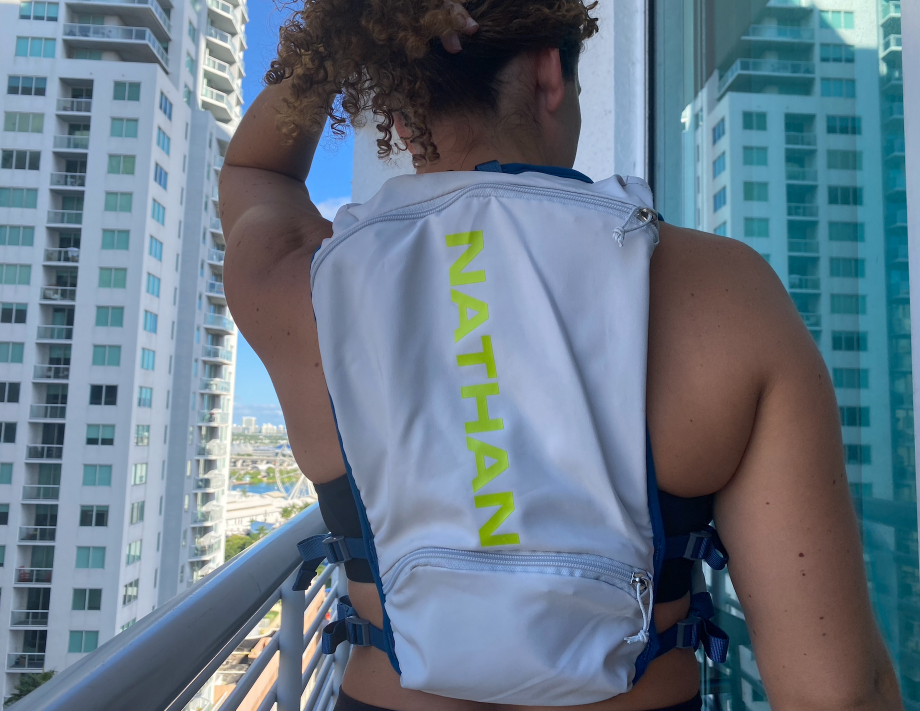 The reflective component is the Nathan Sports logo on the back of the vest. The big block letters reflect light back at cars coming up behind you. But, be careful when shopping: If you buy on Amazon, make sure to look at the product details because not every color has reflective lettering. Look for Gravity Gray/Reflective Silver or Vapor Grey/Finish Lime. I have the latter and can confirm it's reflective.
| | |
| --- | --- |
| Water capacity | 1.5L |
| Total capacity | 6L |
| Sizes | One size fits most |
Best Running Headlamp: PETZL Tikka
Good for: any low-light excursion
I bought a PETZL Tikka headlamp more than four years ago for camping and hiking excursions, and I still use the same one to this day. It's inexpensive, and it's lasted me as long as it takes to get a college degree—that definitely makes it the best running headlamp, in my opinion. Are there more expensive, fancier options? Sure, but most runners don't need a headlamp that costs three figures.
The PETZL Tikka casts 350 lumens of light and features just one button for operation, so it couldn't be easier to use. It requires three AAA batteries, which are included in your purchase. There's also the newer Tikka CORE, which is rechargeable if that's more your jam. 
The Tikka is rated IPX4, so it can withstand splashes, light rain, and sweat without worry of it malfunctioning. It features a soft, flexible, adjustable headband, and the lamp itself sits on a plate that moves up and down so you can adjust where the light beam goes. All in all, the PETZL Tikka is a fantastic value with a list price under $40.
RELATED: Best Running Water Bottle
| | |
| --- | --- |
| Lumens | 350 lumens |
| Battery life | Up to 120 hours |
| Charging | 3 AAA batteries |
Best Reflective Running Hat: PROVIZ Sports 360 Reflective Running Hat
Good for: keeping hair out of the way and staying visible
The PROVIZ REFLECT360 is a fully reflective running hat. Yes, fully—it provides 360-degree reflectivity from brim to back. Not only is it completely reflective, but it's constructed of mesh, so it's breathable, too.
PROVIZ says that REFLECT360 is "a game-changing material embedded with reflective glass beads that ensure maximum visibility from all angles." It's a patented perforated, waterproof material with a four-way stretch that combines performance and safety.
While we haven't been able to test this hat to get a feel for comfort—it was out of stock during our testing process—we've tested other PROVIZ gear and are big fans of the brand. In fact, later in this article, I recommend a PROVIZ reflective jacket.
For other running hat recommendations, check out our guide to the best running hats.
| | |
| --- | --- |
| Adjustable | Yes |
| Sizes | One size |
| Perforated | Yes |
Best Reflective Running Belt: Reflective SPIBelt Original
Good for: a little bit of storage and added reflectivity
My SPIBelt (Small Personal Item Belt) was the piece of gear that converted me into someone who wears waist belts instead of someone who wears an armband to hold my phone (I now cringe when I look at old half-marathon photos and see myself running with a bulky armband that looks like a blood pressure cuff).
In fact, one type of SPIBelt is a top pick on our guide to the best running belts, but I wanted to specifically call out the reflective version here. The entirety of the storage pocket is constructed of a reflective material that can increase the visibility of your person during low-light runs.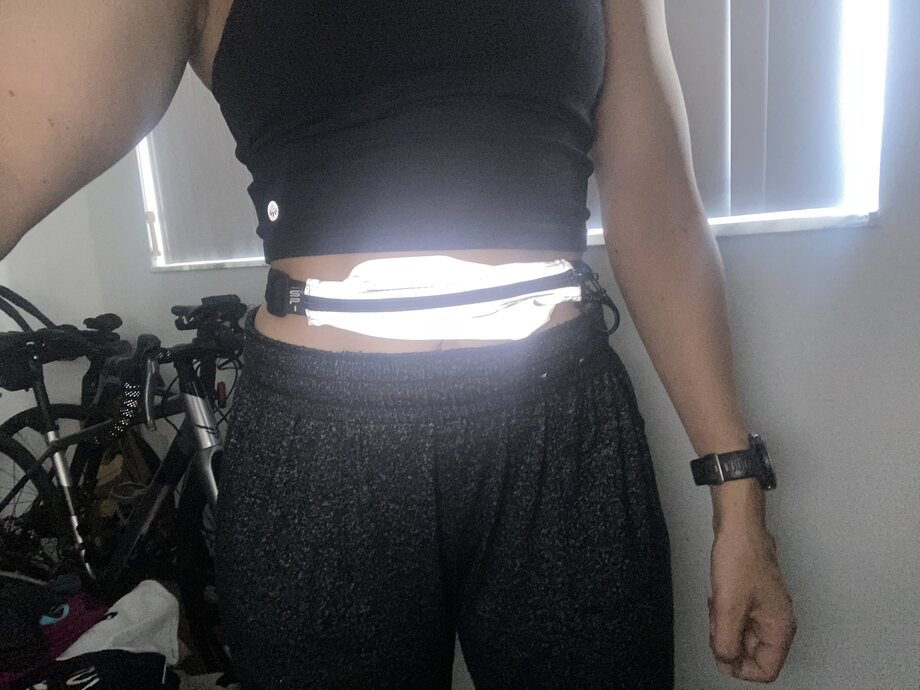 Because a running belt is a very small piece of gear, I don't recommend using this as your only reflective item when running in the dark—use it as part of a more thorough reflective kit, especially if you like to keep your storage pocket in the front of your body rather than the back.
In addition to its reflective nature, this SPIBelt is adjustable and fits waists from 24 to 47 inches. The pocket is stretchy and fits most smartphones, including the iPhone 13 Pro Max.
RELATED: Best Gifts For Runners
| | |
| --- | --- |
| FIts | Waists up to 47″ |
| Pocket size | Expands to 8″ L x 4″ W x 2″ D |
| Bounce-free | Yes |
Best Clip-On Running Light: Nathan Sports Strobe Light
Good for: getting the attention of nearby drivers
This very simple piece of gear can give you high visibility even if you're not wearing clothes with reflective detailing. LED lights like this clip-on strobe light from Nathan Sports are a minimalist way to stay seen.
The Nathan Sports Strobe Light will light up your person with 8 lumens. It boasts a 110-hour battery life in strobe mode and 57 hours of life in steady light mode. (Strobe is best for grabbing the attention of drivers, cyclists, and other pedestrians, for what it's worth.)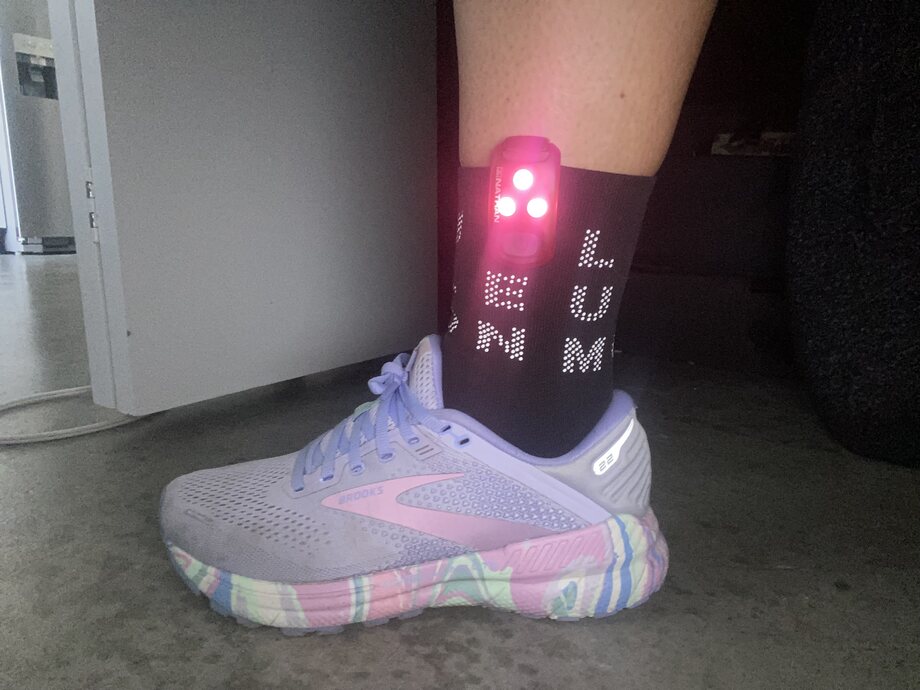 These lights can clip on to anything, anywhere, and they're rated IPX4, so they're water-resistant enough for running in light-to-moderate rain, heavy fog, and high humidity. Unfortunately, these aren't USB-rechargeable, but they take cell batteries.
RELATED: Best Running Headbands
| | |
| --- | --- |
| Battery life | Up to 110 hours |
| Charging | Cell battery |
| Settings | Strobe light or steady light |
Best Reflective Running Shoes: ASICS Lite-Show Gel-Nimbus
Good for: upping your overall visibility
For road running, the ASICS Lite-Show Gel-Nimbus shoes are the best reflective running shoes out there. (We're big fans of ASICS in general, as detailed in our guides to the best running shoes for beginners and best stability running shoes).
Most reflective running shoes just feature a few reflective strips or a bit of detailing on the heel. Not these—there are multiple hi-vis focal points on everything from the upper mesh material to the rubber outsole.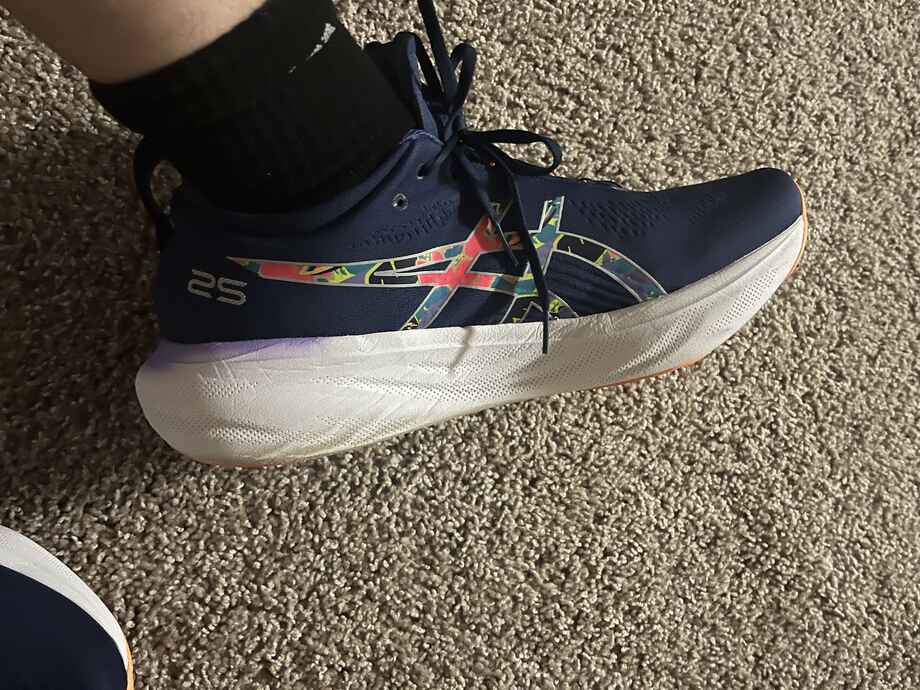 The Lite-Shoe Gel Nimbus shoes are the same as the regular Gel-Nimbus, but with added reflective detailing.
GGR performance editor and product tester Anthony O'Reilly tested the Lite-Show Gel-Nimbus, and here's what he had to say: "This is a very cushioned shoe! I like this one for distance running and days when I have to be on my feet for long periods of time. It feels like I'm walking on memory foam. The reflective capabilities are pretty good, though the multicolor version for me is just a bit too Barney-esque. I don't have any complaints about sizing; they fit true-to-size."
RELATED: Best Trail Running Shoes
| | |
| --- | --- |
| Colors | Lite-Show/Safety Yellow; multicolor |
| Stability | Neutral |
| Upper | Mesh |
Best Reflective Short-Sleeve Running Shirt for Women: Brooks Carbonite Short Sleeve
Good for: warm weather runs
Reflective clothing is an easy way to stay hi-vis during night or early morning running. I tried the Brooks Carbonite Short Sleeve T-Shirt and was surprised at how well I liked it. I'm not normally a T-shirt kind of gal because I like my shoulders to be free. But the perforated, stretchy, moisture-wicking material of this shirt made it tolerable for me.
This shirt features multiple reflective strips in several locations: at the bottom hem, at the shoulders, and on the triceps. In addition to the reflective strips, there are neon yellow stripes around the shoulders. It kind of looks like a soccer jersey, but I think it's cute!
The hemline on the Carbonite Short Sleeve falls a little short—not quite a crop top, but not as long as a standard tee—which is perfect for my style and preferences but may not be the right fit for everyone. If you dig that sort of fit, you'll love this shirt and enjoy the breathability of the fabric.
RELATED: Best Sports Bras for Running
| | |
| --- | --- |
| Material | Mesh |
| Fit | Semi-fitted |
| Care | Wash separately from dark colors, don't use fabric softener |
Best Reflective Long-Sleeve Running Shirt for Women: IllumiNITE Long-Sleeve Reflective Piper Tee
Good for: cooler weather and dark mornings
I don't get to wear long-sleeve shirts much in South Florida, but I took this IllumiNITE Piper Tee on a trip to the Netherlands in April and wore it on every one of the three frigid runs I did there (yes, with washes in between).
My favorite thing about the Piper Tee is the ultra-stretchy material, but the reflectivity is fantastic as well. Comfortable running clothes plus dialed-in reflectivity equals a safe, fun, and enjoyable run.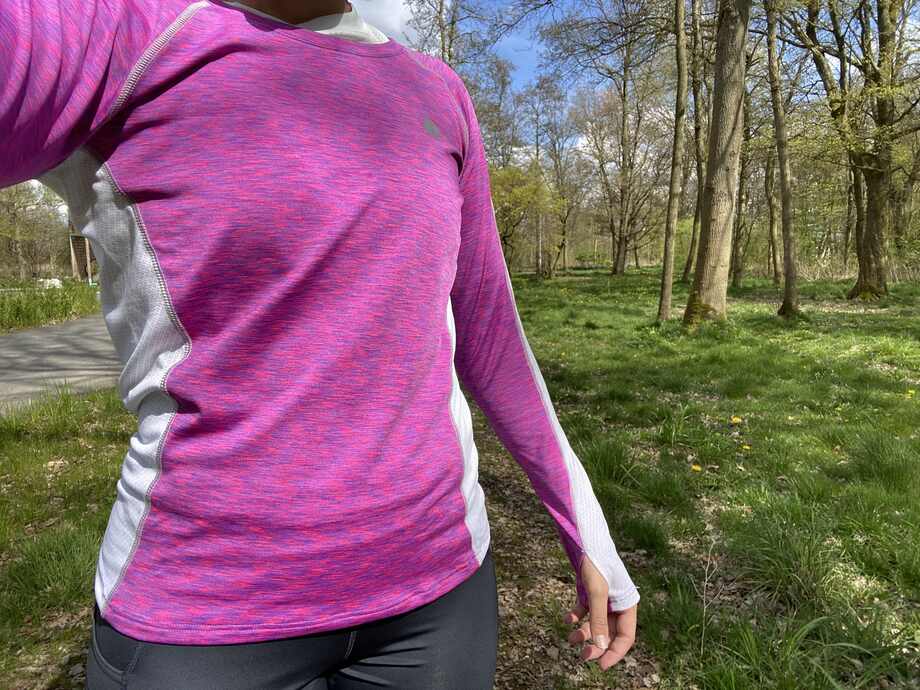 In addition to reflective panels on the arms and torso, the Piper Tee has a zippered back pocket that can fit small personal items, including a phone, keys, and small wallet. The tee also has thumb holes to help trap body heat when the weather is cold and prevent the sleeves from bunching.
RELATED: Best Workout Shorts
| | |
| --- | --- |
| Material | 92% polyester/8% spandex with 94% polyester/6% spandex printed panels |
| Colors | 6 options |
| Care | Machine wash inside out on gentle cycle. Line dry. |
Best Reflective Short-Sleeve Running Shirt for Men: ASICS Men's Lite-Show Shirt
Good for: warm weather runs in low-light conditions
This running shirt is part of the same collection as the ASICS Lite-Show running shoes. Like the shoes, the shirt features reflective detailing all over, but unlike the shoes, it's available in four colors (as opposed to one).
You can choose from Performance Black, Grape Jam, Electric Blue, or New Leaf on the ASICS website; you'll find different options on Amazon. For ultimate visibility, I recommend a neon option. The ultra-bright coloring combined with reflective stripes is a perfect recipe for sending light back into the eyes of nearby drivers.
GGR editor and product tester Anthony O'Reilly tested the Lite-Show shirt and said his expectations were exceeded. "I actually really like this shirt," he says, adding that, "It's very reflective, and I feel safe wearing it during night runs."
The shirt is "form-fitting without being too tight," and the material is very breathable, too. "You can sweat in this and not feel gross at all," Anthony says. "I would go back and pick a different color than neon yellow, but it's fine for now."
| | |
| --- | --- |
| Material | 90% polyester/10% spandex |
| Color | Performance Black, Grape Jam, Electric Blue, or New Leaf (more on Amazon) |
| Care | Machine wash with like colors |
Best Reflective Long-Sleeve Running Shirt for Men: IllumiNITE Sentinel Long-Sleeve
Good for: running outdoors in cool, dark conditions
Anthony also tested this IllumiNITE shirt, which is very similar to the IllumiNITE Piper Tee that I tested. IllumiNITE specializes in reflective running clothes, so it's no surprise that the detailing on the Sentinel Long-Sleeve T-Shirt is close to perfection.
While trying out this shirt, Anthony noted that the sleeves were slightly too tight for his liking, but otherwise, the shirt felt nice. "Truthfully, I haven't had a chance to wear this in action because it's been 90+ degrees for a while," he says. "That said, when I've worn it inside just to get a feel for the material, it feels good, and the detailing seems very reflective."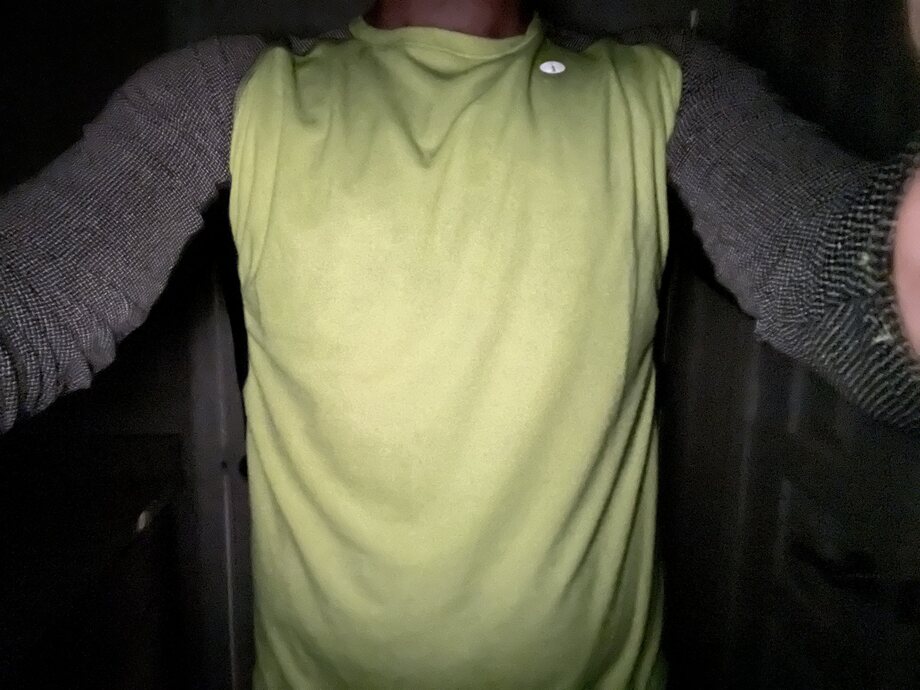 The fabric blend of polyester and spandex makes the Sentinel stretchy and moisture-wicking, and the mesh panels under the arms increase breathability. The entirety of the arm sleeves is 100% polyester with complete reflectivity—yes, meaning that both of your arms will light up like a Christmas tree when drivers approach.
RELATED: Best Backpacks for Runners
| | |
| --- | --- |
| Material | 94% polyester 6% spandex body with 100% polyester sleeves |
| Care | Machine wash cold inside out, gentle cycle. Line dry. |
| Colors | 5 options |
Best Reflective Running Leggings: Brooks Run Visible Leggings
Good for: cool-weather runs and fans of mid-rise tights
I'll be honest: These aren't my favorite tights in terms of fit, and I wouldn't call them the best running leggings for me personally. However, the reflectivity is fantastic, and we're here to talk about reflective gear (and fit is subjective), so I felt that the Brooks Run Visible Leggings deserved this spot.
These mid-rise running leggings feature reflective strips at the ankles, thighs, and waistline, along with a chunk of bright neon coloring on the lower leg. Altogether, the leggings provide multiple reflective focal points to alert drivers that you are there.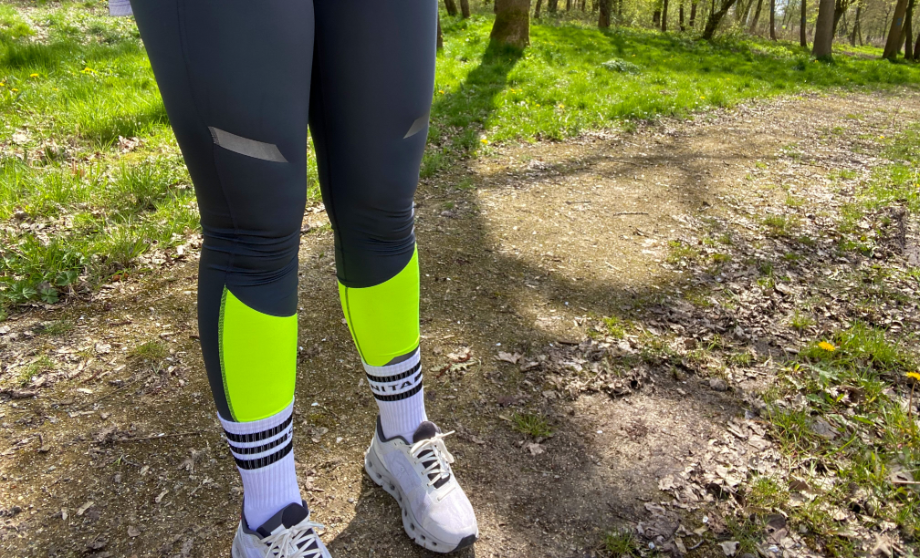 The fabric is a bit thick for my liking, but not so thick that they feel too hot. They're definitely better for cooler weather but they perform OK in warmer conditions, too. They also have a pocket on each hip that can store your phone, keys, and driver's license.
If you're looking for reflective leggings and like a mid-rise fit, the Run Visible Leggings are a sure bet. For more tights options, read our guide to the best workout leggings.
| | |
| --- | --- |
| Material | Polyester/spandex blend |
| Care | Machine wash separately before wearing, try not to use fabric softeners and tumble dry on low heat |
| Colors | Asphalt/Nightlife |
Best Reflective Running Socks: lululemon Power Stride Reflective Crew Socks
Good for: anyone who likes crew socks for running
I've been running in Power Stride socks for a couple of years now, and they remain the favorite in my rotation as well as some of the best running socks in general. I was excited to add a reflective pair to my collection and wasn't disappointed in their performance.
Power Stride socks, in general, are available as ankle socks, no-show socks, and crew socks, but the reflective version is only available in crew; otherwise, the reflective detailing would be a moot point.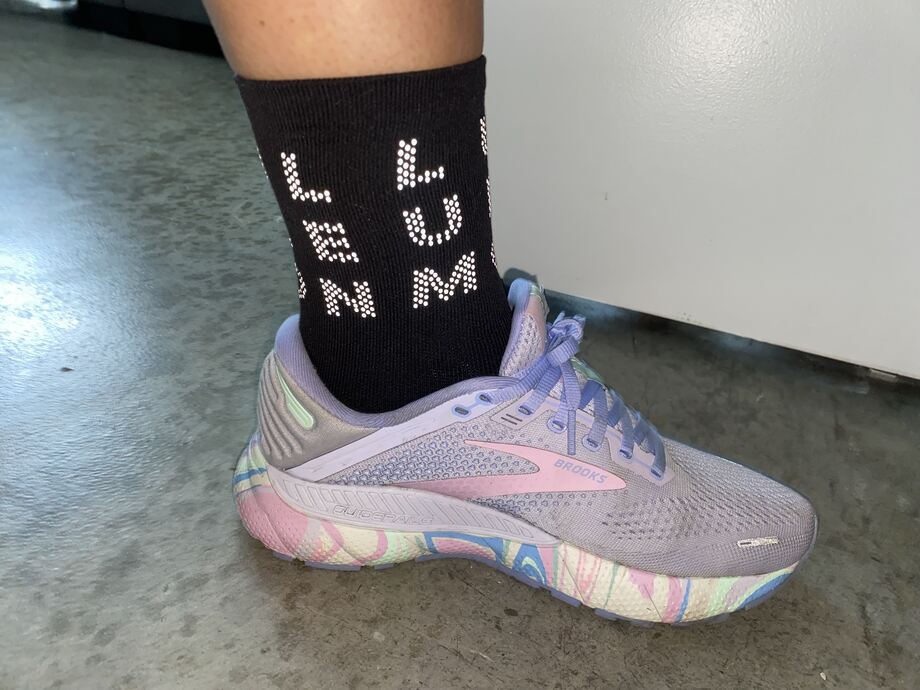 These socks squeeze the midfoot thanks to a compressive material, offering nice arch support. The crew height hits around the lower calf on most people, and the flatlock seams reduce bulk and bunching around the toes.
As for the reflectivity, that's present in the form of a wraparound lululemon logo. They reflect light very well, but because socks make up just a small part of your running outfit, you shouldn't rely on them alone for visibility. But for low-light conditions, they can add an extra touch of protection.
| | |
| --- | --- |
| Colors | Highlight Yellow, Electric Turquoise, White, Black |
| Sizes | M, L, XL |
| Materials | 95% nylon, 5% elastane |
Best Reflective Running Jacket: PROVIZ Classic Reflective Running Jacket
Good for: when you need to stay warm and visible
This has quickly become my favorite running jacket. As mentioned before, I don't get to wear long sleeves a lot where I live, but I've taken this jacket on every trip where I've encountered even moderately cold weather, and it's performed fantastically in a range of conditions.
In Chicago in early May, the PROVIZ Classic Reflective Running Jacket was perfect for dealing with the ever-changing temperature changes that come with the transition from winter to spring. It kept me warm enough to deal with cooler morning temps but not so warm I had to shed it as my run went on and the sun came up. In the Netherlands in April, this jacket served as a wonderful outer layer over a long-sleeve tee and fitted running vest.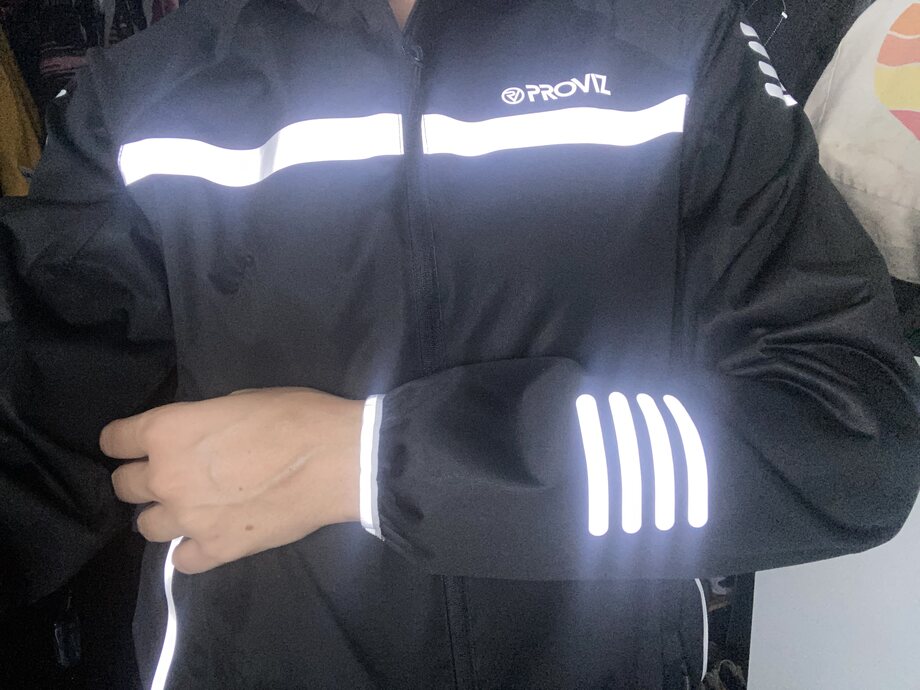 One thing to note: There are different versions of this jacket. I got the waterproof one, which is not fully reflective. It reflects light via a horizontal reflective strip across the chest and upper back, plus a three-stripe design on each shoulder and each forearm. There is also a set of reflective dots where the jacket hits the lower back, giving you seven total reflective points.
However, there's also the fully reflective, but not waterproof, version of this jacket. The fully reflective one is made of PROVIZ's REFLECT360 fabric and is entirely reflective—yes, entirely. The whole jacket lights up like a glow stick!
| | |
| --- | --- |
| Material | 100% polyester (fully reflective version) |
| Colors | 7 options |
| Pockets | 2 side zippered pockets |
Other Reflective Running Gear We Tried and Researched
These products represent our top picks for the best reflective gear for winter running and dark running. We tested and researched some other items that didn't make the cut.
Black Diamond Sprinter 500 Headlamp: This is commonly touted as the best headlamp for runners, but our tester had a bad experience with it. Anthony O'Reilly, GGR performance editor, and product tester, said, "I never got mine to work. I charged it and read the manual over and over, but I just got a dud."
Noxgear Tracer360 Illuminated Reflective Vest: This vest is a worthy competitor to the Amphipod Xinglet. It features a reflective band across the horizontal strap around the torso, but the shoulder straps are LED lights rather than material with reflective stripes.
HOKA Mach FN: Many product testers on our team love HOKA products, and the Mach FN is no exception. I run in the Mach 5 quite often; this is a reflective version of that same shoe. However, the reflective detailing isn't quite up to par with what's seen on the ASICS Lite-Show Gel-Nimbus.
Lululemon Fast and Free Reflective High-Rise Classic-Fit Short 3": I ordered these shorts intending to name them the "best reflective running shorts for women." Unfortunately, they didn't live up to my expectations. While the fit is nice—I loved the high waistline and wide, flowy leg opening—the reflective detailing is minimal at best. I'd say these are a good pair of running shorts if you're okay with the high-cut leg opening, but don't rely on them for visibility. (See the best lululemon shorts.)
New Balance Impact Run Luminous 6″ Mens Running Shorts: This was another pair of shorts that didn't live up to our expectations for reflectivity. Anthony tried these out and we had hoped to name them the "best reflective running shorts for men." However, Anthony was frustrated at the lack of pockets, saying, " I honestly don't understand their omission here. It seems like a silly choice and really limits the amount of times I can use them." On top of that, he feels that the reflective qualities earn a 6 out of 10 score, which isn't good enough to really call them the best reflective shorts. We have other men's shorts recommendations in our guide to the best workout shorts for men.
How We Picked and Tested the Best Running Gear
As with all our gear guides, our product testers ordered a slew of items and hit the ground running—literally, in this case. I, and GGR editor Anthony O'Reilly, had the pleasure of testing out the gear in this roundup, taking each item out on a variety of types of runs.
We wore the gear in all conditions, prioritizing low-light runs and walks to see how reflective the products actually were. In some cases, we were disappointed, such as with the lululemon Fast and Free reflective shorts, noticing that there wasn't much reflectivity at all.
In other cases, such as with the IllumiNITE Sentinel Shirt and Amphipod Xinglet, we were impressed with the fantastic visibility.
Because this guide focuses on reflective gear, that was our main priority when testing and choosing products to feature. We also considered fit, comfort, general running performance, breathability, moisture wicking, price, and value to make our final decisions.
Benefits of Reflective Running Gear
First and foremost, reflective running gear keeps you safe. That's the whole point of reflective gear, and the main benefit. In low-light conditions, such as during early morning hours, late evening hours, and at night, reflective gear is essential. It alerts drivers, cyclists, and even other pedestrians that you are there, and it can prevent accidents and injuries from happening.
Keep in mind, low-light conditions aren't limited to certain hours of the day. Even if you're running midday, weather like fog, rain, snow, and hail can decrease the visibility of drivers and others. In fact, even on clear, bright days, certain routes make reflective gear necessary. A driver is more likely to notice you coming out of a sharp turn if your shirt is reflecting the light of the sun.
FAQs
How do you stay visible when running?
Keep yourself obvious to drivers by wearing reflective running clothing and ensuring that any gear you take, such as a hydration vest or running belt, has reflective detailing, too. Additionally, clip-on strobe lights and headlamps can increase your visibility.
What do you wear to run in the dark?
When running in low-light conditions, make sure to don clothing with substantial reflective detailing. You can also wear a reflective hat, a reflective safety vest, a clip-on LED light, and a headlamp.
What colors are best to run in?
Neon colors, especially neon green and orange, are high-visibility colors. Other options include neon yellow, hot pink, and bright cyan blue.
References
Wood JM, Tyrrell RA, Marszalek R, Lacherez P, Carberry T, Chu BS. Using reflective clothing to enhance the conspicuity of bicyclists at night. Accid Anal Prev. 2012;45:726-730. doi:10.1016/j.aap.2011.09.038