We test and review fitness products based on an independent, multi-point methodology. If you use our links to purchase something, we may earn a commission. Read our disclosures.
Never underestimate the power of really great activewear. Yes, it's true that you can wear any ol' pair of black leggings for a workout, but they won't have the same effect as a pair that's truly constructed for high-intensity sweat sessions. There's a big difference between athleisure and super-effective workout leggings.
The best workout leggings combine breathable materials, moisture-wicking fabrics, stretch, and compression into a pair of pants that can keep up with you. They're comfortable, dry quickly, and don't have to be pulled up a million times during your workout (been there, don't want to do it anymore).
The best leggings for you really depend on the type of workout you're doing too. What works well for a yoga class and other low-impact workouts may not be the best fit for high-impact, HIIT workouts where you might need more compression and a thicker band to keep them in place as you move (running leggings are better in this case).
To help you narrow down your choices, we tested more than a dozen different pairs of leggings. We took them through everything from CrossFit workouts to casual walks to come up with this list of our favorite leggings.
Related: Best Sports Bras
We've Worn Our Fair Share of Leggings
The Garage Gym Reviews team is made up of certified personal trainers, CrossFit coaches, former collegiate athletes, and nutrition coaches and collectively, we've worn a lot of leggings. While we tested about a dozen pairs officially, we've tried countless other pairs during our professional careers (and even well before that). We know what separates a really great pair of workout leggings from a pair that's going to annoy you through your entire workout—and we're bringing that knowledge and hands-on experience to you.
Best Workout Leggings for Women in 2023
Best Workout Leggings Overall: Lululemon Wunder Under Leggings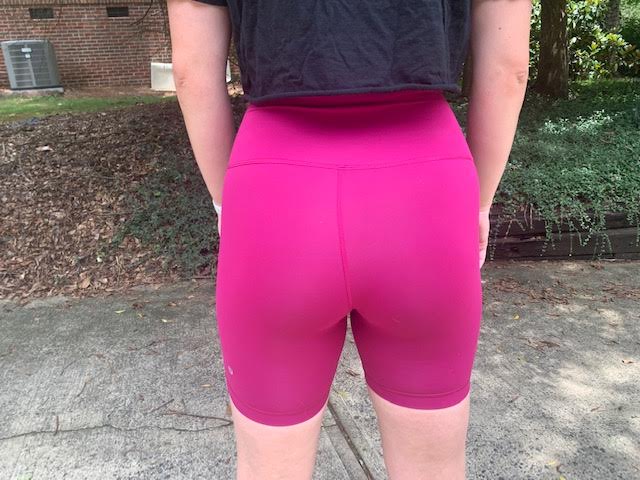 Good for: anyone who wants an exceptional pair of workout leggings
The Lululemon Wunder Under Leggings are our best overall pick for several reasons. Besides getting almost perfect marks in each one of our tests, Lululemon also has excellent customer service, both in store and online. They offer free return shipping if you decide not to keep your leggings; if you do, they'll fix holes and hem your leggings in-store for free.
There are several pairs to choose from, but there's just something about the Wunder Unders (probably why they're a bestseller). They're made of a fast-drying, super-breathable trademarked fabric blend called Everlux. It's really just a blend of nylon and Lycra, but it's extremely moisture-wicking and doesn't show sweat.
Caroline Lubinsky, the CrossFit trainer and GGR writer who tested the Wunder Train Leggings, says they're her favorite fit of all time.
"They have great compression and I don't have to yank them up every minute of my life. They do not squeeze my thighs and they give a smooth, compressed look to the body. They're also surprisingly durable," she says.
They come in three lengths—25, 28 and 31 inches—each of which has a high-waist yoga pant design, and come in a wide range of sizes, including several plus-size options (0 to 20). There's also a hidden pocket in the waistband that has enough space to hold keys and a couple cards.
Even though they're expensive, Caroline says they're "100% worth it": They're versatile, durable, squat proof, compressive, and super cute on.
| | |
| --- | --- |
| Material | 77% nylon, 23% Lycra elastane |
| Length | 25, 28, and 31 inches |
| Sizes | 0 to 20 |
Best for Cross-Training: Lululemon Fast and Free High-Waisted Leggings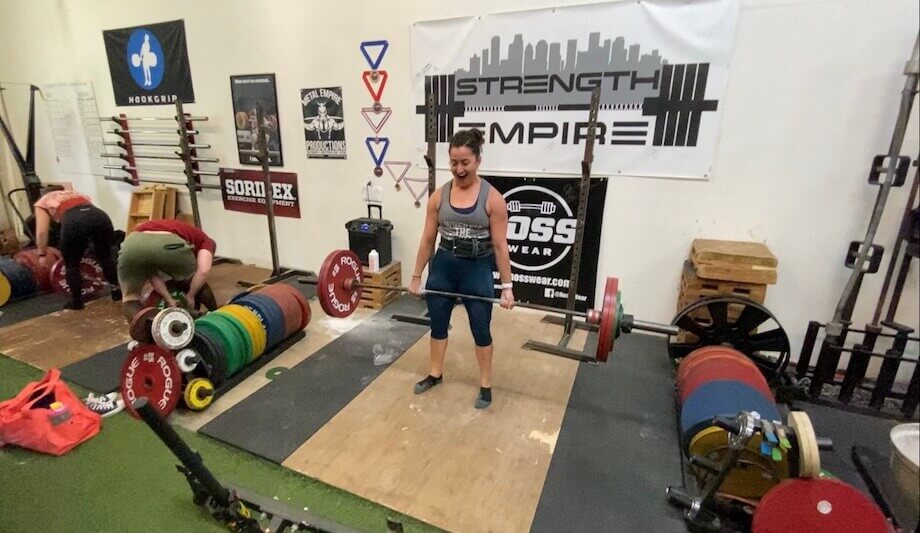 Good for: anyone who likes a more compressive waist band
The Fast and Free High-Waisted Leggings are another Lululemon winner. They scored almost as high as the Wunder Unders in our tests, but had one drawback that kept them from earning the best overall spot. According to Lululemon, they're made to have a tighter waistband, but Kate didn't love this.
"The purpose is to keep the tights up—but with a high waistband, I don't know if you need it. So I think the waist on mine feels a little too snug. Still wearable, but I would have gone a size up had I known," she says.
That being said, you can choose from high-waist and regular-waist versions. They also come in two lengths: 25 and 28 inches. No matter which type of waistband or length you pick, you'll get a super quick-drying fabric that's made of nylon and Lycra—these have a bit more nylon and less lycra than the Wunder Unders so they're less stretchy with a nice compressive fit.
According to Kate, they're also super flattering: "I'm pretty biased toward Lululemon tights in that I think they are typically always aesthetically better than anything else. They have the seams on the butt that make your butt pop. And they come in tons of different colors. These are super form-fitting, gorgeous tights," she says.
While they're undoubtedly expensive, they're a long-term investment. As we already mentioned, Lululemon will repair holes for free and Kate says she's had this pair for two to three years and has put them through countless barbell workouts and burpees and they still look brand new.
| | |
| --- | --- |
| Material | 84% nylon, 16% Lycra elastane |
| Length | 25 and 28 inches |
| Sizes | 0 to 20 |
Best for Yoga: Athleta Transcend Tights
Good for: anyone looking for yoga pants, pilates leggings, barre tights, or a comfortable pair for lounging
If you're looking for a dedicated pair of yoga leggings, the Athleta Transcend Tights are our top pick. These moderately compressive leggings are made from a nylon and Lycra blend that's designed to fit like a second skin, stretching with your body without hindering your movements. They're high-waisted, fit well, and passed the squat test, according to Caroline.
They wick moisture well and do slightly show sweat. However, they dry extremely quickly so it wasn't really an issue. While tester Caroline wouldn't really recommend the Transcend Tights for higher-intensity activities, that's not what they're made for. Because of that, we didn't knock any points off for this.
The Transcend Tights come in sizes XXS to 3X with petite, regular, and tall lengths available in each size, so they can work for a wide variety of body types. Athleta also has excellent customer service, both online and in-store, which is important when you're spending almost $100 on workout leggings.
Overall, they're a good value and a nice pair of leggings for less intense workouts. They're also UPF 50 and made in a Fair-Trade Certified facility—two perks you don't find with a lot of other workout leggings.
| | |
| --- | --- |
| Material | Nylon/lycra |
| Length | 25, 27 and 30 inches |
| Sizes | XXS to 3X |
Best for Outdoor Workouts: Outdoor Voices TechSweat Thrive Legging
Good for: people who like to workout outside or do a lot of sweaty workouts
If you do a lot of outdoor workouts, you'll want a pair of leggings that can stand up to the elements as much as it can stand up to your workouts. The TechSweat Thrive Leggings from Outdoor Voices are ideal for that. They're made with a nylon, Lycra, and polyester blend that repels and wicks away moisture, while staying cool to the touch. They're high-waisted and have a nice level of compression—nothing crazy, but just enough.
"They don't suck you in, but they don't feel like they are on the verge of falling off either. They're just in the middle," Caroline raves. "The fabric laid smoothly on me and did not pinch my thighs. If you're short, you might find they are too long for you, but they were fine for me."
Outdoor Voices says these leggings are made for medium- to high-sweat situations and Caroline agrees that they stay dry and don't get uncomfortable during high-intensity workouts. She didn't have to pull them up at all during any of the activities she did when testing. These leggings also have a couple hidden pockets for storage, so you can keep your phone and/or other essentials securely in place during your workouts.
The only downside is the sizing is a bit more limited than other pairs on the list—these come in sizes XS to XL—and we would have liked to see a bigger range.
| | |
| --- | --- |
| Material | 72% nylon, 17% lycra, 11% polyester |
| Length | 25 inches |
| Sizes | XS to XL |
Best Budget: Target All In Motion Sculpt Leggings
Good for: anyone shopping on a budget (or someone who wants to buy two pairs for the price of one)
If you've skimped on leggings in the past, you already know that you often get what you pay for. Cheaper leggings can constantly fall down and/or become totally see-through when you bend over. In general, we think it's worth investing in a high-quality pair, but the All In Motion Sculpt Leggings surprised us.
They're not the best leggings we've ever worn, but they performed well for the price. They're comfortable and have extra-deep side pockets—Amanda actually said that these were some of the best pockets she's ever seen on leggings. They don't have a lot of compression so they're best for people that prefer looser pairs. They also show sweat, so they're likely best for lower intensity workouts.
Outside of their comfort, the biggest draw is really the size range and the accessibility. This is a Target-exclusive brand and you can get a pair (online and in-store) for around $32. They come in XS to XXL and short and long versions are available in each size. Caroline did say that these run large (similar to other Target styles), so if you order a pair, you might want to size down.
| | |
| --- | --- |
| Material | 69% recycled polyester, 31% spandex |
| Length | 23.5, 25.5 and 28.5 inches |
| Sizes | XS to XXL |
Best High-Waisted: NOBULL High-Rise Tight
Good for: people who like VERY high-rise leggings
Many of our picks are high-waisted, but the NOBULL High-Rise Tights are very high-waisted—they came up over Caroline's belly button during testing (she's 5'9" for reference) and didn't slip down at all during workouts or regular wear. They have an extra-wide waistband that helps them stay in place.
They also fit well in the legs and waist, a rarity for people who have larger legs and a smaller midsection. They're made of a mostly nylon and spandex blend, so they're stretchy, moisture-wicking, and breathable. While the leggings weren't as compressive as Caroline normally likes, they performed well in so many other ways that it ultimately didn't matter.
"They are squat proof, don't show sweat (for the dark colors at least), and don't require me to pull them up every two seconds," she says.
The one downside is that the size range is pretty limited. They only come in XS to XL and one length (and 28.5-inch inseam) so they won't work for everyone. If you fit within these sizes though, and you like high-waisted leggings, these are the pair for you.
The bottom line: "These are worth the money. Great quality, good for a workout, and comfy to wear," Caroline says.
| | |
| --- | --- |
| Material | 86% nylon, 14% spandex |
| Length | 28.5 inches |
| Sizes | XS to XL |
Other Workout Leggings We Tried
From fan favorites like the Lululemon Align Pant and Girlfriend Collective legging made from recycled water bottles, to budget-friendly picks from Old Navy, to high-end options from Alo Yoga and Sweaty Betty, our roster of product testers has worn more pairs of leggings than we can count. Here's a snapshot of some other pairs we tested specifically for this article.
The Shakti Pants from Senita Athletics were super soft and flattering, but ultimately the fit just wasn't up to par. Certified personal trainer and GGR editor Amanda Capritto tested them and said that while they fit around the thighs, they were too big in the waist, which negatively affected their compression. Granted, everyone has different body types, but they also slipped in the waist a lot during running and Crossfit-style workouts—another con that kept them from making the cut.
Senita Athletics Lux Step Up Pants
Another option from Senita, the Lux Step Up Pants earned high marks for their extra high waist and extra pockets, but they have weird seams that made them look kind of "off." They're moderate compression, stay up pretty well, and make your butt look nice. Overall, they were decent—nothing spectacular but nothing too crazy to complain about either.
While we really liked the other All in Motion leggings, this pair was average. There was nothing particularly good or bad about them. They're comfy, fit well, and have good moisture-wicking capabilities, but they didn't outshine any of the other pairs. They also had some pilling after a couple uses; it wasn't terrible, but it is a sign they might not last as long as others. If you want a couple pairs of budget-friendly leggings, we still think you'd be happy with these.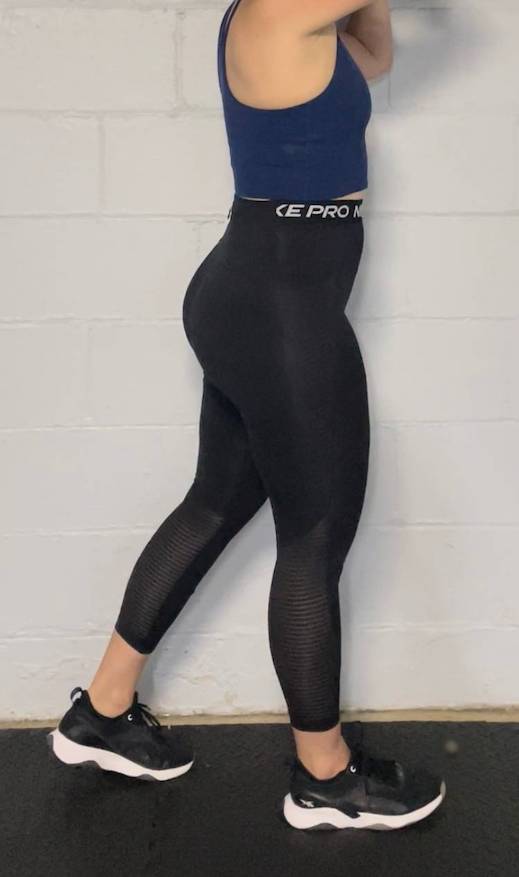 For the price, we weren't super impressed with the Nike Pro DriFIT leggings. Again, there was nothing particularly wrong with them, but they didn't have any compression and were super high-waisted in an awkward way. There's also a two-inch elastic waistband that certified personal trainer and GGR editor Nicole Davis thought was neither comfortable nor flattering. They're also really thin and have mesh on the back of the calves that some customers report snags easily. While we didn't experience that ourselves during testing, we could definitely see it happening.
Athleta Salutation Stash Pocket Leggings
The Athleta Salutation Stash Pocket Leggings fit well, looked super chic, and had a nice smoothing-yet-not-compressive quality, but Nicole had one major complaint: Sweat shows very easily, especially in the crotch area. The leggings are made for yoga so if you want to wear them for low-intensity exercises where you might not sweat as much, they're probably good enough for the job. We recommend staying away from anything more intense though.
Alphalete Pulse Kinetic Legging
While the Alphalete Pulse Kinetic Leggings are high-waisted and fit really well in the legs, Caroline thought they were larger in the waist than other size small leggings. She also says the compression leaves something to be desired. Because of this, she had to keep pulling them up and said that while she would wear them in a pinch, she wouldn't pick them over others.
The Amplify Leggings did not make the cut. Put simply, Amanda didn't just like them. The waist was super tight compared to the rest of the fit and while that might be intentional for waist accentuation, it wasn't comfortable. The compression was so tight that it was difficult to eat and ultimately led to some stomach soreness. They're also kind of thin and show sweat easily.
Zella Live-In High Waist Leggings
The Nordstrom-exclusive Zella leggings get a lot of positive feedback. We decided not to test this pair this time around, but it's on our list for future updates. They have a lot of features that are similar to our top picks, and almost 6,000 five-star reviews (with many saying that they're buttery soft) so we definitely want to see if they live up to the hype.
How We Picked and Tested
Research is always the first step in our testing process. We dug into popular brands and looked at top-rated pairs from those brands, reading customer reviews to see what people liked and what they didn't. From there, we narrowed down our testing pool to 14 pairs that we wanted to put through the ringer.
We wore each pair during various types of workouts, from casual walks with our dogs to intense CrossFit WODs. We wore them indoors (in studios and our homes) and outside, and did isolated squat tests because being "squat proof" is one of the ultimate signs of a great pair of workout leggings.
During our testing, we rated each pair of leggings on their fit, rise, compression, durability, fabric, durability, workout performance, pockets, and value. We also noted if there were any special features that made them stand out from the hundreds of other pairs out there.
Each legging got a score in each of the above categories. We chose our winners based on which ones had the highest average score, without any major drawbacks or dealbreakers.
Benefits of Workout Leggings
You can work out in any pair of leggings, but the experience won't be the same. Workout leggings are made with more breathable materials and are specifically designed to help wick away moisture so you don't feel like you're sitting in a puddle of sweat.
"Many workout leggings also have some degree of compression, which can help improve blood circulation and ultimately make for a better workout (and potentially less soreness after, depending on how compressive they actually are around the working muscles)," says Amanda.
And yes, compression helps smooth you out so workout leggings can be more flattering, too.
What to Look for in Workout Leggings
Here are a few factors to consider before virtually swiping your credit card or hitting that Amazon "buy now" button.
Material
Material is probably one of the most important things to look for. Workout leggings are designed to wick sweat, dry quickly, and stretch and move with your body. Because of this, they're typically made with some combination of nylon, Lycra, polyester, and/or spandex—which is a four-way stretch material that prevents the leggings from being too restrictive.
Other types of leggings are made with less breathable materials, like cotton. Cotton may be comfortable, but it doesn't wick away moisture and it doesn't dry quickly. If you wear cotton leggings for an intense workout, you're likely going to be sitting in your sweat for a while. Yuck.
When choosing leggings, check the label and make sure it contains the right materials. While you're there, look at the care instructions and make sure you're comfortable with the recommendations. Often, higher-end workout leggings require more TLC, like hang-drying and potentially handwashing.
Compression
Compression is partly a personal preference, but studies1 have shown that wearing compression leggings during your workout can improve post-workout soreness and improve performance during your next workout (because you're less sore). It's not always necessary to have a super-tight fit, but some degree of compression is probably beneficial.
Waist
A higher waist can be more flattering, but it also serves a purpose: Workout leggings with a high waist are less likely to slip down during various exercises. You've heard of leggings being "squat proof"—this basically means that they comfortably move with you during this deep exercise, but also that they don't slip too much in the back and expose you.
High-waist leggings are more likely to be squat proof, since there's extra fabric to cover your cheeks as you dip and bend. If you don't love high-waist leggings, you can opt for a mid-rise pair instead. Low-cut leggings may be cute, but they're better for running errands and the like—they don't hold up well to lots of movements.
Length
Length is really a personal preference, but it's something to consider when choosing workout leggings. Typically, you'll find cropped (capri-length) leggings, 7/8 length and full-length leggings. Some pairs come in short/petite, regular, and tall versions, which means they have a different inseam length. You might also see some outliers, like stirrup leggings. Decide which length and style you want before landing on a pair.
Seams
Seams are another personal preference, but they can make or break your leggings. Some leggings have crazy seams that contribute to the design. You can also find seamless leggings that can be more flattering and more comfortable. Often, you don't really think about the seams when shopping, but if you have a preference, make sure to inspect the pair you're looking at.
FAQs About Workout Leggings
Is There A Difference Between Workout Leggings And Leggings?
Yes, there are some key differences between workout leggings and regular leggings. While regular leggings are designed for comfort, workout leggings are made for performance. Workout leggings are typically made with different materials that are more breathable and wick moisture. As a general rule, they're also tighter than regular leggings. This compression can help reduce muscle soreness post-workout (and it's really flattering, too).
Can You Wear Workout Leggings All Day?
You can wear workout leggings all day, as long as you haven't actually worked out (and sweated) in them. "Sitting in sweaty clothes can cause chafing, skin irritation and acne. It also has the potential to breed infection," Amanda says. "However, if you want to wear clean, dry workout leggings all day: Go for it!"
Should You Size Down In Workout Leggings?
Not necessarily. Workout leggings are designed to have a snug fit, especially if they're a compression pair. Because of this, most manufacturers already size them accordingly. That being said, make sure you're looking at any relevant size charts to figure out which size will work best for you. Rely on measurements instead of typical sizing language.
References
1. Lee DCW, Sheridan S, Ali A, Sutanto D, Wong SHS. Wearing compression tights post-exercise enhances recovery hemodynamics and subsequent cycling performance. Eur J Appl Physiol. 2021;121(7):2091-2100. doi:10.1007/s00421-021-04661-0