Build a Beast of a Home Gym to Become a Beast in the Outdoors
I'm a firm believer that the best way to get good at something is to do that something over and over again while implementing lessons from your failures. However, when it comes to outdoor training, that's not always possible. Often, training for mountain biking, rock climbing, backpacking, and other outdoor activities involves time spent indoors developing requisite strength and conditioning.
For lots of reasons—uncooperative weather, long drives to parks, and busy schedules—most people can't be out on the trails or waterways every day. Luckily, there are plenty of ways to prepare for life on the trails right at home. With my home gym equipment recommendations, you can tailor your daily workouts to develop skills essential to outdoor sports.
Why You Should Trust Us
I've been a certified personal trainer for almost five years, and I hold additional certifications in the health and fitness field. But when it comes to outdoor pursuits, the proof is in the practice: I've trained myself and others to successfully complete various outdoor endeavors, including long-distance trail races, backpacking expeditions, multi-day kayaking trips, and more.
While I haven't summited any of the infamous 8,000-meter peaks out there, I've completed my fair share of tough treks: I've run several half marathons and obstacle course races; scrambled up too many mountains to count; backpacked several trails surpassing 30 miles; taken many a tumble (and learned lots of fun tricks) on my mountain bike; and have spent a lot of time navigating waterways in the swampy South. My own daily workouts are primarily targeted at becoming better at these activities. 
Why Outdoor Training Is Important
I know that a lot of people embark on outdoor adventures unprepared, and I know that a lot of people get injured and even die while doing so. I know that a lot of people say, "Backpacking? How hard can it be? It's just a long walk." And then wind up in a bright orange search-and-rescue helicopter because, by mile 15, their 50-pound pack didn't feel so doable anymore.
I don't say this to sound foreboding or discourage you from getting outside—in fact, the opposite. I want you to go do cool things outdoors. But I want you to go prepared. All of the adventures are much more fun when you're not wheezing or fighting off muscle fatigue, anyway!
Aside from the endurance aspect, most outdoor activities require a specialized set of skills to avoid accidents and injuries. I'm talking purely physical here; the topic of outdoor survival is a totally different story. Skills like balance, proprioception (a keen sense of self-movement and position), unilateral strength, and core stability are key to staying safe and having fun.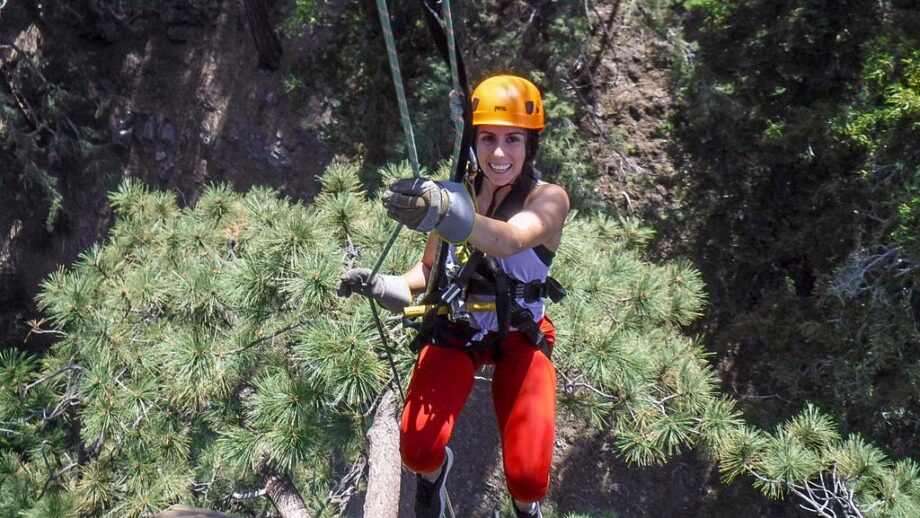 (A disclaimer I feel is important: You should work with a qualified professional if you plan on attempting something crazy like topping all of Colorado's fourteeners in a month or conquering an over-nighter on Mount Whitney. This guide to building a home gym for outdoor athletes is not exhaustive, but intends to provide a sense of what type of equipment you would benefit from having to reach certain goals. Training for intense outdoor sports should be treated like training for any sort of fitness-related competition.)
How to Build a Home Gym for Outdoor Training
So, for those of you whose interests lie both in the gym and in the great outdoors (hello, friends), here's how to build a home gym catered to kicking your adventures up a notch.
You'll find that some recommendations overlap across different activities, which is to be expected. All outdoor sports have one thing in common: They require a great deal of balance, core control, and unilateral strength.
I've also included how the basics—kettlebells, dumbbells, barbells, and weight plates—can help you with outdoor training for different activities.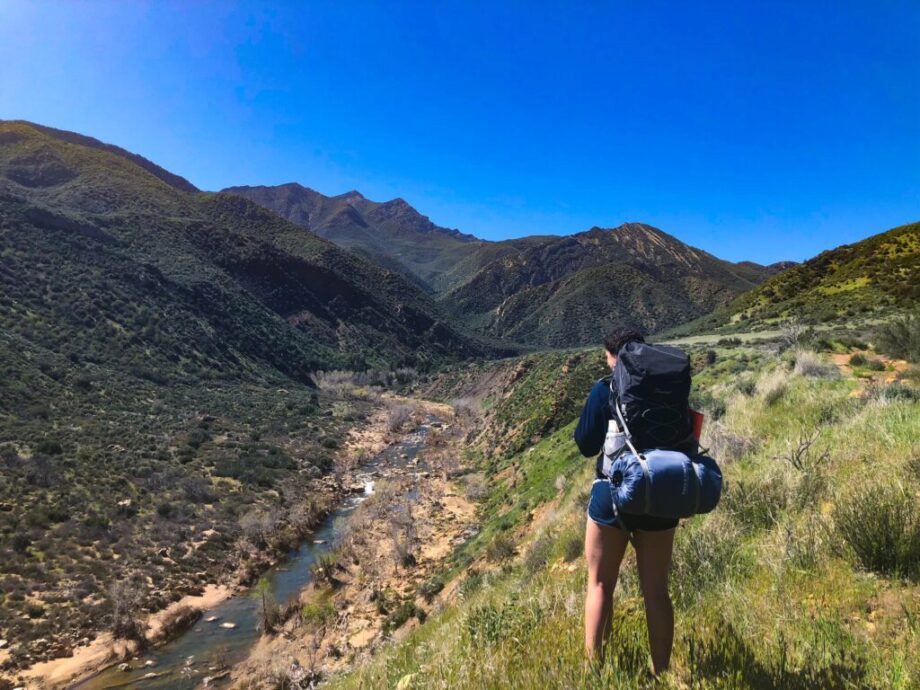 How to Train for Hiking and Backpacking
Hiking is arguably the easiest outdoor pursuit, and the definition is pretty broad. Sure, most people reading this are probably already in good enough shape to tackle a moderately challenging day hike with no specific preparation. But once you start edging into backpacking or thru-hiking territory, and certainly if you're teetering on the line of mountaineering, targeted prep becomes essential.
Skills essential for thru-hiking and backpacking:
Cardiovascular endurance
Muscular endurance
Stamina
Single-leg strength
Core stability
Back strength
Rucksack or Weighted Vest
There's no better way to prepare for a long hike with 20-plus pounds on your back than to spend a lot of time walking with 20-plus pounds on your back. I think a rucksack or a weighted vest is the most essential item for backpacking training because it most closely mimics what you'll be doing in the wild. You can wear one while walking, running, and on short hikes, but you can also add a vest to strength training movements like step-ups, lunges, push-ups, and pull-ups to build up your stamina.
Manual Treadmill
You won't find a motorized treadmill in nature, so if the weather isn't permitting you to practice your hiking skills on real terrain, consider a manual treadmill to better mimic a true trek through the outdoors. Because a manual treadmill is powered solely by you, you have to work harder to achieve the same speed you might achieve on a motorized treadmill.
RELATED: Best Manual Treadmill
Vertical Climber
Chances are, if you head out on a long backpacking or mountaineering trip, you won't just be walking. You'll be scrambling over boulders, hoisting yourself up onto ledges, and carefully navigating varying terrain. A vertical climber can help you develop the full-body muscular endurance needed for these tasks while also helping you develop a greater sense of balance and body awareness.
Plyo Box
You don't need a box for jumping (although that can be helpful), rather for stepping. On a backpacking trip, you're sure to encounter terrain that requires large steps forward, sideways, and upward. A simple plyo box is a top-tier tool for training those single-leg movement patterns. To prepare, use a plyo box for deficit lunges, forward step-ups, lateral step-ups, and pistol (single-leg squat) drills. Better yet, wear a rucksack or hold a kettlebell in one hand for added stability training.
Reverse Hyper
You don't just need strong legs and a strong heart to safely enjoy backpacking trips. A strong back is another key element: You'll need it to support your heavy pack over long distances. A reverse hyper allows you to train posterior strength, which will help prevent slumping and thus prevent pain and unnecessary fatigue during long trips.
Sliders
Ever been hiking and have the ground slip from beneath you? Yeah, yikes. It's a scary feeling, but it's actually something you can prepare for—with a simple, inexpensive piece of equipment. Lateral lunges, mountain climbers, hamstring curls, plank arm extensions, and croc walks (using your arms to walk your body forward in a plank position) are all examples of muscle-shaking movements that'll prepare you to catch yourself when the earth inevitably shifts under your feet.
The Basics
On top of all of those specifically selected pieces of equipment, having a few basic strength training tools opens up your options for backpacking workouts. Kettlebells and dumbbells are fantastic for developing the unilateral strength required for tackling treacherous routes while carrying a large backpack full of water, food, tools, and camping gear. I like to use kettlebells for single-leg Romanian deadlifts, cross-body step-ups, suitcase lunges, front-rack carries, single-arm rows and other functional exercises.
And we all know how useful a barbell and a good set of weight plates is—the number of exercises you can do to build strict and explosive strength is virtually endless. All barbell exercises help prepare you for hiking and backpacking in one way or another.
How to Train For Rock Climbing
Rock climbing is one of the most challenging outdoor sports there is. It requires ample strength, but rock climbing is really a skill-based sport. Deck your home gym out with these suggestions to master all of the skills you need for this thrilling outdoor adventure.
Essential skills for rock climbing include:
Grip strength (fingers, hands, wrists, and forearms)
Balance and coordination
Body awareness
Pulling strength
Hip strength and power
Strong hip abduction and adduction
Peg Board
Peg boards provide excellent stability and strength training for rock climbing. Picture yourself up on a rock face, digging your feet into the cliff (called smearing) and clutching a hand hold while you search for your next move. A peg board can help you develop the strength and stamina needed to master this crucial rock climbing skill. (You can even DIY a peg board.)
Hangboard
A hang board is similar to a peg board, but it's for your fingers and hands only, and you don't actually climb it. It's more so intended for practicing different finger holds used during rock climbing and performing endurance hangs. This is by far one of the best pieces of equipment a climber can have in their home gym.
Globe Pull-Up Bar
We all know how important pulling strength is for rock climbing. But pulling strength is nothing without grip strength in this sport, so here's another tool to help you develop both. A pull-up globe makes pull-ups and chin-ups even more challenging than they already are by requiring unusual hand placement. You can also try single-arm holds and pull-ups on a pull-up globe. 
Wrist Roller
A wrist roller is yet another way to develop grip and forearm strength for rock climbing prep. I like wrist rollers because they provide an element of instability and can be used for muscular endurance training. Wrist rollers also engage your anterior (front) deltoids and biceps, both of which are important for climbing.
Axle Bar
An axle bar is a thick barbell, usually with a 1.75-inch to 2.25-inch diameter. The width of an axle bar makes it much harder to grip and use, so it turns every exercise into a training session for your forearms.
Alternatively, if you don't have the space or funds for an axle bar, you can grab some Fat Gripz. These rubber grips are axle bar adapters and can fit most Olympic barbells, specialty barbells, pull-ups bars, and other equipment to increase the width.
Steel Mace
No, you won't be swinging a mace up on a rock face, but you will be fully engaging all of your body's stabilizer muscles and be under constant tension in your core. Maces have a highly uneven distribution of weight, making them prone to rotation and susceptible to gravity. When you train with a mace, you develop rotational core strength and the ability to stabilize your muscles under variable resistance, two skills crucial to successfully ascending rock climbing routes.
Dip Station
Believe it or not, climbing isn't all about pulling. There's a ton of turnover involved, much like what happens during the infamous muscle-up, but not quite so pronounced (usually). Practicing dip variations can help you develop this turnover strength. A freestanding dip station is a great option for home gym owners who don't have room for a full power tower or power cage.
Mini Resistance Bands
When you're holding yourself up on a rock face trying to find your next hold, your hip adductors (inside of thighs) and abductors (gluteus medius and more) will be engaged, depending on your position. Both of these muscle groups are important for maintaining your positioning and avoiding a fall. Using mini resistance bands for isolation exercises, as well as to add to compound movements like squats and deadlifts, helps strengthen these important muscles used for climbing.
The Basics
New climbers often underestimate the role of their legs, hips, and glutes in climbing. The best way I can describe it is to use a ladder as an analogy: When you climb a ladder, you don't pull yourself up it. You step up and use your hands and arms mainly for balance. In a lot of cases, this is what happens (or should happen) during rock climbing, too.
Basic gym equipment such as a barbell and weight plates gives you an opportunity to strengthen your lower body so you can generate as much power from there as possible when you're on the face of a cliff. Hip thrusters, deadlifts, and reverse lunges are great functional exercises for rock climbers—adding tempos or pauses further prepares you for long holds on a rock wall.
How to Train for Mountain Biking
Mountain biking is a thrill that necessitates a whirlwind of skills and capacities, from cardio endurance to balance to full-body strength. To excel at mountain biking—or simply enjoy it without falling or for more than 10 minutes at a time—your home gym should support training for these skills:
Conditioning (cardiovascular fitness)
Explosiveness/power
Lower body strength and stamina
Full-body muscular endurance
Balance and coordination
Quick reflexes
Air Bike
I personally think air bikes mimic mountain biking more accurately than other stationary exercise bikes. When you go mountain biking, you're constantly using your arms to maneuver the bike through obstacles and lift the handlebars to crawl over rocks and hop over gaps. Air bikes, like the Rogue Echo Bike, train your upper body unlike most stationary bikes. Air bikes also happen to be phenomenal for conditioning, which you'll definitely need for mountain biking.
Plyo Box
Mountain biking requires a good deal of explosive power: When you jump the bike over gaps or lift the front wheel coming off of a drop (ledge), that momentum has to come quickly. Box jump variations such as regular box jumps, squat box jumps, box jump overs, and burpee box jumps will be helpful here.
Parallettes
The first couple of times I went mountain biking, I was surprised when my chest and triceps, not my quads, were the most sore part of my body. It clicked when I realized how much maneuvering of the handlebars—namely, the pressure you put on the bars to engage the suspension and then lift the front wheel—was required. Use parallettes to add an extra challenge to push-ups, as well as train core stability exercises such as tucks and L-sits.
Glute-Ham Developer (GHD)
Most people who don't participate in mountain biking tend to assume that the quads do all of the work. This couldn't be further from the truth: When mountain biking, your hamstrings and glutes engage at all times, particularly during inclines. On a GHD, you can do a variety of posterior chain exercises to strengthen your hamstrings, glutes, and lower back to assist with mountain biking.
Medicine Ball
I love medicine balls for training both the conditioning and reflex aspects of mountain biking. Use one for wall-balls, ball slams, and medicine ball thrusters and cleans to increase cardiovascular fitness; use one for wall slams, partner med ball situps, and partner tosses to train reaction time and coordination.
The Basics
General strength is obviously great to have for mountain biking. Use kettlebells, dumbbells, and a barbell with weight plates to train basic compound movements, including squats, deadlifts, overhead press, rows, lunges, power cleans, and more. Even if it doesn't feel like these exercises are improving your mountain bike fitness in the moment, they are. Single-side leg exercises are especially helpful.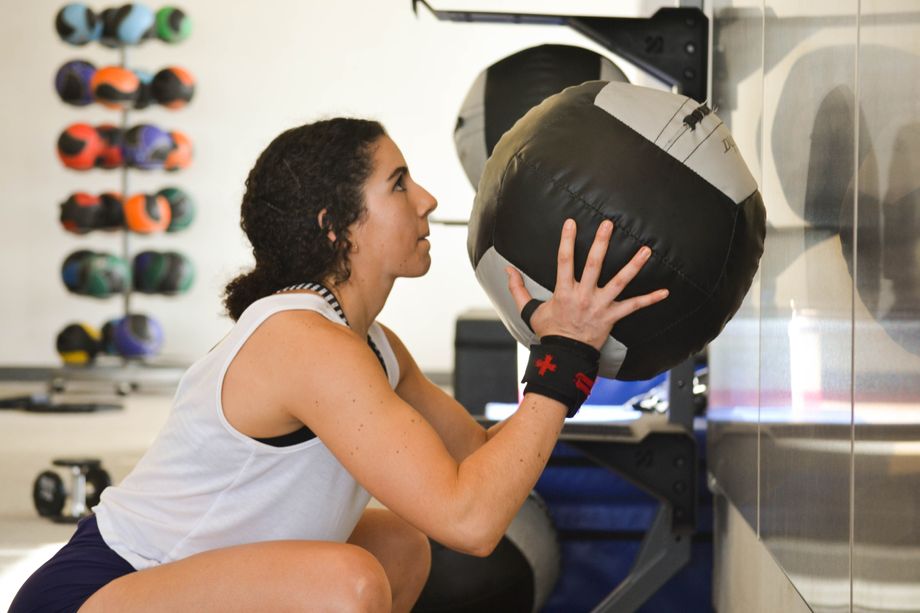 How to Train for Kayaking and Paddling
Lots of water adventures involve leisurely paddles over glass-top water—but lots involve unexpected obstacles and rapids. Water is unpredictable, so it's best to launch prepared. To navigate any water, calm or not, these skills will prove helpful and, at times, necessary:
Cardiovascular fitness/endurance
Balance
Rotational strength
Pulling strength
Shoulder strength and stability
Rower
If you want to get good at rowing, row! Paddlers can easily mimic on-the-water training at home with a rowing erg. A rowing machine will help you improve two of the most important skills all paddlers should have: cardiovascular endurance and stamina in your pulling muscles.
Ski Erg
If you have the space and money to have both a rower and a SkiErg, the SkiErg is a helpful addition. It trains endurance in the vertical pulling pattern, and generally, you'll need both horizontal and vertical pulling strength for paddling excursions, especially when rapids are involved. 
Pull-Up Bar
Generally, water sports require a lot of pulling strength. Whether you're rowing oars, maneuvering an ocean kayak, or simply enjoying a stand-up paddle, your back muscles will be put to work. Pull-ups are arguably the most functional pulling exercise in existence. If you can rep out a few good strict pull-ups, you can rest assured you have the pulling strength it takes to navigate the water.
Lat Pull-Down and Low-Row Cable
You may be wondering why I recommend both a pull-up bar and a lat pull-down for paddlers and rafters. Well, there's a lot of unilateral movement happening out on the water, and it's important to independently train both sides of your body to account for that. Unless you're an expert at calisthenics, I'll assume you can't do a single-arm pull-up, and that's where a lat pull-down and low-row combo comes into play: unilateral upper body strength training. The low-row aspect also trains horizontal pulling muscles versus vertical pulling muscles.
Landmine
Build rotational strength and shoulder strength with a landmine station. Even on calm waters, you must constantly rotate your core and engage your shoulders to propel your vessel through the water. Try out landmine presses, landmine thrusters, landmine kneeling presses, and landmine upright rows.
The Basics
Your back and shoulders aren't the only muscle groups putting in work on a kayak, canoe, or paddleboard. Compound exercises such as squats, deadlifts, lunges, bent-over rows, step-ups, and more all build general strength and fitness that'll help out on the water. You can also use basic strength training equipment to add more rotational movements, like windmills and wood chops, to your routine. If you plan to stand-up paddle, use dumbbells and kettlebells for unilateral lower-body work to prepare for all of the weight shifting you'll be doing on the board.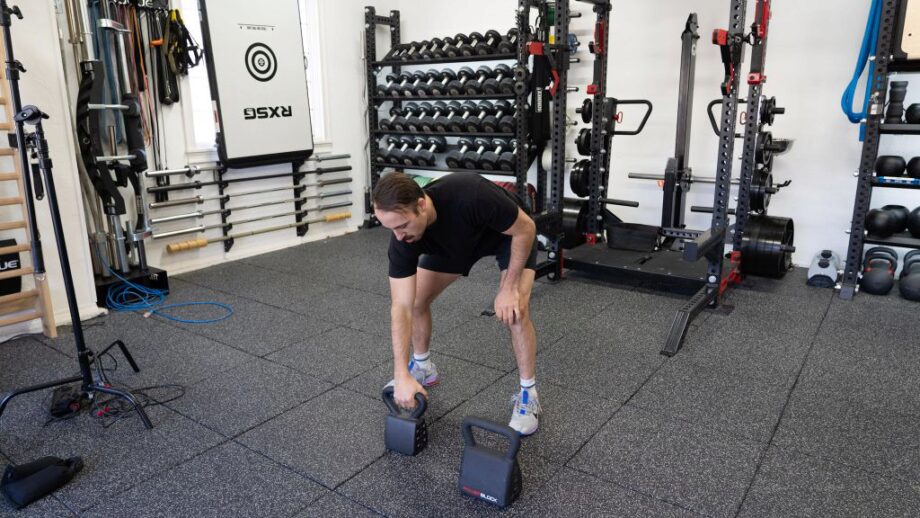 How to Train for Snow Sports
Skiing and snowboarding require a super specialized set of skills. You need to learn how to keep your mass centered while cutting and carving; how to balance while moving at fast speeds; how to stabilize when thrown off-kilter; and much more. Certain skills like foot positioning, pole planting, and carving can really only be learned on the slopes. But you can set yourself up for success by building some prerequisite strength and coordination.
Physical skills required for skiing and snowboarding that you can practice in a home gym include:
Balance
Stability
Stamina/cardiovascular fitness
Lower body power/explosiveness
Unilateral strength
SkiErg
A SkiErg will improve your conditioning using the very same movement pattern you'll use while skiing (not so much for snowboarding, but it's still helpful here, too). The Concept2 SkiErg was actually designed originally for cross-country ski athletes. It uses a flywheel to create resistance and the movement pattern targets your core, lats, and triceps—all essential to a strong skier.
Treadmill
Another way to improve cardiovascular fitness is simply with a treadmill. Although you don't need to have the stamina of a marathon runner to ski or snowboard, a basic level of cardiovascular endurance does help. It'll make your trip to the snowmasses much more enjoyable, at the very least. 
Sliders
Tiny but mighty, exercise sliders (also called glide discs) take regular ol' movements to a new level. Sliding burpees, sliding lunges and lateral lunges, and sliding mountain climbers are just a few examples of exercises you can make more challenging with sliders. Using sliders forces you to fight with momentum more than you would without them, a skill that translates well to the slopes. 
Balance Board
If you want to get serious about improving your balance and body awareness, definitely get a balance board for your home gym. These are more applicable to snowboarding, but all balance practice is good practice. Balance boards hone your ability to quickly shift your center mass to accommodate fluctuations in your body position, translating to cutting and carving on a snowboard.
Mini Resistance Bands
Wanna know two underrated muscle groups that are incredibly important to all that carving you'll be doing? Your hip abductors and adductors. These are actually super important to pretty much everything you do. Your adductors are responsible for moving your legs toward the midline of your body, while your abductors move your legs away from the midline of your body. In other words, they're ultra-critical for stabilization during lateral movement—of which you'll be doing a lot in the snow. Mini resistance bands are great for isolated adduction and abduction, as well as for abduction during squats, deadlifts, and hip thrusters.  
The Basics
Use kettlebells and dumbbells for general strength training, but specifically core stability exercises. Windmills, Russian twists, woodchops, and lunges with torso rotations can all be done with dumbbells or kettlebells.
Resistance bands are another great option: Anchor one to a door frame or your power cage and use it to rotate with resistance in every which way. And, as always, a barbell and weight plates are helpful for building strength and stamina through traditional compound movements, but I wouldn't call them necessary for a winter athlete's home gym if you have other free weights.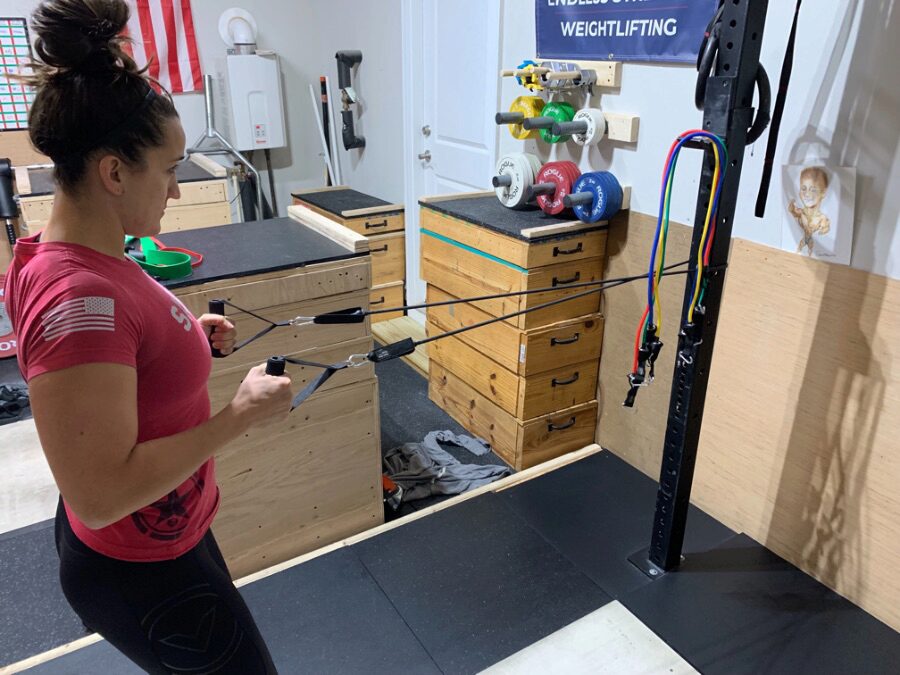 Cross-Training for Outdoor Athletes
For the avid adventurist who likes to try their hand at just about anything (we ride! And run and ski and climb and, yeah), cross-training is key. Having general strength and conditioning equipment in your home gym is essential—a barbell and some bumper plates can go a long, long way. Mix and match the above equipment recommendations to best support your outdoor pursuits.