We test and review fitness products based on an independent, multi-point methodology. If you use our links to purchase something, we may earn a commission. Read our disclosures.
In the last year, an overwhelming number of people finally realized what I've known for a long time: working out at home rules (thanks, COVID). More than ever, exercise enthusiasts are building gyms right in their own houses. The best home gyms around have barbells, exercise bikes, dumbbells, and more.
If you're looking for a home gym, specifically, for your home gym, there's a lot on the market. A "home gym" could refer to an all-in-one squat rack, a cable cross machine, a workout mirror and any other piece of equipment that essentially works the majority of your muscle groups. It's easy to get overwhelmed with the multitude of options available, so I put together the list of the pieces I like best.
Top 8 Best Home Gyms
Best Home Gym Overall: Rep PR 1100 Home Gym Power Rack
Best Home Gym Overall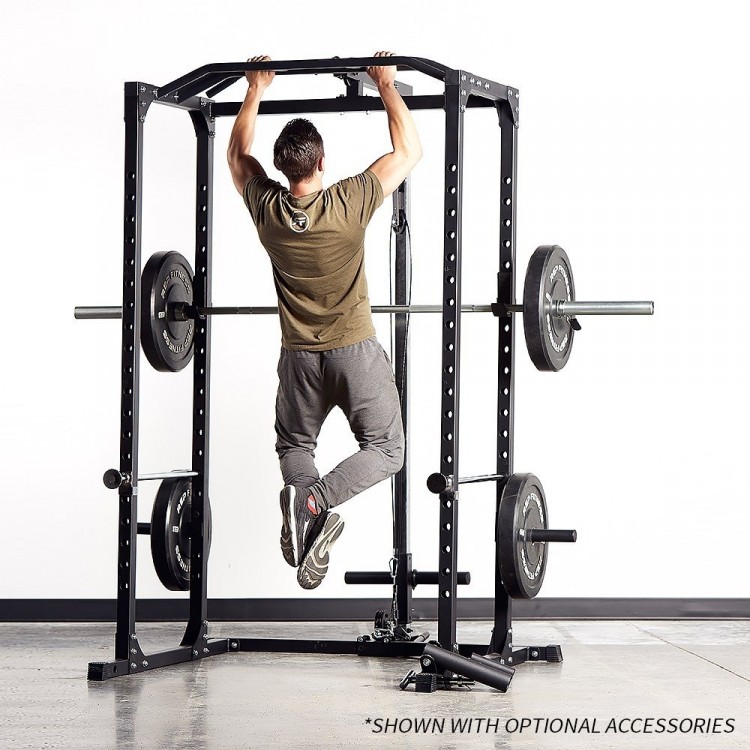 REP PR-1100 Home Gym Power Rack
If you are looking for a full-featured power rack that is not too expensive, you have come to the right place! The REP PR-1100 Power Rack is rated at 1,000 pounds and created with home gym and garage owners in mind. It has professional features highlighted in its compact and versatile package. There are several attachments that you can add such as a REP bench, plates, and barbell to help you reach the ultimate goal of a complete home or garage gym set up to help create tons of exercise options! Attachments like the REP lat pull-down and row attachment, dip handles, weight horns, and landmine attachments are all compatible with the REP PR-1100. It is truly the all-in-one power rack. Features: Multi-Grip Pull Up Arch: Great for any grip pull ups (traditional, neutral, close, or wide). It has a standard size pull up bar on the front and a thicker pull up bar on the back. Numbered Uprights: This makes for fast and accurate adjustment for your Extended  Safeties and J-Cups.  Plastic Lined J-Cups: These are in place to help reduce noise, protect your barbell's knurling, and avoid rust.   Extended Safeties: The safety bars are chrome plated and extend out to help rack a barbell. However, we do suggest that you use the J-Cups when thinking about the longevity of your barbell. 
Good for: People who want a versatile squat rack at a great price
My Favorite Things:
Priced under $300
Rated for 700 pounds
Compact for a power rack
Pull-up arch
Safety bars
My Callouts:
Other accessories cost extra
Use your own tools for assembly
This is a no-frills power rack
I'm a big fan of the Rep Fitness Power Racks–the Rep PR-4000 is one of the best power racks I've used. The PR 1100 is definitely one of the brand's most basic setups, but that's kind of the beauty of it. It's priced below $300, but it's still a great piece of home gym equipment.
You can easily (and fairly affordably) add the accessories you need without paying for things you won't use. Rep offers add-ons such as weight storage, a lat/low row attachment, dip bar, and landmine. However, this is a standard rack, so there are a host of other accessories that would likely fit in just fine.
The PR 1100 has a weight rating of 700 pounds, which is more than enough for most of us mere mortals. It's also fairly compact, with a footprint that's roughly 4 feet by 4 feet. Of the nearly 400 reviews on Rep Fitness's website for this rack, the overwhelming majority are five stars.
While most reviewers say the PR 1100 is easy to assemble, there were a few who pointed out that the wrench that Rep sends isn't great, and using their own tools simplified the setup process.
Check out my full Rep PR-1100 Power Rack review.
Best Home Gym for Heavy Lifters: Rogue RML 490-C Power Rack 3.0
Best Home Gym for Heavy Lifters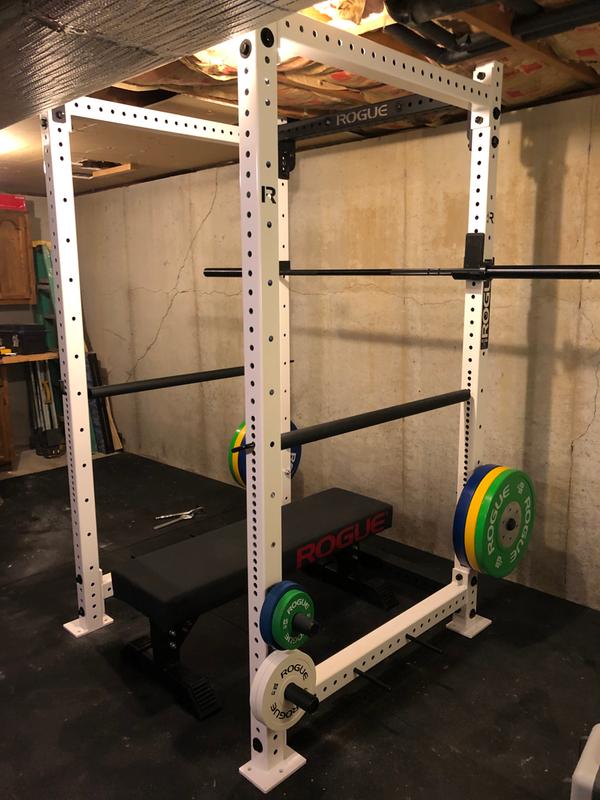 Rogue RML-490C Power Rack
Starting with the same Westside-inspired design as the popular Rogue R-4 Power Rack, the RML-490C utilizes 3x3" 11-gauge steel uprights in your choice of 10 custom Rogue semi gloss powdercoats–making it among the strongest and sturdiest power racks in the industry. Built in Columbus, Ohio, this highly customizable Monster Lite rack is equipped to serve professional strength training facilities, collegiate weight rooms, military training bases, and small garage gyms, alike.The RML-490C includes Westside hole spacing, 5/8" hardware, and a set each of Monster Lite J-cups, pin/pipe safeties, and band pegs. Both a 43" Beam and 43" Single Skinny Pull-Up Bar also come standard.With just a 53" x 53" standard footprint, the RML-490C Power Rack is a compact unit well suited to custom additions.
Good for: Serious lifters who need high weight capacity structures
My Favorite Things:
3×3 11-gauge, American-made steel
Comes with standard accessories
53 in x 53 in footprint
90-inch uprights
Highly customizable
My Callouts:
Priced around $1,300
Must be bolted or wall-mounted for safety
Comes with metal pins instead of safety straps
I can't talk about power racks without talking about Rogue. Rogue is kind of synonymous with home gyms because one trip to the website is all you need for basically anything you need. I have used the RML-490C a number of times and can attest to its durability and high-quality construction.
Reportedly, this rack can withstand up to 1,200 pounds, which is some seriously heavyweight. I believe it. Let's start with the 3×3, 11-gauge steel made right here in 'Merica. That type of steel is ideal for squat racks used at home. 7-gauge steel is super beefy and pretty much unbreakable, but also a little unnecessary (not to mention expensive) for even heavy home lifters. The RML 490C also has a satin finish that keeps it from getting banged up and ugly.
The RML 490C comes with J-cups, a standard pull-up bar, and pin safeties. Also, this is a rack that will truly grow with your lifting. It has countless accessories, including storage options as well as exercise options like a pulley attachment, lat pulldown seat, and Matador.
This is part of the Monster Lite family. That isn't necessarily a bad thing; Rogue typically upgrades Monster rack products and that trickles down to Monster Lite. Also, something to keep in mind: To be safe, you should either bold this rack to the ground, or mount it to the wall (which requires an extra purchase). Some reviewers have said that they would have preferred strap safeties as opposed to pins.
Another option for this category would be the Rep Fitness PR 4000. It's similarly priced and just as good quality, in my opinion. I did compare the Rogue RML 490C and the Rep Fitness PR 4000 if you want to learn more about similarities and differences.
Best Value Home Gym: Fray Fitness Functional Trainer
Best Value Home Gym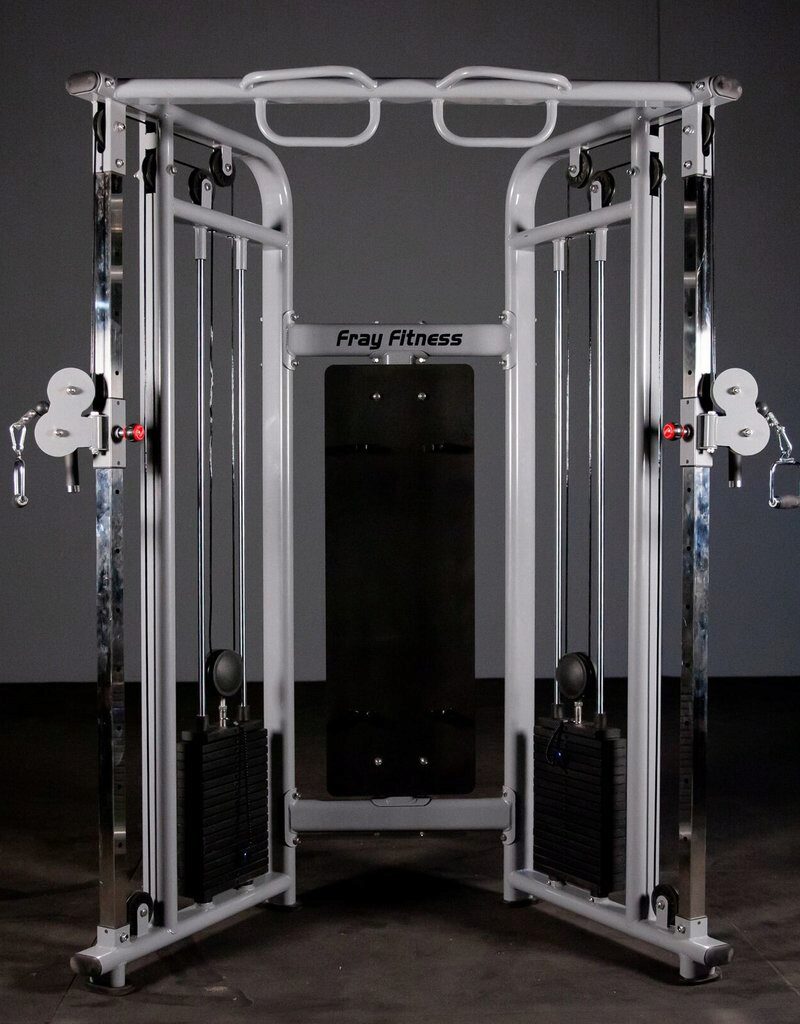 Fray Functional Trainer Commercial Line
The functional trainer is by far the most versatile and widely used piece of equipment in the industry. It is used in home gyms across the globe as well as commercial gyms and everything in between. The Fray Fitness model is a commercial-grade unit consisting of 198-pound dual weight stacks. This functional trainer is solidly constructed with industrial-grade strength 11 gauge steel throughout. The pulley system provides an extremely smooth glide up and down. It is a quick-adjust pulley system with 19 different adjustment slots. You are also able to perform pull-ups and chin-ups with the pull-up bar. Also comes with a pair of D-grip handles. Does not come with any other attachments pictured.Every inch of this is fully commercial. There were no shortcuts taken:--Pulleys are strong and thick and we stand by that statement by offering a full 5-year warranty on them. That is by far an industry-leading warranty on pulleys--Cables are extra strong and the thickest on the market--Guide rods are full metal all the way through and not hollow in the middle like others2:1 ratio.Ships partially assembled. Easy assembly. Approximately 90 minutes. We have techs available daily to help with assembly questions when needed as well.Assembled weight: 910 poundsHeight: 90:Width: 66:Depth: 36"WARRANTY:Frame: Lifetime5 FULL YEARS ON OUR PULLEY'S18 Months on cables, pins and hardware for commercial use and 36 months for home use.
Good for: People who want a cable machine without spending the commercial gym price
My Favorite Things:
Under $1,600
Quality guide rods
200 pound weight stacks on each side
11 gauge steel
My Callouts:
Heavy at 910 pounds
Not commercial grade like the product claims
Plastic pulleys wear over time
The Fray Fitness Functional Trainer gives you some serious bang for your buck. Coming in at under $1,600, this machine is not quite commercial-grade like it claims, but is still one of the most affordable functional trainers. It features 200-pound stacks of bumper plates on each side, which is more than enough for most people to do the isolated exercises you do on cable machines. There is also a multi-grip pull-up bar that is a little slick but gets the job done.
RELATED: Best Budget Home Gym Equipment
I really like that there is substantial adjustability to the machine. The pulleys slide up and down and also swivel, allowing you to do a full range of exercises. The guide rods in the plate stacks are high quality and keep the plate motion smooth.
This is not a compact cable machine and would require a large space. Once installed, the 910-pound machine will be difficult to move due to the industrial-grade steel and almost 8-foot height of the machine.
I don't believe this functional trainer would stand up to commercial use due to the plastic versus steel pulleys. I still think this is a great value for the price. As long as you aren't running an actual gym out of your guest room, you probably won't notice the difference.
If you've been eyeing a functional trainer but can't swallow a $6,000 price tag, I believe that this is your best option. Looking for more budget options?
Read my full Fray Fitness Functional Trainer review.
Best Smart Home Gym: Tonal
Best Smart Home Gym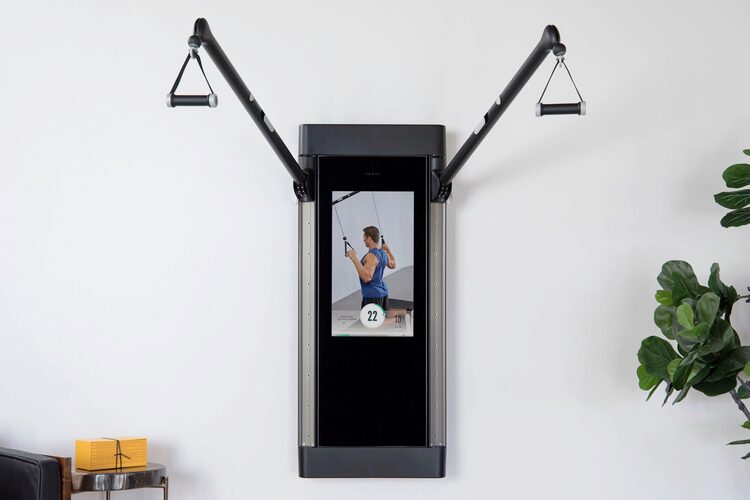 Tonal Smart Home Gym
Looking for a complete home gym that fits in a compact space? The Tonal smart home gym offers 200 pounds of resistance, more than 170 moves, and a range of full-body exercises. Plus, the AI gets to know you as a lifter the more you use it, so the workouts will be customized to your needs.Tonal may be effective, but it's not budget-friendly. The machine sells for close to $3,000 (which does include professional installation), but you still have to pay a $50 monthly subscription fee on top of that.
Good for: People who want to experience guided workouts and cutting edge technology
My Favorite Things:
Technologically advanced with touchscreen technology)
High-quality cable system
Takes guesswork out of strength training
Professional setup is included in the price
My Callouts:
$49 monthly class membership fee
Resistance is 200 pounds total (100 pounds per arm)
Included bench is low quality
The Tonal is a technology-driven home gym that I believe is just the start of an electronic boom in gym equipment. It's a wall-mounted screen with cable arms attached. As you exercise, a personal trainer puts you through a guided workout where you can see how the exercises should be performed.
RELATED: Best Smart Home Gym Equipment
One unique feature is that the machine provides auto-powered weight suggestions, which can take the guesswork out of strength and resistance training. You'll initially take the full-body strength assessment to help the Tonal set the correct weight for you on each exercise, though you have the option to turn the feature off and manually input your own data.
The price tag is just under $3,500 and could probably get it on sale during Black Friday or Labor Day holidays, but you can also check out our Tonal coupon page for more savings. There is a $49 per month app membership, the first year of which is folded into the purchase price. At just over 4 feet height-wise and as a wall-mounted workout machine, the Tonal itself doesn't take up a lot of room and could potentially be great for small spaces. However, you need more than 7 feet around your machine in order to use the cables. There are specific requirements regarding installing the Tonal, so the company sends professionals to deliver and install the equipment.
Keep in mind the Tonal has a maximum total resistance of 200 pounds and the provided bench isn't high quality. However, I believe we will see tweaks and upgrades on this product in the future and I'm excited to see how Tonal innovates next.
Read my full Tonal Smart Home Gym review.
Best Portable Home Gym: MaxPRO SmartConnect Portable Cable Machine
Best Portable Home Gym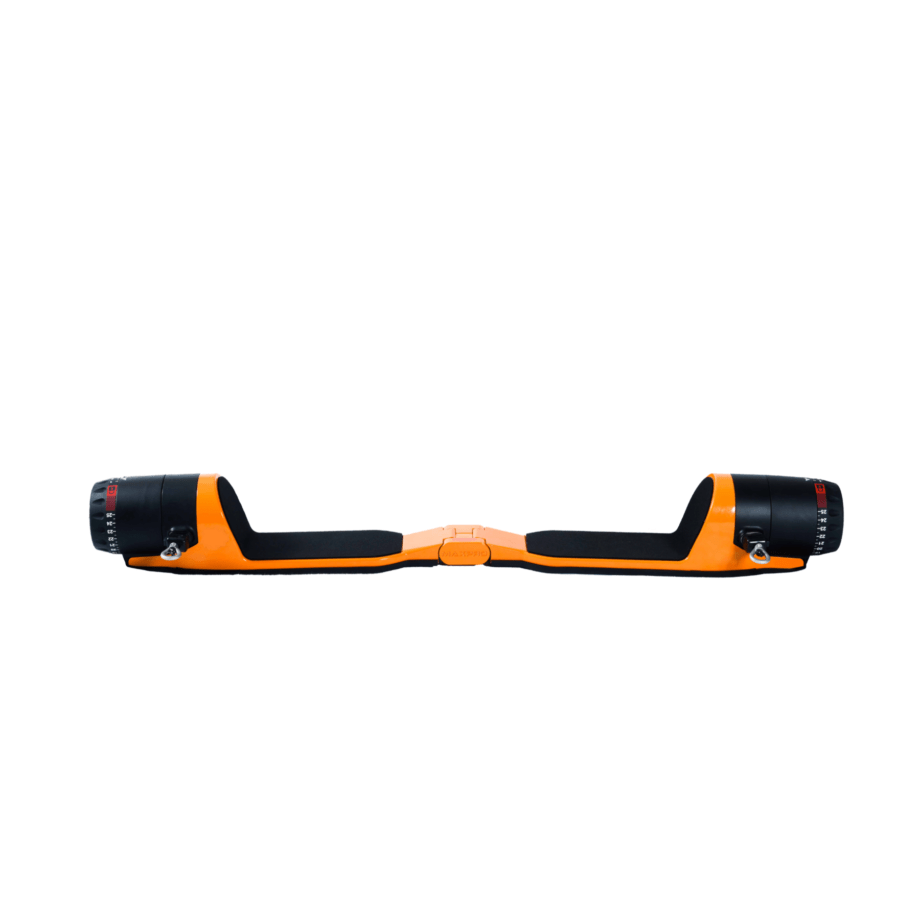 MaxPRO SmartConnect Portable Cable Machine
The MAXPRO isn't some rubber band tied to a door. It is a serious compact cable machine that replaces numerous bulky cable machines found in your typical gym. MAXPRO brings you the latest revolutionary fitness technology with adjustable resistance from 5 to 300 pounds with a simple turn of the dial.Take your workout to the max with MAXPRO Fitness!
Good for: People who travel frequently and want to bring their compact home gym on-the-go
My Favorite Things:
Lightweight: 9 pounds
Space-saving: 19.1 x 15.8 x 5.8 inches
Bluetooth connectivity to your phone or smart device
Free included video workout library
Under $1,000
My Callouts:
Choppy pulley system
Resistance levels don't always stay in alignment
Wall mounting system sold separately
Crucial accessories sold separately
The MAXPRO Smart Connect Portable Cable Machine is a compact home gym that can be taken wherever you go. It weighs just 9 pounds and is less than 2 feet wide. But it packs a lot in that little space: for under $1,000, you get concentric cables with 50 resistance settings of up to 300 pounds. You can mount it to the wall or even put it under your feet.
However, one of the reasons the MAXPRO is so affordable is because there are a lot of accessories you have to buy separately. If you want to mount your MAXPRO, you have to additionally purchase the wall track for a few hundred dollars. Without the wall mount, you won't be able to do as many upper body exercises. The foldable bench is also sold separately.
The MAXPRO has Bluetooth connecting capabilities that sync with an app that can be added to your phone or tablet. The app provides free workouts and tracks your overall progress. Unfortunately, if you don't have the additional accessories I mentioned above, you might be limited in the exercises you can do that the app prepares for you.
If the pulley system appears choppy, MAXPRO states that they have a break-in period before they are smooth. Also, reviewers report that if you don't use the wall mount, the resistance levels don't always stay in alignment since you have to literally step on the workout machine to have it stay in place.
Check out my in-depth MaxPro Smart Connect Home Gym Review and my TUT Trainer Tower review to see how these two small functional trainers compare.
Best Home Gym With Interactive Programming: NordicTrack Fusion CST
Best Home Gym With Interactive Programming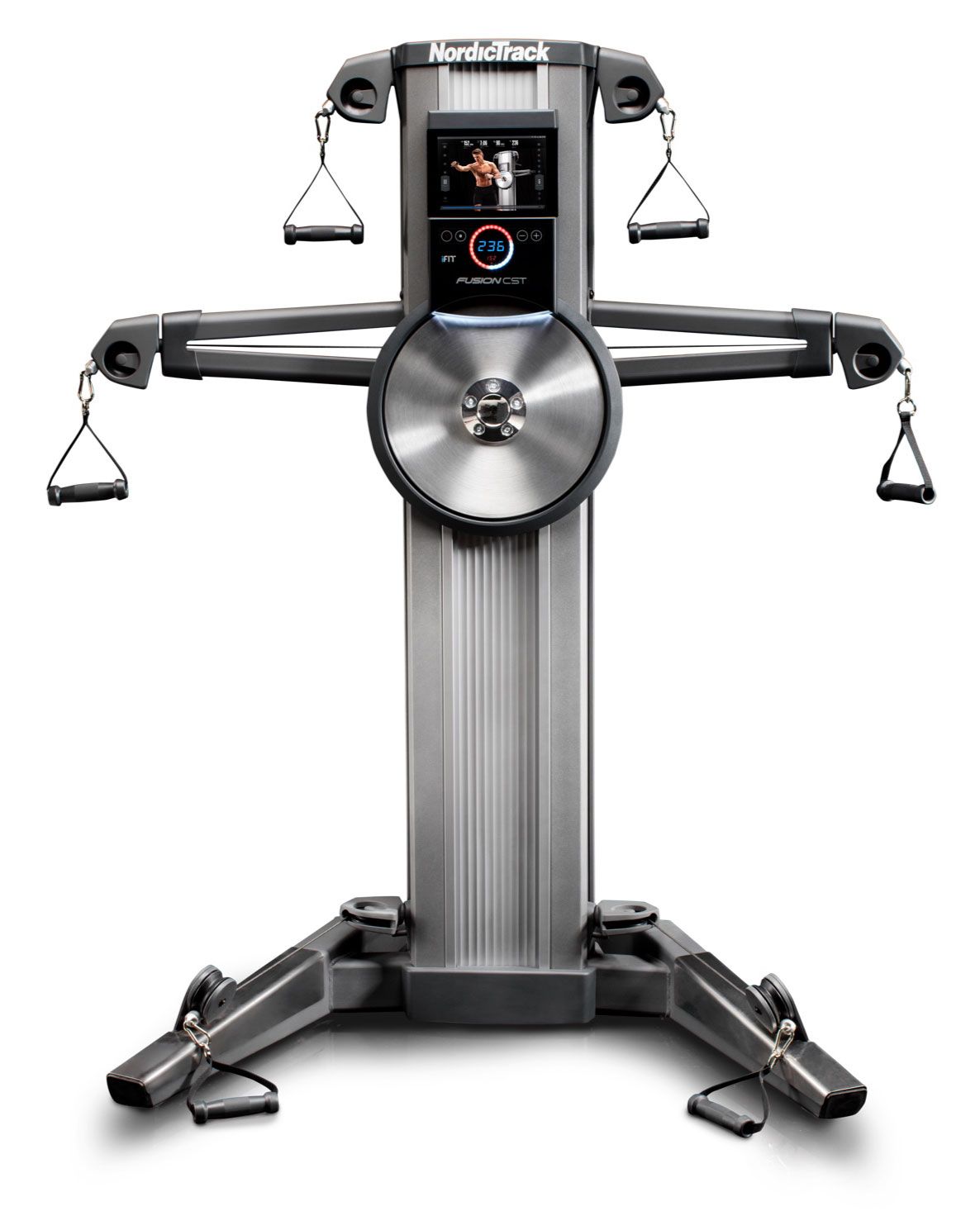 NordicTrack Fusion CST
The NordicTrack Fusion CST is a functional trainer that uses magnetic resistance to deliver a sweat-inducing workout. This $2,000 piece of equipment is 378 pounds, so you'll likely need to grab a friend or two to get it inside your home and assemble. Although $2,000 isn't a reasonable price tag for everyone, NordicTrack does offer stellar financing options with 0% APR for 39 months at just $52 per month.The Fusion CST has a 10-inch screen that can stream compatible iFIT programming. With the purchase of the CST, you get a 30-day free trial of iFIT to see if you're interested in continuing the subscription, which is $39 per month. If you purchase this machine, I would recommend also getting the compatible iFIT programming, since you'll be missing out on a lot of features if you don't. If you're just looking for a functional trainer without interactive programming, there are other options that will deliver for a lesser price tag.With 20 levels of silent magnetic resistance, the Fusion CST delivers up to 100 pounds of maximum resistance. For the average person, this will be enough. However, if you're particularly strong, you may want to look into something else.Looks wise, the Fusion CST is impressive. The exposed flywheel and gleaming touchscreen make for a futuristic look on this mammoth of a machine.
Good for: People who want an interactive experience that includes both strength and cardio in one home gym machine
My Favorite Things:
Trainer-led workouts
1-year free i-Fit membership included
Ability to do strength and cardio workouts
10-inch touchscreen tablet included
My Callouts:
1-year labor and parts warranty
20 power resistance settings
Maximum of 100 pounds in resistance
iFit: $396 yearly
You cannot store this in your garage as the brand will not honor your warranty if you do
The NordicTrack Fusion CST is my pick for best with interactive programming due to the included touchscreen tablet that provides on-demand classes. The price is just under $3,000, which includes a free year of iFit (the on-demand fitness classes).
iFit not only utilizes the included cables but also incorporates cardio-based moves like burpees and jump squats to get your heart rate up. The interactive part of this home gym makes it easy to follow along for a full-body workout. iFit has a multitude of on-demand classes with various instructors with new videos added daily.
At over 6 feet tall and 5 feet wide, you'll want to have a permanent or semi-permanent space for the 378-pound Fusion CST. This machine has four cables at two different heights for exercises.
The warranty on this machine is only a year for the labor, parts, and included tablet. Although I appreciate the free year of iFit, the machine isn't complex enough without the classes if you decide not to continue with it after the trial is over. iFit costs a flat rate of $396 a year for a family membership or $39 monthly. There is only up to 100 pounds of resistance, but it could still be a good option for those new to resistance training or simply needing a lower-impact workout.
Best Home Gym for Beginners: Bowflex Revolution
Best Home Gym for Beginners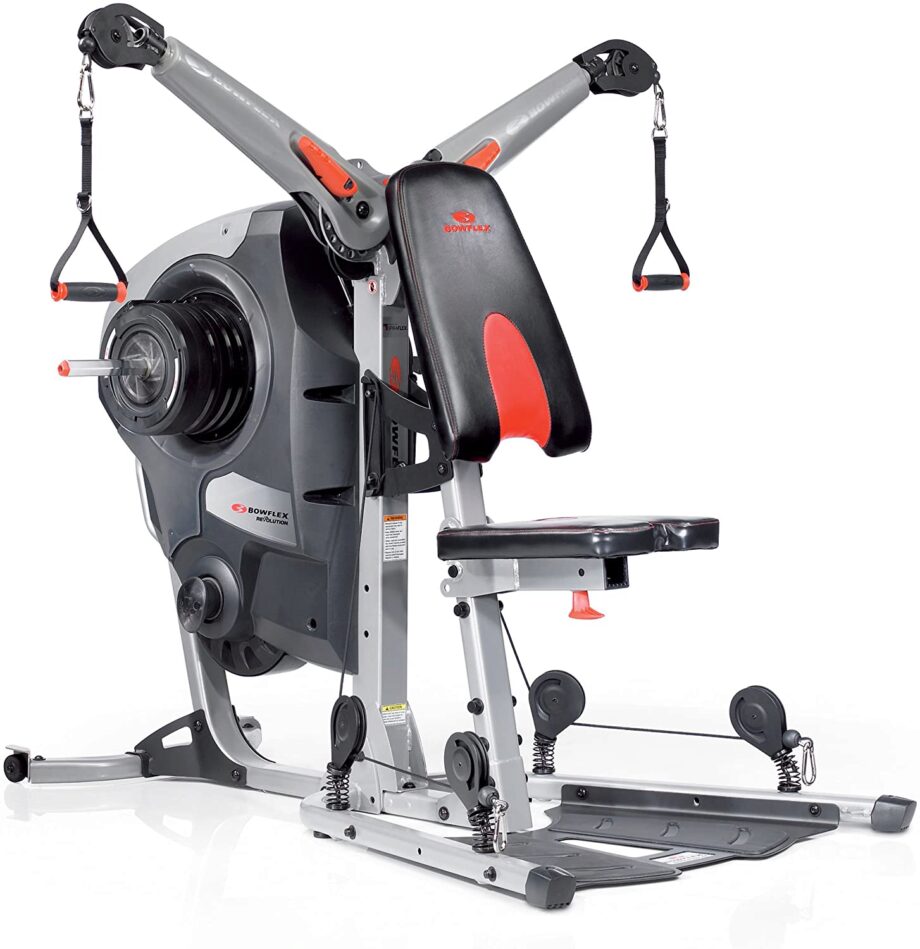 Bowflex Revolution Home Gym
Over 100 exercises with up to 400 variations. Designed to work every major body zone, and support every workout routine, strength level and fitness goal.
Good for: People who want a total body workout with one piece of equipment
My Favorite Things:
100 possible different exercises
Provides up to 600 pounds of resistance
Frame warranty is 10 years
Beneficial for various fitness levels
My Callouts:
Difficult to set up by yourself
No included exercise plan/videos
Additional accessories are sold separately
The Bowflex Revolution Home Gym is easy to use and great for people of all fitness levels. With 220 pounds of resistance coming from the attached cable machine, you can perform a variety of upper body exercises such as seated lat rows, tricep extensions, and chest presses. The attached leg press station works your lower body with the included 300 pounds but has the option to upgrade up to 600 pounds (which is impressive for a non-commercial home gym).
RELATED: Best Cardio Machines
The 10-year frame warranty for the Revolution makes the just-under $3,000 price tag a little more palatable. In order to get the most out of this home gym, plan to have at least 9 feet of space so you're able to comfortably use both the cable machine and the leg developer section.
Unless you're willing to pay an extra $299 for assembly, you'll have to put it together yourself, which reviewers have reported being a tough job. You'll ideally need an extra set of hands if you choose to forgo paying for assembly.
Although not impossible to move by any standard, keep in mind that the assembled weight of the Revolution is 336 pounds, so be sure to assemble it in the spot you intend to put it. I don't love that accessories like the tricep rope, hand grips, and more resistance plates are sold separately. There is no option to bundle these items for a discount, either.
Benefits of Home Gyms
Having your own home gym is quite practical for people who live active lives, and the process of putting one together is rather enjoyable and convenient. There are various benefits to possessing a home gym, whether you utilize it as your primary training place or not. Because having convenient access to exercise is vital in today's frantic environment, here are a few reasons to create your own gym:
Saves Money
Convenient
Versatile
Effiecient
Working out and being fit isn't a fad, it's a lifestyle. For those who are serious about working out or even just enjoy it casually to stay in shape, there is a multitude of benefits to owning a home gym.
A home gym – or functional trainer, power rack, virtual trainer, etc. – is a great way to take your workouts from bodyweight movements into loaded movements. Kettlebells, free weights, and resistance tubes are great, but you can fold all the benefits of these into one piece when purchasing a home gym.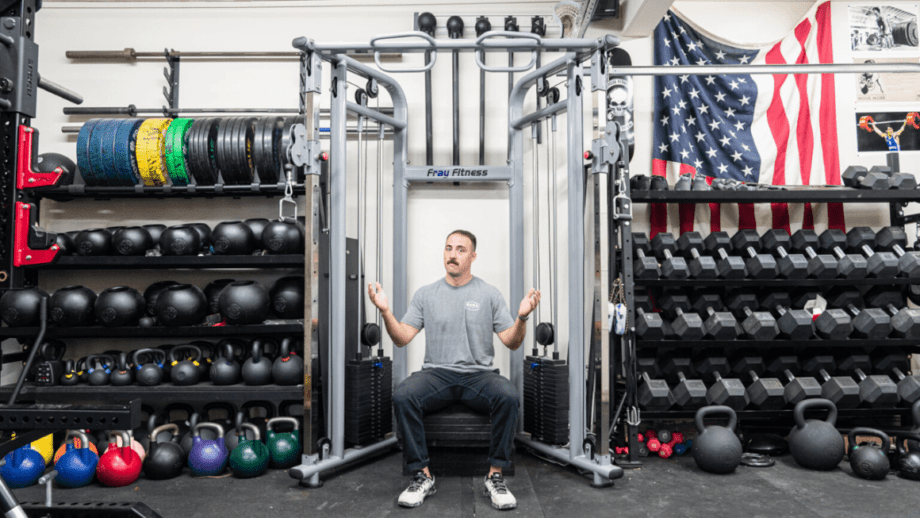 How to Find the Best Home Gym
I created Garage Gym Reviews to help people like you use their money wisely to buy fitness equipment that I stand behind. I do the dirty work testing machines to find you your best fit. To determine the best home gym for your fitness goals, consider the following:
Budget
Before purchasing anything, I recommend mapping out how much you're willing to spend total on home gym equipment. Maybe you're willing to put in some money now and more later in the year. Whatever the scenario is for you, make sure you have a clear understanding of what is in your price range so you're able to pick the best budget home gym for you.
Home gym equipment isn't cheap, and prices can start at $600 and go up to thousands of dollars. I recommend looking at financing options when available if it isn't realistic for you to pay thousands of dollars in one go. Home gyms like the Tonal (among others) offer financing at under $150 per month.
Exercise Style
This seems obvious, but figure out what types of exercises you want to do. Don't buy a piece of workout equipment that you know deep down you won't like using in the long run. Home gyms come in many forms: a basic power tower, cable resistance machines, benches with dumbbells, plate stack resistance functional trainers, etc. You can also find machines that offer a lot of versatility because they combine one or all of these things.
Weight Load
Some people are looking to build lower body strength while others want to develop all the muscle groups equally with a full-body workout. Before purchasing a home gym, research how many pounds of resistance the machine has and if it has the capability to hold more.
If you're a more seasoned workout enthusiast, chances are you know exactly how much weight you need to build muscle. I recommend factoring in how much you want for lower body exercises because that's likely a bigger number. If you are newer to weightlifting, you are likely okay with the standard 100 to 200 pounds of resistance that most quality machines provide.
Size
I recommend determining where you want to put your home gym before purchasing anything. I'm obviously partial to putting equipment in my garage, but you'll need to decide what room or space is best for you. Consider the dimensions and weight of the machine when deciding where it will live.
Some home gyms are hundreds of pounds and extremely difficult to move. Others have wheels for easy storage or are wall-mounted and would need professional help to relocate. Are you willing to sacrifice some space for a larger home gym, or is it a non-negotiable that the machine is easily moveable?
Versatility
If you have a partner or family, chances are you'll want to consult with them on the type of equipment they'd like to use. This is also a good time to ask about specific needs so everyone is able to use the machine.
Here are some things to consider for the comfort of everyone using the home gym:
Adjustability: Can it be adjusted to accommodate various heights?
Accessibility: Large print on screens, simple instructions for use
Ergonomics: Wide seats, padded barbells
Weight capacity: Can it accommodate the weight of all users?
Range of resistance: Does it have enough weight for everyone to use?
Additional Accessories For Home Gyms
In order to get the most out of your home gym, consider if the piece of fitness equipment you are purchasing has accessories or extras that would enhance your workout. If you want to bench press, you will need a bench. If you want to do lat pulldowns, you will need a straight or curved bar.
Things to look for:
Plate upgrades
TRX straps or something similar
Different variants of bars
Jump belt
Tricep rope
Wall track
Suspension handles
Smith machine functionality
Programming
Don't sweat being new to working out with a home gym, because many machines now come with fitness programming that will guide you through a variety of workouts with instructors. As mentioned above, these memberships usually cost money, which is something to keep in mind. The guided workout experience can be an easier way to exercise since there is no need to plan in advance.
FAQs About Home Gyms
How much does a home gym cost?
You may be able to find cheap home gyms on Amazon but be careful about very low-priced equipment. These are often cheaply made and not a good use of your money. A quality home gym can vary greatly in price depending on what equipment you choose to include and your budget. On the low end, expect to pay $600-$1000 for a durable, multi-use larger piece of equipment.
Are home gyms worth it for beginners?
I believe home gyms can be a great option for everyone and anyone, regardless of your fitness level. Having your own home gym eliminates a lot of excuses (not enough time, don't want to drive, etc.) since it's so convenient. My advice is to invest in equipment you feel sure you will use for years to come to get your best home workout. Additionally, you can find a number of machines that come with guided programming so you know how to do leg extensions or properly use a squat stand.
Why should I buy a home gym instead of getting a gym membership?
Think of it this way: you don't have to leave your house to work out. This means you can comfortably wear your old shorts from high school with the hole in the butt and blast whatever music tickles your fancy. You won't have to wait for someone to stop hogging the squat rack. Instead, you can focus on getting a great workout in the comfort of your own home gym vs gym membership. The cost upfront of a home gym can be daunting to some but the equipment pays for itself in the long run since you aren't shelling out a monthly fee for a gym membership.
Who Can Benefit From A Home Gym?
While there's no doubt that home gyms are convenient, they aren't suitable for everyone.
People who can really benefit from investing in a home gym are:
• Prefer to exercise at home.
• You'd like to save money.
• Due to a lack of time, they are unable to attend the gym on a regular basis.
What are the different types of home gyms?
Home gyms are fantastic since they come in a variety of shapes and sizes. For example, you may purchase an "all-in-one" piece of equipment that allows you to complete full-body exercises on a machine, or you can purchase different pieces of equipment and begin creating your own home gym.