We test and review fitness products based on an independent, multi-point methodology. If you use our links to purchase something, we may earn a commission. Read our disclosures.
Picture if you will, a piece of home gym equipment that marries the best parts of an Olympic barbell with the portability and safety of resistance bands. Well you don't have to imagine it, because such a product is real and it's received thousands of 5-star reviews: the Jaquish Biomedical X3 Elite. With so many people giving it high praises, we were curious if it lived up to the hype and did everything it promised.
In our X3 bar review, we'll examine this innovative tool to determine whether big gains can be made with a little package. We've spent quite some time with the product and the online community dedicated to it, all to give you a thorough and unbiased assessment.
Raising the Bar on Home Gym Product Reviews
It's no surprise that many home gym products make a lot of promises about building muscle and fat loss that, when you start looking into it, turn out to be greatly exaggerated. That's why we've stocked the Garage Gym Reviews team and expert panel with certified personal trainers, physical therapy doctors, CrossFit coaches, nutrition experts, and weightlifting coaches.
And beyond being experts in our respective fields, we're also people who enjoy using these types of products. We only recommend products that we could see ourselves, or our family and friends using and enjoying. That's our promise to you.
Portable Training System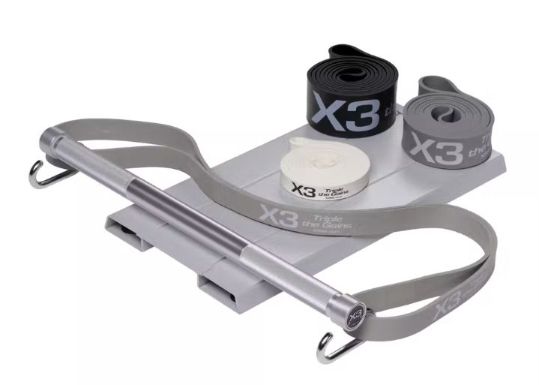 X3 Bar
The X3 Bar combines all the best parts of a resistance band with a barbell, giving you up to 300 pounds of force (600 with the separately sold Elite band) in a portable package. The materials are some of the most durable we've ever used, and can be used to perform just about any move you can think of.Where the X3 Bar really pays off is in the programming that comes free with every purchase. Thousands of people have been able to gain muscle and lose body fat with Dr. John Jaquish's 12-week training program that utilizes a four-day push-pull split.
Video Review
A Quick Look at the X3 Bar
The X3 Bar was invented by inventor Dr. John Jaquish, the so-called "Tony Stark of the Fitness Industry." The real-life superhero first invented a medical device to help osteoporosis patients regain bone density after learning his mother was diagnosed with the condition. The device is now being used in clinical locations across the country.
His second invention, the X3 Bar, came after he spent years researching the most optimal way to build muscle. Most people would say that would come from traditional weightlifting, but Jaquish, author of Weight Lifting is a Waste of Time – And So Is Cardio. There's A Better Way To Have The Body You Want, thought otherwise. He believes the constant and variable tension offered by resistance bands offers better stimulus to the muscle than free weights like a barbell or dumbbells (a fiercely-debated topic in the fitness industry).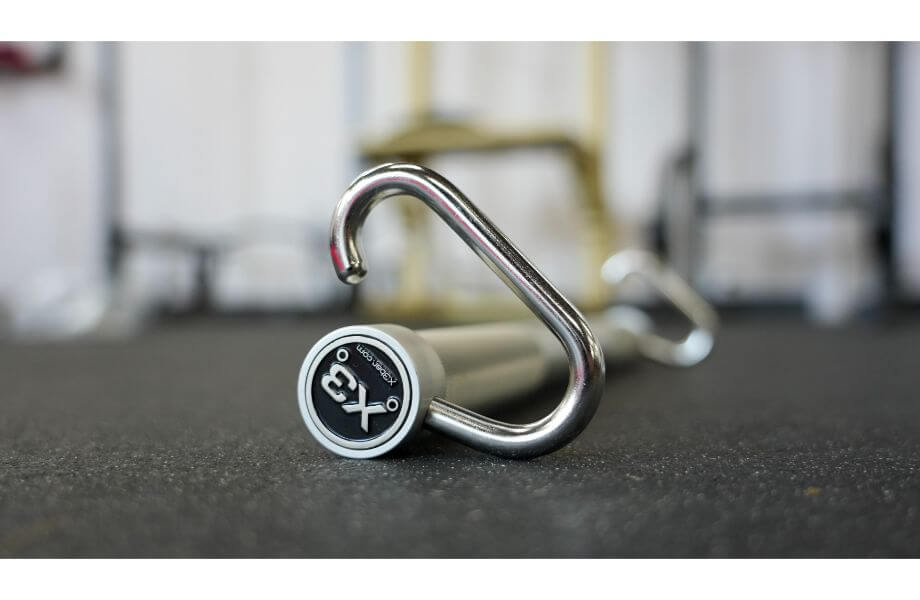 The high-quality latex bands are attached to a bar that's reminiscent of an Olympic barbell. Why add the bar? Because it increases the amount of force you're able to produce, compared to resistance bands alone, causing your body to recruit more muscle groups, which in turn builds more muscle and thus burns more calories.
You can do just about anything you would with a traditional barbell with the X3 Bar, from squats and bench presses to barbell curls and lunges. You'll also get a foot plate for any lifts that require an anchor point for your bands.
Coop's Tips
Join the X3 Bar Customers Only Group on Facebook to look at real-life testimonies of people who have used the X3 Bar for years.
You can't out-exercise a bad diet, so be sure to follow the nutrition recommendations in the free 12-week workout program.
Pros:
Can create up to 300 pounds of force (up to 600 if you get the Elite Band, sold separately)
Free 12-week workout program with high-quality workout and nutrition advice
Bar has great knurling
No assembly necessary
Bands are dipped in layered latex, making them thick and durable
Cons:
Platform's embedded rollers don't allow bands to roll during lift, but that's nitpicky
Quite pricey at around $550 (financing available)
Only 1-year warranty for the bands
Some complaints of the bands wearing down after only a few weeks
Is the X3 Bar Worth It?
The X3 Bar system sells for around $550 with free shipping (there are financing options starting at $51 per month). That's a lot of money, but the idea here is that you can replace an entire home gym, or your commercial gym membership, with just one piece of equipment that weighs less than 20 pounds and takes up less space than a yoga mat.
For our money, the X3 bar is a heavy-duty piece of equipment. The bar itself feels nice, and has great knurling and bearings that make for smooth rotations during each lift. The bands are dipped in latex, so they feel nice and strong. There are some complaints that they start to show wear and tear after only a few weeks, but Jaquish says that's normal and they should still work just fine.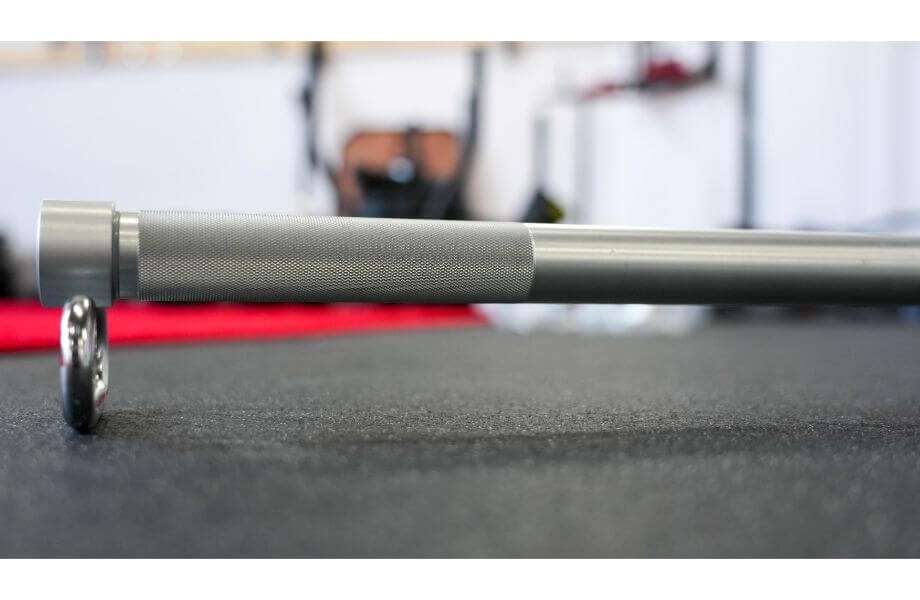 Where you really get your money's worth is in the programming. Jaquish has designed 10-minute daily workouts to help build muscles and burn calories, and Coop says he's a big fan of them. You also get nutrition advice, and tips on when you should workout and when to rest. It's like buying a home gym with your own personal trainer all in one package.
Obviously, there are some people who may not benefit from this tool, such as powerlifters and CrossFitters who have different training needs, but for general fitness enthusiasts or even bodybuilders this can be a great tool to maximize gains with minimal equipment.
Great for:
Those who travel frequently
People looking for compact exercise equipment
Trainees looking for stellar programming
Anyone who enjoys a community of fitness-oriented people
Not recommended for:
Those on a budget
Shorter people
Trainees who want to focus on powerlifting or CrossFit
X3 Bar Specs
Footprint
Ground plate: 10" L x 19" W x 1" H
Bar: 21.5" L x 12.5" D
Bands: 41" L
Weight
17 lbs (19 lbs with Elite Band)
Total resistance
300 lbs (600 lbs with Elite Band)
Materials
Ground Plate: Machined-alloy steel
Resistance bar: Machined-alloy steel
Bands: Layered latex
Resistance band weights
White band: 10-100 lbs
Light gray band: 25-160 lbs
Dark gray band: 50-240 lbs
Black band: 60-300 lbs
Elite band (orange): 110-600 lbs (sold separately)
Price
$549 ($99.99 for the Elite Band)
Is the X3 Bar Better than Free Weights?
Coop got to workout with the X3 Bar for a few days, and he's a big fan of the workouts you can get from it. You take the bar and attach the band of your choice (there are four included plus the optional Elite Band that goes up to 600 pounds of force) and get to lifting.
The X3 Bar package comes with a ground plate that you can use as an anchor point when needed (this would come in handy during moves like the deadlift, and prevents you from having to stand on the band for optimal stabilization). The whole package also takes up as much space as a yoga mat, which is great for people in small spaces or those who travel frequently.
RELATED: Best Deadlift Shoes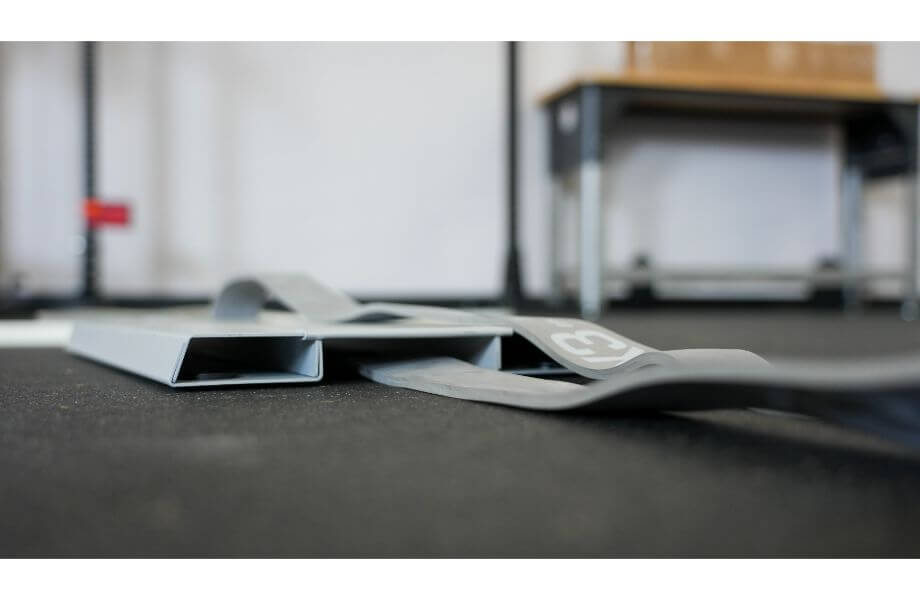 So there's no doubt it's better from a space-saving perspective, and that it can replace multiple pieces of equipment. But one of Jaquish's main claims is that when it comes to free weights vs resistance bands, the latter is better for hypertrophy and building strength.
What's the basis behind that claim, and why would you use something like the X3 Bar over a barbell that's loaded with weight plates? Essentially, it has to do with something called variable tension. What does that mean?
Let's use the bench press with a loaded barbell, and a chest press with the X3 Bar as an example. For argument's sake, we'll say the barbell is at 135 pounds and the X3 Bar is equipped with the light gray band.
That barbell is going to weigh 135 pounds at every point of the lift, but that's not the same with the band. When you start pressing on the band, you may be getting around 25-30 pounds of force, but the further it stretches, the more force there is and the harder your muscles have to work. Eventually, you may be getting up to 135 pounds (the same as the barbell) or even more, but you won't feel that until you the band is fully stretched out.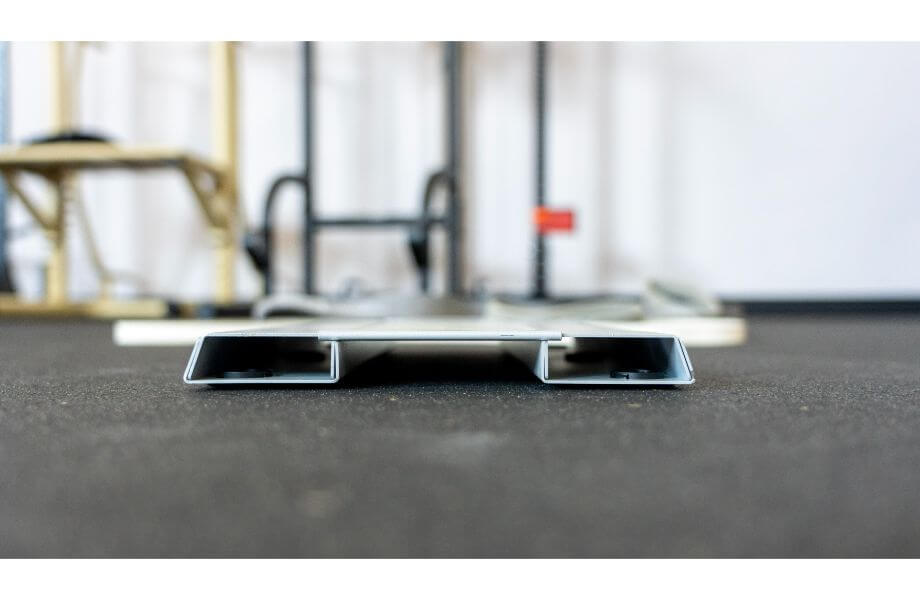 There's a couple of benefits to this, but the most important is that it's easier on your muscles and joints, which leads to decreased injury risk. You also have a wider range of motion with a pair of resistance bands than you do a heavy barbell.
It should be noted that scientific studies in the Journal of Strength and Conditioning Research have found that there's no significant difference in muscle recruitment when it comes to resistance band training vs traditional weight training, and that both offer similar benefits for muscle growth and building strength.
There are theories that variable resistance training could create higher growth hormone responses (i.e. increase testosterone levels, necessary for muscle growth) than traditional resistance training but that requires further research.
That said, there are also many other studies that back up Jaquish's theory that variable resistance training is superior to constant resistance training (traditional weightlifting).
A big problem in the fitness and nutrition industries is that such studies can be set up in a way to reach a predetermined conclusion, which is one of the reasons you'll hear that eggs are good for you one day and the next that they're the worst thing for your health.
In fact, Jaquish co-authored one of the studies he cites on his website (he makes this fact very clear, but one should always be wary when someone is using their own study to push a product because there's an inherent bias).
There's no doubt that the X3 Bar works. It provides a great amount of force, and the resistance bands are some of the highest quality we've seen. But we're wary of the claim that it's significantly better than your traditional barbell. If you're buying this simply because you need a quick full-body workout solution that doesn't take up much space, that's a great reason. Just be aware it's not the be-all-end-all to your fitness goals.
X3 Bar Workout Programming
Everyone who gets the X3 Bar receives a free 12-week program designed to build muscle mass and burn fat at the same time. Usually that's a big red flag, and we're still hesitant to totally endorse his claim, but Jaquish gets points here because he also includes nutrition tips with his workout program.
A good exercise program without proper nutrition is like building a racing car while only paying attention to the paint job and neglecting what's under the hood.
To be fair, neither Coop nor myself followed the exact program, but Jaquish's website goes into it in great detail.
The program follows a four-day push-pull split, so you'll be doing two push days and two pull days, with three days of rest.
Each week comes with set-rep recommendations, as well as advice on which bands you should use for each exercise. Here's what you'll do for the first four weeks.
Push Day:
Chest Press
Tricep Press
Overhead Press
Front Squat
Pull Day:
Deadlift
Bentover Row
Bicep Curl
Calf Raise
As the program progresses, you'll have other moves introduced into the program.
You can also join a number of X3 Bar Facebook groups to follow the advice and tips of other people who are either going through the program, or have done so in the past. There are thousands of positive testimonials on the groups and it's incredible to see some of the transformations that people have gone through with the tool.
Footprint
One of the biggest benefits of the X3 Bar is you can get great results in a tool that can fit in a travel bag. The biggest item is the ground plate, which is 10 inches long and 19 inches wide. The bar is 21.5 inches long, and all the bands are 41 inches in length, roughly the same size as most resistance bands on the market.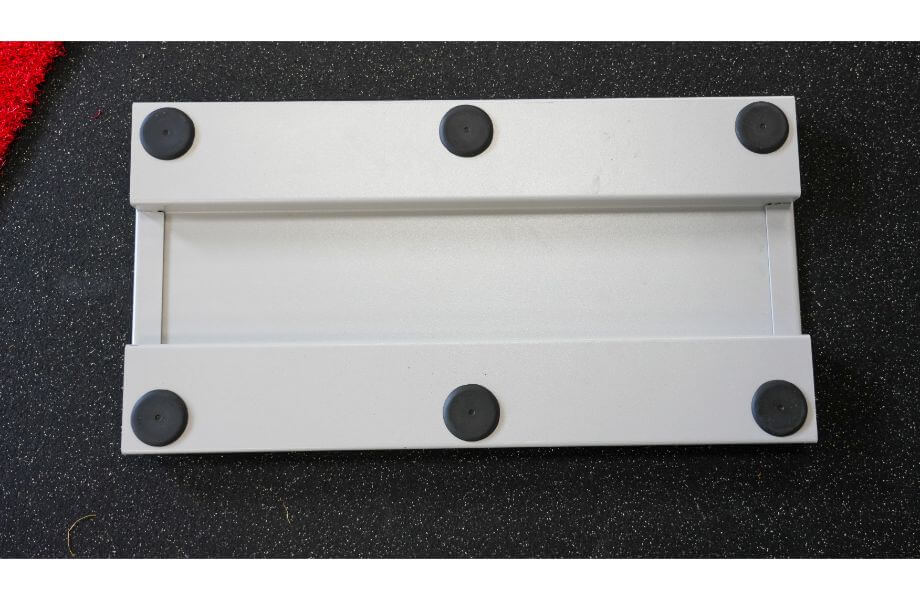 Construction and Durability
The resistance bands and bar that come with the X3 Bar package both look and feel high quality, and the bar has pretty great knurling. The bar and ground plate are made with machined-alloy steel, and the bands are dipped in layered latex.
There are some complaints that the bands show signs of wear and tear within a few weeks of use, but in response to customers who brought up some issues Jaquish said that's normal and that it shouldn't affect the functionality of them.
X3 Bar vs. MaxPRO SmartConnect Portable Cable Machine
Cables vs Bands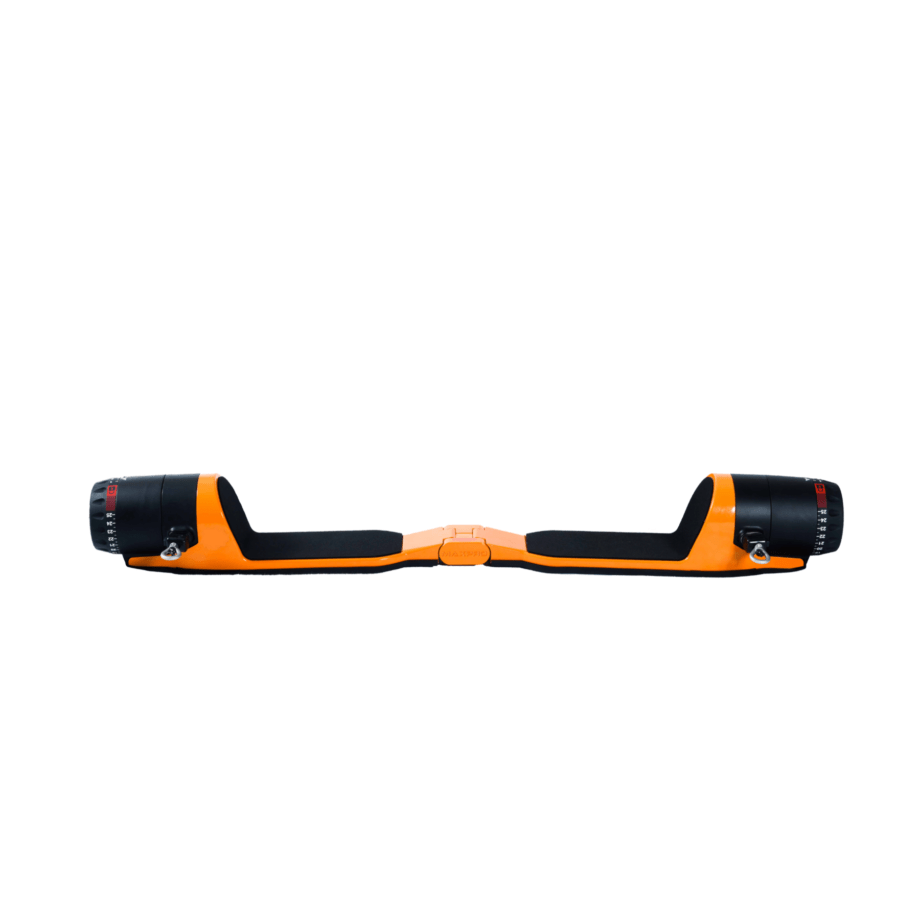 MaxPRO SmartConnect Portable Cable Machine
The MAXPRO isn't some rubber band tied to a door. It is a serious compact cable machine that replaces numerous bulky cable machines found in your typical gym. MAXPRO brings you the latest revolutionary fitness technology with adjustable resistance from 5 to 300 pounds with a simple turn of the dial.Take your workout to the max with MAXPRO Fitness!
When it comes to compact exercise equipment you can take with you on the go, our top recommendation has been the MaxPRO SmartConnect Portable Cable Machine. Like the X3 Bar, without the Elite Band, this machine takes up little space and can go up to 300 pounds of force. It also weighs less than 10 pounds, and at 10 inches in length and 16 inches in height is quite portable.
Both are great options, but the X3 Bar wins on price. As of this writing, the MaxPRO retails for around $900 and the X3 Bar is around $550. The X3 Bar also makes it feel like you're using an actual barbell, which is always fun.
For more, check out our full MaxPRO SmartConnect Portable Cable Machine review.
Customer Service
Jaquish Biomedical, the company that produces the X3 Bar, can be reached via its website, email, or social media.
Financing, Warranty, Returns
Financing options for the X3 Bar start at $51 per month through Affirm.
The X3 Bar and ground plate have a 5-year warranty, and the bands a 1-year warranty that covers manufacturing defects.
The X3 Bar has a 30-day money back guarantee from the date of delivery.
Customer Reviews
The X3 Bar has a 4.8 average rating, out of 5 stars, with more than 4,800 reviews. What's weird is even some of the 1-star reviews come with positive comments calling the X3 Bar one of the best products of all time.
The 5-star reviews rave about the quality of the product, as well as the training program.
Many of the negative reviews come from smaller people and those with smaller arms who say they have a difficult time getting a full range of motion with the bar and bands.

Final Verdict of Our X3 Bar Review
The X3 Bar is, without a doubt, an effective tool that can provide muscle-building and strength training benefits in a small package. Although pricey, we think the quality of the product is well worth the money when coupled with the training program and nutrition recommendations. For people who are looking for an all-in-one solution, this is certainly a great pick.
However, we still recommend people don't buy into all the claims made by Jaquish. The scientific jury is still out on a lot of what he says, and while some of it is true much of it seems exaggerated as well.
X3 Bar Rating
X3 Bar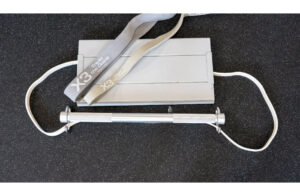 Our X3 Bar review looks at whether this highly-acclaimed home gym system can deliver on the many promises it makes.
Product Brand: X3
Product Currency: $
Product Price: 549.00
Product In-Stock: InStock
X3 Bar FAQs
Is X3 Bar worth it?
The X3 Bar is a great solution for those looking for an all-in-one training system, those in compact spaces, or anyone who travels frequently. The product is also high quality, and the included training program and nutrition tips are an excellent value for those looking to work toward specific fitness goals.
Does X3 Bar increase bone density?
Resistance training of any kind has been shown to improve bone density and delay symptoms of osteoporosis, but people should be wary of any claims that the X3 Bar is superior to any other form of weightlifting in increasing bone density.
Is X3 Bar workout legit?
Yes, the X3 Bar workouts are legitimate and, if followed and used along with proper nutrition, can help you gain muscle and strength. The program follows a four-day, push-pull split with set and repetition recommendations, and there are multiple Facebook groups you can join to get tips and tricks on how to make the most of your training.