We test and review fitness products based on an independent, multi-point methodology. If you use our links to purchase something, we may earn a commission. Read our disclosures.
What is more appropriate for our current culture of convenience than a touch-screen all-in-one home gym? "Netflix for training" is a phrase that seems to encompass what the Tonal Smart Home Gym tries to accomplish: a quick, easy-to-use solution to the out-of-home gym membership. Rather than gearing up and driving to a crowded weight room, just start this machine up and get to work.
Now, to be totally transparent, this is an expensive machine that requires an ongoing subscription. In fact, it's one of the more costly smart home gym systems out there. However, I think for a particular crowd, this machine is worth it. I think it's so worth it that I've now gotten multiple family members and friends to buy one in addition to so many members of our Home Gym Community on Facebook. Since the Tonal is pretty pricey, but we do love it, we want to be sure you keep a lookout for any Tonal coupon and discounts available to save some cash!
I can honestly say that I truly enjoyed doing this Tonal Smart Home Gym review. Despite loving barbells as much as I do, Tonal has made me a complete believer that machines like this are the future for many trainees. Not only is the hardware impressive, but the software in concert has made this something we would certainly recommend to those wanting an all-in-one unit for their home gym.
Why You Should Trust Us
A number of people here at Garage Gym Reviews have tested Tonal, among a wide range of other of the best workout mirrors on the market. We know how to assess the technology, hardware, and user-friendly nature of these pieces of equipment.
Additionally, we don't just do one workout and walk away thinking we know it all. Our testers spent significant time with Tonal to dig into every aspect of the experience, from the delivery and setup through using it for weeks on end. Personally, I've been using Tonal for over a year and a half and don't see myself stopping anytime soon.
Tonal Review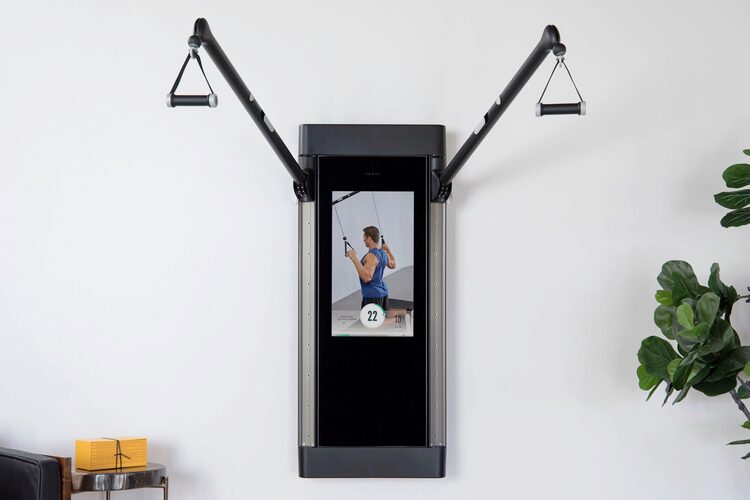 Tonal Smart Home Gym
Looking for a complete home gym that fits in a compact space? The Tonal smart home gym offers 200 pounds of resistance, more than 170 moves, and a range of full-body exercises. Plus, the AI gets to know you as a lifter the more you use it, so the workouts will be customized to your needs.Tonal may be effective, but it's not budget-friendly. The machine sells for $3,995 (which does include professional installation), but you still have to pay a $50 monthly subscription fee on top of that.
A Quick Look at Tonal
The Tonal Smart Home Gym is an electronically based workout system that may be a bell ringer for the future of the home gym industry. Sporting an all-in-one system, this machine saves space while allowing users to enjoy a wide selection of workouts, including various training regimens and artificially intelligence-powered resistance training controls.
Despite being an aficionado of the heavy-duty aspects of the equipment-filled home gym, there is a lot I like about Tonal that I think home gym enthusiasts like myself will enjoy.
Coop's Tips
Keep in mind that Tonal requires a monthly subscription on top of the purchase price, so factor that into your budget.
Expert assembly is required (and included in the cost), and take it from me, you don't want to try to set this up yourself, anyway.
Try a few different coaches before making a judgement on the programming.
My Favorite Things
AI gets to know you and makes weight adjustments for you
Lift up to 200 pounds in digital resistance (much different from free weights)
All-in-one gym that takes up minimal space
AI assesses your form and gives real-time cuing
Access to on-demand and live classes
30-day trial period
My Callouts
High initial price tag
Accessories cost extra and are pretty crucial to your workouts
12-month initial subscription required (and an additional cost)
200 pounds in resistance might not be enough for heavy lifters
Is the Tonal Smart Home Gym Worth It?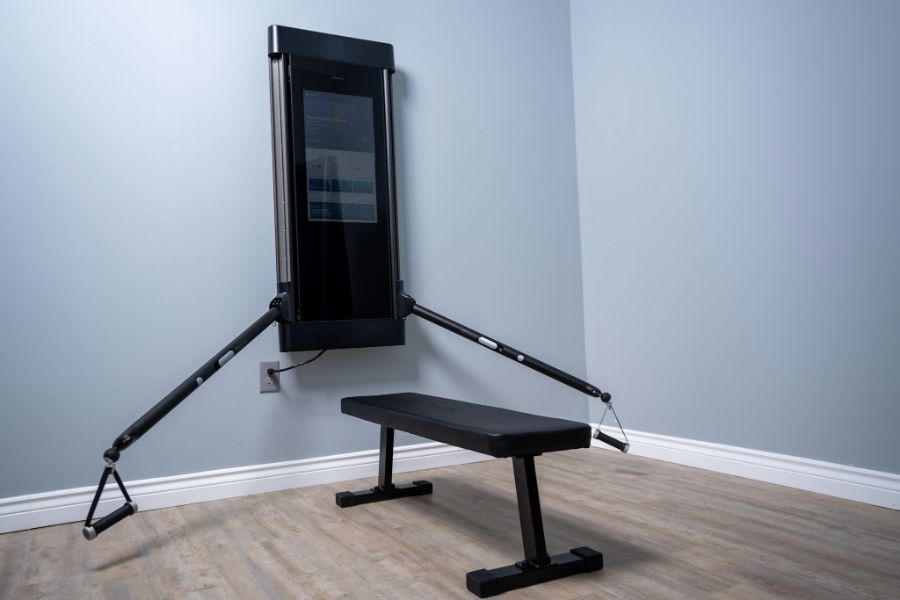 The Tonal Smart Home Gym comes at a whopping $3,995 not including accessories, which are about $500 more, or the 12-month mandatory initial subscription, which is around $50. That's a lot of cheddar, and probably not ideal for those who want to build a budget home gym.
Consider the cost of a home gym vs gym membership and personal training over the course of a few years, and you might find that Tonal has the edge, especially because you can exercise in the comfort of your home. However, you have to have the dough to spend up front.
That said, just because I think the Tonal is one of the best home gym machines out there doesn't mean that it's a good fit for everyone. As far as the first models go, especially as revolutionary as this one is, there are always going to be suggestions and personal pet peeves on my end. Tonal has done a good job of making a compact, versatile piece of equipment, but it isn't perfect by any means.
Great For:
People who want a home gym machine that can do it all
Those who like guided workouts and a personal trainer feel
Someone looking for a home gym with substantial resistance
People in small spaces who need compact exercise equipment
Not Recommended For:
Those looking for budget home gym equipment
People who want the versatility of commercial gym equipment
People who wouldn't even spend $50/month on a gym membership
There are certainly more affordable interactive mirror-type home gyms out there, like the NordicTrack Vault. However, products like that don't quite hold a candle to the advancements Tonal has.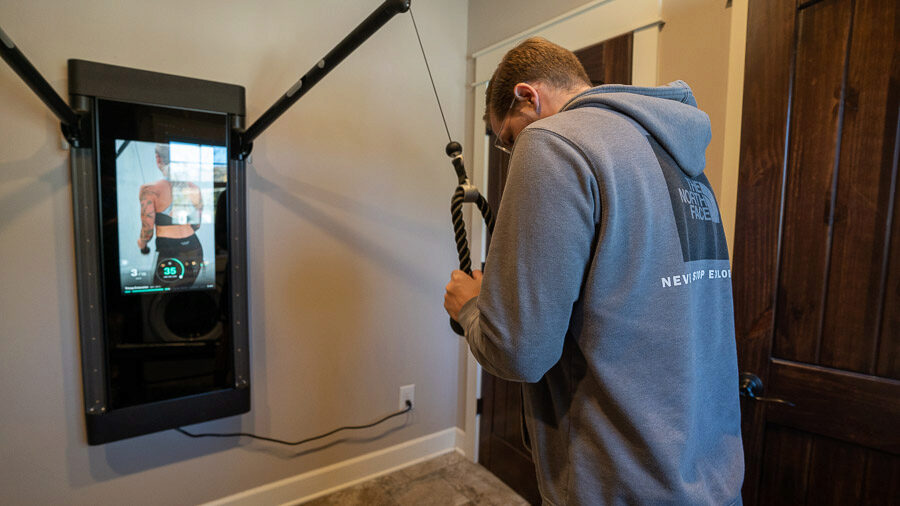 Tonal Smart Home Gym Specs
| | |
| --- | --- |
| Footprint | Tonal is 21.50″ W x 50.9″ H x 5.25" D |
| Resistance | 200 lbs (100 per arm) |
| Space Needed | Requires a 7' x 7' space with 7'10" ceilings |
| Power | Requires three-prong outlet within 6 feet |
| Tech | WiFi necessary |
| Installation | Professional only, requires stud widths from 16″ to 24″ |
| Trial Period | 30 days |
| Accessories | Handles, bar, rope, bench, roller, mat |
Using Tonal
Right off the bat, Tonal conducts a strength assessment to get a baseline for where you are in terms of physical fitness. This is an integral part of using the machine, because the AI starts determining what kind of weight to give you for each moment. As you use Tonal more, the smarter the AI gets.
The AI is what really sets Tonal apart from other smart home gyms. There are 17 sensors in the unit that assess your form while you are working out, so you get real-time feedback. The machine tracks the pace at which you are moving as well as your range of motion.
As you move through your workouts, the machine automatically changes the weights for you. The work on your end is minimal; you do need to move the adjustable arms into the correct position (using an on-screen guide), and then just lift the weight. You don't even have to track your reps.
Featuring a Strength Score meant for weighing your own capabilities against that of others, Tonal tracks just about every aspect of your personal training habits. This includes tracking to suggest weight even in the interim between eccentric and concentric movements based on your own form.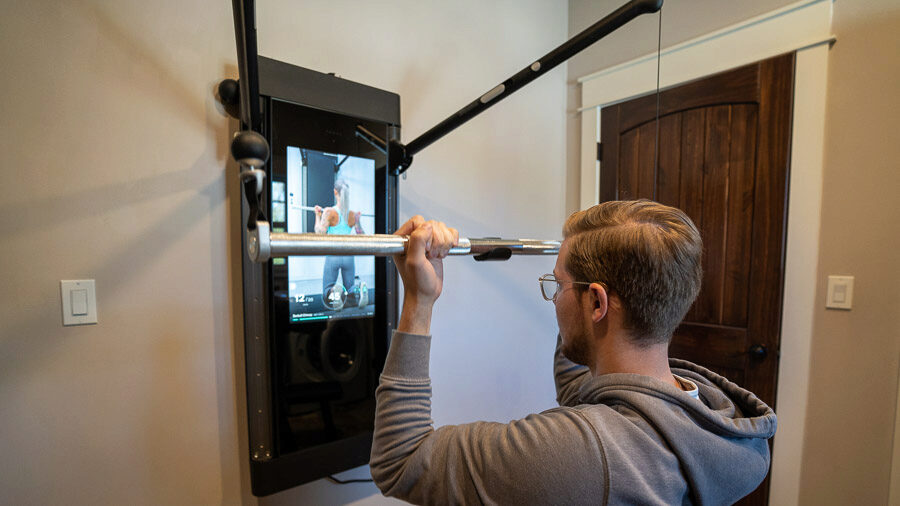 Training Programs
Through a 24-inch interactive display, the user can participate in multiple training programs that are updated and added to regularly as part of their monthly paid membership. Options include custom workouts, coach-guided programming, partner workouts and on-demand classes.
I really liked Free Lift (the custom workouts), because I could pick whatever I wanted to work on. While I thought the on-demand classes on Tonal were good, I still prefer the on-demand classes that Tempo offers, which I detail in my Tempo Studio Review.
Related: Read our full in-depth Tonal vs. Tempo comparison!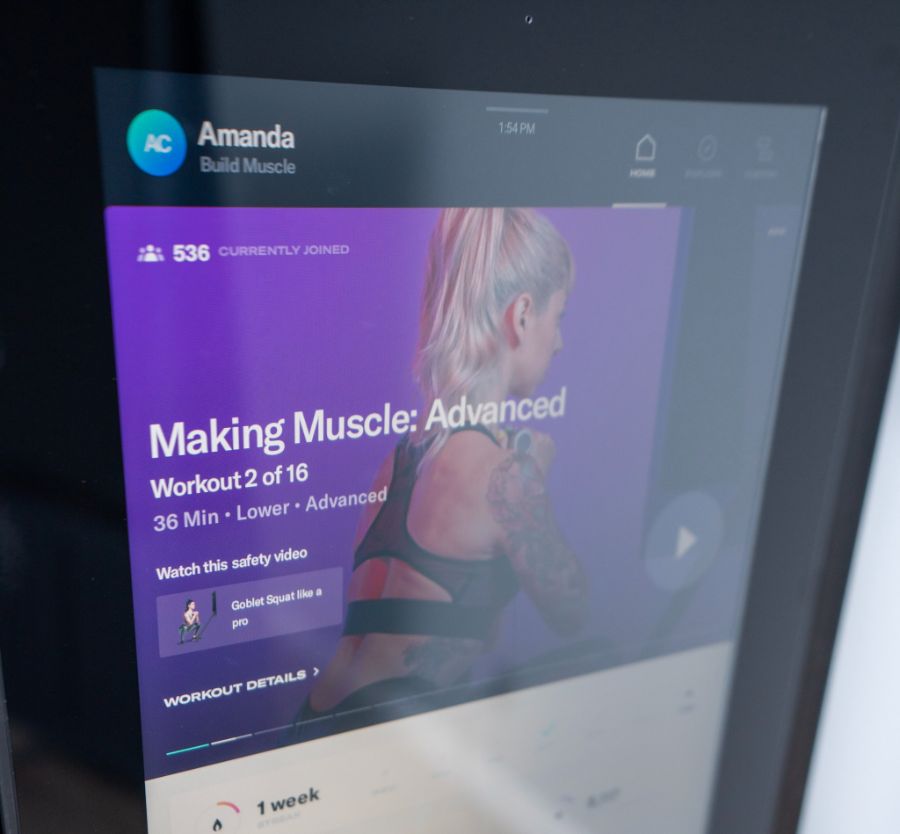 Tonal didn't initially launch with live classes, but the brand unveiled Tonal Live in October 2021, giving users personalized feedback from coaches and the ability to exercise alongside other people in the Tonal community. Whether or not these live classes will stack up to, say, Peloton, remains to be seen.
As of this update, I've done a few of the live classes. I think it's still new and they are still figuring some things out, so I still prefer the regular programming.
RELATED: Best Online Workout Programs
The personal trainers I've used have all been high-energy, although a bit cheesy at times. Regardless, for the workout themselves, you typically start with a warm-up and then the digital weights take over.
Although the hardware doesn't change, the software is constantly improving. Every week brings new workouts, but also new features. Spotter mode and eccentric mode are fantastic and allow you to lift safely and increase the difficulty of the eccentric portion of the lift.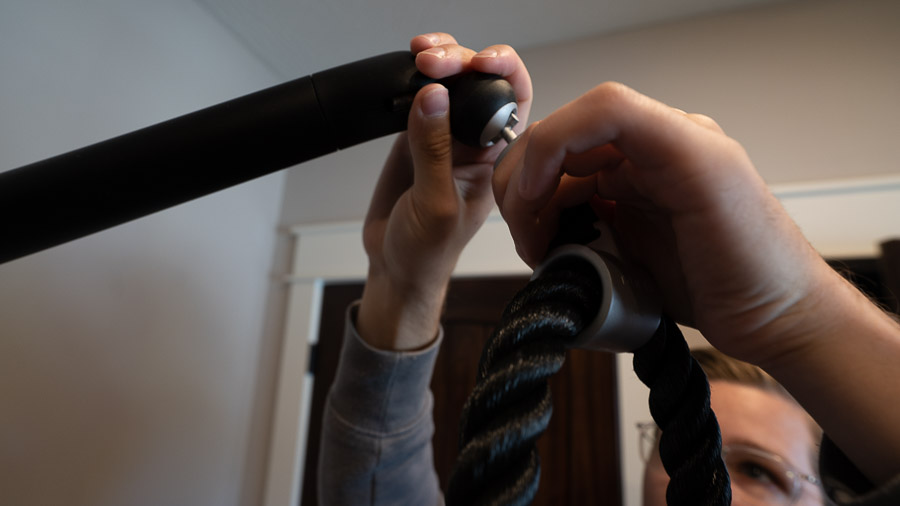 Resistance
For many people doing HIIT workouts or basic strength training, the max weight capacity of 200 pounds (100 pounds each arm) will probably be fine. As someone who enjoys heavy-weight workouts, however, I found that the resistance didn't always cut it, especially for lower body movements. Movements like squats or deadlifts aren't as satisfying as using the real thing for obvious reasons.
Due to the nature of the electromagnetic resistance this machine provides, it does feel a tad heavier than using a barbell. However, for those already doing heavy-weight exercises like myself, you'll most likely need to add in non-Tonal strength days. Still, for things like bicep curls and rows, the resistance Tonal offers works.
Accessories
If you just buy Tonal, you get the machine, and that's it. In my opinion, if you're already paying the price of Tonal, you may as well get the accessories: handles, bar, rope, bench, roller and workout mat. These really maximize what you can do during your workouts. Without them, I don't think Tonal is as great of a value.
With a smart machine comes smart accessories. The Bluetooth adapted "smart handles" and "smart bar" allow the user to turn the digital weight on or off with the press of a button.
I don't love the bench (I might be a bit of a weight bench snob). It certainly looks nice and comes with some attractive Tonal branding on it, but it isn't spectacular by any means. Of course, this isn't the primary attraction to Tonal, but worth noting.
Technology
You're going to need a WiFi connection to use Tonal. The system also has Bluetooth connectivity, so you can use a heart rate monitor to track those stats. Another cool thing about Tonal is that it will sync with your Apple Watch through an app on the device. Therefore, you can actually change weight and start or stop your workout right from your wrist.
Community
Need to feel some sort of human connection while you workout? I understand. Tonal has started live classes, which can engage you with other people. There is also a Facebook group where you can post questions.
Can Tonal See Me?
Well, maybe. There is a camera and microphone that are built into the machine. According to Tonal, the camera is turned off until it's turned on for live classes.
If the camera isn't turned on, the way Tonal assesses your movement is through the AI sensors. These can pick up on how you are performing in terms of fatigue. That's how accessories like the digital spotter works; it's not that Tonal can see you struggling; it's that it can sense that you're struggling, and the machine then automatically changes the weight.
Footprint
If you're looking to add Tonal to your home gym, first make sure you have the space (which isn't much). You only need a 7-foot-by-7-foot area to account for the moving arms and cables. Tonal also suggests having a ceiling that is at least 7 feet, 10 inches tall.
Tonal Home Gym's Construction and Durability
The Tonal Smart Home Gym may be a rather pricey piece of equipment, but it's for good reason. No doubt technologically advanced, the hardware itself is made with quality as well. The pull provided by the cable system is smooth and consistent, neglecting the need for repositioning.
While the cables and handles are strong and have a durable feeling, there is a noticeable creak that occurs in the interim of pulls, which seems to come from the plastic that makes up a lot of this machine. This isn't a dealbreaker for me, personally, as it doesn't disrupt the smooth pull provided by the cable system, but it could prove to be an issue with further use. Keep in mind, however, that I've used this machine for the last six months with no concern of breaking or cracking.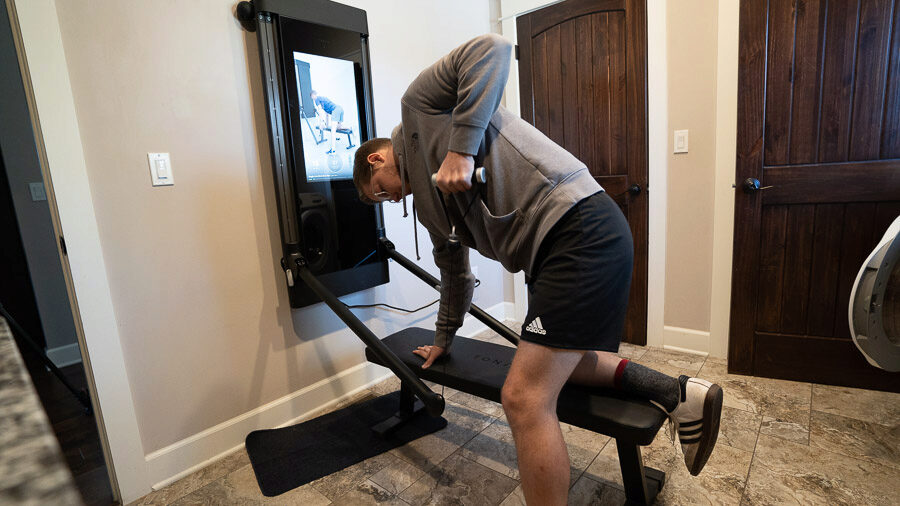 Tonal vs. The Barbell
Why not both?
But really, if you're looking at building out a traditional home gym with barbells versus going with a digital program and accessories, there are a few things to break down.
Cost would be the first one. I've sketched out a home gym essentials list, and you can definitely put together a full garage of equipment for under the price of the Tonal. Even if you splurge a little and get a really nice bar and bumper plates, you can still save some cash, especially considering that you don't have to pay a monthly membership fee for a barbell.
However, with a barbell, you have to load plates, come up with your own programming, and count your own reps. Tonal does all that for you. Still, I wouldn't look to Tonal as the ultimate strength builder. After all, the weight capacity maxes out at 100 pounds per cable arm.
Therefore, I still think the barbell is king for people looking to increase their strength in big numbers. However, for those looking to build muscle and burn fat, Tonal is fantastic.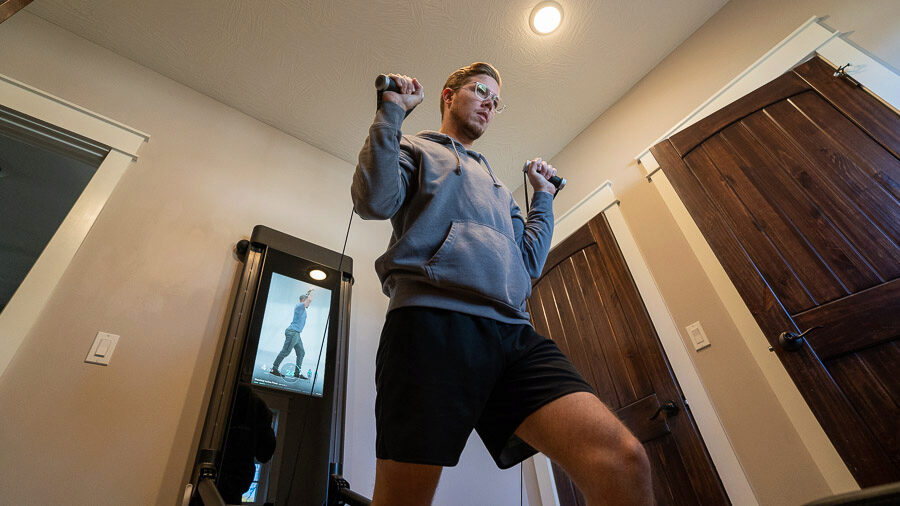 Tonal vs. Peloton
Seeing as Peloton has been around for a while, the selection of training available far outweighs Tonal's catalog. However, Tonal now boasts that it has thousands of workouts available, as more are added the longer the product is on the market.
Obviously, the two are different in that Peloton is focused primarily on endurance, cardio-based workouts, and Tonal focuses more on strength training, so this is certainly something to take into consideration in deciding between the two.
With the Peloton membership, however, you will be able to access a multitude of guided strength-training workouts that use dumbbells available for purchase through them… or just use your own free weights.
In my opinion, the decision between the two relies heavily on your personal fitness goals. If you simply want to lose weight and increase your endurance, the Peloton will fit the ticket. If you want to increase your strength and stamina, the Tonal Smart Home Gym will be your safest bet. Both are expensive options meant for buyers who are serious about a commitment to regular exercise.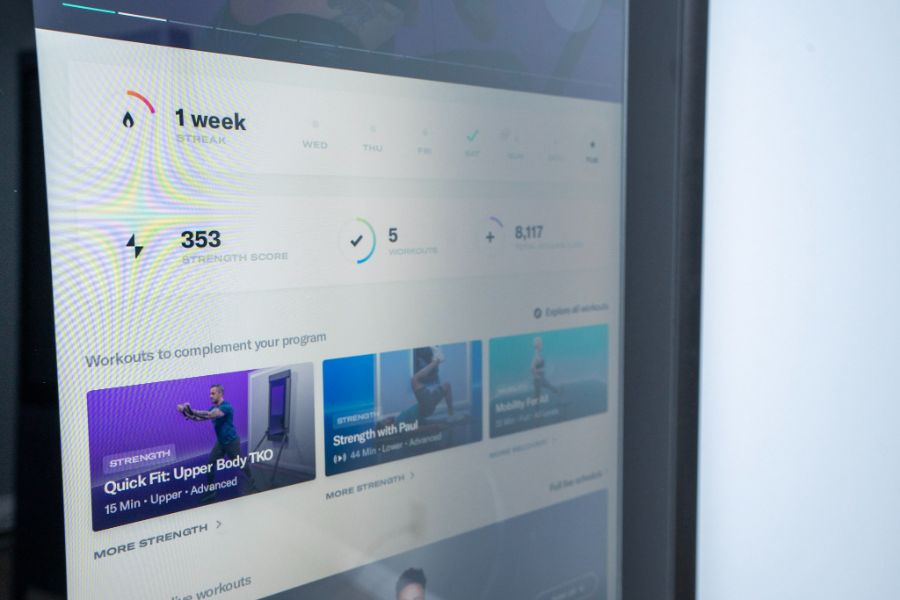 Tonal vs. The MIRROR
This is actually a tough one for me, because I really like and have reviewed both Tonal and MIRROR. Both have large workout libraries, offer classes, and take up minimal space. Also, both require monthly memberships that come with an initial one-year commitment. 
From a straight up cost comparison, MIRROR has the edge. It costs about half of Tonal's initial price. That's for a good reason, though: It doesn't come with any equipment and leans toward more bodyweight workouts. If you want to do any resistance training, you have to purchase your own weight lifting tools. Tonal, on the other hand, is essentially an all-in-one unit, resistance provided.
If you're debating between the two, I think Tonal is great for people who are more strength-minded, and MIRROR is ideal for people who love high-energy cardio-type classes. That's not to say that each piece doesn't have something for everyone, but they definitely play to their own strengths.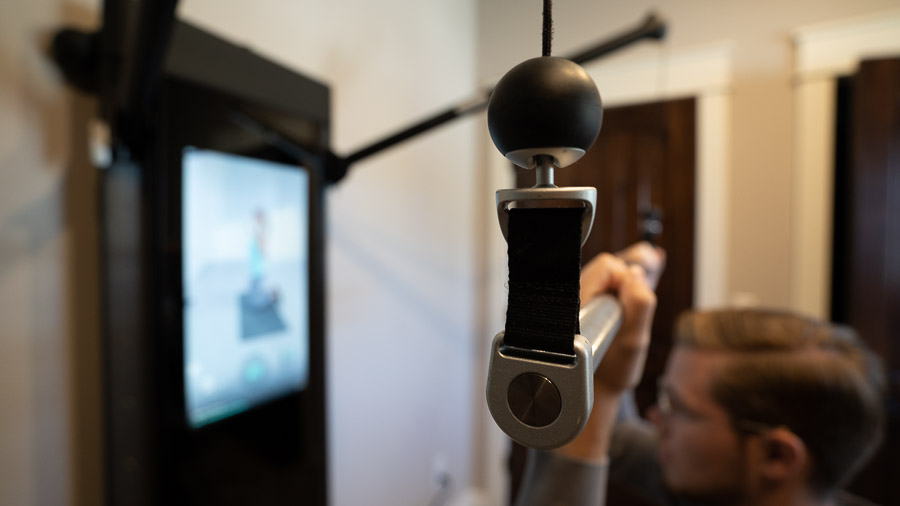 Installing Tonal
Sit back, relax, and don't do a thing. Trained installers will arrive alongside the shipment in order to ensure the product is installed properly and in working condition, down to total WiFi and Bluetooth setup.
The product itself is rather cumbersome and has specific requirements, so this is more or less a necessity for most buyers. And anyway, the cost of professional installation is included in the purchase price, so don't try to fight it.
As far as the first models go, especially as revolutionary as this one is, there are always going to be suggestions and personal pet peeves on my end. Tonal has done a good job of making a compact, versatile piece of equipment, but it isn't perfect by any means.
First of all, this thing is expensive and definitely not for those that want to build a budget home gym. This may not be a dealbreaker for everyone, but most people interested in starting out their home gym will not be willing to break the bank for a more than $3000 machine. On top of this, the machine requires 12-months of subscription to their $49/mo membership. This comes with a lot of valuable guided training but may perturb those who prefer a self-guided training experience and have no interest in being instructed during their workout.
Customer Experience
If you're shelling out thousands of dollars on home gym equipment, let's make sure you know the policies.
Returns
Tonal gives you 30 days after installation to return the product for any reason, including that you don't like it. That does make the purchase price a little more palatable.
Warranty
The warranty on the Tonal is similar to other workout mirrors: one year. As with any other warranty, there are a lot of limitations. For example, it's voided if you use Tonal for commercial purposes, or if you install it improperly yourself (like if you try to move it).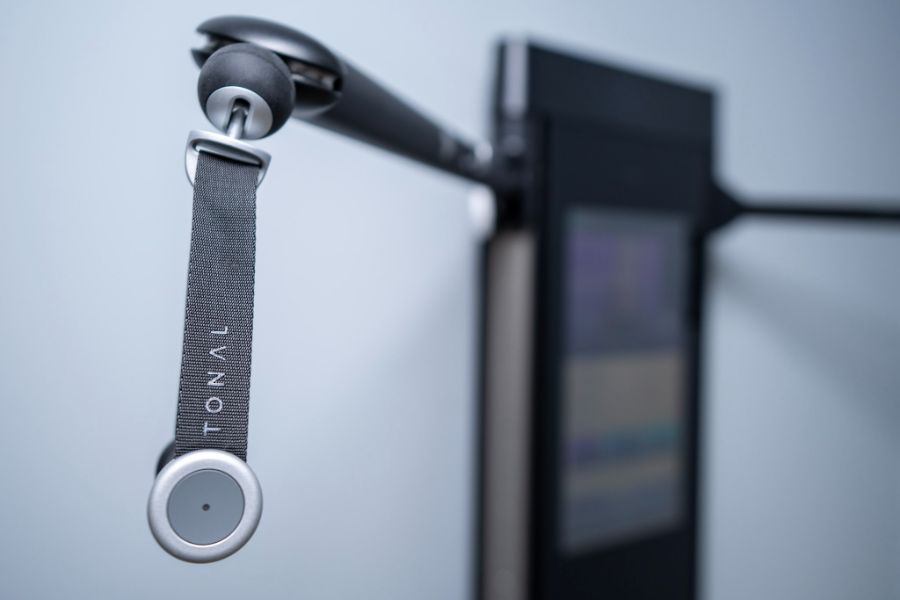 Customer Reviews
On the Tonal website, there are 115 reviews, every single one of which is five stars.
User David R. says, "I actually look forward to working out with Tonal." And under a review titled "Game Changer for Boomer Couple," Charlyn P. says, "We consider this an investment in our health & longevity and cheaper than ending up in Assisted Living!"
Reviews on other sites, like Consumer Affairs, aren't quite as positive (though we know that people only go there to complain). Common issues include shipping times.
Final Verdict of Our Tonal Smart Home Gym Review
As products similar to this progress, alongside Tonal itself, I expect to see cheaper and more versatile options meant to fill further niches. I'm personally blown away by this first model and the holistic approach it takes toward home gym simplification.
The other thing Tonal continues to impress me with is their constant improvements. The software we tested a year ago is vastly different from what's available to users today. They listen to the feedback from users and continually iterate.
Tonal is extremely user-friendly and takes away a lot of the friction that gets in the way of obtaining your fitness goals. For a start-to-finish workout, it's the most efficient tool I've used.
Tonal FAQ
Is Tonal worth the money?
Tonal is expensive, there's little getting around it. However, there isn't a more complete strength training machine in the world right now than Tonal. When comparing the cost of Tonal, I think a better comparison than the squat rack, plates, barbell, bench, etc or commercial gym memberships, is a personal trainer. 
Tonal is for all intents and purposes an artificially intelligent personal trainer. You pay for the equipment and then you pay a monthly subscription for the training. Is it for everyone? No. But those that use it and have bought, myself included, love it.
Does Tonal really work?
Just like any other piece of home fitness equipment, you get out of it what you put into it. If you use the Tonal machine regularly and consistently, then, yes, you can reap a number of benefits. I found that for strength-building and high-intensity exercise, Tonal is extremely effective. Not only that, but it's fun to use. You get the added benefit of having virtual personal training in your living room.
Can you build muscle with Tonal?
Yes. Tonal is meant to be a strength training machine. The weight goes up to 200 pounds in total resistance (100 pounds each arm). However, due to the digital weights that are used, it feels much different than a typical weight machine. There are no stacks or plates that are fighting against gravity and changing based upon inertia and acceleration. 
Does Tonal work without a subscription?
Yes, Tonal does work without a subscription, which makes it an expensive functional trainer. However, I don't recommend purchasing Tonal unless you're going to take advantage of the full package of classes and training. I think most people will end up using it with the programming as it's an experience that hasn't been beaten by all the equipment I've reviewed. With this said, if you wanted to do home workouts following your own programming, it would still work.
Does Tonal have live classes?
Yes. When Tonal initially launched, live classes were not available. However, Tonal has announced that there are now thousands of classes–live and on-demand–available.
Was Tonal hard to install?
Tonal Machine is extremely heavy. Like ridiculously so. For the first install, Tonal requires a white-glove service so that you don't mess it up. However, I moved and had to install it again and it's not too difficult so long as you have a helping hand. The installation process is pretty simple and doesn't take a ton of time.
Would you suggest Tonal for advanced trainees?
I think it depends on your goals. If you're wanting to lift like a powerlifter, I wouldn't suggest it, unless you just want to use it for accessories. However, for bodybuilding, general strength training, yoga, and the like, I think it works extremely well. I use Tonal mostly as a supplementary device to my other equipment and training.
Full Rating
Tonal Smart Home Gym
The Tonal Smart Home Gym is the most pleasantly surprising piece of gym equipment I've reviewed in recent memory. Despite loving barbells as much as I do, Tonal has made me a complete believer that smart home gyms are the future for many trainees. Not only is the hardware impressive, but the software in concert has made this something we would certainly recommend to those wanting an all in one unit for their home gym.
Product Brand: Tonal
Product Currency: USD
Product Price: 3995
Product In-Stock: InStock