We review free products that we receive and participate in affiliate programs, where we may be compensated for items purchased through links from our site.
See our disclosures page for more information.
The Tonal Smart Home Gym is the most pleasantly surprising piece of gym equipment I've reviewed in recent memory. Despite loving barbells as much as I do, Tonal has made me a complete believer that smart home gyms are the future for many trainees. Not only is the hardware impressive, but the software in concert has made this something we would certainly recommend to those wanting an all-in-one unit for their home gym.
Tonal Review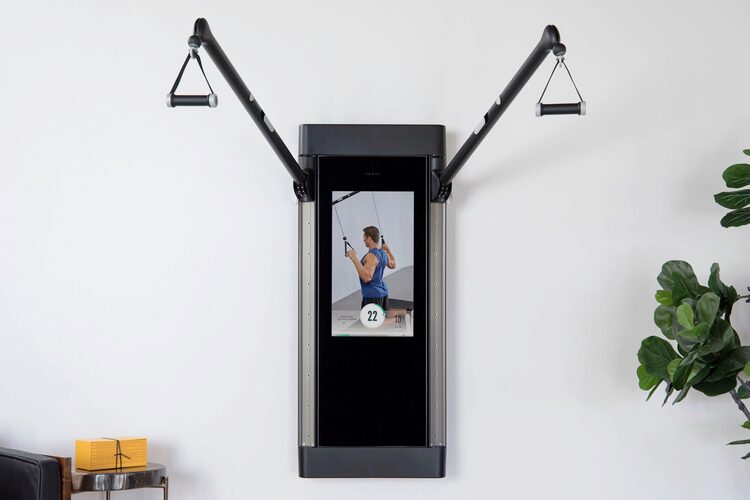 Tonal Smart Home Gym
Tonal's workouts are designed to help you achieve optimal results, every time you workout. With more than 170 moves, 200 pounds of resistance, and a range of full-body exercises, you'll be surprised how quickly you hit your goals.
The Tonal Smart Home Gym is an electronically based work-out system that may be a bell ringer for the future of the home gym industry. Sporting an all-in-one system, this machine saves space while allowing users to enjoy a wide selection of workouts, including various training regimens and AI-powered resistance training controls.
Despite being an aficionado of the heavy-duty aspects of the equipment filled home gym, there is a lot I like about this piece of equipment that I think home gym enthusiasts like myself will enjoy. For those early-adopters who aren't worried about breaking the bank, the Tonal Smart Home Gym might be just the thing for you. In this review of Tonal, I'll go through what I've gathered from my experience with this machine, what I like and dislike about the product, and why I think the Tonal is one of the best home gym machines.
What is the Tonal Smart Home Gym?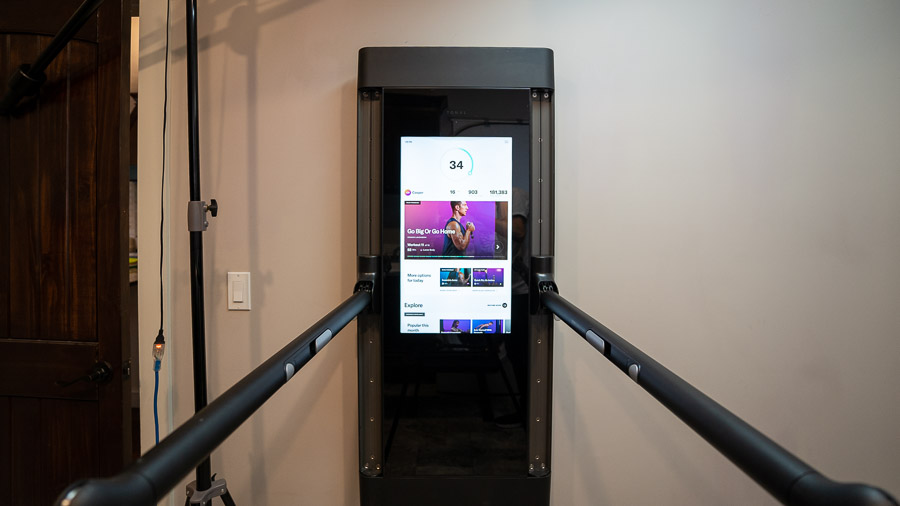 What is more appropriate for our current culture of convenience than a touch-screen all-in-one home gym? "Netflix for training" is a phrase that seems to encompass what the Tonal Smart Home Gym tries to accomplish: a quick, easy-to-use solution to the out-of-home gym membership. Rather than gearing up and driving to a crowded weight room, many of which currently require masking and social distancing procedures, one can simply start this machine up and get to work. Featuring multiple training programs, available with a rather pricey $49/month membership fee, the Tonal Smart Home Gym seems to be aiming for a spot as a legitimate alternative to the current fitness options available.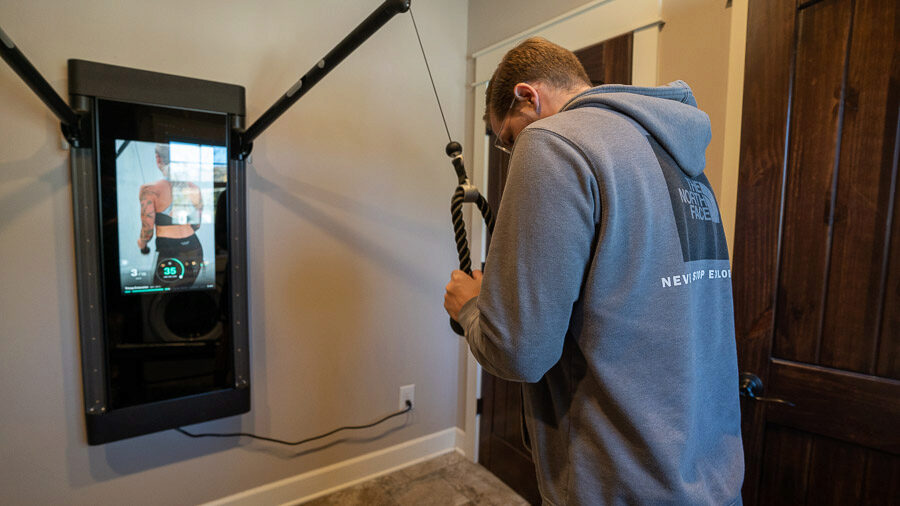 The Tonal Smart Home Gym comes at a whopping $2,995 (not including accessories or the subscription) with a maximum of 200 lb. resistance between both arms. With a 24″ interactive display (the primary aspect of this product) the user can participate in multiple training programs that are updated and added to regularly as part of their monthly paid membership. Featuring a Strength Score meant for weighing your own capabilities against that of others, Tonal tracks just about every aspect of your personal training habits. This includes tracking to suggest weight even in the interim between eccentric and concentric movements based on your own form.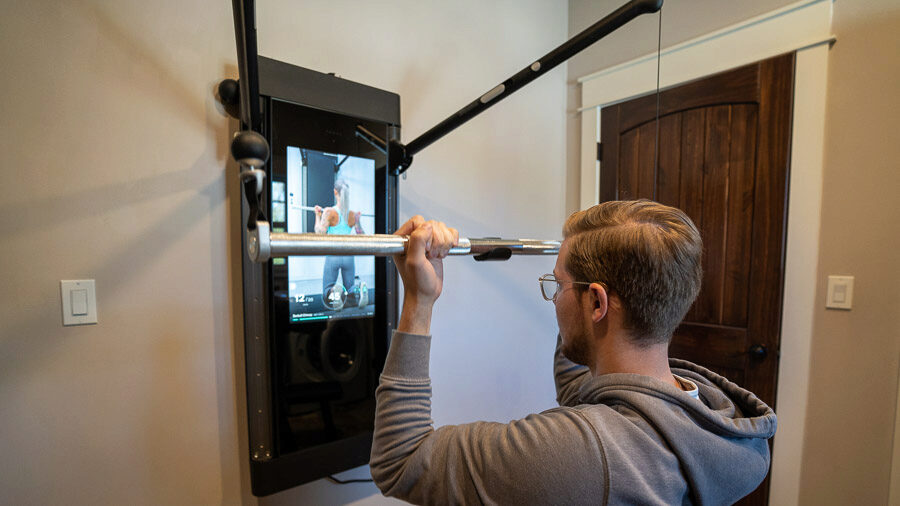 Requiring only a 7x7ft allotment of optimal space for the 2 bi-lateral arms which extend from either side of the system, the installation of the Tonal Smart Home Gym is included in the package price. Trained installers will arrive alongside the shipment in order to ensure the product is installed properly and in working condition. The product itself is rather cumbersome and has specific installation requirements, so this is more or less a necessity for most buyers.
Using Tonal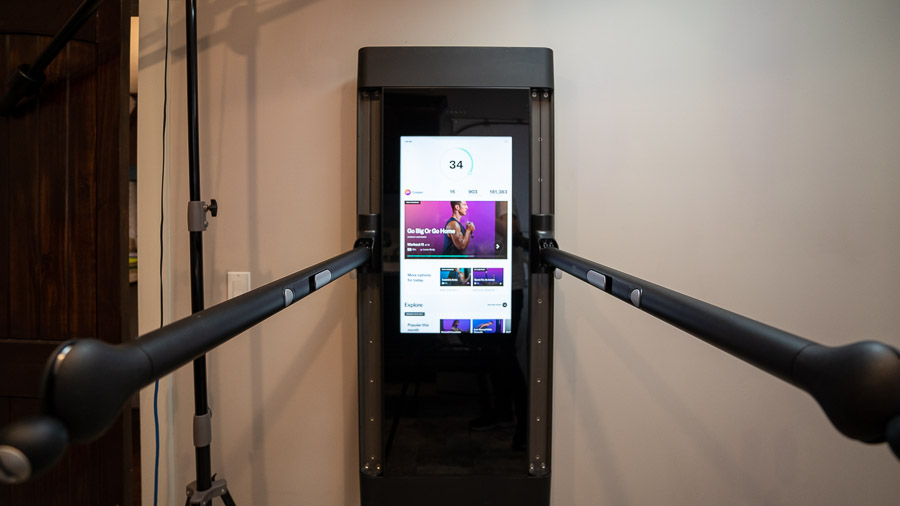 Here's one of the first things to understand about Tonal. Although the hardware doesn't change, the software is constantly improving.
Seriously, every week brings new workouts, but also new features. Spotter mode and eccentric mode are fantastic that allow you to lift safely and increase the difficulty of the eccentric portion of the lift, but they're just a portion of the features that get introduced.
After you log in and walk through the intro training to determine where your strength levels are, the coach AI pretty much takes over. You don't have to track your reps or choose your weight as it's almost always on.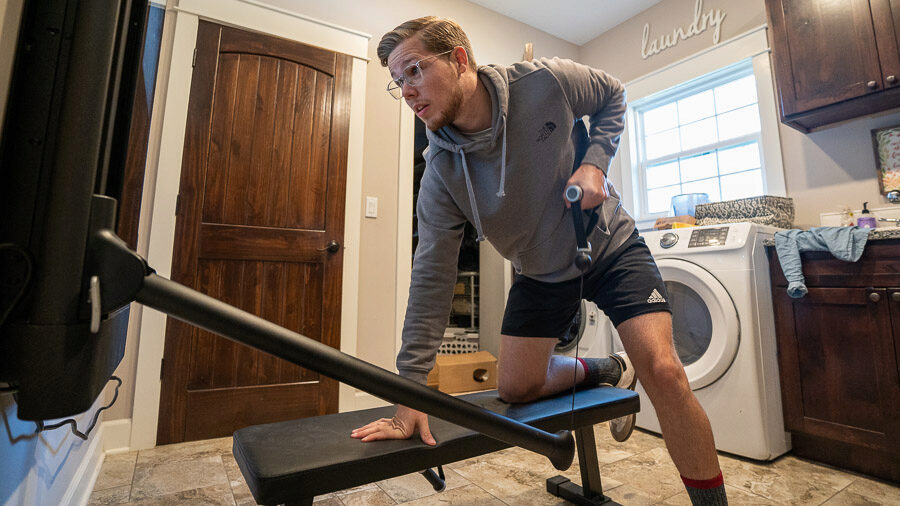 Using the machine is just extremely user-friendly and takes away a lot of the friction that gets in the way of obtaining your fitness goals. For a start-to-finish workout, it's the most efficient tool, I've used.
With a barbell, you have to load plates, check your programming, and get to work. With the Tonal machine, it's a cable machine that is determining in real-time how much weight you should be using and is essentially an AI personal trainer that is just so quick to use.
Ala Peloton, Tonal is beginning to add live classes which should be a great value add as well.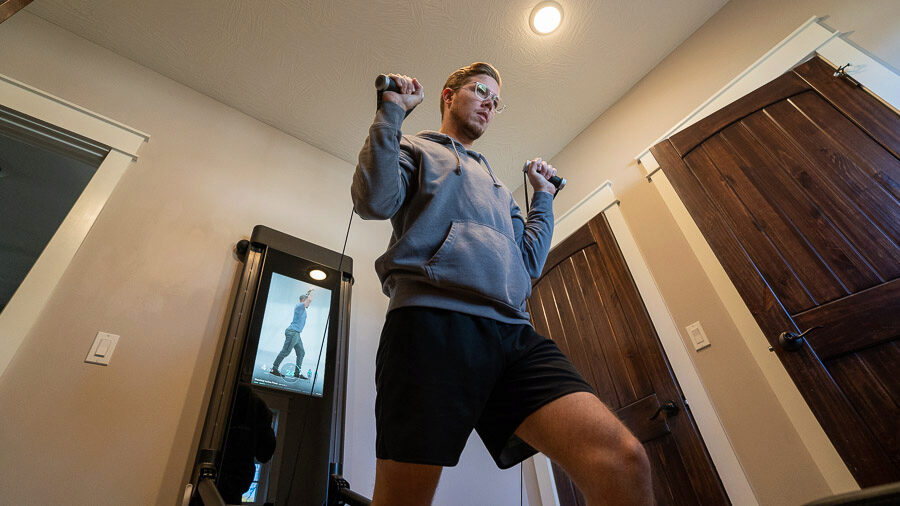 The personal trainers I've used have all been high-energy, although a bit cheesy at times. Regardless, you typically start with a warm-up and then the digital weights take over.
Adjusting the arms is pretty simple and they've added on-screen guides to help you place them as they suggest as it's the only part of the strength training machine that isn't digital.
Although I liked the training programs, Go Big or Go Home with Coach Jackson was my favorite, the free weight mode call Free Lift is nice in that you can pick the exercises you'd like to do your own programming.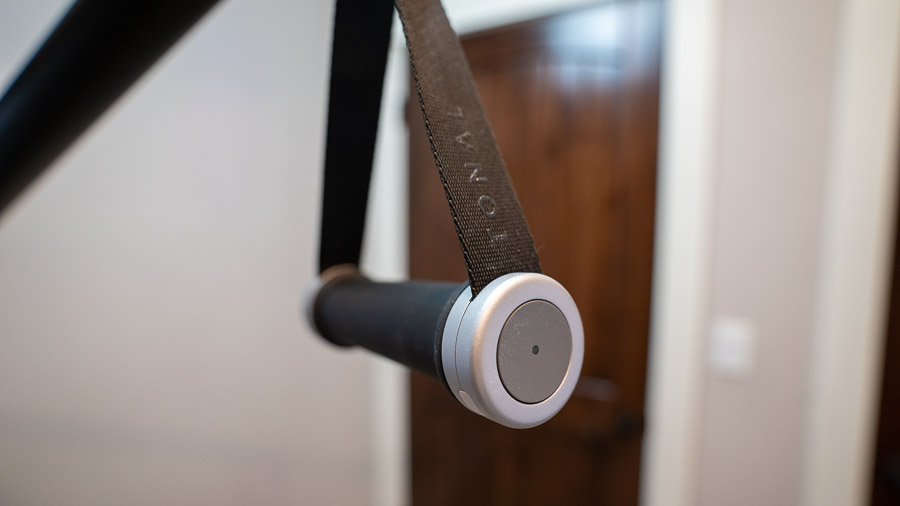 I wouldn't look to the machine as the ultimate strength builder, but to build muscle and burn fat, it's fantastic.
One of the accessories I liked the most was the smart handles that use Bluetooth for turning the weight on and off so if you get done with a set, you can simply click the button. Weight lifting can be dangerous alone, so having a virtual spotter is a cool addition not found in garage gyms.
What We Like About Tonal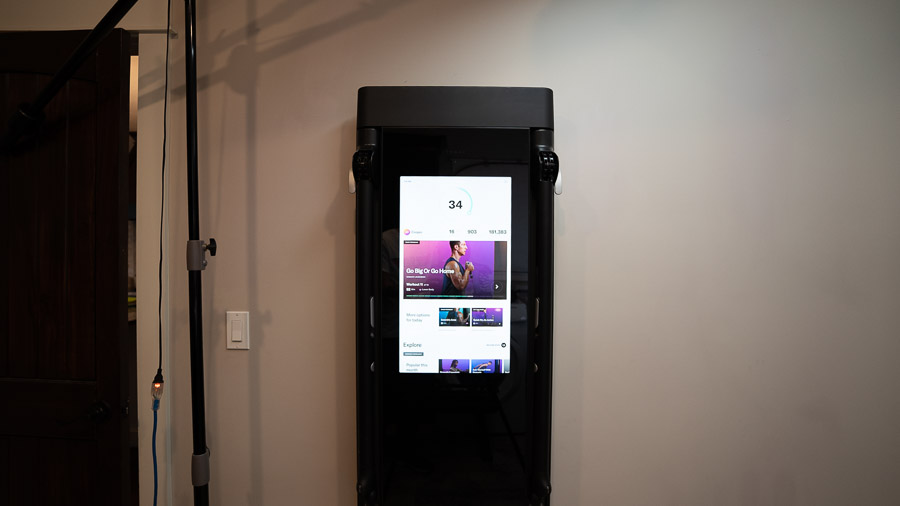 The Tonal Smart Home Gym may be a rather pricey piece of equipment, but it's for good reason. No doubt technologically advanced, the hardware itself is made with quality as well. The pull provided by the cable system is smooth and consistent, neglecting the need for repositioning. All you need to do to get started on this machine is a few screen presses, and moving the 2 arms to your preferred position (or one suggested by whichever program you are using) and you are getting the same quality workout you could get on any machine in your local Globo gym.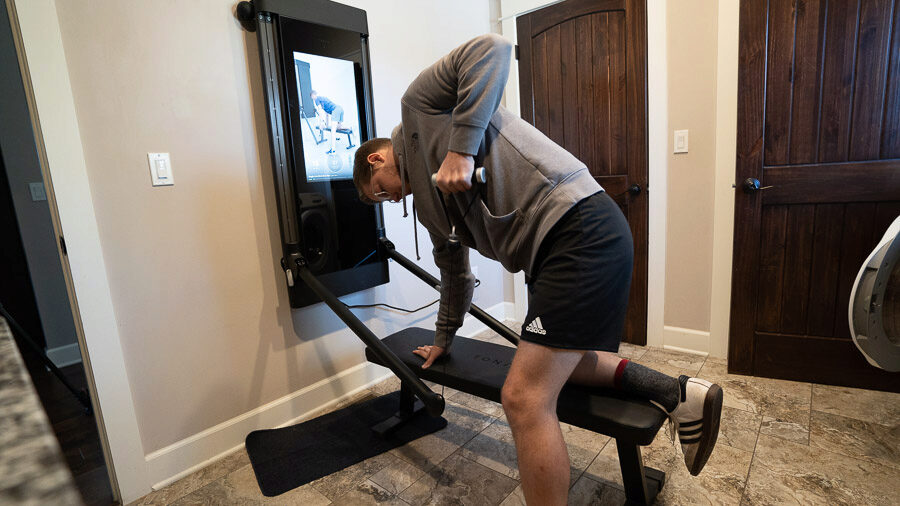 The AI-powered weight suggestions make for a seamless exercise, leaving the user with only one thing to focus on. By tracking your movements, the Tonal Smart Home Gym is able to provide weight variances and positional suggestions enabling the user to get the most out of their training. Their growing library of pre-recorded guided strength training workouts will also help users get a similar experience to that of an in-class scenario, with new programs added weekly.
On top of the convenience, it provides as a product, the ability to be put in just about any corner of your abode is a benefit many could certainly reap. So long as you can make room for about 7ft of space in your living arrangement, the Tonal will exist as the same fitness provider for anyone who owns it.
This machine isn't just for quick and easy work-outs but also serves to take the guesswork out of strength training. Providing a maximum of 200-pound resistance, available in one-pound increments, the Tonal Smart Home Gym will be a good fit in any fitness-oriented household.
The Bluetooth adapted "Smart Handles" and "Smart Bar" also assist in your workout by allowing the user to turn the digital weight on or off with the press of a button. Also coming with a rope, bench, roller and workout mat, the Tonal is obviously keeping versatility in mind.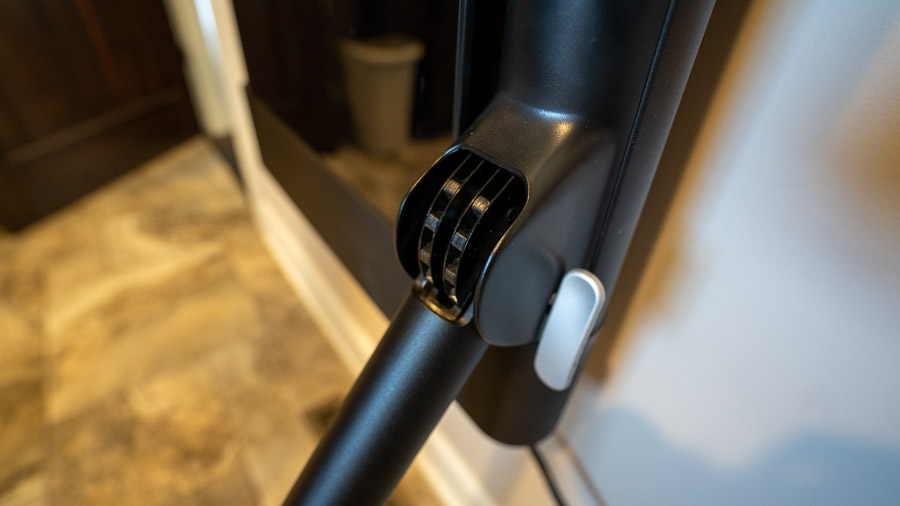 Basically, this thing can "do it all", although I think many would benefit from adding some adjustable dumbbells from our guide. As far as most potential buyers would be concerned, the Tonal Smart Home Gym will fit just about any need, and that's what seems to be the whole point. This is what I consider to be the future of fitness, and I expect many more similar products to come out in the near future. There are a lot of current factors that point toward this, and that's why I just had to review it. Technology is meant to fix the obvious problems we experience in our lives, and Tonal has taken the risk of trying to fill the niche in which it currently abides.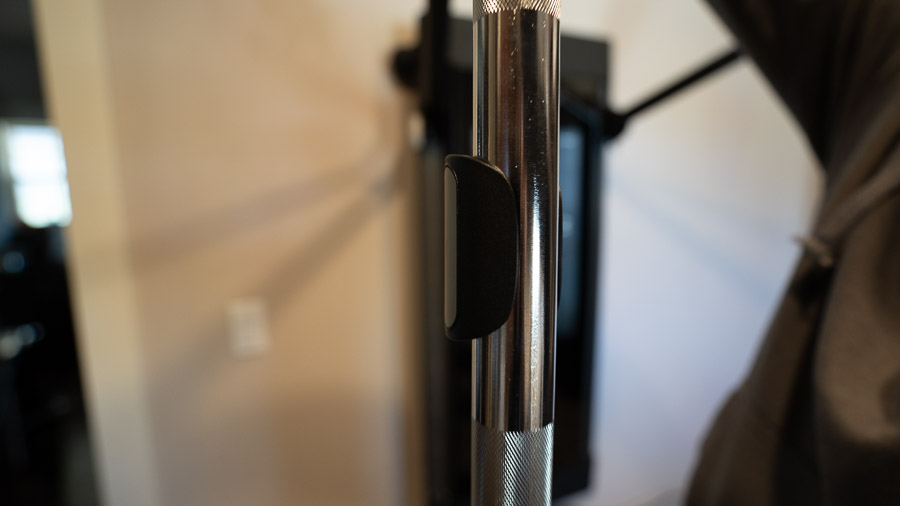 As products similar to this progress, alongside the Tonal itself, I expect to see cheaper and more versatile options meant to fill further niches. I'm personally blown away by this first model and the holistic approach it takes toward home gym simplification. Providing a compact solution to the often complicated and oversized garage or budget home gym equipment options is the natural evolution of the home fitness market, and I personally applaud Tonal on their first attempt.
What We Don't Like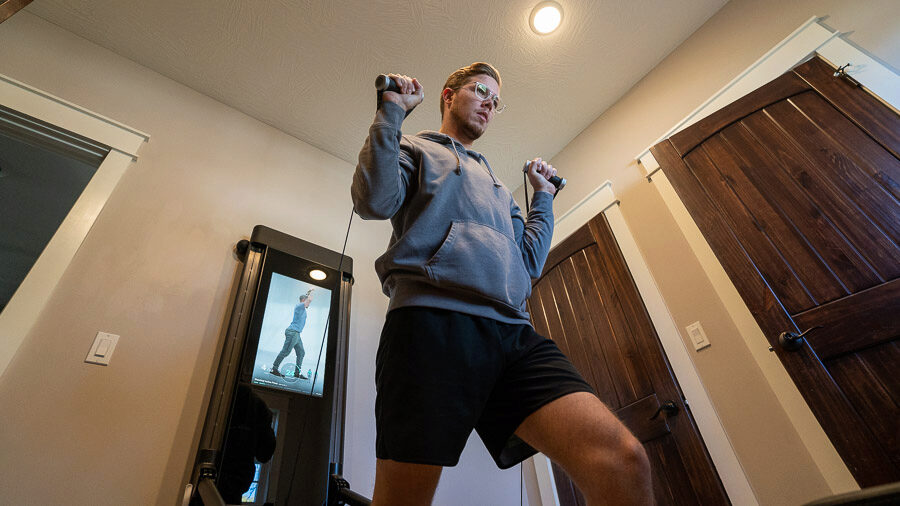 As far as the first models go, especially as revolutionary as this one is, there are always going to be suggestions and personal pet peeves on my end. Tonal has done a good job of making a compact, versatile piece of equipment, but it isn't perfect by any means.
First of all, this thing is expensive and definitely not for those that want to build a budget home gym. This may not be a dealbreaker for everyone, but most people interested in starting out their home gym will not be willing to break the bank for a near $3000 early-adopter machine. On top of this, the machine requires 12-months of subscription to their $49/mo membership. This comes with a lot of valuable guided training but may perturb those who prefer a self-guided training experience and have no interest in being instructed during their workout.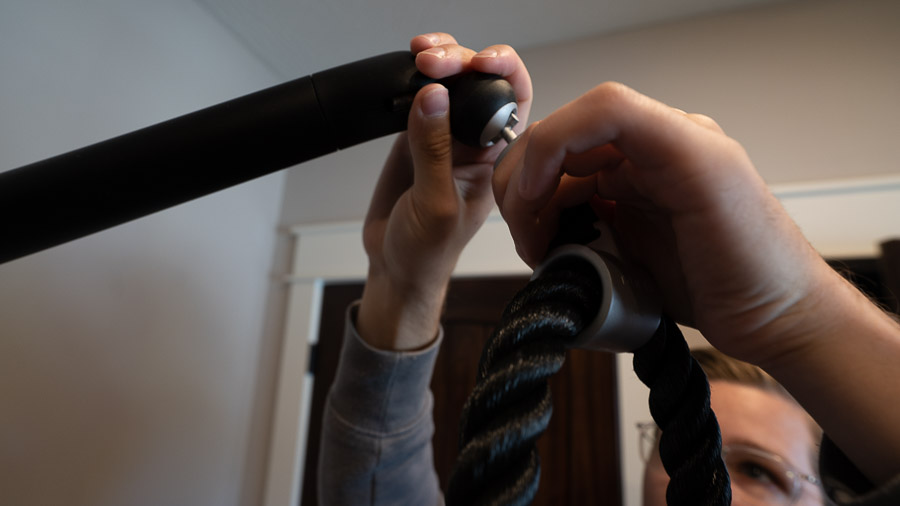 While the cables and handles are strong and have a durable feeling, there is a noticeable creak that occurs in the interim of pulls which seems to come from the plastic which makes up a lot of this machine. This isn't a dealbreaker for me, personally, as it doesn't disrupt the smooth pull provided by the cable system, but it could prove to be an issue with further use. Keep in mind, however, that I've used this machine for the last 6 months with no concern of breaking or cracking.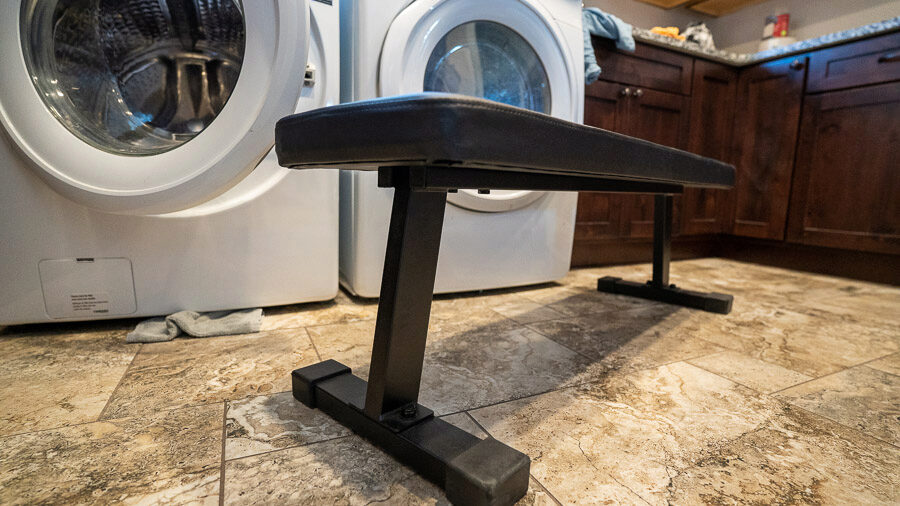 The weight is another issue for me. As someone who enjoys heavy-weight workouts, the maximum 200lb resistance doesn't always cut it, especially for lower body movements. Movements like squats or deadlifts, will not be as satisfying as using the real thing, for obvious reasons. Due to the nature of the magnetic resistance this machine provides, it does feel a tad heavier than using a barbell, but for those already doing heavy-weight exercises like myself, you'll most likely want to stick to your existing analog option.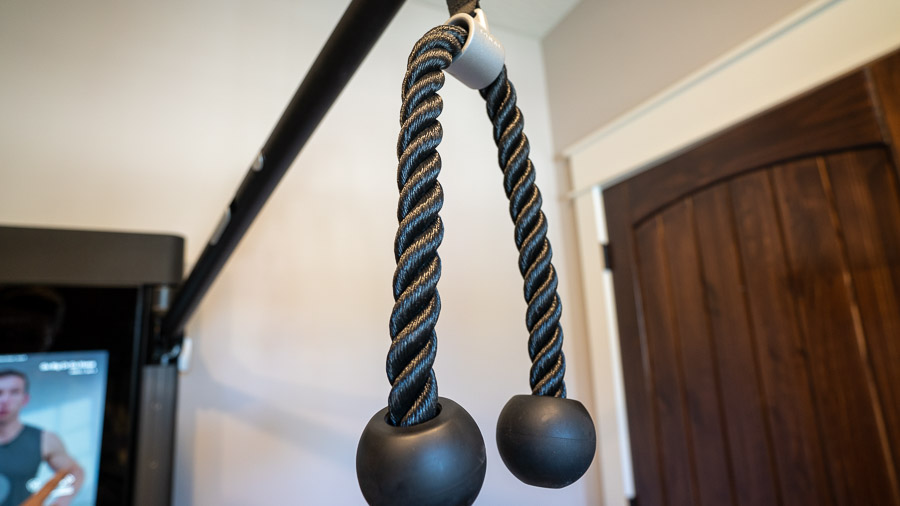 Lastly, the accessories that come with the full package of this device are fine, except for the bench. Weight benches put it plainly is really bad. It certainly looks nice, and comes with some attractive Tonal branding on it, but it isn't spectacular by any means. Of course, this isn't the primary attraction of the Tonal Smart Home Gym, but if you are wanting to use the bench with this device, you may consider investing in something a little more quality-made.
Should You Add a Tonal to your Home Gym?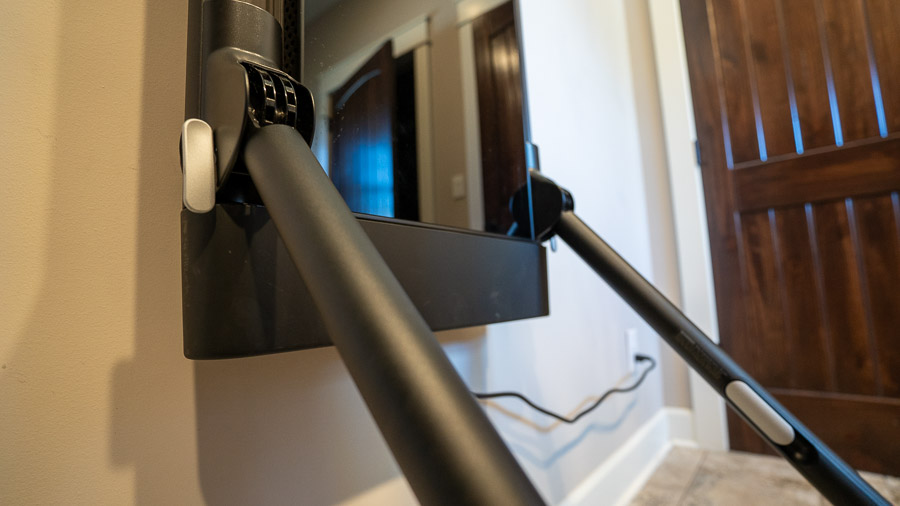 There's no denying that swallowing the cost of a Tonal Smart Gym can be difficult. As we've shown, it's incredibly versatile, however, it's also costly. So, should you build your home gym around a Tonal or simply add it to the equipment you already have? Here are my thoughts in a summarized form.
Tonal Smart Home Gym Recommendations
Out of all the smart home gyms we've tested and used including Mirror, Tempo, and Peloton, Tonal is the most complete system. It's focused on strength training, but they continue to offer new classes for those into yoga, conditioning, and mindfulness.
If you don't have a ton of space but still want a lot of versatility, Tonal is perfect for you. I foresee many apartment-dwellers adding Tonal to their home thanks to its space-saving design.
I think Tonal is also great for those used to personal training or simply want to be told what to do. Instead of having to figure out programming, you can simply follow along on the screen and get great results without having to think.
Tonal Smart Home Gym Complaints
I don't think Tonal is a complete replacement for those used to training at a commercial gym with a ton of equipment. It can do a lot, but some will miss the variety of lots of equipment often found in garage gyms.
Tonal requires an ongoing subscription to get the most out of it. This means that you not only have the big upfront cost to take on, but you essentially will also have a gym membership by using Tonals subscription ongoing.
Although I really like Tonal's hardware, the software is what is the standout feature. Due to this, I think most would be disappointed in buying Tonal and planning to not use the software.
Tonal Vs. Peloton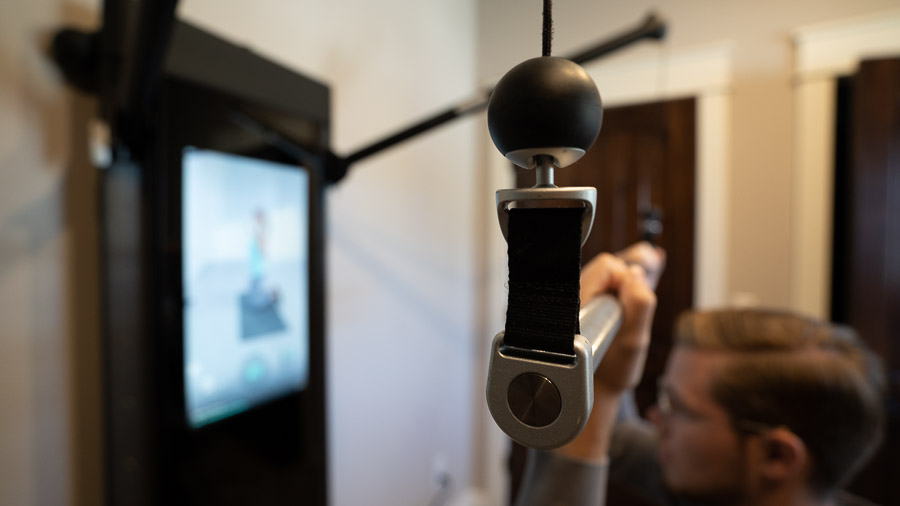 Seeing as Peloton has been around for a while, the selection of training available far outweighs that which is provided by Tonal. This, on top of live training, may make Peloton the preferred option for those looking for a fully-guided in-home workout.
Obviously, the two are different in that Peloton is focused primarily on endurance, cardio-based workouts, and Tonal focuses more on strength training, so this is certainly something to take into consideration in deciding between the two. With the Peloton membership, however, you will be able to access a multitude of guided strength-training workouts that use free weights available for purchase through them… or just use your own.
I foresee many who enjoy the smart home gym types of equipment will try to get both eventually. I see them as more complementary than competitive.
In my opinion, the decision between the two relies heavily on your personal fitness goals. If you simply want to lose weight and increase your endurance, the Peloton will fit the ticket. If you want to increase your strength and stamina, the Tonal Smart Home Gym will be your safest bet. Both are expensive options meant for buyers who are serious about a commitment to regular exercise, so if you are considering either at all then the decision is made rather simple by this dichotomy.
Tonal FAQ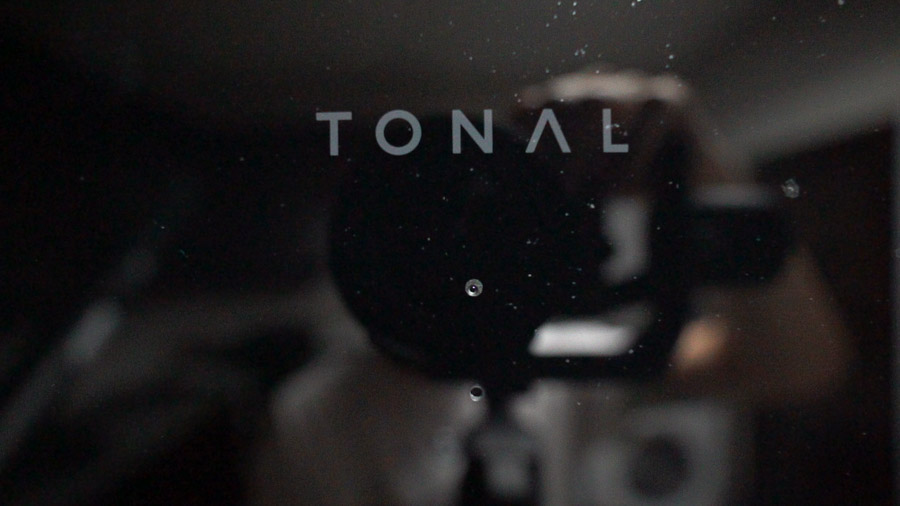 Is Tonal worth the money?
Tonal is expensive, there's little getting around it. However, there isn't a more complete strength training machine in the world than Tonal. When comparing the cost of Tonal, I think a better comparison than the squat rack, plates, barbell, bench, etc or commercial gym memberships, is a personal trainer. Tonal is for all intents and purposes an artificially intelligent personal trainer. You pay for the equipment and then you pay a monthly subscription for the training. Is it for everyone, no? But those that use it and have bought, myself included, love it.
Which is better? Tonal or Mirror?
In my opinion, Tonal is a vastly more complete training system than Mirror. The mirror is focused on bodyweight training and yoga-type movements. There's nothing wrong with that, however, Tonal can do all of that and much more.
How much weight does Tonal go up to?
Tonal goes up to 200 LB total resistance. However, due to the digital weights that are used, it feels much different than a typical weight machine. There are no stacks or plates that are fighting against gravity and changing based upon inertia and acceleration. 200 LB on a Tonal deadlift for instance feels much more difficult than on a barbell as it's a consistent load.
Does Tonal work without a subscription?
Yes, Tonal does work without a subscription making it an expensive functional trainer. However, I think most will end up using it with the programming as it's an experience that hasn't been beaten by all the equipment I've reviewed. With this said, if you wanted to do home workouts following your own programming, it would still work.
Does Tonal have live classes?
Tonal is working on streaming workouts with live classes to make it feel like you're training alongside others. They also allow you to train with others all over the world as essentially digital training partners. It's a cool feature.
Was Tonal hard to install?
As you can imagine, the Tonal Machine is extremely heavy. Like ridiculously so. For the first install, Tonal requires a white-glove service so that you don't mess it up. However, I moved and had to install it again and it's not too difficult so long as you have a helping hand. The installation process is pretty simple and doesn't take a ton of time.
Would you suggest Tonal for advanced trainees?
I think it depends on your goals. If you're wanting to lift like a powerlifter, I wouldn't suggest it, unless you just want to use it for accessories. However, for bodybuilding, general strength training, yoga, and the like, I think it works extremely well. I use Tonal mostly as a supplementary device to my other equipment and training.
Full Rating