We test and review fitness products based on an independent, multi-point methodology. If you use our links to purchase something, we may earn a commission. Read our disclosures.
Tempo Studio: It's a super smart all-in-one home gym with quite impressive tech specs, particularly with the 2023 addition of body composition scanning and other updates within the Tempo Fit app.
There's no product quite like it on the market, but does this mean it's the king of all smart home gym machines? Let's find out in our Tempo Studio review, where we cover all of the tech features you should know about before buying.
All Smart Home Gym Systems Tested
Coop and I have both tested Tempo Studio in our own homes, so you have not one, but two, takes to hear. I've personally tested several smart home gym equipment and smart workout mirrors, including Tonal, the lululemon Mirror, the Echelon Reflect, and the NordicTrack Vault. We have both been using and reviewing fitness equipment for years, so we see gym equipment through a lens different than most. Both of our honest, unsponsored opinions are presented in this review. 
This review was originally published in 2021, and we are updating it to reflect changes that Tempo has made to its offerings, such as new body movement tracking, body fat percentage tracking, and much more.
Tempo Studio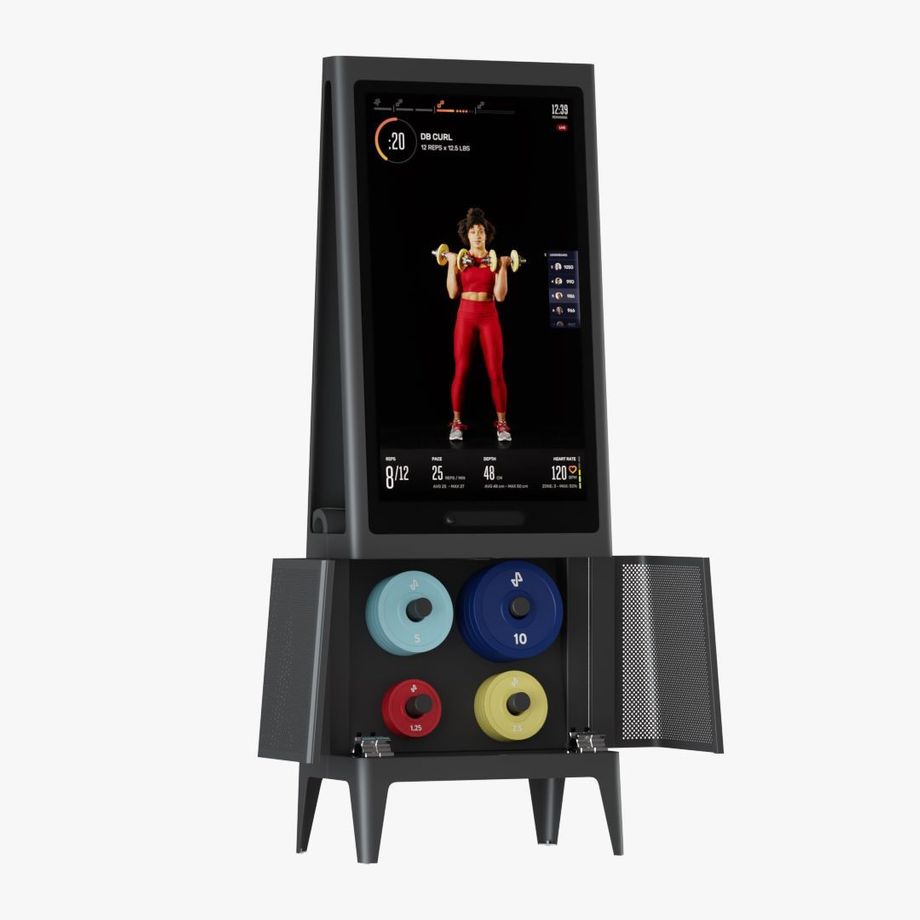 GGR Score: 4.6
Product Highlights
All-in-one smart home gym
Sturdy A-frame aluminum design
Comes with weight plates, loadable dumbbell handles, a barbell, foam roller, workout mat, and barbell collars
AI technology that uses 3D Time-of-Flight sensors to capture your movement patterns and provide form corrections, rep counting, weight recommendations, and stat tracking
Acts as a virtual personal trainer to help improve your exercise technique and reduce your risk of injury from exercise
Pros & Cons
Pros
Massive touch screen with great production quality
Comes with free weights for resistance training
Great variety of workout classes, programs, and types
Works with most fitness wearables to track all fitness metrics
Provides daily "readiness" scores and adjusts workouts automatically
Can track body composition
Can create completely custom programs
3D sensors track movement to provide technique feedback
Cons
Basic package doesn't come with sufficient weight for people who can lift really heavy.
By the time you add up the cost of accessories and extra weights if you need them, Tempo is one of the most expensive smart home gyms.
Touchscreen lags at times.
Bottom Line
Tempo Studio is a great all-in-one smart home gym. It would be a great fit for anyone who likes to do a little bit of everything—strength training, full body workouts, HIIT, cardio, and restorative exercise.
A Quick Look at Tempo Studio
Tempo Studio offers a pretty unique home gym experience. My take on Tempo is that it combines great aspects of high-tech smart gyms and old-school analog equipment, but it's not the best at either. It's like a Jack of all trades, and any Jack of all trades sacrifices specialization and specificity.
Depending on how you look at this, it can be a really great thing or a bad thing. If you're the type who likes to experiment with different types of fitness and tends to get bored by doing the same type of workouts for too long, Tempo could be a great fit for you and could totally replace your gym membership.
RELATED: Home Gym vs Gym Membership
Video Review
Before You Buy
Before purchasing Tempo Studio, make sure you have enough space to use it. You need a 3-foot-by-3-foot space for the unit, plus 6 feet of floor space to work out in front of it. (You need the 6-foot-by-6-foot space for any Tempo unit, including the smaller Tempo Move and even smaller Tempo Core, to work properly).
Storing Tempo in a non-climate-controlled environment voids the warranty. For this reason, we don't recommend it unless you plan on using it indoors (not in a garage).
Tempo comes with a small selection of equipment, but you'll need to buy more (or use other equipment you already have) if you can lift more than 75 pounds.
Tempo Studio Specs
| | |
| --- | --- |
| Dimensions | 2.2' wide x 1.4' deep x 6' tall |
| Weight | 100lbs |
| Frame | High-tensile aluminum |
| Display | 42-inch HD touchscreen |
| Computer | 10th gen i5 processor |
| Speakers | 60w stereo speakers, Bluetooth enabled |
| Motion sensor | 3D Time of Flight |
| Installation | White Glove, freestanding |
| Internet | 2.4 GHz, 5GHz WiFi, ethernet port |
| Heart Rate | Yes |
| Connectivity | Bluetooth |
| Warranty | 3-year frame, 1-year display, 1-year installation |
Is Tempo Studio Worth It?
As always, whether or not something is worth the money depends entirely on the individual. I have loved all of my various experiences with Tempo, but ultimately decided it wouldn't be my top choice for a home gym—I just love CrossFit and weightlifting too much. And, and the time of writing, I'm training for a half-Ironman, which really limits my time for strength training, so I prefer to maximize what little time I have by utilizing a full gym. Because Tempo equipment doesn't match Olympic barbell specs, it doesn't suit the type of workouts I want to do.
That said, Coop and I think Tempo is a great fit for fitness beginners and anyone who loves the vibes at fitness studios like Barry's or Orangetheory.
I also think, with the recently updated software (July 2023), Tempo offers a fantastic value proposition for people who want an integrated fitness/wellness ecosystem across their various devices. I'll cover this update in more depth below, but for starters, you should know that Tempo now works with all major fitness trackers and apps, and can now capture in-depth data including body fat percentage.
Great for:
People who like to try lots of different types of workouts
Exercisers who thrive on instructor feedback and high-energy workout classes
People who have enough space to store and use Tempo inside their home
Not recommended for:
Anyone who wants a smart home gym system in a garage or yard (this voids the warranty)
People who lift super heavy weights and mostly do powerlifting or Olympic lifting
Home gym owners who don't want to pay a monthly subscription fee
Using Tempo Studio
I enjoyed my overall experience with Tempo and was pretty enthralled with the tech features, specifically the real-time feedback for proper form. However, like I mentioned, Tempo wouldn't be the best long-term fit for my home gym, and likewise, it won't be the right home fitness system for everyone.
Specifically, it's not great if your fitness goals involve, say, squatting 400 pounds or mastering the clean-and-jerk.
Tempo is more suited to those who enjoy group fitness classes and boutique fitness studios. Still, I had fun with it as someone who occasionally likes to try something other than CrossFit and Olympic weightlifting.
Types of Workouts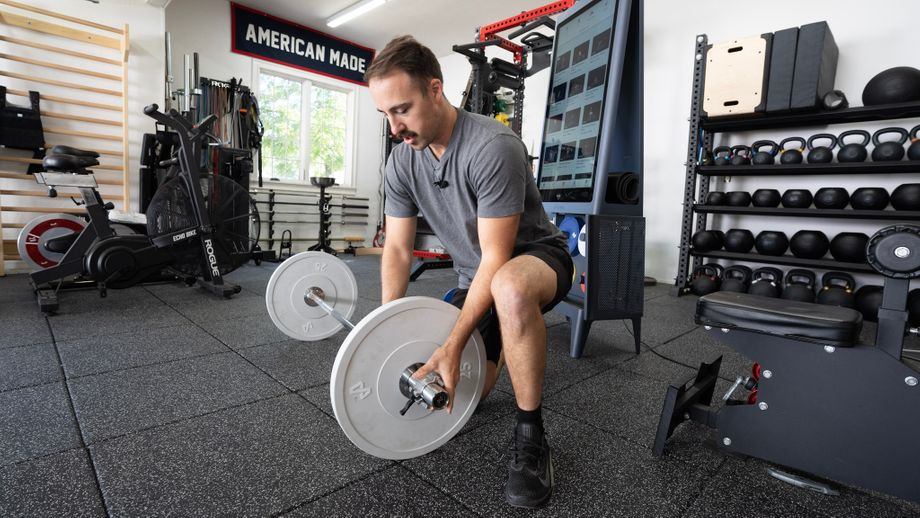 Tempo Studio has a wide range of types of fitness classes to choose from, including:
Weight training
Bodyweight resistance training
High-intensity interval training
Bootcamp
Low-impact exercise
Core
Yoga
Boxing
Mobility
Prenatal
In any type of class, live or on-demand, your instructor will take you through an intro, a warm-up, the workout, and a cool-down.
I particularly love that Tempo, like many other smart home gyms, has classes dedicated to range of motion. As a typical CrossFitter, I usually neglect mobility training unless forced to do it by a coach. So it was nice to have the ability for a guided class in my living room.
Personal Training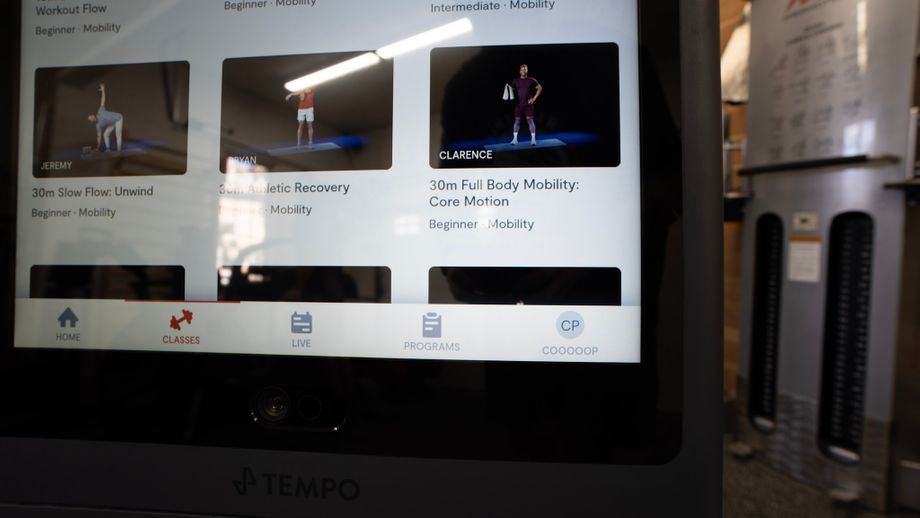 Tempo's 3D motion sensing technology—formally called Time-of-Flight sensors—captures your movements and provides form feedback, rep counting, and weight recommendations based on your technique.
While the tech isn't quite up to par with hiring a live, in-person trainer, it's pretty dang cool. As you work out, you'll receive real-time corrections from Tempo, such as "squat lower" or "keep your heels planted." At the same time, Tempo counts your reps so you can focus on what you're doing.
In Coop's perspective, the rep tracking is pretty dependable. "I noticed some missed reps every once in a while, and the form critiques felt pretty average, but it's cool technology," he says. "Due to the use of AI, the tech will only improve as the user base grows, which is encouraging."
It's true: For advanced fitness enthusiasts, the cues will feel basic and somewhat impersonal. However, they still serve as a good reminder. For beginners, the form corrections provided will be key to developing safe movement patterns, improving exercise technique, and reducing the risk of injury.
My favorite part of Tempo's technology is the weight recommendation feature. Tempo suggests what weight to use for particular exercises based on how well it sees you moving through the reps.
For example, if you select 10 pounds for biceps curls and fly through the reps with good form, Tempo will suggest using 15 or maybe 20 pounds for the next set. On the flip side, if you choose 20 pounds and end up swinging your whole torso to curl the dumbbells, Tempo will suggest you lower the weight for the rest of the workout.
Body Composition Scanning, Movement Pattern Tracking, and Integrated Metrics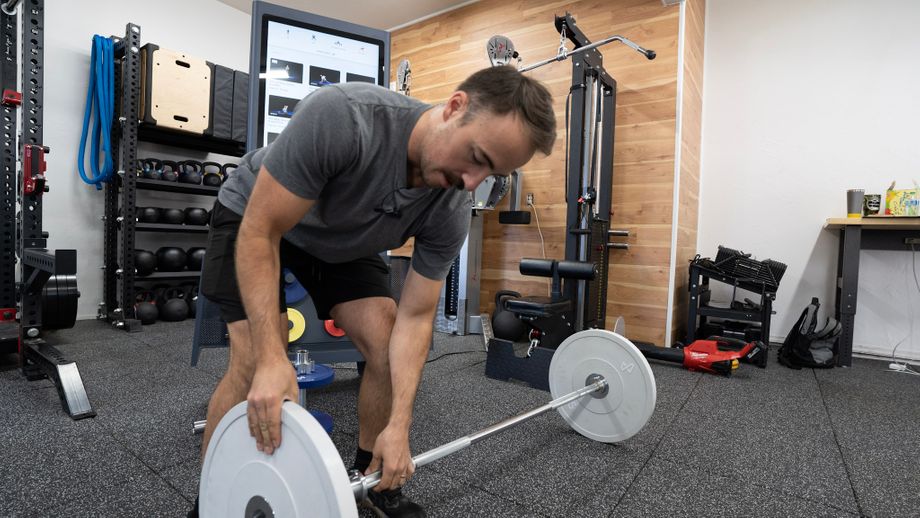 In the summer of 2023, Tempo released an updated experience for all app users. These updates are currently only available on the Tempo Move, but Tempo is working to provide parity to Studio.
The new experience includes the following features so that Tempo's AI can get a more well-rounded, complete picture of your fitness and help you progress smartly:
The app aggregates data from compatible fitness trackers and other health apps. If you use a fitness wearable, Tempo will use data such as your sleep statistics, resting heart rate, exercising heart rate, heart rate variability, and stress scores to adjust your workout intensity to an appropriate level for the day.
Tempo provides you with a daily readiness score. Your readiness score reflects how prepared your body is to perform physical activity on a given day. If your readiness score is very low, Tempo will suggest a much lighter, shorter workout or to do a recovery session. On the flip side, if you are progressing well and have a very high readiness score, Tempo may challenge you to lift heavier or exercise at a higher intensity on that day.
Tempo can now provide body composition scanning. An update to the app allows the software to provide complete body composition scans and show you how much lean mass and fat mass your body holds. The scan is not required, but it helps Tempo's AI create better programming for you based on your goals.
Rest intervals are based on heart rate. To further fine-tune things, Tempo no longer prescribes standardized rest intervals. Instead, when you wear a fitness tracker, your rest intervals change based on how long it takes your heart rate to recover from the set. Your next set will automatically begin when your heart rate drops back to Zone 1 or 2, or whatever the algorithm wants it to drop to. The desired zone changes based on the workout type.
Users can now log reps in reserve. Another new feature includes RPE (rate of perceived exertion) and RiR (reps in reserve) tracking. At the end of a set, Tempo will ask you how many more reps you thought you could do with that weight for that exercise. Based on your answers, Tempo calculates an RPE and then provides recommendations for the next set and future workouts.
App members can choose focus modes and goals. Now, instead of choosing an existing program loosely based on goals, you first tell the app your goals and then the app creates a program just for you based on said goals and other information you have provided the AI with. The pre-existing programs and classes are still available in the app, but the new method is much more individually tailored.
The best part? Tempo did NOT increase the monthly membership fee with the release of this new suite of offerings. I think that's really amazing and takes the Tempo membership to a new level compared to other smart home gyms. The fee is the same $39 per month (or less, if you choose to pay annually) as it was when we first published this review over one year ago.
The founder of Tempo Fit, Moawia Eldeeb, told us that this new suite of features guarantees results in just four weeks. That is a bold claim to make in our opinion, so we are going to personally test out the new experience and see for ourselves! Stay tuned for a fully updated review after we test the new Tempo experience for 30 days.
Community
Tempo has some basic leaderboard functions that are motivating to see during your workouts. Your place among everyone else in the class fluctuates in real time as you complete your reps and change your weights, so you can see how your efforts compare to those "alongside" you.
To me, the community aspect of Tempo pales in comparison to that of the lululemon Mirror or something like Peloton or Hydrow. I didn't really feel compelled to engage, but frankly, I also don't really care for app-based communities.
RELATED: Hydrow Review
Equipment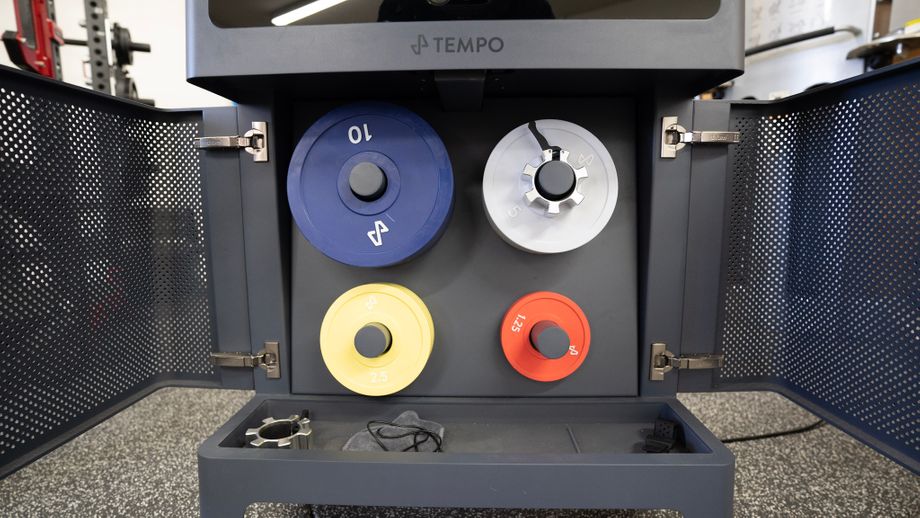 Tempo comes with a small selection of gym equipment: a 5-millimeter thick workout mat, two 7.5-pound dumbbell handles, and 75 pounds of weight plates. The weight plates included are change plates. You get four 10-pound plates, four 5-pound plates, four 2.5-pound plates, and four 1.25-pound plates. The 25-pound barbell comes with the Plus package.
You can purchase bumper plates, Coop points out, but they've been out of stock for as long as he's been tracking them. There's also a squat rack available to work out with—Tempo sells one, but neither of us have experience with it yet—but it seems like it could take up a lot of space in a normal indoor location one might keep Tempo Studio (such as a living room), and that it could mess with the 3D sensor technology.
RELATED: Free weights workouts
The equipment is of decent quality and should last a long time, but it's worth pointing out that none of it is up to Olympic specs. You won't be able to use any equipment you currently have with the loadable dumbbells or barbell. I never tried using non-Tempo equipment in place of the provided products, so I can't say how that would affect the experience.
And although the equipment is nice, I agree with Coop's take on the loadable barbell and dumbbells:
"Since the equipment is the loadable type, it can take a bit to get set up and can be a hassle when you have to change weights during the workout," he calls out. "I'd prefer to be able to use an adjustable dumbbell set instead of a loadable one."
There were times I had to pause workouts in order to change the weight on the barbell or dumbbells, and I see this becoming more of a nuisance as you get stronger and start adding more weight.
You can also purchase accessories such as foam rollers and the kettlebell system separately.
Audio and Visual
Coop and I were both impressed with the production quality on Tempo home workout videos. Both the on-demand and live classes have spectacular audio and, believe it or not, Coop actually prefers the Tempo on-demand classes to those on the Tonal. That's saying a lot, because this dude loves Tonal.
The video quality is also good, although it's in 1080HP versus 4K. Since the latter is becoming standard, I assume Tempo will eventually release hardware with a 4K display. Coop mentioned some issues with the touchscreen lagging, but I didn't have the same problem—the screen was plenty snappy for me. This could be a WiFi connection issue rather than a Tempo issue, but the verdict is unclear: Coop tried the Tempo at multiple locations (one with decent internet speed and one with a fiber-optic setup), and the screen lagged equally at both places.
Tempo Move
Tempo Move
Product Highlights
Affordable version of Tempo Studio
Monthly subscription
Enjoy access to thousands of HIIT, yoga, and strength classes
Some weights are included
Pros & Cons
Pros
Highly affordable
AI-powered for form correction
Comes with some weights
Access to countless classes
Cons
Requires iPhone XR or later
Doesn't come with all the weights Tempo Studio does
Requires a TV
Bottom Line
If a personal trainer met AI, the result would be the online training program known as Tempo Move.
In late 2021, Tempo released a new, smart device-based product: Tempo Move. We tested the Move, and you can read all of our thoughts in our Tempo Move review.
This ultra compact version of the Tempo Studio clocks in at just under $500, which is just a fraction of the price of the Tempo Studio.
The steep drop in price doesn't mean you lose the ultimate value-sell of the Studio: the Move still offers feedback on your form as you're performing the exercises. Also, just like with the original Tempo, you'll have to pay the same $39 per month fee to unlock hundreds of hours of on-demand and live programming. The same classes are offered for both the original and Move, with various options like yoga, strength, cardio, and HIIT. I'm excited to see the addition of barbell and kettlebell classes for the Move, which will be released in 2023.
The main difference between the two, other than the price? The Tempo Studio boasts a 42-inch touchscreen, whereas the Move requires the use of an iPhone plus a TV with an HDMI cord. It is important to note that you must have an iPhone XR or newer to be able to use the Move. This means your old iPhone 6 will not do the trick here.
Both the Tempo Studio and the Move come with a variety of special weight plates that help the system monitor your form to give you personal advice as you workout. However, the Move doesn't come with the four 10-pound plates that the Studio does. You also will not receive a mat, and you can only have five accounts per machine versus the unlimited you'd get with the Studio.
The Move is a budget-friendly way to get personalized training with excellent interactive programing.
(Pssst: Get the best Tempo discount codes.)
Ordering, Delivery, and Assembly
When you go to buy Tempo, you'll have the option to choose from three packages: Tempo Starter, Tempo Plus, and Tempo Pro. They all come with varying levels of equipment. At checkout, you can choose to pay with Affirm; if you don't already have an Affirm account, you'll need to create one. With Affirm, you can pay as little as $69 per month with 0% APR for the starter package.
Tempo offers white-glove delivery and installation (price included in the total), which makes the process insanely easy. A professional team of two from XPO delivered my Tempo Studio unit, and they made sure I was kept up-to-date on the delivery date leading up to the big day.
Because the Tempo installation doesn't require any drilling, the XPO team was in and out of my home within 30 minutes. They were quick to set up the unit and organize the equipment, as well as connect Tempo to my WiFi and make sure it was working. Coop had the same experience, so it's safe to say that the process is smooth.
Construction and Durability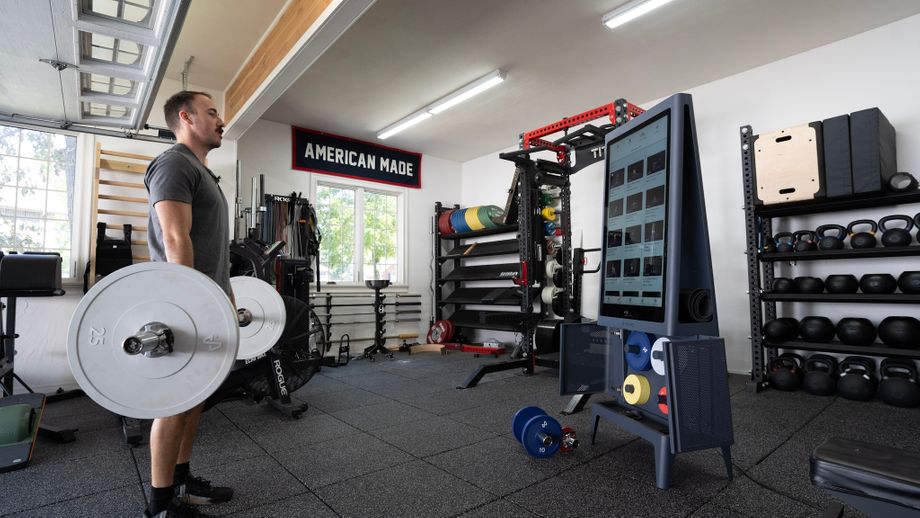 Tempo is constructed of high-tensile aluminum and the A-frame design is pure beauty. It comes in dark or light gray; the dark gray looked great in my living room. The design is not only attractive, but it's functional: Your change plates, barbell collars, and heart rate monitor all store neatly in the front soft-close cabinet, while the barbell and dumbbells have smart storage on the back of the unit. If you buy extra equipment or accessories, you'll have to find other space for storage, though.
Both the frame and equipment seem durable and, thanks to the powder coat on the frame and rubber coat on the plates, both would resist rust in a garage or other non-climate controlled environment. However, all equipment fares better over time in climate-controlled areas.
As Coop said, "The screen mount is a beautiful design that fits in anywhere from a garage gym to a living room."
Footprint and Portability
The Tempo Studio unit itself doesn't take up a ton of space. The A-frame stand is just a little over 2 feet wide and about 1.5 feet deep. It's 6 feet tall and weighs 100 pounds without weights in the storage space, so it's not easy to move. It's designed to stay in one spot—wouldn't exactly call it portable unless you have someone on call to help you shuffle it around. Coop thinks it would be a lot better if it were on casters, and I agree.
Though the frame requires minimal space, you do need a good bit of floor space to actually work out with Tempo. The 3D sensors require you to have six feet of space in between you and the screen. This means it might not work as well in small spaces as something like the lululemon Mirror or Echelon Reflect.
Customer Experience
Coop and I both enjoyed our customer experience with Tempo, especially when it came to delivery, assembly, and communication with the company and delivery teams. I loved that XPO kept me updated about the delivery date and time, so I knew exactly when to expect them at my house.
Tempo's customer service is also prompt and engaging—I had some issues getting my account synced up between my phone and the Tempo Studio, and the issue was resolved within a day of me contacting Tempo through the online support form. If you don't feel like dealing with customer service, you can check to see if your question is answered in Tempo's robust FAQ library.
I do wish there was a chat function to make things even quicker.
The warranty is decent: One year on the display; one year on the squat rack, bench, weight plate holder, kettlebell, and heart rate monitor; three years on the frame; and three years on the barbell, dumbbells, collars, and weights.
I'm not sure why the warranty is three years on some of the equipment and only one year on the rest. Either way, it's worth calling out that Tempo completely voids the warranty if your equipment isn't stored in an indoor, climate-controlled environment. So we don't recommend getting Tempo if you plan to use it in an outdoor setting or non-climate-controlled garage.
Customer Reviews
Reviews on the Tempo Studio are nothing short of glowing. It has 4.9 stars from 178 reviews on the website. Most article reviews of Tempo agree that the technology is top-notch, the experience is unique, and the equipment is pretty good quality.
Final Verdict of Our Tempo Studio Review
Tempo isn't the best fit for people who lift very heavy weights, unless you have the space to store more weights alongside the Tempo frame (and the money to purchase them).
The technology is phenomenal and provides an engaging, unique fitness experience that is helpful to beginners and advanced exercisers alike.
Tempo Studio is, in my opinion, the best smart home gym choice for people who like to do a lot of different types of exercise and thrive on instructor feedback.
Tempo Studio Rating
Tempo Studio
Overall, we think Tempo Studio is a great all-in-one smart home gym. It would be a great fit for anyone who likes to do a little bit of everything—strength training, full body workouts, HIIT, cardio, and restorative exercise—but there could be some improvements.
Product Brand: Tempo
Product Currency: USD
Product Price: 2495
Product In-Stock: InStock
Tempo Studio FAQs
How does Tempo Studio work?
Tempo uses artificial intelligence and a 3D Time-of-Flight Sensor to capture your movement and provide form correction, weight recommendations, rep targets, and progress tracking.
Can Tempo Studio see you?
No, Tempo Studio does not have cameras. It has 3D movement sensors, which can't see what you or the inside of your home look like.
Which is better, Tempo Studio or lululemon Mirror?
Tempo Studio and the lululemon Mirror are both high-quality smart home gym systems. They're different, so the best choice for you depends on your fitness preferences and goals, as well as the amount of space you can dedicate to your home gym.
Is Tempo Studio good for beginners?
Tempo Studio is a great choice for beginners, thanks to the technique feedback and form corrections it provides. In my experience, it's the best smart home gym system for people who aren't too familiar with exercises and movement patterns.
Can you use Tempo Studio without a subscription?
No, you need to subscribe to the Tempo Fit membership to access coaching, classes, and instruction. The monthly membership fee is $39.