We test and review fitness products based on an independent, multi-point methodology. If you use our links to purchase something, we may earn a commission. Read our disclosures.
Exciting holiday update from Coop: I've asked for code GGRJAYBIRD as your exclusive offer for Black Friday. This will give you a pair of free Jaybird earbuds when you buy either the Hydrow rower OR Wave (or any packages or bundles). Furthermore, it's stackable on all promos including Black Friday and Cyber Monday deals.
After having my Hydrow Rower for more than a year, I can comfortably say I still enjoy it as much today as the day I received it. I actually use it multiple times a week and think a lot of people will enjoy it – if you're willing to spend the cash. In fact, I believe the Hydrow to be one of the best rowing machines on the market.
In this Hydrow review, I'll take you through my own experience using it, all the features, the warranty, and the interactive programming. By the end of this review, you should have a clear understanding of what this rower is all about. Let's dig in.
Hydrow Connected Rower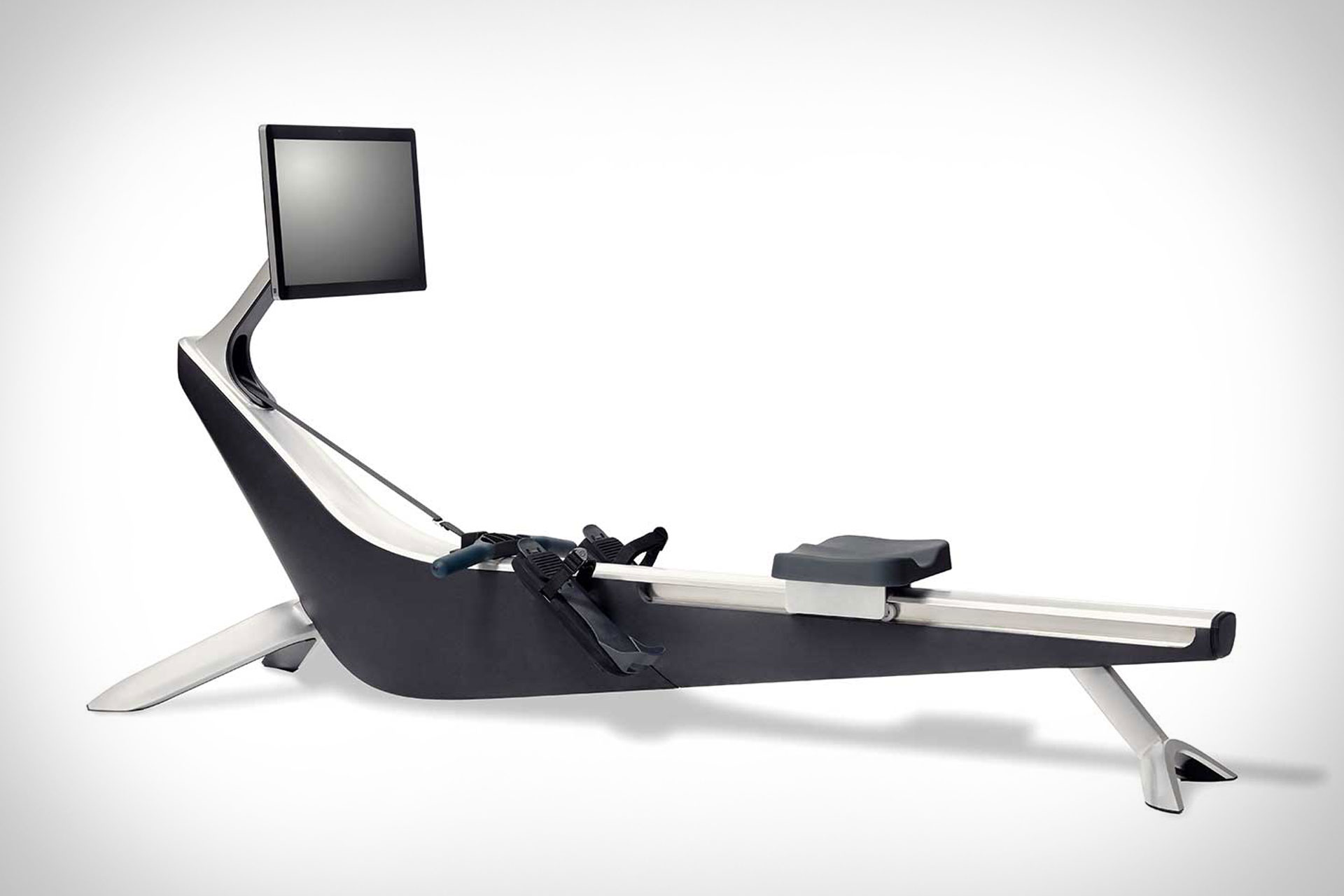 Hydrow Connected Rower
We completely re-engineered the rowing machine with patented technology, making each stroke feel like you're out on the water. Then, we built an immersive experience around it. The Hydrow was designed from the ground up. While the design team wanted to create a unique machine that was elegant and sophisticated for the home, it was just as important to engineer a machine that was unmatched in performance and built to last. Hydrow's brilliant 22" touchscreen display and impressive front-facing speakers bring the river to your living room, captivating you from the moment you sit in its seat. The Hydrow's patented drag mechanism is electromagnetic and computer-controlled. The distinctive components make it the closest thing to being on the water.Garage Gym Reviews Exclusive: Use code ROWGGR to receive $150 off any purchase that includes a rower
Why You Should Trust Us
I've tested dozens of rowers, including the Concept 2 RowErg Rower, Get RXd Xebex Rower, and the Ergatta Rower. Beyond that, I actually use rowers in my own personal training.
When I'm evaluating a rowing machine, I use it for several workouts, including long-distance rowing, sprint repeats, warm-ups and cool downs. I like to evaluate the resistance mechanism (air, magnetic, or water, for example) and assess the ergonomics of the seat and handles. Further, I look at things like warranty, smoothness of the drag, price, programming, and the monitor.
A Quick Look at the Hydrow Rower
The fitness market is always evolving and changing to make room for the next generation of innovation. For example, in 2007, Rogue Fitness made its debut and put a real mark on the home gym (and CrossFit) landscape. Then came Peloton, and we all know what that did for exercise bikes.
Hydrow, founded in 2017, is bringing the next wave of technology-integrated fitness equipment with their well-designed rower. I believe we'll see more in the future from this up-and-coming brand, so keep your eyes peeled.
Coop's Tips:
Use code ROWGGR to receive $150 off any purchase that includes a rower!
Adding friends to compete against makes this rower extra fun. Feel free to add me @doescoopevenlift so I can kick your butt.
You can connect your Airpods to the Hydrow to listen to the programming (versus having it play out loud) if you prefer.
Pros:
Consistent and smooth magnetic rower
Engaging interactive programming
Ability to compete against others via a leaderboard
Sleek and modern design
Cons:
Just under $2,500 for the Hydrow Essentials Package
$38 per month subscription fee for programming
Only obvious way to reach customer service is through email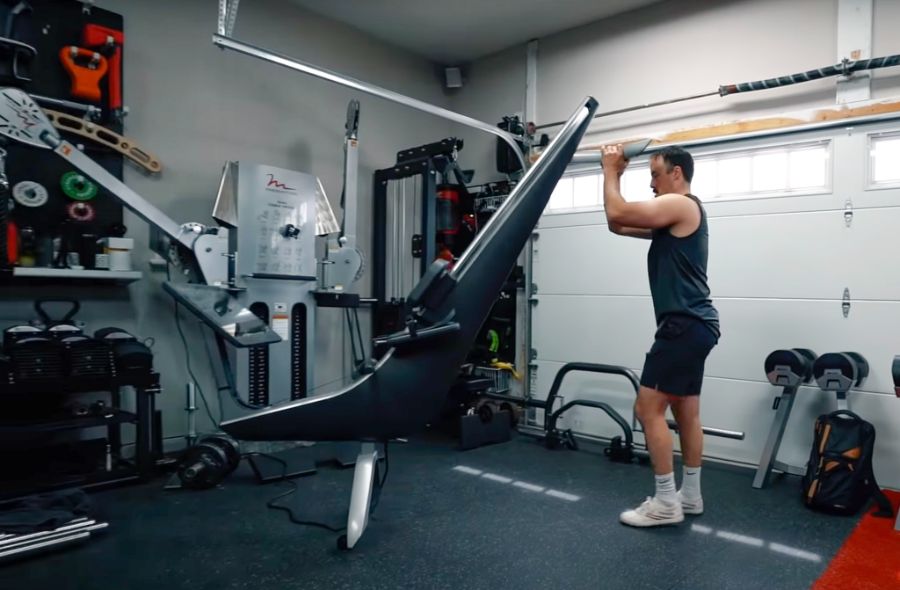 Is the Hydrow Worth It?
I'm a big fan of the Hydrow Rower and think a lot of you will be, too. However, no product is a perfect fit for absolutely everyone. Here's who I think will love this rower and who is better off choosing something different:
Great for:
People who are especially excited about interactive programming
Individuals who don't mind paying a premium for a high-quality piece of equipment
Those who want an aesthetically pleasing rower that they can leave out when not in use.
Not recommended for:
Those who just want to use their rower in a CrossFit style workout
People who are not interested in interactive programming for rowing sessions
Individuals who are on a budget
Hydrow Rower Specs
| | |
| --- | --- |
| Dimensions | 86″L x 25″W x 47″H |
| Screen Size | 22" |
| Weight | 145 lbs; 197 lbs boxed |
| Weight Limit | Holds up to 375 lbs (170 kg) |
| Bluetooth | Bluetooth 5.0-enabled for heart-rate monitors and audio |
| Stored Dimensions | 25″W x 33″D x 86″H*Upright Storage Kit(sold separately) requiredfor vertical storage |
| Materials | Aluminum and steel frame with flat anthracite polymer body |
| Drag Mechanism | Dynamic and responsive computer-controlled resistance |
| Touchscreen Monitor Technology | PCAP |
| Screen Resolution | 1920 x 1080 Full HD |
| Seat | Ergonomically designed cushion with 10-roller system for extra smooth operation |
Row, Row, Row Your Hydrow
The Hydrow is very easy to get started. Simply plug the machine into an outlet and login to your home wifi to access the programming. If you're new to rowing, you might want to watch one of the tutorials available on the dashboard to get the correct technique down. I won't attempt to explain it because the professionals at Hydrow will do it much better.
Once you feel comfortable with how to row properly, you can mess with the drag settings to get a good amount of resistance for your specific needs. If you're a decent rower but not super-advanced, you're most likely okay to just leave the slider in the middle (which is the default).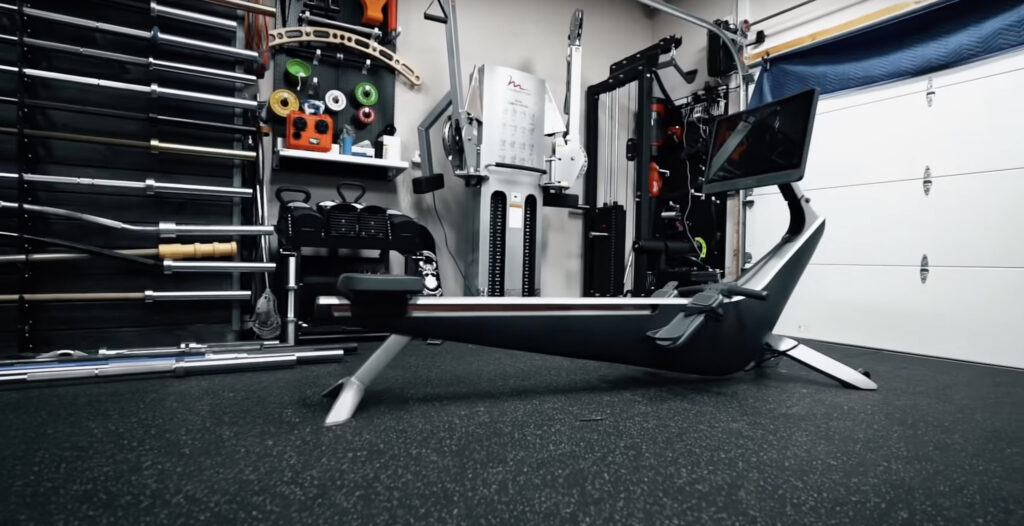 The format of the programming on the screen reminds me a lot of the way Peloton presents their various classes. However, Hydrow's classes are not studio-style. Instead, they're filmed on a body of water with the instructor actually rowing. I personally feel like this really adds to the overall experience and shows the type of quality Hydrow is committed to giving their customers. You are able to take both live classes as well as do on-demand workouts in this same format.
When I initially received the Hydrow and found out it was a magnetic resistance rower, I was a little nervous. Generally speaking, magnetic rowers are much less smooth than their counterparts, such as the chain-driven Concept 2 Model D. I was very happily wrong on the Hydrow. The belt drive system as well as the railing provides a super smooth and quiet experience. There is a slight grip to the handle to help you hold on without it feeling overly sticky when you're sweating.
One of my favorite aspects of the Hydrow Rower is the competition board. You're able to row against actual people across the country during live and pre-recorded classes. As someone who thrives with a little bit of healthy competition, I love this feature because it really motivates me to work harder.
RELATED: Best Smart Home Gym Equipment
Let's Talk About Tech Baby
The monitor on the Hydrow is simply put, beautiful. It's a 22-inch HD touchscreen that features Bluetooth connectivity and can adjust 15 degrees for easy viewing. I like that you can connect a heart rate monitor or your Apple Watch to view your heart rate while rowing. There are two front-facing speakers at the bottom of the screen where you'll be able to hear music or the instructor speaking.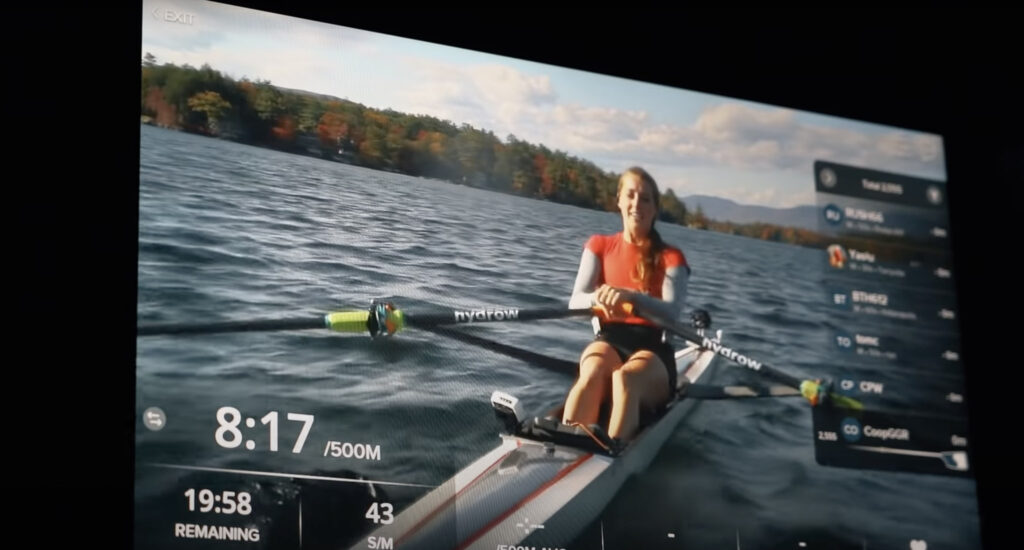 To view programming for live workouts or classes, you'll have to pay $38 per month. This is more expensive than other interactive programming services, but it still isn't bad compared to a monthly membership for the gym (if you're looking for a Hydrow discount code, we could help!) You can also keep a lookout for holiday sales, like Black Friday or Memorial day to save some money! I like that you're able to add more than one profile with only one subscription. For example, if my wife also wants to row on the machine, I can make her another profile without having to pay extra money. You're also able to view additional programming (yoga, strength training, and stretching) via the app, which can be downloaded on Apple or Android phones.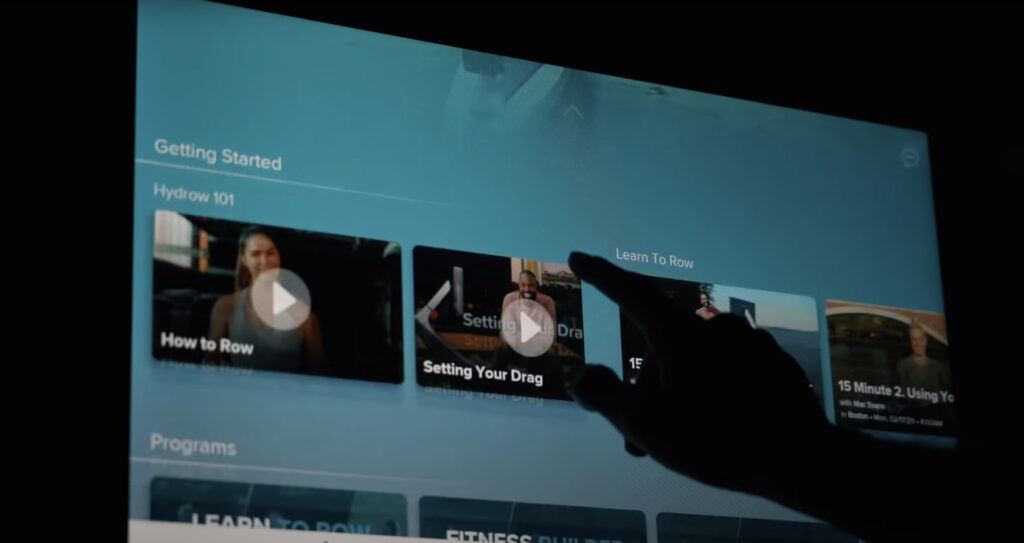 I recently saw that you are also able to just purchase a Hydrow membership via the app (without owning a Hydrow Rowing Machine) for $19.99 per month. You'll have full access to the programming without the connection of your stats. This could be a good option if you have access to a rowing machine that isn't a Hydrow and you want to try out their immersive, on-demand rowing classes.
Related: Check out the CITYROW GO Max Review.
Footprint, Durability, Construction
The footprint of the Hydrow is 86″L x 25″W x 47″H, which is fairly typical of a rower. What makes the Hydrow especially great is it's sleek design, which I feel like goes seamlessly into any home or garage gym. However, you can't exactly pick this up and store it vertically against the wall, like the Concept 2. Instead, you have to actually buy a friggin kit for $80 to store it properly.
The Hydrow is 143 pounds, which isn't as heavy as a lot of ellipticals or treadmills (which can be well over the 150 pound mark), but it still isn't easy to move. Ideally, plan to put this somewhere you don't have to move it frequently. Your body will thank you.
To be honest, I do actually appreciate that the rower is weighty, because the aluminum plus steel it is made from feels sturdy and durable. I've owned (and used) my Hydrow for over a year and haven't had a single issue with any parts breaking.
Customer Experience
The Hydrow Rower has a pretty good warranty – you get five years for the structural frame plus storage kit and 12 months for components, the screen, other electronics, and labor. Comparing this warranty to one of my other favorite rowing machines, the Concept 2 Model D, this is about on-par with what you'd expect. The Model D also has a five-year limited warranty on the frame but gives two years on parts and electronics.
Returns
If you're not in love with your Hydrow, you can return it within 14 days of delivery for a refund. However, you will be charged $250 for the return shipping. It is also worth noting that you will not be refunded for any original shipping, delivery, or installation charges.
If you purchased your Hydrow through the 30-day risk free trial promotion (which you have to qualify for by being a first time Hydrow customer), you get a full 30 days to try and return the product. They will refund your return shipping costs as well as a month of the subscription.
Customer Service
In the bottom right hand corner of the Hydrow website, I saw what looked to be a live chat option. However, when you click the icon, you are unable to type your own words into the chat. The two options you have are to read the frequently asked questions or to email the company. Even when I found the "Contact Us" page on the website, all three options listed were email addresses.
Customer Reviews
On the Hydrow website, there are almost 6,500 reviews for this rowing machine with an average score of 4.7 out of 5. Generally speaking, people seem to love the structure of the classes offered and how engaging the instructors are. Others mentioned how much they enjoy the sleek lines of the machine and the overall durability of the Hydrow.
Complaints were few and far between but they were mostly about how expensive the machine and subscription service are. A few people griped about how difficult it is to reach customer service because the only readily available way to reach Hydrow is via email.
Ordering and Assembling the Hydrow Rower
Ordering from the Hydrow website was easy and painless. The rower came in just a couple weeks with free standard shipping. There isn't much to do in terms of assembly, which is always a relief to me. I'm way more interested in getting down to business testing and working out.
Does the Hydrow sound awesome but you're not sure if you can swing it financially? Good news! You can finance the Hydrow Rower through Klarna and pay as little as $67.36 over 36 months with 0% APR financing.
Assembly
The Hydrow Rower is pretty easy to put together—all it takes is a few screws in the frame and monitor and you're set. After that, you have to connect it to a power source and sync the machine to the internet.
There's also at-home professional assembly services available for those who'd prefer expert assembly.
Final Verdict of Our Hydrow Review
The Hydrow Rower is an interactive cardio machine that elevates the typical rowing experience. However, it is best to keep in mind the ongoing costs of the subscription needed to view the training. The rower itself is made with very durable materials and the belt drive coupled with the electromagnetic resistance makes for a smooth ride. Bottom line, I would definitely recommend this if you want extra rowing motivation and the price tag doesn't deter you.
Full Rating
Hydrow Connected Rower
The Hydrow smart rowing machine is one of the most expensive on the market, but it's also one of the most appealing. Here's more information on things like warranty, smoothness of the drag, price, programming, and the monitor.
Product Brand: Hydrow
Product Currency: USD
Product Price: 2295
Product In-Stock: InStock
Hydrow Review FAQs
Is Hydrow a good rower?
I personally think Hydrow Rowers are worth the money. They are definitely expensive and I don't think they make sense for everyone to own but if you've been eyeing it for some time, I would definitely recommend purchasing. It's a piece of exercise equipment that I use multiple times a week for HIIT, on-demand classes and other live rowing workouts.
Is Hydrow a good workout?
Hydrow is good for beginners and advanced rowers alike because you can change the drag settings to accommodate any skill level. Rowing is a full-body workout that is good for those needing a low-impact option. Once you get the proper form down for rowing, anyone can hop on and just row.
Can you watch Netflix on Hydrow rower?
No, the Hydrow rower's screen is only for streaming workouts.
Can I row the Hydrow without a subscription?
Yes, but you'll only be able to use it in manual mode and the machine will have limited functionality.