We test and review fitness products based on an independent, multi-point methodology. If you use our links to purchase something, we may earn a commission. Read our disclosures.
The Concept2 RowErg is far and away the best rowing machine we've ever reviewed. In fact, it's one of the best pieces of fitness equipment we've ever used. This is also pretty much a unanimous opinion by anyone who's used a Concept2 product, and our Concept2 RowErg review will show you why.
Yes, the RowErg is an expensive piece of cardio equipment at nearly $1,000 shipped, but with the combination of an outstanding workout, extreme durability, and very high resale value if you decide to sell it, this is as safe of a recommendation for us to make as we ever have.
Best Rowing Machine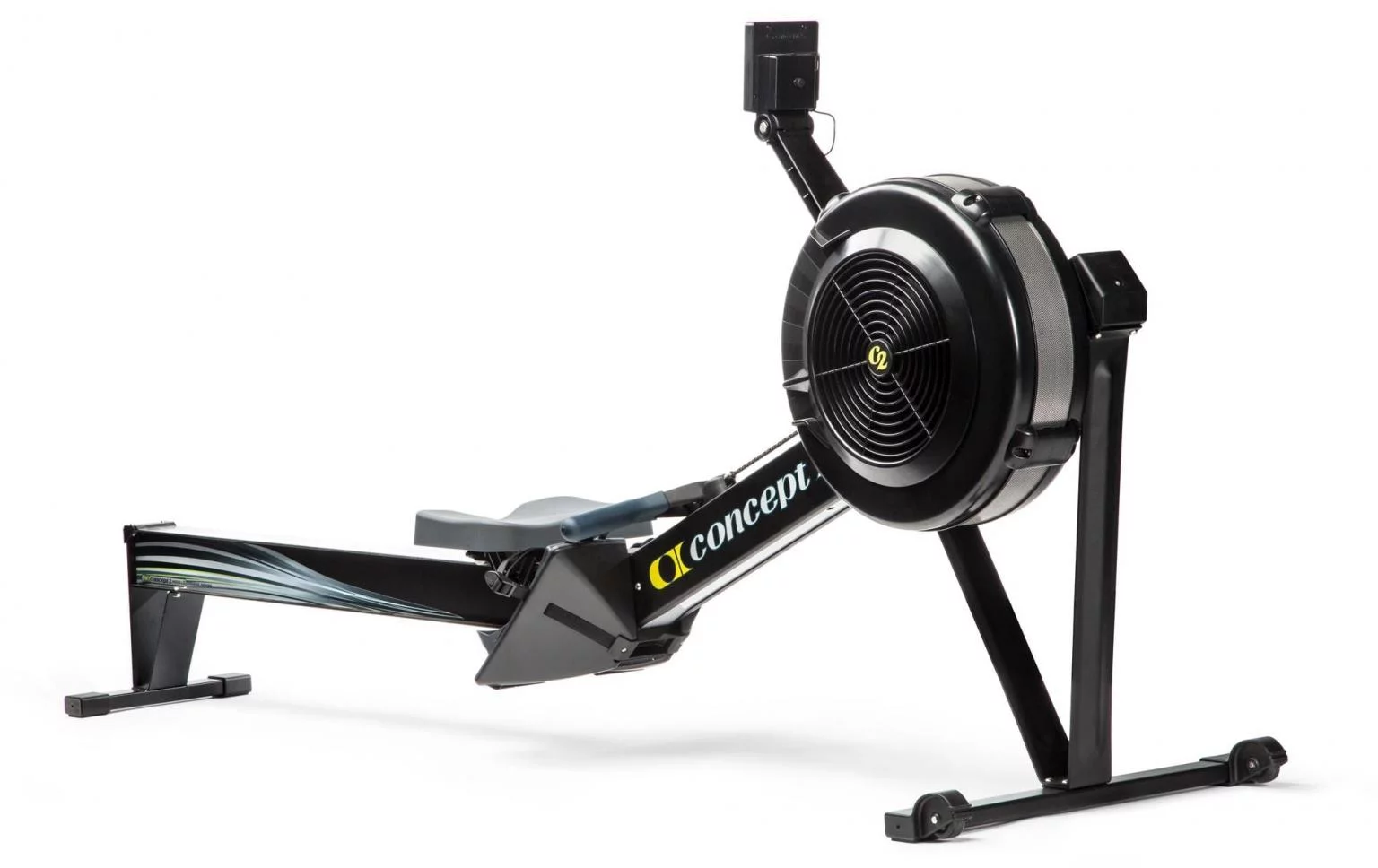 GGR Score: 4.4
Community Score: 3.3
Product Highlights
Priced around $1,000

Uses air resistance generated by the fanned flywheel

Advanced PM5 Performance Monitor

Low impact full-body workout fitness machine

Lightweight and easily portable

Can be broken down into two pieces for storage

Can also be hung for storage
Pros & Cons
Pros
Best-selling rowing machine in the world
Easy assembly
Accommodates users up to 6.6 feet tall and 500-pound weight
Ergonomic seat and handlebar
Seat is 14"
10-degree angle on handle for natural grip
Air-resistance
Adjustable airflow
Performance Monitor 5 (PM5) monitor
Nickel-plated steel chain
Adjustable footrests
Easy to store
Limited 5-year warranty
Cons
Priced around $1,000
Few built-in workouts
Bottom Line
The Concept 2 Model D Rower is the best rowing machine we've tested and reviewed, including those that are much more expensive like the WaterRower. There's a reason you can find Concept 2 products in nearly every gym in the world, including CrossFit Boxes, and home gyms. After having the Model D for over two years, we are still as satisfied with it as we were on day one.
The Concept2 RowErg (formerly called the Model D Rower) is still made in the USA, is considered the gold standard by practically everyone who's used one, and can be seen in nearly every quality gym in the world. The RowErg is perfect for athletes at all training levels as well.
There are a ton of rowing machines on the market today (Concept2 actually created the first rower) yet the RowErg is still, in our opinion and many others, the best rower machine ever created…at any price point. Yes, we don't believe there is a better rower at a price above or below. We also think the RowErg is a great value, but before I give away everything, let's get into the details.
Why You Should Trust Us
We've rowed, rowed, rowed our gains on more than a dozen rowing machines so when we say that the Concept2 RowErg is the gold standard, we're speaking from experience. Our crew consists of CrossFit Trainers, competitive triathletes, and certified personal trainers who have logged hundreds, if not thousands of miles on machines like the Concept2.
Video Review
Why Buy A Concept 2 RowErg?
If you're not a professional rower and not training for the World Rowing Cup, why would you even buy a rower? Glad you asked. You should do a Google search for images of, "Rowing Teams," these guys and gals are in incredible shape. Why? Because they row…a lot. Rowing is a full-body exercise, and it keeps the heart rate elevated. It's honestly one of the most efficient conditioning exercises you can do.
With each stroke, almost every part of the body is being used. Because rowing gets your body's large muscle groups moving repetitively for an extended period, rowing qualifies as a cardiovascular workout. This type of exercise is notorious for its health benefits. Everything from boosting your immune system to improving your cholesterol and reducing your risk of many chronic health conditions, including obesity, heart disease, high blood pressure, Type 2 diabetes, metabolic syndrome, and stroke. Not to mention rowing is a calorie-burning monster (up to 1,200 calories an hour.)
There's a lot of science to back the health benefits of working out on a rowing machine, but there are also some real-world, and somewhat less-scientific, benefits to rowing as well. Many avid rowers talk about, "the zone." This is described as a calming and meditative experience that the repetitive whir or swish of the resistance mechanism lulls the rower into — a nice balance to the burn in your shoulders and back as you grind through the workout.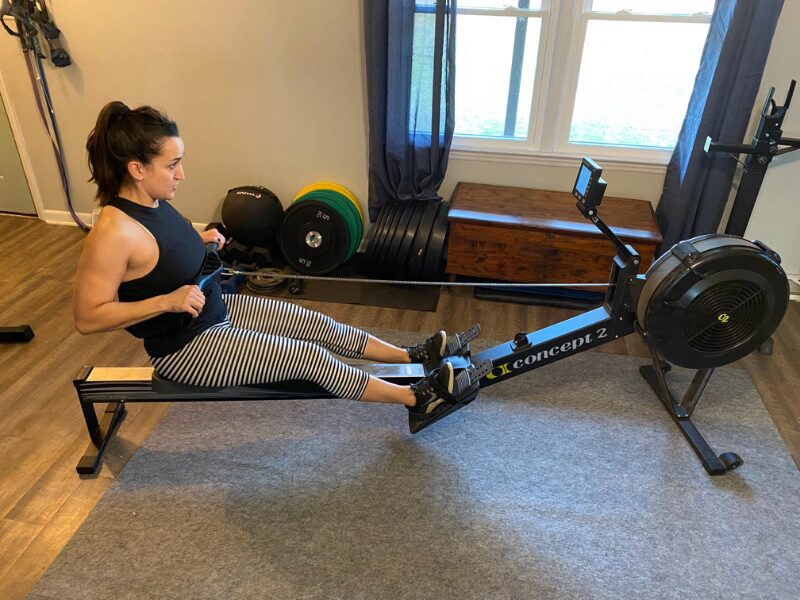 A rowing machine is great for both sprint work as well as low-intensity steady-state types of training as well. This is evidenced by its use in CrossFit gyms the world over for all types of people in their population. The Concept 2 Rower also is a compact exercise equipment that takes up very little space which is absolutely ideal for those that train in a home gym. There are many companies that now sell wall hangers for the RowErg, but it's not really even needed as the rower can be stood upright and stored in a corner.
To be honest, for most people, the rower is what we'd suggest being their first piece of conditioning equipment. It's low impact on joints and the skeletal system, it can be used by anyone under 400 LB (probably much higher,) they have an incredible resale value, they're practically bomb-proof, and they provide one of the best full-body conditioning workouts and cardio machines out of any machine, including the best treadmills, quality exercise bikes, or air bikes.
What We Like About The Concept2 RowErg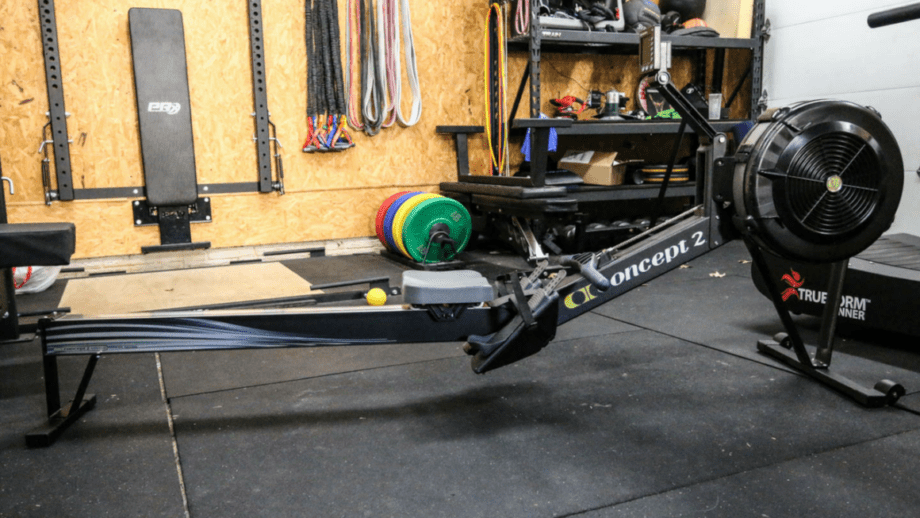 Concept 2 has done well with all areas of its business model. You can tell that every step from purchasing, to quick delivery time, to stellar packaging has been meticulously thought out. When it came to assembling the RowErg, we were pleasantly surprised. This thing was a walk in the park to put together. It only takes about 10-20 minutes for the complete setup. With eight screws and a quick clip into place for the monorail, you're ready to row. It was nice to not have the equivalent of a pre-workout just setting up the rower before I actually got to train with the rower. Thank you Concept 2!
The build quality on this rower is tough…nothing about it feels cheap. Concept 2 is a commercial-grade rower, which means it was built with the intention that it would withstand the punishment of constant use at the gym or the Crossfit box with minimal maintenance required. The rower has aluminum front legs and steel rear legs with an aluminum I-beam monorail and a stainless-steel seat track. The 96″ Length and 24″ width can accommodate users up to 6.6 feet tall and 500-pound weight. Also, you have a choice between matte or black finish.
That's all great but what good is a rower that can withstand multiple years of use but isn't comfortable enough to want to use it for multiple years? You don't have to worry about that with the RowErg. Again, Concept 2 has dialed in their products to deliver superior quality and comfort. The rowing motion for this rower is super smooth. The seat glides effortlessly on the monorail and the chain that pulls the flywheel doesn't snag. Put all those components together and what you get is a smooth catch, drive, finish, and recovery motion. That's one of the main reasons Concept 2 are professional rowers' top choice.
(Pssst: Here's how to find a Concept 2 Coupon.)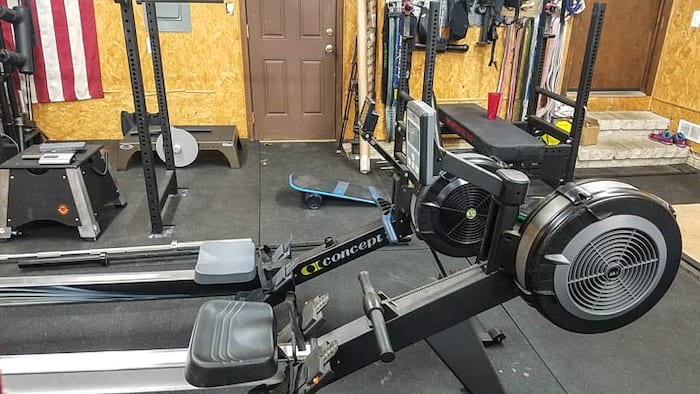 All rowing machines have a seat and handlebar (thank you Captain Obvious) but they are not all ergonomic. Concept 2 has fine-tuned the ergonomic design of the RowErg. The seat on the RowErg is contoured and padded, it forms well to your bottom for comfort during long rowing sessions. I did, however, find that several users who had logged a lot of meters on the Concept2 mentioned that the seat gets harder over time. So you may expect some tweaking with your seat a few years down the road, whether that's a folded towel or a removable seat pad. The handle is ergonomically designed with a 10-degree bend that provides a natural grip. The handle is covered with molded rubber grips that help to absorb sweat. A fair amount of users did mention (including the manufacturer themselves) that new rowers could expect to get some blisters on their hands during initial use, so you might want to wear workout gloves if you have soft hands (we won't judge you for it.)
Are you a barefoot rower? You are in good company, lots of barefoot rowers love the footrest design on Concept 2, in particular, the heel-rest feels like it was made specifically for a barefoot rower's comfort. The footrests are flexible and have a dialed-in design that allows the rower to get their "shins vertical" even if they don't have flexible ankles. The ergonomic contour of the pedals is easy to adjust without the need for tools. With the correct angle to reduce pressure on your joints during the workout, the Concept 2 design is sophisticated. The footrests are adjustable to fit a wide range of shoe sizes (in-case Shaq ever wants to take up rowing.) Whether you row barefoot or you prefer to leave your shoes on, the footrests are comfortable for either preference.
The RowErg is an air-resistance rower which means that the air resistance functions by pulling a handle and spinning a fan flywheel. As the flywheel spins, it must displace the air in front of it, which causes resistance. The faster you spin the flywheel, the more air the fan must displace, and the more resistance you feel. In other words, the harder you row, the harder the row. This auto-adjust type resistance is known as 'variable' resistance. It's not like a treadmill where you set it to level 5 and you have to keep running at that speed until you change the setting.
The RowErg air-resistance system allows you to row at your own intensity and the resistance will adjust accordingly. Side note: The Olympic rowing teams use the Concept2 RowErg for their off water training due to the Concept2's ability to closely mimic the resistance felt while rowing on water, similar to the Ergatta Rower. Hey, if it's good enough for Olympic Athletes then it's got to be good enough, right?
Although the Concept2 is classified as 'variable' resistance rower, users can still adjust the "feel" of the rowing stroke with the damper setting. Like gears on a bicycle, the different "gears" will give you a different feel while you're rowing. The higher settings (6-10) give you the feeling of a slower, heavier boat, whereas the lower settings (1-5) give you the feeling of a sleeker, faster boat. The damper feature is all about individual preference and is very user-friendly. It also makes the RowErg great for novices through top rowers.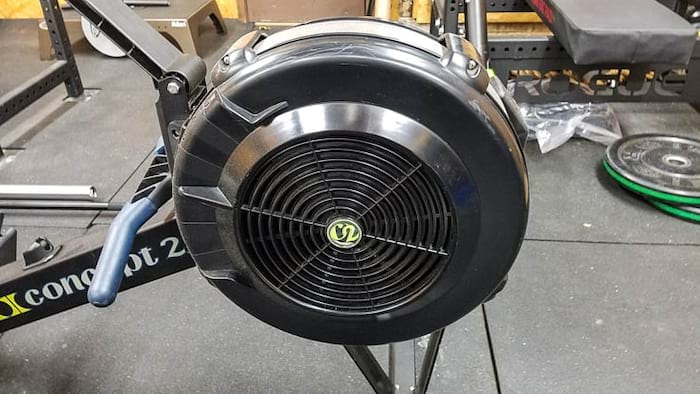 The monitor on practically every Concept 2 product is the same—the PM5 Performance Monitor. It may seem redundant to use the same monitor on all of their conditioning equipment, but why reinvent the wheel? The PM5 is not only one of the most well-liked monitors among rowers, CrossFit Gyms, and those with a home gym, but it also tracks a wide range of data. Everything from distance, 500m split (speed), time, strokes per minute, calories, watts, and much more. It can also calculate the average of all these metrics.
The PM5 is elaborate, yet easy to use, and also showcases a wireless connectivity feature that makes transferring your workout data easy. Concept2 actually advertises the PM5 as a 'training partner' which is brilliant, and also, not a stretch! Although the PM5 may not be a very flashy 'training partner', it is extremely reliable and will do what you need it to do (and a lot more.)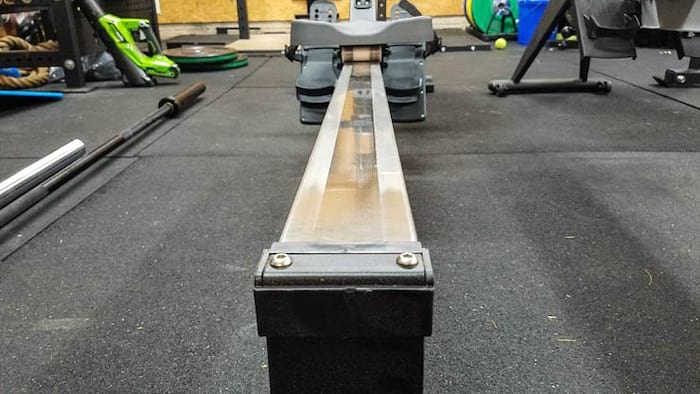 The latest Concept 2 RowErg features a nickel-plated steel chain which is similar to what you would get on the Model E. It's durable, smooth, quiet, and doesn't freeze. Unlike generic home rowing machines, the nickel-plated chain requires very little oiling and maintenance. The rower divides into two sections for easy storage. The overall weight of the machine is 57-lb and has durable wheels which help for easy transportation. And to top it all off the RowErg is covered by a limited five-year warranty on the frame and two-year warranty on the computer and moving parts.
Seriously, I found less than 5 negative comments on the RowErg rower out of over 1,000 reviews on Amazon and most had to do with shipping.
After having a Concept 2 Rower for over two years, seeing it used and abused by myself and friends in our garage gym as well as our personal training clients, I can honestly say that the Concept2 RowErg Rower is not only the best rowing machine available, but also one of the best pieces of fitness equipment ever created.
What Can Be Improved?
Although the Concept2 RowErg is outstanding, it's not necessarily perfect (nothing ever is.) Truly, the only thing that we'd like to see improved is the PM5 Performance Monitor. Although we raved about it, it still is very simple. With Peloton becoming so popular due to classes, having the option to use a rower in a similar style would absolutely be ideal. A company called Hydrow has created a similar type of equipment, but for rowing. However, the actual rower hasn't received as rave reviews as those from Concept 2, so combining the technology would be great to see.
RELATED: Hydrow Review
Who Can Benefit From A Rowing Machine?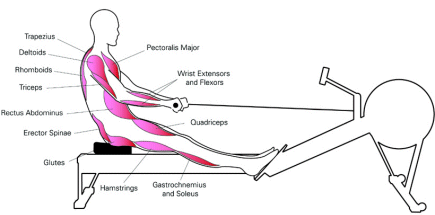 Please raise your hand if you want intensity without injury. We all want a great workout without injury, right? With a rowing machine, you can work at the highest intensity you like, with the lowest impact on your body. Which means that rowing is great for anyone.
If you are a college student looking to get that beach body ready in time for spring break, rowing is a great option. Because of the full-body benefit of rowing, you see real results quickly and you'll feel it after your workout. What about the busy mom who is trying to juggle 4 kids and still stay in shape? All you need is 15 minutes on a rower to get in a solid, full-body workout. Rowing is also great for men and women over 50, the fluid and non-contact movement of rowing reduces stiffness and increases flexibility.
RELATED: Rowing Machine Workouts
One of the most important and overlooked benefits of a rowing machine is its low impact and non-weight bearing features. Unlike running or jumping rope which is weight-bearing, rowing is non-weight bearing and super easy on the joints. This makes rowing ideal for people with weak joints or people recovering from surgery and injuries.
In addition to those that are just looking to get in shape, a rowing machine is great for those seeking absolute, high performance. We've detailed quite a few home gyms that feature Concept 2 Rowers in their gyms, including 4x CrossFit Games Champ Mat Fraser as well as the OG CrossFit Champion Rich Froning's Barn Gym that has multiple RowErgs as well as the Concept 2 BikeErg and SkiErg, both from Concept2.
So, when I hear someone ask the question, "would a rower really benefit me?" I always laugh, because everyone on the fitness spectrum could be greatly benefited by not just having, but using a rower.
Concept 2 RowErg Rower Vs The Competition
It's Concept2 vs. everyone else…Xebex, Nordic Track, Hydrow, Schwinn, Stamina, and the list goes on and on… kind of an uneven fight don't you think? Yet, somehow Concept 2 comes out on top when faced off with its competition.
One of the features that put Concept 2 over the top, is the fact that it has the most powerful monitor on the market, PM5 (sounds like a drone from Star Wars.) This thing may be as smart as a drone from Star Wars, if fact, most people compare it to a mini-computer. It can calculate so many data points it would make R2D2 jealous. Compared to the Xebex monitor and other competitors, the PM5 is in a galaxy far far away (okay, enough Star Wars references.)
The PM5 has much more functionality than the old PM4 giving you even more of a reason to buy. One of the favorites is the 'race boat' option which allows you to compete against a boat on the screen to a set pace or against yourself from a previous session. The PM5 also enables you to race online with other Concept 2 users – this adds a fun competitive element to the Concept 2 experience!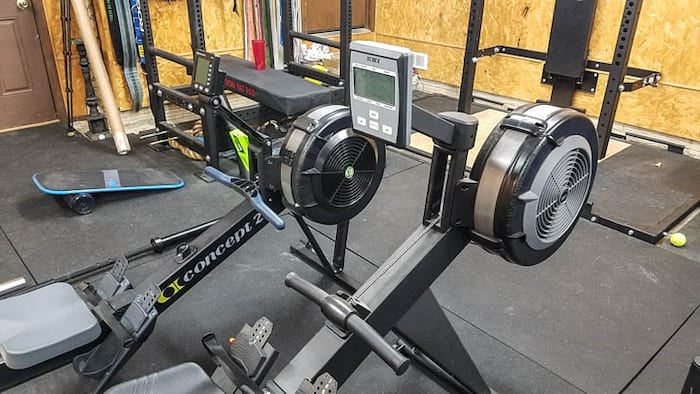 Expertly constructed and ergonomically unequaled, the Concept 2 rowing machine looks great and rows smoothly without so much as a catch. We all know that Concept 2 with its heavy-duty steel and high-grade aluminum build, is going to produce quality-made equipment. But how does Concept 2 measure up to the competition?
Xebex is an example of getting a ton of value for a fair-priced rowing machine.
With over 30 years of experience in designing, developing and manufacturing traditional cardio equipment. The Xebex Air Rower is a quality machine, built gym-tough, but designed for home users as well. It is the closest competitor when measuring build-quality to build-quality to Concept 2.
You get what you pay for, as the adage goes. Concept 2 does cost a little more than the Nordic Track Rower which is an affordable and well-designed entry-level rower. Along with 20 preset workout programs, and being one of the few rowing machines with on-board entertainment. The Nordic will get the job done. But, if you are looking for American made quality and durability, the Concept 2 is standing tall on the winners' block.
Full Rating
Concept2 Model D Rower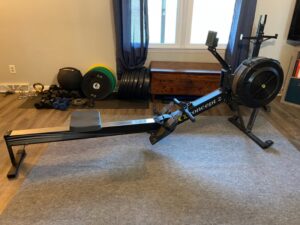 The Concept 2 Model D Rower is far and away the best rowing machinewe've ever reviewed. In fact, it's one of the best pieces of fitness equipment we've ever used. This is also pretty much a unanimous opinion by anyone who's used a Concept 2 product. Yes, the Model D is an expensive piece of cardio equipment at nearly $1,000 shipped, but with the combination of an outstanding workout, extreme durability, and very high resale value if you decide to sell it, this is as safe of a recommendation for us to make as we ever have.
Product Brand: Concept2
Product Currency: $
Product Price: 900
Product In-Stock: InStock
Concept 2 RowErg Review FAQs
Is the Concept2 RowErg good?
The Concept2 RowErg is the most well-known and popular rowing machine on the market, and for good reason. It's a robust, dependable rower that will last you for years, even if you use it frequently.
Is the Concept2 RowErg worth it?
The Concept2 rower is well worth the investment. There's a reason Concept2 rowers are the industry standard. They are not only excellent rowers in terms of performance, but they are also extremely tough and long-lasting.
Is the Concept2 RowErg loud?
The Concept2 RowErg is really quiet and certainly quieter than a treadmill.