We test and review fitness products based on an independent, multi-point methodology. If you use our links to purchase something, we may earn a commission. Read our disclosures.
With the potential to improve bone, hair, nails, joint, and skin health, who wouldn't be on the lookout for the best collagen supplements? But with several different types of collagen and trending products to choose from, how do you choose just one? We've created this BUBS Naturals Collagen Protein review to help you narrow it down.
While your body naturally makes collagen from amino acids, collagen production decreases as you age. Taking a collagen supplement may offer benefits that keep you feeling and looking healthier. It's up to you to decide if BUBS Naturals Collagen Protein is right for you, but we're here to help.
In this review, we provide an in-depth look into the ingredients, cost, side effects, and customer reviews of this collagen protein powder. Let's dive in!
Medical disclaimer: This article is intended for educational and informational purposes only. It is not intended as a substitute for medical advice. For health advice, contact a licensed healthcare provider. GGR also recommends choosing a product that has been third-party tested for quality.
You Can Take Our Word For It
Our expert GGR testers provide reliable, trustworthy information you can count on. We are highly qualified certified personal trainers, CrossFit Level 1 Trainers, and certified nutrition coaches who have tested hundreds of different products including nutrition supplements, gym equipment, and athletic attire. We make it our mission to guide consumers to only the best products. 
Kate Meier, GGR head of content, is a gym owner and personal trainer. It's safe to say she's passionate about health and fitness! As a product tester, she's only interested in providing you with the most authentic and honest feedback. She tried BUBS Naturals Collagen Peptides and we've included what she has to say about this product throughout this review.
BUBS Naturals Collagen Protein
GGR Score: 4.4
Product Highlights
Unflavored collagen peptide supplement made from bovine hide

20 g of collagen in each serving

Gluten-free, soy-free, nut-free, GMO-free, and corn-free

NSF-certified supplement

Claims to support joint health, stronger hair and skin, digestive health, and assists in recovery

Comes in 10- or 20-oz tub, or in travel packets

Has more than 17 amino acids, including 7 essential amino acids
Pros & Cons
Pros
Travel packets are convenient
Mixes well
Unflavored and doesn't affect taste
NSF-certified for sport
Higher protein content for a collagen supplement
Cons
Pricier for a collagen supplement
Less than 30 servings per 20-oz container
Bottom Line
BUBS Naturals Collagen Protein is a collagen protein powder for people on the move. Not only does it mix well with most liquids, but it can also be purchased in travel packets for convenience. This collagen supplement is also certified by NSF Sport, the official third-party certification for the U.S. Anti-Doping Agency (USADA).
A Quick Look at BUBS Naturals Collagen Protein
BUBS Naturals was founded in 2017 by Sean Lake and TJ Ferrara. The company is named after Glen "Bub" Doherty, a former Navy Seal heroically killed in a terror attack at the U.S. Consulate in Benghazi, Libya, in 2012. BUBS Naturals serves to honor Glen and remember his adventurous spirit.
Professional athletes and Navy Seals set the high-quality standards woven into BUBS Naturals. Their product ingredients are sustainably sourced, consistent from batch to batch, and designed to help you feel full of life and vigor.
BUBS Naturals Collagen Protein is derived from grass-fed, pasture-raised cattle in Brazil. Since the source is always the same, you can rest assured you'll get the same formula every time you order. The collagen is hydrolyzed, meaning it's already partially broken down, making it easier to digest and absorb.
Made with only one ingredient—hydrolyzed collagen peptides—BUBS Naturals claims their collagen protein enhances health, vitality, recovery, and healing. The product contains 17 amino acids that help restore tissues, supporting hair, nail, skin, bone, and joint health.
The product is popular among people with joint pain, brittle bones, or those wanting to improve their appearance. It's gluten-free, keto-friendly, made with non GMO ingredients, and paleo-approved for those following special diets.
Is BUBS Naturals Collagen Protein Worth It?
When it comes to feeling and looking your best, collagen may deserve a spot on your supplement shelf. However, some people don't need collagen depending on their diet.
Great for:
Anyone wanting to strengthen their hair and nails, and improve skin elasticity
Those wanting to improve bone density
Individuals with osteoarthritis who want to ease symptoms such as joint stiffness
Anyone recovering from a joint injury
Not recommended for:
Anyone who already eats a high-collagen diet (animal and seafood products)
Individuals who consume a high-protein diet, since amino acids support natural collagen production
BUBS Naturals Collagen Protein Specs
| | |
| --- | --- |
| Price per serving | $1.68 on BUBS Naturals ($1.51 on Amazon) |
| Serving size | 2 scoops |
| Flavors | Unflavored |
| Calories per serving | 70 calories |
| Protein per serving | 18 g |
| Collagen per serving | 20 g |
| Collagen source | Bovine |
| Third-party testing | NSF Certified |
| Allergens | Does not contain gluten, GMOs, corn, nuts, or soy |
Experience Using BUBS Naturals Collagen Protein
BUBS Naturals Collagen Protein is unflavored and can be mixed with any liquid. Each serving is two scoops, which contain 20 grams of collagen. You can take this supplement at any time of day, such as with your morning coffee or in an afternoon smoothie.
If you don't want to carry around a tub of collagen protein, this product is also available in single-serving packets, which our product tester Kate Meire found extra convenient.
"I really enjoy this one a lot," says Kate. "No issues with it. Also, they have small travel packs that I took with me on a trip to D.C. No issues flying with them, they are single-serving so you can take it on the go. Maybe expensive and slightly unnecessary, but I found them to be super useful!"
RELATED: Best Protein Powder for Smoothies
Price Per Serving
Each 20-ounce tub of BUBS Naturals Collagen Protein includes approximately 28 servings. This product costs $47.00 if you purchase it off the BUBS Naturals website. Each serving costs $1.69.
A 10-ounce tub is also available on the company website for $27.00. At this price, you get approximately 14 servings for $1.93 each.
Consider purchasing the 20-ounce product at a discounted price on Amazon for $42.29, putting each serving at $1.51.
Formulation
BUBS Naturals keeps their collagen protein formulation simple, yet effective, with only one ingredient—collagen peptides. Collagen peptides (also known as hydrolyzed collagen) have been broken down into amino acids through a controlled enzymatic hydrolysis process, making them easier to digest and absorb.
This collagen protein includes 17 amino acids and seven of them are essential amino acids, meaning our body doesn't produce them naturally and they must be consumed. Amino acids grow and repair body tissues.
RELATED: BCAA Benefits
While there are several types of collagen in supplements, BUBS Naturals chose Type I and Type III for their collagen protein. According to a 2021 review1, Type I collagen is the most common type of protein and makes up 90% of the body's collagen. It's found in skin, bones, organs, and tendons.
Type III collagen2 is abundant in connective tissues, bones, and skin. The two types of collagen work together synergistically to improve health and vitality.
Is collagen really effective? Let's see what the evidence indicates.
While more research is needed to determine the effectiveness of long-term collagen supplementation, current scientific research provides promising insights.
Taste and Solubility
BUBS Naturals Collagen Protein is unflavored and can be mixed with any type of drink (coffee, tea, smoothies, juice, water—you get the picture). While most people prefer to mix it with their morning coffee, you could also add it to soups, pasta, yogurt, or oatmeal for a little added nutritional value. 
RELATED: Coffee vs Pre-Workout
Kate approves of its solubility and taste overall. "Works pretty well dissolving in coffee—you can see some small pieces of it floating around, so I'd say it isn't the best, but I can still drink it every day. In cold water, there is some sediment that settles to the bottom. It's also unflavored and truly is—I can't taste it at all in my morning coffee," she says.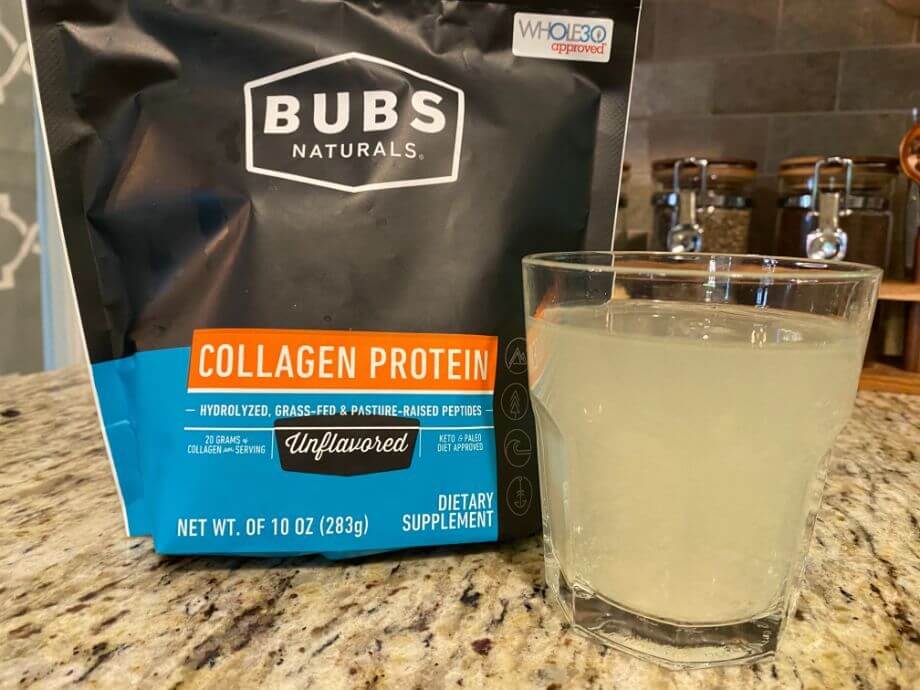 Many Amazon customer reviews mention how well this product dissolves in water and coffee, and also agree that it has no taste. The overall consensus for taste and solubility is resoundingly positive.
Side Effects
Collagen supplements like BUBS Naturals Collagen Protein that do not contain other ingredients are tolerated well and unlikely to cause any uncomfortable side effects. That said, if you are pregnant, breastfeeding, have a medical condition, or are taking any medications, always talk to your doctor before starting a new supplement.
Third-Party Testing
Supplements are not regulated by the FDA, so we always encourage searching for products that have been third-party tested.
All of BUBS Naturals supplements, including their collagen protein, have been third-party tested by NSF Certified Sport. This means the product has been rigorously tested for safety and found to be free of banned substances. What you see on the label is what you get in the container.
Comparison to Vital Proteins Collagen Peptides
Vital Proteins Collagen Peptides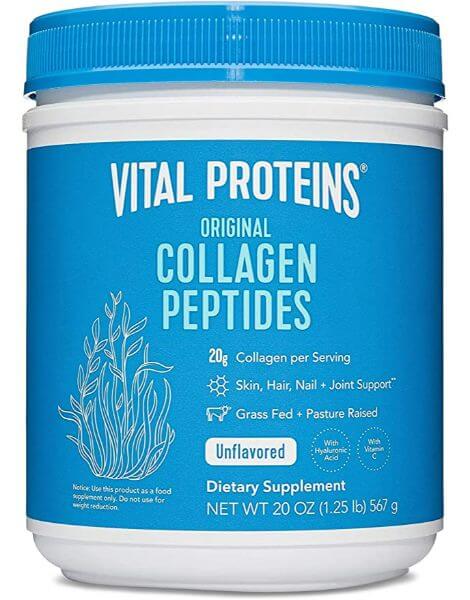 GGR Score: 4.1
Product Highlights
Designed to improve the health of hair, skin, nails, and joints 

Each serving provides 20 grams of collagen

Derived from grass-fed, pasture-raised bovine

Certified paleo and whole30 friendly

Available as flavorless, chocolate, lemon, and vanilla
Pros & Cons
Pros
Over 200,000 positive reviews on Amazon
No added sugar or sweetener
Available with added vitamin C and hyaluronic acid
Mixes well
Cons
Some users report canisters arrived with no safety seal
Flavorless powder reportedly tastes bad
Bottom Line
Vital Protein's Collagen Peptide Protein is formulated to improve the health of joints, bones, skin, ligaments, tendons, nails, and hair.
Vital Proteins has a well-known collagen protein that some may associate with Jennifer Aniston. But how does it compare to BUBS? Turns out, Vital Proteins Collagen Peptides has many similarities to BUBS collagen protein regarding formulation, types of collagen, and price.
The Vital Proteins Collagen Peptides unflavored option is made with only one ingredient; collagen peptides from bovine. However, other flavor options, including Chocolate, Lemon, and Vanilla, are made with additional ingredients like sea salt, stevia, cocoa, and citric acid.
Both Vital Proteins Collagen Peptides and BUBS Naturals Collagen Protein are made with Type I and Type III collagen to support healthy nails, skin, hair, bones, and joints. Like BUBS, Vital Protein uses hydrolyzed collagen in its collagen peptides powder for easier absorption.
What's more, both products include 28 servings for $47.00 if purchased from the company websites. Vital Proteins Collagen Peptides is the most affordable option on Amazon for $38.68, compared to $42.29 for BUBS.
We consider them both quality products, so your decision will ultimately come down to flavor options and price. Learn more in our full Vital Proteins Collagen review.
Customer Experience
If you are unhappy with your purchase, BUBS will refund your first order in full and they do not ask that you return the product. After that, only unopened products can be returned within 15 days of purchase. The unopened product must be in the same condition you received it and in the original packaging.
BUBS will only exchange products that are defective or damaged. Otherwise, you will need to return your item within 15 days and make a new purchase.
Ordering BUBS Naturals Collagen Protein
When you order collagen protein off the BUBS website you have the option to make a one-time purchase or sign up for a subscription. If you subscribe, you get 15% off the product and receive it on an ongoing basis every 15, 30, or 45 days. If you place an order over $75 you get free shipping.
BUBS Naturals Collagen Protein is also sold on Amazon.
Customer Reviews
This product has a rating of 4.6 out of 5 stars on Amazon and over 4.5 out of 5 stars on the BUBS Naturals website.
One customer is noticing a difference in their appearance: "I've been taking this for a few weeks. I add it in my coffee—it has no flavor and dissolves easily. I can see a difference in my skin, hair, and nails in a short time."
Another customer claims it helps her recover faster: "My husband and I both take a scoop a day either in a smoothie or in my tea with almond milk. The taste is mild. We tried lots of other ones, some others had a terrible smell and taste. We both use it to help sore muscles and osteoarthritis, tears in tendons, and ligament injuries and we think it helps our bodies heal faster."
Final Verdict of Our BUBS Naturals Collagen Protein Review
BUBS Naturals Collagen Protein is a solid option for those looking for a high-quality collagen supplement without any extra ingredients. The product truly doesn't change the taste of whatever you mix it with and is highly soluble. Each serving includes 20 grams of hydrolyzed collagen from bovine to support your hair, skin, nail, bone, and joint health.
BUBS Naturals Collagen Protein Rating
BUBS Naturals Collagen Protein
Looking for a supplement to improve your skin, joint, and bone health? We've created this BUBS Naturals Collagen Protein review to help you narrow down your options.
Product Currency: USD
Product Price: 47
Product In-Stock: InStock
BUBS Naturals Collagen Protein FAQs
What does BUBS collagen protein do?
BUBS Naturals claims their collagen protein enhances health, vitality, recovery, and healing. The product contains 17 amino acids that support hair, nail, skin, bone, and joint health.
Does collagen protein actually work?
Oral collagen supplementation of hydrolyzed collagen may be beneficial, however results may vary from person to person. Although more research is needed, the results of scientific literature on collagen are promising.
What type of protein is BUBS?
BUBS Collagen Protein is made with Type I and Type III collagen protein. Type I collagen makes up 90% of the human body. It's found in skin, bones, organs, and tendons. Type III collagen is abundant in connective tissues.
What collagen powder do the Kardashians use?
Kourtney Kardashian collaborated with Vital Proteins to launch Vital Proteins x Poosh products. She allegedly consumes the Blueberry and Lemon Collagen Vibes product from their collection as part of her daily routine.
These statements have not been evaluated by the Food and Drug Administration. This product is not intended to diagnose, treat, cure, or prevent any diseases.
References