We test and review fitness products based on an independent, multi-point methodology. If you use our links to purchase something, we may earn a commission. Read our disclosures.
Though the buzzworthiness of collagen as a supplement has subdued in recent years, at one point, I remember collagen being the end-all, be-all of wellness influencers online. Though most have since moved on to talking about celery juice or ashwagandha, collagen remains a popular and, to our pleasure, a well-studied supplement worthy of space in your cupboard.
Vital Proteins in particular is a big player in the collagen arena. In our Vital Proteins review, we answer questions about the efficacy of collagen supplements and divulge our experience with various Vital Proteins products.
Medical disclaimer: This article is intended for educational and informational purposes only. It is not intended as a substitute for medical advice. For health advice, contact a licensed healthcare provider. GGR also recommends choosing a product that has been third-party tested for quality.
Multiple Collagens In Our Cabinets
I currently have the original Vital Proteins collagen peptide powder and the chocolate version in my overstuffed supplement cabinet. I've also used various other collagen powder supplements, as have other product testers on our team. Between our hands-on testing processes, certifications in nutrition coaching, and collaboration with registered dietitians and Ph.D.s in nutrition, we're well-versed in the best collagens out there.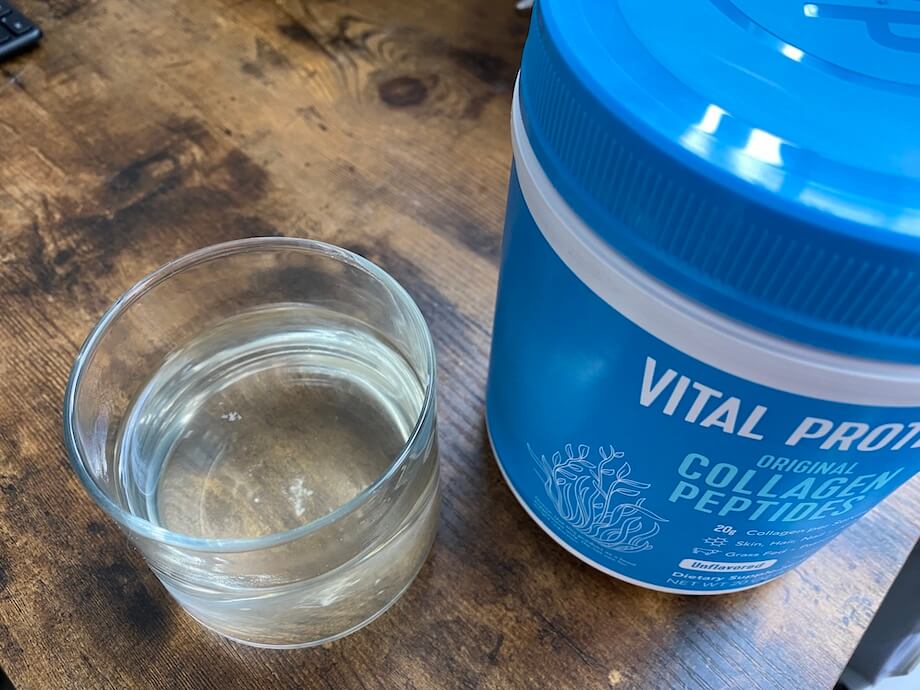 Vital Proteins Collagen Peptides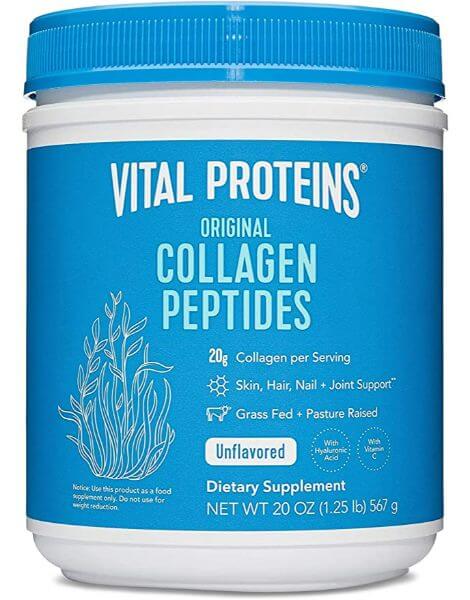 GGR Score: 4.1
Product Highlights
Designed to improve the health of hair, skin, nails, and joints 

Each serving provides 20 grams of collagen

Derived from grass-fed, pasture-raised bovine

Certified paleo and whole30 friendly

Available as flavorless, chocolate, lemon, and vanilla
Pros & Cons
Pros
Over 200,000 positive reviews on Amazon
No added sugar or sweetener
Available with added vitamin C and hyaluronic acid
Mixes well
Cons
Some users report canisters arrived with no safety seal
Flavorless powder reportedly tastes bad
Bottom Line
Vital Protein's Collagen Peptide Protein is formulated to improve the health of joints, bones, skin, ligaments, tendons, nails, and hair.
A Quick Look at Vital Proteins Collagen Peptides
Vital Proteins is a brand that manufactures collagen supplements. This Vital Proteins review specifically covers the collagen peptide powders that our product testers have tried, which include the Original Unflavored Collagen Peptide Protein Powder and the Chocolate Collagen Peptide Protein Powder.
Both of these products are sourced from pasture-raised bovine (cattle) and are marketed as supplements for beauty—that is, hair, skin, and nails—and bone and joint health. 
Collagen is a type of protein found and produced naturally in the body, and some research suggests that supplementing with collagen can increase the level of collagen in the body. Since collagen is an abundant protein in the body's connective tissue, including hair, skin, nails, bones, tendons, and joints, this is thought to improve the health of said body parts, as well as slow the signs of aging.
To find out whether or not such claims are true, let's look at some research.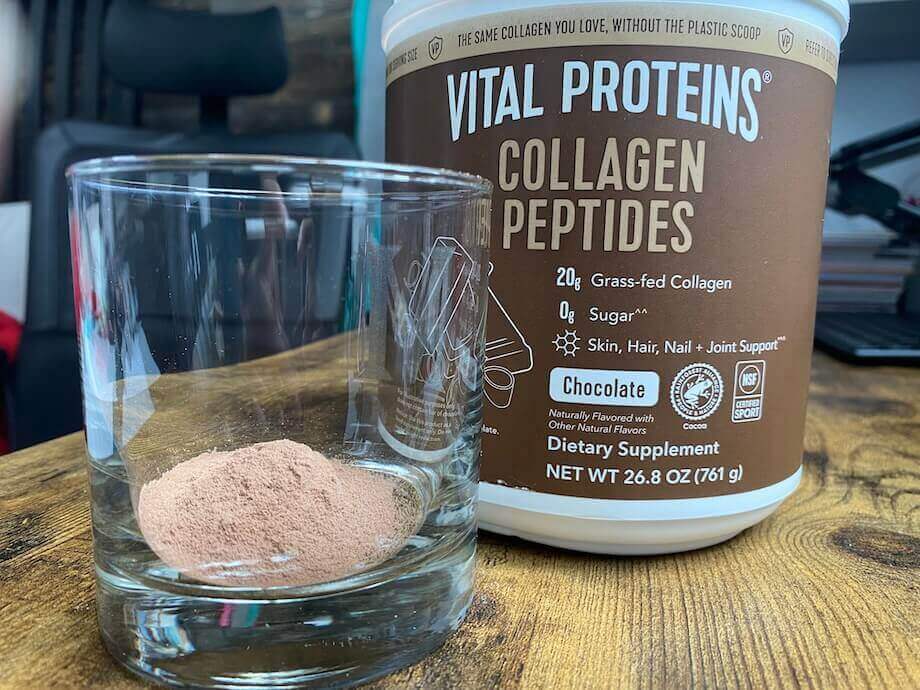 The above is just a sampling of the available scientific literature on collagen supplementation, and while most include the ever-present disclaimer that "more research is needed," the results are promising. Combined with the fact that there are no serious adverse effects associated with collagen supplementation, nutrition experts generally agree that collagen supplements, while not necessary, may be helpful for certain people.
Before You Buy
Vital Proteins offers a number of collagen products. This review specifically covers the bovine-sourced collagen peptide powders, but you can also buy marine collagen powder, matcha collagen, collagen gummies, capsules, pre-mixed collagen drinks like coffee creamer, and collagen protein bars. There are also options with hyaluronic acid and vitamin C.
Collagen is a dietary supplement for hair, skin, nail, joint, and bone health, unlike whey protein powders and vegan protein powders, which are intended to help with muscle recovery after exercise and muscle growth.
RELATED: Best Whey Protein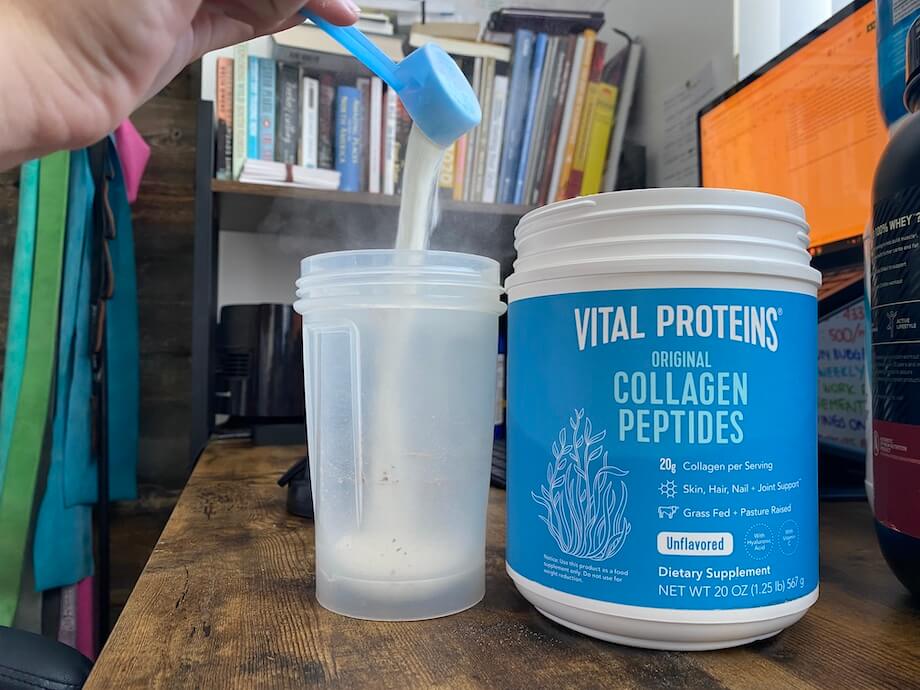 Is Vital Proteins Collagen Peptide Powder Worth It?
Great for:
People looking for support with hair, skin, and nail health and appearance
Individuals with osteoarthritis who are looking for a supplement to help ease symptoms such as joint stiffness
Women who need or want to support bone mineral density as they get older
People who are recovering from a joint injury and are also following a prescribed joint rehab program
Not recommended for:
Individuals who already eat a diet high in collagen itself (animal and seafood products), and/or the nutrients that support natural collagen production, namely vitamin C and foods containing complete proteins. In this case, collagen supplementation might not provide additional benefit.
Vital Proteins Specs
This chart reflects the specific product Vital Proteins Original Unflavored Collagen Peptide Protein Powder.
| | |
| --- | --- |
| Price per serving | $1.42 (from Amazon) |
| Serving size | 2 scoops or 1 stick pack; 20 g |
| Calories per serving | 70 |
| Ingredients | Bovine hide collagen peptides |
| Protein per serving | 18 g |
| Collagen per serving | 20 g |
| Collagen source | Grass-fed/pasture-raised bovine |
| Third-party testing | NSF and cGMP |
| Sweeteners | None |
| Flavor | Unflavored |
| Available from | Vitalproteins.com, Amazon, Costco, various other retailers |
| Suitable for | Gluten-free, dairy-free, soy-free diets |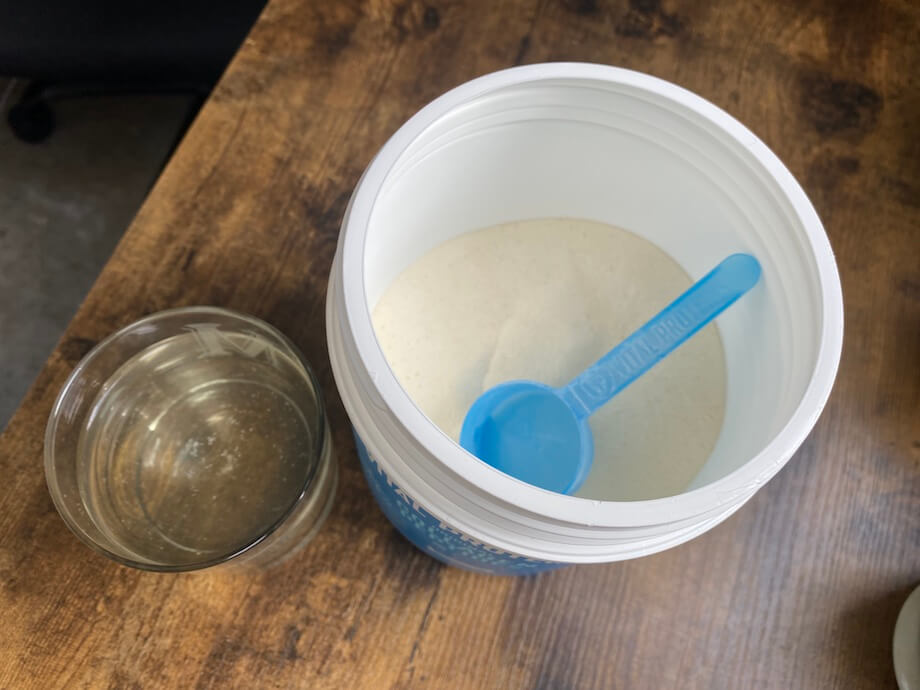 Experience Using Vital Proteins Collagen Peptides
I've thoroughly tested two Vital Proteins products: the original unflavored collagen peptide powder and the chocolate collagen peptide powder. My experience with both has been positive, and I continue to use both products as part of my regular supplement regimen. 
I typically add the flavorless collagen to my morning coffee along with half and half, and it dissolves well enough to go unnoticed. It doesn't alter the flavor or texture of the coffee. I've added the chocolate powder to my coffee before, too, but the flavor is strong and makes my coffee taste like a poorly made mocha. Now, I add the chocolate collagen peptides to my protein shakes, smoothies, or oatmeal.
The unflavored version also mixes well with protein powder, greens powders, and juice. In general, I find that the powders mix into cold liquids more easily than hot liquids. I usually use a milk frother to mix collagen into my coffee, whereas with a cold liquid, a simple shake generally does the trick.
Price Per Serving
The price per serving of Vital Proteins collagen depends on a number of factors, including where you buy it, which size tub you buy, and the type or flavor you choose. When I bought the original unflavored peptides, I paid about $40 for 28 servings, bringing the cost per serving to $1.42. After running some numbers for other collagen peptide powders available, this seems to be around the average price, and we think it's reasonable for a high-quality, carefully sourced product.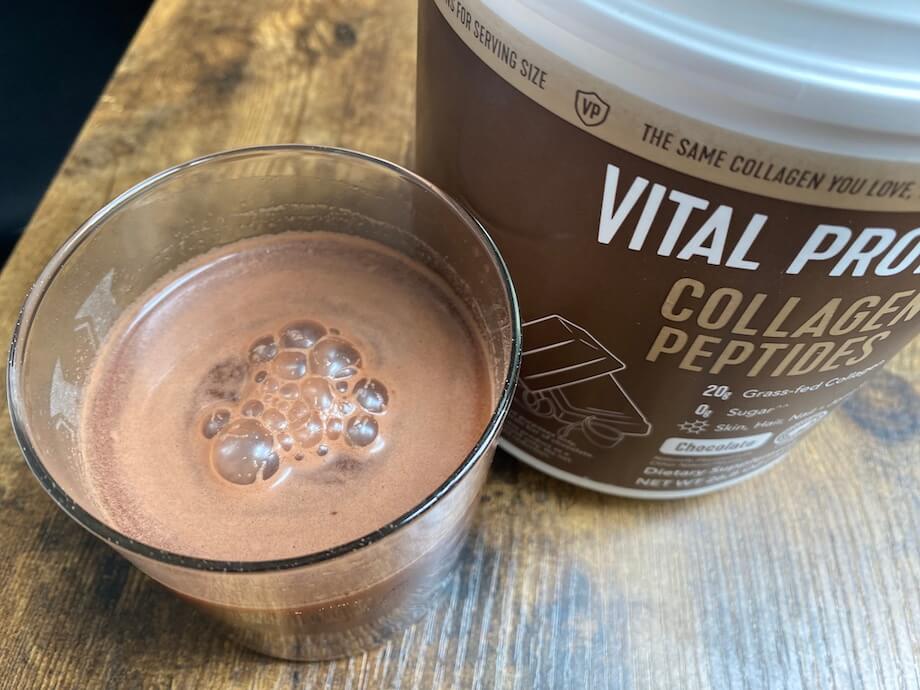 Formulation
In the Vital Proteins Original Unflavored Collagen Peptide Protein Powder, there is just one ingredient: bovine hide collagen peptides.
There are additional options to choose from; for example, you can get the original plus hyaluronic acid and vitamin C, or you can choose a flavored powder, which would have extra ingredients. 
The chocolate peptide powder has minimal ingredients, too: bovine collagen peptides, alkalized cocoa, natural flavors, sea salt, and stevia leaf Reb M (stevia leaf extract).
All Vital Proteins collagen peptide powders include type I and type III collagen. According to the Cleveland Clinic8, there are five types of collagen, and type I makes up about 90% of collagen in the body. Type III is found in muscles, organs, and arteries.
Taste and Solubility
Vital Proteins collagen peptides powder is, by far, one of the most soluble supplements I've ever tried.
The unflavored powder dissolves into an almost-clear liquid when mixed with plain water, and it doesn't alter the taste of anything—not even water, which is actually a little off-putting, so I prefer to mix it with other beverages.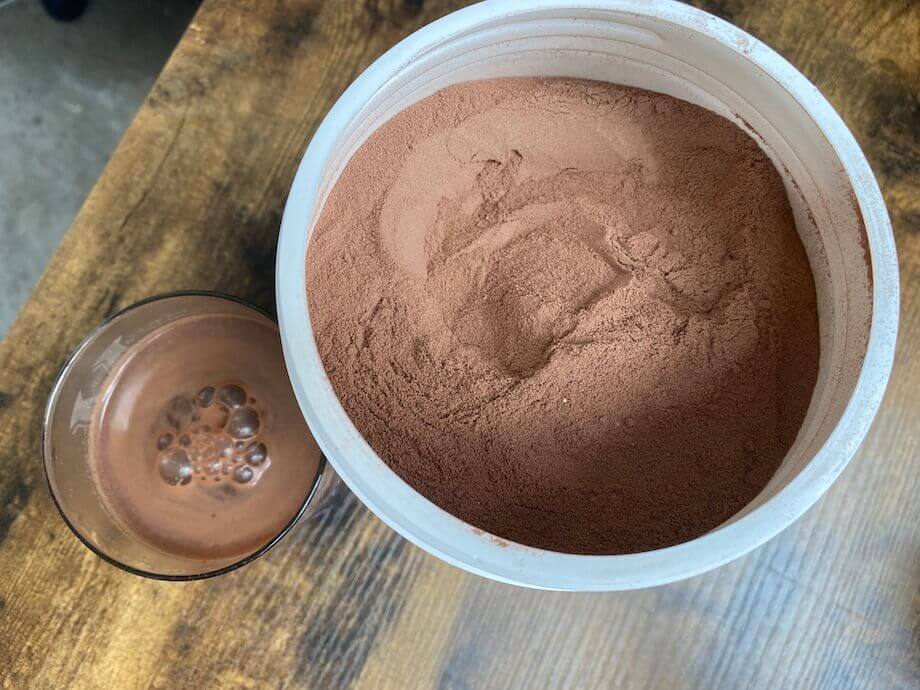 The chocolate peptide powder also mixes fantastically into plain water in terms of solubility, but it tastes like watered-down chocolate milk. It's better mixed with some variety of milk or plant-based milk, or with protein powder.
Both of the powders mix well into oatmeal, cold and hot. I've used the collagen peptides in overnight oats and I've mixed it (after heating) into oatmeal made in the microwave.
RELATED: Best-Tasting Protein Powder
Side Effects
I haven't experienced any side effects using Vital Proteins collagen peptides. Collagen itself isn't associated with any adverse reactions, although some people may experience a sensation of being overly full or slightly bloated the first time (or few) taking collagen. Possible reasons for this include the high protein content, which can make collagen supplements filling, similar to whey protein powder.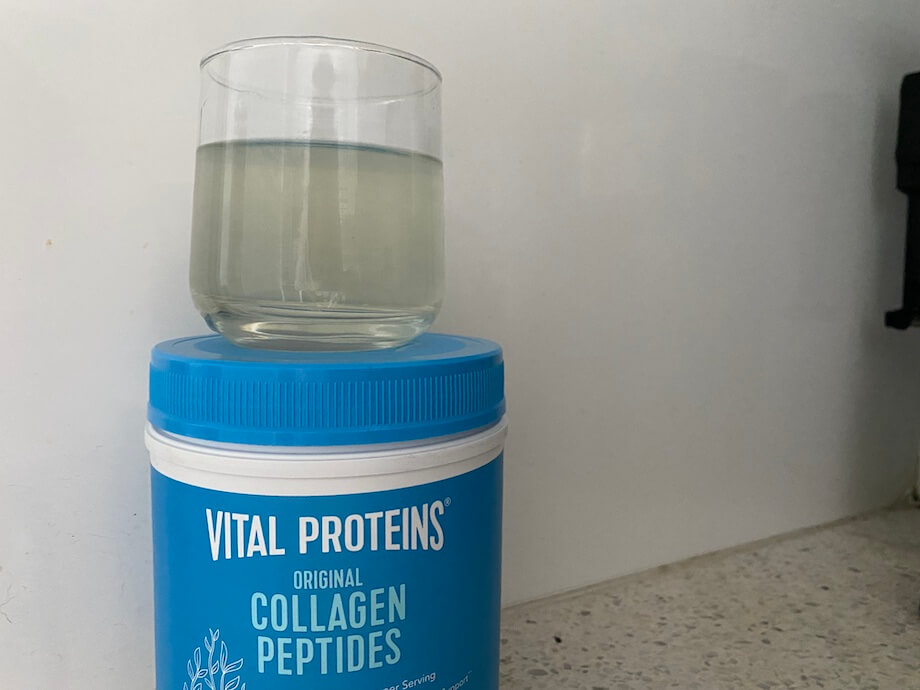 It's important to note that collagen supplements may be sourced from or include ingredients from common allergens, including eggs, fish, and shellfish. If you have food allergies, be sure to check the ingredients label before purchasing a collagen supplement.
Third-Party Testing
We believe that third-party testing in the supplement industry is critically important, especially as regulations for supplement products are still so lax. Vital Proteins products are made in a NSF-certified cGMP (current good manufacturing practices) facility, which means that the National Sanitation Foundation has independently verified the manufacturing facility to be up-to-par with hygiene and safety standards.
Vital Proteins claims that its ingredients are independently vetted, with this specific language: "We test every lot of each product for heavy metals and microbiological components. We utilize independent, certified third party labs to conduct these tests." However, the brand offers no further insights or proof of this.
Vital Proteins Collagen Peptides vs Bulletproof Collagen Peptides
Bulletproof Collagen Peptides
GGR Score: 4
Product Highlights
Each serving provides 18 g of protein in the form of amino acids and 20 g of hydrolyzed collagen

Bulletproof only uses collagen types I and III in science-backed doses

Formulated to promote joint flexibility and skin elasticity

Supports bone strength and skin hydration

Ethically sourced

Available in unflavored, vanilla, and chocolate
Pros & Cons
Pros
Mix with hot or cold drinks
Mixes well
Convenient
Science-backed doses
Cons
Unflavored option may leave an aftertaste
Bottom Line
Bulletproof's Collagen Peptides powder is an effective and easy way to add high-quality collagen type I and III into your diet.
Bulletproof is another popular wellness nutrition brand, and they also offer collagen peptide powder. The Bulletproof peptides are available unflavored, or in vanilla or chocolate flavors. Just like Vital Proteins, one serving of Bulletproof collagen is 20 grams of bovine collagen peptides and one serving contains 18 grams of protein and 70 calories.
Likewise, Bulletproof uses the same types of collagen as Vital Proteins: type I and type III. The Bulletproof powder is a bit more expensive, with the 17.6-ounce container (25 servings) coming in at about $1.75 per serving (when purchased from the Bulletproof website).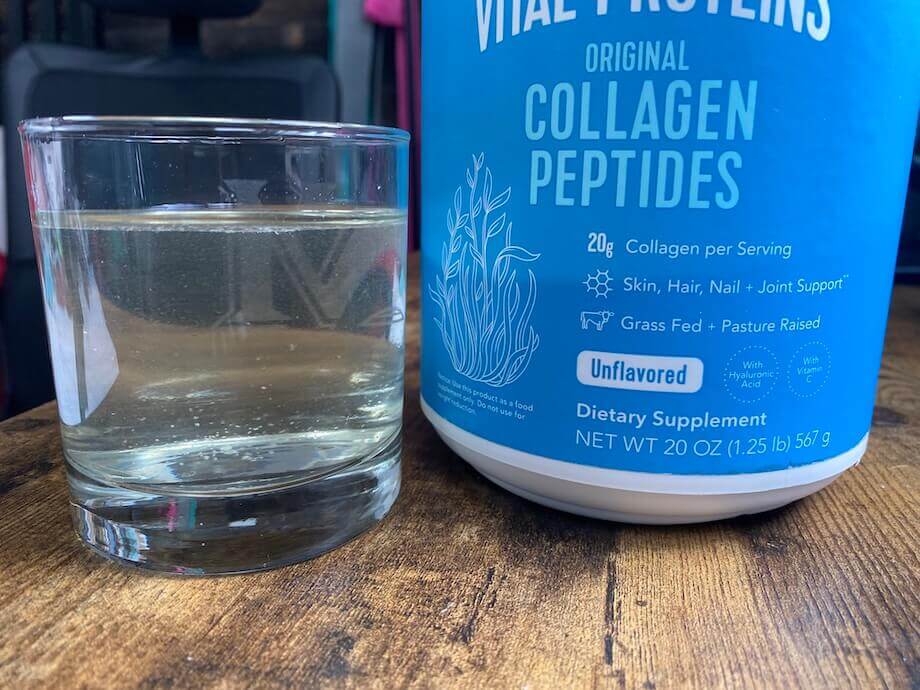 Kate Meier, expert product tester and GGR head of content, tried the Bulletproof Collagen Peptides and is a fan.
"This is the first collagen ever where I haven't even detected a hint of it in coffee," she says. "I even tasted a little bit without mixing it—I thought I had COVID. I literally taste nothing. It's pretty awesome. And obviously, no smell. It dissolves great in the coffee; there are some small flecks in it, but not the big pieces like many collagens make."
Both brands offer a subscribe-and-save option. Since the two products are so similar, your choice will ultimately come down to pricing and brand preference.
Customer Experience
Your experience will vary depending on where you buy the product, but if you purchase directly from Vital Proteins, you can get in touch with the company via email, chat, or phone.
Vital Proteins does offer returns, but it seems to be on a case-by-case basis. You can check the return policy or initiate a return at vitalproteins.com/pages/returns.
Ordering Vital Proteins Products
You can get Vital Proteins products from wherever it's most convenient for you. Costco, Walmart, Whole Foods, CVS, Walgreens, GNC, The Vitamin Shoppe, and other stores stock Vital Proteins products if you want to get it in-store. You can also buy on Amazon or directly from the Vital Proteins website.
I ordered from Amazon and received the products quickly with Amazon Prime.
Customer Reviews
There are hundreds of thousands of customer reviews for Vital Proteins collagen peptides, the vast majority of them positive. On Amazon, the average rating is 4.5 out of 5 stars at the time of writing.
Several reviews are from customers saying that the collagen powder has helped with a specific problem, such as knee pain or gut health. Many customers report positive effects regarding hair, skin, and nail health, too.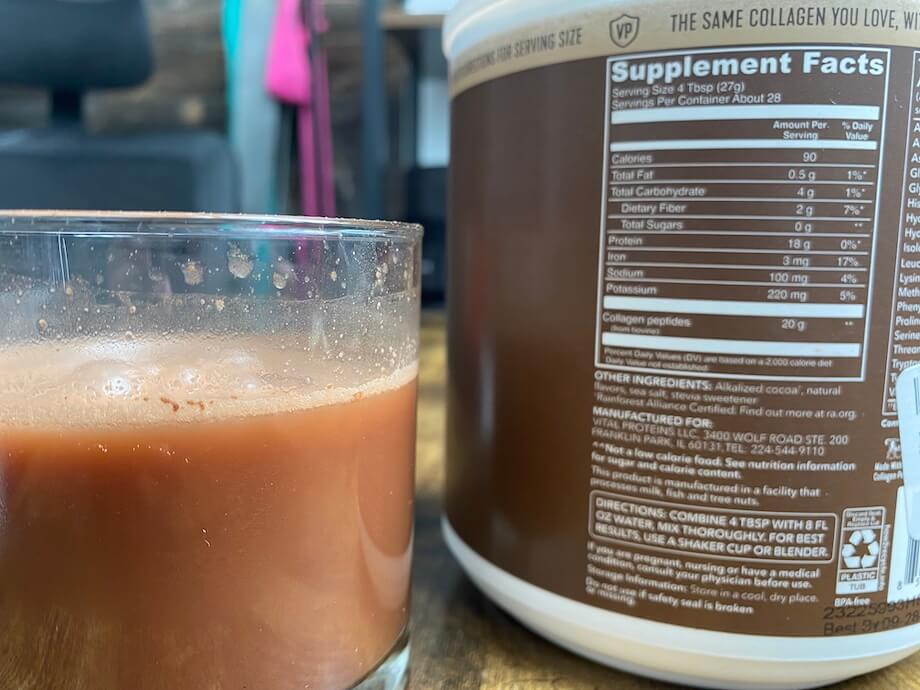 The few negative or neutral reviews contain complaints about the taste of the unflavored powder (a taste that I cannot apparently pick up on) and the solubility of the powders, which also wasn't an issue for me.
On the Vital Proteins website, there are some customer complaints about a formula change and that the tubs do not contain scoops or "perforated rip ties," aka the sealed top beneath the plastic top. Vital Proteins says that both of these moves are intentional and were implemented as a way to meet sustainability goals, but I can see how the lack of the safety seal brings doubts about purity of the products.
As for the lack of a scoop, it is quite annoying. The serving size is 20 grams or two scoops, so unless you have a food scale at home, it'll be difficult to determine the appropriate serving size. Vital Proteins customer support representatives have answered questions on the website saying that in the future, the nutrition labels will show a tablespoon amount for the serving size.
Final Verdict of Our Vital Proteins Collagen Peptides Review
All in all, I recommend Vital Proteins collagen peptide powder if you are looking for a collagen supplement.
In a 20-gram serving, the powder contains 20 grams of bovine collagen and 18 grams of protein in 70 calories.
Collagen supplementation may help with concerns related to hair, skin, nails, joints, and bone density.
Vital Proteins collagen peptides come in a few varieties and flavors, including chocolate and lemon.
Vital Proteins Full Rating
Vital Proteins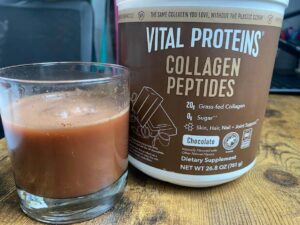 Here's your comprehensive Vital Proteins review that covers the popular collagen supplements.
Product Currency: $
Product Price: 23
Product In-Stock: InStock
Vital Proteins FAQs
Here are the answers to some additional questions about collagen.
What is collagen?
Collagen is a protein; it's one of the most abundant proteins in human hair, skin, and nails, which is why collagen supplements are often marketed as aids for hair growth, nail health, and beauty. Collagen is also abundant in other connective tissues, including tissues in the joints such as cartilage; thus, collagen supplements are said to help reduce joint pain.
Does collagen powder actually work?
Oral collagen supplementation in the form of hydrolyzed collagen powder or capsules may be beneficial for various reasons. As you age, your body's natural collagen production slows down, and this plays a big role in the signs of aging.
Some research, such as this 2019 systematic review of 11 studies in the Journal of Drugs in Dermatology9, reports that "results are promising for the short and long-term use of oral collagen supplements for wound healing and skin aging" and that "oral collagen supplements also increase skin elasticity, hydration, and dermal collagen density."
Since there are no known adverse effects to taking collagen supplements, experts generally agree that using them is a good form of "insurance" to support collagen levels.
Is collagen better than protein powder?
Collagen powder and protein powder can't really be compared apples-to-apples since they are fundamentally different. While collagen peptides do contain a relatively high amount of protein per serving, they lack one key amino acid (tryptophan), meaning the peptides aren't a complete protein.
Based on the bulk of research that supports protein powder—specifically whey protein powder—as the top-tier supplement for muscle recovery and muscle protein synthesis, it's best to use a true protein powder for those purposes. Collagen is best used as a supplement for hair, skin, nail, bone, and joint health.
These statements have not been evaluated by the Food and Drug Administration. This product is not intended to diagnose, treat, cure, or prevent any diseases.
References