We review free products that we receive and participate in affiliate programs, where we may be compensated for items purchased through links from our site.
See our disclosures page for more information.
The
Rogue Calibrated Steel Powerlifting Plates
are not only some of the best competition powerlifting plates currently available, but they're also the best value. With their precise plate weight, IPF approval, and exact diameter and thickness, the Rogue Calibrated Steel Powerlifting Plates are the best option available.
Rogue Fitness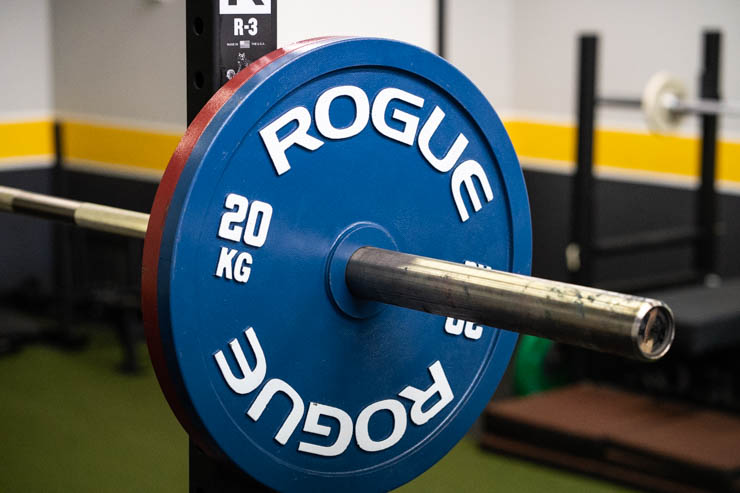 Rogue Calibrated KG Steel Plates
Machine calibrated for next-level precision, these durable cast-iron KG plates are accurate to within 10 grams in weight. Each disc is cut thin to allow for max loading capacity (up to 700+KG) and color-coded for easy identification from a distance. There are also calibration plugs on the back of each plate to allow for even greater precision. These plates feature a 50MM center hole for a snug fit on your barbell, and as a result may not fit on some cheaper barbells not held to spec. You can order your Rogue Calibrated KG Steel Plates in pairs or as a full set using the order column on this page. Specifications: Steel Powerlifting KG Discs Machine calibrated to within +/- 10 grams Calibration plugs on back of plates for increased precision 50MM collar opening for a snug fit. Thin Design for 700+KG load capacity Exclusive Rogue branding IPF Approved
Rogue Calibrated Steel Powerlifting Plates Review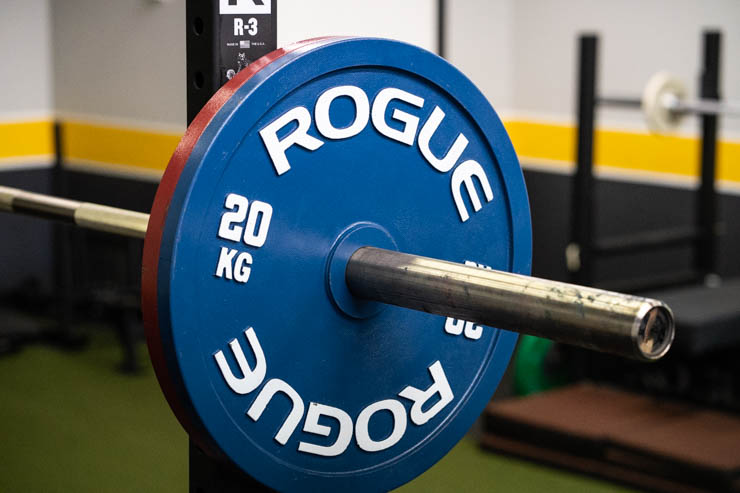 The Rogue Calibrated Steel Powerlifting Plates are some of the best competition steel plates available today. With their precise weight, thin, uniform width, and snug diameter to fit around most barbell sleeves, these Steel Plates should be at the top of any competition steel plate list.
The Rogue Calibrated Steel Powerlifting Plates are designed with three movements in the mind. The squat, bench, and deadlift, also known as the big three of powerlifting.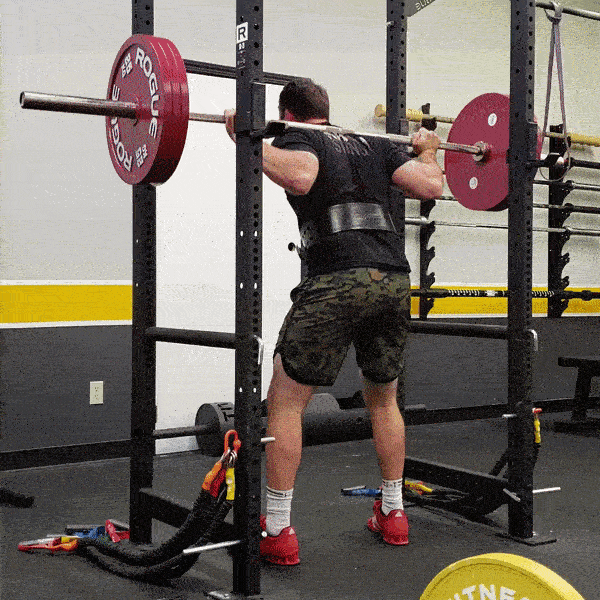 Does that mean you can only use them for three movements? Of course not, you could throw them on the reverse hyper, use them during various accessory work, or even curl in the squat rack with them (an advantage of having a gym in your home.)
These plates are designed for competition. No question about it, everything from the colors to the accurate weighting screams overkill for the home gym owner. However, who am I to tell you that they're overkill, I have over a 1,000 lbs worth of the plates and absolutely love them.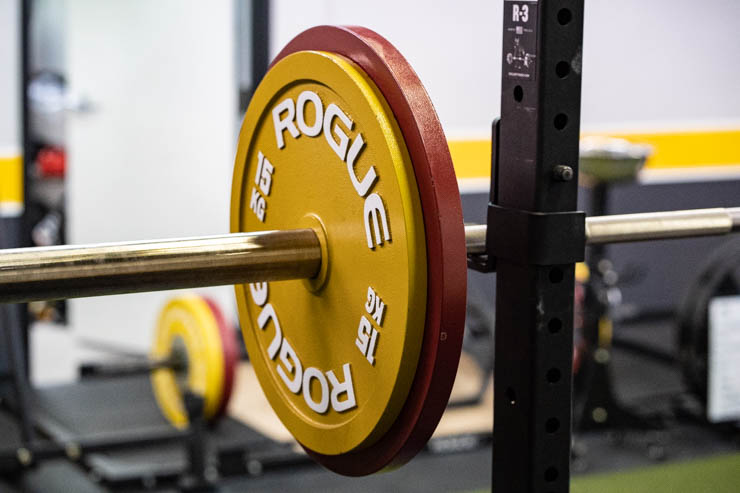 If you're into doing things like cleans, snatches, and other dynamic movements, we would suggest sticking to bumper plates. But, if you stick to the "slow" movements, then these are the ideal plate.
One thing that's often misunderstood about competition powerlifting plates is that although much prettier than traditional steel plates, they're still cast iron.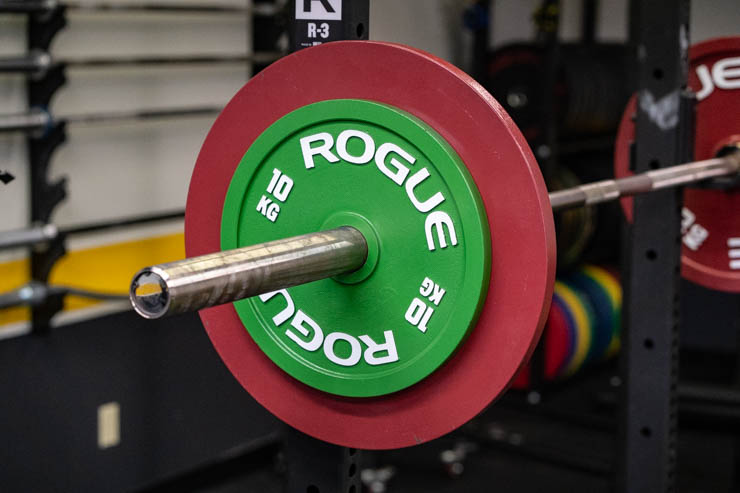 However, although cast iron, there are quite a few differences between competition plates and your standard steel plates.
First, the most obvious difference is that rather than being either gray or black, competition plates are color coded using the same template that's used for Olympic Weightlifting Competition Bumper Plates.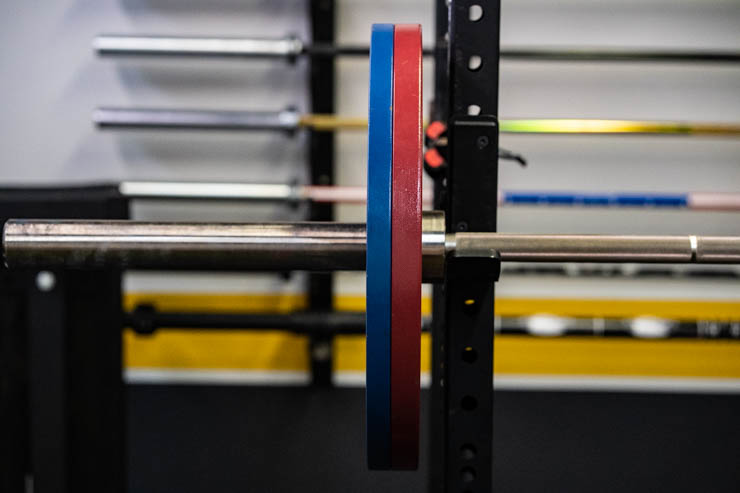 The colors make it easy to identify how much weight is on the bar as well as simply look better than black iron (in my opinion, many would likely disagree.) In addition to color, competition plates are thinner to allow more weight to be loaded on the bar. Although this isn't a problem for most, if you're an elite, super heavy-weight powerlifter, you'll appreciate the extra space the plates afford you on the bar.
The center hole of the plates is also traditionally much more snug on a barbell sleeve than cheaper cast iron plates. 50mm is the diameter of the center hole on the Rogue Calibrated Steel Powerlifting Plates and is also what's used on Eleiko and Ivanko's.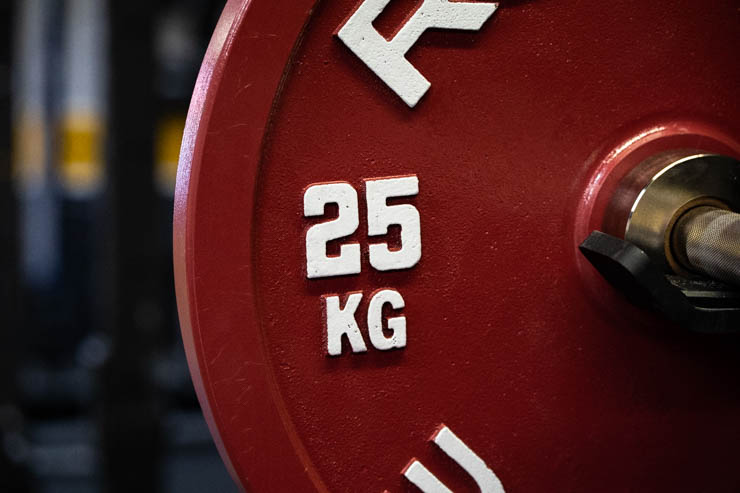 Finally, the most significant difference between competition power plates and standard steel plates is the accuracy of the listed weight.
Go to any gym and grab a plate off the rack, throw it on the scale, and you'll see how far off it is from the weight that's listed on the plate. I've seen plates that are as much +/- 5 lbs of the listed weight. It's incredible, but a reality.
One reason that the Rogue Calibrated Steel Powerlifting Plates are so accurate (+/- 10 grams) is because they're machine calibrated to ensure accuracy in weight and durability.
Rogue has taken the necessary steps to alleviate a common issue of inaccurate cast iron plate weight. One step that Rogue has taken is producing all of their plates through machine calibration.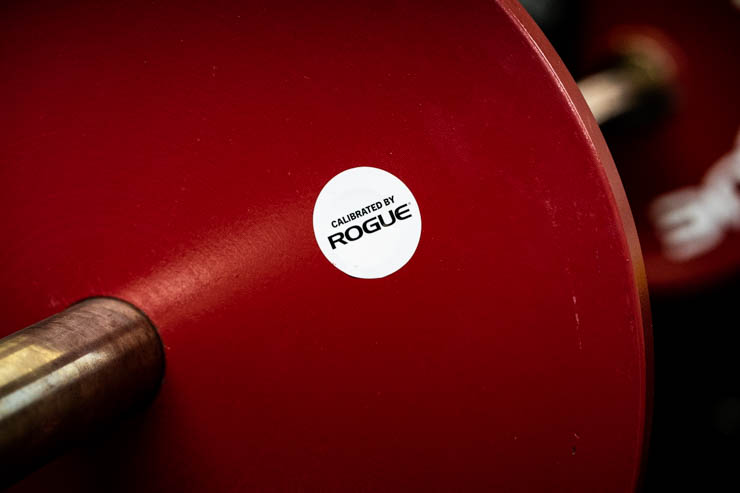 By and large, most cast iron plates are produced in China, even Rogue's Steel Plates, but by making them machine calibrated, these cast iron plates will be higher in accuracy than other competitors.
What Rogue does that is similar to many of the other competition plates is cut an equal amount of iron out of each plate. They then place them on a machine that calibrates how much brass is needed to be inserted into each plate to get within the listed weight rating.
The process to accomplish this is not short by any means. This is one of the reasons the plates cost so much more than standard cast iron plates. The extra man-hours required to produce a competition plate is substantially more than a standard cast iron plate.
Rogue will do this for all of their plates and will calibrate each brass plug individually to round out each plate. What I mean is, not all brass plugs are calibrated the same. Rogue assesses each plate individually and plugs in the proper brass plug to ensure the accuracy of the stated plate weight.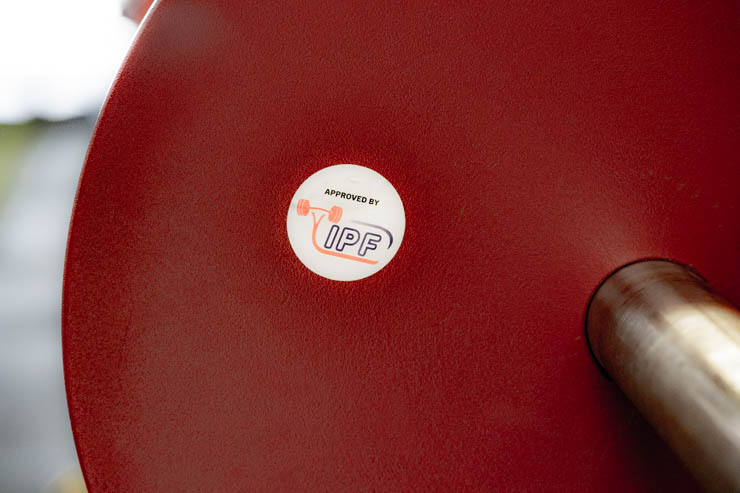 One thing Rogue has added to the back of each plate IPF Approved and Rogue stickers. I've heard some people like the stickers, but personally, I'm not a fan. They end up peeling and stripping some of the paint off anyway, so I don't feel like they should be added.
One thing that can happen with calibrated plates is the brass plugs can end up falling out getting loose from their holes and either rattling or completely falling out. I have yet to experience this with the Rogue plates, however, if it happens I will update the review.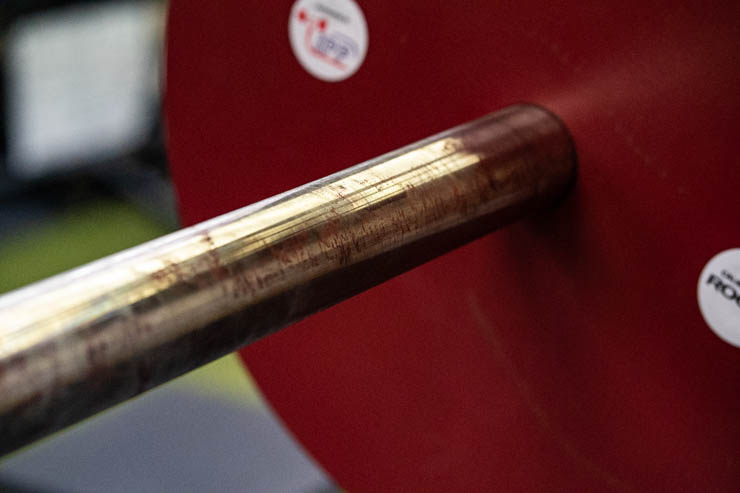 The center hole for every plate is a consistent 50mm in diameter. Actually, I'd say it's even smaller as there is paint that ends up getting rubbed off when the plates are put on the bar initially. This is to be expected, although I would like to see Rogue remove the paint from the center hole to keep bars from getting marred up as it's inevitable.
If you've used cheap cast iron plates before (and I'm sure you have as most plates in this world are cheap and made of cast iron) you know how annoying a center hole that is way too large for a bar can be. The plates will move around, don't stand up straight, and cause excessive damage to the bar sleeve.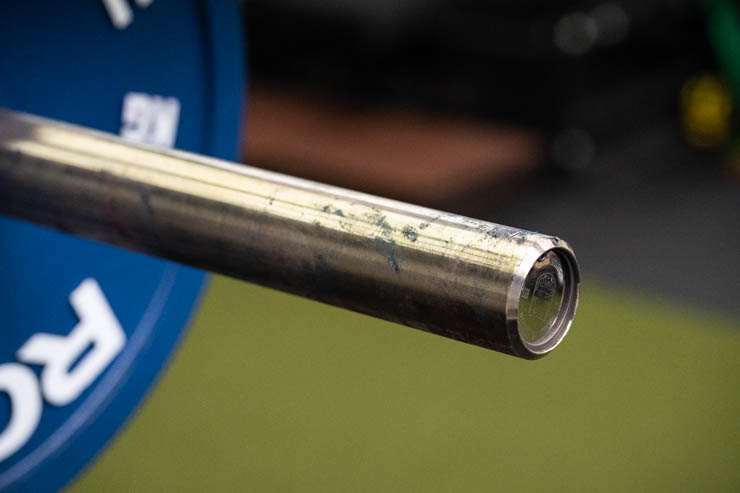 You will not experience this with the Rogue Calibrated Steel Powerlifting Plates. In fact, if you have a cheaper bar, the plates may not fit on the sleeve at all. This said, I would highly suggest you buy a high-end barbell before buying expensive plates.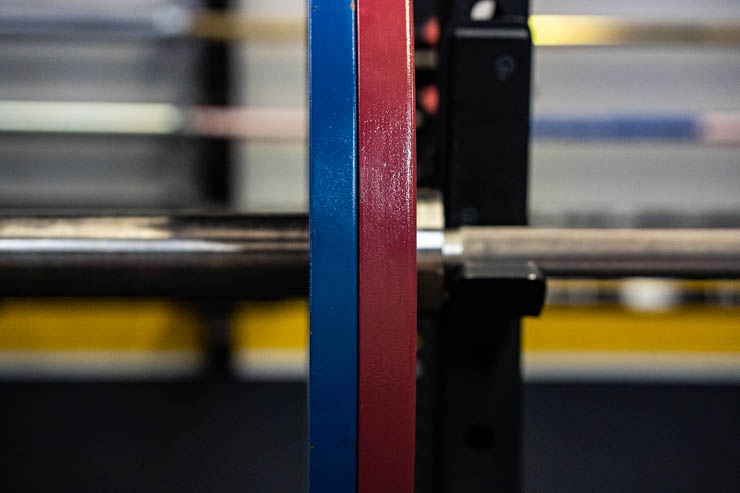 Not only do the plates have a snug diameter, the Rogue Calibrated Steel Plates are also much thinner than standard plates. According to Rogue, you can fit up to 700kg of weight on the bar, which is more than enough for any current or future record.
The width of the plates are as follows:
25kg-27mm
20kg-22.5mm
15kg-21mm
10kg-21mm.
Rogue's attention to detail for making the plates so close in width is outstanding.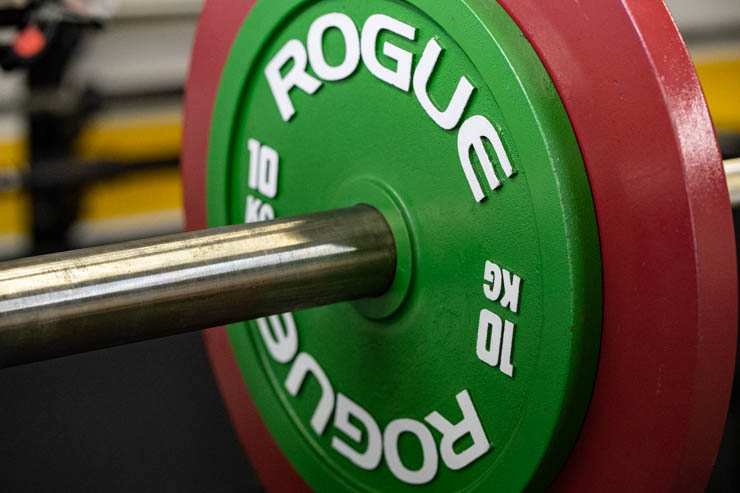 Each of the KG plates matches the IPF standard of correct colors matching correct plates. 25kg is red, 20kg is blue, 15 kg is yellow, and 10 kg is green. All of the different colored plates have raised white lettering. The lettering and numbering are bold and have Rogue exclusive branding so there is no issue reading the plates.
The diameter of the Rogue Calibrated Steel Powerlifting Plates are all pretty much exact to what's stated as well.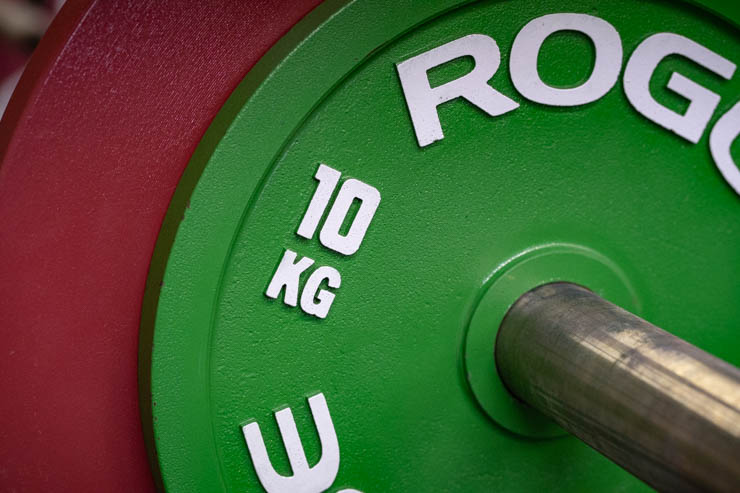 The 25kg plate has a diameter of 450mm, 20kg is 450mm, 15kg is 400mm, 10kg is 325mm. All of these diameters fit inside IPF standards as well.
Compared to other top companies like Eleiko and Ivanko, there really aren't many differences. In fact, I'd assume nearly all of these plates are made in the same factories in China.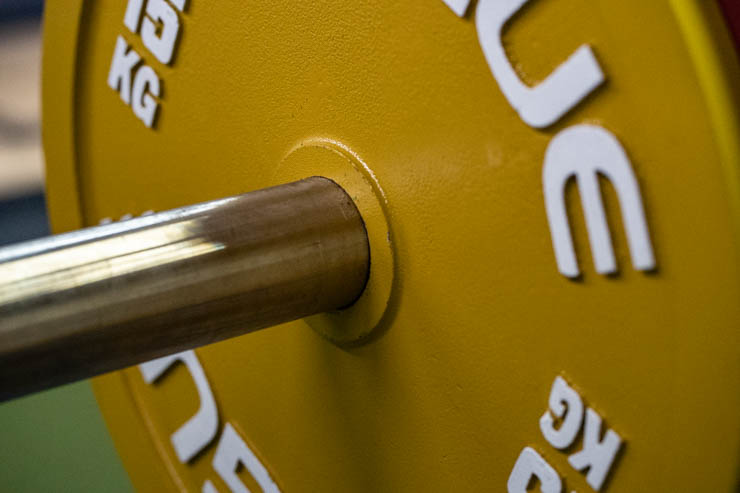 Just like Rogue, Eleiko competition plates are cast iron plates and feature the same brass plugs.
Finally, Rogue offers sets in both pounds and kilograms, depending on what metric you use. I prefer kilograms, but most in the US will want pound listings.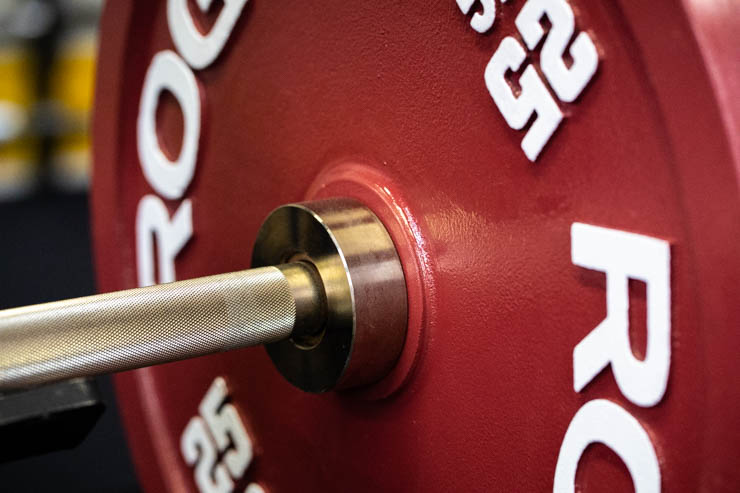 Overall, the Rogue Calibrated Steel Powerlifting Plates are some of the best available plates today and among the top calibrated powerlifting plates are withouot a doubt the best value.
Rogue has taken every step to make sure their steel plates are the best plates money can buy for powerlifting. With a calibrated brass plug for accurate weight, 50mm diameter center hole for a snug fit on most barbells, and color coding, we highly recommend these plates for those that want the absolute best.
Suggested Improvements
The Rogue Calibrated Steel Plates are a great competition set to own. With that being said, there are a couple of things these plates can improve on.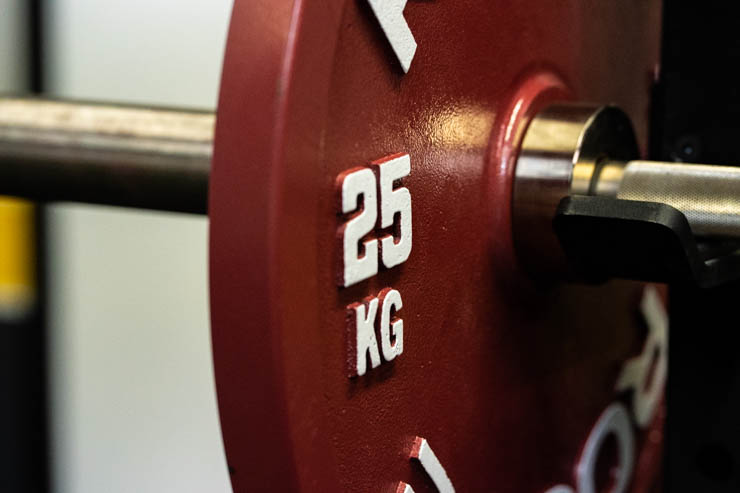 The first is that the paint on the plates chips way too easily. Rogue either needs to come up with a different plate formula, use powder-coating (although I don't know if that would be better,) or best idea of all would be to use Cerakote.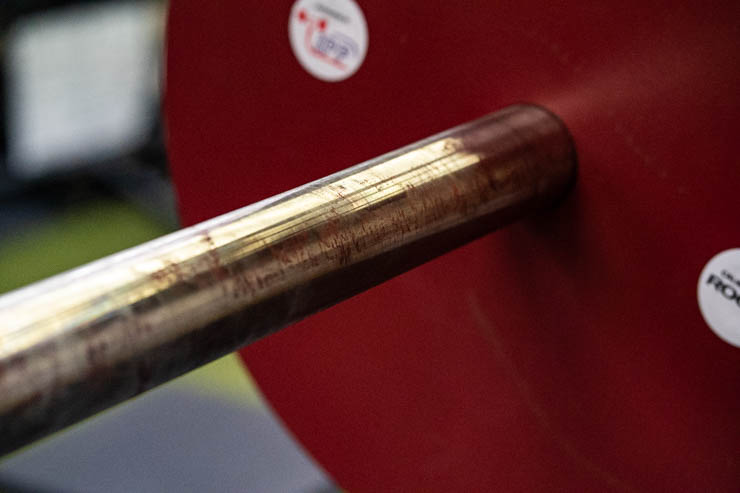 Another improvement would be to remove the paint from the center hole. It's going to come off anyway, so I don't see a reason to even put it on.
The last thing I would like to for these plates and all competition powerlifting plates is to add some sort of indention on the outside of the plate to allow your fingers to pull the plates off the ground. When these plates fit so tight together on a barbell, it can be difficult to unload the barbell and pull off the plates. By having some sort of indention will allow a lifter to change out plates easier and would be a big design separator among competitors.
Update 2020
It's been close to two years that we've had the Calibrated Powerlifting Plates from Rogue in circulation in the gym and since we originally wrote this review. There are a couple things that I think are worth noting for those interested in a set.
First, although these are a Rogue product, they are imported. This means they're made overseas and my biggest issue with the plates is that the paint chips. And, the paint doesn't just start chipping after a year, it chips rather quickly.
Unfortunately, the paint chips don't show up really well on camera, but here's a somewhat recent picture of the plates at the gym: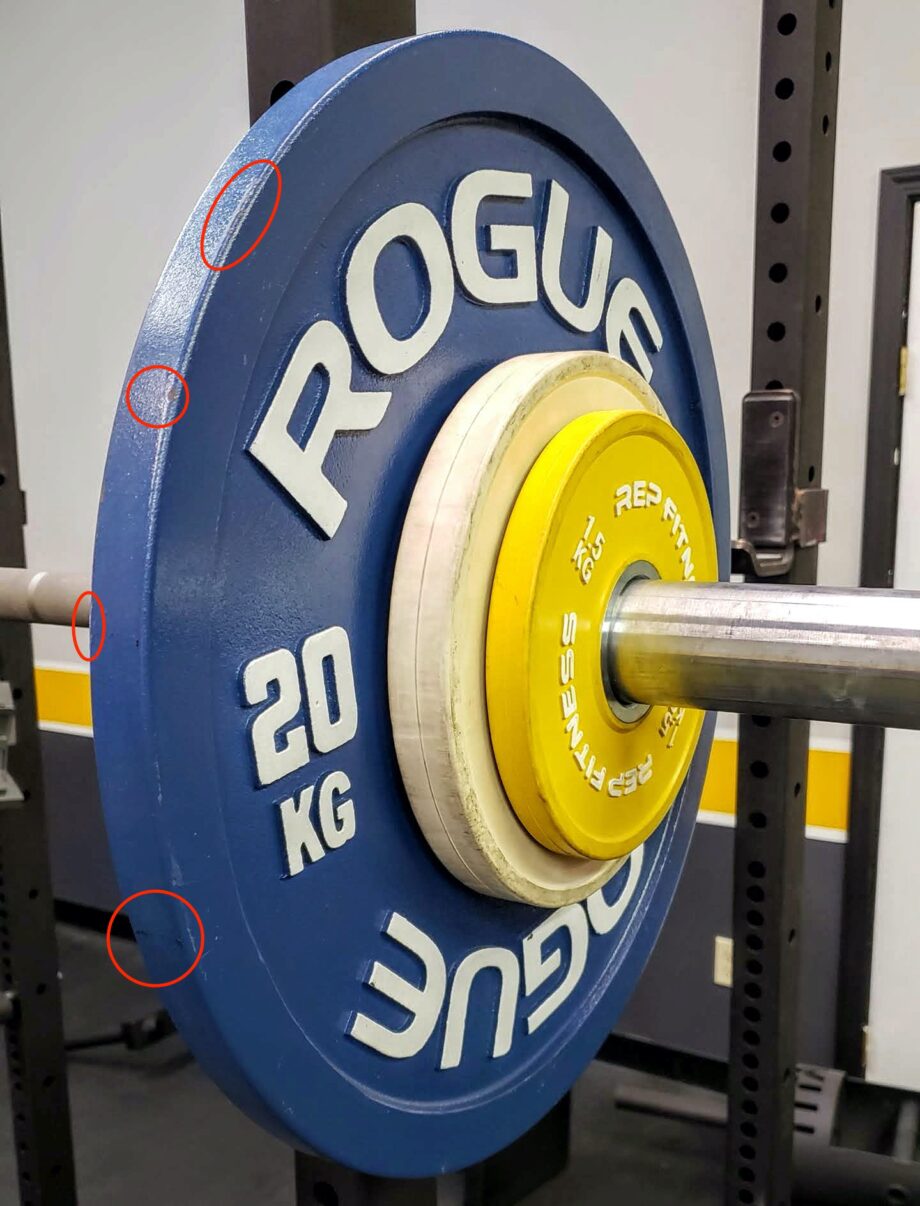 Despite some chipping, which, is to be expected with any of these type of plates (although I would like to see them Cerakoted someday) they still weight pretty much the same as before.
The other issue with the plates, and this has only happened with a couple, is the brass plugs on the back have popped out. Not a big deal as they're easy to re-install and can be super-glued if needed.
Originally, the plates lived in my garage gym, here they are fresh out of the box: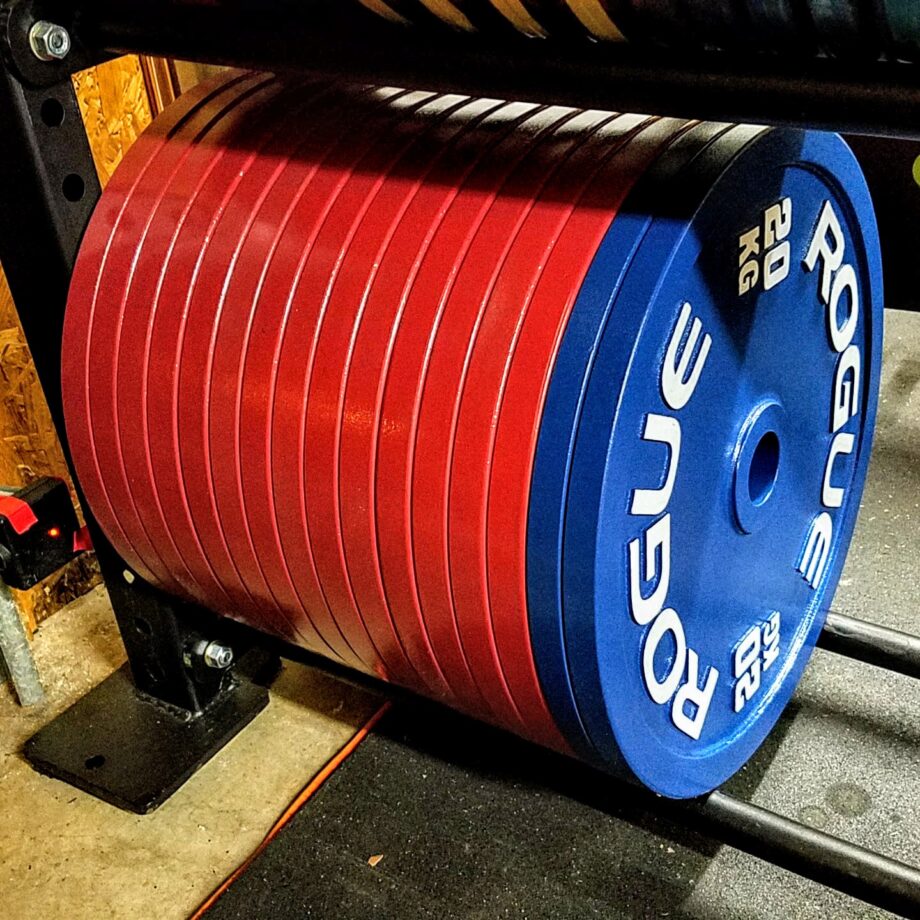 For the past year or so, though, they've lived in my personal training studio because nobody needs 459 KG worth of calibrated plates for just themselves in their garage (unless you're Ray Williams and squat over 1,000 LB.)
Despite the amount of use and abuse they get from people of all walks of life, the cast iron plates still look and perform as well as day one, sans the paint chips previously discussed.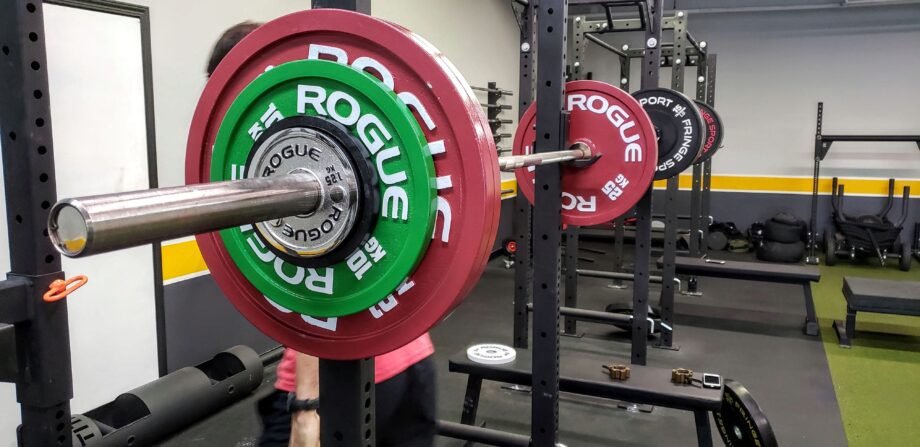 Rogue Powerlifting Plates vs. Ivanko Powerlifting Plates
Full Rating