We test and review fitness products based on an independent, multi-point methodology. If you use our links to purchase something, we may earn a commission. Read our disclosures.
Ghost Legend pre-workout burst onto the scene in 2016 with a unique combination of high-energy formulations and exclusive flavor partnerships with popular food and candy brands. This is the only pre-workout supplement you can get in Warheads Sour Watermelon, Swedish Fish, Sour Patch Kids, or Welch's Grape, for example. 
In recent years, Ghost has doubled down on both appeals, adding even more stoke-boosting ingredients and familiar flavors in the Ghost Legend V2 version, released in 2021. This double-headed appeal has made it a favorite of experienced pre-workout users who need to know, "Does it REALLY taste like that?"
If you're considering braving this pre-workout's higher-than-average per-serving price to chase pumps and nostalgia, we've got what you need to know in this Ghost pre-workout review.
Medical disclaimer: This article is intended for educational and informational purposes only. It is not intended as a substitute for medical advice. For health advice, contact a licensed healthcare provider. GGR also recommends choosing a product that has been third-party tested for quality.
Tested With Both Hands on the Bar
Our testers don't review products simply by reading labels or product pages. The best pre-workout should move you, so they head to the gym!
Our Ghost Legend tester, Jacob Penner, a USA Weightlifting Level 1 Coach, test-drove this pre-workout the old-fashioned way: by taking a full serving in water (no dry-scoopers here) and then hitting the weights. This allowed him to measure its effectiveness based on what's most important—how it elevated energy for physical training, boosted strength and power, and fights muscular fatigue during grueling workouts. That it happened to taste like Sour Patch Kids was a nice side benefit.
Ghost Legend Pre-Workout
GGR Score: 4.5
Product Highlights
Pre-workout for energy, focus, and pump

Unique flavors based on some childhood favorites, like Welch's Grape and Oreo

Gluten-, sugar-, and soy-free

Updated version 2 is now vegan
Pros & Cons
Pros
100% transparent label
10 flavor options, including collaborations with popular brands
Updated vegan formulation
Natural caffeine sources
Cons
Uses artificial flavor
Contains sucralose
Some reviewers shared the pre-workout made them itchy and jittery
Bottom Line
Ghost Legend pre-workout is a vegan option with naturally sourced caffeine and a wide variety of flavors that are mostly positively reviewed.
A Quick Look at the Ghost Pre-Workout
From when it was launched in 2016, Ghost has called itself a lifestyle brand creating the "Ghost lifestyle," not just a supplement brand. What does this mean? For one, they have put many hours and dollars into their products' aesthetics, creating labels that feel like a waste to simply hide in a gym bag. More than most supplement brands, they also sell merch, including a full wardrobe of branded apparel and even dog toys (yes, dog toys).
But a major appeal of Ghost from the get-go has been flavors that bring legitimacy in the form of that little R symbol.
Any other brand might sell "cookies and cream" whey protein powder, for example, while Ghost sells straight-up Oreos® protein. Your old favorite cherry limeade pre may have a legit formulation, but looks a little tamer when Ghost pulls up with Sonic® Cherry Limeade. You get the idea.
Before You Buy
The flavors may take you back to childhood, but certain ingredients make this pre-workout less-than-ideal first-timers—at least at the full two-scoop serving.
If you're not convinced after trying, Ghost offers a 5-day exchange window for open products, and 15 for unopened products.
Is Ghost Pre-Workout Worth It?
A 25-serving tub of Legend will run you around $44.99 retail, which is significantly higher than many popular pre-workouts like Cellucor C4. But that shouldn't come as a surprise, since the packaging and exclusive flavors definitely announce this as a luxury purchase.
But it's not all just a question of appearances. Legend also meets several standards you would expect for a premium pre-workout for serious lifters, such as transparent labeling, patented ingredients, and vegan-friendly, gluten-free formulations.
Great for:
Anyone with 1980s or '90s flavor nostalgia
Experienced pre-workout users who can handle strong stims
Diehard gym-goers who have long, taxing workouts ahead of them
Not recommended for:
Pre-workout noobs
Users on a tight budget
Athletes avoiding artificial flavors or colors
Ghost Pre-Workout Specs
| | |
| --- | --- |
| Price per serving | $1.79 |
| Serving size | 2 scoops |
| Flavors | Blue Raspberry, Bubblicious Cotton Candy, Bubblicious Strawberry Splash, Peach, Sonic Cherry Limeade, Sonic Ocean Water, Sour Patch Kids, Redberry, Swedish Fish, Teenage Mutant Ninja, Turtles OOZE, Warheads Sour Watermelon, Welch's Grape |
| Key ingredients | Caffeine, beta-alanine, Nitrosigine, AstraGin ginseng, L-tyrosine, taurine, alpha-GPC, theobromine, rauwolfia |
| Third-party tested? | No |
| Benefits | Energy, mental focus, fat-burning |
Experience Using Ghost Pre-Workout
Ghost offers a number of ways to take its pre-workout: in the traditional scoop-from-a-tub, or single-serving sticks that run around $2.49 a pop.
It also offers up several flavors in different tiers of intensity. The normal Legend brings 250 milligrams of caffeine, or basically two cups of coffee. This puts it below other "extreme"-level pre-workouts like Woke AF, which has 333 milligrams of caffeine per serving.
However, Ghost also offers the All-Out Legend variety at 400 milligrams of caffeine per serving, or roughly enough to create a controlled nuclear chain reaction in your brain.
Formulation
Each two-scoop serving of Legend contains a Ghost Smart Energy Blend, and a Ghost Legend blend.
Ghost Smart Energy comprises nootropic ingredients that can support mental focus. It starts with 250 milligrams of natural caffeine derived from coffee beans, enough to boost energy but potentially cause jitters in some who are more sensitive to caffeine. The company backs it up with an additional 100 milligrams of theobromine, a cocoa-derived compound that works in conjunction with caffeine and was shown in a February 2015 study1 in Frontiers of Pharmacology to boost mood and alertness.
Then they triple down by adding rauwolfia vomitoria extract2, a powerful stimulant closely related to the somewhat notorious ingredient yohimbine3. It also contains a trio of ingredients that have some reputation as potential cognitive enhancers: L-tyrosine4, taurine5 (used in many energy drinks), and alpha-GPC6. Penner reported that this combo left him feeling mentally dialed in, not just physically dialed up.
Our tester, competitive weightlifter and experienced pre-workout user Jacob Penner, reported that this three-headed combo in Ghost made an immediate and powerful impact.
"I've taken 50 to 60 different kinds of pre-workouts, and this is toward the top end in stimulation," he said. "You won't be sitting still and relaxing. I wouldn't say it's too stimulating, but I definitely feel excitable after taking it. This is definitely one of my new favorites now."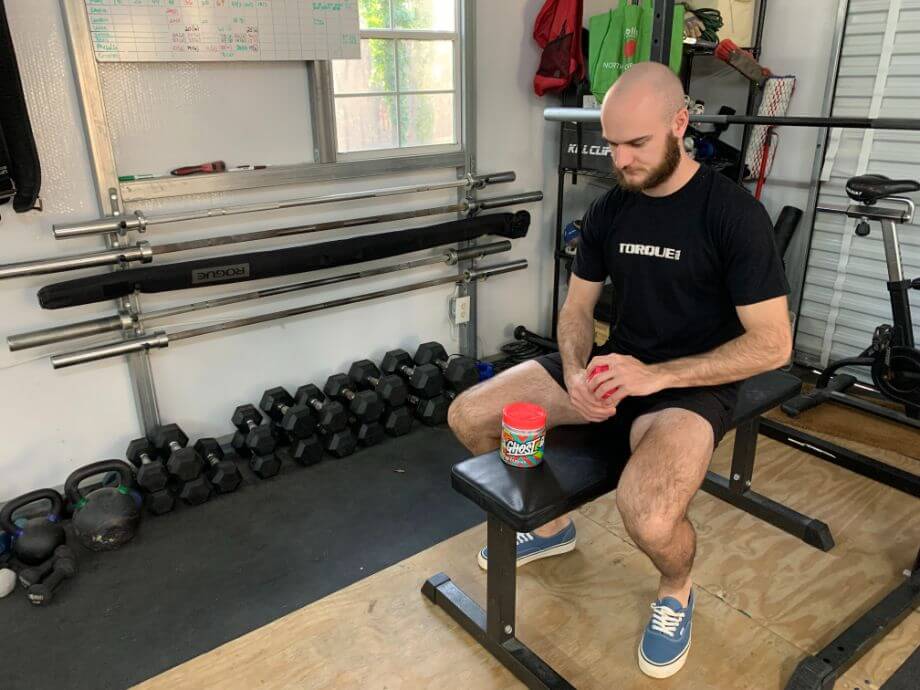 In the Ghost Legend blend, each serving of Legend also brings 4 grams of L-citrulline to increase blood flow, which is not quite the research-backed dose7. Additionally, 3.2 grams of beta-alanine is more than enough to bring that skin-tingling sensation familiar to pre-workout users, and just shy of the research-backed dose8 for muscular endurance. There's also 1.5 grams of Nitrosigine9, a patented type of arginine, which has been demonstrated by research to increase vasodilation thus increasing blood flow, and .5 grams of Senactiv ginseng extract, which claims to support performance.
Other ingredients include malic acid and other additives, as well as sucralose and acesulfame potassium for sweeteners.
Taste and Solubility
Penner gave Ghost high-marks for solubility, and noted that it didn't have any chemical flavors and in fact "didn't taste like a supplement at all."
"The Blue Raspberry Ghost pre-workout is a great flavor," Penner said. "It tastes like blue raspberry, and is just a little on the sour side. I love it." The Ghost Sour Patch Kids flavor, on the other hand, was "almost too flavorful" for Penner—perhaps not altogether surprising for a candy that's designed to push the sweet/sour comfort boundaries. "I typically love sour/sweet things, but this wasn't for me," Penner said.
Jacob's critique brings up a potential downside to these familiar flavors. While Bubblicious, Sour Patch Kids, and Warheads are easy to tolerate in small chewable bites, translating that flavor into a full 8- to 10-ounce drink can be a wilder ride than you're ready for. If you have mixed feelings about any of the flavors, consider starting with something tamer, like Blue Raspberry or Sonic Cherry Limeade.
Side Effects
Inexperienced pre-workout users may find the full body-and-brain stimulant onslaught of Legend to be more than they bargained for. Some pre-workout users find rauwolfia and other yohimbine-related extracts to be anxiety-boosting in addition to energy-boosting. This tendency was backed up by a 2010 study in the Annals of Pharmacotherapy10, when researchers found that a third of adverse-effects reports related to yohimbine were about anxiety and agitation.2
If that's an issue for you, consider a stimulant-free pre-workout like Onnit Total Strength + Performance, which our team labeled the best caffeine-free pre-workout of 2023.
Or, if you prefer a pre-workout product that has some caffeine but less overall stimulant blast, consider Transparent Labs Bulk, which contains some of the same cognition-enhancing ingredients as Legend, but only 200 milligrams of caffeine and no rauwolfia. Bulk also contains the amino acid L-theanine, which a review study from January 201711 found to promote calmness and focus.
After his workout, Penner found that the intense high of Legend was followed by a mild but noteworthy low. "I definitely felt a bit of a crash coming off of this," he said. "Not a dealbreaker for me, but it was noticeable."
Comparison to Kaged Pre-Kaged
Kaged Pre-Kaged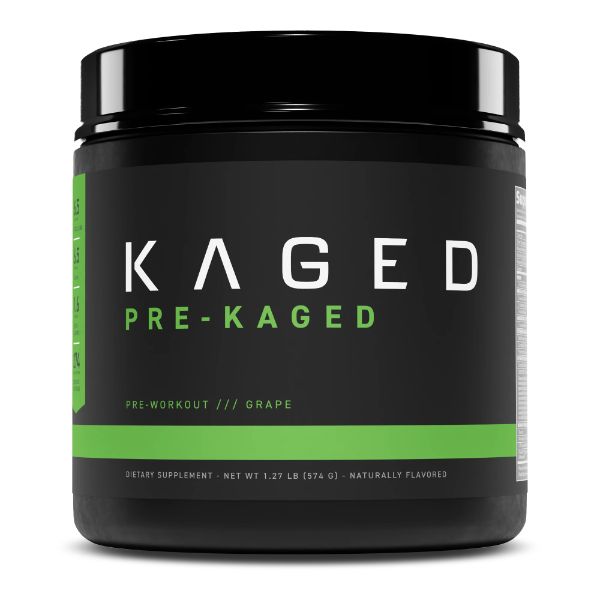 GGR Score: 4.16
Product Highlights
Contains research-backed dosages of key ingredients like caffeine, creatine, and citrulline

Informed Sport-certified, meaning it's been tested for quality assurance and banned substances. 

7 flavors are available
Pros & Cons
Pros
Good formulation of research-backed ingredients
Label transparency
7 flavors and users overwhelmingly like the taste
Cons
Big serving size
Expensive
Bottom Line
Kaged Pre-Kaged is expensive, but is formulated with research-backed dosages of key ingredients like caffeine, creatine, beta-alanine, and citrulline.
Ghost Legend and Kaged Pre-Kaged are both elite pre-workouts that come in at an above-average price per serving, so buying them isn't a decision you're going to make lightly.
Aside from all the exclusive flavors Ghost offers, there are a few key differences: Pre-Kaged has slightly higher caffeine content, at 274 milligrams per serving. However, it doesn't contain any other stimulants, whereas Legend contains both theobromine and rauwolfia root extract.
Both pre-workouts contain beta-alanine, but Legend's 3.2 grams is double what Kaged brings (and likely twice as tingly). Pre-Kaged contains more of the pump-enhancing amino acid L-citrulline at 6.5 grams to Legend's 4 grams. But unlike Pre-Kaged, Legend backs it up 1.5 grams of patented Nitrosigine, a potent nitric oxide booster that a 2020 study in the Journal of the International Society of Sports Nutrition 12 found encouraged muscle pumps and boosted endurance.4
Both pre-workouts offer solid doses of the cognitive enhancers L-tyrosine and taurine. Pre-Kaged offers some more workout-specific ingredients like betaine anhydrous, creatine HCL, and branched-chain amino acids (BCAAs), if you're not already getting those from standalone products. Kaged also has high levels of B vitamins and coconut water powder for hydration, neither of which are in Legend.
At a high level, Legend could be characterized as a "stimulants, focus, and pumps" blend, while Pre-Kaged is a more comprehensive strength/power/energy blend. It's hard to call one better than the other, but rather, both will speak to the goals and tastes of certain athletes.
Customer Experience
Ghost offers email support during standard working hours and claims to do their "very best" to respond to emails in 48 hours. They offer returns and exchanges on unopened products delivered within the last 15 days. For opened products, they only offer exchanges, and you must initiate the process within 5 days of delivery. They do not accept returns from third-party retailers like Amazon.
Ordering Ghost Pre-Workout
Ghost Legend pre-workout is easy to order from the Ghost website, where it can be purchased using Paypal, Apple Pay, or the shop app. The company doesn't offer free shipping, but Legend is widely available in brick-and-mortar retailers like GNC and Vitamin Shoppe. Occasionally, the company has released certain flavors exclusively to GNC, such as Bubblicious Cotton Candy.
Customer Reviews
Ghost Legend has a 4.5 average rating among 1,500 reviews on Amazon. Reviewers uniformly loved the energy-boosting formulation, although many found they preferred certain flavors and found others too intense. Most reviewers noted that it didn't have a chemical taste. A number of reviewers noted that they liked taking half-doses in a single scoop in addition to the whole-hog double-scoop experience.


Final Verdict of Our Ghost Pre-Workout Review
Ghost checks the big quality boxes for a pre-workout like energy and pumps. But the company's diehard following is all about its flavors, which offer legit name brand versions of what other companies only try to emulate.
For that reason alone, if you're a pre-workout fan, you owe it to yourself to try whatever flavor of Ghost speaks to the child inside you at least once. The company's single-serving sticks and samples can be a great way to do this if you're not willing to foot the bill for a full tub.
Ghost Pre-Workout Rating
Ghost Pre-Workout
Ghost reached into the most nostalgic corners of your brain and created a pre-workout with flavors you know by heart, and the energy and pumps you crave.
Product Currency: USD
Product Price: 45
Product In-Stock: InStock
Ghost Legend Pre-Workout Review FAQs
Is Ghost a good pre-workout?
Reviewers love Ghost's full arsenal of energy-boosting ingredients and exclusive flavors. It's a premium pre-workout for experienced users who are serious about their supps.
Does Ghost pre-workout make you gain weight?
Ghost Legend pre-workout contains next-to-no calories, and contains several ingredients that are common in fat-burning supplements, such as caffeine and rauwolfia vomitoria. If anything, taking this stimulant-packed blend could help the scale go down rather than up. However, if taking Legend helps you finish more intense strength-training workouts and you eat plenty of calories, it could help with muscle growth as well.
What are the side effects of Ghost pre-workout?
Ghost Legend pre-workout is likely to have the same side effects as any pre-workout containing high doses of stimulants, like racing heart rate and possible anxiety. 
One other thing you're sure to notice: a strong tingling feeling, called paresthesia, on the skin around your neck and ears. That's from the 3.2 grams of beta-alanine, and while it can be intense, it's temporary and harmless. Plenty of pre-workout users even find they come to enjoy it over time.  
Does Ghost pre-workout give you a pump?
Ghost Legend pre-workout contains substantial doses of two science-backed pump ingredients: L-citrulline, and Nitrosigine. If you bring the reps, it'll bring the pump
These statements have not been evaluated by the Food and Drug Administration. This product is not intended to diagnose, treat, cure, or prevent any diseases.
References