We test and review fitness products based on an independent, multi-point methodology. If you use our links to purchase something, we may earn a commission. Read our disclosures.
If pre-workout is the gym rat's coffee, then Woke AF is a shaker cup of cold brew. But any lifter worth their creatine knows that the best pre-workouts should offer a lot more than just an energy boost, though there are some that fall short when it comes to focus, pump, and strength.
Our Woke AF pre-workout review has all the answers as to whether this popular supplement is worth the money when it comes to all of those categories. After all, a tub of this stuff will set you back more than $50 and there are much more budget-friendly options available.
Read on to find out whether it's worth that amount of dough.
Medical disclaimer: This article is intended for educational and informational purposes only. It is not intended as a substitute for medical advice. For health advice, contact a licensed healthcare provider.
One of our expert reviewers, Bob Iafelice, nutritionist and registered dietician, reviewed this product and in full transparency, we wanted to share his thoughts:
"I cannot approve or endorse this product because of the excessive stimulants, particularly synephrine, and even more, its pairing with caffeine. Synephrine is banned by the NCAA, NFL, and MLB. France limits it to less than 20 milligrams, while Russia limits it to less than 30 milligrams. Woke AF contains 40 milligrams. While short-term use doesn't seem to impact blood pressure too much, long-term use has been shown to elevate systolic blood pressure. Dendrobium is questionable as well. Is this product worth the risk? I don't think so. Other than the stimulant package, it's a good product with significant amounts of key ingredients such as citrulline malate and beta-alanine."
Our Secret Recipe? A Heaping Scoop of Honest Supplement Reviews
It might sound weird to point out that we're honest, but considering that most fitness websites are filled with Instagram influencers hawking products they've never tried or actually like, we feel it's important to let you know that we're the opposite.
We're real-life certified personal trainers, nutrition experts, and competitive athletes who put these products to the test for weeks before giving you our thoughts, and even share the opinions of experts who have important considerations about products to flag. I've personally been using Woke AF pre-workout for about two weeks before every daily training session to gauge its effects.
Woke AF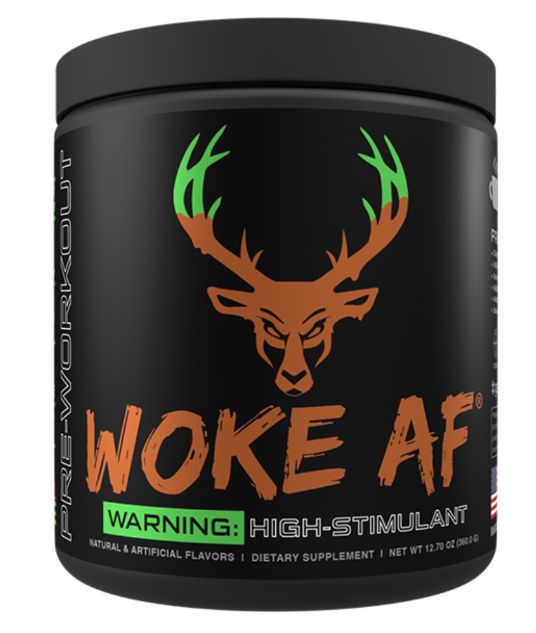 Product Highlights
High-stimulant pre-workout

Zero sugar

Keto/paleo-friendly

GMP-certified

14 flavor options

Loaded with 3 different stimulants
Pros & Cons
Pros
Specially-designed for max pump but without the crash at the end
Won't kick you out of ketosis
Variety of flavors
Mixes easily with water
Long-lasting energy to get things done
Very high caffeine content (333mg)
Contains beta-alanine
Cons
It is high-stimulant, and likely too stimulating for a lot of people
Probably will cause the jitters and skin itchiness
Very high caffeine content (333mg); yes, this is a pro and a con
Some flavors sell out quickly
Bottom Line
The bottom line for this product is that if you have never tried a pre-workout mix before, this one might not be for you, seeing as it is a pretty intense formula. If, instead, you are a pre-workout junkie and aren't getting the same energy and pump from your typical brand; then this would be a good option for you.Not only will you be ready to lift all of the heavy things, but you can also sharpen your endurance, focus, and overall performance. Many customers also raved about the customer service from this brand.
A Quick Look at Woke AF Pre-Workout
Woke AF pre-workout is a high-stimulant pre-workout made by Bucked Up, a popular supplement manufacturer also known as DAS Labs, that promises to provide energy, focus, pump, and strength for the entirety of your workout.
And when we say this is a high-stim pre-workout, we mean it—one scoop packs 333 milligrams of caffeine (the same amount as three-and-a-half cups of coffee), and that's just only one of the stimulants they put in it. It's safe to say this isn't for beginners, and even experienced athletes may struggle with the number of stimulants in Woke AF.
Bucked Up is known for adding deer antler velvet extract to its products, which, according to research1,may have anti-inflammatory effects and speed up the recovery process. We'll dig into those claims later.
Before You Buy
This is not a beginner's pre-workout—we'll have recommendations for you at the bottom of this page.
There is a 45-day money-back guarantee.
Is Woke AF Pre-Workout Worth It?
Bucked Up Woke AF pre-workout costs more than $50, which is on the higher end for pre-workouts. Personally, I don't mind paying that much as long as the supplement does what it promises to do and does so much—and I mean much—better than products I could find at a more budget-friendly price.
You'll have to continue reading to get my full thoughts on this pre-workout, but as always, there are some people who are going to disagree with me no matter what I say. With that in mind, here are a few groups of people who I think might enjoy Woke AF and those who should look at our comparison section at the bottom of this page to find a better pick.
Great for:
Advanced athletes
People who have a high caffeine tolerance
Gym-goers who like unique pre-workout flavors
Not recommended for:
Beginners
Those on a budget
Anyone who's sensitive to high-caffeine supplements
Woke AF pre-workout Specs
| | |
| --- | --- |
| Price per serving | $1.83 |
| Flavors | Blood Raz, Blue Raz, Breezy Blast, Caramel Apple, Dragon Fruit, Grape, Killa OJ, Miami, Rocket Pop, Sour Gummy, Strawberry Watermelon, Swole Whip, Watermelon Lemonade, Blue Raz Lemonade |
| Key Ingredients | Dendrobium, synephrine, caffeine anhydrous, beta-alanine, citrulline malate, Himalayan rock salt, deer antler velvet extract, taurine, Alpha GPC |
| Third-party tested? | No |
| Benefits | Energy, pump, focus, strength, recovery |
| Serving Size | One scoop |
Experience Using Woke AF Pre-Workout
I used Woke AF pre-workout before multiple training sessions, most of which were done in the early morning hours and consisted of powerbuilding workouts (a combination of powerlifting and bodybuilding training).
For this test, I took my scoop of Woke AF 15 to 30 minutes before my workout with about 8 ounces of cold or hot water—yes, I said hot water, but you'll have to wait a minute to see why.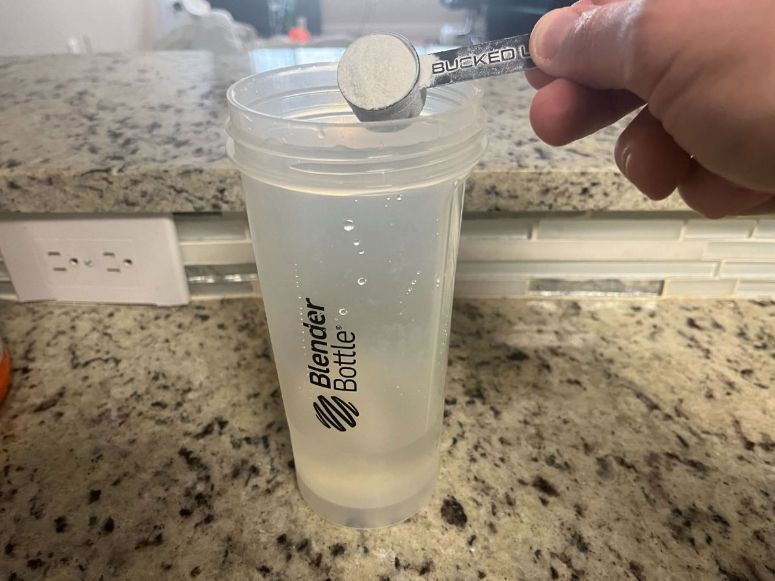 I'll give you my thoughts on the five main things Woke AF promises to boost: energy, pump, focus, strength, and recovery.
Related: Best pre-workout for men
Energy
As I said, most of my intense workouts happen in the early morning hours (anywhere between 5 and 8 a.m.), so I welcomed the Woke AF's caffeine content with open arms. In addition to 333 milligrams of caffeine, Woke AF contains synephrine HCL (otherwise known as bitter orange extract) and dendrobium (a Chinese herb).
Both of these are compounds that are said to have energy-boosting effects and could potentially speed up one's metabolism2,3, resulting in increased weight loss.
I'd give Woke AF a solid four out of five when it comes to energy. It certainly kept me Woke (and not the type Fox News rants against) during my workouts, but I wasn't overly stimulated at any time. However, I should say that I've been drinking coffee since I was 14 so my caffeine tolerance is a bit higher than most people's. 
Related: Best pre-workout for women
Pump
Woke AF promises to give you "skin-tearing pumps," and honestly, I'd have to say they're not far off. It gets a five out of five from me.
I loved taking this on days I trained back and biceps as it was noticeably harder for me to put my jacket on after the gym than it was before I hit the weight room.
There are six grams of citrulline malate in Woke AF, which has been shown4 to increase oxygen delivery and blood flow to the muscles to provide that pump. It also has 100 milligrams of Himalayan rock salt—which, in addition to being an electrolyte that provides the muscles with energy, also helps your muscles retain more water, making them look much fuller.
There's also a compound known as Astragin, which has been linked with5 increased nutrient absorption and is used by Bucked Up to boost citrulline absorption.
Focus
Woke AF gets a three out of five when it comes to focus. Did I feel like I had increased cognition and could focus on the workouts more? Yes, but the cognition enhancers weren't anything spectacular, in my opinion.
Strength
There were days during my testing period in which I didn't take Woke AF to see how I felt without it, and one of the things I noticed was I had fewer reps in the tank on days I didn't take it than when I did. I also noticed my power output was much greater on days I took the dietary supplement. That's why I'm giving it a four out of five in this category.
The caffeine and 3.2 grams of beta-alanine, a non-essential amino acid that's been connected with6 decreased muscle fatigue and improved performance, are two key ingredients that have been linked with increased strength.
Recovery
Woke AF doesn't have creatine, which can improve muscle strength, enhance recovery, and lead to muscle growth.
There is ActiGin, a phyto compound that's been linked to7 better recovery and endurance. It also contains deer antler velvet, an ingredient that's been purported to have anti-inflammatory effects1 (more on that in a second).
Honestly, I didn't notice much in the way of recovery while I was taking Woke AF. Delayed onset muscle soreness still came and went as it usually does and the only thing that helped with that was good old-fashioned eating and sleeping.
RELATED: Best Creatine
Price Per Serving
Woke AF costs around $55 for a 30-serving tub, coming out to $1.83 per serving (before shipping and taxes). That's on the higher end for pre-workouts (C4 Cellucor, for example, is only $0.78 per serving) but I'm happy that you at least get a month's worth of pre-workout.
Formulation
Bucked Up gets some major bonus points for listing all of its ingredients and their exact quantities. Some companies will use a proprietary blend, which allows them not to disclose how much of each ingredient is in their supplement.
We'll go over a few of Woke AF"s key ingredients.
Citrulline Malate
Citrulline malate is common in many pre-workout supplements and is used to increase oxygen and blood delivery to the muscles, which has been linked with improved athletic performance and recovery4.
Woke AF has 6,000 milligrams of citrulline malate, which is on the lower end of the recommended clinical dose (still a very good amount). Citrulline malate also boosts nitric oxide production in the body, which leads to greater pumps4.
Beta-Alanine
Beta-alanine has been connected with decreased muscle fatigue and better performance, which is why we're happy to see 3.2 grams of it in Woke AF (this is around the recommended dose). Beta-alanine can cause a slight itching sensation known as paresthesia, but this will pass.
Caffeine
Caffeine is one of the most researched compounds, and in addition to boosting energy—but you already knew that— it can also increase your cognitive performance and boost fat oxidation, according to studies8. There are 333 milligrams in Woke AF, which is about five and a half cups of coffee.
The U.S. Food and Drug Administration has said most adults should cap their caffeine intake at around 400 milligrams. Drinking too much caffeine has been linked with heart issues and disrupted sleep, which can not only affect your overall health but could lead to decreased performance.
Deer Antler Velvet Extract
Bucked Up is known for putting deer antler velvet extract in its products because it's believed to have anti-inflammatory effects, but the science is murky. For one, many studies have been done on rats or in petri dishes and there are few human studies looking at its effectiveness.
Secondly, Woke AF only contains 50 milligrams of the stuff and studies agree9 you need at least 200 milligrams to feel the purported effects. In other words, it's unlikely the small amount of deer velvet extract will have a drastic impact on your training or recovery.
Taste and Solubility
Woke AF comes in 14 different flavors, and I decided to go for Caramel Apple. Dear reader, I'm so happy I picked that one.
Caramel Apple is one of the few flavors that can be taken with hot or cold water, which in my experience drastically changed the taste of my pre-workout. With cold water, the Caramel Apple flavor tasted more like a green apple Jolly Rancher (not a bad thing at all, but I got more apple than caramel).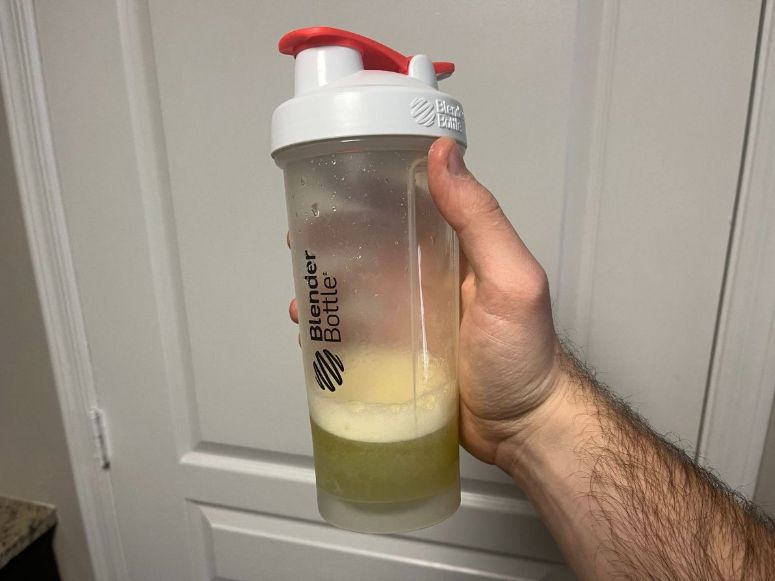 But when I switched to hot water it literally tasted like a caramel apple latte you'd get at an autumn fair, albeit one that makes your face itch a few minutes later.
If you've never had hot pre-workout before I can only say it's a game changer, especially if you workout when it's still cold enough to see your breath.
Both versions mixed easily in my shaker bottle and there were no clumps left behind.
Side Effects
I have to repeat that I have a pretty high caffeine tolerance so I didn't notice many side effects from Woke AF, but that may be a different story for you. I'd suggest the average user start with half a scoop before attempting a full serving to gauge the supplement's effects on your heart rate.
The face-tingling paresthesia brought on by beta-alanine was apparent but not the worst I've ever experienced.
Third-Party Testing
Neither the Woke AF container nor Bucked Up's website contains any information about third-party testing for banned substances. We like to recommend this verification, especially if you're an athlete, just to ensure that what you see on the label is what you get in the container.
Woke AF Pre-Workout vs Cellucor C4 Pre-Workout
C4 Yourself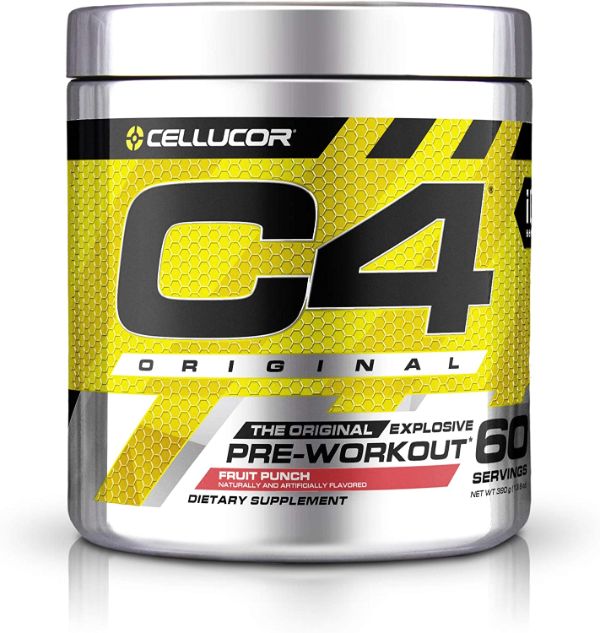 Product Highlights
Powerful ingredients
Gives a solid boost of energy
Dissolves well
Affordable price per serving
Pros & Cons
Pros
Powerful ingredients
Gives a solid boost of energy
Can aid in training performance
Dissolves well
Affordable price per serving
Cons
Some users report unpleasant aftertaste
Gives some people headaches
Some experience tingling in the face
Bottom Line
If you're looking for an affordable pre-workout drink from a big-name supplement company, give C4 a look.
Cellucor C4 Pre-Workout is essentially the antithesis of Woke AF in that it's budget-friendly, doesn't have a high number of stimulants, and is very beginner-friendly.
One thing to note with the C4 pre-workout is many ingredients are underdosed, such as citrulline malate at only one gram per serving. Still, we'd recommend it to people who don't want a lot of caffeine (it only has 150 milligrams, which is about a cup and a half of coffee) or those who are new to pre-workouts.
C4 also produces an energy drink with roughly the same formula as its pre-workout.
| | | |
| --- | --- | --- |
| | Woke AF Pre-Workout | Cellucor C4 Pre-Workout |
| Price per serving | $1.83 | $0.78 |
| Key ingredients | Dendrobium, Synephrine, Caffeine Anhydrous, Beta-Alanine, Citrulline Malate, Himalayan Rock Salt, Deer Antler Velvet Extract | Caffeine, beta-alanine, creatine, nitrates |
| Flavors | Blood Raz, Blue Raz, Breezy Blast, Caramel Apple, Dragon Fruit, Grape, Killa OJ, Miami, Rocket Pop, Sour Gummy, Strawberry Watermelon, Swole Whip, Watermelon Lemonade, Blue Raz Lemonade | Fruit Punch, Cherry Limeade, Icy Blue Razz, Watermelon, Pink Lemonade, Strawberry Margarita |
Returns and Financing
Woke AF has a 45-day money-back guarantee for anyone who doesn't fully enjoy the pre-workout, but you must return the item to get your money back (minus shipping costs).
There is an option to "Pay Later" with PayPal at checkout, though there doesn't appear to be any way to split your payment into installments.
Ordering Woke AF Pre-Workout
After choosing your desired flavor, you'll be asked to put in your shipping information and choose between USPS shipping (which takes three to seven days) or FedEx Priority (two to four, but more expensive). There's free shipping on orders $75 and more.
I had no issues receiving my package and Bucked Up kept me informed the entire way.
Customer Reviews
Woke AF has an average rating of 4.9 out of 5 stars on its website with an undisclosed number of reviews.
Most people agreed the supplement was great at providing long-lasting energy and benefits.
Final Verdict of Our Woke AF Pre-Workout Review
Despite the pause demonstrated by one of our nutrition experts, I'd recommend Woke AF Pre-Workout to anyone who has the money to buy it. It gave me some great pumps, kept my energy levels up, and made a noticeable difference in my performance. I don't think it's worth breaking the bank if it's outside of your budget, as there are other products that can help you achieve similar results for much less.
But if you're looking to try something new and like unique pre-workout flavors, Woke AF is a good one to try out.
Woke AF Pre-Workout Rating
Woke AF Pre-Workout
Our Woke AF pre-workout review looks at whether this popular supplement is worth the hype or not.
Product Brand: Bucked Up
Product Currency: $
Product Price: 54.99
Product In-Stock: InStock
Woke AF Pre-Workout FAQs
Is Woke AF a good pre-workout?
Woke AF is a good-tasting pre-workout with many beneficial ingredients that are included in clinically recommended doses.
How strong is Woke AF pre-workout?
Woke AF is a pretty strong pre-workout, which is why we don't recommend it for beginners. In addition to 333 milligrams of caffeine, there are additional stimulants that may cause heart problems and disrupt sleep in those who have a low tolerance for stimulants.
Is Woke AF stronger than Bucked Up?
Yes. Bucked Up pre-workout comes with 200 milligrams of caffeine, whereas Woke AF has 333 milligrams and additional stimulants.
References
Cheng WJ, Yang HT, Chiang CC, et al. Deer Velvet Antler Extracts Exert Anti-Inflammatory and Anti-Arthritic Effects on Human Rheumatoid Arthritis Fibroblast-Like Synoviocytes and Distinct Mouse Arthritis. Am J Chin Med. 2022;50(6):1617-1643. doi:10.1142/S0192415X22500689
Ratamess NA, Bush JA, Kang J, et al. The Effects of Supplementation with p-Synephrine Alone and in Combination with Caffeine on Metabolic, Lipolytic, and Cardiovascular Responses during Resistance Exercise. J Am Coll Nutr. 2016;35(8):657-669. doi:10.1080/07315724.2016.1150223
Zheng H, Ji H, Fan K, et al. Targeting Gut Microbiota and Host Metabolism with Dendrobium officinale Dietary Fiber to Prevent Obesity and Improve Glucose Homeostasis in Diet-Induced Obese Mice. Mol Nutr Food Res. 2022;66(10):e2100772. doi:10.1002/mnfr.202100772
Pérez-Guisado J, Jakeman PM. Citrulline malate enhances athletic anaerobic performance and relieves muscle soreness. J Strength Cond Res. 2010;24(5):1215-1222. doi:10.1519/JSC.0b013e3181cb28e0
Veit Ny, Milan Houška, Roman Pavela, Jan Tříska, Potential benefits of incorporating Astragalus membranaceus into the diet of people undergoing disease treatment: An overview, Journal of Functional Foods
Saunders B, Elliott-Sale K, Artioli GG, et al. β-alanine supplementation to improve exercise capacity and performance: a systematic review and meta-analysis. Br J Sports Med. 2017;51(8):658-669. doi:10.1136/bjsports-2016-096396
Jinfu Wu, Suchada Saovieng, I-Shiung Cheng, Jørgen Jensen, Wei-Horng Jean, Ahmad Alkhatib, Chung-Lan Kao, Chih-Yang Huang, Chia-Hua Kuo, Satellite cells depletion in exercising human skeletal muscle is restored by ginseng component Rg1 supplementation, Journal of Functional Foods.
Grgic J. Effects of Caffeine on Resistance Exercise: A Review of Recent Research. Sports Med. 2021;51(11):2281-2298. doi:10.1007/s40279-021-01521-x

Zang ZJ, Tang HF, Tuo Y, et al. Effects of velvet antler polypeptide on sexual behavior and testosterone synthesis in aging male mice. Asian J Androl. 2016;18(4):613-619. doi:10.4103/1008-682X.166435