We test and review fitness products based on an independent, multi-point methodology. If you use our links to purchase something, we may earn a commission. Read our disclosures.
Although women are the strongest, most badass creatures to ever walk the earth, sometimes we need a little extra oomph to power through a workout. That's where pre-workout can come in. These dietary supplements can help you crush a high-intensity sweat session, utilizing common ingredients like caffeine, l-citrulline, and beta-alanine. But with hundreds of pre-workouts on the market, how do you choose?
The best pre-workout for women will support increased energy levels, exercise performance, and even muscle growth with (hopefully) few side effects. Let's take a look at our curated list.
We're Hyped About Supplements
Our team here at GGR knows pretty much everything you should know about home gym equipment. And amongst our group of certified personal trainers, nutrition coaches, and former college athletes, we've tried our fair share of supplements both for personal and professional enjoyment.
We've teamed up with knowledgeable registered dieticians, too, to ensure we're providing you with accurate information in our supplements content—Laila Ouldibbat, a New York City-based registered dietitian who's pursuing a Ph.D. in Biological Sciences, weighed in on the best pre-workout supplements for women below.
9 Best Pre-Workouts for Women
Best Pre-Workout for Women Overall: Cira Pre-Game
Good for: Almost any woman who's looking for a pick-me-up in the gym
I'll be the first to admit that I don't love when products are marketed "for women"—especially when they have names like Pink Candy. However, I actually really like this pre-workout, and so does Laila.
It contains 200 milligrams of caffeine per serving, which Laila says is on target, plus 6,000 milligrams of l-citrulline, which can support a longer workout and less fatigue.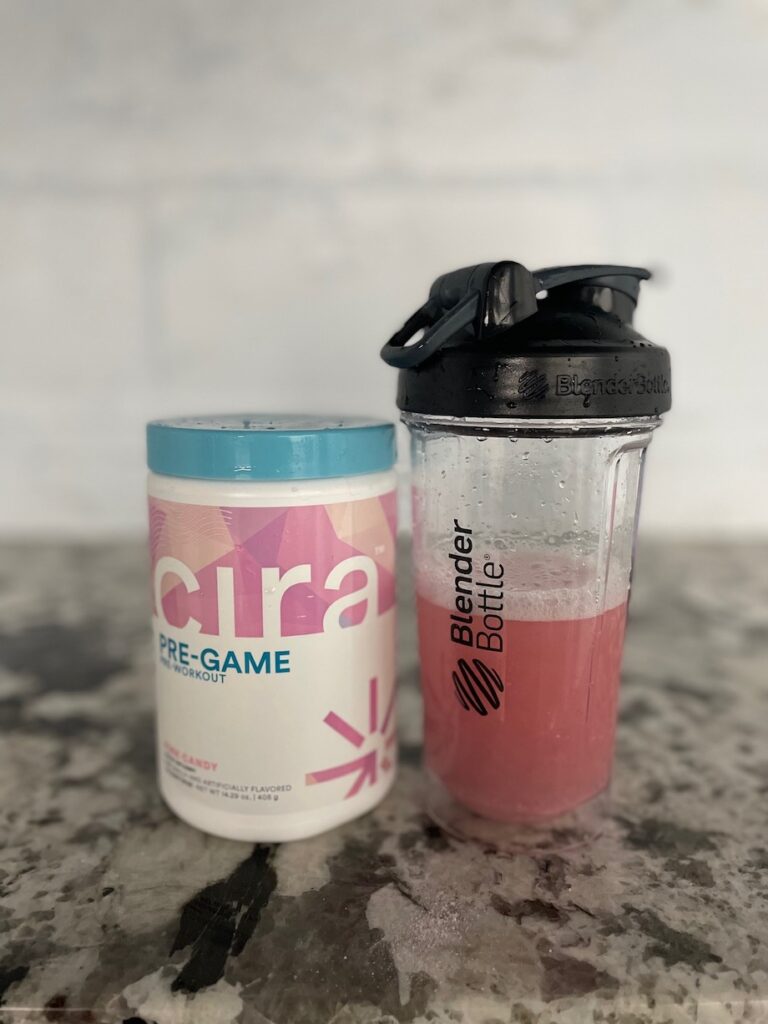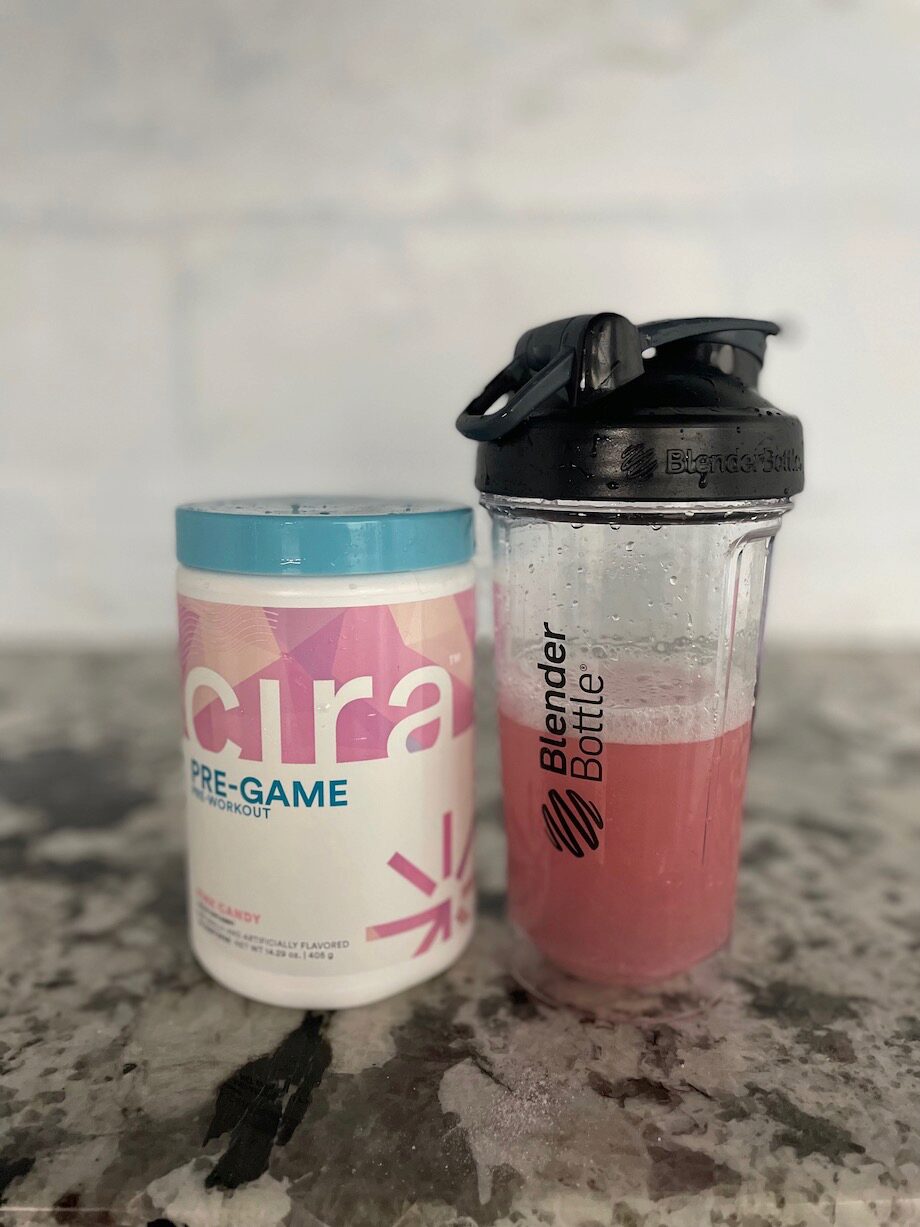 "All formulas of Pre-Game contain AstraGin, a synergistic compound used to facilitate absorption of all ingredients, and some formulations contain SenActiv, which is an extract that has been shown to support recovery and cell regeneration," says Laila.
Pre-Game also contains theobromine, which, when used in conjunction with caffeine, helps to avoid that abrupt caffeine crash, Laila says.
It should be noted that there isn't any creatine in this formulation, which has been shown to increase muscular performance1, so you'd have to take it separately if muscle growth is one of your goals. There is, however, betaine in this formula, which is known for its volumizing effects.
I tried the Pink Candy flavor of Pre-Game and thought it was superb all around—great taste and solubility, no tingles, and no crash.
| | |
| --- | --- |
| Price per serving | $1.16 |
| Key ingredients | Citrulline, beta-alanine, caffeine |
| Flavors | Pink Candy, Strawberry Margarita, Glow-Jito, Peach Bellini |
Best Budget Pre-Workout for Women: Cellucor C4
Good for: Those tight on cash
If you want a pre-workout that won't break the bank, we recommend Cellucor C4 to almost anyone.
This cult-favorite has 1.6 grams of beta-alanine, which Laila says helps support endurance and mitigate muscle fatigue, plus 1 gram of creatine. Creatine is underdosed here—3 to 5 grams is the researched-backed maintenance dose2 for athletes—but you'll often find that to be the case with less expensive supplement options.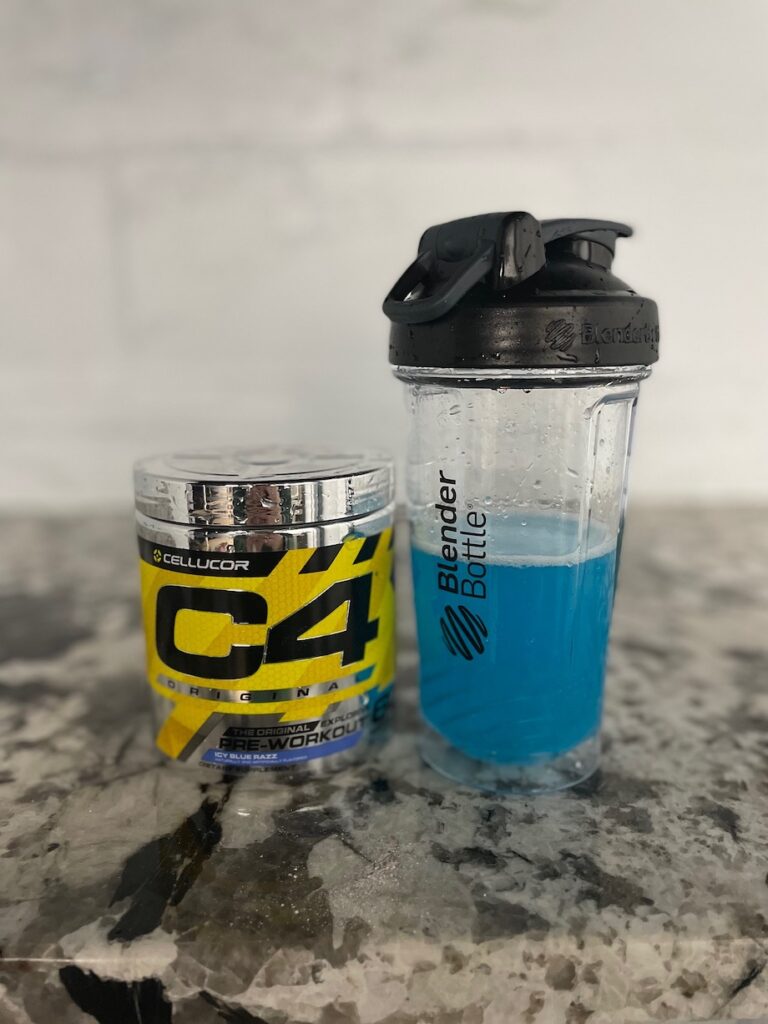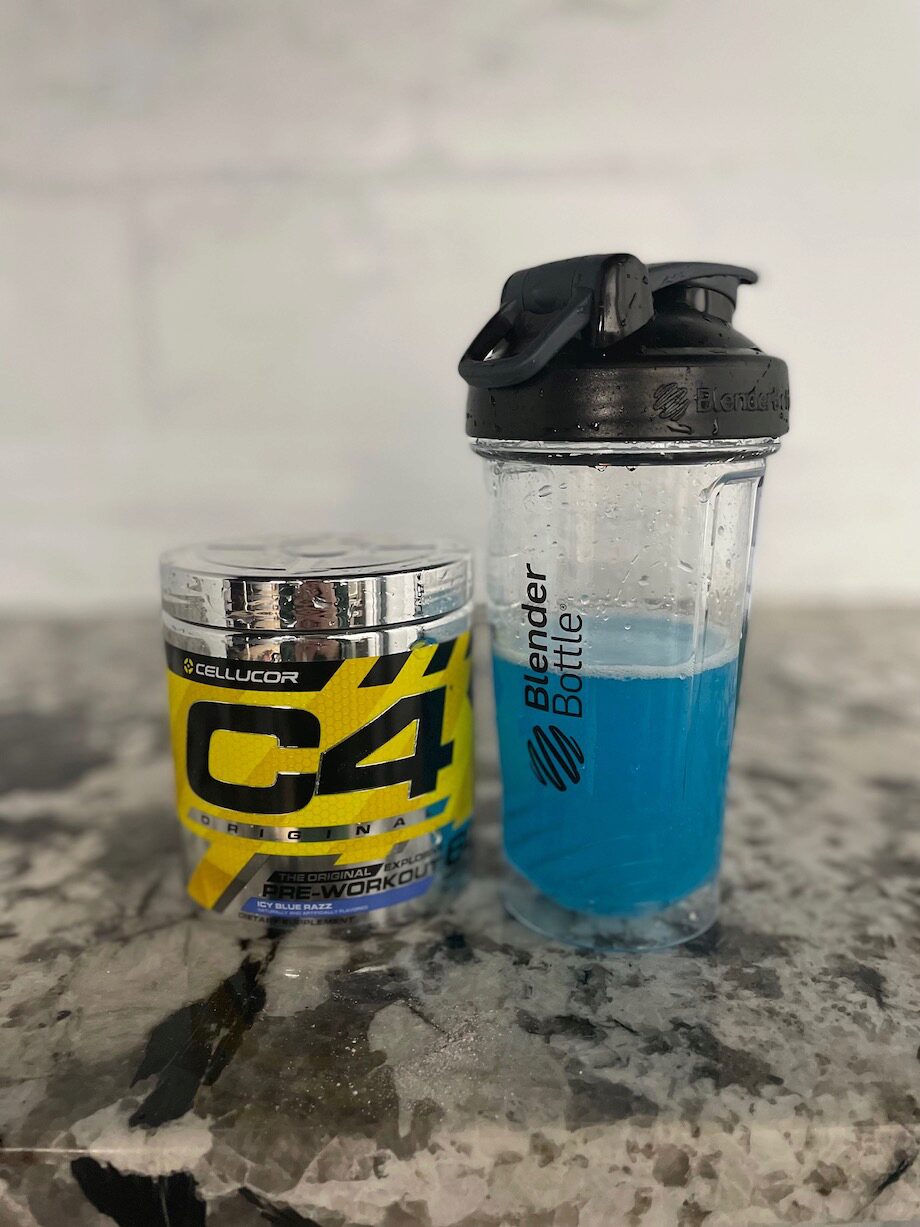 C4 does have an abundance of vitamins, including vitamin B12, C, B6, niacin, and folic acid, but Laila points out that this pre-workout formula is sweetened with sucralose and acesulfame potassium, plus colored with red food dye 40, which is something some women may be wary of. There will also be a strong "pump" effect from C4, from the nitric oxide boosters citrulline-malate and N03-T creatine nitrate.
All in all, though, this is a good pre-workout for the price at 78 cents per serving—significantly cheaper than any other on our list.
C4 was the first pre-workout I ever tried, and I've had a few tubs over the years. I particularly like Icy Blue Razz. It gets the job done, and while I do get a little tingly from it, the sensation goes away quickly.
| | |
| --- | --- |
| Price per serving | $0.78 |
| Key ingredients | Caffeine, beta-alanine, creatine, nitrates |
| Flavors | Icy Blue Razz, Cherry Limeade, Fruit Punch, Watermelon, Pink Lemonade, Strawberry Margarita |
Best Non-Stim Pre-Workout for Women: Transparent Labs Stim-Free Pre-Workout
Good for: Ladies who need a stimulant-free option
If you're sensitive or intolerant to stimulants, you can still take pre-workout, you'll just need a stimulant-free version—yes, those exist! Consider Transparent Labs Stim-Free as a caffeine-free pre-workout option.
Instead of a stimulant, there's an added 150 grams of elevATP, an ingredient that supposedly increases the level of ATP in the system, which can support strength, power, and performance levels in athletes.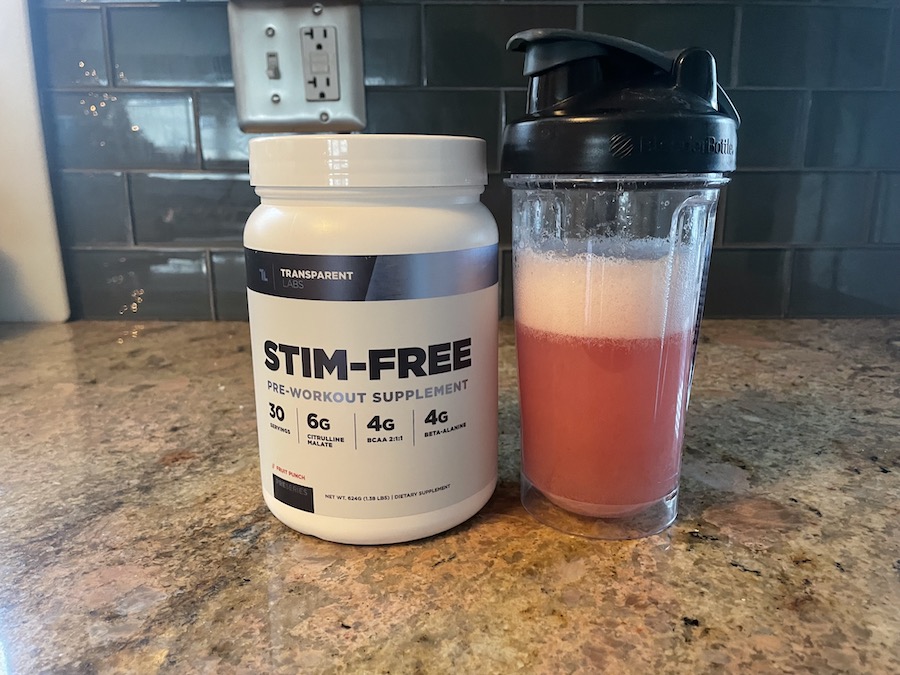 In this formulation, you'll get 6 grams of citrulline malate for increased blood flow, 4 grams of beta-alanine to buffer lactic acid buildup in the muscles, 4 grams of BCAAs (branched-chain amino acids), and 2.5 grams of betaine anhydrous to keep the cells hydrated. BCAAs have inconclusive research, but they may support muscle recovery post-workout. Stim-Free also offers electrolytes like sodium and potassium to prevent dehydration, which is crucial during a workout.
Laila likes that this pre-workout can be taken any time, and still contains many crucial supporters of a good workout.
I tried Fruit Punch, and it mixed really well. I will say that it tasted a bit chemical, and it got oddly foamy, but the non-stimulant quality may be worth overlooking these features.
| | |
| --- | --- |
| Price per serving | $1.67 |
| Key ingredients | Citrulline-malate, beta-alanine, betaine anhydrous, taurine, l-tyrosine, elevATP, sodium, potassium |
| Flavors | Fruit Punch, Cherry Limeade, Sour Grape, Blue Raspberry, Green Apple, Lemon Lime, Orange, Peach Mango, Strawberry Lemonade, Tropical Punch |
Best Natural Pre-Workout for Women: Naked Energy
Good for: Those who don't want additives and artificial ingredients in their pre-workout
If you're looking for a "clean" pre-workout, Naked Energy is probably your best bet. With only 10 ingredients and no additives, fillers, or artificial sweeteners, you're getting a product with a super-transparent label.
Instead of citrulline, Laila says, Naked Energy uses l-arginine for the same nitric oxide effects. Also, 2 grams of beta-alanine mitigates lactic acid buildup while 1 gram of creatine—while underdosed—can support more power and less fatigue. You'll also get 200 milligrams of caffeine from purely sourced coffee beans.
There's also an abundance of B vitamins and minerals, says Laila, and the flavored options are sweetened with cane sugar. "Overall, Naked Energy has a great transparent label and clean ingredients, while still containing all the necessary components—even creatine," Laila says.
While the unflavored version of Naked Energy could be a great choice, the flavored versions contain 9 grams of sugar, which is quite a bit and probably unecessary.
I tried the unflavored version, and while it is a bit bitter just mixed with water, mixed with a sports drink it's barely detectable. I like that this is a more natural pre-workout option, too.
| | |
| --- | --- |
| Price per serving | $0.90 |
| Key ingredients | Beta-alanine, caffeine, creatine, vitamins B3, B6, B9, and B12 |
| Flavors | Unflavored, Citrus, Fruit Punch |
Best Caffeinated Pre-Workout for Women: Kaged Pre-Kaged
Good for: Those who love an extra jolt of caffeine
With 274 milligrams of organic caffeine per scoop—well over the 200 milligram recommended dose—Pre-Kaged is the clear winner for best caffeinated pre-workout for women. One cup of coffee has about 95 milligrams of caffeine, so you're looking at the equivalent of about 2.5 cups in one serving of Pre-Kaged—whoa.
Kaged's formula contains researched-backed doses of citrulline and beta-alanine, as well as creatine. There are 6.5 grams of BCAAs, too, but again, research is inconclusive on their effects. Laila also appreciates the addition of 100 milligrams of antioxidants and taurine and l-tyrosine to support electrolyte balance and neurotransmitters.
There are seven flavors of Pre-Kaged to choose from, with no artificial flavors or color present in any of them for those who are concerned about that.
The one downside to this product is its price, at a whopping $2.25 per serving. That's some serious cash for pre-workout, but at least the dosages of each ingredient back up the cost.
I tried Krisp Apple Kaged and I liked the flavor—not too sweet, which is an A+ in my book. It didn't seem to dissolve completely, though, so that's something to note if consistency bothers you.
| | |
| --- | --- |
| Price per serving | $2.25 |
| Key ingredients | Beta-alanine, citrulline, creatine, caffeine |
| Flavors | Krisp Apple, Cherry Bomb, Orange Crush, Berry Blast, Pink Lemonade, Fruit Punch, Grape |
Best Pre-Workout for Women for Weight Loss: Transparent Labs LEAN
Good for: Those looking for lean muscle
While a supplement alone won't be your magic answer to weight loss, Transparent Labs' LEAN is marketed toward those who want to lose body fat. It contains a "fat-burning and thyroid support complex," which includes some important vitamins and minerals like iodine, zinc, and selenium that can potentially support healthy thyroid function and thus support weight loss.
And we say potentially, because the research is not conclusive. While these ingredients are generally safe to use, the benefits are usually only seen in individuals who are deficient in them.
What this product does have going for it is its transparent label, which shows 180 milligrams of caffeine. Laila says this is a relatively lower dose, but that moderate doses of caffeine have been shown to not negatively interfere with natural thermoregulation like higher doses potentially can.
You'll also get 6 grams of citrulline, 2 grams of beta-alanine—a slightly low dose—and 2.5 grams of BCAAs in this formula. There are nine flavors to choose from, too.
I tried Tropical Punch and although it tasted slightly bitter to me, it's not overly sweet, which I appreciate. Solubility is not the best, but that didn't detract too much from the experience overall.
| | |
| --- | --- |
| Price per serving | $1.66 |
| Key ingredients | Citrulline-malate, beta-alanine, caffeine |
| Flavors | Tropical Punch, Lemon Lime, Sour Peach, Sour Grape, Watermelon, Green Apple, Orange, Blue Raspberry, Strawberry Lemonade |
Best Pre-Workout for Women for Muscle Gain: Optimum Nutrition Gold Standard
Good for: Women who want to increase muscle mass
If you're looking for the best pre-workout for strength training, consider Optimum Nutrition's Gold Standard. It contains 3 grams of creatine, which Laila calls a "relatively high provision," but with creatine's proven track record of positive effects on strength and performance3, this formulation could help you build muscle.
Gold Standard also contains 175 milligrams of caffeine, 750 milligrams of citrulline, and several vitamins and minerals—all appropriate doses. AstraGin, a synergistic compound that helps facilitate the absorption of ingredients, is also included.
All in all, Laila likes the creatine in this formulation and the AstraGin only sweetens the deal.
We haven't gotten to test this one yet, but when we do, we'll update this review.
| | |
| --- | --- |
| Price per serving | $1.00 |
| Key ingredients | Caffeine, beta-alanine, creatine, citrulline |
| Flavors | Blueberry Lemonade, Fruit Punch, Watermelon, Green Apple |
Best-Tasting Pre-Workout for Women: Alani Nu Pre-Workout
Good for: Exciting flavor options
While we know taste is subjective, Alani Nu's pre-workout has a wide array of flavors that get great acclaim among users, including me. There are nine options to choose from, with lots of childhood nostalgia conjured up in flavors like Rainbow Candy and Hawaiian Shaved Ice. Laila particularly likes that sweeteners are not used in excess in these formulations either.
Alani Nu's pre-workout doesn't just taste good, either—it has the research-backed dose of l-citrulline malate and beta-alanine, plus 200 milligrams of caffeine, l-theanine, and l-tyrosine.
I tried Cosmic Stardust and while I did think it was pretty sweet comparatively, it's very yummy. It dissolved completely and overall provided a very pleasant experience.
| | |
| --- | --- |
| Price per serving | $1.15 |
| Key ingredients | L-citrulline-malate, beta-alanine, caffeine, l-theanine, l-tyrosine |
| Flavors | Blue Slush, Breezeberry, Cosmic Stardust, Galaxy, Hawaiian Shaved Iced, Island Crush, Mimosa, Rainbow Candy, Witch's Brew |
Best Gluten-Free Pre-Workout for Women: Pre-Lab Pro
Good for: Those who place a premium on natural ingredients
If you lead a gluten-free lifestyle, or just prefer gluten-free products, Pre-Lab Pro pre-workout is a good option. Not only is it gluten-free, it's vegan, uses only natural ingredients, is free of artificial additives, and is third-party tested. It's also sweetened with monk fruit extract, stevia, erythritol (a sugar alcohol used as a low-calorie sweetener), and other natural flavors.
Interesting ingredients in Pre-Lab Pro include beetroot powder, which research has shown4 increases levels of nitric oxide in the body, thus helping to increase blood flow, plus a Setria Performance Blend, which combines l-citrulline and l-glutathione to purportedly support and extend nitric oxide levels.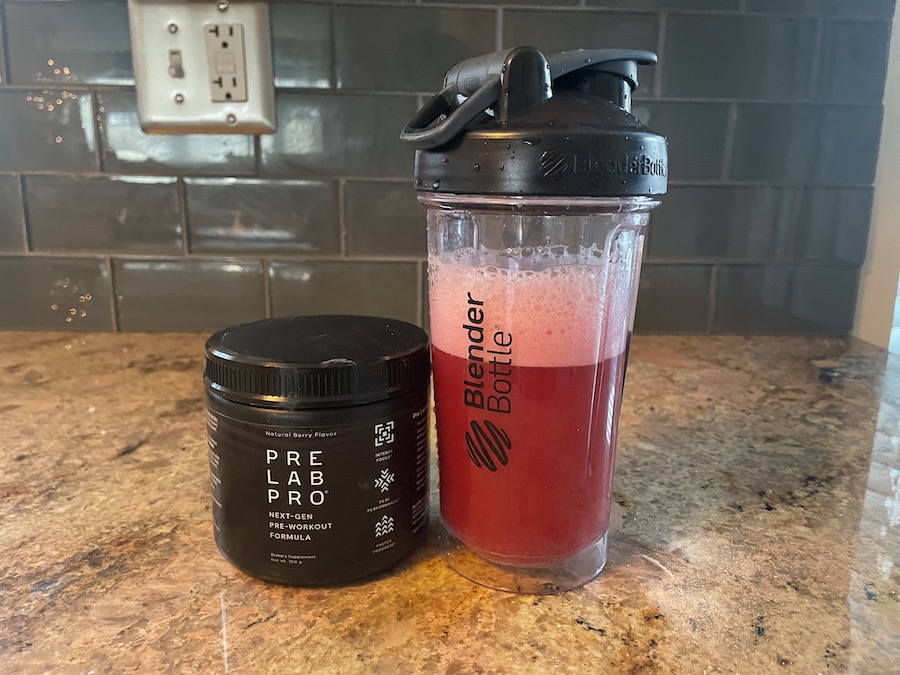 Pre-Lab Pro markets its nootropic contents, which are said to support cognitive function and motivation, and boost mood. You'll get 80 milligrams of natural caffeine from Coffea Robusta seeds, again dosed moderately to prevent extra jitters and negative side effects, plus L-theanine from green tea to also prevent a caffeine crash. You also get a 400-milligram dose of L-tyrosine, which has been shown in some studies5 to support a prevention in decline of cognitive function in response to physical stress, but in general, the research is inconclusive.
All of this comes at a whopping $2.95 per serving, which is the most expensive pre-workout powder on this list.
I tried Pre-Lab Pro and my first impression upon opening the container was that it smelled like cocoa; yes, chocolate. You can tell it's not loaded with artificial ingredients, as it has a fairly strong taste with an almost sour aftertaste. It tasted like drinking a Flintstones vitamin, in my opinion.
| | |
| --- | --- |
| Price per serving | $2.95 |
| Key ingredients | Natural caffeine, l-theanine, red beet powder, citrulline, l-gluthathione |
| Flavors | Natural Berry |
Other Pre-Workout We Tried and Researched
We researched quite a few pre-workouts for women to narrow down our list. Here are a few that almost made the cut:
Huge Supplements Wrecked: This product is loaded with stimulants—four to be exact—so we opted for Kaged Pre-Kaged as Best Caffeinated instead.
Powher Pre-Workout: This is marketed specifically to women, and while it does contain Enxtra, a caffeine amplifier, plus beet root extract and vitamin B6, its ingredients are underdosed.
How We Picked and Tested the Best Pre-Workout for Women
Not only did we ask the women on our team what pre-workouts they liked, we did hours of research and taste-testing to narrow down our list of the nine best pre-workouts for women. Some criteria we evaluated to curate this list included:
Price: Is this a budget pre-workout, an expensive pre-workout, or does it fall in the middle? We wanted something for every price point, and options that were available on the manufacturer's websites and retailers like Amazon.
Serving size: How many servings do you get in a container? If you take pre-workout frequently, this is especially important because you may end up needing to restock monthly.
Ingredients: What active ingredients are in this pre-workout? Does it include the important ones like caffeine, citrulline, citrulline malate, beta-alanine, and potentially creatine?
Formulation: Of the pre-workout ingredients, are they present in researched-backed dosages?
Flavors: Is there a wide range of flavor options available for different palates?
Benefits of Pre-Workout
Wondering why you might want to take a pre-workout? Here are the main reasons.
Supports Increased Energy
This is where pre-workout shines, boosting energy and focus in intense workouts through ingredients like caffeine. Nitric oxide boosters like citrulline and beetroot also promote blood flow, which may result in better athletic performance via more nutrients being transported to your muscles.
Supports Muscle Strength
Not only do pre-workouts give you the energy to be able to work out harder and longer, some also contain creatine, which has been shown by numerous studies to support increased strength when combined with resistance training.
Supports Better Cognition
Nootropics like L-Theanine and L-Tyrosine have been shown to enhance memory and concentration.
How to Choose the Best Pre-Workout for You
Make sure to evaluate the following criteria before choosing a pre-workout.
Ingredients
Make sure whatever pre-workout you choose contains the clinically proven, high-quality ingredients that make a difference, including caffeine, l-citrulline, beta-alanine, and potentially creatine monohydrate or HCL, depending on your fitness goals. BCAAs, which are a group of three essential amino acids—leucine, isoleucine, and valine—are not as integral.
Look for Third-Party Testing
Because the supplements industry is unregulated, it's best to look for pre-workouts that have been tested to ensure there are no banned substances in them. This is especially important if you're an athlete. Logos from Informed Choice, NSF, or Banned Substance Control Group (BSCG) on the label can give you peace of mind.
Budget
Pre-workout supplements range in price from less than $1 per serving to nearly $3 per serving, so decide how much you want to spend. The less expensive products generally have smaller doses of the researched-backed ingredients we like to see, but they can still be effective.
FAQs on the Best Pre-Workout for Women
Is pre-workout good for females?
While there are specific populations, like pregnant people and children, who should not take pre-workout, if you take it as directed, pre-workout is considered safe for women. It being "good for you" is subjective—can it help you reach your fitness goals? Maybe, yes. Is it the healthiest thing you can consume? Probably not.  
What is the healthiest pre-workout for you?
In general, the healthiest pre-workouts don't contain artificial ingredients or a large amount of stimulants. Our choice for the best natural pre-workout is Naked Energy.
What is the best pre-workout for beginners?
Our pick for the best pre-workout for beginners is Optimum Nutrition's Gold Standard. Not only is it super affordable, this product has all the important ingredients present at slightly ower doses, which is suitable for someone who's never tried a pre-workout before. 
Is pre-workout good for losing weight?
The most sustainable way to lose weight is with a proper diet and exercise plan. Pre-workout can supplement this plan to give you an energy boost during your workouts, but it shouldn't be used as a primary strategy alone. 
These statements have not been evaluated by the Food and Drug Administration. This product is not intended to diagnose, treat, cure, or prevent any disease.
References