We test and review fitness products based on an independent, multi-point methodology. If you use our links to purchase something, we may earn a commission. Read our disclosures.
Really good marketing can make a so-so product seem like the best thing since sliced bread, am I right? And many times, food products that claim to be "all-natural" or "a good source of vitamins and minerals" are not at all, so we as consumers shoulder a lot of the burden to educate ourselves.
Team GGR is here to help—at least as far as supplements go—and in this Legion Pulse pre-workout review, we're going to dissect this popular "100% natural" pre-workout to decide whether it's all it's cracked up to be.
Medical disclaimer: This article is intended for educational and informational purposes only. It is not intended as a substitute for medical advice. For health advice, contact a licensed healthcare provider. GGR also recommends choosing a product that has been third-party tested for quality.
We've Taken Lots for You
Our team of certified personal trainers, nutrition coaches, and nutrition experts really puts our money where our mouths are, personally testing 95% of the products we write about. (This even includes a stimulant-packed pre-workout that's banned by the NFL, NCAA, and MLB.) We want to be able to experience each product for ourselves, so we can recommend—or not recommend—them in full confidence. I've personally tested dozens of the best pre-workouts, BCAAs, creatine supplements, and more, just to provide you with an honest review—we really care, OK?
RELATED: Best Creatine
Legion Pulse Pre-Workout
GGR Score: 4.35
Product Highlights
100% nature-based

Free from added sugar, food dyes, and other chemicals

Full refund if not satisfied
Can get with or without caffeine
15 flavors available
Pros & Cons
Pros
All natural ingredients
Free from dye and chemicals
Naturally sweetened
Intended to avoid the dreaded crash
Full refund if not satisfied
Can get with or without caffeine
15 flavors available
Cons
Natural sweeteners make for a different taste—it may not be your cup of tea
Only 21 servings per tub
Bottom Line
Formulated with all-natural ingredients, each of which are present at a high level, Pulse is a fan-favorite. If you're trying to avoid artificial flavors and chemicals, this may be a good choice.
A Quick Look at Legion Pulse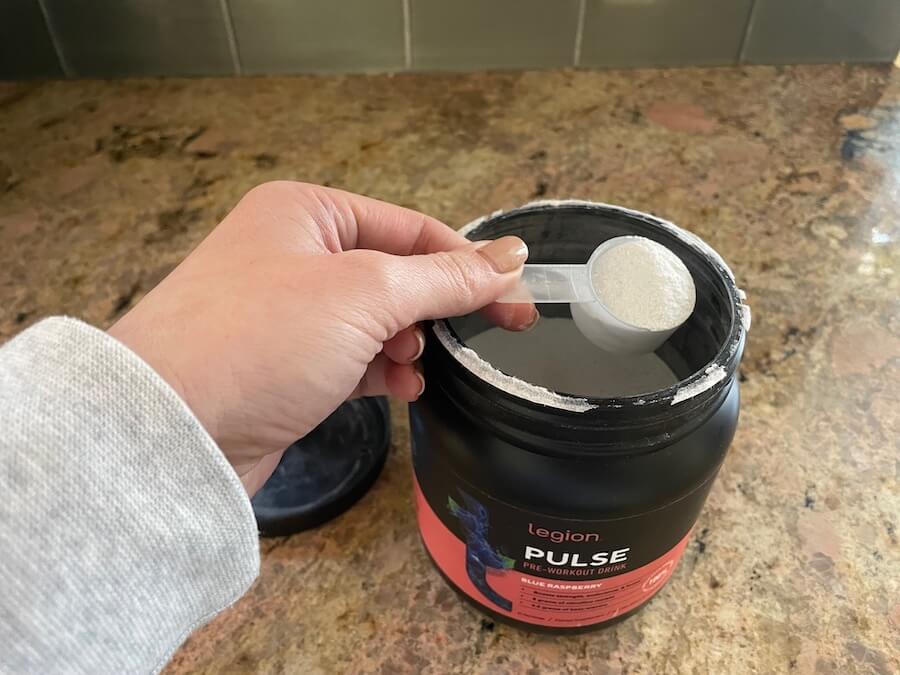 Legion Pulse is a gluten-free, vegetarian pre-workout supplement with 100% nature-based ingredients, meaning every ingredient is sourced from plants and animals, according to the company, similar to all the best vegan protein powders. It's designed to give you an energy boost, support increased strength, and cut down on fatigue with its clinically effective doses of key ingredients like l-citrulline dl-malate, caffeine anhydrous, and beta-alanine.
Before You Buy
You can purchase Pulse with caffeine, or in a stim-free version
Seasonal flavors tend to go on sale, so check the site for a deal
Know that there are only 20 servings in a container, so if you like Pulse, you'll have to purchase it frequently
Is Legion Pulse Worth It?
If you're looking for a product to give you an energy boost before your workout to help you build muscle, sustain endurance, and generally kick butt, but you aren't crazy about lots of the artificial sweeteners, dyes, and various stimulants that are packed into many pre-workouts, Legion Pulse could be a good option.
Great for:
Those who want a more natural product
Those who like transparency from their supplement companies
Not recommended for:
Those on a budget
Those who want creatine in their pre-workout
Legion Pulse Specs
Price per serving
$2.25
Serving size
2 scoops (23 g)
Flavor
With caffeine: Apple Cider, Frosted Cranberry, Strawberry Margarita, Fruit Punch, Arctic Blast, Strawberry Kiwi, Blood Orange, Blue Raspberry, Blueberry Lemonade, Cherry Limeade, Grape, Green Apple, Mojito, Pink Lemonade, Sour Candy, Tropical Punch, Watermelon, Peach Ring
Without caffeine: Fruit Punch, Grape, Sour Candy, Blue Raspberry, Tropical Punch, Green Apple
Key ingredients
Citrulline malate, beta-alanine, caffeine, L-theanine
Third-party tested
Yes, Labdoor
Benefits
Energy, focus, and strength
Experience Using Legion Pulse
I've used Legion Pulse before many-a-workout, some of which were CrossFit classes where you push yourself to the absolute max on the regular, and some of which were heavy lifting days at the gym. Overall, the taste isn't my favorite, but I like that it's a nature-based product and the effects I experience are worth it. Let's dive into more specifics.
Price Per Serving
Pulse is not cheap—most flavors cost about $2.25 per serving, which is on the very high end for pre-workout. Plus, the container, which costs $44.99, only contains 20 servings, so if you take pre-workout frequently, you'll run out of this quickly.
That being said, Legion Athletics is fully transparent about everything that's in Pulse, the product is third-party tested, and unfortunately, quality ingredients just cost more inherently. So even though it's expensive, is Pulse a good value? I think so.
Formulation
One of our sports nutrition experts who reviewed this product, Dr. Krissy Kendall, was impressed with the formulation of Legion Pulse, particularly because each key ingredient is dosed at research-backed levels, and there are no proprietary blends. The latter is a way for companies not to disclose the exact ingredients and amounts of those ingredients in a supplement, which we're not a huge fan of.
But back to Pulse: To start, there are 8 grams of l-citrulline malate, a nitric oxide enhancer (which increases blood flow) that has proven benefits1 on both strength and muscular endurance at that dosage.
Next is beta-alanine, which is present at a dose of 3.6 grams. Beta-alanine is a non-essential amino acid that has been shown to enhance athletic performance, and while it is slightly underdosed in Pulse as far as its maximum potential effects—most research2 looks at a dose of about 6 grams daily—a smaller amount may help prevent paresthesia, the harmless tingling feeling sometimes caused by this compound. There are also 2.5 grams of betaine anhydrous, which has been studied for its effects on body composition3, muscle protein synthesis4, and power output 5 in just that dosage.
To increase energy, there's a whopping 350 milligrams of caffeine in one serving of Pulse, which is the equivalent of 3.5 cups of coffee—hello, world! To potentially help enhance the effects of the caffeine, 350 milligrams of L-theanine are also present—research6 has demonstrated that caffeine paired with L-theanine could be beneficial in improving performance during cognitive tasks.
And lastly, there are 300 milligrams of Alpha-GPC, which is a chemical that may positively affect cognitive function. Recent research has shown that it can benefit motivation7 and memory.
Pulse is sweetened with both erythritol and stevia leaf extract, and there are a handful of other ingredients like potassium citrate and calcium carbonate present in small amounts. Overall, each ingredient in this pre-workout serves a purpose, and is clearly identified on the label.
Taste and Solubility
Now what everyone really wants to know: How does it taste? Well, for starters, there are 18 flavors of Pulse with caffeine, and six caffeine-free flavors—we love to see it!
I tried the Blue Raspberry version with caffeine, but admittedly, have not taken a full dose in one sitting as that much caffeine scares me. That said, I think Blue Raspberry Pulse is very sweet (and a touch bitter) with a slight aftertaste. This flavor isn't my favorite—next time I might try something a bit sexier, like Sour Candy—but, I can get it down in a few minutes without any issue.
Most customer reviewers love the flavor variety, and fan-favorite flavors include Fruit Punch, aforementioned Sour Candy, and Strawberry Kiwi based on recent reviews.
I'm also happy to report that Pulse mixes well in a shaker with the recommended 10 to 12 ounces of water, leaving behind no visible clumps or floaties. Amen.
Side Effects
Typical side effects of pre-workout can include increased strength, power, and muscle endurance, but also jitters, itchiness, increased heart rate, and more. As mentioned, I only take about a half a dose of Pulse, but that's all I need to power through a workout—it gives me energy for sure, and I haven't experienced any of the negative stuff. Many other reviewers tend to agree, saying that it provides amazing energy without that infamous stimulant-induced post-workout crash.
Third-Party Testing
Third-party testing is important because although the supplements industry in America is regulated by the FDA, the FDA doesn't approve these products8. This means that some dietary supplements are marketed and sold to consumers without the FDA knowing—wild, huh?
An independent organization like NSF, Informed Choice, or in Legion Athletics' case, Labdoor, has verified that what's on the label of Pulse is actually what's in the container, meaning there are no banned substances and everything is as potent as what Legion Athletics claims.
Especially if you're an athlete, we can't stress enough how important third-party testing is in supplements like pre-workout drinks—know what you're drinking, people!
Comparison to Naked Nutrition Naked Energy
Naked Energy
GGR Score: 4.25
Product Highlights
Naked Energy is a vegan pre-workout supplement formulated with just 10 ingredients and nothing artificial. 

Three flavors are available: Fruit Punch, Citrus, and Unflavored.
Pros & Cons
Pros
Formulated with just 10 ingredients
Affordable at less than $1 per serving
Available in unflavored option
Vegan
Cons
Small dose of creatine
No nitric oxide boosters, so don't expect a muscle pump
Bottom Line
If you're looking for a vegan pre-workout supplement, Naked Energy may be a good choice. Made with just 10 ingredients and nothing artificial, it was designed to support increased energy without the fillers.
If natural pre-workout is up your alley, Naked Energy is another option that should be on your radar.
With only 10 ingredients, it, too, does not contain any additives or artificial sweeteners; just beta-alanine, creatine, arginine, B vitamins, and caffeine. It's available in four options: Unflavored Pre-Workout, Fruit Punch Pre-Workout, Citrus Pre-Workout, and Stim-Free Pre-Workout, plus it's third-party tested to ensure that what you see on the label is what you get.
Although there are not nearly as many flavor options, and it's missing some key ingredients like l-citrulline malate, Naked Energy is quite a bit cheaper at about $1.20 per serving. Also, the Unflavored option is almost wholly unflavored, save for a slightly bitter aftertaste, and mixes well with many beverages, which we like for versatility.
Comparison to Cellucor C4
Cellucor C4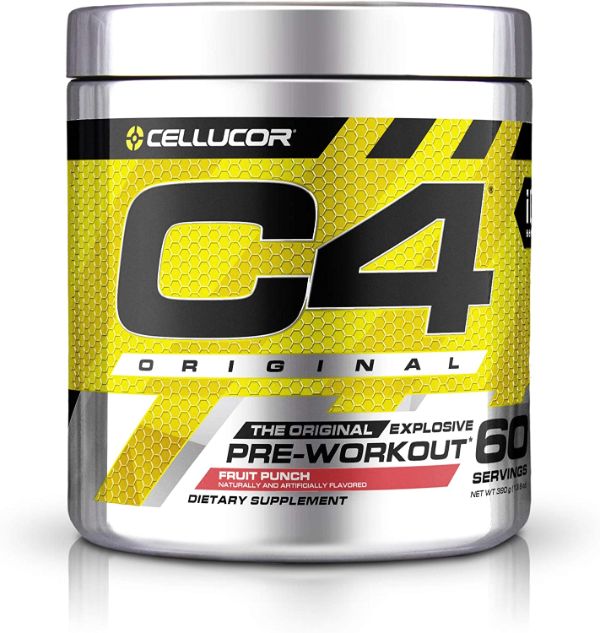 GGR Score: 3.9
Product Highlights
Powerful ingredients
Gives a solid boost of energy
Dissolves well
Affordable price per serving
Pros & Cons
Pros
Powerful ingredients
Gives a solid boost of energy
Can aid in training performance
Dissolves well
Affordable price per serving
Cons
Some users report unpleasant aftertaste
Gives some people headaches
Some experience tingling in the face
Bottom Line
If you're looking for an affordable pre-workout drink from a big-name supplement company, give C4 a look.
Cellucor C4 is arguably the most popular pre-workout on the planet, due to its beginner-friendly nature, yummy flavors, and low price point.
At $0.78 per serving it is a steal, but its ingredients are underdosed from a peer-reviewed research standpoint, including just 1.6 grams of beta-alanine, 1 gram of creatine, 1 gram of citrulline malate, and 215 milligrams of caffeine from an energy blend. It's also not third-party tested, although Cellucor is a reputable brand.
If you're just starting out or are on a major budget, C4 might be a good option for you; otherwise, shop around. Read our full Cellucor C4 review for our complete thoughts on this pre-workout.
Customer Experience
Legion Athletics has a loyal fan base, plus endorsements from some high-profile doctors and experts in the field, and it's easy to see why. Its high-quality products are backed by solid policies. For one, regardless of order size, U.S. customers get free shipping. If you live internationally, you'll earn free shipping if you drop $199 or more.
You can also save 20% on your first order by signing up for Legion's email list—they do send emails, but it's not overwhelming by any means.
Also, if you order Legion Pulse for the first time and end up hating it, the company offers a "no return necessary" money-back guarantee within one year of purchase, meaning they'll give you a full refund without requesting the product back.
Ordering Legion Pulse
You can purchase Legion Pulse on Amazon or other third-party retailers, or via the Legion Athletics website. If you do the latter, just click Add to Cart when you're ready to checkout and the rest is child's play. There is a subscribe-and-save option that will save you 20% on the regular price, with the option of delivery every 30, 60, or 90 days and the ability to edit your order or cancel at any time.
Customer Reviews
Pulse has 3,335 reviews on the Legion Athletics website at the time of this writing, with a 4.6-star rating.
Reviewers love the natural approach, plus the results Pulse provides during their workouts, while negative comments mostly centered around experiences with specific flavors.




Final Verdict of Our Legion Pulse Review
If you're looking for a pre-workout that will give you a boost with natural ingredients, check out Legion Pulse.
At $2.25 per serving, it is expensive, but a transparent label and research-backed doses of key pre-workout ingredients like citrulline-malate, beta-alanine, and caffeine make it a worthwhile value.
More than 20 flavors are available in the caffeinated and caffeine-free versions, giving just about everyone lots of options to choose from.
The size of the container is small, but Legion offers subscribe and save options to make sure you never run out.
Legion Pulse Rating
Legion Pulse
Is a natural pre-workout all it's cracked up to be? Find out in our honest Legion Pulse review.
Product Currency: USD
Product In-Stock: InStock
Legion Pulse FAQs
What does Legion Pulse do?
Legion Pulse is a pre-workout powder that supports increased energy, focus, and strength during workouts via ingredients like citrulline malate, beta-alanine, and caffeine. You mix two scoops of Pulse with 10 to 12 ounces of water and consume 15 to 30 minutes before exercise to reap maximum benefits. 
Is Legion Pulse FDA-approved?
No dietary supplements are approved by the FDA9. This agency is only in charge of regulating the supplement industry, which entails reviewing product labels and websites to ensure accurate information, monitoring complaints, and inspecting manufacturing facilities, among other things.  
How much caffeine is in Legion Pulse?
One serving of Pulse has 350 milligrams of caffeine. 
Does Legion Pulse have creatine in it?
No, Legion Pulse does not contain creatine.
These statements have not been evaluated by the Food and Drug Administration. This product is not intended to diagnose, treat, cure, or prevent any diseases.
References