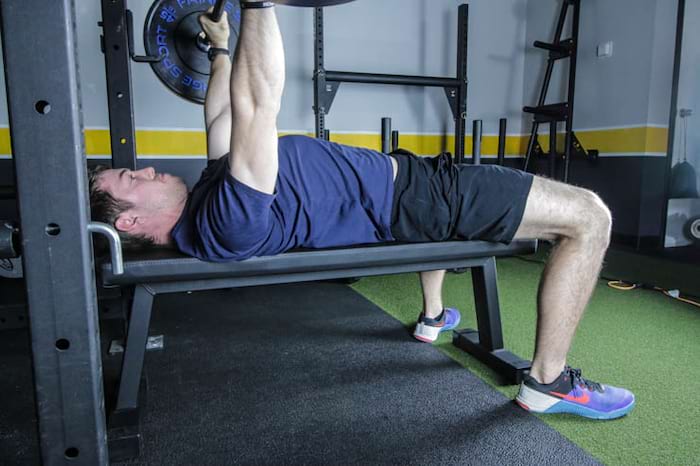 Now with a barbell, squat rack, and weight plates in hand, it's time to purchase a bench. Although a weight bench isn't necessarily what we'd consider essential, for many, it will be a highly used piece of equipment. Many view a flat bench as just beneficial for bench pressing, however it can be used for many other movements from the upper body to the lower body. Versatility is what you should be looking for in your equipment, and a portable bench can provide a lot of that. The first bench you should think of purchasing for your home gym should be stable enough to make you feel safe when laying down with a bar over your head, but light enough that you can easily maneuver it in and out of your power rack when needed.
The bench press is one of the four main barbell lifts you are likely to train in your home gym. A good bench, thanks to how many people purchase them, is very affordable and can increase the use of just about all of your equipment. It can be used for box squats, rows, various triceps exercises, step ups, box jumps, jefferson curls, and much more. In addition to the training movements, when your not squatting inside the rack, you may frequently find yourself taking your rest sitting down (perhaps laying) on the bench in between sets. Or when you are squatting or deadlifting, you may find it as a useful safe area for your kids to be seated off the platform while you are in the middle of your set.
For most people, we'd suggest first buying a flat bench. Although incline benches are great, budget incline benches typically perform outstanding neither for the flat bench press or incline movements. Although there are often flat benches available on the secondary market, good benches can be had for so cheap these days that there's often little reason to buy a used bench. The ideal bench dimensions are 12" wide, 48" long, and 17" high to the top of the pad. Outside of these parameters (such as a shorter, narrower bench) and you will quickly become frustrated at the subtleties. Let's get started with our first recommendations. 
As we have already stated multiple times, Rep Fitness is a trustworthy company that sells high value equipment (value meaning best price to features/quality ratio). That's one reason why we can say that the Rep Fitness FB-5000 Comp Flat Bench is an all-around great flat bench. It's constructed with thick 3" x 3" 11-gauge steel, with durable vinyl padding that will set just right with the back side of your shirt.
The construction is very sturdy and definitely gives you confidence in that it won't move around while your are doing your set. It weighs in at a maneuverable 62 LBS, with built in wheels and a handle to easily move it in, out, and around your squat rack. For the lifter who is training for powerlifting, it's good to that this is built to the standard of what you may find in IPF competition. Also, the Rep FB-5000 Bench utilizes a unique 3-post frame that allows your feet to get underneath you without having to step on the legs. This may seem like an insignificant feature, but after using it extensively, we can confidently say it's superior to the typical four foot design that although is a bit more stable, can often get in the way. 
The Rep Fitness Comp Flat Bench is also designed to be switched out and upgraded to accommodate various bench pads such as the ever-popular Rogue Thompson Fat Pad (a good option for many lifters, especially those that are larger.) Overall, with its 3-foot post design, 1000 LBS weight capacity, easy maneuverability, and outstanding price (less than $150 as of this writing) we recommend this flat bench to both those who are on a budget and those who aren't.
If you'd rather have an adjustable bench, but are still on a budget, then we suggest the Rep Fitness AB-3100 Adjustable Bench V3. The AB-3100 is adjustable, only costs a bit more than our top pick, the Rep FB-5000 Comp Flat Bench, and is pretty sturdy, all things considered. For the garage gym lifter, a bench with the ability to adjust through different positions of incline can be an extremely useful option for performing lifts outside of the traditional main 4 barbell lifts, including many accessory movements.
While flat benching with a barbell is enjoyable, sometimes it's nice to change the bench position ever so slightly to bias different pec muscle fibers or to even try out some of your overhead presses while seated to utilize the benefit of added proximal support. We've also used adjustable benches for various movements ranging from prone rows to preacher curls.
Specifically, the Rep AB-3100 is designed with a 1000 LBS weight capacity, and still utilizes the 3-foot post design of the Rep FB-5000. It measures fairly close to its flat bench brother (50" x 11.75" x 17.5") which makes it not only useful to bench off of, but versatile. There are 6 different pad adjustments, all the way from flat to nearly upright (85°). The AB-3100 will definitely be less stable than a dedicated flat bench, but it also has the benefits of adjustability. You'll have to weigh the pros and cons for your situation to determine which is best.
For many people on a budget who want options when it comes to doing the upper body barbell lifts (as well as other accessory lifts), the Rep Fitness AB-3100 is hard to beat when it comes to buying an incline bench for your home gym.
The AmazonBasics Flat Weight Bench definitely sounds like it would be flimsy, especially considering its super low price tage of only $49.99 with free shipping. Most of the time, you really do get what you pay for, and a bench this cheap seems like it would be a bad idea. That being said, it definitely can take a beating and we are pleased to call it our ultra-budget pick.
The AmazonBasics Flat Bench measures in at 41" x 11" x 17.9", which puts it pretty darn close to optimal. It comes in a box to be assembled, but it very easy to put together. Once built, you can really tell how light weight it is. Weighing only 26 LBS, it feels like it could be too flimsy, so we filmed a video review on youtube a while back, where we put it to the test. Needless to say (watch everything we subjected this bench to in the video) it can take a punch! But it also needs to be said that in the user manual, it states that the weight capacity is only rated at 385 LBS. 
For many this might never be a problem, but we figure for most lifters will want to graduate from this bench once they are handling heavier and heavier weights. Also, since it utilizes a 4-post frame, this might get in the way for some people's feet when they bench. We will say that overall, if you need a very basic bench that at the very least gets the job done, the AmazonBasics Flat Weight Bench is a decent option.