Just about everyone loves the idea of walking out of your garage door or into your basement or even into a bedroom and having a place where you can hone your physical and mental abilities. Unfortunately, many people have the idea that a home gym or garage gym has to be expensive; we're here to crush that notion. Here is the best budget home gym equipment for those on a budget so you can start training at home on your time without breaking the bank.
Best Budget Home Gym Equipment
Almost all of these recommendations (and more) can be found throughout Garage Gym Reviews, either through in-depth reviews or round-up articles. However, we understand that it's helpful to have it all in one place so you can see how everything would fit together. This guide of the best budget home gym equipment brings all of our most recommended equipment for the recommended categories (as well as some extras) for budget-minded home gym owners.
You'd be amazed how little it may cost to create your own home gym by collecting some of the best home gym equipment. Not only that but how much money you can save versus your expensive gym membership that you, like most people, probably don't use as much as you should and find way too little enjoyment in. More than at any time in history, there are now more options, and even better than that, more options at even better price points.
Less than a decade ago, a "good" barbell would have cost over $600; today you can get a barbell with even better specs and warranty for less than $300 (and some for less than $200.) This can be said for just about every product category, and we not only want to help you get the best price, but also the equipment you'll actually use based upon our team's years of experience and the community collective experience training at home.
Video Review
The Best Budget Squat Rack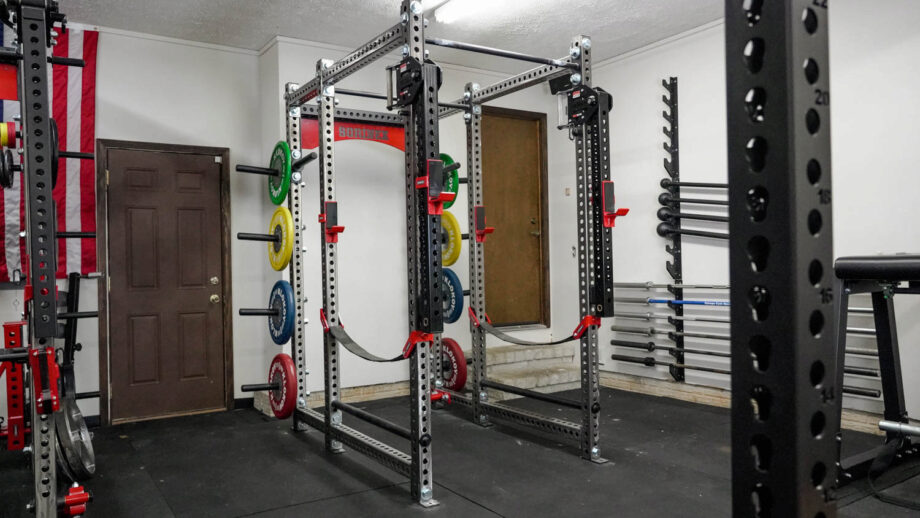 The squat rack is the centerpiece of nearly every home gym, and for good reason. No matter what your goals are, squat racks will likely play a big part in helping you achieve them. The only piece of equipment more versatile than the squat rack is a barbell, and if you follow our recommendations, then you'll already have one.
A squat rack can be used for obvious exercises like squatting and benching, but they're also great for pull-ups, rackable deadlifts, and overhead press. You can add in some attachments for a bit more and suddenly your rack can do everything from landmine movements to lat pulldowns.
Without question, the squat rack is where you should spend most of your time in the gym, especially if you're trying to increase strength. Although you'll use the rack quite a bit, the quality of even the cheap squat racks has increased to the point that we currently feel no need to recommend a very expensive rack for those on a budget, unless you want the better quality and additional features.
You'll notice that we only suggest power racks in this guide. We've noticed that many people starting home gyms will purchase squat stands and then upgrade later to a power rack due to their versatility. It also needs to be mentioned that most squat stands, when safety bars are added, aren't much cheaper than their power rack equivalents.
With the price of power racks today, we suggest skipping the squat stand option and going for a power rack. You won't spend much more (in some cases you'll spend less) and you'll be much safer and satisfied in the long run.
Best Budget Squat Rack: Titan Fitness X-3 Flat Foot Power
Our previous top pick, the REP Fitness PR-3000 Power Rack has been discontinued (we do think this was a bad idea on REP Fitness' part.) Due to this, we went back to the drawing board and after much deliberation, chose the Titan X-3 Flat Foot Power Rack as our new top pick for the best budget squat rack.
There are a few reasons as to why the X-3 Flat Foot Rack made the top of our list, but one of the big ones is that it's extremely similar to our upgrade pick, but is imported, cheaper, and a little bit lower quality (but not enough difference that most would notice.)
There are a lot of good squat racks on the market, so it can be hard to pick just one to recommend to those on a budget, but there are a few reasons we feel this rack from Titan Fitness is a great option for those on a budget.
First, the rack is compatible with a wide array of accessories. Being on a budget probably doesn't mean a ton to you now, but it will later down the road when you have more money and want to increase the variety of your workouts. The upright size is also 3"x3" which is an industry standard and can, therefore, use accessories from Titan Fitness as well as many of their competitors such as Rogue Fitness, Rep Fitness, Fringe Sport, and others.
The next reason we recommend the Titan X-3 is because of its flat feet. Many racks at this price point are bolt-down racks, meaning if you plan to put it in your garage or bedroom, it must be bolted down or can easily fall over. Although we love the stability offered by a rack that is secured either through anchors in a concrete garage floor or to a platform, many people don't need that much stability and would like to avoid the hassle or simply can't due to the location of the rack or them renting their domicile.
Thankfully, the Titan X-3 is stable enough for even those that perform dynamic CrossFit movements like the kipping pull-up or powerlifters squatting over 700 LBs (the weight capacity is 1,000 LB.)
If you don't mind bolting the rack down, then we suggest the Titan X-3 Series Bolt Down Power Rack as it's a bit cheaper and does provide more stability.
Best Upgrade Pick: Rogue RML-390F Flat Foot Monster Lite Rack
If your budget allows you to spend a bit more on a power rack, then we'd suggest the Rogue RML-390F Flat Foot Monster Lite Rack. The RML-390F Rack features a similar flat foot design to the Rep PR-3000, but with 3"x3" uprights, the RML-390F will be sturdier and offer a few more attachments options.
In addition to the increased stability, Rogue Fitness racks as a whole are a bit better quality than those from Rep Fitness. This largely has to do with the fact that all of Rogue's squat racks are made in-house at their 600K+ sq. ft. facility. This allows them to oversee every part of the manufacturing process and therefore leads to a better fit and finish for the consumer.
The RML-390F from Rogue Fitness is also one of the most popular squat racks Rogue sells with over 130 reviews. What's crazy is it's still listed as having a 5.0-star rating, something we haven't ever seen on such a highly reviewed product on Rogue's site. The RML-390F features a 30" depth for working inside the rack and a 92" height. Due to its 295 LB weight, it should remain stable for most work including pull-ups, although you can always add weight posts for increased stability.
If you're looking for a power rack that's made in the USA from a company with the best warranty and service in the industry and are willing to spend a bit more than our other budget options, then this is a great choice that will last you for many decades to come.
Best Budget Power Rack: REP Fitness PR-1100 Home Gym Power Rack
If you're looking to spend as little as possible to get started, yet still get a good, serviceable rack, then we suggest the REP Fitness PR-1100 Home Gym Power Rack. The PR-1100 features a depth of 24" and a height of 84". This makes it a bit more of a compact exercise equipment than our other picks making it great for basements or people that simply want a rack that takes up less space. Despite its price and size, it has an impressive max weight capacity of 1,000 LB and is quite stable even at heavy loads.
The PR-1100 has a few unique features that make it surprisingly outstanding for the price. First is the many attachments available for the rack that increase its expandability. Everything from dip handles to a lat pulldown is available for the rack.
Next, the uprights are numbered. Albeit, they're only numbered every five holes, but for the price, that's unheard of. In addition to the attachments and numbered uprights, the Rep PR-1100 Power Rack includes a multi-grip pull-up bar standard with the rack; an attachment that's usually saved for much more expensive racks.
Finally, the PR-1100 is one of the best-priced racks on the market and even comes in various colors. For many people looking to start a home gym on a budget, this is going to be your best bet.
The Best Budget Barbell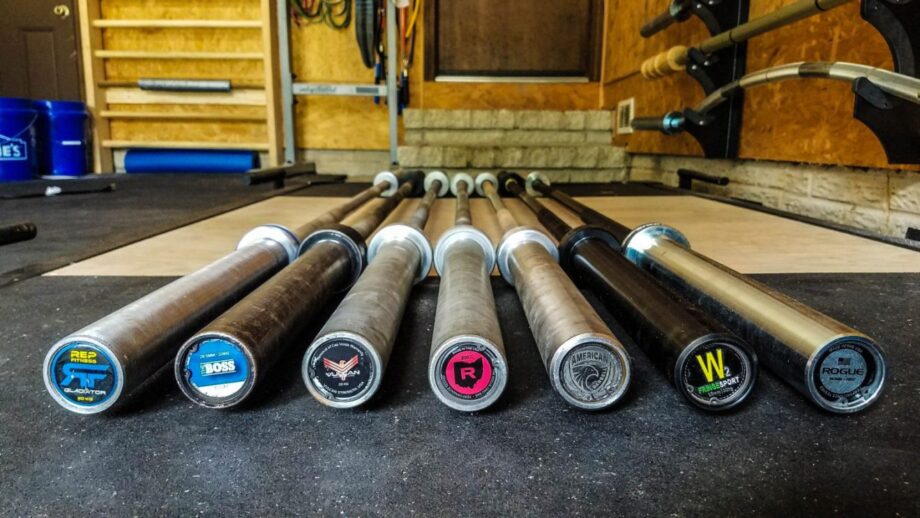 The almighty barbell is the most important piece of equipment in any home gym. No matter your goal, you should have a barbell in your hands at least some of the time. The biggest reason for this is its effectiveness; the second reason is its versatility. No piece of equipment can be used for as many different purposes as the barbell, and the best part? It produces results.
Not too long ago, finding a barbell that we would recommend would cost over $500. Today, you can find bars from a wide range of manufacturers, even those made in the United States, for less than $300 and some quite a bit below that.
Briefly, there are a few things we look for in a barbell to determine its worth in recommending. We've included those in detail in our best Olympic barbell article, but we'll summarize them here:
Overall Construction: Essentially the build quality of the bar.
Tensile Strength of Steel: This gives us clues as to how likely the bar is to permanently deform.
Knurling: This is the portion of the barbell where you grip the bar. Very important and varies widely among companies.
Spin: The rotation system so the sleeves turn preventing injury.
Finish: Prevents the bar from oxidation (rust.)
Price: Value trumps price. If a barbell is really cheap and bends after only a couple months use, then it's not a good value.
Warranty: The longer the warranty, the better. The stronger the company that offers the longer warranty, the better.
We've used all of the barbells we recommend and during testing, we performed all of the major barbell exercises including squats, deadlift, bench, overhead press, clean and jerk, and snatch. We also took measures to get the opinion of others and interviewed industry representatives to determine why they feel their bars are superior to the competition.
Best Budget Barbell Overall: Rogue Bar 2.0
The Rogue Bar 2.0 is the most popular barbell in the world, and for good reason. Rogue Fitness' has taken incredibly focused attention to detail and combined it with their best-in-the-business customer service, 600K+ sq. ft. manufacturing facility, and lifetime warranty to offer an incredible bar for less than $300 shipped to your door. We're not surprised to see that the bar has 181 reviews with a 4.8-star rating.
Although you can spend less (and much, much more) we believe this is the piece of equipment you should spend the most money on, largely because of how often you will use it and how long it can last. We recommend the Rogue Bar 2.0 over some of the less expensive competition because of the 190K PSI tensile strength steel, composite bushing rotation system, high-quality knurl, made in the USA quality, and a lifetime warranty from a company that will likely be around for your lifetime.
We believe that although it's not the cheapest, the Rogue Bar 2.0 is the best value for most people. If you feel like you need a center knurl because you will be sticking mainly to the power lifts (squat, deadlift, and bench) then we recommend the Rogue Ohio Power Bar which can be had for the same price as the Rogue Bar 2.0.
Best Affordable Olympic Barbell: Fringe Sport Wonder Bar V2 Olympic Barbell
If you'd rather not spend more than $300 on a barbell, then the Fringe Sport Wonder Bar V2 Olympic Barbell is the one we'd recommend. Fringe Sport is a company that has been around for some time and offers high-quality imported gym equipment. The Wonder Bar V2 is a bar we've had and used for nearly three years, and despite all of the time we've put under the bar, it still looks and performs extremely well.
The Wonder Bar V2 features 205K PSI tensile strength steel (which is stronger than our top pick), a 28MM shaft (slightly thinner than our top pick), and a black zinc coating on both the shaft and sleeves. Although we think the Rogue Bar 2.0 is a better option for most people despite the slightly higher price, the Wonder Bar does offer a lifetime warranty and free shipping from either their site or Amazon (2-day Prime Shipping for the win!)
We are big fans of the Fringe Sport Wonder Bar V2 and would recommend it to anyone wanting an extremely high-quality barbell at a price that makes it seem like it's 10x its worth.
Best Ultra Budget Barbell: CAP Barbell OB-86B Olympic Bar
The absolutely cheapest barbell we'd suggest you purchase (for both safety and durability purposes) is the CAP Barbell OB-86B Olympic Bar. The CAP OB-86B is an extremely popular bar for its extremely budget-friendly price; as of this writing, it has a 4.2 Star Rating on Amazon with over 500 reviews. It also can be had for less than $150 with free shipping.
Although we expect that you'd have to eventually upgrade, this is a great barbell to determine if working out at home is something you plan on doing long-term and can easily be resold on the secondary market for not much less than what you paid for it.
Despite the low price, it's not a "bad" barbell. Sure, it's not as good as our other picks which can be had for just a bit more, but it gets the job done and should be somewhat reliable for most people. Featuring 110K PSI tensile strength steel, a decent knurl, 28.5MM shaft, black oxide shaft finish, and a 5-year warranty, the CAP OB-86B isn't amazing, but if you're used to working out at a commercial facility, this will likely be better than just about anything you used there.
The Best Budget Weight Plates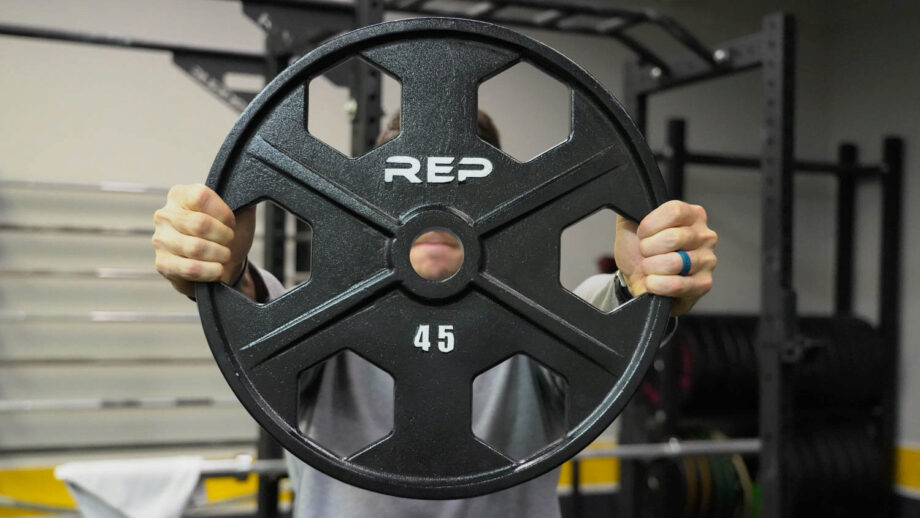 Once you have a barbell and a place to set that barbell, having weights that slide onto the barbell is the next piece of equipment you should be looking for. The best weight plates are likely going to be the most costly piece of equipment in your gym.
You can start out with a small amount of weight, but what typically becomes painfully obvious, and quickly, is that you need more weight. Think about it, most general trainees who are starting on their strength journey will end up deadlifting at least 315 lb within less than a year if following even a decent training program consistently.
Thankfully, weight plates can be had for rather cheap per pound; just recognize that the price will add up over time, especially if you desire matching plates. The first place to look is the secondary market. Although not every market is this way, many will feature crazy good deals on Craigslist and Facebook Marketplace.
We always suggest looking around your local area for weight plates before purchasing new ones. The reason is that iron lasts a very long time, and people often don't know the value of what they have. So, before taking any of our new suggestions, look around your area.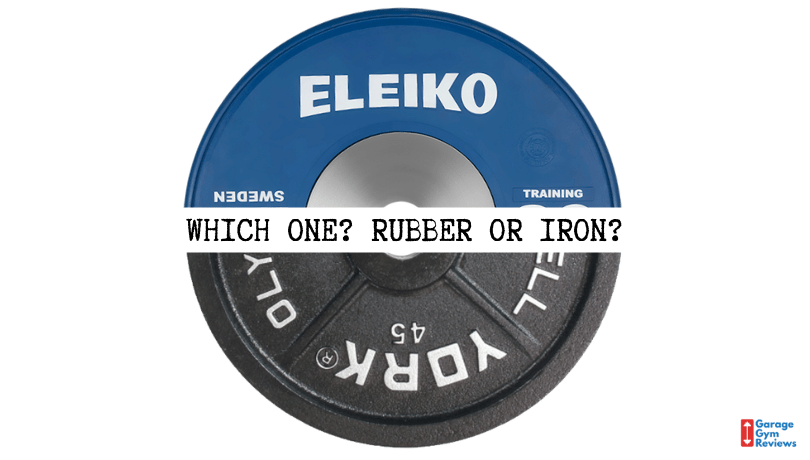 Many of you are also likely debating if you should purchase iron plates or bumper plates. We've used a wide array of both, and here's what we've found. Although bumper plates are better in a garage gym for most people due to their ability to be dropped without damaging the floor and their great resale value, they're vastly more expensive than iron plates.
We suggest for those on a budget purchase iron plates unless they plan to do a lot of Olympic Weightlifting or CrossFit. Even the power clean can be lowered from the front rack to prevent damage to the floor with enough practice (this was done for decades before bumper plates were invented." If you plan to do some of the classic lifts like the clean and jerk and snatch, then we suggest purchasing a few bumper plates, and then filling the rest of your weight plate needs with iron.
Best Budget Weight Plates Overall: REP Fitness Iron Plates
The reason we suggest the REP Fitness Iron Plates is pretty simple, they're some of the best-priced iron plates with consistent and standard sizing on the internet. At $0.89/lb (as of this writing) the EP Iron Plates are dirt cheap in comparison to many of the other options from companies like York Barbell, Rogue Fitness, and Ivanko.
Although the Rep Iron Plates are cheap, they're not too bad. Sure, they're going to be less consistent and accurate than some of the more expensive plates you can purchase, they should meet most people's needs. The 45 lb plates have the standard 17.7" outside diameter and Rep guarantees a 3% tolerance on all plates. This means that if the plate is outside of 3% of the stated weight, then they should, in theory, replace it
The Rep Iron Plates look like the Standard Barbell plates that have been around for years and are seen in just about every commercial gym in the country. Cast Iron is what most iron plates are made of, and these are no exception. Each plate also includes a small lip that makes it easier to pick up and carry around, black paint on the entirety of the plate with silver-painted letters and numbers. If you're wanting budget weight plates, then these are your best value.
Best Budget Bumper Plates: Fringe Sport Black Bumper Plates
If you're wanting bumper plates instead of iron plates, or just want some bumpers in addition to the iron plates you have, then the Fringe Sport Black Bumper Plates are the ones we suggest. We've reviewed the Fringe Sport Bumper Plates in the past and gave them high remarks. For the price, there isn't a better set of black bumper plates on the market with durability, accurate weight, and value.
Bumper plates are known to break over time, especially the lighter plates. The most common problem we see with bumper plates is the inner metal ring separating from the rubber.
If you've ever been to a CrossFit Affiliate Gym you've likely seen this a lot, it's especially prevalent with recycled tire crumb rubber plates like Hi-Temp Bumper Plates. To help mitigate this issue, all of Fringe Sport's Bumper Plates feature a steel insert with welded rebar that increases the surface area for rubber and metal to connect. It's a small addition, but it makes a big difference.
Another unique benefit that Fringe Sport offers for their bumper plates is a 1-year warranty on the ten and fifteen-pound plates and a 3-year warranty on all of the other sizes. This may seem short compared to the warranties we see on barbells, but compared to other companies this is one of the best bumper plate warranties in the industry.
RELATED: Best Bumper Plates
Best Ultra Budget Weight Plates: CAP Barbell 2-Inch Olympic Grip Plates
The absolute cheapest weight plates we'd suggest you buy new are the CAP Barbell 2-Inch Olympic Grip Plates. They're not crazy accurate and have a smaller outside diameter than other plates (making them awful to use when mixing plates on the bar) but, they're cheap and can be delivered via Amazon Prime in two days.
One nice feature of the CAP Barbell 2-Inch Olympic Grip Plates is the cutouts in the plates that allow them to be carried easily as well as increase their use for various core and shoulder movements. The CAP plates are coated in a gray hammer tone paint that does end up chipping over time but looks pretty good in the beginning.
They're available in weight increments ranging from 2.5 LB to 45 LB and are surprisingly thin. These are the cheapest plates we recommend, and even then, expect them to chip if dropped and not be extremely accurate in weight.
The Best Budget Weight Bench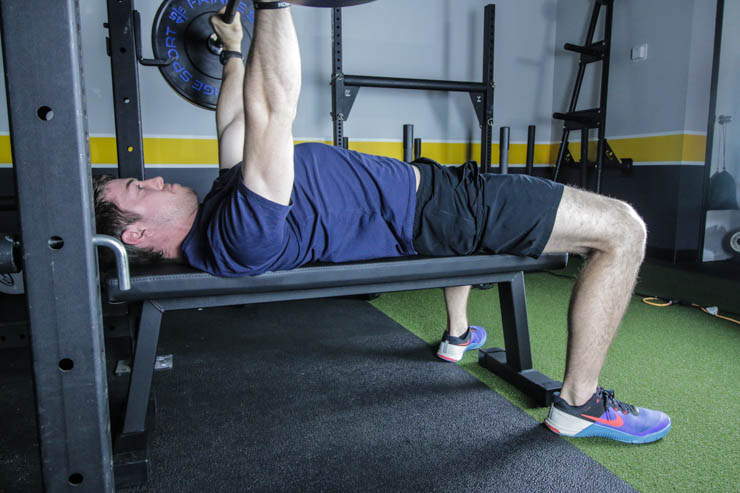 Now with a barbell, squat rack, and weight plates in hand, it's time to purchase a bench. Although a weight bench isn't necessarily what we'd consider essential, for many, it will be a highly used piece of equipment. Many view a flat bench as just beneficial for bench pressing, however, it can be used for many other movements from the upper body to the lower body. Versatility is what you should be looking for in your equipment, and a portable bench can provide a lot of that.
The first bench you should think of purchasing for your home gym should be stable enough to make you feel safe when laying down with a bar over your head, but light enough that you can easily maneuver it in and out of your power rack when needed.
The bench press is one of the four main barbell lifts you are likely to train in your home gym. Because of how many people buy them, a good weight bench is very affordable and can increase the use of most of your equipment. It may be used for box squats, rows, triceps exercises, step-ups, box jumps, Jefferson curls, and a variety of other exercises.
In addition to the training movements, when you're not squatting inside the rack, you may frequently find yourself taking your rest sitting down (perhaps laying) on the bench in between sets. Or when you are squatting or deadlifting, you may find it as a useful safe area for your kids to be seated off the platform while you are in the middle of your set.
For most people, we'd suggest first buying a flat bench. Although incline benches are great, budget incline benches typically perform outstanding neither for the flat bench press or incline movements. Although there are often flat benches available on the secondary market, good benches can be had for so cheap these days that there's often little reason to buy a used bench.
The ideal bench dimensions are 12" wide, 48" long, and 17" high to the top of the pad. Outside of these parameters (such as a shorter, narrower bench) and you will quickly become frustrated at the subtleties. Let's get started with our first recommendations.
Best Budget Weight Bench Overall: REP Fitness FB-5000 Competition Flat Bench
As we have already stated multiple times, REP Fitness is a trustworthy company that sells high-value equipment (value meaning best price to features/quality ratio). That's one reason why we can say that the Rep Fitness FB-5000 Comp Flat Bench is an all-around great flat bench. It's constructed with thick 3" x 3" 11-gauge steel, with durable vinyl padding that will sit just right with the backside of your shirt.
The construction is very sturdy and definitely gives you confidence in that it won't move around while you are doing your set. It weighs in at a maneuverable 62 LBS, with built-in wheels and a handle to easily move it in, out, and around your squat rack. For the lifter who is training for powerlifting, it's good that this is built to the standard of what you may find in IPF competition.
Also, the Rep FB-5000 Bench utilizes a unique 3-post frame that allows your feet to get underneath you without having to step on the legs. This may seem like an insignificant feature, but after using it extensively, we can confidently say it's superior to the typical four-foot design that although is a bit more stable, can often get in the way.
The Rep Fitness Comp Flat Bench is also designed to be switched out and upgraded to accommodate various bench pads such as the ever-popular Rogue Thompson Fat Pad (a good option for many lifters, especially those that are larger.) Overall, with its 3-foot post design, 1000 LBS weight capacity, easy maneuverability, and outstanding price (less than $150 as of this writing) we recommend this flat bench to both those who are on a budget and those who aren't.
Best Value Weight Bench: REP Fitness AB-3100
If you'd rather have an adjustable bench, but are still on a budget, then we suggest the REP Fitness AB-3100 Adjustable Bench V3. The AB-3100 is adjustable, only costs a bit more than our top pick, the Rep FB-5000 Comp Flat Bench, and is pretty sturdy, all things considered.
For the garage gym lifter, a bench with the ability to adjust through different positions of incline can be an extremely useful option for performing lifts outside of the traditional main 4 barbell lifts, including many accessory movements.
While flat benching with a barbell is enjoyable, sometimes it's nice to change the bench position ever so slightly to bias different pec muscle fibers or to even try out some of your overhead presses while seated to utilize the benefit of added proximal support. We've also used adjustable benches for various movements ranging from prone rows to preacher curls.
Specifically, the REP AB-3100 is designed with a 1000 LBS weight capacity, and still utilizes the 3-foot post design of the Rep FB-5000. It measures fairly close to its flat bench brother (50" x 11.75" x 17.5") which makes it not only useful to bench off of but versatile. There are 6 different pad adjustments, all the way from flat to nearly upright (85°). The AB-3100 will definitely be less stable than a dedicated flat bench, but it also has the benefits of adjustability. You'll have to weigh the pros and cons of your situation to determine which is best.
For many people on a budget who want options when it comes to doing the upper body barbell lifts (as well as other accessory lifts), the REP Fitness AB-3100 is hard to beat when it comes to buying an incline bench for your home gym.
Best Ultra Budget Weight Bench: AmazonBasics Flat Weight Bench
The AmazonBasics Flat Weight Bench definitely sounds like it would be flimsy, especially considering its super low price tag of only $53.74 with free shipping. Most of the time, you really do get what you pay for, and a bench this cheap seems like it would be a bad idea. That being said, it definitely can take a beating and we are pleased to call it our ultra-budget pick.
The AmazonBasics Flat Bench measures in at 41" x 11" x 17.9", which puts it pretty darn close to optimal. It comes in a box to be assembled, but it is very easy to put together. Once built, you can really tell how lightweight it is. Weighing only 26 LBS, it feels like it could be too flimsy, so we filmed a video review on youtube a while back, where we put it to the test. Needless to say (watch everything we subjected this bench to in the video) it can take a punch! But it also needs to be said that the user manual, states that the weight capacity is only rated at 385 LBS.
For many, this might never be a problem, but we figure for most lifters will want to graduate from this bench once they are handling heavier and heavier weights. Also, since it utilizes a 4-post frame, this might get in the way of some people's feet when they bench. We will say that overall if you need a very basic bench that at the very least gets the job done, the AmazonBasics Flat Weight Bench is a decent option.
The Best Budget Pull-Up Bar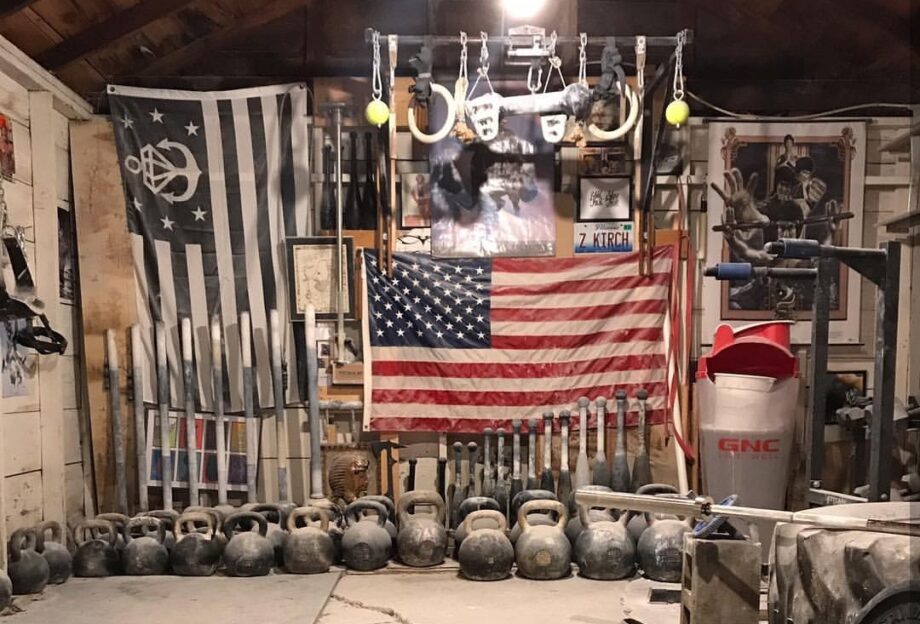 A pull-up bar can be one of the most useful pieces of upper-body equipment you purchase. If you follow our suggestions and buy a power rack that includes a pull-up bar, then you won't need a dedicated pull-up bar, however, these are our suggestions for those that want one.
Also, there are many lifters who like having a mounted pull-up bar separate from their rack, as they can also use it as an area to attach resistance bands from, use for accessory work, or even superset pull-ups at the wall with squats in the rack. If you follow CrossFit-type programming, this is especially helpful.
When it comes to choosing the right pull-up bar, you first need to think of where you would want to mount it and at what height. Most versions you can find are wall-mounted, but there are also ceiling-mounted versions as well. It is also important to think about all of the activities you may do on the bar besides pull-ups. If you think you'll attach gymnastic rings to it so that you can do exercises like inverted rows, you'll need to make sure you have the space for it.
Also, you don't necessarily have to mount a pull-up bar to the wall, you could also get a doorway pull-up bar to put inside your house and many often double as push-up stands. For these reasons, we've included a few different options depending on your price point and potential use.
Best Budget Pull-Up Bar Overall: Titan Fitness Wall Mounted Pull-Up Bar
Our top pick is the Titan Fitness Wall Mounted Pull-Up Bar. It is the classic design that can be found in many elementary schools across the country. The Tian Pull-Up is designed to be mounted into wood studs or can be fixed into a concrete wall. The depth of the bar from the wall is 32", more than enough to give you room to hang and work from.
The weight capacity is listed at 500 LBS, and even with kipping style pull-ups, this should be secure enough for most people. The entire structure is matte black powder-coated, which provides a decent grip that shouldn't be a problem even with sweaty palms. The bar can be adjusted to 16", 32", or 52" apart, which is set just right for the standard 16" wood studs found in most homes.
Overall, the Titan Wall Mounted Pull-Up Bar is our classic value pick. For the price of only $67.75 with free shipping, you're getting a very basic pull-up bar that gets the job done and functions quite well.
Another Budget Pull-Up Bar: Rogue Fitness Jammer Pull-Up Bar
Rogue has largely focused on equipment made for a garage gym, but the Jammer Pull-Up Bar works great inside the house as well as out. The Rogue Jammer Pull-Up Bar is designed to mount into the studs above a door frame and does so with ease. The depth of the bar to the wall is only 7", but since it will be hanging above a door that can be opened usability will be no problem, even for things like kipping pull-ups and toes to bar, although you won't be able to do muscle-ups on the bar.
One of the great details about this pull-up bar is that you have options to replace the actual bar of the unit depending on what look and feeling you like. Most mounted pull-up bar options we have found don't give you this option (or for that matter even have knurling) so it's nice to see that Rogue has created a pull-up bar with this in mind. The Rogue Jammer Pull-Up Bar comes in a multitude of powder-coated and Cerakoted colors, with both knurling or plain smooth options.
Knurling on a pull-up bar is great for max-effort work, but if you're doing anything dynamic on the bar, you'll want it to be smooth. Depending on what you choose, the price will vary anywhere from a $95 Textured Black Powdercoat with knurling to a higher-priced Tiger Stripe Woodland Camo Cerakote with the option of no knurling.
This is definitely, in our opinion, the best-looking budget pull-up bar on the list. It looks good in both a garage or home and functions just as well.
Best Upgrade Budget Pull-Up Bar: Rogue Fitness P-3 Pull-UP
If you like our Top Pick, the Titan Wall Mounted Pull-Up Bar, but prefer a better fit and finish or want an American-made product, then the Rogue P-3 Pull-UP is your best bet. The Rogue P-3 can be mounted to either a wall or the ceiling and performs just as well on both. It's quite sturdy and sticks far enough away from the wall that things like kipping pull-ups or even muscle-ups are made possible on the unit.
What we like about this is the precision and feel in how it was designed. The Rogue P-3 is classified as a pull-up system, which means that it can be daisy-chained together to elongate the entire structure (so multiple people can perform pull-ups on this at the same time).
We've seen garage gyms connect a couple of these together so multiple people can do pull-ups at once and it seems to work really well for that purpose. Although we don't see the need for most people to spend more on this version over our top pick, we still recommend it to those that want a better overall experience.
The Best Budget Dumbbells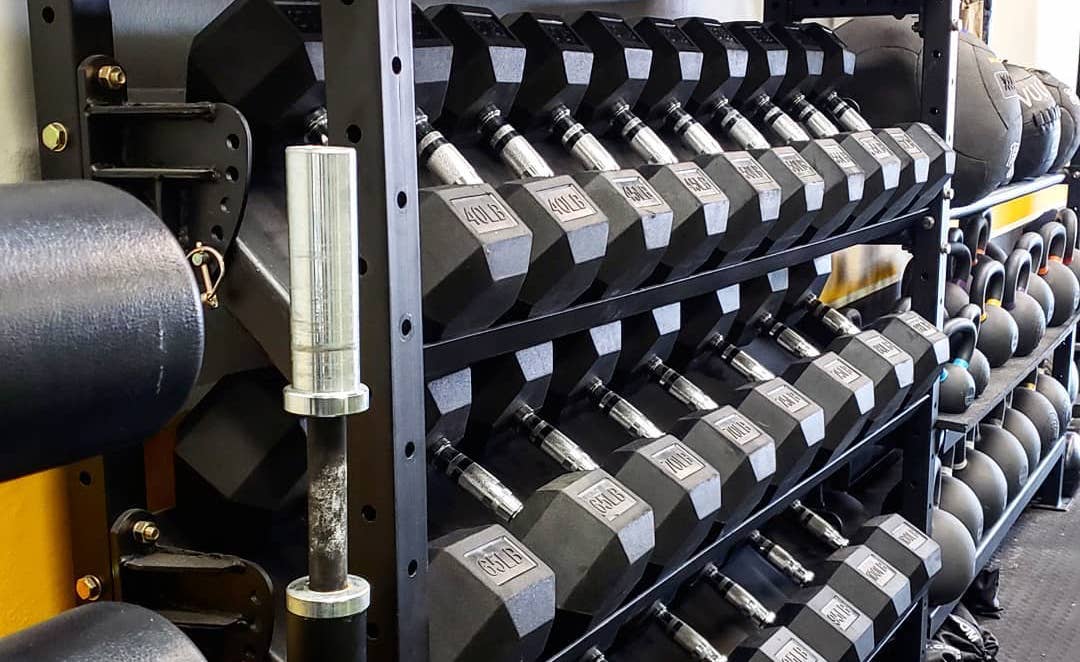 Dumbbells on a budget? It's definitely and an affordable option in today's market. While dumbbells may not be a necessity for many garage gym owners, they are very useful tools in the right hands. Having a good set or pair of adjustable dumbbells will allow you to perform plenty of great exercises for both hypertrophy and accessory work. They also can give you much-needed breaks from extensive barbell work. Dumbbells, in general, are used in nearly any exercise program. Any barbell lift has a dumbbell variation, and dumbbells also go further in enhancing your exercise library for single-joint movements.
For the garage gym owner, the thought process for purchasing the best dumbbells should include ideas about space and convenience. Most people would not have the room to house an entire set of dumbbells from 5 LBS all the way up to 100 LBS. And even if you did, finding great quality dumbbells at an affordable cost is rare indeed.
We hear frequently of people snagging nice adjustable dumbbells at a fraction of the ticket price, as well as purchasing whole dumbbells sets for around 50 cents per LB. Luckily for you, we have been able to review several great options and have found what we believe to be the best budget dumbbell options money can buy.
Best Budget Dumbbells: REP Fitness Hex Dumbbells
Our top pick for home gym budget style dumbbells is the REP Hex Dumbbells that are rubber coated. Rep Fitness designed these dumbbells with a straight, medium-knurled handle. Each handle end is fixed into the hex head via fiction welding, meaning that the risk of the heads becoming loose is greatly reduced. While the knurling is somewhat passive, it feels better and more consistent compared to other hex dumbbell models we have tried.
Many dumbbell models (non-Hex) utilize an ergonomic handle while the Rep Rubber Coated Hex Dumbbells use straight. While ergonomic handles feel great for pressing movements, straight handles seem to work much better for pulling movements and curls.
Also, most people use dumbbells to supplement their barbell training, so using a straight bar implement is probably somewhat more transferable. The Rep Fitness handles are similar to the diameter of a power bar, increasing in thickness depending on the weight used. The Rep dumbbells are 28mm on 5 LB through 15 LB, and 34mm on everything size above that.
The rubber coating is designed to protect the dumbbell and works well. Rep Fitness even offers a lifetime warranty on these dumbbells specific to home gym use, which isn't ordinarily offered on dumbbells, especially at this price. Overall, we can confidently say that the Rep Fitness Rubber Coated Hex Dumbbells, priced around $1 per pound, are some of the best value dumbbells for those that want a whole set.
Best Budget Adjustable Dumbbells: PowerBlock Dumbbells
PowerBlock Dumbbells are some of the longest tried and truly adjustable dumbbell options for the home gym user available. PowerBlock has built a solid reputation with its customers, and for good reason, their dumbbells work well and are extremely durable, although unconventional.
The PowerBlock Elite Dumbbells are very compact, each dumbbell only taking up a space of 16" x 6" x 6", although they get much larger with heavier weights. To adjust the weight, PowerBlock Dumbbells utilize a selector pin and a color guide system that is easy to use.
With the PowerBlock Elite, you are able to make jumps of only 2.5 LBS, with adjustability all the way up to 90 LBS per hand (additional weight can be added.) Since the dumbbells are in the shape of a block, it may seem that functionality would be limited, but after putting it to the test, we can confidently say that just about any exercises that you can do with a normal dumbbell can be done with the PowerBlock. Just as long as you don't throw it down on the ground (but you shouldn't be doing that with any dumbbell anyway.)
The PowerBlock Elite is built to last and comes with a 10-year home warranty (you shouldn't need it; we've had ours for over 7 years and they were bought used.) If you are wanting some dumbbells, but also need to think about managing space (or just want something that is convenient and works great), the PowerBlock Elite Adjustable Dumbbells are a great option.
RELATED: Powerblock Coupon
The Best Budget Kettlebells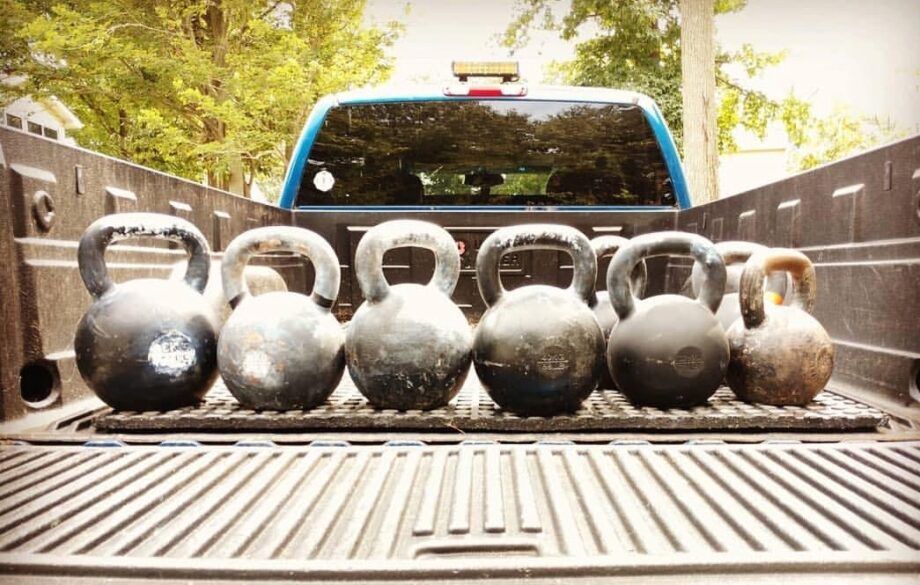 Kettlebells are versatile pieces of equipment that are great for both building power and muscular endurance. We've used quality kettlebells over the years for a variety of different movements; a few of our favorites are kettlebell swings, bottom-up presses (much harder than they look), farmers' carries, and snatches. Although they're great for these movements, they also work well for adding weight to bodyweight movements like dips and pull-ups.
We would definitely suggest purchasing dumbbells before kettlebells due to their versatility and the amount of usage they'll see, you can get by with just a few kettlebell weights. The weight we'd suggest for most people is 53 LB. If you're not as strong or want to use kettlebells more for endurance, then you can go for a lighter weight.
There are various styles of kettlebells, but for most people, we'd suggest standard cast-iron kettlebells. Competition kettlebells are great for the clean and jerk and snatch, but are a bit more difficult to use for two-hand swings and they're also more expensive.
RELATED: Best Kettlebells
Best Budget Kettlebells: REP Fitness Kettlebells
The REP Fitness Kettlebells are some of the best-priced, pound-for-pound kettlebells available that come in a wide range of weight increments. The Rep Kettlebells are available in weight increments from 4KG/9LB – 48KG/106LB and use color bands on the handles as well as the weight increments cast into the front of the kettlebells in both pounds and kettlebells.
One feature that separates a kettlebell designed to last and one that isn't is how it is cast. The Rep Kettlebells are made using a gravity cast that results in a more consistent surface and accurate weighting. Because the handle and bell are cast together, they are less likely to separate and therefore more likely to last through whatever workouts you use them in. Once cast, the bells have the bottoms machined so they're flat and then they're coated in a black powder coat for corrosion resistance and a better grip when chalk is used.
Although the cast iron kettlebells aren't the absolute best that is available, if you're on a budget, this is likely your best bet for a kettlebell that is made to last.
Best Budget Adjustable Kettlebell: Titan Fitness Adjustable Competition Style Kettlebell
Adjustable weight implements are designed for those on a budget. Instead of having to buy a full set of dumbbells or kettlebells, you can buy an adjustable version that works close to as well and doesn't take a super long time to change the weight out. The Titan Adjustable Competition Style Kettlebell is a design that's made by quite a few different companies, including Kettlebell Kings, but Titan Fitness sells it for the lowest price.
Utilizing a standard competition-style kettlebell shell, the Titan Adjustable Kettlebell feels very similar to an ordinary competition-style kettlebell while in use. In order to adjust the weights, you unscrew the bottom shell from the top, remove the plates from the inside, screw them down, and then reassemble the shell. Although we'd prefer a full set of kettlebells, the price and space they take aren't really possible for most home gym owners.
If you really like doing kettlebell work, we'd first suggest just buying a few kettlebells at a time and building your arsenal slowly over time. But, if you want to start with a wide array of kettlebells for not a whole lot more than one heavy kettlebell would cost, then the Titan Adjustable Competition Style Kettlebell is what we'd suggest.
RELATED: Best Adjustable Kettlebells
The Best Budget Cardio Equipment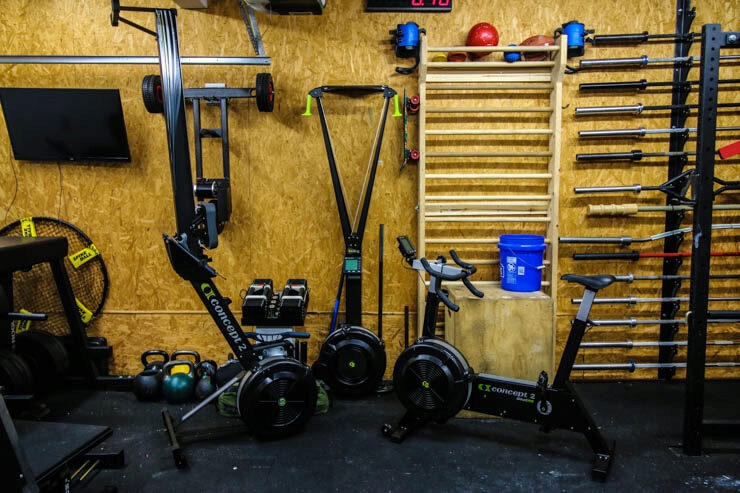 Cardio equipment on a budget can be hard to find. There are so many options, and many are bulky expensive units designed to take the abuse of a commercial gym setting. Although many people are used to seeing rows and rows of treadmills, ellipticals, and the like, most home gyms don't have these implements.
RELATED: Best Elliptical Machine
There's nothing wrong with getting any of these, but don't expect to buy them on a budget, especially ones that will last. If you want a treadmill, save up and buy the right one the first time. Otherwise, you'll neither like the experience or the fact that you're going to have to have a maintenance technician over to your house often.
For those on a budget, we suggest most people work on their conditioning without equipment. Running, sprinting, burpees, bounds, and many other bodyweight movements can get someone into incredible shape. If you do decide you'd like to add some cardio equipment to your home gym, then we suggest getting pieces that you can use for a long time and for both long and short intervals.
Best Budget Sled: Rogue Slice Sled
We've found that a sled can be the most versatile piece of conditioning equipment available. As we've said throughout this article, versatility is what you want in-home gym equipment, and the sled has that. The Rogue Slice Sled in particular is made to be extremely effective for both pushing and pulling. Most sleds work well for either one or the other, but thanks to the size and design of the Slice Sled, it's made to work well for both purposes.
For longer, steady-state type cardio, the Slice Sled can be dragged from behind with straps wrapped around your shoulders. Add a little bit of weight to the sled and it becomes more difficult. Add a lot of weight and it becomes torture. If you want to do some HIIT (High-Intensity Interval Training) then grab the handles, put them in the back, and do 30 seconds on at a hard pace, 30 seconds off.
In addition to performing well, the Slice Sled will last a long time thanks to the 0.25" thick laser-cut and formed steel construction (the base is one piece of steel, crazy!) Unloaded, the sled weighs 65LB, but has a load capacity of over 300LB, meaning you can humble even your strongest friends. For those on a budget, a sled is a great option (so long as you are able to use the street for cardio) and the Rogue Slice Sled is the best-priced option with the amount of versatility it has.
Best Budget Air Bike: Xebex Airmill Air Bike
The Get RXd Airmill Air Bike currently holds the budget category in our best air bike article. The Airmill takes pretty much the same features as our original budget pick, the Xebex Air Bike, and removes a few unnecessary bells and whistles to allow it to be offered at a lower price. We put the Xebex Air Bike through thorough testing, comparing it to competition like the Assault Air Bike, and have found that it's pretty much the same (they're both made in Taiwan, and wouldn't be surprised if they were made in the same factory.)
Although the Xebex Airmill is great for those on a budget, it performs just as well as many other air bikes. Air bikes are great for long and short-duration cardio and can be truly tough if enough effort is put out. The one negative of an air bike is the noise it produces, but if you close the door to your garage or workout room, it shouldn't bug anyone.
The air bike is a great budget conditioning equipment option and the Airmill Air Bike is the best-priced option with a build focused on long-term usage. We recommend it.
Best Budget Treadmill: Horizon Fitness T202 Treadmill
The Horizon Fitness T202 treadmill is one of the best budget treadmill options out there. Horizon is one of my favorite brands since it provides high-quality budget home gym equipment.
Horizon is the way to go if you want something inexpensive and functional. I would recommend the T101 for the best walking treadmill and the T202 for a budget treadmill. The T202 can handle a wide variety of activities and speeds up to 12 mph and incline levels of up to 12% as well.
Best Budget Elliptical: Sunny Health & Fitness Magnetic Elliptical Machine
The smoothness of a cardio workout on the Sunny Health & Fitness Magnetic Elliptical Machine impressed me. Usually, ellipticals have the wheel in the front, but this budget elliptical is a rear-drive elliptical which means the wheel is in the back.
The Magnetic Elliptical Trainer from Sunny Health & Fitness is a $500 model that proves you can obtain a piece of good-budget workout equipment without spending a lot of money. The motorized magnetic resistance system has 16 levels and is excellent for those who have a short stride.
The Best Budget Home Gym Flooring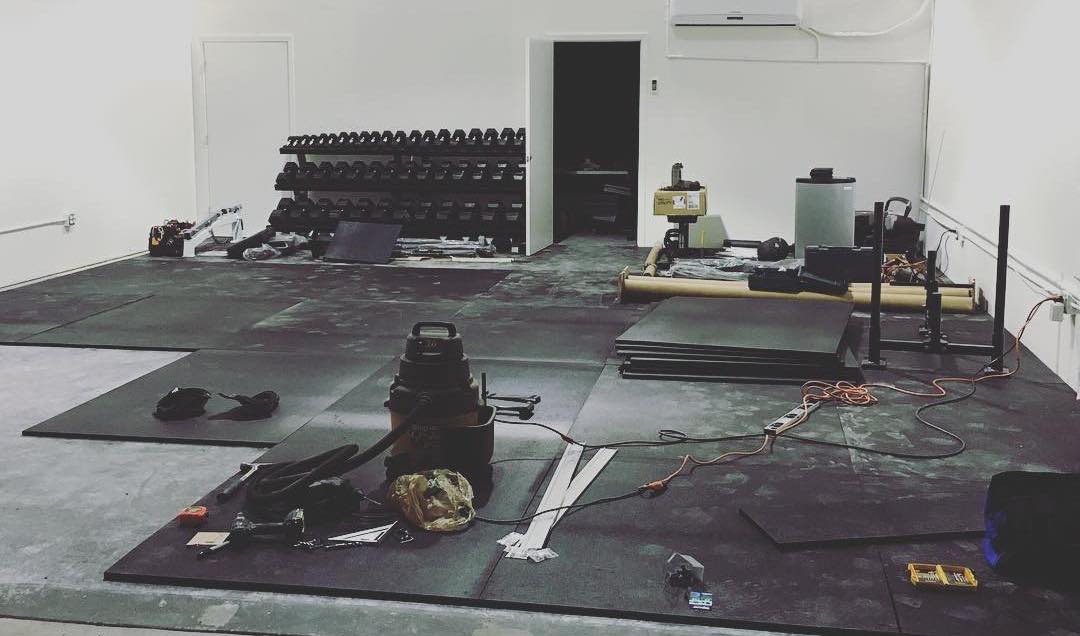 You're likely going to need some sort of home gym flooring. If you lift weights, then you're definitely going to want something to protect your foundation and lower the noise when weights are dropped. There are a lot of intriguing options, but we've found that most foam, puzzle-piece type flooring ends up tearing up, getting nasty, and simply not enjoyable to use pretty quickly. For this reason, we suggest staying away from the cheapy (although it's often more expensive than our recommendations) foam tiles and go with rubber matting.
Best Budget Home Gym Flooring: Tractor Supply 3/4″ Rubber Stall Mats
In most instances, we'd suggest going to your local Tractor Supply or similar farm store and picking up some 4'x6' ¾" rubber horse stall mats. Yes, they're initially made for horses, but practically every gym in the world uses these exact mats or something similar. They weigh about 100LB a piece and can take whatever abuse you can throw at them.
We've used Horse stall mats in our garage gym for close to a decade and they still look practically new.
If your home gym is inside or you just like the idea of foam tiles, then the AmazonBasics Foam Interlocking Tiles will be your best bet. They're cheap, rated well, and have a nice diamond tread pattern. Although we'd suggest staying away from foam tiles for most people, there are some situations in which this is the best and/or only option.
Why You Should Build a Home Gym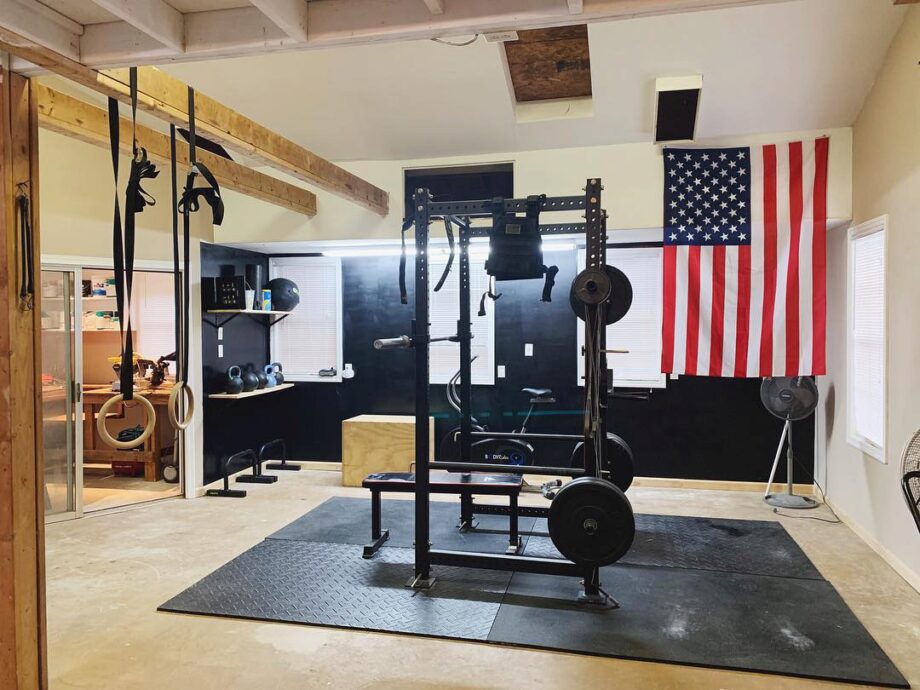 We first want to make something clear, you don't need a home gym. In fact, you don't need a gym membership or gym equipment, or workout clothing. However, you also don't need to save time, lose weight, put on muscle, or do anything else to meet your physical and mental goals.
You want to meet your goals, and the best thing we've found to help meet the physical goals we've set for ourselves as well as increasing discipline, mental fortitude, perseverance and a multitude of other mental goals is by having a gym at home. This is why we believe just about everyone should have some sort of home gym setup.
Building a home gym is simply too easy, cheap, and accessible for people to ignore anymore. Even if you keep your gym membership (we suspect that after a month of continued home gym use, you'll wonder why you kept it so long) having a home gym is great for sneaking in extra workouts, working on mobility and recovery, or simply getting a quick workout in when you're low on time and/or motivation to go to the gym.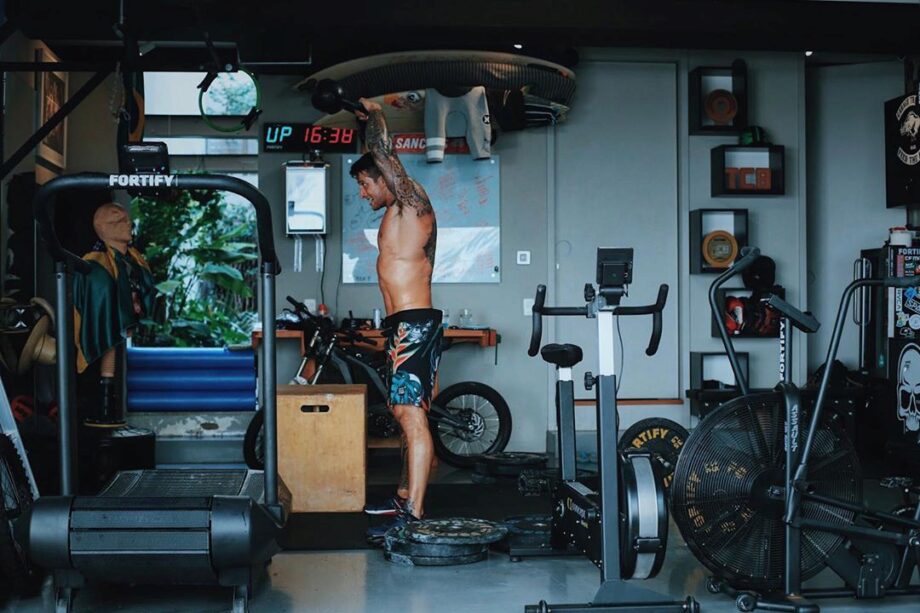 Here are just a few of the benefits we've found personally from building a home gym:
More opportunities to be near our families.
Improved the way we looked, felt, and thought about ourselves.
Increased our discipline in just about every area of our lives.
Saved us money.
Saved us time.
Saved us from getting angry at people at the local globo-gym.
Increased enjoyment of exercising/moving/training.
We could write a book on why we think just about everyone should have a home gym and that still wouldn't do it justice. Here's something that should be considered beyond the benefits we've listed, having a home gym not only improves your life but can improve the lives of those around you.
For instance, how many times have you wanted to take a friend to the gym to workout but were either out of guest passes or had to pay extra for them to go? With a gym in your home or garage you can invite as many of your friends as you'd like, train however you'd like, play any music you'd like at any decibel you'd like and do it anytime you'd like. We've had midnight training sessions, 4 AM training sessions, and had over 15 people working out at one time.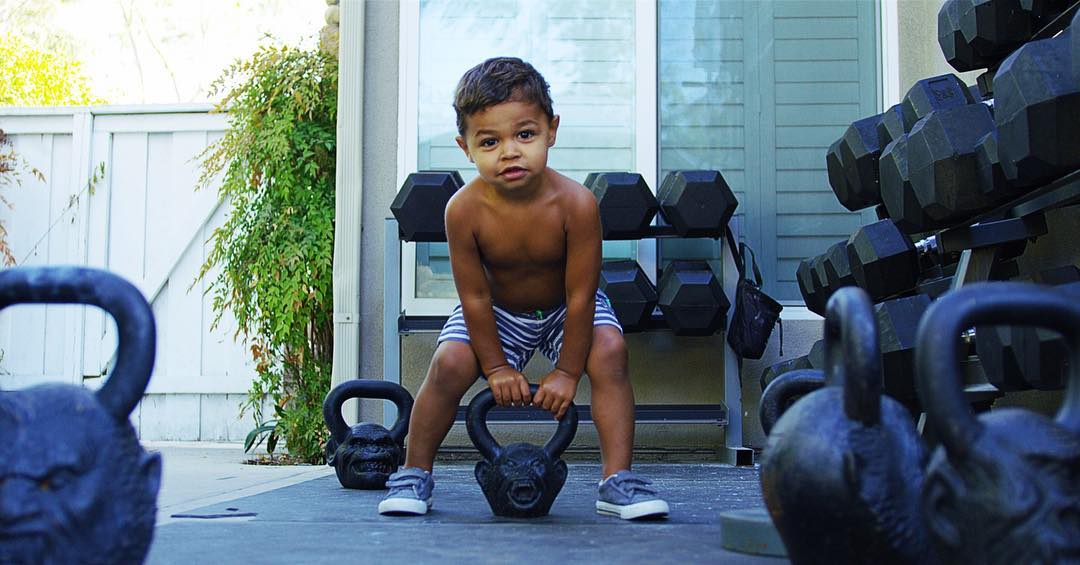 In addition to your friends receiving benefits, your home gym will benefit your family. Nearly every person who's interested in fitness wants their family to experience the joys that come with exercise, and rather than hearing about your participating in hard workouts, they can see them and join in. If you want your family to follow in your footsteps, in any area of life, show them, don't just tell them. Being able to have our kids join in the workout along with our spouses is not only very satisfying but also extremely fun.
Lastly, having a home can actually save you money, and much quicker than you'd expect. We like to think of a home gym vs gym membership as being similar to leasing a car. In a traditional lease, you get to use the car by making monthly payments.
These payments don't allow you to keep the car at the end of the lease and are adjusted to a higher rate due to the wear and tear you're putting on the car as well as the little money you're putting upfront. Although you can use the car, you only use it while you make your payments and have nothing to show for it at the end.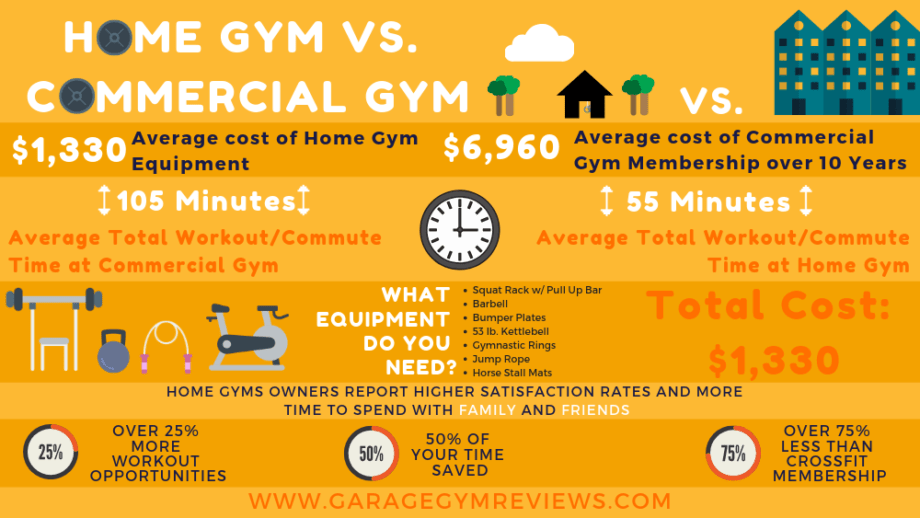 A gym membership works the same way. You make monthly payments to use the gym equipment (most of it old, worn down, cheap, and broken) and having nothing to show for it at the end. Even worse, you're not just making payments on something only you use, you're making payments on equipment that is shared among 1,000's people.
Here's the worst part of all, you likely already have the space for a home gym, and with just a couple years (or in many cases, a few months) worths of saving the amount you spend on a commercial gym, you could have a fully decked-out home gym that would be the envy of your entire neighborhood.
Trust us, building a home gym will not only increase your enjoyment and help you achieve your goals, but it will also improve your life and you'll have something to show for all the money you spent if you decide to upgrade or sell it in the future.
Why a Home Gym Doesn't Have to Be Expensive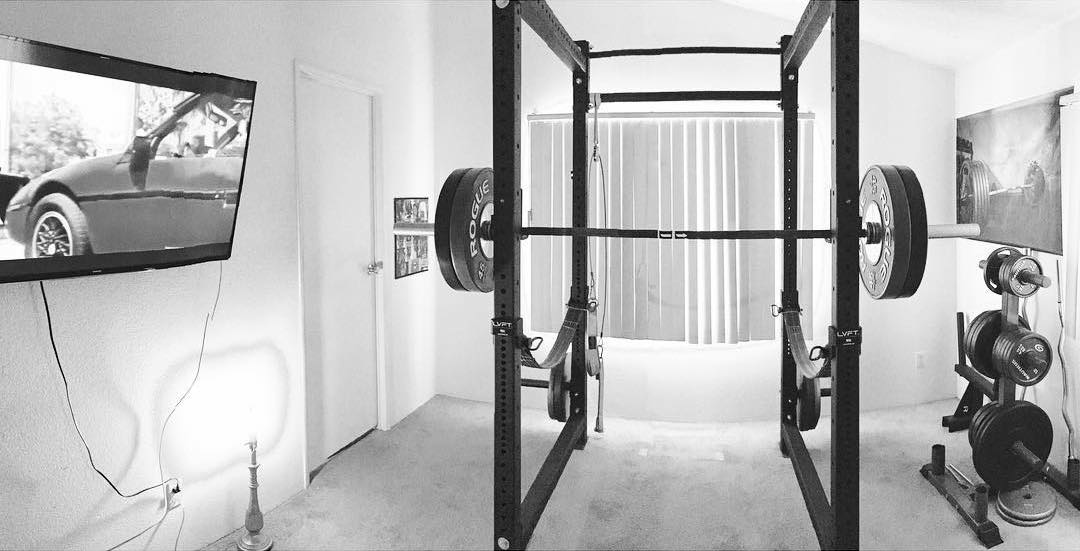 We want to break a commonly held notion: "Build a home gym is too expensive!"The truth of the matter is that a home gym can cost just about as much as you want to spend. We've seen home gyms ranging anywhere from less than $100 all the way up to 6-figure, multi-room set-ups.
However, just about every home gym starts the same way, with a few basic pieces of equipment that you can get on sale over Labor Day, Black Friday, and other holidays. Don't make the mistake of thinking that you have to buy everything all at once. Sure, buying many items at once can help save on shipping, but if it prevents you from ever starting a home gym then it's a poor decision.
There are two main reasons you don't have to spend a ton of money on building a home gym. One, you don't have to have all of the machines and contraptions that are found at your local YMCA. In fact, you can get away with just a few main pieces of equipment and as you have money, you can increase your equipment selection, and thus the variety of exercises you can perform.
Two, more people are buying gym equipment than ever before. This allows companies to create a wider variety of equipment and offer them at lower prices. It's truly the best time in history to start a home gym (especially considering you can buy everything online and have it delivered to your door within just a couple of days…poor delivery guy.)
The Equipment We Recommend Starting With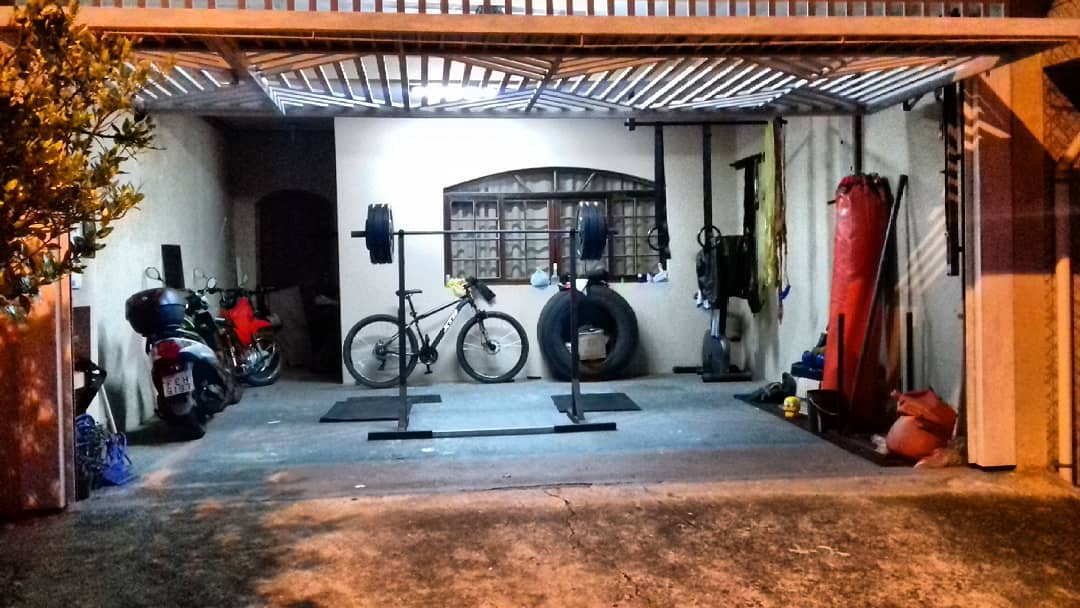 As previously stated, you don't need a lot of equipment to get started. We've had some of our best workouts and seen some of our best progress, whether trying to lose weight, gain muscle or simply get in better condition using only a few tools.
Sure, you may need to get creative, but the amount of workouts that can be done with a barbell and plates is astounding (not to mention the progress. Coop, the founder of Garage Gym Reviews, increased the weight he could lift on nearly every lift using only a barbell, squat rack, and pull up bar for 90 days.)
The first pieces of equipment we recommend starting with are:
A barbell
A squat rack with a pull-up bar attached
Bumper plates
A bench press
With these four items, you can accomplish nearly any goal you'd like.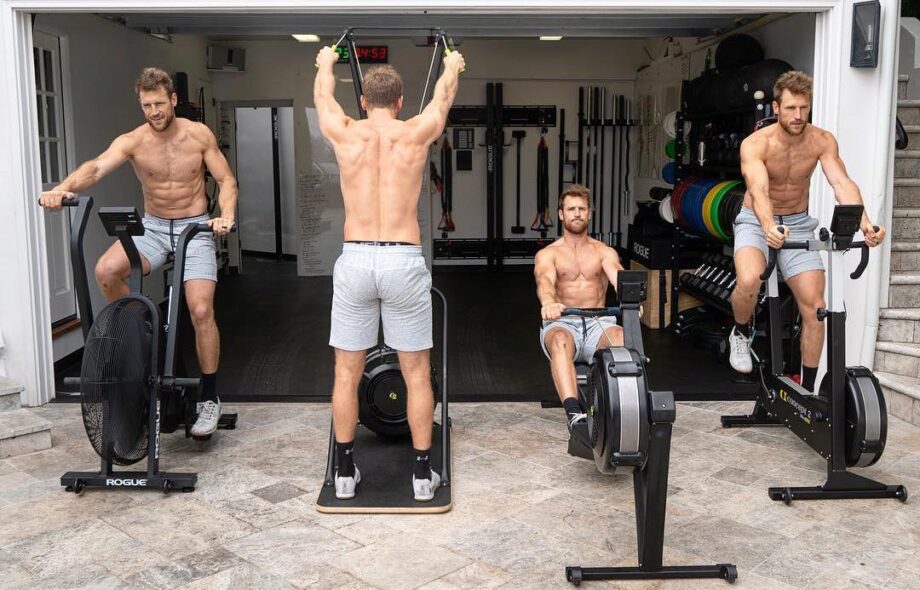 If you want to lose weight, do high reps at a high intensity with a low amount of rest time. Mix in some sprints, long-distance running, biking (if you have one), and throw in a $10 jump rope for some extra variety and you'll be on your way to losing weight. Don't forget the most important part though, sticking to your diet.
Thankfully, since you're working out at home, you won't be tempted by the neon fast-food restaurant signs on your way home and you'll be near your fridge so you can get the nutrients you need immediately following your workout.
If you want to put on muscle and increase strength, focus on low to mid rep ranges with increasing weights each workout and make sure to increase your caloric intake. Following a program like Starting Strength or even signing up for Starting Strength Online Coaching can be extremely beneficial and can be followed with only the above-recommended equipment. The fitness industry benefits from complications, don't fall into their trap. Training doesn't need to be nearly as complicated as they'd have you believe.
RELATED: Best Online Workout Programs
We'll get into more detail on why we recommend each of these pieces of equipment as well as the additional items later in the article, but just be assured that we've found these to provide the most bang for your buck, can be found easily and cheaply, and if bought right the first time can be passed down to your children.
Best Budget Home Gym FAQs