We test and review fitness products based on an independent, multi-point methodology. If you use our links to purchase something, we may earn a commission. Read our disclosures.
Whether you're hitting the road, jumping on your exercise bike, or saddling up on your indoor trainer, having the best cycling app to help you hit your next fitness goal is paramount. Cycling apps have truly changed the face of both indoor and outdoor cycling. The best ones offer features such as live tracking of your performance, real-time connections with fellow cyclists, metric analysis, coaching, training plans, route planning, and more.
Our team of experts has done a ton of research and narrowed down a list of the best cycling apps of 2023. So, whether you're here considering a Peloton purchase, hoping to find a cycling app that can help enhance your muscular performance, or looking for an app to train for your next Ironman, the right one for you can be found on this list.
I'm a seasoned triathlete and former group cycling instructor working alongside GGR's expert product testing team comprised of certified personal trainers, nutrition coaches, and former college athletes who spend their days testing and writing about fitness equipment. That's not to mention all the equipment we use in our personal training and day-to-day life.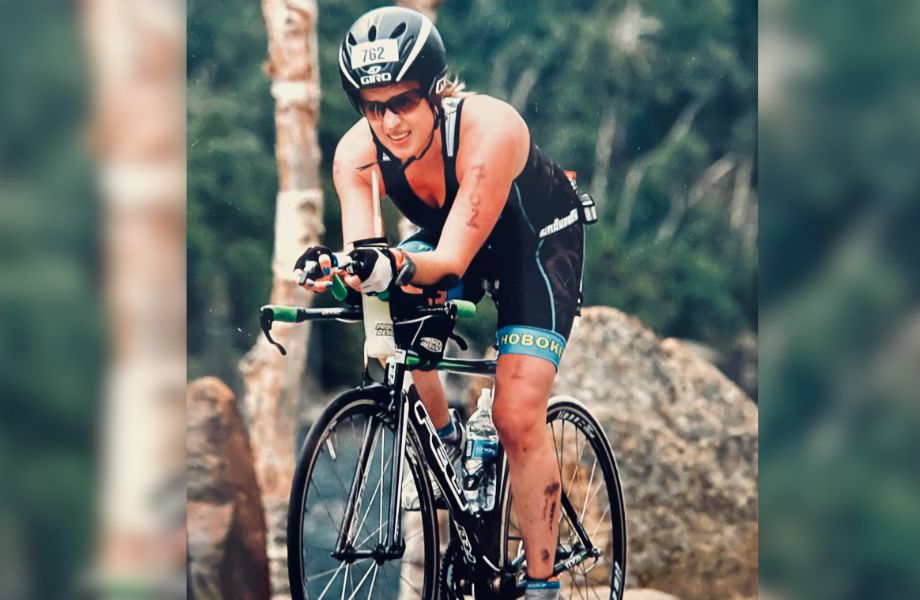 9 Best Cycling Apps
Best Cycling Apps Video Review
Best Cycling App for Tracking Metrics: Strava
Good for: Cyclists who enjoy the social aspect of training as much as they love analyzing their metrics
Reigning in as the best cycling app for tracking metrics is the well-known and vastly popular app for cyclists, Strava. The notion of cycling really has become synonymous with Strava as this platform has something for everyone and, in particular, is a solid option for fellow metric nerds. The free version does offer a good amount of what are considered the more basic stats including distance, speed, elevation gain, heart rate, and calories. With this version you can also post activities on the crowd-pleasing "kudos wall." But, to truly experience the magic Strava offers data-lovers, you will want the paid subscription.
The advanced metrics on the paid version are impressive. With it you are able to find or set custom heart and power zones (with a power meter), understand your perceived effort based on heart rate and power data, track levels of fitness overtime, set personal heat maps, compare performance against other cyclists, set specific goals for each ride, and access an in-depth training log. Strava does a great job displaying all this information in a way that makes it easy to track and analyze progress.
If you're looking for a new cycling route, Strava has a library stocked with thousands of routes around the world. Alternatively, you can create your own route with this app. For those with a competitive edge, the Segments available with the paid subscription provide some good motivation. These are popular portions of the roads with associated leaderboards where you can compare your results and metrics against others. Towards that end, the social sharing feature on Strava is one of the best. You can share activities, connect with others, and take part in group challenges.
Strava has been criticized for its lack of privacy. After some public outcry several years ago, Strava did adopt a few privacy settings but, even with those on, some of your personal information is made available.
| | |
| --- | --- |
| Key Features | Free version: Activity recording, device support, social network, Beacon on iPhone; Subscription: Beacon on devices, route planning, Segments leaderboards, training dashboard, heart rate and power analysis, goal-setting, training log, compare efforts, personalized heatmaps |
| Cost | $7.99/month, or $60/year |
| Free Trial Period | 30 days |
| Compatibility | Download on Apple or Android phones; Apple Watch, Android Wear, Motorola 360, Samsung Gear; Upload Instantly upload from the Strava iPhone or Android app, a GPS device, or computer; Sync data from other fitness sites to Strava; add an activity manually |
Best Cycling App for On-Demand Classes: iFIT
Good for: Indoor cycling enthusiasts who enjoy the guidance of a trainer to motivate them through a workout and those who prefer a group class vibe
If you enjoy having thousands of workouts at your disposal where you can choose one that fits your training or mood for the day, iFIT may be your jam. Offering over 16,000 on-demand classes led by world-class trainers, iFIT is an interactive training platform that makes it possible to get a workout anytime and anywhere. Looking for a studio vibe? No problem? Prefer to experience the thrill of a new destination (say the Swiss Alps)? Go get it. But iFIT is more than just an app for cyclists. Let's explore.
A membership to iFIT will cost you $39 per month for a family plan or $15 per month for an individual. With it you have access to over 60 workout types led by motivating trainers from across the world, live races and events, interactive global workouts, progressive series, challenges, and goal-based training programs. With their integration of Google Maps, users can create their own training path anywhere in the world and experience it virtually. Unfortunately, iFIT no longer offers live-classes, which were discontinued earlier this year (kind of a bummer).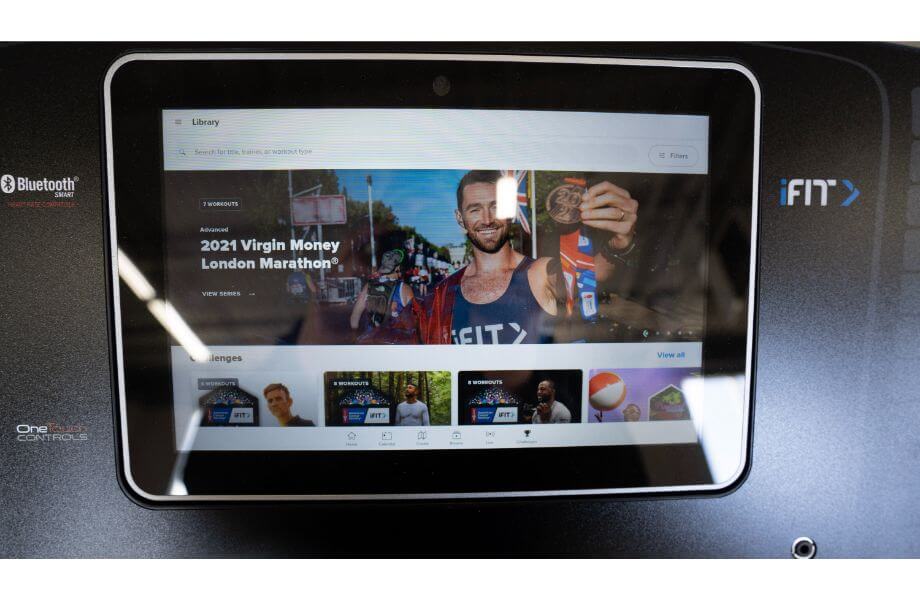 Many NordicTrack, ProForm, and FreeMotion cardio equipment models offer iFIT via their touchscreen monitors. These products often offer an auto-adjust live feature which matches the class or terrain you are riding and takes the immersive experience up a notch. But you do not have to have a compatible bike to enjoy iFIT. It's easily streamed on a device of your choice as well.
This app certainly isn't the cheapest one on the market and if you plan on purchasing a compatible indoor bike, the total cost will be a larger investment. That said, given the features offered in addition to the quality and quantity of on-demand classes, the cost may be worth it.
| | |
| --- | --- |
| Key Features | 16,000 on-demand classes, live races, virtual rides |
| Cost | Family plan is $39 per month or $396 per year; Individual plan is $15 per month or $180 per year |
| Free Trial Period | 30 days |
| Compatibility | Phone app, iPad app, compatible rowers, treadmills, ellipticals, spin bikes, fitness mirrors, cross trainer machines, functional trainers |
Best Cycling App for Creating Routes: MapMyRide
Good for: Any cyclist looking to ride varied routes with planned-out distances as well as for those who travel and want to still get in a good ride
MapMyRide is one of the longer-standing cycling apps mostly known for, as you may guess, its mapping capabilities. With MapMyRide, your phone essentially becomes its own cycling computer to track and record rides in addition to offering thousands of routes located all over the world. Monitor real-time stats such as pace, distance, and duration, or upload them later for more in-depth analysis. Although it should go without saying, if you are out on the road, please don't spend more of your time watching your stats rather than what's happening in front of you!
There is both a free and paid version of MapMyRide. While the paid subscription unlocks a ton of features, the free one is nothing to sneeze at. With it you can search through the database of routes created by others, create your own, track a good amount of metrics, and be a part of the social community of cyclists.
The premium membership (MVP) offers training plans, audio coaching, weather, and live-tracking so you can share your exact location and route with other MapMyRide members. Even more specific metrics are available on this version including custom splits and heart-rate zones. And, if you are here for all the mapping perks, the MVP version provides access to unlimited printable maps in addition to some other cool advanced mapping tools. There are a handful of reviews that report some inaccurate map distances, but those are few and far between.
| | |
| --- | --- |
| Key Features | Library of maps from around the world, create your own map, social wall, live challenges, metric information, coaching (with MVP) |
| Cost | $5.99/month, $29.99/year |
| Free Trial Period | None noted |
| Compatibility | Apple Watch/iOS, Android (GoogleFit and Android Wear). Partner apps – MyFitnessPal, S Health Integration, Importing TCX, GPX, HRM, and FIT files, Garmin Connect, Polar, Suunto |
Best Cycling App for Indoor Rides: Zwift
Good for: Both beginner and elite riders looking to make their training rides motivating, fun, and purposeful
If you have ever sat on a trainer in your garage, staring at the walls as you plead with the clock to somehow move faster, you understand just how mentally challenging traditional indoor cycling can be. I mean, the term "Pain Cave" was created for good reason. Zwift has changed the face of indoor training offering cyclists of every fitness level not only a complete online training platform, but also a game-like interface where they can connect, compete, or just ride together for fun. Here's how it works.
Zwift is an app that can link up to a compatible trainer (these generally cost a pretty penny which is why I say can). If a new trainer is not in your future, fear not. Zwift connects with a computer, iPad, iPhone, or Apple TV where you can ride with or compete against fellow cyclists through a range of virtual worlds. Here is the catch—if you're using a "dumb" trainer, you will still need, at the very least, a Bluetooth-enabled speed or cadence sensor as well as an ANT+ dongle.
In addition to the gaming interface, Zwift houses a library of very specific training sessions designed by professional coaches. You can search by length and type of ride or get as specific as identifying a targeted heart-rate or power zone based on your Functional Threshold Percentage (FTP) if you have a connected power meter. There is also a group workout mode wherein you can train with cyclists of the same level based on a percentage of their FTP.
Zwift is not a free app and will cost you $14.99 a month after a 7-day free trial. And, as noted above, you need to invest in some hardware to use Zwift as it is intended.
| | |
| --- | --- |
| Key Feature | MeetUps, events, races, riding clubs, library of workouts |
| Cost | $14.99/month |
| Free Trial Period | 7 days |
| Compatibility | iOS, Android, Windows, Mac |
Best Cycling App for Planning Your Workouts: TrainerRoad
Good for: Cyclists who are prepping for a race or motivated to improve their speed using a structured workout plan tailored to your fitness level and busy life
There is something about a science-based, structured workout that is especially attractive to my super Type-A personality. And, dare I say, many cyclists out there share the same competitive—I mean high-achieving—tendencies. This is one of the many reasons TrainerRoad has grown in popularity, offering cyclists a unique Adaptive Training technology with analytics to create personalized, science-based training systems intended to make you faster and more of an efficient rider.
Unlike many other cycling or fitness apps, TrainerRoad takes multiple factors into consideration when creating a personalized training plan. After an initial FTP test (there are several you can choose from) you are prompted to identify your training load and volume preference, experience, target race or fitness goal, and schedule. This information is used to build your goal-based training plan. But that's not all.
TrainerRoad uses Adaptive Training to meet your evolving ability. Using your performance metrics, this program analyzes progress and makes adjustments to your plan accordingly. This smart software responds to your specific strengths, weaknesses, and scheduling constraints while evaluating each workout by how easily it is completed. Every four to six weeks, you are prompted to retake your FTP test in order to recalibrate your fitness ability.
If you prefer to cycle indoors with some virtual entertainment or to connect with others while riding in the virtual world, this app may not be for you. It is easy to overcome this annoyance by using another screen or device to keep your mind off the task at hand. And, if you want to escape the walls of indoor training, TrainerRoad will incorporate outdoor rides into its analytics for your programming.
While you don't need a turbo trainer, you do need at least a power meter or cadence with speed sensors. Of course they do recommend a turbo trainer and it does make the experience nicer, but is certainly not a necessity.
| | |
| --- | --- |
| Key Feature | Adaptive Training technology, personalized and intuitive training plans |
| Cost | $19.95/month or $189/year |
| Free Trial Period | 30 days |
| Compatibility | iOS, Android, Mac, Windows |
Best Cycling App for Triathletes: Wahoo SYSTM
Good for: Triathletes looking for an all-in-one virtual training program that offers an immersive experience
Wahoo SYSTM is a one-stop shop when it comes to triathlon training. Formerly known as Sufferfest, Wahoo SYSTM offers more than just virtual cycling. It provides structured workouts for multiple disciples—strength, yoga, running, swimming, and mental training. Here you can find specific training plans for triathlons of every distance in addition to other biking types such as mountain biking or gravel.
Specific to this platform is a Four-Dimensional Power (4DP) test, which analyzes four key performance metrics: neuromuscular power, maximal aerobic power, functional threshold power, and anaerobic capacity. Results from this hour-long test are used to identify you as one of six rider types. From there, a personalized workout plan is created targeting your strengths as well as weaknesses.
The really great thing about an all-in-one training platform is that it incorporates rest and recovery for all three disciplines. If you are piecing together separate swim, run, and bike training plans, this sometimes gets lost. SYSTM's strength does still lie in cycling. The program provides several workout session types: a week with a celebrated cyclist, pro rides, on-location routes, Sufferfest, Global Cycling Network (GCN) certified trainers in a studio-type class, documentaries to inspire, or link you to your favorite playlist and just read the text on the screen.
Where Wahoo SYSTM falls short is in the area of connecting triathletes with one another. Unfortunately you can't meet up with a friend virtually or join a virtual group ride. This is more of an independent training app for you and your indoor trainer. Towards that end, you do not need a smart trainer and SYSTM provides detailed instructions on how to connect to their platform if you don't have one.
| | |
| --- | --- |
| Key Features | 4DP test, multiple discipline workout options, personalized training plans, flexible scheduling |
| Cost | $129/year or $14.99/month |
| Free Trial Period | 14 days |
| Compatibility | macOS, Windows |
Best Cycling App for Studio Cycling: Peloton
Good for: Cyclists who prefer studio-based classes offered both live and on-demand in addition to having access to multiple other workout types
Peloton has become a household name, taking the fitness world by storm with a faithful following of users. It offers an expanding array of immersive training programs, high-quality cardio machines, and a strong-knit global community of like-minded athletes. The Peloton platform is probably most-known for their flagship products and associated workout portfolio—the Bike and Bike+. But here's the thing: You don't have to have one of these cardio-powerhouses to enjoy the Peloton experience.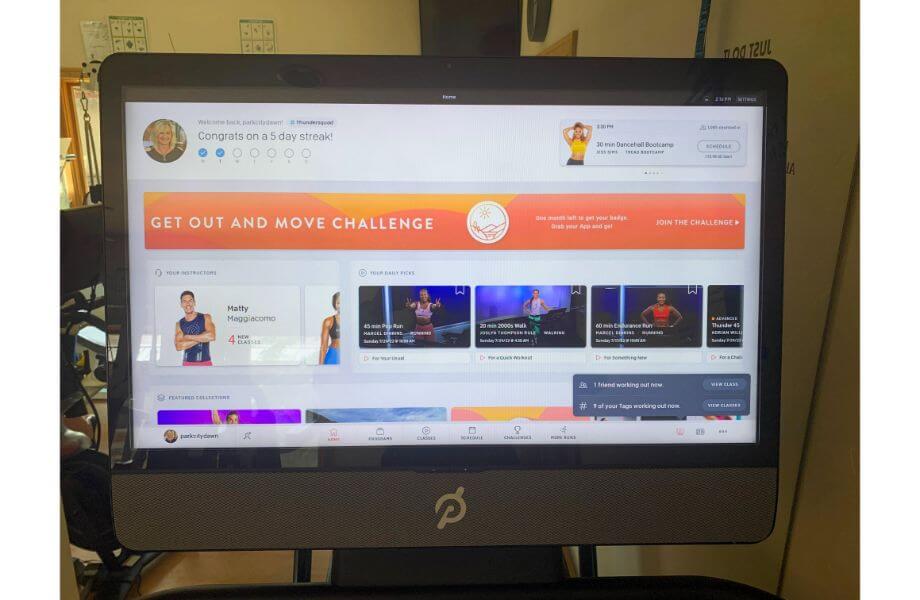 Thanks to the recent addition of a Peloton app, you can connect to any Android, AppleTV, FireTV, Chromecast, Roku, LG, or Airplay smart device. Simply peruse through the hundreds of cycling classes offered and get started on your exercise bike. Led by world-class trainers, there are both live and on-demand classes. Unfortunately, you will need a Peloton Bike if you plan on utilizing live studio classes where you can sync up with fellow Peloton-lovers. Owning a Peloton bike also enables you to access leaderboards and challenges to stay motivated.
But Peloton is not just a workout forum. It is a community of fitness enthusiasts looking to stay active with one of the 14 class types, personalized coaching, or structured training programs. Classes vary by length, instructor, music-type, and intensity. The Peloton app tracks your fitness stats and charts progress as well, which is a major perk for cyclists who thrive on analyzing performance data.
| | |
| --- | --- |
| Key Features | Live and on-demand classes, 14 different workout types, training plans, personalized coaching, global community |
| Cost | $12.99/month |
| Free Trial Period | Ranges from 30 to 60 days |
| Compatibility | Android, AppleTV, FireTV, Chromecast, Roku, LG, and Airplay |
Best Cycling App for Navigation: Komoot
Good for: Cyclists who want to focus on the ride and not on getting lost
Whether you are looking for ready-built bike routes or prefer to build your own outdoor biking adventure, Komoot may be the cycling app you have been looking for. Komoot is a route planning and navigation app available for both desktop and mobile devices that not only generates suggested routes based on riding type, surface preference, and rider ability, but also comes equipped with some high-tech navigation features.
Komoot provides turn-by-turn navigation for both ready-built routes and customizable ones. If you don't have a good signal where you plan to ride, that isn't a problem. This app allows you to download individual routes or download maps for offline use anywhere, anytime. Keep in mind that downloaded maps may eat up a good chunk of storage on your smart device.
Simply put, the navigation and route-planning features are awesome. Komoot generates topographic routes based on what kind of ride you are looking for ranging from smooth asphalt rides to gravely trails in the mountains. But that isn't the coolest part. It is the turn-by-turn voice navigation that sets this app apart from many competitors. Komoot essentially takes the guesswork out of any ride pretty much guaranteeing that you will stay on track whether it is the first or twentieth time you have traversed the route.
Komoot offers several different map packages when it comes to ready-built routes for a specific region. Mind you, these costs come into play even if you purchase the premium upgrade (more on that in a second). First is the free version, which allows you to plan routes and comes with one free Komoot region, a geographical area with ready-built routes and associated navigation. After the free region you have three options: Purchase a single region at a time for $3.99, a region bundle for $8.99, or the World Pack, which unlocks every region worldwide for $29.99.
The premium version of Komoot offers additional features such as multi-day planner, sport-specific maps, live-tracking, collections, weather forecast, premium protection, and the world package. This is an annual subscription for $59.99.
The social aspect of Komoot is not as robust as some others, but there are some connection options. With Komoot you can invite other cyclists on your next tour and ride simultaneously. Komoot connects with your Facebook profile as well so you can see what friends are active on Komoot.
| | |
| --- | --- |
| Key Feature | Ready-built routes all over the world, customizable routes, turn-by-turn voice navigation, offline maps |
| Cost | Single region – $3.99, Region bundle – $8.99, World pack – $29.99, Premium – $59.99 |
| Free Trial Period | Free version allows one single region unlocked for free |
| Compatibility | Available on Web, iPhone and Android, most wearables, e-bikes, GPS computers (such as Wahoo) |
Best Cycling App for Road Safety: Bikemap
Good for: Cyclists who prefer to bike outdoors and place a premium on safety
When it comes to route planning and connecting with other cyclists, there are plenty of apps to choose from. Bikemap sets itself apart from the rest in several areas, but in particular in their features designed to keep you safe when hitting the roads. First, a quick overview.
Bikemap is a route planning cycling app with over 7 million users and 11 million routes. You can choose a destination and filter by route length, ascent, bicycle type, and surface. Identify essential points of interest on your ride such as restrooms, restaurants, and nearby repair shops should you need them. In addition, there are community reports sections, which indicate any areas under construction, filled with potholes, or with slippery conditions.
When creating your own route, you will get a gradient profile, distance, ascent, and decline points. This allows you to preview your ride beforehand so you know what to expect. Fellow cyclists are able to report obstacles or hazards that have been found along any route you plan on riding.
These features are, quite simply, ingenious. Some of the biggest accidents seen on the road result from potholes, unexpected construction requiring re-routing, slippery roads, or because an area is particularly congested with cars. The ability to report these conditions to fellow cyclists enables you to make safe decisions both before and during your ride.
And all that comes free! Upgrade to the premium membership and unlock even more features. With Bikemap Premium you get turn-by-turn voice navigation, offline maps and routes, bike-type optimized routing, custom bike computer (turning your phone into a bike computer), and advanced cycling maps. Probably the best part of premium is the fall detection feature. Bikemap can detect when any sort of accident or fall has occurred but this is exclusive to iOS users.
| | |
| --- | --- |
| Key Feature | Route planning, live updates on road hazards, |
| Cost | $8.79/month, $38.11/year, $96.74/lifetime |
| Free Trial Period | 7-day free trial to Premium if purchased via app |
| Compatibility | Android 8.0 and above, iOS 14.0 and above, watchOS 17.1 and above, website via Chrome, Firefox, and Safari |
Other Cycling Apps We Researched
There is no shortage of great cycling apps on the market. Our team researched the most notable ones in-depth and two came close to making our list but ultimately did not make the cut. Here's a quick summary of each.
TrainingPeaks: TrainingPeaks is a very well-established fitness app well-suited for endurance athletes as well as coaches. Compatible with over 100 apps and devices, athletes can automatically upload workouts and receive very detailed analytics. There is both a free and premium version which offers even more for both athletes and coaches. Many athletes opt for the premium version which comes with a rather hefty cost.
Garmin Connect: Garmin Connect is a solid choice for any owner of a Garmin device. As with most cycling apps, it offers detailed analysis of your cycling performance, which can be charted over a week, month, and even yearly. You also get access to a Garmin coach for customized workouts and personalized guidance.
CycleGo: Offering virtual classes that suit beginner and advanced cyclists alike, CycleGo is a solid option for anyone looking to spice up their indoor training sessions. CycleGo immerses you in an immersive experience with unique music for every workout. With this app, you choose and customize your own Avatar to simulate a ride. This app does not track specific workout metrics and is solely designed for indoor use.
How We Picked And Tested The Best Cycling Apps
After bringing together our team of triathletes, former group cycling instructors, and certified personal trainers we researched just about every cycling app on the market today. After finding the ones that are compatible with the most exercise bikes and looking for basic features like GPS tracking and built-in workouts we took them to the test.
That meant testers such as Amanda Capritto, a certified personal trainer and competitive triathlete, used the apps while training or simply biking around Miami Beach. During that weeks-long testing process we looked at things such as app interface (how easy is it to use the app), customer service, how quickly it drained our smartphone's battery, and how many features it offered.
We also compared how well the free version of the apps performed against the premium ones, for those that offer a paid version of their app.
Benefits of Using a Cycling App
Cycling apps are beneficial to cyclists of every fitness level. Our Garage Gym Review expert in the area of cycling, Amanda Capritto (a triathlete and certified personal trainer) weighed in, stating "Cycling is a fantastic form of exercise that challenges both your cardiovascular and musculoskeletal systems. Whether you choose to cycle on an indoor stationary bike or outdoors on a road, mountain, or hybrid bicycle, you're setting yourself up for great gains in cardio endurance, muscular endurance, and stamina. In other words, cycling helps your heart and lungs grow stronger and more efficiently, and it improves your ability to sustain physical activity for longer.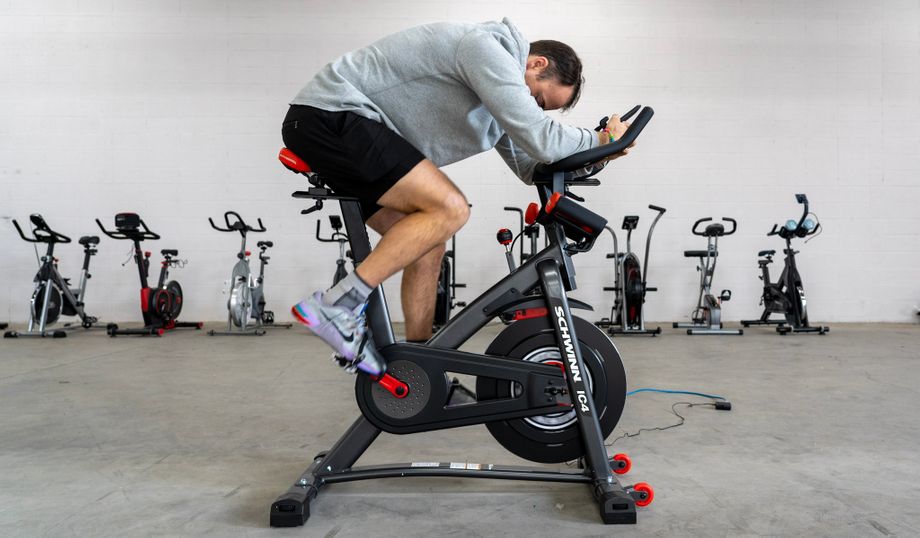 Using a cycling app can help you stay on track with your goals, as well as keep you entertained and engaged on a stationary bike. With a cycling app, you can log your workouts and track metrics like distance, duration, miles per hour, and heart rate (with a compatible monitor), so you can see your big-picture progress over time. Let's break that down.
Motivation
Many of the apps available today come with a dedicated community of athletes. Cyclists are able to connect with one another, comment on each other's progress, take part in challenges, and even ride together virtually. This all helps with accountability and to keep you motivated! If you don't get much of a thrill from the social aspect, some cyclists derive their motivation from seeing their stats and progress over time.
Tracking Metrics
The combination of personal devices and compatible apps makes it easy to track your performance and use the data to guide your training. It takes the guesswork out of how hard you are working, how far you went, and how quickly. Athletes and coaches use this information to tailor training plans based on concrete data.
Planning Routes
Riding the same route can get tiresome. The route-planning capabilities available on cycling apps enables you not only to plan new bike routes but to search ones others have ridden filtering by distance, elevation, intensity, type, and more.
Coaching
Working with a coach is made easy with the rise of their availability through popular cycling apps. They offer expert guidance helping athletes meet their fitness goals through personalized and preset training plans.
What to Look For in Cycling Apps
There are some key factors to consider when deciding on a cycling app. Here are the most important ones to keep in mind:
Cost
The cost of cycling apps can vary greatly, with some offering free versions and others carrying a decent price tag. Usually, the subscription version of an app is where the good stuff can be found. It is important to identify your bottom line when it comes to price so you don't waste your time looking at an app that you just can't afford.
Features
The first thing you need to know is why you are using a cycling app. Are you looking for live studio classes? Training for a road race? Looking for a coach? Wanting to find new routes to ride? Your intended use will drive what features you need in a cycling app. I recommend making a list of your "must-have" features and honing your search based on these.
Compatibility
Not all apps are compatible with all platforms so be sure to look at this closely. It is also important to consider how important it is for your app to integrate with a wearable (such as a heart-rate monitor, a GPS watch, cadence meter, etc.) Some apps seamlessly allow for this transfer of data.
FAQs About Cycling Apps
Is there an app to track bike rides?
Yes, there are many apps that track your bike rides and allow you to record performance data for analysis. Our team identified Strava as the best app for metrics, which includes all of your stats on each ride.
Is there an app that can track a workout on a stationary bike?
Yep, there sure is. Apps like iFIT, Peloton, and Zwift offer a slew of indoor biking options and track your workout along with performance data.
Are there any free indoor cycling apps?
Many of the cycling apps on our list here offer free versions. For some cyclists, the free versions will offer more than enough features. However, you will usually find the better features in paid subscriptions.