We test and review fitness products based on an independent, multi-point methodology. If you use our links to purchase something, we may earn a commission. Read our disclosures.
In addition to a barbell, squat rack, and weight plates, a weight bench is an essential piece of home gym equipment, and there are thousands of different options to select from. There are adjustable benches, FID (flat, incline, and decline) benches, flat utility benches, and then a myriad of unique benches for specific movements.
"As a home gym owner and personal trainer, I use weight benches for bench presses, seated dumbbell and barbell work, triceps dips, step-ups, weighted leg raises, and, most importantly, a place to rest between sets," says weightlifting coach and GGR Head of Content Kate Meier.
Our team of certified personal trainers, competitive weightlifters, and home gym equipment experts have tested more than 50 adjustable weight benches and fixed weight benches and rated them based on the following factors:
Stability: Does the bench provide a stable foundation?
Construction: Was it made with durable materials?
Training experience: How did it feel when used for bench presses and other movements?
Foam and covering: A good weight bench should have just enough padding to provide comfort, but not so much that it feels you're sinking into a pillow.
Adjustability: If it's an adjustable bench, how many adjustable positions are there?
In this guide, we'll break down all of the options that we've tested and reviewed over the years and give you our recommendations for the best weight bench for different price points, space constraints, training goals, and strength levels.
The 12 Best Weight Benches for Your Home Gym
Best Overall Adjustable Weight Bench: REP AB-4100 Adjustable Weight Bench
Good for: Those who want an incredibly versatile and high-value adjustable bench
Garage Gym Reviews founder and home gym equipment expert Cooper Mitchell knew almost immediately that the REP AB-4100 would be his go-to pick for the best adjustable weight bench for most home gym owners. Why? Well, it offers just about the same amount of back pad and seat adjustments as more expensive options, has a minimal pad gap, only weighs 85 pounds, and it meets International Powerlifting standards (which isn't common in adjustable benches).
All that for under $400 with free shipping makes this a no-brainer for those who need an adjustable bench. The only major downside is there's no decline option, but if that's something that's important to you, we recommend the REP Blackwing Bench. The Blackwing is a true FID (flat, incline, decline) bench and the only reason it's not our No. 1 choice is because it's more expensive than the AB-4100.
"The only thing I don't like is the knobs on the adjustment feel cheap, but that's such a minor detail that I don't think it will bother most people (it bothers me, though)," Coop says.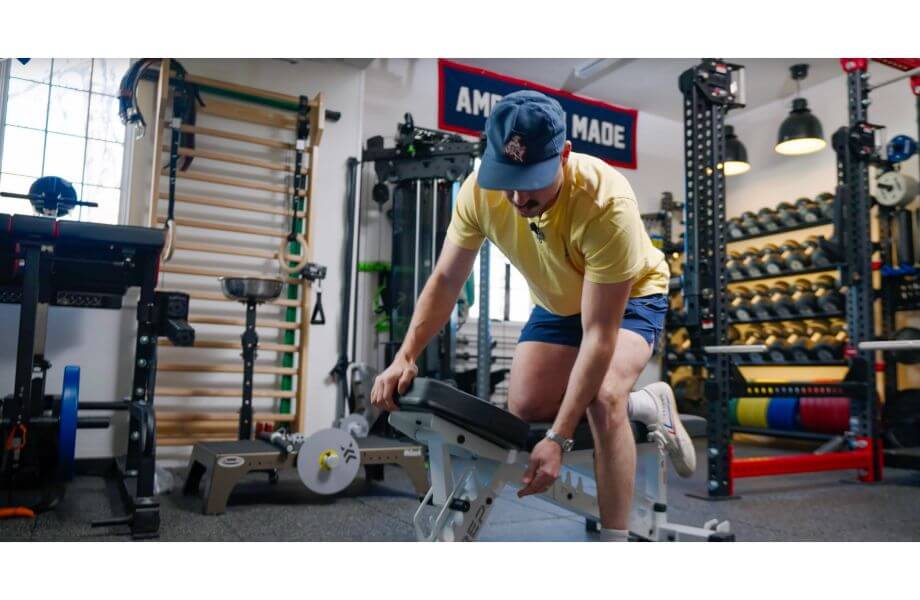 The AB-4100 has seven back pad adjustments and three for the seat, which is enough for it to earn a 4 out of 5 on adjustability. That's just as many positions as the slightly more expensive REP AB-5200, our previous pick for best adjustable weight bench, and only a few less than the much more expensive Rogue Adjustable Bench 3.0. In other words, you get a lot more bang for your buck with this bench.
Coop's also, rightfully so, a big fan of this bench's storing capabilities, which scored a 5 out of 5 on our rating scale. For one, it's 85 pounds and comes with a handle for easy transportation. Beyond that, it can be stored upright without fear of it falling over and has a built-in vertical storage post so it can be hung on a wall if desired.
The areas where you sacrifice quality come down to the powder coat, knobs, and vinyl gripping, all of which are not as nice as the AB-5200 or Rogue Adjustable Bench 3.0. But we don't think those will be much of a problem for most who just want a good weight bench in their home gym.
Coop also notes this adjustable bench has one of the smallest pad gaps, at around 1.57 inches, which eliminates the space between the back pad and the seat. "That's fantastic for an adjustable weight bench," Coop says.
The maximum weight capacity is listed as 700 pounds, which would be fine for most, but the tripod design and use of 7- and 14-gauge steel (the lower the number, the thicker the steel) throughout the frame lead us to think it can withstand more than that.
"That back leg helps keep the bench very stable no matter how much you're pressing," Coop says.
We go more in-depth on this bench in our full REP AB-4100 adjustable bench review.
| | |
| --- | --- |
| Price | $399 |
| Footprint | 51.3" L x 20.3" W x 17" H |
| Pad Dimensions | 36" L x 12" W |
| Adjustments | 7 back, 3 seat |
| Construction | 7- & 14-gauge steel |
| Weight | 85 lbs |
| Weight Capacity | 700 lbs |
Best Budget Adjustable Weight Bench: REP AB-3100
Good for: Home gym owners who need an affordable adjustable bench that still performs well
Is the REP AB-3100 the most budget-friendly adjustable bench out there? No, but sometimes it's worth paying just a little bit more to get more out of your home gym equipment. When it comes to this bench, this means having something that has a 3-foot post design for maximum stability, six back pad adjustments (from flat to 85 degrees), and three seat pad positions (our testers gave the adjustability a 4 out of 5 rating).
The listed weight capacity is only 700 pounds, but the 3-post design and use of 4-gauge steel in parts of the bench mean it can probably withstand more than that.
That's a good amount of features for a bench that costs under $300 (with free shipping) and is available in four different colors. And it meets the IPF standard for weight bench height at 17 inches. You'll also get a 10-year warranty for the frame, which for the price is an incredible deal. In other words, the value scores a perfect 5 out of 5.
"REP Fitness is known for making great-value products that perform just as well, if not better than more expensive options," home gym equipment expert and Garage Gym Reviews founder Cooper Mitchell says. "For the price, I think it's a really good value."
As with any budget home gym equipment, there are some conveniences and features that you'll sacrifice on this bench. One of the biggest is the feet are steel, rather than rubber, which could potentially scratch and damage your floor. It also utilizes a ladder-style adjustment, which isn't quite as secure as a lock pin but we don't think there will be many issues with REP's benches.
RELATED: REP Fitness Coupon Codes
| | |
| --- | --- |
| Price | $269.99 |
| Footprint | 50.5" L x 23" W x 16.75" H |
| Pad Dimensions | 34.75" L x 11.75" W (tapered to 9") |
| Adjustments | 6 back, 3 seat |
| Construction | 14- and 4-gauge steel |
| Weight | 70 lbs |
| Weight Capacity | 700 lbs |
Best Overall Flat Weight Bench: Titan Flat Weight Bench
Good for: Someone who wants a feature-filled bench with a high weight capacity at a good price
The Titan Flat Weight Bench combines a high weight capacity and good features at a great price. This is pretty much Titan's bread and butter: Selling imported equipment that gets you 90 percent of the way there, compared to equipment that costs twice as much.
RELATED: Titan Fitness Coupon Code
"Sure, the quality of the welds, packaging, vinyl, etc., isn't at the level of Rogue or some of the other brands on our list, but in terms of 'getting the job done,' it pretty much hits every checkbox," says home gym equipment expert and GGR founder Cooper Mitchell.
Despite the low price of around $150 (depending on the deals, such as Black Friday or Labor Day, it might cost considerably less), the Titan Flat Weight Bench has a max weight capacity of 1,000 pounds and complies with international powerlifting standards. Coop says this is a 5 out of 5 value.
To be honest, weight capacity ratings are a bit subjective. Although it says 1,000 pounds, it could likely hold more than double that, but suffice it to say, it will basically be able to hold any weight you plan to use for chest presses.
The one thing we'll note is this is a four-post bench, which may not be the best for people who are looking to get a good leg drive on bench presses. "Some people find it more difficult to get their legs in the right spot with this type of bench," says certified personal trainer and GGR performance editor Anthony O'Reilly.
In addition to the high weight capacity, the bench includes two wheels on the back and a handle on the front leg for easy maneuverability. There are similarly priced benches that I weighed against this one, but what put this bench over the top was the addition of the wheels and handle for a similar price. It scores a 5 out of 5 for portability.
As with many Titan Fitness products, there are many issues discussed in the customer review sections. Things like pieces missing, the packaging being broken before the customer received it, surface rust within the tubes, and other minor things. This is incredibly annoying, but most of the faulty reviews are from 2017 and 2018, and Titan has cleaned up their act in recent years (though if you're a part of our Home Gym Community on Facebook you'll know they pop up from time-to-time).
| | |
| --- | --- |
| Price | $139.99 |
| Footprint | 52" L x 17" W x 17" H |
| Pad Dimensions | 48" L x 12" W |
| Construction | 3" x 3" 11-gauge steel |
| Weight | 37 lbs |
| Weight Capacity | 1,000 lbs |
Most Versatile Flat Weight Bench: REP FB-5000 Flat Bench
Good for: Anyone at any fitness level looking for a high-value flat weight bench
When you factor in the number of great features and detailed thought that went into the REP FB-5000 Flat Bench and compare it to the price point of the competition, it's no wonder that this bench received over 80 percent of the votes when we initially asked the Garage Gym Community what the "best flat bench for most people" was.
This is a competition-style flat bench with a heavy-duty design capable of handling weights up to 1,000 pounds. REP covered every detail, including grippy vinyl to help push against during the bench press.
"Whether your max bench press is 135 pounds or 500 pounds, there are few weight benches that I'd say have a better value," says GGR founder and home gym equipment expert Cooper Mitchell.
Construction-wise, this bench has a 3-inch by 3-inch 11-gauge steel frame, with 7-gauge connecting plates. We rated it a 4.5 out of 5 on construction and durability—this is a bench you'll eventually pass down to your children's home gym.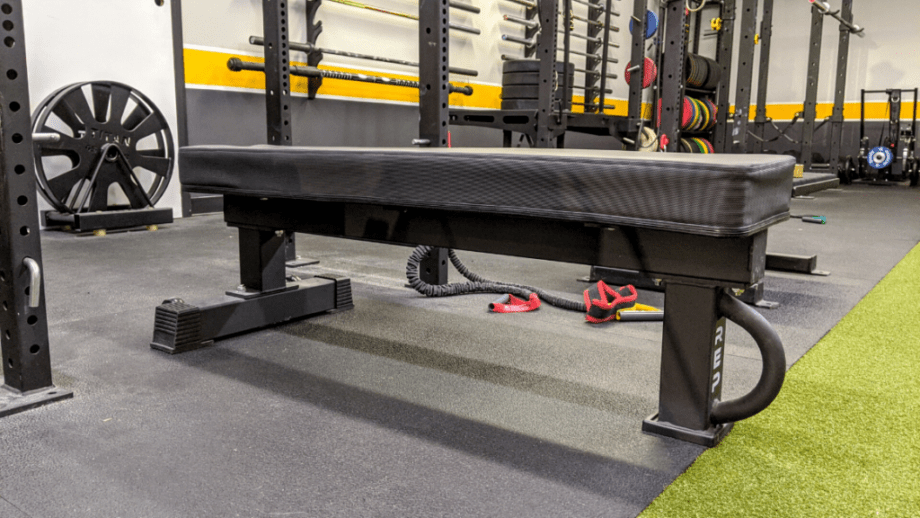 It features a height of 17 inches from the floor to the top of the pad, and, most notably, a three-post design with wheels and a handle for easy maneuverability and the ability to tuck your feet uninhibited under the bench.
"The fact that you can train on something that's very similar to what you'll see in a powerlifting competition makes a big difference," says Coop, who rated the dimensions a 5 out of 5. "I know many hate when they trained on benches that were higher or lower; thinner or wider; whatever the case may be; and then having to go to compete and the bench was different."
REP absolutely dominates most other companies in terms of great value benches, and this is their magnum opus.
The thick foam pad is similar to the Rogue Competition Fat Pad and the Thompson Fat Pad, though not quite as big (which is a good thing for most people). "Despite the thicker width, the padding itself is pretty firm—not the same level of firmness as you would get with Rogue, but again, given the price of this bench, which is just under $250, I don't think you'll have any complaints about it," Coop says.
In addition to all of the specs we listed, the REP FB-5000 also comes in a variety of colors to match your rack. We're partial to the glossy black version, but the red, blue, and textured versions look great as well.
Read our full and in-depth REP Fitness FB-5000 Competition Flat Bench review to get more details.
| | |
| --- | --- |
| Price | $239.99 |
| Footprint | 50.5" L x 21" W x 16.9" H |
| Pad Dimensions | 48" L x 12" W |
| Construction | 11-gauge steel |
| Weight | 62 lbs |
| Weight Capacity | 1,000 lbs |
Best Budget Flat Bench: Bells of Steel Flat Utility Bench
Good for: People who just want a basic and affordable flat weight bench
The Bells of Steel Flat Utility Bench is a budget-friendly flat bench that's perfect for people who don't plan on lifting heavy weights. That said, it still has some impressive features for a bench that costs under $200.
There's a 2-inch thick pad, a 661-pound weight capacity, and a stable design. A quick note on the design: benches with four legs are not best for people who plan to focus on pressing movements as you can't get your feet in the perfect position to amplify your foot drive (which helps generate power).
"On the bright side, the pad is grippy and thick," says GGR founder and home gym equipment expert Cooper Mitchell.
If you're simply looking to do some light dumbbell presses, step-ups, or other movements that simply need a bench then you can't go wrong with this one. We mean this in the best way possible, but there's not much else to say about this bench.
There are no transport wheels, though we're sure most able-bodied people will be able to pick up this 37.2-pound bench and move it when needed so we'll rate it a 3.5 out of 5 for portability.
| | |
| --- | --- |
| Price | $149.99 |
| Footprint | 44.4″ L X 17.75″ W X 17.3″ H |
| Pad Dimensions | 48″ L X 9.8″ W |
| Construction | 14-gauge steel |
| Weight | 37.2 lbs |
| Weight Capacity | 661 lbs |
Most Versatile Adjustable Weight Bench: Ironmaster Super Bench Pro V2
Good for: Lifters who want an adjustable bench that can do it all
If you're looking for the Swiss Army knife of weight benches, the Ironmaster Super Bench Pro V2 is the answer. On its own, it's capable of being used as a flat, incline, decline, and upright bench so no movement is off limits here.
All told, this bench has 11 different lock-out angles that are super secure, so you don't have to worry about the bench moving on you while you're using it (if you've ever had that happen to you, you know how scary that can be).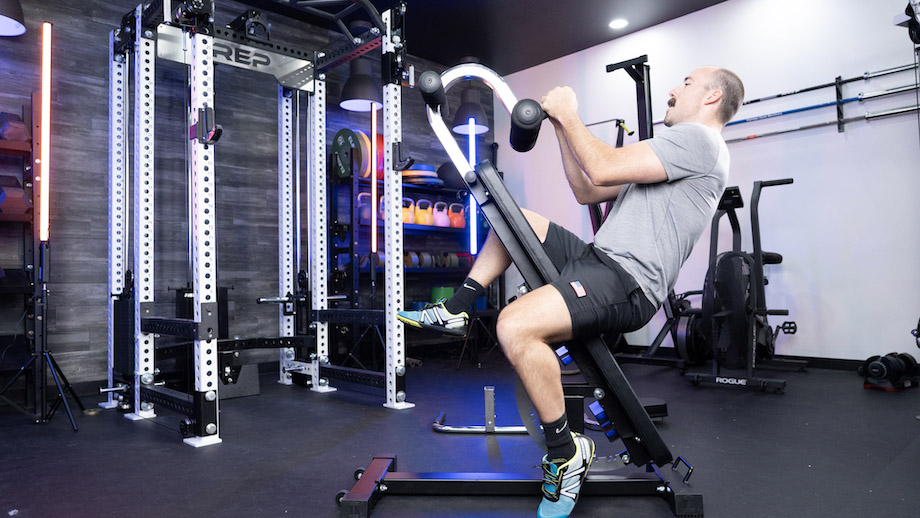 If that wasn't enough, Ironmaster sells several attachments that can be added to this bench such as a leg curl attachment. There are also crunch sit-up, dip bar, and preacher curl attachments. Essentially, this thing can act as its own home gym. That earns it a 5 out of 5 score for versatility.
The one downfall of this bench is that the seat is always at a 90-degree angle, but Ironmaster has made the seat detachable to increase its versatility. "Definitely a positive upgrade over the original," says home gym equipment expert and GGR founder Cooper Mitchell. "It's actually my personal favorite now and the one I use in my garage. They're minor improvements, but overall they add up to a great product."
Another improvement over the original Ironmaster super bench is the addition of a handle for easy maneuvering. That, along with the fact it weighs, only 65 pounds, earns it a 5 out of 5 score for portability. Coop admits he wishes it was a little heavier to add extra stability, though it was stable enough to earn a 4 out of 5 rating on perhaps one of the most important factors.
"It remains solid throughout," Coop notes in our Ironmaster Super Bench Pro V2 Review.
The back pad may also be a bit too narrow for some users at 10.5 inches (the industry standard is closer to 11.5 to 12 inches).
We're also not big fans of the fact that there's no handle to help you move it, though it does come with transport wheels. You'll just have to deadlift the entire bench if you ever need to move it to a different spot in your home gym.
| | |
| --- | --- |
| Price | $459 |
| Footprint | 47" L x 20.75" W x 17.2" H |
| Pad Dimensions | 44" L x 10.5" W |
| Adjustments | 11 back (incline and decline) |
| Construction | 11- and 12-gauge steel |
| Weight | 65 lbs |
| Weight Capacity | 1,000 lbs (600 for incline) |
Best Folding Weight Bench: PRx Profile Flat Folding Bench
Good for: Those who need a foldable bench to optimize their floor space
Some of us have the challenge of having to play Tetris every time we want to use our home gym, which is where a product like the PRx Profile Folding Bench comes in handy. Right off the bat, this thing is pretty compact at just 45 inches in length (the lower end of the 45-50 inch industry standard) and 12 inches in width.
But its main drawing point is that it can be mounted to the wall, and folded flat when not in use. This can also be seen on PRx's folding squat racks, which similarly give you back a good amount of floor space when not in use.
"The PRx folding flat bench accomplishes something rare in most weight benches: providing a sturdy platform for bench presses without taking up an ungodly amount of space when no longer in use," says home gym equipment expert Cooper Mitchell, who gave this bench's dimensions a perfect 5 out of 5 rating. "Space is one of the most important features in a home gym, and having a piece of equipment that is used maybe one time a week taking up necessary real estate is pretty unfortunate."
The stability earned a respectable 4 out of 5 rating, with Coop's only complaint being that the bench pad is slightly uncomfortable for the price. That said, it's more stable than other flat benches and can be used for lifts up to 1,000 pounds.
Of course if you live in a place where you can't drill into the wall this might not be the best pick. If you fall into that category, we recommend checking out what we think is the best weight bench for small spaces, which happens to also be our pick for the best ultra-budget incline weight bench: the FLYBIRD Adjustable Weight Bench.
As a bench, this thing will help you get the job done. The frame and vinyl padding are not the best, but it's good enough that you'll feel comfortable during heavy lifts.
There is an incline bench version as well, but it's close to $1,000 and in our opinion not worth the price.
| | |
| --- | --- |
| Price | $399 |
| Footprint | 45″ L x 19" W x 19" H (61" H when stowed away) |
| Construction | Alloy Steel |
| Weight | 48 lbs |
| Weight Capacity | 1,000 lbs |
Best Amazon Pick: AmazonBasics Flat Weight Bench
Good for: Those looking for an incredibly inexpensive bench that still offers some value
The AmazonBasics Flat Weight Bench is one of the most surprisingly good pieces of equipment we've used. It's under $60 with Prime Shipping, has a good height, a decent weight capacity for most users, and assembles quickly.
RELATED: Building a Budget Home Gym on Amazon
Amazon lists the total weight capacity of the bench at 385 pounds. This means that between the user weight and the barbell/dumbbell weight, the bench isn't recommended for a weight higher than 385 pounds. Don't scroll away just yet, heavy lifters.
Home gym equipment expert and GGR founder Cooper Mitchell has tested the bench at a much heavier weight and experienced no flexing or issues. In fact, he's dropped a 1,000-pound barbell and dragged this bench with his truck and it still holds up.
"It's just ridiculous how strong these are despite them saying they can only hold a little bit of weight," Coop says. Four out of 5 stars for durability.
Understand that this is still an ultra-budget bench. The dimensions and size are pretty small for a utility weight bench. Also, it's not adjustable, which means there are no decline or incline features. The foam padding isn't outstanding and neither is the vinyl, and though it's sturdy, in comparison to some of our other picks, it's not quite there.
The construction and comfort are solid, but this is something you'd find in a home gym and never in a commercial gym setting.
| | |
| --- | --- |
| Price | $60 |
| Footprint | 40.94" L x 11.22" W x 17.91" H |
| Construction | Alloy Steel |
| Weight | 24 lbs |
| Weight Capacity | 385 lbs |
Best Luxury Adjustable Weight Bench : PRIME Fitness Adjustable Bench
Good for: Those who want an adjustable weight bench with all the bells and whistles
The same way nobody needs a Porsche, no home gym owner needs the PRIME Fitness Adjustable Bench. But man, both are really nice to have and are guaranteed to be a conversation starter in their respective circles.
Depending on where you are in the United States, the total cost of this bench can be anywhere from $750-$800 (once shipping and handling is factored in). So what do you get for that price tag? To start, you get a bench that can do incline, decline, and flat, has a seat with five adjustment positions, and a weight capacity of 1,000 pounds (600 pounds for incline).
If you're really looking to spend big on your bench, you can purchase two adjustable elbow pads (great for curling movements), and an ankle pad to secure yourself when doing decline bench.
For the amount of money you're paying, there's a few things PRIME could've done better. For one, the back pad is only 10 inches wide, which may be too narrow for some users, and there are some reviews that state the vinyl padding could've been a bit firmer.
That said, we could see this bench being perfect for those who value versatile weight benches. The ability to be adjusted to multiple positions make it perfect for those who may be in small spaces and don't have room for multiple pieces of workout equipment.
| | |
| --- | --- |
| Price | $675 |
| Footprint | 51" L x 27" W x 18" H |
| Pad Dimensions | 50.75" L x 10" W |
| Adjustments | 10 back, 5 seat |
| Construction | PRIME Steel |
| Weight | 94 lbs (without attachments) |
| Weight Capacity | 1,000 lbs (600 at incline) |
Best Luxury Flat Weight Bench: Rogue Monster Utility Bench 2.0
Good for: Those looking for the crème de la crème of flat weight benches
The Rogue Monster Utility Bench 2.0 has a soft spot in GGR founder and home gym equipment expert Cooper Mitchell's heart because after an initial review where he rated it "pretty average," Rogue redid the bench based on his recommendations.
Is it perfect? Of course not, but man it's a sweet bench and well worth the $300 price tag. If you're asking, "How could it be worth that much?," let us tell you.
Right off the bat, it's made in the USA from U.S.-sourced steel. It uses 3-inch-by-3-inch steel all throughout the bench, including the frame and the cross member, and legs. That's 11-gauge steel, which is the same steel as what's on a Rogue Monster Rack.
What this translates to is being able to put as much weight on it as you'd like. No matter if you're benching or doing some other sort of strength training, the bench won't budge.
"This is the most stable or one of the most stable flat benches I've ever used," Coop says, giving it a 5 out of 5 on stability.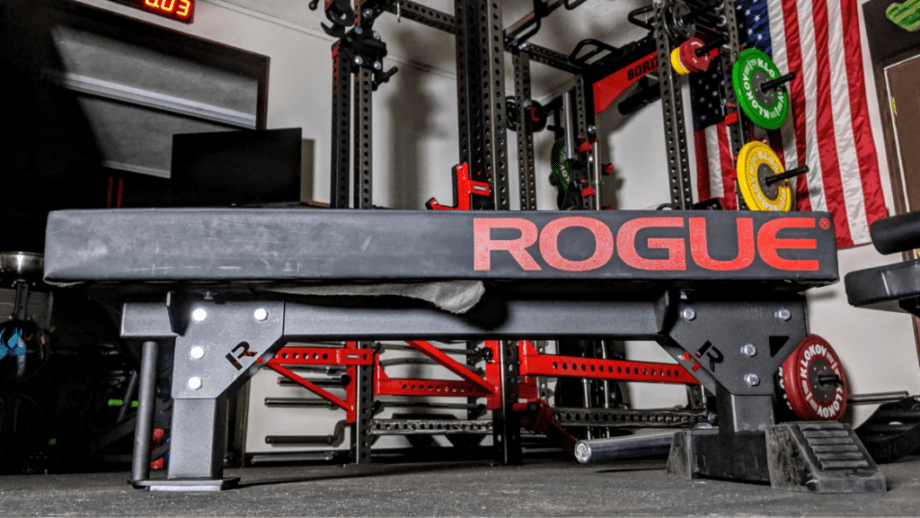 The Monster Utility Bench 2.0 uses multiple pad options, including the almighty Rogue Thompson Fat Pad, with a three-post design, wheels on the back, and a handle on the front, as well as the ability to stand up to store away.
One thing about the standup option: It's not very secure. Coop has the Fat Pad on his, and if you walk by it in the gym it teeters and totters, making you nervous it'll fall over. It wobbles because the pad is so thick and there isn't enough weight.
Rogue also has a Shorty Version designed for a Thompson Fat Pad, or their Competition Fat Pad. This allows the bench to sit 17 inches from the floor to the top of the Fat Pad.
Now, this is the Monster bench, which means it's Rogue's top-of-the-line, crème de la crème bench—the best offering they have—but they're using the same textured powder coat they use on the Infinity line. We don't get why you would use a textured powder coat on this when you could use gloss black or other colors.
See our full Rogue Monster Utility Bench 2.0 review for more information.
Price
Starts at $295
Footprint
Standard: 47.375″ L x 26.25″ W (17.5" H with standard pad/ 19.75" H with Fat Pad)

Shorty: 47.375″ L x 26.25″ W (15.25" H with standard pad/ 17.5"H with Fat Pad)
Pad Dimensions
Standard Pad: 47″ L x 12″ W

Competition Fat Pad: 50″ L x 12.5″ W

Thompson Fat Pad: 50″ L x 14.5″ W
Construction
3"x3" 11-gauge steel
Weight
68 lbs with standard pad
Weight Capacity
N/A
Best Ultra-Budget Flat Weight Bench: GRIND 3-Post Flat Bench
Good for: Those who want a basic flat weight bench for not a lot of money
When it comes to a flat weight bench, the GRIND 3-Post Flat Bench is as basic as they come. What you see is what you get, and that's a bench. Nothing more, nothing less, and all it costs you is just under $100.
"You can get as strong as you like with a bench like this," says GGR founder and home gym equipment expert Cooper Mitchell. "It takes a lot of things we see in much more expensive benches and uses it in a more affordable platform."
The rubber feet and three-post build help make this thing incredibly stable, and multiple reviewers claim they can comfortably lift 300+ pounds with ease on it, which is pretty impressive for a bench at this price range. We'll give it a 4 out of 5 for stability and functionality.
The listed maximum weight capacity is a little over 600 pounds, but it should be able to hold a little more than that (but not by much, as this thing is not made with the most durable materials).
Reviewers also state the vinyl padding is grippy, and they had no problems when lifting heavy weights on it. But because of the price, the construction of this bench isn't the best. The pad isn't the firmest, and the welding is a little shoddy in some areas (not distractingly so, but enough that you can notice).
It's also incredibly lightweight at 24 pounds, so even though there are no wheels or handles there should be no problem moving it when needed.
| | |
| --- | --- |
| Price | $110 |
| Footprint | 44″ L x 21″ W x 17″ H |
| Pad Dimensions | 44″ L x 12″ W |
| Construction | Alloy Steel |
| Weight | 24 lbs |
| Weight Capacity | 610 lbs |
Best Ultra-Budget Incline Weight Bench: FLYBIRD Adjustable Weight Bench
Good for: Anyone on a budget who still wants a functional adjustable bench
At under $200, you can't do much better for an adjustable bench than the FLYBIRD Adjustable Weight Bench. It comes with seven back pad positions, four for the feet pad, and three for the seat. That's more than some benches on this list that are double, and even three times, the cost.
For those looking for compact exercise equipment, this bench is at the top of our list. It's only 49.2 inches in total length (most are 50 or a little more), and when folded it goes to around 30 inches in total length.
Certified personal trainer and home gym owner Nicole Davis felt pretty stable on this bench whether she was using it as a flat or incline bench, and the lockpin system gave us peace of mind that it wasn't going to budge on her.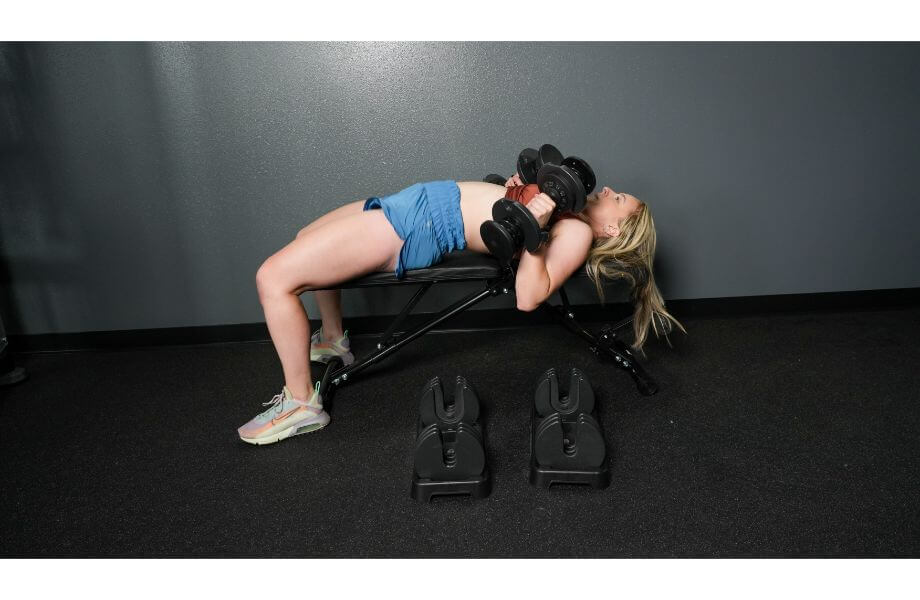 "I don't think this is a good option for serious weightlifters (definitely not as durable as a REP or Rogue bench), but it would do the trick if you just needed something for small daily lifts," she says, scoring it a 3 out of 5 for stability (the weight limit is 800 pounds and it only weighs 29 pounds).
Where the FLYBIRD Adjustable Weight Bench falls short, so to speak, is its height. From the ground to the pad it's 18.8 inches tall, which is actually shorter than the bench used to be (it was reduced based on customer complaints stating shorter users had trouble using it).
Even after that adjustment, 5-foot, 3-inch Nicole still had trouble getting enough foot drive on this thing and had to press with her feet on the pad.
"Doesn't feel as supportive as a more expensive bench but still sturdy," she says, rating the training experience a 3.5 out of 5.
There's also a pad gap of about 2 inches, which you're always going to have on an adjustable bench unless you have the REP Fitness AB-5000 Zero Gap Adjustable Bench.
Want to learn more about this bench? Our FLYBIRD Adjustable bench review has all the details you need to know.
| | |
| --- | --- |
| Price | $196.00 |
| Footprint | 49.2" L x 15.7" W x 44.5" H |
| Pad Dimensions | 30.3" L x 10.6 W |
| Adjustments | 7 back, 3 seat |
| Construction | Steel |
| Weight | 26.4 lbs |
| Weight Capacity | 800 lbs |
How We Picked And Tested The Best Weight Benches
In order to properly recommend the best weight benches, it requires spending a large amount of time with your back on a lot of different bench pads.
And we have likely used, owned, and reviewed more weight benches than just about anyone in the world.
Research
As with all of our best-in-class Reviews, we first started by taking stock of what we had on hand. This includes all of the benches in Coop's garage gym, his personal training studio, and his friends' garage gyms where he stores other equipment.
After seeing what we had on hand, as well as reviewing the hundreds of benches that readers of Garage Gym Reviews have rated and reviewed on our Product Dashboard, we began to narrow down the list.
In addition to all of this, we researched all of the major marketplaces like Amazon, Walmart, and eBay, as well as the manufacturer sites like Rogue Fitness, Titan Fitness, REP Fitness, EliteFTS, and others.
The fact of the matter is, this was one of the clearest cut rankings we've ever done for a product category. Others, like barbells and bumper plates, were much more difficult in determining how to rank, but this was not so for benches (especially flat benches).
Testing
After compiling our list, we set out to use as many of these weight benches as possible using them for everything from bench presses (of course) to skull crushers, step-ups, and incline benching (for the adjustable ones).
Benefits of Weight Benches
If you're still wondering why we, and just about everyone else, puts weight benches at the top of their home gym shopping list, here are just a few reasons:
Versatility
Benches can, of course, be used for pressing movements, but they can also be used for pulling exercises such as seal rows and dumbbell rows, can act as a platform for step-ups, and if you have an adjustable bench, can help you target different muscle groups.
Support
A weight bench is going to put your body in a more optimal position for all sorts of movements, especially compared to doing them on the floor or sitting without a backrest.
Maximize Return on Dumbbells and Barbells
A weight bench will allow you to do more moves with the other home gym equipment you have, especially barbells and dumbbells.
RELATED: Best Adjustable Dumbbells
Maximize Your Strength Training
The bench press is the undisputed greatest upper body strength training exercise ever created. There's a reason it's one of only three lifts used in powerlifting. There's a reason the 225-pound Bench Press Rep Test is judged as part of the NFL Scouting Combine (the all-time Rep record stands at 51 reps by the way.)
And, there's also a reason that nearly every home gym in the known universe has a weight bench of some shape or form. There are few that would argue against the efficacy of heavy bench presses for increasing strength and muscle mass.
Flat Benches vs Adjustable Benches
There's some debate on which should be purchased in terms of fitness equipment: a flat bench, adjustable bench, or both?
Unfortunately for most reading this, you're likely looking at getting one or the other. Although we'd love to recommend to all of our readers that you should have as many benches as possible, the fact of the matter is that there's little need or even want for most people to have more than a solid flat bench and a versatile adjustable bench. So which should you choose?
Let's break both of them down a bit.
The Flat Bench
First off, the flat bench is vastly superior to the majority of adjustable benches (also known as incline benches, FID–flat, incline, decline–benches, and decline benches; all of which will be used interchangeably throughout this review) on the market.
A flat bench, thanks to its no-frills design, is rock-solid making it great for benching with both a barbell or adjustable dumbbells (as well as other implements like kettlebells, Fatbells, and CMBs), and can also be used for other full-body workout movements like dumbbell rows, plyo-box jumps, box squats. If so desired, it can be stacked on plates for seal rows. Simplicity is great for its cost-savings and reliability.
However, the flat bench isn't perfect, because it doesn't offer quite the versatility that the adjustable bench does.
The Adjustable Bench
For most lifters, the adjustable bench does everything a flat bench does, as well as it does, but also has increased multipurpose functionality.
Now, someone who has spent a lot of time with their back on a bench pad knows that a flat utility bench with a welded spine and a high weight capacity is superior to an adjustable bench that rocks, flexes, and has a much lower capacity for slag iron.
With this said, we suggest an adjustable bench for most people. If you're into powerlifting, compete in a strength sport, or just want to know that you're using optimal equipment, you should get both.
An adjustable bench, though, will allow trainees the ability to increase their exercise selection dramatically, target different primary movers, and never have to Macgyver something because they lack the equipment for the movements they want to do.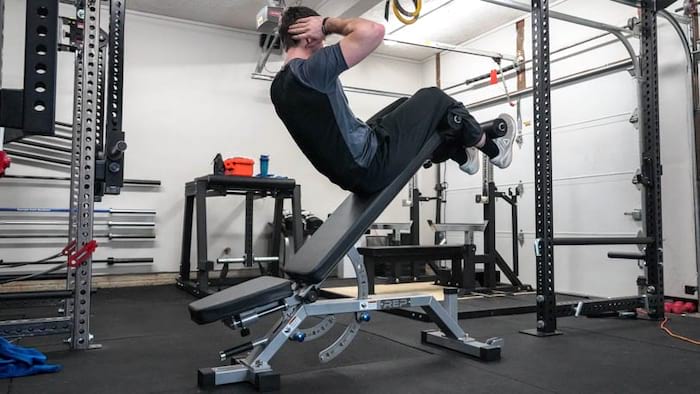 RELATED: How to Build a Powerlifting Home Gym
So, should you get an adjustable bench or just a flat bench? Beginners who are just getting into strength training or aren't sure what to do should just go with one of our budget flat bench picks.
Others who know their way around the gym a bit would be fine with just an adjustable bench. Those that compete, like having a lot of versatility, or are just gear heads like me should get both.
Other Types of Benches
Although flat and adjustable benches are the most popular, they're not the only types on the market. Here are others you might run into.
Olympic weight bench: An Olympic weight bench typically comes with some kind of rack attached to the bench, which is usually a little wider than normal weight benches that are free-standing.
Folding weight bench: A bench that can fold for easy storage, but typically has a lighter weight capacity than your average weight bench
Preacher curl bench: This bench comes with an attachment that allows the user to fully execute the preacher curl.
What To Look For In A Weight Bench
If you're looking for the best weight bench for your home gym, the first step is deciding if you need an adjustable bench, or a flat utility bench. Then, there are a few more factors you should consider before you purchase.
Materials
The overall construction of a weight bench is related to which materials are used and how they're combined from an overall perspective. The question here is, how does the construction of the bench compare to its cost? I like to look for 11-gauge or other heavy-duty steel. If there is a lot of plastic, move on.
Size
Give consideration to the measurements and size of the bench, especially if you're limited on space or want to use the bench with a power rack or other home gym.
Range of Motion
As with any exercise, you want to make sure you get full range of motion (or allowing your joints and muscles to go through a full movement), and when it comes to weight benches, that means allowing your feet to be firm on the ground and the barbell in a place where it's not too far for you to reach but also not too close.
Accessories and Attachments
Most weight benches are just benches, but many (including some on our list) allow for attachments like a preacher curl pad to be added. Most of the time these are unnecessary but they do help to increase the value and versatility of a bench.
Weight Capacity
Regardless of whether the weight bench is flat or adjustable, it should have a weight capacity that allows the trainee to increase the weight they're lifting without fear of damage to the bench. Up to a point, a bench should also increase its weight capacity in accordance with the asking price.
The average bench might support about 600 pounds, but the quality ones will be rated for 1,000 pounds or more. That's higher than most of us will likely ever need for our weight training, but it's nice to have goals.
Warranty
Does the bench come with a warranty? Does the company selling the bench have a history of servicing warranties and will they be around for as long as the product is warrantied? You'll see a lot of benches come with 10 years to up to a lifetime warranty. Stay away from benches only guaranteed for a year.
Shipping/Packaging
Does the equipment come in beat-up cardboard boxes often? Is the shipping timely? I often hear from readers about issues in regards to their shipments and it can play a big part in the equipment if parts are missing or there are broken pieces.
Also, factor potential shipping costs into the overall price of the equipment. Some of these benches have attractive prices but level out once you account for shipping.
Assembly
A lot of home gym equipment is made overseas today, and as such, things often come disassembled with a lot of nuts and bolts and assembly required on the user's end. The amount of assembly required should reflect the price point. Benches are typically pretty easy to assemble.
Bench Height
The IPF standard is 17 inches from the floor to the top of the bench, and this is what we prefer. It's harder to have a 17-inch-high benchtop on an adjustable bench due to the mechanisms required for inclining the top, but the closer the better. The reason you don't want an extremely tall benchtop is that it's difficult to arch during the bench press, which is what most powerlifters do.
Foam Density
The foam, or cushioning, used on the bench pad should be dense enough to provide stability, but soft enough to allow for comfort. If you're shopping online, that's not an easy thing to test. You can take my recommendations and read user reviews for starters.
"A good bench will provide you with a sturdy pad that you actually use as leverage to push against while you exercise," says weightlifting coach Kate Meier. "Kind of like pushing your feet into the ground as you stand up out of a squat. Too much cushion, and you risk sinking into the padding and getting out of alignment or losing your bracing."
Vinyl Grippiness and Durability
The vinyl on the benchtop should be grippy to allow the trainees' traps and shoulders to dig into the bench without sliding. The vinyl should also be durable to last years without ripping or overly stretching. This is another factor that you either have to test in person, take my word for it, or read user reviews.
Stability
The more stable the bench, the better—obviously. I am a big fan of flat benches that have a single post on the front leg to allow the trainees' feet to push under them, but it does often come with a sacrifice in stability. Adjustable benches should be stable at all incline seat positions, especially if they're going to be used with attachments for things like declining sit-ups.
Ease of Use
If the bench is flat and light, it's pretty easy to move around without a handle and wheels. However, if it's heavy, has movable components, or is just awkward, wheels aren't just wanted, but needed. Nearly every adjustable bench should have wheels and a handle.
Seat and Back Pad Adjustment Positions
The more positions for the back pad and seat pad to be adjusted to, the better. It's also nice if the back positions have markings for the pad angle in degrees (laser-cut is superior to stickers), and if the angles are available at different positions like 30, 45, and 85 degrees.
Pad Compatibility
Most bench frames use a standard pad mount pattern. The reason this matters is that there are now more third-party bench pads available, and if your bench frame doesn't stick to a standard mounting pattern, you won't be able to use the pads.
Other Weight Benches We Researched
There are quite a few weight benches we're aware of, but have either not tested or just don't recommend. Here's just a few of them:
Bowflex 5.1s Stowable Weight Bench: This bench actually offers a good amount of features, including both incline and decline positions. It can also be easily stored upright for those tight on space. It's $450, but only has a weight capacity of 600 pounds.
Marcy Multi-Position Workout Utility Bench: The maximum weight capacity of this bench is only 300 pounds, so we can't see how many home gym owners would find use out of this bench. That aside, it does offer incline and decline adjustment positions, and can fold flat for easy storage.
Weider Platinum Standard Weight Bench: It's ironic that a product named after the man who popularized bodybuilding is, to put it frank, not one we'd recommend for bodybuilders. This bench has a 410-pound weight capacity, is made with cheap materials, and only comes with a 90-day parts and labor warranty.
Escape Fitness Multi Purpose Fitness Station Deck: This "bench" (a term we use lightly) is fine if you're someone who's focused on bodyweight or bootcamp-style workouts, but it's not one we'd suggest for those interested in strength training. It can be turned into a ramp, comes with resistance band pegs, and internal storage.
NordicTrack Workout Bench: To be honest, there's not that much information about this bench online but the few reviews we were able to find were not complimentary. Users complained of difficult assembly and an unstable finished product.
Everyday Essential Steel Frame Flat Weight Training Bench: If you really need a weight bench and don't want to spend a lot of money, this $40 bench should get the job done. It's rated for 600 pounds, and according to online reviews holds up pretty well during use.
PASYOU Adjustable Weight Bench: At just a little more than $100, this bench offers incline and decline adjustments and can reportedly hold up to 500 pounds. And with close to 7,000 5-star Amazon reviews, it seems to have a lot of fans. One reviewer said it pretty bluntly: "Holds Thicc Boys."
Rogue Combo Rack: While this is a heavy-duty, quality combo of a bench and a squat rack, the $3,000 price tag was just too much for us to get past.
The Tib Bar Guy Nordic Weight Bench: While this is a highly-versatile and affordable bench, it's just not comfortable or durable enough for things like bench pressing. If you're just using your bodyweight, then this is a good choice.
Best Weight Benches FAQs
Are weight benches worth it?
Weight benches are, arguably speaking, one of the most essential pieces of any home gym. They can be used for a variety of movements, and can support you no matter your training goals.
What benches do gyms use?
It really depends on what type of gym you go to, but most commercial gyms will have a flat weight bench with a rack, a few flat weight benches, along with a couple of incline weight benches. Specialty gyms, like a powerlifting gym, will have benches more equipped for the type of athlete they cater to.
What is the best weight bench for a home gym?
There's no hard-and-fast answer to this question, as it really depends on your training goals, budget, and space constraints. The best weight bench for your home gym will be one that meets those three qualifications, and feels comfortable to you in use.
Should I buy a flat bench or incline bench?
If you have the space and budget for it, we recommend an incline bench because it provides a better value by allowing you to hit muscle groups at different angles.