We test and review fitness products based on an independent, multi-point methodology. If you use our links to purchase something, we may earn a commission. Read our disclosures.
In the ongoing search of the best home gym equipment, weight benches have become a staple in most personal gym spaces. Versatile for a variety of upper body exercises—benching, rowing, and pressing—weight benches can be made even more versatile through a growing field of attachments. In some cases, the weight bench can be the centerpiece of the home gym with the right attachments.
One such example is the Ironmaster Super Bench Pro. Now in its second edition, the Super Bench Pro has a myriad of attachments available, making it a fantastic option for those wanting some versatility from their equipment.
Small changes have been made from the first to second version of the bench, but how much an impact do they make? In our Ironmaster Super Bench Pro V2 review, we'll look at the pros and cons of the bench to see if it's a good fit for your garage gym.
Testing Weight Benches, V1s and V2s
We've tested many of the best weight benches over the years at Garage Gym Reviews, and our team of testers and researchers knows a thing or two about these pieces of fitness equipment. Our team consists of certified personal trainers, CrossFit L-1 Trainers, weightlifting coaches, and athletes who live and breathe in the gym. We know what to look for when discussing the quality and value of fitness equipment.
Ironmaster Super Bench Pro V2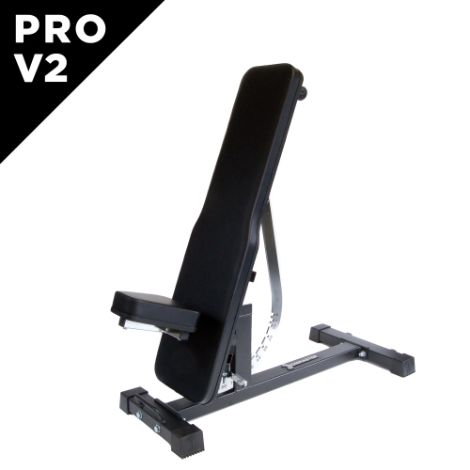 GGR Score: 4.3
Community Score: 4.7
Product Highlights
Extremely stable, durable and versatile flat-incline-decline bench

Lower height profile (17.2" in flat position)

Revised locking ring system

Commercial grade high-density back pad

Transport wheels and additional Ironmaster PRO attachment options
Pros & Cons
Pros
IPF height (17.2 inches tall)
Compact and lightweight (64 pounds without seat, 68 pounds with seat)
11- and 12-gauge steel frame
Wide base and large footpads increases stability
11 lockout angles give you incline, decline, flat and upright positions
Compatible with most Ironmaster PRO attachments
High-density, commercial grade pad is very dense/firm
Free shipping
Some parts come pre-assembled
Vertical storage
Great warranty (10 years)
Cons
10.25-inch width back pad may be narrow for some
No handle to assist with transport and storage
The seat does not have its own adjustment and is always at a 90 degree angle
Some reviews reported that the tapered seat is narrow and uncomfortable
Upholstery on back seat is not non-slip
Bottom Line
The Ironmaster Super Bench PRO is undoubtedly a well-constructed, sturdy, and extremely versatile bench that is a great option for most home gym users. However, if a narrower back pad and seat is something that bothers you, this bench may not be your cup of tea.
A Quick Look at the Ironmaster Super Bench Pro V2
When you think of Ironmaster, you're probably like us and don't think of weight benches. Ironmaster is more well-known for making some of the best adjustable dumbbells on the market. However, Ironmaster has two adjustable weight benches: their Super Bench Adjustable Utility Bench and the Pro version.
These benches are made to be compact, and they accept a wide range of attachments. One such attachment is a 90-degree seat pad, which allows for the bench pad to remain compact at only 47 inches long. There are two low insertion points for the seat pad, plus a higher third one—new to the Pro V2—which allows for better seating for seated military presses.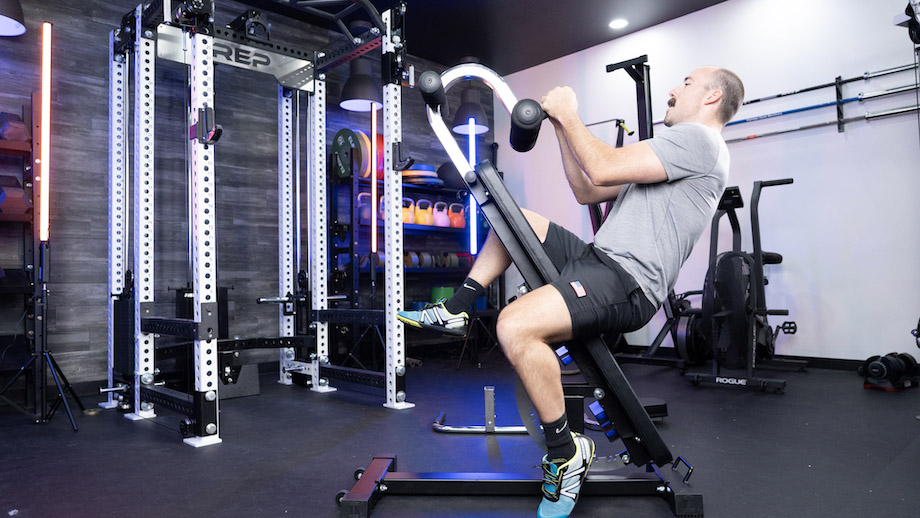 The Super Bench Pro is on its second iteration, with small adjustments that help improve the ease of use in big ways. For one, a handle has been added on the bench for easier mobility. Numbers have been laser-etched onto the adjustment system to help users know the angle adjustments they're making. Also, the bench pad has a tapered width to accommodate different exercises.
Before You Buy
The bench has been designed so that when flat, it has a height of 17.2 inches, which is the International Powerlifting Federation (IPF) standard height for bench press. It's tough to get an adjustable bench that height due to the adjustment system under the bench, but Ironmaster makes it work.
While the changes may seem small, Coop says they make a big impact. "Definitely a positive upgrade over the original. It's actually my personal favorite now and the one I use in my garage. They're minor improvements, but overall they add up to a great product. Big fan."
While most adjustable benches have an attached seat pad that has adjustable angles, the V2 has three seat positions, of which all have the seat pad perpendicular to the bench pad. While it restricts the seat to 90 degrees, it's detachable, which adds to its versatility, allowing the bench length to stay shorter for adjustments.
The build of this bench belies the names "Super" and "Pro." The quality of the construction isn't as high as you'd expect from the professional version of a product. In Coop's experience, the padding could be thicker, the wheels are small, and the finish and welds could be improved as well. While we like the design, the quality is not as good as other top brands like Rogue and REP.
Video Review
Is the Ironmaster Super Bench Pro V2 Worth It?
Whether or not the Super Bench Pro V2 is worth a purchase depends on what you're looking for in your weight bench. If you're wanting a bench with versatility, this is it. With over a dozen different attachments available, the Super Bench Pro can be its own home gym. Although not a true FID bench, it can go to decline with the crunch attachment. Additionally, there is a pull-up bar, a dip attachment, a leg attachment, and more. The attachments are good quality and the make of the bench is stable.
RELATED: Best Home Gyms Under $500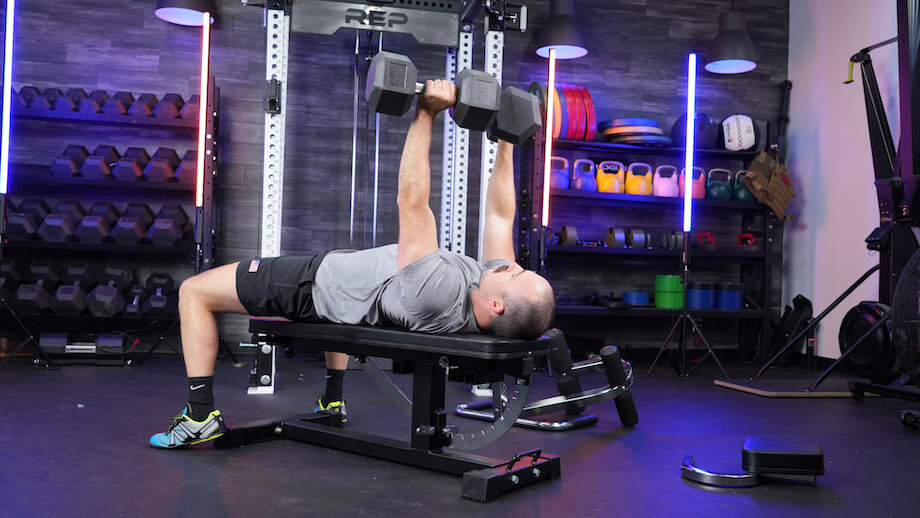 However, if you're looking for a quality weight bench at a similar price point and you don't need the versatility and attachments, there may be other options available. The Ironmaster weight bench doesn't have the quality of other similarly priced benches. If you're looking for a weight bench to use with your power rack for a barbell bench press, then there may be higher-quality options, with better padding and construction.
RELATED: Ironmaster Promo Code
Great for:
Those wanting versatility in their weight bench
People needing compact exercise equipment for their home gym
Lifters needing an adjustable bench that still meets IPF height standards
Not recommended for:
Home gym owners only wanting a flat bench
Those wanting a more budget-friendly weight bench
Lifters who don't need attachments on their weight bench
Ironmaster Super Bench Pro V2 Specs
| | |
| --- | --- |
| Price | $499 |
| Weight | 65 lbs (69 lbs with seat pad) |
| Length | 47" |
| Width | 22.5" |
| Height | 17.2" |
| Pad dimensions | 47" L x 12.25" W that tapers to 10.25" |
| Materials | 11- and 12-gauge steel |
| Weight capacity | 1,000 lbs in the flat position, 600 lbs in incline and upright positions |
| Angle adjustments | 0, 5,10, 20, 30, 40, 50, 60, 70, 80 and 85 degrees |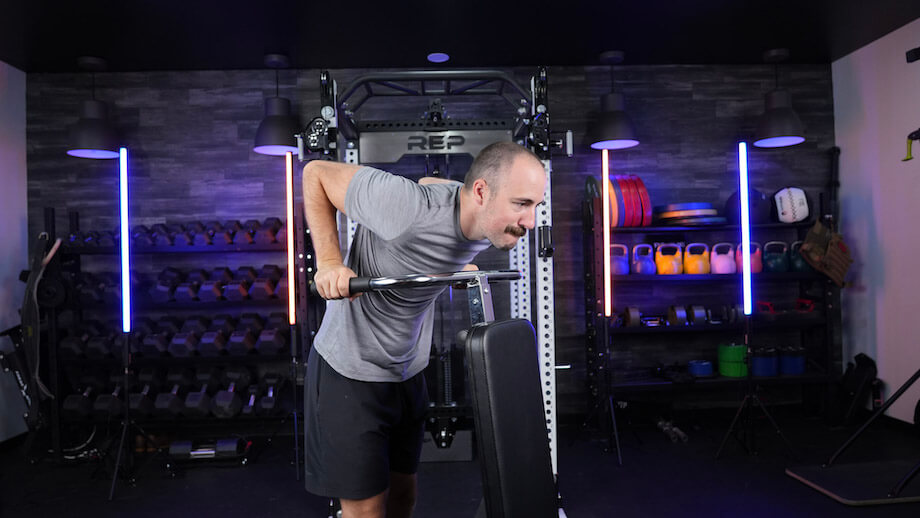 Workout Experience Using the Ironmaster Super Bench Pro V2
Coop enjoys using the Ironmaster Super Bench Pro V2, and he uses it in his own garage gym, a rare feat achieved only by his favorite equipment. The small changes made from the first to second version of the bench make a big impact on the bench's functionality. Two of the main reasons he enjoys it is because of its design and its versatility.
Let's discuss the design. The curved adjustment system is built to keep the bench low to the ground when flat, with a height of 17.2 inches. As one of the small changes to the original Super Bench Pro, the V2 has numbers laser-etched into the adjustment system, allowing users to remember angles and adjustments for sets more easily.
Adjusting the bench is super easy, as instead of bending over to pull out a pop-pin, there is a foot lever that can be pressed on, and then you can move the bench to your preferred angle before releasing the lever. Coop loves the ease of this adjustment system, and the locking mechanism remains rock solid and stable while in use. The bench allows for 11 different angles, from flat for bench press, to nearly upright for an overhead press, and plenty of incline positions in between.
RELATED: What Muscles Do Bench Press Work?
The bench feet remain firm on the ground in any position, stretching 47 inches long. This adds to the stability of the bench when it's upright and you're using the dip bar or chin-up bar. It remains solid throughout.
Now, let's talk about the bench's versatility. A third seat insertion point has been added, allowing for a higher seat height while in an upright position. The tapered seat width now allows for more exercises with your chest on the bench, like rows.
What makes the bench most versatile is the amount of possible attachments. Here is a list of the optional add-ons and attachments for the Ironmaster Super Bench Pro V2:
Crunch sit-up attachment
Bar dip handle
Seated press pad
Chin-up bar
Leg attachment
Preacher curl attachment
Hyper core attachment
Cable tower attachment
Dumbbell spotting stand
Head extension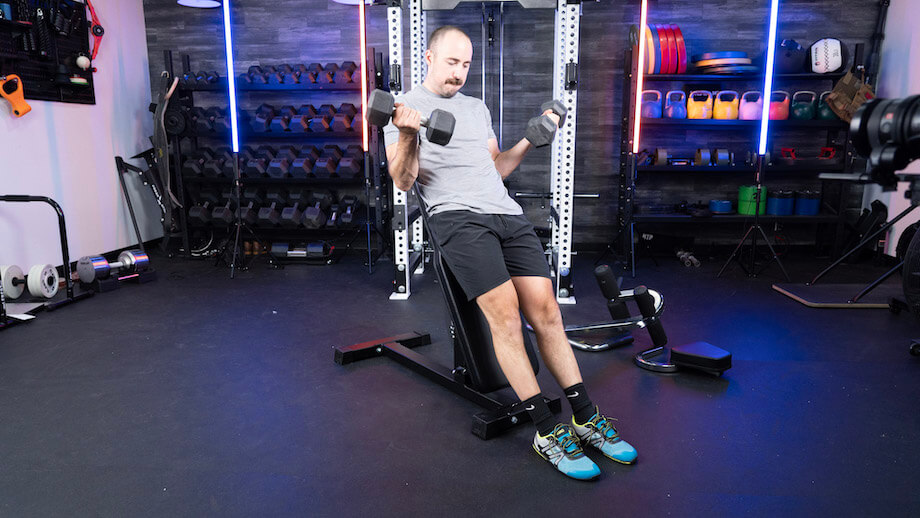 As Coop says, the attachments make their own ecosystem. Not only can you do incline bench and other dumbbell work, but you're able to do leg curls, leg extensions, upper body work, and even sit-ups with the crunch attachment. Basically, having this bench in your gym gives you the potential to set up your entire home gym through this one weight bench.
Footprint and Portability
The bench is compact and lightweight, weighing only 65 pounds (69 pounds with the seat pad). While this makes the bench pretty easy to move around, Coop admits he wouldn't mind it being a touch heavier to add to its stability.
The original Super Bench Pro was light enough to carry, and the V2 still is, but an added feature is the handle on the feet of the bench. This simple handle allows you to pick up one end and wheel the bench around, using the wheel kit on the other end. This is a great addition to help move around an already portable weight bench.
Construction and Durability
The design of the bench is solid, and the bench doesn't wobble while in use; still, there are some issues in the quality of the materials, especially when compared to other mid-range to high-end benches. For example, the Super Bench Pro uses a combination of 11- and 12-gauge steel in its frame. While this helps keep it lightweight, Coop wouldn't have minded a consistent 11-gauge steel throughout, like most quality weight benches.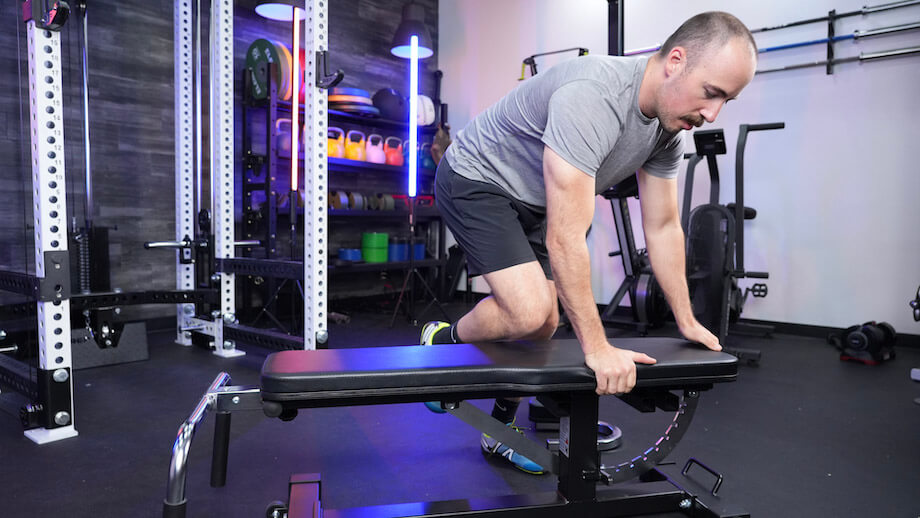 Additionally, the vinyl on the bench pad is lackluster and the padding is a bit on the thin side. While some people prefer a thinner pad, the padding on the Ironmaster piece just isn't as good as other weight benches on the market priced similarly.
Don't get us wrong, we really enjoy this piece from Ironmaster and think it's a solid bench. With a weight capacity of 1,000 pounds while flat and 600 pounds when in an incline or upright position, it'll perform well for the majority of people.
We love the attention to the design of this bench, and its versatility. In future versions, we'd like to see the same attention applied to the quality of the materials and construction.
Comparison to the REP Fitness Blackwing
REP Blackwing
GGR Score: 4.6
Product Highlights
Heavy-duty FID adjustable bench

12 different angle adjustments with back pad

6 adjustable angles for seat pad

Comes in standard and wide widths

Compatible with optional leg roller attachment

Vertical storage

11-gauge steel frame

ZeroGrap technology ensures no gap between back and seat pad at every angle

Pads made with new CleanGrip material
Pros & Cons
Pros
Wide bench option
Multiple color options
Compliant with IPF competition height standards
1,000-lb weight capacity
Vertical storage
Heavy-duty materials
Cons
Pricey compared to other adjustable benches
Some reviews said ZeroGap adjustments were tedious
Bottom Line
REP Fitness has continued to innovate with the Blackwing Adjustable Bench. Continuing to improve on previous benches, the Blackwing is a compact weight bench with a variety of adjustable angles for both the seat and back pads; plus, it stores vertically. The ZeroGap adjustments ensure there is no gap between the two pads at any angle, and the adjustments have been simplified since its first iteration. Although a bit pricey, the innovation and high-quality materials used make this bench worth a look.
When looking at one of REP Fitness's latest benches, the Blackwing, we can see how it differs in quite a few of the design choices made by Ironmaster with the Super Bench Pro V2. For one, the REP Blackwing is a traditional adjustable bench, with an attached seat pad. Because of this, the Blackwing is a much longer bench than the Super Bench Pro. The Ironmaster is made to be a compact bench, and it succeeds here.
Another aspect of the Ironmaster is its range of attachments. Currently, the REP Blackwing has an optional leg roller, which allows for core exercises and even Nordic curls. Still, the Super Bench Pro has an extensive library of attachments, making it a much more versatile bench than REP's bench.
Where the Blackwing stands out above the Super Bench Pro is in the quality of its materials. Built out of 11-gauge steel, this bench has quality welds and steel, and even their new CleanGrip vinyl, which is a durable, grippy covering for the pad. The Ironmaster has a thin pad, and the quality of the welds and materials are a bit lacking compared to a high-quality bench like this. Another thing is that the Blackwing is a true FID bench—flat, incline, and decline—with a setting below 0 degrees.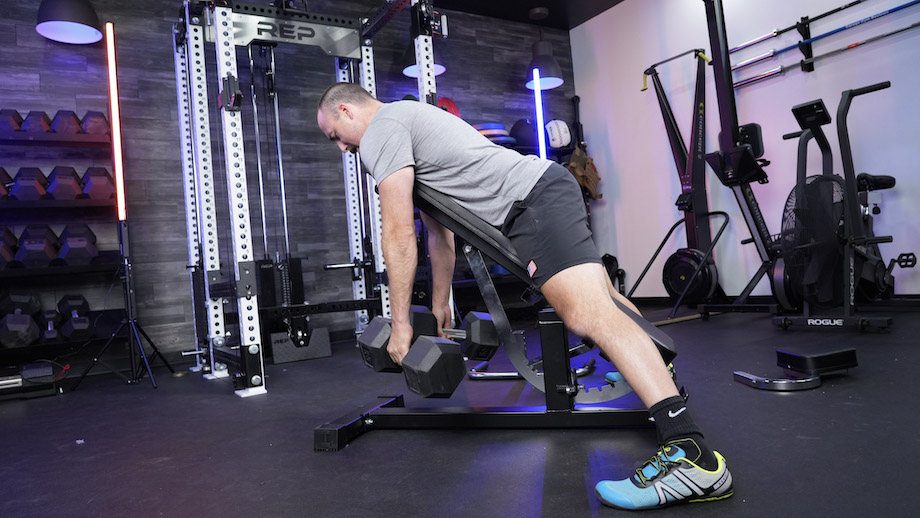 Both benches are great choices, but for different reasons. If you're looking for a bench that can double as a home gym, the Ironmaster Super Bench Pro V2 has the versatility for it. However, if you're looking for a high-quality bench that will feel solid and stable through and through, the REP Blackwing is an excellent choice.
You can see more of our thoughts on the weight bench in our REP Blackwing Adjustable Bench review.
| | | |
| --- | --- | --- |
| | Ironmaster Super Bench Pro V2 | REP Fitness Blackwing Adjustable Bench |
| Price | $499 | $599 |
| Weight | 65 lbs (69 lbs with seat pad) | 131 lbs |
| Length | 47" | 59.5" |
| Width | 22.5" | 25.8" |
| Height | 17.2" | 17.2" |
| Pad dimensions | 47" L x 12.25" W that tapers to 10.25" | 38.2" L x 12.2" or 14" W (back pad), 15.6" L x 12.2" or 14" W tapered to 8" (seat pad) |
| Materials | 11- and 12-gauge steel | 11-gauge steel |
| Weight capacity | 1,000 lbs in the flat position, 600 lbs in incline and upright positions | 1,000 lbs |
| Back pad angle adjustments | 0, 5,10, 20, 30, 40, 50, 60, 70, 80 and 85 degrees | -8, 0, 10, 20, 30, 37.5, 45, 52.5, 60, 67.5, 75, and 85 degrees |
Customer Experience
The warranty on the Ironmaster Super Bench Pro V2 is pretty solid: 10 years on the frame and components, and one year on upholstery. This applies for any additional attachments you purchase with the bench.
Ironmaster has a 30-day satisfaction guarantee. After trying out the product, if you're not satisfied, they will accept a return on items, even with slight use. However, return items must be in the original packaging, and Ironmaster emphasizes to put all internal separators and plastic in the box as well, to prevent any shipping damage when sent back.
If you have more questions, Ironmaster can be contacted through telephone and email. Additionally, their showroom is open during business hours, so those in the Seattle, Washington, area are welcome to visit.
Ordering and Assembling the Ironmaster Super Bench Pro V2
The Ironmaster Super Bench Pro V2 can be ordered directly off the company website, and free shipping is offered in the continental U.S. Folks in Alaska, Hawaii, and Canada can see shipping options during checkout, but other international orders will have to contact Ironmaster for a shipping quote. FInancing options are available through Affirm.
The Super Bench Pro V2 comes mostly pre-assembled; all you need to do is attach the feet. Ironmaster ensures that assembly requires minimal tools. With its weight of 65 pounds, you don't need additional help, and the bench should be ready for your next workout within minutes.
Customer Reviews
As of this writing, there aren't too many reviews on Ironmaster's website for the Super Bench Pro V2, but they are extremely positive; all 29 reviews on the product give it 5 stars. Most reviews talk about the versatility of the bench, making it a great space saver in a small home gym. Others remark on the small improvements made to the design from the original version.


Final Verdict of Our Ironmaster Super Bench Pro V2 Review
After using the V2 of the Ironmaster Super Bench Pro, Coop is impressed by it. The design allows for this to be one of the most versatile benches on the market, with a wide range of attachments available as well. This has become Coop's personal favorite and a permanent addition to his own garage gym.
Although the quality of the materials and vinyl are a little lacking for a bench with the name "Pro" in it, the design and versatility alone are enough to recommend this bench for people looking for a compact, versatile piece of gym equipment.
Ironmaster Super Bench Pro V2 Rating
Ironmaster Super Bench Pro V2 Rating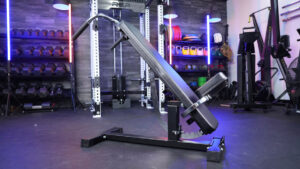 Little changes make a big difference in the second version of this versatile weight bench. Learn more in our Ironmaster Super Bench Pro V2 review.
Product Currency: USD
Product Price: 499
Product In-Stock: InStock
Ironmaster Super Bench Pro V2 FAQs
What is the weight capacity of the Ironmaster Super Bench Pro V2?
The Ironmaster Super Bench Pro V2 can support up to 1,000 pounds while in the flat position, and it can hold 600 pounds from an incline or upright position.
What is the height of this bench?
The Ironmaster Super Bench Pro V2 has a height in the flat position suitable for IPF standards of 17.2 inches.
Is the Ironmaster Super Bench Pro V2 worth the price?
Although the quality of the bench's materials could be improved, the design of the bench allows for a lot of versatility. If you want an adjustable bench with a ton of potential for attachments and versatility, the Ironmaster Super Bench Pro V2 is a solid choice.