We'll be honest: narrowing down our picks for the best home gym equipment was difficult. Not just because there are a lot of categories to cover, but what's good for one person may not be good for another.
So with that in mind, let's see how our team would design their dream home gym with everything from barbells and weight plates to the very floor we'd be standing on.
And if you get sticker shock at any time during this piece, just know we also have a comprehensive list of the best budget home gym equipment, too.
Hundreds of Pieces of Home Gym Equipment Reviewed
We're about to go over 17 different pieces of equipment, and the Garage Gym Reviews team has placed their hands and/or feet on every single last one of them. Not only that, but for every category listed here we've tested dozens, if not hundreds, of different pieces of equipment so we could be confident in our top pick for each one.
And because we're competitive weightlifters, CrossFit coaches, and certified personal trainers, we also take into consideration how each item can impact your training goals and overall fitness. In some cases, we'd use these very products either to train for a competition or train our clients. You can trust us when we say we only recommend the best.
The Best Home Gym Equipment
Video Review
Best Barbell: Rogue Fitness Ohio Bar
Good for: Anyone who needs a high-quality multipurpose barbell
No matter how you train, the Rogue Fitness Ohio Bar is most likely the best barbell for you. It has a 190,000 PSI tensile strength (200,000 if you get the stainless steel finish), so you can put as much weight as you want on it and slam this barbell if you must (though we don't recommend it!) without fear of it bending.
The bar also comes with dual knurl markings, a 28.5-millimeter shaft, and 16.4 inches of loadable sleeve length.
The price will depend on which finish you pick, with black zinc being the cheapest at just over $300 and stainless steel the most expensive at $465. All of the options, however, are pretty rust and corrosion resistant.
Being a multipurpose bar, the Ohio Bar is great for most people but not-so-great for certain lifters. People who need a high-spin bar may not like that it uses bronze bushings, though those are more durable than needle bearings, and some powerlifters may be annoyed at the lack of center knurling.
Speaking of knurling, it goes all the way to the collar so people with longer arms can get maximum grip. The knurling itself is about medium, and even passive depending on the finish you get. If you're going for a heavier lift, the bar takes chalk pretty well.
Although we're confident the Rogue Ohio Bar will stay strong no matter what, it does come with a lifetime warranty, so you're covered in case anything happens to it.
For a full look at this barbell, check out our Rogue Ohio Bar review.
Best Squat Rack: REP Fitness PR-4000 Power Rack
Good for: Trainees looking for a durable and customizable squat rack
We chose the REP Fitness PR-4000 Power Rack as the best squat rack for most home gym owners because it can be customized to every person's needs and space. That's right, you get to customize everything about this rack from the height of the uprights to the type of pull-up bar (you can even pick from eight different color options).
And once the REP Ares cable attachment system is available, you'll be able to add a functional trainer, lat pulldown, and low row machine to your rack, making it an even better value for your home gym.
But even without that, there are countless attachments available for the REP PR-4000 that you can either add when you first order it, or sometime later on.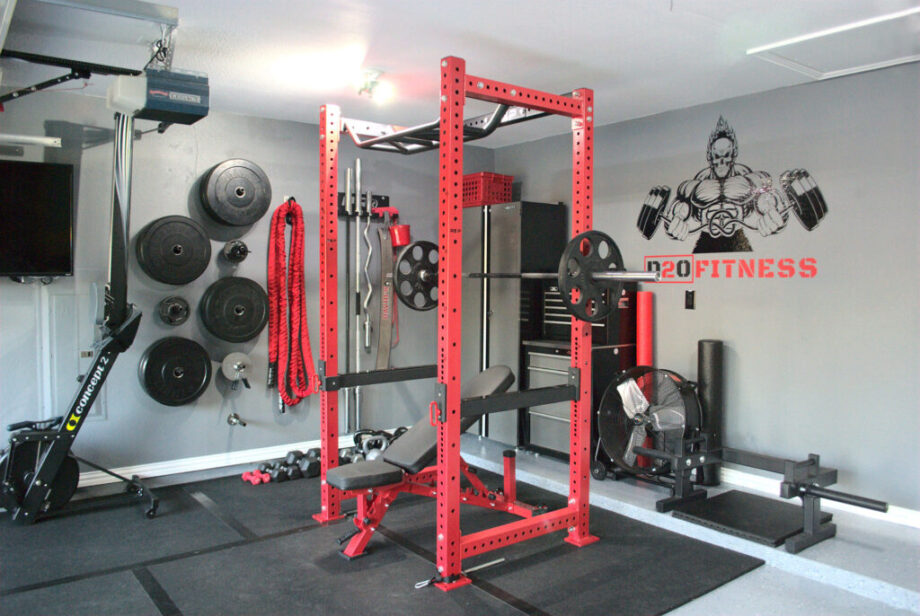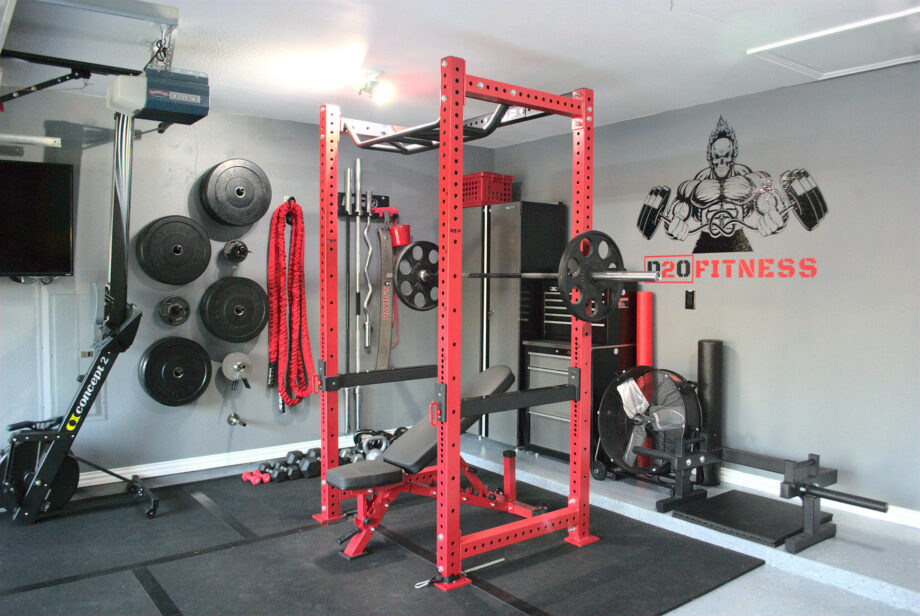 No matter how you design your rack, you're getting uprights made with 3-inch-by-3-inch 11-gauge steel, 1-inch Westside hole spacing through the bench area, and ⅝-inch hole spacing throughout the rest of the rack.
It has a 1,000-pound weight capacity, which is more than enough for most people's home gyms, though we should mention this rack does better when it's bolted to the ground. That's not the most convenient thing, but better safe than sorry.
One of our biggest issues with the REP PR-4000 is it's only numbered on one side, which is a minor inconvenience in the grand scheme of things, but we would've liked to see it on both sides.
This is a great choice for those who want something that's more durable and has more attachment possibilities than a budget squat rack, but still isn't quite as expensive as higher-end options.
Find out everything you need to know about this rack in our REP Fitness PR-4000 Power Rack review.
Best Weight Plates: Rogue Echo Bumper Plates
Good for: Anyone who needs durable weight plates for all their lifting needs
There are many types of weight plates we could've picked from, but we went with the Rogue Echo Bumper Plates because they're durable, budget-friendly compared to other options, and have great weight accuracy.
These plates have a Shore Durometer rating of 88, which is a fancy way of saying these things are built tough. A Shore Durometer measures how hard certain materials are, and grades it from 0 to 100. In other words, these plates are about a B+, which is great for the price point they're offered at.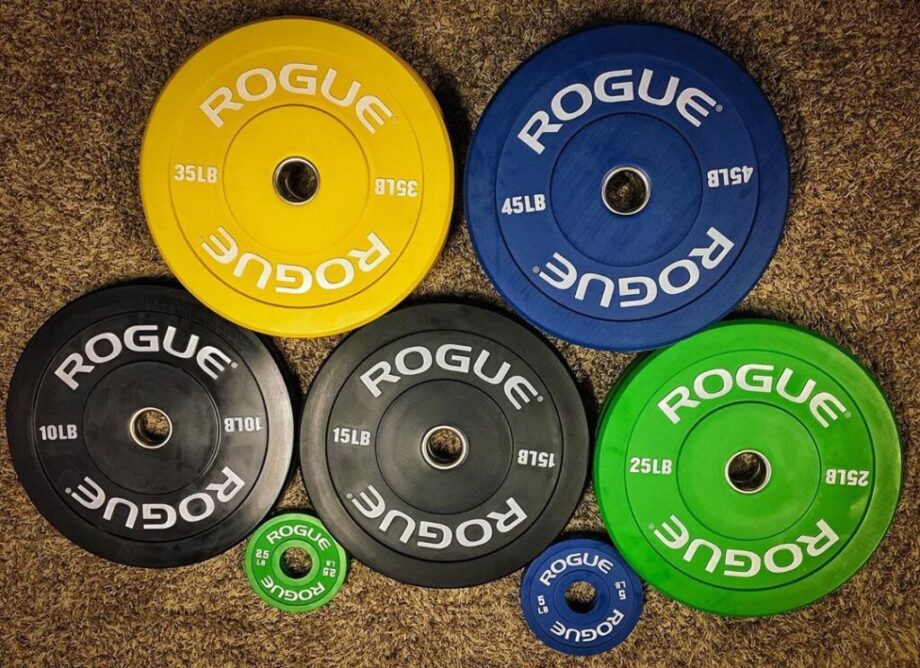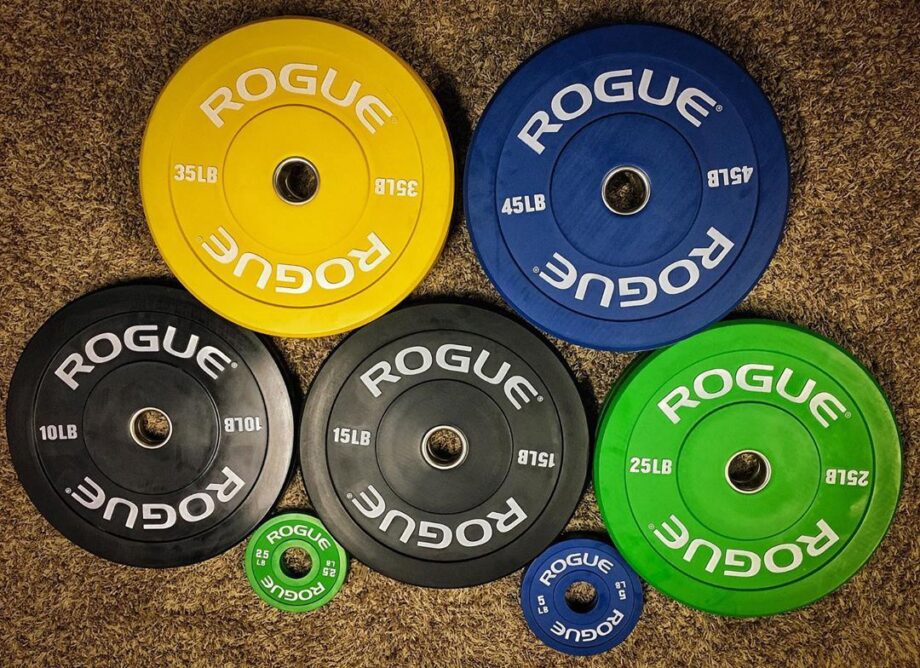 The plates have a 450-millimeter overall diameter and a 50.6-millimeter collar opening, both of which meet the International Weightlifting Federation standards. And because every plate has a 1 percent weight tolerance (meaning each plate is within one percent of the listed weight), you can use it to prepare for weightlifting competitions.
These do have a pretty strong rubber smell, which dissipated over time for some reviewers but stayed for others. They're also pretty wide, so you won't be able to load many of them on a barbell. For lifters who need to stack more plates, we'd go with Rogue's competition bumper plates, but those are much more expensive than the Echo bumper plates.
Best Weight Bench: REP AB-4100
Good for: Those looking for a versatile and cost-friendly weight bench
In an ideal world, we'd have both a flat bench and an adjustable weight bench in our home gym but that's not realistic for most people. An adjustable bench is, in our opinion, the way to go because you can hit more muscle groups at different angles, allowing you to get a full-body workout, and still do all the things a flat bench can do.
And when it comes to adjustable weight benches, the best value is the REP Fitness AB-4100.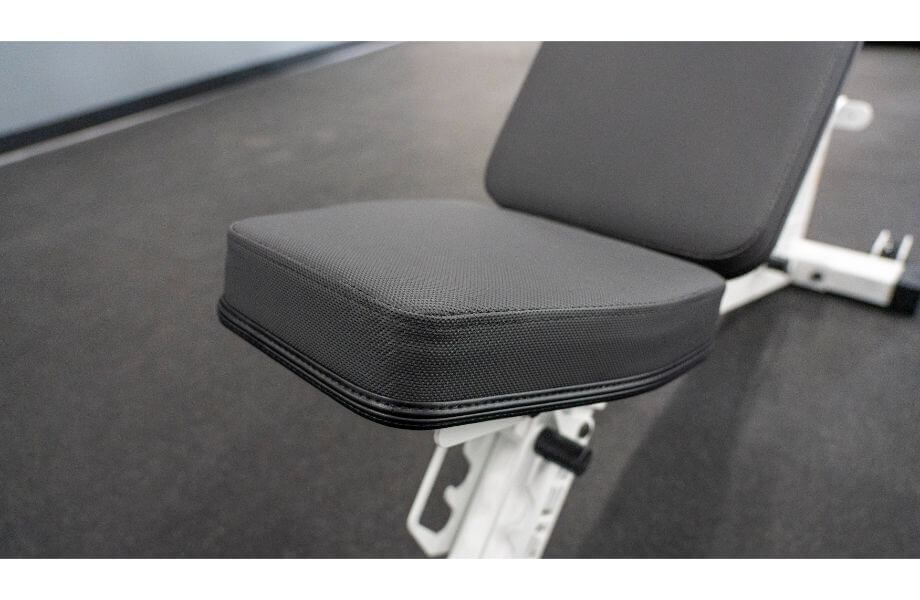 Not only is it one of the few weight benches to meet all International Powerlifting Federation standards, but it also comes with 10 total adjustment positions (seven for the back and three for the seat), and a minimal pad gap. The listed weight capacity is 700 pounds, but we think it can hold more than that because it's made with 7- and 14-gauge steel and has a sturdy tripod design.
What really pushed this to the top of our best weight bench list is the fact that you get all that for under $400. The vinyl, powder coat, and knobs are of lower quality than more expensive benches, but in terms of functionality, we have virtually zero complaints about this bench.
There's no decline option and the back pad is 36 inches, which is shorter than most other benches, so taller lifters may have to look elsewhere.
Still curious? Our full REP AB-4100 adjustable bench review has the full breakdown of this bench.
Best Dumbbells: Rogue Rubber Hex Dumbbells
Good for: Those looking for an easy-to-use and durable dumbbell set
Dumbbells are one of the most widely used and versatile pieces of strength training equipment, which is why most home gym owners and fitness enthusiasts would put them near the top of their list of "must-haves."
The Rogue Rubber Hex Dumbbells feel like the free weights most people have used at one point in their life, making them great for beginners and those of advanced fitness levels.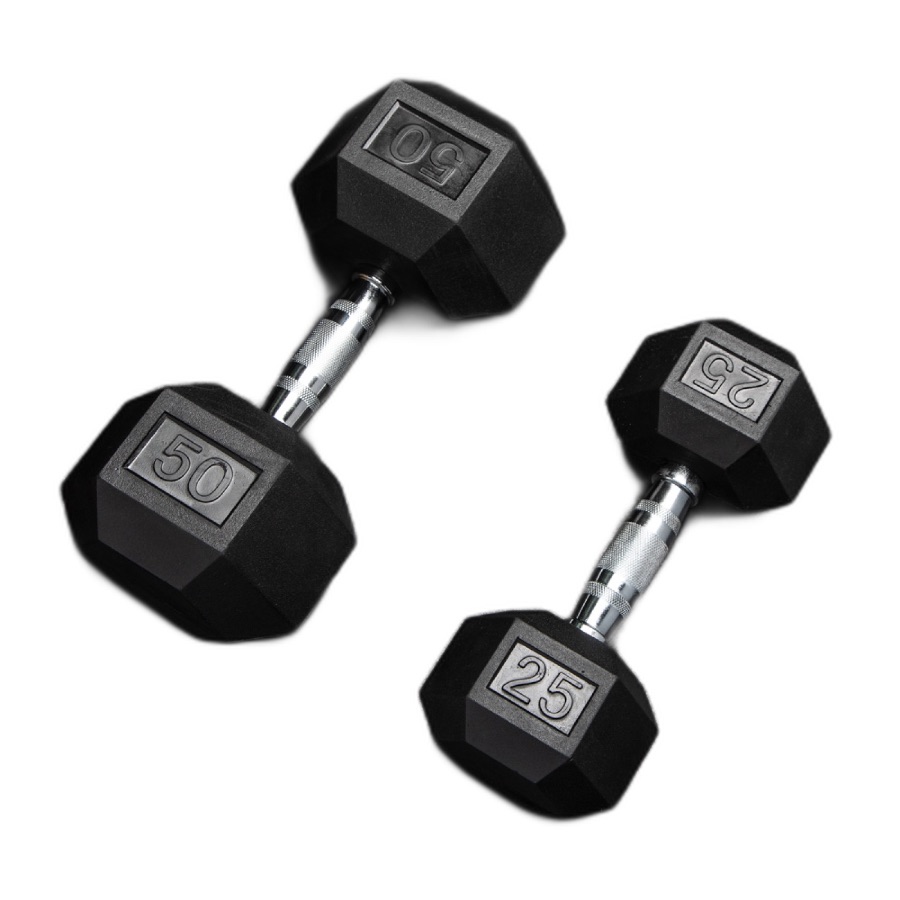 They're also incredibly durable. Seriously, we've dropped these things many times and the rubber coating has kept them intact no matter what. The heads are also tightly welded to the handles, so they won't come apart like cheaper dumbbells when dropped repeatedly.
The hex head design prevents them from rolling when placed on the floor, but it does mean if you drop them they can bounce in any direction.
In terms of pricing, these are pretty affordable with the heavier dumbbells coming in at around $1.80 per pound. Depending on where you live, you may get pinched on shipping costs, which can get pretty pricey depending on how many dumbbells you order.
But, as we like to say, home gym equipment is an investment and these dumbbells will show returns for many years to come.
Check out our best dumbbell roundup for even more options.
Best Adjustable Dumbbells: PowerBlock Adjustable Dumbbells
Good for: People who either can't or don't want to store dozens of traditional dumbbells
For those who don't have the space or budget for an entire dumbbell set, we recommend the PowerBlock adjustable dumbbells. Depending on which model you choose, you can replace up to 28 pairs of dumbbells in the same amount of space as a large shoe box.
Adjustable dumbbells are typically less durable than traditional free weights, but PowerBlocks have held up to years of use in our testing facility. They're also quicker and easier to change than other options and are priced pretty well no matter which model you go for.
Related: PowerBlock adjustable dumbbell review.
Plus, they're one of the only adjustable weights that come with expansion kits to make them heavier, should you find their max weight gets too easy for you.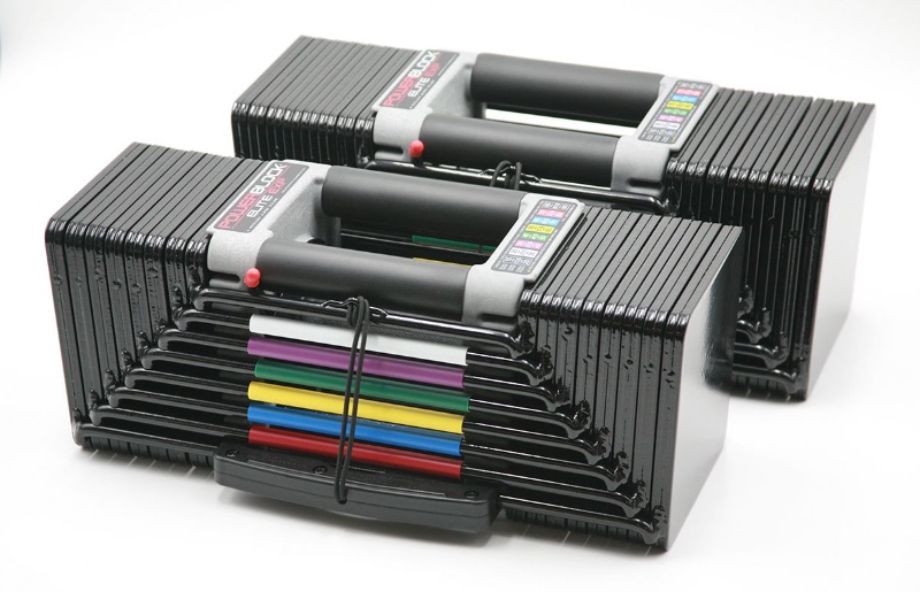 Their shape and caged box handle could affect the range of motion that some lifters can get with them, especially if you have larger hands, but most people get used to them with regular use. They also make some noise when being used, but you probably won't notice it if you're training with headphones in.
You can go up to 90 pounds per hand with the expansion kit, which for a majority of people is heavy enough. There is a Commercial Pro option that goes up to 175 pounds per hand, but it can cost more than $2,000.
To find heavier options, or see what else we recommend, check out our top picks for the best adjustable dumbbells.
Best Kettlebells: Rogue Fitness E-Coat Kettlebells
Good for: Home gym owners who love kettlebell training and want the real thing
No matter which side of the dumbbell vs kettlebell debate you stand on, you have to admit the latter deserves a place in every gym. Not only can they be used to make strength and muscle gains, but they're a great way to get a quick cardio workout.
The Rogue E-Coat Kettlebells are our top pick simply because they're more durable and corrosion-resistant than most kettlebells on the market. They're made with ductile iron, which is a higher-quality material than the cast iron kettlebells you'll find in most gyms.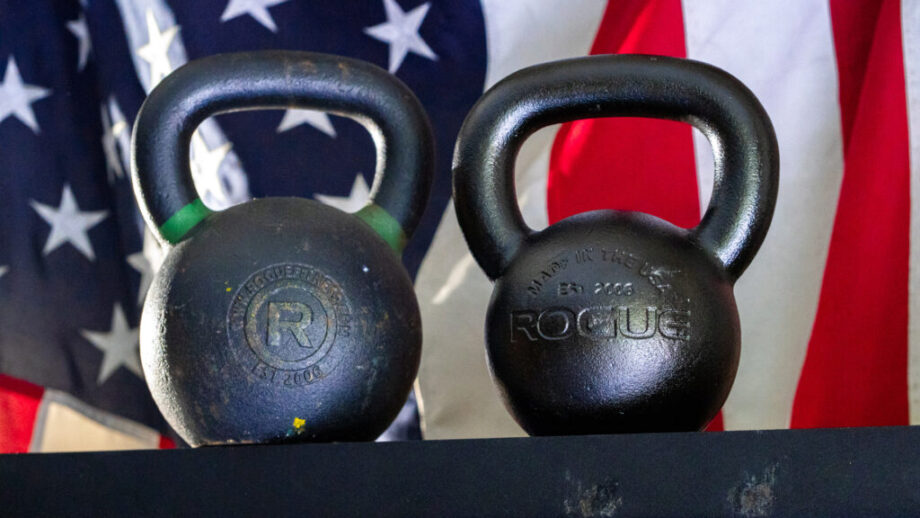 Plus, the e-coat will protect your weights from chipping, scratching, and rust, and generally provide a stronger grip than those with a powder coat finish. That's especially important when you're swinging a heavy weight in between your legs (search "kettlebell fails" on YouTube and you'll know what we mean).
Related: We picked the best kettlebells for your home gym.
Rogue offers kettlebells ranging from nine to 88 pounds, all of which come with a flat base for easy storage. As is the case with most kettlebells, the handle diameter will increase the heavier the weights get.
The price is pretty good for kettlebells, with the 88-pound option coming in at $140, but shipping can be expensive depending on where you live.
If you want to learn more about these specific bells, read our Rogue kettlebells review.
Best Adjustable Kettlebells: REP Fitness Adjustable Kettlebells
Good for: Anyone who wants a great value adjustable kettlebell
One of the biggest disadvantages of adjustable kettlebells is they often don't feel like the real thing, but that's not the case with the REP Fitness Adjustable Kettlebell. Seriously, if you were to close your eyes and touch this thing you wouldn't be able to tell the difference.
Because of that, it's one of the most durable adjustable kettlebells, which are typically made of plastic or other materials that can easily crack. Several reviewers have said their REP adjustable kettlebells have taken a beating during their workouts, but still operate as well as the day they were taken out of the box.
We also like that it's easy to change the weights (simply turn the dial to select how heavy you want it) and that every increment is clearly marked. The only adjustable kettlebell that's easier to use is the Bowflex SelectTech 840, but that only goes up to 40 pounds in weight.
REP offers three options: eight to 16 kilograms (17.6 to 35.2 pounds), 16 to 24 kilograms (35.2 to 52.9 pounds), and 20 to 40 pounds. The 16 to 24 kilograms option is the most expensive, at just over $200, but we still think that's a great value for a high-quality adjustable kettlebell.
Need more options? Check our best adjustable kettlebell roundup.
Best Gymnastic Rings: Vulcan Elite Wood Gymnastic Rings
Good for: Those who want to switch up their training regimen
Even if you don't do gymnastics, there are many reasons why you might want a pair of gymnastic rings in your home gym. They can be used for instability training, strengthening your joints, bodyweight workouts, and improving your flexibility. They also take up less room and are easier to install than a pull-up bar, and cost less money than a TRX suspension trainer.
The Vulcan Elite Wood Gymnastic Rings offer the best combination of functionality and value. Gymnasts agree that wood is the best choice for grip, and Vulcan uses hard birch wood for their rings (most budget rings will use plywood, which is not as durable). They're also sanded down for maximum smoothness, and work well with or without chalk.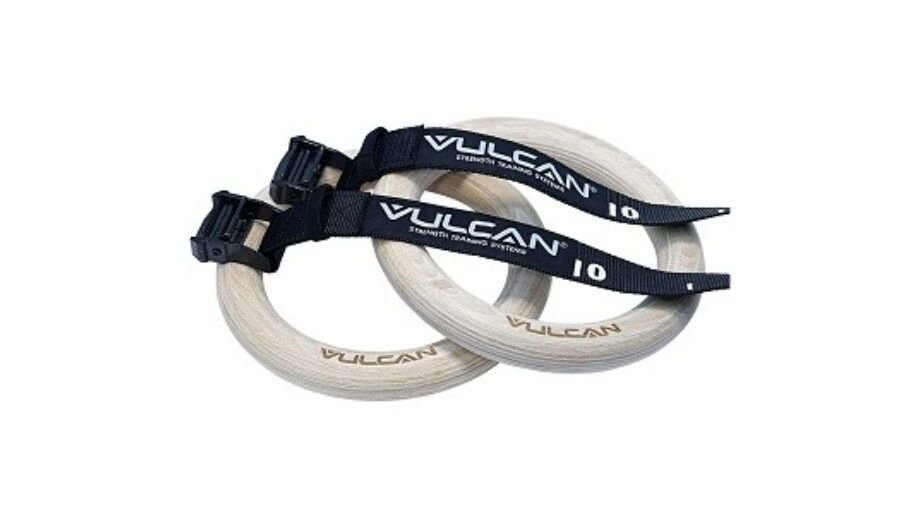 We will say, if you plan on using these outdoors, you should bring them into the house if there's rain in the forecast. Water can easily deteriorate your wooden rings, so if you're looking for a weather-proof set of rings, go with something made with nylon.
There's 15 feet of strap per ring, and each is clearly numbered for easy and accurate height adjustment.
Best Exercise Bike: NordicTrack S22i Studio Bike
Good for: People who love high-quality home cardio workouts
The NordicTrack S22i Studio Bike has just about everything you'd want in an exercise bike, from incline/decline training to 24 digital resistance levels that are sure to give you a heart-pounding cardio workout every time you get on it. If you're looking for a bike that can truly replicate the feeling of road cycling, this is it.
If live cycling workouts are more your speed, the S22i can deliver that too with its 22-inch HD touchscreen (which also turns 360 degrees for off-bike workouts) and incredible sound system. You can access thousands of live and on-demand workout classes through the iFIT app, which you'll need to access most of the bike's features.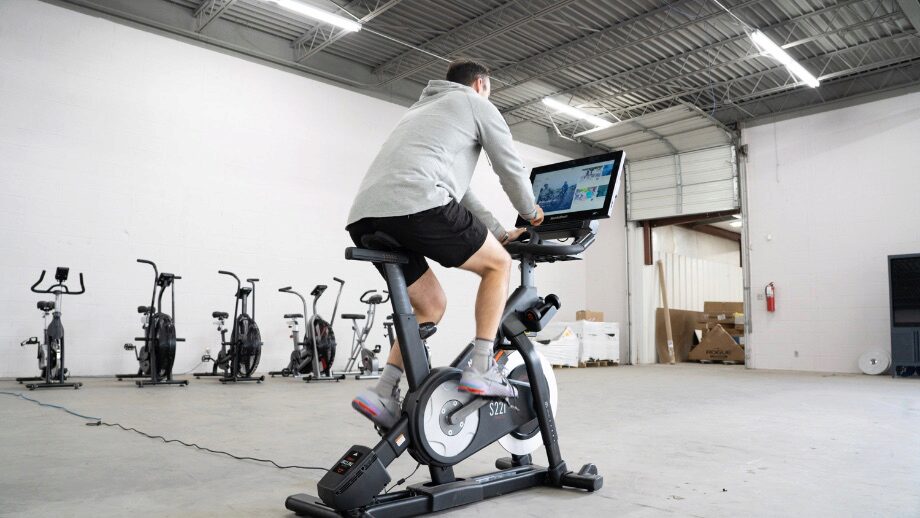 A bike with this many features, and built as well as it is comes with a steep price tag: $1,900, to be exact. Is it worth it? If you're someone who wants the best indoor cycling experience on the market today, then yes. If you're someone who's looking for something a little more affordable, we recommend checking out our best budget exercise bike roundup.
A similar bike is the NordicTrack S15i Studio Bike, which is usually around $1,300 but as of this writing, NordicTrack is only selling it alongside a four-year iFIT membership, which bumps up the total price to just about the same as the S22i.
Price aside, our only other gripes with the S22i Studio Bike is that it's difficult to assemble (grab a friend for this one), it weighs more than 200 pounds and is difficult to move, and you can't put it in the garage (NordicTrack will void your warranty if you do).
Check out our full NordicTrack S22i review for more information.
Best Vertical Climber: CLMBR
Good for: Anyone who wants a full-body workout machine 
Vertical climbers aren't the first piece of equipment many people think of when designing their home gym, but we can give you a few reasons why you should consider one, specifically the CLMBR. For one, it works just about every muscle group in your body while also providing a heart-pounding cardio workout.
It's also low-impact and, height aside, quite compact compared to other cardio machines.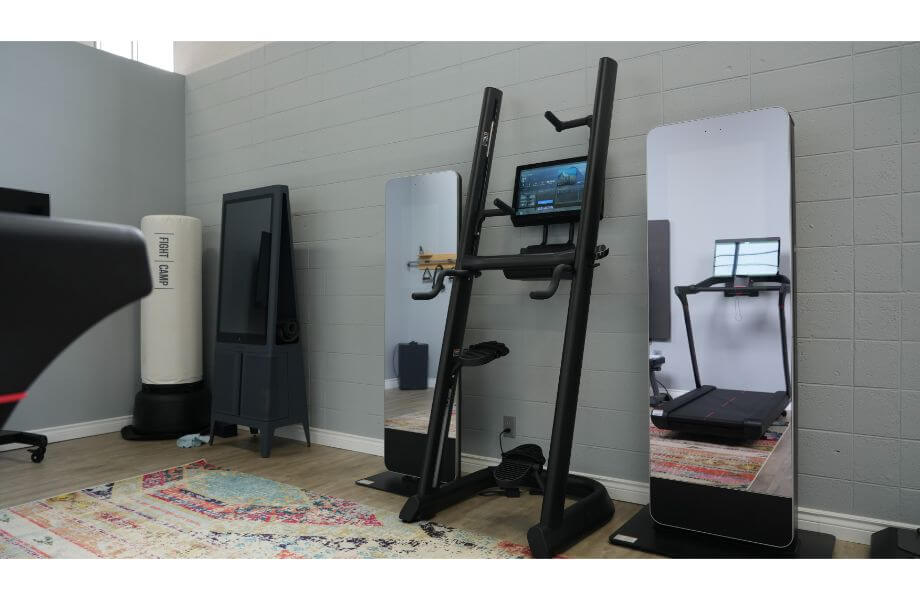 A big reason why we picked the CLMBR over other vertical climbers is that it comes with some of the most engaging interactive workouts we've seen. Caroline Lubinsky, GGR product tester and fitness writer, actually compared it to Peloton classes (yup, they're that good).
"If you're tired of the same-ole-same-ole cardio equipment, I recommend checking out the CLMBR for a vertical climber that surpasses the rest," Caroline says, which is quite the endorsement coming from a former NCAA Division I soccer player.
Unfortunately, there is a height limit on this ride as we found that people taller than 6 feet have difficulty climbing the CLMBR without feeling cramped. It also starts at $1,800, but if you have the budget for it, we think it's well worth the asking price.
If you still want to look up more on this machine, take a look at our full CLMBR review.
Best Treadmill: NordicTrack Commercial 1750 
Good for: Walkers and runners who want a treadmill with lots of high-tech features
If you're looking to add a workhorse of a treadmill to your home gym, we recommend the NordicTrack Commercial 1750. This large-and-n-charge cardio machine weighs a whopping 339 pounds, but it has durability and lots of extra features that make it worth the space.
Related: NordicTrack Commercial 1750 review.
We love that there are both incline and decline options on this machine, as this isn't common on every treadmill on the market. Plus, you'll be able to stride with ease on the expansive 22" W x 60" L deck, which is ideal for people of all heights.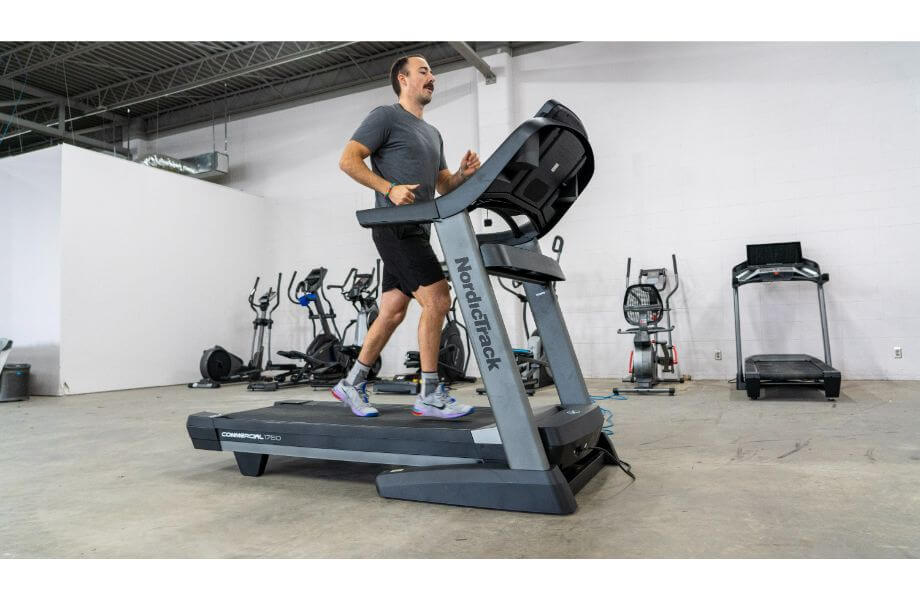 If you're into interactive programming, you'll enjoy the included touchscreen, which connects to iFIT. With the purchase of this treadmill on NordicTrack, you'll receive a free trial to check out iFIT to see if it is a good fit for you.
In terms of extras, the nearly $2,000 Commercial 1750 has it all–– think Bluetooth connectivity, cooling fans, a water bottle holder, and more.
On previous models, the NordicTrack Commercial 1750 has adjustable deck cushioning, which was a huge plus for those who wanted to simulate outdoor running conditions. However, they have taken this feature off of the 2022 model, much to our chagrin. It is also worth noting that you cannot store this treadmill in your garage, as the warranty will be voided.
If this treadmill doesn't fit your needs, our best treadmills for a home gym list surely has something that will.
Best Rowing Machine: Concept2 Model D Rower
Good for: Professional athletes and everyday trainees looking for a highly efficient workout machine
There is truly no better-value rowing machine than the Concept2 RowErg, formerly called the Concept2 Model D Rower. The Model D consistently tops our various guides to the best cardio machines, and for good reason: For just about a grand (which is a lot, but hear me out), you get one beast of a rowing machine that should last you a literal lifetime, provided you perform the minimal maintenance needed a few times per year.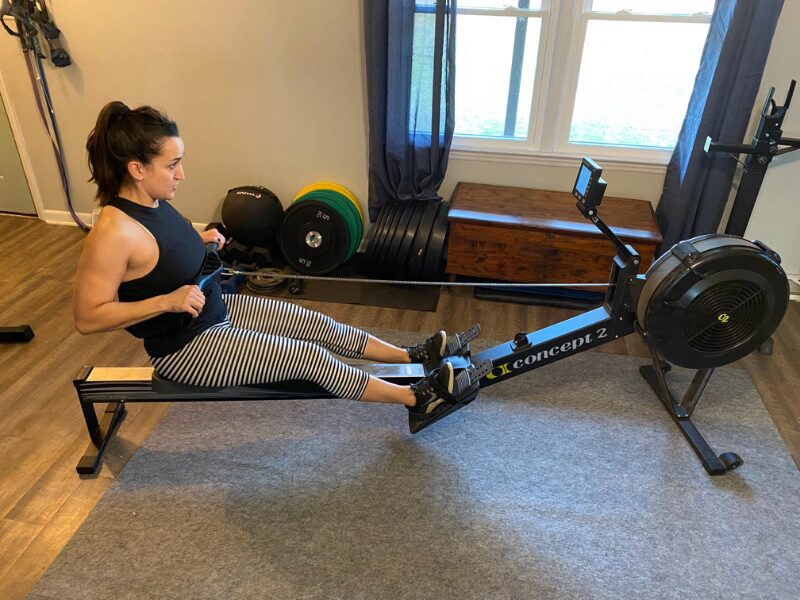 In addition to a solidly built aluminum frame and durable components, the Model D Rower also provides several built-in workouts and Bluetooth compatibility, so you can connect to third-party fitness apps. The small LCD screen isn't anything to shout about, but it does track a handful of metrics—distance, stroke rate, calories, watts, time, 500-meter split—and it does so accurately, which is the most important thing.
For a machine that weighs less than 60 pounds, its 500-pound weight capacity is impressive. Also worth mentioning: The rower can store vertically or easily separate into two pieces to save space when not in use. Truly, our roster of product testers loves this rowing machine and it's the first one we recommend for anyone who's not on a strict budget.
Read our full Concept2 Model D Rower review.
Best Elliptical: NordicTrack Commercial 14.9
Good for: Anyone who wants a low-impact cardio machine
For those who want the Mercedes equivalent of an elliptical, the NordicTrack Commercial 14.9 fits the bill. This luxury machine has an interactive touchscreen, which can be used to view iFIT programming. You'll also get a free year of iFIT with the purchase of this machine. How great is that?
The 14.9 features a 32-pound flywheel, which makes this machine run both smoothly and quietly. We're big fans of the 26 different levels of resistance that can be adjusted on the 14.9.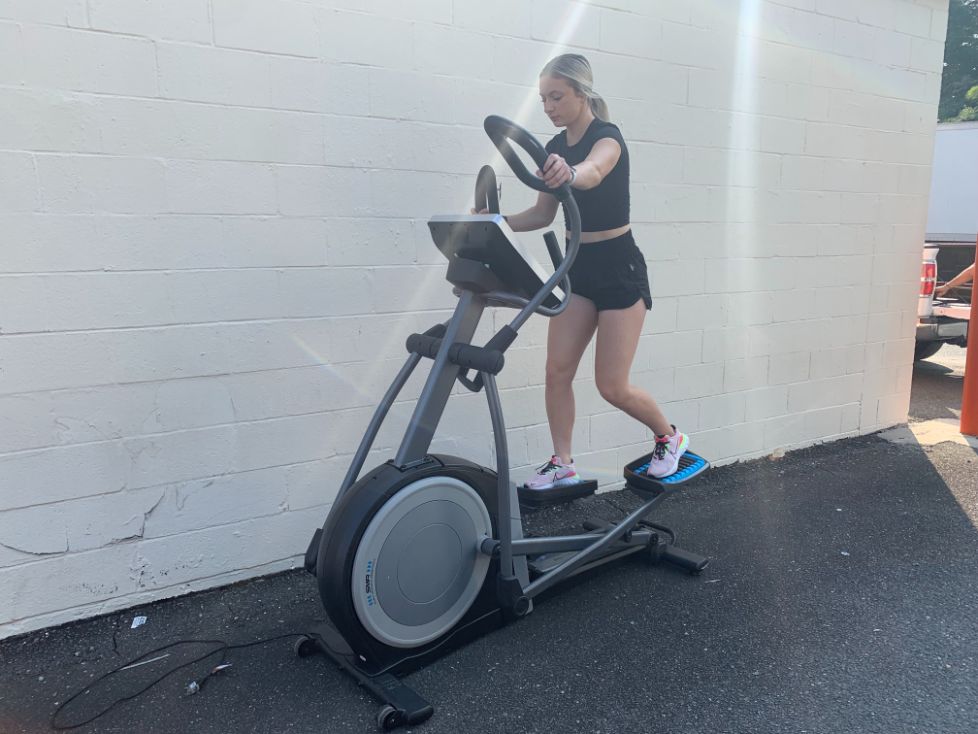 You can check out our NordicTrack Commercial 14.9 review for our full thoughts on this machine.
Plus, if you're taking an iFIT class, you can even turn on a feature that allows the machine to auto-adjust both the resistance and incline for you. If you're not into that on a particular day, you can easily toggle it on or off.
Not many ellipticals are foldable, so it isn't a huge surprise that this one isn't. However, you'll want to account for the large footprint and make sure you have the appropriate amount of space to accommodate it.
Also, a word of caution for those who are not great at assembling things––this isn't an easy build. If you plan to undertake it without professional assistance, we recommend grabbing a friend or family member to help.
Find out what machines NordicTrack competed against in our best ellipticals roundup.
Best Jump Rope: WOD Nation Double Under Speed Jump Rope
Good for: Those who want a budget-friendly and durable speed rope
Value-driven folks will be pleased to learn that the WOD Nation Double Under Speed Rope is not only one of the best jump ropes out there, but it's also one of the least expensive speed ropes out there. Whether you're looking to become a double-under wonder and dominate your local CrossFit leaderboard or simply jump rope to get your heart rate pumping, the WOD Nation jump rope is a good choice.
For less than $20, you get two (yes, two!) PVC-coated, 2.5-millimeter-thick steel cables and a little carrying case to cart it all around. The cable features swivel ball bearings for smooth, 360-degree rotation. One of our product testers and GGR Head of Content, Kate Meier, has had a WOD Nation Double Under Speed Rope for years and has put it through the wringer during CrossFit workouts and conditioning sessions. It's survived all of her double-under tantrums thus far.
Our one gripe with this rope? It must be cut to size, and you'll need wire cutters for that—kitchen shears and craft scissors won't get the job done. Once you cut the 120-inch cable to size, you'll enjoy years of use out of this simple and inexpensive jump rope.
Best Home Gym Flooring: Tractor Supply ¾" Rubber Stall Mats
Good for: Just about any home gym owner looking to protect their flooring
If you're a member of our Home Gym Community on Facebook (and if you're not signed up, what's the holdup?), you know that horse stall mats are a go-to choice for most people designing their home gym.
Yes, you read that right: Horse stall mats. Listen, a yoga mat just isn't going to cut it if you plan on doing heavy deadlifts. You need a heavy-duty mat, and these are better than anything you'd find at a fitness store.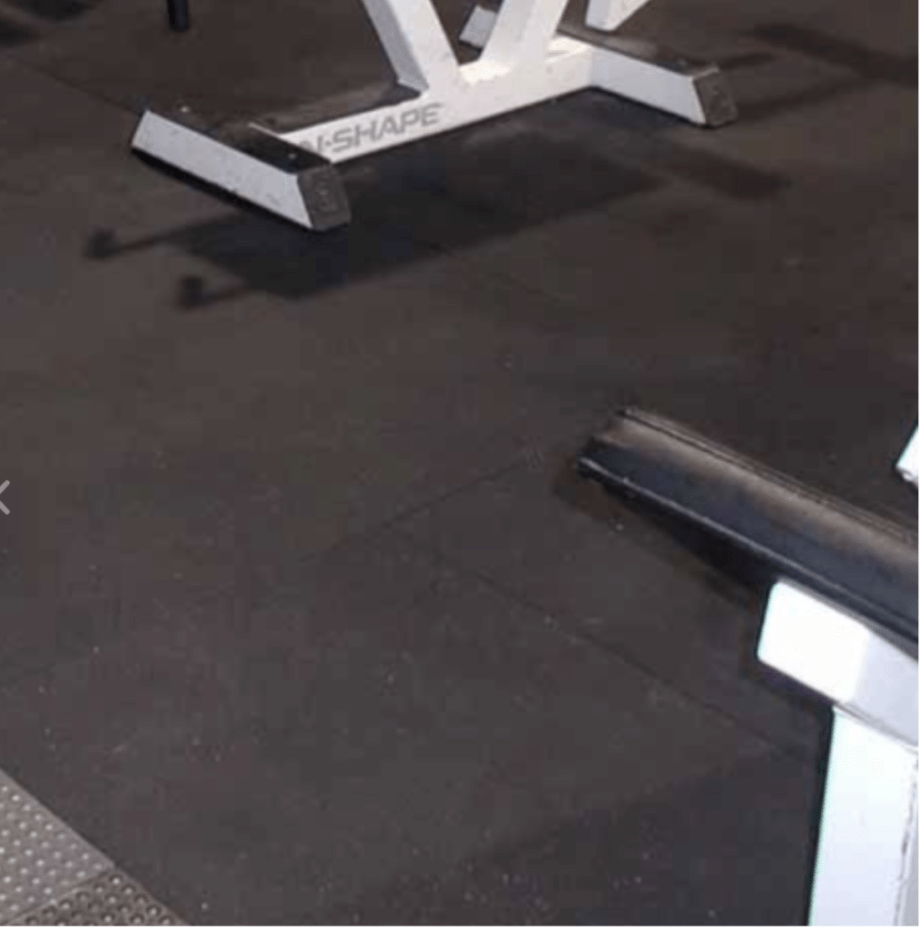 These mats are .75 inches thick and weigh 94 pounds per piece. So they're bulky and may require more than one person to install, but they'll absorb sound with ease and protect your foundation. If needed, they're also pretty easy to cut to size.
Each four-foot-by-six-f00t piece costs just over $50, which comes out to around $2 per square foot. Obviously, the total price is going to depend on the size of your home gym, but that's a good price compared to other high-performance home gym flooring.
The surface is perfect to prevent skidding, but it is a little bumpy, which may make it a little more difficult to clean. And because they're rubber, there's going to be a strong smell at first but with time that should dissipate.
We have even more picks on our best home gym flooring roundup.
Best Resistance Bands: Rogue Monster Bands
Good for: Anyone looking to perfect pull-ups, or who likes to train with resistance bands
The Rogue Monster Bands are both heavy-duty and versatile, which makes them excellent additions to a home gym. They can be purchased individually for as little as $18, or bought in a set of three for $75 to $80. The Monster Bands are made with latex rubber and come in a variety of resistance options.
I particularly like the heavier ones for pull-up assistance and in tandem with barbell work. The lighter options can be used for rehab, upper body work, and general mobility training.
There isn't a lot I don't like about these bands, but the price may be a deterrent for some. However, they are some of the most durable bands I've used and I feel confident they will last for years to come.
We will say, the Rogue Monster Bands come out of the package smelling very rubbery, so if you are extra sensitive to strong smells, you may not appreciate this unwelcome addition. Plus, they also are a bit powdery, but this goes away with time.
Our best resistance bands piece has even more choices for you to choose from.
Best Workout Mirror: Tonal
Good for: Anyone looking for an all-in-one workout machine
Tonal appears in our guides to the best workout mirrors and best smart home gym equipment because it's a thoughtfully designed, multifunctional, durable product. Although it's not technically a workout mirror (the screen isn't reflective), it does provide form and technique feedback during workouts in many ways.
In addition to the AI form feedback, Tonal offers a ton of other cool tech features. For instance, there's an eccentric mode, during which Tonal automatically makes the lowering phase of your lift more challenging.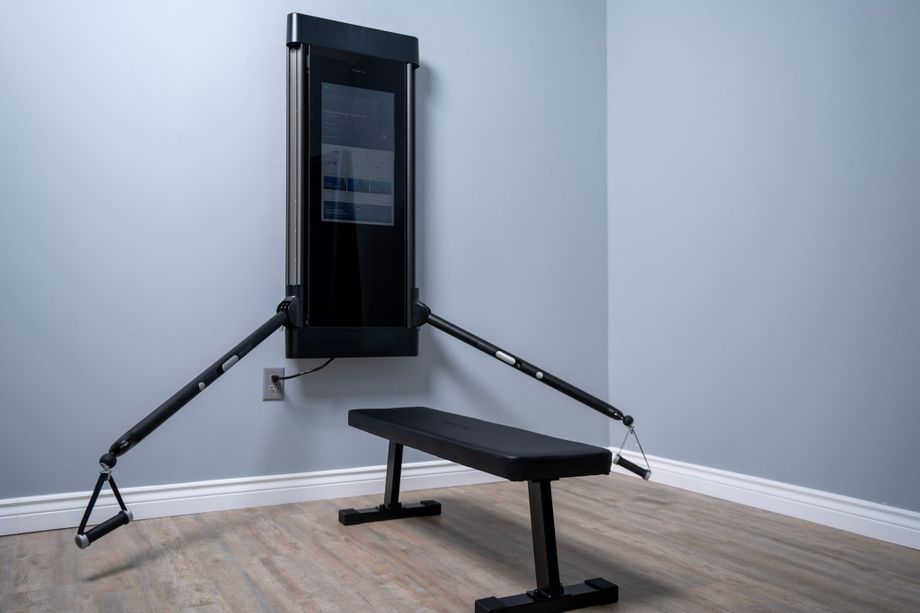 The AI also automatically generates progressive overload and recommends weight changes based on your effort and form. Some might scoff at the 100 pounds of digital resistance, but give it a try and you'll see it's an effective way to build muscle.
As for workouts, Tonal's library of on-demand classes and live instructor-led workouts is impressive and ever-growing—better yet, the filtering options are robust, so you can find exactly what type of workout you want within minutes (or seconds).
Finally, Tonal boasts an exceptional build quality and is installed by professionals. The downsides include the price—it's definitely not a budget-friendly option, and it requires accessories and a subscription on top of the purchase price—and you'll need to hire professionals if you want to uninstall and move it somewhere.
We break down who this machine is perfect for in our Tonal smart home gym review.
How to Choose the Best Home Gym Equipment
As we said at the beginning, the best home gym equipment will differ from person to person. The home gym of a CrossFit trainee is going to look different than someone who's into bodybuilding.
No matter how you train, here are some general guidelines you should follow when trying to pick workout equipment that works for you.
Purpose
Does the equipment do what it's intended to do, and does it do it well?
Price
Obviously, you're going to want to make sure you can afford the equipment you need for your home gym. Many equipment manufacturers and third-party websites, like Amazon, will offer financing options if you need to split your payment into monthly installments.
You can also see if there's a coupon code or discount for your favorite manufacturer by searching our coupons page. We've also secured deals with many companies for exclusive discounts, so be sure to see if we have one for the item you have your eye on.
Warranty
We're sure you'll take good care of the equipment in your home gym, but sometimes equipment is defective or breaks on you just a few weeks after you get it. Research the warranty for every piece of equipment you're looking to buy, and factor that into the final cost considerations. It may be worth it to pay an extra $100 for an item if it comes with a 10-year warranty just to give you that peace of mind.
Also, look at what the warranty covers. Items like weight benches have different warranties for the steel frame than they do for the upholstery.
Versatility
Food Network host Alton Brown often said the only uni-tasker you should have in your kitchen is a fire extinguisher, and the same rule applies to home gyms. A piece of equipment that can perform multiple functions, or be used in more than one training scenario, is vastly superior to one that can only be used for one thing.
Materials
You'll want to look at how durable the materials being used in your home gym equipment are, and some people may want to make sure their equipment doesn't have anything they're allergic or sensitive to.
Size
Size matters when it comes to home gym equipment. People with longer strides will want to make sure a treadmill has enough running space for them, and people with smaller hands may want to look for a dumbbell or barbell that they can comfortably wrap their hands around.
Space
This is pretty self-explanatory, but you'll want to make sure all your gym equipment can fit in your workout space. If you're not blessed with a massive garage gym, you can check out our picks for the best compact exercise equipment.
Max weight capacity
Whether it's a barbell or an exercise bike, you'll want to make sure your equipment can handle whatever you throw at it. Manufacturers are usually good at listing the max weight capacity of their products.
Style
This is secondary to the functionality of your equipment, but it helps to have good-looking home gym equipment. Many manufacturers are now allowing you to customize the color of certain products, which can help your home gym to look as snazzy as possible.
Safety
This can mean a few things, depending on the product you're talking about, but overall you want to make sure the equipment is free of anything that may cause any harm to you.
For a squat rack, this means having spotter arms and for barbells, it means having a tensile strength that won't snap under the weight you're putting on it.
Benefits of Home Gym Equipment
We may be biased, but we think home gyms offer quite a few advantages over commercial gyms. Here are just some of the reasons why we recommend everyone, from apartment dwellers to homeowners, should stock up on home gym equipment.
Saves Money
Yes, buying home gym equipment can get pricey real quick (especially if you're buying everything at once), but when you add up the cost of monthly gym memberships throughout your lifetime, creating your personal setup saves you money in the long run.
Plus, you'll save money on things like gas and snacks you may purchase at the gym, and you'll get more time back in your day to spend with your family and friends.
Convenience
Imagine this: It's the middle of the night, or maybe early in the morning and you can't rest. You want to work out to let off some steam, but the gym isn't open.
If you have a home gym, though, the hours are 24/7. You can also play music as loud as you want (as long as you're respectful of neighbors and roommates), and use things like chalk, which many commercial gyms prohibit
Customizable
Unless you belong to a specialty gym, which typically has higher membership fees, commercial gyms may not have the equipment you need for your training goals. If you create your own home gym, you can customize it however you want.
It's an Investment
We mean this not only because you're investing in your overall health, but gym equipment can also be resold. You may not make 100 percent of what you originally paid for it, but something's better than nothing. And certain pieces of equipment may increase in value, depending on supply and demand.
Best Home Gym Equipment FAQs