We test and review fitness products based on an independent, multi-point methodology. If you use our links to purchase something, we may earn a commission. Read our disclosures.
Having both trained in and out of garage gyms for Olympic weightlifting for years and done a small stint as a stablehand in high school, I can tell you with confidence: horse stall mats are a lot more fun in your home gym. Horse stall mats are one of the best home gym flooring options for many people, providing a durable surface great for heavy lifting, strength training, and bodyweight exercise, often at an affordable price.
Our team researched and tested quite a few mats to present you with our picks of the best horse stall mats for home gyms. These horse mats are a great choice to outfit any garage gym, and we should know from our team of certified personal trainers, competitive athletes, and gym owners (former and current).
Our testers have experience with several different flooring options—from flooring rolls and rubber gym flooring, to puzzle exercise mats and turf. We know what to look for in good horse stall mats that can double as gym floor mats, namely durability and shock absorption. Read on to see which stall mat can best suit your needs.
The Best Horse Stall Mats for Home Gyms
Best Overall Horse Stall Mats for Home Gyms: Tractor Supply Horse Stall Mats
Good for: Anyone looking for an inexpensive and durable gym flooring option
Tractor Supply Horse Stall Mats are easily one of our favorite suggestions for gym flooring; not only are they durable mats that will hold up through lots of repetitions and dropped weights, but they are pretty inexpensive. If you are in the market for budget home gym equipment, this is a terrific option to lay down on your floors.
Each 4-foot-by-6-foot stall mat weighs nearly 100 pounds and is made of recycled rubber, ready to endure some intense workouts. The three-quarter-inch thickness of the mat also helps the rubber absorb the impact of a heavy barbell or dumbbell on the mat, reducing noise and protecting your flooring underneath the mat.
One side has a flat, slightly textured surface that will support your workouts easily. Also, the tough rubber makes your mat grippy and slip-resistant.
Tractor Supply stall mats are used in commercial gyms all the time, including the couple of CrossFit gyms I've owned in the last decade with my family. Being as inexpensive as they are, it's a convenient way to cover a lot of square footage with a low cost. Also, with the weight of these mats, they'll stay put once you've laid them down.
Putting these mats down on your garage floor can be a chore though, due to the size and weight of the mat. I've used these mats in building a DIY weightlifting platform, too, and cutting them down to the proper size can be a hassle, too. If you have the patience and strength to cut and move these rubber stall mats around your gym, then they're a fantastic type of flooring for your garage gym, if you're okay with the initial rubber smell.
| | |
| --- | --- |
| Price | $56.99 |
| Dimensions | 6' L x 4' W |
| Mat thickness | 3/4″ |
| Weight | 94 lbs |
| Material | Recycled vulcanized rubber |
| Warranty | 5-year limited |
Best Interlocking Stall Mats for Home Gyms: Living.Fit Gym Mats
Good for: Home gym users who want interlocking mats to prevent shifting while lifting
We tend to not recommend puzzle-piece gym mats, as they are often made with a high-density EVA foam, and those foam tiles don't stay locked well and also get dirty easily. That's not the case with Living.Fit Gym Mats. Made with a heavy-duty rubber, these square stall mats have jigsaw edges that stay locked together even through heavy lifting.
Garage Gym Review's Head of Content, Kate Meier, tried these mats at her gym and was immediately impressed: "I didn't expect such high-quality mats. They have a great thickness and the rubber is fantastic. It has a great grip to it—three of us walked on it and were shocked." At almost a half-inch thick, these mats will give a good amount of cushioning for your flooring underneath.
At just under $50 for a 40-inch-by-40-inch mat, this is an inexpensive option for your gym space, whether for storing exercise equipment or for dropping heavy deadlifts. It can handle a solid drop from an Olympic barbell; it's actually spike-resistant, meaning it can hold up against most damage you'd expect in a home gym.
Kate does warn that the gym mats arrive rolled up, so it'd be wise to let them lay out to settle, perhaps with some weight plates on top to speed it along. With the mats flat, they'll be easier to interlock. They aren't the lightest gym mats, but shouldn't be a problem if you are okay with moving weight. If you can be prepared for the fresh rubber smell, then these interlocking tiles can be a great addition to your home gym.
| | |
| --- | --- |
| Price | $49.99 |
| Dimensions | 40" L x 40" W |
| Mat thickness | 10 mm (0.4") |
| Weight | Not disclosed |
| Material | Heavy-duty black rubber |
| Warranty | 3 years |
Best Indoor/Outdoor Stall Mats: Rubber Flooring Inc. Extreme Mats
Good for: People needing a durable stall mat to use either inside or outside of a home gym
Our pick for the best stall mat to use both indoors and outdoors is Rubber Flooring Inc. Extreme Mats. Rubber stall mats can be a fantastic option to move inside and outside, as the rubber is durable and resistant to mildew and mold. Additionally, rubber is water-resistant, making anti-skid mats when wet. No matter the environment, Rubber Flooring Inc. (or IncStores) provides an excellent option for a stall mat.
With a flat surface on either side of the mat, these Extreme Mats are easy to wipe off and clean, meaning dragging them onto your dusty driveway or a dirt-covered yard will be an easy cleanup. The three-quarter-inch thickness of the mats are an ideal thickness to remain durable and shock absorbent through a high-impact workout. The Extreme Mats provide a functionality that is difficult to match with other flooring options.
RELATED: How to Clean Rubber Gym Flooring
One standout feature you don't often see in rubber flooring is the option for colors. The mat is primarily recycled rubber, but also has flecks of colored virgin rubber sprinkled throughout the mat; you can choose between eight different fleck colors, or settle with solid black for your gym mat. Just know beforehand that the color you choose can affect the price of your mat.
Although these are great for both indoor and outdoor use, Rubber Flooring Inc. calls these mats "semi-portable," and for good reason. Even though they can be dragged inside and outside of your home gym, each mat weighs approximately 96 pounds, meaning you're not always going to want to transport them back and forth. Still, these mats can hold up outside through all sorts of weather and wear.
| | |
| --- | --- |
| Price | $61.99 |
| Dimensions | 6' L x 4' W |
| Mat thickness | 3/4″ |
| Weight | 96 lbs |
| Material | Recycled crumb rubber, colored EPDM virgin rubber flecks |
| Warranty | 5 years |
Best Stall Mat Roll: PLAE Forge
Good for: Those needing a solid rubber mat to cover a good amount of square footage
PLAE Forge is our choice for the best stall mat roll of heavy-duty rubber; we like it so much, we've outfitted our headquarters in Missouri with the rubber rolls. If you have a lot of area to cover, a mat roll is going to be a cost-effective method to lay down flooring. Although Plae Forge does come in a rubber floor tile option, the roll will be most effective at covering a lot of square feet quickly, at 4 feet wide, and 30 feet long.
The PLAE Forge has held up wonderfully as we've reviewed countless pieces of exercise equipment on it. From dragging treadmills and ellipticals across it, to dropping some heavy barbells on it, the 12-millimeter-thick mat has provided excellent shock and sound absorption. I've dropped about 400 pounds from overhead onto the flooring, and never had to worry about cracking the concrete underneath.
RELATED: Beginner Barbell Workout
Unlike other stall mats on this list, Forge is actually mat flooring that rolls out over your subfloor, whether it be concrete, plywood, or other material. You won't be moving this rubber flooring around once it's laid out.
The thinner thickness may not offer as much protection as their Achieve flooring, so if you own a commercial gym, that may be the better, albeit more expensive, option. But for home gym owners, Forge is a high-quality flooring that will meet many of your needs.
| | |
| --- | --- |
| Price | $4.28 per sq ft |
| Dimensions | 30' L x 4' W |
| Roll thickness | 12 mm (0.5") |
| Weight | 2.7 lbs per sq ft |
| Material | Dense reclaimed rubber |
| Warranty | 5 years |
Best Stall Mats for Shock Absorption: Rubber Flooring Inc. Shock Mats
Good for: Those wanting a good stall mat that can handle heavy weights dropping on it
Sometimes, you need a stall mat that is going to provide the most protection to your subfloor and the equipment you're using. For that need, Rubber Flooring Inc. has the Shock Mats, designed specifically for shock absorption. With vulcanized rubber, these mats are stronger than standard exercise mats, and help absorb vibrations and reduce noise upon impact.
With a beveled edge, the mats have a waffle pattern underneath that further helps to absorb noise and shock. While your bar dropping from overhead will still make some noise, it will help reduce the amount of overall noise.
The 71-inch-by-47-inch mat is a single mat, but there are larger two-piece options that have interlocking sides. I mention this because the beveled edge on the single piece might make the mat difficult to connect or lay out with other mats. If you are looking for flooring larger than this, the beveled edge makes it difficult to use as a flooring option.
At close to $100 a sheet, this is one of the pricier stall mats we have looked at. Still, if you are looking for a stall mat that can reduce shock and noise all at once, the Shock Mats are a great option for your garage gym.
| | |
| --- | --- |
| Price | $99 |
| Dimensions | 71" L x 47" W (other sizes available) |
| Mat thickness | 3/4″ |
| Weight | 100 lbs |
| Material | Recycled vulcanized rubber |
| Warranty | 5 years |
Best Stall Mat for Treadmills: SuperMats Heavy Duty Equipment Mat
Good for: Anyone needing a good, durable mat for their cardio machine
If you are wanting a good mat just to store your heavy rowing machine or treadmill, the SuperMats Heavy Duty Equipment Mat is an excellent choice. At 3 feet wide and 78 inches long, it's large enough to hold most treadmills for your home gym. With a quarter-inch thickness, this vinyl mat will be sure to help protect both your machine and the floor underneath this mat. Plus, it's a convenient purchase; it's available for purchase on Amazon.
This mat is great for treadmills, and can help dampen vibrations, essential in reducing noise and preventive excessive wear on your machine. The mat also keeps your cardio machine from making direct contact with your floor—hardwood, concrete, vinyl, and likewise—and will help protect it down the road.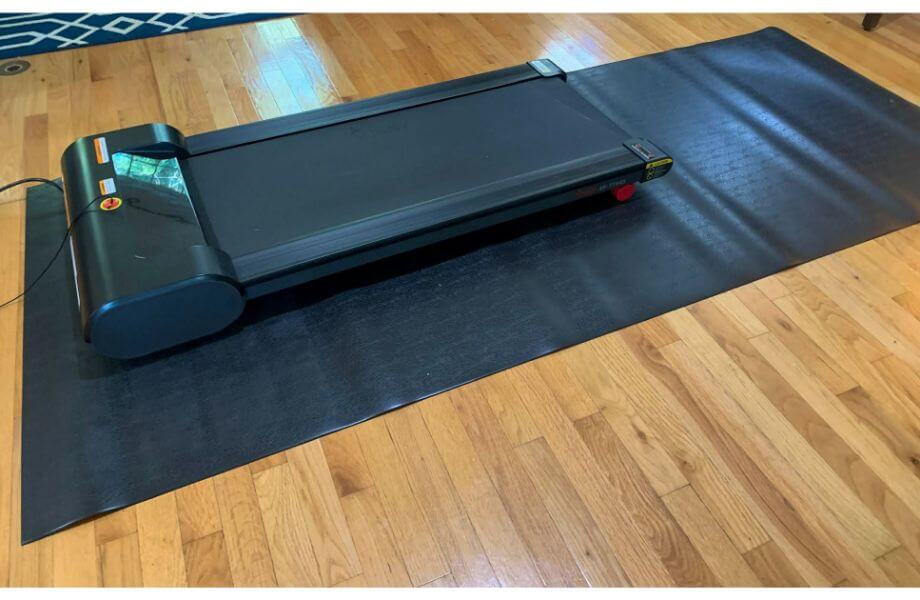 The Heavy Duty Equipment Mat may not be the heaviest-duty, at least when compared to other stall mats on this list. The vinyl isn't as durable as rubber, and can tear more easily. So while it can be great for an exercise bike, I wouldn't use the mat for a lot of strenuous activities, or heavy lifting. In our time with the mat, it was plenty durable enough though, and didn't leave any denting on the mat from the treadmill.
It is important to note that these mats tend to have a black, powdery residue upon arrival. A damp cloth was all it took to remove it in our testing, but be mindful of it before placing it on a carpet. Like many exercise mats, too, this will have a pretty strong chemical smell at first. With that said, at less than $50 per mat, this is a budget-friendly option for storing your exercise equipment.
RELATED: Best Treadmill Mats
| | |
| --- | --- |
| Price | $49.30 |
| Dimensions | 78" L x 36" W |
| Mat thickness | 0.25" |
| Weight | Not disclosed |
| Material | Vinyl |
| Warranty | Not disclosed |
Other Horse Stall Mats We Researched
Horse stall mats and rubber mats are great in protecting your home gym: both the equipment and the integrity of the floor. Here are a couple of solid options we researched and looked at, but ultimately felt there were alternatives that provided just a bit more value than these.
Second Skin Stomp Mat: Available in two thicknesses and designed for noise reduction, these mats provide ample noise reduction, albeit at a higher price than most other rubber mats.
American Floor Mats Fit Lock Rubber Tiles: Purchased in a pack of six 2-feet-by-2-feet interlocking tiles, these rubber tile mats provide good durability and protection to your equipment and floors, plus they offer different rubber fleck colors, too. However, these mats are thinner than most other stall mats, and are about twice the cost of others.
How We Picked and Tested the Best Horse Stall Mats for Home Gyms
To decide which horse stall mats worked best for home gyms, we didn't have to visit any horse stalls; and as I mentioned, having been a stablehand and cleaned out more horse stalls than I'd like to remember, thank goodness we didn't have to.
Instead, our team of researchers and product testers brainstormed top brands and whittled it down from our experiences with many types of mats and flooring. After narrowing down our list, we looked at stall mats, determining the level of value based on durability, materials used, and ease of use. After recalling experiences and testing several mats, we finalized our picks to the list above.
Benefits of Horse Stall Mats for Home Gyms
Horse stall mats are constantly picked time and time again by home gym users and commercial gym owners alike, because they provide quite a few benefits that conventional gym flooring doesn't always have. Here's a quick look at some of the benefits of horse stall mats.
Value
Relatively speaking, horse stall mats are a cheaper alternative to typical gym flooring. Made in large blocks—usually 4-feet-by-6-feet, these mats can cover a good amount of floor space, and do it for a lot less than premium flooring.
Durability
Often made from a heavy-duty rubber, horse stall mats are a durable flooring for your home gym. With a thickness usually around a half inch or three-quarters of an inch, these mats will last through some high-intensity workouts, and take a lot of impact from heavy lifting before showing the slightest hints of wear. The thick and dense rubber also makes many of these mats puncture-resistant.
Shock Absorption & Noise Reduction
The thick rubber of these mats helps them to absorb shock and vibrations during exercise. There is a two-fold benefit for absorbing shock and impact. The first is to reduce vibrations and impact; reducing the shock of weight dropping will better protect your barbell and bumper plates from excessive wear, and the floor will also be protected better.
In addition, the absorption of vibrations will help reduce noise and sound through the air. If you have neighbors who complain about you making loud noises while working out, horse stall mats are an inexpensive way to help reduce the noise during your clean and jerks.
RELATED: The Best Soundproof Exercise Mats for Your Home Gym
What to Look for in Horse Stall Mats for Home Gyms
If you're wanting to look more into horse stall mats for your home gym, there's a few things to consider.
Dimensions
It's important to figure out how much floor you are looking to cover, as well as the dimensions of the stall mats you're looking at. If you have a lot to cover in your home gym—or you're looking to completely cover the floor—then larger dimensions and cheaper options might be enticing. A rubber roll might even be viable for that.
Smaller interlocking tiles might suffice for a smaller area. Also, if you just want a place for lifting or for a treadmill, a stall mat or two might suffice.
Thickness
Generally, the thicker a rubber mat is, the better it will be at absorbing shock and reducing noise. With a rubber stall mat, anything around a half-inch and three-quarter inches thick will be sufficient for shock absorption for most heavy lifting, including dropping overhead lifts. Thinner mats will still work great, but might be better for lighter weights or plyometrics.
Material
Horse stall mats are almost always made from rubber. Most rubber mats use recycled rubber and are vulcanized, a chemical heating process that improves elasticity and resilience. So vulcanized rubber mats are usually a great pick from horse stall mats for durability and longevity.
Horse Stall Mats for Home Gyms FAQs
Can you use stall mats for a home gym?
Yes, you can! Stall mats are often made with high-density recycled rubber, making them extremely durable and resilient to dropping heavy weights and barbells onto them. Also, the dense rubber helps absorb shock and reduce noise.
What is the best flooring for a home gym?
The best flooring for a home gym will depend on what your needs are in your home gym. You can check out our best home gym flooring roundup for our top picks across a diverse group of flooring options: rubber flooring, artificial turf, stall mats, carpeting, and more.
What thickness of stall mat is best for a home gym?
A thicker stall mat will be better at shock absorption and noise reduction, and it will also be a good, durable mat. Typically, between a half-inch and three-quarters of an inch is the ideal thickness for a stall mat, providing ample protection to your floor and the gym equipment. Thinner can work, but only if you're not going to do a lot of heavy lifting, or dropping weight from overhead.