We test and review fitness products based on an independent, multi-point methodology. If you use our links to purchase something, we may earn a commission. Read our disclosures.
The foundation of every home gym is quite literally what's on the floor. I bought and tested some of the best home gym flooring options (as well as some obscure mats) to determine what works best for most people. The thing is, no two home gyms are alike. Some people lift weights in the garage, some do yoga in the living room, some turn an upstairs bedroom into a high-intensity cardio studio.
If the Covid-19 outbreak had any effect on fitness, it was the rise of the home gym. As most health clubs and gyms closed, creating a home training environment became not just a luxury, but an important choice for desperate athletes. Even when more room becomes available, many of us are still loving our new at-home workout routines.
There are a number of different options for the DIY home gym fanatic. I'll break down the best gym floor mats, tiles, and even vinyl planks so you can determine what works best for your workout space. You might be utilizing a yoga mat or whatever flooring you have in your home right now, depending on your setup. However, if you truly want to improve your at-home gym area, investing in a new gym floor can significantly improve your training results.
The 8 Best Home Gym Flooring Options
Video Review
My Top Pick: Tractor Supply Rubber Stall Mats
My Top Pick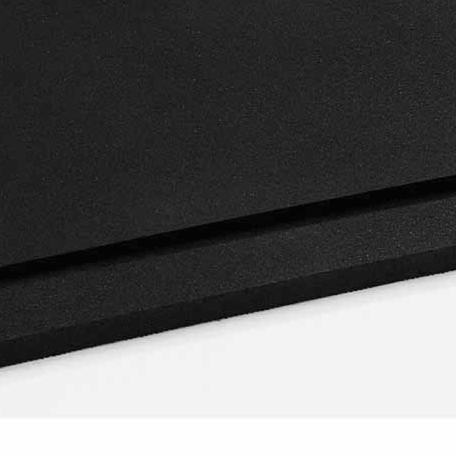 Tractor Supply 3/4" Rubber Stall Mats
This Rubber Mat is ideal for agricultural, commercial and sporting uses. The anti-skid surface is safe and comfortable. Mats can be cut or interlocked, glued or fastened to any surface. An ideal rubber mat for horse stalls, barn flooring, gyms, garages, maintenance areas, workstations, or arena flooring.4 ft. x 6 ft. x 3/4 in. Heavy-duty 100% recycled rubber Insulating properties Noise and vibration absorbent Surface pattern may vary by location May be used as gym mats 5 year limited warranty
Good for: Any home gym in a basement, garage or even outdoors
Pros:
Great durability for any exercise
Anti-skid surface
Good noise reduction for dropped barbells
Less than $50/piece (less than $2/square foot)
Five-year warranty from Tractor Supply
Cons:
Heavy, weighing around 100 pounds for each piece
Some people don't like the rubber smell
Surface is not smooth; these have raised bumps
May be harder to clean than smooth surfaces
The absolute staple for most home gym floors and especially garage gyms the world over is the horse stall mat. For most people, the easiest and cheapest place to buy these is from Tractor Supply. You can order online or simply go to the store to pick them up (as long as your vehicle is big enough to transport them).
These horse stall mats from Tractor Supply use recycled rubber, are 3/4″ thick, 4 'x 6' in size, and weigh upwards of 100 pounds. You can find horse stall mats at other farm supply stores, and they will be similar in dimensions. The thickness makes this flooring sound-absorbent.
These mats withstand literally any exercise: If you're into powerlifting or CrossFit, using powerlifting barbells or CrossFit barbells for deadlifts, squats, bench press, clean and jerk, situps, etc these mats withstand literally any exercise.
RELATED: Best Weight Benches
At around 100 pounds each, the mats themselves can be moved, but it may require more than one person, just depending on your strength. A hundred pounds doesn't seem like a lot, but it's an odd object, so it can get a little clunky. However, these are relatively easy to cut to accommodate odd dimensions and small sizes.
It's important to note that these do not have a smooth surface. That can be great for grip, but some people find it harder to clean. Also, horse stall mats are notorious for the, um, funky rubber smell. I, personally, don't mind it because that's what a garage gym smells like to me, but keep that in mind when choosing this option.
Best Interlocking Tile Flooring: American Floor Mats Fit Lock Rubber Tiles
Best Interlocking Tile Flooring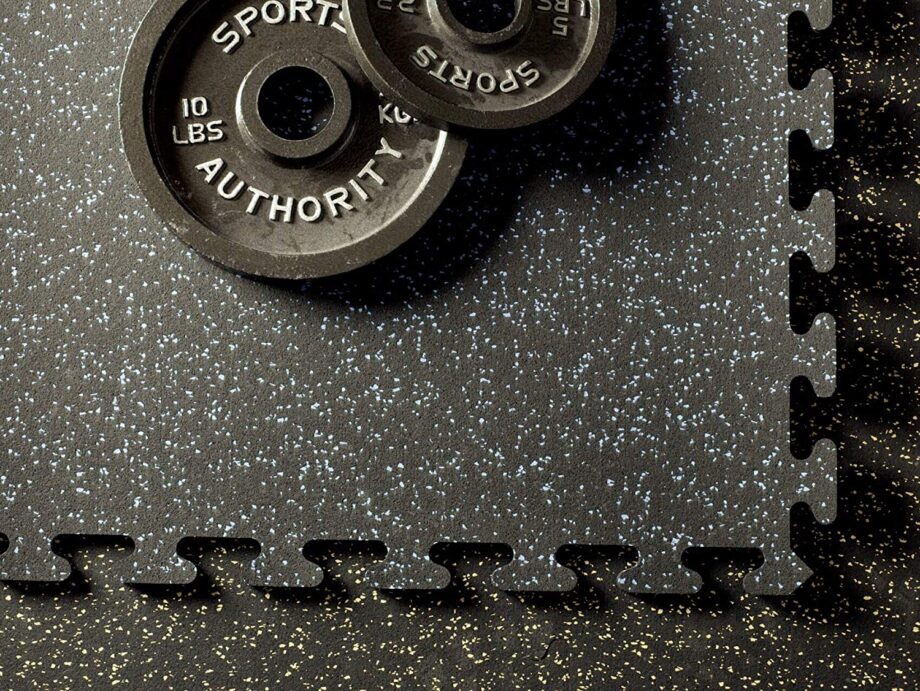 American Floor Mats Fit Lock Rubber Tiles
Fit-Lock Rubber Tiles are interlocking rubber floor tiles that easily and seamlessly lock together to protect floors around weight rooms, fitness centers and home gyms. Fit-Lock interlocking rubber tiles are made of commercial-grade, recycled rubber, giving the matting added strength and durability. Furthermore, these tiles will lay flat, are non-porous and are treated with an anti-bacterial agent.
Good for: Small spaces and people who want color options
Pros:
$9-10 for a 2' x 2' piece, which is a little over $2/square foot
Comes in a variety of colors
Thick heavy-duty rubber
Locks well and stays in place
Easy to set up, easy to move
Cons:
Slightly more expensive than stall mats
Not quite as thick but should still protect the foundation
Slightly more labor-intensive than just throwing down large mats
Affordable and great for smaller spaces, the American Floor Mats Fit-Lock Rubber Flooring is a good puzzle-piece solution. The brand essentially took its rolled mat and cut them into floor tiles that interlock the way a lot of foam mats do. These are thick, which is a little thinner than horse stall mats but still heavy-duty enough to withstand heavy lifting.
This is a great-looking option. The tiles are available in a variety of fleck colors: black, blue, red, gray, and tan. Center, corner, and border pieces perfectly match a square or rectangular space. If you've got an odd-shaped setup, these gym mats are simple to cut.
Unlike horse stall mats, the Fit-Lock tiles have a smooth surface that's easy to clean with a mop and soapy water. Bonus: These also don't smell the way that horse stall mats do.
Some commercial gym owners find that using plate stack rollers on interlocking tiles causes the lock to come undone. However, I haven't personally had any issues with these mats coming undone in just regular home gym use.
Best Rubber Gym Flooring Rolls: Rubber Flooring Inc 8MM Strong Rubber Rolls
Best Rubber Gym Flooring Rolls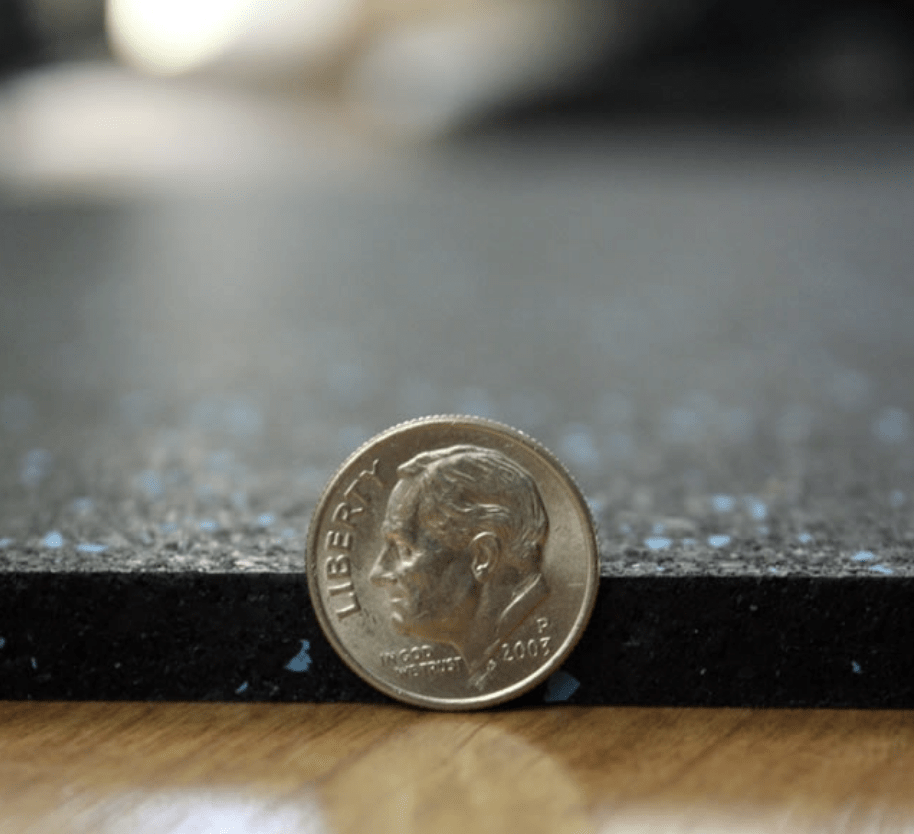 8MM Strong Rubber Rolls
The 8mm (5/16" thick) custom cut Strong Rubber rolls are a great, all-around product for both consumer and commercial clients. The thickness is our most popular, 'do it all' product. The rubber roll flooring option has been designed for customers looking for a product thicker than our 1/4" thick residential rubber rolls yet thinner than the 3/8" commercial grade rolls. The 8mm rolled rubber offers a low price for homeowners that are looking for more 'cushion' than the 1/4" residential grade rolled rubber. For commercial use, the 8mm thick rolled rubber is a durable flooring option with the ability to withstand all but the most extreme use. An additional perk is that this rubber flooring comes complete with an industry-leading full 5 year warranty.
Good for: People willing to spend a little more money on the best garage gym flooring
Pros:
Doesn't have the funky rubber smell some mats do
Commercial gyms most often trust this type of flooring
High-end look and feel
Variety of fleck color options
Cons:
One of the more expensive flooring options at up to $3/square foot
Use carpet tape to keep in place
Installation takes longer than most other options
If you want flooring that is more consistent, comes with more options, and often less smell than stall mats for your home gym, then Rubber Flooring Inc Rubber Rolls around 8mm or thicker is a great choice. This is actually the flooring that I have in my latest garage gym build. Although it's not going to provide any further shock protection over stall mats, it does move less, has less off-gas, and overall has a more premium look and feel.
Relative to other rubber mats, this flooring is 8mm. That's slightly less than the horse stall mats and interlocking tiles. However, after using them for almost a year in my personal garage gym, I've become a fan. They hold up against all my gym and cardio equipment and have enough cushioning to protect my floor. Also, these are the same mats most often used in commercial gym applications.
With a number of fleck color options, the Rubber Flooring Inc rolls have a very clean and professional look. That said, they are expensive, and the installation is pretty labor-intensive. They run between $2.25 and $3 a square foot and come in at least 15-foot rolls, which you'll clearly need to cut. For the install, you'll need to use carpet tape to hold the mat in place. In my opinion, it's worth the work because of the eventual look and feel.
Best Cheap Home Gym Flooring: AmazonBasics EVA Puzzle Exercise Mat
Best Cheap Home Gym Flooring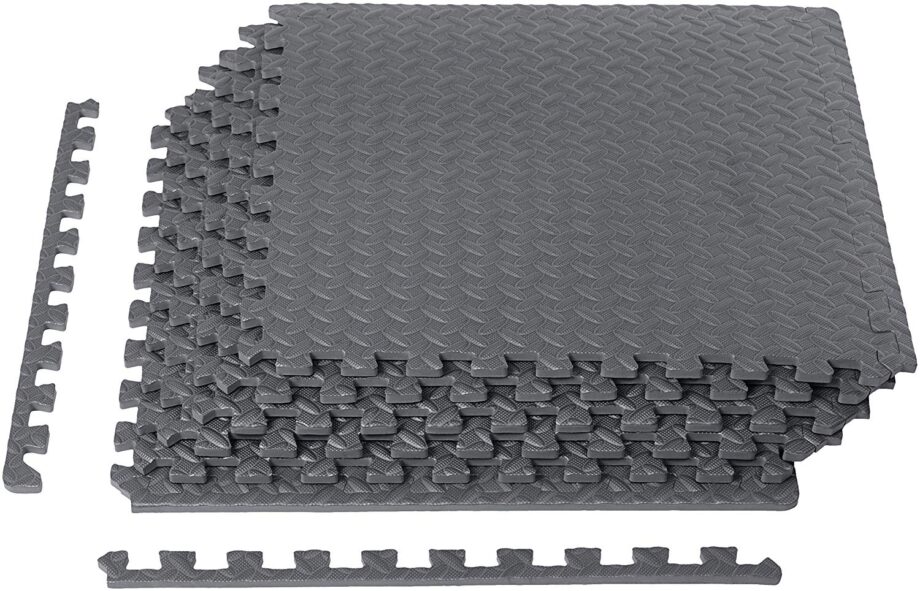 AmazonBasics EVA Puzzle Exercise Mat
Optimize your workout space with the AmazonBasics EVA Puzzle Exercise Mat. No need to install special flooring or feel limited to narrow yoga mats. The convenient mat makes it easy to spread out, and it adds a comfortable, cushioning layer to hard floors—or an added layer of protection to floors with carpeting.Best of all, it can be picked up and moved or compactly stored out of the way when finished. The puzzle-style exercise mat makes a great choice for any garage, basement, fitness room, or gym. It can also be used in a kid's play area, making all that rough and tumble a bit less precarious.The puzzle exercise mat features dense, high-quality EVA foam (with zero toxic phthalates) to ensure long-lasting, reliable performance. The mat protects floors from scratches and dings, helps reduce noise, and brings added comfort to workout routines. Whether it's a weight-lifting bench, stationary bike, dumbbells, jump ropes, or ab roller wheels, the dense foam mat makes an excellent foundation for all that must-have workout gear.The durable foam mat offers an optimal amount of cushioning thickness, which means less pressure on knees, wrists, elbows, and back for greater comfort when doing jumping jacks, sit-ups, push-ups, yoga poses, stretches, and other floor exercises. The grippy, non-skid mat also provides a slip-free surface for added safety.
Good for: Home gym owners on a budget who need to protect their floors under heavy equipment
Pros:
Just a little over a dollar a square foot
Interlocking flooring tiles are easy to connect and install
Ideal for placing under heavy exercise equipment
Highly portable and easy to move
Cons:
Not as durable as rubber
Porous and not as easy to clean
Not as slip-resistant as rubber flooring
Will wear down quickly
If you're on a bare-bones budget and need something quick to protect your floor, you can opt for AmazonBasics Foam Interlocking Exercise Floor Mats. These are best for low-impact home workouts because heavyweights will cause them to break down easily. (Amazon has many high-density EVA foam flooring options, like IncStores, as well.)
RELATED: Building a Budget Home Gym on Amazon
For example, if you want to have something softer under you while doing yoga or lightweight dumbbell exercises, foam might be okay. They are also great under heavy equipment like a treadmill or rower because they can provide some protection for your floor.
I do not recommend foam mats for high-impact activity, like CrossFit, plyometrics, or heavy lifting.
RELATED: Best CrossFit Equipment for a Home Gym
Keep in mind that in socks, you might slip easier on a foam mat. Sometimes, foam mats even slip on the concrete itself and would definitely slide around on the hardwood. If you need a non-slip surface, rubber would be the way to go. However, foam mats can get the job done for certain exercises and certain workout spaces.
Best Artificial Turf for Gyms: Rubber Flooring Inc Performance Turf Rolls
Best Artificial Turf for Gyms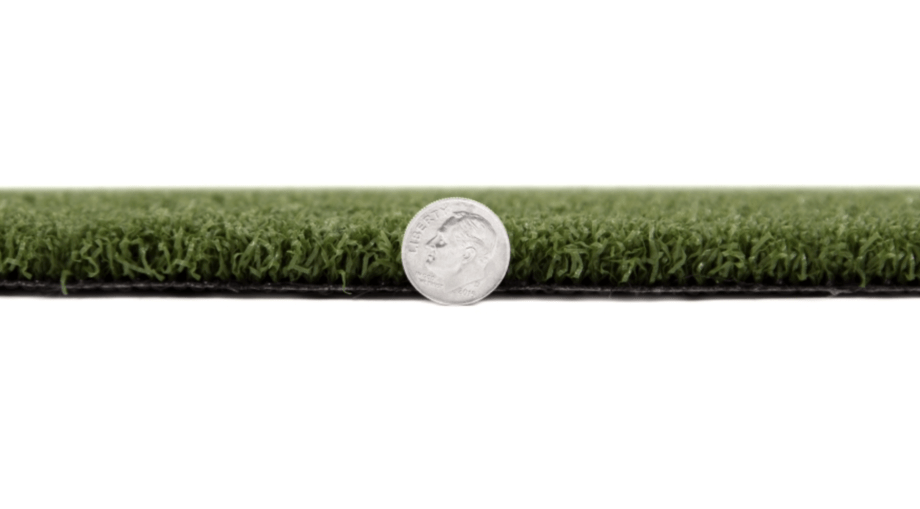 Rubber Flooring Inc Performance Turf Rolls
ake your workout to the next level with our Performance Turf Rolls in your gym. These turf rolls are perfect for pushing and pulling sleds, CrossFit, and high-impact workouts and come in cushioned and non-cushioned versions. Since these gym turf rolls are made with polyethylene, they are softer than standard nylon turf rolls allowing you to do floor exercises without being injured. These turf rolls are also UV stable, and the non-cushioned version features perforations for proper drainage when placed outdoors. A 5-year warranty backs our Performance Turf Rolls.
Good for: Athletes looking to minimize pressure on the joints
Pros:
Excellent shock absorption
Fairly easy install with carpet tape
Cleans easily
Excellent durability to withstand explosive exercise as well as heavy weights
Able to use inside or outside
Cons:
Cost is around $2.79/square foot
Not ideal for weightlifting
Not as gentle for floor exercises as other materials
Artificial turf definitely has its place in home gyms, under the right circumstances of course. Rubber Flooring Inc has several gym-specific turf options. The Performance Turf Rolls are a great choice because of their versatility. They work well inside and outside, and if you choose the non-cushioned back option, there are holes for drainage.
Unlike some other options, the Performance Turf Rolls aren't nylon; they are polyethylene, which makes them softer and a better choice for floor-based movements (though turf is still fairly abrasive to lie on). I have turf in my gym and love it for really high-impact exercise. Turf is well-known for its ability to minimize the joint shock effect of activities like box jumps and bounding jumps. I also love turf for sled drags.
Turf is pretty easy to install, especially if you can just roll it out. Carpet tape easily secures it in place and keeps it from moving while you're doing sled drags or pushes.
The downside to turf is that it tends to be expensive. I don't recommend outfitting your entire gym space in turf, either, because it isn't designed for weightlifting. However, a small turf area looks great, is easy to maintain, and is useful to protect your joints.
Best Carpet Tile for Home Gyms: Triluc Carpet Tiles Peel and Stick
Best Carpet Tile for Home Gyms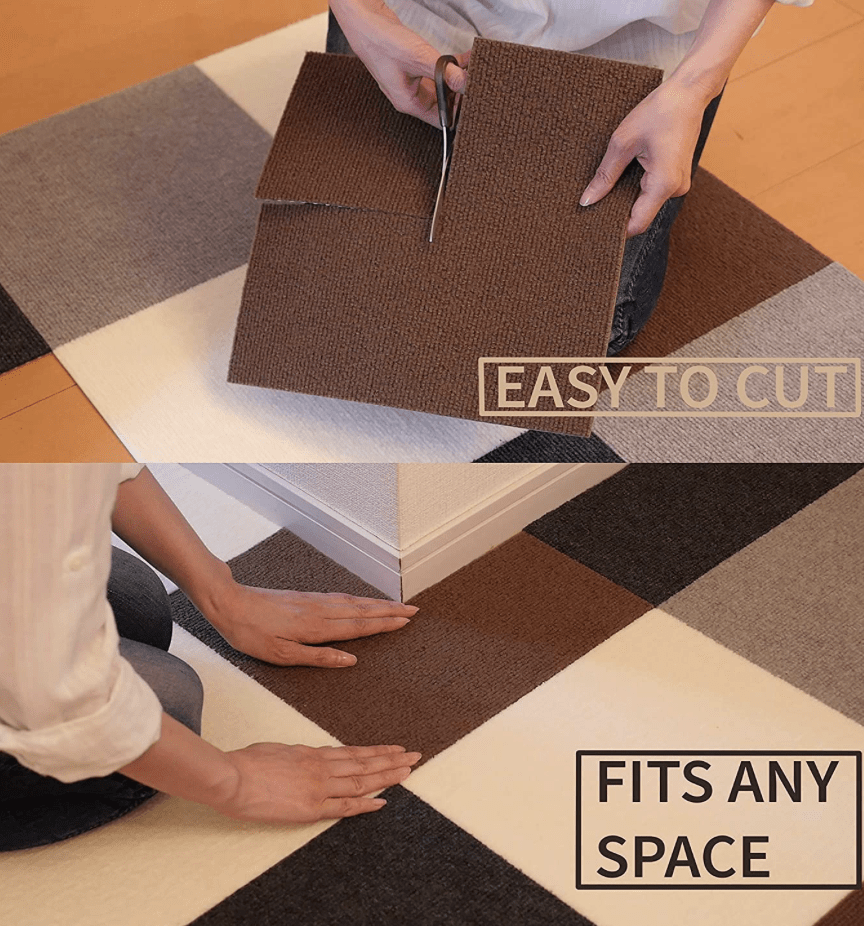 Triluc Carpet Tiles Peel and Stick
PEEL & STICK FLOOR & PET MAT – Peel & Stick Tile Mats are soft, interchangeable carpet squares you can arrange, rearrange, wash and reuse. Simply remove the adhesive backing strips and set the mat down over any hard surface. The tiles non-slip backing stay safely put and will safely hold up to vacuuming, pets running, and people dancing - yet allows easy removal and repositioning without leaving any residue. EASY TO CLEAN – Fun to style, easy to clean TRILUC Tile Mats have a naturally water repellent surface, making them perfect for high use areas. For difficult spills and pet messes, just peel off any soiled tile, launder in the washing machine and then stick right back into place. *Be careful NOT to bleach, iron, dry clean, or use in the dryer* DIY HOME DECOR- Mix and match colors to design a custom pattern to fit any space in your home. For tight spaces or difficult rooms, easily cut and shape each tile to your desired size.
Good for: Very low-impact workout spaces featuring high cardio and lightweights
Pros:
Easy to install
Looks nice
Fairly easy to clean and maintain
Cons:
Can stain
May not protect the floor underneath depending on your activity
Will have to be cleaned frequently
Can be more expensive than other flooring options
Not all home gyms are in garages. Living rooms, spare bedrooms, and basement areas also double as workout spaces. Depending on your activity, the carpet may be just right. Triluc Carpet Tiles Peel and Stick are great because they are easy to install, look great, and are fairly easy to maintain.
Carpet tiles may be a good option for you if you tend to do lower weight exercises, cardio, stretching, yoga, and pilates, for example. The peel-and-stick carpet tiles give you the ability to mix and match colors to create a cool-looking space.
Where I wouldn't use carpet tiles is in a home gym where you're using heavy weights and barbells. The carpet is just too thin and will not provide the shock absorption necessary to protect your floors or foundation.
RELATED: 10 Most Important Budget Home Gym Tips
Best Vinyl Gym Flooring: Rubber Flooring Inc Modular Grid-Loc Tiles
Best Vinyl Gym Flooring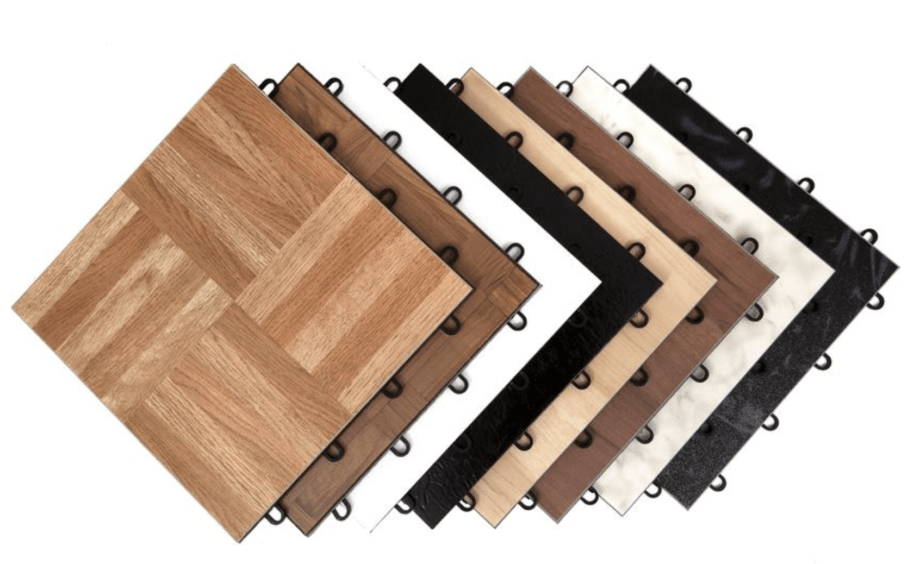 Rubber Flooring Inc Modular Grid-Loc Tile
Modular Grid-Loc tiles are designed for multiple purposes and are perfect for just about every special event. The unique interlocking system makes these tiles easy to install or uninstall any modular floor quickly. Modular Grid-Loc tiles are scuff-resistant, easy to clean, and will continue to look great for years to come. Anyone can install these modular tiles easily and without out any tools making them extremely portable. The commercial grade construction of these modular flooring tiles allows them to withstand rolling loads up to 25,000 lbs and they can be installed over just about any solid sub-surface including sand and grass.
Good for: People who want their home gym to be aesthetically pleasing
Pros:
Water- and moisture resistant
Resistant to mold and mildew
Aesthetically pleasing
Easy to install
Low maintenance
Cons:
Hard floor that offers some durability but little shock absorption
Won't withstand extremely heavy lifting
Expensive at around $6.50/square foot
Not all home gyms are in garages and basements. If your space is in an area where you need it to look a little less dungeon-y and a little more presentable, Rubber Flooring Inc Modular Grid-Loc Tile could work. It has a vinyl top and gives you the look of hardwood or even tile without the porous and breakable nature of either material. It's often water-resistant and staves off issues like mold and mildew.
RELATED: 10 Best Budget Home Gym Setups
Now, if you're doing heavy deadlifts or dropping weights from overhead, steer clear of vinyl. That's a recipe for disaster. But if you want a good-looking workout room to do some cardio, dance, HIIT training, yoga, or pilates, vinyl suffices. Some basketball and sports courts also use vinyl planks.
Generally speaking, vinyl flooring can be affordable when you're looking for something that looks nice. It's definitely cheaper than hardwood, for example, but it's going to run you more than simply throwing down some horse stall mats. Rubber Flooring Inc Modular Grid-Loc Tile costs about $6.50/square foot.
RELATED: Best Budget Home Equipment
Best High-Performance Home Gym Flooring: PLAE Forge
Best High-Performance Home Gym Flooring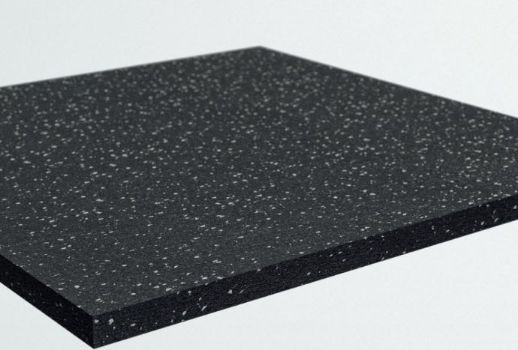 PLAE Forge
This is the gym flooring we use at the Garage Gym Reviews headquarters, along with the 18 millimeter Achieve, and we absolutely love it. The Forge is actually a more affordable version of the Achieve flooring, and should withstand just about anything you throw at it.Ours has been sweated on, had heavy barbells dropped on it, and had exercise bikes and treadmills dragged across it. Not only has it held up, but the 12 millimeter thickness has proven tough enough to protect the sub-flooring underneath. It also provides shock and noise absorption, as well as excellent grip to keep you sturdy no matter how strenuous your workout gets.If you're looking for a high-performance gym flooring option, look no further than this. Just be aware this is actual flooring, and not mats that can be moved around from place-to-place.
Pros:
Very grippy
12mm thickness absorbs shock well
5-year warranty
Easy to maintain
Cons:
Only comes in one color (black) and thickness option (12 mm)
Labor-intensive installation process
If you're looking for a gym flooring option that can withstand continuous high-performance training, we recommend the Forge rubber flooring by PLAE. We actually installed this at our Garage Gym Reviews headquarters, along with their Achieve flooring in an 18mm thickness (the Forge is a more affordable version of the Achieve).
This flooring has held up beautifully despite our reviewers sweating on it, dragging heavy treadmills and exercise bikes across it, and slamming heavy barbells on it. The 12 millimeter thickness also provides excellent shock and sound absorption, not to mention the fact that you feel secure on it thanks to its super-grip technology.
To be clear, these aren't removable mats but actual flooring that will be installed on top of whatever's currently in your garage gym. The good news is it works with just about any type of subflooring (such as wood, plywood, or concrete).
PLAE typically works with fitness studio owners, but that doesn't mean you can't install this in a home gym (just make sure you're going to be there for a while). If you own a gym of any kind and want to go for extra protection, opt for the Achieve. But for home gym owners looking for high-caliber flooring, the Forge is our pick.
What to Look for in a Home Gym Floor
Before investing in some high-quality gym flooring, take into account a few considerations:
Material
There are a few basic types of material to choose from:
Rubber: For the type of workouts I do, rubber gym flooring is really the only viable option. It's the most durable material, easy to clean, easy to install, and protects your floors. I've used it with barbells, free weights, conditioning equipment, and more.
Plastic: In my experience, plastic usually ends up cracking under big weights. (See Swisstrax: I dropped kettlebells from 5 feet on it.) However, plastic can look nice and be easy to clean, it just depends on the floor exercises you're doing. I don't recommend this for weight training.
Foam: There are some great uses for foam, like sitting under heavy exercise equipment. It's essentially like a yoga mat: Foam can provide some comfort, but it ends up being unstable for squatting, and it is not water-resistant.
Turf: I love turf for certain workouts and exercises, especially for athletes who do a lot of high-impact activity. However, it is cost-prohibitive and not the best material for weightlifting and barbell exercises.
Vinyl: I would reserve a vinyl floor for someone who is really into aesthetics because it has the look of hardwood floors. However, this is not ideal for using free weights and doing weightlifting. This is more of a pilates or yoga studio feel, and you would have to certainly have a yoga mat to be comfortable doing floor exercises on it. Vinyl can be moisture resistant and resistant to mold and mildew as well, which is a bonus.
Durability
Are you going to be dropping weights like adjustable dumbbells or kettlebells? Are you worried about the flooring underneath the gym floor? If you said yes to either of these, then finding a durable material, like rubber flooring, is a must. Rubber and turf are among the most shock absorbent, whereas vinyl and carpet won't do much.
Type of Exercise
For intensive activities like jumping rope or weight training, use rubber or foam flooring—it will absorb impact better than carpet, vinyl, or grass. These materials are more suitable for yoga or serve as a foundation for exercise bikes or treadmills.
Noise Dampening
If you've ever dropped a barbell from overhead, you know the kind of noise it makes. Putting in a thick rubber floor can dampen that sound. Some people even pad deadlift areas with extra mats to absorb the sound.
Cost
Foam is easily the cheapest home gym flooring you can find, and turf tends to be on the more expensive end. Within the world of rubber flooring, there is variance in price. And be aware that companies and e-sellers like Amazon all list the price differently: per foot, per roll, per 4×6 piece, etc. Figure out what each cost per square foot for a good comparison.
Your Space Dimensions
If you have a perfectly square or rectangle space, then your options are wide open. However, most garage gyms have uneven walls, water heaters, and other items to work around. If that's your space, find a material that you can easily cut and move around, like rubber flooring.
How We Picked and Tested The Flooring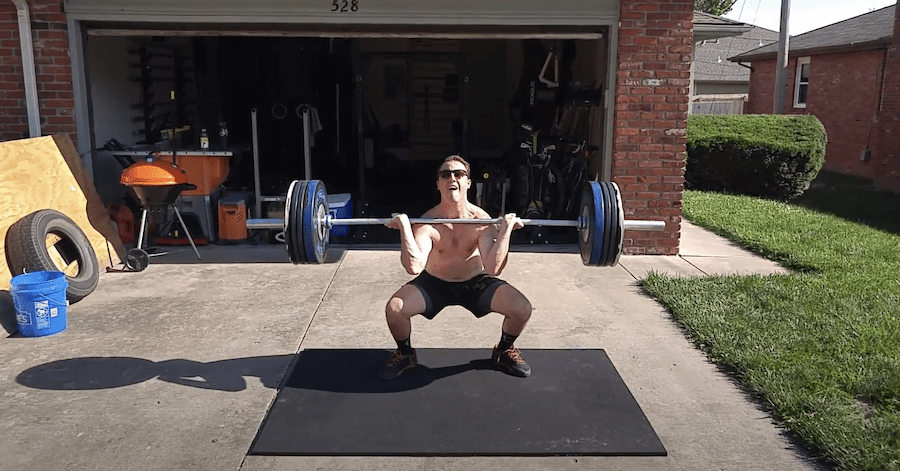 Home gym flooring is relatively simple, at least when compared to finding the best Olympic barbell or best trap bar. There are really only a few different materials used as flooring for a home gym: rubber floor, vinyl flooring, foam mats, carpet tiles, and artificial turf.
To begin my search for the best flooring for a home gym, I ran out to the garage gym to see all of the samples I had on hand. What I've done in the past in building different home gyms was order samples from most manufacturers to feel and see the difference between all of the options they make.
What becomes clear rather quickly is the fact that most rubber flooring varies primarily on aesthetics and thickness, unless you go with a really high-end option like Plae Flooring that uses multiple laminated layers to suppress sound and vibration.
After training on all the different types of mats, I weighed the thickness versus the price of rubber matting. Thicker is almost always better. It will suppress sound, protect your foundation, and protect your equipment better than thinner matting. However, it requires more material, often uses special molds, and is, therefore, more expensive.
Here are the specifications we judged the matting on to decide how to rank the various options:
Material Used: There is a wide range of materials used for home gym flooring, but, by and large, the best is rubber. Not all rubber is the same. Some are recycled while others use virgin rubber. In most cases, avoid foam and plastic, go with rubber.
Thickness: The thicker the flooring, the better (to a degree.) Thicker flooring will suppress sound, protect your foundation and protect your equipment.
Sound Suppression Abilities: Suppressing sound in a home gym is an often-requested feature of flooring. However, most flooring that is designed specifically for sound suppression is very expensive. They use unique molds and a lot of material.
Grip: Potentially slipping during a deadlift is something that simply should not ever happen. You should feel secure on the floor during all movements with both shoes on and off.
Compression Under Foot: The ideal gym flooring should not compress underfoot. Compression leads to instability and is the same reason it's not recommended to wear thick-soled running shoes while squatting.
Compression Under Load: Although flooring shouldn't compress greatly while underfoot, it should compress under a heavy load. Compressing under a barbell and plates will protect your equipment.
Value: The features and quality should be reflected by the price. What we're looking for is the best value, not just the best without considering the cost.
How to Clean Home Gym Matting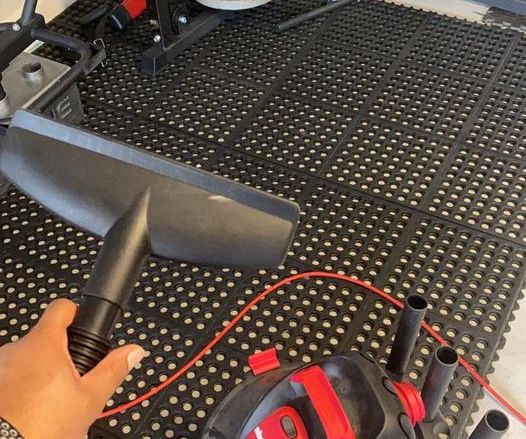 The best method to clean horse stall mats is with a Simple Green cleaner and a deck brush. Both can be found at your local grocery or hardware store for less than $10. If the smell lingers, you can try baking soda or essential oils (tried and tested).
In addition to that, I suggest getting a leaf blower and blowing the mats off periodically. If you're not in a garage gym, a vacuum can work well too, although it will take longer. Personally, I use both a battery-powered leaf blower and vacuum so I don't have to deal with cords.
Why I Generally Don't Recommend Foam Home Gym Flooring
A lot of people immediately think of foam home gym flooring when weighing their options. It may be a cheaper alternative to most commercial grade flooring choices, however, it is not ideal.
Less Durability
When choosing gym flooring, you want something that will last for years to come, protect the floor or foundation of your home (garage, basement, bedroom, etc.), and be easy to clean/disinfect.
Imagine deadlifting or dropping a weight onto the foam. That foam will decompress over time, which may result in damaging the floor underneath. The cracks in between can also cause smaller items to become lost. Unfortunately, I learned this too late and now have some small cracks in my basement floor from heavy deadlifts.
Not Water-Resistant
Next, even if you're the only person lifting in your gym, the foam tiles are porous. They absorb any type of liquid, whether it's an all-purpose cleaner, sweat, a sports drink, or that whey protein shake you made minutes before it fell to the ground. As you move quickly to mop up the excess liquid, it will be too late.
Not Non-Slip
Foam tiles are even more of a potential injury nightmare when they become wet because they become super slick. When I reinstalled my tiles, I thought most of them were dry and began to install and walk on them, which was a huge mistake. I nearly wiped out some of the tiles still holding on to water, even after hours of drying time outside.
Foam flooring may be cost-effective, but the potential risks outweigh the price. You don't want to be liable if someone slips or falls due to faulty flooring. Your best bet is to spend the money on our top pick and install the correct flooring the first time.
Best Home Gym Flooring FAQs
How do you clean home gym stall mats?

I recommend using a 10:1 ratio of Simple Green cleaner and water. So, about 1 cup of water for every cup of cleaner. If that doesn't reduce the smell, you can try baking soda, white vinegar (10:1), or essential oils (you only need a few drops).
I also recommend using a leaf blower to rapidly clean and then dry them, this will help to remove some of the larger materials like leaves, mud clots, or chalk. This will save time on deep cleaning.
How often should I clean my home gym flooring?

The cleaning frequency depends on two variables: how often you use your gym and how many people use your gym. Typically, with sweat and dirt from outside creeping in, it may be a good rule of thumb to clean your floor at least once a week.
I do recommend using a leaf blower or shop vac after every training session to remove chalk, leaves, dirt, etc. Having a clean space makes you want to use that space, plus you will save time on deep cleans at a later date.
Should I buy used horse stall mats?

This is a fine idea to save some money. The main issue to look for is how dirty they are. You should also ask the seller how often they were cleaned and what they were used for (a gym or a horse facility, for example). These mats are made from recycled rubber, so they last a long time and don't really compress; however, if they have been used often, they can crack over time.
If you're really focused on looking to buy used horse stall mats, make sure that you're getting a good deal on them, and that they have been used for a gym previously. You can get horse stall mats inexpensively (around $39 for 4 x 6 mats).
When is the best time to buy horse stall mats?

If you can wait, the best time to buy horse stall mats is during Black Friday. Typically Tractor Supply will have them for $35 a mat. Tractor Supply will also have deals throughout the year. If time is a concern, what we suggest is going to your local feed store and asking if they have volume pricing, (let's say 10-15 mats) and asking if they will lower the price for buying multiple mats. I've done this many times and I've always saved money and future trips by asking.
Why would I buy rubber rolls vs stall mats?

Rubber rolls don't really provide a functional advantage other than staying in place more often, but some typical reasons you would buy them are: they look more professional, come in a variety of colors, and they don't give off that typical "gassy" smell.
Some areas of the world may not have a Tractor Supply or feed store, so you may be better off buying them from local sports or hardware stores. You can buy rubber rolls that are thinner than 8mm, which could potentially save you money.
How do I secure flooring in my home gym?

There are a few good options:
Carpet Tape: you can secure mats (and strips of a rubber roll) by putting a piece of tape on the hard floor itself and the mat, creating a double-sided tape strip. The mat will then be incredibly stable/secure and will not move.
Gorilla Tape: you can secure the mats by placing strips of tape on the top. However, the look itself isn't very appealing/professional (it will leave lines). However, it is functional, creates stability, and it prevents small items (like a car key or wireless earbud) from falling between the cracks.
Mending Plates: This idea came from Alan Thrall (Untamed Strength). Mending plates are typically used in construction work to hold pieces of wood together, and this method will secure your mats together for a stable workout. However, we must note that this method leaves a small "bump" at the seams, which may annoy you. If you can get past that, then this method may be for you.
Is turf good for a home gym?

Personally, I have turf in my home gym because it was leftover from Intentional Fitness (my personal training gym). Turf is especially useful for sled drags, warming up, box jumps, lunges, bounding jumps, and other mobile workouts. However, most people will be deterred from the installation cost ($1.47 a square foot, plus the cost of the glue).
I definitely do not recommend using leftover football field turf. This is a different turf than what is used in most gyms. It is very uncomfortable, wear and tear over time makes it look incredibly patchy, and it throws rubber everywhere, causing a mess to clean up later.
What does Coop use in his garage gym?

In my first couple of garage gyms, I used horse stall mats. In my latest garage gym, I have rubber roll flooring that was leftover from my gym. The remainder is filled with turf. I like the rubber rolls because they look cleaner and more professional, however, they aren't functionally better than horse stall mats, so it's more about aesthetics at this point.
How thick should my home gym floor be?

Home gym floors should always be sturdy enough to withstand strenuous exercises and the use of weights or equipment. Increased cushioning will also be gentler on joints and will protect an existing floor below. Shock-absorbing foam is ideal for home gyms with weight machines and cardio equipment. To offer floor protection and traction, this puzzle-like material should be 0.32 inches thick or thicker.
The most common thickness for home gym flooring is 8mm. CrossFit exercises and Olympic lifting, on the other hand, require at least 3/8". If you intend to drop very heavy dumbbells and/or kettlebells on a regular basis, we recommend going with the 12" just to be cautious.