We test and review fitness products based on an independent, multi-point methodology. If you use our links to purchase something, we may earn a commission. Read our disclosures.
Starting a home gym on a budget may seem impossible, but it's not. Not even close. We've compiled 10 of our most important tips that we've given out over the years on how to build a home gym on the cheap. Time to get started!
Video Review
1. Buy Once, Cry Once
Why is this the first one I've listed? Because it affects every purchasing decision you're going to make for your home gym. If you're just starting out, you're likely going to end up buying quite a few different pieces of equipment. To prevent you from making the biggest mistake most home gym owners make, I want to nip it in the bud immediately. If you're going to get rid of your gym membership and replace it with your ownhome gym, then you're going to need to try and avoid some problem areas we often see.If you listen to one piece of advice from this article, let it be this one:buy things that last.

I get it, when you're starting out on your home gym journey, there's going to be a million and one different pieces of equipment that catches your eye. Some will be well made, others will be well marketed. I know because I've been a marketer in one form or another for close to half my life.
When it comes to equipment, we're generally talking about various forms of steel. Steel that will be used a lot, and with heavy loads, and with little care. When it comes to buying a piece of equipment, don't be thinking, "how cheap can I go" instead be thinking, "what can I buy so I never have to buy again."
Check out my guide on the best budget home gym equipment to get started.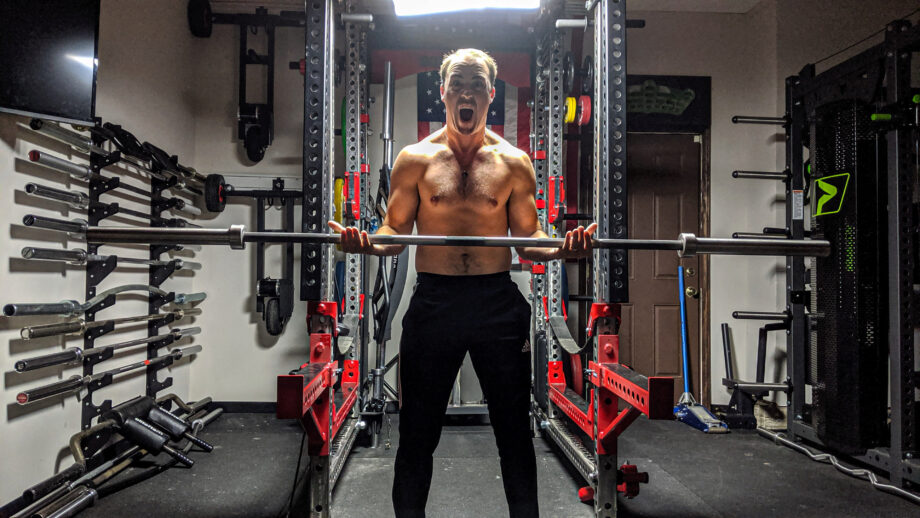 Let's take a squat rack for instance. The best squat rackstake up a large spot in most of our garage gyms and they also often get used as much or more than any other piece of equipment. Due to their design, they're also expandable for different exercises, attachments, storage, and other functions. If you buy the cheapest squat rack you can get, you're going to have a few issues. Let me describe them for you:
Your rack will likely be unstable.
Your rack will likely be unsafe.
Your rack will have a low resale value when (not if) you decide to sell it.
Your rack won't be expandable should you desire new attachments.
Your rack will get used less because it's less enjoyable to use than the alternative that you were too cheap to buy.
So, when given the choice between buying a cheap rack, having to go through the whole process of selling it and then buying the rack you actually wanted in the first place, you'll not only be out money but also time, which is much more important than money.
Now, I can hear what you're asking, "but Coop, I can't afford the rack I want, I'm tight on funds. I need to know how to build a home gym on a budget."
My response to that is an easy one I give often: save up for it. You don't have to finance it, you can just put a little bit to the side each paycheck and eventually have enough to buy it outright. If you just want to test the waters, then workout with things you have lying around the house and see how you enjoy it. Do burpees, pull-ups on a tree, dips on your dining chairs, whatever you have available. If you like it, imagine how much you will when you have your own bad to the bone setup.
RELATED: Best home gym equipment
Seriously, don't skimp on equipment. Buy right the first time and never worry again about if you made the right choice. And don't even get me started on buying a quality barbell…
2. Wait Until Black Friday for Big Purchases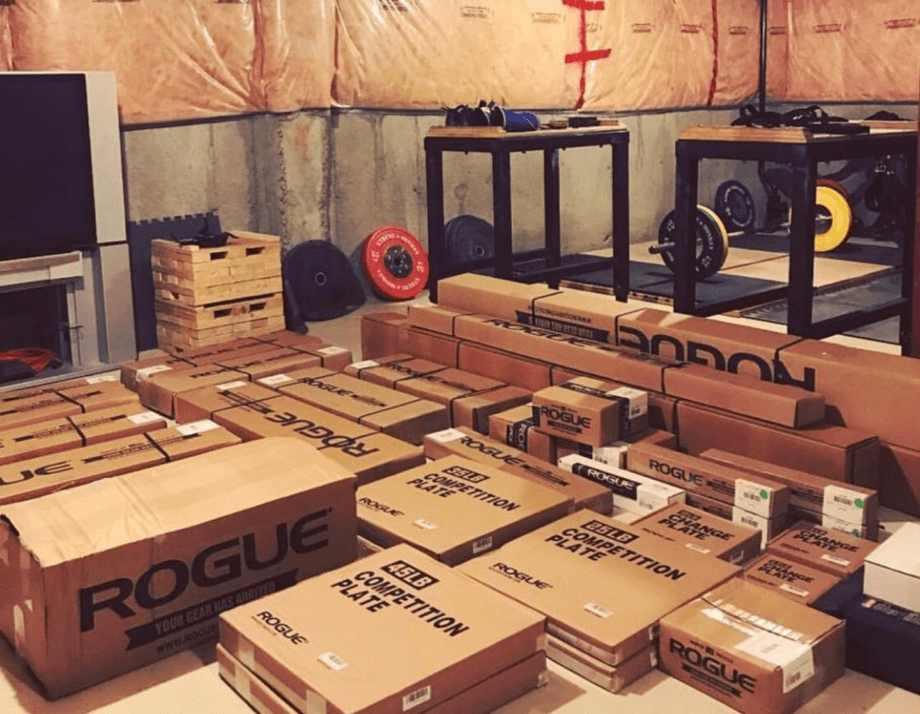 It's well-known in the Garage Gym Community, less known to those outside it that the best time to buy gym equipment is Black Friday.
It's as if the heavens open for a brief moment in time and all of the retailers offer big sales on the equipment you actually want to buy, not just what they couldn't get you to buy the rest of the year. For this reason, we detail all of the best equipment deals and manufacturer Black Friday and Cyber Monday sales on one page (that updates by the minute during the sales…seriously, I don't sleep.)
Now, you can certainly wait for Black Friday to buy small items, but the amount of money that's saved is often negligible. It's really only when you buy big items or quite a bit of volume that you start to see big sales. For instance, take these Rogue Powerlifting Plates: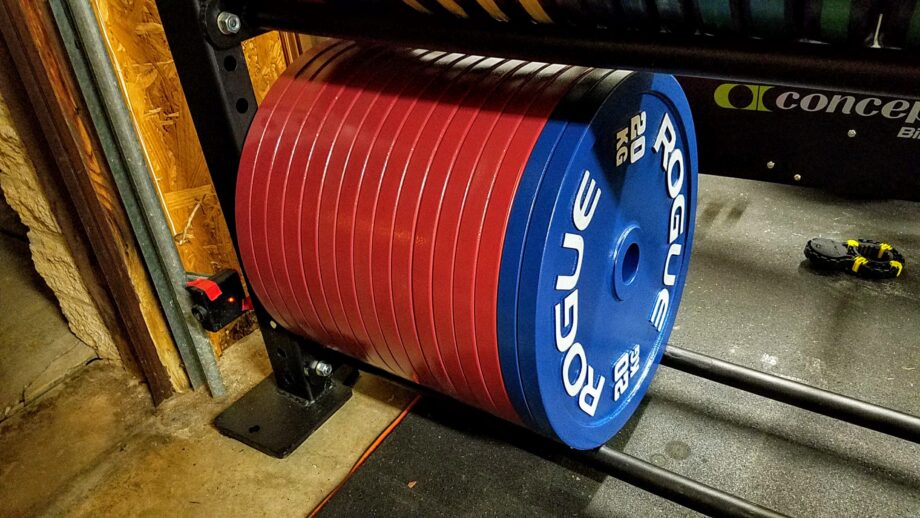 bought 459 KG worth of these free weight plates on Black Friday from Rogue Fitness in 2017. For those who don't use the metric system, that's nearly 1,010 LB worth of calibrated iron plate goodness. In other words, I bought half a ton of weights. Ordinarily, these bad boys in this set retail for $2,060 not including shipping. I got them for just over $500. Not kidding.
And, this isn't the only instance of big sales. We've helped readers get squat racks, barbells, pull-up bars, entire gyms even for over 50% off.
If you want to save money on your home gym, Black Friday/Cyber Monday is by far the best time to buy equipment. For the rest of the year,follow our Deals page.
3. Check Craigslist and Facebook Marketplace (Especially for Plates)
It's no secret that used items are cheaper than new. However, I see way too many people buying brand new, in the box iron plates when there are perfectly good (in many ways better) offerings in your local community for way less than what you'll find online, especially when shipping is considered.
I like new equipment as much as anyone, however, buying iron plates,bumper plates, or dumbbells via the internet is an extremely wasteful exercise when there are deals to be had all over the place, and you don't even have to be patient to get them. If you don't care about saving money, disregard this one, go ahead and buy new plates. You'll enjoy the new smell, the fact that they're not chipped and weigh close to what they state, but for the rest of us, you're not getting a much different product.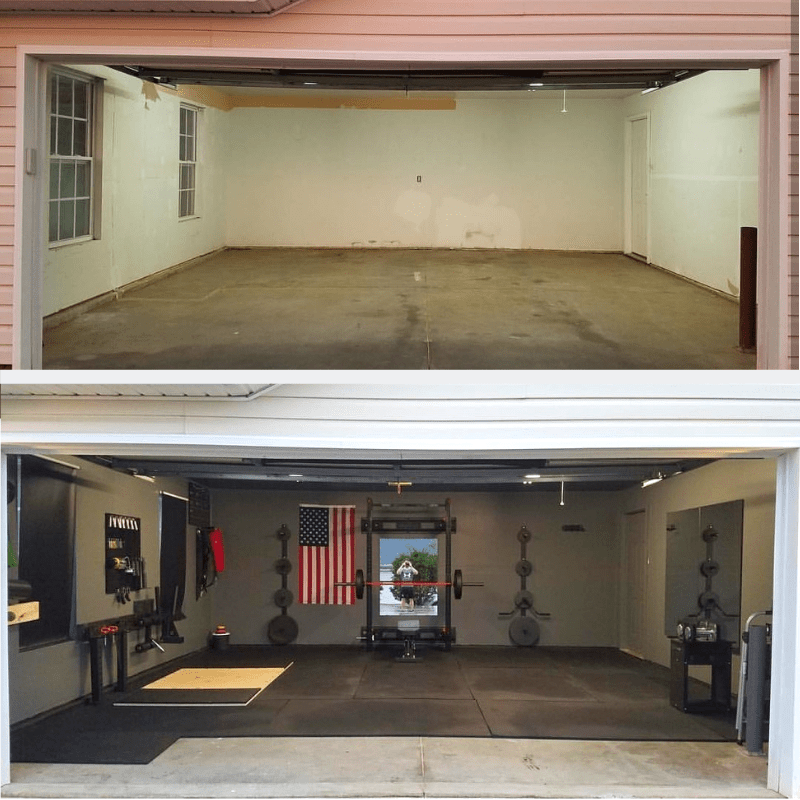 When I started my first garage gym with a Wife in nursing school and very little income, I was a Craigslist fiend. Seriously, there was not a soul on this planet that would out wheel and deal or get to the sellers' location quicker than me. I'd show up so quickly that it would actually creep people out, but I was also able to pick up one of the best rowing machines like the Concept 2 Rowers for under $400 and Airdyne's for $10 (not exaggerating.)
There are some things that you're definitely going to want to buy new, it's one of the great benefits of a home gym, you get to use equipment only you use. Either because you know they'll be in good condition or so it comes with a warranty, but for many of the heavier items, Craigslist and Facebook Marketplace are your new best friend.
4. Don't Buy Exercise Mats, Buy Horse Stall Mats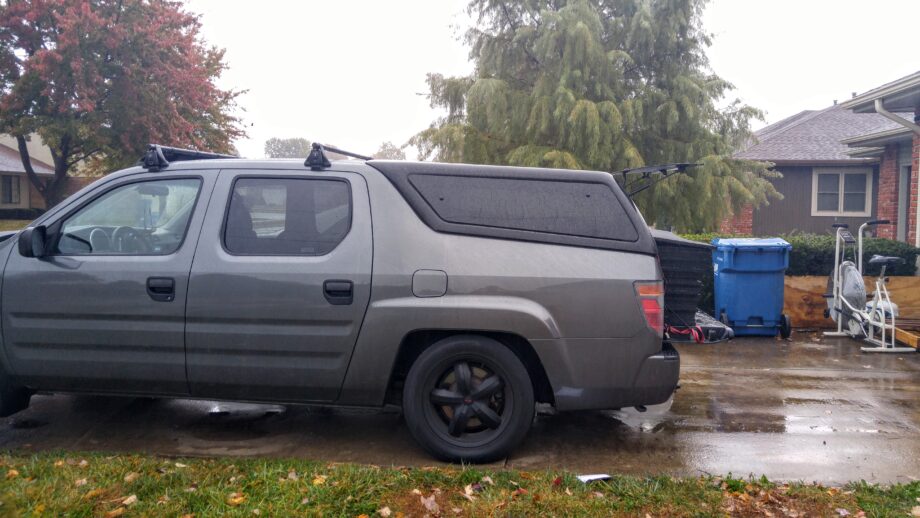 I have a confession to make, I've bought way too many horse stall mats over the years. I'm like that girl that just found Pinterest and decided she was going to DIY her entire house so she starts buying beads and gluing them all over the place because some other house Wife in New Hampshire does it. Except, I do it with horse stall mats. I use them for everything. For instance, my entire, literally every square inch of flooring, garage gym is covered in a horse stall mat. I've cut them long ways for my dumbbell shelves. I've cut them short ways (is that a real phrase?) for deadlift platforms. I've made little squares out of them for DIY Deadlift Jacks. I've even glued some together to try and fabricate a makeshift box squat box. I feel like I should get a tattoo with the specs, "100 LB, Virgin Rubber, ¾", 4'x6'" on my shoulder. All joking aside, do you know why I like horse stall mats so much? Because they're cheap and extremely effective. If you do a search for exercise matting, you'll find a hundred different retailers hawking tiles for your workout area. The problem is, not only are they super expensive, but they're thinner and lower quality than what you can get at your local Tractor Supply. Take it from me, a guy who has used probably all of the ones you're looking at as well as some really wacky ones (like plastic tiles made for auto shops,) stick with stall mats. If horses that weigh
nearly a ton can stomp and poop on them all day and they still last decades, you can certainly drop a few hundred pounds on them without worrying about foundation or equipment damage.
In addition to being great for the home gym equipment you'll eventually drop on them (including heavyweights,) they're also great for securing cardio equipment, such as some of the best exercise bikes, quality treadmills, and doing bodyweight exercises on such as push-ups and sit-ups as well as various high-intensity interval type sessions. The grip that the flooring provides also makes them extremely suitable for those that like to do a lot of TRX movements to hit various muscle groups. When you're extended away from the wall for something like bodyweight tricep pushdowns, you don't want your feet sliding. And, although you could use a yoga mat on the floor, it's not going to get you nearly the security that thick rubber mats will. There's a reason that in nearly any commercial gym you go into, whether they use personal trainers or not, nearly the entire workout space will be covered in this type of matting. Lastly, if I haven't sold you on these enough, rubber mats won't damage or break your jump rope as concrete will. Trust me, I ran into this issue when I competed in CrossFit using the best CrossFit equipment years ago.
5. Buy Everything at Once
The equipment you're thinking about buying for your little home gym is heavy. Squat Rack? Heavy. Plates? Heavy. Dumbbells? Heavy. Treadmill? Heavy. Do you know what heavy means in the internet age? Money. Why? Because it has to be shipped directly from the manufacturer to your residential home without a loading dock and that will deplete your budget QUICKLY.
So, I'll give you my greatest pro-tip for minimizing the amount of money you throw into the dumpster fire known as shipping charges.Buy as much equipment as possible, from one retailer, at one time.
Companies have even recognized this issue. It's why they now offer free shipping and just bake it into the price that often costs you more than paying for shipping (but that's a rant for a different time.) It's also why they have gym packages and some companies (Rogue Fitness) offer decreased costs with the more weight you buy. Probably the best way to buy equipment in order to save some Benjamins is to add everything you'd ever want to your cart and check out. Your shipping will likely qualify for freight, therefore it will be cheaper and, depending on the equipment and manufacturer, you may end up qualifying for free shipping because you've provided for an employee's yearly salary with one purchase.
With this said, this is mostly applicable if you're buying directly from the manufacturer. If you're planning on buying on Amazon (see how we would build abudget home gym from Amazon here.)
However, buying everything at once isn't always the best idea. Here's something else that may be worth trying:
6. Buy a Little at a Time
Alright, this is extremely counter to the previous recommendation of buying everything at once, but it can save you money, and here's why:
A lot of people think that when they're buying equipment for their garage gym that they're going to use all of it a ton and none of it will ever collect dust or be replaced. The reality of the situation though is that your home gym will likely look 100% different 5-10 years from the time you start it. You'll upgrade, replace, sell, and just overhaul your setup. I see it from followers nearly every day.
For this reason, buying a little at a time may actually be a better money-saving move because you're less likely to end up buying the equipment you won't use despite having to pay a bit more in shipping.
In fact, I'm not the only guy who thinks this, Dave Tate, former world-level Powerlifter and current owner of EliteFTS had this to say in arecent Instagram post,"Most start their Garage Gym with a rack, plates, bar, etc. Not me. I had a gym to train at. I just needed shit to do all my extra sessions. At this time, there were six extra sessions per week. ⁣
My home gym consisted of chest supported row, glute-ham raise, seated calf raise, ab benches, sled, a few plates, one set of 20-pound dumbbells, bands, a neck machine and boxes for unweighted box squat work and band hip abduction. ⁣
On lower-body days I hit technique work on the boxes, GHR, abs and heavy sled pulls. Upper body days I'd hit rows, various high rep shoulder raises, upper body sled and ab work. ⁣
Off days – whatever was beat up or so. ⁣Neck work and seated calves every day. ⁣My home gym was the extra workout place.⁣"
7. Look for Less-Than-Perfect Equipment on Manufacturer Sites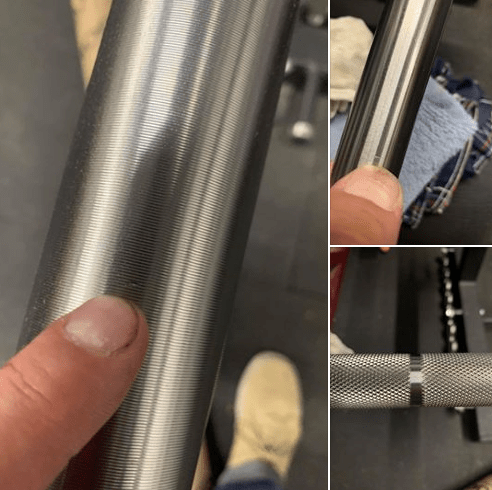 When companies are making their own equipment, there tends to be quite a few less than perfect pieces that end up at the end of the assembly line. Whether it be Olympic barbells with double-tracked knurling, squat racks with air gaps under the powder-coat or bench presses with missed stitches. Some companies sell this stuff just the same as their other products, but most of the higher-end companies create a separate section of the site specifically for these items.
For the majority of people, equipment that has slight cosmetic damages are perfectly fine and can end up saving the buyer a lot of money.
Last year, I had a buddy that wanted to surprise his weightlifting-loving Wife with a new barbell (pretty nice considering the year before she wanted a treadmill.) The problem was, he knew she would want something high-end, but he didn't have the money to spend. So, instead of opting for something cheap,he watched the Deals section of Rogue like a hawk. He ended up with a Rogue EU Oly Bar with a clear Cerakote-coated shaft for over 25% off. She was happy and so was his bank account.
Rogue isn't the only coming with this type of offering though. Many companies offer similar sections of their site.American Barbell has one.
And, something to remember is that this isn't limited to strength training equipment but really applicable to just about any type of fitness equipment including treadmills, kettlebells, adjustable dumbbells, and other pieces of equipment.
8. Buy Equipment with High Versatility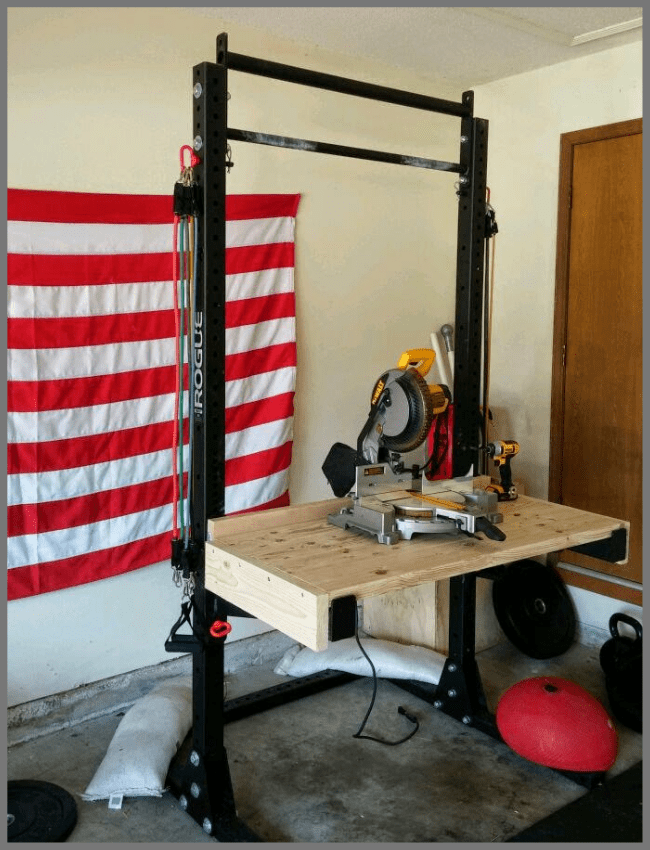 Home gym owners are working with very finite space. Some turn their bedrooms into gyms, others their kitchens or living room(seriously,Jujimufu used to train in his.) Regardless, with a limited amount of room to work, it's important that the equipment you buy not be a one-hit-wonder.
For instance, what do you think is a better decision for a small area in terms of training economy, a leg extension or a power rack?
Exactly. You need equipment that can do a lot and take up as little space as possible. It's one reason folding squat racks like our favorite the PRx Performance Profile Rack have become so popular. There are lots of items that are designed for home gyms in order to provide the maximum amount of effectiveness for the square footage taken up. You just have to look. Equipment that can get your heart rate up as well as your muscles pumped are ideal.
Now, if you really like doing curls and a preacher curl bench is something you've always wanted, get it. Just make sure you want it more than the free space you're giving up or what could go there instead. Everything has an opportunity cost including the equipment you buy for your gym.
One piece of equipment that we love for home workouts that has high versatility is the best tube resistance bands. They can be used for all sorts of DIY workouts, added to bars for accommodating resistance, can help with people working towards their first pull-up and other fitness goals. Honestly, a perfect home gym would have a full set.
RELATED: Best Resistance Bands
9. Buy and Resell Equipment on Second-Hand Marketplaces
I've bought and sold so much gym equipment that my CPA equates me to that of a drug dealer. I don't mind though, because when I look at my balance sheet, despite all of the equipment I've bought over the years, I've sold much more. I've actually made money building my home gym. How many people with expensive hobbies like ours can say that? This type of thinking is what allows those that are looking for budget-friendly home gyms to build something outstanding. Budget home gym equipment can include high-quality, lifetime warranty, great gear.
One of the beauties of the internet is that there are a lot of people with a lot of stuff worth a lot of money without any idea of what it's worth. I've bought $1,500 power racks for less than a hundred bucks and flipped them for over a grand (it was navy blue Rogue RML-690C Power Rack to be specific.) I've had friends who I've taught my equipment flipping ways that have done even better than I (don't neglect Bowflex equipment either, people love that stuff.)
If you have patience, you can find great deals and easily sell them for much more than you paid for them. Remember though, you need patience for both sides of the transaction. Selling can sometimes take a bit, but respond quickly to those looking to buy and be willing to negotiate.
10. Avoid Gimmicky Equipment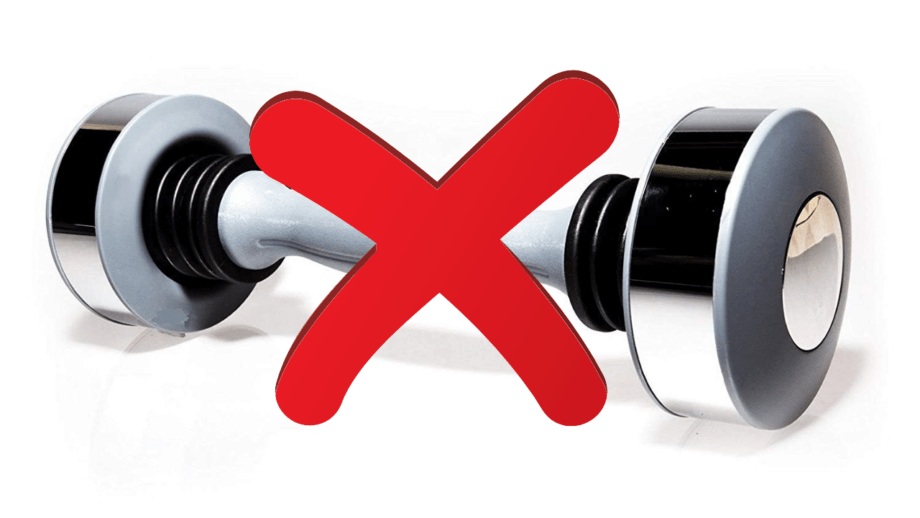 At Garage Gym Reviews, we post a lot of the latest and greatest equipment. However, we try not to make the two synonymous. Just because it's new, doesn't mean it's all that good and just because it's been around a while doesn't mean it's archaic and not worth using.
With the increase in technology advancement, other industries are trying to keep up, including fitness. Sure, there's only so much that can be done to 3"x3" steel uprights, but that won't stop companies from pushing the limits, and personally, I don't want it to. I love all of the new fitness gadgets that come out as they're both fun to use, review, and have. However, I understand that for most home gym owners, what is needed are the necessities. The essentials. A squat rack, barbell, plates, an adjustable bench or flat bench, and a nice pair of shoes for conditioning. Eventually, you can add adjustable dumbbells or even a full set of dumbbells (lunges with dumbbells are one of my favorite movements.) I get it, a lat pulldown looks and sounds amazing, but don't get one if you have to give up getting a squat rack.
Avoid As-Seen-On-TV equipment; it's more likely to break than be useful. Put off buying equipment with a lot of cables and engineering involved until you have the basics. Stability balls, foam rollers, and the like are fine if used in the right manner. These things are nice to have, but I view them as supplementary, not the foundation of your gym. In the same way, you should focus on whole foods for your diet and not powders, so should your home gym be based on big, effective equipment.