Why is this the first one I've listed? Because it affects every purchasing decision you're going to make for your home gym. If you're just starting out, you're likely going to end up buying quite a few different pieces of equipment. To prevent you from making the biggest mistake most home gym owners make, I want to nip it in the bud immediately. If you're going to get rid of your gym membership and replace it with your own home gym, then you're going to need to try and avoid some problem areas we often see.
If you listen to one piece of advice from this article, let it be this one: buy things that last.

I get it, when you're starting out on your home gym journey, there's going to be a million and one different pieces of equipment that catch your eye. Some will be well made, others will be well marketed. I know because I've been a marketer in one form or another for close to half my life.
When it comes to equipment, we're generally talking about various forms of steel. Steel that will be used a lot, and with heavy loads, and with little care. When it comes to buying a piece of equipment, don't be thinking, "how cheap can I go" instead be thinking, "what can I buy so I never have to buy again."
Check out my guide on the best budget home gym equipment to get started.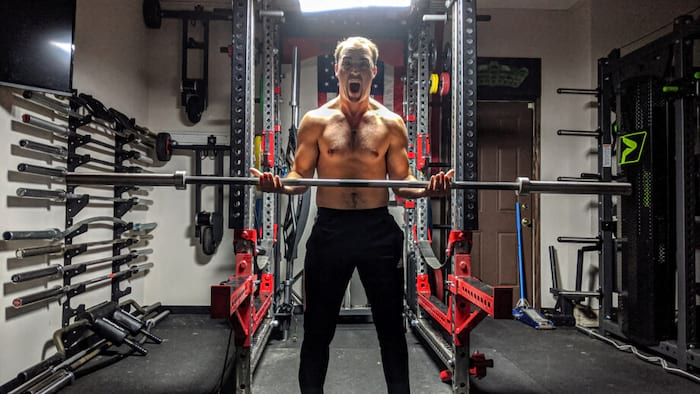 Let's take a squat rack for instance. The best squat racks take up a large spot in most of our garage gyms and they also often get used as much or more than any other piece of equipment. Due to their design, they're also expandable for different exercises, attachments, storage, and other functions. If you buy the cheapest squat rack you can get, you're going to have a few issues. Let me describe them for you:
Your rack will likely be unstable.
Your rack will likely be unsafe.
Your rack will have a low resale value when (not if) you decide to sell it.
Your rack won't be expandable should you desire new attachments.
Your rack will get used less because it's less enjoyable to use than the alternative that you were too cheap to buy.
So, when given the choice between buying a cheap rack, having to go through the whole process of selling it and then buying the rack you actually wanted in the first place, you'll not only be out money but also time, which is much more important than money.
Now, I can hear what you're asking, "but Coop, I can't afford the rack I want, I'm tight on funds. I need to know how to build a home gym on a budget."
My response to that is an easy one I give often: save up for it. You don't have to finance it, you can just put a little bit to the side each paycheck and eventually have enough to buy it outright. If you just want to test the waters, then workout with things you have lying around the house and see how you enjoy it. Do burpees, pull-ups on a tree, dips on your dining chairs, whatever you have available. If you like it, imagine how much you will when you have your own bad to the bone setup.
RELATED: Best home gym equipment
Seriously, don't skimp on equipment. Buy right the first time and never worry again about if you made the right choice. And don't even get me started on buying a quality barbell...