Amazon offers the largest marketplace in the world, which in turn means there are many products to help build a home on a budget. This will be a consistently updated article as new items are introduced to the market. If you're looking to build a home gym, Amazon is a great place to start.
Creating a budget home gym isn't only a great financial decision, but it's also great for everything else. Health, wealth, and happiness all rolled into one space. The problem is, the equipment can be EXPENSIVE. Once you begin researching equipment, it becomes quite apparent that not only are you going to be spending a lot on the equipment itself, but also on shipping.
Thankfully, you now have more options than ever for what types of equipment to purchase as well as where to purchase it from Amazon.com may not be the first place you think of when outfitting your home gym, but there is some seriously excellent equipment on Amazon, and for prices that are quite honestly better than anywhere else. Let's get into it!
What Equipment Do You Need?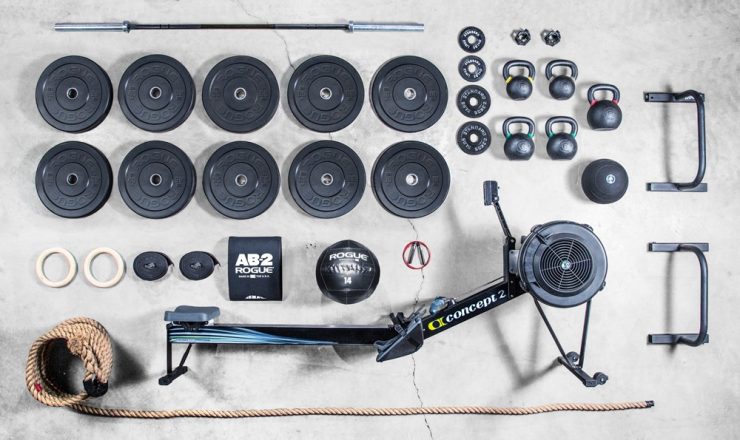 Before I get into the actual equipment, I would suggest, I first want to discuss the types of equipment you'll at least want to start out with. Everyone who trains has different goals, but most people who train at home, they'll want similar items. They want equipment that will help them get stronger, feel healthier, and look better. In my opinion, one of the best ways to do this is with simple barbell training.
Once you have the essentials to achieve a basic barbell training program, you can begin purchasing items that will supplement your workouts. And, although I mostly review the top-of-the-line equipment, I recognize the fact that many can get just as strong with equipment that doesn't take financing to purchase. The perfect place for building a complete home gym is the place most of you already do your shopping – Amazon.com.The pieces of equipment that I see as essential are:
Barbell
Squat Rack
Weight plates (preferably bumper plates)
Adjustable Dumbbells
Kettlebells
Weight Bench
Gymnastic Rings
Jump rope
All of these items can be purchased on Amazon. The issue is finding quality budget home gym equipment, a.k.a equipment with good VALUE. Amazon is notorious for having lots of items that may be priced well, but are nothing more than paperweights.
There are also many items on Amazon with fake reviews that were purchased by the manufacturer. To help you weed through the B.S, I'm going to show you how to build a home gym on a budget using Amazon.com. Not only will this gym not empty your wallet, but it should be able to be passed to your children.
Barbell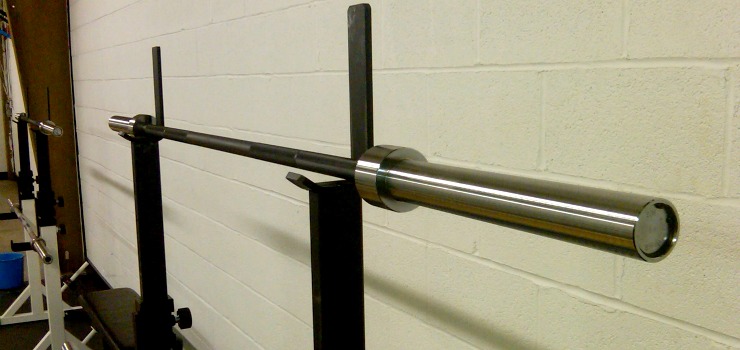 A barbell will become the most important piece of equipment in your home gym. You will likely use it every training session, and you should become great friends with it. It has such importance in my gym that I have over ten of them.
Now, you certainly don't need ten barbells. In reality, all you need is one barbell that performs well for most types of workouts, and that's what I'll suggest today. The best value barbell on Amazon for most people is the Cap Barbell OB-86B.
The Cap OB-86B is a great barbell I own and use for most rack work. It's not my primary barbell, not because it isn't a decent bar, but I have a lot of barbells that are made for specific purposes.
The CAP OB-86B Beast Barbell (clever name) is the best Olympic barbell available at this price point. You will not find a bar under $150 that is better for general use than the Cap. The only bar better under $200 is the Rogue Echo Bar 2.0, and it's not far if any ahead. The Ob-86B features a medium knurl, bushing rotation system, a black-oxide finish, and a 28.5 mm shaft. It's average in every aspect except price, where it is absolutely outstanding.
This is honestly the only bar most need unless they're regularly moving over 800 lbs. You can use the bar for Olympic Weightlifting, Powerlifting, CrossFit, or anything in between. I consider it my beater bar and as such, beat it up quite a bit. Surprisingly, outside of some surface rust and random dings, it looks pretty unphased. I'm also not the only person who likes the OB-86B. Amazon currently has a 4.4/5 star rating with over 800 customer reviews.
If you're looking for an overall better barbell that will provide a better spin and feel, the XMark Lumberjack Olympic Bar would be my next choice. One of the standout features of the bar is the fact that it uses brass bushings versus the cheaper and slower spinning alternatives.
The Lumberjack will produce a much faster and consistent spin of the sleeves, which is ideal for the Olympic lifts. The Lumberjack bar also features a slightly thinner, 28 mm diameter shaft although it does have a bit of a low tensile strength with only a 700 LB weight limit (this shouldn't matter for most.) Neither the XMark nor Cap Bars should bend, but it is comforting to know that your bar can face whatever you throw at it.
If you don't mind spending a bit for a bar with higher-end specs then we suggest the Synergee Regional Olympic Bar. We've reviewed the Synergee Games Bar in-depth and the only difference between that one and the Regional is the bar coating, which is Cerakote on the Games Bar. The Synergee Regional Bar has a 190,000 PSI tensile strength steel shaft that has a 1,500 LB weight rating (which I would ignore, the tensile strength is accurate, weight rating is made up.)
To increase spin, Synergee uses needle bearings instead of bushings which make the sleeves spin fast and are quite a bit more expensive to use. In addition, Synergee offers a lifetime warranty that in our experience has done well. Synergee also sells its bars in both a 20KG and 15KG version making it great for either women or men.
Squat Rack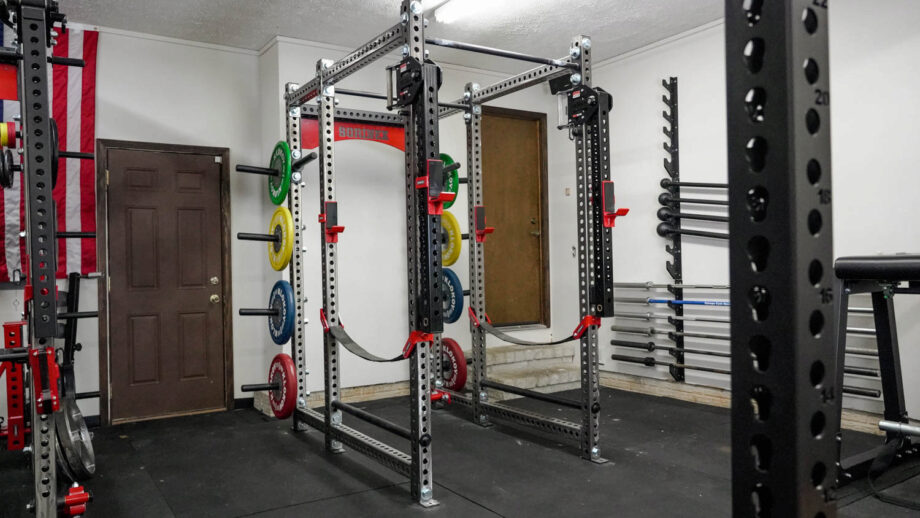 I'm a big proponent of squat racks. Not only are they more versatile for training, but they're also much safer for those of us who train alone. In the past, to have a nice power rack that accessories could be purchased for, you would have to spend beaucoup bucks.
This is the reason many, such as myself, started out with a squat stand. There's nothing wrong with a squat stand, it's just they are less than ideal and take up the same amount of foot space as a power rack if not more. Thankfully, there are many companies producing power racks that are not only cheap but also built extremely well.
If you want the cheapest power rack we recommend, then the Fitness Reality 810XLT Super Max Power Cage is it. This is NOT the most feature-filled, heavy-duty power rack on the market. However, this is one of the most practical squat racks for most people that is more than capable of handling 800 LB squats, which means 99.99% should feel safe inside of it.
These are by far the most popular squat racks on Amazon. With nearly 1,000 reviews and still achieving a 4.7/5 star rating, for most people, bigger squat racks aren't really needed. This rack features a multi-grip pull-up bar as well as spotter safeties that come standard.
In addition, unlike many at this price point, there is a lat pulldown and dip handle attachment making this pretty versatile. The biggest issues we've seen with the rack are some instability and scratches on the paint. We wouldn't recommend trying to perform world record back squats on it, but for pretty much everything else, it should work great in a home gym.
The Titan Fitness T-3 Power Rack is the best value power rack available. Read my full Titan Fitness T-3 Vs. Rogue Fitness R-3 Power Rack review and it stood up in comparison extremely well. One reason I suggest the Titan-T3 outside of the reasons I've already listed is the fact that Titan offers all kinds of attachments. In fact, it's pretty safe to say that if Rogue offers a popular attachment, Titan already has or likely will copy it, AND then sell it for much less. For instance, do you want mono-lift arms, landmines, or pull-up bars? They're all available here.
If you'd rather not purchase a power rack, you have quite a few options. My next suggestion would be the Titan T-3 Squat Stand.
The T-3 Squat Stand is as you'd guess, pretty much the same as the T-3 Power Rack, but made into a Squat Stand. This allows for space savings, but still a 1,000 lb rating on the J-hooks. Cap Barbell makes a very cheap squat stand, but the max weight it holds is 300 lbs. I don't know about you, but if I'm even doing 200 lb. squats, I'd want the j-hooks to be able to hold at least double of what I'm working with.
The T-3 Squat Stand also comes with spotter arms included in the price, increasing its versatility to a similar level as the Power Rack. You will also have the opportunity to buy the ever-increasing amount of attachments that Titan Fitness is producing. The ability to upscale your gym is always something to consider when purchasing equipment.
Finally, if you just want a stand to use for squats and some bench that quickly moves out of the way, check out the Valor Fitness BD-9 Power Squat Stands. They're only $175, have a weight capacity of 500 lbs, and are overall highly rated. Still, I would suggest getting a unit with a pull-up bar.
Weight Plates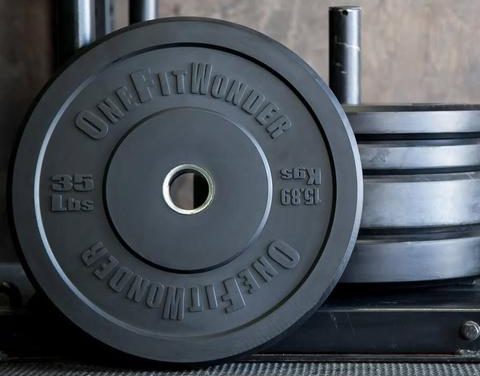 Bumper plates are without a doubt superior to steel. Sure, it's hard to mimic the noise of steel plates clanking during a set of deadlifts, but for the versatility and safety of your home's foundation, I would highly suggest sticking with bumper plates. The Black Bumper Plates from OneFitWonder are an excellent choice. No company has spent as much time trying to bring the best value set of black bumper plates to market as OneFitWonder/Fringe Sport. For most, I'd suggest starting with a 260 lbs set and supplement with metal change plates.
One issue with most black bumper plates is this nasty syndrome called "tacoing." If you haven't heard that word before, don't worry because it's not a real word. What it means though is that the plates, most often the 10 pounders end up folding on themselves due to being dropped without any other weight on the bar. With steel plates, you don't have to worry about this. But, at least in the past, tacoing was a big deal for gyms, especially CrossFit facilities.
Fringe Sport/OneFitWonder has pretty much perfected the black bumper recipe to not only prevent folding but also cracking and make them virtually indestructible. If you're looking for a good value bumper plate, these are the ones to get.
RELATED: FringeSport Bumper Plates Review
If you're looking for steel plates, I'd suggest checking Craigslist for used plates or purchasing the Cap Barbell Gray Weight Plates. The prices for the Cap Plates vary quite a bit in price, but I'd suggest not buying until they're close to $1/lb which they often do.
Whether you get bumper plates or not, I do suggest getting a few pairs of steel plates in lighter weights to be used as change plates. Just a couple of pairs of 10's, 5's, and 2.5's will do. Trust me, you'll want them.
RELATED: Best Weight Plates
Adjustable Dumbbells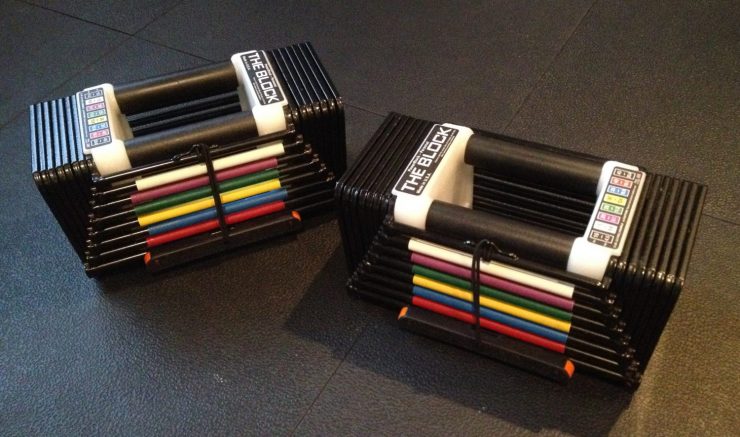 Adjustable Dumbbells are one of the best purchases a home gym owner can make.
Not only are dumbbells versatile in their use, but the adjustable versions like the Powerblock Elite Dumbbells are compact, yet offer a broad range of weight increments. I've done a Powerblock dumbbells review in the past and still use the same set today.
When you initially look at the Powerblocks, their unusual shape may make you think they are more difficult to use than traditional dumbbells, but that couldn't be further from the truth. I use my PowerBlock set for everything from dumbbell bench, to high-rep dumbbell snatches. Despite the abuse I've put them through, they continue to perform, and I see no end in sight.
By choosing the Elite dumbbell set, you will have the option to expand the weight of the set over time as you get stronger, or you can simply start with the heaviest set available. This feature should not be overlooked, as you may not be strong enough yet for a 90 lb dumbbell, but if you think you may be in the future, having the option to grow your set at a lower price than a whole set is a significant benefit.
If you'd like to spend less and not have the option to increase the weight in the future, the Bowflex SelectTech 552 Adjustable Dumbbells are highly rated on Amazon with a 4.7/5 star rating with nearly 3,500 reviews. I've used the Bowflex SelectTech's, and although they are reliable, they are a bit too bulky with too low of weight in my opinion. But, there are many who love the design and have no need for a dumbbell that goes above 52.5 lbs.
One of the biggest benefits of the Bowflex SelectTech is how easy it is to change weight. With the simple turn of a knob, you can go from 5 lbs all the way up to 52.5. The SelectTech's are also priced lower than the Powerblocks and many other adjustable dumbbells.
Kettlebell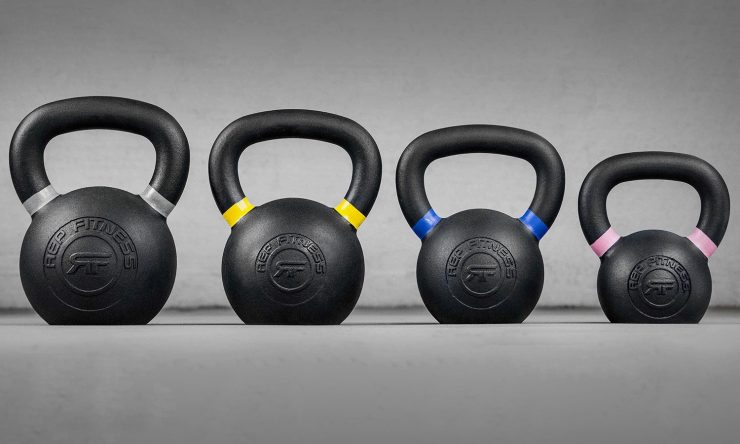 You may be wondering why a Kettlebell would be viewed as an essential item for a home gym. To me, most home gym owners are best served by getting things that give a big bang for their buck. Kettlebells are very versatile to use and can double as a mobility tool.
The reason I recommend the Rep Fitness Kettlebell is that for the price, it's the best available on Amazon. Most of the cheaper, non-competition cast iron kettlebells have an overly rough finish. This leads to pitting, rusting, and an overall bad experience. The Rep Fitness is one of the cheapest priced cast iron kettlebells with a smooth finish. The kettlebells I personally use are made by Rogue, but if I'm not mistaken, those and the bells from Rep Fitness are made in the same place.
BUT, what separates the Rep Fitness Kettlebells from Rogue's is the price. Rep Fitness Kettlebells are much cheaper and also on Amazon. That's what we call a classic win, win! The Rep Fitness Kettlebells go in and out of stock often but are offered in many different weights depending on your preference. I most often suggest the 53 lb Kettlebell as I see it is the most versatile. You can use it for two-hand swings, Turkish get-ups, presses, snatches, and more.
If you don't mind a less-than-perfectly smooth finish and would like a lower price, then I would suggest checking out the Cap Barbell Kettlebells. They're good kettlebells, but the finish is much rougher and will likely not hold up as well over time. That said, they are some of the cheapest available, Cap is known for making decent equipment at great prices. With that in mind, Cap's Kettlebells will get the job done, but the finish is much rougher and will likely not hold up as well over time (rusting, pitting, etc.)
That said, they are some of the cheapest available, ship via Prime shipping, and come in a large variety of sizes/weights. That said, they're kettlebells. It's a big mass of weight that should outlast you with hardly any maintenance. For a competition-like kettlebell, these are some of the cheapest available, ship via Prime shipping, and come in a large variety of sizes/weights.
Weight Bench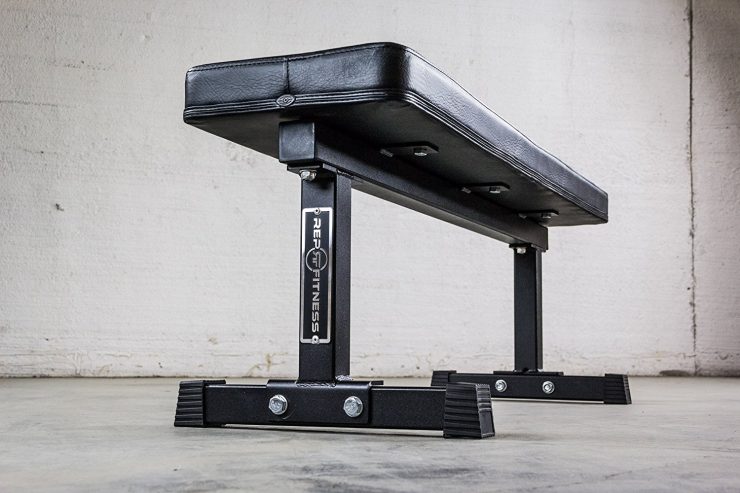 Rep Fitness is producing some of the best value equipment available today. The Rep Flat Bench is no exception. I reviewed it in detail in the past, and I gave it high praise. It does what a flat bench should and is one of the best weight benches: it sits at the right height, has durable padding, and is very stable.
It's also priced extremely well. So well, in fact, I'm surprised more people don't talk about it. At $129, this bench is difficult to beat. Not to mention it can easily hold 1,000 pounds; much more than you or I will ever use while on it. One of the benefits of its bolt-together construction is that you can adjust it depending on the slope of your floor.
My garage floor is flat, so it wasn't needed for me, but if you have a sloped floor, the bolts can be kept loose until settled, which is a nice feature for a home gym.
If you'd prefer an adjustable bench, the Cap Barbell Deluxe Utility Bench is your best bet. It features many different incline angles with a somewhat sturdy base. I say somewhat sturdy because there are a few reviews claiming it wobbles a bit much, but many more claiming it's sturdy.
The Cap Deluxe Bench can handle up to 500 lbs. when used flat, and 400 lbs in the incline position and actually has band pegs which are a nice feature if you use accommodating resistance. One of the biggest design flaws in the bench is the gap between the butt pad and the back pad. Many users have reported this as annoying, but not detrimental to using the bench. Oh, and the bench also costs less than $130.
Gymnastic Rings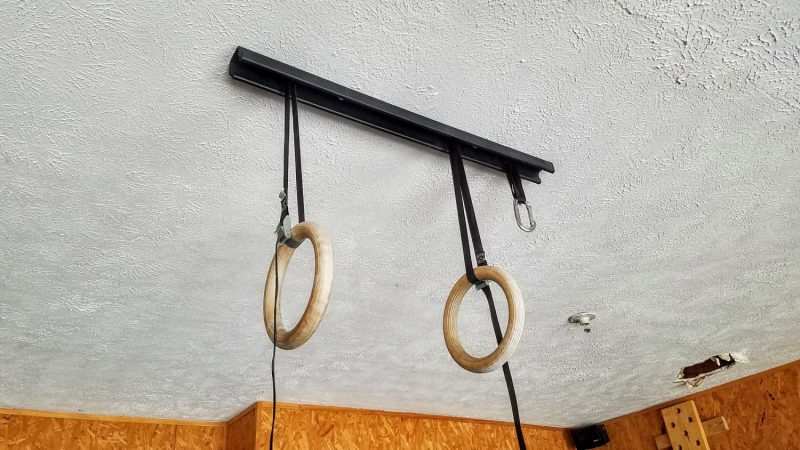 Going back to the idea that the items I'm recommending fit under the category "big bang for your buck," there is seemingly no bigger bang for your buck item for upper-body than gymnastic rings.
If I were forced to go into isolation and could only bring one strength training item, it would definitely be gymnastic rings. No piece of equipment is more versatile than the rings, and that's exactly what you're looking for when starting your garage gym.
Wooden gymnastics rings are far and away superior to plastic and the wooden rings I'd suggest are the ones I have hanging in my garage, the Titan Fitness Wooden Gymnastic Rings.
One reason I recommend the Titan Gymnastic Rings despite them being the cheapest on Amazon (they're pretty close) is due to the strap buckles, wood finish, and diameter options. The last thing you want when using gymnastic rings is for the buckle to fail and send you to the ground. The buckle on the Titan Rings is heavy-duty, while the wood finish is smooth, unlike many competitors.
Finally, the FID ring standard (the ones used in the Olympics) is a 1.1″ Diameter. Most of the cheaper gymnastic rings have a diameter of 1.25″ which may seem small, but regarding a ring, it's definitely noticeable. The wider gymnastics rings are available to purchase for a few bucks more if that suits your fancy, but I'd suggest for everyone but those with monster mitts to purchase the 1.1″ diameter variety.
If you have no interest in wooden rings or would like something more durable and able to weather the elements, I'd suggest the NayoyaPlastic Gymnastic Rings.
I also own the Nayoya's for things like leaving outside and taking on trips, and they are great. I much prefer wood for its ability to take chalk, but I've had no qualms with the Nayoya's and to make up for the lack of grip, I've just wrapped them in hockey tape.
Jump Rope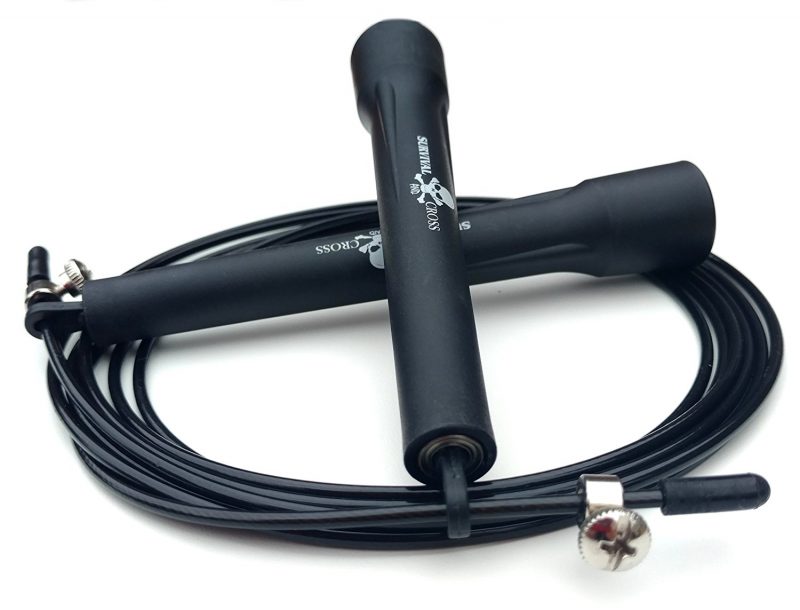 A jump rope is a deceptively simple, yet highly effective tool for conditioning. Whether doing double unders, single under, or skips, the jump rope can increase your fitness as well as hand-eye coordination. As CrossFit has grown in popularity, so has the jump rope market. There are now thousands of different ropes at all different price points.
The speed rope I most often suggest is the Survival & Cross Speed Rope mostly due to the price and the timeless design. I have not personally used the Survival & Cross Speed Rope, but have used other companies stamping their name on the same rope (if you're not aware, the design is used by hundreds of companies who just choose different logos, just go with the cheapest.)
The design of the S&C Speed Rope spins extremely well, although the plastic handle will eventually give out. That said, for $10 bucks you could go through multiple ropes without ever reaching the price of one rope from many competitors.
If you don't mind laying down a few more Hamilton's, you can upgrade to the rope I use, the RPM Speed Rope 3.0.
This rope features the best materials available in a super light, durable package. Not only do they feel great in hand, but you can get the rope spinning at a blistering speed during double under (if that's your thing.)
I would suggest that if you plan to use the rope regularly or for any sort of CrossFit-like competition, go with the RPM rope. You'll never wear out the handles, and you can easily replace the cable portion should you wear it out (would likely only happen if you jump on concrete.)
Total Cost of Recommendations
So let's say you decided to purchase all of my first recommendations. What would be the cost? Well, let's add it up:
So, you'd be able to have a complete home gym for just about any workout you can think of for just over $1,500.If you take the typical cost of a gym membership at $60, you will recoup your cost in about two years, and that's not factoring in the time and gas it requires you to commute to the gym.
You'll also be both happier and healthier with a home gym. Involving your family in workouts, being closer to home, and having the opportunity to train more all add up to increased GAINZZZ. If you decided to choose the even MORE budget-friendly options I recommend, your cost would be closer to $1,000, and you'd still have a better gym than most commercial facilities.
Building a Budget Home Gym on Amazon FAQs
Final Thoughts
Building a home gym will be one of the best investments you make in yourself. I cannot explain how great it is to walk out into my garage and hit a workout at any time. Amazon has made the barrier to entry for home gym owners lower than ever before. But, you must remember that it's not enough to simply have equipment–you need to actually use it. So, before you purchase equipment, commit to using it at least 3 times a week for two months. Working out by yourself can be difficult, but over time it will become much easier. I also suggest getting a dog to hang out with you while you train; Famous Amos joins me every training session, and I love it!