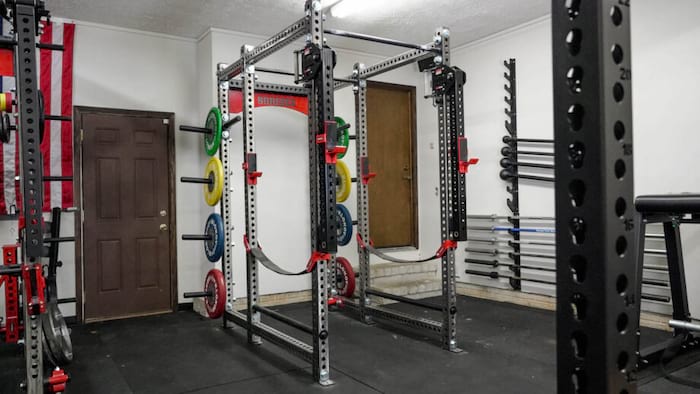 I'm a big proponent of power racks. Not only are they more versatile for training, but they're also much safer for those of use who train alone.
In the past, to have a nice power rack that accessories could be purchased for, you would have to spend beaucoup bucks. This is the reason many, such as myself, started out with a squat stand.
There's nothing wrong with a squat stand, it's just they are less than ideal and take up the same amount of foot space as a power rack if not more. Thankfully, there are many companies producing power racks that are not only cheap but also built extremely well.
If you want the cheapest power rack we recommend, then the Fitness Reality 810XLT Super Max Power Cage is it. This is NOT the most feature-filled, heavy-duty power rack on the market. However, this is one of the most practical squat racks for most people that is more than capable of handling 800 LB squats, which means 99.99% should feel safe inside of it.
This is by far the most popular squat racks on Amazon. With nearly 1,000 reviews and still achieving a 4.7/5 star rating, for most people, bigger squat racks aren't really needed. This rack features a multi-grip pull-up bar as well as spotter safeties that come standard. In addition, unlike many at this price point, there is a lat pulldown and dip handle attachment making this pretty versatile. The biggest issues we've seen with the rack is some instability and scratches on the paint. We wouldn't recommend trying to perform world record back squats on it, but for pretty much everything else, it should work great in a home gym.
The Titan Fitness T-3 Power Rack is the best value power rack available. I did a review comparing it to the best in class Rogue Fitness R-3, and it stood up in comparison extremely well.
One reason I suggest the Titan-T3 outside of the reasons I've already listed is the fact that Titan offers all kinds of attachments.
In fact, it's pretty safe to say that if Rogue offers a popular attachment, Titan already has or likely will copy it, AND then sell it for much less. For instance, do you want mono-lift arms, landmines, or pull-up bars? They're all available here.
If you'd rather not purchase a power rack, you have quite a few options. My next suggestion would be the Titan T-3 Squat Stand.
The T-3 Squat Stand is as you'd guess, pretty much the same as the T-3 Power Rack, but made into a Squat Stand. This allows for space savings, but still 1,000 lb rating on the J-hooks. Cap Barbell makes a very cheap squat stand, but the max weight it holds is 300 lbs. I don't know about you, but if I'm even doing 200 lb. squats, I'd want the j-hooks to be able to hold at least double of what I'm working with.
The T-3 Squat Stand also comes with spotter arms included in the price, increasing its versatility to a similar level as the Power Rack. You will also have the opportunity to buy the ever-increasing amount of attachments that Titan Fitness is producing. The ability to upscale your gym is always something to consider when purchasing equipment.
Finally, if you just want a stand to use for squats and some bench that quickly move out of the way, check out the Valor Fitness BD-9 Power Squat Stands. They're only $175, have a weight capacity of 500 lbs, and are overall highly rated. Still, I would suggest getting a unit with a pull-up bar.