We test and review fitness products based on an independent, multi-point methodology. If you use our links to purchase something, we may earn a commission. Read our disclosures.
Amazon offers the largest marketplace in the world, which in turn means there are many products to help build
Amazon offers the largest marketplace in the world, which in turn means there are many products to help build a home gym on a budget. I get it–most of us don't think of Amazon when thinking about where to go for quality fitness equipment. The truth is, though, if you're looking to build a home gym without spending a lot of dough, Amazon is a great place to start.
Thankfully, you now have more options than ever for the best budget home gym equipment on Amazon. Not only do you find good deals, but, if you're a Prime member, you can take advantage of free shipping (something many major brands don't even offer).
Over A Decade of Testing Gym Equipment
When it comes to budget home gym equipment, I'm kind of a guru. Look, I've been building out my own home gym continuously for more than a decade. I know how expensive it can get, and I also know the problem with buying cheap fitness gear.
I've personally used every item that's on this list. I don't recommend any products I haven't worked out with myself, so you can trust that if I say it's good, it really is. Let's get into it!
Best Affordable Home Gym Equipment on Amazon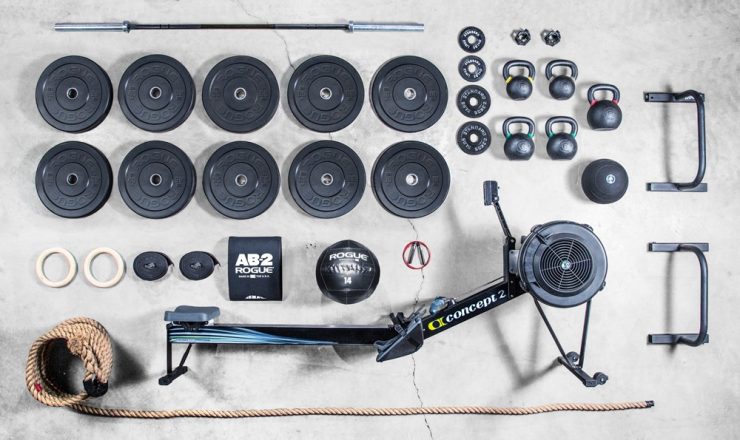 Best Barbell on Amazon: Synergee Regional Olympic Bar
An Olympic barbell will become the most important piece of equipment in your home gym. You will likely use it every training session, and you should become great friends with it. It has such importance in my gym and in the home gym community that I have nearly 100 of them for the purpose of reviewing.
Now, you certainly don't need that many barbells. In reality, all you need is one barbell that performs well for most types of workouts, and that's what I'll suggest today. The best value barbell on Amazon for most people is the Synergee Regional Olympic Bar.
RELATED: Best Budget Barbells
We've reviewed the Synergee Games Bar in-depth, and the only difference between that one and the Regional is the bar coating, which is Cerakote on the Games Bar. The Synergee Regional Bar has a 190,000 PSI tensile strength steel shaft that has a 1,500-pound weight rating (which I would ignore as the tensile strength is accurate and weight ratings are made up). You can use the Sabre for Olympic weightlifting, powerlifting, CrossFit, or anything in between.
To increase spin, Synergee uses needle bearings instead of bushings, which make the sleeves spin faster and are quite a bit more expensive to implement. Synergee offers a lifetime warranty on the Games bar, but only a one-year warranty on the Regional Bar. However, in our experience, Synergee has done well with replacing damaged bars.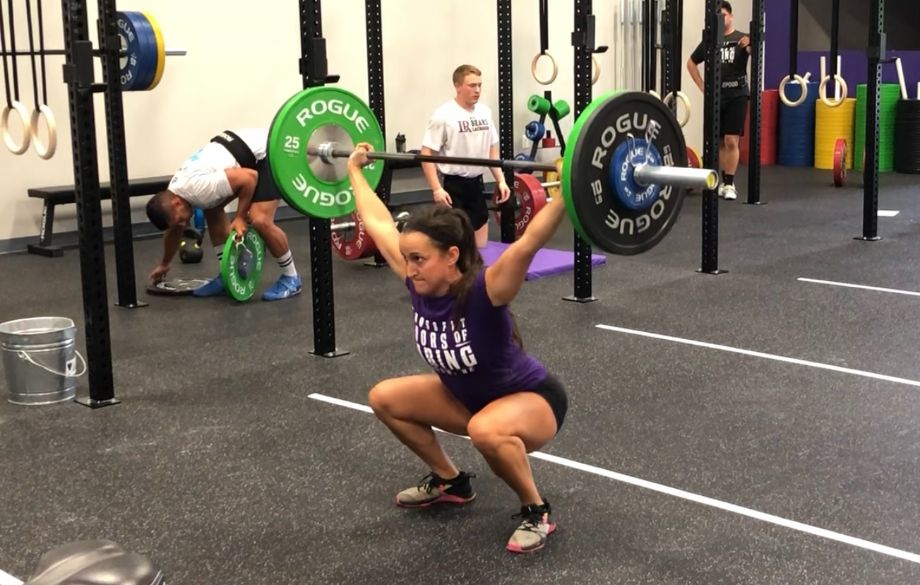 Garage Gym Reviews Head of Content Kate Meier actually had a 15-kilogram Synergee Regional Bar bend during some heavy hang power cleans. After receiving a video of the bar's wobbly spin, Synergee shipped out a replacement. No hassle. (On that note, Synergee sells its bars in both a 20-kilogram and 15-kilogram version, making great options for both women and men.)
Runner-Up: XMark
If you're looking for an overall solid barbell that will provide a good spin and feel, the XMark Lumberjack Olympic Bar would be my next choice. One of the standout features of the bar is the fact that it uses brass bushings versus the cheaper and slower spinning alternatives.
The Lumberjack will produce a much faster and more consistent spin of the sleeves, which is ideal for the Olympic lifts. It also features a slightly thinner, 28-millimeter diameter shaft, although it does have a bit of a low tensile strength with only a 700-pound weight limit (this shouldn't matter for most). The XMark bar shouldn't bend, but it is comforting to know that your bar can face whatever you throw at it.
Best Squat Rack on Amazon: Fitness Reality 810XLT Super Max Power Cage
I'm a big proponent of squat racks. Not only are they more versatile for training, but they're also much safer for those of us who train alone. In the past, to have a nice power rack that is accessory-ready, you would have to spend beaucoup bucks.
That's why many people, such as myself, started out with a squat stand. There's nothing wrong with a squat stand, it's just they can be less stable while taking up the same amount of floor space as a power rack, if not more. Thankfully, there are many companies producing power racks that are not only cheap but also built extremely well.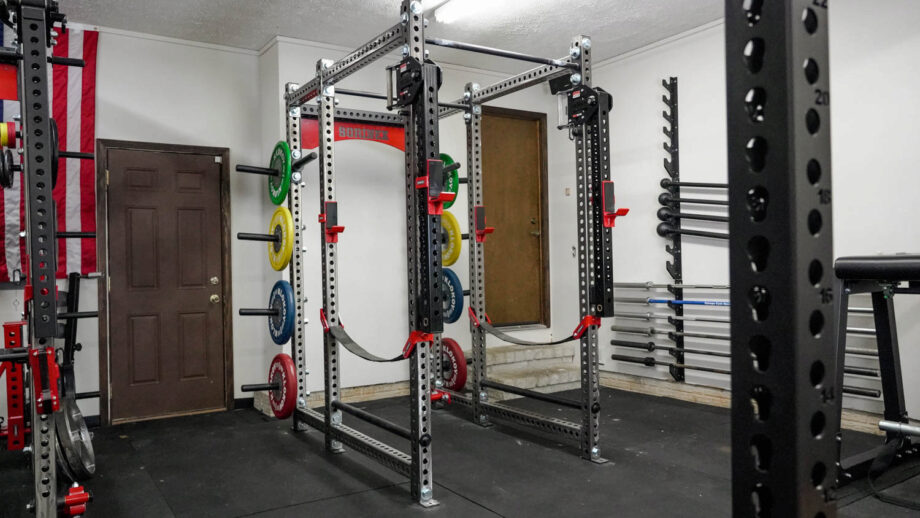 If you want the cheapest power rack we recommend on Amazon, then the Fitness Reality 810XLT Super Max Power Cage is it. This is NOT the most feature-filled, heavy-duty power rack on the market (though it does feature a multi-grip pull-up bar as well as spotter safeties that come standard).
In my opinion, this is one of the most practical squat racks for most people that is more than capable of handling 800-pound squats, which means 99.99% of us should feel safe inside of it. In fact, I loaded more than 900 pounds on this bad boy, and it handled the weight like a champ! (See evidence in my video review of the Fitness Reality 810XLT.)
The Fitness Reality rack is by far the most popular squat rack on Amazon. With nearly 1,000 reviews and still achieving a 4.7/5 star rating, it should suffice to most people who wouldn't have the need for a bigger squat rack.
Unlike many other racks at this price point, there is a lat pulldown and dip handle attachment, making this pretty versatile. The biggest issues we've seen with the rack are some instability and scratches on the paint. We wouldn't recommend trying to perform world record back squats on it, but for pretty much everything else, it should work great in a home gym.
Runners-Up: Titan Fitness and Valor Fitness
The Titan Fitness T-3 Power Rack is one of the best value power racks available. I did a Titan Fitness T-3 Vs. Rogue Fitness R-3 Power Rack comparison, and the Titan stood up to the test extremely well. One reason I suggest the Titan T-3 is the fact that Titan offers all kinds of attachments. In fact, it's pretty safe to say that if Rogue offers a popular attachment, Titan already has or likely will copy it, AND then sell it for much less. For instance, do you want mono-lift arms, landmines, or pull-up bars? They're all available here.
If you'd rather not purchase a power rack, you have quite a few options. My next suggestion would be the Titan T-3 Squat Stand, which is pretty much the same as the T-3 Power Rack, but made into a squat stand. This allows for space savings, but still a 1,000-pound rating on the J-hooks. CAP Barbell makes a very cheap squat stand, but the max weight it holds is 300 pounds. I don't know about you, but if I'm even doing 200-pound squats, I'd want the j-hooks to be able to hold at least double of what I'm working with.
The T-3 Squat Stand also comes with spotter arms, increasing its versatility to a similar level as the Power Rack. You will also have the opportunity to buy the ever-increasing amount of attachments that Titan Fitness is producing. The ability to upscale your gym is always something to consider when purchasing equipment.
Finally, if you just want a stand to use for squats and some bench that quickly moves out of the way, check out the Valor Fitness BD-9 Power Squat Stands. They have a weight capacity of 500 pounds, and are overall highly rated. Still, I would suggest getting a unit with a pull-up bar.
Best Power Bar: Barenaked Powerlifting Bar
Although specialty bars aren't usually recommended on budget home gym equipment lists, the Barenaked Powerlifting Bar is worthy of your consideration because of the sheer value it offers at a budget-friendly price. The aggressive, cheese-grater-like knurling will sink into your hands and provide maximum grip for those heavy lifts. Speaking of heavy, this bar has a 1,500-pound weight limit and is designed with a shaft built to accommodate as many weight plates as your heart desires.
The reason we generally don't recommend specialty bars, such as powerlifting bars, for people on a budget is that your dollar is stretched further with multi-use home gym equipment. But at around $200, the Barenaked Powerlifting Bar is a great deal if you're looking to improve your powerlifting skills without breaking the bank.
Best Weight Plates on Amazon: OneFitWonder Black Bumper Plates
Bumper plates are without a doubt superior to steel for home gym owners. Sure, it's hard to mimic the noise of steel plates clanking during a set of deadlifts, but for the versatility and safety of your home's foundation, I would suggest sticking with bumper plates. However, I do suggest getting a few pairs of steel weight plates in lighter weights to be used as change plates. Just a couple of pairs of 10s, 5s, and 2.5s will do. Trust me, you'll want them. (With this in mind, if you're on a tight budget, iron plates have gotten the job done for decades and can be bought at a lower price than rubber plates.)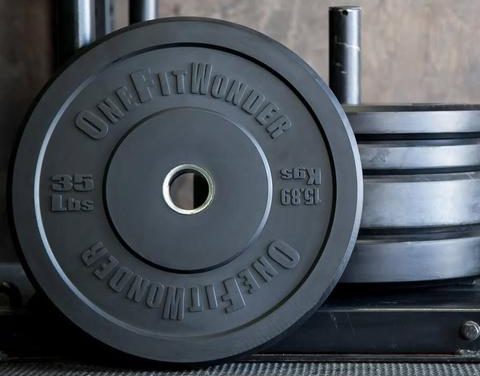 The Black Bumper Plates from OneFitWonder (which is the name that Fringe Sport sells under on Amazon) are an excellent choice. No company has spent as much time trying to bring the best value set of black bumper plates to market as Fringe Sport. For most, I'd suggest starting with a 260-pound set and supplement with metal change plates.
One issue with most black bumper plates is this nasty syndrome called "tacoing." If you haven't heard that word before, don't worry because it's not a real word. What it means though is that the plates, most often the 10-pounders, end up folding on themselves due to being dropped without any other weight on the bar. With steel plates, you don't have to worry about this. But, at least in the past, tacoing was a big deal for gyms, especially CrossFit facilities.
Fringe Sport/OneFitWonder has pretty much perfected the black bumper recipe to not only prevent folding but also cracking and make them virtually indestructible. If you're looking for a good value bumper plate, these are the ones to get, as evidenced in my Fringe Sport Bumper Plates review.
Runner-Up: CAP Barbell
If you're looking for steel plates, I'd suggest checking Craigslist for used plates or purchasing the CAP Barbell Gray Weight Plates. The prices for the CAP Plates vary quite a bit in price, but I'd suggest not buying until they're close to $1/pound, which they often do. (Editor's note: These also go in and out of stock quite a bit, so we recommend keeping your eye on them if you want them.)
Best Air Bike: Bells of Steel Blitz Air Bike
For how affordable the Bells of Steel Blitz Air Bike is, it's surprising that it's built so well and feels just as solid as more expensive options. Features such as a belt-drive system, wind guard, knurled foot pegs, and a 350-pound weight capacity are reserved for the top-end air bikes, though we won't complain about finding them on more affordable options.
Related: Best air bike
The bike is made almost entirely of stainless steel and has 23-inch feet on the front and the back for optimal stability. Again, we can't get over just how high quality this air bike feels.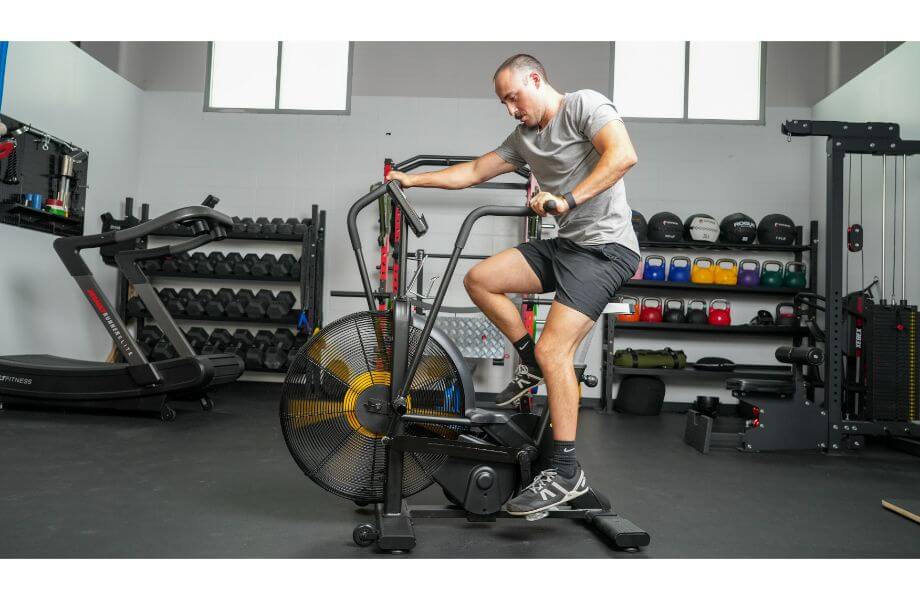 Read our full Bells Of Steel Blitz Bike 2.0 Review
Best Cardio Machine on Amazon: Stamina ATS Rower
People ask me all the time what kind of cardio machine they should put in their home gym. Honestly, it really comes down to a matter of preference. While treadmills or folding treadmills have a place, and I'm not knocking them, the truth is, many of us could just step outside and go for a run. If you're going to invest your money in cardio equipment, I'd say, go for a rower or a bike.
Budget-friendly cardio means that you might make some sacrifices. After all, these are big machines with a lot of moving parts, so when you start whittling down the price, you're going to see some features go out the door: interactive programming, high-quality construction, etc.
All that said, the Stamina ATS Rower is one of the best rowing machines for those on a really stringent budget. It's an air rower that comes in just around $350. Is it the highest quality rower? No. But if you row a few times a week to get the blood flowing and a total body workout, it can definitely get the job done.
The ATS folds in half and easily moves around your home. However, the weight capacity is just 250 pounds, which is something to note before you click "Buy Now."
If you'd rather have a bike, there are a lot of options available. The world of exercise bikes is divided among stationary bikes, air bikes and more. I personally love a good air bike, but you're looking at spending $700 or more for something like the Rogue Echo Bike, which isn't on Amazon.
So, if you want to save money and still get a decent bike, I like the Sunny Health and Fitness Indoor Cycle Exercise Bike. It's a solidly constructed bike, which is pleasantly surprising for something that costs under $400. For starters, it has a 49-pound flywheel and is made mostly of alloy steel. The Sunny bike is belt-driven, which means less maintenance.
One area where this exercise bike could be improved is with magnetic resistance (which Sunny Health and Fitness does make), but that increases the price significantly. All in, this is one of the few stationary bikes under $500 that I would feel comfortable recommending.
Best Adjustable Dumbbells on Amazon: PowerBlock Elite
Adjustable dumbbells are one of the best purchases a home gym owner can make. Not only are dumbbells versatile in their use, but the adjustable versions are compact and offer a broad range of weight increments.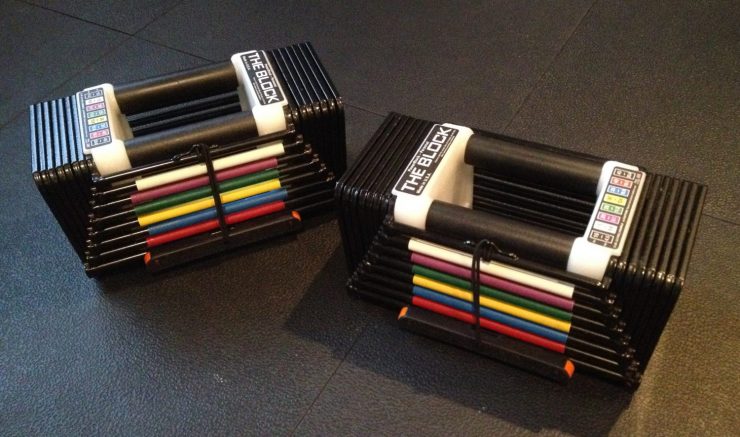 It should come as no surprise that my favorite pair on Amazon is the PowerBlock Elite. In fact, these aren't just the best ones on Amazon; like I say in my PowerBlock Adjustable Dumbbells review, these are the best out there, period.
When you initially look at the PowerBlocks, their unusual shape may make you think they are more difficult to use than traditional dumbbells, but that couldn't be further from the truth. I use my PowerBlock set for everything from dumbbell bench to high-rep dumbbell snatches.
Despite the abuse I've put them through, they continue to perform, and I see no end in sight.
I know the price might initially shock you; but keep in mind that by choosing the Elite dumbbell set, you actually get 16 pairs of dumbbells. That is a full set of weights between 5 and 50 pounds, adjustable by 2.5 pounds.
Runner-Up: Bowflex
If you'd like to spend less and won't need to increase the weight in the future, the Bowflex SelectTech 552 Adjustable Dumbbells are highly rated on Amazon with a 4.7/5 star rating with nearly 3,500 reviews. I've used and reviewed the Bowflex SelectTechs, and although they are reliable, they are a bit bulky.
But, there are many who love the design because they look much more like traditional dumbbells and have no need for a dumbbell that goes up to a heavy weight. One of the biggest benefits of the Bowflex SelectTech is how easy it is to change weight. With the simple turn of a knob, you can go from 5 pounds all the way up to 52.5. (Editor's note: These tend to go in and out of stock, so keep watch).
Best Adjustable Kettlebell on Amazon: Bells of Steel Adjustable Kettlebell
The Bells of Steel Adjustable Kettlebell is a heavy-duty and affordable way to stock your home gym with as many weights as possible without taking up too much space. What we mean by that is you can replace up to 41 kettlebells with just one piece of equipment—simply add more weights to this competition-style kettlebell as you continue to get stronger.
At the end of the day, this is the best adjustable kettlebell on Amazon because unlike similar models it feels like a standard kettlebell and contains zero plastic parts.
Also, yes we did say "competition-style" kettlebell. There are kettlebell competitions and one of the rules is that every kettlebell, regardless of its weight, should be the same size and have the same handle diameter (35 millimeters). Standard kettlebells start off small with tiny handles and evolve into larger bells with even larger handles. Not this one though, and that's one of the things we love about it.
The weight plate adjustments are both a curse and a blessing. It's a curse because you need to use an Allen key to loosen and tighten each plate into the kettlebell, so this isn't exactly the best tool to use if you're into high-intensity interval training (HIIT). On the bright side, the plates come in 0.5- and 1-kilogram increments (1.1 and 2.2 pounds, respectively) which are great for micro loading, or adding small amounts of weight over time to increase your strength and achieve progressive overload.
Best Kettlebell on Amazon: REP Fitness Kettlebell
You may be wondering why a kettlebell would be viewed as an essential item for a home gym. To me, most home gym owners are best served by getting things that give a big bang for their buck. Kettlebells are very versatile to use and can double as a mobility tool.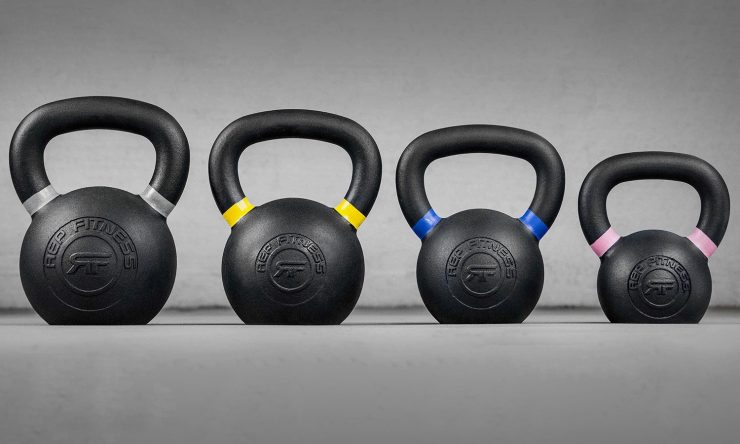 The reason I recommend the REP Fitness Kettlebell is that for the price, it's the best available on Amazon. Most of the cheaper, non-competition cast iron kettlebells have an overly rough finish. This leads to pitting, rusting, and an overall bad experience. The REP Fitness is one of the cheapest priced cast iron kettlebells with a smooth finish. The kettlebells I personally use are made by Rogue, but if I'm not mistaken, those and the bells from REP Fitness are made in the same place.
What separates the REP Fitness Kettlebells from Rogue's is the price. REP Fitness Kettlebells are much cheaper and also on Amazon, where you can get Prime shipping, as opposed to Rogue that charges for shipping by the pound. That's what we call a classic win, win!
The REP Fitness Kettlebells go in and out of stock often but are offered in many different weights–kilograms and pounds–depending on your preference. You can use these for two-hand swings, Turkish get-ups, presses, snatches, and more.
Runners-Up: CAP Barbell, Bowflex
If you don't mind a less-than-perfectly smooth finish and would like a lower price, then I would suggest checking out the CAP Barbell Cast Iron Competition Kettlebells. They are good kettlebells, but the finish is much rougher and will likely not hold up as well over time. That said, they are some of the cheapest available.
CAP is known for making decent workout equipment at great prices. With that in mind, these will be just fine for home workouts, but the finish is much rougher and will likely not hold up as well over time (rusting, pitting, etc.). Still, they ship via Prime shipping and come in a large variety of sizes/weights. And, they're kettlebells. It's a big mass of weight that should outlast you with hardly any maintenance.
The Bowflex SelectTech 840 Adjustable Kettlebell is another great option for people who want a full set of kettlebells but don't want to spend the money–or lose precious space in a home gym. For under $300, you get six kettlebells in one at 8, 12, 20, 25, 35 and 40 pounds. Now, that isn't quite as heavy as some people might want. But if you don't need more than 40 pounds and want multiple options for not a lot of money, the Bowflex adjustable kettlebell is the way to go.
Best Weight Bench on Amazon: REP Fitness Flat Bench
I consider weight benches to be integral parts of any home gym. Obviously, you can use them for bench pressing, but they are incredibly more versatile. I have used many of the best weight benches on the market for everything from lower-body exercises like step-ups to core exercises like leg raises to just sitting down and taking a break because lifting weights is tiring.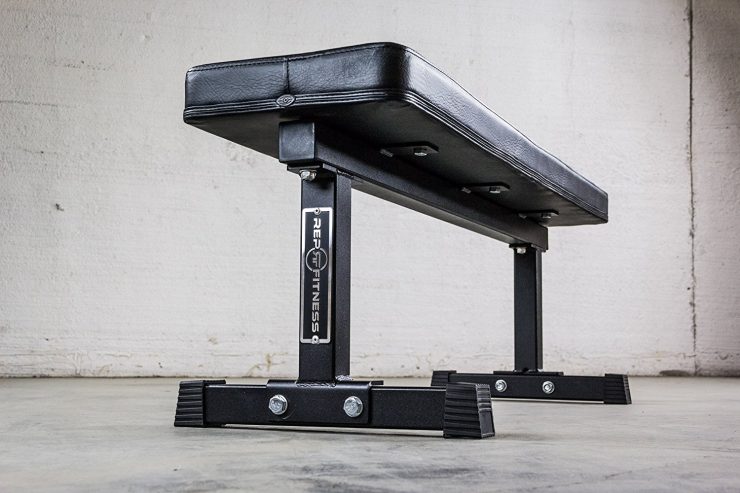 REP Fitness is producing some of the best value equipment available today, and the REP Fitness Flat Bench is no exception. I reviewed it in detail in the past, and I gave it high praise. It does what a flat bench should: it sits at the right height, has durable padding, and is very stable.
It's also priced extremely well. So well, in fact, I'm surprised more people don't talk about it. At less than $200, this bench is difficult to beat. Not to mention it can easily hold 1,000 pounds, which is much more than you or I will ever use while on it. One of the benefits of its bolt-together construction is that you can adjust it depending on the slope of your floor.
My garage floor is flat, so it wasn't needed for me, but if you have a sloped floor, the bolts can be kept loose until settled, which is a nice feature for any home gym setup.
Runners-Up: REP Fitness and AmazonBasics
If you'd prefer an adjustable bench, the REP Fitness AB-3100 is your best bet. It features six ladder adjustments and three seat positions. The pad is super grippy and the bench supports up to 1,000 pounds. Also, it comes in fire engine red, which, excuse the pun, is hot. I've always loved the REP benches for their high-quality construction and performance. This adjustable bench is a little more than $300. There are definitely more affordable adjustable benches on Amazon, but you get what you pay for, and this is worth the investment.
I've tried a handful of the AmazonBasics gym equipment. Overall, it's what you'd expect from super affordable gear: It can get the job done, but it's going to need to be replaced sooner rather than later.
The AmazonBasics Weight Bench is less than $100. IMPORTANT: The weight capacity on this guy is just 220 pounds. If you plan on using even close to that much weight, I'd go with a sturdier pick. However, if you lift lighter weights and just need something for the short-term, this might do the trick.
Best Resistance Bands on Amazon: WODFitters Resistance Bands
I think resistance bands might be one of the most underrated pieces of home gym equipment. They are lightweight, portable, versatile, and extremely affordable. A lot of people view them as good for just beginners, but I beg to differ. You can use resistance bands to hit all your muscle groups in a low-impact bodyweight workout, or implement them in your warm-ups and mobility work.
To be honest, a lot of long-loop resistance bands on the market are essentially the same. I picked the WODFitters Resistance Bands as the best on Amazon because they are priced affordably, perform well, and can be bought as a set or separately. Also, these are large loop bands that are good for doing banded pull-ups (something straight or handled resistance bands really can't do).
As of this writing, there are seven levels of bands to choose from as well as the ability to purchase a set of four.
RELATED: Best Resistance Bands
Runner-Up: Crossover Symmetry
The only reason that Crossover Symmetry didn't take the top spot here is because it's a relatively expensive system. However, I absolutely love it and believe that it's worth every penny of its just-under-$200 price. The Crossover Symmetry system uses tube resistance bands to prehab, rehab and strengthen the shoulders. In fact, "bulletproof shoulders" is one of the taglines Crossover Symmetry uses.
Buying on Amazon, you have three levels of bands to choose from (novice, athlete and elite), as well as the kind of mount you need (squat rack or wall mount). You also get an exercise card to hang near the straps that details workouts as well as access to an online library.
Best Gymnastic Rings on Amazon: Titan Fitness Wooden Gymnastics Rings
Going back to the idea that the items I'm recommending fit under the category "big bang for your buck," there is seemingly no bigger bang for your buck item for upper body exercises than gymnastic rings.
If I were forced to go into isolation and could only bring one strength training item, it would definitely be gymnastic rings. No piece of equipment is more versatile than the rings, and that's exactly what you're looking for when starting your garage gym. Wooden gymnastics rings are far and away superior to plastic. For starters, wooden rings give you a much better grip, which is important for pulling exercises. Also, wooden rings tend to be a little gentler on your hands than plastic ones.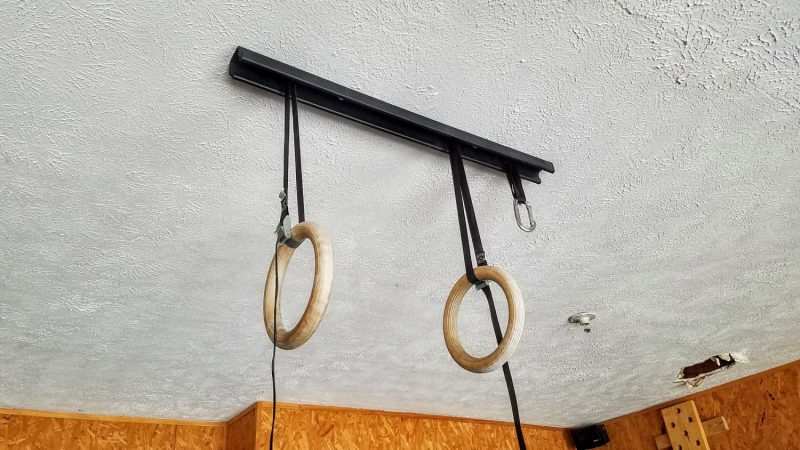 The wooden rings I'd suggest are the ones I have hanging in my garage, the Titan Fitness Wooden Gymnastic Rings.
Despite them being the cheapest (or close to it) on Amazon, they also have a great, heavy duty buckle, smooth wood finish, and varying options for the diameter of the ring. For under $40, that's not just a deal; it's a steal.
The FID ring standard (the ones used in the Olympics) is a 1.1-inch diameter. Most of the cheaper gymnastic rings have a diameter of 1.25 inches, which may seem small, but regarding a ring, it's definitely noticeable. The wider gymnastics rings are available to purchase for a few bucks more if that suits your fancy, but I'd suggest for everyone but those with monster mitts to purchase the 1.1-inch diameter variety.
Runner-Up: NAYOYA
If you have no interest in wooden rings or would like something more durable and able to weather the elements, I'd suggest the NAYOYA Plastic Gymnastic Rings.
I've had NAYOYAs for over 8 years now and use them if I'm going outside or taking a trip. I much prefer wood for its ability to take chalk, but I've had no qualms with the NAYOYAs. To make up for the lack of grip, I've just wrapped them in hockey tape.
Best Jump Rope on Amazon: WOD Nation Speed Jump Rope
A jump rope is a deceptively simple, yet highly effective tool for conditioning. Whether doing double unders, single under, or skips, the jump rope can increase your fitness as well as coordination. As CrossFit has grown in popularity, so has the jump rope market. There are now thousands of different ropes at all different price points.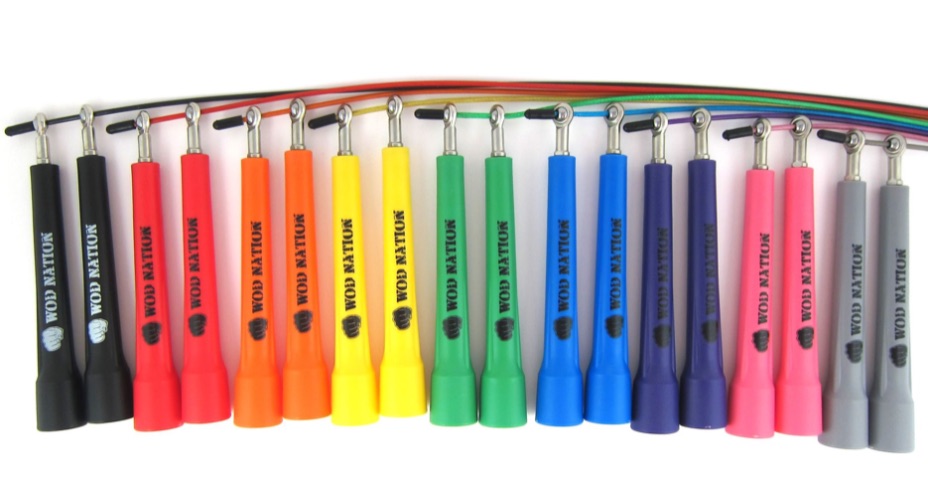 The speed rope I highly recommend on Amazon is the WOD Nation Speed Jump Rope. It's under $20 and spins really well. It also comes in nine color options. The rope is adjustable, but you need to have wire cutters to size it appropriately. Also, make sure to tighten the screws all the way, or else you'll be the person in the gym whose rope literally comes apart during a workout.
Our senior editor here at Garage Gym Reviews, Kate Meier, is an avid CrossFitter who has had her blue WOD Nation rope for five years. She replaced the rope itself once because she disregarded the instructions and did double-unders on pavement too many times. Fortunately for her, and for all of you, there is a spare cable that's included in the purchase price. That's essentially getting two ropes for one.
Runner-Up: XYL Sports Jump Rope
If you don't need a speed rope, but just want a decent rope for skipping, the XYL Sports Jump Rope works just fine. This is absolutely as basic as you can get: foam handles, PVC rope that is 5 millimeters thick (most speed ropes are 2.5 or 4 millimeters at most).
However, this has everything you want from a super basic rope: priced under $10, adjustable length, moves just fine. Kate herself tested this rope, then sized and cut it for her 10-year-old son, who also gave it a try. While it's not great for double-unders or high-speed jumping, it performs just fine for basic cardio exercise. Just make sure to use it on a soft surface; pavement will destroy the rope.
The Cost of Our Amazon Budget Home Gym Equipment Recommendations
So let's say you decided to purchase all of my first recommendations. What would be the cost? Well, let's add it up. And keep in mind that these are the costs at the time of this writing; we are always subject to the changes Amazon makes. Also, we are using Prime free shipping on these estimations:
| | |
| --- | --- |
| Equipment | Cost |
| | |
| REP Sabre Bar | $239 |
| Fitness Reality 810 XLT Super Max Power Cage | $299 |
| OneFitWonder Bumper Plates | $660 for full set |
| Stamina ATS Rower | $349 |
| PowerBlock Adjustable Dumbbells | $359 |
| REP Fitness Kettlebells | $77 for 15kg |
| REP Fitness Flat Bench | $174 |
| WODFitters Resistance Bands | $70 for a set |
| Titan Fitness Gymnastics Rings | $35 |
| WOD Nation Speed Jump Rope | $14 |
| | |
| Total | $2,276 |
So, you'd be able to have a complete home gym for just about any workout you can think of for just over $2,000. And keep in mind that there are adjustments you can make here. For example, the bumper plates' cost is for a full set; you can save money if you just want 10s, 15s and 25s. Same goes for the resistance bands, or the size of the kettlebell.
If you take the typical cost of a gym membership at $60, you will recoup your cost in about two years, and that's not factoring in the time and gas it requires you to commute to the gym.
You'll also be both happier and healthier with a home gym. Involving your family in workouts, being closer to home, and having the opportunity to train more all add up to increased GAINZZZ. If you decided to choose the even MORE budget-friendly options I recommend, your cost would be closer to $1,500, and you'd still have a better gym than most commercial facilities.
RELATED: Home Gym vs Gym Membership
What Home Gym Equipment Do You Need?
Everyone who trains has different goals, but most people who train at home want similar items. They want equipment that will help them get stronger, feel healthier, and look better. In my opinion, one of the best ways to do this is with simple barbell training.
Once you have the essentials to achieve a basic barbell training program, you can begin purchasing items that will supplement your workouts. And, although I mostly review the top-of-the-line equipment, I recognize the fact that many can get just as strong with equipment that doesn't take financing to purchase. The perfect place for building a complete home gym is the place most of you already do your shopping – Amazon.com.The pieces of equipment that I see as essential are:
Barbell
Squat Rack
Weight plates (preferably bumper plates)
Adjustable Dumbbells
Kettlebells
Weight Bench
Gymnastic Rings
Jump rope
All of these items can be purchased on Amazon. The issue is finding quality budget home gym equipment, a.k.a equipment with good VALUE. Amazon is notorious for having lots of items that may be priced well, but are nothing more than paperweights.
There are also many items on Amazon with fake reviews that were purchased by the manufacturer. To help you weed through the B.S, I'm going to show you how to build a home gym on a budget using Amazon.com. Not only will this gym not empty your wallet, but it should be able to be passed to your children.
What to Look for in Budget Home Gym Equipment
I tend to believe that you shouldn't buy something with the intention of having to replace it later because you went super cheap on it. In other words, you should invest in products that are of at least decent quality, if not better.
That doesn't mean that you need to go broke or get the most expensive equipment. In fact, there is a ton of great budget home gym equipment I'd recommend (as evidenced by this list). Still, there are a few things you need to really look for when looking at affordably priced exercise equipment.
User Reviews
If I haven't used a product yet, one of the first things I do is look up what other people are saying about it. Take these with a grain of salt; people love to complain. However, you'll find all sorts of advice in the comments section, from assembly tips to warnings.
Also, if you didn't already realize it, Garage Gym Reviews is overflowing with fitness equipment reviews. We have tested thousands of products and written about hundreds. You can always search on these pages to see what we have to say.
Return Policy
Deeply discounted home gym equipment might come with some sort of "final sale" catch. Even if it doesn't, check out the return policy. You might get a box at your door that has something that doesn't match what you looked at online. Some brands require equipment to be brand new, some offer trial periods. It's good to know what you're getting into before you buy.
Weight Capacity
One of the ways budget gym equipment *could* cut corners is to use lower quality materials and produce a less durable product. If this is a bench or cardio that has to physically hold you and/or added weight, always check the capacity. Quality cardio machines are rated to hold 300 pounds or more, and weight benches are usually able to hold at least 800 to 1,000 pounds. If nothing else, just make sure it can accommodate the weight capacity you need.
Warranty
How long does the manufacturer guarantee the product? What's covered, and what isn't? Most of the time, fitness equipment isn't covered if you use it outside the scope of its intended function. That's a given.
But read the fine print. In some cases, warranties only extend to home use, not commercial use. Also, sometimes warranties are just garbage, like 90 days. That simply won't do. If a brand can't stand by its product for more than a few months, it's a red flag. Next.
Final Thoughts
Building a home gym will be one of the best investments you make in yourself. I cannot explain how great it is to walk out into my garage and hit a workout at any time. Amazon has made the barrier to entry for home gym owners lower than ever before.
But, you must remember that it's not enough to simply have equipment–you need to actually use it. So, before you purchase equipment, commit to using it at least three times a week for two months. Working out by yourself can be difficult, but over time it will become much easier. I also suggest getting a dog to hang out with you while you train; Famous Amos joins me every training session, and I love it!
Budget Home Gym Equipment on Amazon FAQs
How can I make a home gym?
Building a budget home gym can be a bit difficult due to how many options are available. Also, where do you start? First, I have pulled together a list of the most essential home gym equipment. There are certain items I believe most people will need, like:
– Barbell
– Squat Rack
– Weight plates (preferably bumper plates)
– Adjustable Dumbbells 
– Kettlebells
– Weight Bench
– Gymnastic Rings
– Jump rope
From that list, you can customize what will best help you meet your needs. You'll probably want some extras outside that list, like a yoga mat, foam roller, resistance bands, or medicine ball. But if you just want the bare bones, that list is where you can start. 
Is building a home gym worth it?
Uh, yeah!
While a home gym requires a significant initial investment, it will cost you considerably less than a gym subscription in the long term. Some other benefits include: 
– Working out on your schedule and not when a gym is open
– Doing a workout in your pajamas or any other outfit because no one else will see you
– Putting on whatever music you like
Is it a good idea to start building a home gym from Amazon?
Amazon is the world's largest marketplace, which means there are numerous items to help you construct a home on a budget. Amazon is a wonderful place to start if you want to create a home gym.