We test and review fitness products based on an independent, multi-point methodology. If you use our links to purchase something, we may earn a commission. Read our disclosures.
If you think a treadmill is too big for your home, think again. A foldable treadmill could be a great solution for your space versus a traditional, non-folding option. When not in use, foldable treadmills are made to do what their name implies: fold and store. Not only are these treadmills convenient, but some of them still have the bells and whistles you'd expect from a non-folding option.
Whether you want to lose weight, gain endurance, or get faster, there's a foldable treadmill that will work for just about everyone, regardless of fitness level. Keep reading to figure out the best fit for your individual needs.
Why You Should Trust Us
I've tested a ton of treadmills – foldable ones, non-motorized ones, ones made for walkers, ones made for runners. I've even compiled the overall best treadmills for a home gym. When trying out a treadmill, I look at the bigger picture: things like the warranty, price tag, motor, and technology matter to me.
Best Folding Treadmill
Best Folding Treadmill Overall: NordicTrack Commercial 1750
NordicTrack Commercial 1750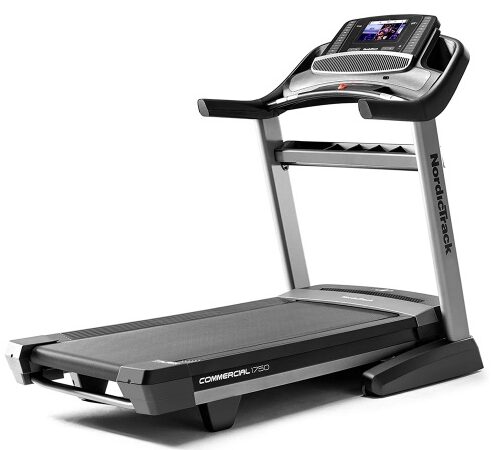 NordicTrack Commercial 1750
The NordicTrack 1750 treadmill features a 14-inch HD adjustable touchscreen with which you can stream iFIT programming on (sold separately). The under $2,000 machine can be financed through the NordicTrack website where you can get deals as low as $49 per month with 0% for 39 months.Models from 2013-2021 of the 1750 had adjustable cushioning, but the 2023 model no longer has this feature.iFIT workouts incorporate Automatic Trainer Control, which allows your trainer to digitally adjust your incline, decline, and speed. This is a nice feature to have because all you have to do is focus on the workout at hand versus frantically switching the controls.
Good for: People who want a folding treadmill with stellar interactive workout programs
Pros:
iFit compatible and comes with a free trial period
14" touchscreen
15% incline settings and -3% decline
3.5 CHP motor
Financing options available
Cons:
Large footprint of 81.25" L x 39.25" W x 62.75" H
Weighs 339 lbs
Warranty will be invalid if your 1750 is stored or used in a garage
The NordicTrack Commercial 1750 is one of the best cardio machines for the price. Not only do you get a 10" touchscreen with which you can view iFit programming, but this foldable treadmill has dual functionality – it has both incline and decline options. Want to pretend you're running downhill? Sure, sounds good! Interested in training for a big hike you have coming up? Yup, the Commercial 1750 has you covered there, too.
If you're a serious runner, the 1750 is a great option to consider. The 3.5 CHP motor is above what you'd want for a solid running treadmill (I'd expect at least a 3.0 CHP motor) and doesn't shake even if you're going pretty hard. If you're someone who likes interactive programming, iFit has great classes that are fun and easy to follow. You do get a free 30-day trial period when you purchase the 1750, but after that it'll cost you – $396 per year for a family plan, $39 per month for a family plan, or $180 per year for an individual plan.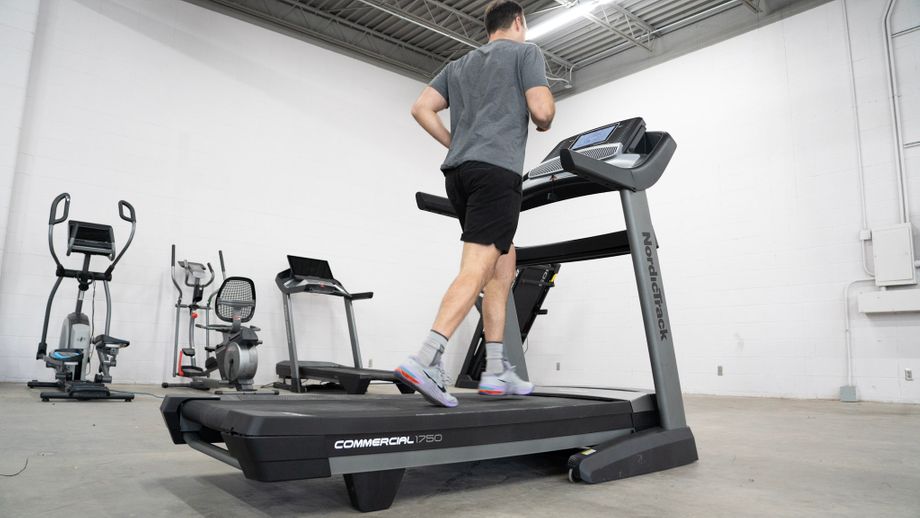 The 1750 has all the bells and whistles you'd hope for on a nicer treadmill. Expect to see Bluetooth connectivity, a holder for your water bottle, device holder, extra storage, speakers, and two fans to keep you cool while you workout.
In terms of things I'm not nuts about, this treadmill is a mammoth. Even though it can be folded up and stored away, it is a process and generally requires a second person (unless the Hulk is secretly reading this). Not only is the 1750 upwards of 350 lbs, but it also has a very large footprint. If you have a small apartment or limited space, this might not be the foldable treadmill for you. 
Check out my full NordicTrack 1750 Treadmill review.
| | |
| --- | --- |
| Footprint | 81.25"L x 39.25"W x 62.75"H |
| Running Deck Size | 22"W x 60"L |
| Weight | 339 pounds |
| Speed | 0-12 mph |
| Incline | -3% decline to 15% incline |
| Motor | 3.5 CHP DurX Commercial Plus Motor |
| Weight Capacity | 300 pounds |
Best Folding Treadmill for Running: Horizon 7.4 AT Studio Treadmill
Horizon 7.4 AT Studio Treadmill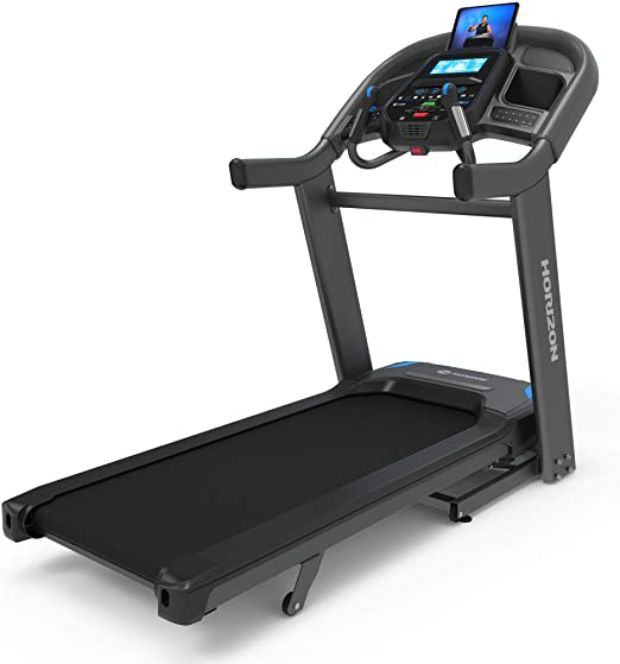 Horizon 7.4 AT Treadmill
The Horizon 7.4 AT treadmill is a workhorse. It isn't a Peloton Tread, nor does it claim to have all the bells and whistles that a technology based treadmill might offer. However, with a 3.5 CHP motor, you'll be able to do pretty much any type of cardio your heart desires. If you're in the mood for some all out sprints, the 7.4 can accommodate you with maximum speeds up to 12 mph. Want to feel like you're climbing a mountain? The 7.4 can help you there too with a 15% incline. Plus, if you're into regular steady state cardio, the 7.4 has a XL running deck of 60 inches, so you can stride without the fear of falling off.Plus, the warranty on this treadmill is stellar. You get a lifetime warranty on the frame and the motor, plus two years on parts and one year on labor. What more could you ask for?
Good for: Those who want a foldable treadmill specifically geared towards runners
Pros:
60" deck is ideal for long strides/running
Quick Dial allows you to quickly transition between inclines and speeds
3.5 CHP motor
10 pre-set programs
Cons:
318 lbs when fully assembled
No included touchscreen
Horizon doesn't have its own interactive programming
Calling all HIIT treadmill workout enthusiasts: The Horizon 7.4 AT Studio Treadmill is a great option for those who want to quickly change their speed or incline mid-run. The quick dial adjustment feature allows the runner to easily switch between speeds or inclines without wasting precious seconds of an all out sprint.
Plus, with a 3.5 CHP motor, the 7.4 hits well above the industry standard for a powerful motor that can withstand intense running. Whether you're into steady state cardio or love to sprint, the Horizon 7.4 is able to support you. There are also 10 pre-set programs to choose from if you just want to hit a button and get your sweat on without much thought.
RELATED: Best Home Treadmill for Running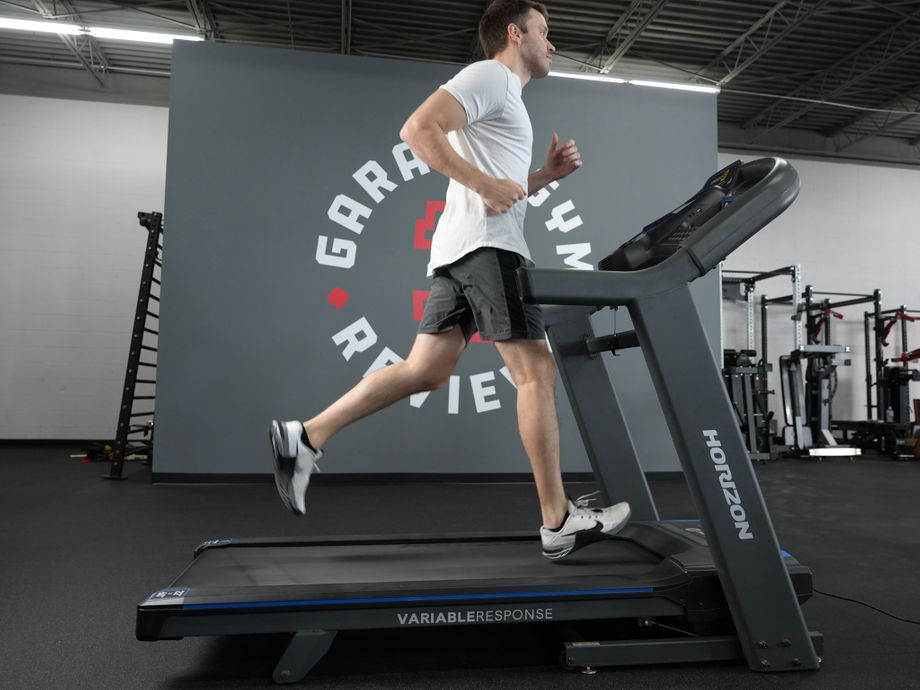 On the downside, this powerful treadmill is heavy. I'm talking over 300 pounds assembled. You will definitely need a helping hand to both move and assemble this hulk of a cardio machine. With a heavy treadmill does come the benefit of an increased user weight capacity. The Horizon 7.4 can hold a runner (or walker) of up to 350 pounds, which is above average for a treadmill.
If you're someone who needs or wants interactive programming, you won't find it with this compact treadmill. However, you could always stream iFIT or Peloton on your device and watch it while using the 7.4. You're definitely paying for the quality of the machine and not all the technology extras, but that's honestly fine with me. I'd rather have a treadmill that I felt was going to last me for years to come versus a gimmicky machine that breaks down within the year.
Like the idea of the Horizon 7.4 AT but think it might be slightly out of your budget? No worries! Horizon makes a less expensive version called the Horizon 7.0 AT (I know, real original). At just $999, this machine has the majority of the same features, but with some caveats. Although both decks clock in at 60 inches long, which is generous, the Horizon 7.0 has a 20-inch deck width versus the 7.4's 22-inch deck width.
The Horizon 7.0 also is slightly less heavy with a lower max weight capacity of 325 pounds. Lastly, the lifetime frame warranty is consistent between the two, but the parts and labor warranties are slightly reduced for the 7.0.
Check out our full Horizon 7.4 AT review.
| | |
| --- | --- |
| Footprint | 76" L x 37" W x 63" H |
| Folded Dimensions | 42" L x 37" W x 71" H |
| Weight | 318 lbs |
| Motor | 3.5 continuous horsepower (CHP) DC motor |
| Running Surface | 60" L x 22" W |
| Speed | 0-12 mph |
| Incline Levels | 0 – 15% |
Best Folding Treadmill for Walking: Sole F63 Treadmill
Sole F63
Sole F63
Named "Best in its Price Range" by Fit Rated, Run Reviews, Treadmill Reviews, and many others. Easy Assist Folding Deck Design makes storing your treadmill easy and convenient. High-end rollers create a static free motion leading to a long lifespan. Smoothest treadmill when making adjustments mid-workout. LCD screen provides real-time statistics to monitor progress towards goals.Plus, Sole has recently released its own version of Peloton-esque programming: STUDIO. You can access a variety of on-demand classes for just $19.99 per month.
Pros:
Just under $1,000
Lifetime motor and frame warranty
Free shipping
Comes with a heart rate chest strap
Cons:
Console features basic LCD screen display
Weighs 325 lbs
Shakes a bit when sprinting or running
For home gym owners who just want a reliable treadmill to walk on, look no further than the Sole F63 Treadmill. This machine has a 3.0 chp motor and a 60" long deck, which makes it an ideal option for those with a longer stride or people over 6 feet tall. Also, a 3.0 chp motor means that if you want to use this treadmill for running, it can definitely accommodate you.
I like that Sole Fitness stands by the durability of the F63 – there is a lifetime warranty on both the motor and frame. It also has cushioning on the running deck to "help reduce the impact on joints by 40%" as claimed by the Sole website. I can't tell you if it actually does reduce joint impact, but I liked it and found it comfortable to use.
Although there isn't a fancy touchscreen to view workout classes on, there is an LCD display that shows you things like heart rate, incline, speed, and preset programs. The F63 even comes with a free heart rate monitor strap, which is a nice extra that can be connected to the treadmill.
For being a budget option, the F63 really shines with its extras. Expect to see Bluetooth speakers, a cooling fan, USB port for charging devices, and an integrated tablet holder. These conveniences really up the desirability of this treadmill for me.
While this treadmill is a great budget foldable option, I wouldn't necessarily recommend it for serious runners. I found that it shook slightly when I really got going. It wasn't enough for me to say never run on this treadmill, but it is something to be aware of.
RELATED: Sole F63 Treadmill Review
| | |
| --- | --- |
| Footprint | 66" H x 82" L x 35" W |
| Weight | 254 pounds |
| Speed | .5-12 mph |
| Incline | 15 levels |
| Motor | 3.0 HP, DC Type |
| Running Deck | 20″ X 60″ |
| User Capacity | 325 pounds |
Best Compact Treadmill For Small Space: Echelon Fitness Stride
Echelon Fitness Stride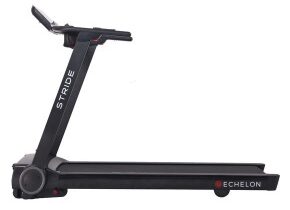 Echelon Fitness Stride
Functionality and technology meet intelligent design in the newest addition to the Echelon product family. Designed with convenience in-mind, the Echelon Stride features auto-fold technology to make heart-pumping workouts more accessible than ever before.
Good for: People who need to store their compact treadmill upright when it isn't in use
Pros:
Just over 10 inches deep when folded
Smaller footprint of 69" L x 31" W X 49" H
Meets international safety standards
156 lbs and easy to fold on your own
Cons:
Smaller running surface
1.75 CHP motor
Spot to put your device isn't very large
If you're searching for a treadmill that not only folds but also is compact, the Echelon Fitness Stride is a great choice for you. The footprint unfolded is smaller than most treadmills, but the real draw for this machine is the depth when folded. At only 10 inches deep folded, the Stride is a solid option for people who need to store their treadmill vertically or against the wall.
Since the Echelon Stride treadmill only weighs 156 pounds, I found it to be easy to fold and store on my own without help from another person. This treadmill is also very simple to get started with and would be good for beginners due to its easy-to-use format.
At just under $1,300, it doesn't come as a surprise that there is no touch screen to view interactive programming. However, there is a device holder where you can put your smartphone to watch Netflix or follow along with a workout. I did notice that the holder isn't all that large and putting my iPad in it seemed almost precarious.
Although the Stride doesn't have a built-in screen, you can connect your own smart device to the Echelon United programming. This costs $39.99 per month and gives you access to thousands of classes including treadmill runs, yoga, strength training, and cycling.
The motor is my least favorite part of the Stride. It isn't very powerful – at 1.75 CHP, this is far less than the 3.0 CHP minimum I recommend for people who plan on running on the treadmill at least 3-4 times a week. However, I would recommend the Stride to someone looking for a decent treadmill for casual running and walking workouts.
Read more details on how I feel about the Echelon Fitness Stride.
| | |
| --- | --- |
| Footprint | 69.3 × 31 × 49.2 in (69.3 × 31 × 10.25 in folded) |
| Running deck size | 55 x 20 inches |
| Weight | 156 pounds |
| Speed | 0-12 mph |
| Incline | 0-10% incline |
| Motor | 1.75 CHP |
| Weight capacity | 300 pounds |
Best Budget Compact Treadmill: UREVO 2 in 1 Under Desk Treadmill
UREVO 2 in 1 Under Desk Treadmill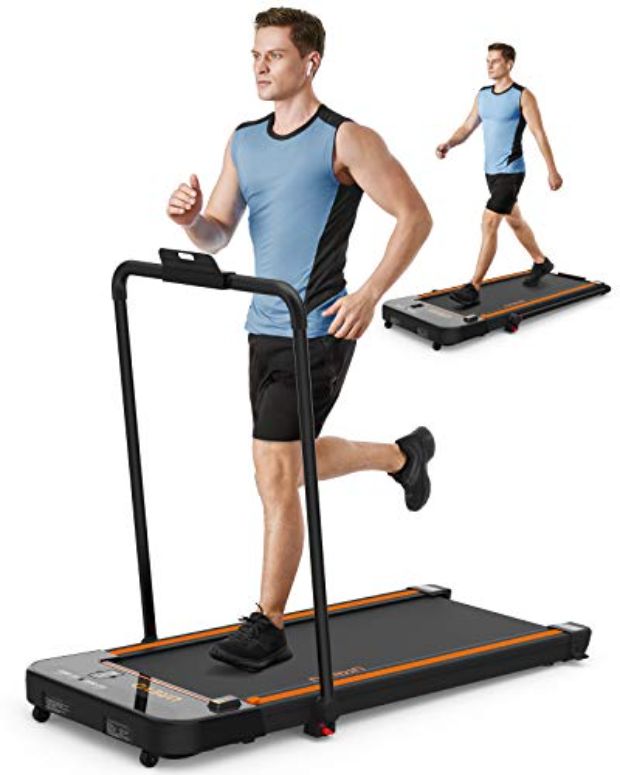 UREVO 2-in-1 Under Desk Treadmill
If you live in an apartment or other compact space, the UREVO 2-in-1 treadmill might be a good option for you. This lightweight machine clocks in at under 60 pounds, which makes it easy to fold and move into a closet or against a wall to free up space. Plus, the handle easily folds down to allow it to be used under a desk while working from home.However, the deck itself is very thin and short. If you're over 5'9", this treadmill might be too short for you to take normal length strides. Although the machine has a maximum speed of 7.6 mph, you likely wouldn't be able to take appropriate strides if you're of average height or taller. However, I personally wouldn't really recommend anyone use thew UREVO for running, as it is better suited for slow paced walking.
Good for: People who want a foldable treadmill but are on a strict budget
Pros:
Under $400
Handle can be folded under to use under a desk
Easy to store and good for people in tight spaces
Cons:
Short and skinny deck not ideal for running
User weight capacity below industry standard at 265 lbs
Max speed of 7.6 mph
Tight on space and on money? The UREVO 2 in 1 Under Desk Treadmill is a great solution for both issues at under $400 and with a folded footprint of 54.7" x 26.4" x 5.1". I found this treadmill was extremely easy to move around because it's only 59 pounds. This lends itself to being a great option for people who need to move their machine from room to room without much strain.
RELATED: How to fix a treadmill
I would recommend using the UREVO only for walking, unless you have a really short stride. I'm 5'9" and had to make a conscious effort to shorten my stride to avoid falling off this treadmill while jogging. To put it frankly, this treadmill has a really small deck. At 16.9"x 42.5'', the UREVO is hitting well below the expected standard of at least a 50-inch long deck (although preferably for running, you want it above 55 inches).
RELATED: How to move a treadmill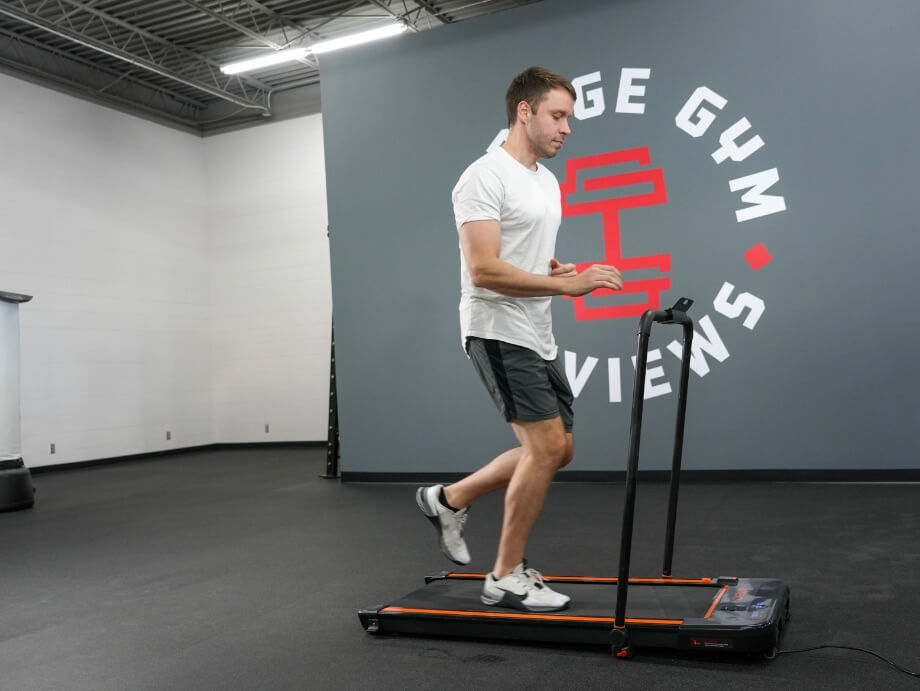 The motor of the UREVO is impressive (for the price) at 2.5 CHP. If only the deck was longer and wider, this treadmill would be a good option for consistent jogging. I do like that you're able to fold down the handle to stick this compact machine under a standing desk, which is super convenient for those of us who work from home.
I know I struggle to always hit my daily step goal, especially if I'm swamped at work. The UREVO can help keep you moving throughout the day at a slow and steady pace. Although the machine does have a max speed of 7.6 mph, I wasn't able to run at that pace due to the length of the deck. However, that doesn't mean the treadmill isn't a good buy. In fact, I think it does exactly what it was designed to do: be a great budget compact treadmill ideal for walking.
Check out my full UREVO 2-in-1 Under Desk Treadmill review.
| | |
| --- | --- |
| Horsepower | 2.5 hp motor |
| Top speed | 7.6 mph |
| Running deck | 16.9" x 42.5" |
| Minimum speed | .6 mph |
| Folded dimensions | 54.7" x 26.4" x 5.1" |
| Easy folding | Yes |
| Unfolded dimensions | 52.6" x 26.4" x 39.7" |
Best Smart Folding Treadmill: ProForm Pro 9000 Treadmill
Good for: People who want great interactive programming and the latest technology
ProForm Pro 9000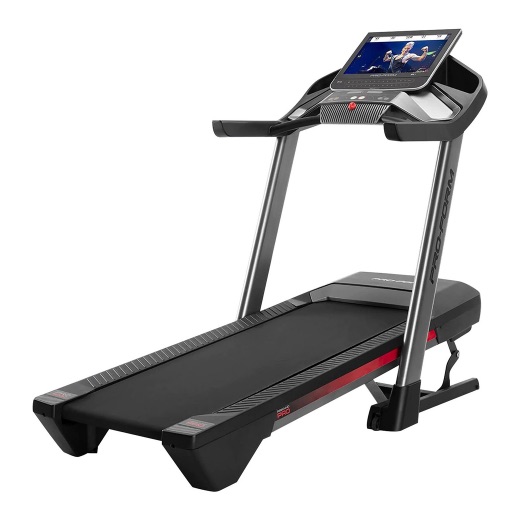 ProForm Pro 9000
Take your training to the next level with an iFit Family membership on the Pro 9000 treadmill. Engage in a whole new workout experience as streamed live and on-demand personal trainers lead you in studio classes and take you all around the world, automatically controlling your treadmill's speed, incline, and decline to give you a unique, hands-free workout.
Pros:
22" touchscreen
iFIT is compatible and comes with a free trial period
Cooling fans and Bluetooth speakers are great extras
3.6 CHP motor is good for running
Cons:
Difficult assembly requires two people
WiFi connectivity might be spotty
Less than responsive live chat
If you love the latest technology combined with a very solidly constructed piece of equipment, you'll likely love the ProForm Pro 9000 Treadmill. With a gleaming 22" screen and compatible iFIT programming, this treadmill hits all the marks for an excellent smart compact treadmill. iFIT compatibility means you can run through gorgeous beaches or mountains (virtually, of course) while the machine automatically adjusts your incline/decline and speed.
The ProForm Pro 9000 Treadmill has a 3.6 CHP motor and 12 different speed options, which means you can feel good about jogging, running, sprinting, or even doing intervals. When I tested this treadmill, I was very pleased with how little shake there was, regardless of the speed I was going.
RELATED: Treadmill HIIT Workout
The Pro 9000 features both incline and decline options (-3% to 12%), which is ideal for runners who want to simulate outdoor exercise or people training for a hilly race.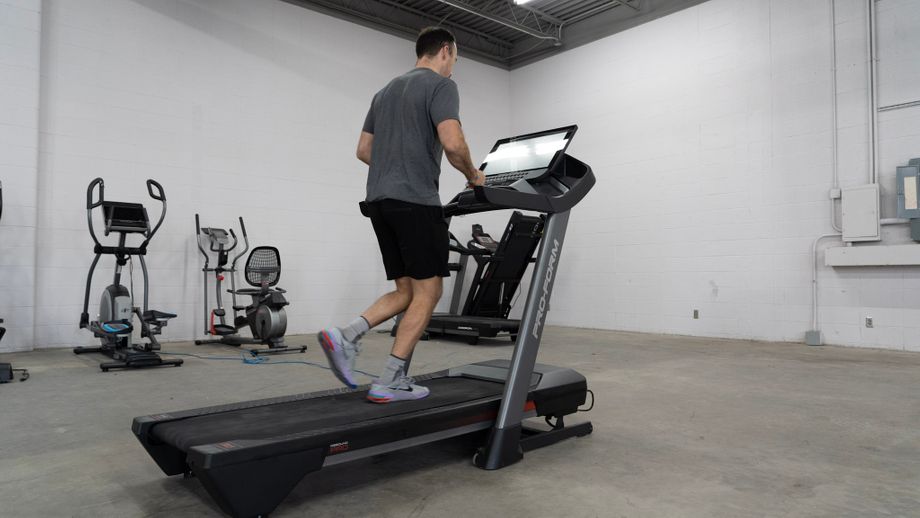 One of my least favorite parts of this treadmill was the assembly process. It is fairly complicated and definitely requires the help of another person. I also had issues connecting the treadmill to my WiFi. I don't think I was alone in that struggle – I noticed many customers in the reviews mentioned their personal frustrations with getting the technology to work.
The customer service was also surprisingly not stellar. Although the ProForm website does have a live chat option, they often refer you to a separate email or phone number and don't really answer your questions. When I emailed the brand, it took them almost a week to respond, which isn't great if you need tech support or assistance with another urgent matter.
Read all my thoughts on the ProForm Pro 9000 Treadmill.
| | |
| --- | --- |
| Footprint | 35.5″ wide by 77.3″ deep by 59.6″ tall (foldable) |
| Weight | 263 pounds |
| Speed | 0 to 12 MPH |
| Incline/decline range | -3 to 12% |
| Motor | 3.6 CHP Mach Z™ |
| Running deck | SpaceSaver® Design with EasyLift™ Assist |
Best Folding Treadmill Under $500: XTERRA TR150
Good for: A super budget-friendly treadmill option that folds for easy storage.
XTERRA TR150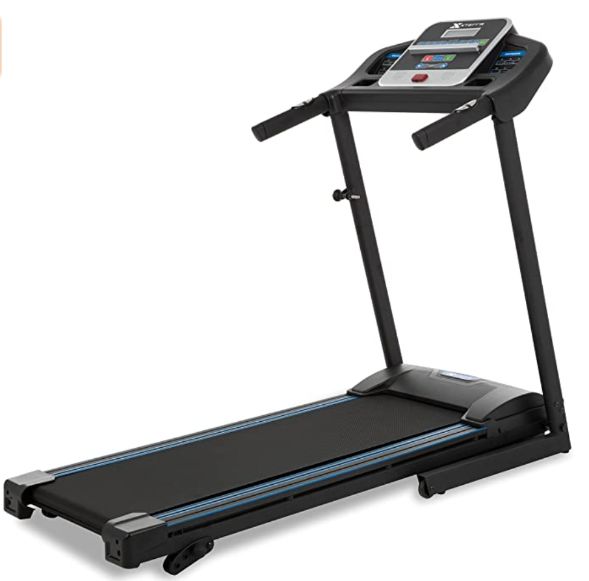 XTERRA Fitness TR150 Folding Treadmill
The XTERRA TR150 is a space-worthy investment best suited for beginner walkers to speed walkers. Featuring 12 preset programs, speeds ranging from .5 to 10 miles per hour, three manual incline settings, and an easy pull knob release for convenient storage, the XTERRA TR150 was developed with performance, comfort, and safety in mind. The 16-inch-by-50 inch walking surface is on the smaller size but is big enough to accommodate most users when walking or light jogging. The 5-inch LED display provides simple yet important stats during your workout including time, speed, distance and calories. The XTERRA TR150 is designed for convenience with an integrated bookrack and accessory holder to keep things like a remote control or phone close by. The hand grip pulse sensors are mounted on the side handlebars but users report that the heart rate readings are often inaccurate (as is often the case with grip sensors). The XTERRA also provides a soft cushioned deck intended to absorb impact and keep joints safe during workouts. If you are an avid runner looking to train hard, this is not the treadmill for you. With a 2.25 horsepower motor, the XTERRA TR150 is not intended for fast or sustained running.  Additionally, users report that the incline is almost unnoticeable. So, before you buy, be sure to know how you intend to use it!
Pros:
Under $500
Lifetime frame warranty
Easy to assemble
Intuitive controls
Cons:
No gas shock on the folding mechanism
Useless accessory holders
User weight capacity of 250 lbs
If you're counting your pennies to buy a compact treadmill, you'll likely appreciate the XTERRA TR150. On Amazon, you can purchase this ultra-budget friendly machine for around $400 with free shipping.
Obviously, with a really inexpensive option like the TR150, you'll be sacrificing some features like a longer deck length or a built-in display. However, I love the lifetime frame warranty XTERRA has on the TR150. It makes me feel like the brand is confident in their product and durability.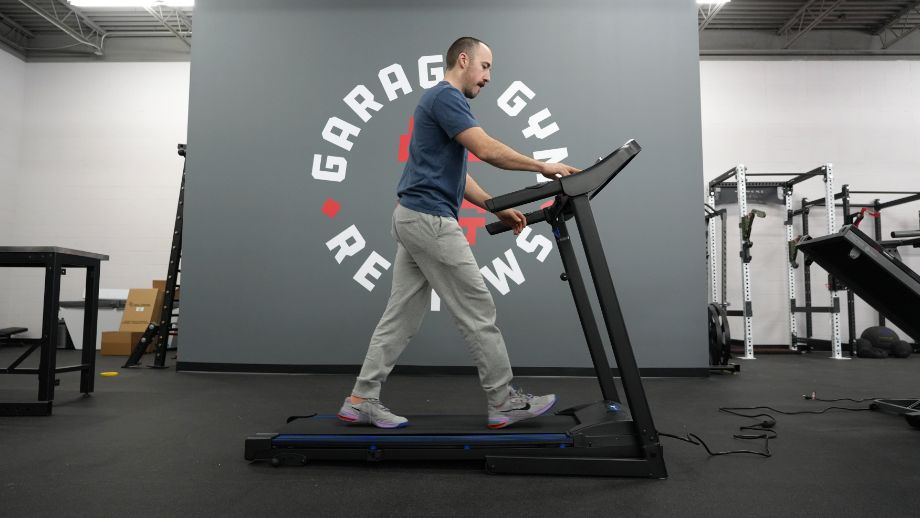 Something to be aware of in terms of the TR150 is the lack of gas shock on the folding mechanism. Hide yo kids, hide yo poodles, because this can be dangerous if they're around. This doesn't mean don't purchase this machine, but be aware of your surroundings when lowering the deck to the ground.
You won't be able to just release the deck and let it drop, because it will slap to the floor with speed since nothing is stopping it. Pro tip: gently lower the deck to the floor, and don't let any little hands or paws around.
For those of us who hate assembling complicated furniture or exercise equipment, don't fret! The TR150 is one of the simplest treadmills I've assembled to date, with it taking me just 30 minutes solo.
Check out our full XTERRA Fitness TR150 review.
| | |
| --- | --- |
| Dimensions | 63.4 x 28.75 x 51.4 inches |
| Weight | 108 lbs |
| Weight capacity | 250 lbs |
| Horsepower | 2.25 HP motor |
| Price | Under $400 |
| Speed range | .5-10 MPH |
| Deck length | 50 inches |
Best Folding Treadmill for Beginners: GoPlus 2-in-1 Folding Treadmill
Good for: Those looking for an easy-to-use and compact folding treadmill
GoPlus 2-in-1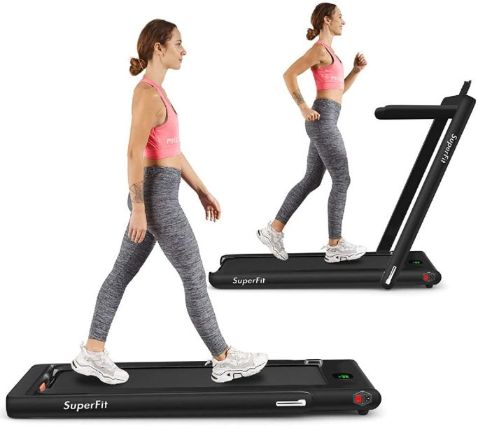 GoPlus 2-in-1 Folding Treadmill
If you are new to the world of exercising, enjoy walking, or are an occasional jogger, the GoPlus 2-in-1 Folding Treadmill could be the treadmill for you. The GoPlus 2-in-1 offers two sport modes, running and walking, with maximum speeds of 8 miles per hour and 2.5 miles per hour respectively. With a 2.25 horsepower motor, it can easily be used under a standing desk so you can get your workout in while working. The GoPlus 2-in-1 Folding Treadmill features a five-layer non-slip and shock-absorbing running belt, safety key, Bluetooth speaker, remote control to change speeds and a phone mount on the handrails. With these features, you can connect and listen to your favorite music, watch a show or talk on the phone all while getting a workout! Although the running surface is a bit smaller than most measuring 40 inches by 16 inches, it does provide cushioning to decrease the tension put on your back, joints, knees and ankles.The LED display has a sleek and minimalist design which shows time, speed, distance and calories, monitoring your movement data in real time. Overall, this is a great budget treadmill for the right customer. That said, the GoPlus 2-in-1 Folding Treadmill is not built to withstand any sustained or fast running. Additionally, because of the smaller running deck and fixed handrail height of 3.5 feet, the GoPlus 2-in-1 is not a good fit for taller people.
Pros:
Compact
Under $400
Easy assembly
Minimal noise
Cons:
Not good for fast runners
Small running surface
No incline/decline option
What you see is what you get with the GoPlus 2-in-1 Folding Treadmill, which is why it's a great choice for beginners. Yeah, it doesn't have many of the fancy tech features that more expensive options have but when you're first getting started you don't need any of those.
To be clear, this isn't a good choice if you're looking to work on your running form. For one, the max speed is only eight miles per hour and due to its compact nature there's not much running surface. But you have to learn how to walk before you can run, and you'll certainly be able to do that on this treadmill.
If you're someone who works from home, you'll be happy to know that this treadmill can fit under a desk so you can get a quick jaunt in during your next Zoom meeting.
We should note that this treadmill comes with optional handlebars, but you can't fold the treadmill if you add those on so it kind of defeats the purpose. And it doesn't have the gas shock folding mechanism that other folding treadmills have, but because it's so small that won't be much of a problem.
Read our full GoPlus 2-in-1 Folding Treadmill review for more thoughts on this machine.
| | |
| --- | --- |
| Dimensions | 49"x 27"x 42" |
| Weight | 69.5 lbs |
| Weight capacity | 265 lbs |
| Horsepower | 2.25 HP ultra-quiet motor |
| Price | Under $400 |
| Speed range | 1-8 mph |
| Deck length | 40 inches |
Best Folding Treadmill for Seniors: ProForm Carbon T7
Good for: Seniors looking for a treadmill with shock absorption
Pros:
Running deck is cushioned
Has cooling fans
Free 30-day iFIT subscription
Cons:
Running surface isn't the biggest
Makes a little noise
Doesn't come with floor stabilizers
The reason we picked the ProForm Carbon T7 for seniors is due to the company's "ISO Flex Cushioning," which provides some shock absorption. I've had ankle reconstruction surgery, and I felt fine using this thing so it'll be great for anyone looking to protect their legs and knees.
Another reason is due to the EasyLift assist technology. Even though this things weighs a whopping 223 pounds, folding and unfolding it is a breeze and the gas shock means you won't hear it slam on the ground when you're ready to use it. You simply pull a knob on the side of the machine, raise or lower the deck, and you're in business.
If you're a senior who still loves to run, and we mean really go at it, you should know this treadmill can be slightly shaky at higher speeds. That's because it doesn't come with floor stabilizers, and for that reason should also not be placed on carpet. But if you're just using it to walk or go on indoor jogs it'll do just fine.
If you're looking for a more budget-friendly option, we recommend the Sunny Health & Fitness SF-T7515 Auto-Incline Treadmill, which is under $600. The ProForm is just under $1,000, but it's a little more durable than the Sunny Health & Fitness option.
Read our full ProForm Carbon T7 review for more information.
| | |
| --- | --- |
| Dimensions | 73.5" x 35.2" x 57.5" |
| Weight | 223 lbs |
| Weight capacity | 300 lbs |
| Horsepower | 2.6 CHP motor |
| Price | Under $1,000 |
| Speed range | 0 – 10 MPH |
| Deck length | 20 inches |
Other Treadmills We Researched or Tested
We have yet to get our hands on these treadmills, but did some research and read reviews on them to give you additional options:
Bowflex Treadmill 10: At $2,000, this treadmill includes extras like a 10" touchscreen, 1 year free interactive programming with JRNY, and decline options. With a variety of cool extras (like Bluetooth connectivity) this treadmill could be one of the best folding treadmills with premium features. (Full Bowflex Treadmill 10 review here.)
Sunny Health & Fitness Folding Treadmill: Although this foldable treadmill might not be the best option for someone who wants to run, the under $500 price tag can be enticing for those who like to walk.
ProForm Carbon T10: Looking for the best folding treadmill with guided programming? The Proform Carbon T10 has a 10" touchscreen with which you can view hundreds of iFIT classes from the comfort of your home.
Sunny Health & Fitness SF-T7603: This budget friendly compact treadmill doesn't have lots of bells and whistles, but if you're okay with that, this machine is a good option. Since the deck is on the smaller side, it would be best used for those who simply want to walk or lightly jog.
Horizon Fitness T101 Treadmill: While not quite the best smart folding treadmill, the Horizon Fitness T101 does have Bluetooth connectivity to sync your device to the machine. At under $800, you get the best of both worlds- some smart capabilities without the hefty price tag.
How We Picked and Tested
Before I tested a single treadmill to compile this roundup, I first determined the categories I would be testing each against. Here are the things that helped me decide which foldable treadmills made the cut and which didn't:
Footprint and portability
Delivery and setup
Durability
Customizations
Adjustability
Ergonomics
Workout experience
Technology capabilities
Conveniences
Dynamic programming
Customer reviews
Value
Financing, returns, and warranty
Customer service
Each foldable treadmill was put through a variety of different workouts – walking, running, jogging, sprinting, and intervals. I tried out all the features available on each including things like the Bluetooth speakers, USB ports, touch screens, fans, and quick select buttons. It was also important to me to see how easily each of these treadmills could be folded (since that's a big reason one might purchase a foldable treadmill) and stored away.
RELATED: Best Treadmill Workouts
What is a Folding Treadmill?
It's exactly what it sounds like: a foldable treadmill. However, compared to ordinary treadmills, these models have less strong frames and may not be able to sustain the more severe exercises you are used to. When you're not using it, a foldable treadmill's running deck pivots up and locks, taking up less room. It also includes wheels, making it easy to transport to and from storage.
Folding Treadmill Safety
Before folding or unfolding a new treadmill, it is important to note whether or not the machine has a gas shock. A gas shock will allow the treadmill deck to slowly and gently lower to the ground once released. If your treadmill is foldable but does not have a gas shock (like the XTERRA TR150), be aware of your surroundings. A machine like the XTERRA will not unfold gently and will instead slam to the ground when released. Make sure to watch out for little hands, paws, and your own feet.
Benefits of Folding Treadmills
You might be asking yourself, "Why the heck should I choose a folding treadmill over a regular one for my home?" This is a valid question, and one I can hopefully answer for you pretty quickly and easily.
Easy Storage
One of the main reasons people prefer to purchase foldable treadmills over regular ones often has to do with being able to store the machine. If you need to be able to constantly store your treadmill away for whatever reason, it makes sense to purchase one that folds.
Space Saver
If you have a small space, getting a foldable option is helpful to alleviate some of the worry about where you'll put it. Regular treadmills can be bulky and have to be left out all the time. If you purchase a folding treadmill, you'll have less space concerns.
RELATED: Best Compact Exercise Equipment
Quality
Gone are the days of all folding treadmills being low-quality – today's options that fold can be just as durable and long lasting as their non-foldable counterparts. If you have the option to pay the same price for a treadmill that folds versus doesn't fold, why wouldn't you choose the one that provides an easy storage solution?
What to Look for in a Compact Treadmill
Picking out a compact treadmill can be daunting – with hundreds of options on the market, how are you supposed to know which ones are best? Garage Gym Reviews has you covered with the things you should think about before purchasing.
Dimensions
Because they're easy to stow between exercises, folding treadmills are a popular choice for compact rooms. However, when unfurled, a folding treadmill can be nearly the same size as a standard treadmill, so be sure to check the unfolded measurements of a compact treadmill before purchasing.
Running or Walking
Depending on what you plan to use your treadmill for, you'll want to check on two factors: the horsepower the motor is capable of and the size of the deck. If you're only planning to power walk and occasionally throw in a jog here and there, a motor with 2.0-2.5 chp will do just fine. However, if you're a serious runner, you'll want to look for a folding treadmill with over 2.5 chp. This will let you know the treadmill is powerful enough to support routine running.
In terms of deck size, if you're planning to frequently run or sprint, you'll want a deck size that exceeds 55 inches long and 20 inches wide. This will ensure you're able to take normal/natural strides when running. The last thing you want is to be mid-run and falling off your compact treadmill because the deck wasn't long or wide enough to support you.
Incline
Not all folding treadmills have incline capabilities, but generally the more expensive options do. You'll have to decide if this is worth the extra cash for you. For those who particularly like to power walk uphill, you may decide this feature is a must.
Easy Collapse
Some of the heavier foldable treadmills can be a pain to actually fold, and may even require two people to do the job. If you don't have another person available to help, you may want to make sure your new treadmill has an easy collapse feature.
Weight Capacity
Some treadmills have a higher weight capacity than others. So, when you buy a treadmill, be sure it can support you along with any extra weight you might be wearing or using while exercising.
Warranty
The gold standard for warranties in the treadmill space is as follows: 1 year for labor, 2 years for parts, and 15 years to life for the frame. Obviously, not all compact treadmills will have the best of the best, but this is something to keep in mind.
Budget
When determining which foldable treadmill is best for you, it is crucial to look at what your ideal price point is ahead of time. If you decide to spend under $1,500, you may not get things like a touchscreen display for programming or dual cooling fans. Having realistic expectations based on your budget is important to know in advance so you aren't disappointed. However, spending less than $500 on a treadmill is generally not worth it because the quality of the machine just won't be there. It makes more sense to save a bit longer to get a treadmill that will last.
Features
What does your ideal folding treadmill look like? Does it need to have a device holder, a touch screen built-in, or two water bottle holders? Decide what the non-negotiable features are for you. Your ideal foldable treadmill may need to have horsepower higher than 3.0. It may also be important to you to check what the weight capacity is – anything less than 250 pounds is something to be concerned about.
Speed
Treadmills can vary in top speed from 8 miles per hour all the way to15. Generally speaking, most people will not need to go past 10 miles per hour. However, if you are someone who does a lot of sprinting or is particularly fast, make sure the treadmill you choose can accommodate what you need.
Size
Even though foldable treadmills are made to be compact than a traditional treadmill, they can still vary wildly in size. Determine how much floor space you have to spare for the treadmill both fully extended and folded. Don't forget to account for things like the running belt moving or an HD touchscreen jutting out when calculating how much space you need.
Technology
Some people go nuts for high-quality, interactive programming (like that of the Peloton and Peloton alternatives) because it makes working out easier for them. Others prefer to make their own workouts and don't really need to pay extra for something that can stream interactive programming to their treadmill if they'll never use it. Another option is to purchase a monthly subscription to a fitness app and simply use the attached tablet holder to place your device and watch programming.
Best Folding Treadmill FAQs
Which folding treadmill is best?
Do folding treadmills work well?
Yes, folding treadmills can be a great option for home gym owners. Generally speaking, foldable treadmills are easier to store and more, making them an ideal choice for those low on space.
What is the best most compact treadmill?
What is the best folding treadmill with incline?