We test and review fitness products based on an independent, multi-point methodology. If you use our links to purchase something, we may earn a commission. Read our disclosures.
A treadmill can be a super useful addition to your home gym. You can walk, jog or run at any time of day in the comfort of your own home, and it's a great way to ensure you're able to incorporate much-needed cardiovascular activity into your fitness routine.
Putting all the treadmill benefits aside, when it comes to buying a treadmill, the tricky part is having to move this piece of equipment. It can be bothersome if your treadmill doesn't have wheels or the ability to fold. And what about tight corners or doorways? Whether you're moving to a new home or transporting the machine to a new location, we've got the tips and tricks to help you figure out how to move a treadmill safely and effectively with ease.
Before Moving a Treadmill
There are multiple factors to consider before moving a treadmill:
Where are you going?
Will there be enough room?
How many flights of stairs, if any, will you need to tackle?
Is your treadmill a heavy behemoth, like the NordicTrack Commercial 1750, that will require a helping hand or even professional movers?
Will you need moving supplies, like a moving truck or moving blankets, to assist in the process?
In some cases—especially if there are a lot of stairs involved—it may be best to hire a moving company to move your fitness equipment for you. The extra precautions could help prevent serious injury, as moving heavy equipment like this is not to be taken lightly.
But, if you do decide you can move a treadmill on your own, there are a few things you need to do. Before we get into the details, make sure the treadmill is turned off and unplugged before attempting to move anything. It's also recommended to remove the safety key from the treadmill.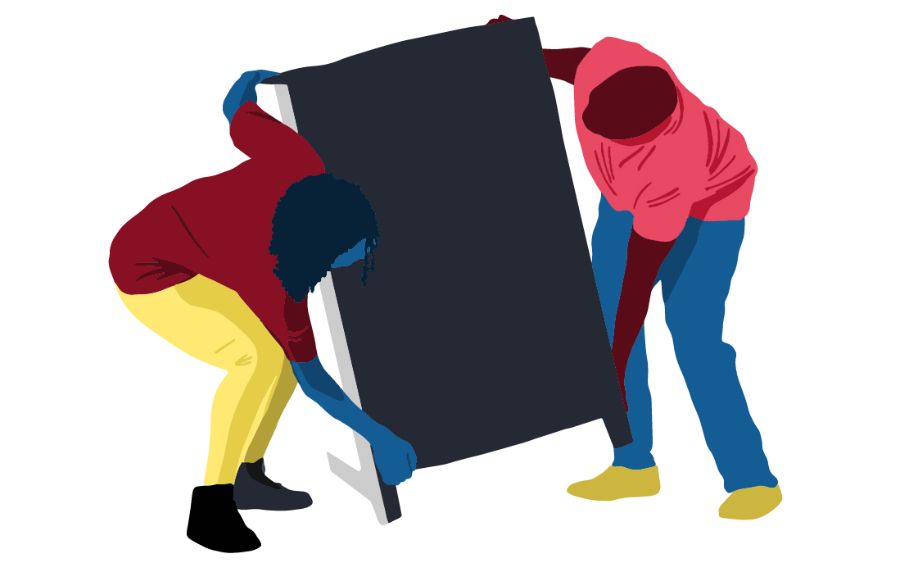 Each treadmill will come with its own challenges because not all treadmills are created equal–they range from big and bulky to small and foldable, like the GoPlus treadmill. We recommended having your owner's manual handy for questions that may come up during the planning process.
Size & Weight of Treadmill
Before you attempt to move a treadmill, it's a smart idea to take measurements of the machine and get a gauge of how easy it will be to maneuver the treadmill through your environment (doorways, stairwells, tight turns, and other obstacles). Commercial gyms typically have ADA-accessible passageways measuring 3 feet wide. You might be lucky enough to have wide openings in your home, too, but in many older homes that's not the case.
For garage gyms, these measurements may be less crucial since you'll probably be working with a wider opening. However, in a basement gym, for instance, you could face doorways less than 30 inches wide with a treadmill that measures much wider. In the case of tight spaces and narrow entryways, choosing a more compact treadmill from the jump might be a better choice.
Checking the weight of your treadmill (in the owner's manual) will also give you a sense of how easy it will be to move. Some treadmills—even some of the best budget treadmills—weigh close to or more than 300 pounds, while others are less than 100.
Related: Check out our NordicTrack EXP 7i Treadmill review.
Folding or Non-Folding
We've tested our fair share of folding treadmills here at GGR, and it certainly can make the moving process easier. Check out the owner's manual for your machine to see how it folds and where the safety lock is located. With some treadmills, the handrails fold down toward the belt and with others, the belt folds up toward the handrails. Safety tip: Check to make sure the safety pin is in a locked position before moving away from the treadmill in the folded position.
Can It Be Moved on its Wheels?
If the treadmill in question has wheels, that's a win! It might not make corners and tight spaces easier, but once you're in open areas you can tip the treadmill up onto its wheels and start rolling, rather than carrying it across the house. A treadmill with wheels needs to be tilted up (perhaps folded first, then tilted) onto its wheels slowly and with caution. Once it's tilted on its wheels, follow the path you cleared to get to your final destination.
How to Move a Treadmill Safely
Check the Treadmill Manual
After you've purchased a treadmill, it's a good idea to keep the owner's manual; this is true for any piece of large equipment, really. When attempting to move a treadmill, the owner's manual will come in handy. If you don't have the manual on hand, head over to a search engine and type in "owner's manual" in addition to the make and model of your treadmill. You have a good chance of finding a web-formatted version of the manual you need.
The manual can help answer a few questions before you get started, like how much it weighs, the overall footprint, folding features, and disassembly requirements (if any).
RELATED: Treadmill Buying Guide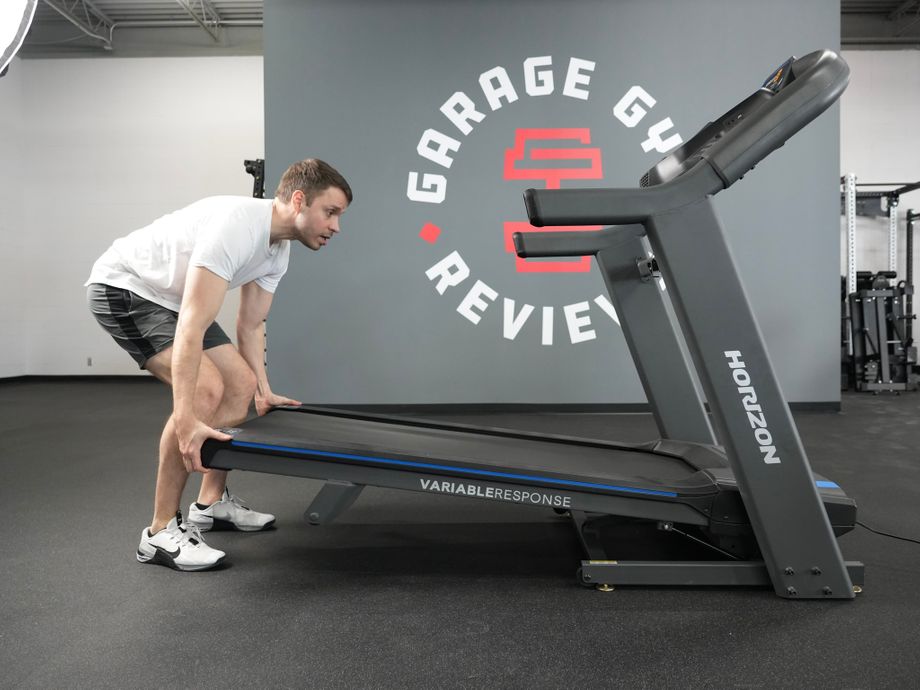 Fold Your Treadmill
After checking in with your owner's manual, you will know if your treadmill offers a folding component, like the Echelon Stride treadmill, or not. When it does not feature a folding mechanism, you may need to partially disassemble the treadmill in order to move it. It might sound like a pain, but that's where reading the instructions will come in handy. Every make and model is a little different. You may find you're only removing the upright frame off the running deck. The owner's manual will help guide you if you do need to dismantle your treadmill.
RELATED: Best Home Treadmill for Running
Clear a Path
Prior to moving your heavy machinery, clear a path for the moving process. Get your doors propped open, clear out hallways, and ensure all children and pets are safely out of harm's way.
It's also important to consider if your final landing place for the treadmill offers enough space to move freely around the treadmill. In commercial gyms, the National Strength and Conditioning Association recommends at least 3 feet of spacing between equipment in aerobic training areas. Refer to the user manual for how much space is recommended for your treadmill when placing it near a wall, furniture, or other equipment.
Grab a Friend (or Two)
Although treadmills differ in size and weight, they're typically large enough to require assistance. Round up another set of hands even if your treadmill can fold, has wheels, or is partially disassembled. Now is no time to be a hero! You have a treadmill to move. This is especially true if you need to tackle a set of stairs.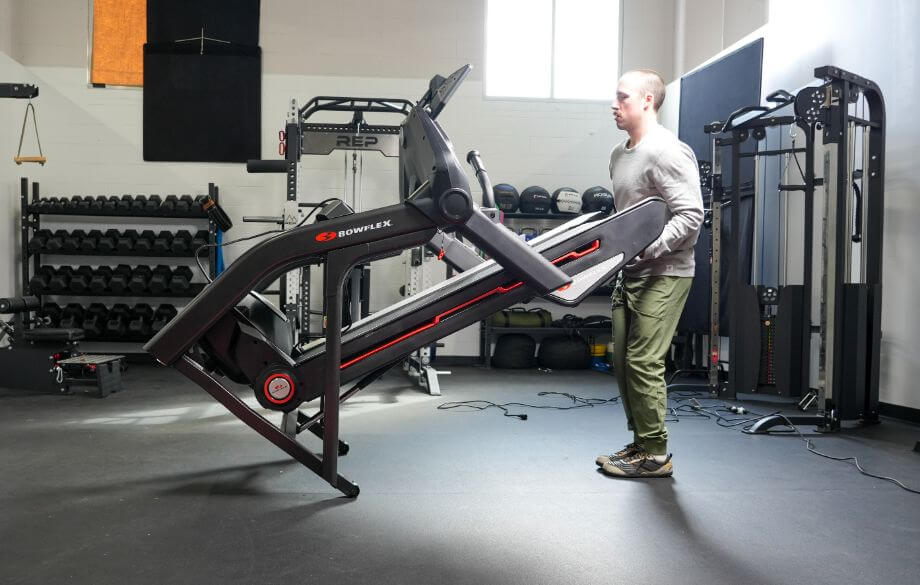 Lift with Your Legs, Not Your Back
You've been training for this. It's time to put all of those squats and deadlifts into action. Let's remember all your training cues to protect your lower back. Squat down as much as needed, lock your upper body in place to the best of your ability, and with a firm grip, lift the bottom of the treadmill under the belt area, rising to stand by generating force from the floor with your feet, legs, and glutes.
Use Wheels
When a treadmill doesn't have wheels, a furniture dolly can save you a lot of hard lifting—especially if you have to travel a long distance with a heavy treadmill. When traveling on even ground, a furniture dolly should do the trick. With the help of a buddy, one of you can tilt one end of the treadmill slightly off the ground to make way for the other person to slide the dolly underneath. Because the weight of a treadmill has the potential to be top heavy on a dolly, it's recommended to use straps or tie downs before you start rolling it away.
Final Verdict
After you've chosen the best treadmill for your home gym, moving it in or out may be a concern. Remember, the owner's manual is your friend. We recommend referring to it before (and perhaps during) the move. Each treadmill is unique and comes with its own moving and portability challenges. Your home will have its own challenges as well. Use your best judgment when moving a treadmill, and of course, take it slow, use your legs, and be safe!
How to Move a Treadmill FAQs
Do you have to disassemble a treadmill to move it?
Not all treadmills need to be disassembled in order to be moved. Many treadmills, like the Sunny Health And Fitness (SF-T4400) feature a folding mechanism and wheels to help ease transportation. The need to disassemble a treadmill will also vary depending on your home's doorway measurements and how many stairs are required during the move. The owner's manual will help you determine if you need to disassemble, then reassemble, your treadmill.
Are treadmills hard to move?
Some treadmills are harder to move than others, mainly due to the size and weight of the machine. Folding treadmills with wheels makes moving much easier, while bulky treadmills without wheels will present more challenges. For the most part, you'll have an easier time with a buddy to help you move a treadmill. 
What's the easiest way to move a treadmill upstairs?
Carefully! You'll need at least two people on opposite ends. The person appointed to be at the lower end of the staircase is the one taking most of the weight. This person might even need a spotter for extra support. Traveling up and downstairs with a treadmill might require the treadmill to be tipped onto its side versus the belt face up. 
How heavy are treadmills?
Treadmills range in size and weight. Some are small and compact, weighing less than 100 pounds and alleviating worries about transportation. Some treadmills are heavier, upwards of 300 pounds, and can take the impact of vigorous running. Before buying a treadmill, it's important to find one that suits your needs in both accessibility and usability.