We test and review fitness products based on an independent, multi-point methodology. If you use our links to purchase something, we may earn a commission. Read our disclosures.
I'm someone who actually loves walking, sometimes to the tune of 15-plus miles a day. But that's not always possible in Northern Virginia, especially during the colder months. And I can go up and down my stairs only so many times before I need a new way to stretch my legs.
This Sunny Health and Fitness treadmill review looks at whether this folding treadmill could be the answer to my winter blues. On the surface, it has everything something like myself would want in a piece of cardio equipment: space-saving design, it's foldable, and has more features than other treadmills in its price range.
But does it have a place in my home gym, or yours? Read on to find out.
Why You Should Trust Us
When I tested the Sunny Health & Fitness (SF-T4400) treadmill, I looked at it from various angles (literally and figuratively), asked other people to test it out to see what they thought, and then I went back on it a few more times to see what I missed.
My coworkers are the exact same, so much so that we've been able to compile a list of the best treadmills for home gyms. This list was compiled after weeks, nay months, of obsessing over each and every button and pre-programmed workout on each treadmill, comparing the LCD screens, and even looking at the feel of different handrails. Yup, we go that in-depth.
A Quick Look at the Sunny Health and Fitness (SF-T4400) Treadmill
Sunny Health and Fitness (SF-T4400)Treadmill
Sunny Health and Fitness Treadmill SF-T4400
The Sunny Health & Fitness Treadmill is a space-saving and affordable treadmill perfect for general trainees who may not have specific athletic goals, such as becoming better runners. It's foldable and comes with a soft drop feature, a top speed of 9 miles-per-hour, and 9 preset workout programs.We think this is perfect for the person who may just want to get more steps in during their day, or just wants a low-impact way to improve their cardiovascular fitness. While the tread is a little shorter than most, it does feature shock absorption technology for those who can find their stride on it.
Today, we'll be looking at the Sunny Health & Fitness (SF-T4400) Manual Incline Treadmill, which as its name suggests has a hands-operated manual incline feature. But that wasn't the first thing I noticed about this treadmill (despite the fact that it's in the name).
For me, one of the highlights was the soft drop feature. Speaking as someone who's lived with other people most his life, having to hold onto a treadmill until it reaches the ground isn't always the easiest thing to do (especially first thing in the morning). Especially if it's a 250-pound beast. All you have to do is tap the orange part of the bar that keeps it upright, and it will start unfolding.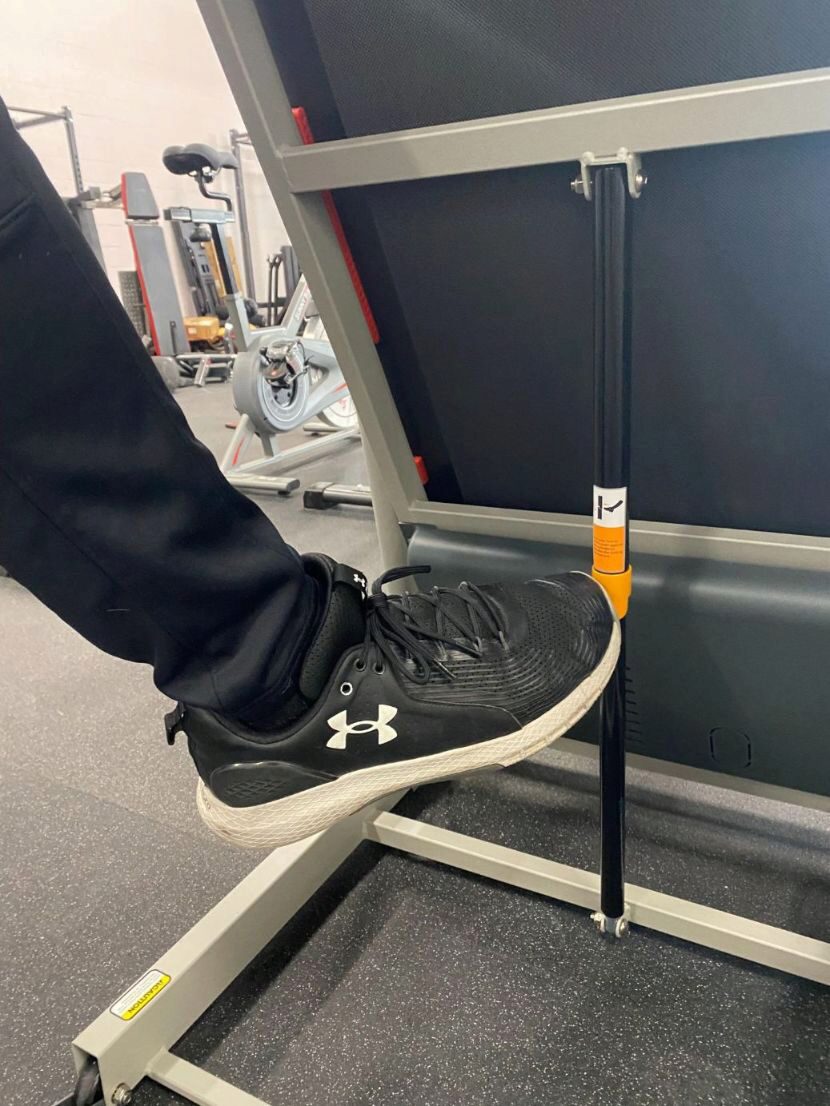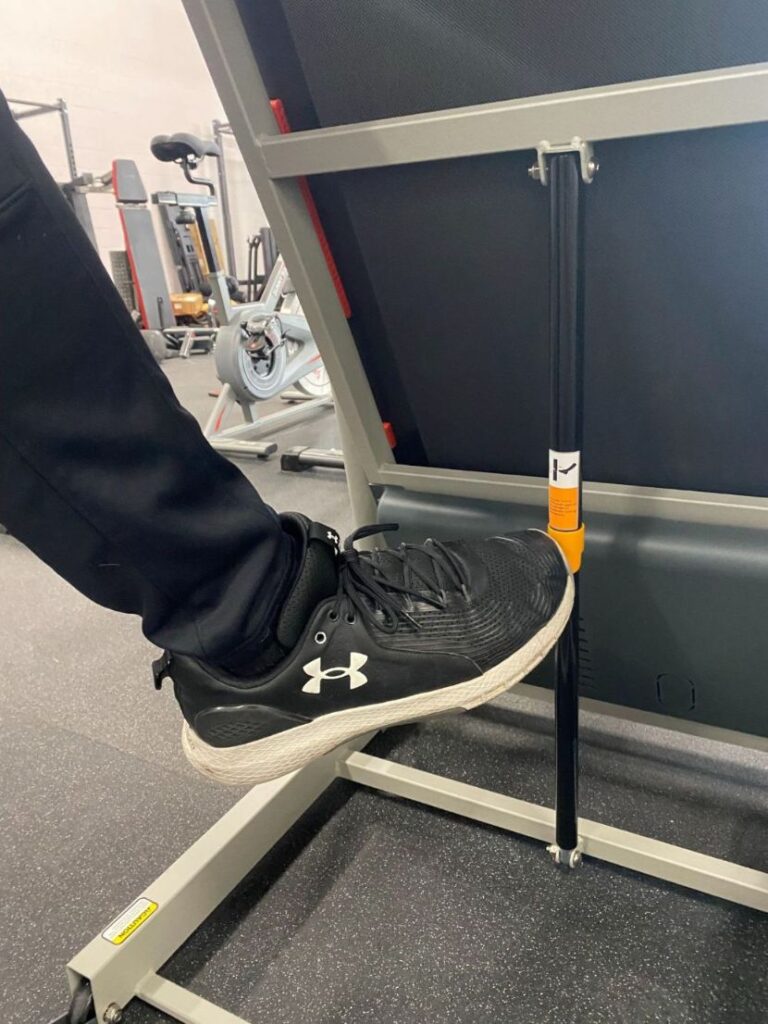 I love that I can give the folding mechanism a quick foot tap and it'll drop to the floor without a squeak.
My Tips
There is a 30-day money back guarantee for this treadmill, so you can always try it out and see if you like it.
If you're looking for a serious running treadmill, this isn't it.
My Favorite Things:
Does have an incline (even if you have to adjust it manually)
Folds easily and becomes very compact when not in use
Tread comes with shock absorption
Quick-speed buttons on the handrail
My Callouts:
Its user weight capacity is only 220 pounds (light compared to other treadmills)
Top speed of 9 miles-per-hour
No decline option
RELATED: HIIT Treadmill Workout
Is the Sunny Health and Fitness (SF-T4400)Treadmill Worth It?
Is the Sunny Health & Fitness Treadmill a good piece of cardio equipment? Yes. Is it meant for everyone? No.
At the end of the day, I'd recommend this treadmill to the everyday person who just wants to stay fit but may not have any athletic goals (such as becoming a better runner). It'll get your heart rate up and help you achieve fitness goals (like burning calories and increasing endurance).
But due to its construction and top speed of only 9 miles-per-hour, it's not meant for the serious runners. Plus, it has a weight limit of 220 pounds, which can be me at times depending on how much Taco Bell I've had.
Again, though, I'd still recommend this Sunny treadmill to some people. Here's who I think would benefit from it, and who may want to look elsewhere.
Great for:
General trainees who want an easy and simple cardio workout
Anyone who needs a space-saving treadmill in their home gym
People who live in apartments who want a soft drop system
Not recommended for:
Trainees who need auto incline or more than three incline levels
People who need a wide running surface
Anyone who needs a decline option
Sunny Health and Fitness (SF-T4400)Treadmill Specs
| | |
| --- | --- |
| Footprint | 62" L x 25.5" W x 50" H |
| Folded Dimensions | 36" L x 25.5" W x 58" H |
| Weight | 103 lbs |
| Running Surface | 49" L x 15.5" W |
| Workout Programs | 9 |
| Handrail Controls? | Yes |
| Bluetooth? | No |
| Speed Range | 0.5 – 9.0 MPH |
| Incline Levels | 3 |
| Maximum Weight | 220 lbs |
| Warranty | 3 Year Structural Frame, 180 Days Other Parts And Components |
Working Out on the Sunny Health and Fitness (SF-T4400)Treadmill
Honestly, the first thing I noticed about the Sunny Health & Fitness SF-T4400 treadmill was that it was small. Or maybe I'm just big. Either way, this wasn't anything like the NordicTrack Commercial 1750 treadmill that I had tried right before hopping onto this treadmill.
That said, I was pleasantly surprised by my cardio experience, which mostly consisted of walking and some light jogging. One reason I couldn't run on it was I had a slight leg injury at the time, and secondly I just wouldn't run on something like this. The running deck measures 49 inches in length, and 15.5 inches in width.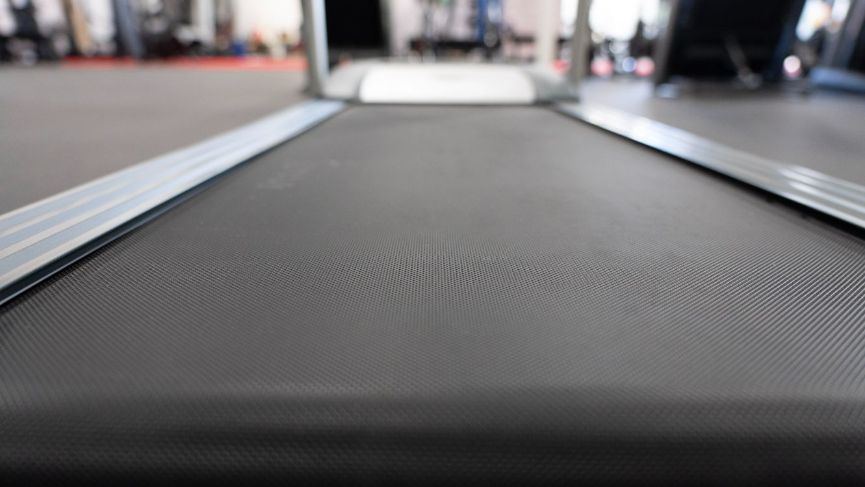 Even my coworkers who are much shorter than me, and have a narrower wing span, seemed to have trouble getting into a stride on this. You should know that this machine is more of a walking treadmill than anything else, especially if you're someone who trains regularly. (Even then, most walking treadmills measure at least 50 inches in length).
As I said, walking on it actually felt pretty good. The shock absorbers did an excellent job at reducing impact, which I appreciated since I was still dealing with my injury. Honestly, I probably could have thrown on a podcast and kept walking for miles before I got tired of it. I did have to watch my stride somewhat while using this, but not enough that it was a nuisance.
There are speed controls on the handlebars, along with a bottle holder and tablet holder for convenience. These things may seem standard but they aren't always included on fitness equipment in this price range. There's also the typical pulse sensors, which I know a lot of people like but I tend to avoid even touching those.
There's 9 preset workout programs that are, once again, OK for the general trainee. I know many people who need more dynamic programming on their treadmill, elliptical, and exercise bikes but I'm personally fine with just adjusting the speed myself.
One thing that was an adjustment for me (puns are always intended) was the incline mechanism. This one was a small orange clip at the back-left of the treadmill. You just lift up the entire thing and move the incline anywhere from 0-4.3%. That's not a lot, but I think for the average person it should be enough to give them an extra challenge.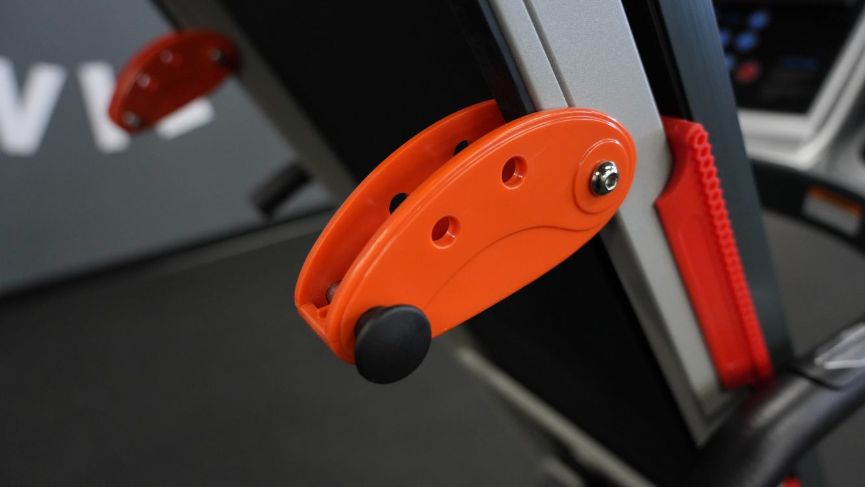 When I first saw the incline was manual I thought it'd be annoying, but honestly the treadmill is so light it took me no time at all.
LCD Display
The LCD monitor has all the usual stats you'd expect: speed, time, distance, and calories. Considering the target audience for this treadmill, I think that's all you need and anything more would be overkill.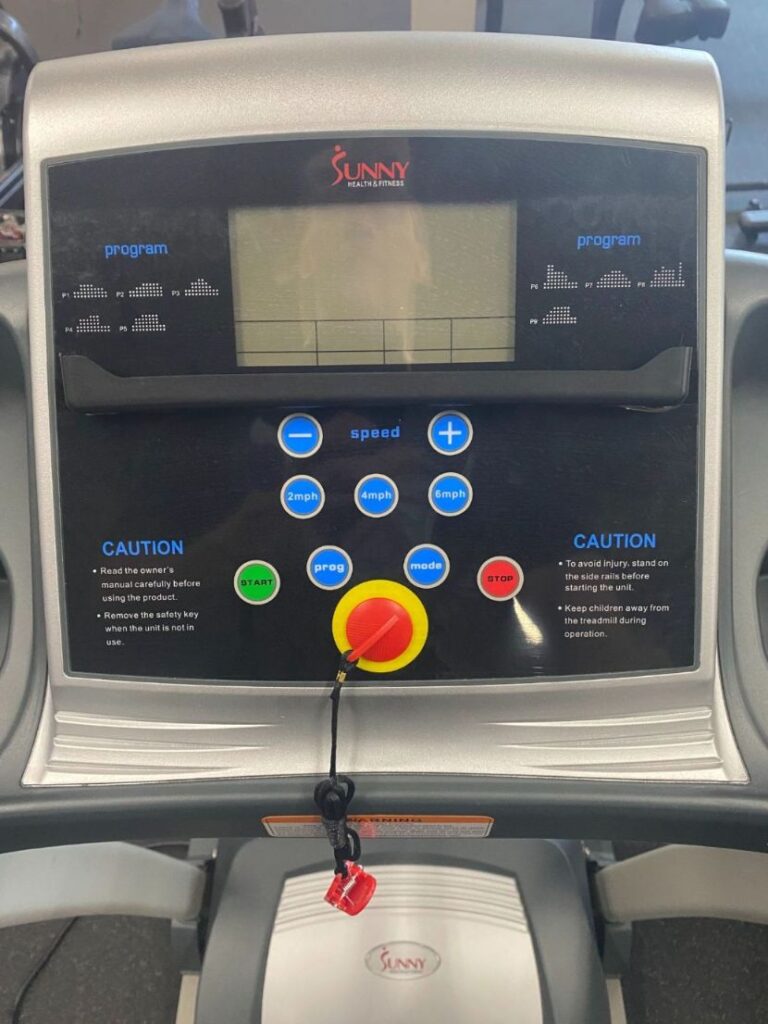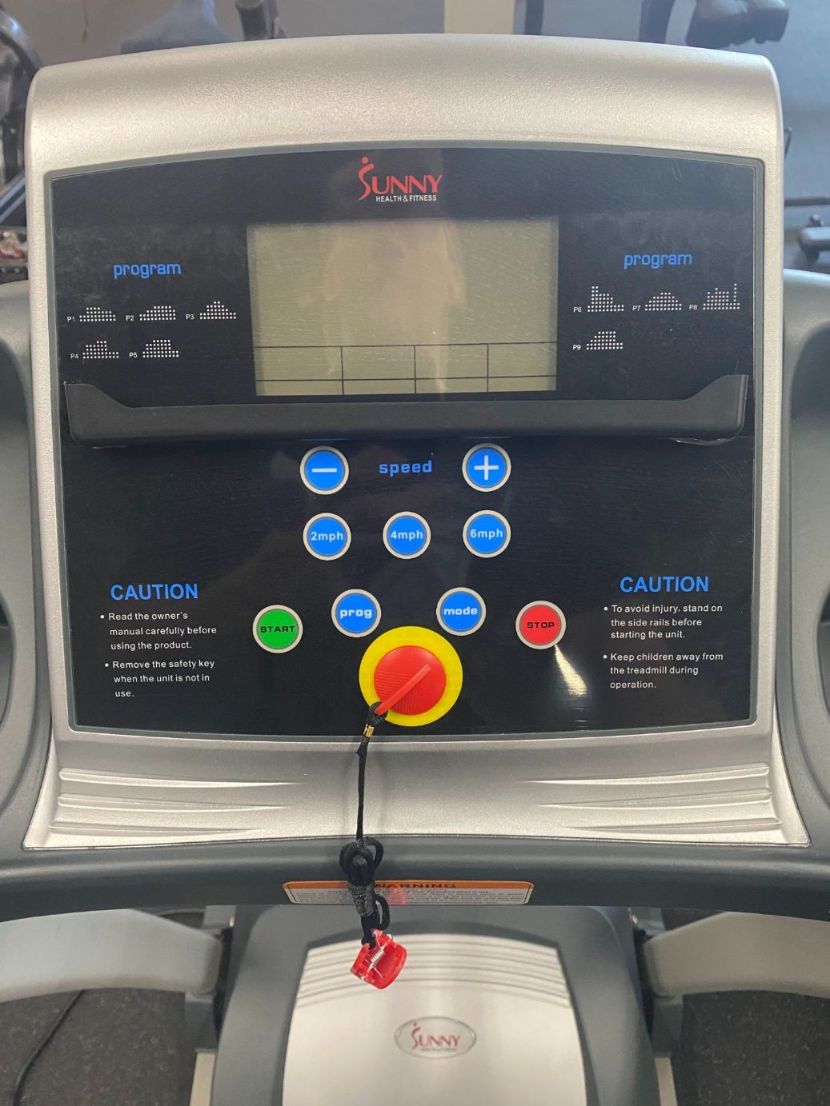 The monitor also allows you to select from any of the preset programs, if that's something you like, and control your speed.
Best Use
If you're someone who just needs to get some steps in, or has been working from home for what seems like forever and needs some activity, then the Sunny Health & Fitness treadmill is perfect for you. I'd also recommend it to anyone who's in small spaces who may want to get any kind of fitness machine into their space.
But if you're a serious athlete or do enjoy running, there are better options at this price range.
RELATED: Best Budget Treadmill
Footprint and Portability
I've lived in small spaces for most of my life, so compact exercise equipment is something I'm very much a fan of. The Sunny Health & Fitness treadmill is only a little more than 5 feet long when in use, and 25.5 inches long. Folded up, it's 58 inches in height and 36 inches in length.
I've been in some of the most comically undersized New York City apartments, and I'm confident this treadmill could fit in those with little issues. The transportation wheels make it easy to move from space to space, and the soft drop feature allows you to unfold it without the fear of a big bang.
RELATED: How to move a treadmill
Construction
The running tread itself is perfectly durable, and I don't foresee any problems with it as long as it's not put through any grueling running treadmill workouts (which, due to its size, would be tricky to begin with). The one thing to look out for is all the plastic on it. There are some reviews that claim parts of the treadmill were dinged or cracked during shipping, and while it doesn't affect the machine's functionality it can be annoying.
Warranty, Financing, and Returns
The Sunny Health & Fitness Treadmill comes with a 3-year structural frame warranty, and 180 day warranty for other parts and components. That's not the best, but for this price point you shouldn't expect much else.
The treadmill can be financed using Affirm, if you wish to split it into monthly payments.
Sunny Health & Fitness usually only accepts returns with unopened equipment, but this treadmill does come with a 30-day money back guarantee if you don't like it. We'd still suggest putting it through very light use until you're sure you want to keep it.
Ordering and Assembling the Sunny Health and Fitness (SF-T4400) Treadmill
Ordering the Sunny Health & Fitness treadmill is as easy as clicking "Add to Cart" and waiting for the delivery truck driver to arrive.
There is some assembly required, but not much. You simply need to attach the uprights to the frame, the console to the uprights, and covers to the bottom. It shouldn't take you more than 10 minutes.
Customer Reviews
The Sunny Health & Fitness Treadmill has a 4.7 average rating on the company's website, with the vast majority of reviews being positive. People seem to love this home treadmill for its portability and ease of use.
Some people have complained that the treadmill stops working after a few weeks, which isn't a problem we've run into but if we do we'll update this review with our thoughts.

Final Verdict of Our Sunny Health and Fitness (SF-T4400)Treadmill Review
The Sunny Health & Fitness Treadmill is, objectively, a good treadmill for its price point. It does everything you need it to do, all while being compact and easy to use. You're not going to win any marathons or 5Ks training on this thing, but if you want to be more mindful of your health and get more steps in throughout the day then I'd absolutely recommend this treadmill to you.
Sunny Health and Fitness Treadmill
The Sunny Health and Fitness Manual Incline Treadmill is a great walking treadmill for the general trainee, or those in small spaces who want a low-impact way to work on their cardiovascular fitness.
Product Brand: Sunny Health and Fitness
Product Currency: USD
Product Price: 456.99
Product In-Stock: InStock
Sunny Health and Fitness Treadmill (SF-T4400) FAQs
Is Sunny a good treadmill brand? 
Sunny Health & Fitness is a good brand for those looking for an easy way to workout, but don't necessarily have any high-level athletic goals. 
Can you run on a Sunny treadmill? 
Honestly, it depends on your height and stride length. The GGR team is filled with some pretty tall people, so it was difficult for us to get into a rhythm on them but people shorter than us shouldn't have that much of a problem. 
Is Sunny fitness legit?
Sunny Health & Fitness makes great-value fitness products, and has excellent customer service and reviews. While they don't cater to serious athletes, they're an excellent company for those looking to increase their cardiovascular fitness.