We review free products that we receive and participate in affiliate programs, where we may be compensated for items purchased through links from our site.
See our disclosures page for more information.
There are some wonderful, dare I say, magical perks to working out at home. You can roll out of bed, throw on those shorts that may be a little too ripe to wear in public, forget about combing out your bed head hair, skip the mouthwash, and hit the workout grind from the comfort of your garage, living room, spare bedroom, or wherever you have found space for your set up.
The thing about a home gym is that you may not have commercial-level equipment that gives you the same workout as you get in a commercial-level gym. This is 2022 friends-time to change that! You can have a commercial-level gym experience complete with a killer exercise bike in your home gym.
When it comes to choosing the best home gym equipment, many people start with an exercise bike. It gives you a heart-pumping cardio workout that burns calories while you do other things.
Here's the hangup: In a sea of options, how do you know what equipment to purchase? You want the best bang for my buck, doggone it! I want to help you with that. What can I say? You're my people. I've compiled 12 of the best exercise bikes that I've tested at all budget levels so no matter how much you plan to spend, you can get a great bike. And if you need to save on space, check out my best folding exercise bikes roundup.
The Best Exercise Bikes
Best Exercise Bike Overall: NordicTrack S22i
Best Exercise Bike Overal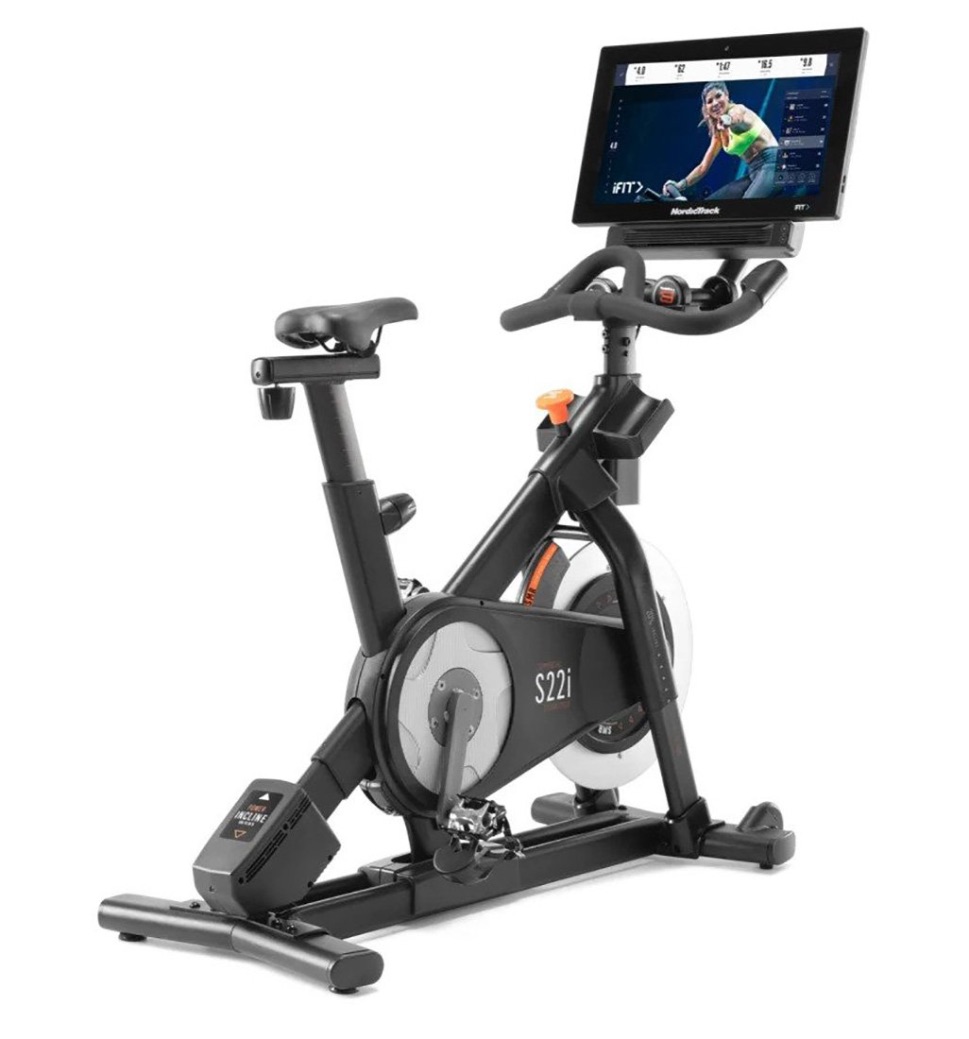 NordicTrack S22i
Join high energy studio classes, mountain bike rides in Moab, or ride a Tour de France stage all from the comfort of your home. Access on-demand classes with the world's best personal trainers for beginners or the hard-core cyclist. Interactive Personal Training comes to life as your personal trainer controls the incline, decline and resistance of your ride, a truly Interactive Experience.
Good for: Cyclists who want to mimic road riding with incline and decline training
My Favorite Things:
-10% decline to 20% incline levels
24 levels of magnetic resistance
Interactive iFit programming
Lots of conveniences
My Callouts:
Priced around $2,000
Intricate assembly process
Large screen makes it a little difficult to move
You have to keep this inside your home versus your garage– otherwise NordicTrack will cancel your warranty
If you can swallow the $2,000 price tag, the NordicTrack S22i is one of the best cycle bikes on the market for people looking for immersive, realistic indoor riding. It's rare to find a bike that does incline training, let alone both incline and decline training. The S22i literally simulates riding on hills by moving the front of the bike up or down.
As much as I'm sure we all wish we could spend $2,000 on a manual treadmill without blinking, most of us may not want to. You'll have to think about your budget or keep an eye out for bargains during holidays like Memorial Day, Labor Day, and Black Friday.
NordicTrack has an entire line of treadmills, ellipticals, bikes, and rowing machines that come equipped with a free year of iFit training. This rivals the Peloton experience in that iFit offers live classes, on-demand classes, and scenic workouts in places all over the country. One of my favorite things about these high-tech bikes with interactive programming is that the resistance levels and incline change automatically for you.
I assembled the S22i by myself, though NordicTrack recommends two people. The process is very involved, as you have to attach everything yourself, including doing the wiring on the console. Speaking of the console, it's a massive, 22-inch full-color HD touchscreen. It's huge and beautiful, but it also makes moving the bike around a bit of a clunky process. I was afraid of slamming the screen into tables and corners as I maneuvered it around the room.
Read my full NordicTrack S22i review.
Best Air Bike: Rogue Echo Bike
Best Air Bike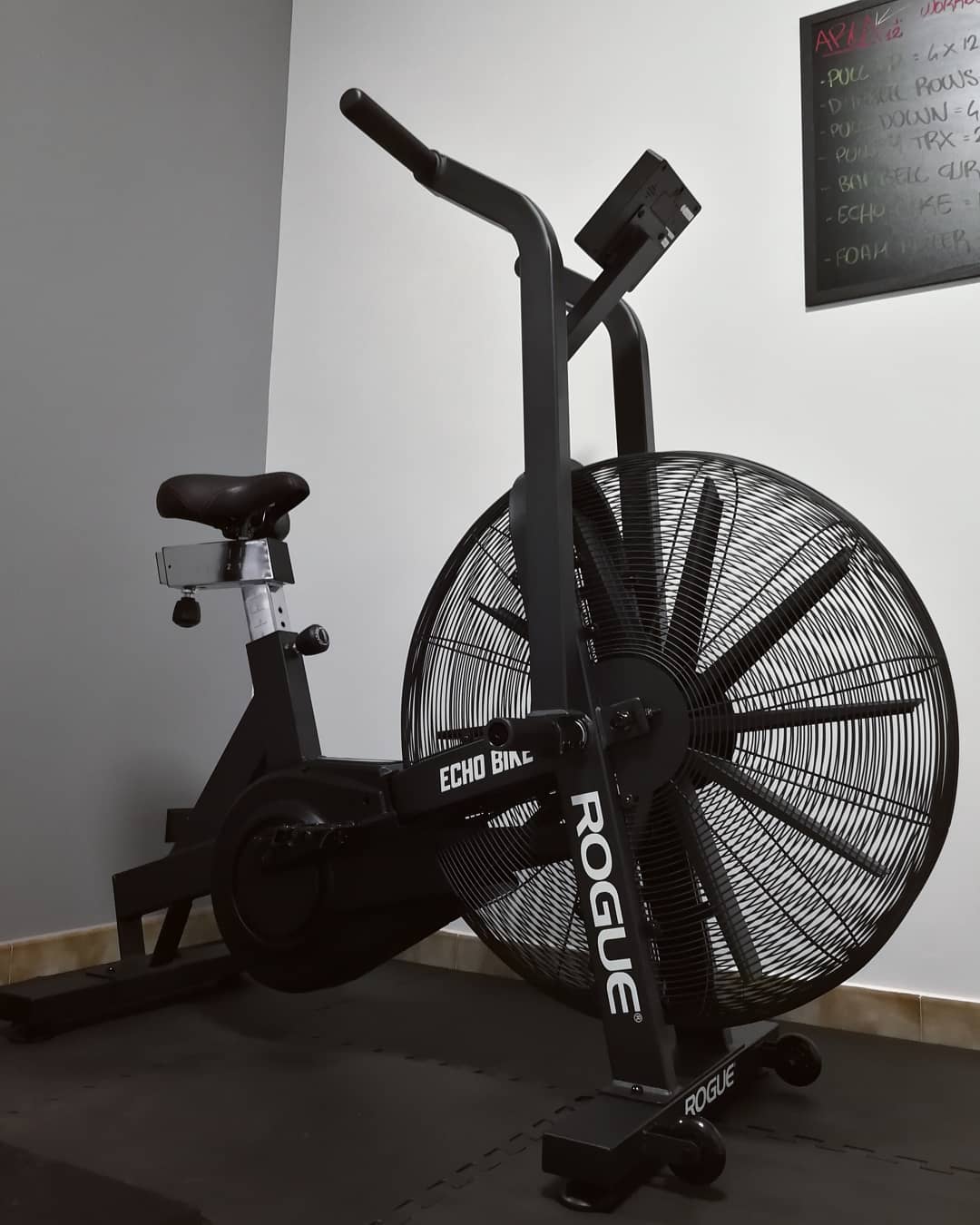 Rogue Echo Bike
The Rogue Echo Bike combines heavy-duty steel, precision engineering, and convenient customization to forge a stronger, sturdier fan bike. Overbuilt for a Smoother Ride This overbuilt 127LB, 350LB weight limit unit provides a rock solid foundation for max output bursts, while still offering easy portability around the gym via a set of 1" polyurethane front wheels. A quiet, belt-driven steel fan blade produces a smooth, consistent ride, while a high-contrast, battery-powered LCD console allows athletes to track intervals, distance, calories burned, heart rate, and more. Rogue Fitness (Rogue) warrants that the ECHO Bike (Product) shall be free from defect in material and workmanship for a period of two years from the date of purchase when the product is used under normal uses and conditions and as recommended in the User Guide. Weighing in at 127LB, 350LB weight limit, the Echo Bike is not the wobbling breed of exercise bike. Its reinforced steel construction gives it the rigidity and balance to help eliminate sways and bumps during even max output bursts, and the fan's steady response delivers a uniquely consistent, smooth riding experience. For added stability, we've included rubber leveling feet under each base tube. These feet adapt to your flooring and provide added "stick," helping to level the bike even if it's not on a level surface. The mounted LCD console measures 6.375" x 6.375" and features a crystal clear, high contrast display. Athletes can select or create a wide range of modes, including Intervals (20/10, 10/20 or a custom Work/Rest interval), Target (choose a goal Time, Distance or Calories and the console will count down based on your selection), and Heart Rate Tracking (please note that a heart rate transmitter is required to send data, but is not included). The console runs on two AA batteries, which are included. The Echo Bike is built with a range of durable steel tubing (2x3", 1.25x3", and 1.625x3.125" steel finished in a texture black powdercoat. The adjustable padded seat locks into 8 different height settings and 5 front-to-back settings, and the 1.5" diameter rubber grip handles are welded directly to the bike's arms for added rigidity. A steel step plate is provided along with knurled 4.5" long rotating foot pegs and rubber-tread pedals. The fan itself is a belt-driven, precision steel blade. Assembly is required to set-up the Echo Bike, but all necessary tools and black hardware are included standard with your order, along with easy step-by-step guidelines. While the fully constructed bike is a beast, we've included a set of 1" wide polyurethane wheels at the front of the unit, allowing it to be rolled around the gym or stored out of the way with ease. Additional Specifications: Patent Pending Design Quality Steel Construction for Dependable Stability Height: 52.75" (to top of handles) Length: 58.875" (overall with seat in position furthest from fan cage) Width: 29.875" (at handles - widest point) Footprint: 44.5" x 23.75" LCD Console Display (Batteries Included) with customizable modes Belt Driven Steel Fan Adjustable Seat with 8 height and 5 front/back settings 1.5" diameter rubber grip handles Rubber-tread Pedals Texture Black powdercoat finish Rubber Leveling Feet All Hardware & Assembly Tools Included Weight: 127LB, 350LB weight limit
Good for: People who want a really hard workout from an extremely durable bike
My Favorite Things:
Steel construction that supports up to 350 pounds
Belt drive system that is low maintenance
Easy to use – you can hop on and get started
Simple assembly
My Callouts:
Priced around $2,000
Int
No fancy touchscreen; just a simple LCD monitor for your stats
No heart rate monitor but compatible with some wearable heart rate sensors
Programs simply include manual or interval mode
Two-year warranty
Looking for a bike that is the most likely to survive the Apocalypse? Rogue has definitely outdone themselves when the Rogue Echo Air Bike released. The Rogue Echo Bike is a well-built machine that is basically a deconstructed version of a Rogue squat rack. With its combined rock-solid foundation and smooth ride, it's at the top of the game. It uses a belt drive system that requires virtually no maintenance and a monitor that tracks useful metrics.
It is relatively heavy at 127 pounds, but it has wheels on the front that make it easier to do so. The seat adjusts vertically with eight settings and horizontally with five. It's an air bike, so there are no manually or digitally adjustable resistance levels. Instead, the steel fan picks up more resistance the faster it moves. In other words, you dictate how hard your workout is.
If you want to be absolutely smoked at the end of a workout without having to learn a lot of technique or put a lot of thought into it, the Rogue Echo Bike is king. In fact, I have picked it as my top choice for the best air bike for the past several years.
Read my in-depth Rogue Echo Air Bike Review here.
Best Air Bike Without Arms: Concept 2 BikeErg
Best Air Bike W/ Out Arms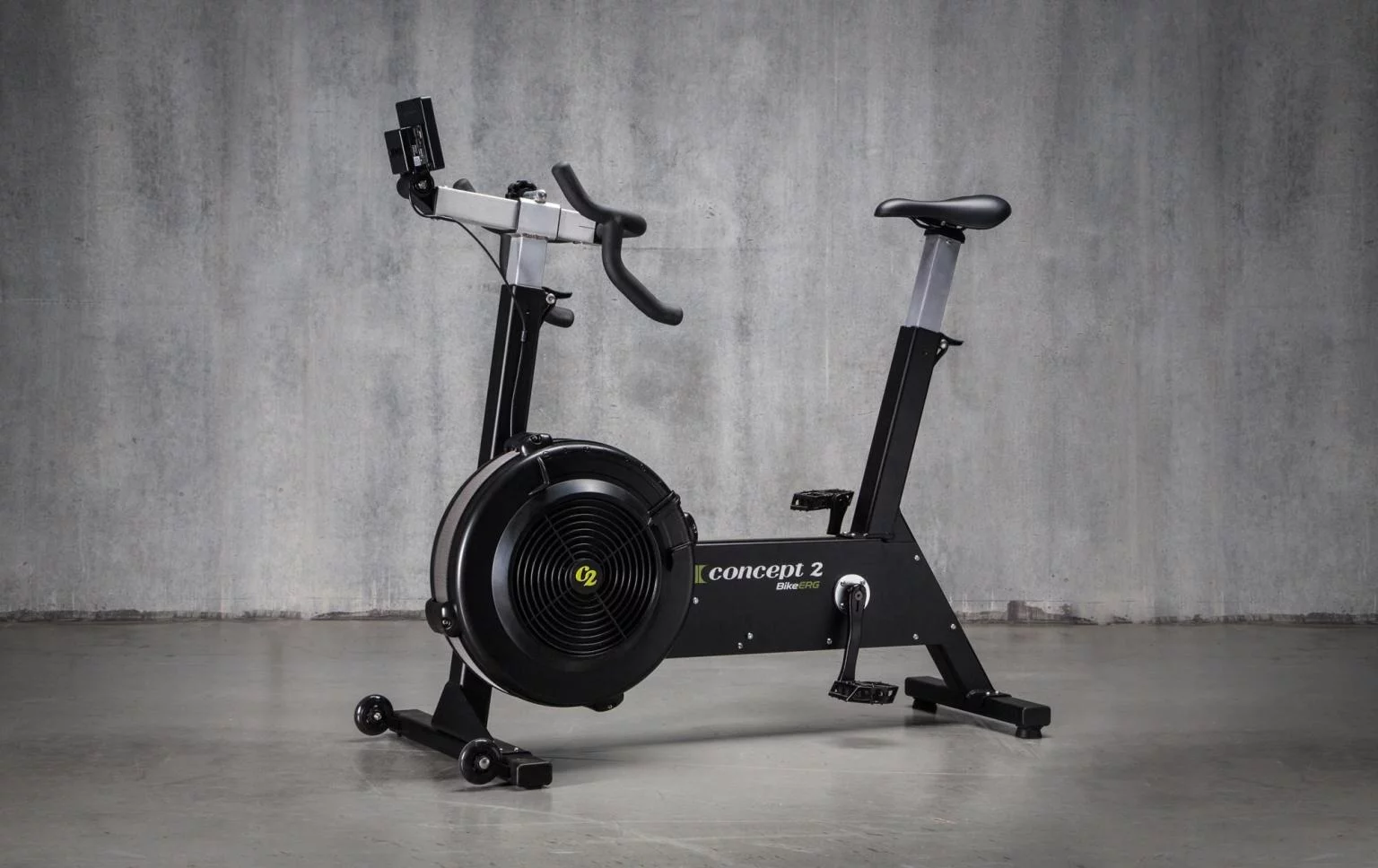 Concept 2 BikeErg
The BikeErg is the latest innovation from the makers of the Concept2 Indoor Rower and SkiErg. Utilizing the same advanced engineering principles and PM5 performance monitor as those time-tested machines, the BikeErg is also lighter in weight than most stationary bikes and closer in feel to actual outdoor riding. The design is built around precision flywheel air resistance, creating a workout customized to any athlete who uses it. As you pedal harder, the intensity and challenge of the workout increases accordingly. At the same time, the inclusion of a clutch lets you freewheel like a standard bicycle, while a wide damper range re-creates the effect of changing gears. The Concept2 BikeErg is portable, easy to assemble, and designed with an adjustable saddle and handlebars. Users can even decide to attach their own bicycle seat, handlebars or pedals (most styles are compatible) to create the ultimate custom indoor bike. Rather than a chain, the BikeErg features high-strength, self-tensioning polygroove belts, greatly reducing the sound output and making set-up practical in any room of the house. Included standard with the unit, the PM5 Performance Monitor offers a wide range of instant data feedback, including pace, watts, cadence (rpm) and calories. These statistics are then saved and stored automatically in the monitor's memory or an optional USB stick. The PM5 has both Bluetooth and ANT+ wireless options, so you can connect to most wireless heart rate belts, as well as Concept2's ErgData app and other third party apps. The PM5 takes two D-cell batteries and the power is generated by the flywheel when you ride, saving on battery life. Like the Concept2 Rowers and SkiErg, the BikeErg uses air resistance generated by a fanned flywheel. This makes the machine directly responsive to your own output as you pedal. The inclusion of a special damper also re-creates the effect of shifting gears on a standard bicycle, as the user can alter the amount of air going into the flywheel. By changing settings, you can simulate the experience of a straightaway ride or a challenging uphill climb. The BikeErg is uniquely customizable to the skill sets and preferences of any athlete, regardless of size or experience. Additional Specifications: Flywheel Indoor Fitness Bike Footprint: 48" x 24" Weight: 58LB (26KG) Construction: Welded aluminum frame, steel feet Finish: Black powder coat frame, anodized posts Polygroove belts with self-tensioning system - quiet operation Adjustable seat and handles Damper for adjusting airflow to flywheel Clutch for freewheeling PM5 Performance Monitor BikeErg Product Manual with Performance Monitor Quick Start Guide Tools and instructions for assembly included
Good for: People who want to feel their quads burn from a Concept 2 quality machine
My Favorite Things:
Low maintenance with a flywheel and damper system
Performance monitor tracks nearly every metric you can think of
Bluetooth connectivity for heart rate monitoring and fitness apps
Saddle, handles, and pedals can be switched out for your own preferences
Simple assembly and weighs just 68 pounds
My Callouts:
Performance monitor is an LCD screen
There are about 10 built-in workouts, but no on-demand or interactive classes
No water bottle holder
Five-year limited warranty
Concept 2 BikeErg is the bike that, when released, absolutely took the CrossFit world by storm. This is large because its maker, Concept 2, dominates the rowing machine market. The BikeErg and the Concept 2 rowers weren't designed for CrossFitters (although they are both great for those that compete and train CrossFit). The BikeErg was actually designed more with traditional cyclists in mind.
Check out my in-depth Concept 2 BikeErg review here.
Now if you're wondering if the BikeErg delivers a killer workout, the answer is a resounding YES. It's different from a traditional exercise bike in that it uses a flywheel and damper system where the wind generates the resistance, as opposed to a brake. And trust me, the BikeErg can absolutely make you cry like a little baby if used properly.
Concept 2 has taken what they do exceedingly well – building very durable and effective equipment like the Model D Rower (which is, by far, my favorite and one of the best rowing machines out there) – and applied it to an exercise bike equivalent. It's not the most aesthetically pleasing design, I will admit, but it is made to take a beating and keep on going.
I have more than 1 million meters on the one that I've been testing for a few years, and despite it being absolutely used and abused in my garage gym, as well as in my personal training studio, it's as good as it was on day one. Now, that's special.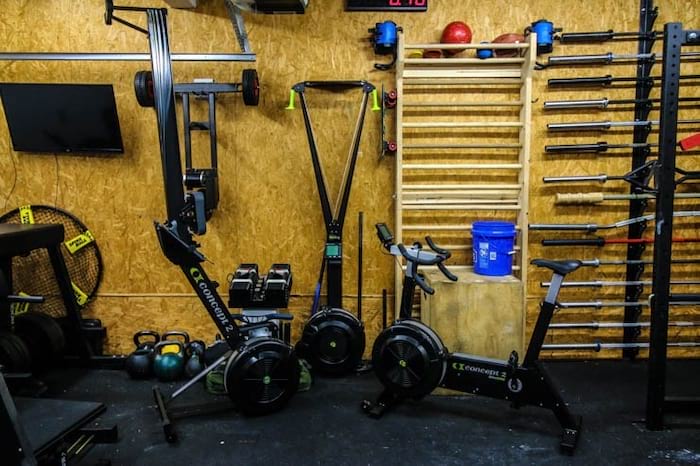 Best Exercise Bike Under $1,000: Schwinn IC4
Best Exercise Bike Under $1000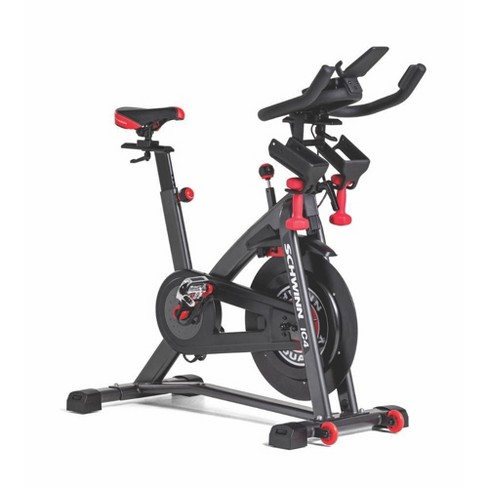 Schwinn IC4
Designed to work with the Peloton® and Zwift® apps, allowing you to stream thousands of classes directly into your home and compete against others in a virtual world that motivates you at every mile. Access the Explore the Worldâ"¢ app and digitally immerse yourself in a world of virtual races, exotic locales, and stunning trails from around the globe. Smooth, magnetic resistance. Full color backlit LCD display. Media rack. Slim, comfortable Bluetooth® LE (BLE) heart rate armband. 3 lb. dumbbells with easy-reach cradles. USB charging station
Good for: People who want an affordable exercise bike without sacrificing quality
My Favorite Things:
Priced under $1,000
Heavy flywheel and magnetic resistance
Compatible with popular cycle apps
Lightweight and easy to move
My Callouts:
No fancy screen or console
No built-in workouts
Assembly instructions could be clearer
If you just want a sturdy indoor cycle bike, the Schwinn IC4 could be a good fit. It has a weight capacity of 330 pounds and feels solid while you ride thanks to a 32-pound flywheel. The frame is made of metal and has a 10-year warranty, which I really like at this price.
One of the reasons the IC4 is so affordable is because it doesn't have the big fancy screen like some of the other bikes on this list have. Instead, there is a tablet holder and a USB port you can use for your own device. I like this approach because the IC4 is compatible with apps like Zwift and even Peloton. So you can use the Peloton app on a much more affordable bike. Also, those apps will automatically adjust the resistance level on the IC4, so you do get a lot of the feel of those higher-end bikes without having to pay for it.
Without using an app, the IC4 is just another bike. There aren't any other built-in workouts, and the console is a pretty basic display that spits out the basic metrics you would expect to see: time, speed, distance, etc.
Also, I put together the IC4 myself. Schwinn could have made the instructions a little clearer, in my opinion. It wasn't the most involved process, but if you aren't familiar with assembling equipment, you might want to splurge for the $129 expert assembly that Schwinn offers.
Read my full Schwinn IC4 review.
Best Air Bike Under $1,000: Schwinn Airdyne AD7
Best Air Bike Under $1000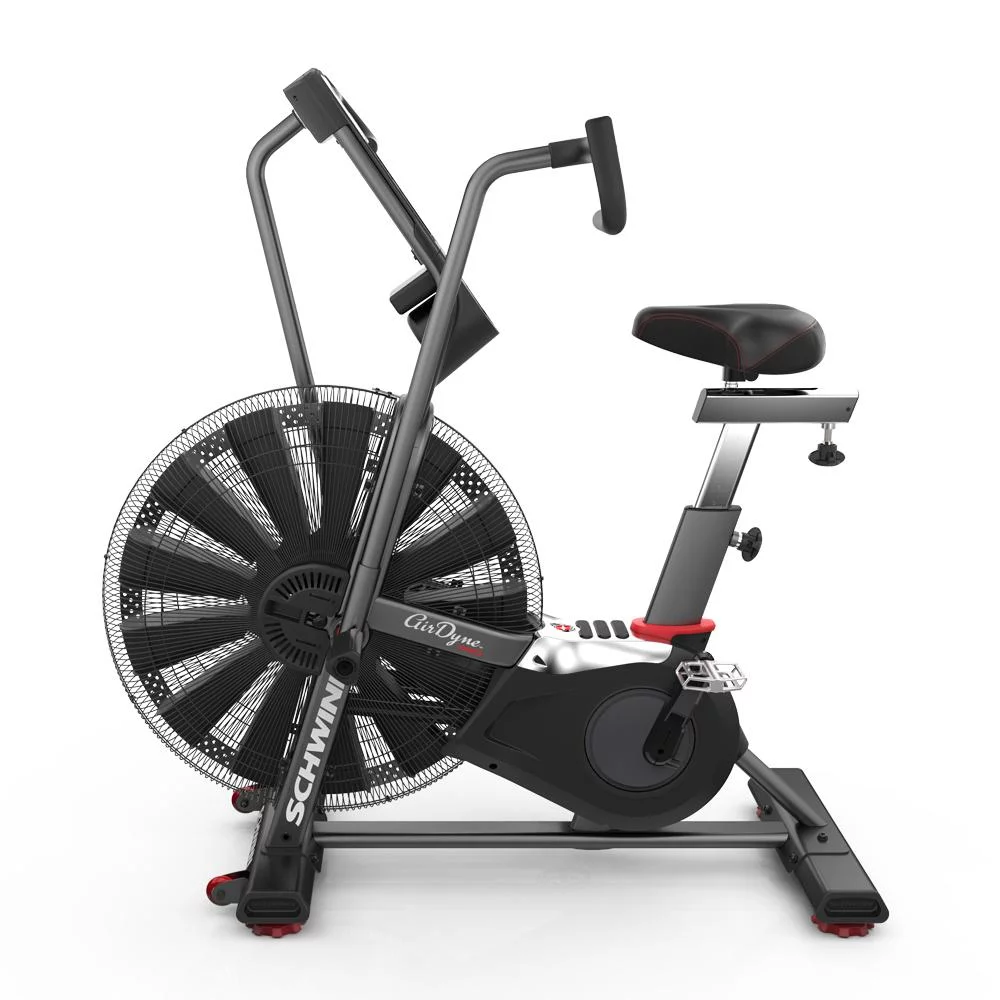 Schwinn AD7 Airdyne Pro Air Bike
SCHWINN AIRDYNE PRO Schwinn has been manufacturing quality bikes for over a century, and in the fitness world, they've been a leading innovator in air resistance technology. With the Airdyne AD Pro, Schwinn has developed its most complete all-purpose stationary bike to date–with a perimeter-weighted flywheel design, powerful solid steel cranks, and doubled-coated steel body construction. Multi-position handles allow the rider to use a vertical or horizontal grip, redesigned foot platforms reduce slip and improve push-off, and a larger, padded seat offers optimal comfort. The universal rail and clamp system even lets users swap in their own customized seats if they choose. Not all fitness bikes are built the same. The Schwinn Airdyne AD Pro is uniquely designed to increase resistance to match the force you're exerting, and its drive belt system is not only durable and up to the task, but far quieter than most air bikes on the market. No matter your goals or the pace you want to set, the bike allows you to establish a program that works for you, tracking watts, time, calories burned, distance, and more. SPECIFICATIONS: Single stage belt drive air resistance system Dimensions: 42" L x 20" W x 52" H (106CM x 50CM x 132CM) 26 Blade Performance Fan + Progressive Wind Resistance Moisture-repellent steel construction 9 programmable workout options Multi-Grip Handle Bars LCD display screen with metrics for time, distance, calories, RPM, watts, pulse, and speed Oversized, padded seat for greater comfort Maximum user weight: 350LB (160KG) Warranty Info: Frame (10 years), Parts (2 years), Labor (6 months)
Good for: Someone who wants a high-quality air bike
My Favorite Things:
Priced under $1,000
More advanced display than most air bikes
Heart rate monitoring
Multiple grip positioning
Weight capacity of up to 350 pounds
10-year frame warranty
My Callouts:
No fancy display, just an LCD monitor to spit out your stats
A little pricier than comparable bikes
No app or subscription necessary
Before the Rogue Echo Bike was introduced, the Schwinn AD7 Airdyne Pro Air Bike was my top pick for the best air bike. It's since been unseated, however, it is still an incredible bike.
The AD7 – also known as the Schwinn AD Pro – has great features like a belt drive system, outstanding LCD display, and great overall build quality. The design of the Airdyne Pro is excellent, which makes things easy to adjust and gives the bike a comfortable ride pretty much out of the box.
While Schwinn has been making air bikes for much longer than anyone else (the first Airdyne was introduced in 1978), it wasn't until the Airdyne Pro was released that Schwinn had an air bike designed for true fitness and commercial applications. Seriously, have you seen how many older, broken Airdynes are still on the market?
Check out my in-depth Schwinn Airdyne Pro Bike review here.
The Schwinn AD Pro is still nearly $1,000 at most places, which is much more expensive than other comparable options. It's worth the price, because of all the air bikes that I've reviewed (which is 27, as of this writing), this has been one of the most durable and most enjoyable to use by nearly everyone I've asked to try.
It is expensive (please, Schwinn, lower the price to compete with others), but Schwinn went back to the drawing board and pretty much completely reworked their original Airdynes to create something truly special for the modern age.
RELATED: Schwinn IC4 Bike Review
Best Peloton Alternative Exercise Bike: Echelon Smart Connect Bike EX-3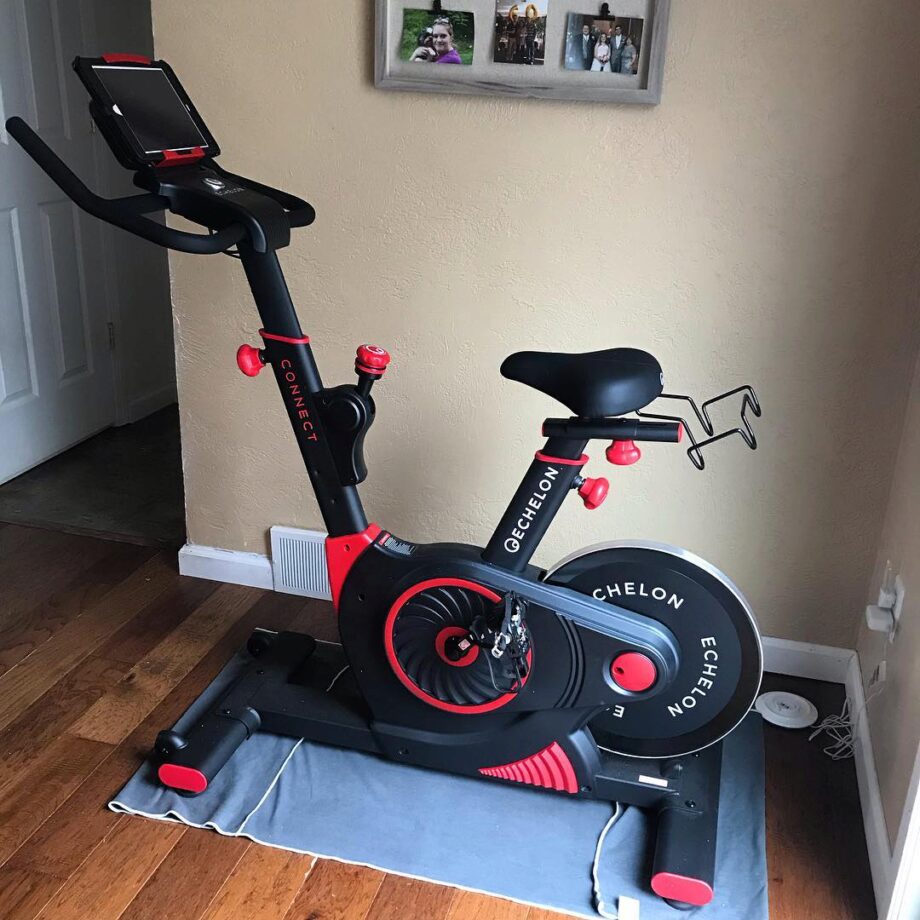 Best Peloton Alternative Exercise Bike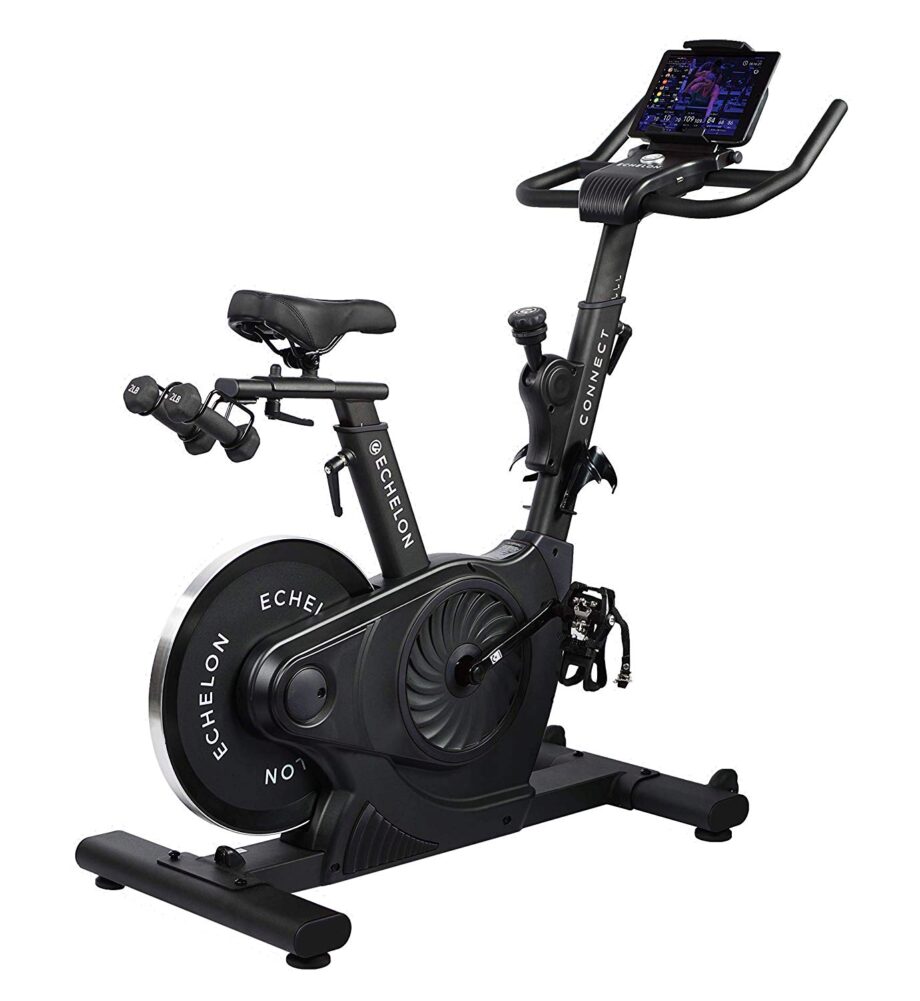 Echelon Smart Connect EX-3 Bike
14 DAY TRIAL INCLUDED. The Echelon Fit APP provides totally immersive fitness in the comfort and convenience of your own home. Access to Live, On Demand classes, Scenic rides, Yoga, Stretching, and a host of additional classes using with your trainer of choice It's like having your own home studio. PEDAL YOUR WAY TO NEW HEIGHTS: The all new Connect EX3 has all the great features of the original Connect bike with new advanced technologies. New and improved stabilization handles and seat post adjustments including a competition seat with 6' lever-style adjustment, 2.4-volt advanced device charging usb, and a precision resistance motor are just a few of the exciting new features you only get with the EX3. EFFICIENT, COMPACT AND POWERFUL: The Echelon Smart Connect Bike EX3 is designed with thirty-two resistance levels with new indexing resistance adjustment and easy to use resistance knob, this smart exercise bike stays in one place as you pedal, but it'll take your at-home workout to new heights. This bike is designed for anyone and every home. With a modern design and a footprint of just 3ft 5in x 1ft 10in, the Connect Bike provides a high intensive work out without taking over your space. NEVER RIDE ALONE: Rise with other rides from all over the world. Ride live or on demand and scenic rides with the Echelon Fit App. High energy live classes with certified cycle instructors, keep you motivated from our studio in Chattanooga, Tennessee. Or take a trip without leaving the comfort of your own home. The Echelon Fit App works for any device with Google Play or Apple Store. 100% MONEY BACK GUARANTEE: We fully stand behind our product. If for any reason you are not satisfied with our quality or your experience, you are covered for the first 30 days with our satisfaction guaranteed policy and 5-star customer service. We also offer a 1-year warranty. Simply reach out to us and we will make it right!
Good for: The immersive studio cycle experience with a budget-friendly price tag
My Favorite Things:
About half the price of a Peloton
Compatible with free and paid subscriptions
Bluetooth connectivity to tablet or smart device
32 silent magnetic resistance levels
My Callouts:
No fancy display, just an LCD monitor to spit out your stats
A little pricier than comparable bikes
No app or subscription necessary
No monitor; tablet holder provided instead
Financing available
Short, one-year warranty
If you're looking for the Peloton experience, but don't want to pay quite what a Peloton costs with a very similar bike, then the Echelon Smart Connect EX-3 Bike is a great Peloton alternative. Echelon has several connected bikes, with the EX-3 as the base model clocking in at around $1,000, nearly half what the Peloton costs.
Echelon United is the platform the bike uses for its classes, which includes live and on-demand options. Similar to Peloton, Echelon offers you the ability to compete with family and friends who are also on United. (There are many similarities between the two brands; even the Echelon website feels a lot like the Peloton site.)
The bike itself is pretty much the same quality as the Peloton, aside from the fact that the Echelon EX-3 doesn't have a screen. This is the big money saver. Instead of a fancy touchscreen, there is an iPad holder that connects to the bike via Bluetooth.
Best Exercise Bike for the Money: Titan Fan Bike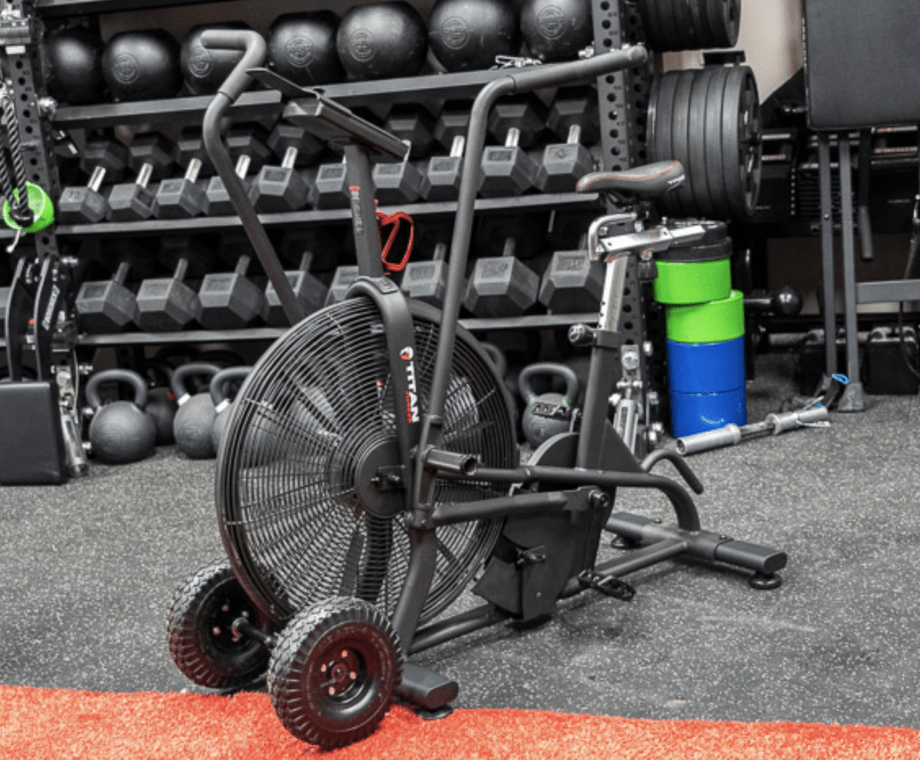 Titan Fan Bike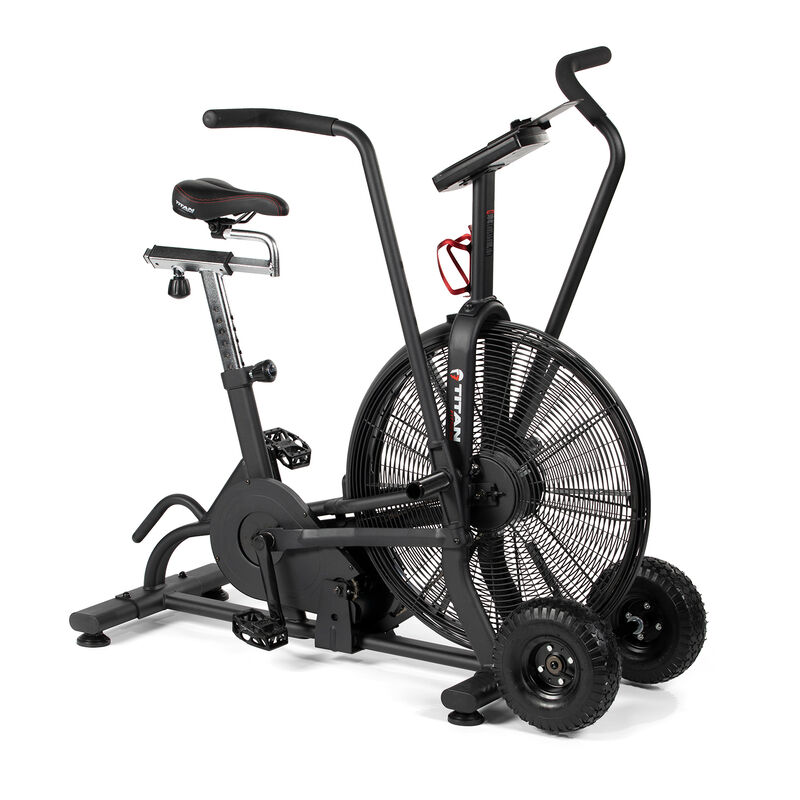 Titan Fan Bike
The Titan Fitness® Fan Bike is bigger and brawnier made with 111-pounds of heavy-gauge steel to help take your workout to the next level. This bike is integrated with sealed cartridge bearings in every pivot, reinforced pedals, and cranks, and is fashioned around a heavy-duty steel frame with a powder-coated finish. Additionally, the Fan Bike features a high contrast LCD console tailored to fit your specific goals. From endurance and stamina training to HIIT and Tabata — choose from a range of interval training programs for a total body workout. This Fan Bike's compact design makes it easy to use anywhere and with durable 10-inch turf tires, moving this bike is easy across any terrain. Plus, it's loaded with all the extras that come standard: fan guard, water bottle holder, phone holder, and a built-in back handle for easy maneuverability.
Good for: The immersive studio cycle experience with a budget-friendly price tag
My Favorite Things:
Large turf tires and handle on the back for easy maneuvering
Priced under $700
Has a water bottle holder and a phone holder
Movable arms for a total body workout
Fan guard you can put on to keep the breeze at bay if it's cold outside
My Callouts:
High maintenance chain drive system
It's an air bike, so it's going to make a fair amount of noise
Short one-year warranty
Read my full Titan Fan Bike review here.
Across the board, equipment from Titan is typically budget-friendly without sacrificing quality. This rings true of the Titan Fan Bike, which costs less than $700, is like a pimped-out version of the AssaultBike Classic and is one of the best cheap exercise bikes. I say that because the Titan Fan Bike has conveniences the AssaultBike does not, like a red water bottle holder and a cell phone holder on top of the monitor.
Another key perk of the Titan Fan Bike is a fan guard, which is usually extra with other bikes, or not even offered at all. Yes, if it's the dead heat of summer, the breeze from an air bike is a welcome thing. But if you're like me and have very cold winters, a fan guard is nice to keep that air from blowing on you. The bike also has these huge turf wheels on the front so you can easily move it around your garage or home.
Like the Assault Bike, the Fan Bike uses a chain drive system, which is high maintenance because you have to take care of it, just like you would take care of the chain on a road bike. Also similar to many air bikes, the monitor leaves much to be desired. It's a simple LCD display with just a few preset workout buttons.
RELATED: Best Budget Home Gym Equipment
Best Exercise Bike for CrossFit: AssaultBike Classic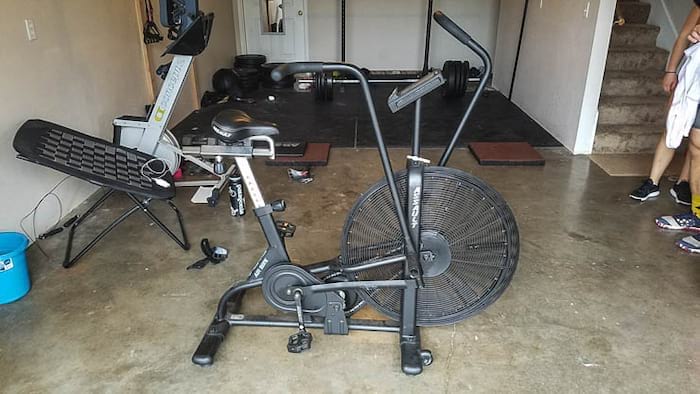 Best Exercise for CrossFit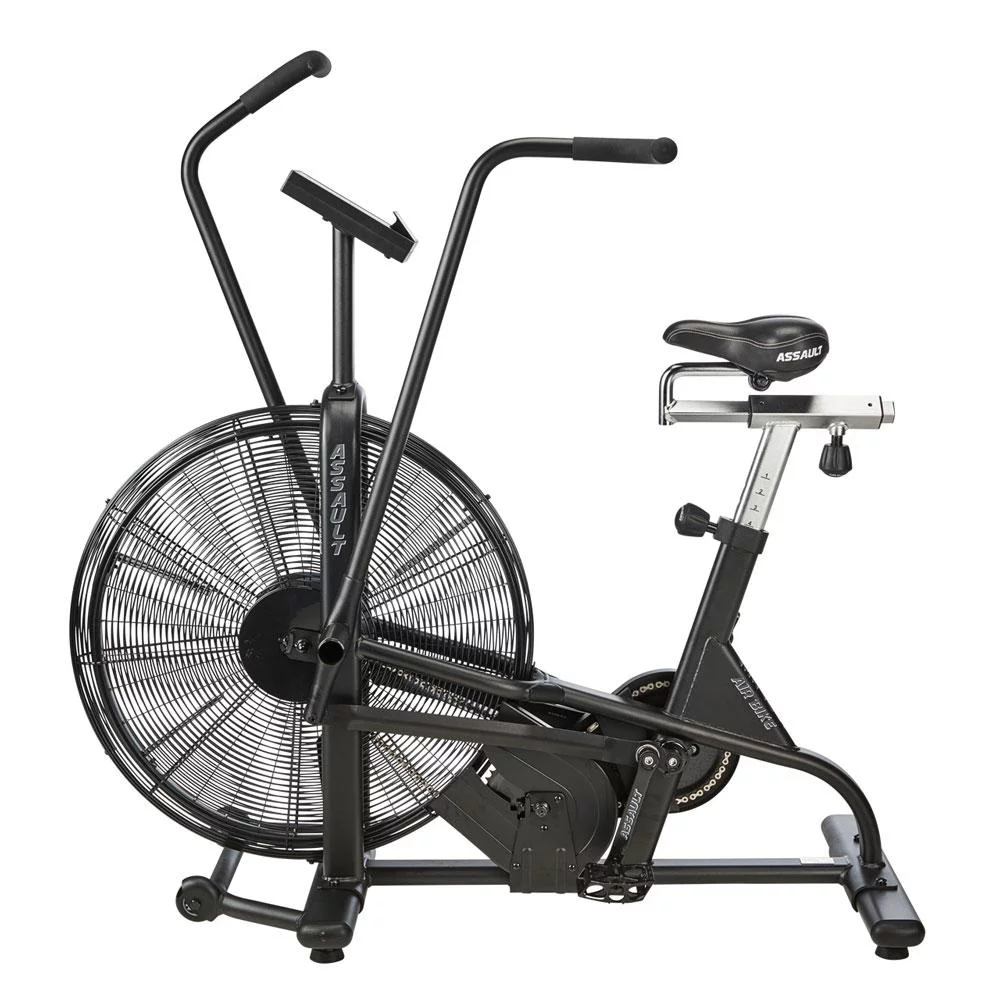 Assault AirBike
ASSAULT AIRBIKE Finally, a heavy-duty exercise bike designed directly from the feedback of athletes and coaches. The Assault AirBike reinvents and retools nearly every component of the traditional fan bike, from the frame construction to the crank, pedals, monitor and more. The series is designed and tested in the USA by the experienced team at LifeCORE Fitness in Carlsbad, California. Using air resistance, the Assault AirBike scales automatically to how hard you want to work. The harder you pedal, the greater the resistance. It's simple physics with big benefits. The great thing about the Assault AirBike is that it can work for a beginner, a rehabbing athlete, or a seasoned pro training at the highest levels of competition—no matter their sport, body type, or ambition. While fanbikes have existed for nearly half a century, modern advances in their design and function have made them increasingly in-demand among military personnel, pro and college sports teams, competitive cyclists and sprinters, and high performance athletes from the cross-training ranks. The key: you set your own pace. The resistance adapts to your own output, and the bike's multiple, custom seat adjustments make for a more comfortable, customized ride. In the age of smartphones and tablets, an old-fashioned, clunky fitness bike monitor simply doesn't cut it. The Assault AirBike's state-of-the-art LCD display console is still easy to navigate at the push of a button, but your customization options—from on-board programs to instant, multi-faceted monitor feedback—is almost limitless. Athletes can simultaneously track their heart rate, speed, RPM, time, calories burned, and more. Even watts can be monitored with precision accuracy, thanks to the AirBike's 20-horsepower electric motor and carefully calibrated torque measurement meter. You won't just feel the effects of a good workout, you'll be able to see the science behind it in real time. LifeCORE threw out many of the old stationary bike manufacturing methods and focused on a powerful new 21st century bike that could handle daily abuse at the best gyms in the world. Each bike is equipped with a thick-gauge chro-moly steel frame, with at least 1-2 sealed cartridge bearings in EVERY single pivot—from the flywheels and pedals to the bottom bracket and linkage arms. There are over 20 bearings in all, unmatched by most fitness bikes in the industry. The goal isn't just reliability—it's zero wobble and zero maintenance required over thousands of hours of use. Specifications: LCD screen outputs: Watts – RPM -- Calories – Heart Rate -- Distance – Time – Odometer – Interval Training (Tabata and custom) Heavy Duty Steel Frame eliminates side-to-side movement 25" diameter steel fan Hybrid seat with multi-adjustment options Industrial powder coating for durability Reinforced pedals and crank 20 sealed cartridge bearings, utilized in every pivot
Good for: Functional fitness enthusiasts who enjoy budget-friendly old-school suffering
My Favorite Things:
Heavy-duty steel frame with reinforced pedals and cranks
Priced under $700
Seven built-in workouts –- that's a lot for an air bike
Easy to assemble
Weight capacity of up to 300 pounds
My Callouts:
High-maintenance chain drive system
Performance monitor is an LCD display
Five-year frame, two-year parts warranty
No conveniences like water bottle holder
And the winner for most popular AirBike goes to … the Assault Airbike Classic. The AssaultBike is the most popular air bike currently available, largely because it's been used in the CrossFit Games and in a ton of different CrossFit affiliate gyms. It was also the first Airdyne-type bike to come to market that didn't look like it belonged in your Grandma's basement (no offense Grandma.) We've listed 12 reasons to/not to buy an Assault AirBike to help you out.
Ultimately, the AssaultBike Classic has a time-tested solid design. It's a heavy-duty steel frame with a steel fan. However, one of the reasons we aren't so high on the AssaultBike is due to its chain-drive system. Chain drives are notorious for requiring much more maintenance and experience failures more often than a belt drive system like what is seen on the Schwinn AD Pro Airdyne and Rogue Echo Bike.
RELATED: Rogue Echo Bike vs Assault AirBike
That said, if you don't mind getting your wrenches out every so often and lubing the chains here and there, the AssaultBike is a proven fan bike. If you're searching for the best CrossFit equipment, or just want an AirBike that starts and stops easier and quicker than the Echo Bike, then this is a great option for the price.
Best Budget Exercise Bike: Sunny Health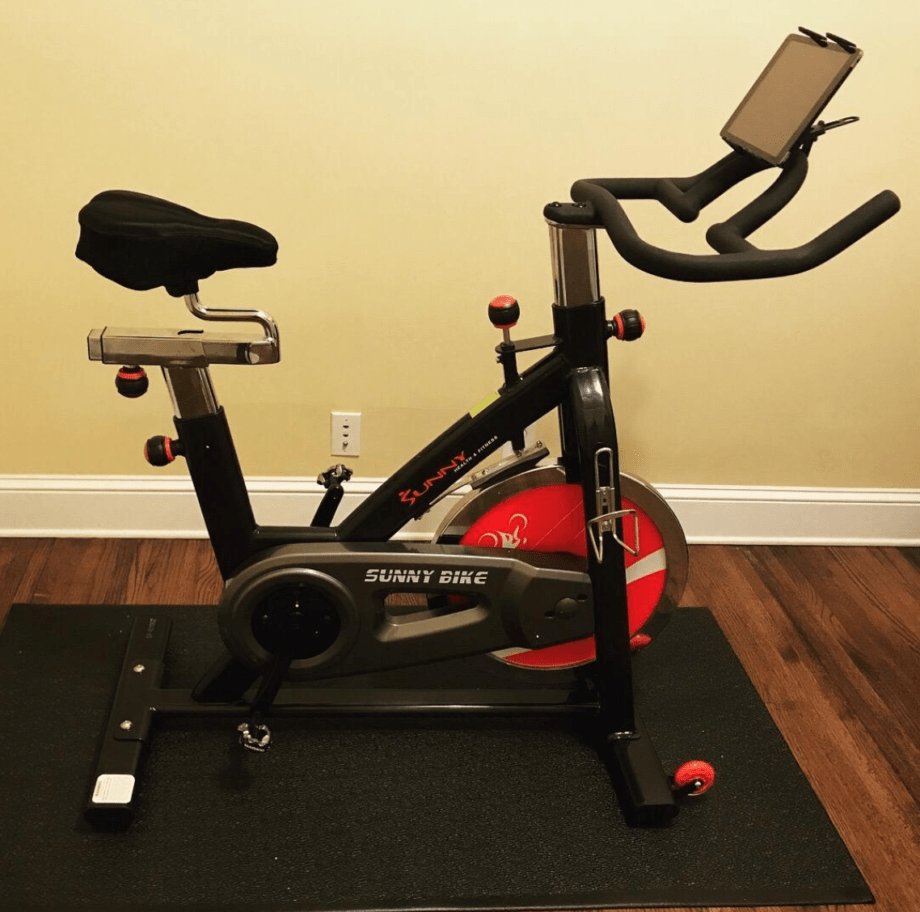 Best Cheap Exercise Bike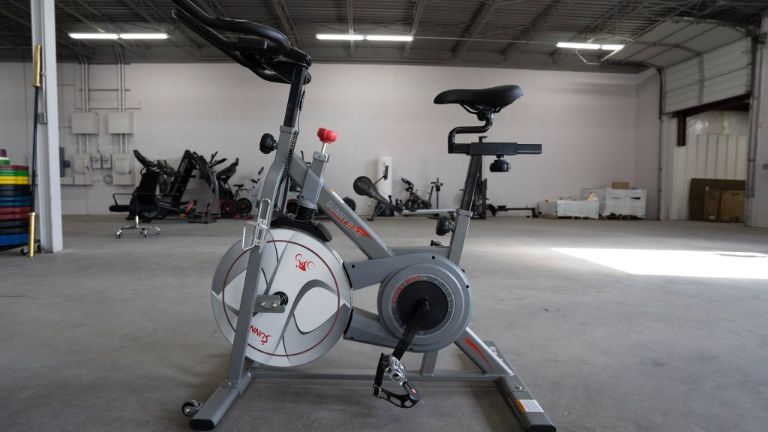 Sunny Health and Fitness SF-B1002 Belt Drive Indoor Cycling Trainer
STATIONARY BIKE: The sturdy steel frame, heavy 49 lb weighted flywheel and 275 maximum user weight gives this bike a rock solid build that will keep it moving ride after ride. RESISTANCE: Resistance system gives you the experience of a realistic, real-road feeling. Push down emergency brake will bring the bike to an immediate stop. SILENT RIDE: Experience a smooth and quiet ride with the maintenance free belt drive system which allows you to workout without interrupting your workout or anyone around you. CUSTOMIZABILITY: 4-Way adjustable seat and 2-way adjustable handlebars adapt to any user type. Use the toe clip pedals with straps to keep your feet in place. BOTTLE HOLDER: Stay hydrated throughout your workout. This convenient bottle holder is built into the frame for easy access.FOOT PEDAL STYLE: caged
Good for: Cyclists on a budget who seek a low-maintenance bike
My Favorite Things:
Priced around $350
49-pound flywheel provides a smooth ride
Hundreds of micro levels of resistance adjusted manually
Four-way adjustable seat and multi-grip handlebars
Conveniences like water bottle holder and transportation wheels
My Callouts:
Leather pad resistance will eventually require maintenance
No monitor or display at all
No tech compatibility
No preset workouts
The Sunny Health and Fitness Belt Drive Indoor Cycling Trainer (wow that's a mouthful) is a budget-friendly exercise bike. This is a super quiet, belt-driven bike that won't drown out the tv while you're getting in your afternoon workout. The SF-B1002 is most attractive because of the price. There aren't many indoor exercise bikes I'd recommend that are available for a lower price than this one.
RELATED: Ultimate $1,000 Budget Home Gym
If you're on a budget, but want a decent exercise bike that functions well and doesn't require a ton of maintenance, then Sunny Health and Fitness is a great option.
Overall, the Belt Drive Indoor Cycling Trainer from SF is a pretty decent bike with a nice 30-day full refund guarantee and one-year free parts replacement warranty if you end up not liking the bike. One of the biggest reasons I feel confident in recommending it is because of just how many positive reviews there are on Amazon.
In fact, this is the most reviewed exercise bike on Amazon, and despite over 1,547 reviews, it has a rating of 4.4/5 stars. For a bike around $300 with free shipping to your door, that's hard to ignore.
Best Exercise Bike for Cyclists: The Wattbike Atom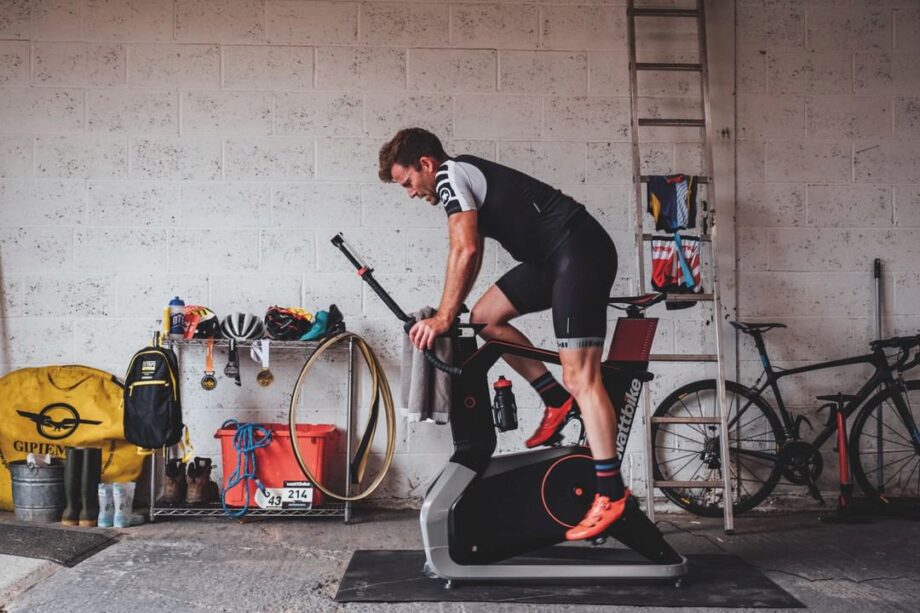 Best Exercise Bike for Cyclists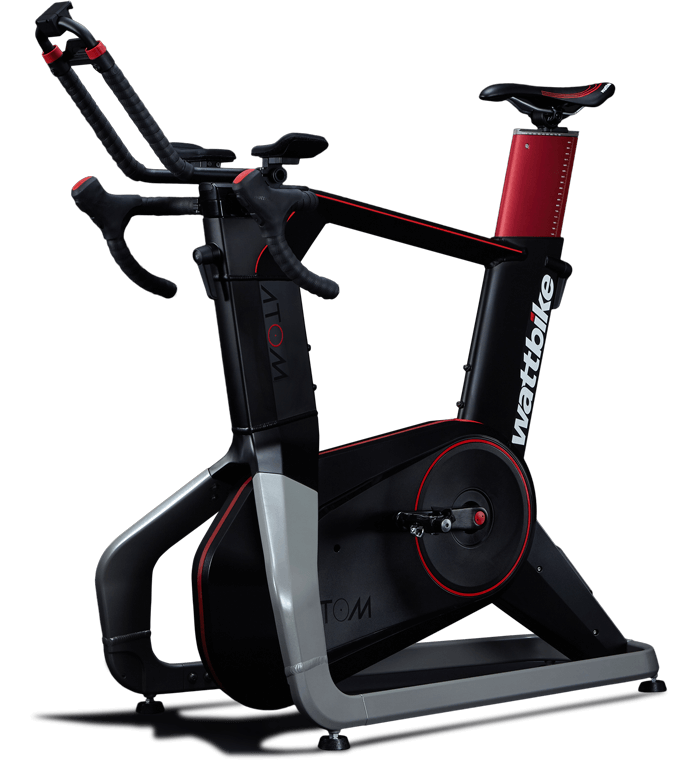 Wattbike Atom
The Wattbike Atom marks a new era in indoor training. It introduces innovative Climb Mode with automated resistance and offers unrivalled connectivity for an immersive training session. The Atom is a smart bike providing ultimate realism using Real Ride Feel technology. With Wattbike DNA at its core, the Atom combines cutting edge innovations with precision data and analysis. It helps you train harder, smarter and more effectively. Giving you that performance advantage, that crucial edge, when it really matters. This is the next generation of indoor training. This is Wattbike Atom.
Good for: People who are serious about cycling with money to spend
My Favorite Things:
Features gear shifters to mimic a real ride
Highly accurate data at +/- 2%
Magnetic resistance for quiet training
ANT+, Bluetooth and FE-C connectivity with app-controlled resistance
Four-step assembly
My Callouts:
Priced at around $2,600
Reviewers note it can be a bumpy ride
No preset workouts; free app for training workouts; compatible with Zwift
The Wattbike Atom is absolutely legendary among cyclists. Nearly every high-end cycling studio or real cycle training gym has used Wattbikes at some point. Unfortunately, for those in a home gym, Wattbikes have been out of reach due to their low availability and high price. However, that was for the Wattbike Pro/Trainer. Recently, Wattbike released a new version specifically for those training at home: the Wattbike Atom.
The Atom is, according to Wattbike, the "smartest indoor bike trainer, bar none." Is that true? Well, maybe. Wattbike decided to take what worked on the Pro/Trainer and remove some of the things that cause it to be so expensive to create the Atom. Don't get it twisted: the Atom is still very expensive; however, for those who want a bike that tracks nearly every metric, feels eerily similar to riding on the road, and is made to last, then the Atom is a great option.
Although the Atom is a beautiful-looking bike, what really sets it apart is all of the data and analysis that goes on behind the scenes. Thanks to its seamless connectivity and data accuracy at +/- 2% across the bike's full power range of 0-2,000 watts, you'll always know where you need to improve and how you're progressing.
This is certainly not the bike for those of you who just want a nice ride. This is for those who are serious about their training, know they will put the bike to use, and have the money to spend. We certainly wouldn't recommend this to most reading.
Best Exercise Bike With Screen: Peloton Bike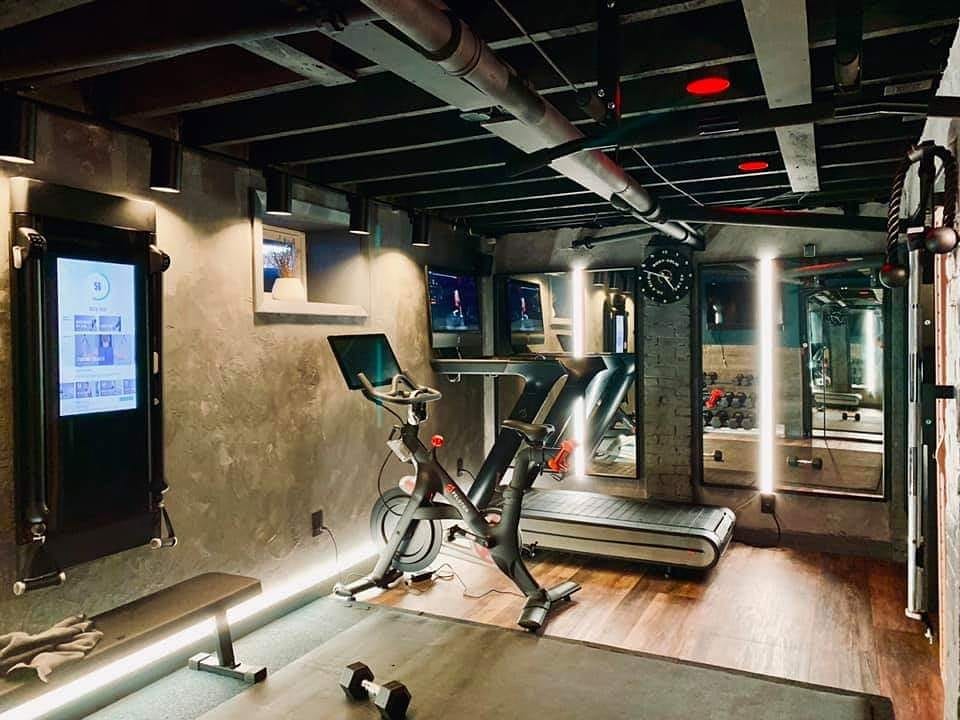 Best Exercise Bike With Screen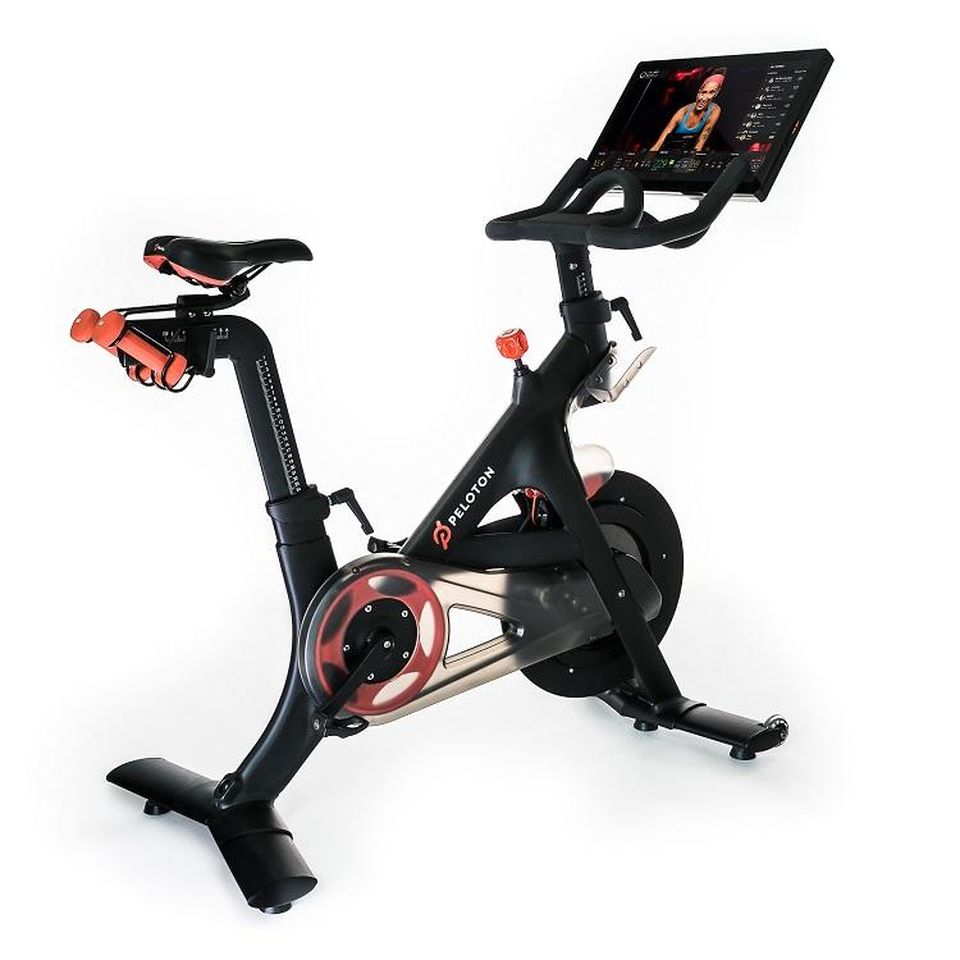 Good for: People with money to burn seeking interactive and on-demand classes
My Favorite Things:
Impeccable live and on-demand programming
Silent, comfortable ride
Tech game is on point: Bluetooth speakers, full-color touchscreen
Sleek design
Weight capacity up to 300 pounds
My Callouts:
Starts at nearly $2,000, with additional moolah required for the subscription app
Subscription required to make the bike worth it
Specific Peloton-friendly cycling shoes a required (and cost more).
Honestly, how could we not include the Peloton Indoor Exercise Bike, aka the ultimate smart bike? There are few pieces of gym equipment that have revolutionized the home gym training market quite as much as the Peloton Bike. Yes, we've all seen the commercials; it's not just hype, this bike is revolutionary and has changed the industry.
RELATED: Best Smart Home Gym Equipment
Is it pricey? Yes. Do you get what you pay for? Yes. Is it one of the most immersive training experiences you'll find from the comfort of your home? Yes. Yes. Yes.
The reason I recommend the Peloton Bike isn't because it's built extremely well. In fact, the bike itself isn't all that good. Reviews constantly mention it breaking down, warranty replacements taking a while, and just an overall bad experience with the hardware on the bike.
However, what causes people to continue flocking to the bike like seagulls on a trash-filled beach? The experience. Seriously, there is nothing else like the Peloton Bike experience. We've tested and reviewed many Peloton alternatives (and even have some recommended on this list) but few can compare to the feeling of taking a Peloton cycling class.
An exercise bike is only as good as the workout it produces. If you don't use it, it's worthless outside of the clothes you use to hang on it for drying purposes. This is why Peloton is so great. Nearly every rider who owns a Peloton Bike works out more than they would without it because of the live classes. If you struggle to workout at home and have the money to spend, Peloton is truly your best option.
Best Indoor Cycle Bike: Keiser M3i Indoor Cycle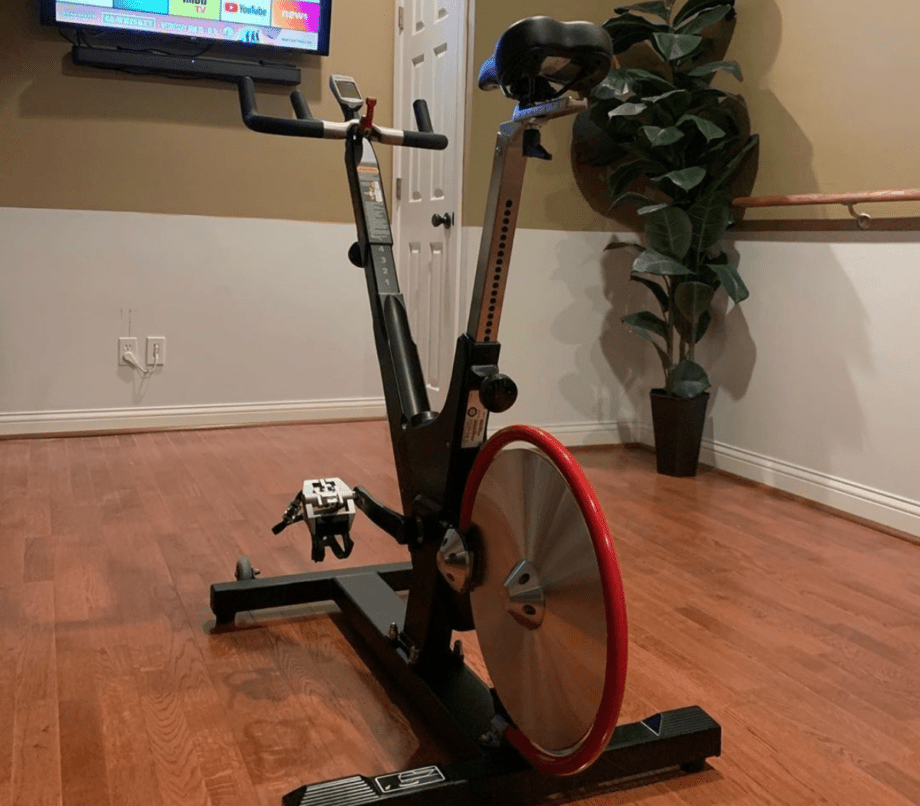 Best Indoor Cycling Bike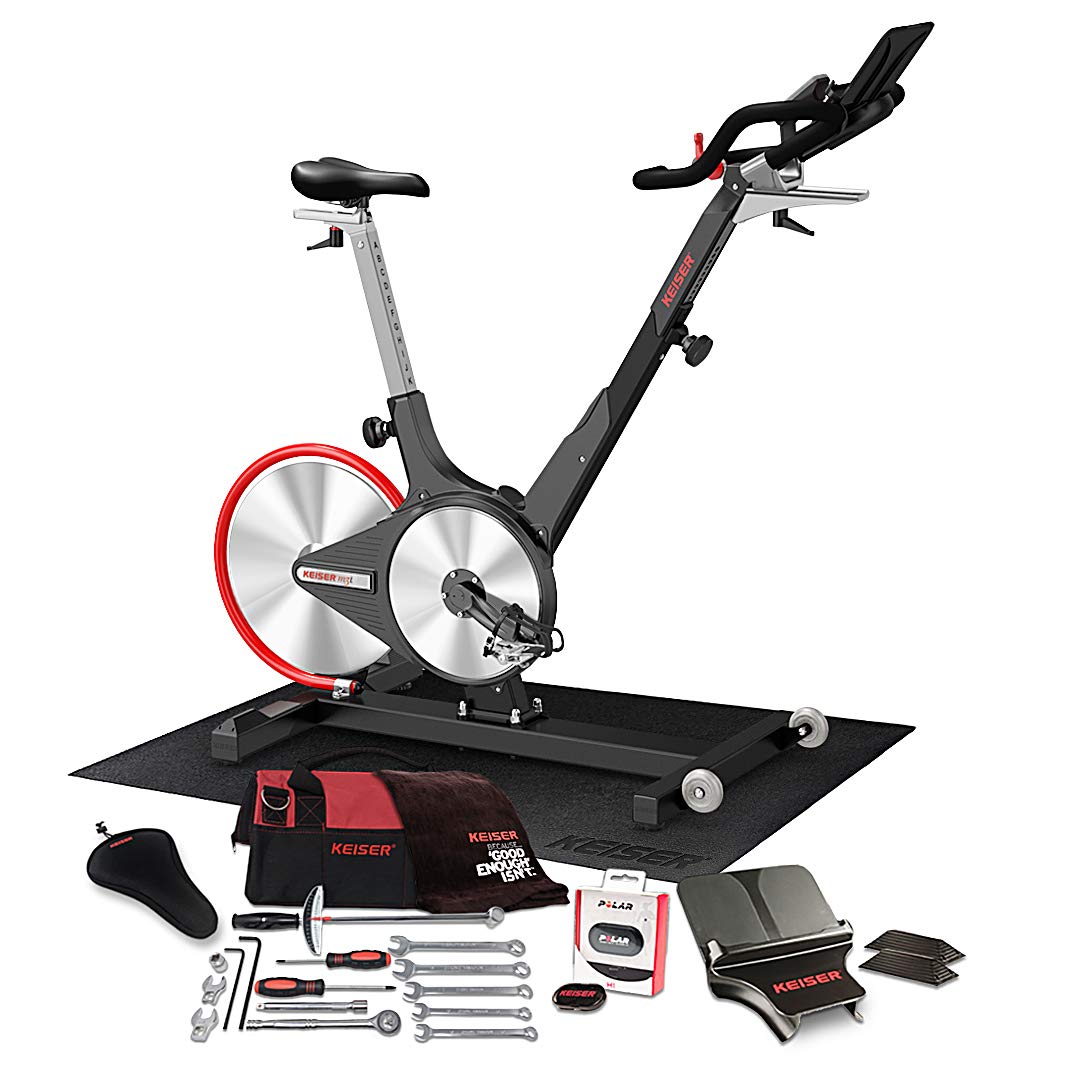 Keiser M3i Indoor Cycle
More than 20 years ago, Keiser set out to create a bike that would exceed the demands of indoor cycling. Designed around you, an indoor bike that fits riders of all body shapes and sizes; a bike that achieves a quiet but true road bike experience inside your home; and the only stationery bike built in the United States to ensure the tightest quality control. And we accomplished it all with THE SIMPLEST OF ENGINEERING DESIGNS. The use of any exercise equipment, including the Keiser M3i bike or any fixed gear bike, without proper instruction and supervision violates the terms of this agreement for purchase of such products. The inability to stop pedaling on a fixed gear bike before the flywheel stops may be dangerous to anyone riding, especially anyone that does not recognize or respect the potential danger. Therefore, users, agents, or anyone directing the use of said equipment shall determine the suitability of the product for its intended use, and said parties are specifically put on notice that they shall assume all risk and liability in connection herewith.
Good for: Studio cycle enthusiasts who want a smooth ride from one of the most durable stationary bikes around
My Favorite Things:
Made in the USA
Uses high-end construction components
Comes with gel seat cover, mat, heart rate monitor, and media holder
Magnetic resistance provides a quiet workout
Four-way adjustable seat and handlebars
My Callouts:
Costs nearly $2,000
No preset workouts available without an app or subscription
Very basic console displays workout stats
Looking for the best exercise bike you can buy? The Keiser M3i Indoor Cycle is that bike. There's a reason nearly every luxury commercial gym in the world has rooms filled with M3i's, and it's not just because of the name, but because of the quality of the components used.
Sure, there's no screen or live classes available for the bike (although you could easily get a Peloton or Zwift subscription and add an iPad to the bike), but the physical Peloton Bike can't compare to any Keiser bike, let alone the M3i.
One of the things the Keiser bikes are known for is how smooth they are to ride. We would be hard-pressed to find any type of exercise bike that is as smooth or as durable as a Keiser. One thing that makes the Keiser so durable is the fact that it's the only indoor bike built in the USA and uses extremely high-end components.
Pretty much everything on the bike is metal, and it is also completely adjustable. You can adjust the seat height, handle height, and seat angle, and the seat and handlebars move forward and backward. The design is most similar to a road bike frame, which is a big audience for Keiser.
Not everything on the Keiser is perfect, however. The biggest drawback to the bike is the price. Their primary audience is commercial gyms, but there are many home gym owners that want the best and don't mind paying for it. If you're in that camp, then you can't go wrong with the M3i.
RELATED: Ultimate Home Gym Guide (for any budget)
How I Tested the Bikes
It's important to me to give my Garage Gym Review family all the information they need to make a great buying decision. I carefully selected the exercise bikes I wanted to test (with input from the peanut gallery) and had them shipped to my home. From there, I used the bikes for multiple workouts. I still use some of them today in my regular workouts.
While testing, I made sure to consider the following things:
Adjustability: How adjustable is this bike? Can the handlebars be moved? Is the seat adjustable both horizontally and vertically? How tall and short of a person can this bike accommodate?
Durability: How much does the bike weigh assembled? How much weight can this bike support? Is the bike sturdy? What materials are the bikes made of? How do those materials generally hold up over time? Do the handlebars or screen wiggle when in use?
Ease of setup: How easy is the setup? Were the directions simple to follow? Were the parts clearly labeled? Do you need additional tools not included to complete assembly? Are there options to have a professional with the company assemble the bike for a fee?
Warranty: What is the warranty? How does this warranty compare to other bikes in the same price range?
Resistance levels: How many resistance levels do this bike have?
Price: How expensive is this exercise bike? Is this bike a good value? How does it compare to other bikes on the market price-wise?
Technology: Does the bike have a compatible app? Do you have to pay a membership fee to utilize the app? Is there an included display? What kind of screen is the display? How large is the screen? Is it a touchscreen? Does the screen swivel or move?
Size: How large is the bike? Can it be easily moved? Is it foldable? Do you need extra people to help move it?
Ergonomics: How comfortable is the seat? Can you replace the seat easily? Can you replace the pedals? Are the pedals clip-ins or caged?
Extras: Are there extra accessories you can buy for the bike? What extra cupholders or weights are included in the purchase?
How to Choose the Best Exercise Bike for You
The best exercise bike is completely subjective because what works for you might not work for someone else. Here are my suggestions for items to consider when looking for an indoor exercise bike:
Which Type of Exercise Bike Is Right for You?
There are several types and styles of stationary bikes, each serving a different purpose:
Air Bike: An air bike – which is truly a pain machine – uses air for resistance. The pedals –and in many cases, movable arms –turn the fan, giving you a full-body workout. The levels of resistance on an air bike do not adjust; essentially, the faster you go, the harder it is.
Most air bikes are lightweight and easy to move. They are often in a most affordable price range compared to other at-home exercise bikes, as air bikes have very simple monitors and usually only a few preset workouts if any.
Studio Cycle Bike: A studio cycle bike is exactly as the name suggests: A bike you would find in a typical studio cycle class. It looks similar to a road bike when it comes to pedal, seat, and handlebar positioning. The wheel is often a flywheel, which is weighted and creates stability on the machine.
Resistance may either be friction-based, like a brake or magnetic, which is lower maintenance. Your body position using an exercise cycle bike is usually either leaning forward or out of the saddle, leaning further over the handles (as though you are climbing a hill).
Recumbent Exercise Bike: Recumbent exercise bikes are known for large, comfortable seats that have backs to them. The pedals are located out in front of your body, and there are often handles on either side of the seat for you to hold. These are great for very low-impact exercise, either for seniors or people recovering from an injury.
Upright Exercise Bike: The upright exercise bike is a fairly rare breed and not one you see often. The pedals are located almost directly under the seat, and the handles are closer to your body. This puts you in a completely upright position on the bike.
For many people, this creates lower amounts of strain on the back than, say, a studio cycle bike. One benefit to upright exercise bikes is that they often have a very small footprint, as they tend to be taller as opposed to longer or wider.
What Type of Exercise Bike Resistance Is Best?
Resistance is what makes biking harder like you would feel climbing a hill if you were on the road. The type of resistance a bike uses actually does matter, if you care about some of the particulars:
Magnetic Resistance: Magnetic resistance is found on bikes that use flywheels, which are heavy, metal wheels that provide the bike greater stability the heavier they are. The advantages to magnetic resistance are that it is often quiet, which is great if you exercise around people, and it is much lower maintenance than other forms of resistance. One downside is that magnetic resistance is often more expensive.
Fan-based Resistance: Air bikes have a fan that generates resistance. The faster you pedal, the more the fan turns, and the harder it gets. Be aware, fan bikes are anything but silent. You will hear that whirring sound as the fan moves faster. However, fan bikes are lower maintenance than friction-based resistance bikes, and at least you get a cool breeze as you exercise.
Friction Resistance: The friction-based resistance model tends to be the most affordable because it is the easiest to build. Pads on either side of the flywheel tighten to make the wheel harder to turn. You do get what you pay for, so be aware that the pads wear down and will need to be replaced if you bike often.
How Durable Is the Bike?
Durability shows up in many ways in bikes. If you are going to invest hundreds of dollars in a piece of equipment, it should be something that lasts. Some key points:
What is the weight capacity of the machine? Many exercise bikes can hold 300+ pounds, but some are weighted for less.
Does it have stabilizers on the bottom to ensure a flat surface and a smooth ride?
What is the warranty? The best exercise bikes are guaranteed for five or more years.
How Important Are Ergonomics?
A bike needs to be ergonomically sound or else your workout will wreck you. At a minimum, the seat should adjust vertically to accommodate people of all sizes. However, there are several other considerations to take into account:
A padded seat so you don't get that horrible butt hurt
A seat that also adjusts horizontally
Pedals that are caged or clipped, depending on your riding preference
Padded handlebars, or handlebars that offer multiple grip positions
Do You Need Preset Workouts?
Some people have no problem hopping on a bike and working toward their fitness goals without any guidance. Others need a little help. Bikes today have all kinds of options, such as the following:
Built-in preset workouts like interval training that adjust resistance as you go
The ability to connect via Bluetooth to free or paid apps that offer workouts
A full-color touchscreen that displays rides through the various landscapes and adjusts resistance as you go (as you'll find with apps like iFit from NordicTrack and the Peloton app)
Live and on-demand classes available via apps
Community-based challenges, like riding 10,000 miles in a month
How Much Space Do You Have?
Any cardio equipment is going to take up space in your place. Treadmills and ellipticals, for example, have incredibly large footprints. Bikes are a little more space-friendly. In fact, there are folding exercise bikes that you can store in a closet. Check out the measurements as well as looking for how heavy the bike is and how easy it is to move, especially if you're dealing with small spaces.
RELATED: Exercise Equipment for Small Spaces
How Much Do You Want to Spend?
The bottom line is just that: the bottom line. If you want quality in a bike, you're going to be paying at least $500 or more. High-end bikes are easily close to $2,000 or more if you want to splurge. You can certainly find bikes under $500 – like the Sunny Health and Fitness bike mentioned above – but too much lower than that, and you're probably sacrificing quality.
What Features Are Important to You?
It's 2022. A "smart bike" is actually a thing. We made them (gasp!) smart.
So here we go, a list of features you might end want on your exercise bike:
Bluetooth speakers
WiFi connectivity (might actually be required if your bike uses an app
Cooling fan
Water bottle holder
Tablet holder
USB charging port
Holders for dumbbells
HD touchscreen display
Connectivity to other fitness apps, like MyFitnessPal
On-demand and live studio classes
Heart rate monitoring, either via grips or a wireless device
Streaming capabilities so you can watch Netflix or other apps
RELATED: Best Fitness Trackers
FAQs About Exercise Bikes
What is the best exercise bike for a beginner?
The ideal exercise bike for beginners would be one that suits his or her fitness goals and budget. Many people just don't know where to start, so finding a bike with preset workouts is a good idea. Our suggestions include the Echelon Smart Bike series, the Bowflex VeloCore, and the Concept2 Bike Erg. However, it's good to give our buying guide a read to see if there are any key features you would like to see on your bike.
How often should I cycle on an exercise bike to get fit?
Every exercise regimen should be one that a doctor approves. That said, health organizations are generally in line with people exercising about 30 minutes to an hour a day, three times a week.
The American Heart Association states that 150 minutes of moderate exercise each week, or 75 minutes of vigorous exercise each week, is necessary for heart health (this is why you see some fitness trackers like FitBit and Garmin with a 150-minute goal). An easy way to approach it is to start by working out three days a week, especially if you're new to it, and slowly building in intensity or frequency, or both.
Is bike cycling good exercise?
Of all the different types of cardio workouts, cycling tends to have one of the lowest impacts on your joints. Running can put a lot of strain on the knees, hips, and ankles, especially if you are running with bad form.
Cycling gets your heart rate up, forces your legs to work hard while pedaling against resistance, and can be really fun. That's the trifecta of exercise: burn calories, build muscle, and have a blast doing it.
Are exercise bikes as good as real bikes?
Exercise bikes are an excellent way to get some exercise. The whole idea of an exercise bike is to challenge your legs and have intensive exercise. Certainly, you won't get much of an upper-body exercise. Real bikes, on the other hand, include every part of your body in the ride. While your legs will still get the most attention, your entire core will be challenged as well.