We test and review fitness products based on an independent, multi-point methodology. If you use our links to purchase something, we may earn a commission. Read our disclosures.
We've tested a lot of exercise bikes, from stationary bikes to air bikes, and the Schwinn Airdyne AD7 (AKA the Schwinn Airdyne Pro) is one of our favorites. Not only is it super quiet—we actually crowned it as the quietest air bike—it's also really stable and has one of the best monitors you'll find on an air bike.
Schwinn was the first company to make an air bike, and while we've been less than impressed with the Airdyne bikes of the past, this most recent iteration has everything we've been looking for. In this Schwinn Airdyne AD7 review, we'll dive into the specifics and compare it to some of our other best air bike picks, like the Rogue Echo bike and, of course, the Assault Fitness AssaultBike (sometimes also called the Assault Airbike).
We've Biked Thousands Of Miles

We've tested dozens upon dozens of exercise bikes, from budget models to smart bikes with large screens. While you can see some of our favorites in our guides, there are also a lot that we've tested that didn't make the cut.
Our expert product testers know what they're doing and how to differentiate the good from the bad—not just because we're fitness enthusiasts, but also because we're a group of certified personal trainers, CrossFit Level 1 Trainers, competitive weightlifters, and former collegiate athletes who have a personal and professional interest in finding the best fitness equipment out there.
A Quick Look at the Schwinn AD7 Airdyne
As we already mentioned, Schwinn made the very first air bike all the way back in the 1970s. The company has released many iterations of the bike, but the AD7 was really the first one that was designed for home gyms and/or commercial gym use.
Schwinn Fitness currently makes a few air bikes, all of which are Airdyne models: the AD7 Airdyne bike, the Airdyne AD2 and the Airdyne AD6. The AD7 is the higher-end model (on some sites it's called the Airdyne AD Pro). There are a lot of similarities between the two, but the AD7 has a better display, more adjustment points, and a higher weight limit to accommodate more users.
It operates on a single-stage belt drive system, has infinite levels of air resistance, and is made of powder-coated steel for a solid, durable construction.
Is the Schwinn AD7 Airdyne Worth It?
The Schwinn AD7 Airdyne is more expensive than its competitors, but we think it's worth the extra cost for some people. It's quieter than others and has a multi-display LCD screen that's easy to read mid-workout. Because it has a belt-drive system, it also requires less maintenance than chain-drive bikes like the AssaultBikes. This can save you time and money over the lifetime of the bike.
Great for:
Anyone looking for a smooth, quiet ride
Those who want a better upper body workout than an upright or recumbent bike can provide
People who can spend a little more on a bike
Not recommended for:
People looking for a lower-intensity bike
Those on a strict budget
Someone looking for a bike with a lot of technology
Schwinn AD7 Airdyne Specs
| | |
| --- | --- |
| Footprint | 53" L x 26.5" W x 53" H |
| Weight | 113 lbs |
| User weight capacity | 350 lbs |
| Drive system | Belt-driven |
| Monitor presets | Time, distance, calories, intervals, heart rate |
| Adjustment points | Forward, back, up, down seat adjustments |
| Warranty | 10-year frame; 2-year mechanical and electrical; 6 months labor |
Workout Experience: Using the Schwinn AD7 Airdyne
Smooth and quiet are the first two words that come to mind when describing the workout experience on this bike.
The Schwinn AD7 has the first belt drive system on any air bike. "Basically, rather than using your typical link chain, the bike uses a heavy-duty rubber belt often seen in cars," Coop says, which allows for a few things:
A much quieter (and smoother) ride
Fewer necessary adjustments over the bike's lifetime
Easier adjustments
The belt drive also makes an enormous difference when it comes to noise. "The only real noise you hear is the one produced by the blades on the fan battling against the wind. Starting the bike is smooth and quick, as is coming to a stop for things like movement changes or intervals," Coop says.
Construction, Durability, and Footprint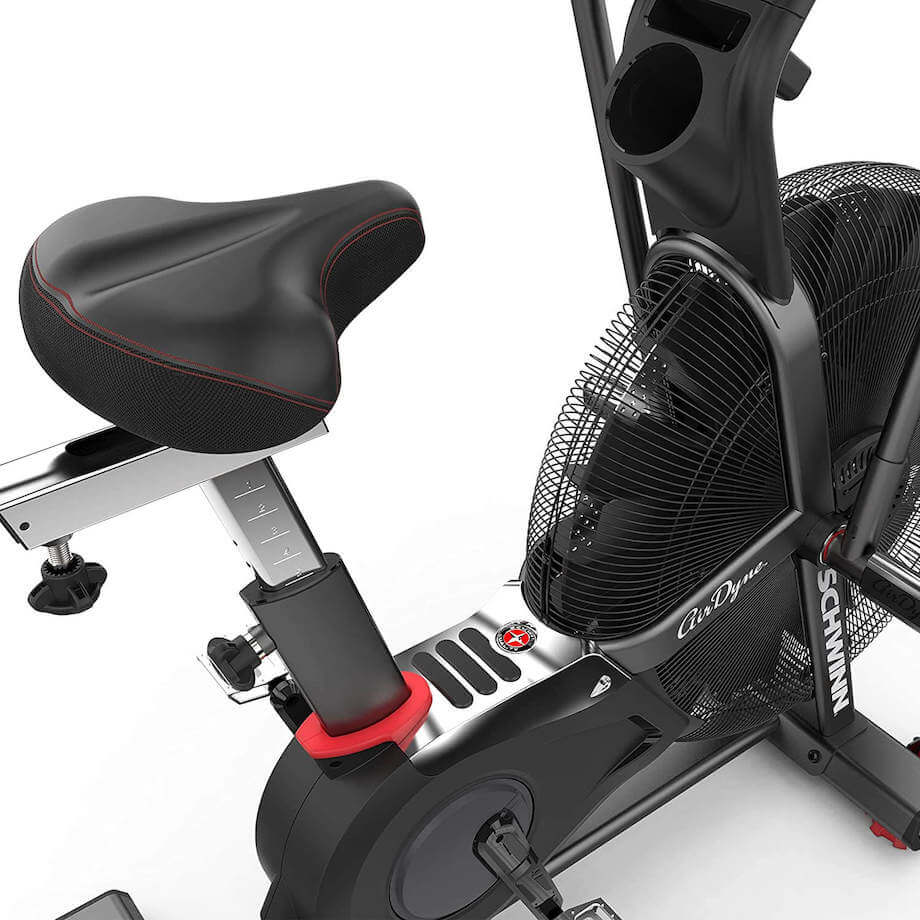 The basic makeup of the AD7 is metal and plastic, with the majority of the frame and housing made of aluminum and steel. Normally, Coop prefers an all-metal construction, since it's much more durable than plastic, but in this case, the metal and plastic combo was actually beneficial.
Metal makes more noise than plastic and since air bikes are already loud, anything that can dull the decibels is a good thing. And as we already mentioned, this bike is quiet. The plastic housing doesn't seem to affect the bike's durability, anyway—it feels solid and like it will last many years and through multiple high-intensity interval training workouts.
As for its footprint, the AD7 is longer and wider than some of the other air bikes available, but this contributes to its stability without making the bike really cumbersome.
"That's not to say it takes up a whole lot more foot space, because it doesn't, but the fan, for instance, is gigantic. This is most likely a reason for a smoother start and stops compared to Airdyne bikes in the past," Coop says.
It measures 53 inches long by 26.5 inches wide by 53 inches high, which is still fairly compact as far as cardio equipment goes. Plus, the extra length keeps the bike planted more firmly on the ground and helps combat rocking. The weight also feels evenly distributed, another factor that contributes to its stability and eliminates side to side rocking, even when you're really cranking.
"Overall, the bike is simply really well built," Coop says. "The pedals are actual medal pedals and not plastic so expect fewer problems with that. The rubber grips are heavy-duty and, unlike foam, take chalk (IYKYK) extraordinarily well."
The Ergonomics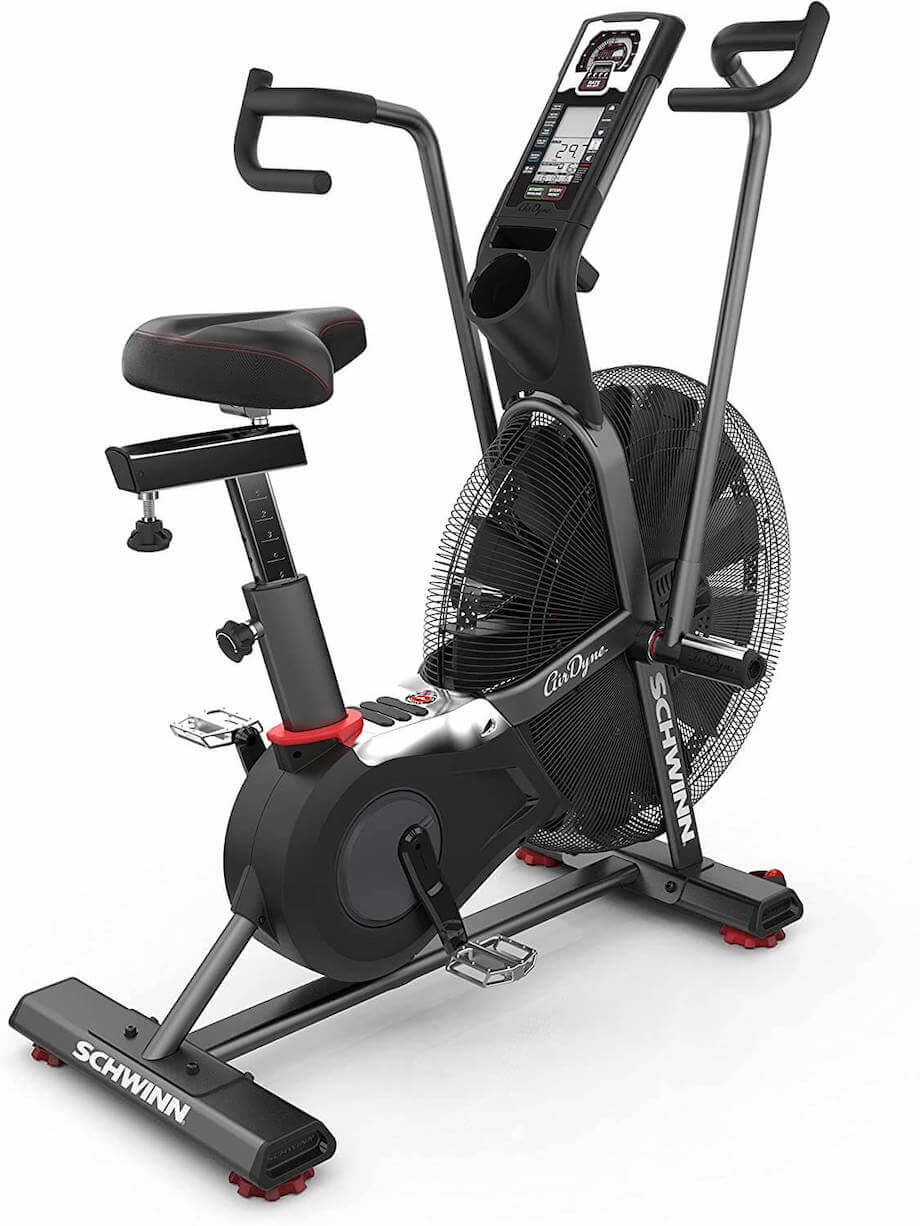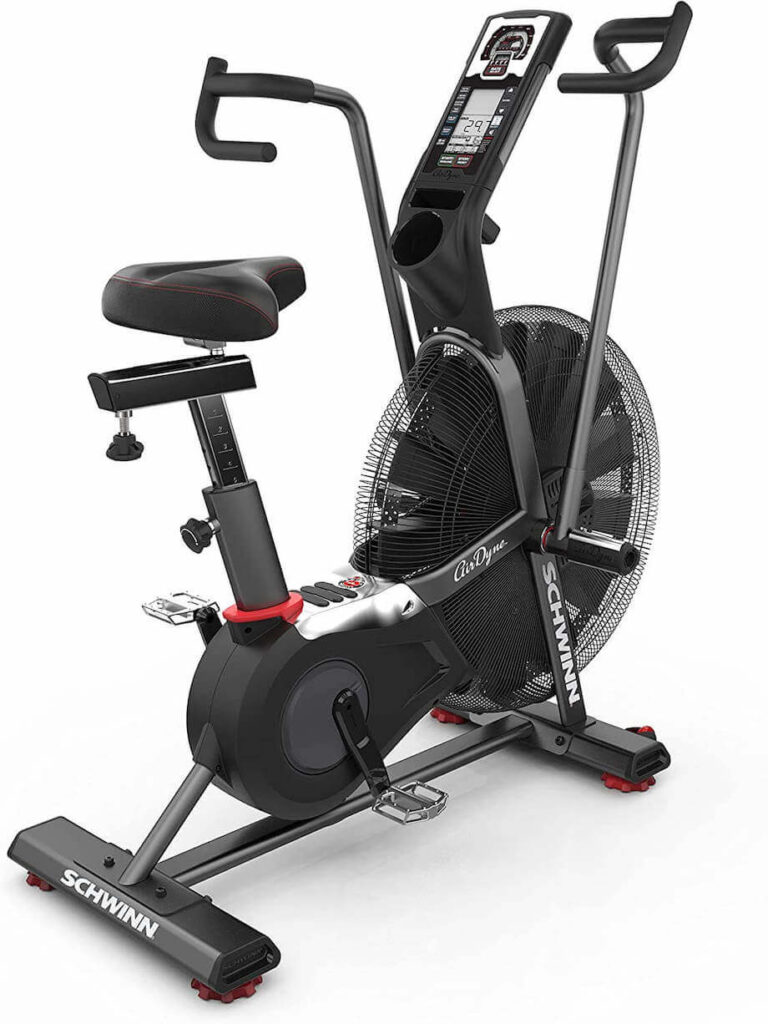 Some air bikes can feel a little awkward, but the Schwinn AD7 has several adjustment points that help you find good positioning for you. Unlike the AD6, the seat has fore and aft adjustments; you can also move it up and down.
The handlebars move as you pedal—there's no way to keep them fixed like upright bikes or Schwinn models of the past, so expect an upper-body workout when you use this piece of equipment. The handles have a multi-grip design for a variety of workout options, though.
Technology Benefits and Conveniences
In general, air bikes don't come with a lot of technology. They get their power from a fan and don't have ways to manually control resistance—instead, your speed and pace offer unlimited resistance levels. Equipment experts generally define air-driven resistance as "the harder you work, the harder it gets." How's that for some oomph, huh?
That being said, the Airdyne exercise bike has some standout features that are worth calling out. The performance monitor is reminiscent of the one you'll find on the AssaultBike—it has similar presets and workout programs like intervals, time, heart rate, etc. Coop says the biggest differences are the size and brightness, with the AD7's screen being easier on the eyes, especially when you're sweating.
It also has additional metrics on the top with dials that look similar to what you'd find on a car. You can see helpful metrics like current RPM and heart rate in real time. However, this bike doesn't have Bluetooth or ANT+ capabilities, so the brand recommends any Polar non-coded chest strap in lieu of a bluetooth heart rate monitor.
It also has a water bottle holder and a slot where you can put your cell phone, but no upright tablet display, which is typical of air bikes.
Airdyne AD7 vs Rogue Echo Bike
The Rogue Echo bike is our top air bike pick. There are a lot of similarities between these two—like a belt-drive system and a steel fan blade—but we think the Rogue has a slight edge because it's a bit less expensive and it's backed by a better warranty and more reliable customer service. As far as features go, the differences are minor. The biggest callout is the LCD display—we like the Airdyne display better.
Read our full Rogue Echo Bike review.
Airdyne AD7 vs AssaultBike
The AssaultBike is another fan-favorite. This is a good bike for beginners and anyone that doesn't mind a noisier bike. It has a solid frame and a good monitor, but it operates on a chain-drive system, which is less responsive and often requires more maintenance. We don't think you'll be disappointed if you go with this Assault model, but if you have the extra budget, we'd recommend the Airdyne.
Read our full AssaultBike review.
Airdyne AD7 vs Concept2 BikeErg
If you don't like the movable arms of most air bikes, the Concept2 BikeErg is a good option (and really one of the only options available). It has fixed handles, plus a clutch that allows the fan to spin even when the pedals stop. Another major callout here is the number of adjustment points; you can change the height and position of the seat, as well as the vertical and horizontal positioning of the handlebars. The BikeErg functions much more like a road bike than a typical stationary bike.
Read our full Concept2 BikeErg review.
Customer Experience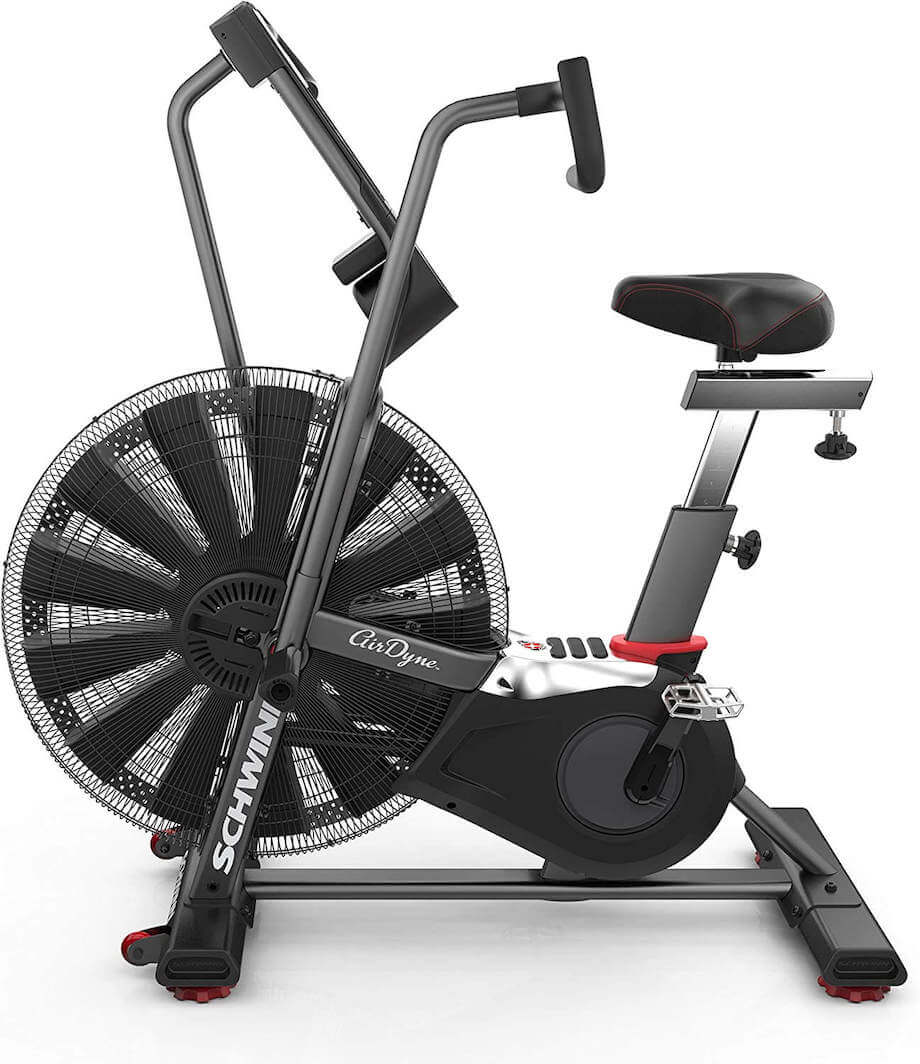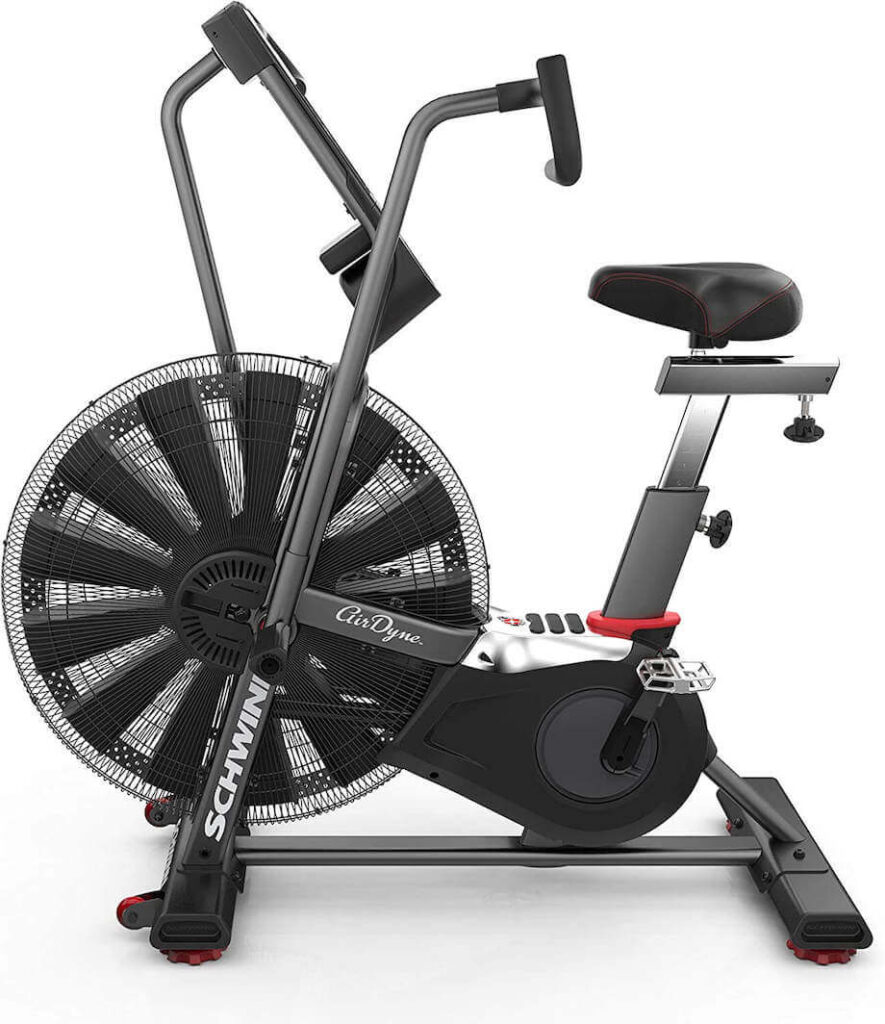 Schwinn's return policy is pretty generous in the world of fitness equipment. You have six weeks from the date of delivery to request a return. You'll get a full refund, minus the cost of shipping and any upgraded delivery charges. Once you request a return (and get an RMA number), you have two weeks to ship it back.
The bike's standard warranty covers the frame for 10 years, mechanical and electrical for two years, and labor for six months. But when buying it through Schwinn, you'll have the option to add an extended protection plan at checkout. You can extend parts and labor coverage for three to five years for $79 to $109.
Ordering and Assembling the Schwinn AD7
If you buy the AD7 directly from Schwinn's site, you have two purchase options: pay in full or opt for a payment plan. If you choose the payment plan, you'll get 18 months of promotional financing where you won't have to pay any interest.
The bike ships within a week and shipping costs $99, which isn't wildly expensive for a large piece of exercise equipment, but it's still a bit of a bummer. If you choose regular shipping, the bike ships via a normal carrier service like FedEx or UPS.
Alternatively, you can request in-home assembly, which includes removal of boxes and packing material, for $129. When we tested the bike, it was assembled for us so we can't speak to that process, but reviewers say it's really straightforward and the instructions are clear.
One reviewer on Amazon said they're not very good at assembling things in general and it still only took about an hour. If you choose in-home assembly, you'll be contacted one to three days after ordering to set up a delivery time (you have to be home when the bike comes).
Customer Reviews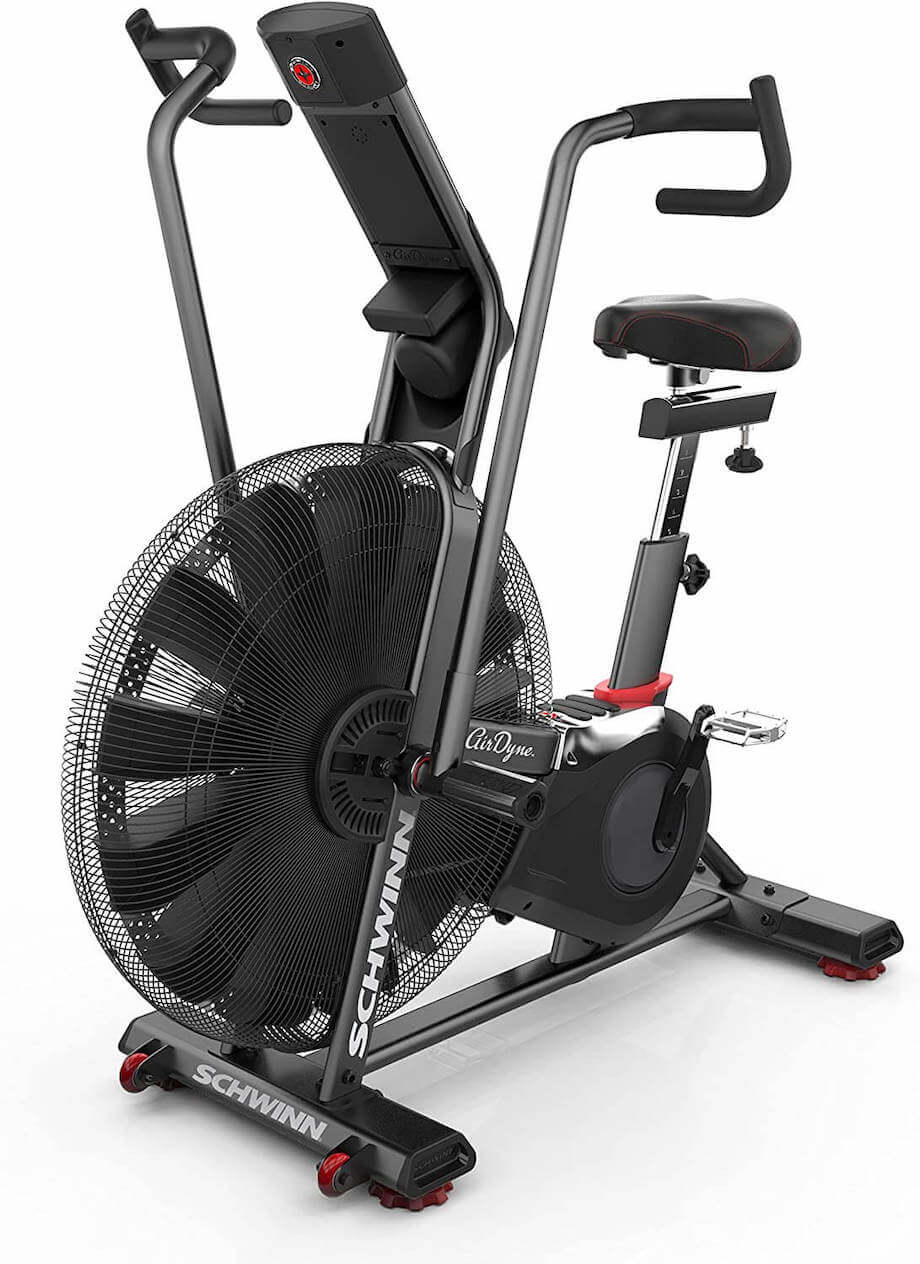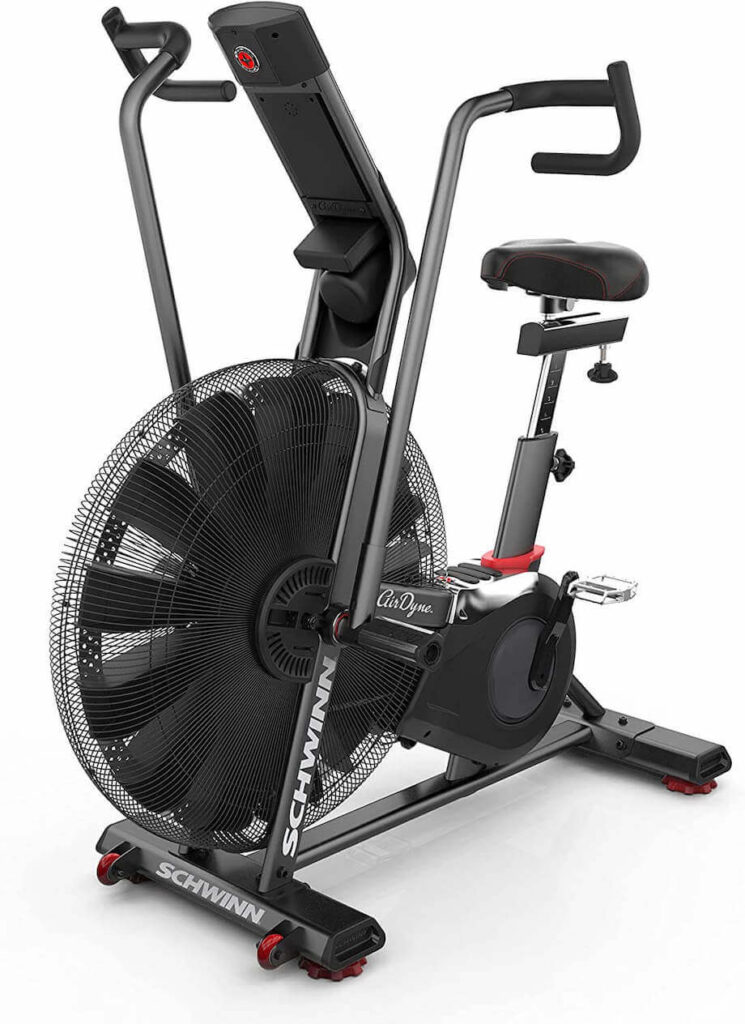 Overall, customers are really happy with the Schwinn AD7 Airdyne. The bike has an average of 4.7 out of 5 stars on the brand's site, and an average of 4.6 stars on Amazon at the time of writing.
One reviewer on Schwinn's site says, "My husband and I ride this bike daily. We've gone through three air bikes before this that fell apart within a year. They weren't as sturdy as this one. It was a noticeable difference when we started riding our Schwinn Airdyne. It was easy to assemble and it was clearly well made."
Another on Amazon who says the AD7 has been an excellent addition to her garage gym writes, "I've had this Airdyne for over a month now and I've been using it for HIIT (20 seconds all-out intensity, 10 seconds rest) and it hasn't disappointed me at all. [It] arrived in great condition, it was easy to assemble as the instructions are very easy to understand…it is very sturdy as it doesn't wobble around when you're on it ,and it also has adjustable feet for uneven surfaces."
Final Verdict of Our Schwinn AD7 Airdyne Review
The AD7 is the best Schwinn air bike model we've tested. It has a solid construction with a durable frame and an impressive monitor for an air bike. It's significantly quieter than its main competitors. Because it operates on a belt-drive system, it also requires less maintenance, making it a good choice for beginners, too.
Schwinn AD7 Airdyne Rating
Schwinn AD7 Airdyne
Our Schwinn AD7 review takes an in-depth look at the highest-end model in the Schwinn Airdyne roundup.
Product Currency: USD
Product Price: 599.99
Product In-Stock: InStock
Schwinn AD7 Airdyne FAQs
Is Schwinn Airdyne A Good Exercise Bike?
Yes, the Schwinn Airdyne is a good exercise bike. While it doesn't have the same bells and whistles as some spin bikes or higher-end stationary bikes, it's a high-quality fan bike that provides a solid cardio workout. 
What's The Difference Between Airdyne Pro And AD7?
The Airdyne Pro And AD7 are the same bike. The "Pro" is often marketed as a commercial use bike, but the two have the same features and specs. Schwinn only sells the AD7 and the AD6 on its own site (with the AD2 being possibly discontinued), but you can find the Pro on third-party retailers.
What Muscles Does The Schwinn Airdyne Work?
Because the Schwinn Airdyne has moving handlebars, it activates all the major muscle groups in the upper and lower body. It gives you a full-body workout that targets the chest, back, biceps, triceps, glutes, hamstrings, quads, and core.