We test and review fitness products based on an independent, multi-point methodology. If you use our links to purchase something, we may earn a commission. Read our disclosures.
CrossFitters love to hate air bikes, whether they're cranking on a Rogue Echo Bike, Schwinn Airdyne, or AssaultBike. In this AssaultBike review, I cover all three AssaultBike models to help you decide if this is the right fan bike for your home gym.
More Than a Decade of Using AssaultBikes
Our team consists of several fitness experts certified in varying disciplines, including personal training and CrossFit coaching. For this AssaultBike review, I leaned on my own experience with AssaultBikes, which spans years; recent hands-on testing in our fitness equipment facility; and the cumulative 10-plus years of AssaultBike use from other CrossFit enthusiasts on our team.
A Quick Look at Assault Fitness and the Air Bikes
Assault Fitness is one of the OG CrossFit brands.
The AssaultBike was one of the very first stationary exercise bikes to populate CrossFit boxes around the world—second only to the original Schwinn Airdyne—and the brand became a household name in the CrossFit world when AssaultBikes appeared in the 2015 CrossFit Games.
I'm truly convinced that whoever led the product development team loves to see grown humans cry. Those who have used an AssaultBike will understand what I mean by this. Those who don't, count your blessings and then join the cool kids' crying club.
AssaultBikes, like other cardio equipment from Assault Fitness, are designed to withstand commercial use, but they're a great option for home gyms, too. (Assault Fitness also produces a manual treadmill called the AssaultRunner and an air rower called the AssaultRower.)
These manual exercise bikes use a large, fan-powered flywheel and moving arms: A ride on the AssaultBike won't feel like a ride on your average indoor cycling bike. Nay, the AssaultBike provides an intense full-body workout that gets your heart rate up in no time.
The cool thing about air bikes is they're entirely human-powered and have unlimited resistance—the faster you crank and pedal, the harder it gets.
My Tips:
Air bikes are different from exercise bikes with magnetic resistance; these have moving arms that make for a full-body workout.
Choose a model with fenders on the flywheel if you care to keep airflow to a minimum (the flywheel creates a lot of draft).
Keep in mind that air bikes are not quiet.
Be careful getting off this bike—pedals and arms keep moving, and they are known to hit you on your way out.
Great For:
Trainees who do a lot of CrossFit workouts
People who want a cardio machine that can provide a full-body workout
Those looking for a cardio solution they can safely keep outdoors or in a garage
Not Recommended For:
People looking for a quiet bike they can use without disturbing others
Trainees who prefer a more traditional spin-style bike without moving arms
Anyone who wants a built-in large, touchscreen display such as on the NordicTrack S22i
Video Review
AssaultBike Specs
| | | | |
| --- | --- | --- | --- |
| | Classic | Pro | Elite |
| Price | $749 | $899 | $1,299 |
| Assembled Dimensions | 50.95" L x 23.34" W x 50" H | 49.8" L x 24.1" W x 51.1" H | 55.08" L x 26.26" W x 55" H |
| Product Weight | 95.64 lbs | 118.4 lbs | 138.89 lbs |
| Max User Weight | 300 lbs | 300 lbs | 350 lbs |
| Console | LCD | LCD | LCD |
| Bluetooth | No | Yes | Yes |
| Interactive Programming | No | Yes | Yes |
| Seat Height Adjustments | 11 | 11 | 12 |
| Seat Length Adjustments | 5 | 6 | Unlimited |
| Frame Warranty | 5 years | 7 years | 10 years |
| Parts Warranty | 2 years | 3 years | 3 years |
| Labor Warranty | None | None | 1 year |
Are AssaultBikes Worth the Money?
AssaultBikes are expensive, ranging from $700 to $1,300 depending on the model, but they're not the most expensive exercise bikes out there.
Plus, with proper maintenance, an AssaultBike should last for years: Keep chalk and dust off it, and oil the chain to keep it from rusting. Many CrossFit boxes with AssaultBikes don't take care of them like they should (i.e. regular chain maintenance).
Despite enduring extremely high-volume use, commercial AssaultBikes last for what seems like forever. If an AssaultBike can last years in a CrossFit box, it can probably last decades in a home gym with proper care and maintenance.
That said, I do think AssaultBikes are worth the money, but of course, it ultimately depends on your needs and budget. Ahead, learn about the three AssaultBike models to find out which one is worth the price tag for your home gym needs.
AssaultBike Classic Review
AssaultBike Classic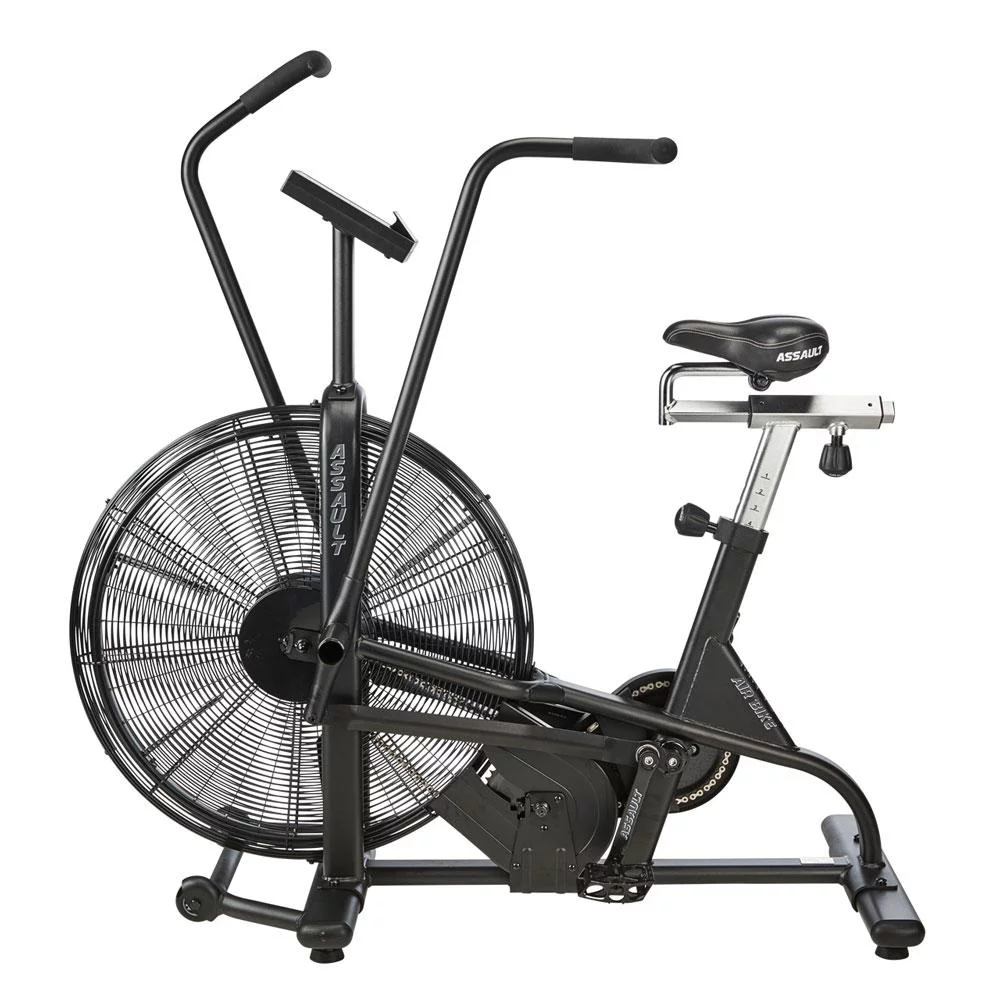 This is the base-level AssaultBike: the original "love-to-hate-it" model.
Pros:
No frills or unnecessary bells and whistles: just a good workout
Weighs less than 100 lbs, pretty easy to move
300-lb weight capacity
Simple and sturdy
Doesn't require electricity, so it can safely live in a garage gym or covered outdoor setting
Cons:
Wind screen not included
Lesser warranty than Pro and Elite models
No Bluetooth connectivity or app compatibility
The AssaultBike Classic is as no-frills as they come—as air bikes come, that is. This model doesn't boast any extravagant comforts or jazzy tech specs, but it does one thing really well: Makes you sweat.
Weighing about 95 pounds, the Classic is the smallest of the AssaultBike models, but that doesn't mean it isn't sturdy. It has a user weight capacity of 300 pounds, a heavy-duty steel frame and seat post, and steel fan blades.
In terms of conveniences, there isn't much: not even a water bottle holder or media holder. But, I don't want to knock Assault Fitness for this since the intent of this bike isn't the same as the intent of a bike like the tech-infused Bowflex VeloCore.
I'm inclined to say that most people use manual mode when riding an air bike anyway, although there are a handful of programmed workouts that you can select from the LCD screen if you want some touch-and-go guidance.
The Classic does connect to Polar heart rate monitors, so there's at least that perk, and you get basic metrics including calories burned, distance in meters, and time passed.
If I was going to buy an AssaultBike, it would be this one. It's durable, it's simple, and it provides a smooth ride for a fan bike. I've used more of these than I can count at CrossFit gyms all around the country. At $750, it's a solid value.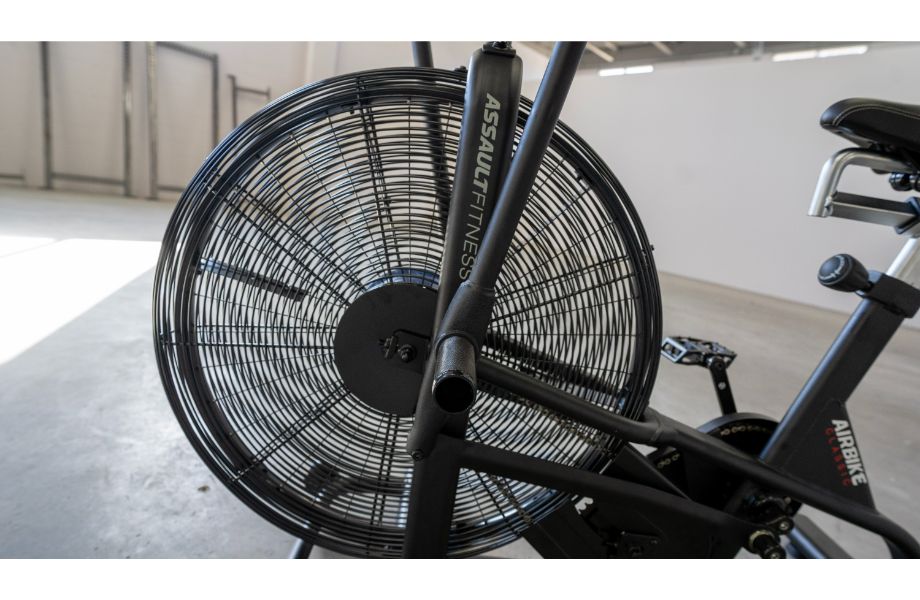 GGR Head of Content and CrossFit L1 Trainer Kate Meier owns an AssaultBike Classic. She bought it used from a CrossFit gym. "It's definitely got some rust and corrosion in places, and you can tell it's been used," she said. "But, it still works perfectly fine for what I need. I've had it for about a year and haven't had any issues other than having to change the batteries."
AssaultBike Pro Review
The AssaultBike Pro is a mid-tier model with slight improvements upon the AssaultBike Classic, plus interactive programming.
Pros:
Connects to Fiit app for interactive programming and Assault Fitness app
Bluetooth- and ANT+-enabled
Improved contrast on LCD screen
11 seat height settings
6 front-to-back seat adjustments
7-year frame warranty
Cons:
No labor warranty
Wind screen not included in purchase
Heavier than the Classic, but doesn't seem noticeably sturdier
This slightly souped-up version of the AssaultBike Classic features a slightly heavier and larger build, plus a couple extra seat adjustments, a better warranty, and a smoother drive train system.
The big callout, though, is the newfound tech capabilities: The Pro and Elite models of the AssaultBike feature Bluetooth connectivity and compatibility with the Fiit app, which hosts workouts specifically created for AssaultBikes.
Not too long ago, connectivity was not the name of the game with Assault Fitness—nor with any other manufacturer of manual, non-motorized equipment, for that matter. However, in early 2023, Assault Fitness announced a partnership with Fiit, a UK-based brand producing fitness streaming content.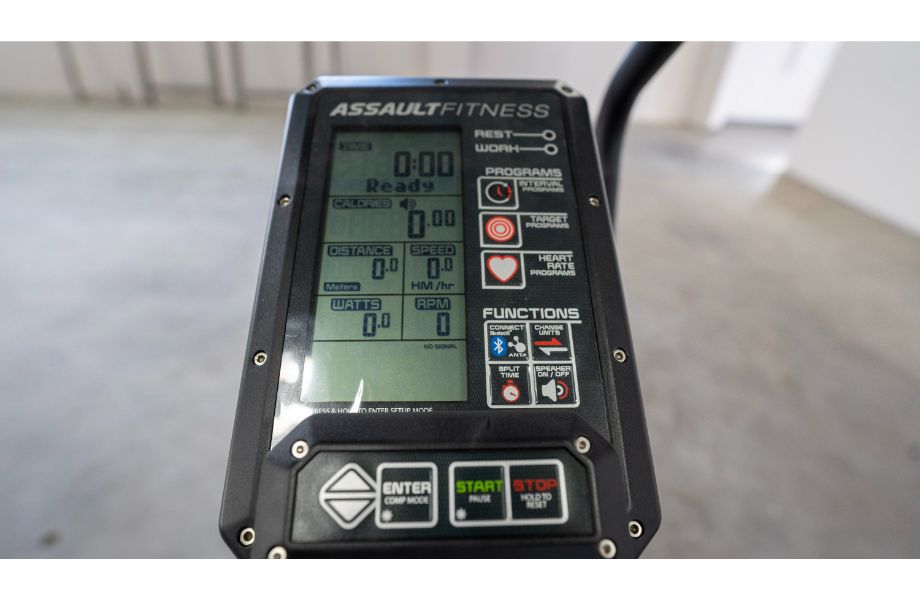 Still, you won't find an HD touchscreen display on the AssaultBike Pro, but being that the company specializes in manual equipment, it doesn't feel fair to knock the bikes for not having flashy tech specs.
The Pro is only about $150 more than the Classic, so the upgraded features such as the protective plastic shrouds on the drive chain and interactive programming feel worth it. However, the ride feels more or less the same, so you can save a couple hundred bucks if you're not concerned with instructor-led workouts.
AssaultBike Elite Review
AssaultBike Elite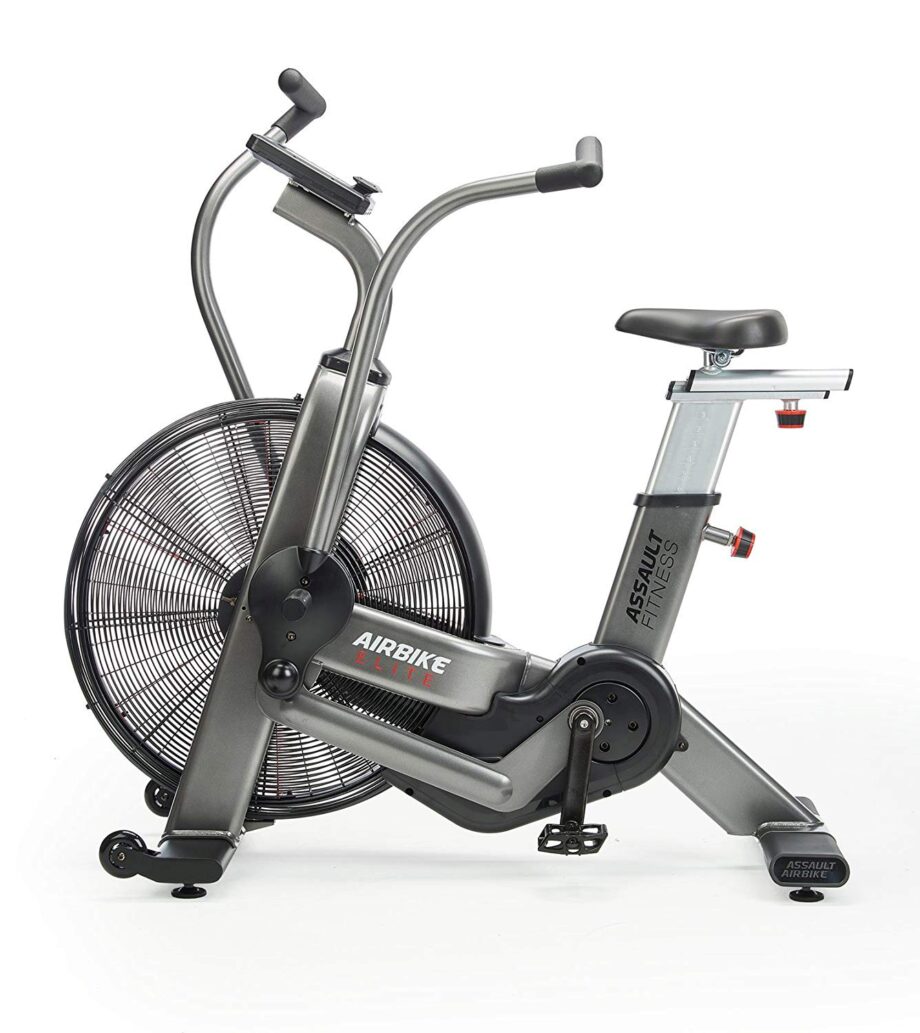 Assault AirBike Elite
The Assault AirBike Elite features increased resistance when speed is increased along with the option for upper and lower body engagement or isolation. Finally, we've equipped this bike with the ability to pedal forward or backward for workout variation.LCD Display with Performance TrackingMonitoring your heart rate is straightforward, and you can quickly connect your mobile device for data tracking. Classic time, distance, and calorie goal programs are available.Two front wheels makes it easy to move throughout your home or gym. With a massive steel frame, solid steel cranks, corrosion resistance, and a solid aluminum seat post and slider.This bike gives you the option for multiple position grip variations. It's also outfitted with an exceptionally comfortable large seat to offer support on a lengthier ride.This Assault AirBike Elite has been designed to give you the closest to a gym or box experience as you can have from home. With a solid steel frame and cranks, corrosion resistance, and a solid aluminum seat post and slider, there is no question that this bike will go for years. Designed for strength, durability, and hardcore use, you will find yourself coming back day after day for more burn.Solid steel frame Upper and lower body engagement Large supportive seat. Maximum user weight: 350 pounds Performance tracking via integrated LCD display Hiit interval programs
This beefed-up version of the AssaultBike features more comfort elements and tech capabilities, but it's probably not worth the price for most people.
Pros:
Has a much wider, more comfortable seat than Classic and Pro
Connects to Assault Fitness app and Fiit for interactive programming
Bluetooth- and ANT+-enabled
High-contrast LCD display
10-year frame warranty
Ultra-adjustable seat
Higher weight capacity than Classic and Pro (350 lbs)
Cons:
Nearly double the cost of the Classic (list $1,299)
Angled "comfort" handles didn't actually feel more comfortable
Heaviest model at about 140 lbs, not easy to move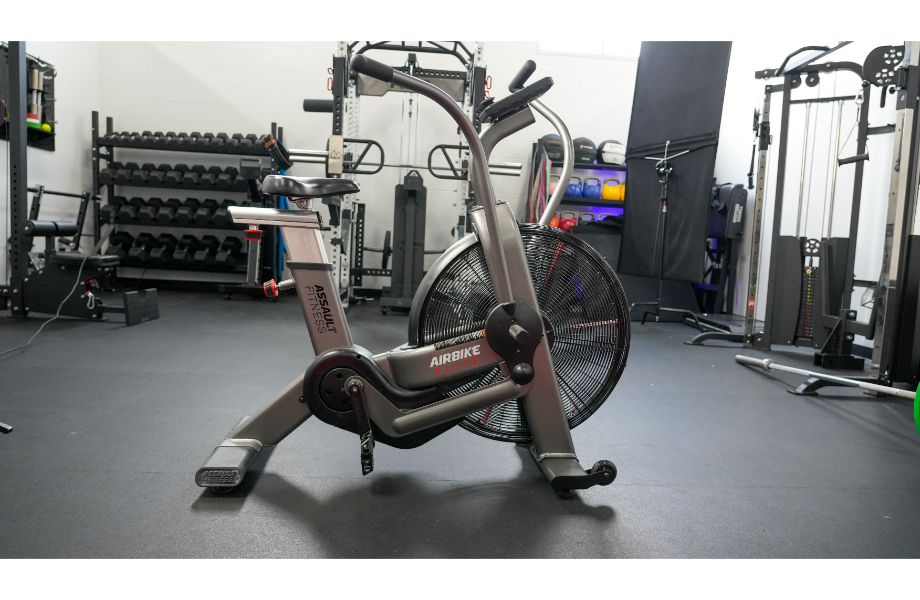 To be frank—because I want to save you all the money I can—I don't think the AssaultBike Elite is worth the money for most people when compared to the Pro model.
Most of the upgrades, such as angled handles or the aluminum seat post, don't change much in terms of functionality. During testing, I didn't notice any overt differences in smoothness of the ride or comfort, and the workout programs are the same through the Fiit app.
The wider seat and included wind screen are nice perks, but you can purchase the wind screen separately for the Pro or Classic, and some people actually prefer a narrower seat that more closely resembles a road bike.
Also, the drive train on the Elite is the exact same drive train on the Pro. I'd like to see a belt-driven model for an above-$1,000 price tag.
One factor that might justify the cost for some is the more robust warranty with the Elite model: 10 years on the frame, 5 years on non-wear parts, and 1 year for labor.
This model will take up a bit more space than the other two options with dimensions of about 55 inches in length, 27 inches in width, and 55 inches in height. It's still smaller than the Rogue Echo Bike, which measures 59 in length, 30 inches in width, and 53 inches in height.
Before you buy, beware that the AssaultBike Elite weighs almost 140 pounds, which might be tough to move for many people. You have to really tip this one up high on the transport wheels for it to smoothly roll around the floor.
Ergonomics
All three AssaultBike models are comfortable for long rides. Naturally, the Elite provides the most comfort during endurance workouts due to the wider, more cushioned seat—but I've never experienced any distracting discomfort on the Classic during all my years of doing CrossFit bike WODs (except for the tachycardia that comes with those).
Each model has ample seat adjustments both up and down, and back and forth, fitting most people. Kate, who coaches youth athletes, notes that people under 5 feet tall are typically too short to use the AssaultBike, even on its lowest setting.
The pedals also feature four foot-leveling adjustments on all three models. How you position your seat determines your posture during the ride, but generally, most people adopt a more upright position on air bikes than other types of exercise bikes.
All three models also feature foot pegs in front of the pedals, so you can use the bike for upper-body or lower-body workouts in isolation.
Assembling an AssaultBike
AssaultBikes don't come fully assembled, but the process isn't terrible. The frame and flywheel do come assembled, so you just have to attach the pedals, monitor, handles, and seat post.
As a former CrossFit affiliate owner, Kate personally assembled half a dozen AssaultBike Classics. The process is pretty quick and easy, taking around 20 to 30 minutes. Because the bikes are non-motorized, there isn't any electrical wiring to worry about. As a bonus, this means you can place them anywhere since you don't need to be close to an electrical outlet!
Customer Experience
You can purchase an AssaultBike from the Assault Fitness website, from Rogue Fitness, or on Amazon. Your customer experience will differ depending on where you buy it, because each retailer has different return, refund, and exchange policies. In general, though, my experience with all three of those retailers has been decent at worst and stellar at best.
Customer Reviews
Assault Fitness as a whole has overwhelmingly positive customer reviews. The AssaultBike Classic in particular boasts a 4.8 out of 5 rating on Amazon, while the Pro has an average rating of 4.4 out of 5 stars and the Elite has an average rating of 4.4 out of 5 stars on Amazon. Most reviews praise the bikes for having a sturdy build quality and providing a great workout.
Some negative reviews call out poor customer service from Assault Fitness, Rogue, or Amazon, but other negative reviews seem to be the result of a lack of research. For example, a couple of reviews state the bike is too loud. Well, it's a fan bike, and there is plenty of information online about the noise level of air bikes.
Assault Air Bike vs. Rogue Echo Bike
Rogue Echo Bike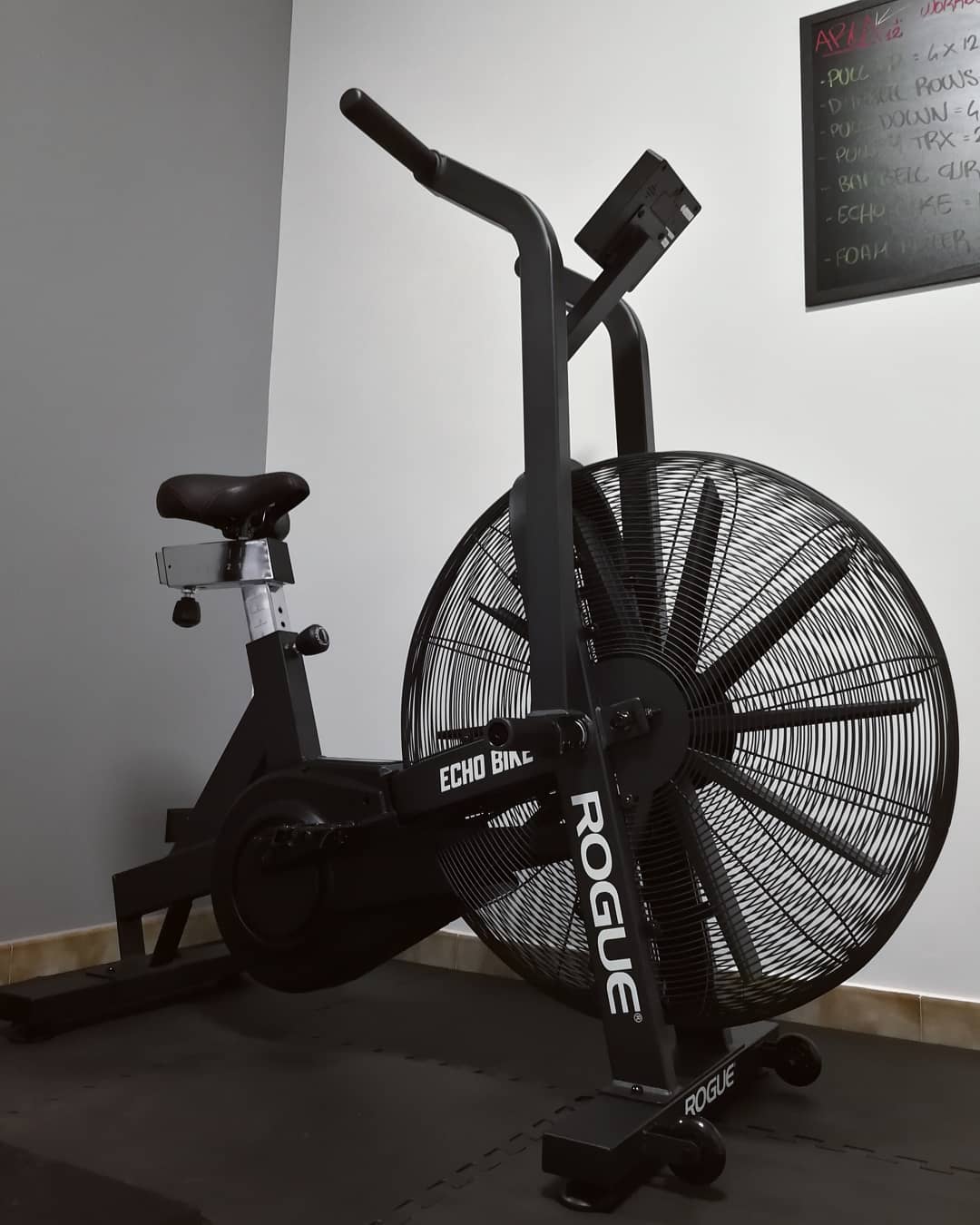 Rogue Echo Bike
The Rogue Echo Bike is durable due to its heavy-duty steel, high quality engineering, and customization that drives it to be stronger than the average fan bike. It is under warranty for up to two years from the date of purchase, assuming that the product is used under normal conditions per the User Guide. Since it is overbuilt, it creates a smoother ride. The Rogue Echo Bike is 127 pounds and has a 350-pound weight limit, which allows it to provide a sturdy foundation for max-outs and outbursts. The Echo Bike is quiet yet consistent due to its belt-driven steel fan blade. It is easily portable and has a battery powered LCD console that lets athletes track everything from distance to calories burned. Due to its weight, the Echo Bike stands sturdy and is not prone to wobbling. Its construct lends itself to balance even when pushed to max output bursts. To add to the stability, there are rubber leveling feet under each base tube that adapt to the ground and create balance even if the floor is not level. The 6.375-inch by 6.37-inch LCD console provides the athlete with a variety of modes. These include different types of intervals, target, and heart rate tracking. The crystal clear console uses two AA batteries, which come with the purchase of the bike. The Echo Bike is finished in a black powdercoat and the steel tubing is 2-by-3 inches, 1.25-by-3 inches, and 1.625-by-3.12 inches. The seat is easily adjustable and padded. It locks into eight different heights and five different front-to-back settings. The grip handles, which are made of rubber and are 1.5 inches in diameter, are a part of the bike's arms. There is a plate that is provided along with 4.5 inches long rating foot pegs and pedals. You do have to assemble the Echo Bike, but the tools you need are included with your order and align with easy to follow instructions. The fully constructed bike may sound overbearing, but Rouge has included a 1-inch wide set of wheels at the front of the unit, which allows it to easily be rolled around the gym. 
The Rogue Echo Bike is our overall favorite air bike, as detailed in our guide to the best air bikes. It costs about the same as the AssaultBike Classic, but it has a build that can only be described as beefier. Its hefty build features a belt drive, rather than the chain drive seen on AssaultBikes, and aluminum (versus steel) fan blades.
The Echo ousted AssaultBike recently to become the "official air bike of CrossFit." Pro tip: You might find your local CrossFit affiliate off-loading AssaultBikes as they opt to purchase Echos. That's how Kate snagged her AssaultBike Classic for just $300.
Read our full Rogue Echo Bike review.
Assault Air Bike vs. Schwinn Airdyne Bike
The Schwinn Airdyne Pro is another of our favorite air bikes, and it's the most similar option to the AssaultBike. The display, seat adjustment mechanism, seat design, and frame are very similar across both brands of bikes. The major difference is that the Airdyne features a belt drive whereas the AssaultBike features a chain drive. Airdyne bikes were one of the first fan bikes to become available and, to this day, are still found in many CrossFit gyms.
Read our full Schwinn Airdyne Pro review.
Assault Air Bike vs. Concept2 BikeErg
Concept2 BikeErg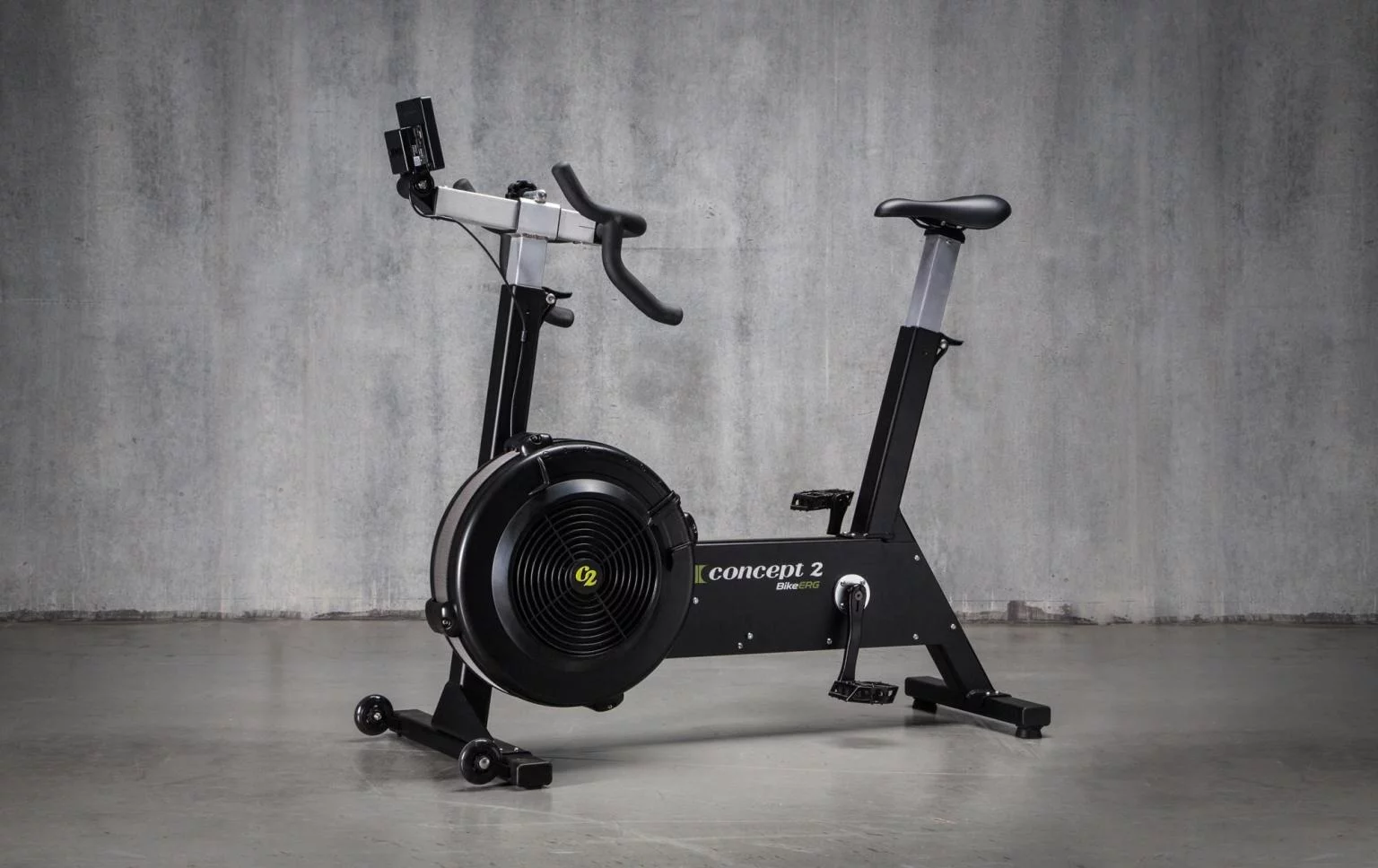 Concept 2 BikeErg
The Concept 2 BikeErg is an air bike popular in CrossFit gyms and among people who really want to feel the burn in their legs.  It uses air resistance generated by a fanned flywheel.  How much effort or power you put into pedaling affects how much resistance there is. The harder you pedal, the more resistance you will feel. For example, riding up a challenging hill.   The lighter you pedal the less resistance creating a smoother, easy ride.   Like the Concept 2 Rower, the BikeErg has damper settings that can be changed to adjust the resistance you would want on the bike.  The PM5 performance monitor allows you to see your pace, watts, rpm and calories in real time.  The PM5 Performance Monitor is Bluetooth-compatible, allowing you to connect to Concept2 ErgData app or hook up a wireless heart rate belt. The monitor is generated by the flywheel as soon as you start pedaling, however it still requires two D-cell batteries.  The Concept2 BikeErg is lightweight and easy to assemble making it easily portable.  The seat and handlebars are adjustable to fit any person. For the bike enthusiast, you have the option to  attach your own bike seat, handlebars, or even pedals.
Unlike the Echo Bike and Airdyne Bike, the Concept2 BikeErg isn't actually very similar to the AssaultBike. Though both use air resistance, the BikeErg feels much more like a regular stationary bike during use. This is due largely to the fact that it features stationary handlebars rather than the moving arms found on the AssaultBike. The design of the BikeErg places your body in a different position; you'll feel like you're riding a road bicycle.
Read our full Concept2 BikeErg review.
Final Verdict of Our AssaultBike Review
AssaultBikes have stayed largely the same since they took a stronghold on the CrossFit community after appearing at the Games in 2015. However, the brand has taken targeted steps at improving the bikes, including releasing beefed-up models and partnering with a fitness technology brand to provide interactive programming. In my opinion, AssaultBikes remain some of the best air bikes on the market.
AssaultBikes now come in three models: the Classic, Pro, and Elite, all of which feature a similar build but differ slightly in comfort, conveniences, and tech capabilities.
The AssaultBike Classic is the most affordable option and, in our expert opinion, the best one for most home gym owners.
We would love to see Assault Fitness incorporate a belt drive versus a chain drive for a lower-maintenance commitment.
AssaultBike FAQs
What is an AssaultBike good for?
AssaultBikes provide full-body cardio workouts and can be paired with other gym equipment for a HIIT bike workout or endurance workouts. Because your whole body works when you cycle on an AssaultBike, you may burn more calories than you do on a typical indoor bike with stationary handles if working at the same intensity and for the same amount of time.
Are AssaultBikes too loud for home gyms?
For certain types of home gyms, such as workout spaces in apartments or townhomes, an AssaultBike may be too loud. However, if your home gym is in your garage or basement (or anywhere in a single-family home, really), you should be able to use an AssaultBike without disrupting your neighbor's day.
Is an AssaultBike better than a regular exercise bike?
I don't like to explicitly say one type of equipment is better than another—I believe everything depends on an individual's goals and needs—but speaking objectively and from experience, I always wind up sweatier and angrier (in the best possible way) after an AssaultBike workout versus a more traditional cycling workout. If you're looking for a piece of cardio equipment to provide a full-body workout, the AssaultBike is a good choice.