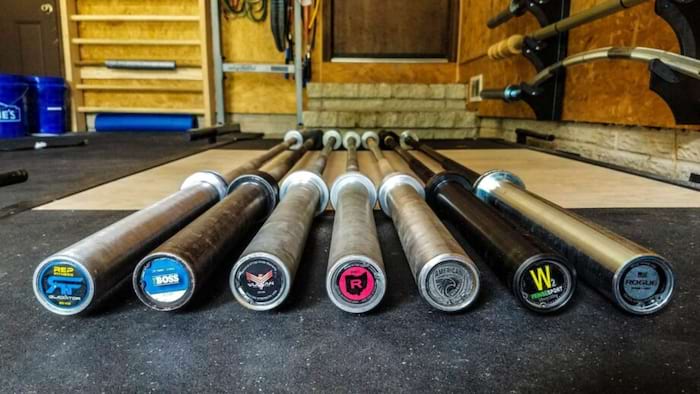 There are five physical characteristics of an Olympic barbell that will cause distinctions between the wide array of bars available today. Those are:
Steel
Knurling
Spin
Whip
Finish
Steel
The steel is the most important part of the bar and is more than just looks; it is the essence of the barbell. To determine the quality of steel used, two of the most telling specifications are the tensile strength and yield strength. 
Do not listen to anyone who tries to tell you that a bar is 1,000-pound tested or 1,500-pound tested. This is a made up fantasy designed to take advantage of buyers' limited amount of knowledge and is more often than not seen on very cheap bars.
Companies assess the tensile and yield strength of the barbell steel through static and dynamic testing. To give a simple example, a static test would load an enormous amount of weight (upwards of a ton) on each side of the bar and then slowly take the weight off to see if the bar returns back to being straight. 
A dynamic test is much more telling and involves tracking how the bar bends when dropped with a certain amount of weight. There is much more variance in this sort of test than the static test between manufacturers.
All that being said, every bar will bend if handled improperly. I don't care if you're using a $1,000 Eleiko, if you drop it on a pin with 400 pounds, it's going to bend.
The general rule of thumb is that a high quality barbell with have a tensile strength upward of 180,000 PSI (pounds per square inch) or higher. You can certainly get by with less, but the best durability in the business will be around there. When it comes to yield strength, most companies don't list a number (this is how much the bar can be loaded with before it can bend). You can use the tensile strength number as a good idea of weight capacity.
Knurling
The next characteristic of a bar is the knurling. Knurling is what allows your hands to grip to the bar, especially when combined with chalk. For most people, a medium knurling is best due to it being sticky enough to grip, yet smooth enough for comfort. Although there are great bars with more aggressive knurling, for the majority of training purposes, it's less than desired.
If you have yet to experience what a volcano knurl feels like, you're missing out. The reason a volcano knurl is superior (in our opinion, again, the feel of knurling is subjective) to the traditional "peaky mountain" knurling that dominated the industry for so long is that it gives you more contact surface area with the epidermal layering of your hands or with the various fibers on the back of your favorite squat shirt. 
Essentially, because there are more peaks to grip your hand (four times as many as would be if the tops of the peaks weren't chopped off) you don't need as "sharp" of a knurl. This leads to a greater grip and less ripped calluses and blood on the platform. This is why we feel, for a power bar, this is the best type of knurling.
Also consider where the knurling is. Powerlifting bars come with center knurling so you feel the bar better as it rests on your back. However, center knurling can annoy and bother people who are using the bar for more of a general purpose.
Lastly, there are often notches in the knurling. These are either IWF or IPF markings for competition reasons (though I just use them so I know where to put my hands when I snatch).
Spin
Spin is determined by the rotation system used in the barbell. There are two main types of rotation systems used in barbells today – a bushing system or a needle bearing system. Bearings will spin quicker overall, but they also cost more and will likely not stand up to abuse as well as bushings. 
For this reason, we recommend most people purchase a barbell with a bushing system that either uses brass or nylon bushings. A bushing rotation system will provide a smooth and consistent spin that will require little maintenance and should last for many decades.
Whip
Whip is determined by the load on the bar, the materials used, the method of steel processing and the diameter of the shaft. For most people, some whip is desired for the occasional Olympic lifts, but overall the bar should be relatively stiff. And even on those Olympic lifts, if you aren't lifting really heavy weights, odds are you won't feel the whip anyway. Due to this, the bars we recommend are going to be made of carbon steels and not molybdenum alloys.
Finish
Finally, the finish of the bar comes down to personal preference and the environment it will be used in. Although a bare steel bar is generally regarded as the best 'feeling' barbell, it will oxidize quicker than if a finish was applied. For the price range we recommend, more often than not, the bar will feature a black oxide as it is middle of the road in terms of oxidation and is cheaper to apply than hard chrome.