We test and review fitness products based on an independent, multi-point methodology. If you use our links to purchase something, we may earn a commission. Read our disclosures.
A budget barbell doesn't have to feel like a budget barbell. There are plenty of high-quality barbells out there that deliver on quality without requiring you to give up half your paycheck. This is great news, considering that a barbell is the one piece of equipment you need to make some serious gains in your strength training journey.
We understand it can sometimes be difficult to find gym equipment at your price point, especially as more and more people are building their own home gyms and driving up demand for things like barbells.
Whether you're a beginner or lifetime lifter, we're here to help you with our top picks for the best budget barbells.
We Know Barbells
Barbells are a piece of equipment that I've spent A LOT of time with, and as a result, I've tried out my fair share of high-quality barbells and a good amount of poor ones. So I know, regardless of the amount of weight on the bar, how it should feel when you use it for bench presses, clean and jerks, snatches, and squats.
I'm also a jack-of-all-trades (and, I'd like to think, master of quite a few) and have switched workout styles quite a bit for my job as an equipment 'reviewer.' I've trained for Olympic Weightlifting, powerlifting, CrossFit, and good old-fashioned weightlifting. And I'm always on the hunt for a good deal, which is how I've been able to create definitive lists for the best budget home gym equipment, and a guide on how to build the ultimate $1,000 budget home gym.
We've done a lot of the hard work for you and found some of the best Olympic barbells, weightlifting bars, and powerlifting bars at a price range most home gym owners can afford.
Best Budget Barbells in 2023
Best Budget Barbell Overall: REP Fitness Colorado Bar
Good for: People who need a multipurpose Olympic barbell at an affordable price.
Regardless of what type of workouts you're looking to do in your home gym, be that Olympic lifts or the big three powerlifting lifts (bench press, deadlift, and squats), the REP Fitness Colorado Bar can do it all. This is their signature flagship barbell, replacing the REP Sabre Bar, our previous pick for best budget barbell. You can check our thoughts on that bar in our REP Fitness Sabre Bar review.
The Colorado Bar has everything you need in a barbell: dual knurl markings for both Olympic lifting and powerlifting, no center knurling to stay comfortable with power cleans, and a good spin with composite bushings that quiet the noise during drops. Also, the Colorado outperforms the Sabre with a much higher tensile strength of 190,000 PSI, so it'll withstand some use in a home gym setting.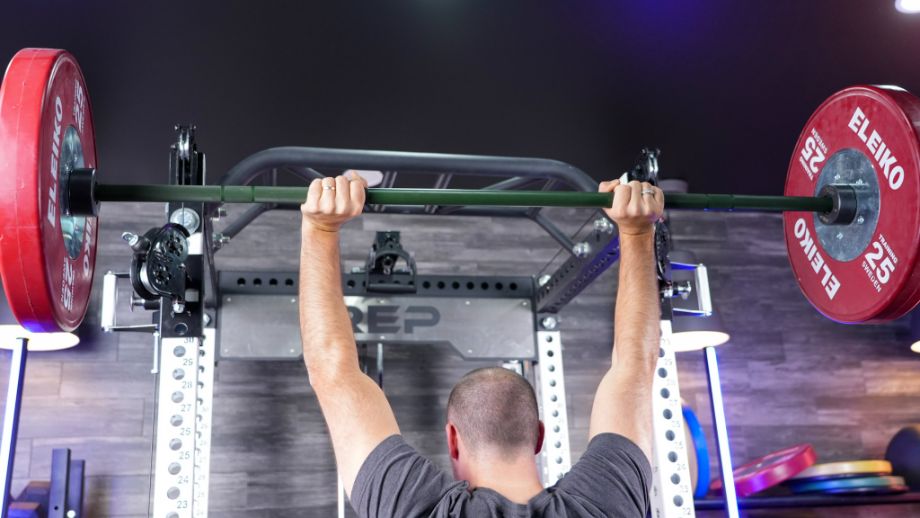 The knurling is medium, but tends to lean on the aggressive side, which I prefer—although it may not be for everyone. You can get this barbell in a hard chrome finish, or with cerakote, with Duracoat sleeves. The cerakote has different color options (I went with green, one of my favorite colors) and is also more corrosion resistant than the chrome. For only $10 more, it's worth the upgrade.
When looking for a budget barbell, you want to find something that's affordable (that goes without saying), but you also don't want to sacrifice too much quality. The Colorado Bar is a bit more expensive than some of the other budget barbells we're recommending here, at $320 for the hard chrome barbell, but it definitely is priced well for its quality. Plus, they offer free shipping, so the price you see is the price you pay.
Check out more of our thoughts on this affordable barbell in our REP Fitness Colorado Bar review.
Best Barbell Under $200: Living.Fit Barbell
Good for: Lifters on a budget that want a solid Olympic barbell for a low, low price
The chrome-coated Living.Fit Barbell is a steal at just under $200. Made with a high-alloy spring steel, this bar has a tensile strength of 200,000 PSI and is built to last. Plus, it's backed by a lifetime warranty.
This barbell is made for multiple uses. The diameter of the barbell shaft is 28 millimeters, which is ideal for Olympic weightlifting, but with its high tensile strength and dual knurled markings, it works for bench press and squats just as well as snatches and cleans. It has no center knurling either, meaning it'll be comfortable to rep out power cleans in your next CrossFit workout. The bar has both bearings and bushings to provide a nice spin for quick power movements.
The chrome version of the bar is under $200, but for $25 more, you can get the barbell with a black cerakote finish. While this is normally a more durable and corrosion resistant coating, lead reviewer of Garage Gym Reviews Everything noted some scratching during her first time testing the bar.
"The first time testing the barbell, we did notice some scratching on the sleeves from where the plates rubbed." she explains. "Nothing that would compromise the structural integrity of the barbell, purely aesthetic." Some scratching from weight plates is sure to happen over time, but seeing it in our first time using it was surprising.
Regardless, the specs on this barbell are pretty wild for being under $200. If you're looking for a bar that'll endure some long-term use, and you're looking for it cheap, this is a great option.
Best Multipurpose Budget Barbell: Fringe Sport Wonder Bar V2
Good for: Home gym owners looking for an Olympic bar that can also be used for weightlifting and powerlifting.
The Fringe Sport Wonder Bar V2 is on the expensive side for some of the other barbells on this list, but at $262 (free shipping included) it's still more affordable than most high-quality barbells on the market today that I think it competes with. Plus, it has features of bars that are much more expensive than it. With a tensile strength of 205,000 PSI, and an option to have a bushing or bearing rotating system, you won't find much better at this price range.
It comes in both 20kg (44 pounds) and 15kg (33 pounds) options, has a 28 mm shaft, and you have the choice to get it with either bushings or bearings. Bushings are typically used by powerlifters and general trainees who train the slower lifts, such as the bench press, deadlift, and squat. They spin, and can be used for Olympic Weightlifting but they're not the fastest or smoothest. Bearings, on the other hand, provide more spin for superior wrist-turnover in the Olympic lifts often performed by Oly lifters and CrossFit athletes.
This isn't a case where one is better than the other (though some people are passionate about what side of the fence they stand on). Really, it depends what type of training you're looking to do. Typically barbells only have one or the other (although not always,) so we appreciate that Fringe Sport truly allows the customer to customize their barbell to their training needs.
If you don't have a preference and are looking to save money, bushings are the way to go. Bearings are harder to manufacture, and as a result…more expensive. So the bearings version of the Wonder Bar is closer to $300, and while it's not as affordable as the bushings, it's still cheaper than many other barbells on the market. If it helps, the barbell comes with free shipping and has a lifetime warranty, so even if the price is an "investment" for you you don't have to worry about giving up more dough.
Best Budget Powerlifting Barbell: Bells Of Steel Barenaked Powerlifting Bar 2.0
Good for: Powerlifters, or anyone who wants to lift heavy weights on a budget
The Bells of Steel Barenaked Powerlifting Bar 2.0 is not just one of the most affordable powerlifting bars, but it's also one of the most affordable barbells on the market today (period). That's one of the major reasons I'd recommend this barbell for anyone's power rack. It was specifically designed to meet International Powerlifting Federation specs for barbells, meaning it's best for the squat, bench press, and deadlift.
Since it's built for powerlifting, the knurling on the Bells of Steel lean toward aggressive. That means you'll be able to hold onto it well as you go for your next deadlift PR. While it's not much of a functional flaw, the knurling is inconsistent in some areas with a "​​pointy mountain" style in some areas and a volcano style in others. You'll notice this most in the center knurling, but again it still feels great in the hand and some defects are expected for the price you're paying.
The 210,000 PSI tensile strength, and a 1,500 pound weight capacity, is high for any barbell and can withstand even a professional Strongman's daily workouts. The brass bushings keep the bar from spinning too much during training, and it has a 29mm shaft, both of which are what you want in a powerlifting bar. To top it off, the collars were designed to be extra thin which prevents the bar from hitting the uprights on the squat rack during your walk-out.
Despite its low price, the Bells of Steel Barenaked Powerlifting Bar 2.0 still feels like a much more expensive barbell. Part of that is due to the lack of coating on the knurl making it a bare steel bar. This isn't great for corrosion resistance, but is for bar feel.You can mitigate this with regular maintenance, though.
Best Budget Olympic Trap Bar: Titan Fitness Olympic Hex Weight Bar
Good for: People looking for a specialty Olympic bar for deadlifts, farmers' carries, and jump squats.
Trap bars, sometimes called hex bars, are used to target different muscle groups than a standard barbell and take some stress off your spine during moves like the deadlift. Because it's a specialty bar, it can sometimes be a little more expensive than your straightforward barbell. But the Titan Fitness Olympic Hex Weight Bar is actually on the lower side of what we like to spend on our budget barbells (we try not to dip below the $100 mark).
We like this trap bar because it gets the job done at a low price without looking or feeling like it was built for cheap. The knurling on it is a bit rough, but you want a good grip on a trap bar to ensure you don't drop it during farmers' carries. The dual handles also allow you to lift it from different heights, which help to increase its value. Honestly, you won't find much better at this price range.
The Titan Fitness Olympic Hex Weight Bar has a 500-pound weight capacity, though the short sleeves means you'll probably only be able to get 405 pounds on it if you're using bumper plates (closer to 450 pounds if you use Olympic plates). That's fine enough for the average home gym lifter who will use it for things like shrugs, carries, and deadlifts, but if you're on the stronger side, it might not be enough for you.
The hard chrome coating on the trap bar looks nice, and should offer a few years of weather resistance and durability to ensure you get your money's worth but it does end up chipping over repeated use.
Best Budget Women's 15kg Barbell: Rogue Bella Bar 2.0
Good for: People who prefer lighter barbells, or those with small hands
The Rogue Bella Bar 2.0 is great for anyone who needs a 15-kilogram barbell option to use for any type of workout. It has a tensile strength of 190,000 PSI, has one of Rogue Fitness' highest durability ratings at F6-R (the highest is F8-R), and its knurling is passive but still rough enough to give you a good grip during training.
Some people refer to a 15-kilogram bar as a "women's" barbell. This is due, in part, because these bars are designed for people who have smaller hands. For example, many 15-kilo bars, like the Bella, have a 25-millimeter shaft, opposed to the 28-29-ish millimeters on a 20-kilo bar. This makes 15-kilo bars great for people with a smaller grip–including youth athletes.
We found the Bella was best for CrossFit-style workouts, but it's also great for things like deadlifts and squats, too. It has a decent enough spin in our experience, though many online reviewers on Rogue Fitness' website disagree with our take. Really, this is one part of the barbell that comes down to personal preference.
The Rogue Bella Bar is built by one of the industry leaders in barbells. Sure, there's more affordable 15-kilogram options out there, but they won't have the multipurpose use or the tensile strength this one does. Trust us, this is a case where it's worth it to spend a little more money to get a better value.
Fun fact: the Bella bar was named after a dog, specifically the beloved pup of Rogue's founders Bill and Caity Henniger, and you can see Bella's picture on the endcaps.
Read our full Rogue Bella Bar review.
Best Budget Cerakote Barbell: Synergee Games Cerakote Bar
Good for: People looking for a weather resistant Olympic barbell that doesn't cost several hundreds of dollars.
If you want a nice-looking CrossFit barbell with weather-resistant Cerakote (more on that in a second) but don't want to spend the money on something like a Rogue Ohio Bar, then go for the Synergee Games Cerakote Barbell. It's more than $100 cheaper than Rogue's, and has most of the same features.
Cerakote is a special type of coating that paints and protects against things like rust, and it's used by the U.S. Military on their standard-issue firearms. It's also typically very expensive, but Synergee has been able to find a way to get it on this bar while keeping it budget-friendly.
Reviewers did say it was somewhat thin and uneven in spots, but you can't complain too much considering you're getting it for such a low price. They added it has held up in varying weather conditions, from very dry to humid, so the Cerakote has done its job.
Even the sleeves are Cerakote, which is great from a weather resistance standpoint, but I have noticed they've gotten scratched as Olympic plates have been loaded and unloaded off them. That obviously won't affect your workouts, but it's something to be aware of.
The word "Games" in the barbell's name should be an indicator of what type of workouts it's best for: CrossFit, if you couldn't guess. It spins extremely well, and the knurling is great for high-rep workouts. So CrossFit and weightlifting enthusiasts will get the most use out of this bar.
It's sold in multiple colors, and comes in a 15-kilogram option as well. If you're in a non-climate-controlled environment, this bar will stick with you during any season.
Read my full Synergee Games Cerakote Barbell review.
Best Budget Barbell on Amazon: XMark Blackhawk
Good for: People who like to do their fitness equipment shopping on Amazon
Nobody's going to argue with the convenience of shopping on Amazon, so if you absolutely must find your next barbell on there I'd recommend the XMark Blackhawk. At around $180, it does everything you need a barbell to do and is backed by close to 100 5-star reviews. The few people who gave it 4 stars or below didn't bother leaving a written review, so whatever was wrong with it must not have been that important.
It's got a 185,000 PSI tensile strength, which is strong enough for most garage gym owners, and a 1,500-pound weight capacity. The black manganese phosphate (a harder version of black phosphate) coating gives it enough weather resistance where it could be used comfortably in a non-climate-controlled environment, but only if you wipe it down with a special type of oil regularly (maybe once a quarter).
While there's no center knurling, the Blackhawk does have dual knurl marks. The knurling itself is Goldilocks level–not too soft, not too rough, but just right for strength training and volume training. If you're a hardcore powerlifter, you should know the spin is quite quick on this one.
It sounds crazy, but you can't buy everything on Amazon (Rogue's barbells aren't on there, for example). XMark sells all of their equipment there, and they handle the shipping themselves.
Best Budget Curl Bar: REP Fitness EZ Curl Barbell
Good for: People looking to grow their biceps
Sure, you can grow your biceps plenty with a pair of adjustable dumbbells these days, but you just can't beat an EZ curl barbell if you're looking for mountain-like peaks. The REP EZ Curl Barbell is one of my favorite curl bars on the market, not just because it's affordable but it's just a good-quality curl bar.
I like the knurling, I like how it spins, I like how it feels in the hand, and I like that, if you're willing to spend just a little more, you can get it in a rackable version for $269. That's quite a bit more than the non-rackable one, and that feature isn't a necessity. That said, it's nice to have and it's only $5 more expensive than Rogue's rackable version.
Honestly, I'd say REP has Rogue beat here when you compare the two EZ curl bars side-by-side. For one, REP offers more options (you can also get this in a non-budget-friendly stainless steel version) and they had a rackable version before Rogue. The chrome coating, which you want if you're shopping on a budget, does a fine job of protecting it from corrosion and doesn't dull the knurling as much as the e-coat Rogue uses on its curl bar.
On top of that, REP utilizes a combo needle bearings-bushing system, whereas Rogue uses a bushings on its curl bar. That means REP's has a better spin, though not too much, making it a better value curl bar for the average home gym owner.
Best Budget Rogue Fitness Barbell: Rogue Fitness Echo Bar 2.0
Good for: Anyone looking for affordable Rogue Fitness equipment
Rogue does strength training equipment very well, and as a result can get away with charging a bit for their products for two reasons: people are going to buy it because it's Rogue (they're an industry leader), and their products are worth it most days of the week. If you need the Rogue logo on your barbell, the Rogue Echo Bar is the best budget pick.
The Rogue Echo Bar 2.0 has all the features of the Rogue Bar 2.0 without being as expensive, has a 190,000 PSI tensile strength and the highest durability rating a barbell can get, and has a knurl that's similar to what's on the Rogue Ohio Bar.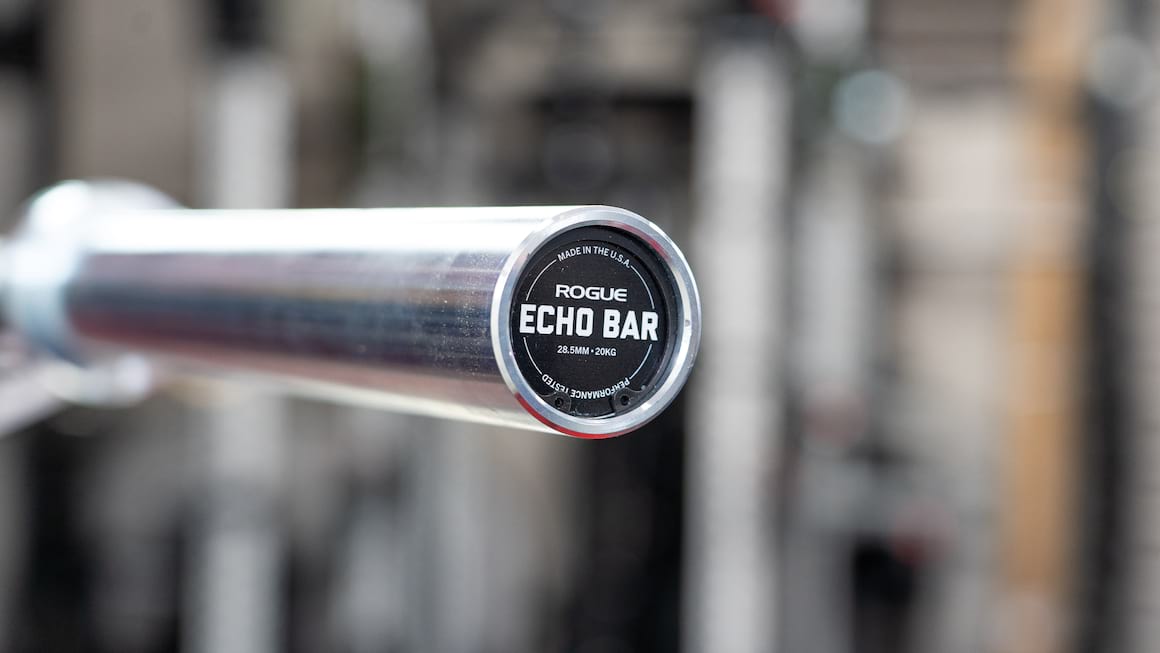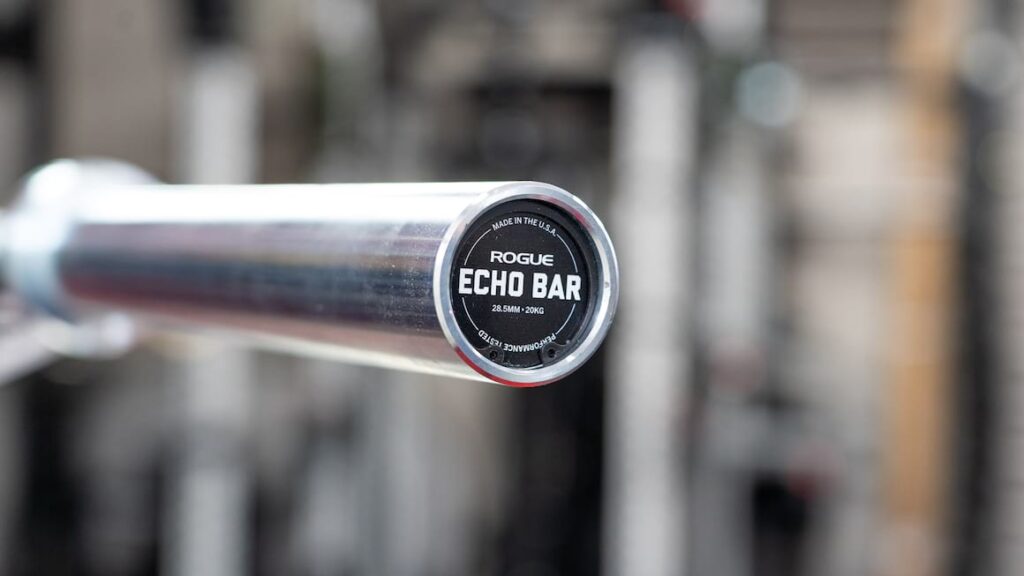 In other words, you're getting the same quality as some of Rogue's flagship barbells without paying the same price. Unlike those bars, this one only comes with a one-year warranty, rather than the lifetime coverage offered on the more expensive ones. That's not going to change how this feels during bench presses and squats, and really it's durable enough that we don't anticipate any major problems popping up with it.
You can surely use this for any type of training, but it leans more toward being a weightlifting or CrossFit bar since it only comes with weightlifting knurl marks, and the knurling itself is a little more passive than what a powerlifter would want. Also, there's no center knurling.
Shopping on a budget with Rogue Fitness is tough at times, and they only do major sales around Black Friday. If you can't wait that long, I'd recommend this bar in a heartbeat.
For more, check out my full Rogue Echo Bar 2.0 review.
Other Budget Barbells We Have Tested
There are countless budget barbells out there, and we took the time to test out and research quite a few of them while coming up with this list. Here are a few that didn't make the mark.
CAP OB-86B: This barbell, available on Amazon, was a great budget pick, but CAP Barbell recently lowered the tensile strength of the bar (it stands at 110,000 PSI), so we wouldn't recommend it for most home gym owners.  
PRx Men's Olympic Elite Bar: This is just under $300, which is great for a bar with 190K PSI. While we found this multipurpose barbell to be great for most exercises and thought the knurling was just fine, we noticed right away that the powder coat on the sleeves scratches very easily.
Synergee Regional Bar: Honestly, this is a great barbell but there's options that are more affordable with the same exact features.
REP Fitness Rackable EZ Curl Bar: This is the same exact EZ Curl Bar as the one featured on our list, but in a rackable version. It's an amazing curl bar, but if you're on a budget it's simply unnecessary.
CAP Barbell Olympic Trap Bar: It's just about the same bar as the Titan Fitness Olympic Hex Bar, but it's about $20 more expensive.
Vulcan Strength Standard Bushing Barbell: This barbell performs well, is priced pretty fairly, and has a decent spin, but it lacks weather resistance.
How We Picked and Tested
When looking for budget gym equipment, it's important to balance price with quality. Meaning, it's true you get what you pay for and more expensive barbells, for the most part, are going to be of higher quality than most budget barbells you can get your hands on. Yet there are some affordable options that are surprisingly high-performing for their price range.
So first, we set a general price limit of around $250. Some may be more expensive than that, but not by much and unless you have a really strict budget they're worth the extra $20.
After that, we tested these barbells the same way we would one that cost twice as much. We did bench presses, deadlifts, squats, clean and jerks, snatches, curls, overhead presses, and rows, just to name a few. In some cases, we conducted blind studies to see if people could tell they were working out with a budget bar. (Spoiler alert: A lot of the time they couldn't.)
We also wanted to test the value of these budget barbells. It's great to find one for less than $200, but if it's of such low quality that you're going to have to replace it after a year or two, you might as well just go for the more expensive options (you'll end up spending that much replacing the bad stuff anyway). So we wanted to only recommend bars you could keep in your garage gym for a few years.
Here are some of the criteria we used, in no specific order, to determine which budget barbell was best:
Price (including shipping and handling)
Tensile strength and weight capacity
Knurling
Weather resistance
Warranty
Construction
Spin
Benefits of Lifting with a Budget Barbell
Dumbbells and kettlebells might be the more portable options, but the barbell has them beat on versatility. Here are just some of the reasons why you should invest in a quality budget barbell.
Build Muscle and Save Time
You lift heavy weights to get strong and muscular. This sounds obvious but there's a reason why the barbell is the best choice for accomplishing this, compared to something like dumbbells or kettlebells. For one, barbells recruit a larger group of muscles during the bench press or deadlift. A dumbbell chest press, for comparison, doesn't hit as many muscles so you'll need to do other moves to cover the ones missed by that move.
And machines, such as the type you find in commercial gyms, typically only hit one muscle group. So you're saving time by investing in a high-quality barbell and some weight plates.
Reduce Injury Risk
For one, building muscle has been shown to protect your bones and joints and slow down signs of aging (which is why it's recommended seniors do resistance training). Beyond that, barbell training reduces your injury risk compared to dumbbell training.
Let's say you want to press 200 pounds. Doing this with a barbell is not the same as doing it with a dumbbell. A barbell is a more stable load because you're not recruiting smaller stabilizing muscles like you would be if you tried to press two 100-pound dumbbells. Try to do that and you might injure something. You do still have to workout your stabilizing muscles, which is why dumbbell training is a great supplement to barbell weightlifting.
Versatile Functional Training
Being muscular and strong can have great benefits outside of the gym (i.e. you can lift more boxes for your friend who's moving this weekend), but barbell training can help you in other ways, too. Building explosive power with Olympic lifts can help you perform better during pick-up sports games; building endurance with volume training can help you stay more active; and building capacity with HIIT workouts can help you adapt to life stressors.
Save Money
Obviously, this is the purpose of buying budget gym equipment. At the end of the day, a budget barbell won't be as good as a more expensive one, but it still provides all the benefits of a standard barbell. Similarly, power racks, Olympic plates, and other home gym equipment can be found at any price point–meaning you have no excuse for not building a home gym that fits your training needs.
How to Find the Best Budget Barbell for Your Home Gym
When it comes to finding the best barbell, you want to prioritize finding one that feels secure in your hands at all times. There's no one that's better than all the rest, it just comes down to what works for you. That said, it helps to have a good idea of what to look for so you don't end up with a hunk of steel that's not suited for your workouts. Here are a few general guidelines on what to look for when shopping around for a barbell.
Knurling
Knurling is the crosshatch pattern on the shaft of the barbell, and it helps to increase the friction between your hands on the bar. In other words, it helps ensure you won't drop the bar as you go for that next PR. Knurling can be passive, meaning you can barely feel it, or aggressive, meaning it shreds your fingers like their Parmasean.
How much knurling you want on your barbell depends on how you train. If you're a powerlifter, you'll want to go on the more aggressive side to keep your grip tight. If you're a weightlifter who does high-rep workouts, you'll want something on the lighter side to protect your hands.
Some bars come with center knurling, while others omit it. Again, this comes down to training preferences. Are you squatting often? A center knurl could benefit you by ensuring the bar stays gripped to your back. On the other hand, if you're doing high-rep cleans then a center knurl will just scratch you on its way up.
Finish
The barbell finish refers to the coating applied to the barbell – both its shaft and sleeves. This not only affects how the bar looks, but also how it feels in your hands and how well it's protected against rust and corrosion. Here, we'll give a quick rundown on some of the more popular barbell finishes.
Bare steel: Let's actually start with something that's not a finish at all: bare steel. As the name implies, this is just raw steel with no protective element at all. The one upside of bare steel barbells is the knurling tends to stay more aggressive, and they look nice for a short time but the bar will quickly rust.
Stainless Steel: Stainless steel is considered the most rust-proof coating, and it should extend the life of your barbell, but it's not going to keep it 100 percent rust-free. Stainless steel is also generally more expensive than other material, which means you'll pay more for a barbell with this type of finish. In other words, you'll be hard-pressed to find a true budget stainless steel barbell.
Hard Chrome: Hard chrome is when an object, in this case a barbell, has been submerged in a chrome solution to increase its durability, and corrosion resistance. Regular chrome is much thinner than hard chrome and doesn't offer the same protection, and as a result is much cheaper than hard chrome. The chrome coating does impact the knurling slightly.
Cerakote: Cerakote is a ceramic coating that acts like a combination paint-and-sealant, and it's the same finish used on U.S. military-grade weapons (so you know this stuff works). It's been proven to be more weather resistant than stainless steel, so it's great for anyone who exercises in a home or garage gym that's not climate controlled.
Zinc: There are different types of zinc coatings, such as black zinc and bright zinc. They generally offer good corrosion resistance, have an average price point, and feel good in the hand.
Black Oxide: Black oxide is an inexpensive finish applied to bare steel that, as you might guess, turns the bar black. It will oxidize quite quickly, especially in humid environments.
Tensile Strength
Tensile strength refers to how much tension you can put on a barbell before it permanently bends and loses its shape, so it's a good way to determine the durability of your barbell. A bar with low tensile strength can break if you put too much weight on it or drop it too much. Most home gym athletes looking for a budget barbell will find something 170,000 PSI, or pounds per square inch, but technology has evolved to allow some affordable ones to have high tensile strength, sometimes upwards of 200,000 PSI.
Spin: Bushings vs. Bearings
Barbell sleeves, the part where you load the Olympic or bumper plates, are constructed with either bushings or needle bearings. Needle bearings are best for someone who needs their bar to have some spin on it, so anyone who favors Olympic lifts or dedicated weightlifters.
Powerlifters, though, want to go for bushings because they don't spin as much. Bushings are typically more durable as well.
When looking for the best budget barbell, you should know bushings are typically more affordable than bearing-style rotating barbells.
Best Budget Barbells FAQs
What is a good price for a barbell? 
Like anything else, you get what you pay for with barbells. But you can find a quality bar for around $250 (shipping and handling included). There are some good ones that cost less than $200, but we'd suggest not going below $100 since there's no way you can build a good bar for that cheap. 
What is a good barbell? 
A good barbell is one that feels good in your hands, can withstand the weight you put on it, and stays durable for at least a few years. It should also have some rust resistance, good tensile strength, and knurling that matches your needs. 
Are barbells worth it? 
Without a doubt, yes. They recruit multiple major muscles, can be used for a large array of exercises, and are generally safer than dumbbells for strength training.