We test and review fitness products based on an independent, multi-point methodology. If you use our links to purchase something, we may earn a commission. Read our disclosures.
A budget barbell doesn't have to feel like a budget barbell. There are plenty of high-quality barbells out there that deliver on quality without requiring you to give up half your paycheck. This is great news, considering that a barbell is the one piece of equipment you need to make some serious gains in your strength training journey. 
We understand it can sometimes be difficult to find gym equipment at your price point, especially as more and more people are building their own home gyms and driving up demand for things like barbells. 
Whether you're a beginner or lifetime lifter, we're here to help you with our top picks for the best budget barbells.
Why You Should Trust Us
Barbells are a piece of equipment that I've spent A LOT of time with, and as a result, I've tried out my fair share of high-quality barbells and a good amount of poor ones. So I know, regardless of the amount of weight on the bar, how it should feel when you use it for bench presses, clean and jerks, snatches, and squats.
I'm also a jack-of-all-trades (and, I'd like to think, master of quite a few) and have switched workout styles quite a bit for my job as an equipment 'reviewer.' I've trained for Olympic Weightlifting, powerlifting, CrossFit, and good old-fashioned weightlifting. And I'm always on the hunt for a good deal, which is how I've been able to create definitive lists for the best budget home gym equipment, and a guide on how to build the ultimate $1,000 budget home gym.
We've done a lot of the hard work for you and found some of the best Olympic barbells, weightlifting bars, and powerlifting bars at a price range most home gym owners can afford.
Best Budget Barbells in 2022
Editor's Choice: REP Fitness Sabre Bar
Editor's Choice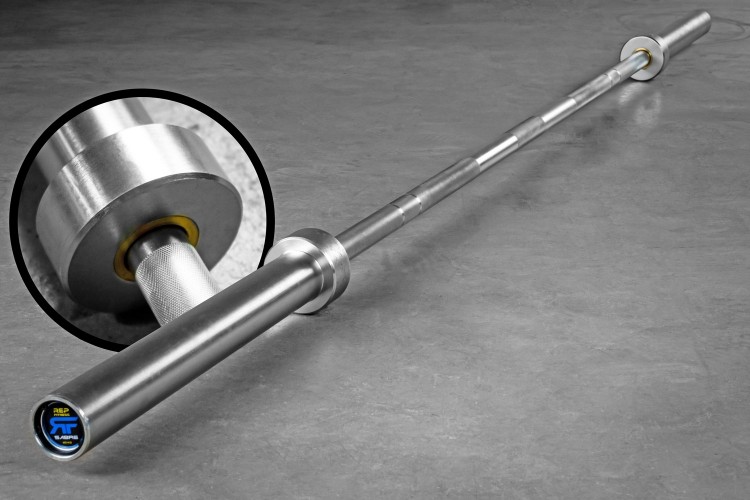 REP Fitness Sabre Bar
The Rep Sabre Bar is ideally suited for benching, squatting, and deadlifting - along with Olympic movements. Medium depth knurl gives good grip without tearing up your hands. Our 20kg bar comes in two options: with a center knurl or without. Center knurling is helpful for keeping the barbell on your back during back squats and helps with low rep Olympic Lifting. For anyone doing high rep workouts or more Olympic lifting, consider the "No Center Knurl" option, or check out our Gladiator barbell.Specs:150k tensile strength 1000 lb rating 28mm (25 mm women's) diameter Zinc coating Bushing design with snap rings Dual knurl markings for Olympic and Power lifting No center knurl on women's barbell. Men's barbell has option with center knurl or without 1 year warranty
Good for: People on a budget who need an Olympic barbell at an affordable price.
Pros:
Dual knurl markings for Olympic and powerlifting  
Affordable without sacrificing much on quality  
Option for no center knurling (for those who may not want it) 
Less than $200 shipped
Options in 20kg and 15kg
Cons:
Tensile strength is only 150,000 pounds per-square-inch (PSI)  
Zinc coating not the best for corrosion resistance 
Knurling may be a bit passive for some heavy lifters
Regardless of what type of workouts you're looking to do in your home gym, be that Olympic lifts or the big three powerlifting lifts (bench press, deadlift, and squats), the REP Fitness Sabre Bar can do it all. REP and others make barbells that are superior to this one on the spec sheet, but, it has everything you need in a barbell: dual knurl markings, the option for center knurling (the 15kg option doesn't have center knurling, unfortunately), and a decent enough spin at an incredible price.
The REP Fitness Sabre Bar only has a tensile strength of 150,000 PSI which is lower than the 190,000 PSI we typically recommend, so it isn't designed to withstand the abuse of a commercial setting, but for most people lifting in their home gym and aren't slamming bars, it should perform fine.
Plus, the knurling tends to lean on the passive side, which may not be preferred by many "heavy lifters" that like a more aggressive grip. If you're a beginner lifter looking to deck out your first gym, however, and don't have a budget for something like the Rogue Ohio Power Bar, then you can't go wrong with this barbell.
If you want a bar that has some style, then you'll love the all-black version of the Sabre. It has all the same features, but in black zinc. It's a little more expensive at $260, which is still a good deal if you're shopping on a budget, but just be aware, the black version offers no performance benefits over the bright zinc version.
Back to the original Sabre: For less than $200, it's hard to expect something extremely corrosive resistant like stainless steel or Cerakote. That said, the zinc coating on the Sabre does a good enough job of protecting it from surface rust, especially if properly oiled, and it should protect the bar for most home gym owners.
When looking for a budget barbell, you want to find something that's affordable (that goes without saying), but you also don't want to sacrifice too much quality. A CAP barbell is cheaper than this barbell, but it also has a much lower tensile strength (only 110,000k PSI), and has a shorter sleeve. REP Fitness does a good job of manufacturing equipment that's cheap without feeling cheap. It's a fine line to walk, but they do it well.
Plus, they offer free shipping so the price you see is the price you pay.
Best Value Budget Barbell: Titan Fitness Atlas Bar
Best Value Budget Barbell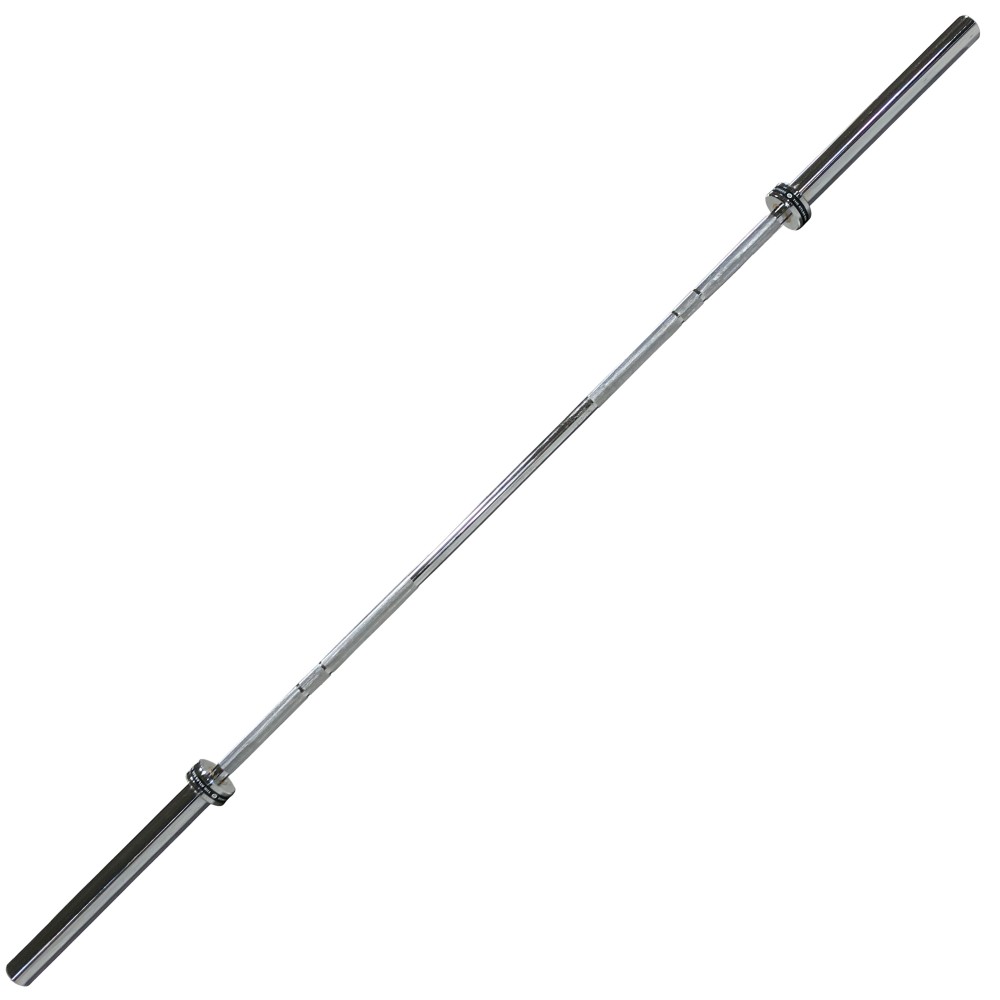 Titan Atlas Bar
Introducing The Atlas Bar by Titan Fitness. A customer suggested that Titan Fitness develop "the last barbell you will ever need", and that is exactly what we accomplished with the Atlas Bar.The result is a multipurpose barbell that you can use for all your lifts. The Atlas Bar is a 20 KG, 28.5MM bar with a medium knurl and dual knurl marks. Tested to 220,000 PSI, the Atlas Bar maintains a good whip for multiple reps, but can stand up to the load and abuse of powerlifting. The bearing and bushing sleeve assembly gives the bar a smooth consistent spin.The Atlas Bar might not be the only barbell you own, but it will be the only one you use.Features: - 20KG 28.5MM Olympic Weightlifting bar. - Medium knurl provides a full, not sharp pattern allowing the lifter to decide their ideal grip. - 220,000 PSI tensile strength gives the right amount of whip or flex to the bar for Olympic lifts. - Dual knurl marks allow you to use the Atlas Bar for multiple lifts on and off your Rack.Specifications: - Bar weight: 20KG (44 LB) - Bar Diameter: 28.5MM - Weight Capacity: 2000 LB - Knurl: medium - Center Knurl: No - Knurl Marks: Dual - Loadable sleeve length: - Bushing/Bearing: Combination - Tensile Strength: 220,000 PSI - Warranty: 1 year
Good for: Anyone looking for an affordable, heavy-duty barbell.   
Pros:
220k PSI tensile strength  
1,500 lb. weight capacity 
Affordable at just over $200
Free shipping
Comes in 20kg and 15kg options
Cons:
Chrome finish has been proven to be the least durable finish
Very passive knurling  
Somewhat low tolerances that lead to the sleeves being a little loose
The Titan Atlas Bar comes in at 220,000 PSI tensile strength, which is by far the highest of any bar close to this price point. They list it with a weight capacity of 1,500 pounds (which can be a bit misleading,) but, this is the bar we've loaded 600+ LB on to do drop tests on power racks. It wasn't that long ago you'd have to invest in a much more expensive barbell to find something with the specs of this bar, but now home gym owners on a budget can afford something that will last in their fitness space for years to come.
The specs of the Titan Atlas Bar are hard to argue with, and for that price you could do a lot worse. The knurling is quite passive (partly due to the chrome coating) even though it's listed as medium, though some people like that. Chrome has also been proven to cause barbells to bend prematurely, but for most garage gym owners, it shouldn't be an issue.
CrossFit and weightlifting enthusiasts might like that there's no center knurling, whereas powerlifters might prefer one, but this just means this bar is ideal for anyone looking for a multipurpose bar. The bronze bushings also help make it a great multipurpose piece of equipment since it gives the bar decent spin, but not so much that it causes excessive movement in the bench press.
The chrome finish looks nice, and while it's not my favorite finish, it's still better than having a bare steel bar that'll rust quickly. It should keep your bar in good condition so you get more value out of it.
And Titan Fitness' free shipping means you won't have to pay any extra.
Best Multipurpose Budget Barbell: Fringe Sport Wonder Bar V2
Best Multipurpose Budget Barbell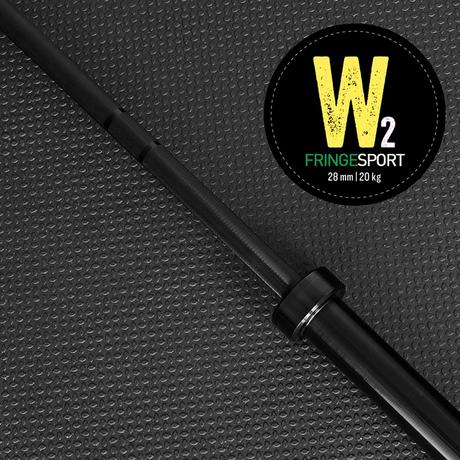 Fringe Sport Wonder Bar V2 20KG Barbell
The Wonder Bar reigns as the nucleus of the barbell universe here at Fringe. We set out on a noble quest to design and build the best bar suited for commercial gyms, and make it available to you at a home gym price. We completed our hero's journey and now offering our reward to you delights us. This versatile bar will serve almost everyone well. You can set world records on this bar, and use it for most training. If you're a seasoned athlete or an affiliate owner, consider stepping up to the Bomba Bar V2 (made in America) or even our Fringe Sport Weightlifting Barbell. Here are a couple of Wonder Bar features to be aware of:The 28mm shaft diameter is great for Olympic movements. The needle bearing cartridges provide great spin, but may require oiling in time. If you're new to lifting or building a home gym and need more info to learn what type of barbell works best for you, here's a helpful guide.We have an informal state motto here in Texas- "come and take it." Not only do we want you to do this with the Wonder Bar V2, but we'd like to put our own spin on it. Fringe it, or forget it.WONDER BAR V2 SPECS:The Wonder Bar V2 comes in a bushing version or bearing cartridges version. Except for that, the specs for both are the same.Bushing rotation or bearing collar Killer all-black Zinc finish Tensile strength: 205,000 PSI Yield strength: 160,000 PSI Weight capacity: 1,600 lb Weight: 20kilograms / ~44 pounds Collars: Bushing (Yellow "W") Bronze Oil Lite Bushing Rotation or Bearing (Green "W") 4 Needle Bearing Cartridges Per Collar Whip: Stiff Spin: Moderate (Bushing) or Fast (Bearing) Best Use: Garage Gym or WODing. Read below for Bushing vs. Bearing differences. Material: Alloy Steel, Black ZincPlated Length: 86 inches Sleeve Specs:16 inches Length and 2" diameter Shaft Specs: true28mm diameter Knurl: Dual Knurling - Double Ring IWF + IPF Knurling (No Center Knurl) Smooth knurl depth- neither a cheese grater nor too soft Warranty: Lifetime Warranty against manufacturer's defects.
Good for: Home gym owners looking for an Olympic bar that can also be used for weightlifting and powerlifting.
Pros:
Versatile –– can be used for weightlifting, powerlifting, CrossFit, or Olympic lifts 
205K PSI tensile strength 
Lifetime warranty (that they do a tremendous job of servicing)
Comes in 15kg and 20kg 
Priced just over $250
Cons:
Black zinc coating on sleeves 
No center knurling option
The Fringe Sport Wonder Bar V2 is on the expensive side for some of the other barbells on this list, but at $262 (free shipping included) it's still more affordable than most high-quality barbells on the market today that I think it competes with. Plus, it has features of bars that are much more expensive than it. With a tensile strength of 205,000 PSI, and an option to have a bushing or bearing rotating system, you won't find much better at this price range.
It comes in both 20kg (44 pounds) and 15kg (33 pounds) options, has a 28 mm shaft, and you have the choice to get it with either bushings or bearings. Bushings are typically used by powerlifters and general trainees who train the slower lifts, such as the bench press, deadlift, and squat. They spin, and can be used for Olympic Weightlifting but they're not the fastest or smoothest. Bearings, on the other hand, provide more spin for superior wrist-turnover in the Olympic lifts often performed by Oly lifters and CrossFit athletes.
This isn't a case where one is better than the other (though some people are passionate about what side of the fence they stand on). Really, it depends what type of training you're looking to do. Typically barbells only have one or the other (although not always,) so we appreciate that Fringe Sport truly allows the customer to customize their barbell to their training needs.
If you don't have a preference and are looking to save money, bushings are the way to go. Bearings are harder to manufacture, and as a result…more expensive. So the bearings version of the Wonder Bar is closer to $300, and while it's not as affordable as the bushings, it's still cheaper than many other barbells on the market. If it helps, the barbell comes with free shipping and has a lifetime warranty, so even if the price is an "investment" for you you don't have to worry about giving up more dough.
Best Budget Powerlifting Barbell: Bells Of Steel Barenaked Powerlifting Bar 2.0
Best Budget Powerlifting Barbell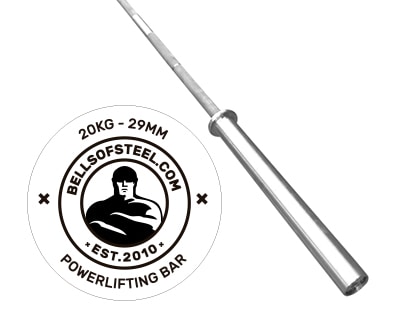 Bells of Steel Powerlifting Bar
The B.o.S. Powerlifting Bar is the best Powerlifting bar you can get for under $200. A bold claim, I know, so here's why having this bar in your gym will put you on a gainz train to muscleville.The Specs Specifically designed for powerlifting and to meet IPF specs, it is designed for people who's three favorite words are bench, squat and deadlift.An aggressive knurl with a bare steel finish gives you a superior grip and will prepare and callous your hands for meet day.With a 210K PSI tensile strength, 1,5000lb weight capacity and snap ring design, the barenaked powerlifting bar is tough enough for both novice and world-class powerlifters.A thinner block allows for more plates to be loaded onto the bar and less whip, while the ribbed shaft helps prevent plates from shifting while lifting.A powerlifting barbell differs from an Olympic weightlifting barbell in that it is more rigid in order to better accommodate the heavier weights. Our power bar is 1mm thicker than the Olympic weightlifting bar and has slightly different markings on the bar. Power bars do not have needle bearing and instead have brass bushing as they don't really need for the sleeves to spin so freely like they do on Olympic bars.
Good for: Powerlifters, or anyone who wants to lift heavy weights on a budget
Pros:
Aggressive knurling  
Affordable at under $200 (free shipping included)
Designed to meet International Powerlifting Federation standards 
210k PSI tensile strength
Cons:
Bare steel bar, so it's more susceptible to rust and corrosion  
Knurling can be inconsistent in some areas 
Multiple complaints of products being damaged during shipping
The Bells of Steel Barenaked Powerlifting Bar 2.0 is not just one of the most affordable powerlifting bars, but it's also one of the most affordable barbells on the market today (period). That's one of the major reasons I'd recommend this barbell for anyone's power rack. It was specifically designed to meet International Powerlifting Federation specs for barbells, meaning it's best for the squat, bench press, and deadlift.
Since it's built for powerlifting, the knurling on the Bells of Steel lean toward aggressive. That means you'll be able to hold onto it well as you go for your next deadlift PR. While it's not much of a functional flaw, the knurling is inconsistent in some areas with a "​​pointy mountain" style in some areas and a volcano style in others. You'll notice this most in the center knurling, but again it still feels great in the hand and some defects are expected for the price you're paying.
The 210,000 PSI tensile strength, and a 1,500 pound weight capacity, is high for any barbell and can withstand even a professional Strongman's daily workouts. The brass bushings keep the bar from spinning too much during training, and it has a 29mm shaft, both of which are what you want in a powerlifting bar. To top it off, the collars were designed to be extra thin which prevents the bar from hitting the uprights on the squat rack during your walk-out.
Despite its low price, the Bells of Steel Barenaked Powerlifting Bar 2.0 still feels like a much more expensive barbell. Part of that is due to the lack of coating on the knurl making it a bare steel bar. This isn't great for corrosion resistance, but is for bar feel.You can mitigate this with regular maintenance, though.
Best Budget Olympic Trap Bar: Titan Fitness Olympic Hex Weight Bar
Best Budget Olympic Trap Bar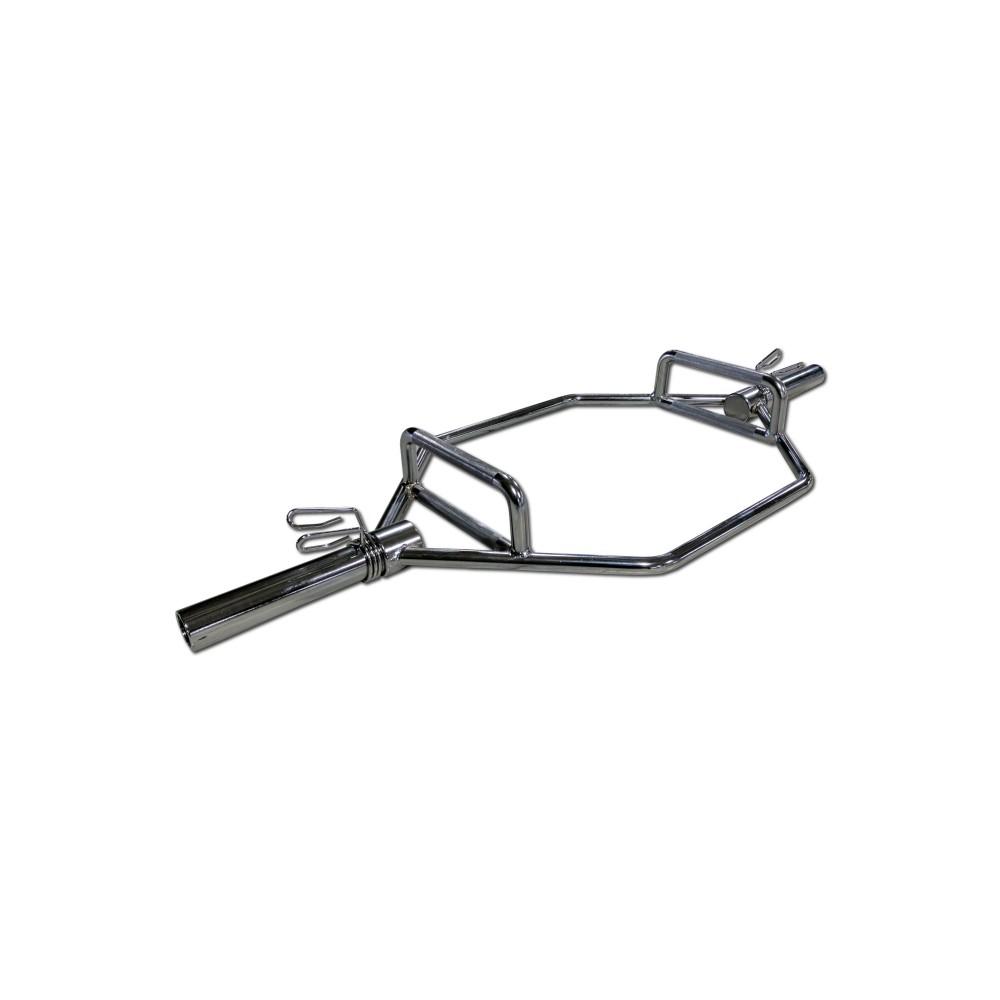 Titan Olympic Hex Weight Bar
Features: - Unique dual handle design for targeting and isolating desired muscle groups - Fits standard 2" Olympic plates - Knurled handles for improved grip - Easy "Flip" design– simply turn the bar over to switch grips - Crafted with all-steel construction - Total Sleeve Length: 9.75"Specs: - Weight: 44 lb - Overall length: 56" - Handle-Handle: 24.5" - Weight capacity: 500 lb
Good for: People looking for a specialty Olympic bar for deadlifts, farmers' carries, and jump squats. 
Pros:
Medium knurl that provides grip, but won't shred your hands 
Affordable at just over $125 (with free shipping). 
Durable, and should last a while in your garage gym
Cons:
Very short sleeves  
500 lb. weight capacity is light, but I've seen these handle much more
Hard chrome can end up chipping over time
Trap bars, sometimes called hex bars, are used to target different muscle groups than a standard barbell and take some stress off your spine during moves like the deadlift. Because it's a specialty bar, it can sometimes be a little more expensive than your straightforward barbell. But the Titan Fitness Olympic Hex Weight Bar is actually on the lower side of what we like to spend on our budget barbells (we try not to dip below the $100 mark).
We like this trap bar because it gets the job done at a low price without looking or feeling like it was built for cheap. The knurling on it is a bit rough, but you want a good grip on a trap bar to ensure you don't drop it during farmers' carries. The dual handles also allow you to lift it from different heights, which help to increase its value. Honestly, you won't find much better at this price range.
The Titan Fitness Olympic Hex Weight Bar has a 500-pound weight capacity, though the short sleeves means you'll probably only be able to get 405 pounds on it if you're using bumper plates (closer to 450 pounds if you use Olympic plates). That's fine enough for the average home gym lifter who will use it for things like shrugs, carries, and deadlifts, but if you're on the stronger side, it might not be enough for you.
The hard chrome coating on the trap bar looks nice, and should offer a few years of weather resistance and durability to ensure you get your money's worth but it does end up chipping over repeated use.
Best Budget Women's 15kg Barbell: Rogue Bella Bar 2.0
Best Budget Women's 15kg Barbell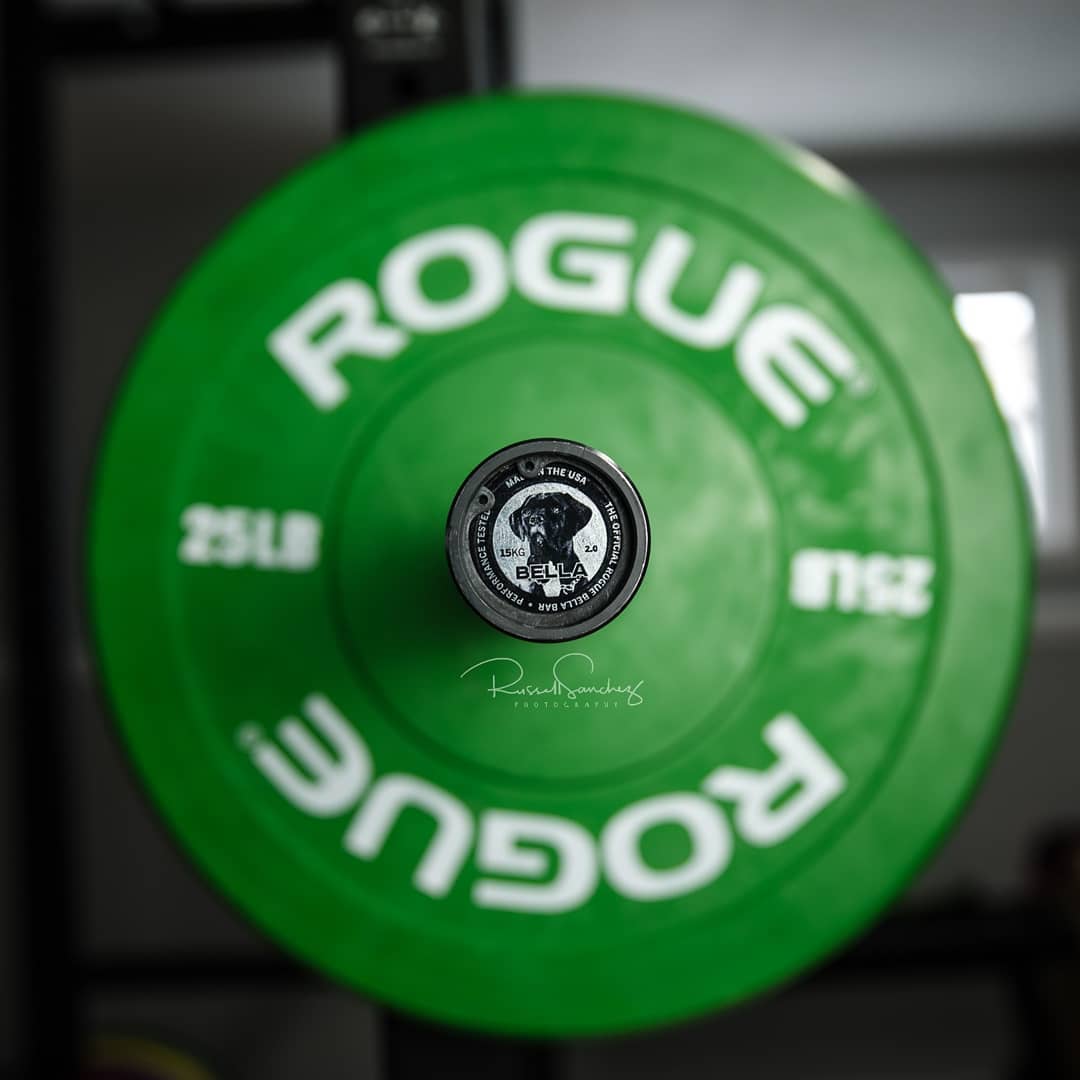 Rogue Bella Bar 2.0
The Bella Bar is Rogue's go-to multipurpose 15KG barbell for female athletes. Fully machined and assembled in Columbus, Ohio, this versatile ladies bar is uniquely optitmized for Olympic weightlifting, powerlifting, and/or a CrossFit WOD.A staple of women's CrossFit competitions-- including events at the CrossFit Games-- the 25MM Bella Bar has no center knurl and features the same Rogue signature Dual Knurl Marks and 190 PSI tensile strength as our flagship 20KG Ohio Bar. The hybrid knurling pattern itself offers a firm but comfortable grip on both Powerlifts and Oly lifts, while quality U.S. steel and snap-ring bronze bushings produce the perfect balance of rigidity and natural whip.Built with as much attention to detail as any bar in the Rogue family, the Bella Bar is a women's weightlifting bar forged on equal ground.Specifications:Made in Columbus, OH, USA Weight: 15KG (33LB) Diameter: 25MM (0.98 inches) Bar Length: 79.13", Loadable Sleeve Length: 13.00" Tensile Strength: 190,000 PSI Black Zinc Coated Shaft Bright Zinc Coated Sleeves Dual Knurl Marks: Both Powerlift and Olympic Knurling No Center Knurl
Good for: People who prefer lighter barbells, or those with small hands 
Pros:
190k PSI tensile strength  
Ideal for people with smaller hands 
Affordable at under $250
Can be used for weightlifting, CrossFit, and powerlifting
Cons:
No center knurl  
The black zinc coating fades over time
Not the best for someone who wants a lot of spin on their bar
The Rogue Bella Bar 2.0 is great for anyone who needs a 15-kilogram barbell option to use for any type of workout. It has a tensile strength of 190,000 PSI, has one of Rogue Fitness' highest durability ratings at F6-R (the highest is F8-R), and its knurling is passive but still rough enough to give you a good grip during training.
Some people refer to a 15-kilogram bar as a "women's" barbell. This is due, in part, because these bars are designed for people who have smaller hands. For example, many 15-kilo bars, like the Bella, have a 25-millimeter shaft, opposed to the 28-29-ish millimeters on a 20-kilo bar. This makes 15-kilo bars great for people with a smaller grip–including youth athletes.
We found the Bella was best for CrossFit-style workouts, but it's also great for things like deadlifts and squats, too. It has a decent enough spin in our experience, though many online reviewers on Rogue Fitness' website disagree with our take. Really, this is one part of the barbell that comes down to personal preference.
The Rogue Bella Bar is built by one of the industry leaders in barbells. Sure, there's more affordable 15-kilogram options out there, but they won't have the multipurpose use or the tensile strength this one does. Trust us, this is a case where it's worth it to spend a little more money to get a better value.
Fun fact: the Bella bar was named after a dog, specifically the beloved pup of Rogue's founders Bill and Caity Henniger, and you can see Bella's picture on the endcaps.
Read our full Rogue Bella Bar review.
Best Budget Cerakote Barbell: Synergee Games Cerakote Bar
Best Budget Cerakote Barbell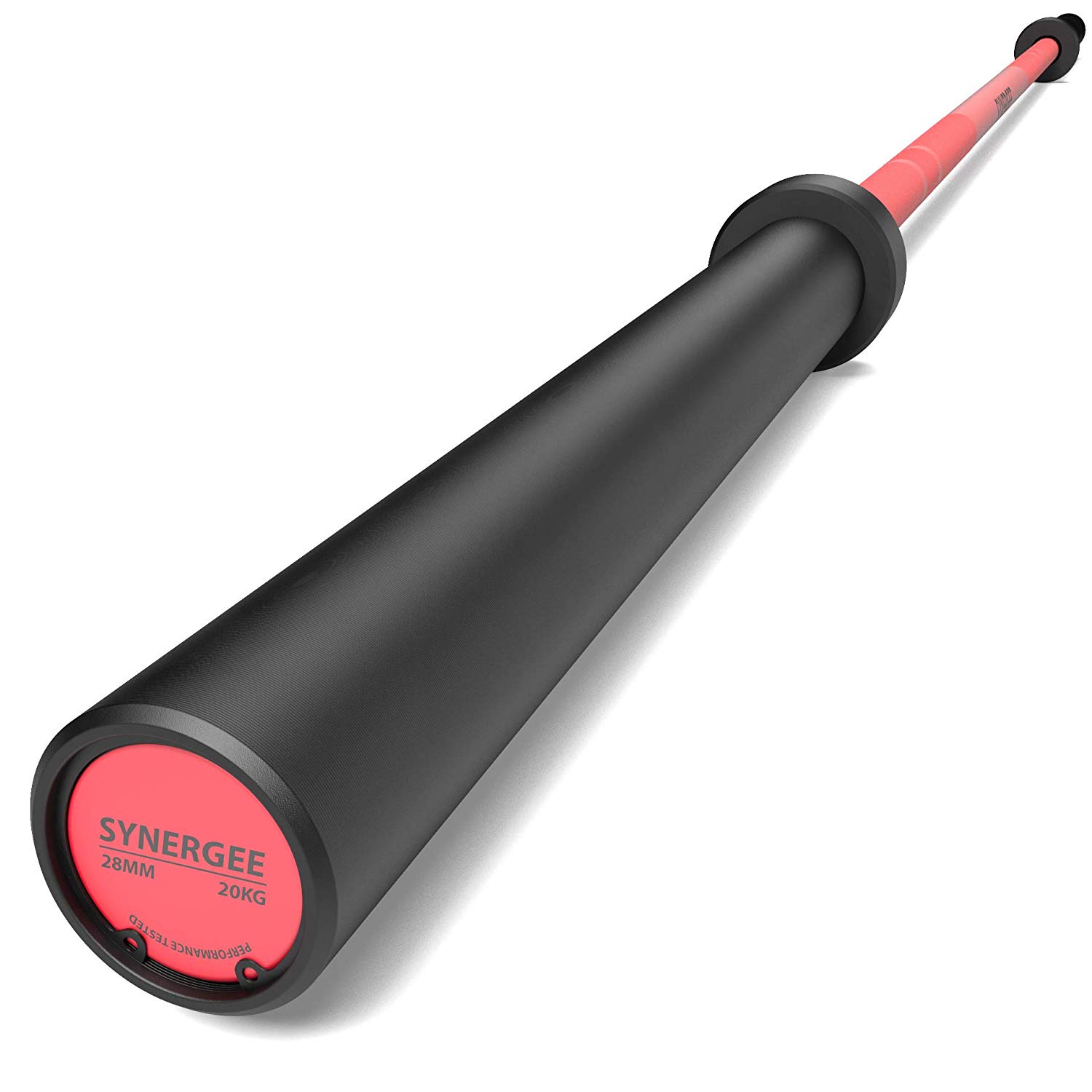 Synergee Games Colored Cerakote Barbell
SUPERIOR CONSTRUCTION – Our Synergee Games Bar is built to handle your toughest workouts. From Olympic lifting to powerlifting to body building, its high-grade steel and cerakote composition, tensile strength rating of 190,000 PSI, 1500 lb weight capacity, 1.2 mm knurl, and 10 needle bearings can withstand it all. FITTER, FASTER, STRONGER - With a loadable sleeve length of 16.4 inches (20 kg) and 13 inches (15 KG), our barbell can carry heavy loads, helping you push out of your comfort zone and reach your potential. Created by athletes, for athletes, our Synergee Staff have witnessed members of our Synergee Community crush their PRs with the Games Bar, which is exactly why we created it. CERAKOTE FINISH – Our steel bar is finished with a Cerakote coating: you'll look tired at the end of your workout, but this barbell won't – even after years of use! Choose which color you want and get yourself a bar that suits your style as well as your workouts. WHAT'S IN THE PACKAGE – This bar is a Red 20 KG Bar. It is 86.75 inches long, has 16.4 inch loadable sleeve lengths, and 28 MM in diameter. 10 bearings total (5 per sleeve). Comes with a complementary pack of Wrist Wraps and Lifting Straps. NO SWEAT GUARANTEE – Leave the sweating and swearing for your training! Buying from Synergee means quick, hassle-free, and caring customer service! Plus, we offer a better-than-money-back guarantee: if there is an issue with your product for any reason, we will send you a new one quickly and absolutely FREE! 100% Customer Satisfaction is our Number 1 Goal!
Good for: People looking for a weather resistant Olympic barbell that doesn't cost several hundreds of dollars. 
Pros:
190k PSI tensile strength  
Affordable at just over $225 
Has a 15kg and 20kg option
Great for CrossFit exercises 
Great spin on the bar
Cons:
Cerakote sleeves can get scratched up easily 
No center knurling 
Not a versatile bar
If you want a nice-looking CrossFit barbell with weather-resistant Cerakote (more on that in a second) but don't want to spend the money on something like a Rogue Ohio Bar, then go for the Synergee Games Cerakote Barbell. It's more than $100 cheaper than Rogue's, and has most of the same features.
Cerakote is a special type of coating that paints and protects against things like rust, and it's used by the U.S. Military on their standard-issue firearms. It's also typically very expensive, but Synergee has been able to find a way to get it on this bar while keeping it budget-friendly.
Reviewers did say it was somewhat thin and uneven in spots, but you can't complain too much considering you're getting it for such a low price. They added it has held up in varying weather conditions, from very dry to humid, so the Cerakote has done its job.
Even the sleeves are Cerakote, which is great from a weather resistance standpoint, but I have noticed they've gotten scratched as Olympic plates have been loaded and unloaded off them. That obviously won't affect your workouts, but it's something to be aware of.
The word "Games" in the barbell's name should be an indicator of what type of workouts it's best for: CrossFit, if you couldn't guess. It spins extremely well, and the knurling is great for high-rep workouts. So CrossFit and weightlifting enthusiasts will get the most use out of this bar.
It's sold in multiple colors, and comes in a 15-kilogram option as well. If you're in a non-climate-controlled environment, this bar will stick with you during any season.
Read my full Synergee Games Cerakote Barbell review.
Best Budget Barbell on Amazon: XMark Blackhawk
Best Budget Barbell on Amazon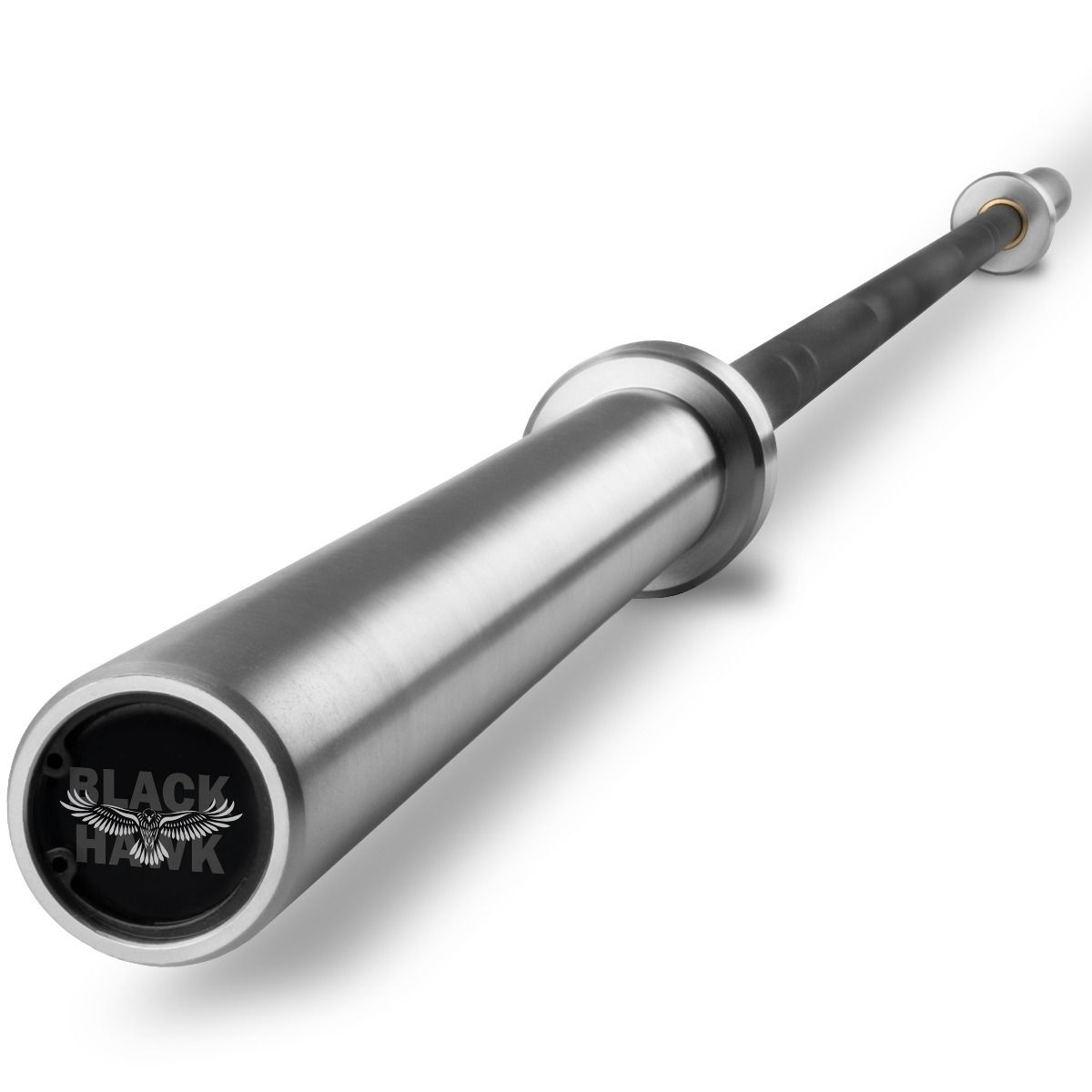 XMark Blackhawk 7' Olympic Bar
The XMark Blackhawk 7' Olympic Bar is a high-value barbell available on Amazon that is durable, can be used by beginners and experienced home gym owners, and has great medium knurling. It has a tensile strength of 185,000 PSI (pounds-per-square-inch), 1,500 pound weight capacity, and needle bearings that offer a smooth spin with each rep.
Good for: People who like to do their fitness equipment shopping on Amazon 
Pros:
Dual knurl markings 
Under $200 
Available on Amazon
185k PSI tensile strength 
Cons:
No center knurling 
No 15kg option 
Does require regular maintenance 
Nobody's going to argue with the convenience of shopping on Amazon, so if you absolutely must find your next barbell on there I'd recommend the XMark Blackhawk. At around $180, it does everything you need a barbell to do and is backed by close to 100 5-star reviews. The few people who gave it 4 stars or below didn't bother leaving a written review, so whatever was wrong with it must not have been that important.
It's got a 185,000 PSI tensile strength, which is strong enough for most garage gym owners, and a 1,500-pound weight capacity. The black manganese phosphate (a harder version of black phosphate) coating gives it enough weather resistance where it could be used comfortably in a non-climate-controlled environment, but only if you wipe it down with a special type of oil regularly (maybe once a quarter).
While there's no center knurling, the Blackhawk does have dual knurl marks. The knurling itself is Goldilocks level–not too soft, not too rough, but just right for strength training and volume training. If you're a hardcore powerlifter, you should know the spin is quite quick on this one.
It sounds crazy, but you can't buy everything on Amazon (Rogue's barbells aren't on there, for example). XMark sells all of their equipment there, and they handle the shipping themselves.
Best Budget Curl Bar: REP Fitness EZ Curl Barbell
Best Budget Curl Bar
Rep EZ Curl Barbell
Introducing the long-awaited Rep EZ Curl Bar! One of our most requested items, REP now offers a curl bar so you can target your biceps directly and get the most out of your curls!Key Features:Spin:"¯ With 1 needle bearing and 1 bushing per sleeve, these bars are the perfect combination of spin and stability. This unique combination reduces wrist strain while helping isolate different muscle groups. Length: You can get this bar in a rackable or nonrackable length to fit your training style best! Knurl:"¯This curl bar incorporates the same knurling from our best-selling mixed-use bars to bring you a grip that lasts through high rep sets without ripping your hands. Camber: The cambers on these bars allow a semi-supinated grip so you can to develop your biceps and triceps in a joint-friendly way. Coating: Available in Stainless Steel or Hard Chrome. The Hard Chrome coating is a more durable finish than regular chrome and has a matte appearance. Hard Chrome is also rust-resistant and requires low maintenance!\Standard Specs:Diameter:"¯30mm Weight: 30lbs Finish:"¯Stainless Steel or Hard Chrome Coating Knurl: 4x70mm sections of medium depth knurl Length:"¯4'7" Loadable Length: 10" Distance between sleeves: 2' x 9.5"
Good for: People looking to grow their biceps 
Pros:
Great spin on the bar  
Affordable at just under $150 
Medium grip so your hands aren't shredded during high-rep workouts 
An affordable specialty bar  
Cons:
Rusts pretty quickly 
Ultra-budget friendly option isn't rackable 
Budget-friendly chrome option has no lifetime warranty 
Sure, you can grow your biceps plenty with a pair of adjustable dumbbells these days, but you just can't beat an EZ curl barbell if you're looking for mountain-like peaks. The REP EZ Curl Barbell is one of my favorite curl bars on the market, not just because it's affordable but it's just a good-quality curl bar.
I like the knurling, I like how it spins, I like how it feels in the hand, and I like that, if you're willing to spend just a little more, you can get it in a rackable version for $269. That's quite a bit more than the non-rackable one, and that feature isn't a necessity. That said, it's nice to have and it's only $5 more expensive than Rogue's rackable version.
Honestly, I'd say REP has Rogue beat here when you compare the two EZ curl bars side-by-side. For one, REP offers more options (you can also get this in a non-budget-friendly stainless steel version) and they had a rackable version before Rogue. The chrome coating, which you want if you're shopping on a budget, does a fine job of protecting it from corrosion and doesn't dull the knurling as much as the e-coat Rogue uses on its curl bar.
On top of that, REP utilizes a combo needle bearings-bushing system, whereas Rogue uses a bushings on its curl bar. That means REP's has a better spin, though not too much, making it a better value curl bar for the average home gym owner.
Best Budget Rogue Fitness Barbell: Rogue Fitness Echo Bar 2.0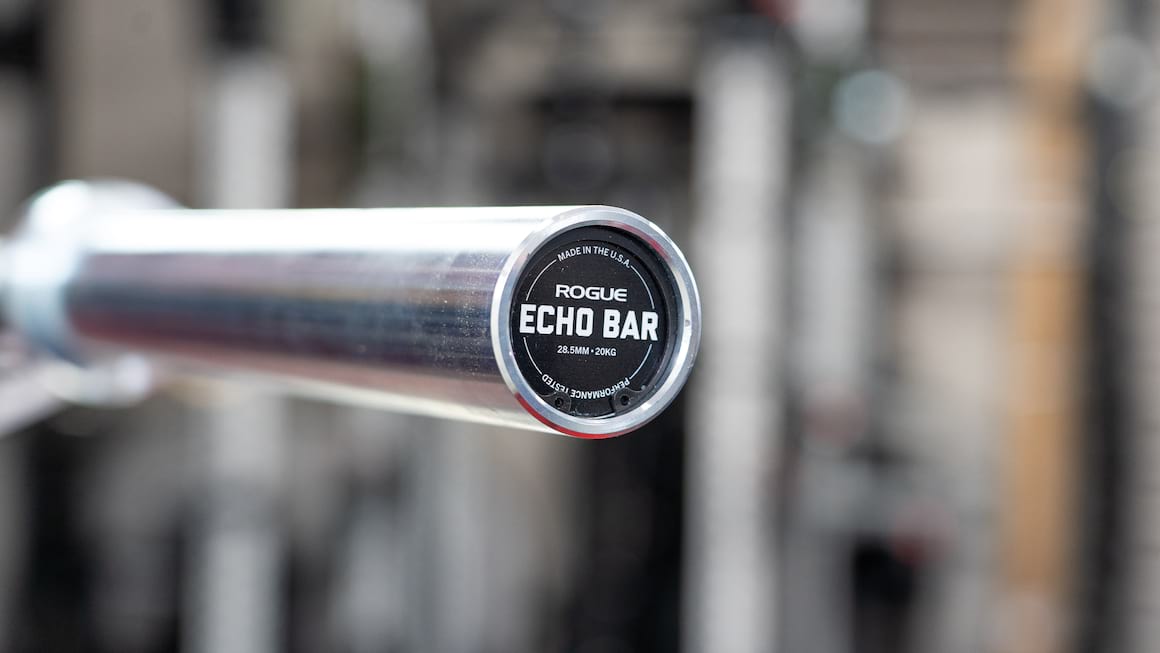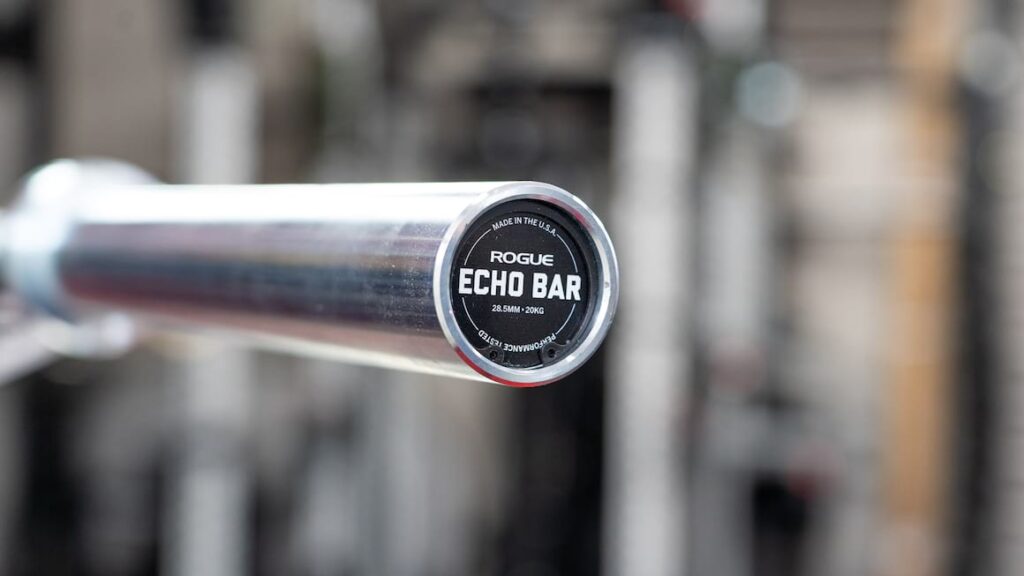 Best Budget Rogue Fitness Barbell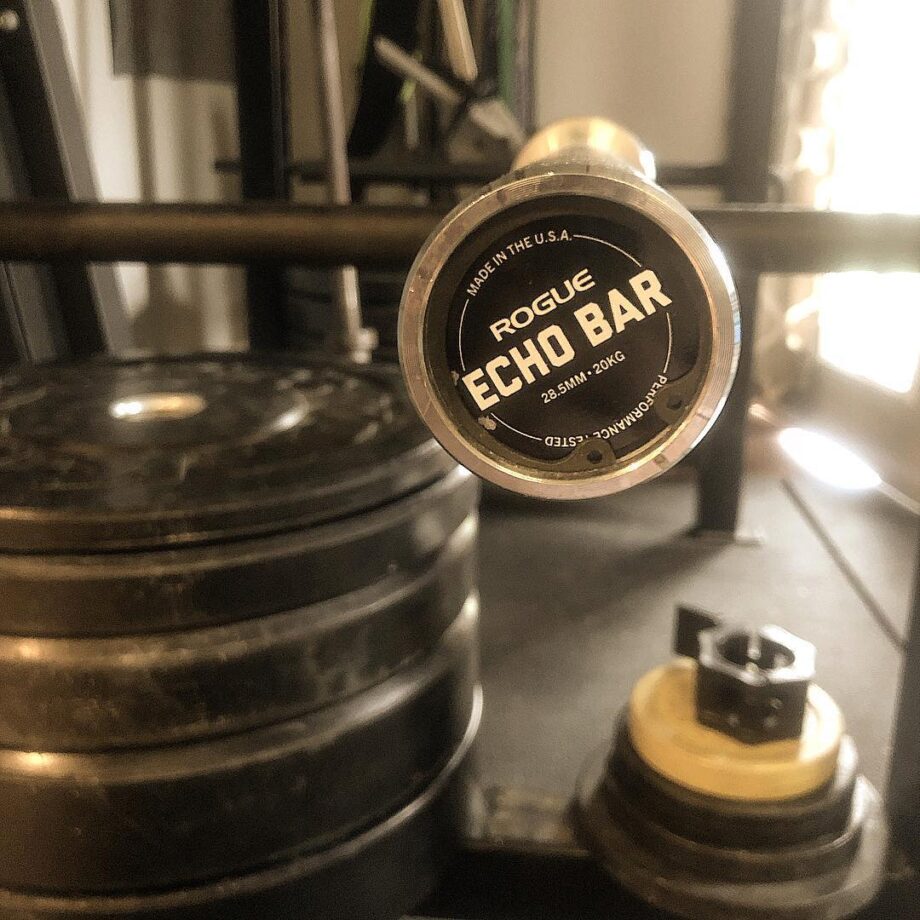 Rogue Echo Bar 2.0
Machined and assembled at our Columbus manufacturing facility, the newly redesigned Rogue Echo Bar 2.0 is an economically priced 28.5MM bushing bar equipped with many of the same features as our flagship Rogue Ohio Bar.Starting with a 190,000 PSI tensile strength steel shaft and bright zinc finish, the Echo Bar also now includes an upgraded snap ring sleeve construction and exclusive Echo branded endcaps. There are single IWF standard Olympic knurl marks (no center knurl or powerlifting marks) and 16.40" of loadable sleeve length.All orders of the Echo Bar also come with a 1-year warranty.*The Echo Bar–just like our flagship 28.5MM Ohio Bar–is constructed from 190,000 PSI tensile strength steel, with quality bronze bushings that act as bearing surfaces between the bar sleeve and shaft. A bright zinc finish across the entirety of the bar finishes the look.Brand new for Version 2.0 of the Echo Bar is a fully upgraded snap-ring construction, battle-tested to maintain optimal stability throughout any type of high-intensity Olympic movement. This, again, is the exact same construction used in the Rogue Ohio Bar. We have also included new Echo exclusive endcaps for this re-design, a feature not found with the original model.The Echo Bar includes single, IWF standard Olympic knurl marks (there are no powerlifting marks and no center knurl) in an consistent, non-abrasive pattern. Every bar shaft is machined in Columbus, Ohio, and treated with artistic precision.Despite its friendly price tag, the Echo Bar is up to the demands of high-performance, competitive Oly lifting. The 20KG bar will produce a consistent spin and "whip" during any traditional Olympic movement, and the durability of its construction is backed by a one-year warranty.*
Good for: Anyone looking for affordable Rogue Fitness equipment 
Pros:
190k PSI tensile strength   
Rogue's most affordable 20kg barbell at under $275 
Highly durable barbell 
Uses the same bronze bushings as the Rogue Ohio Power Bar  
Cons:
Only one knurl mark; no center knurling 
No finish options 
No 15kg option 
Only has a 1-year warranty
Rogue does strength training equipment very well, and as a result can get away with charging a bit for their products for two reasons: people are going to buy it because it's Rogue (they're an industry leader), and their products are worth it most days of the week. If you need the Rogue logo on your barbell, the Rogue Echo Bar is the best budget pick.
The Rogue Echo Bar 2.0 has all the features of the Rogue Bar 2.0 without being as expensive, has a 190,000 PSI tensile strength and the highest durability rating a barbell can get, and has a knurl that's similar to what's on the Rogue Ohio Bar.
In other words, you're getting the same quality as some of Rogue's flagship barbells without paying the same price. Unlike those bars, this one only comes with a one-year warranty, rather than the lifetime coverage offered on the more expensive ones. That's not going to change how this feels during bench presses and squats, and really it's durable enough that we don't anticipate any major problems popping up with it.
You can surely use this for any type of training, but it leans more toward being a weightlifting or CrossFit bar since it only comes with weightlifting knurl marks, and the knurling itself is a little more passive than what a powerlifter would want. Also, there's no center knurling.
Shopping on a budget with Rogue Fitness is tough at times, and they only do major sales around Black Friday. If you can't wait that long, I'd recommend this bar in a heartbeat.
For more, check out my full Rogue Echo Bar 2.0 review.
The Competition
There are countless budget barbells out there, and we took the time to test out and research quite a few of them while coming up with this list. Here are a few that didn't make the mark.
CAP OB-86B: This barbell, available on Amazon, was a great budget pick, but CAP Barbell recently lowered the tensile strength of the bar (it stands at 110,000 PSI), so we wouldn't recommend it for most home gym owners.
Synergee Regional Bar: Honestly, this is a great barbell but there's options that are more affordable with the same exact features.
REP Fitness Rackable EZ Curl Bar: This is the same exact EZ Curl Bar as the one featured on our list, but in a rackable version. It's an amazing curl bar, but if you're on a budget it's simply unnecessary.
CAP Barbell Olympic Trap Bar: It's just about the same bar as the Titan Fitness Olympic Hex Bar, but it's about $20 more expensive.
Vulcan Strength Standard Bushing Barbell: This barbell performs well, is priced pretty fairly, and has a decent spin, but it lacks weather resistance.
How We Picked and Tested
When looking for budget gym equipment, it's important to balance price with quality. Meaning, it's true you get what you pay for and more expensive barbells, for the most part, are going to be of higher quality than most budget barbells you can get your hands on. Yet there are some affordable options that are surprisingly high-performing for their price range.
So first, we set a general price limit of around $250. Some may be more expensive than that, but not by much and unless you have a really strict budget they're worth the extra $20.
After that, we tested these barbells the same way we would one that cost twice as much. We did bench presses, deadlifts, squats, clean and jerks, snatches, curls, overhead presses, and rows, just to name a few. In some cases, we conducted blind studies to see if people could tell they were working out with a budget bar. (Spoiler alert: A lot of the time they couldn't.)
We also wanted to test the value of these budget barbells. It's great to find one for less than $200, but if it's of such low quality that you're going to have to replace it after a year or two, you might as well just go for the more expensive options (you'll end up spending that much replacing the bad stuff anyway). So we wanted to only recommend bars you could keep in your garage gym for a few years.
Here are some of the criteria we used, in no specific order, to determine which budget barbell was best:
Price (including shipping and handling)
Tensile strength and weight capacity
Knurling
Weather resistance
Warranty
Construction
Spin
Benefits of Lifting with a Budget Barbell
Dumbbells and kettlebells might be the more portable options, but the barbell has them beat on versatility. Here are just some of the reasons why you should invest in a quality budget barbell.
Build Muscle and Save Time
You lift heavy weights to get strong and muscular. This sounds obvious but there's a reason why the barbell is the best choice for accomplishing this, compared to something like dumbbells or kettlebells. For one, barbells recruit a larger group of muscles during the bench press or deadlift. A dumbbell chest press, for comparison, doesn't hit as many muscles so you'll need to do other moves to cover the ones missed by that move.
And machines, such as the type you find in commercial gyms, typically only hit one muscle group. So you're saving time by investing in a high-quality barbell and some weight plates.
Reduce Injury Risk
For one, building muscle has been shown to protect your bones and joints and slow down signs of aging (which is why it's recommended seniors do resistance training). Beyond that, barbell training reduces your injury risk compared to dumbbell training.
Let's say you want to press 200 pounds. Doing this with a barbell is not the same as doing it with a dumbbell. A barbell is a more stable load because you're not recruiting smaller stabilizing muscles like you would be if you tried to press two 100-pound dumbbells. Try to do that and you might injure something. You do still have to workout your stabilizing muscles, which is why dumbbell training is a great supplement to barbell weightlifting.
Versatile Functional Training
Being muscular and strong can have great benefits outside of the gym (i.e. you can lift more boxes for your friend who's moving this weekend), but barbell training can help you in other ways, too. Building explosive power with Olympic lifts can help you perform better during pick-up sports games; building endurance with volume training can help you stay more active; and building capacity with HIIT workouts can help you adapt to life stressors.
Save Money
Obviously, this is the purpose of buying budget gym equipment. At the end of the day, a budget barbell won't be as good as a more expensive one, but it still provides all the benefits of a standard barbell. Similarly, power racks, Olympic plates, and other home gym equipment can be found at any price point–meaning you have no excuse for not building a home gym that fits your training needs.
How to Find the Best Budget Barbell for Your Home Gym
When it comes to finding the best barbell, you want to prioritize finding one that feels secure in your hands at all times. There's no one that's better than all the rest, it just comes down to what works for you. That said, it helps to have a good idea of what to look for so you don't end up with a hunk of steel that's not suited for your workouts. Here are a few general guidelines on what to look for when shopping around for a barbell.
Knurling
Knurling is the crosshatch pattern on the shaft of the barbell, and it helps to increase the friction between your hands on the bar. In other words, it helps ensure you won't drop the bar as you go for that next PR. Knurling can be passive, meaning you can barely feel it, or aggressive, meaning it shreds your fingers like their Parmasean.
How much knurling you want on your barbell depends on how you train. If you're a powerlifter, you'll want to go on the more aggressive side to keep your grip tight. If you're a weightlifter who does high-rep workouts, you'll want something on the lighter side to protect your hands.
Some bars come with center knurling, while others omit it. Again, this comes down to training preferences. Are you squatting often? A center knurl could benefit you by ensuring the bar stays gripped to your back. On the other hand, if you're doing high-rep cleans then a center knurl will just scratch you on its way up.
Finish
The barbell finish refers to the coating applied to the barbell – both its shaft and sleeves. This not only affects how the bar looks, but also how it feels in your hands and how well it's protected against rust and corrosion. Here, we'll give a quick rundown on some of the more popular barbell finishes.
Bare steel: Let's actually start with something that's not a finish at all: bare steel. As the name implies, this is just raw steel with no protective element at all. The one upside of bare steel barbells is the knurling tends to stay more aggressive, and they look nice for a short time but the bar will quickly rust.
Stainless Steel: Stainless steel is considered the most rust-proof coating, and it should extend the life of your barbell, but it's not going to keep it 100 percent rust-free. Stainless steel is also generally more expensive than other material, which means you'll pay more for a barbell with this type of finish. In other words, you'll be hard-pressed to find a true budget stainless steel barbell.
Hard Chrome: Hard chrome is when an object, in this case a barbell, has been submerged in a chrome solution to increase its durability, and corrosion resistance. Regular chrome is much thinner than hard chrome and doesn't offer the same protection, and as a result is much cheaper than hard chrome. The chrome coating does impact the knurling slightly.
Cerakote: Cerakote is a ceramic coating that acts like a combination paint-and-sealant, and it's the same finish used on U.S. military-grade weapons (so you know this stuff works). It's been proven to be more weather resistant than stainless steel, so it's great for anyone who exercises in a home or garage gym that's not climate controlled.
Zinc: There are different types of zinc coatings, such as black zinc and bright zinc. They generally offer good corrosion resistance, have an average price point, and feel good in the hand.
Black Oxide: Black oxide is an inexpensive finish applied to bare steel that, as you might guess, turns the bar black. It will oxidize quite quickly, especially in humid environments.
Tensile Strength
Tensile strength refers to how much tension you can put on a barbell before it permanently bends and loses its shape, so it's a good way to determine the durability of your barbell. A bar with low tensile strength can break if you put too much weight on it or drop it too much. Most home gym athletes looking for a budget barbell will find something 170,000 PSI, or pounds per square inch, but technology has evolved to allow some affordable ones to have high tensile strength, sometimes upwards of 200,000 PSI.
Spin: Bushings vs. Bearings
Barbell sleeves, the part where you load the Olympic or bumper plates, are constructed with either bushings or needle bearings. Needle bearings are best for someone who needs their bar to have some spin on it, so anyone who favors Olympic lifts or dedicated weightlifters.
Powerlifters, though, want to go for bushings because they don't spin as much. Bushings are typically more durable as well.
When looking for the best budget barbell, you should know bushings are typically more affordable than bearing-style rotating barbells.
Best Budget Barbells FAQs
What is a good price for a barbell? 
Like anything else, you get what you pay for with barbells. But you can find a quality bar for around $250 (shipping and handling included). There are some good ones that cost less than $200, but we'd suggest not going below $100 since there's no way you can build a good bar for that cheap. 
What is a good barbell? 
A good barbell is one that feels good in your hands, can withstand the weight you put on it, and stays durable for at least a few years. It should also have some rust resistance, good tensile strength, and knurling that matches your needs. 
Are barbells worth it? 
Without a doubt, yes. They recruit multiple major muscles, can be used for a large array of exercises, and are generally safer than dumbbells for strength training.