We review free products that we receive and participate in affiliate programs, where we may be compensated for items purchased through links from our site.
See our disclosures page for more information.
The Rogue Echo Bar 2.0 is the lowest-priced barbell that Rogue Fitness sells. Despite its low price the Echo Bar is still made in the USA, uses high tensile strength steel, has a fantastic medium knurl, with bronze bushings in the sleeves. Its only real downside versus other Rogue barbells is its minimal 1-year warranty instead of a lifetime warranty. We recommend it if you don't plan to ever need the bar warrantied.
Rogue Echo Bar Review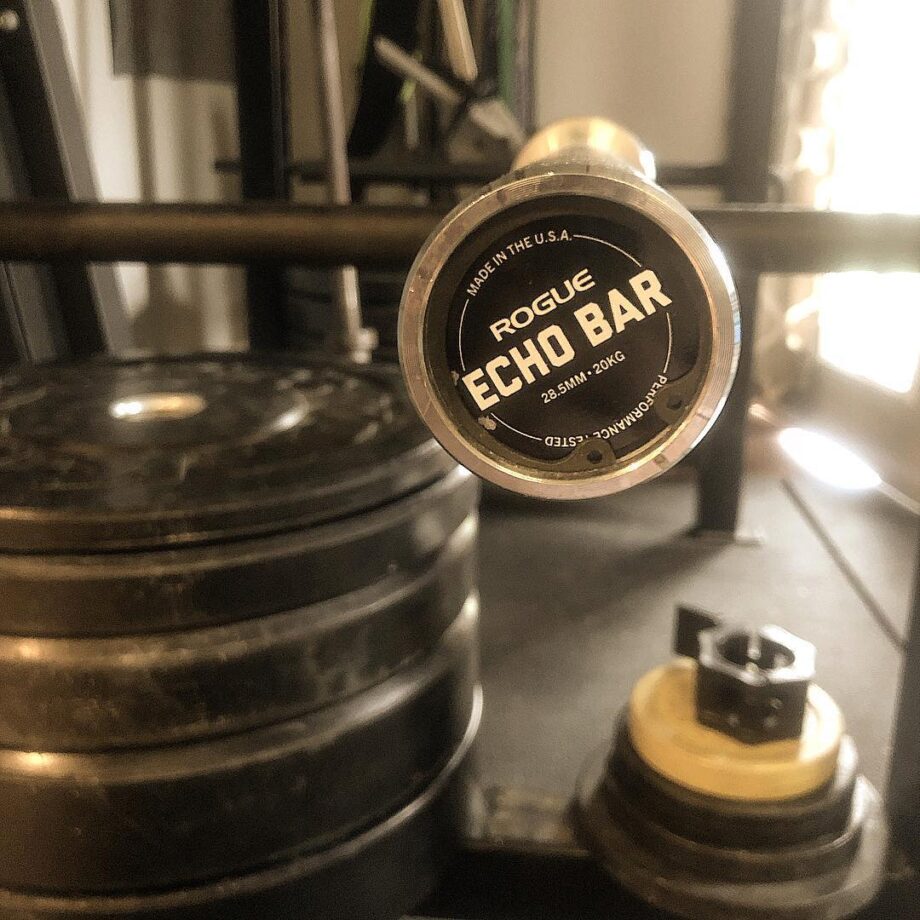 Rogue Echo Bar 2.0
Machined and assembled at our Columbus manufacturing facility, the newly redesigned Rogue Echo Bar 2.0 is an economically priced 28.5MM bushing bar equipped with many of the same features as our flagship Rogue Ohio Bar. Starting with a 190,000 PSI tensile strength steel shaft and bright zinc finish, the Echo Bar also now includes an upgraded snap ring sleeve construction and exclusive Echo branded endcaps. There are single IWF standard Olympic knurl marks (no center knurl or powerlifting marks) and 16.40" of loadable sleeve length. All orders of the Echo Bar also come with a 1-year warranty.* The Echo Bar–just like our flagship 28.5MM Ohio Bar–is constructed from 190,000 PSI tensile strength steel, with quality bronze bushings that act as bearing surfaces between the bar sleeve and shaft. A bright zinc finish across the entirety of the bar finishes the look. Brand new for Version 2.0 of the Echo Bar is a fully upgraded snap-ring construction, battle-tested to maintain optimal stability throughout any type of high-intensity Olympic movement. This, again, is the exact same construction used in the Rogue Ohio Bar. We have also included new Echo exclusive endcaps for this re-design, a feature not found with the original model. The Echo Bar includes single, IWF standard Olympic knurl marks (there are no powerlifting marks and no center knurl) in an consistent, non-abrasive pattern. Every bar shaft is machined in Columbus, Ohio, and treated with artistic precision. Despite its friendly price tag, the Echo Bar is up to the demands of high-performance, competitive Oly lifting. The 20KG bar will produce a consistent spin and "whip" during any traditional Olympic movement, and the durability of its construction is backed by a one-year warranty.*
There isn't a cheaper barbel that Rogue Fitness makes or sells than the Rogue Echo Bar 2.0.
Despite the price, the Echo Bar gets a lot right. To put it simply, the Echo Bar is essentially an Ohio Bar with a shorter warranty period. Seriously, the tensile strength is the same as is the knurl, spin, and shaft diameter. It's even made on the same machines as the Ohio Bar in Columbus, Ohio.
I'll keep it simple, if you are looking for a high-quality barbell designed to last decades, don't care for a lifetime warranty, but want the lowest price offered, then the Echo Bar is probably your best bet.
Let's get into the details.
What is the Rogue Echo Bar?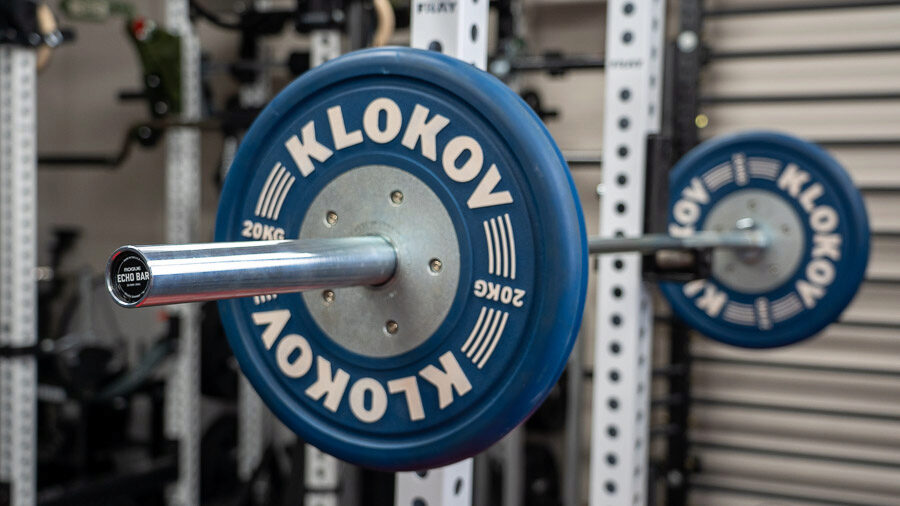 The Rogue Echo Bar 2.0 is a general training bar through and through. This means that it's great for all types of training and is based on the premiere CrossFit barbell, like the Rogue Ohio Bar and the Rogue Bella Bar 2.0that we've reviewed.
The redesigned Rogue Echo Bar 2.0 is designed, manufactured, and built-in Rogue's Columbus manufacturing facility. Like all products from Rogue that feature the "Echo" branding such as the Rogue Echo Bike that we've reviewed and even won out as our Top Pick for the Best Air Bike, the Echo Bar 2.0 was created to be a great value, and it is.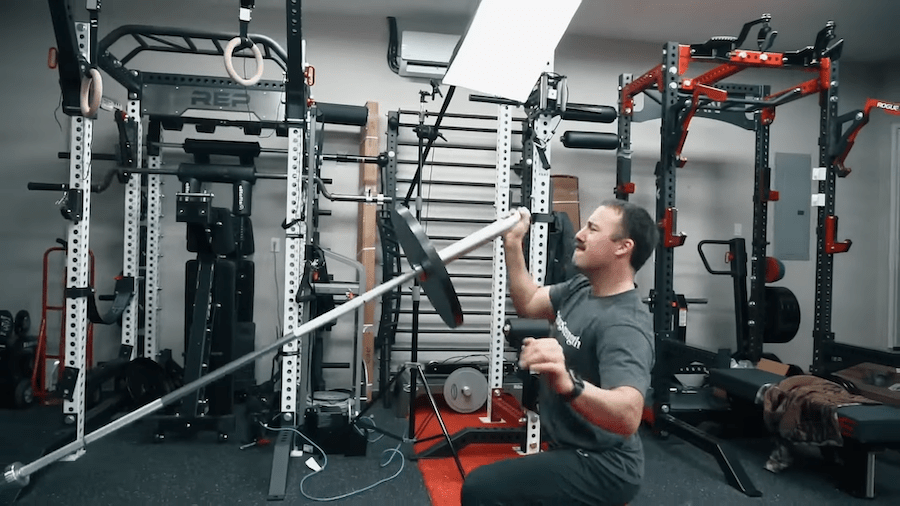 The high tensile strength steel shaft sits at 190,000 PSI, is knurled with a medium-passive pattern for grip that feels great with chalk, but won't rip your hands. It's then coated with a bright zinc finish on both the shaft and sleeves that will do well against rust and won't chip like cheaper chrome-plated bars.
Another difference between the old and new versions is the 2.0 has an upgraded snap ring sleeve construction like the rest of the bars in Rogue's line-up and a new end cap.
Although the Echo Bar 2.0 is a great value, there are other things that stand out about the bar. Let's discuss them.
What I Like About The Rogue Echo Bar 2.0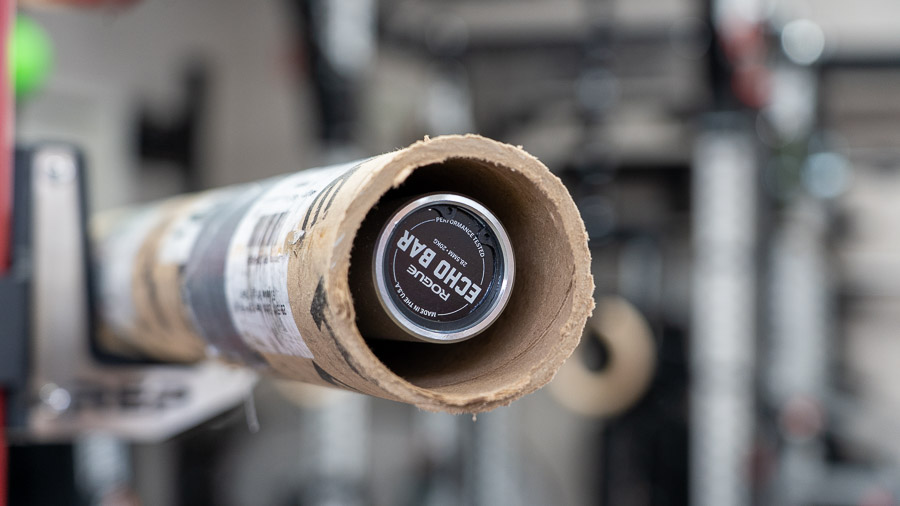 By far, the best feature of the Rogue Echo Bar 2.0 is its overall value.
As of the writing of this review, the Echo Bar is right around $255. If you were to do a search on the Wayback Machine to barbell listings a decade ago, a barbell with these capabilities would have cost over four times this amount. There are many reasons for this, but one is that there are many more individual buyers via home gym owners and there are many more options.
The only comparably priced bars with a feature set that compares to the Echo Bar 2.0 are imported bars from China which don't mean they're bad bars, but there are often quality differences.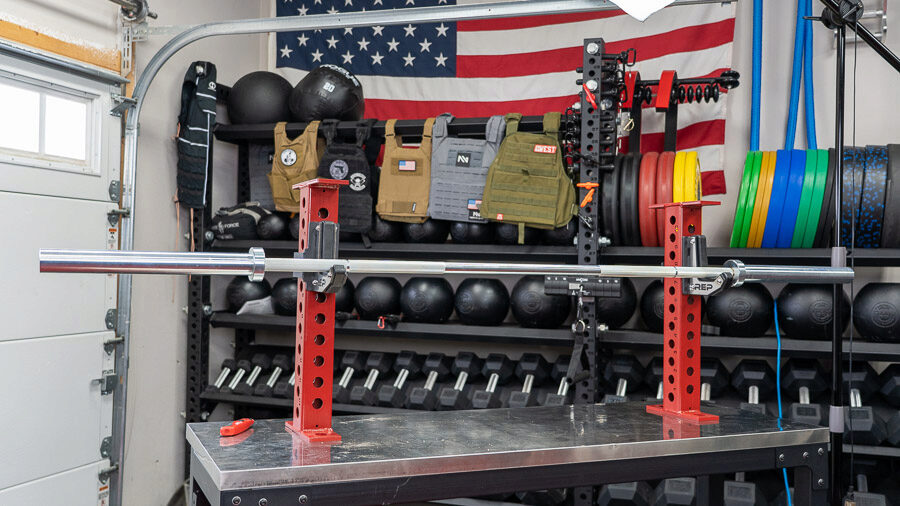 Outside of the value proposition that is so obvious is what is on the other side of the value equation–the specs.
The Rogue Echo Bar 2.0 is essentially a Rogue Ohio Bar with a different end cap and I'm a big fan of the Ohio Bar as is practically everyone who has used one.
The Echo Bar is designed for general purpose use. This means it's great for all of the things that would be seen as some of the best CrossFit equipment or GPP (General Physical Preparedness.)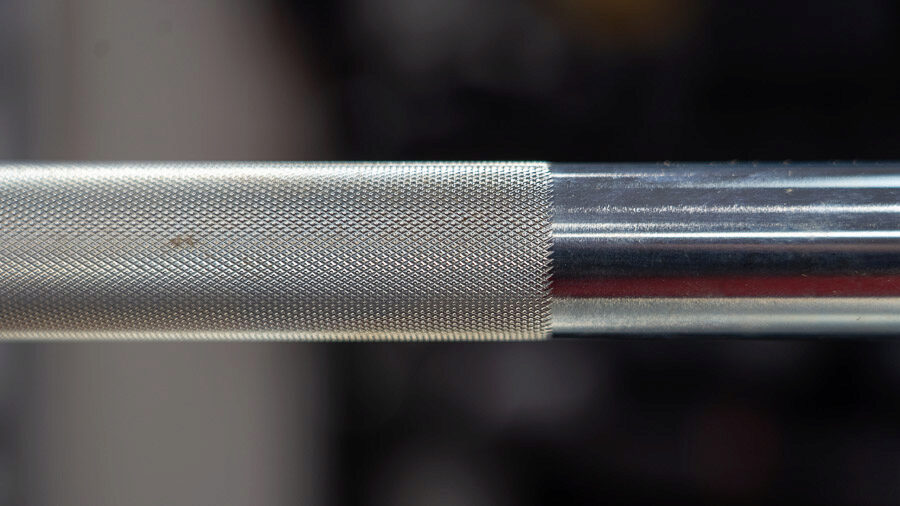 The 28.5MM shaft powerlifting barbell is thicker than bars made for Olympic Weightlifting but thinner than power bars intended for powerlifting training that revolve around the squat, weight bench press, and deadlift using weighted plates, such as the Rogue bumper plates. This means it's an ideal bar for most home gym owners.
I've used the Echo Bar for everything you can think of. Landmine presses feel great as the sleeves are ribbed which improves grip. High rep Oly movements work well as the knurling grips and the thinness of the shaft allow my thumbs to hook grip while knocking out sets of 10 clean and jerks.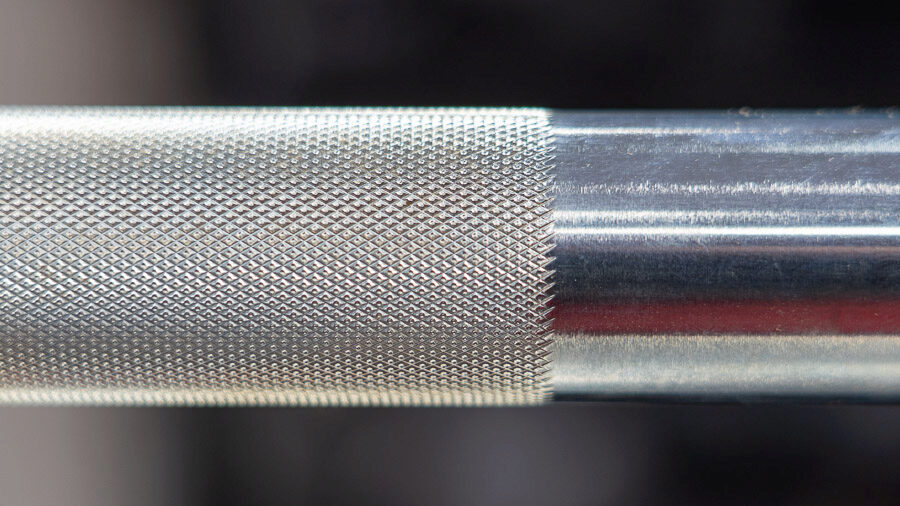 Although I prefer a center knurl for back squats, my first bar was an early Rogue Ohio Bar that didn't have any center knurl and I squatted twice a week, many times above 405 LB without any problems.
Instead of having dual knurl marks as is seen on other CrossFit focused bars from Rogue, the Echo Bar has a single Oly knurl mark which I think is fine for most trainees and won't be something many people miss.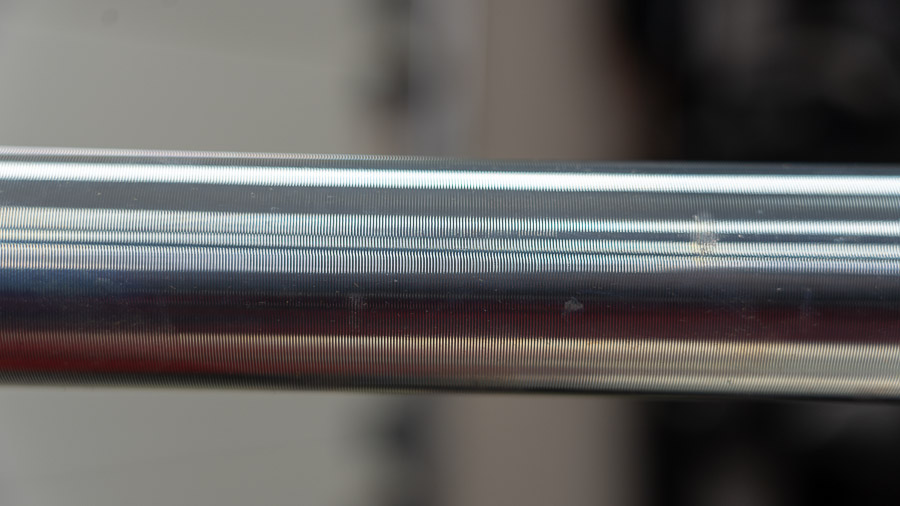 The barbell shaft knurling as previously mentioned is a medium to passive knurl. This means it will improve grip over cheaper barbells, but it's not designed to be ultra-aggressive like a power bar such as the Rogue Ohio Power Bar. For some, this is ideal as it will work for max deadlifts and overhead press, however, if you're doing a ton of heavy pulling, you may want a sharper knurl.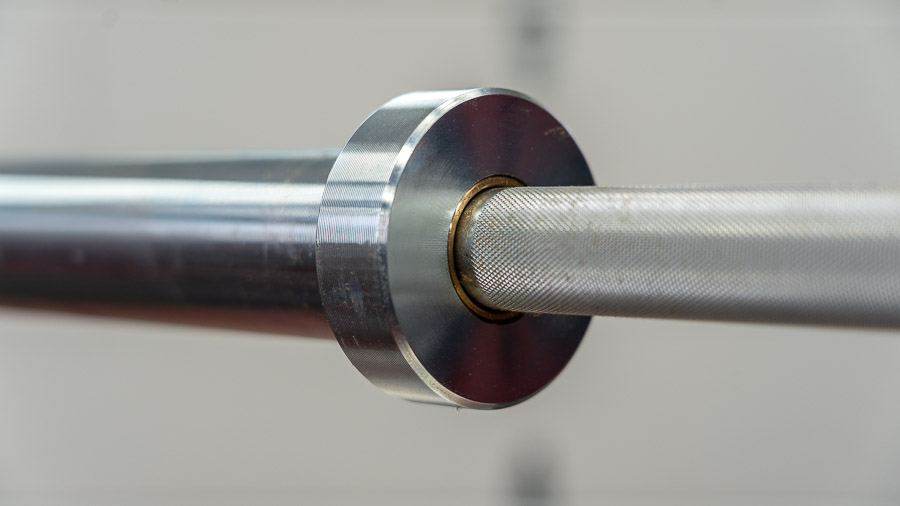 Many people upgrading from worse bars are used to lock-nut style bars that don't spin. You won't spin to help your wrists turn over during the snatch and clean and jerk. To introduce a consistent spin to the sleeves of the Echo Bar, Rogue opted for the industry standard and long-lasting self-oiling bronze bushings. The bushing is superior to bearings for general training bars as needle bearings can cause too much spin making the bar oscillate during squats and bench press. Be sure to check out my take on the best squat racks here.
The coating on the bar is bright zinc. Personally, I don't see much of a difference between black and bright zinc other than black zinc fading and looking green over time, so this could be viewed as an upgrade over the Ohio Bar.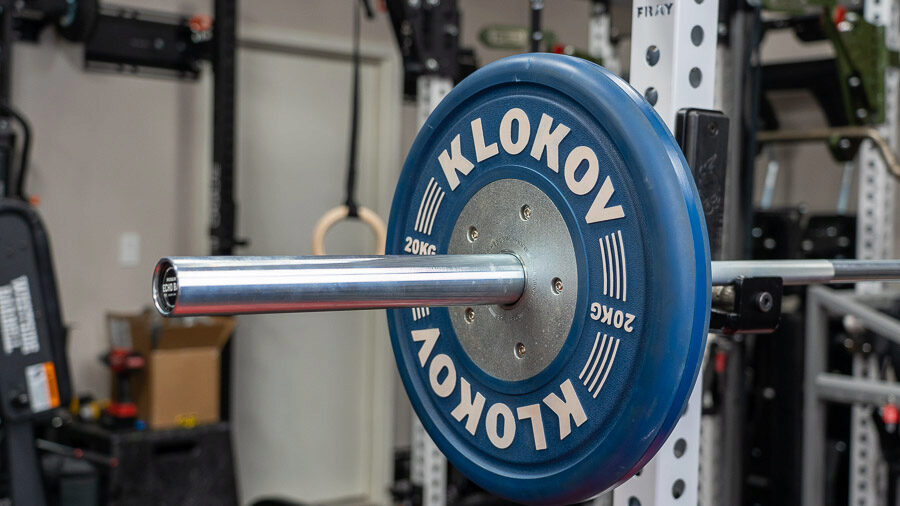 The last feature we haven't detailed is the tensile strength of the steel. The Echo Bar uses a 190K PSI tensile strength steel shaft. This is the same steel that Rogue uses across the board on many of its other bars. It's strong and should prevent any permanent bending unless dropped on spotter arms or something.
The Downsides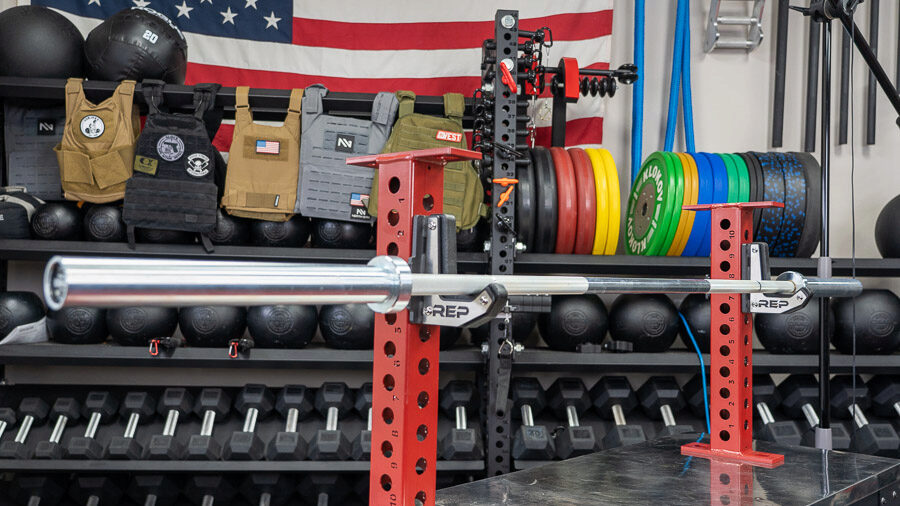 As with anything the best budget home gym equipment, there are a few things that are less than optimal. The biggest downside to the Echo Bar 2.0 and the reason Rogue offers it at the price they do is the lack of a lifetime warranty. Rogue was one of the first to offer lifetime warranties on their barbells and is known to service that warranty well. Out of all the bars I have from Rogue, I haven't had to send a single one in for warranty. However, it's nice having peace of mind. A one-year warranty is obviously less desired than one that is lifetime, but I think it's reasonable given the price. The other downside is that the Rogue Echo Bar only has a single knurl mark while most general training bars have two for both IPF and IWF standards. Lastly, there are no finish options available for the Echo Bar. You can't choose Cerakote, stainless steel, black zinc, or something else. You get one option, and that's it.
Who Should Add The Echo Bar to Their Home Gym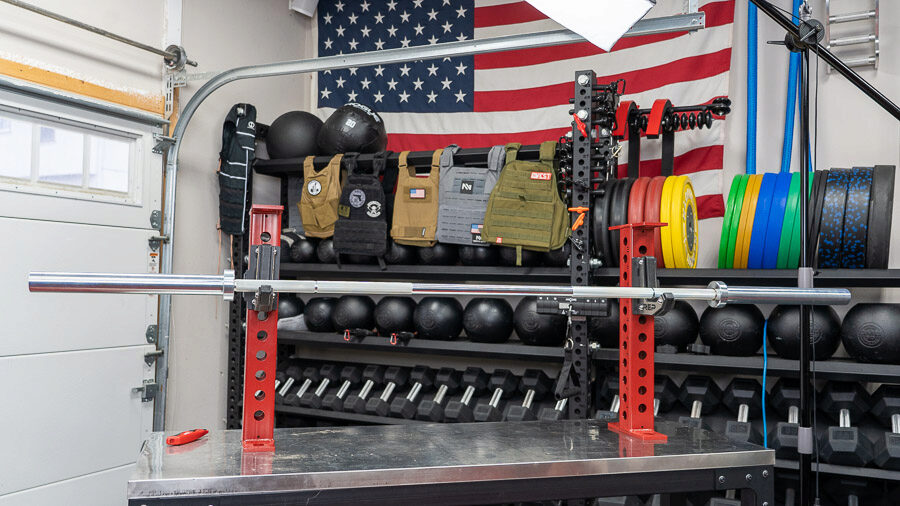 As I discussed in our Best Olympic Barbell Guide, I think most people should go with the Rogue 2.0 Bar because it's the same for a little bit more money but has a lifetime warranty that I think is worth the extra cost.
However, if you're not someone that ever uses a warranty or doesn't plan to use the bar in a way that would cause any issues (such as you don't lift a ton of weight) then I think the Echo Bar is a fine option for your garage gym or home gym.
The biggest thing to understand is you're paying less for a shorter warranty. That's pretty much the gist of it and is a great deal for those that don't care.
Full Rating