We review free products that we receive and participate in affiliate programs, where we may be compensated for items purchased through links from our site.
See our disclosures page for more information.
Inertia Wave
is designed as a lighter, more portable battle ropes alternative. We've tested and reviewed a pair over the past three months both in house and by others and although we initially were extremely skeptical, we do think it's a great replacement for the ever-popular and overly-bulky battle ropes. If you're low on space, enjoy portability, and want a great conditioning tool, the Inertia Wave is a serious option to consider.
Battle Ropes Alternative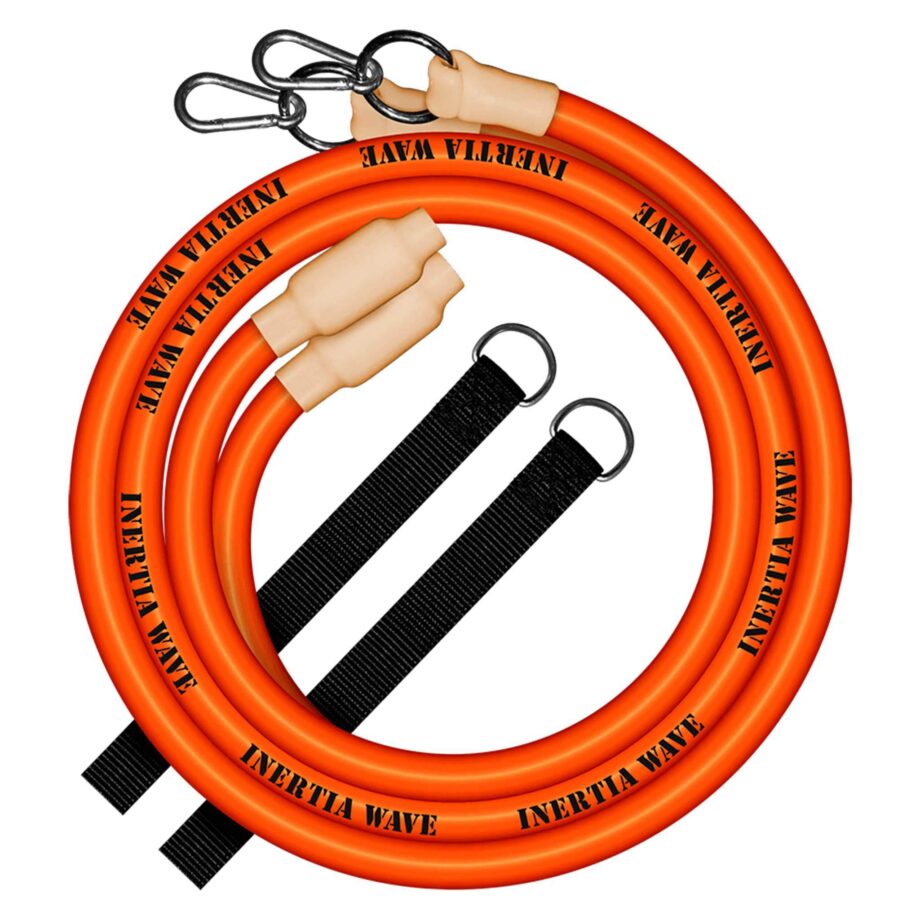 Inertia Wave
Use Discount Code: 'HOMEGYM' for 10% off. A portable or stationary metabolic conditioning device designed to engage your entire body and strengthen your core. The Inertia Wave is superior to battle ropes with far more caloric burn than double-under jump ropes. Great for your home gym, fitness facility, or training center - attach it virtually anywhere at home or on the go and begin one of the most intense workouts of your life. Anchor it virtually anywhere! With it's versatile anchoring systems, you can work out anywhere, anytime and attach it anywhere you go. On fences, trees, benches, weight stations, even in the trunk of your car, just attach it and start waving. Optimized for you. This single-person device is fully optimized for ease-of-use and to deliver the most intense HIIT workout of your life. Safety first! Safety is of the utmost importance! The Inertia Wave is built with a solid steel, double reinforced O-ring on the anchoring end. That, along with the durable nylon Rail Anchors and carabiners can withstand up to 600 pounds of torque allowing you to wave hard without worry.
After using the Inertia Wave for the past two months including trying out every movement they recommend and we could find, I'm sold. I was initially very skeptical as there's a lot of marketing and hype behind the product, but it truly is a better alternative to the traditional battle rope. It's compact, durable, and best yet, absolutely smokes your shoulders back, and other body parts depending on how it's used. If you're looking for an alternative to battle ropes, this is what we suggest.
Inertia Wave Discount Code
We've negotiated the largest discount code Inertia Wave will allow.
Use the code: 'HOMEGYM' at checkout for $10 off your order.
What is Inertia Wave?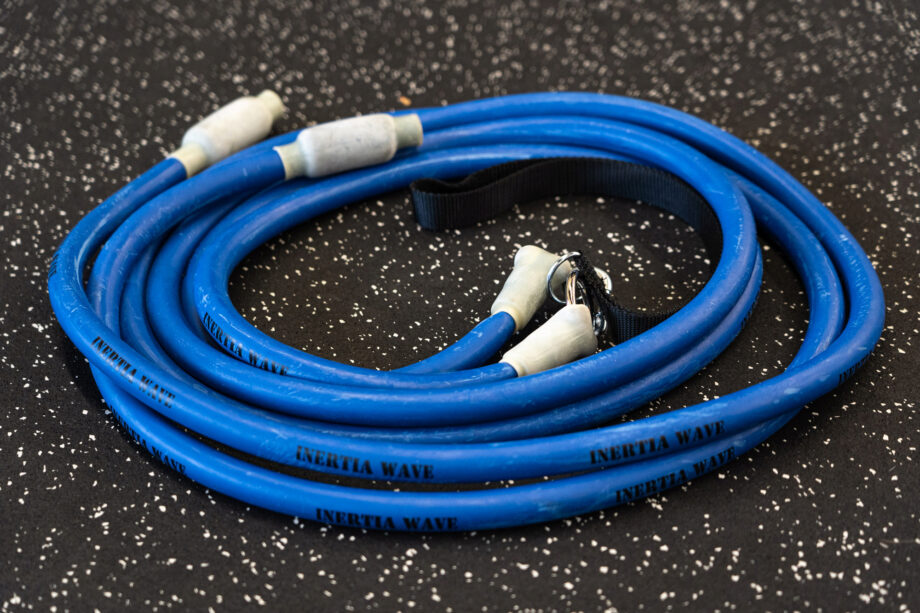 Inertia Wave claims to be a "safer, more effective battle ropes alternative." Essentially, Inertia Wave is a pair of tubed bands made out of rubber that use the rebound of the bands for resistance instead of just the weight of the rope-like battle ropes do. The resistance you're working against is, as the name suggests, the inertia that is built up in the tubes. It looks pretty easy on video, but trust me, they will torch your upper body and, depending on your conditioning, will have you gasping for air.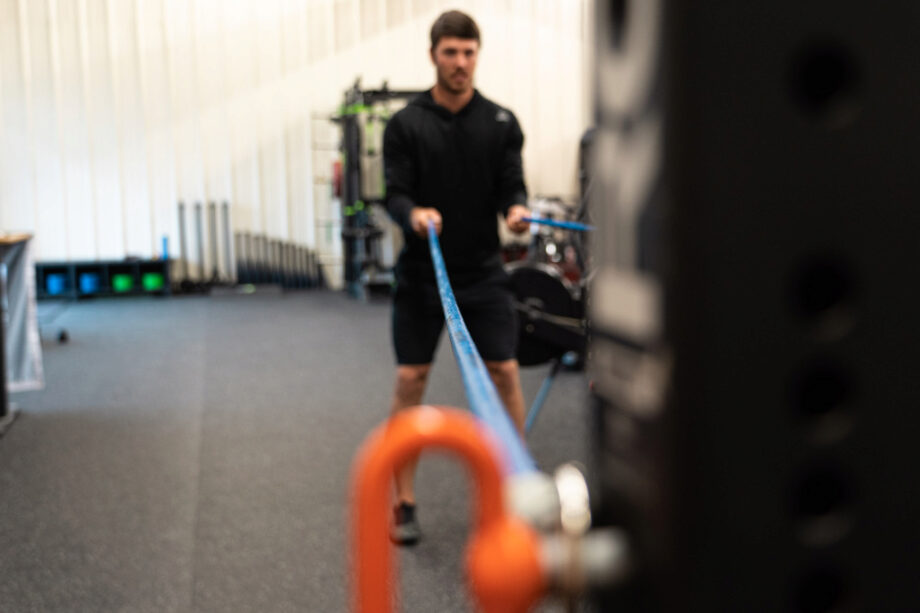 Battle ropes are very popular among our Home Gym Community for how versatile and effective they are for metabolic conditioning. Although I don't think you should immediately throw out battle ropes and replace them with Inertia Wave, I do think that they're a better option for most home gym owners due to their price, performance, and the amount of space they take up. Also, they attach anywhere. Meaning, your power rack, a chain-link fence, or your garage door track are all potential hook up spots thanks to the lightweight of the Inertia Wave.
Who It's For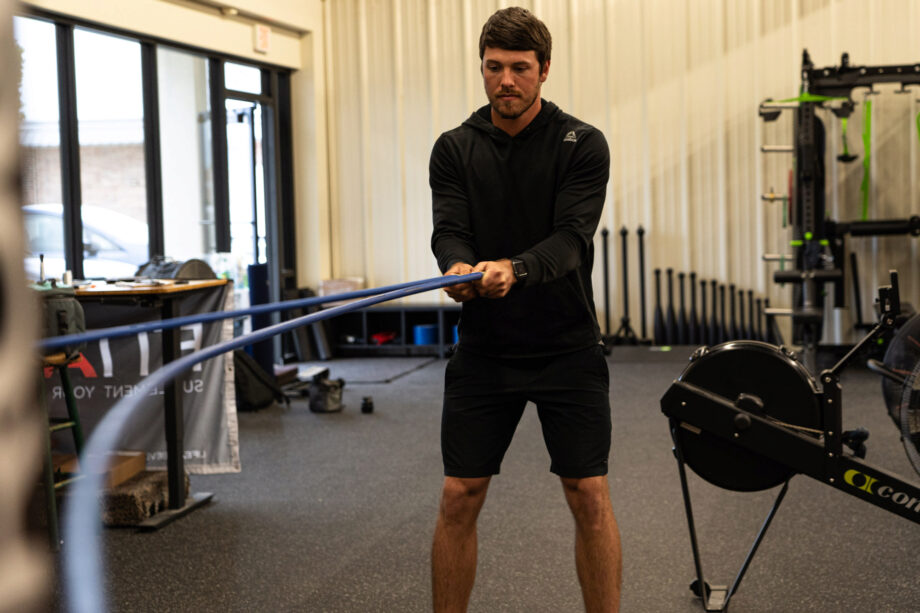 Due to Inertia Wave offering quite a bit of versatility, it's really for anyone that wants to increase their metabolic conditioning. We wouldn't consider it a true strength builder (although strength can certainly be increased) as it can't be periodized in terms of loading, but, for conditioning, it's an awesome tool.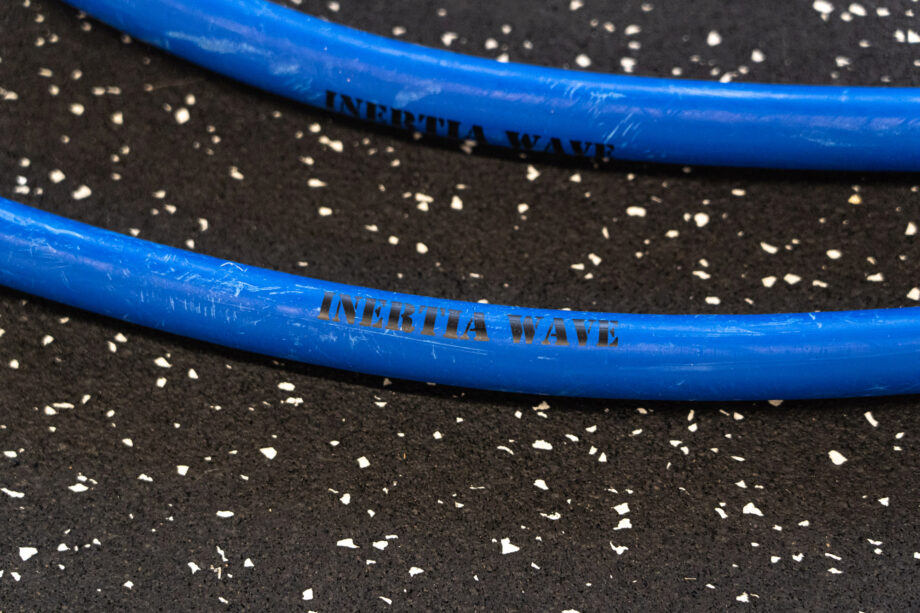 Due to it being great for conditioning, it has a wide audience, but what makes that audience even larger is the fact that it's portable due to its lightweight and small form factor. Have you ever seen someone transport battle ropes? Likely not as they're big, bulky, and weigh quite a bit. Although this is fine if you're in a commercial gym setting with a ton of room, most home gym owners understand me when I say that space is one of the most limiting factors in any gym equipment purchasing decision.
So, if you are looking for a conditioning tool that is reasonably priced, can be taken and used anywhere, and is effective, then Inertia Wave is for you.
What We Like About Inertia Wave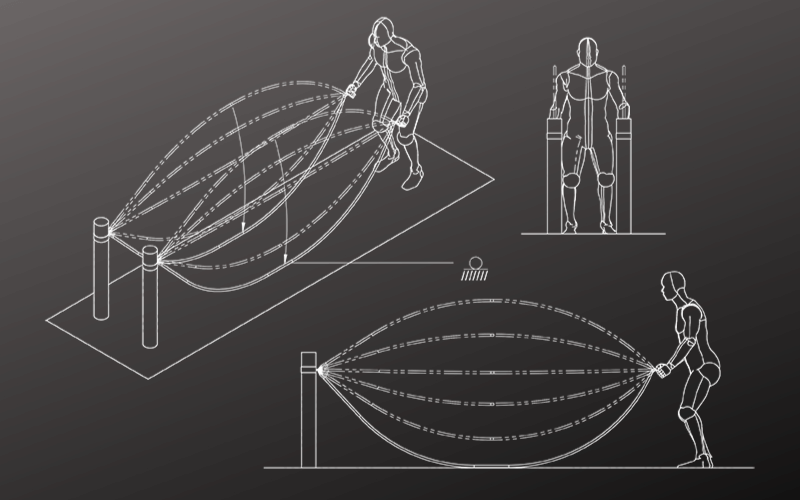 When the package with Inertia Wave initially showed up on my door, to say I was skeptical would be putting it lightly. I had heard of Inertia Wave, gotten quite a few requests to review it from our followers, and talked on the phone with the owner, Dave Parise at length about the product.
To be honest, one of the reasons I was so skeptical about it was because Dave (the owner) made it sound like the greatest piece of fitness equipment ever created. Naturally, Dave is a salesman and biased in that this is his baby/product, but whenever I hear convoluted marketing to sell a simple product, I become apprehensive.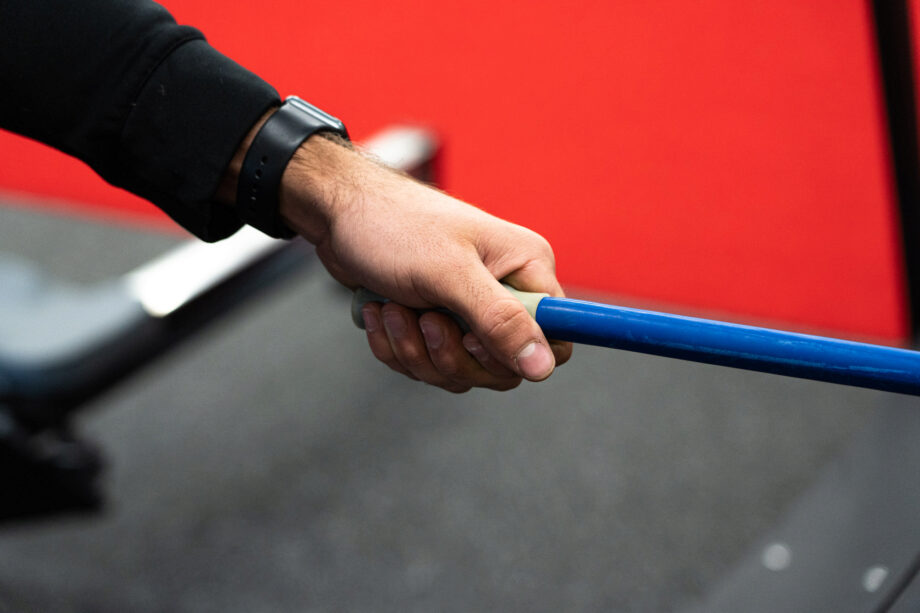 Despite this, I still decided to give Inertia Wave a try because of how many people I respect that have said it was a good product and the potential for a nice battle ropes alternative.
Although I wouldn't use the word 'revolutionary' to describe Inertia Wave, I will say, I've been pleasantly surprised by how effective in absolutely burning your shoulders, arms, back, and trunk/core as well as how fun Inertia Wave has been to use. There's something about the rhythm of the bands that focuses your hand-eye coordination and causes you to have absolute tunnel vision while using them.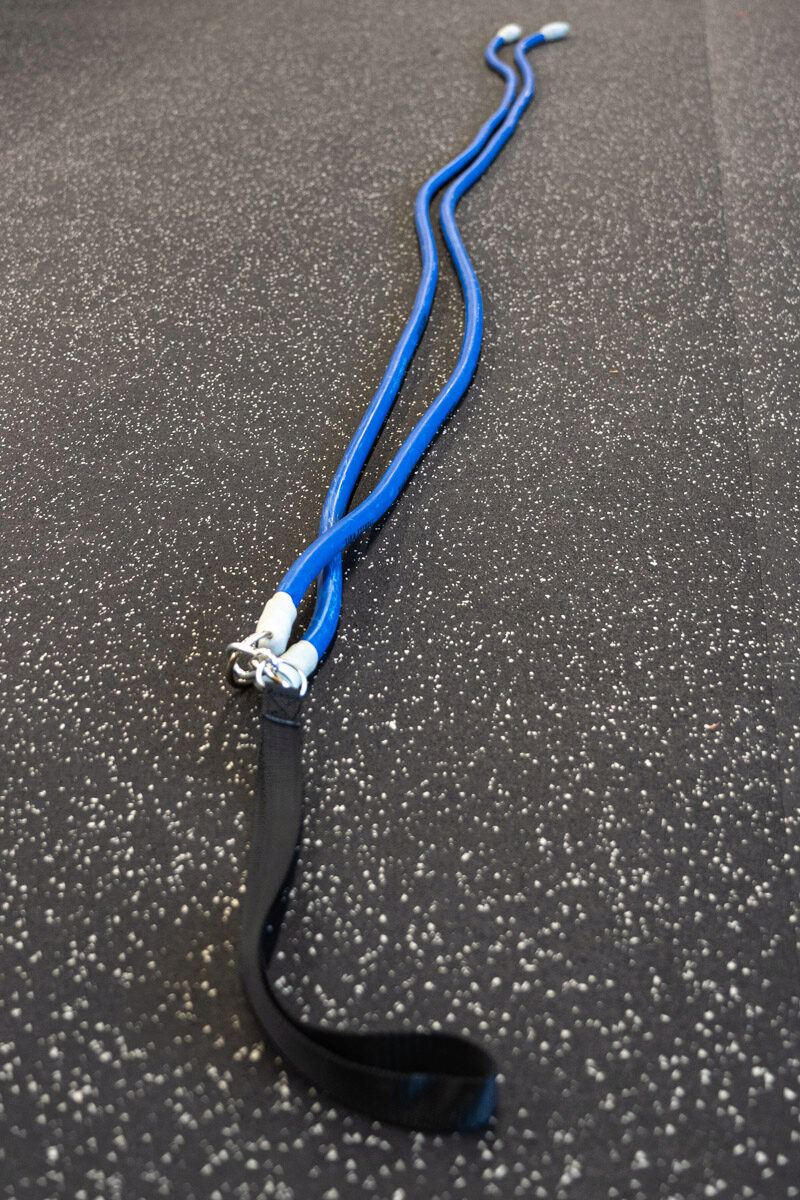 The product itself is extremely simple. There are two, individual tubed, latex bands that are 9.5 feet long and have a ring and carabiner on one end and an end cap on the other end for better grip while using the device. In addition to this, they come with two nylon straps with D hooks for wrapping around whatever you're trying to attach to.
That's it.
A very simple product, which is by no means a dissenting remark. In fact, I prefer simple products as they require less maintenance and are less prone to breaking. In a quote attributed to Einstein, "Everything should be made as simple as possible, but no simpler."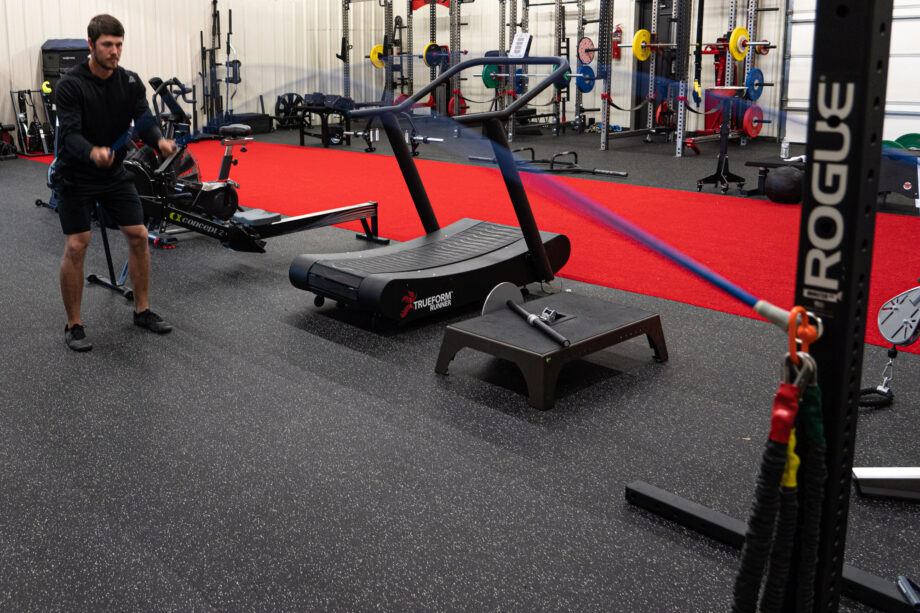 What makes Inertia Wave worth buying and subsequently using has nothing to do with how it's made, but how it works.
There are seven recommended movements with Inertia Wave, all of which use over-the-top names that in my opinion can cause a trainee to wonder if the product is actually effective or just for cool Instagram videos (this happened to me.) Regardless, ignore the naming conventions and focus on the movements themselves. We've detailed them all down below along with pictures.
The movement that's most often done and started it all is the self-titled 'Inertia Wave.' This movement is great for learning how the bands oscillate and require complete body tension.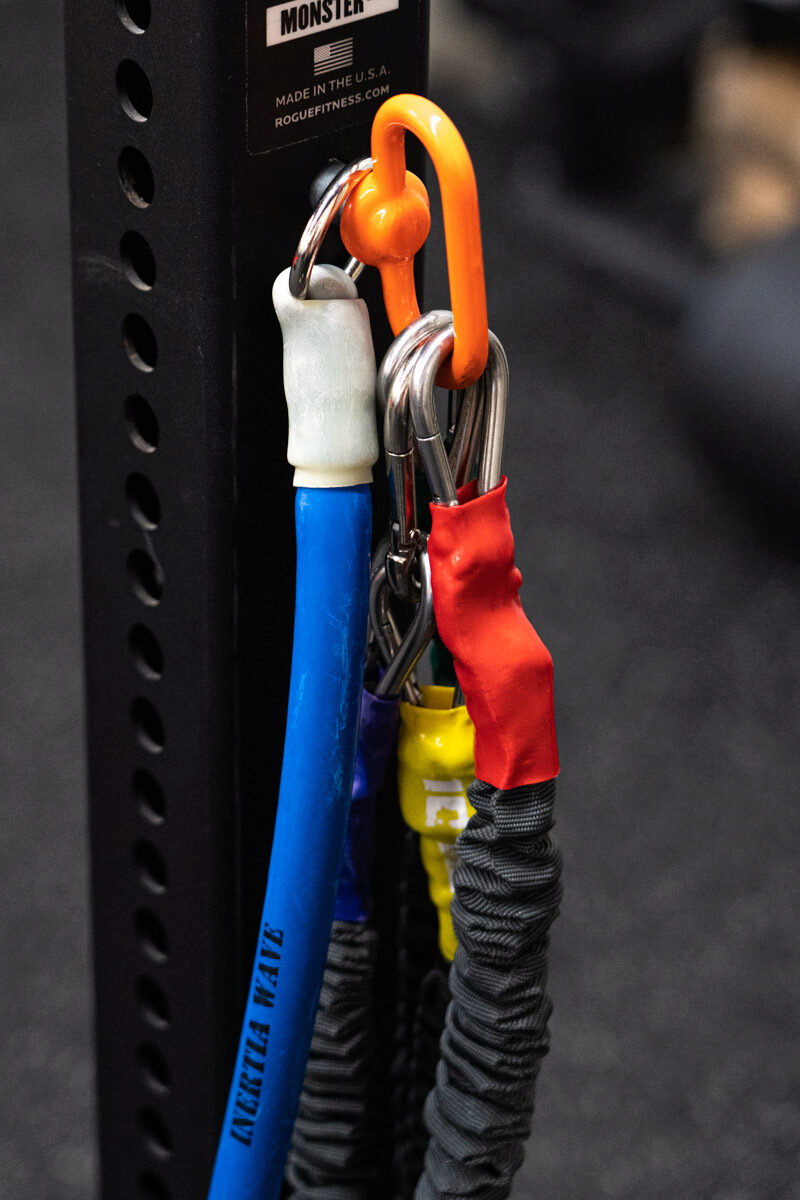 Although most movements don't require a ton of exaggerated movement (other than the 'Oxygen Thief' which requires max effort jumping,) what is required is consistent and constant resisting inertia generated by the bands. Similarly, although a different application is the Exxentric kBox4 which we've reviewed and uses a flywheel to generate inertia that must be resisted. Every time you pull up, down, or to the side with Inertia Wave, you're going to have to stop it and redirect it in the opposite direction. This requires your entire body to be engaged and with enough repetition engorges your muscles with lots of blood and zaps you of your oxygen.
If you've ever done a Tabata or HIIT with battle ropes, you'll know what I'm talking about. However, battle ropes differ in that there's little inertia generated and due to their size, I think they have different audiences.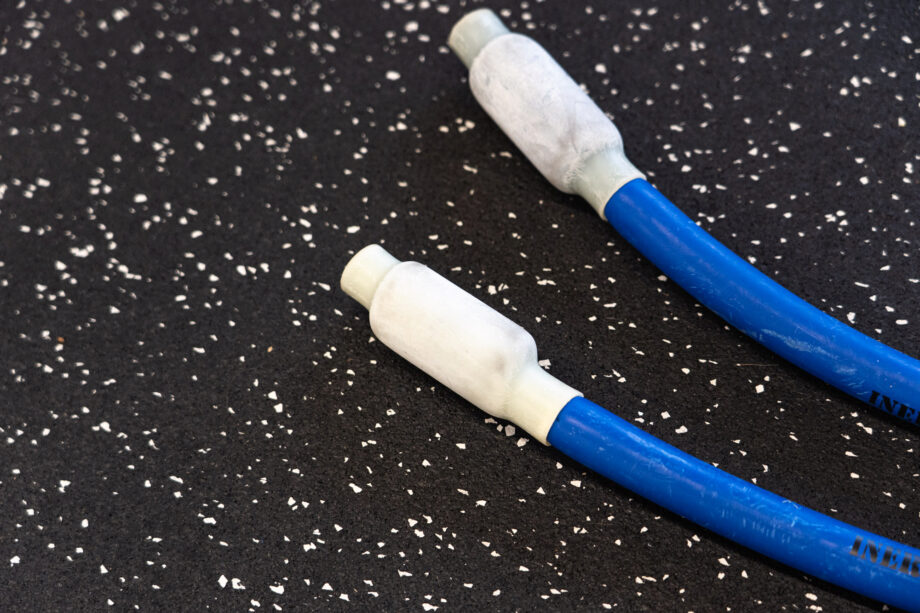 So, after using Inertia Wave for nearly three months in my home gym along with clients at our personal training studio to get their opinions, I'm confident in recommending it. They're going to last forever (so long as you don't use anything sharp around them. They can be transported wherever and whenever–and can be used in the same vein. They're also priced quite reasonable when compared to battle ropes.
If you want a fun conditioning tool that works, Inertia Wave is a great tool.
Inertia Wave Vs. Battle Ropes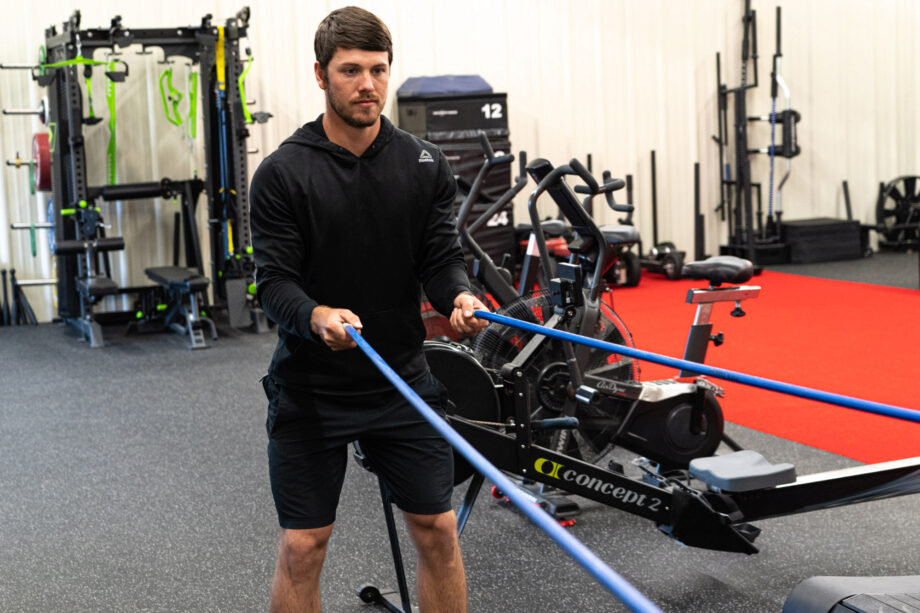 The closest equipment comparison to Inertia Wave is definitely battle ropes. They're used for similar movements and purposes. Although I think for most of our community (those with home gyms and garage gyms) Inertia Wave is a clear winner, I don't think they're a complete battle rope replacement.
If you have the space and money, battle ropes are still a fine option.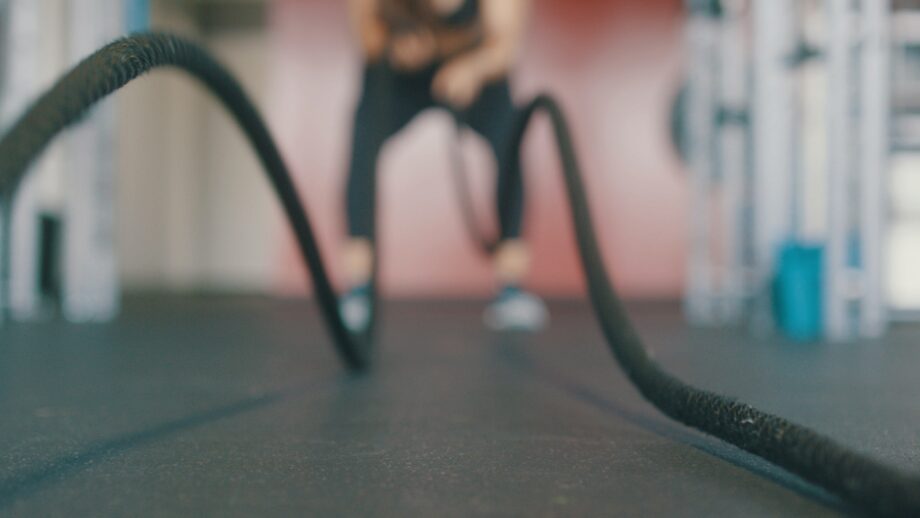 Here is what I think Inertia Wave improves upon in relation to battle ropes:
Inertia Wave is lighter and takes up less space. This means you can actually carry it in a gym bag to your Globo gym, practice field, or a park.
Inertia Wave can be anchored anywhere including at different heights. Battle ropes, due to the force generated by the user and the weight of the ropes have a more limited attachment area.
Inertia Wave can have the difficulty adjusted to a greater extent by the user than with battle ropes. Want more difficulty? Bring the bands higher. Battle ropes can be done similarly, but again, due to their weight, it's more limited.
Inertia Wave will be cheaper in most instances. You can get cheap manila ropes and use them as battle ropes, but to get to the same price point, they'll fray pretty quickly and will likely be pretty short thus limiting what you'll get out of them.
With this said, battle ropes have the advantage of being heavier and therefore provide a different stimulus.
They're different, but if I personally could only have one in my garage gym, I'd choose Inertia Wave.
The 7 Inertia Wave Movements
There are seven different movements that are recommended with Inertia Wave. We've found a few others that use one hand and are done in different positions (like planks and the like) but these are the ones recommended by the company.
Inertia Wave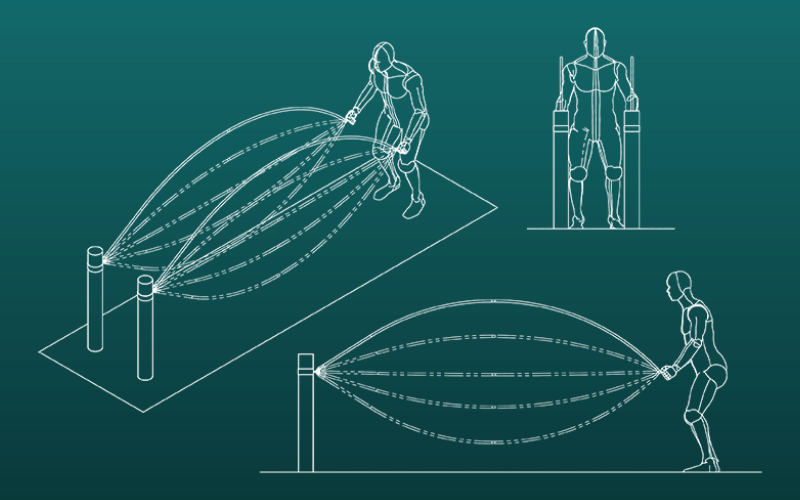 Hero Wave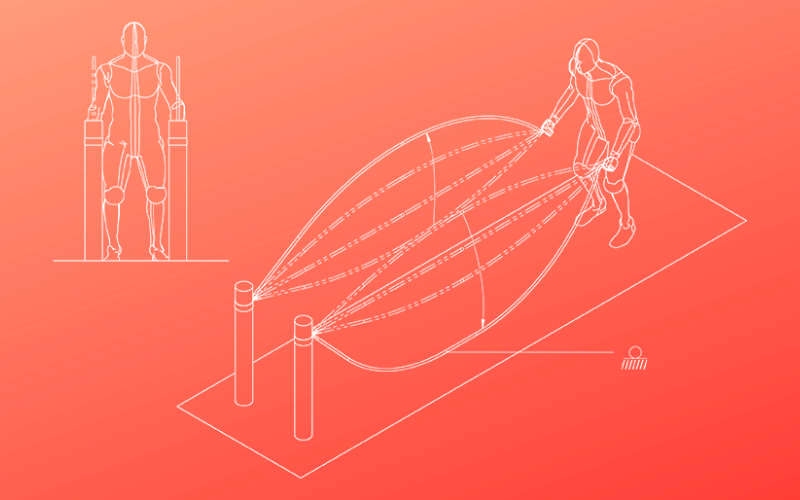 Thunder Slap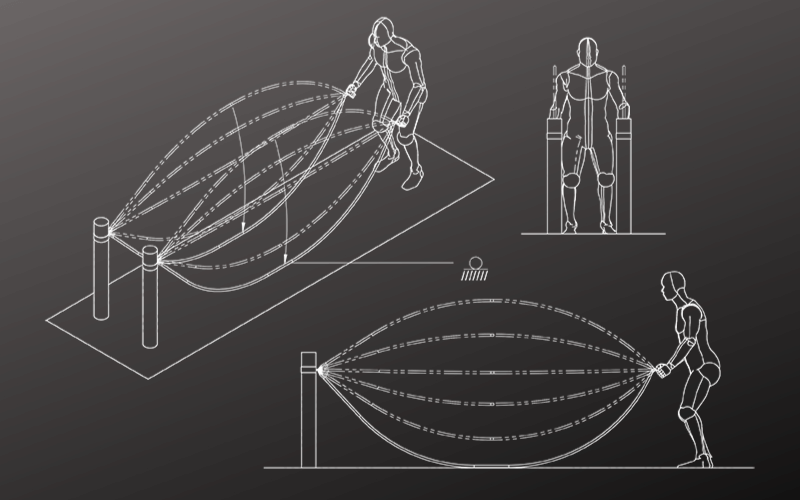 Double Over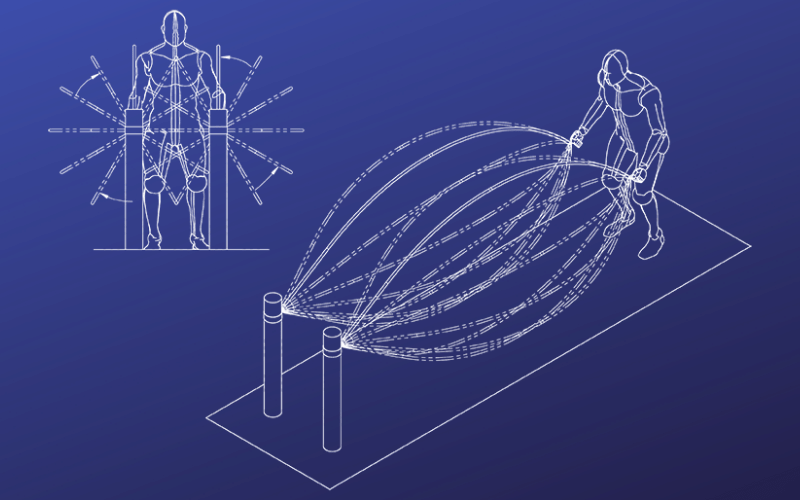 CrossFire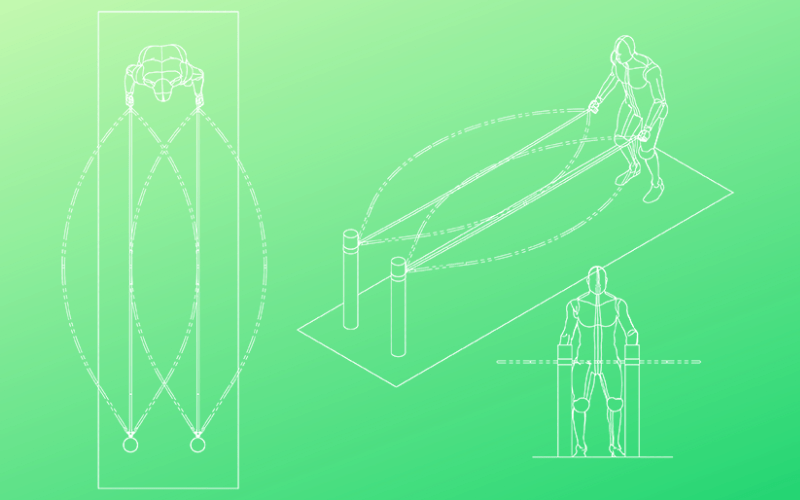 Super Typhoon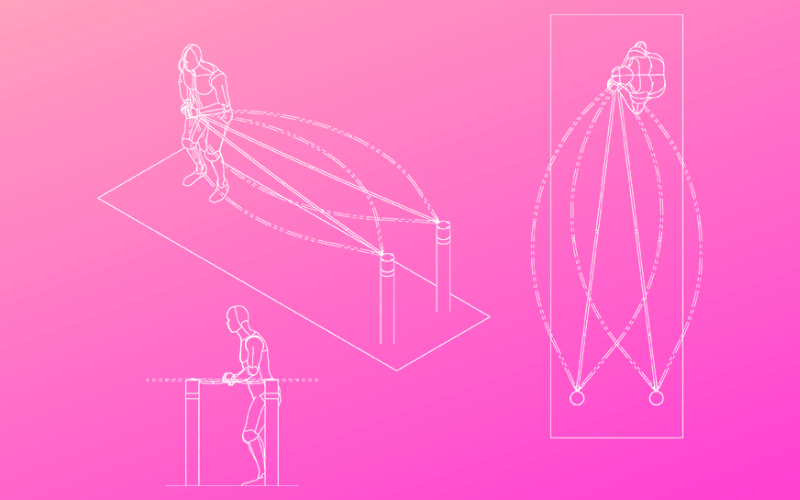 Oxygen Thief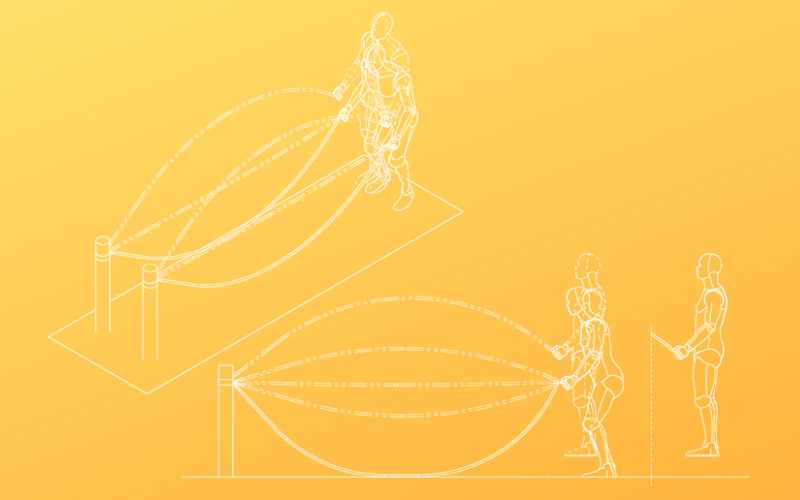 Full Rating