We test and review fitness products based on an independent, multi-point methodology. If you use our links to purchase something, we may earn a commission. Read our disclosures.
Run, jump, power clean, rope climb, and burpee: All your favorite CrossFit exercises are a little more comfortable if you're in a good shoe. Our team at Garage Gym Reviews has worn and tested dozens of cross-training shoes to determine which are best for the ultimate test of fitness.
Our product testers include me, who has been doing CrossFit for more than a decade, as well as several CrossFit L-1 trainers and the former owner of a CrossFit box. We engaged in a fierce debate over which is the best CrossFit shoe, as we personally tested each one for:
Functionality: Does it provide good squat support?
Durability: Can it withstand rope climbs without tearing?
Breathability: Can those dogs breathe on hot summer days in an un-air-conditioned box?
We tested these shoes on wide feet, on narrow feet, and flat feet, and feet with high arches. We wore them for metcons, lifting sessions, runs and jumps. to offer our recommendations for the very best. The shoes go through an eight-point testing methodology where we evaluate everything from construction and performance to delivery and other user reviews. That's how we rank and score each pair you'll find on this page.
8 Best CrossFit Shoes
Video Review
Best Crossfit Shoe Overall: Reebok Nano X3
Good for: Virtually anyone with any size foot who wants to WOD
It's no secret that Reebok and Nike dominate the CrossFit shoe space. Reebok sort of burst onto the scene with the Nanos, and the Nano 2 was perhaps one of the most popular models. Then the Nano sort of tanked around the 4s and 5s, but I'm here to say: the X3s may be the best Nano yet.
Previously, the Nano X1s and X2s topped our guide to the best CrossFit shoes, but our team has been more than pleased with the new release. While I generally am not a big fan of the direction training shoes are going in—it seems most manufacturers are heading toward "more" shoe and I prefer minimalist shoes—our other product testers were stoked about the support and stability offered by the X3.
Amanda Capritto, fitness staff writer and CrossFit Level 1 trainer, said she loves the combination of a cushioned midsole and wide, flat base. While the EVA layer means the X3s aren't fantastic for heavy lifting, it also means they provide more shock absorption during running and ballistic movements than other CrossFit shoes. (Your ankles won't take the brunt of box jumps in the X3s.)

Additionally, we're happy to report that Reebok has addressed some of the primary concerns we had with the X1s. Namely, the heel cup is lower, and our testers didn't report blisters or having to wear tall socks to prevent them.
Ultimately, we think this is the best all-around CrossFit shoe because it truly exemplifies CrossFit as a concept—in other words, it's supremely versatile. Amanda wore the X3s for everything from traditional WODs to long runs to everyday errands, and while these shoes of course aren't a superstar in any single arena, they perform decently in all things. (And that's exactly what we want to see from CrossFit shoes.)
Amanda recommends sizing down by half a size, especially for women.
Read my full Reebok Nano X3 review.
| | |
| --- | --- |
| Standout Feature | Supportive for squats but flexible for running |
| Available Sizes | Men's 5-14; Women's 6.5-15.5 |
| Heel-to-Toe Drop | 7 mm |
| | |
Most Versatile Shoe: NOBULL Trainer
Good for: Wearing in and out of the gym
In my experience, you're either in or out on the look and feel of the NOBULL Trainer. Our team was a little divided, actually, because I really like the look of the shoe, but Kate Meier, our head of content and longtime CrossFitter, was indifferent. That's why we chose this for our most versatile pick, however, because if you like the look of the shoe, you can essentially wear it anywhere.
In March 2021, the CrossFit Games announced NOBULL as its title sponsor. Let's be honest, though, NOBULL was climbing the popularity ranks among CrossFitters well before then. The brand locked down big names like Tia Clair Toomey, Katrin Davidsdottir and Alex Smith and just watched the sales pile up.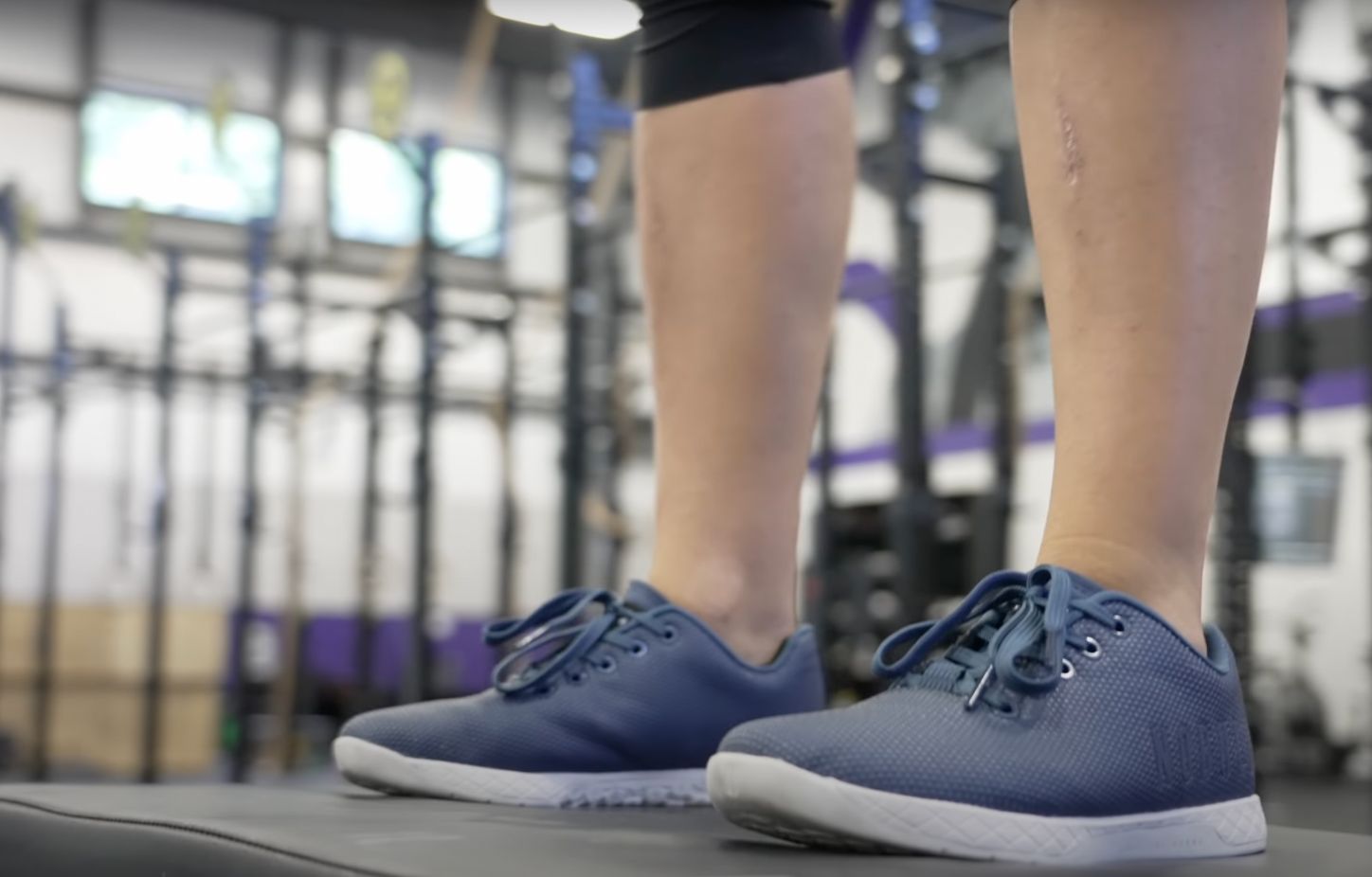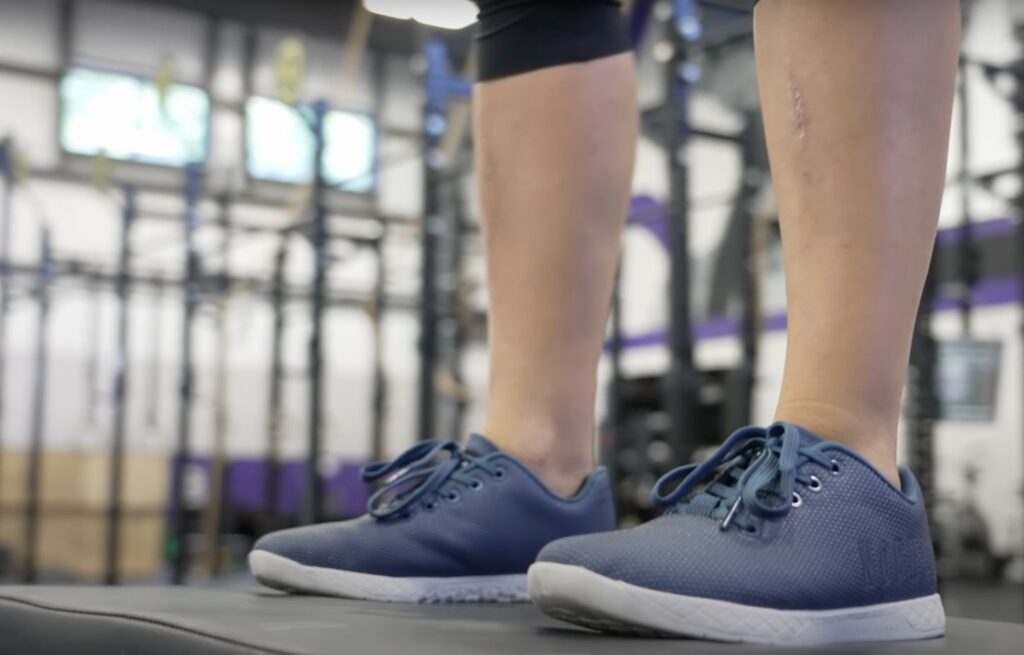 The Trainer comes in several height levels: low, mid and high. They started with a very utilitarian look to them–solid color, no contouring, plain white sole, with essentially just the words "NOBULL" on them. However, over the years, the brand has expanded its line substantially to include more designs and patterns, both on the shoe and on the sole.
Okay, but you didn't come here for the best-looking shoe (or did you?); I assume you want to know how it performs. I was pretty surprised, to be honest. When you first put them on, that very small 4-millimeter heel-to-toe drop makes the shoe feel almost uncomfortable.
However, once you start moving, you don't notice it at all. In fact, the shoe moves and breathes incredibly well across the breadth of CrossFit exercises. Kate herself said she was pleasantly surprised at how well they performed across two dozen workouts. There is a mesh upper as well, which keeps the shoe breathable.
The biggest downside is the cost. Even the most basic Trainer is about $120, and it feels to me like you're essentially paying for the name "NOBULL." But, since these can double as your workout shoes and your out-on-the-town shoes, it might be a good investment. (P.S. Here's how to get a NOBULL discount code.)
For more, check out my full NOBULL Trainer review.
| | |
| --- | --- |
| Standout Feature | Stylish cross-trainer that breathes well |
| Available Sizes | Men's 4.5-14; Women's 6-15.5 |
| Heel-to-Toe Drop | 4 mm |
| | |
Best Value CrossFit Shoe: Nike Metcon 8
Good for: Support, breathability and agility in training
Anthony O'Reilly, performance editor for GGR and a certified personal trainer, said his feet felt like they were "nailed to the ground" while wearing the Nike Metcon 8. In our opinion, that's just the tip of the iceberg when it comes to why these shoes are so great for CrossFit.
I think Nike saw what Reebok was doing with the Nano and said, "Hold my beer." And then came the Metcon, which, in my opinion, gets better with every iteration. In fact, I would have put the Metcon 8 as my top pick, but, as Nike shoes do, it runs a little narrow, so it may not be the best fit for most people.
That said, I don't have a wide foot, so I don't need a wider shoe. I wear my Nike Metcon 8s a lot: for box jumps, cardio, deadlifts, and basically anything else that would require cross training shoes.
RELATED: Best Deadlift Shoes
So, here's why I like them: First, the Metcon 8s have what all the other Metcons have, which is a firm, stable heel ideal for squats, and a cushioned foam forefoot in the midsole that makes it ideal for plyometrics and running.
The all-rubber outsole is hardcore. As anyone who does CrossFit and uses CrossFit equipment knows, you need a hard bottom to withstand climbing ropes. Similar to the Nike Metcon 3 shoes, the Nike Metcon 8 has an extremely breathable upper. The large perforations in the material truly do make a difference, especially when I'm working out in hot conditions.
Nike gets away with charging $160 or more because simply put, people will pay it. If you don't mind investing that kind of money in a cross-trainer, then this is definitely the way to go. Also, Nike has one of the best return policies I've ever seen. The brand gives you 60 days to try out the shoe and will let you return them for any reason you want.
Read Anthony's full Nike Metcon 8 review.
| | |
| --- | --- |
| Standout Feature | Great rope guard on a highly versatile shoe you can customize |
| Available Sizes | Men's 5-14; Women's 6.5-15.5 |
| Heel-to-Toe Drop | 4 mm |
| | |
Best Budget CrossFit Shoe: Converse Chuck Taylor All-Stars
Good for: An affordable, lightweight shoe useful for cross training
We're serious, the iconic Converse Chucks are one of the best cross-training shoes you can buy for under $100, whether you get the high-tops or low-tops (people who need more ankle stabilization should go with high-top Chucks).
Chucks are flat, so they're great for deadlifts, flexible, and have a grippy rubber tread. We have several people on our team who tell us that this is their go-to shoe for deadlifting.
Additionally, the canvas fabric is breathable, which is ideal for when you're working out in a hot box. Also, the wide toe box gives you plenty of wiggle room.
To be clear, we wouldn't recommend extended cardio workouts in these shoes, but you can do a quick burst if needed. These should primarily be used on the weightlifting platform for moves that require a flat foot (the Chucks have no heel-to-toe drop) and a great connection with the ground. Squats are not recommended as that move requires an elevated heel.
And unlike many of the best training shoes, Chucks can be worn everywhere. They are stylish and can be paired with just about any type of outfit. Also, they come in a wider size range option than any other shoes on our list.
| | |
| --- | --- |
| Standout Feature | Priced as low as $65/pair |
| Available Sizes | Men's 3-18; Women's 5-20 |
| Heel-to-Toe Drop | 0 mm |
| | |
Best CrossFit Shoes for Running: Nike Free Metcon 4
Good for: People with narrow feet who enjoy feet hugs while running
So, here's what happened: Nike took the Free running shoe and the Metcon training shoe and they had a baby. And you got the Free Metcon, specifically the Free Metcon 4, which we tested.
This is a great blend of both shoes. You get the "foot hug" feeling that the Free running shoe offered, but still have that stability that the Metcon has always provided. In testing, we found that the Free Metcon 4 moves really well with the foot when running, especially on the best treadmills. It weighs 11.2 ounces, so it's not quite as light as a straight up running shoe, but it's not as heavy as the more CrossFit-specific shoes are.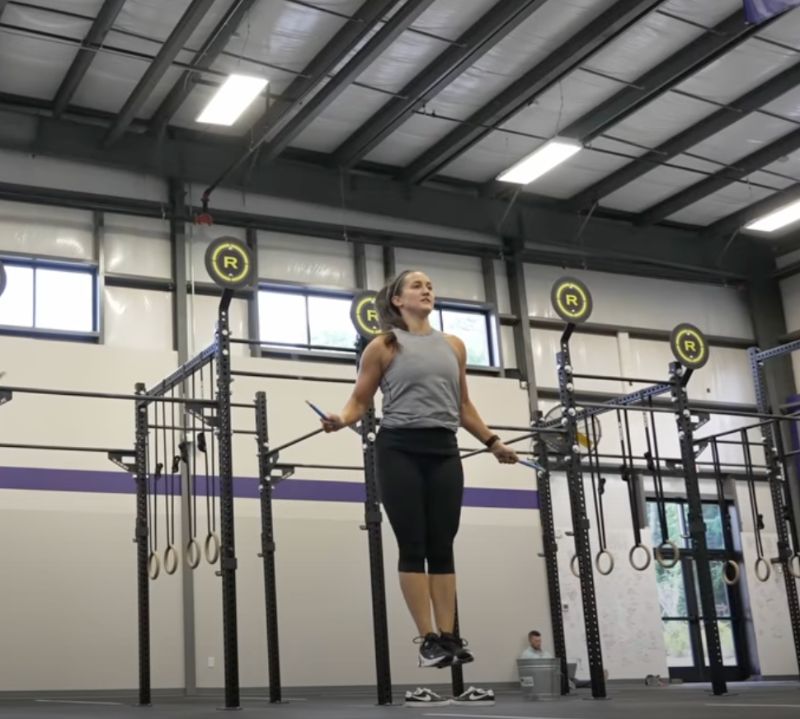 The Free Metcon 4 has a lot of features that cater to CrossFitters: a wide heel that is great for squatting movements, webbing along the midfoot that forms to your feet for support on agility movements, and a flexible forefoot for running. The bottom tread is incredibly grippy and feels great when doing any kind of running or jumping.
Kate Meier, GGR head of content and longtime CrossFitter, points out that the Free Metcon 4 runs small. If you have a very narrow foot, you may get away with sticking to your actual size. Otherwise, going up half a size may give you a little more room. These are supposed to fit snugly, but you also don't need to lose any toenails. Lastly, this is a great shoe for running workouts, but the outsoles might not withstand rope climbs.
Check out my full Nike Free Metcon 4 review.
| | |
| --- | --- |
| Standout Feature | Breathability, flexibility, and stability in one shoe |
| Available Sizes | Mens 3.5-15 and Womens 5-16.5 |
| Heel-to-Toe Drop | 5 mm |
Best CrossFit Shoes for Barbell WODs: Reebok Lifter PR III
Good for: CrossFitters who want to wear weightlifting shoes in a WOD
CrossFit basically re-introduced weightlifting to the world because people who would have never otherwise heard of movements like the snatch or the clean were suddenly doing them in daily WODs. Professional weightlifters wear shoes specifically designed to handle those kinds of lifts, and from time to time, as a CrossFitter, you might prefer to have a shoe that's even more stable than your typical cross trainer.
That's where weightlifting shoes come in, and I really like the Reebok Lifter PR III for CrossFitters who want to wear a lifting shoe in a metcon. To be honest, we haven't personally worn the third iteration of these shoes, though we've tested out both of its predecessors and were more than thrilled with them. Looking at the third Lifter PR III's specs and customer reviews, we're confident in recommending these shoes.
The Reebok Lifter PRs are, most noticeably, a more flexible training shoe, but still one of the most high-quality weightlifting shoes I think I have ever seen or used. They have a full textile upper, which keeps your feet cool, and a really flexible forefoot which is ideal in a workout where you have to do more than a squatting movement. All of this while still keeping a 15 mm heel drop, giving you a bit of elevation that is ideal for moving below parallel.
These are priced at around $100, depending on the style you want. Now, I'd recommend these for people who want weightlifting shoes that can be worn in a metcon. I don't think these are the best outright weightlifting shoes because the soles don't give you quite the feedback that most weightlifters would want from a shoe. However, they certainly got the job done for us in workouts that featured snatches and squat cleans.
| | |
| --- | --- |
| Standout Feature | A flexible lifter that could be worn in some non-running WODs |
| Available Sizes | Men's 7-14 |
| Heel-to-Toe Drop | 15 mm |
| | |
Best CrossFit Shoes for Wide Feet: INOV-8 F-Lite G 300
Good for: CrossFitters who have a wide foot and want a comfortable shoe
People with wider feet typically have a tough time finding specialty shoes that not only fit well, but also help with performance. Just ask GGR fitness writer and product tester Anthony O'Reilly, who wears a size 15 shoe. For people who fall into that category, we recommend the INOV-8 F-Lite G 300.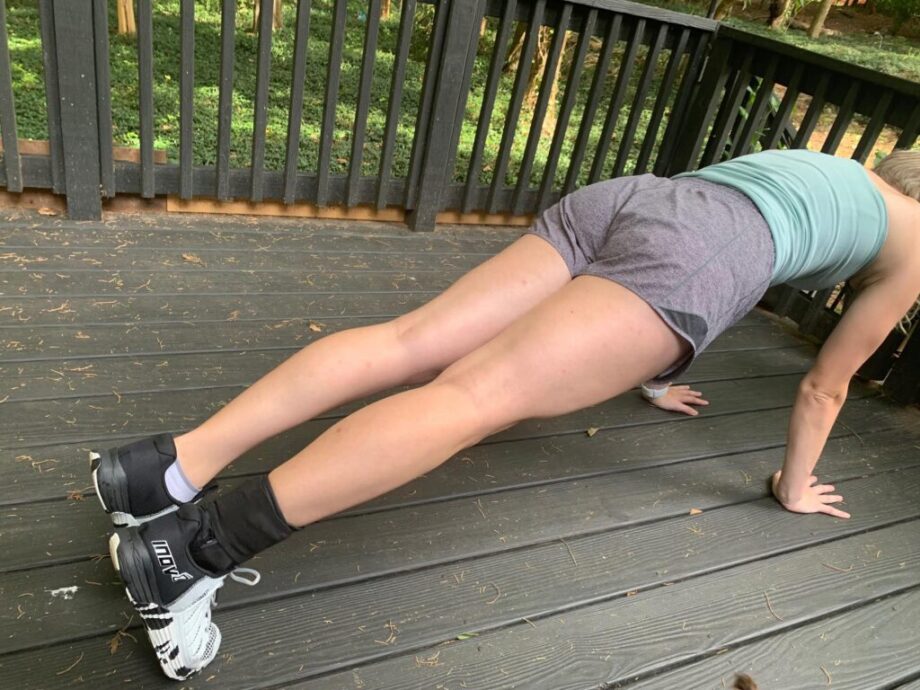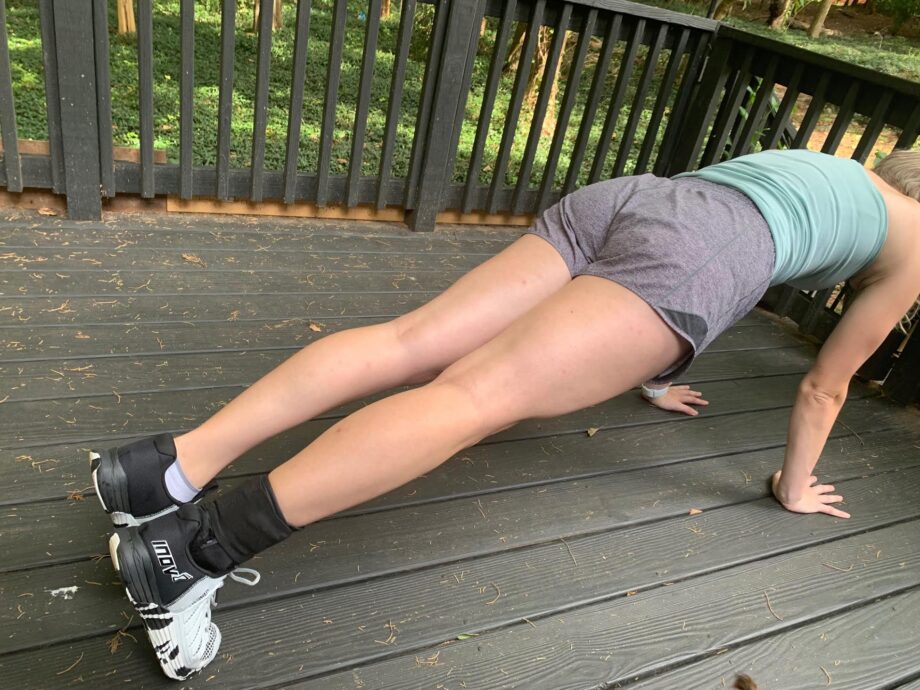 In addition to being a bit wider than most CrossFit shoes, the INOV-8 F-Lite G 300 has cushioning similar to our top pick, the Reebok Nano X3, and comes with additional shock absorption. It's also great for those looking for additional arch support, and those looking for a shoe that has little to no break-in period.
Another of our product testers, a CrossFit L-1 trainer, wore these for nearly a dozen workouts, including runs, HIIT, and CrossFit.
"They were especially good for quick runs," she says. "They felt surprisingly light. Also, these shoes are usable for lifts, but you need to keep in mind that they aren't the overall best choice for Olympic lifting."
As far as their performance goes, the G 300s have a breathable upper and they're durable due to the infused graphene outsole.
Read my full Inov-8-F-Lite-G-300 review.
| | |
| --- | --- |
| Standout Feature | Wider design that accommodates people with bigger feet |
| Available Sizes | Men's 7-14; Women's 6.5-11 |
| Heel-to-Toe Drop | 6 mm |
Best Weightlifting Shoes: Rogue Do-Win Classic Lifter
Good for: People looking for a quality, budget-friendly weightlifting shoe
Let's face it: You can snatch in your Metcons all you want, but you won't get the same type of foot feedback from them that you would get from a true weightlifting shoe. However, you're a CrossFitter, and you might not want to spend an arm and a leg on the top weightlifting shoes.
The Do-Win Classic Lifter is a great place to start when looking for a budget-friendly shoe that supports weightlifting movements. It's priced around $130–yes, less than your Metcons–and still provides the support you want from a weightlifting shoe. That's nice when considering all the gear we buy as CrossFitters.
With around a 20-millimeter heel-to-toe drop, the Do-Win Classic meets the standard for these types of elevated heel shoes. "The toe box is wider than, say, the Nike Romaleos, which is great for people who need to feel their piggies move," says Kate Meier, GGR head of content and competitive weightlifter.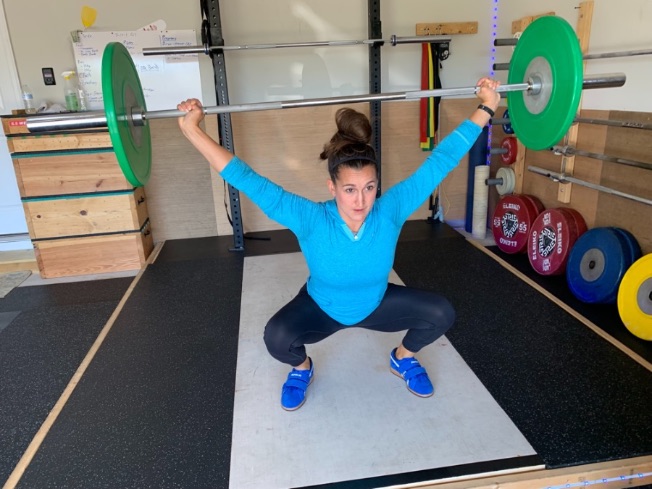 Also, these shoes are just dripping in style. They have a compressed leather heel that makes it look like you're lifting on wood. The upper is a combination of suede and mesh that comes in black, red, and royal blue.
Rogue recommends dropping half a size when purchasing, though Kate actually found these to fit either true to size or even a little small. Also, you're going to get what you pay for: While people who wear the Do-Win Classic love the shoe, there are reports of them falling apart after a year or so.
Read my full in-depth Do-Win Classic Lifter review.
| | |
| --- | --- |
| Standout Feature | A budget-friendly shoe designed for weightlifting |
| Available Sizes | Men's 4.5-14; Women's 6-15.5 |
| Heel-to-Toe Drop | 20 mm |
| | |
The Competition
We have a few other shoes we tested and liked (and some we don't love at all):
Reebok Nano X1: These were our top pick before the Nano X2 came out. We like the X2s more thanks to the lower heel cup and more flexible forefoot.
Reebok Nano X2: Still a great shoe if you can find it.
NOBULL Trainer Plus: This is a new version of the NOBULL Trainer that's much "chunkier" with a thick EVA midsole and deeper outsole lugs. Our product tester Amanda loved these for everyday, casual wear, but not as much as the regular Trainers for working out.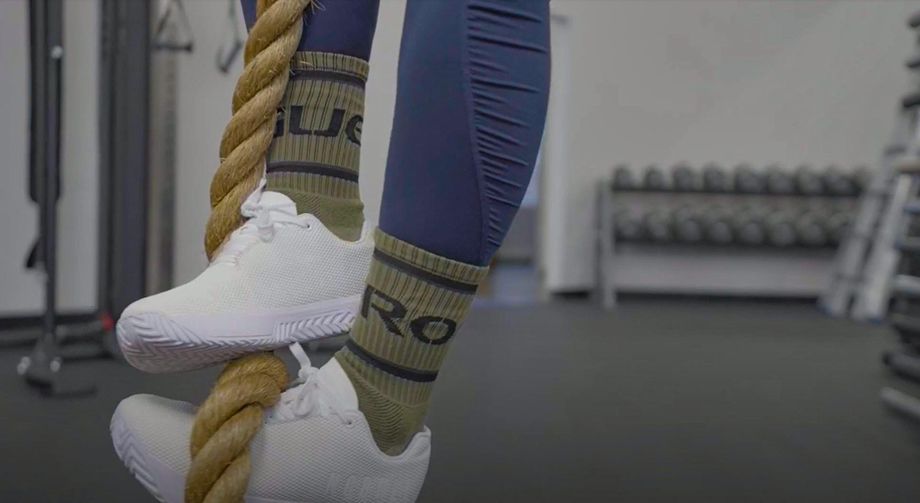 Reebok JJ IV Men's Training Shoe: It's actually a pretty decent shoe–if you're a guy with big feet. JJ Watt is a big dude, so he needs big shoes. The JJ IV give a lot of space and support for cross-training workouts. These were a little hard for us to test, just because none of us are quite big enough to fill these shoes.
Nike Romaleo 4: This is arguably the best weightlifting shoe on the market right now. Nike killed it with the Romaleo 2s, then hit a setback with the 3s, but came back with the 4s to produce a heavy, wholly supportive shoe. However, this isn't a shoe to wear in CrossFit workouts, which is why it didn't make our list. Also, it's expensive around $200.
Under Armour HOVR: I just didn't like these. Under Armour hasn't really figured out the cross-training shoe yet. Maybe next time.
Inov-8 F-Lite 235 V.2 or the Inov-8 F-Lite 235 v3: Inov-8 has produced great trainers for years, but their latest releases lack durability and lack overall comfort. We hope Inov-8 continues to innovate as we are overall big fans.
How We Tested and Picked the Best CrossFit Shoes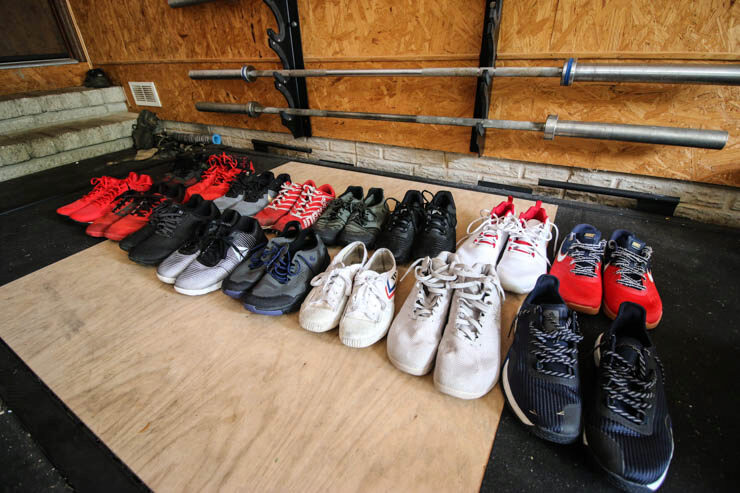 The shoes we picked to test could all be considered great for CrossFit and general training. Granted, some of the shoes we tested simply won't work for certain people either due to the looks or fit, but our picks should work for the majority of people. After some deliberation, we narrowed down our specifications to the following list of features ordered in no particular order.
Overall Construction
The shoes we recommend are some of the best available and are often priced as such. They should be constructed with high-end materials and last a minimum of 6 months under heavy training conditions. We assessed factors specific to CrossFit, such as:
Do they provide support on squats?
Is there a rope guard to keep the shoe from falling apart on rope climbs?
Can you use this for running, jumping, and lifting weights?
Value
We know that some of the best CrossFit shoes sit around $150. Look, we like paying for quality, as long as quality is there. The price of the shoe should be in alignment with its performance. If a shoe costs $150 but performs just as well as a $100 shoe without any outstanding features, then it has poor value.
Appearance
We understand that this is a subjective quality and as such, it plays a small part in which shoes we chose. Rather than basing it solely on our views of the shoes, we also took the opinions of others as to which are the most aesthetically pleasing. We also factor in your ability to choose from a number of colorway options.
Fit
There are a few things we look for with fit. The first is that the shoe comes in a wide enough array of sizes to accommodate most people. Shoes mostly fit depending on the dimensions of your feet, so, we tried to choose shoes that fit the widest range of people. All of our top picks can be used by those with thin or wide feet and combine a locked-down feel with great comfort.
We also reported back on if the shoes fit true to size. You'll often find that you need to size up or down half a size.
Comfort
If you train as much as we do, you're going to be spending a lot of time in these shoes. They should be comfortable both during training, runs, and after training.
Versatility
A CrossFit shoe should not just work well in the gym doing burpees and squats, but also outside of it as well. This includes short-distance runs as well as dragging and pushing sleds as well as ruck marches.
Special Features
As CrossFit evolves, so should the specialization of the shoes designed for the task. Obviously, CrossFit hits a wide range of movements, so the shoes will always be more for generalized training. However, things like heel clips and rope guards are important to keep the shoe performing well.
During testing, we performed various workouts: long, short, and in between. We squatted, deadlifted, box jumped, wall-balled (is that a word?) clean and jerked, snatched, ran, and did many other movements that might be included in your CrossFit WODs.
We did heavy lifting as well as EMOMs, AMRAPS, and lots of metcons. We requested the opinion of many different people including a couple of CrossFit Games Athletes without shoe sponsors (to avoid biases.)
How to Choose the Best CrossFit Shoe
If you're looking for the best shoes for CrossFit, there are a few things you need to keep in mind. Sure, you can swing a kettlebell in just about anything, but you want something to help you perform well across all aspects of fitness, like lateral movements and heavy lifts. Here are what we see as being big factors:
Durability
CrossFit can be hard on our bodies, and it can be really hard on our shoes. An all-mesh upper or soft sole could get totally torn up. Just one rope climb can rip the bottom off a shoe, no problem. Strapping into a rower or running outdoors can put wear and tear on the outer layers. The average amount of time manufacturers recommend you get out of your shoes is about 7 months of normal use.
Look for a shoe that has a reinforced bottom for those rope climbs and a reinforced heel for the abrasion that comes from doing handstand pushups against a wall. In many cases, manufacturers add thermoplastic polyurethane, or TPU, to the sidewalls, heels and upper for added durability. Also, a lot of companies, like No Bull and Reebok, do a good job of providing a breathable upper that is perforated but still coated or reinforced so it won't rip at the first sign of friction.
Rigid Sole
Perhaps one of the most noticeable differences between CrossFit shoes and, say, running shoes or other cross training footwear is the sole. A harder sole is key for powerlifting, Olympic lifting and squatting movements. It gives you feedback in explosive movements and stability in the power movements.
Weightlifting shoes like the Nike Romaleo 4 or Do-Win Classic Lifter have a much more rigid sole than shoes like the Reebok Nano X or X1. We aren't suggesting you wear weightlifting shoes, but, rather, find a training shoe with a more rigid sole.
Heel Drop
Generally speaking, an elevated heel is great for getting into a squatting position in which your knees can travel forward over the toes. That is ideal body mechanics, whether you are hitting an air squat in HIIT training or working on barbell exercises and doing weighted squats.
Weightlifting shoes have a large heel-to-toe drop of about 20mm. CrossFit shoes typically have about 4 to 6mm, but many shoes come with a removable and additional insole that can get you to about a 10 to 12mm drop. One of the big changes of CrossFit shoes from traditional training shoes is the more minimalistic style. A 0mm heel drop would make your foot parallel to the ground. Although there are few with a 0mm heel drop, there are many that are close.
Cushioning
Now, we need to balance out the rigid sole and heel drop with some cushioning, because you still need to run and jump in these shoes. This is a fine line, because too much cushioning means your shoe absorbs weight in lifts instead of giving you the feedback to push off from. Too little cushioning, however, like the minimalist line from Vibram, can be painful for people who need more support.
Cushioning in a trainer shoe is ultimately pretty personal. Most shoes like the Metcon from Nike or the Reebok CrossFit Nano line strike a good balance.
Wide Toe Box
Too narrow of a shoe will be incredibly uncomfortable while running. Too wide of a toe box will make you feel a little lost in the shoe, wondering where your support is as you're cycling the barbell.
In our experience, Nike shoes tend to run a little narrower, Reeboks give the most room, and No Bull feels in between. The good news is that all these companies take returns, so you if you order online or via Amazon, you can try and send back shoes that don't fit right.
Lateral Support
CrossFit shoes aren't exactly known for comforts like arch support, but it is possible. Of course, you can always take out the insoles and replace them with your own. Alternatively, look for cross trainers with more cushioning, as that might provide the support you need.
You'll notice that many shoes designed for CrossFit have a wider toe box and this is to allow you to splay your toes when doing grounded movements like squats. Some shoes feature tongues that are stitched to the sole and are secure without even being laced, while others require you to crank them down.
Price
Finally, the price of the shoes should be a factor. No matter how good a shoe is, its price should be a criteria for whether it's chosen or not. Rather than say shoes are expensive or cheap, we like to look at the value. If the shoe is costly, does its performance match up? If not, then it is overpriced.
With so many great options today, it's unlikely that a $200 pair of shoes designed for CrossFit are going to be that much better than the $130 pair.
Best CrossFit Shoes FAQs
What are the best shoes for CrossFit?

Can you run in CrossFit shoes?

Yes, the best CrossFit shoes are designed for all kinds of exercise: lifting, running, jumping. Some have great lug soles for gripping the ground during runs, some have an extremely flexible forefoot, some, like the Nike Free Metcon 4, is literally a combination of a running shoe and a shoe made for lifting weights.
What makes a good CrossFit shoe?

A good CrossFit shoe is one you can use to run, jump, climb ropes and lift weights. A more rigid sole is great for weightlifting, an elevated heel (even slight) is ideal for squatting, a flexible forefoot makes for good running and jumping, and a reinforced sole and heel is ideal for durability.
Are CrossFit shoes worth it?

Here's the thing: You can grab a pair of Asics or New Balance shoes and hit the box. It's doable and possible and people all over the world do CrossFit in shoes that aren't your typical "CrossFit shoes." Shoot, some people do it barefoot!
However, having the right shoes for the sport can help you feel better, and, in turn, perform better. An elevated heel and an appropriate amount of cushioning assist in the breadth of movements we do in CrossFit. Also, some shoes just can't stand up to the sport and will literally fall apart. I recommend investing in a comfortable, durable pair of shoes if you plan on exercising often.