We test and review fitness products based on an independent, multi-point methodology. If you use our links to purchase something, we may earn a commission. Read our disclosures.
The ProForm Sport 7.0 treadmill is a trusty treadmill for runners and walkers alike, durable enough for the impact of calorie-burning HIIT workouts or the duration of steady-state cardio. It was a mid-tier piece of fitness equipment offered by the brand, but the product line is no longer being manufactured.
ProForm now has three treadmill lines to choose from: Pro, Carbon, and City—from most to least expensive, respectively. While there are some similarities in the mid-tier ProForm Carbon series, we think there are some other viable alternatives as well.
In this ProForm Sport 7.0 treadmill review, I list out the specs of this discontinued treadmill and help you decide on a reliable treadmill of equal standing.
We've Tested Dozens of Treadmills
Our expert product testers have not actually had our hands (or feet) on the ProForm Sport 7.0 treadmill. However, we have extensive experience with ProForm, and its sister brand NordicTrack. We've also tried dozens of treadmills from entry-level to commercial machines.
We're a group of fitness-crazed individuals including CrossFit Level 1 Trainers, athletes, nutrition coaches, and certified personal trainers. We test equipment on the regular so you have the information you need to outfit your home gym the best you can.
Looking for an Alternative to the ProForm Sport 7.0 Treadmill?
Because the ProForm Sport 7.0 is no longer available on the ProForm website (or other sites like Amazon or Best Buy), it's likely you'll have to settle for another treadmill for your home gym.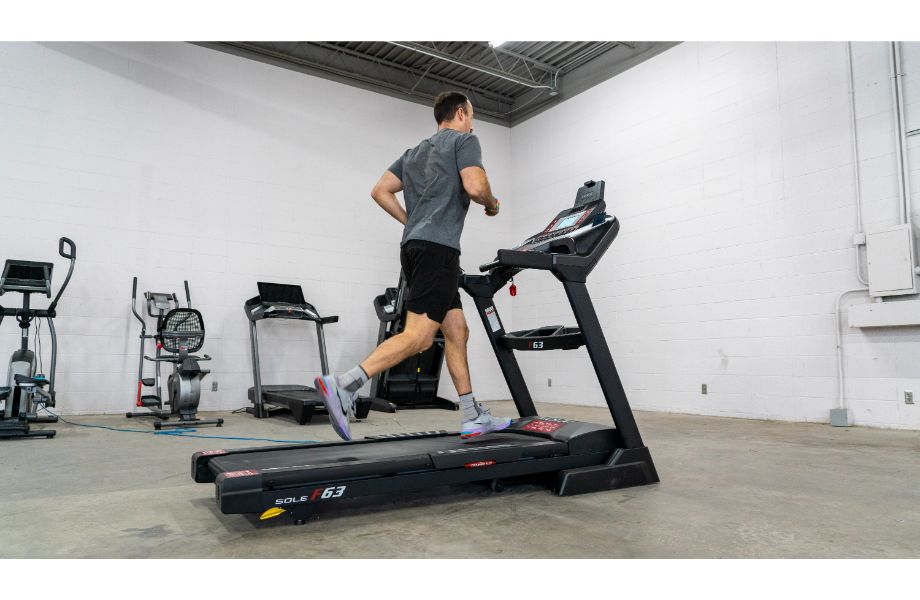 Lucky for you, we have tested two different treadmills that we think are remarkably similar in specs and price range. The Sport 7.0 was priced at $1,299 when it was available on the ProForm website. ProForm's closest replacement of the Sport 7.0 is the ProForm Carbon T10, which can fold, has a similar motor size, and is priced at $1,199.
The Carbon T10 differs from the Sport 7.0 in a few areas including a shorter, 55-inch deck and a top speed only reaching 10 MPH. The Carbon T10 also features an iFIT-enabled 10-inch HD smart touchscreen—a welcome addition to this treadmill.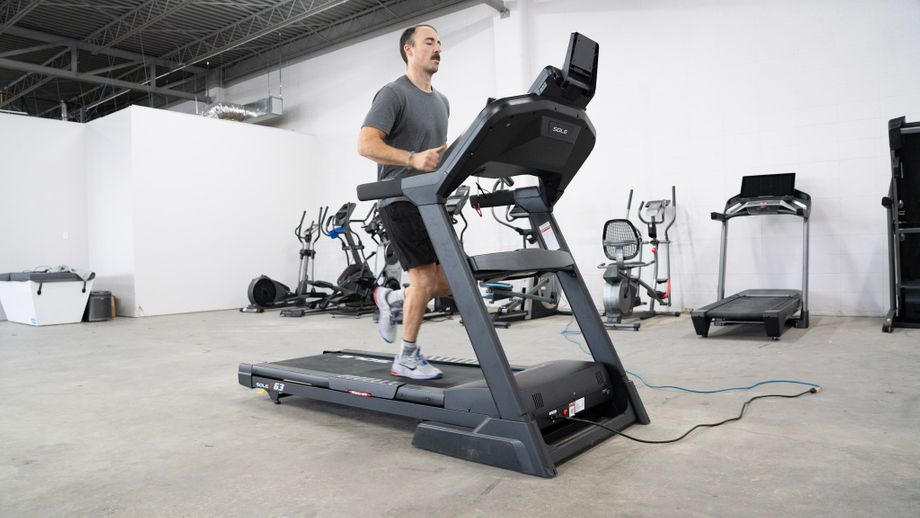 In addition to the ProForm Carbon T10, the Sole Fitness F63 is another comparable treadmill. Both the Sport 7.0 and the Sole F63 have similar motor power and speed and incline ranges. The Sport 7.0 is not particularly tech-heavy, and neither is the Sole F63. Theyalso have a similar $1,199 price tag.
Best Alternative to ProForm Sport 7.0 Treadmill
Sole F63
Named "Best in its Price Range" by Fit Rated, Run Reviews, Treadmill Reviews, and many others. Easy Assist Folding Deck Design makes storing your treadmill easy and convenient. High-end rollers create a static free motion leading to a long lifespan. Smoothest treadmill when making adjustments mid-workout. LCD screen provides real-time statistics to monitor progress towards goals.Plus, Sole has recently released its own version of Peloton-esque programming: STUDIO. You can access a variety of on-demand classes for just $19.99 per month.
Best Alternative to ProForm Sport 7.0 Treadmill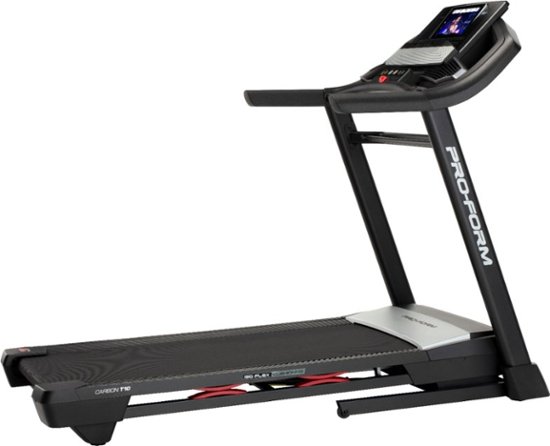 ProForm Carbon T10 Treadmill
If you are looking to combine simplicity and technology in a treadmill, listen up as the ProForm Carbon T10 may very well be for you. The Carbon T10 is a user-friendly, tech forward foldable treadmill equipped with a 10-inch, high definition interactive display. Included in your purchase is a three-year iFIT family membership, which allows users to fully immerse in workouts virtually anywhere in the world choosing from on demand or live global and studio classes.  With speeds ranging from .5 to 12 miles per hour and incline options up to 12 percent, it is easy to work up a sweat.The Carbon T10 comes with a 3.0 horsepower motor and while this may not reach the same strength seen in more expensive models, it is plenty strong enough to support you through workouts whether you are a runner or jogger. If you are an avid, endurance athlete, the 3.0 horsepower motor may not provide the sustained power you need to train. Users report that the T10 is fairly quiet. And, with a smaller footprint of  35.24 inches wide by 74.62 inches long and 64.39 inches, it is easy to store in smaller dwellings. To note, the cushioned running deck only measures 55 inches long (as with most foldable treadmills), so may not fit those with longer strides.
A Quick Look at the ProForm Sport 7.0 Treadmill
The ProForm Sport 7.0 isn't particularly tech-heavy, but it's a workhorse of treadmill. The Sport 7.0 features a folding design with gas shocks, it has numerous on-board workout programs, and is compatible with the iFIT workout app if you want to use your own phone or tablet to browse the extensive library of on-demand workouts.
The Sport 7.0 also has a 2.75 CHP motor and a 60-inch-long running deck. For comparison, the current ProForm mid-tier treadmills in the Carbon series, like the Carbon T10, have 55-inch running decks. The Sport 7.0 will operate up to 12 MPH and you can even participate in incline training up to a 12% grade.
Pros:
Folding treadmill with EasyLift Assist
Long running deck
22 preset workouts
Cons:
No touchscreen
Customer support is hit or miss
Difficult assembly process
ProForm Sport 7.0 Treadmill Specs
| | |
| --- | --- |
| Footprint | 79.2" L x 36.6" W x 59.25" H |
| Weight capacity | 325 lbs |
| Weight | 200 lbs (not confirmed by ProForm) |
| Running belt | 60" L x 20" W |
| Motor | 2.75 CHP |
| Speed range | 0-12 MPH |
| Incline range | 0-12% |
| Display | 6" backlit screen |
| Preset programs | 22 |
| Foldable | Yes |
| Warranty | Lifetime frame and motor; 2-year parts; 1-year labor |
Key Features of the ProForm Sport 7.0 Treadmill
Between the 60-inch long tread belt and the 2.75 CHP motor, the ProForm Sport 7.0 was a reliable treadmill when it was being manufactured by the brand. The long running deck and sizable motor make it suitable for running and hitting top speeds.
I wouldn't suggest marathon training on a machine like this, but it will certainly do the trick for casual runners or when weather conditions are not ideal for outdoor running. The incline adjustability makes hill training accessible, too.
Another thing I like about the ProForm Sport 7.0 treadmill is the option for iFIT compatibility (using your own device on the tablet holder) while still having access to 22 programs that are hardwired into the machine. I like this feature because it allows you to use the machine without an internet connection or if you're just not that committed to an iFIT membership.
Although it's a discontinued model, if you participate in the iFIT interactive programming, you'll still benefit from iFIT auto-adjust technology during trainer-led classes or using global Google Maps routes for training.
Footprint and Portability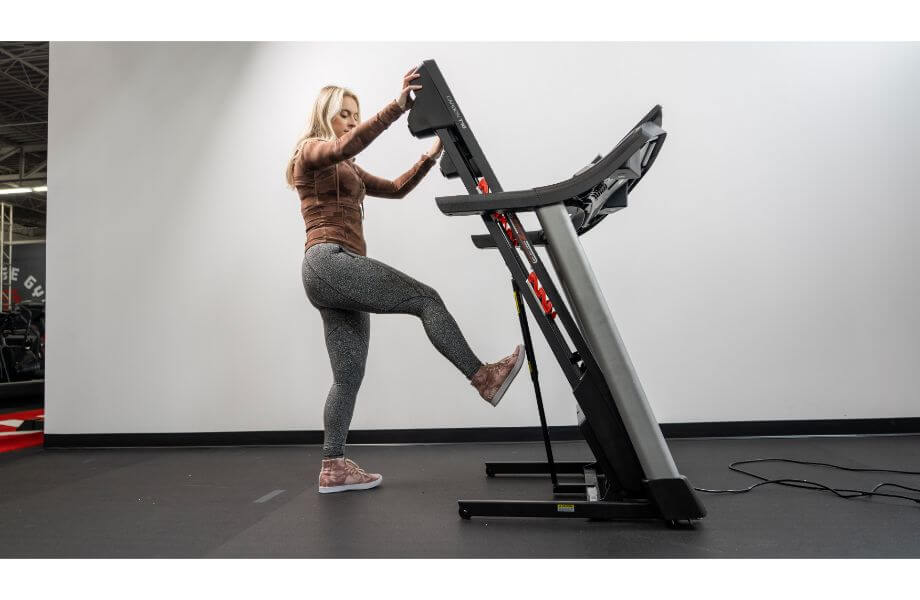 The EasyLift Assist folding mechanism is one of the best features on this treadmill. It's easy to fold just by picking up the deck and pushing it upward toward the console. This SpaceSaver design allows you to store it vertically to get floor space back. When you're ready to use it again, the gas shock is easy to release with the tap of your foot and the deck will fold down quietly and safely all on its own.
Ergonomics
There are three things that really stand out to me about this treadmill when it comes to comfort. Firstly, the 60-inch running deck will allow most people to run or walk with a full and natural stride. This is super important for tall runners. The 20-inch width could be better but still gives most people enough room without feeling too cramped.
Secondly, there are built-in CoolAire workout fans to keep a nice breeze going while you train. The fan also features two speed settings to choose from. And lastly, the ProShox cushioning on the running deck provides comfort and shock absorption while running. Cushioning can help alleviate the stress on your feet, ankles, knees, and hips from running.
Conveniences
The ProForm Sport 7.0 has the basic conveniences you'll see in ProFrom treadmills today, including water multiple water bottle holders, a safety key, and in-handle controls for quick incline and decline changes as well as quick speed changes.
The Sport 7.0 is EKG Bluetooth-compatible with wireless chest straps, but were not included in the sale. There are, however, two hand-grip sensors built into the handlebars for in-the-moment heart rate monitoring.
Technology Benefits
Like I mentioned before, the ProForm Sport 7.0 is iFIT-compatible. However, technology has progressed since this model was introduced. If you were to come across this treadmill in a used sale, be sure to know that the compatibility requires an iFIT wireless module—not the same as your smartphone or tablet—which did not come with the treadmill even when it was available on the ProForm website.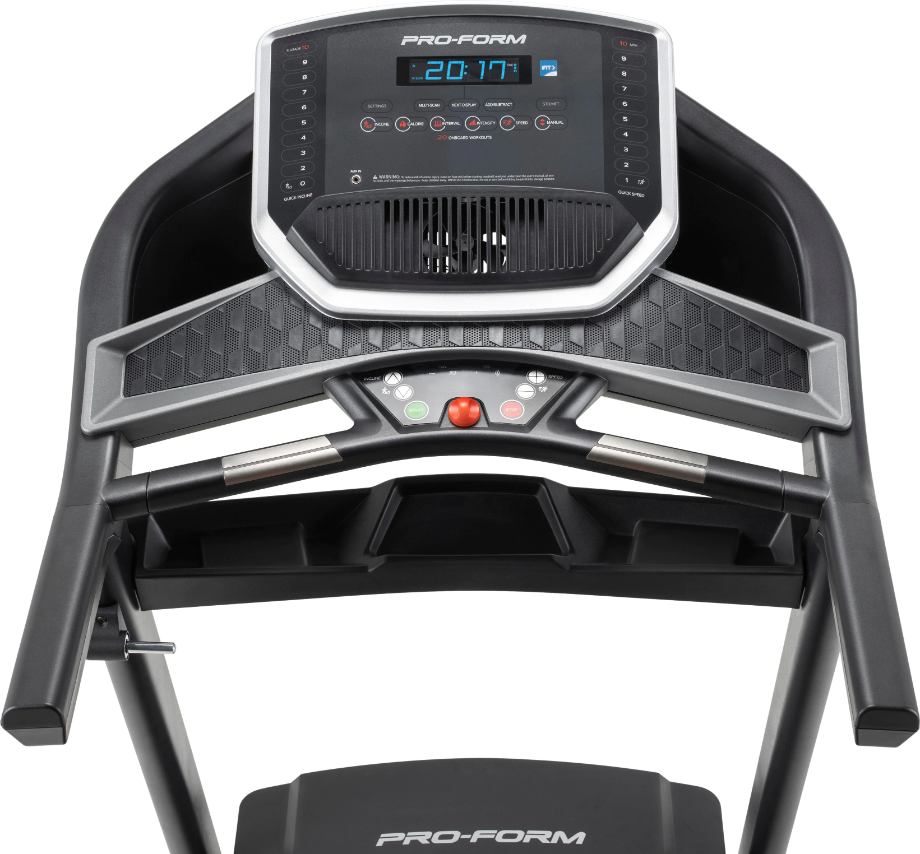 The wireless module, which is still available on Amazon, made the treadmill able to connect with iFIT workouts via tablet or smartphone and gain access to unlimited workouts designed by certified personal trainers.
The Sport 7.0 also features an iPod- or mp3 player-compatible sound system with an auxiliary port and two built-in speakers.
Final Verdict of the ProForm Sport 7.0 Treadmill
The ProForm Sport 7.0 treadmill was a reliable and durable treadmill when it was being manufactured. Since then, ProForm has come a long way with iFIT integration and touchscreen technology.
Although the current ProForm treadmill offerings have advanced, if you're still looking for a solid machine without all the tech, consider the Sole F63. It folds, it has a long running belt, and it has a powerful motor to keep up with your running pace.
ProForm Sport 7.0 Treadmill Rating
ProForm Sport 7.0 Treadmill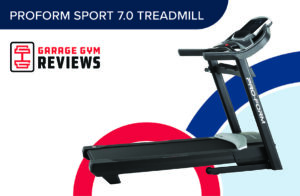 This discontinued ProForm treadmill isn't manufactured anymore, but we'll tell you about it, and what products are similar, in this ProForm Sport 7.0 treadmill review.
Product Brand: ProForm
Product Currency: $
Product In-Stock: InStock
ProForm Sport 7.0 Treadmill FAQs
How much does the ProForm Sport 7.0 treadmill weigh?
The product weight is approximately 200 pounds, but this number has not been verified by ProForm.
Is ProForm a good product?
Our expert product testers have used a plethora of ProForm products and for the most part, have enjoyed them, too. Most ProForm products are well-built and feel sturdy during use. From our experience, it's worth noting that customer support can be a little tricky to get a timely response if problems do arise.
Does the ProForm Sport T7 have Bluetooth?
The Sport 7.0 has Bluetooth capabilities for EKG chest strap devices but not for iFIT programming or app integration.