We test and review fitness products based on an independent, multi-point methodology. If you use our links to purchase something, we may earn a commission. Read our disclosures.
Most of us probably grew up singing "Row, row, row your boat" loudly and off key (or poorly playing it on the piano if you were me). As an adult, unless you're swimming in cash, you probably don't actually have a boat to row, but by golly, you can "Row, row, row" a rowing machine!
Listen up budget-conscious individuals: You'll want to hear what I have to say in this Sunny Health and Fitness SF-RW5801 Rowing Machine review. Whether you want to know about the foldability, warranty, or my thoughts on overall value, you'll want to stick around.
Thousands Of Strokes Rowed
Our team of expert product testers, certified personal trainers, USA Weightlifting coaches and CrossFit-L1 trainers really know our stuff when it comes to fitness equipment. Rowers are no exception––we've tested well over 20 and logged thousands of strokes in our quest to find the best rowing machines on the market.
Is It Always Sunny with the RW5801?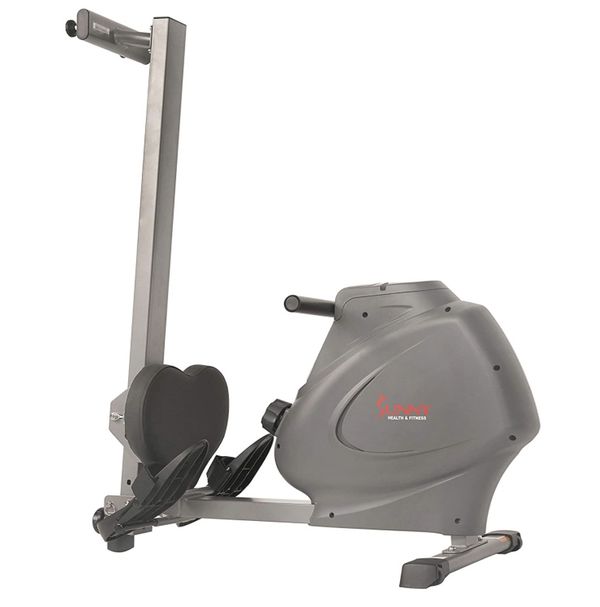 Sunny Health & Fitness SF-RW5801 Magnetic Rower
Looking for a small-space-friendly and budget-friendly rowing machine? Check out the Sunny Health & Fitness SF-RW5801 Magnetic Rower, which features 16 levels of magnetic resistance and a comfortable seat for less than $300. In addition to its palatable price tag, this rower has a space-saving design with a slide rail length of just 43 inches and a total length of 77 inches (most rowers have a total length between 86 and 90 inches). This rower also folds up when not in use so you can store it out of the way.Keep in mind that a shorter seat rail means this rower might not be a good fit for taller people, as they may not achieve full extension of the legs. Still, for the average person, this rower will get the job done.The RW-5801 has a basic LCD display that tracks time, calories, and distance. It also has a device holder so you can stream your favorite rowing workouts on different apps or YouTube.
A Quick Look AtSunny Health and Fitness SF-RW5801 Rowing Machine
Sunny Health and Fitness is a well-established, budget-friendly company that makes a bevy of cardio (and now strength) equipment. They sell pretty much any kind of rowing machine your brain can think up––there are 26 different magnetic, water, air, hydraulic, and fan options available.
My Tips
Check out the SunnyFit app for free workout videos!
You will need two AAA batteries for the display.
Pros:
Affordable price tag (under $250 on Amazon)
Folds vertically
Compact footprint
Comfortable seat
Easy to build
16 levels of magnetic resistance
Doesn't shake while in use
Tablet holder
Cons:
Subpar warranty
Lots of plastic components
No length adjustment on foot cradles
Very low to the ground
Slide rail length is short (43")
No built-in workouts
Is The Sunny Health and Fitness SF-RW5801 Rowing Machine Worth The Money?
The Sunny Health and Fitness SF-RW5801 is a super budget-friendly rowing machine. However, it won't be the best option for everyone's home gym. Check out who I think should take a closer look and who would do better with a different rower.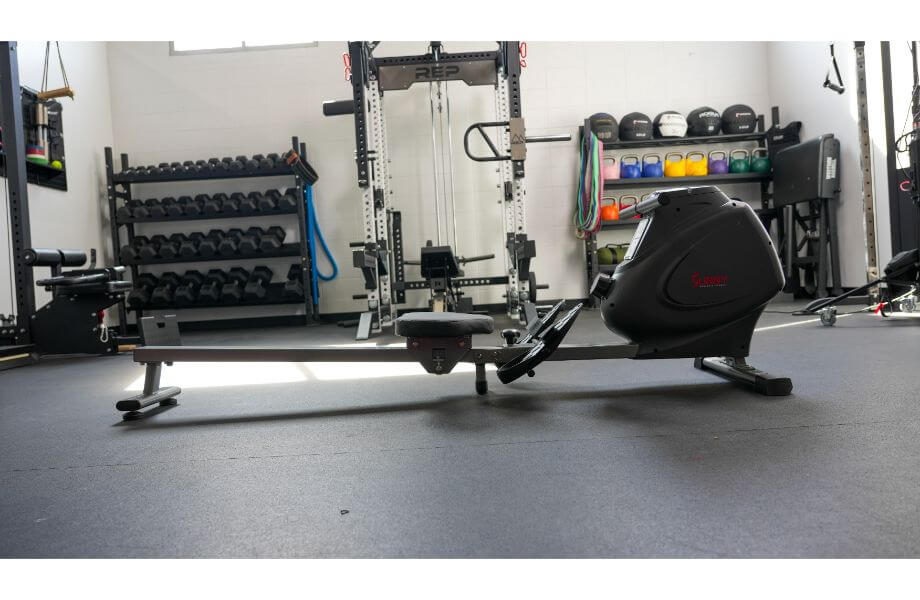 Great for:
People on a tight budget
Use in apartments or small spaces
Short people
Sore butts
Not recommended for:
Seniors or people with issues squatting
Super tall individuals
Tech-y people who want programming
Sunny Health and Fitness SF-RW5801 Rowing Machine Specs
| | |
| --- | --- |
| Dimensions | 77" L x 23" W x 22.5" H |
| Display | Digital monitor |
| Product Weight | 49.6 lbs |
| Weight Limit | 285 lbs |
| Bluetooth | No |
| Transport | Transportation wheels |
| Storage | Foldable design |
| Slip-Resistant Handlebar | Yes |
| Adjustable Straps | Yes; on footrests |
| Construction | Alloy Steel |
| Resistance | Magnetic |
| Resistance Levels | 16 levels |
| Programming | No |
| Warranty | 3-year structural frame, 180 days other parts and components |
Workout Experience
I've tried some of the hottest tech-y rowing machines on the market, including the Ergatta, Aviron Tough Series, Hydrow, and the CITYROW MAX. While all four of these machines wowed me with their interactive programming and smooth experience, they can be out of reach budget-wise for many.
Out of the four, the cheapest option is the CITYROW MAX, which clocks in at $2,195––almost 10 times the amount of the SF-RW5801. So while it isn't realistic to expect the Sunny rower to be equally as good, I set out to find if it is a decent option for someone tight on cash and space.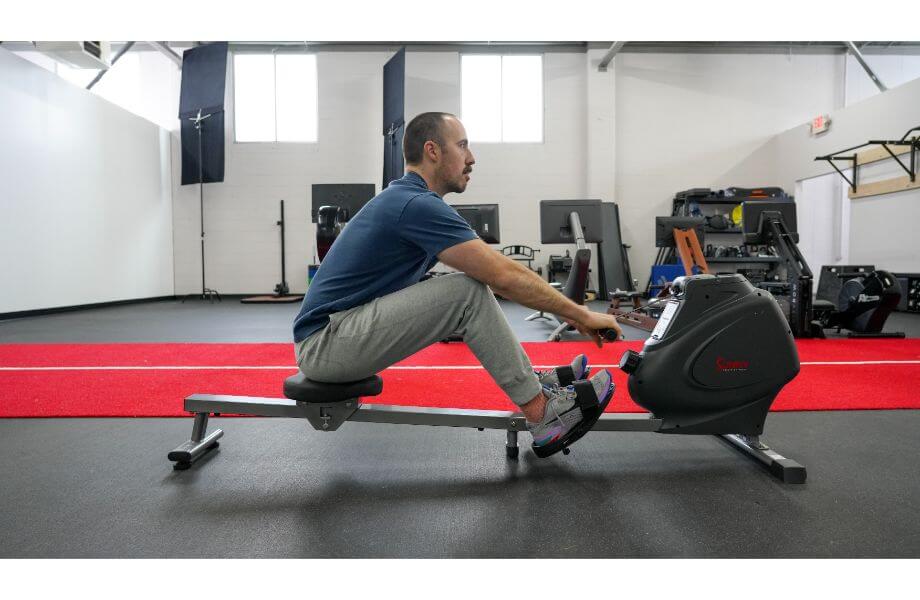 Sitting on this pint-sized rower, I was surprised by how supported I felt. Sure, the well-cushioned seat helps with that, but that isn't all––the SF-RW5801 is surprisingly sturdy when a user is sitting in it. Plus, I was pleased to note the weight capacity of 285 pounds, as the industry standard is at least 250 pounds.
The machine did seem on the shorter side to me and the specs confirmed my suspicions– the slide rail is only 43 inches long, compared to the 54 inches of the Concept2 RowErg. I'm 5 feet, 9 inches tall, and I think if you're much taller than I am, you'll find this machine to be too short for your liking.
The catch of the SF-RW5801 is surprisingly smooth for the price, and the machine doesn't precariously wobble from side to side like other budget rowing machines do. The foot pedals have ridges to help your feet stay in place (sort of non-slip, if you will) and you can adjust the strap tighter or looser.
Although there isn't a touchscreen, Sunny at least provided us with a handy device holder so you can view your own programming or watch the latest episode of your favorite show.
I do have to be a slight hater for a moment–– if you've read any other cardio machine reviews I've ever written, you'll know my pet peeve is small water bottle holders. In this case, the SF-RW5801 does actually have a water bottle holder that will fit an average-sized drink; however, the bottle slot is directly behind the device holder. This makes it extremely inconvenient to grab your water without knocking over your phone or iPad in the process. OK, rant over.
The Ergonomics
Ever used a Peloton Bike and left a workout with your butt super sore? Luckily, with the SF-RW5801, this probably won't be the case. I really enjoyed the extra-wide and padded seat that is reminiscent of one you'd find on a recumbent bike.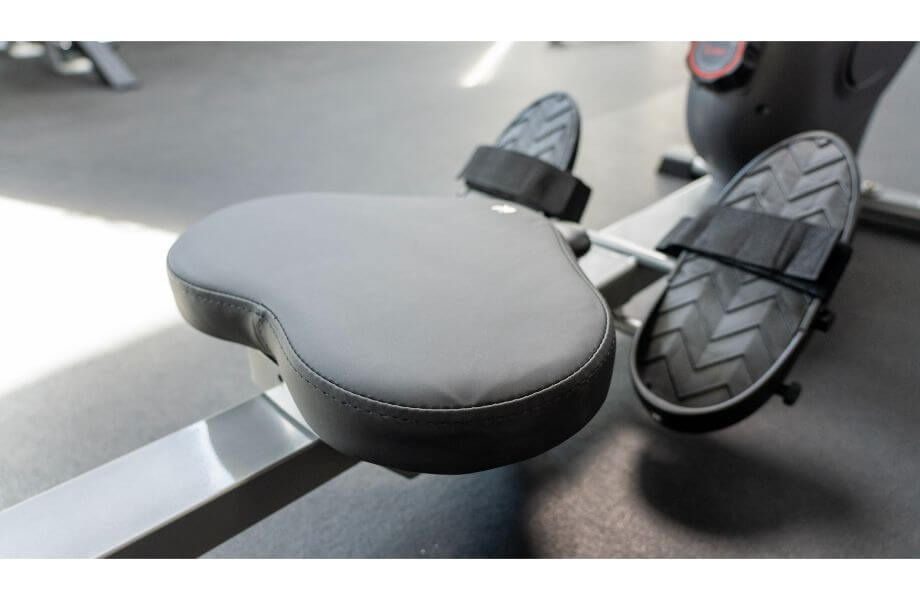 However, if you're an older adult or have mobility issues, this is not the rowing machine for you. This rower sits insanely close to the ground, and requires a very deep squat to get into the seat.
Customizations
In terms of the magnetic resistance, the SF-RW5801 has 16 levels available for adjustment. I am someone that uses rowing machines pretty frequently, and found the adjustable resistance to be challenging for me at the upper levels.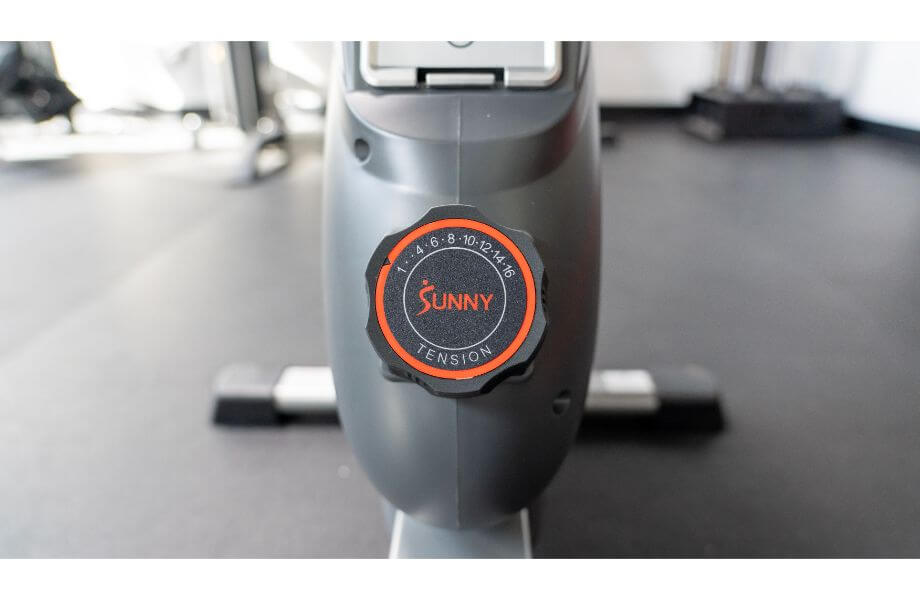 In a few of the customer reviews I read, some complained of the resistance being too easy. I'm wondering if they put the machine together incorrectly or if they're just the human equivalent of the hulk. In any case, I'd say the resistance will definitely suit a beginner and intermediate exerciser alike.
Like most rowing machines, the SF-RW5801 does have nylon straps to secure the foot into the cradle of the pivoting pedals. This adjustment was easy and went off without a hitch. However, you cannot adjust the length of the footbed, which isn't helpful for those with larger feet.
Durability and Construction
As you might expect with such an inexpensive rower, there are quite a few pieces on the machine constructed with plastic (not my favorite). I tend to notice fitness equipment made with mostly plastic pieces do not hold up well over time, but only the months and years will be the judge on the SF-RW5801.
If you choose to purchase this rower, the components I'd recommend being particularly careful with are the foot cradles and the flywheel housing.
I do like the steel seat rail, because this component will likely stand the test of time well. It is also evident that this piece is high-quality, because I did not experience any shaking while in use.
Footprint and Portability
One of the shining features of this rowing machine is its ability to fold. If you're someone who lives in an apartment, condo, or other small space, this might be a wonderful option for you. It can easily be stowed away in a corner or a closet when not in use. The footprint does reflect the compactness of the machine—you'll find the length to be shorter than the typical rower.
Expert product tester and fellow Garage Gym Reviews writer Amanda Capritto weighs in with her thoughts:
"It is really small and low to the ground, plus it folds vertically, but you can store it upright to save even more space."
Capritto also equated the machine's weight to that of a "medium-sized dog," which I found particularly amusing. She isn't wrong though; the SF-RW5801 is just under 50 pounds, which makes it a nice medium-sized boi. I've decided it's a cute pittie, because I love a nice pitbull. Anyway, if you're an able-bodied individual, you should have no issues picking this machine up, because you've likely lifted kettlebells (or a dog) heavier than this rower.
Technology
If you think you're going to find immersive, interactive programming on this machine, you better be joking (all my Euphoria fans know the reference, although I made it G-rated). The SF-RW5801 doesn't have anything close to a touchscreen and instead features a small LCD monitor that displays a few metrics.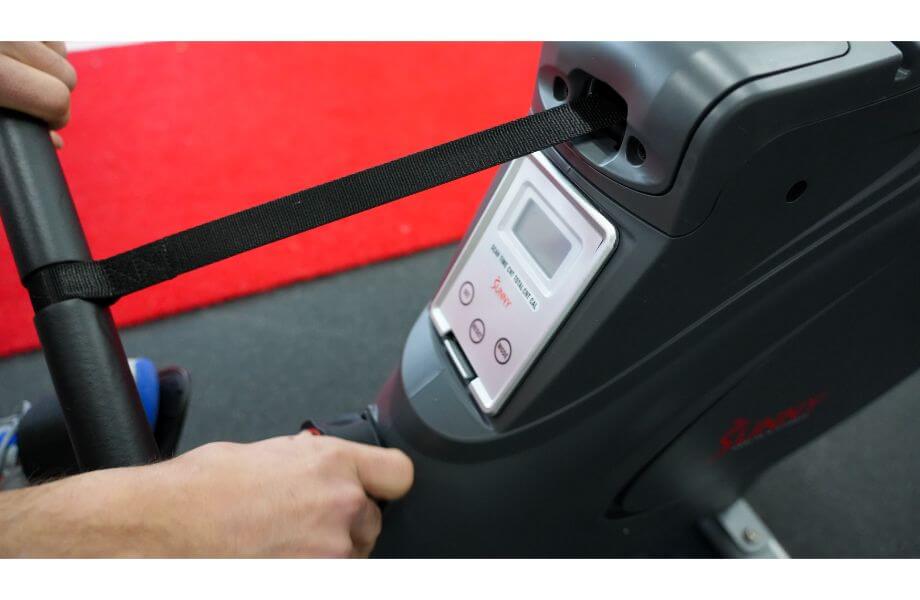 Here's what you can expect to track during your rowing workout on the RW5801: time elapsed, calories burned, distance traveled, and strokes completed.
There's a really good reason I scored this machine 1 out of 5 stars on the technology portion of this rating: the above is all you get when it comes to tech-y features.
This isn't to say this won't suit some people's needs, but I would be lying if I said this was a technology-filled experience.
Comparison To Stamina BodyTrac Glider 1050 Hydraulic Rowing Machine
Stamina BodyTrac Glider 1050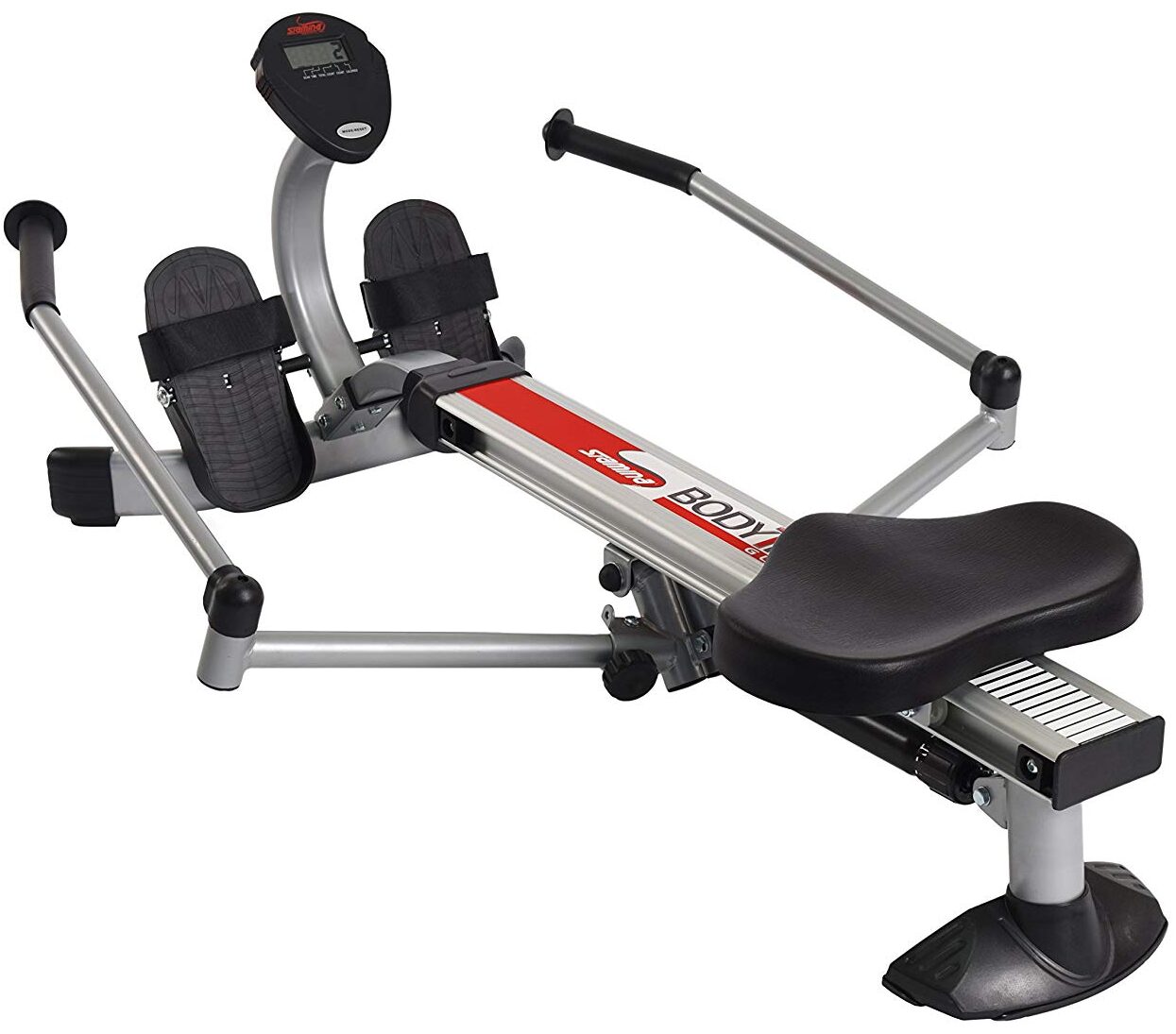 Stamina Body Trac Glider 1050 Rowing Machine
Full-motion arms on the Stamina BodyTrac Glider simulate the feel of rowing on actual water. The unique design allows for a full-body, effective workout for every major muscle group - including back, legs, arms, abs and glutes. Rowing is also widely known to aid in improving cardiovascular health and burning calories.Stay focused during exercise with an easy-to-read LCD monitor and see your workout time, stroke count, calories burned and total strokes accumulated. When you want to increase or decrease the intensity of your stroke, simply adjust the hydraulic cylinder.Comfort for Lasting ResultsFor extra support and stability, the BodyTrac Glider moves along a smooth ball-bearing roller system and includes features to enhance your comfort, including textured foot plates with straps, a molded seat and padded hand grips. Fold the arms after you've completed your workout for an easy way to save space.
Another super inexpensive rower on the market, the Stamina BodyTrac Glider 1050 Hydraulic Rowing Machine, comes in at just around $160. However, I would recommend spending the extra $50 to get the SF-RW5801. I'm not a fan of the adjustable hydraulic resistance on the Stamina BodyTrac because you can't get full range of motion and your strokes break easier. Check out the specs and see the comparison between the two rowers:
| | | |
| --- | --- | --- |
| Machine | Sunny Health & Fitness SF-RW5801 | Stamina BodyTrac Glider 1050 Hydraulic |
| Price | $219.99 | $160.55 |
| Resistance Type | Adjustable magnetic tension | Adjustable hydraulic resistance |
| Weight Capacity | 285 lbs | 250 lbs |
| Monitor | LCD monitor | LCD display |
| Dimensions | 77" L x 23" W x 22.5" H | 58.25" L x 42.5" W x 18.13" H |
| Foldable | Yes | Yes |
| Warranty | 3-year frame, 180 days for parts | 1-year frame, 90 days for parts |
| Item Weight | 49.6 lbs | 38 lbs |
Customer Experience
Although I'm glad the SF-RW5801 has a warranty at all, it is a subpar one at just three years for the frame and 180 days for parts. The industry standard for a well-constructed rowing machine is five to 10 years on the frame, two years for parts, and a year for labor.
Amazon offers its standard return policy on this item–, meaning you have 30 days to decide the rowing machine isn't right for you and return it in new condition.
Likely because this machine is only $220, there are no financing options available through Amazon.
Ordering And Assembling The Sunny Health & Fitness SF-RW5801 Rowing Machine
Ordering the Sunny Health and Fitness SF-RW5801 is a breeze. I recommend purchasing it on Amazon (which we've linked to) over the actual Sunny Health and Fitness website because it is a bit cheaper.
This cardio machine has free shipping for everyone (even non-Prime members), but you can pay extra for specialized delivery. Amazon offers three options: inside your entryway ($9.99), into your room of choice ($19.99), or moved and assembled ($59.99). The actual rowing machine is just under 50 pounds, and is fairly easy to assemble with one person. If you're up to it and don't want to spend the money, I definitely recommend doing it yourself.
Our GGR Operations Manager and expert assembler Sam "asSAMbly" Presley usually puts together our cardio machines. Here's what he had to say:
"The SHF rower was an easy build. Simply attach the rail, seat, feet and foot holders and you're ready to go. It comes well packaged in a small box that is easily movable."
Customer Reviews
With a whopping 4.5 stars out of 5 on Amazon at the time of writing, the Sunny Health and Fitness SF-RW5801 has almost 3,300 ratings. Pleased customers reported they loved the quick assembly process, inexpensive price tag, and quietness of the machine while in use.
"If you need a rowing machine and don't have a big budget, this one is great," reviewer Erica Papdi explained. "We've had it for a few months now and it works very well. It was easy for one person to assemble and it's nearly silent when you're using it, which is a big plus."
Others weren't thrilled with the stability of the rower and extremely low resistance.
"The resistance (or tension) is virtually non-existent," a peeved Amazon customer exclaimed. "There is a slight difference between the lowest and highest setting, but it's barely perceptible, and even at the highest setting, the effort required to pull the rower is zero. It takes no effort at all. I could row this machine for an hour and not break a sweat."
We didn't agree with this assessment––beginners and intermediate rowers should be fine.
Final Verdict Of Our Sunny Health & Fitness Rowing Machine Review
If you're on the hunt for a budget-friendly rowing machine that's an ideal choice for beginners, you've found your match in the SF-RW5801. However, I wouldn't recommend this machine for people who are especially tall, or want any sort of technology features.
Sunny Health and Fitness SF-RW5801 Rowing Machine Rating
Sunny Health and Fitness SF-RW5801 Rowing Machine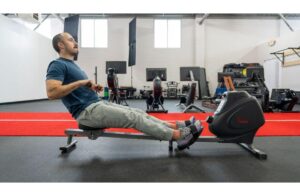 In this Sunny Health and Fitness SF-RW5801 Rowing Machine Review, I'll tell you all the details you need to know about this budget-friendly rower to help you make a great purchasing decision.
Product Brand: Sunny Health & Fitness
Product Currency: USD
Product Price: 249
Product In-Stock: InStock
Sunny Health & Fitness Rowing Machine FAQs
Are Sunny rowers good?
Depending on what you're looking for, Sunny rowers can be a great option for home use. They are within a reasonable price range, generally compact, and are a good value. You won't find all the bells and whistles on them that you would on a gamified rowing machine, but the price reflects this aspect.
Can you get ripped using just a rowing machine?
Using a rower isn't necessarily a sure fire way to get "ripped". This isn't to say a rowing machine doesn't provide a great, full body workout, but it is cardio-based. In order to make real gains in the muscle mass department, you'll need to lift weights in some capacity.
RELATED: Rowing Machine Benefits
Does the Sunny rower fold up?
Yes, the Sunny Health & Fitness SF-RW5801 magnetic rower does fold up into an upright position. This makes it a good option for people who are tight on space and need a low-impact cardio workout.
Which cardio machine will provide the best workout to get my heart rate up–– elliptical, exercise bike, or rower?
All three of these machines will provide a stellar cardio workout, but I think it is important to consider what you actually like to do. Exercise shouldn't be torture, and if it feels like it, you just haven't found the best way for you yet! I recommend giving each one a try at your local gym and picking your favorite before investing in one for your home.