We test and review fitness products based on an independent, multi-point methodology. If you use our links to purchase something, we may earn a commission. Read our disclosures.
As a home gym owner, having cardio equipment gives you a low barrier to meet the recommended amount of 150 minutes of moderate aerobic activity each week. You may be considering an exercise bike vs treadmill, or maybe an elliptical. There are benefits to all of them, and choosing the right option for you is highly individualized.
This article will focus on the exercise bike and guide you through all the stationary bike benefits, plus define recumbent bike vs upright bike differences; what's the deal between the two bikes anyway?
The main difference between these two styles of exercise bikes is the riding position. Recumbent bikes offer riders a comfortable and supported seated position, similar to sitting in an office chair. Upright bikes are more similar to a traditional outdoor bike, where you mount the bike and your upper body is not supported by a back rest.
The best exercise bike for your home gym is going to differ depending on your needs. We'll break it down below.
What Is A Recumbent Bike?
The recumbent bike has a different feel than sitting on an upright bike or pedaling a bicycle on the road. The reclined position allows riders to sit in a cushioned seat with a backrest. The position alleviates strain on the back and glutes.
Unlike an upright bike with the pedals directly under the hips, the recumbent's pedals are out in front of the seat, making the pedaling movement entirely different because your legs will be in front of you. This position will require a significant amount of hip flexion and knee bend, making the focus of this type of exercise bike almost entirely on the lower body.
RELATED: Best Recumbent Bike
Pros:
Less saddle soreness
Easy to get on and off
Provides lower back support
Low-impact leg workout
Cons:
Big footprint
Don't normally fold
No full-body muscle engagement
Less intense workout overall
Best For:
The recumbent bike is a good choice for you if you want to put less stress on the knee and hip joints.
"The recumbent bike can be a good choice for older adults, or if you're someone who struggles with balance," explains Nicole Davis, GGR's editor and ACE-Certified Personal Trainer. "Beyond the added back support, the recumbent bike is lower to the ground and doesn't require you to mount the riding saddle."
Recumbent Bikes We Recommend:
Our product testers have ridden dozens of exercise bikes and researched dozens more. Here's what we'd recommend for recumbent bikes.
Schwinn 270 Recumbent Bike
Schwinn 270 Recumbent Bike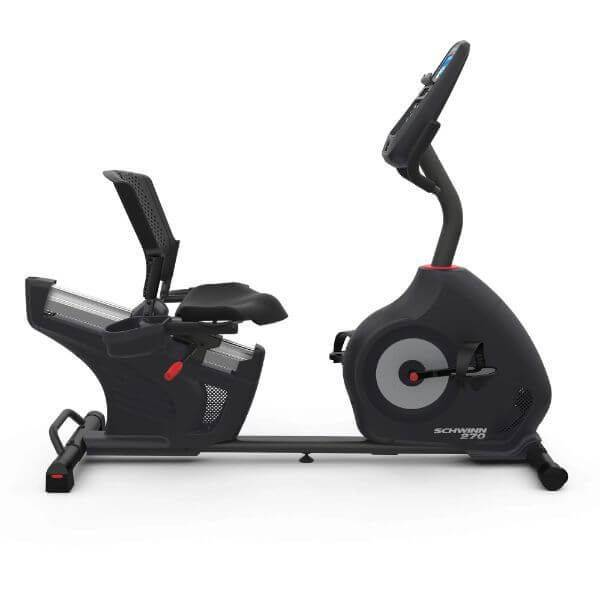 Schwinn 270 Recumbent Bike
The Schwinn 270 Recumbent Bike is a  low-impact cardio machine that's both easy-to-use and efficient. It comes equipped with 29 pre-programmed workouts, two fitness tests, one recovery test, one quick start and a four-user capacity that will keep multiple users on track with their fitness goals. Two LCD screens allow you to monitor up to 13 different display feedbacks. What's more, the 270 has a USB data transfer functionality to the Schwinn Connect website that is compatible with MyFitnessPal and the Explore the World app. So, easily upload your fitness metrics and track them to assess progress towards your health goals. The Schwinn 270 uses 25 levels of resistance aligned with a high-speed, high-inertia perimeter flywheel that makes for a smooth and quiet ride. With a user weight capacity of 300 pounds and an adjustable seat, this is a great training tool for users of varied size. Ergonomically placed pulse grips make for a relaxed riding position when using the heart rate program. The Schwinn 270 is also telemetry heart rate-enabled which, if you purchase the chest strap, is more accurate than pulse grips.Design features such as the aluminum slider seat rail with fore and aft adjustment capabilities, a large padded seat bottom with contoured leg area, a large vented seat back, cooling console fans, transport wheels, and 10 resistance quick keys to quickly change levels, make the Schwinn 270 convenient, effective, and comfortable. Several reviews stated the resistance stops working after a few years. While there were only a handful that reported this problem, we felt it was worth noting. And with a warranty of only two years on parts (plus one year on electronics, 10 years on the frame and 90 days on labor), this could be an issue. 
Schwinn is a longstanding name in the world of fitness equipment, and its 270 Recumbent Bike has plenty of the features we'd look for, including ease of use, two LCD screens that display 13 different metrics, plus built-in programming and compatibility with the Explore the World app for interactive programming.
Exerpeutic 400XL Folding Recumbent Bike
Exerpeutic 400XL Folding Recumbent Bike
Exerpeutic 400XL Folding Recumbent Bike
The Exerpeutic 400XL Folding Recumbent Bike is a small but sturdy recumbent bike great for casual cycling. Thanks to the recumbent position, it takes pressure off of the joints and can easily be used while working, watching TV, or reading.
From its foldability to its small footprint, the Exerpeutic 400XL folding bike minimizes concerns about having the space for a recumbent bike. This recumbent bicycle would be an appropriate choice for casual cycling.
ProForm Hybrid Trainer
ProForm Hybrid Trainer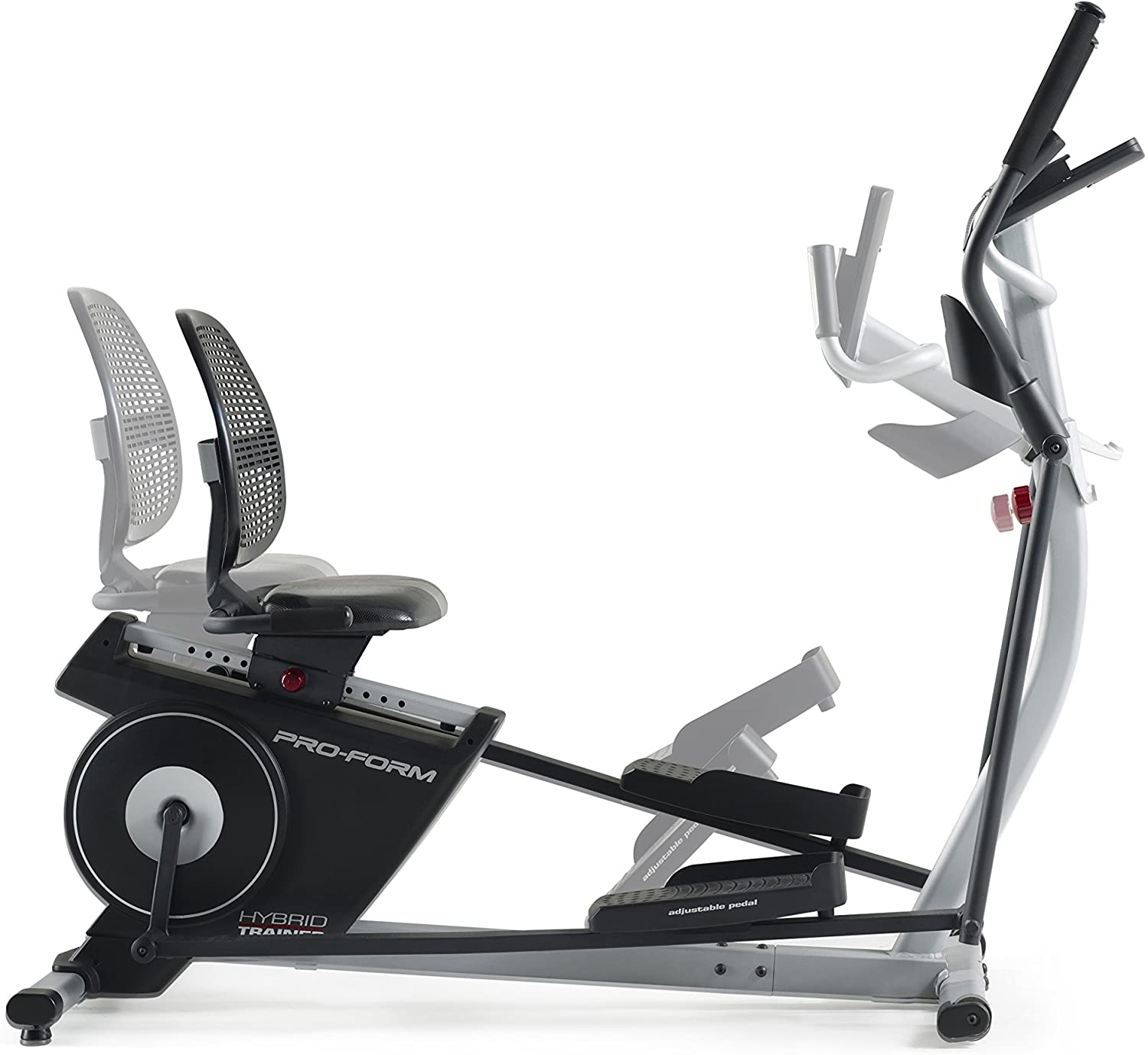 ProForm Hybrid Trainer
Now you can access the benefits of two machines in one. In two quick steps the Hybrid Trainer XT evolves from an elliptical to a recumbent bike. Simply adjust the pedals and console. And with the latest in fitness technology at your fingertips, you can enjoy daily motivation like never before with workouts designed to get you started and keep you motivated.
We really like this bike for its versatility—it's part recumbent exercise bike, part elliptical, providing cardio options depending on your needs. The Hybrid Trainer syncs with iFIT programming to provide countless options for streaming workouts from your own smart device.
Read our full ProForm Hybrid Trainer review.
What Is An Upright Bike?
An upright bike requires riders to sit in an upright position and pedal. Pedals are located under the hips in an upright bike versus in a legs-forward position on a recumbent bike. Upright bicycles offer a wide variety of options to fit any budget and technology preference. They're suitable for beginners, too, so don't worry about your fitness level.
There are different types of exercise bikes that fall under the upright bike category:
Stationary Bike
An upright stationary bike offers a tall upright seat more comparable to a beach cruiser bicycle, plus features pedals directly under the hips.
Air Bikes
Air bikes are stationary bikes that sit upright and use a fan blade to create resistance. Most air bikes, like the Rogue Echo Bike, feature handlebars that also attach to the fan blade, which means your arms and legs can both be in motion for a unique full-body biking experience. The use of a fan to create resistance means that the faster you pedal and work your arms, the more resistance you work against.
Studio Cycle Bikes
Studio cycle bikes are the type of bike you'll find in an indoor cycling class where the instructor has riders change the resistance via a knob. Resistance can be friction-based or magnetic-based. Magnetic resistance tends to produce a smoother ride—and requires less maintenance—but is more expensive than a friction resistance system.
Between the rising popularity of cycling classes and Peloton's dominance in this arena, this type of bike is more popular than ever. They can get pricey, though.The good news is that there are alternatives to pricey Peloton equipment and subscriptions.
Pros:
Low-impact but still recruits muscles full body, including abdominal muscles
Option of riding standing or sitting
Typically a smaller footprint than a recumbent bike
Foldable options are common
Cons:
Bike seat can be more uncomfortable than the larger seat on a recumbent bike
May be hard to get on and off if you have mobility issues
Best For:
Garage gym owners of any skill level can benefit from an upright exercise bike. With a few different subcategories to choose from, you will likely find something that fits your needs.
Upright Bikes We Recommend:
We know our exercise bikes, and our expert product testers have a few favorite upright bikes.
NordicTrack S22i
NordicTrack S22i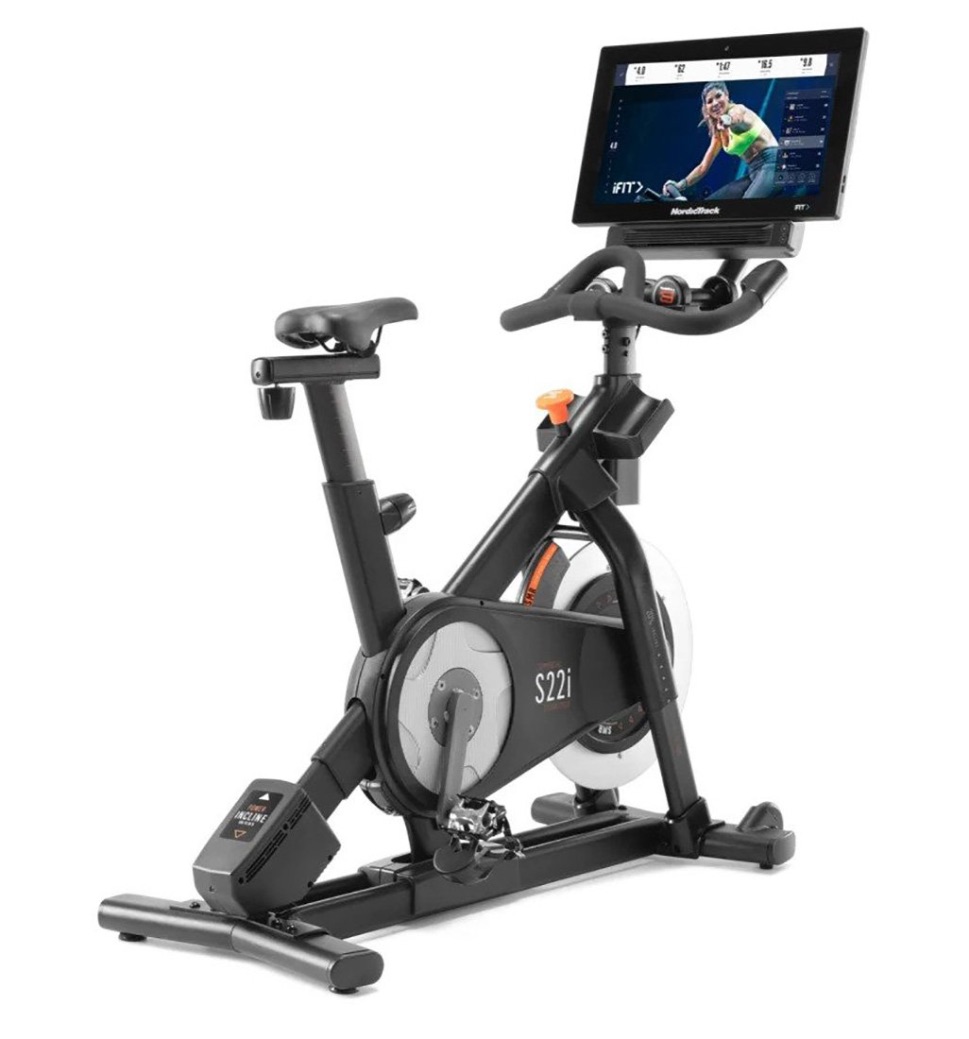 NordicTrack S22i Studio Bike
Join high energy studio classes, mountain bike rides in Moab, or ride a Tour de France stage all from the comfort of your home. Access on-demand classes with the world's best personal trainers for beginners or the hard-core cyclist. Interactive Personal Training comes to life as your personal trainer controls the incline, decline and resistance of your ride, a truly Interactive Experience.
With a 22-inch rotating touchscreen, iFIT programming, and incline and decline training, the NordicTrack S22i provides one of the best overall studio cycle experiences.
Read our full review of the NordicTrack S22i.
Rogue Echo Bike
Rogue Echo Bike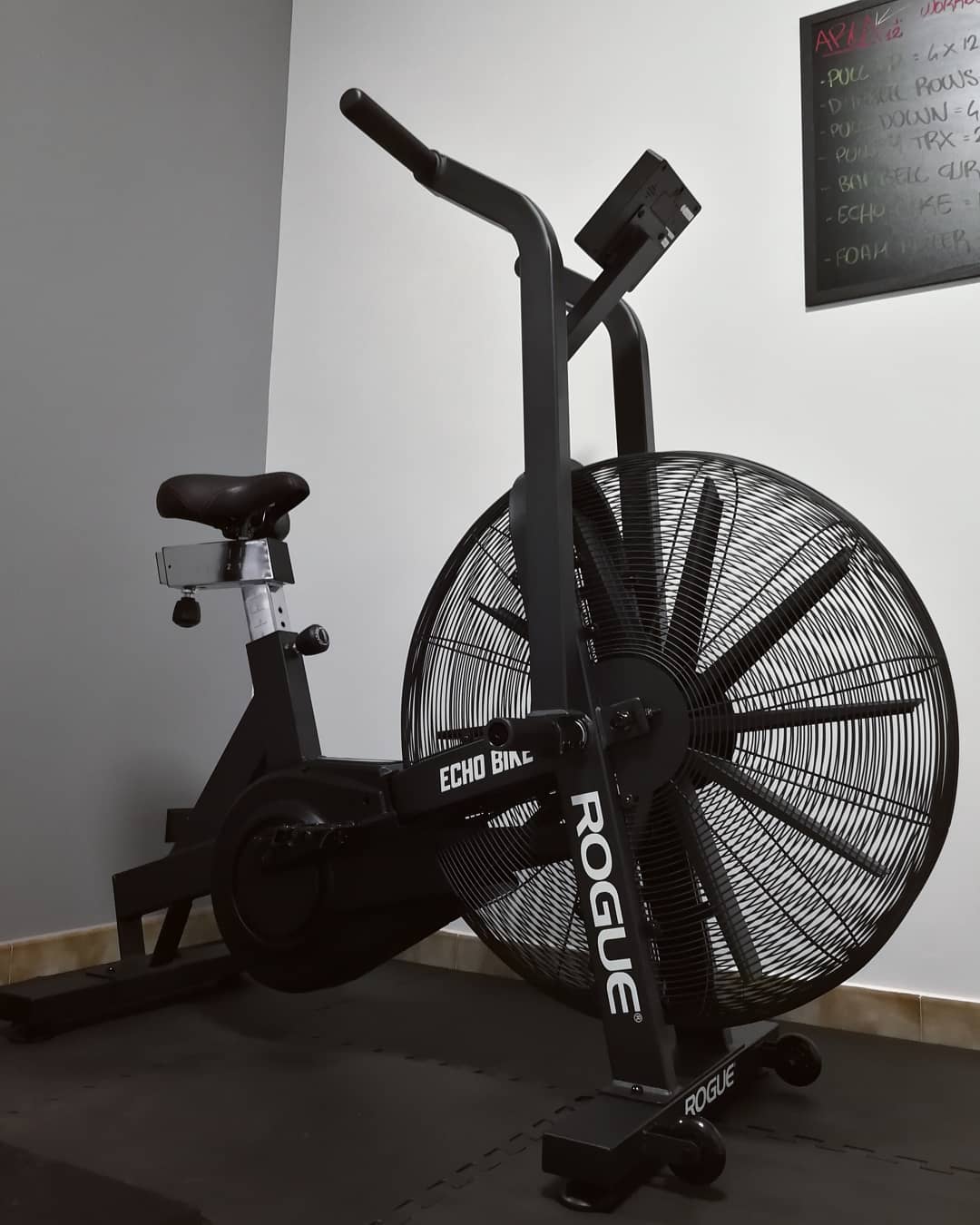 Rogue Echo Bike
The Rogue Echo Bike is durable due to its heavy-duty steel, high quality engineering, and customization that drives it to be stronger than the average fan bike. It is under warranty for up to two years from the date of purchase, assuming that the product is used under normal conditions per the User Guide. Since it is overbuilt, it creates a smoother ride. The Rogue Echo Bike is 127 pounds and has a 350-pound weight limit, which allows it to provide a sturdy foundation for max-outs and outbursts. The Echo Bike is quiet yet consistent due to its belt-driven steel fan blade. It is easily portable and has a battery powered LCD console that lets athletes track everything from distance to calories burned. Due to its weight, the Echo Bike stands sturdy and is not prone to wobbling. Its construct lends itself to balance even when pushed to max output bursts. To add to the stability, there are rubber leveling feet under each base tube that adapt to the ground and create balance even if the floor is not level. The 6.375-inch by 6.37-inch LCD console provides the athlete with a variety of modes. These include different types of intervals, target, and heart rate tracking. The crystal clear console uses two AA batteries, which come with the purchase of the bike. The Echo Bike is finished in a black powdercoat and the steel tubing is 2-by-3 inches, 1.25-by-3 inches, and 1.625-by-3.12 inches. The seat is easily adjustable and padded. It locks into eight different heights and five different front-to-back settings. The grip handles, which are made of rubber and are 1.5 inches in diameter, are a part of the bike's arms. There is a plate that is provided along with 4.5 inches long rating foot pegs and pedals. You do have to assemble the Echo Bike, but the tools you need are included with your order and align with easy to follow instructions. The fully constructed bike may sound overbearing, but Rouge has included a 1-inch wide set of wheels at the front of the unit, which allows it to easily be rolled around the gym. 
Our pick for best air bike, the Rogue Echo has a low-maintenance belt drive system, heavy-duty steel construction, and is simple to assemble.
Read our full review of the Rogue Echo Bike.
Sunny Health & Fitness Belt Drive Indoor Cycling Bike
Sunny Health and Fitness SF-B1002 Belt Drive Indoor Cycling Trainer
Priced below $400, this bike is a budget-friendly option that provides hundreds of resistance micro adjustments, an adjustable seat and handlebars, and conveniences like a water bottle holder and wheels to transport.
Recumbent Bike vs Upright Bike: Which Is Better?
When comparing the upright vs recumbent bike, determining which bike is better will be a highly individualized choice depending on your fitness goals. Both options offer a low-impact cardio workout that also strengthens the knee and hip joints. Ultimately, it's up to you on which riding position you prefer—for comfort, needs, and performance goals. The best piece of equipment is the one you want to use!
Also, we recommend talking to your physician before purchasing or using an exercise bike to gauge the best course of action for you as an individual. Every human body is different and the best piece of equipment for you is highly individualized.
RELATED: Recumbent Bike Workout
Which Bike Burns More Calories?
While indoor cycling overall has been shown to improve body composition, when it comes to upright bike vs recumbent bike and calorie burn, the upright bike has the upper hand—if we're talking about the same amount of time in the saddle at the same intensity level. That being said, it's hard to maintain the same intensity on a recumbent bike as you would on an upright bike.
All other factors the same though, the upright bike does require more muscle recruitment, specifically the core muscles.
"The more muscle stimulus your body undergoes, the harder the exercise becomes, and this leads to overall greater caloric expenditure," Nicole explains.
FAQs About Recumbent Bike vs Upright Bike
Is an upright bike better than a recumbent bike?
In a debate between the recumbent bike vs upright bike, neither is objectively better or worse. The best bike for you will depend on what you're looking to gain from an exercise bike. For example, if you're planning to train for road biking, you will want an exercise bike that most accurately represents your position on that road bike. If you suffer from injuries, like back pain, or need a very low-impact option, a recumbent bike could be the better choice.
Is a recumbent bike good for weight loss?
A recumbent bike is not inherently good or bad for weight loss. And, if you're looking to an exercise bike to lose weight, also ensure that you're focused on what you eat as well. While exercise is an important part of the equation and can help burn calories, nutrition plays an even bigger role. If you aren't consuming a proper diet for your goals, a recumbent bike won't make or break your weight loss progress. It can certainly support it, though, with the right food choices.
Can I get a good workout on a recumbent bike?
Yes. With your glutes, core, and back fully supported, you're left with an efficient way to target the leg muscles. The quadriceps and hamstrings are the largest group of muscles in the legs, so adjusting the resistance level or your speed to challenge yourself can provide a great workout.
Which bike is better for people with knee pain?
The good news is that both the upright bike and the recumbent bike offer low-impact solutions for the knee joint. As far as cardiovascular exercise equipment is concerned, either option will be a safe solution if you need a piece of cardio equipment for bad knees. If you experience chronic knee pain, speak with your primary care provider to help develop a plan to rehabilitate the aching joint.