We test and review fitness products based on an independent, multi-point methodology. If you use our links to purchase something, we may earn a commission. Read our disclosures.
Isopure Whey Protein Isolate is currently one of the most popular protein powders on Amazon, racking up almost 10,000 (mostly positive) reviews. Reviewers rave about its solubility and taste (or lack thereof if you get unflavored), and some even call it the best protein powder they've ever had.
With that kind of hype, we needed to try it for ourselves. We got the unflavored version and made DIY protein shakes, protein pancakes, and even protein soups. In this Isopure protein review, we'll share our experience, highlighting the good and the not-so-good to help you decide if it's right for your protein needs.
Medical disclaimer: This article is intended for educational and informational purposes only. It is not intended as a substitute for medical advice. For health advice, contact a licensed healthcare provider. GGR also recommends choosing a product that has been third-party tested for quality.
We've Tried a Lot of Protein
Our testers have personally tasted more than 70 protein powders, two dozen pre-made protein shakes, and a dozen meal replacement shakes. All this to say, we've had a lot of firsthand experience with most of the popular protein supplements out there—and we have a lot to say about them.
We developed an extensive rating system for supplements, and, as part of our GGR supplement testing methodology for protein powder, we dug into various factors, including taste, solubility, price, and third-party testing (among other things), and meticulously recorded our experience. We try protein powders with plain water, mix them with other ingredients in smoothies, and stir them into savory foods to see how they affect the taste. Then, we pass on all our findings to you.
Oh, and did we mention our team is made up of certified personal trainers, certified nutrition coaches, professional athletes, and certified CrossFit coaches? In other words, we're not just interested in health and fitness; we live it.
Isopure Whey Protein Isolate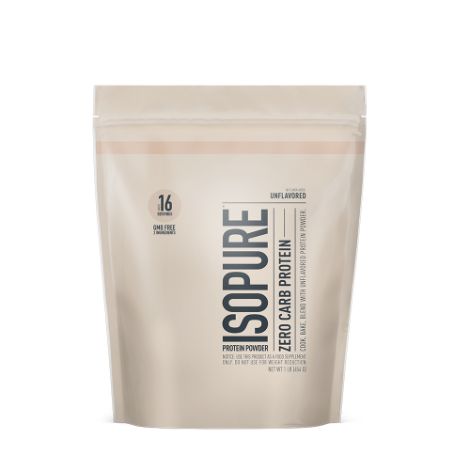 GGR Score: 4.2
Product Highlights
100% unflavored whey protein isolate

25 g of protein

Zero carbohydrates and fats

Sugar-free and lactose-free

Available in 16 servings or 47 servings
Pros & Cons
Pros
Pure whey isolate
Sugar-free
Lactose-free
Cons
Only unflavored available
Reviews report odd taste especially when mixed in water
Bottom Line
If you're looking for a pure whey protein isolate, a great option is Isopure Unflavored Whey Protein Isolate. This isolate is 100% whey with no carbohydrates and fats, making it sugar-free and lactose-free. This protein powder is available in 16 servings or 47 servings.
A Quick Look at Isopure Whey Protein Isolate
Isopure was launched in 1998 by two men named Hal and Ernie. They made the first batches of protein powder in a cement mixer and now, 25 years later, they have a full lineup of protein powders, protein drinks, and creatine.
RELATED: Best Protein Shakes
The Isopure Whey Protein Isolate is their flagship protein powder. Now there's also the Isopure Low Carb (a naturally sweetened version with 2 grams of carbohydrates per serving), Isopure Infusions (lighter, fruit-flavored protein powders that are good for mixing with water), and Isopure Plant (a vegan protein powder made with organic pea and brown rice protein).
We tested the unflavored version of the Isopure zero-carb protein powder; however, for this review, we'll do our due diligence and highlight some of the nutrition facts for the flavored versions, too.
Before You Buy
You'll get 25 grams of protein per serving, with zero carbs in the unflavored version.
It comes in 16- and 47-serving containers, but if you opt for the bigger size, it drops the price per serving pretty significantly.
The unflavored version only has two ingredients, but the vanilla and chocolate flavors are fairly "clean" too.
This protein powder isn't third-party tested, which gives us some pause, but Isopure has a good long-standing reputation.
Is Isopure Protein Worth It?
Ultimately, we think the Isopure Protein is a great option for many people. It has a high-quality protein source, tastes good, mixes well with sweet and savory foods (if you get the unflavored version), and is fairly reasonably priced.
RELATED: Protein Smoothie Recipes
Here's more information about who we think this protein is great for and who we think might want to skip it.
Great for:
Anyone who wants a super clean, pure protein
Those on low-carb or keto diets
People who want a good, unflavored option to mix into everything
Not recommended for:
Shoppers on a budget
Those who would rather have a plant-based protein
Anyone allergic to soy
Isopure Protein Specs
| | |
| --- | --- |
| Price per serving | $1.70 to $2.12 |
| Flavors | Unflavored, Chocolate, Vanilla |
| Protein per serving | 25 grams |
| Sweeteners | None |
| Third-party tested | No |
Experience Using Isopure Protein
Our tester, GGR Social Media Manager Brittany Combs, tried the unflavored Isopure Whey Protein Isolate and was pleasantly surprised. The take-home message?
"This is a really good unflavored protein powder!" she says.
But here's some more detailed information on formulation, taste, solubility, and side effects based on her first-hand testing.
Price Per Serving
Brittany gave the Isopure protein powder a 3 out of 5 rating for price because it's on the higher end of the spectrum for a protein powder.The price per serving depends on which size you get. If you opt for the smaller, 16-serving size, you'll pay $2.12 per serving. If you opt for the bulk jar (47 servings), the price drops to $1.70 per serving.
But you should consider that this is a higher quality protein and doesn't contain artificial ingredients or sweeteners, which you can typically expect to pay more for.
Formulation
The ingredient list is super clean, so Brittany gave Isopure a 5 out of 5 for formulation. The unflavored version she tested has just two ingredients: whey protein isolate and soy lecithin.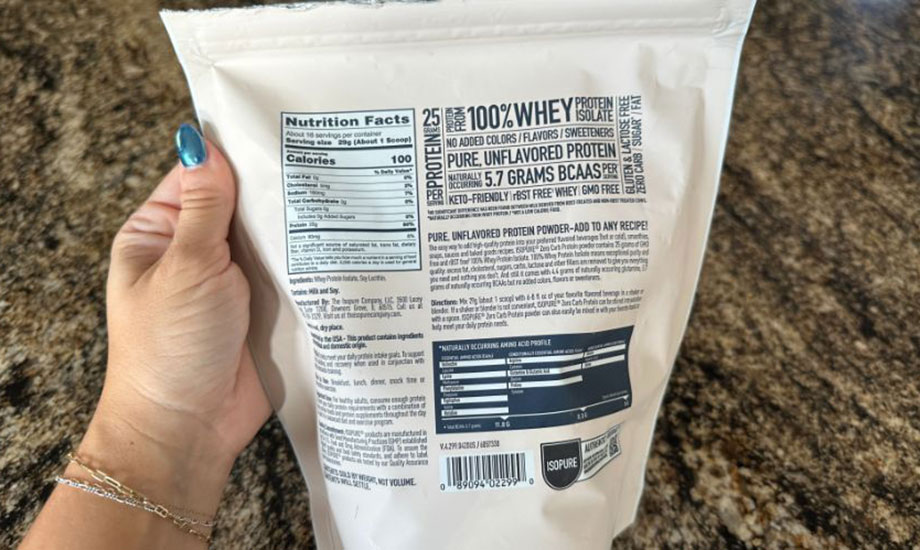 There are two flavored versions—Chocolate and Vanilla—and the ingredient list is a little more extensive. Still, it's much cleaner than many other similar protein powders. The flavored protein powders are made without artificial colors, flavors, or sweeteners and have no unnecessary additives or fillers. They're also enhanced with vitamin and mineral blends that include vitamins A, C, B12, calcium, potassium, and magnesium.
Taste and Solubility
The TL;DR is that this protein powder earned a perfect score (5 out of 5) for both taste and solubility.
"This is actually really good! I have added this to several different foods, and while the texture may have been altered slightly, I never really noticed a change in flavor, which is great! It dissolves well, too," Brittany says.
RELATED: Best-Tasting Protein Powder
She adds that she and her husband often joke about whether soup is a meal, an appetizer, or a side. In her opinion, "If it's got protein, it's a meal," so she adds this unflavored protein to their soups, and "you can't even tell."
She also mixes it into pancakes for her kids, and they don't notice a difference either. Another huge win if your kids are picky eaters, as this turns a morning standard that would be mostly carbs and sugar into a high-protein breakfast without altering the taste or texture.
Side Effects
Brittany (and her family) didn't experience any side effects when testing this protein powder, and isolates are pretty well-tolerated in general.
During processing, whey isolates have most of the fat and lactose removed. Because of this, even people with lactose intolerance can usually take them without an issue1. That said, whey protein powders can cause digestive upset2 in some people, so if you're new to whey protein, you might want to start small and work your way up to a full serving over a couple weeks. Or try one of our recommendations for the best protein powders for sensitive stomachs.
Third-Party Testing
Isopure isn't very forthcoming about third-party testing on their website. After messaging the company directly, we found that the products actually aren't third-party tested, which does give us some pause.
They said that products are tested during the manufacturing process by their own quality team, and that raw materials are tested to ensure the supplier information is accurate. They also stated they only source from suppliers that go through rigorous certification processes, and all raw materials are tested for identity, purity, strength and composition as required by FDA CFR 21 Part 111 for Dietary Supplements3.
In other words, there are quality controls put in place, but the finished product isn't actually tested by a third-party company to verify potency and purity. However, the company has a good reputation and has been around a long time, which makes us a little more confident.
Comparison to Similar Products: Isopure Protein vs Optimum Nutrition
Optimum Nutrition Gold Standard Whey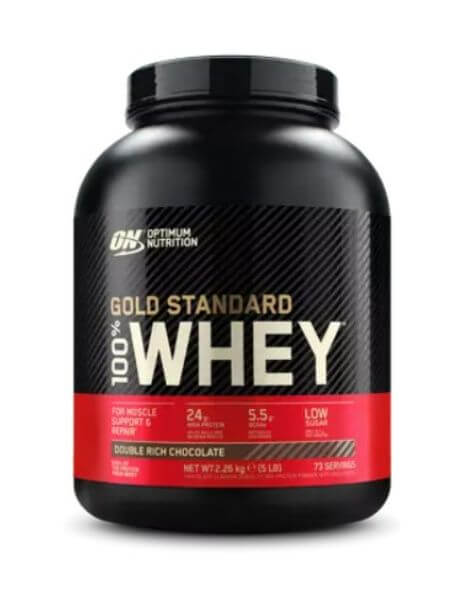 GGR Score: 4.2
Product Highlights
Contains 3 different kinds of whey protein

Tested for banned substances

Over 5 g of BCAAs per serving

Instantized to help prevent clumping
Pros & Cons
Pros
High in protein
Plenty of flavor options
Low in carbs
Cons
Some users say it's overly sweet
Contains artificial flavors
Most flavors contain sucralose
Bottom Line
With plenty of flavor and size options to choose from, Optimum Nutrition Gold Standard 100% Whey is a great basic choice in protein powder.
Optimum Nutrition Gold Standard Whey, or "ON Gold Standard Whey," as the fitness enthusiasts call it, is one of the most popular budget-friendly whey protein supplements. Aside from the price per serving, one of the biggest differences from Isopure is the ingredient list.
Isopure uses only natural ingredients and no artificial sweeteners; ON relies on both natural and artificial fillers, and sweetens its protein powders with artificial sweeteners like sucralose. The ON protein also contains a blend of whey protein isolate and whey protein concentrate, so it's not lactose-free like the Isopure.
For a more in-depth analysis of ON Gold Standard Whey, check out our Optimum Nutrition 100% Whey Gold Standard review.
Here's a side-by-side breakdown of both protein powders.
Isopure Whey Protein Isolate
Optimum Nutrition Gold Standard Whey
Price per serving
$1.70 to $2.12
$1.18 to $1.55
Flavors
Unflavored, Chocolate, Vanilla
18 flavors; made with
natural and artificial flavors 
Protein per serving
25 grams
24 grams
Sweeteners
None (unflavored); cane sugar
and monk fruit (flavored)
Sucralose
Third-party tested?
No
Yes; Informed Choice
Customer Experience
Isopure's return policy is straightforward. You can return your purchases directly through the brand's website within 30 days of receiving your shipment. Returns won't be accepted past 30 days.
There's no money-back guarantee like with some other protein powders, though. You can't return an opened protein powder, so if you don't like it, you're stuck with it.
Ordering Isopure Whey Protein Isolate
When you order this protein from the brand, you can choose from two size options: 16 or 47 servings. There's no subscription option, but you can get 15% off your first order if you sign up for Isopure's newsletter. You'll also get free standard delivery if you spend $75 or more. If you spend less than that, shipping is just under $6 for standard delivery (3 to 8 days) or $17 for next-day.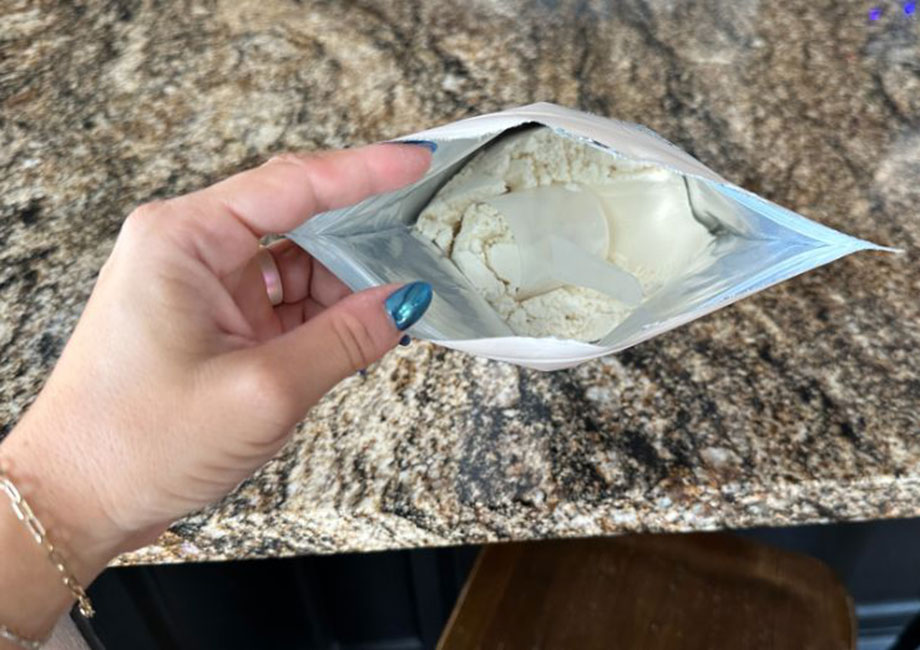 Customer Reviews
Isopure's Whey Protein Isolate has almost 10,000 customer reviews on Amazon, most of which are overwhelmingly positive.
The protein powder has an average of 4.5 out of 5 stars, and customers call out the clean ingredient list, excellent solubility, and lack of side effects as some of the best features of the protein powder. Several reviewers say they don't even need to use a blender—they just mix it with a shaker cup or even a spoon and it mixes perfectly.
"It works well for mixing in with lots of different flavors. I actually got this to mix with coconut water to get the benefits of that plus protein post-workout. Tastes like it's not even there, dissolves easily and has a good protein content with low carbs," writes one Amazon reviewer.
Ketogenic reviewers also love that the unflavored version has zero carbs and a high protein content.
"[It's] so great for making my keto baked goods! I make keto bread and keto cakes with it, and even a tempura batter with it this year for Christmas! Versatile is an understatement. I strive to always have this product in my cabinet, and you cannot beat this price anywhere you look," says one five-star reviewer.
RELATED: Best Keto Protein Powder
Final Verdict of Our Isopure Whey Protein Isolate Review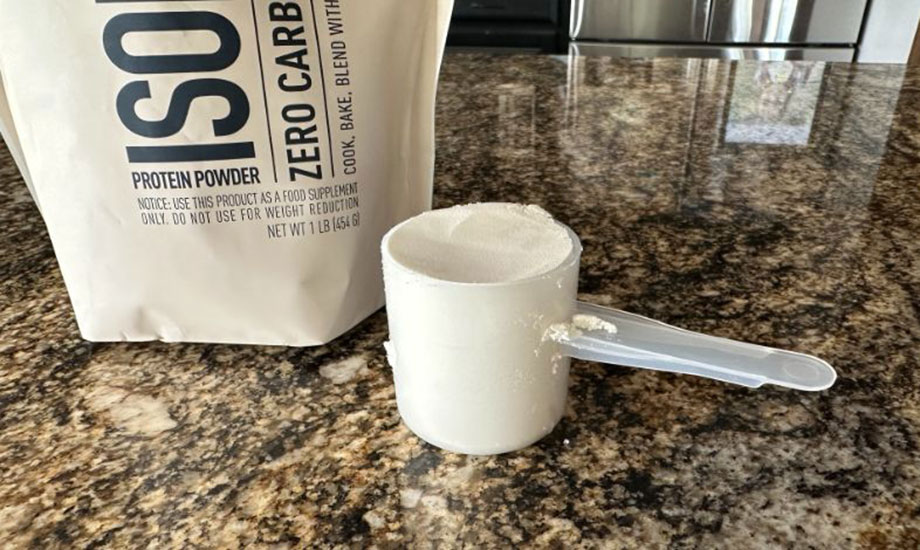 Overall, we really like the Isopure Whey Protein Isolate. It tastes good and blends in well, and the macronutrient profile is really impressive, especially for those on high-protein and/or low-carb diets. The downside is that it's not third-party tested, so you'll have to take the brand's word that you're getting what they say you are.
It's a high-quality, low-carb protein
It tastes good and blends/dissolves well
No third-party testing to back up claims
If you want to see what else the team of experts at GGR recommends, check out our roundup of the best whey protein.
Full Rating
Isopure Whey Protein Isolate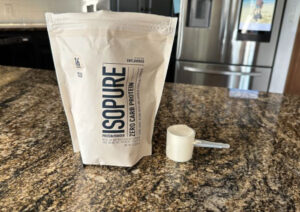 Isopure Unflavored Whey Protein Isolate is 100% whey with no carbohydrates and fats, making it sugar-free and lactose-free. This protein powder is available in 16 servings or 47 servings.
Product Brand: Isopure
Product Currency: USD
Product Price: 27.50
Product In-Stock: InStock
Isopure Whey Protein Isolate: FAQs
Does Isopure protein build muscle?
Yes, Isopure protein may help you build muscle when combined with regular strength training. This isn't exclusive to the Isopure brand, though, as all whey protein supplements may contribute to muscle-building4.
Is Isopure a clean protein powder?
On the surface, Isopure makes a very clean protein powder. There are only two ingredients for the unflavored version, and it's an isolate, which means most of the fat and lactose are removed, leaving you with a very pure protein. There is a gray area, though. Isopure's products aren't third-party tested, so there's no way to verify exactly what's in them.
What happens when you take Isopure whey protein?
In the short term, Isopure protein powder can help curb cravings and reduce appetite5, so you may consume fewer calories, which can contribute to weight loss (if that's your goal). In the long-term, it can help you build lean muscle mass6 when combined with strength training. Whey protein is also high in L-glutamine, which is connected to better gut health7.
These statements have not been evaluated by the Food and Drug Administration. This product is not intended to diagnose, treat, cure, or prevent any diseases.
References
1. Hoffman, JR, Falvo, MJ. Protein – which is best?. J Sports Sci Med. 2004;3(3):118-130.
2. Ambulkar, P, Hande, P, Tambe, B, et al. Efficacy and safety assessment of protein supplement – micronutrient fortification in promoting health and wellbeing in healthy adults – a randomized placebo-controlled trial. Transl Clin Pharmacol. 2023;31(1):13-27. doi:10.12793/tcp.2023.31.e1
3. U.S. Food and Drug Administration. Small entity compliance guide: current good manufacturing practice in manufacturing, packaging, labeling, or holding operations for dietary supplements. December 2010.
4. Kim, CB, Park, JH, Park, HS, Kim, HJ, Park, JJ. Effects of whey protein supplement on 4-week resistance exercise-induced improvements in muscle mass and isokinetic muscular function under dietary control. Nutrients. 2023;15(4):1003. doi:10.3390/nu15041003
5. Rigamonti, AE, Leoncini, R, De Col, A, et al. The appetite-suppressant and GLP-1-stimulating effects of whey proteins in obese subjects are associated with increased circulating levels of specific amino acids. Nutrients. 2020;12(3):775. doi:10.3390/nu12030775
6. Bergia, RE 3rd, Hudson, JL, Campbell, WW. Effect of whey protein supplementation on body composition changes in women: a systematic review and meta-analysis. Nutr Rev. 2018;76(7):539-551. doi:10.1093/nutrit/nuy017
7. Perna S, Alalwan TA, Alaali Z, et al. The role of glutamine in the complex interaction between gut microbiota and health: a narrative review. Int J Mol Sci. 2019;20(20):5232. doi:10.3390/ijms20205232