We test and review fitness products based on an independent, multi-point methodology. If you use our links to purchase something, we may earn a commission. Read our disclosures.
From the roster of product testers that brought you best whey protein powder, best pre-workout, and best mass gainer, we now bring you the best protein shakes for when scooping and shaking is simply not an option. (Yes, those times do happen.) 
Ahead, learn about some of the best pre-made protein shakes on the market for on-the-go days when you need a quick, easy, and tasty high-protein snack or meal replacement.
Medical disclaimer: This article is intended for educational and informational purposes only. It is not intended as a substitute for medical advice. For health advice, contact a licensed healthcare provider.
Shake, Shake, Shake It Off
This guide to the best protein shakes wasn't created by a faceless internet forum anon. This guide is the culmination of weeks of product testing and tasting by our team of certified personal trainers and nutrition coaches, all of whom actually ordered, unboxed, and tasted the products we recommend.
Related: Best Protein Powder
Best Protein Shakes in 2023
Best Protein Shake Overall: Fairlife CorePower High-Protein Milk Shake
Good for: Anyone looking for a tasty, high-protein drink in the basic but delicious flavors of strawberry, chocolate, and vanilla
The Fairlife CorePower High-Protein Milk Shake snags this spot as the best overall protein shake for its high marks in taste, texture, and protein content.
Product tester and GGR writer Anthony O'Reilly remarks that the texture is "like milk" and the Elite Vanilla flavor "tastes like my childhood vanilla ice cream cone but in protein form—slightly malted and you can truly taste the vanilla."
There are two versions of these Fairlife bottled protein shakes, regular and elite. The elite versions contain more protein—a whopping 42 grams compared to the still-good 26 grams in the regular version.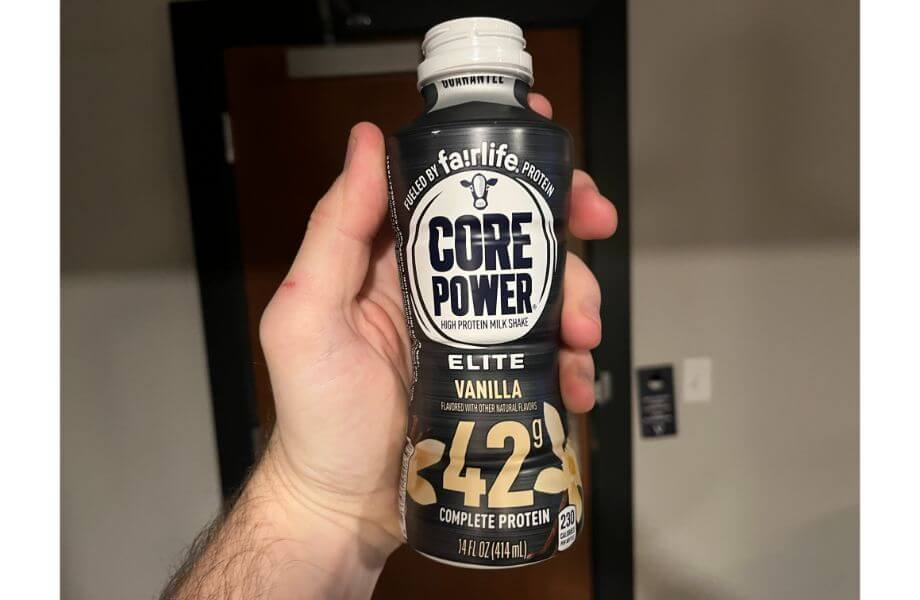 While the protein content per serving remains steady (26 or 42 grams), the counts for calories, sugar, fat, carbs, and micronutrients vary depending on which flavor you get. Regardless, the nutrient profile across the board is solid.
Our one complaint about the Fairlife shakes is that they contain a multitude of sweetener types. In the vanilla flavor, there are four: Monk fruit juice concentrate, stevia leaf extract, acesulfame potassium, and sucralose. This isn't inherently problematic, but something to watch out for a triple-check if you tend to have adverse reactions to sugar alternatives.
Related: Best BCAA Supplements
| | |
| --- | --- |
| Calories per serving | Varies by flavor |
| Protein per serving | 26 or 42 g |
| Flavors | Vanilla, Chocolate, Strawberry Banana, Elite Vanilla, Elite Chocolate, Elite Strawberry |
| Sweeteners | Monk fruit juice concentrate, stevia leaf extract, acesulfame potassium, sucralose |
Best Protein Shake for Building Muscle: Premier Protein Protein Shakes
Good for: People who are serious about upping their protein intake to pack on muscle and want a lot of flavors to choose from
Adding 30 grams of protein to your diet daily doesn't get any easier than downing a Premier Protein Shake. The flavor lineup is so big you may not be able to choose just one, and each flavor packs 30 grams of protein in 160 calories. For those who are counting macronutrients, Premier Protein Shakes are a great choice due to that consistency among flavors.
Those concerned about artificial ingredients may be taken aback by the long ingredients list. But don't overthink it: Most of that lengthy list is showing the individual micronutrients in Premier Protein's nutrient blend, which is added to each flavor. Aside from protein, these shakes include 25 vitamins, minerals, and electrolytes.
I've been drinking these on and off for years, and I'm a big fan. The Vanilla flavor tastes like a vanilla milkshake and the Chocolate tastes like chocolate milk. They're sweet but not too sweet, and even though they contain artificial sweeteners, I don't get that distinct aftertaste.
As for texture, Premier Protein shakes are smooth and creamy, and they go down easy. I sometimes use the Vanilla and Caramel flavors as coffee creamer and I love how rich and sweet it makes my morning cup of Joe.
Related: How Much Protein Do I Need?
| | |
| --- | --- |
| Calories per serving | 160 |
| Protein per serving | 30 g |
| Flavors | Chocolate, Vanilla, Caramel, Cookies & Cream, Cafe Latte, Chocolate Peanut Butter, Cake Batter Delight, Strawberries & Cream, Winter Mint, Pumpkin Spice, Cinnamon Roll, Root Beer Float, Bananas & Cream, Peaches & Cream |
| Sweeteners | Sucralose, acesulfame potassium |
Best Meal Replacement Protein Shake: Huel Ready-to-Drink
Good for: Busy people who need a nutrient-packed, high-protein meal replacement; people who are bulking and can't down any more solid food
Huel Ready-to-Drink is more than a protein shake: It's a meal replacement, which conveniently contains 20 or 22 grams of protein, depending on the flavor you get.
There are eight flavors, and some flavors have a v1 and a v2. The difference is that the v2 shakes include hemp, which allowed Huel to squeeze an extra 2 grams of protein into the shakes as well as reduce their environmental impact by using a more sustainable crop.
Huel claims that its Ready-to-Drink shakes are the most nutritionally complete option available, and honestly, I believe it, based on the nutrition facts and ingredients. These shakes contain all 27 essential vitamins and minerals, as well as ample fiber, fat, carbohydrates, omega 3s and 6s, BCAAs, and phytonutrients.
Only some of the v1 flavors include the artificial sweetener sucralose, with all of the others utilizing stevia and ground coconut sugar instead. These shakes are gluten-free, lactose-free, non-GMO, and free of palm oil.
As you might (unfortunately) expect, something so clean can't possibly be the tastiest product on the market. I tried the complete lineup of Huel v2 Ready-to-Drink shakes, and while they're not bad per se, I definitely wouldn't compare them to the Premier Protein or Fairlife shakes.
They are also extremely thick—like, makes-your-mouth-sticky thick. However, it's not terrible. It's smooth and creamy, but be prepared for how thick it is. They're extremely filling and to date, I've not finished a single bottle in one sitting. I do like to have a quarter or half of a bottle before a morning long run in place of eating solid food! It's hard for me to eat before morning training, so these help a lot in those cases.

Related: Best Plant-Based Protein Powder
| | |
| --- | --- |
| Calories per serving | 400 |
| Protein per serving | 22 g |
| Flavors | Chocolate, Vanilla, Iced Coffee Caramel, Berry, Banana, Strawberry Shortcake, Cinnamon Roll, Salted Caramel |
| Sweeteners | Coconut sugar, steviol glycosides, sucralose (v1 flavors only) |
Best Vegan Protein Shake: Ripple Protein Shake
Good for: People looking for a high-protein vegan shake to support health and fitness goals
If you've read any of our other protein-related guides (like best protein bars), you might recall that, in general, our product testers aren't fans of vegan protein supplements. We try to remain objective, but none of us eat a vegan diet, so it's tough. That's actually why we're always SO stoked to find a vegan protein product that tastes good and has a solid nutrient profile.
Such is the case with the Ripple Protein Shake, tested by GGR writer Lauren Strong. "For a vegan shake, I was blown away," she says. "The chocolate flavor was smooth and not overly sweet. Both my husband and I liked these and drank them willingly—not just when we were in a pinch for an easy 20 grams of protein."
Additionally, "The texture has the right balance between not too creamy or too thin," which Lauren liked. And as for side effects? "Nothing other than feeling satisfied and curbing my hunger."
Not only are these free of dairy products, soy, nuts, and gluten, but they use natural sweeteners only, which I really like. The sweeteners include cane sugar and monk fruit extract, and although that means the sugar content is a bit higher at 9 grams, it's a trade-off worth having for those who prioritize natural ingredients.
| | |
| --- | --- |
| Calories per serving | 200 |
| Protein per serving | 20 g |
| Flavors | Chocolate, Vanilla, Coffee |
| Sweeteners | Cane sugar, monk fruit extract |
Best Plant-Based Protein Shake: OWYN Plant-Based Protein Shake
Good for: Anyone who needs to be cautious of allergens; these shakes are free from the top eight major allergens
Free of dairy, animal ingredients, artificial sugars, soy, gluten, wheat, egg, peanut, and tree nuts, OWYN Plant-Based Protein Shakes are a good option for people who have multiple dietary no-nos, from minor allergies to intolerances to autoimmune diseases.
OWYN shakes use protein derived from peas and pumpkin seeds, and every flavor includes a greens blend of broccoli, kale, and spinach for an extra nutrient boost. Thankfully, those greens go undetected, according to product tester Anthony.
He tried the Cookies and Creamless flavor, and thought it was tasty overall. "I thought it had more "cream" than cookie flavor," he says. "The texture was a bit watery, but not really in a bad way. It just went down a bit easier than something made from actual cream."
Additionally, "It didn't leave any aftertaste on my tongue like you sometimes get with protein shakes," Anthony praises.
Each bottle has 20 grams of protein from OWYN's protein blend, which includes pea protein, pumpkin seed protein, and organic flax oil. These shakes are sweetened with organic cane sugar and monk fruit extract, and contain 4 grams of added sugar.
| | |
| --- | --- |
| Calories per serving | 170 or 180 depending on flavor |
| Protein per serving | 20 g |
| Flavors | Dark Chocolate, Cold Brew Coffee, Smooth Vanilla, Cookies and Creamless, Sea Salted Caramel, Strawberry Banana |
| Sweeteners | Monk fruit extract, organic cane sugar |
Best Fruity Protein Shake: Ascent Recovery Water
Good for: Those who want an easy way to consume more protein but are sick of dessert flavors
Up to this point, every protein shake on our top picks list has been chocolate, vanilla, or some other sweet dessert flavor. I'm a self-proclaimed chocoholic with a serious sweet tooth, but even I get tired of such flavors at times.
Welcome Ascent Recovery Water to your supplement stack, for when you need a punch of protein but can't stomach the thought of another milkshake-like drink. Ascent Recovery Water consists of 20 grams of native whey protein and 250 milligrams of electrolytes in a 100-calorie bottle.
It's available in four fruity flavors: Fruit Punch, Orange Mango, Pineapple Coconut, and Watermelon. I got Fruit Punch to test for this guide, but I have tried Orange Mango in the past. I prefer the latter, although both are tasty; very vibrantly fruity.
These certainly aren't your average protein shake! They're more of a juice than a shake, similar to SEEQ Clear Whey Protein, which we feature in our guide to the best-tasting protein powder.
The texture is thin and watery—which in this case is a very good thing, otherwise you'd be drinking a fruit punch milkshake. Yuck. It is slightly grainy and does have an interesting mouthfeel, but that's not a dealbreaker for me.
(P.S. these do not actually contain any real fruit juice, so don't depend on them for your daily dose of vitamin C.)
| | |
| --- | --- |
| Calories per serving | 100 |
| Protein per serving | 20 g |
| Flavors | Fruit Punch, Orange Mango, Pineapple Coconut, Watermelon |
| Sweeteners | Organic cane sugar, stevia leaf extract |
Best Organic Protein Shake: Orgain Organic Protein Grass-Fed Protein Shake
Good for: People who eat an organic-only diet and prioritize natural ingredients
Grass-fed milk protein concentrate is behind the 20 grams of protein in the Orgain Organic Grass-Fed Protein Shakes. Available in Creamy Chocolate Fudge and Vanilla Bean, these bottled protein shakes include just 3 grams of sugar and 2 grams of fat, with 11 grams of carbohydrates and 130 calories.
Nicole Davis, GGR editor and tester of these protein shakes, said they're "pretty good, definitely chocolate-y." And they have "a bit of an aftertaste, but it's not super off-putting."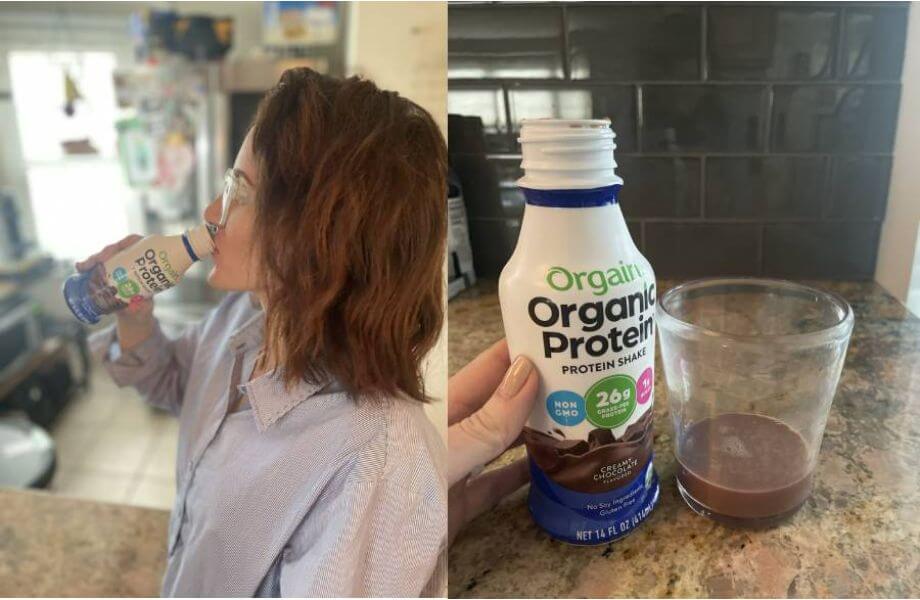 "If I was out and about and needed an easy protein source, I'd buy one of these again!" she says, noting that the texture is "very creamy, similar to whole milk."
"This was what sold me on these—you just can't really achieve this consistency with protein powder at home, unless maybe you are mixing with whole milk, which I would never do," Nicole says.
These Orgain shakes are free from artificial sweeteners and sugar alcohols, such as sucralose and erythritol, respectively. They're sweetened with organic agave, monk fruit extract, and stevia extract. They also contain a good bit of calcium (45% of the daily value) and small amounts of iron and potassium.
| | |
| --- | --- |
| Calories per serving | 130 |
| Protein per serving | 20 g |
| Flavors | Creamy Chocolate Fudge, Vanilla Bean |
| Sweeteners | Organic agave, organic monk fruit extract, organic Reb A (stevia extract) |
Best Lactose-Free Protein Shake: Chobani Complete
Good for: People who want all the richness of dairy shakes without the digestive upset
When you hear "Chobani," your mind probably goes to "yogurt." Mine does, too, so I was a little surprised to learn that Chobani makes a lactose-free (not dairy-free) protein shake. But they do indeed.
Chobani Complete shakes contain 20 grams of protein, 3 grams of fiber, and 0 grams of added sugar. The protein comes from cultured low-fat milk, but Chobani adds lactase to the shakes. Lactase is an enzyme that breaks down lactose, and this essentially pre-digests the lactose, making the drink tolerable for people with lactose intolerance.
The result is a super smooth, creamy protein shake with all of the flavor and rich texture you'd get from a dairy-based shake, but without the digestive discomfort. Available in four flavors, Chobani Complete is sweetened with monk fruit extract and stevia leaf extract.
Due to the natural fruit content and sugars from milk, these shakes are higher in sugar with 11 to 12 grams of sugar per bottle, depending on the flavor. However, none of it is added sugar, which is a plus.
My only real complaint regarding these is that you can't purchase them in bulk, at least not to my knowledge. You can get them online in singles via Amazon Fresh and other grocery delivery services, but otherwise, you have to buy them in-store as individual bottles, too.
| | |
| --- | --- |
| Calories per serving | 170 |
| Protein per serving | 20 g |
| Flavors | Vanilla, Mixed Berry Vanilla, Strawberry Cream, Cookies and Cream |
| Sweeteners | Monk fruit extract, Reb M (stevia leaf extract), fruit |
Other Protein Shakes We Researched
Though the above protein shakes represent our top picks for this type of supplement, we looked at many other options, from ones you can buy in bulk on Amazon to the individual bottles you can pick up at Whole Foods. Some of those include:
GNC Total Lean Shake Vanilla Protein Shake
Orgain Plant Protein Shakes
Protein2o Whey Protein Isolate Infused Water
Evolve Plant Based Protein Shake
Dymatize ISO100 Clear 100% Whey Protein Isolate Drink
Pure Protein Complete Protein Shake
Optimum Nutrition 100% Gold Standard Whey Protein Drink
Aloha Organic Plant-Based Protein Shake
Iconic Protein Drink
Ultimately, the products you see above earned their places in this guide due to their taste, texture, and nutritional value.
How We Picked and Tested the Best Protein Shakes
As always, our team of expert product testers began with our own experience with protein shakes—we added the ones we like to our list and nixed the ones we didn't.
We then ordered all of the shakes we wanted to try specifically for this guide and got them delivered to our houses. We consumed them for breakfast, as snacks, post-workout, and on-the-go to curb hunger in a pinch.

During our testing, we took note of factors like taste and texture, mouthfeel, aftertastes, side effects, and satiety. We combined those findings with the nutritional profiles of each drink, plus any third-party certifications, to establish our list of the best protein shakes, which you see here.
Benefits of Protein Shakes
Protein shakes, like protein powder, bring many potential health benefits to the table. Here's a look.
Increase Daily Protein Intake
If you aren't getting enough protein each day, a protein shake is one great way to increase your daily amount of protein, as well as your daily intake of essential amino acids and other nutrients. Even vegan protein powders and shakes can help, thanks to sources like chia seed protein and brown rice protein. Remember, though, that plant proteins aren't complete proteins, meaning they don't contain all nine essential amino acids.
Support Satiety
Protein can help you feel more full throughout the day1, which is helpful if you're trying to lose weight, struggle with cravings, or tend to be on-the-go and can't always eat at opportune times.
May Help With Weight Loss
Increasing your dietary protein intake may help with energy regulation and appetite, thus contributing to successful, long-term weight loss, according to a 2012 study in the British Journal of Nutrition.2
May Help Build Muscle
Perhaps the most well-known benefit of protein among fitness-minded individuals is its ability to assist in the muscle-building process. Aside from water, muscle tissue is primarily composed of bundles of proteins called myofibers3, which means a big key to packing on more muscle mass is consuming more protein to support the growth of new muscle tissue4. Additionally, consuming protein post-workout is shown to assist with muscle recovery, according to a 2019 study published in the Journal of Sports Science and Medicine.5
Quick, Easy Snack
Finally, pre-made protein shakes can support your overall wellness goals by providing a healthy and tasty snack to hold you over until your next meal.
Dosing and Interactions
There's nothing to really be concerned about in regard to protein and its relationship to other nutrients.
Protein is an essential nutrient and a macronutrient, which means human bodies need it in large quantities. Eating too much protein or too much of a specific type of protein isn't a concern for most people; in reality, many individuals could stand to consume more than they currently do.
One thing worth noting is that protein will slow the digestion of carbohydrates, so if you need a boost of quick energy for a workout, it's best to consume carbohydrates in isolation.
Related: Best pre-workout for men
Buying Guide: What to Look for in Protein Shakes
As you search for your new go-to protein shake, consider the following factors.
Protein Per Serving
We recommend looking for a protein shake that has at least 20 grams of protein per serving. This is considered the industry standard, although you'll find some with more, such as the Premier Protein Shakes and Fairlife CorePower Elite shakes that we recommend.
Calories Per Serving
Calories aren't everything, but forgoing a quick check could be detrimental to your goals if you're either trying to lose weight or gain weight. Low-calorie protein shakes aren't a necessity for weight loss; just make sure that, if weight loss is your goal, consuming one each day won't pull you out of your calorie deficit.
Nutritional Profile
Do you eat a specific sort of diet, such as soy-free, keto, or gluten-free? Make sure to check the ingredients list, not just the nutrition facts label. The ingredients list is where you'll find things you won't necessarily see on the nutrition label. Such ingredients might include soy lecithin, sunflower oil, collagen, soluble fiber, carrageenan, maltodextrin, and others.
Sweeteners
Look to the ingredients label to find sweeteners used in the drink, too. Artificial sweeteners and sugar alcohols aren't inherently bad, but if they cause you digestive problems, it's probably best to steer clear. Many shakes include natural alternatives to sugar as well, such as stevia extracts and monk fruit extract.
Storage Needs
If you plan on using protein shakes as a way to curb hunger on busy days away from home, make sure to check the storage needs. Many shakes must be kept refrigerated, although not all.
FAQs About Protein Shakes
More questions about protein shakes? We've got answers.
Are protein shakes good for you?
The nutritional profile of protein shakes varies dramatically from brand to brand and from product to product. In general, protein shakes can be a part of a healthy diet, but it's important to check labels and make sure any product suits your needs. If you're concerned about protein shakes related to a specific health concern, the best thing to do is talk to a registered dietitian nutritionist.
What happens if you drink protein shakes every day?
Hopefully, just that you enjoy a more regulated appetite and notice some muscle growth after a while! Unless you're already consuming a very high-protein diet, it's highly unlikely that drinking a protein shake everyday will have any adverse effects.
What are the side effects of protein shakes?
Protein shakes won't cause side effects for most people. However, certain ingredients can cause gastrointestinal symptoms. Lactose, gluten, soy, artificial sugar, and sugar alcohols are common culprits. Also, if you're not used to consuming 20 or more grams of protein in one sitting, that may cause some cramping or bloating, but your body will adjust over time.
These statements have not been evaluated by the Food and Drug Administration. This product is not intended to diagnose, treat, cure, or prevent any diseases.
References