We test and review fitness products based on an independent, multi-point methodology. If you use our links to purchase something, we may earn a commission. Read our disclosures.
If the only thing better than an A is an A+, does that mean the only thing better than whey protein powder is Whey+? Legion Athletics wants you to think so, but our Legion whey protein review will determine whether this protein supplement makes the grade.
Legion Athletics Whey+ Whey Isolate Protein Powder makes a lot of promises on its website and packaging about this supplement's purity and claims it's specially formulated to boost muscle growth and strength. This review will examine each claim to let you know whether those promises are just marketing talk or if this supplement can help you achieve your fitness goals.
Medical disclaimer: This article is intended for educational and informational purposes only. It is not intended as a substitute for medical advice. For health advice, contact a licensed healthcare provider.
Professionals Weighing the Pro(tein)s and Cons of Every Supplement
Protein powder and other supplements can be very subjective when it comes to things like taste, but there are undeniably some aspects that are black and white. That's why we've stacked our team with certified nutrition coaches, competitive weightlifters, and certified personal trainers who have used and understand the true benefits of creatine, protein powders, greens powders, and more.
We've also asked Laila Ouldibbat, a New York City-based registered dietitian who's pursuing a Ph.D. in Biological Sciences, to give her professional opinion on Legion Athletics Whey+ Whey Isolate Protein Powder.
Legion Whey Protein
GGR Score: 4
Product Highlights
Sourced from small dairy farms in Ireland

Over 5 g of BCAAs per serving

Non-GMO and animal welfare approved

Third-party tested for banned substances
Pros & Cons
Pros
Low in carbs and fat
Natural ingredients
Money-back guarantee
Made with ethically-sourced milk
Lots of flavor options
Cons
Comparably high cost per serving
May be clumpy when mixed
Some flavors have mixed reviews
Bottom Line
Legion Whey+ is a clean, sustainable protein powder that also is macro-friendly and a great option for anyone looking for a clean protein supplement.
A Quick Look at Legion Whey Protein
The Legion whey protein powder we're taking a look at today is Whey+, a whey isolate protein powder made by supplement company Legion Athletics. Whey isolate protein powders are developed from whey, which is a byproduct of turning cow's milk into cheese, but they've been put through a special filtration process to remove a lot of fat and lactose (sugars).
This process also makes it less likely that those with dairy sensitivities (such as lactose intolerance) will experience any digestive issues when consuming whey protein isolate.
Related: Best probiotic
Whey+ is touted as an all-natural supplement that's clear of any heavy metals or banned substances. Each bag of Legion whey protein bears Truly Grass-Fed and Animal Welfare-Approved marks, meaning the cows that produce the dairy are kept in the best conditions.
You can purchase it in 15 flavors, including unflavored.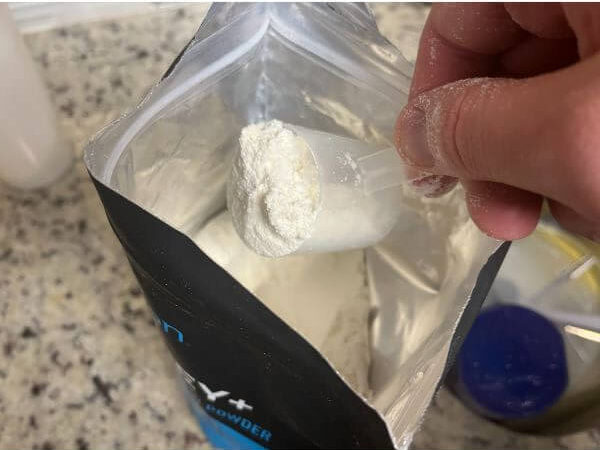 Before You Buy
Legion Athletics has a "no-questions-asked money-back guarantee"—no forms necessary and you don't have to return the protein powder.
You can save 10 percent on every bag of protein by placing your order on a subscription basis, which also ensures you'll never run out of protein powder.
Is Legion Whey Protein Worth It?
Legion Whey+ protein comes in 2-pound bags that have 30 servings and cost around $60. The nutritional content varies by flavor but you'll get anywhere from 22 to 24 grams of protein, 1 to 2 grams of fat, and 2 to 6 grams of carbohydrates.
The per-serving cost is $1.99 for one-time purchases and $1.79 if you put it on a subscription. That's around the same for most high-quality protein powders, but there are certainly much more affordable options with similar macros.
So is Legion worth the extra price or should you go for something a little more budget-friendly, such as Optimum Nutrition 100% Gold Standard Whey? It depends which of these two camps you fall into:
Great for:
Anyone looking for all-natural supplements with non-GMO ingredients
Those who are passionate about animal welfare
People who want a low-fat, low-carb protein powder
Not recommended for:
Anyone on a budget
Those looking for high-protein supplements (24 grams is average for a protein powder)
People who don't like the taste of Stevia (a natura
Legion Whey Protein Specs
| | |
| --- | --- |
| Price per serving | $1.99 |
| Flavor | 15 |
| Protein | 22-24 g |
| Carbs | 2-6 g |
| Fats | 1-2 g |
| Third-party tested? | Yes, by Labdoor |
| Notable ingredients | Whey protein isolate, natural flavors, Stevia leaf extract, sea salt |
| BCAAs | 5.6 g |
My Experience Using Legion Whey Protein
As someone who's had their fair share of protein powders and protein shakes, I was quite impressed with Legion Whey+ Whey Isolate Protein Powder. It delivers a good amount of protein while keeping carbs and fats to a minimum, has 5.6 grams of branched-chain amino acids to potentially support muscle recovery1, and tastes good with milk or water.
But let's be honest, there are many other protein powders that offer similar nutritional makeup as Legion whey protein, some of which can be found for a more affordable price. So why pay more for Legion?
One might argue it's because they use all-natural ingredients and don't use artificial fillers or food dyes. The ingredients list varies by flavor, but generally, you're only getting six to eight ingredients per tub, which is great for anyone who's looking for a simple and clean protein powder.
Some flavors contain sunflower creamer, xanthan gum, and sunflower lecithin, and though these natural ingredients aren't harmful from a nutrition standpoint, they may cause digestive problems in some people. Some supplement companies add digestive enzymes to counter this but Legion does not add them to its products, so if you're sensitive to any of them this might not be the best protein powder for you.
Same goes for Stevia, which some customer reviews state is very strong in some flavors.
Related: Best pre-workout for men
Formulation
Let's break down what's in each scoop of Legion whey protein.
Protein
Legion whey protein has 22 to 24 grams of protein per scoop, depending on the flavor, which is a good amount for people of all sizes. Protein is the macronutrient responsible for building and repairing muscle tissue2 after intense resistance training, like bodybuilding.
Another benefit of protein is that it's the most satiating macronutrient, meaning it keeps you full longer than carbs or fats2. That's why people will often use a protein shake or smoothies as a meal replacement when they're trying to lose weight.
Legion's protein comes from whey protein isolate, which is a form of whey that's been filtered to remove most of the lactose (also known as sugars) to make it more easily digestible.
People with dairy sensitivities or who are lactose-intolerant may find it easier to consume whey protein isolate powders than normal whey protein because most of the lactose has been removed. The process also removes many of the carbs and fat from the dairy, which is a great segue into…
Carbs and Fat
Carbohydrates and fats are necessary macronutrients, but you typically want to see them in lower amounts in protein powders. Legion whey protein keeps the carbs between 2 and 6 grams and the fats between 1 and 2 grams.
Related: Muscle milk review
Vitamins and Minerals
Legion whey protein is not a substantial source of micronutrients, otherwise known as vitamins and minerals. Things like calcium, iron, and potassium are needed in the human body for several bodily functions (such as protein absorption), so make sure you're getting these micronutrients from other food sources or supplements.
Related: Want to increase your vitamin and mineral intake? Consider our top choices for best greens powder
Branched-Chain Amino Acids
There are amino acids, which are the building blocks of protein, and then there are branched-chain amino acids, better known as BCAAs. The three BCAAs are leucine, isoleucine, and valine, and all are essential amino acids—amino acids that must be obtained through our diet because our body doesn't make enough of them.
Research has shown that BCAAs can assist with muscle recovery and can lead to improved athletic performance1, which is why people will often take a BCAA supplement while training.
Legion whey protein has 5.6 grams of BCAAs, which falls right in the middle of the optimal dose range used by most researchers1.
Does Grass-Fed Dairy Make a Difference?
Legion whey protein likes to emphasize that they use grass-fed cows from Ireland (more on that in just a second). In fact, they have a Truly Grass Fed certification that shows the cows that produce their dairy are antibiotic-free, hormone-free, and that the cows spend 90 percent of their time roaming in fields and grazing on grass (just like nature intended).
They also have an Animal Welfare Approved certification, which means their animals are kept in the best conditions (not in tight quarters and fed artificial feed that's filled with hormones and other substances).
If you've ever wondered if grass-fed dairy truly makes a difference, the answer is yes—at least when it comes to your health.
"When cattle are grass-fed, health-promoting phytonutrients (antioxidants with the potential to heal and protect) are found in their meat and milk," Laila says, pointing to a February 2021 review2 that proved grass-fed dairy had higher amounts of phytonutrients than plants.
Phytonutrients have anti-inflammatory effects and have been linked with reduced cancer risk and improved heart health2.
Grass-fed dairy also has a better omega-3/omega-6 ratio3—both are "good" fats, but you want more omega-3s in your diet. "Omega-3 fatty acids have potent anti-inflammatory effects4," Laila says. "They support brain and heart health4 and have been shown to reduce symptoms of metabolic syndrome."
Many people will claim that grass feeding cows is also better for the environment, but the scientific jury is still out5 on those claims—most studies6 agree there are environmental trade-offs with every system, be that conventional or grass-fed.
Does Ireland Have the Best Dairy?
Another one of Legion's claims is that the use of cows from small dairy farms in Ireland, which they say is home to some of the healthiest and cleanest milk in the world. I'm not sure if you took a look at my byline but my last name's O'Reilly, so I'm a pretty big fan of anyone who supports the Emerald Isle.
However, I must put my bias to the side for just a moment.
Milk quality is measured by many things but one of the most important factors is somatic cell count (or SCC), which is an indicator of a cow's udder health. Most countries set the SCC limit at 400,000 per milliliter, with the exception of the United States, which has a 750,000 limit for milk sold within the U.S. (it must be under 400,000 if it's exported to another country). Some U.S. states have a lower SCC threshold.
It should be noted that SCCs aren't directly linked to human health risks, though it could be an indicator of poor farming hygiene and the presence of disease-causing organisms in milk7.
The publicly available scientific studies on Ireland's average SCCs are somewhat outdated, but they generally show that the Irish are behind other countries that follow similar guidelines7.
But hold up—Legion specifies they use small dairy farms in Ireland, and that might be the key. This 2013 review8 found that smaller farms were associated with better milk quality, but that SCC varied through the seasons.
That's all to say that Irish milk is probably better than American milk (since the SCC is generally lower), but there's not much evidence showing that it's "the best." And yes, this Irishman took no pleasure in typing that sentence.
Price Per Serving
Legion whey protein goes for $1.99 per serving, before taxes. You can save 10 percent by placing it on a subscription basis.
This price range is comparable to other high-quality protein powders. There are many protein powders that are closer to the $1-$1.50 per serving range, but be aware that these products will either contain artificial sweeteners or fillers and do not have ingredients like BCAAs included.
Taste and Mixability
Legion whey protein comes in 15 different flavors, including unflavored. I went with Cinnamon Cereal, which is supposed to taste like a certain childhood cereal many of us grew up with.
I did get hints of Cinnamon Toast Crunch in my protein shake when I mixed it with milk, but it tasted like the end of the bowl (when the cereal's all soggy and the milk has absorbed all the cereal flavor). I personally enjoyed the bowl when the cereal was still a bit crispy, but to each their own. I put it in my shaker bottle and gave it a good shake for 20 seconds and found little to no clumps.
I also wanted to put this flavor to the ultimate test, and so I decided to make protein French toast.
This makes a great high-protein meal prep, and you can customize it based on your calorie and macronutrient needs.
Get a medium-sized bowl and add a scoop and a half of Cinnamon Cereal Legion whey protein to 10 ounces of your preferred milk, a teaspoon of your favorite sweetener (I used erythritol), a drop of vanilla extract, a small pinch of salt, and a dash of cinnamon.
Whisk and do a quick taste test, then adjust to your liking (you can make it sweeter or add more cinnamon). Add two eggs and whisk until thoroughly combined.
Pour your mixture into a bowl and quickly drop in the white bread of your choice—don't let it sit in the milk too long or it'll become too soggy and fall apart when you try to take it out of the bowl.
Place in a lightly-greased pan and cook for two to three minutes per side, or until golden brown. Repeat for your remaining slices and top with syrup, whipped cream, or fruit.
Flavors
Here are Legion's Whey+ Whey Isolate protein flavors
Dutch Chocolate
Chocolate Peanut Butter
Cinnamon Cereal
Cocoa Cereal
Cookies & Cream
Birthday Cake
French Vanilla
Fruity Cereal
Honey Cereal
Mint Chocolate
Mocha Cappuccino
Pumpkin Pie
Salted Caramel
Strawberry Banana
Unflavored
Third-Party Testing
Legion Athletics uses Labdoor, a San Francisco-based supplement certification company, to test its products for heavy metals, toxins, and banned substances that can't be consumed by professional athletes. The United States doesn't require supplements be tested for such substances, so if you want to make sure you're not consuming them, you'll want to look for a protein powder or any other supplement that's been third-party tested.
If you fall into such a category, then Legion whey protein powder is a good choice for you.
Legion Whey Protein vs Optimum Nutrition 100% Gold Standard Whey Protein
Budget Protein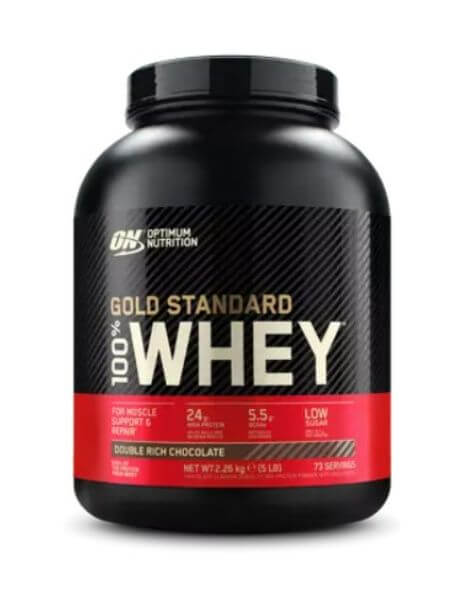 GGR Score: 3.5
Product Highlights
Contains 3 different kinds of whey protein

Tested for banned substances

Over 5 g of BCAAs per serving

Instantized to help prevent clumping
Pros & Cons
Pros
High in protein
Plenty of flavor options
Low in carbs
Cons
Some users say it's overly sweet
Contains artificial flavors
Most flavors contain sucralose
Bottom Line
With plenty of flavor and size options to choose from, Optimum Nutrition Gold Standard 100% Whey is a great basic choice in protein powder.
Optimum Nutrition 100% Gold Standard Whey Protein comes in a number of different serving containers, so to make this a fair comparison, we're going to use the 30-serving bag.
Right off the bat, both protein supplements have comparable amounts of protein (Optimum has 24 grams in all flavors), carbohydrates, and fats.
Optimum uses a protein blend that contains whey protein isolate, whey concentrate, and hydrolyzed whey protein (whey protein that's undergone a special process to make it more easily digestible). This means it may not be best for those with dairy sensitivities.
Optimum also has a number of artificial ingredients and fillers, and some flavors have a small amount of added sugars. Like Legion, the ingredients list varies by flavor, but it's generally much longer than Legion's.
If you're OK with artificial ingredients, then Optimum is a good choice since it's more affordable, but if you're someone who wants an all-natural supplement, then Legion might be worth the extra cost.
| | | |
| --- | --- | --- |
| | Legion Whey+ Whey Protein Isolate | Optimum Nutrition 100% Gold Standard Whey Protein* |
| Price per serving | $1.99 | $1.49 |
| Protein | 22-24 g | 24 g |
| Carbohydrates | 2-6 g | 2-4 g |
| Fats | 1-2 g | 1.5-3 g |
| Notable ingredients | Whey protein isolate, natural flavors, stevia, sea salt | Whey protein isolate, whey protein concentrate, hydrolyzed whey protein, salt, cane sugar, sucralose, natural and artificial flavors |
| Flavors | 15 | 20 |
| Third-party tested | Yes | Yes, Informed Choice |
* Based on 30-serving container
Money-Back Guarantee, Shipping, and Subscriptions
Legion Athletics has a no-return-necessary money-back guarantee, which means if you don't absolutely love it you can request a full refund without having to fill out a form.
Legion Athletics offers free shipping for domestic U.S. customers—international customers can get free shipping if they spend $199 or more. There are financing options available at checkout if needed.
Legion, like most other supplement companies, allows you to place their products on a subscription basis and save 10 percent on every order. You can have your protein powder delivered every 30, 60, or 90 days.
Customer Reviews
Legion whey protein has an average rating of 4.7 out of 5 stars with more than 4,100 reviews as of this writing. It has an average rating of 4.5 on Amazon with more than 4,700 customer reviews.
The negative reviews were from customers who didn't like the protein powder's taste or experienced digestive issues when drinking it.
Final Verdict of Our Legion Whey Protein Review
Legion whey protein is a great choice for those who are looking for an all-natural protein with research-backed ingredients and doses. Here are a few reasons why it made the cut for our best whey protein roundup.
Up to 24 grams of protein
Low-carb and low-fat
Third-party tested
Legion Whey Protein Rating
Legion Whey Protein
Our Legion whey protein review looks at whether Legion Athletics Whey+ is a worthwhile protein supplement.
Product Brand: Legion
Product Currency: USD
Product Price: 60
Product In-Stock: InStock
Legion Whey Protein FAQs
Which brand of whey protein is best?
Is it OK to drink whey protein every day?
As long as you don't have a dairy allergy, there are no adverse health effects to drinking whey protein every day and there might even be some health benefits, such as improved muscle recovery, an increased feeling of fullness (which may lead to a caloric deficit), and improved athletic performance.
Do doctors recommend whey?
Most doctors will recommend that you get your protein from whole food sources (such as animal sources, legumes, and plants), which is why supplements are called supplements (because you're supplementing your diet). That said, doctors will recommend whey for anyone who's looking to increase their protein intake. 
These statements have not been evaluated by the Food and Drug Administration. This product is not intended to diagnose, treat, cure, or prevent any diseases.
References
Arroyo-Cerezo A, Cerrillo I, Ortega Á, Fernández-Pachón MS. Intake of branched chain amino acids favors post-exercise muscle recovery and may improve muscle function: optimal dosage regimens and consumption conditions. J Sports Med Phys Fitness. 2021;61(11):1478-1489. doi:10.23736/S0022-4707.21.11843-2
van Vliet, S., Provenza, F. D., & Kronberg, S. L. (2021). Health-Promoting Phytonutrients Are Higher in Grass-Fed Meat and Milk. In Frontiers in Sustainable Food Systems (Vol. 4). Frontiers Media SA. https://doi.org/10.3389/fsufs.2020.555426
Benbrook, C. M., Davis, D. R., Heins, B. J., Latif, M. A., Leifert, C., Peterman, L., Butler, G., Faergeman, O., Abel-Caines, S., & Baranski, M. (2018). Enhancing the fatty acid profile of milk through forage-based rations, with nutrition modeling of diet outcomes. In Food Science & Nutrition (Vol. 6, Issue 3, pp. 681–700). Wiley. https://doi.org/10.1002/fsn3.610
Gammone MA, Riccioni G, Parrinello G, D'Orazio N. Omega-3 Polyunsaturated Fatty Acids: Benefits and Endpoints in Sport. Nutrients. 2018;11(1):46. Published 2018 Dec 27. doi:10.3390/nu11010046
Capper JL. Is the Grass Always Greener? Comparing the Environmental Impact of Conventional, Natural and Grass-Fed Beef Production Systems. Animals (Basel). 2012;2(2):127-143. Published 2012 Apr 10. doi:10.3390/ani2020127
Klopatek SC, Marvinney E, Duarte T, Kendall A, Yang XC, Oltjen JW. Grass-fed vs. grain-fed beef systems: performance, economic, and environmental trade-offs. J Anim Sci. 2022;100(2):skab374. doi:10.1093/jas/skab374
More S. Global trends in milk quality: implications for the Irish dairy industry. Ir Vet J. 2009;62 Suppl 4(Suppl 4):S5-S14. Published 2009 Apr 1. doi:10.1186/2046-0481-62-S4-S5
Archer, S. C., Mc Coy, F., Wapenaar, W., & Green, M. J. (2013). Association of season and herd size with somatic cell count for cows in Irish, English, and Welsh dairy herds. In The Veterinary Journal (Vol. 196, Issue 3, pp. 515–521). Elsevier BV. https://doi.org/10.1016/j.tvjl.2012.12.004