We test and review fitness products based on an independent, multi-point methodology. If you use our links to purchase something, we may earn a commission. Read our disclosures.
If supplements were ancient Greek gods, then whey protein would be Zeus—more powerful than the rest. Whey protein itself is simply a protein that's extracted from cow's milk that contains all the essential amino acids needed for muscle growth and can be found in cheese, soup stocks, and other products.
Most people know about whey due to their quest of finding the best whey protein out there, and we're here to tell you that this is where your search ends.
Our expert product testers tried dozens of protein powders and consulted with Laila Ouldibbat, a New York City-based registered dietitian who's pursuing a Ph.D. in Biological Sciences, to find the best whey protein out there.
Medical disclaimer: This article is intended for educational and informational purposes only. It is not intended as a substitute for medical advice. For health advice, contact a licensed healthcare provider.
When It Comes to Product Reviews, We Go Whey Back
Although our product reviews began in 2016 with things like kettlebells and exercise bikes, we've now expanded into the nutrition space because we know good exercise equipment is not much without a good diet and lifestyle.
That's why we'll only recommend supplements that meet the standards of the certified personal trainers, nutrition experts, nutritionists, and competitive athletes who make up our team.
Our Top 10 Picks for the Best Whey Protein
Best Whey Protein Overall: Kaged Whey Protein Isolate
Good for: People looking for the highest quality whey protein
Kaged Whey Protein Isolate was our choice for best whey protein for two main reasons: It just contains whey protein (no protein blends or fillers) and contains a digestive enzyme called ProHydrolase that may enhance protein synthesis and help with muscle recovery.
A January 2020 double-blind study1, the lone publicly available research on the enzyme, actually shows ProHydrolase has a minimal effect on protein absorption but did cause elevated amino acid concentration in well-trained athletes.
Amino acids, for those who don't know, are the building blocks of protein molecules and there are two types: essential amino acids (EAAs) and non-essential amino acids. Essential amino acids are ones that must be obtained through diet because they're not created in sufficient amounts by our body (we naturally make enough of the non-essential amino acids).
A December 2020 review2 of studies conducted on EAAs proved these compounds improved overall protein absorption. Proteins that have all EAAs are called complete proteins, whereas plant-based proteins (with the exception of soy) are incomplete proteins because they're deficient in some EAAs. This is why most vegan protein powders are a blend of different plant-based protein sources.
We also really like this particular whey protein because it comes with more than 40 servings per container (anywhere from 41 to 44, depending on the flavor). Most protein powders come with 25 to 30 scoops per container. Sure, the container might be a bit expensive at around $60 (before shipping), but it'll last you longer.
RELATED: Best Protein Powder
GGR editor and expert product tester Nicole Davis said the chocolate flavor reminded her of a Carnation Instant Breakfast mix, and that some clumps remained even after vigorous shaking and blending.
| | |
| --- | --- |
| Price per serving | $1.36-$1.46 |
| Flavors | Chocolate Peanut Butter, Vanilla, Chocolate |
| Protein | 25g |
| Carbs | 2-3g |
| Fat | 0-0.5g |
Best Whey Protein for Weight Loss: Transparent Labs 100% Grass-Fed Whey Protein Isolate
Good for: People who want to use protein powder as part of a weight-loss plan
While protein is often touted for its muscle-building capabilities it's also the best macronutrient for weight loss, so long as you remain in a caloric deficit (which is when you burn more calories than you consume). Transparent Labs 100% Grass-Fed Whey Protein Isolate can help you achieve and maintain a caloric deficit thanks to its whopping 28 grams of protein per serving.
A February 2018 review3 of studies done on protein found that whey protein in particular helped the body secrete a hormone that tells the body it's full, meaning you're less likely to consume excess calories—which makes it easier to achieve a caloric deficit.
Transparent Labs is popular with consumers and dietary professionals like Laila because they live up to their name by having a transparent nutrition label and ingredients list, and Laila also likes that the latter is very short—only five ingredients.
It's also made with whey protein isolate, a type of whey protein that's had most of its lactose removed by a special filtration process so people with lactose sensitivities can consume it with little to no discomfort (most of the fat is also removed from the whey during this filtration).
I purchased the limited-edition Peppermint Hot Chocolate flavor, which I felt could've had a little more peppermint, but I'm not going to complain much when I have a high-protein warm drink (yes, you can heat it up) to get me through the winter.
| | |
| --- | --- |
| Price per serving | $1.99 |
| Flavors | Milk Chocolate, Chocolate Peanut Butter, Cinnamon French Toast, Strawberry, Mocha, Vanilla Peanut Butter, French Vanilla, Oatmeal Chocolate Chip Cookie |
| Protein | 28 g |
| Carbs | Varies by flavor |
| Fat | Varies by flavor |
Best Whey Protein for Building Muscle: Swolverine Whey Protein Isolate
Good for: People looking to add muscle mass to their physique
Right off the bat, Swolverine Whey Protein Isolate wins some major points for being mostly protein—a 30-gram scoop contains 26 grams of whey protein isolate. The carb and fat content vary by flavor, but generally you can expect just 1 gram of carbohydrates and up to 5 grams of fat.
Protein, as you probably know, is the macronutrient responsible for preserving and building lean muscle mass3, and since Swolverine contains a large amount of it, it's a great choice for bodybuilders, powerlifters, CrossFitters, or anyone else who's looking to put on some size.
We're also happy to see a short ingredient list made mostly of natural ingredients and sweeteners (there are some artificial ingredients there, but you shouldn't listen to the influencers who try to demonize them as it's really a matter of personal preference).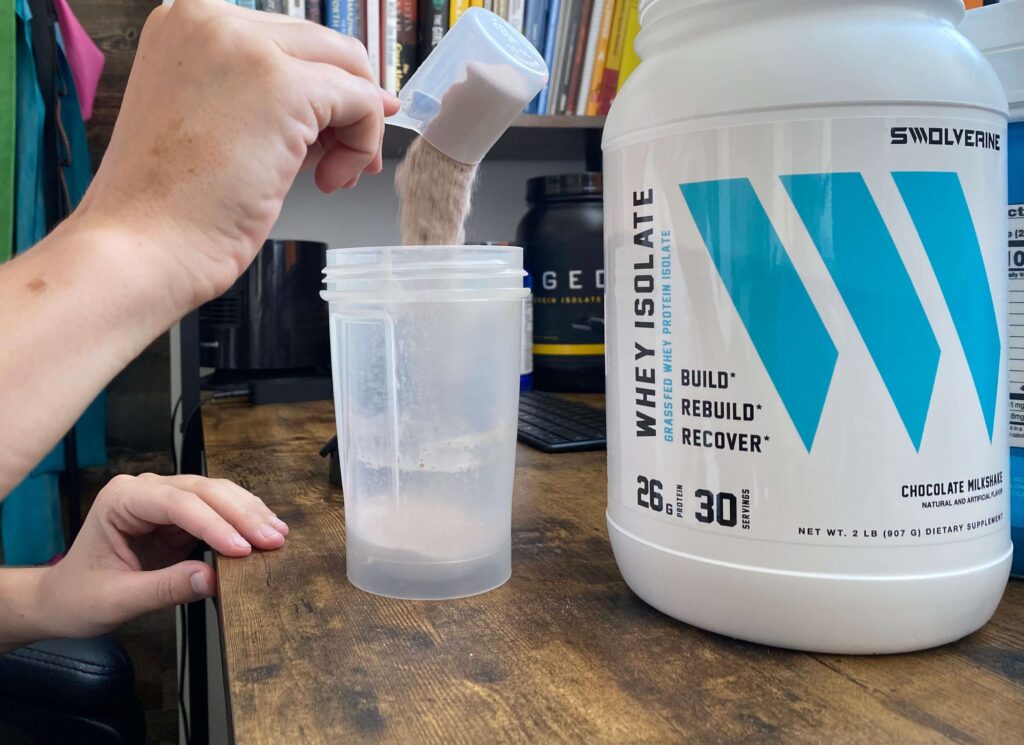 For those who have never gone on a bulking journey before, you should know that increased protein intake can cause some digestive issues (like the kind you really don't want to happen on a date, if you catch my drift). Swolverine fixes that problem by including a digestive enzyme blend to assist with digestion, which includes the enzymes protease and papain. An October 2022 study4 on mice concluded that protease and papain were beneficial in improving gut health.
Amanda Capritto, GGR writer and expert product tester, went with the chocolate flavor. "The flavor of this protein is good," she says. "It's very rich and, indeed, very chocolatey. With milk, it tastes great, but with water it's so ultra-thin that it's off-putting. It was like drinking chocolate water, which I didn't enjoy."
| | |
| --- | --- |
| Price per serving | $2.06 |
| Flavors | Vanilla, Chocolate, Honey Cinnamon Peanut Butter, Mint Chocolate Chip |
| Protein | 26 g |
| Carbs | Varies by flavor |
| Fat | Varies by flavor |
Best Budget Whey Protein: Dymatize ISO 100
Good for: Anyone who's on a budget or beginners who don't want to spend very much trying protein powder
We'll be honest, Dymatize ISO 100 isn't the best budget whey protein if you're working off a per-serving basis, but at under $40 (the exact price varies by flavor) it's easily the most budget-friendly container of protein on our list.
Usually budget home gym equipment and budget supplements come with plenty of downsides but the only con of Dymatize ISO 100 is the fact that you only get 20 servings per container. The protein itself is actually high-quality and rivals much more expensive supplements.
For starters, you get some fun flavors: Dymatize has partnered with Fruity Pebbles, Cocoa Pebbles, and Dunkin' Donuts (shoutout to all our Boston readers). Secondly, it undergoes a process called hydrolyzation, which Laila points out makes the protein more easily digestible.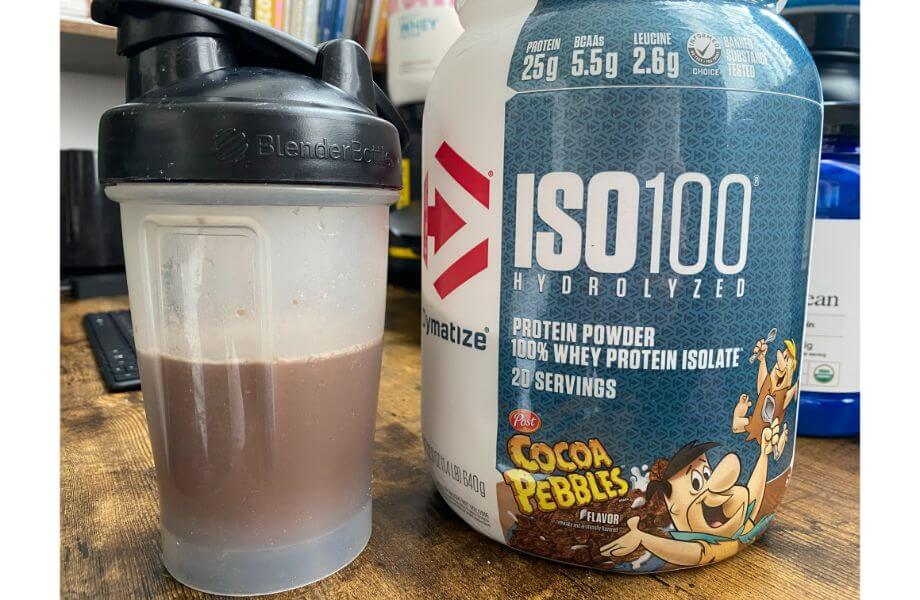 A September 2019 meta-analysis5 on hydrolyzed protein powders backs this up but shows there's little to no evidence linking it to improved muscle protein synthesis.
"This form of protein has been broken down by exposing it to heat, acid, or enzymes that break apart the bonds linking the amino acids, making it the purest form of whey protein," Laila explains.
GGR writer and expert product tester Amanda Capritto recreated her childhood Saturday mornings with the Cocoa Pebbles flavor and says she likes it but that it's not much better than other chocolate protein powders.
We also like Optimum Nutrition Gold Standard Whey as another budget-friendly whey protein. It does contain whey protein concentrate, which may be harder for some people to digest, along with some additives and artificial sweeteners, but it's still a high-quality protein shake.
| | |
| --- | --- |
| Price per serving | $1.65-$1.99 |
| Flavors | Fruity Pebbles, Birthday Cake, Chocolate, Chocolate Peanut Butter, Cocoa Pebbles, Cookies & Cream, Dunkin' Cappuccino, Dunkin' Mocha Latte, Fudge Brownie, Strawberry, Vanilla |
| Protein | 25 g |
| Carbs | 2 g |
| Fat | 1 g |
Best-Tasting Whey Protein: Performix ioWHEY
Good for: People looking for the tastiest whey protein powder
Whey protein powders have come a long way from their early days of just coming in vanilla or chocolate, and there are quite a few tasty ones out there. But for our money, Performix ioWHEY has some of the best-tasting whey protein on the market.
It's been a while since I've tried Perfomix, but I can easily recall the tastes of their Caramel Cinnamon Churro flavor—it's like the subway churros I used to get in New York's Grand Central Station (don't knock a subway churro until you try one).
Kate Meier, GGR's head of content and expert product tester, tried it along with her weightlifting team and they confirmed my memory was indeed correct. "Oddly enough, we all thought it tasted better mixed with water rather than mixed with milk," she says. "There is a slight syrupy aftertaste, but it definitely tastes like a sweet cinnamon churro!"
Performix ioWHEY doesn't just taste good, it's also good for you (we know that sounds like your parents trying to trick you into eating steamed broccoli, but we actually mean it). Each 28.6-gram scoop has 22 grams of protein and very low carb and fat content (the exact amount varies by flavor, but it's under two each).
There is some sunflower oil used as a thickener, which some bloggers and influencers will try to tell you is bad for you, but Laila and a July 2018 meta-analysis6 say can actually improve some blood health markers. There's also so little of it used in this protein powder it's likely not going to have any effect at all.
| | |
| --- | --- |
| Price per serving | $1.11 |
| Flavors | Chocolate Brownie, Caramel Cinnamon Churro, Fruity Cereal, Vanilla |
| Protein | 22 g |
| Carbs | Varies by flavor |
| Fat | Varies by flavor |
Best Natural Whey Protein: Legion Athletics Whey+ Whey Isolate Protein Powder
Good for: Those who want a natural whey protein
Whey protein powder often contains artificial flavors and ingredients used as sweeteners, preservatives, or fillers to help bulk up the product while providing little to no nutritional value. Legion Athletics Whey+ Whey Isolate Protein Powder uses all-natural, high-quality ingredients in more ways than one.
Whey+ has a Truly Grass Fed certification, a mark that proves the cows that produce the dairy from which the whey protein isolate is extracted only eat grass (some companies add corn or soy to the cattle's diet) and spend a high percent of the year outside on Irish pastures—as an O'Reilly, I'm a big fan of anyone who supports the Emerald Isle.
Even non-Irish people will love this protein powder. Each scoop comes with 22 to 24 grams of protein (depending on the flavor) and low amounts of carbs and fat.
It also bears a Labdoor Tested for Purity certification, which shows that researchers have checked it for harmful substances such as heavy metals, banned substances, and THC (yes, it can be present in very small amounts in some protein supplements).
Legion's protein powder is expensive, at $1.99 per serving, but you can save 10% by placing it on a subscription order to receive a new one every month (you can pick different flavors and quantities).
I went with Cinnamon Cereal and I think Legion should make this just a tad bit sweeter, but that just might be me. Try to remember your childhood cinnamon cereal (y'know, the one with crunch in its name) and recall how the milk tasted by the time you reached the bottom of the bowl and the cereal was soggy—that's what this protein powder tastes like when mixed with milk.
| | |
| --- | --- |
| Price per serving | $1.99 |
| Flavors | Pumpkin Pie, Dutch Chocolate, Birthday Cake, Chocolate Peanut Butter, Cinnamon Cereal |
| Protein | 22-24 g |
| Carbs | Varies by flavor |
| Fat | Varies by flavor |
Best Whey Protein for Athletes: Garden of Life Sport Whey Protein
Good for: Athletes or anyone else looking for a banned substance-free protein powder
Before you accuse us of simply picking Garden of Life Sport Whey Protein simply because it has "sport" in its name, allow us to explain why we actually chose this whey protein supplement.
It's both Informed Choice certified and has a NSF Certified for Sport mark, which means it met the quality standards of several regulatory, sports industry, and consumer organizations. Essentially, the certification proves that it's free of any banned substances that could potentially cause an athlete to fail a drug screening test.
The drug testing at the CrossFit Games differs from drug testing in the MLB or NHL, and different governing bodies may prohibit different substances sometimes found in protein powders, pre-workouts, and other supplements. Third-party certifications give athletes the peace of mind that they can take that supplement without fear of ingesting something that may get them in trouble with their sport (though it's best to always double check).
It's also certified Truly Grass-Fed, so you know it's hormone-free, antibiotic-free, and comes from Irish cows that sham-rock you with high-quality whey protein (24 grams worth), along with 4 grams of glutamine. An April 2019 meta-analysis7 of more than 50 studies on glutamine showed it helped improve muscle recovery following intense training.
You only get 20 servings per container, making the per-serving cost $1.99 for vanilla and $2.09 for chocolate.
GGR head of content and weightlifting athlete Kate Meier said she tasted more stevia than vanilla. "I think it would be better in a smoothie mixed with other things rather than drinking it straight," she says. "It could potentially be good for baking as well, because it doesn't have a very strong flavor so it wouldn't overpower a recipe."
| | |
| --- | --- |
| Price per serving | Vanilla: $1.99, Chocolate: $2.06 |
| Flavors | Vanilla, Chocolate |
| Protein | 24 g |
| Carbs | 6 g |
| Fat | 0.5 g |
Best Whey Protein for Digestion: MuscleTech Iso Whey Clear
Good for: People looking for an easily digestible protein that won't cause bloating
As we mentioned earlier in this list, increased protein intake can cause some rumblings down under, and we're not talking about Australia. This is especially true if you have dairy sensitivities or are lactose intolerant (and yes, that's two separate things).
MuscleTech Iso Whey Clear is our best whey protein for digestion because it's a whey protein isolate, which means most of the lactose has been removed. But it's unlike any whey protein isolate that we've ever seen because it's much clearer (hence the name) and comes in fruity flavors, rather than the traditional dessert-themed flavors you see in most protein powders.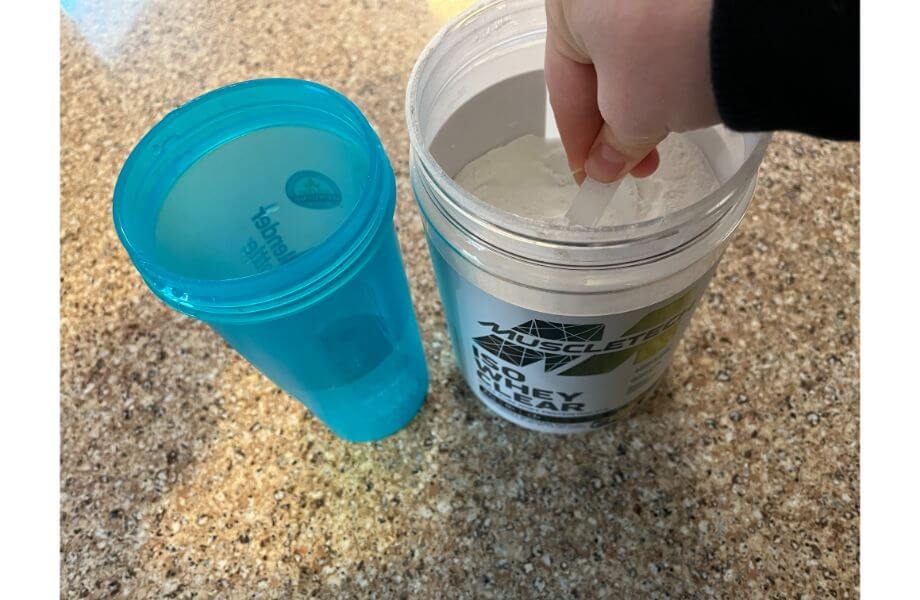 Whey protein powders usually can be mixed with milk or water, but we'd obviously use water with this (although you could use milk and see what it tastes like).
MuscleTech boasts that it includes 220 milligrams of ProHydrolase for increased protein absorption1 (reminder that the lone publicly-available study on ProHydrolase points to mixed results).
Amanda Capritto, GGR writer and expert protein powder tester, got the Lemon Berry Blizzard flavor. "Taste was light, crisp, and fruity, which was not terrible, to be honest," she says. "I would compare this taste to a pre-workout more than a traditional whey protein powder."
| | |
| --- | --- |
| Price per serving | $1.57 |
| Flavors | Lemon Berry Blizzard, Arctic Cherry Blast, Orange |
| Protein | 22 g |
| Carbs | <1 g |
| Fat | 0 g |
Best Whey Protein for Recovery: 1st Phorm Phormula-1
Good for: Anyone who's looking to prioritize recovery
A protein powder following an intense kettlebell workout for glutes goes together like milk and cookies, and we're reaching for 1st Phorm Phormula-1 to wash down our next strength-training session.
Phormula-1 is a hydrolyzed protein powder, meaning it is more easily digestible than traditional whey protein isolate5. This is important because a May 2014 review8 found that people who regularly engage in intense exercise were more likely to have gastrointestinal and digestive issues, so easily digestible foods and supplements should be a high priority for anyone who's focusing on post-workout recovery.
Some also claim it leads to improved protein synthesis, but there's little to no evidence supporting that.5
There's also five grams of branched-chain amino acids (BCAAs), which a November 2021 meta-analysis9 linked with improved muscle recovery and muscle endurance.
GGR editor and expert product tester Nicole Davis went with Chocolate Mint and said it tasted like a Thin Mint. "Delicious mixed with milk," she says. "Mixed great, not clumpy at all."
| | |
| --- | --- |
| Price per serving | $2.03 |
| Flavors | 12 |
| Protein | 20 g |
| Carbs | Varies by flavor |
| Fat | Varies by flavor |
Best Grass-Fed Whey Protein: Earth-Fed Muscle Whey Protein
Good for: Those who insist their dairy come from grass-fed cows
The Truly Grass-Fed Irish cow's milk makes one last appearance on our list with the best grass-fed whey protein, Earth-Fed Muscle Whey Protein. In addition to having the mark representing hormone-free cows that are 95% grass-fed and spend a large percent of the year outdoors, it is the second one on our list that's Animal Welfare Approved (the first is Legion Whey+).
Animal Welfare Approved is a highly meaningful food label, according to advocacy group Consumer Goods, that certifies the animals that produced that food (in this case, the cows that were milked) are living in the most humane and sustainable conditions.
It has anywhere from 25 to 29 grams of protein and a low amount of carbs and fat, along with a good amount of vitamins and minerals such as calcium.
Earth Fed contains only four or five ingredients (depending on the flavor), which are all organic, including the stevia.
Kate Meier, GGR's head of content and expert taste tester, is a big fan of Earth Fed and said you can taste just how simple their powder is. "This is probably the cleanest tasting protein I've ever had," she says. "You can tell there isn't a bunch of crap in it. Even blended with water this protein has a very smooth, rich taste."
| | |
| --- | --- |
| Price per serving | $1.99 |
| Flavors | Vanilla, Chocolate, Chocolate Peanut Butter |
| Protein | 25 g |
| Carbs | Varies by flavor |
| Fat | Varies by flavor |
Other Whey Protein We Researched
The whey proteins in our top 10 only represent a small fraction of the protein supplements available today. Here are a few others we came across in our research:
Simply Tera's Whey: This protein powder actually has some good macros (21 grams of protein, four grams of carbs, and one and a half grams of fat) but it's geared toward bakers more than athletes. So if you're looking for a way to bulk up your next batch of cupcakes with some protein, this might be the solution. Amazon customer reviewers loved the taste. 
Natreve MOOLESS Animal Free Whey Protein Powder: Natreve claims to have created a man-made whey protein without milking cows. It's an interesting concept, and one that plant-based followers might be curious about, but we haven't tried it. There also appears to be no scientific studies on this animal-less whey protein powder. Its nutritional value, however, is quite good—20 grams of protein, five grams of carbs, and 0.5 grams of fat. 
How We Picked and Tested the Best Whey Protein
Here are a few things we kept in mind when creating our list for the best whey protein:
Amount of protein: How much protein did each scoop contain?
Carb and Fats: How much of the other macronutrients were present and were they in low and/or moderate amounts?
Digestibility: Did the whey protein cause any digestive issues such as bloating?
Dairy quality: Is the whey protein sourced from cows who are hormone-free, pesticide-free, and antibiotic-free?
Flavor: How was the taste?
Price: How much did the container cost and what was the cost per serving?
Benefits of Whey Protein
Wondering why you should consider purchasing or using whey protein? Here are just a few reasons:
Convenience: It's much easier and quicker to drink some whey protein than it is to make an entire meal with the same protein content.
Shelf stable: Whey protein can last quite a while if its container is properly sealed.
Builds muscle: Whey protein along with a good strength-training program can help the body create muscle and preserve lean muscle mass3.
Lose weight: Protein powder can also benefit those looking to lose weight by placing themselves in a caloric deficit3.
Buying Guide: What to Look for in the Best Whey Protein
Here's what you should look for when you're trying to purchase the best whey protein for your fitness and wellness goals:
Caloric content: Are you looking to add muscle mass and want a high-calorie protein powder or are you on a weight-loss journey and want a low-calorie option?
Protein content: Regardless of your goal, you'll want at least 25-30 grams of protein per serving, but servings as low as 20 grams can support muscle building activities and weight loss3.
Dairy quality: Are the cows well taken care of or are they pumped full of hormones?
Taste: Do you enjoy drinking it? Some companies also offer unflavored products if you're looking to just add protein to your morning smoothies.
Price: Shouldn't have to be explained, but find a whey protein that agrees with your wallet.
Protein source: Does the protein source just contain whey protein or is it mixed with casein or plant-based proteins?
Additives: Did the company put in added sugars, probiotics, or anything else that might alter your experience with this whey protein? Check the ingredients.
Protein Powder Subscriptions: What Are They and Are They Worth It?
You might find the option on some of the best whey proteins to "subscribe and save." This refers to putting your whey protein powder on a subscription basis so you always have protein on hand, which can be set up on most companies' websites and on Amazon.
The delivery frequency can be anywhere from two weeks to six months.
Companies will often knock a few bucks off a container's price since they know you'll be a repeating customer next month.
FAQs About Best Whey Protein
What is the best whey protein powder?
What is whey protein powder?
Whey protein powder is protein powder made from whey, which is the liquid that remains from cow's milk after it's been turned into cheese or other products. The milk protein in whey is highly bioavailable, meaning it can be digested easily, and is found in high-quality products like protein powder, protein bars, and meal replacement products. 
There are different types of whey protein, such as whey protein concentrate, whey protein isolate, and whey protein hydrolysate.
Is whey isolate worth it?
Whey isolate may be worth it to anyone who's lactose intolerant or has a dairy sensitivity. Whey isolate is a type of whey protein that's had a good amount of lactose removed from it, making it more easily digestible. Although it's less likely to cause digestive problems, there is a chance it may cause some issues if your sensitivity is severe. 
These statements have not been evaluated by the Food and Drug Administration. This product is not intended to diagnose, treat, cure, or prevent any diseases.
References
Townsend JR, Morimune JE, Jones MD, et al. The Effect of ProHydrolase® on the Amino Acid and Intramuscular Anabolic Signaling Response to Resistance Exercise in Trained Males. Sports (Basel). 2020;8(2):13. Published 2020 Jan 22. doi:10.3390/sports8020013
Church DD, Hirsch KR, Park S, et al. Essential Amino Acids and Protein Synthesis: Insights into Maximizing the Muscle and Whole-Body Response to Feeding. Nutrients. 2020;12(12):3717. Published 2020 Dec 2. doi:10.3390/nu12123717
Stokes T, Hector AJ, Morton RW, McGlory C, Phillips SM. Recent Perspectives Regarding the Role of Dietary Protein for the Promotion of Muscle Hypertrophy with Resistance Exercise Training. Nutrients. 2018;10(2):180. Published 2018 Feb 7. doi:10.3390/nu10020180
Kostiuchenko O, Kravchenko N, Markus J, et al. Effects of Proteases from Pineapple and Papaya on Protein Digestive Capacity and Gut Microbiota in Healthy C57BL/6 Mice and Dose-Manner Response on Mucosal Permeability in Human Reconstructed Intestinal 3D Tissue Model. Metabolites. 2022;12(11):1027. Published 2022 Oct 26. doi:10.3390/metabo12111027
A Castro LH, S de Araújo FH, M Olimpio MY, et al. Comparative Meta-Analysis of the Effect of Concentrated, Hydrolyzed, and Isolated Whey Protein Supplementation on Body Composition of Physical Activity Practitioners. Nutrients. 2019;11(9):2047. Published 2019 Sep 2. doi:10.3390/nu11092047
Schwingshackl L, Bogensberger B, Benčič A, Knüppel S, Boeing H, Hoffmann G. Effects of oils and solid fats on blood lipids: a systematic review and network meta-analysis. J Lipid Res. 2018;59(9):1771-1782. doi:10.1194/jlr.P085522
Coqueiro AY, Rogero MM, Tirapegui J. Glutamine as an Anti-Fatigue Amino Acid in Sports Nutrition. Nutrients. 2019;11(4):863. Published 2019 Apr 17. doi:10.3390/nu11040863
de Oliveira EP, Burini RC, Jeukendrup A. Gastrointestinal complaints during exercise: prevalence, etiology, and nutritional recommendations. Sports Med. 2014;44 Suppl 1(Suppl 1):S79-S85. doi:10.1007/s40279-014-0153-2
Arroyo-Cerezo A, Cerrillo I, Ortega Á, Fernández-Pachón MS. Intake of branched chain amino acids favors post-exercise muscle recovery and may improve muscle function: optimal dosage regimens and consumption conditions. J Sports Med Phys Fitness. 2021;61(11):1478-1489. doi:10.23736/S0022-4707.21.11843-2