We test and review fitness products based on an independent, multi-point methodology. If you use our links to purchase something, we may earn a commission. Read our disclosures.
If supplements were ancient Greek gods, then whey protein would be Zeus—more powerful than the rest. Whey protein itself is simply a protein that's extracted from cow's milk that contains all the essential amino acids needed for muscle growth and can be found in cheese, soup stocks, and other products.
Most people know about whey due to their quest of finding the best whey protein out there, and we're here to tell you that this is where your search ends.
Our expert product testers tried dozens of protein powders and consulted with Laila Ouldibbat, a New York City-based registered dietitian who's pursuing a Ph.D. in Biological Sciences, to find the best whey protein out there.
Medical disclaimer: This article is intended for educational and informational purposes only. It is not intended as a substitute for medical advice. For health advice, contact a licensed healthcare provider.
When It Comes to Product Reviews, We Go Whey Back
Although our product reviews began in 2016 with things like kettlebells and exercise bikes, we've now expanded into the nutrition space because we know good exercise equipment is not much without a good diet and lifestyle.
That's why we'll only recommend supplements that meet the standards of the certified personal trainers, nutrition experts, nutritionists, and competitive athletes who make up our team.
Our Top 9 Picks for the Best Whey Protein 
Best Whey Protein Overall: Kaged Whey Protein Isolate
Good for: People looking for the highest quality whey protein
Kaged Whey Protein Isolate was our choice for best whey protein for two main reasons: It just contains whey protein (no protein blends or fillers) and contains a digestive enzyme called ProHydrolase that may enhance protein synthesis and help with muscle recovery.
A January 2020 double-blind study1, the lone publicly available research on the enzyme, actually shows ProHydrolase has a minimal effect on protein absorption but did cause elevated amino acid concentration in well-trained athletes.
Amino acids, for those who don't know, are the building blocks of protein molecules and there are two types: essential amino acids (EAAs) and non-essential amino acids. Essential amino acids are ones that must be obtained through diet because they're not created in sufficient amounts by our body (we naturally make enough of the non-essential amino acids).
A December 2020 review2 of studies conducted on EAAs proved these compounds improved overall protein absorption. Proteins that have all EAAs are called complete proteins, whereas plant-based proteins (with the exception of soy) are incomplete proteins because they're deficient in some EAAs. This is why most vegan protein powders are a blend of different plant-based protein sources.
We also really like this particular whey protein because it comes with more than 40 servings per container (anywhere from 41 to 44, depending on the flavor). Most protein powders come with 25 to 30 scoops per container. Sure, the container might be a bit expensive at around $60 (before shipping), but it'll last you longer.
RELATED: Best Protein Powder
GGR editor and expert product tester Nicole Davis said the chocolate flavor reminded her of a Carnation Instant Breakfast mix, and that some clumps remained even after vigorous shaking and blending.
| | |
| --- | --- |
| Price per serving | $1.36-$1.46 |
| Flavors | Chocolate Peanut Butter, Vanilla, Chocolate |
| Protein | 25g |
| Carbs | 2-3g |
| Fat | 0-0.5g |
Best Whey Protein for Muscle Gain: Transparent Labs 100% Grass-Fed Whey Protein Isolate
Good for: People who want to use protein powder as part of a muscle-building plan
Transparent Labs 100% Grass-Fed Whey Protein Isolate has the largest protein content of any whey protein powder in our roundup with 28 grams, and while that number is impressive it's not the only reason why this is our favorite protein powder for muscle gain. The other big factor is Transparent Labs' commitment to using simple, proven ingredients.
Case and point, the first ingredient in this protein powder is grass-fed whey protein isolate. Whey protein isolate is one of the most bioavailable forms of protein3, meaning your body can use more of it.
Whey protein isolate has also had most of its lactose removed by a special filtration process so people with lactose sensitivities can consume it with little to no discomfort4 (most of the fat is also removed from the whey during this filtration, resulting in a "leaner" protein powder).
Transparent Labs is popular with consumers and dietary professionals like Laila because they live up to their name by having a transparent nutrition label and ingredients list, and provide certificates of analysis and composition on their website.
Laila also likes that the ingredient list is very short—only five ingredients.
I purchased the limited-edition Peppermint Hot Chocolate flavor, which I felt could've had a little more peppermint, but I'm not going to complain much when I have a high-protein warm drink (yes, you can heat it up) to get me through the winter.
RELATED: Best protein powder for women
| | |
| --- | --- |
| Price per serving | $1.99 |
| Flavors | Milk Chocolate, Chocolate Peanut Butter, Cinnamon French Toast, Strawberry, Mocha, Vanilla Peanut Butter, French Vanilla, Oatmeal Chocolate Chip Cookie |
| Protein | 28 g |
| Carbs | Varies by flavor |
| Fat | Varies by flavor |
Best Natural Whey Protein: Legion Athletics Whey+ Whey Isolate Protein Powder
Good for: Those who want a natural whey protein
Whey protein powder often contains artificial flavors and ingredients used as sweeteners, preservatives, or fillers to help bulk up the product while providing little to no nutritional value. Legion Athletics Whey+ Whey Isolate Protein Powder uses all-natural, high-quality ingredients in more ways than one.
Whey+ has a Truly Grass Fed certification, a mark that proves the cows that produce the dairy from which the whey protein isolate is extracted only eat grass (some companies add corn or soy to the cattle's diet) and spend a high percent of the year outside on Irish pastures—as an O'Reilly, I'm a big fan of anyone who supports the Emerald Isle.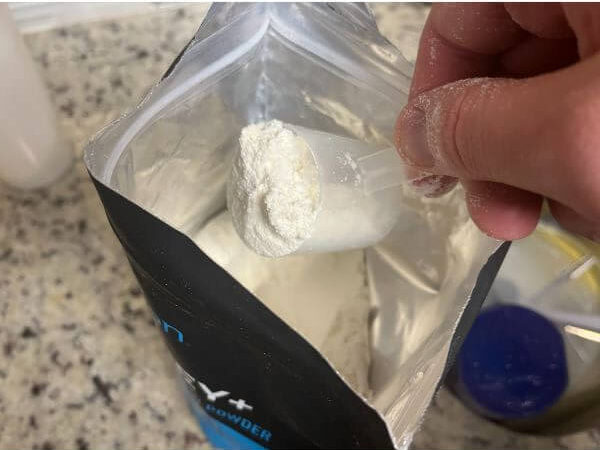 Even non-Irish people will love this protein powder. Each scoop comes with 22 to 24 grams of protein (depending on the flavor) and low amounts of carbs and fat.
It also bears a Labdoor Tested for Purity certification, which shows that researchers have checked it for harmful substances such as heavy metals, banned substances, and THC (yes, it can be present in very small amounts in some protein supplements).
Legion's protein powder is expensive, at $1.99 per serving, but you can save 10% by placing it on a subscription order to receive a new one every month (you can pick different flavors and quantities).
I went with Cinnamon Cereal and I think Legion should make this just a tad bit sweeter, but that just might be me. Try to remember your childhood cinnamon cereal (y'know, the one with crunch in its name) and recall how the milk tasted by the time you reached the bottom of the bowl and the cereal was soggy—that's what this protein powder tastes like when mixed with milk.
| | |
| --- | --- |
| Price per serving | $1.99 |
| Flavors | 17 |
| Protein | 22-24 g |
| Carbs | Varies by flavor |
| Fat | Varies by flavor |
Best-Tasting Whey Protein: XWERKS Grow
Good for: People looking for the tastiest whey protein powder
Whey protein powders have come a long way from their early days of just coming in vanilla or chocolate, and there are quite a few tasty ones out there. But for our money, XWERKS Grow has some of the best-tasting protein powders on the market.
The Chocolate flavor reminds me of a richer, more protein-packed version of Yoo-hoo, specifically the type you'd get in those glass bottles. It's rich and creamy even when mixed with water, though it should go without saying that milk is the preferred beverage of choice.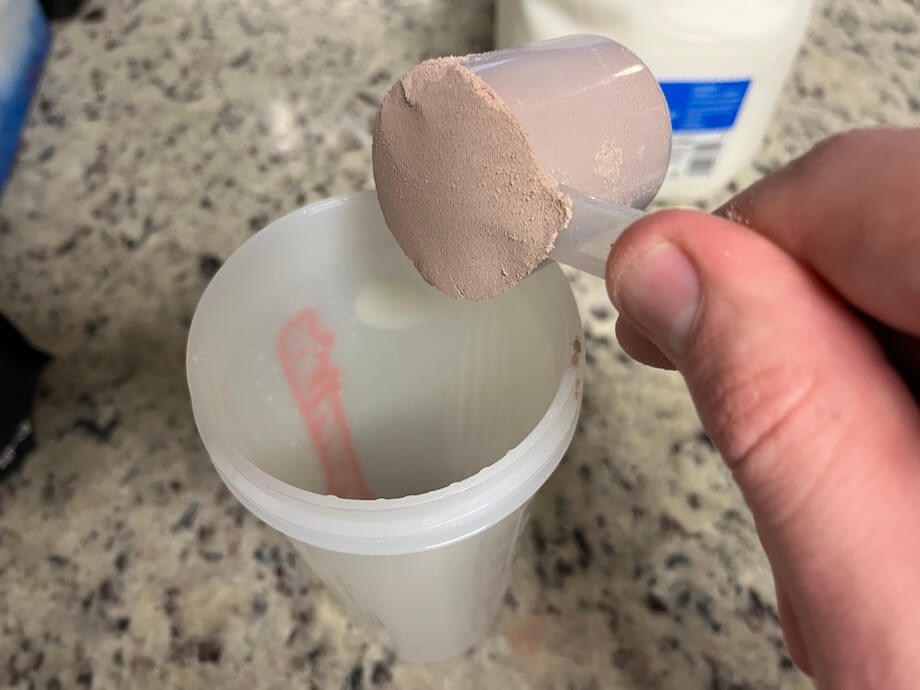 XWERKS Grow doesn't just taste good, it's also good for you (we know that sounds like your parents trying to trick you into eating steamed broccoli, but we actually mean it). Each scoop has 25 grams of protein and very low carb and fat content (the exact amount varies by flavor).
XWERKS utilizes a special filtration process that keeps certain nutrients intact, including alpha-lactalbumin, a nutrient found in human breast milk that can help with muscle growth5.
| | |
| --- | --- |
| Price per serving | $1.96 |
| Flavors | Chocolate, Vanilla, Peanut Butter, Strawberry |
| Protein | 25 g (Peanut Butter has 23g) |
| Carbs | 1 g (Peanut butter has 2g) |
| Fat | 0 g (Peanut Butter has 2g) |
Best Whey Protein for Digestion: Jacked Factory ISO
Good for: People looking for an easily digestible protein that won't cause bloating
As we mentioned earlier in this list, increased protein intake can cause some rumblings down under, and we're not talking about Australia. This is especially true if you have dairy sensitivities or are lactose intolerant (and yes, that's two separate things).
Jacked Factory ISO is our best whey protein for digestion because it's a whey protein isolate, which means most of the lactose has been removed. People with dairy sensitivities, such as lactose intolerance, should still consult their physician and use caution before taking this protein powder, but it's less likely to cause any digestive issues4.
While we haven't tried this specific Jacked Factory protein powder before, we've had success with some of their other offerings and found they were easier on the stomach than their competitors. Several customer reviews also claim the same.
With 25 grams of protein and minimal carbs and fats, it's also a great pick for anyone who needs a protein supplement to keep them full while cutting.
| | |
| --- | --- |
| Price per serving | $1.33 |
| Flavors | Vanilla, Vanilla Oatmeal Cookie, Chocolate Peanut Butter |
| Protein | 25 g |
| Carbs | 1 g |
| Fat | 0.5 g |
Best Grass-Fed Whey Protein: Swolverine Whey Protein Isolate
Good for: People looking to add muscle mass to their physique
Right off the bat, Swolverine Whey Protein Isolate wins some major points for being mostly protein—a 30-gram scoop contains 26 grams of whey protein isolate. The carb and fat content vary by flavor, but generally, you can expect just 1 gram of carbohydrates and up to 5 grams of fat.
It gets bonus points for using grass-fed cows. Before we get any questions, yes using grass-fed dairy makes a difference. One study6 found that grass-fed dairy had a better ratio of omega-3/omega-6 fatty acids than grain-fed cows, which can help with joint and heart health and even reduce the frequency of certain headaches.
RELATED: Best organic protein powder
Grass-fed dairy also has a higher antioxidant content than grain-fed dairy, which can be beneficial to your overall health7.
We're also happy to see a short ingredient list made mostly of natural ingredients and sweeteners (there are some artificial ingredients there, but you shouldn't listen to the influencers who try to demonize them as it's really a matter of personal preference).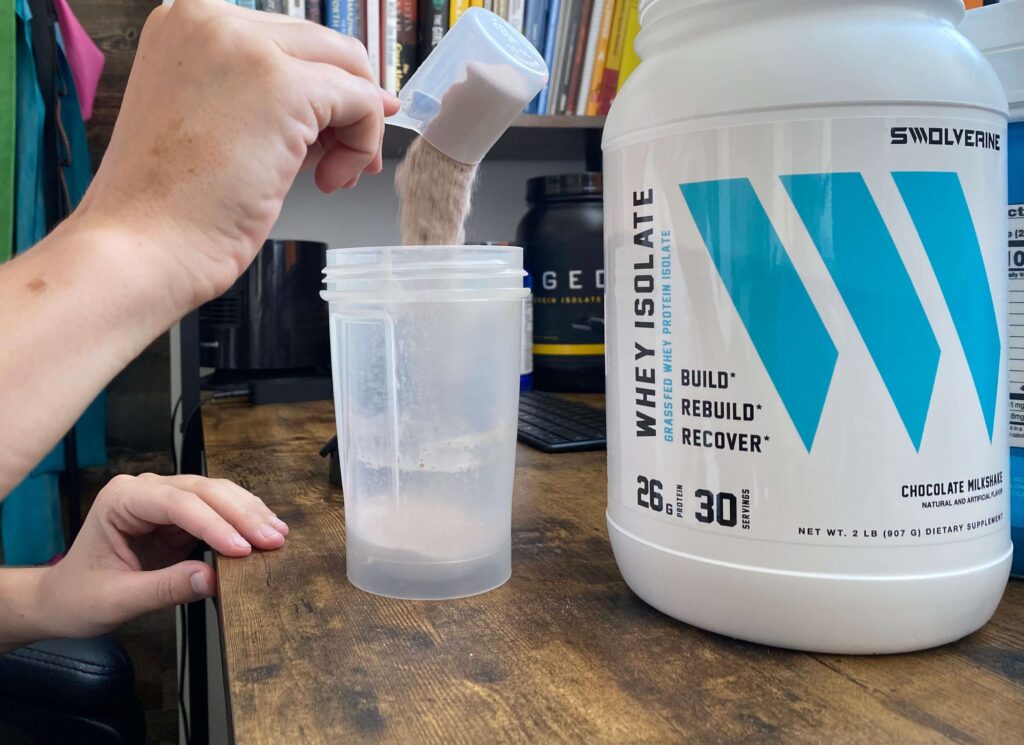 For those who have never gone on a bulking journey before, you should know that increased protein intake can cause some digestive issues (like the kind you really don't want to happen on a date, if you catch my drift). Swolverine fixes that problem by including a digestive enzyme blend to assist with digestion, which includes the enzymes protease and papain. An October 2022 study8 on mice concluded that protease and papain were beneficial in improving gut health.
RELATED: Best protein powder for men
Amanda Capritto, GGR writer and expert product tester, went with the chocolate flavor. "The flavor of this protein is good," she says. "It's very rich and, indeed, very chocolatey. With milk, it tastes great, but with water it's so ultra-thin that it's off-putting. It was like drinking chocolate water, which I didn't enjoy."
| | |
| --- | --- |
| Price per serving | $2.06 |
| Flavors | Vanilla, Chocolate, Honey Cinnamon Peanut Butter, Mint Chocolate Chip |
| Protein | 26 g |
| Carbs | Varies by flavor |
| Fat | Varies by flavor |
Best Whey Protein for Athletes: Onnit Whey Protein
Good for: Athletes or anyone else looking for a banned substance-free protein powder
Onnit Whey Protein has the Informed Sport certification, meaning it meets the quality standards of several regulatory, sports industry, and consumer organizations. Essentially, the certification proves that it's free of any banned substances that could potentially cause an athlete to fail a drug screening test.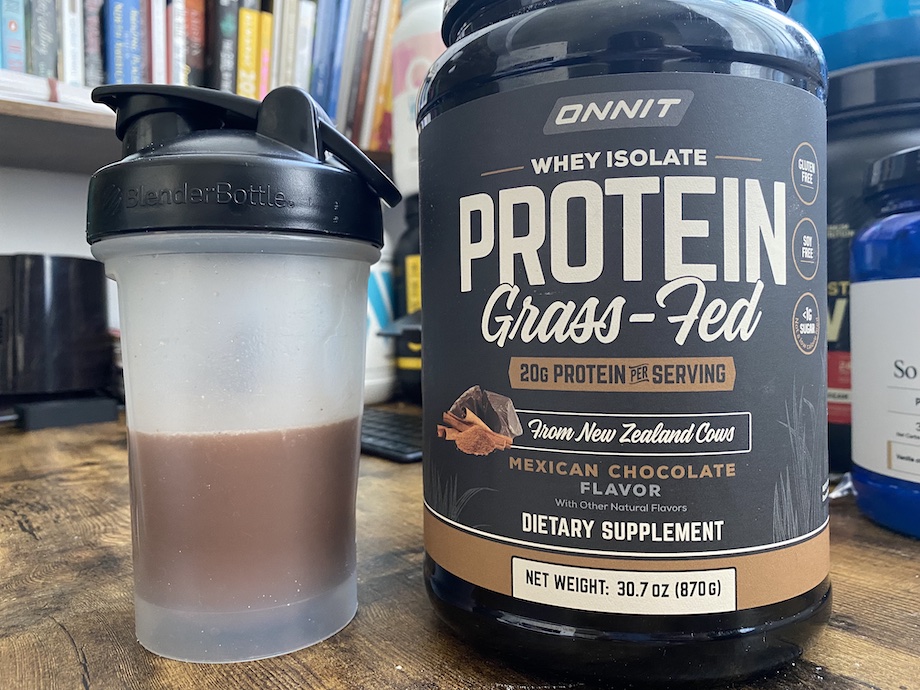 The drug testing at the CrossFit Games differs from drug testing in the MLB or NHL, and different governing bodies may prohibit different substances sometimes found in protein powders, pre-workouts, and other supplements. Third-party certifications give athletes the peace of mind that they can take that supplement without fear of ingesting something that may get them in trouble with their sport (though it's best to always double check).
Additionally, Onnit comes from grass-fed cows so the protein may come with additional benefits for your joints and heart6, and it's a whey protein isolate so it's easy to digest4.
"The Mexican Chocolate actually tastes different from other chocolate protein powders, which I honestly wasn't expecting," GGR staff writer and expert product tester Amanda Capritto says. "It's rich when mixed with whole or oat milk."
| | |
| --- | --- |
| Price per serving | $1.99 |
| Flavors | Vanilla, Mexican Chocolate |
| Protein | 20 g |
| Carbs | 3-5 g |
| Fat | 2 g |
Best Whey Protein for Recovery: 1st Phorm Phormula-1
Good for: Anyone who's looking to prioritize recovery
A protein powder following an intense kettlebell workout for glutes goes together like milk and cookies, and we're reaching for 1st Phorm Phormula-1 to wash down our next strength-training session.
Phormula-1 is a hydrolyzed protein powder, meaning it is more easily digestible than traditional whey protein isolate5. This is important because a May 2014 review9 found that people who regularly engage in intense exercise were more likely to have gastrointestinal and digestive issues, so easily digestible foods and supplements should be a high priority for anyone who's focusing on post-workout recovery.
Some also claim it leads to improved protein synthesis, but there's little to no evidence supporting that.5
There's also five grams of branched-chain amino acids (BCAAs), which a November 2021 meta-analysis10 linked with improved muscle recovery and muscle endurance.
GGR editor and expert product tester Nicole Davis went with Chocolate Mint and said it tasted like a Thin Mint. "Delicious mixed with milk," she says. "Mixed great, not clumpy at all."
| | |
| --- | --- |
| Price per serving | $2.03 |
| Flavors | 12 |
| Protein | 20 g |
| Carbs | Varies by flavor |
| Fat | Varies by flavor |
Best Budget Whey Protein: Optimum Nutrition Gold Standard
Good for: Anyone who's on a budget or beginners who don't want to spend very much trying protein powder
Optimum Nutrition Gold Standard continues to be one of the most affordable protein powders, with some options coming out to just $1.08 per scoop. That's a much more budget-friendly protein source than eggs, though we recommend going for a larger container to get the best deal (psst, did you know that protein powder can last a surprisingly long time if properly sealed).
Usually, budget home gym equipment and budget supplements come with plenty of downsides but the only con of Optimum Nutrition Gold Standard is the fact that there are some artificial sweeteners. The protein itself is actually high-quality and rivals much more expensive supplements.
For starters, you get some fun flavors: our pick for the best Optimum Nutrition flavor goes to Double-Rich Chocolate, but Mocha Cappuccino, Vanilla Ice Cream, and Chocolate Mint are also near the top of our list.
Optimum Nutrition contains whey protein concentrate, which may be harder for some people to digest, along with some additives and artificial sweeteners, but it's still high quality and one of the best protein shakes.
| | |
| --- | --- |
| Price per serving | $1.08-$1.66 (depending on container size) |
| Flavors | 19 |
| Protein | 24 g |
| Carbs | Varies by flavor |
| Fat | Varies by flavor |
Other Whey Protein We Researched 
The whey proteins in our top 10 only represent a small fraction of the protein supplements available today. Here are a few others we came across in our research:
RELATED: Muscle Milk review
Simply Tera's Whey: This protein powder actually has some good macros (21 grams of protein, four grams of carbs, and one and a half grams of fat) but it's geared toward bakers more than athletes. So if you're looking for a way to bulk up your next batch of cupcakes with some protein, this might be the solution. Amazon customer reviewers loved the taste.
Natreve MOOLESS Animal Free Whey Protein Powder: Natreve claims to have created a man-made whey protein without milking cows. It's an interesting concept, and one that plant-based followers might be curious about, but we haven't tried it. There also appears to be no scientific studies on this animal-less whey protein powder. Its nutritional value, however, is quite good—20 grams of protein, five grams of carbs, and 0.5 grams of fat.
Related: Best pre-workout for women
How We Picked and Tested the Best Whey Protein
Here are a few things we kept in mind when creating our list for the best whey protein:
Protein content: How much protein did each scoop contain? Does it come from easily digestible whey protein isolate or whey protein concentrate, the latter of which contains more lactose and may cause digestive issues.
Carb and Fats: How much of the other macronutrients were present and were they in low and/or moderate amounts?
Digestibility: Did the whey protein cause any digestive issues such as bloating?
Dairy quality: Is the whey protein sourced from cows who are hormone-free, pesticide-free, and antibiotic-free?
Solubility: How well does this product dissolve in the suggested amount of liquid? Are there floaties? Is it grainy? Is it super thick or super thin? Does it separate after a few minutes?
Flavor: How was the taste?
Transparency and third-party testing: Since dietary supplements are not approved by the FDA, having an independent third-party lab verify that what's on the label is what's in the protein powder is super important, especially for athletes. Transparency also plays a part in this—does the company provide COAs, not use proprietary blends, and generally seem very upfront about what's used in their protein powder and why?
Price: How much did the container cost and what was the cost per serving?
RELATED: Best protein chips
Benefits of Whey Protein
Wondering why you should consider purchasing or using whey protein? Here are just a few reasons:
Convenience: It's much easier and quicker to drink some whey protein than it is to make an entire meal with the same protein content.
Shelf stable: Whey protein can last quite a while if its container is properly sealed.
Builds muscle: Whey protein along with a good strength-training program can help the body create muscle and preserve lean muscle mass3.
Lose weight: Protein powder can also benefit those looking to lose weight by placing themselves in a caloric deficit3.
Buying Guide: What to Look for in the Best Whey Protein
Here's what you should look for when you're trying to purchase the best whey protein for your fitness and wellness goals:
Caloric content: Are you looking to add muscle mass and want a high-calorie protein powder or are you on a weight-loss journey and want a low-calorie option?
Protein content: Regardless of your goal, you'll want at least 25-30 grams of protein per serving, but servings as low as 20 grams can support muscle building activities and weight loss3.
Dairy quality: Are the cows well taken care of or are they pumped full of hormones?
Taste: Do you enjoy drinking it? Some companies also offer unflavored products if you're looking to just add protein to your morning smoothies.
Price: Shouldn't have to be explained, but find a whey protein that agrees with your wallet.
Protein source: Does the protein source just contain whey protein or is it mixed with casein or plant-based proteins?
Additives: Did the company put in added sugars, probiotics, or anything else that might alter your experience with this whey protein? Check the ingredients.
RELATED: Best protein bars
Protein Powder Subscriptions: What Are They and Are They Worth It?
You might find the option on some of the best whey proteins to "subscribe and save." This refers to putting your whey protein powder on a subscription basis so you always have protein on hand, which can be set up on most companies' websites and on Amazon.
The delivery frequency can be anywhere from two weeks to six months.
Companies will often knock a few bucks off a container's price since they know you'll be a repeating customer next month.
Types of Whey Protein
There are three main types of whey protein: whey protein concentrate, whey protein isolate, and whey protein hydrolysate. All three come from whey, which is a byproduct of cow's milk. The whey is then processed and filtered and can become one of the three types of protein.
Whey protein concentrate
Made up of 30 to 89 percent protein, with the rest of the calories coming from carbohydrates (lactose) and fats.
Whey protein isolate
A more filtered form of whey protein that's made up of at least 90 percent protein. Much of the lactose has been removed from whey protein isolate (WPI), so those with dairy sensitivities may be able to drink it.
Whey protein hydrolysate
A pre-digested form of whey protein that's undergone partial hydrolysis.
Potential Side Effects
Most people won't experience side effects when taking whey protein powder, but if it's consumed in excess you may experience changed bowel movements, acne, bloating, reduced appetite, fatigue, headaches, and nausea.
FAQs About Best Whey Protein
What is the best whey protein powder?
What is whey protein powder?
Whey protein powder is protein powder made from whey, which is the liquid that remains from cow's milk after it's been turned into cheese or other products. The milk protein in whey is highly bioavailable, meaning it can be digested easily, and is found in high-quality products like protein powder, protein bars, and meal replacement products. 
There are different types of whey protein, such as whey protein concentrate, whey protein isolate, and whey protein hydrolysate.
Is whey isolate worth it?
Whey isolate may be worth it to anyone who's lactose intolerant or has a dairy sensitivity. Whey isolate is a type of whey protein that's had a good amount of lactose removed from it, making it more easily digestible. Although it's less likely to cause digestive problems, there is a chance it may cause some issues if your sensitivity is severe. 
These statements have not been evaluated by the Food and Drug Administration. This product is not intended to diagnose, treat, cure, or prevent any diseases.
How do I choose the best whey protein powder?
You must first be truthful with yourself about how well you digest dairy. People with digestive issues should opt for a whey protein isolate as it contains less lactose than whey protein concentrate. Then look at factors such as additional ingredients, protein content, carbs and fats, and third-party certifications.
References