We test and review fitness products based on an independent, multi-point methodology. If you use our links to purchase something, we may earn a commission. Read our disclosures.
When I encourage my nutrition clients to snack, this recommendation is often met with shock—mostly because "snacks" are often synonymous with junk food that you eat between meals.
Unfortunately, one of the problems with the typical American diet is that it is dominated by snack foods, which are composed mostly of carbohydrates. Given that the purpose of a snack is to keep your hunger at bay until the next meal, it's a good idea to have some protein with your carbs for optimal satiety. 
This is probably why, in addition to them being ridiculously tasty, we just can't control ourselves around normal potato chips and eat way more than we probably should in one sitting, but often still end up feeling hungry and unsatisfied very soon after. Conventional chips are just a bunch of starch with minimal protein, if any at all.
That's what makes protein chips special. A good brand of protein chip will contain a solid amount of protein to both satisfy your cravings for crispy, crunchy goodness while keeping your hunger under control to help keep you from overeating.
No matter what your motivation is for seeking out the best protein chip, we're glad you're here. Discover below what we believe are the best protein chips on the market according to our team of experts.
RELATED: How Much Protein Do I need
Medical disclaimer: This article is intended for educational and informational purposes only. It is not intended as a substitute for medical advice. For health advice, contact a licensed healthcare provider. GGR also recommends choosing a product that has been third-party tested for quality.
Trust Us, We Know Our Protein
Not to brag or anything, but in the nutrition department at Berkeley, they called me "the protein queen" because, every chance I could get, I was telling everyone that would listen that they should be eating more protein. I've also done extensive research on different proteins, their forms and their effects on the body, health, and athletic performance.
Our team used their expertise to carefully select and try the most popular protein chips on the market today to find the best choices for you. Since I'm a sports dietitian with a particular passion for protein and protein foods, I was committed to helping our team provide the most honest assessment of protein chips.
5 Best Protein Chips
Best-Tasting Protein Chips: Quest Tortilla-Style Protein Chips
Good for: Active people looking for a snack that tastes like a Dorito, without the Dorito additives
Quest Nutrition is already a well-known brand in the sports nutrition industry for its quality protein products, so it's no surprise that their chip offering would make such a splash. At the time of this article's writing, Quest Tortilla-Style Protein Chips are reigning supreme on Amazon as the #1 in the category of Tortilla Chips & Crisps and #1 in Sports Nutrition Chips & Crisps Snacks.
With nearly 70,000 Amazon reviews at the time of this article's writing, it holds a solid average of 4.5 out of 5 stars with most reviews raving about the addictive taste (a favorite flavor being their Loaded Taco) and the ease with which they can fit into even the most strict diets.
GGR senior editor and expert product tester Nicole Davis tried Loaded Taco Quest chips and agreed with most customers: "Ok, these were actually great…a Dorito dupe for sure! They taste a little healthier than Doritos, but honestly not by much. More taco seasoning flavor than nacho cheese, but still pretty good. I ate them alone, my kids and husband ate them, and we made walking tacos with them…don't pretend like you don't remember those!"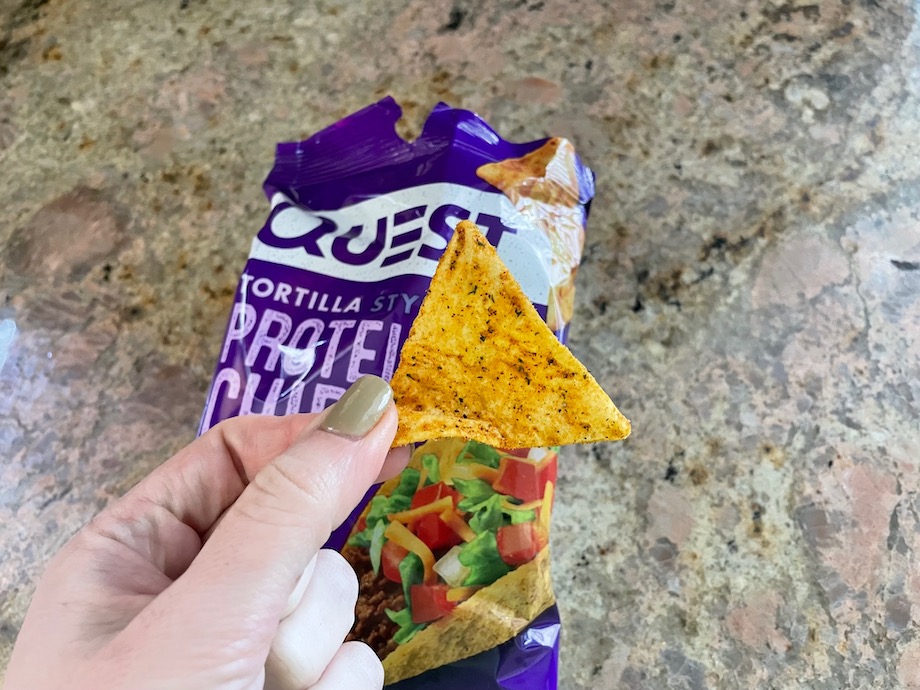 At 18 grams per serving, these chips offer nearly twice as much protein as the other products on our list. It also comes from a high-quality source in the form of whey protein isolate, meaning it can also provide nine essential amino acids so you can crunch into some complete protein.
Quest Nutrition's Protein Chips have only 4 grams of net carbs per bag, which makes them suitable for ketogenic diets as well as low-carb diets in general.
However, as a dietitian, I do not recommend using this product as your primary source of recovery after an exercise session despite it containing almost the same amount and type of protein as a serving of protein powder. That's simply because the other ingredients in these chips, in addition to how much more slowly you're likely to consume them compared to a protein shake, may hinder the speed at which the protein is digested and absorbed. 
RELATED: Best Protein Powder
| | |
| --- | --- |
| Notable Ingredients | Protein Blend (milk protein isolate, whey protein isolate), high oleic sunflower oil, calcium caseinate, corn starch, natural flavors, soluble corn fiber, psyllium husk, salt |
| Main source of protein | Milk and whey isolate |
| Protein per serving | 18-20 grams |
| Flavors | Nacho Cheese, Loaded Taco, Chili Lime, Spicy Sweet Chili, BBQ, Cheddar & Sour Cream, Sour Cream & Onion, Ranch |
| Cost per serving | $2.50 |
Best Budget Protein Chips: PopCorners Flex Protein Chips
Good for: Anyone wanting to save a bit on usually pricey protein chips
Not to make it personal or anything, but as a dietitian, this is one of my favorite brands of chips. Like, easily top three. When I tried them for the first time, I was instantly reminded of the light, but crispy flavor of Pringles and I was addicted.
However, GGR product tester and staff writer Lauren Strong thinks differently: "These are so dry," she says. "I wouldn't buy them again. I made friends try these and no one was raving afterward. Finishing a bag was a bit of a chore—not like a regular snack-sized bag of chips where you're glad the bag wasn't bigger because you could have just kept eating!"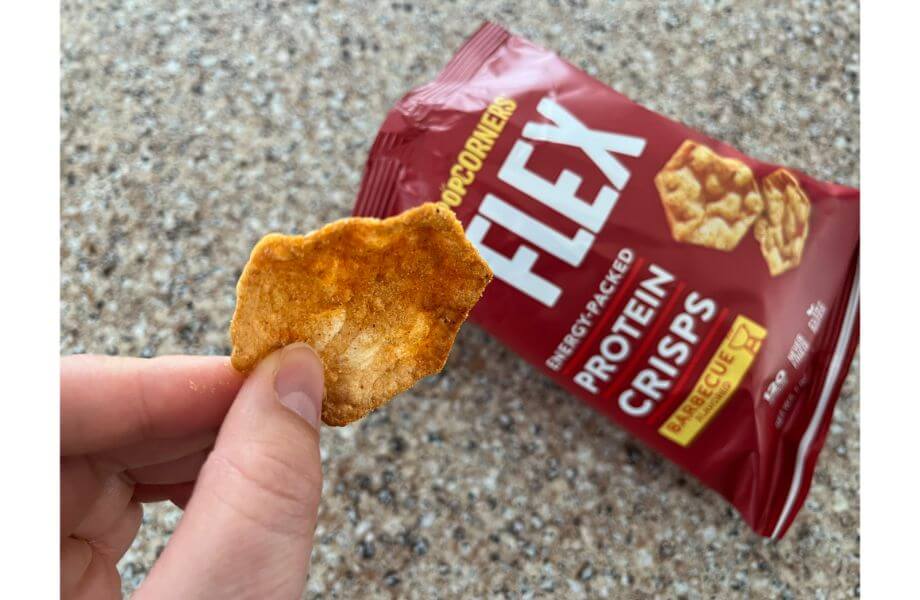 And Lauren is right—as a result of each bag of Flex protein chips being properly portioned for you, you will be less likely to go overboard with these delicious snacks. What's more, each serving of 22 chips is only 120 calories but offers 5 grams of fiber and 10 grams of soy protein that are provided in all of their flavors.
Most of the ingredients come from natural sources, but there are quite a few of them, making the ingredients list a bit lengthier than the other chips on this list. That said, these chips are still free of GMOs, kosher, and vegan.
They are also incredibly affordable, being priced at a measly $1.43 per bag. This is huge considering many of us active folks are constantly seeking out protein-rich food, but committing to a consistent consumption of them can be expensive. So, filling the gaps in your eating day with these snacks can definitely give your wallet a little break.
Finally, the main source of protein in PopCorners' Flex Protein Chips is soy, which is a big deal because non-GMO sources of soy are hard to come by these days. It's also important to note that soy is one of the very few sources of a complete protein that comes from plants.
| | |
| --- | --- |
| Notable ingredients | Soy protein, tapioca starch, soy fiber, cassava, topical seasoning (sugar, sea salt, vinegar powder, tomato powder, yeast extract, citric acid, spices, natural flavor), sunflower oil |
| Main Source of Protein | Soy |
| Protein Per Serving | 10 grams |
| Flavors | Buffalo, Cheddar & Sour Cream, Barbecue |
| Cost Per Serving | $1.43 |
Best Keto Protein Chips: Whisps Cheese Crisps
Good for: Chip-lovers looking to adhere to a low-carb diet
Whisps Cheese Crisps come in flavors like Parmesan, Nacho, Ranch, or Cheddar Cheese and are made from just one ingredient: 100% artisanal, wheel cheese.
That makes these little wheels of cheesy delight ideal for those cheese fiends out there (you know who you are!). Take a break from your mid-afternoon string cheese for a different type of cheese snack.
Given that cheese is made up of both whey and casein protein, you can reap the benefits of both with this snack. The best part? You'd likely be surprised to hear that, according to Whisps, their crisps are formulated to be lactose-free (excluding their ranch flavor). So even our lactose-intolerant readers are safe to partake.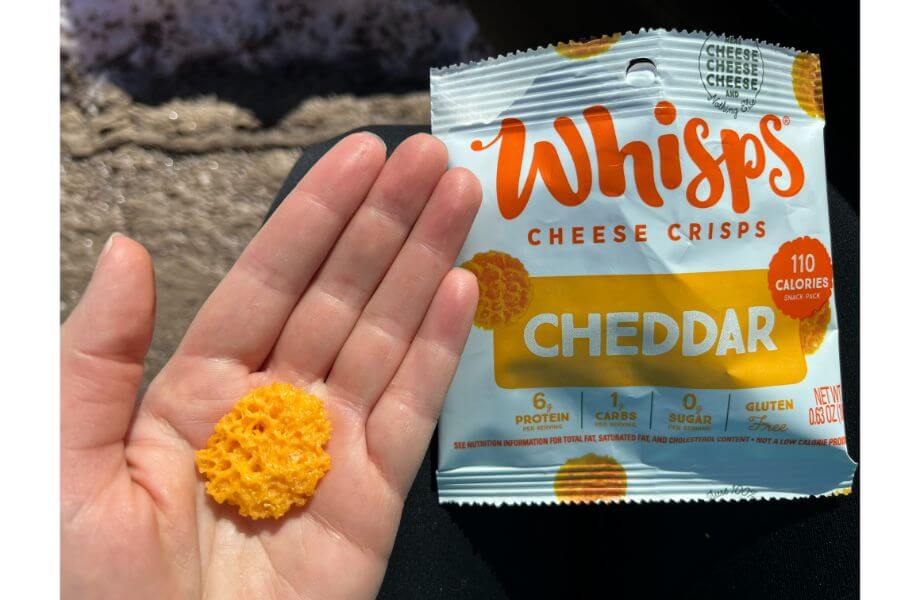 Another mind-blowing fact about these cheese crisps is that they have just as much calcium and even more grams of protein in one serving than an 8-ounce glass of milk. Given that calcium can be hard to come by for some people who are lactose-intolerant, this is an attractive plus.
Depending on the flavor, there is only about 1-3 grams of carbs per serving, 0-1 grams of sugar, and 11-14 grams of fat, meaning Whisps Cheese Crisps are the most keto-friendly snack on our list. Be mindful, though. About 10 grams of that fat is saturated, so it may be a heart-healthy idea to utilize this protein source in moderation.
Tester Lauren agreed about the keto-friendliness of these "chips," saying "I like them, but the protein content isn't there for me personally."
Finally, the texture of Whisps Cheese Crisps gives them a surprising layer of culinary versatility. Obviously, you can enjoy them as a snack on their own, but you can also use these great-tasting snacks in keto recipes such as a breading for chicken or a house-made chex mix.
| | |
| --- | --- |
| Notable ingredients | Cheese (pasteurized part-skim milk, cheese cultures, salt, enzymes) |
| Main Source of Protein | Milk |
| Protein Per Serving | 10-13 grams |
| Flavors | Barbeque, Garlic Herb, Hot & Spicy, Tangy Ranch, Nacho, Parmesan, Cheddar, Asiago & Pepper Jack |
| Cost Per Serving | $4.19 |
Best Plant-Based Protein Chips: Safe + Fair Pea Protein Chips
Good for: Individuals who adhere to a plant-based diet and need an effective source of protein
Safe + Fair's Sea Salt flavor is made with only three clean ingredients, making it one of the simplest products of the protein chips we tested. The structural starch in the chips comes from potatoes, lentils, and corn—not wheat—making them gluten-free as well.
The chips are available in flavors such as Sweet Jalapeno, Hickory BBQ, and Sea Salt, with the sea salt version being the most versatile due to its simplicity. This means you can pair it with dips like hummus or guacamole. Our tester, GGR Performance Editor Anthony O'Reilly, really liked these, saying they were perfectly crunchy: "They're like the perfect kind of chip to put on a sandwich. Almost feels like you're actually eating a potato chip."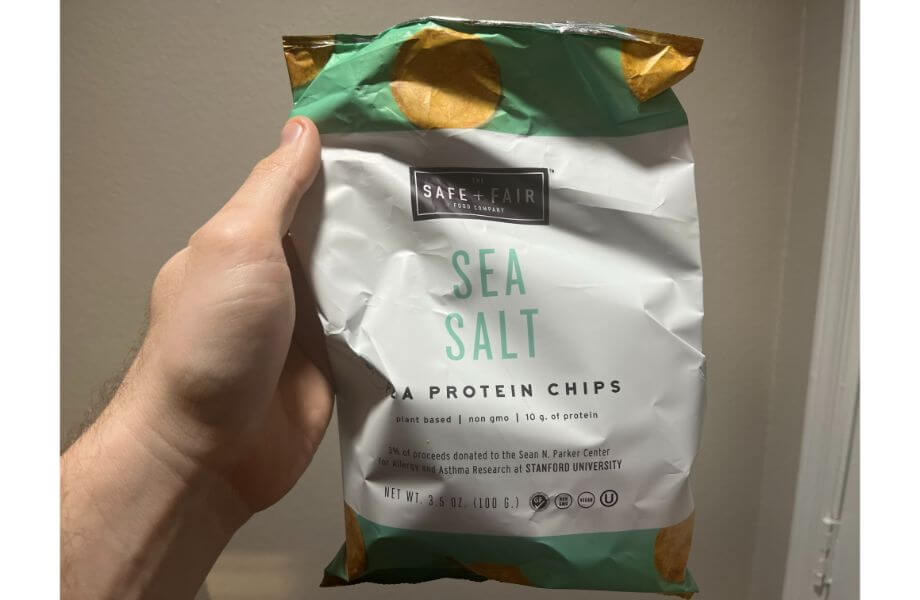 The pea protein chips produced by Safe + Fair are free of the top nine allergens, and the laboratory takes 16 proprietary steps to ensure the quality and safety of the products. Furthermore, the leading American independent food allergy laboratory has validated their allergen protocols.
One reason we crowned these as the best plant-based protein chip is due to the fact that their main source of protein is pea protein. It is notoriously difficult for vegans to find dietary sources of the same muscle-building amino acids as meat-eaters.
However, one study1 published in the Journal of the International Society of Sports Nutrition showed that pea protein is just as effective as whey protein at building muscle when following a resistance training program.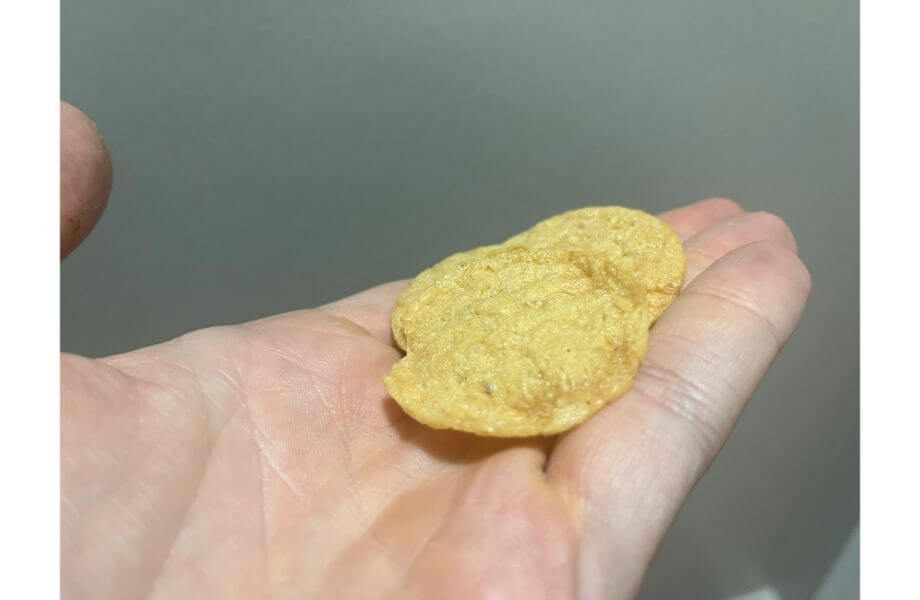 In terms of weight control value, there are a couple of things to note. With only 110 per serving, this snack is pretty low-calorie. However, there are 0 grams of fiber, so pairing it with a vegetable may be a good idea if you're looking for maximum satiety.
A study2 conducted on 32 subjects concluded that pea protein performed slightly better at fighting cravings when compared to whey, so we can be pretty comfortable with concluding this is one of the most practical high-protein snacks for those who adhere to a plant-based diet.
| | |
| --- | --- |
| Notable ingredients | Pea protein, lentil flour, potato starch, corn flour, sunflower oil, sea salt |
| Main Source of Protein | Peas |
| Protein Per Serving | 9-10 grams |
| Flavors | Hickory BBQ, Sweet Jalapeno, Sea Salt |
| Cost Per Serving | $4.08 |
Best Organic Protein Chips: IWON Protein Stix
Good for: Those looking for an organic version of a snack that tastes as indulgent as junk food
These crunchy little guys look just like Cheetos, but with none of the same artificial ingredients and saturated fat. Instead, the combination of most wholesome, natural ingredients combined with the fact that they resemble a more familiar snack makes them a wonderful treat for children.
If you are a person who is struggling to find a snack that's both organic and affordable, look no further. At barely $3 per serving, you can enjoy all the wholesome goodness, but with all the craveable flavor, of these protein sticks.
Our tester Lauren wasn't sure what to expect with these snacks, but decided that she likes them. "They are salty without being too much, and just the right amount of BBQ flavor to keep you grabbing for the next one!"
IWON Protein Stix are kosher, plant-based, organic and free of GMOs, gluten or soy. In addition to this, they are also made of a blend of proteins that is derived from green peas, navy beans, and brown rice. There is, however, one caveat for vegans: some of the flavors such as the Nacho Cheese may contain milk, so be aware.
And get this: Each serving contains 5 grams fiber, which means just one bag can help you meet 20% of your daily fiber requirements. Not too shabby for only 180 calories. For a similar amount of calories, Cheetos only contain 2 grams of protein and less than 1 gram of fiber (not to mention, plenty of artificial flavors), so if you're looking for a better substitute, you've found it.
The IWON Protein Stix can be ordered on Amazon in five different flavors, with the majority of the reviews indicating that the snacks are excellent-tasting for being organic.
| | |
| --- | --- |
| Notable ingredients | Iwon Organic Protein Blend (green peas, brown rice flour, navy beans, brown rice protein), sunflower oil and/or safflower oil |
| Main Source of Protein | Peas and rice |
| Protein Per Serving | 10 grams |
| Flavors | Nacho Cheese, Spicy Sweet Peppers, Mesquite BBQ, Sweet Dijon, Korean BBQ |
| Cost Per Serving | $2.74 |
Other Protein Chips We Tested
As the general public slowly begins to realize the benefits of consuming more protein, we now live in an age where protein chips are becoming more common than ever. With options like that, it was pretty hard to narrow it down to this list, but we used our own standards to do so anyway.
In light of that, here are some other products we liked, but didn't make our list.
Kalahari Crisps: Nicole tried these, and wasn't a fan. "The smell threw me off instantly, and I didn't like the flavor I tried. The texture was OK—definitely chip-like—but I think I'd prefer jerky if I were to eat dried meat, which is what these are. Also, it ended up being close to $25 for 3 small bags (plus shipping)…that's wild!"
Wilde Protein Chips: GGR senior staff writer and product tester Amanda tried these, and just couldn't get past the fact that they're actual chicken. " It makes me think of chicken skin when I'm eating them. I tried each flavor once (like, literally 1-2 chips) and I'm hesitant to eat them again. Very off-putting and I'd rather just eat jerky."
How We Picked and Tested the Best Protein Chips
Whether your goal is to achieve weight changes or just find the tastiest protein snack, we compiled a selection of protein chips that had something for everyone. Our testers selected the brands on our list based on the following criteria:
Protein Amount
The cardinal sin that most protein snacks commit is actually being glorified, overpriced junk food with a little bit of protein added. Seriously, should a protein snack really be labeled as such if it provides more fat or sugar per serving than it does protein?
The brands we selected, however, are legit. With an average of 10 grams of protein per serving (and Quest's chips having up to 20 grams in some flavors), the protein chips on this list make your calorie intake worthwhile if protein intake is a priority of yours.
Taste
This was a no-brainer, but they had to taste good. Or at least tolerable. We relied on our own taste-testing, as well as customer reviews, to get a good consensus.
Special Diet Friendly
We really wanted to select a variety of chips that can fit into any diet, whether conventional or unconventional. It was also important to us to find chips that appeal to people's diets and values, such as those who prefer organic ingredients and don't consume animal products.
Familiar Ingredients
Protein isn't a common ingredient that can be found in significant amounts in the normal chips you find in the grocery store. So, when food companies begin adding food items to other food items, sometimes it's easy to add a lot of artificial ingredients to stabilize the product and improve its taste.
For this reason, we recommend to you protein chips whose ingredient lists are short, or whose ingredients come from familiar foods that are easy to recognize, or both. Because, ultimately, general health will always be more important than bodybuilding or macros.
Benefits of Protein Chips
Though we've spoken a bit about the application of protein chips and how they could be a welcome addition to nearly any diet, let's take a closer look at the specific benefits that could be reaped from these snacks.
Helps Control Appetite
We've talked about how to use protein to lose weight in the past. However, "weight loss" and "chips" are two terms you don't normally find in the same sentence. Nonetheless, if you enjoy them in moderation and time your eating properly, you could find that protein chips could be helpful in controlling weight by helping to prevent overeating.
Eating a low-fiber, high-carb snack between meals is an insanely common practice. However, it's all wrong. What you really need is a snack that's high in protein (and ideally contains a good amount of fiber) if you want to be effective in controlling your hunger between meals.
The average protein content of most brands of protein chips is around 10 grams, which is roughly the same amount as an ounce of beef jerky or two tablespoons of peanut butter. This makes them both a tasty and useful tool in helping to keep hunger under control throughout the day.
Increases Daily Protein Intake
As a dietitian with over six years of experience working with professional athletes and avid gym goers, it's not uncommon for me to recommend an athlete eat literally more protein than his weight when trying to change body composition.
However, as mentioned previously, trying to get that protein in from just eating "normally" is so difficult due to the satiating effect of protein. After eating a high-protein meal, you tend to start feeling full long before you've hit your protein goal for that meal. For this reason, if you have a macronutrient goal to meet, you have to inject protein foods into your day with a strategy.
The most common strategy I suggest to people struggling to meet their protein needs is to ditch the high-carb snacks in favor of something rich in protein. By breaking up protein intake this way throughout the day, it tends to be a little easier to hit those numbers.
What makes protein chips an amazing tool for this is the fact that there are 10 grams of protein in a low-calorie package. Additionally, protein chips tend to be low fat and low in carbs, so if you're just trying to increase your protein intake without increasing your fat and carb consumption too much, protein chips make for a great snack option.
Fits Into Low-Carb Diets
For people who choose to follow low-carb diets, one of the things they commonly lament having to give up are their favorite snacks, like potato chips.
Due to most conventional low-carb diets only allowing an intake of 50 grams of carbs per day, trying to fit in a serving of regular potato chips (which can deliver 15 grams of carbs per 1-ounce serving) into those macro restrictions just isn't going to work.
High-protein chips like the type on our list tend to be low in carbs due to the fact that the carb calories are displaced by protein calories, with most protein chips containing only about 4 net carbs per serving. As a result, you can indulge in those cravings without breaking your diet.
Better for Your Heart
Most conventional potato chips, though objectively delicious, tend to have the unfortunate feature of being fried and full of saturated fat. Evidence over the years3 has made it pretty clear that a consistent intake of saturated fat increases the risk of heart disease significantly. When you factor in the sodium4 from salted potato chips, it starts looking even worse for your heart.
Luckily, most of our chosen brands of protein chips are oven-baked and don't come close to the saturated fat content of regular potato chips. So, even if you don't have any specific macronutrient goals to meet, making the switch to protein chips can be a smart move if you're watching out for your health.
Dosing and Interactions
Forms of protein like the types used in these products can have interactions with several medications. For example, whey protein can have adverse interactions with antibiotics and certain medications used to treat bone and brain conditions. So, if you take medication, talk to your healthcare provider before using these products.
On the other hand, if you are not taking any prescription medications and are otherwise healthy, there has not been any evidence to suggest that ingesting protein snacks can bring about any serious side effects.
Third-Party Testing
Third-party testing is a method that is typically reserved for supplements. As supplements are not regulated by the FDA, third-party testing is a voluntary measure designed to provide consumers with reassurance.
Since protein chips are food, third-party testing is not necessary as food for sale must be regulated by the FDA for safety. Therefore, these products should not worry you if you are concerned about the safety and accuracy of the ingredients.
Buying Guide: What to Look for in Protein Chips
Ready to give protein chips a try for yourself? Here are some key qualities that should be kept in mind:
Protein Type
This may not be something that's top of mind when selecting a great snack, but with protein chips, the source of protein may be worth looking at.
For example, if you're a male concerned about your soy intake or you have hormonal conditions that may be exacerbated by soy protein intake, then you might want to select protein chips that are supplemented with whey or pea protein instead.
Calorie Efficiency
The term I like to use when considering whether or not the calories in the food are going to be "productive" is calorie efficiency. This is the answer to the question you should ask yourself which is "are the calories in this food going to serve my goals, or is there a better option?"
In the case of protein chips, you should look for a product that is low in calories with most of those calories coming from protein. Otherwise, it probably won't help you in the way that you think.
As an example, if you were to eat a protein snack in an attempt to increase your protein intake, but it consisted of 250 calories and only 8 grams of protein, then that snack would not be classified as a calorie-efficient snack. And that's because in order to meet your protein goal, you'd likely consume way more calories (and other macronutrients) than you intended.
Fitness Goals
Consider what it is you're trying to achieve with your body when shopping around for protein chips. If you're trying to lose weight, go for a low-calorie selection. Bonus points if there is also fiber included, so you can add some bulk and volume to your meal without extra calories.
If you're going for weight or muscle gain, you may want to choose a chip with a mild flavor that you can add to other foods for a calorie boost. You may also want to opt for a chip you can order in bulk so, if you enjoy a particular brand, you can keep your intake high and consistent.
Price
Food costs have increased more than ever in recent years, so if budget is a concern for you, compare protein chips that will give you more bang for your buck per serving, especially if you can see yourself regularly incorporating a particular protein chip into your diet.
FAQs About Protein Chips
Which chips have the most protein?
On our list of protein chips brands, Quest Nutrition's chips have the highest protein content, with 18 to 20 grams of protein per serving, depending on the flavor.
Are protein chips actually good?
Given the reviews we've seen and the feedback of our testers, we are confident in saying that a handful of protein chips are pretty good in terms of taste.
What are the top 5 healthiest protein chips?
What snack has the most protein?
There are a plethora of high-protein foods and snacks to choose from and we couldn't possibly isolate the "best one." The protein content of Quest Nutrition's chips is the highest in the realm of protein chips, with 18 to 20 grams of protein per serving.
These statements have not been evaluated by the Food and Drug Administration. This product is not intended to diagnose, treat, cure, or prevent any diseases.
References