We test and review fitness products based on an independent, multi-point methodology. If you use our links to purchase something, we may earn a commission. Read our disclosures.
Popularized by CrossFit athletes, bootcamp baddies, and four-season runners, the AssaultFitness Runner Pro is a manual treadmill that can help you achieve your fitness goals.
One of two manual treadmill models made by AssaultFitness, the AssaultRunner Pro is considered the most elementary model, although there's nothing low-grade about its heavy-duty steel frame and precision ball bearings. (The AssaultRunner Elite is a fancier-shmancier option, by the way).
In our AssaultRunner Pro review, learn everything you need to know about this no-joke treadmill, including: what this non-motorized treadmill is good for, how much space it takes up, and who should (or should not) invest in this hefty piece of gym equipment.
Writing Treadmill Reviews for the Long Run
If you're a skeptic, you might be wondering why the heck you should trust our AssaultRunner Pro review. Well, our roster of CrossFit athletes, fitness journalists, trainers, and coaches knows cardiovascular equipment the way Mat Fraser knows his way around a podium.
As testers, we have logged hundreds of miles and countless hours on treadmills, and we know from experience what makes a machine one of the best treadmills and what makes it just passable. In short, the insights below come from some serious hands-on testing.
AssaultRunner Pro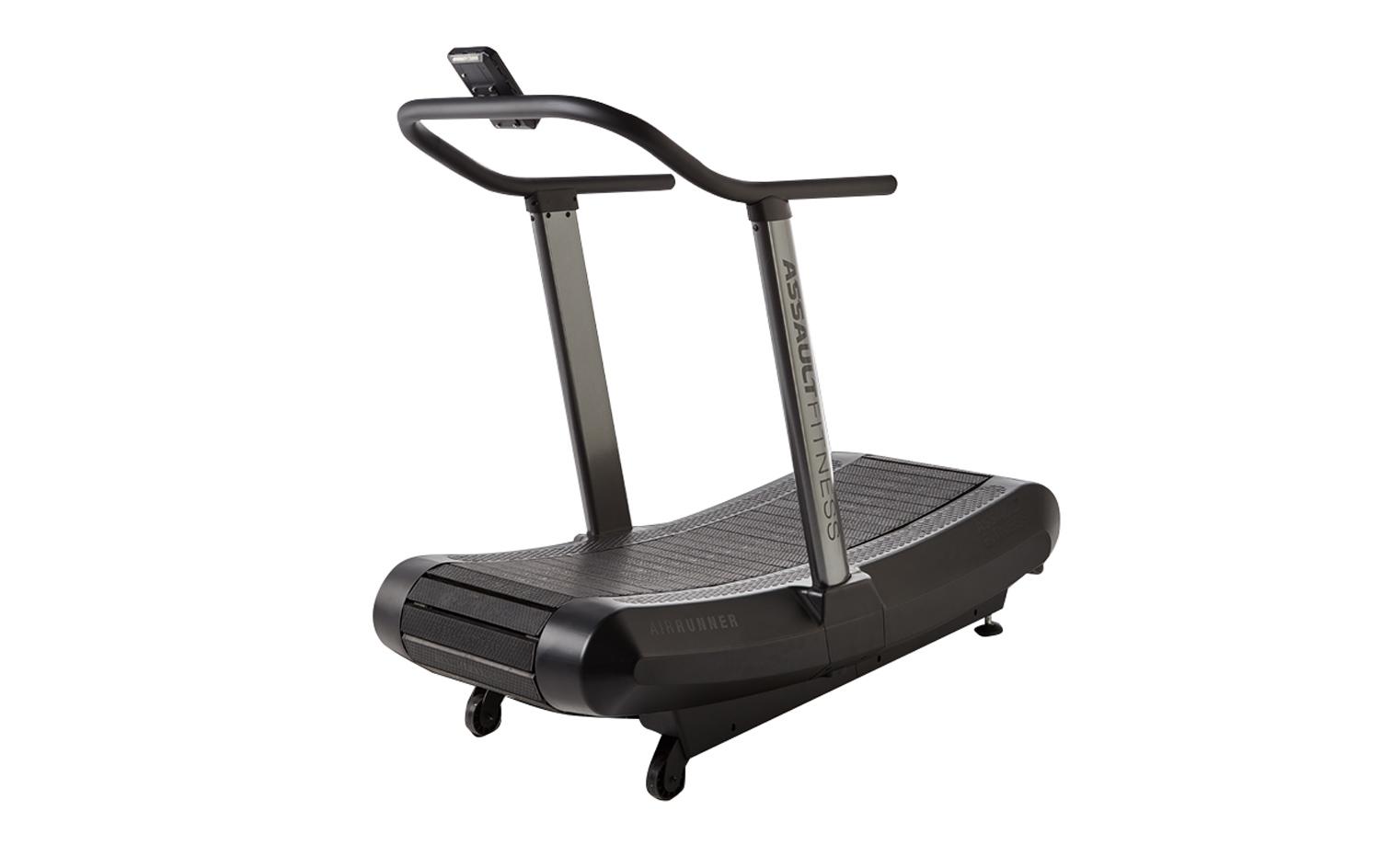 GGR Score: 4.1
Community Score: 4.1
Product Highlights
Low-impact shock absorbing belt

Incredibly sturdy and durable

Built-in wheels for portability

100% athlete-powered
Pros & Cons
Pros
Extremely popular
Durable machine
No motor means fewer maintenance issues
Easy-to-read monitor
Thick rubber belt provides great traction
Bearings under belt provide smooth run
Sturdy
Rear handle makes moving easier
Powder-coating withstands the elements
Affordable curved treadmill
Staple for CrossFitters
Cons
Extremely heavy
Curved shape takes getting used to
Plastic shell may crack
High spin rate on belt
No fancy monitor, water bottle holder, or other conveniences
Bottom Line
The AssaultRunner Pro is one of the best value non-motorized treadmills for home gyms on the market.
A Quick Look at the AssaultRunner Pro
To the uneducated eye, the AssaultFitness AssaultRunner Pro may look like your run-of-the-mill (heh) treadmill—but it's not.
The AssaultRunner Pro is a manual treadmill. It belongs to a different category of treadmills than those with a power switch that populate most globo and garage gyms (those are called motorized treadmills, and we've tested tons of those, too!).
Manual treadmills do not have a plug, power button, or any of the other adjustment buttons that motorized treadmills have. They require no electrical consumption, yet they are fantastic running machines for home gyms nonetheless.
Instead, manual treadmills are powered by the speed, power, location, and stride of the person using them. Each foot strike pushes the belt back behind the runner's body. The faster those strides come, the quicker the belt rotates backward.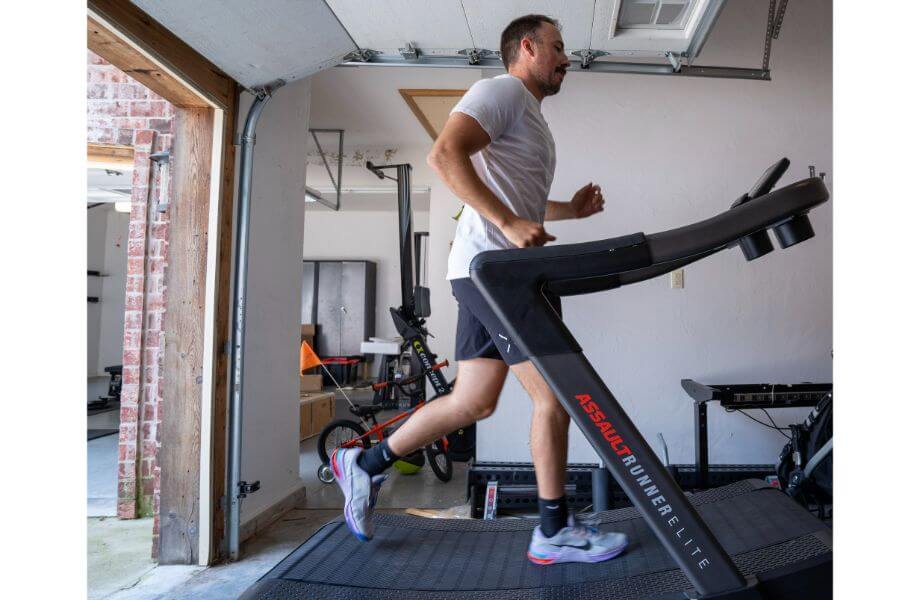 As you might guess, this makes manual treadmills harder to use compared to motorized treadmills.
In fact, according to a 2017 study in the journal Frontiers in Physiology1, manual treadmills are associated with greater cardiovascular demands compared to motorized treadmills. This theoretically leads to higher calorie burn and greater cardio capacity improvements per run. Additionally, manual treadmills are designed to help improve running form due to the way the curved belt impacts foot strike.
As a general rule, manual treadmills are a good investment for anyone looking to improve their overall power, explosiveness, and cardiovascular capacity. It's also a good piece of equipment for anyone competing locally or globally in the sport of functional fitness, as this type of treadmill is what you'll see at the CrossFit Games.
The AssaultFitness manual treadmill specifically, however, is not for anyone with those specific goals who is on a budget. Because as beneficial as curved treadmills are, most will cost you an arm and a leg (around $4,000 to $5,000). The AssaultRunner Pro however, costs just an arm at around $3,000.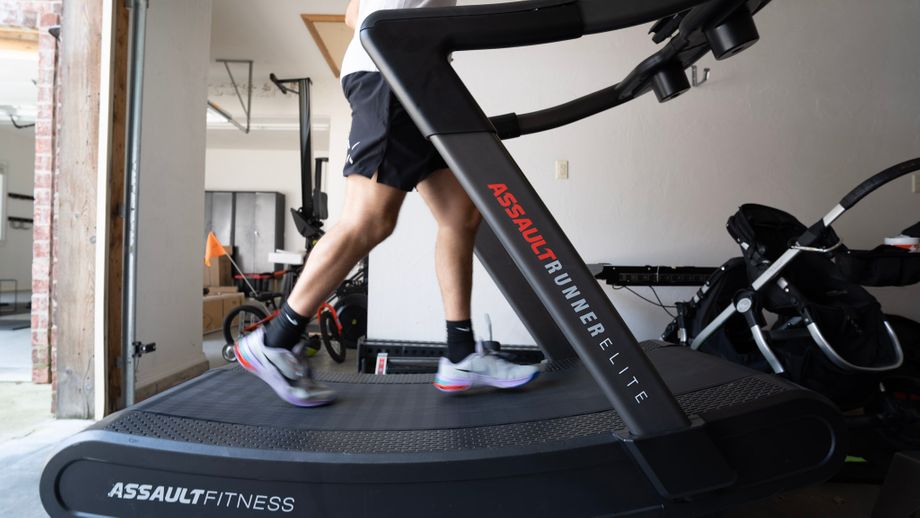 My Tips
Spend some time learning how to use the machine! That means getting on the machine before you need to crank out calories in the middle of your metcon or log miles for your marathon training plan.
You can stop running on the machine by using the handles to lift your feet from the belt to the side rails. However, you'd be wise to learn how to slow your speed down by changing the location of your feet on the belt, and altering where on the running surface you strike.
Phone a friend when putting this machine together. Assembly is difficult, but far easier with the help of a friend.
Pros:
Built-in transport wheels
Corrosion-resistant hardware
Incredibly sturdy
Powder-coated parts for longevity
Intuitive LCD screen
100% athlete-powered
Does not require an electrical plug
Handle on the back of the machine makes it easier to transport
Free shipping
Bluetooth and ANT+ connectivity
5-year frame warranty
Solid steel frame and handrails
Cons:
Incline and decline cannot be altered
Very heavy and hard to move
The heavy tread belt makes it tricky to go at a slower pace
Requires more mental focus compared to motorized treadmill
Expensive
Shock absorption isn't quite as good as some more expensive options
Is the AssaultRunner Pro Worth It?
Hands down, the AssaultRunner Pro is a worthwhile option. It's not the cheapest manual treadmill (check out the Tru Grit Fitness Grit Runner for that), but it's not the priciest, and it packs a ton of impressive features.
At $2,999, the AssaultFitness Runner Pro costs less than half the price of other popular manual treadmills on the market, like the TrueForm Runner or Woodway Curve, which both cost more than five grand.
Don't let this machine's significantly lower price trick you into thinking it's a lower-quality than competitor products. Made by AssaultFitness, the manufacturing company responsible for its air bike collection of AssaultBikes, the AssaultRunner Pro is as well-built and durable as any competitor tread.
Great for:
People with a lower budget for a manual treadmill
Anyone training for an outdoor or trail running race
CrossFit athletes and competitors
Gym owners looking for a manual treadmill with hearty warranty package
Not recommended for:
Anyone who has access to running trails all year long/doesn't have a need for indoor running
People who want to be able to turn their brains off while they exercise
Techies who would prefer a touch-screen display or greater metric abilities
People who would prefer a motorized treadmill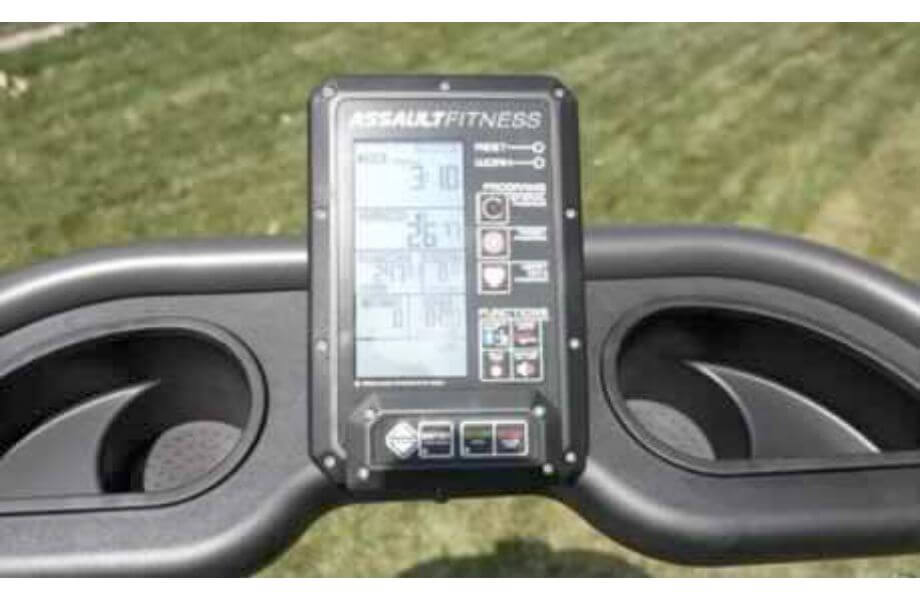 AssaultFitness Runner Pro Specs
| | |
| --- | --- |
| Price | $2,999 |
| Assembled Dimensions | 69.9" L X 31.7" W X 64.4" H |
| Product Weight | 289.2 lbs |
| Water Bottle Holder | No |
| Warranty | 5-year frame, 3-year moving parts |
| Max User Weight | 350 lbs |
| Belt Lifetime | 150,000 miles |
| Bluetooth Connectivity | Yes |
Using the AssaultRunner Pro
As a locally competitive CrossFit athlete and fitness journalist, I've had the pleasure of testing out a wide variety of cardio machines, including manual and motorized treadmills.
Of all the manual treadmills I've tried, the AssaultRunner is the one I bought for myself and the one I recommend for the majority of athletes.
Why? Because it does what all other manual treadmills do consistently well, for a lower price.
The belt on this machine is smooth. Poised on precision ball bearings, the slats that make up the belt may look a little wacky, but it's what gives the machine such a smooth ride.
I'll be honest, there were moments when I first started using this machine when the ride did not feel smooth. It took me a few sessions to figure out where on the belt to stand so I could maintain a smooth pace, rather than constantly focusing on stopping and starting.
Because there is a learning curve to using this machine, I recommend people take the time to learn how to use it before they incorporate it into their WOD or marathon training. Failure to be a student of the machine when you first get it will probably result in discomfort and angst.
Footprint and Portability
The AssaultRunner Pro (also sometimes called the AirRunner, by the way) is the size of most commercial treadmills. It measures in at about 32 inches wide and 76 inches long, which is about the size of a twin mattress. It's obviously not that short, though, measuring 64.4 inches high.
While this bad boy weighs a hefty 290 pounds, it has wheels on the front and a handle built into its rear which makes it easier to cart it around. I wouldn't call it objectively easy, though, and most people are better off picking a spot for this tread and leaving it there for as long as possible.
Durability and Construction
The makers of the AssaultRunner Pro, AssaultFitness, are well-known in the fitness space for their ability to make long-lasting, high-quality products. And the Pro is no exception.
(In case you're curious: The most famous Assault Fitness product is probably the AssaultBike, which entered the CrossFit arena in 2015 and has infiltrated other fitness scenes at a steady pace since.)
The entirety of the frame is made from durable steel. However, there are some parts, notably the frame housing, that are made from plastic. Given that plastic is more likely to crack than other material, this is one part of the machine that I'd make changes to if I could.
Worth noting: Because the machine has a 350-pound weight capacity, many athletes can use it for more than running, such as to execute movements such as overhead kettlebell walks, farmer's carries, and front-rack holds. However, you'll need to avoid dropping the weight at your sides to protect the integrity of the treadmill.
Technology Benefits and Conveniences
The AssaultRunner Pro monitor does exactly what you need it to do—no more and no less.
There is just one button on the machine. Labeled 'START', this button turns on the machine and allows you to move and groove.
Again, the reason that this console does not allow you to modify the angle of the treadmill is because it's a manual treadmill, not a motorized treadmill.
Once you turn the machine on, your eyes have access to all sorts of metrics. A variation of the AssaultBike monitor, the AssaultRunner Pro console allows you to easily keep track of your:
Distance
Speed
Calories
Time
Watts
However, this treadmill does not have a touchscreen, which you'll get with products from NordicTrack, ProForm, and other smart treadmill brands. The AssaultRunner Pro has a simple LCD display, but it does have Bluetooth connectivity, so you can track your heart rate with a compatible monitor if you'd like.
AssaultRunner Pro vs AssaultRunner Elite
AssaultRunner Elite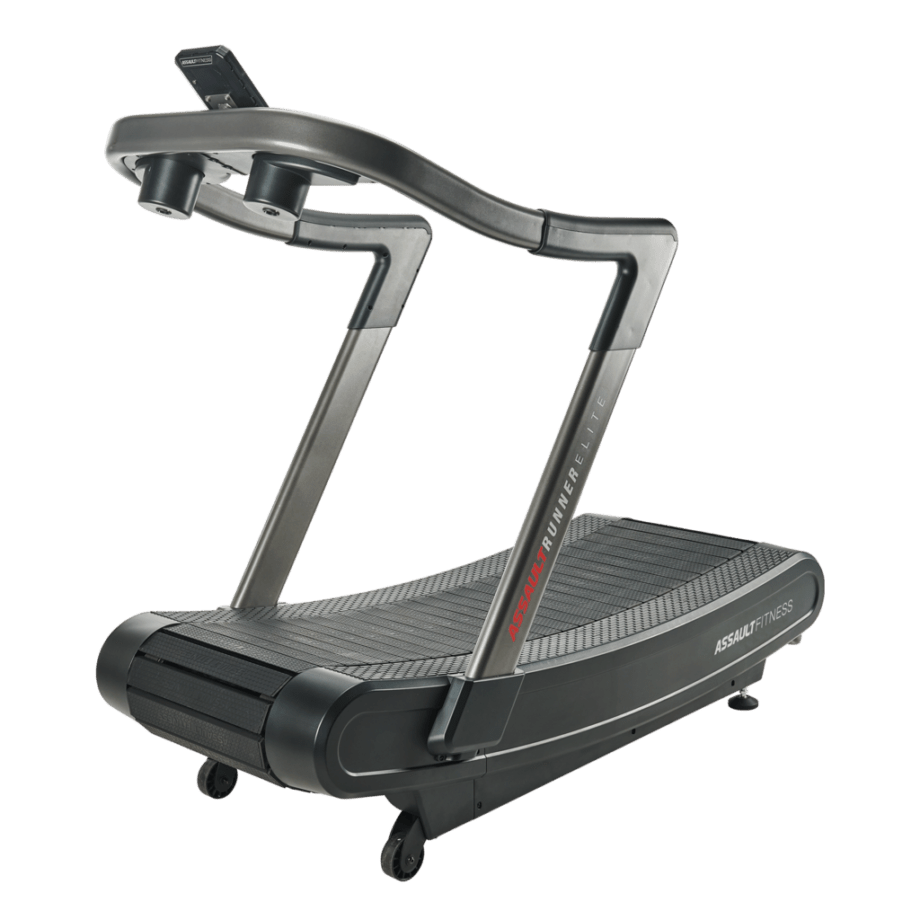 AssaultRunner Elite
Introducing the most powerful and personalized manual treadmill ever created. The brand new AssaultRunner Elite is expertly crafted to meet the specific needs of professional athletes, home gym users, and commercial owners alike.
To be frank, the Pro and Elite are so similar that the price increase doesn't feel fully worth it to us. The Elite is marketed as "more powerful" than the Pro, but we're not even sure what that means considering neither of them have a motor that allows us to objectively compare the power.
The Elite also has a solid steel frame, slatted belt, LCD display, and handrails. It's a little larger and a little heavier, so it makes sense that the weight capacity is slightly higher at 400 pounds. It also has many conveniences you won't find on the Pro, including dual water bottle holders, a center storage compartment where you can put your phone, and larger side panels for foot placement.
The Elite also has a much better warranty: 10-year frame, 3-year nonwear parts, and 1-year labor.
Suffice it to say, you're paying for the conveniences and the warranty if you choose to get the Elite over the Pro.
Customer Experience
AssaultFitness offers pretty good warranties on most of their products, but the AssaultRunner Pro warranty is decent at best. The frame of this machine is warrantied for five years, while the moving parts are warrantied for three years.
As a person who owns an AssaultRunner Pro and belongs to a gym that has chosen this as its manual treadmill of choice, I will say that the one in my gym and the one at my home feel just as sturdy and good, despite the vast difference in traffic. In other words, the machines are so high-quality I'd be surprised if you have to use the warranty.
If you're not fully committed, beware: Returning a treadmill isn't the easiest thing in the world.
You only have 30 days from when you made the purchase to return the AssaultFitness Runner Pro. Considering that it takes at least a week for the machine to show up, boxed, at your door, this is a very tight turnaround.
Plus, AssaultFitness doesn't eat the cost of shipping and handling, you do. My recommendation: Don't buy a $2,999 machine unless you KNOW you want it. Capisce?
Ordering and Assembling the AssaultFitness Runner Pro
To purchase the machine, simply head over to the Assault Fitness website, add the Runner Pro to your cart, and hand over your credit card information.
Currently, there is free shipping on all Pros and the machine typically ships within three to five days. Exactly how long the machine takes to arrive will vary based on where you live, but typically it will arrive a week after you place the order.
AssaultFitness offers financing options and payment plans on the machine. You can apply for a six-, 12-, or 36-month payment plan with Affirm.
Assembling the Pro does not require a pro. Though, given the size of the individual parts that make up the machine, you'd be wise to ask a friend to lend a helping hand.
The machine comes cooped up in a big 'ole cardboard box. Once you take the parts out of the box, you'll need to attach the hand rails, monitor, and legs. All in all, it took me and a friend about half an hour to put it together.
Customer Reviews
You now know how I feel about the AssaultRunner Pro. But I'm just one person, so you might have questions about how other people feel about this manual option. The answer: mostly very good!
On the AssaultFitness website, the machine has racked up over 165 reviews, for an average rating of 4.6 out of 5 stars. The majority of reviewers left remarks like "love this air runner," "great machine," and "Incredibly smooth."
A few verbose reviewers left lengthier recommendations.
One, for example, wrote, "I absolutely love this treadmill. Living in a really hilly neighborhood has always made getting out for a run daunting (sometimes you just want to run without hills!). This has changed the game and allowed me to run much more often without having to drive to my favorite running spot. Also, the running experience is very quiet and comfortable on the Runner. Highly recommended."
There were, however, a handful of customers who were not happy with their purchase. In the majority of cases, they complained not about the machine itself but about customer service and shipping delays.
On Amazon, the machine has received just 11 reviews for an average 4.4-out-of-5-star rating. Happy reviewers gave the machine similar praise for its smooth ride, quiet belt, and durability. The one customer who gave the machine a 1-star review left only the rating, with no written review.
Final Verdict of Our AssaultFitness Runner Pro Review
All in all, the AssaultFitness Runner is a great manual treadmill for a reasonable price. Whether you're trying to crush your half marathon PR, zhuzh up your high-intensity interval training (HIIT), or properly train for a local CrossFit competition, this manual treadmill will help you get there.
While the console does read off most of the metrics runners and CrossFit athletes need access to (distance, speed, calories, etc), it does not have touchscreen capabilities nor does it have the built-in workout or interval options.
However, this runner is impressive in its durability, construction, and usability.
If you're on the market for a manual treadmill you really can't go wrong with the AssaultFitness Runner Pro.
AssaultFitness Runner Pro Rating
AssaultFitness Runner Pro
Looking for a manual treadmill to up the ante on your running? Read our AssaultRunner Pro review to find out if this is the right option for you.
Product Brand: Assault Fitness
Product Currency: $
Product Price: 2999.00
Product In-Stock: InStock
AssaultFitness Runner Pro FAQs
Can you walk on the AssaultRunner Pro?
Yes! You can go any speed you want on the machine, so long as you know how to control it. 
As a reminder, you are the motor of this machine. Each stride you take powers the belt to move. How fast the belt moves depends on how quickly you run. 
Be warned: There is a learning curve associated with figuring out how to run and walk on this machine. Often, people have a hard time figuring out how to go just the right pace at first. But after 10 minutes (or so) of practice, you'll get the hang of it.
Is the AssaultRunner worth it?
No doubt, the AssaultRunner Pro is costly, but it's worth it for anyone with CrossFit or running goals, particularly those who live in places with all four seasons who want help moving their bodies all year long. This machine is also a good investment for people who are counting their steps or want to increase their daily step goal. 
It may not be worth it for someone who has access to a trail or road all year long, anyone who already has an indoor treadmill, or runners who want high-tech treadmills with tons of workout options. 
Can beginners use a curved treadmill?
Curved or manual treadmills can work for runners of all skill levels, although it definitely takes some time to get used to this type of fitness equipment.