We test and review fitness products based on an independent, multi-point methodology. If you use our links to purchase something, we may earn a commission. Read our disclosures.
Creatine is the reigning king of sports nutrition supplements due to its proven ability to help build lean muscle mass1. Creatine benefits affect performance, most notably its ability to support the production of adenosine triphosphate, or ATP. ATP is our body's form of energy that we rely heavily on during high-intensity exercise1.
MuscleTech offers two creatine products: MuscleTech Platinum Creatine and Cell-Tech. The former is an unflavored creatine monohydrate powder, while Cell Tech has creatine plus multiple other ingredients ideal for our gainers out there. We're going to focus on Cell-Tech in this MuscleTech Creatine Review.
Medical disclaimer: This article is intended for educational and informational purposes only. It is not intended as a substitute for medical advice. For health advice, contact a licensed healthcare provider. GGR also recommends choosing a product that has been third-party tested for quality.
Over 30 Creatine Supplements Tested
In order to determine what the best creatine supplements are, our team of certified personal trainers, nutrition coaches, and athletes has tested more than 30 different creatine products. What you'll read here will always be honest and unfiltered based on our expertise and experience actually using the product ourselves.
MuscleTech Cell-Tech Creatine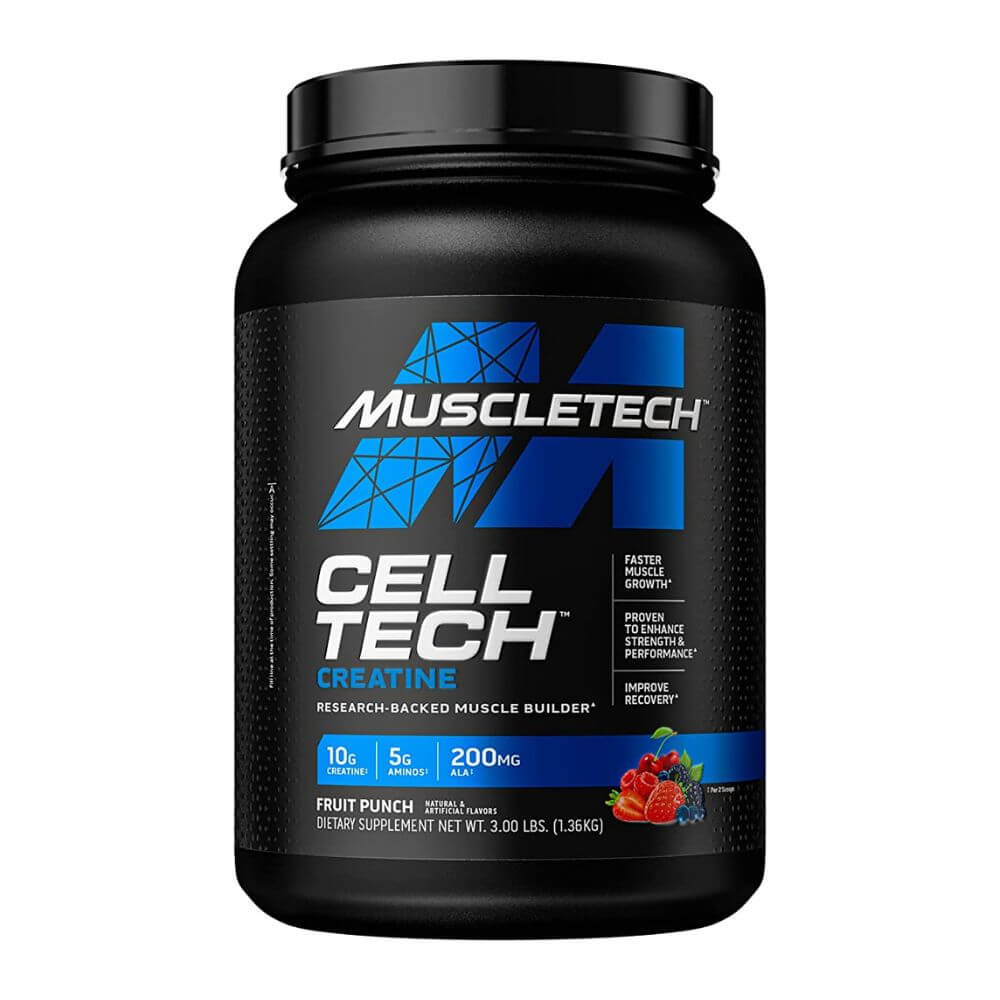 GGR Score: 3.7
Product Highlights
Powdered creatine supplement 

Also contains vitamins and BCAAs

Claimed to help increase strength, muscle size, fullness, and improve nutrient transport to muscles
Pros & Cons
Pros
Subscribe and save 20% of 1st order and 15% off subsequent orders
30-day return policy
Also contains vitamins C, B6, and B12
Also contains BCAAs in 2:1:1 ratio
Flexible dosing; you can either take 1 or 2 scoops
Cons
May be sold out when you attempt to purchase
No unflavored option
Contains sucralose
Processed in a facility that also processes milk, egg, wheat, soy, tree nut, peanut, and fish/shellfish/crustacean
Contains bioengineered food ingredients
Bottom Line
The MuscleTech Cell Tech Creatine supplement contains creatine monohydrate, BCAAs, and vitamins in a powder form to help improve your workout performance. MuscleTech claims this product helps increase strength, muscle size, fullness, and improves nutrient transport to muscles. This supplement also contains multiple ingredients and isn't for you if you're searching for a simple creatine supplement. There are a lot of positive customer reviews, and this product may be out of stock when to attempt to purchase it.
A Quick Look at MuscleTech Creatine
MuscleTech is a well-known brand in the bodybuilding world due to its offerings of high-quality sports nutrition supplements for a decent price. Cell-Tech is its flavored creatine supplement that contains 5 grams of creatine per serving, but also contains BCAAs, taurine, electrolytes, and what they call a "multi-stage carb blend," which could function to support pre-workout or post-workout needs.
RELATED: What is Creatine?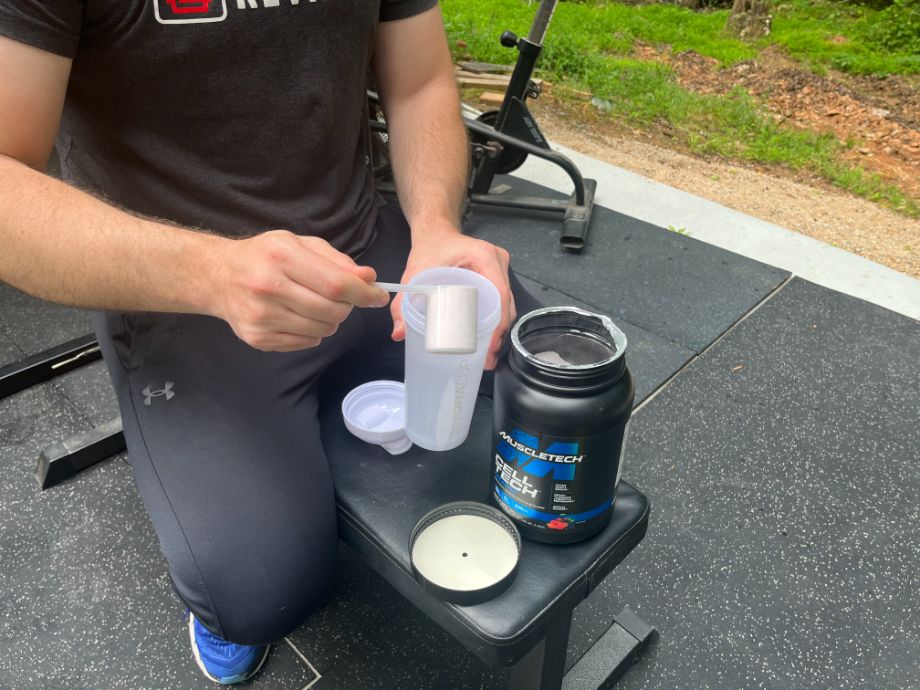 Before You Buy
Be aware the scoop is very large—about 50 grams is what you can expect. For perspective, this is about ½ cup of powder.
Each scoop has about 150 calories, mainly from carbohydrates, so keep this in mind if you are budgeting your calories or carb intake.
If you anticipate taking Cell-Tech often, go ahead and sign up for the subscribe-and-save option and you'll get 20% off your first order.
Is MuscleTech Creatine Worth It?
While creatine has proven benefits for many aspects of performance, not all creatine products are created equal. Those interested in Cell-Tech should keep the following in mind:
Great for:
People trying to put on weight from muscle mass
Those who like a creatine supplement that can double as a BCAA supplement
Individuals who are doing a creatine loading phase
Not recommended for:
People going for weight loss
Those who dislike artificial ingredients in their supplements
Individuals on a low-carb diet
RELATED: Best Low-Carb Protein Powder
MuscleTech Cell-Tech Creatine Specs
| | |
| --- | --- |
| Price per serving | $1.11 |
| Servings per container | $29.99 |
| Flavor options | Fruit Punch, Citrus Punch |
| Ingredients | Creatine Monohydrate, Taurine, L-Alanine, L-Leucine, L-Valine, L-isoleucine, Alpha Lipoic Acid, Dipotassium Phosphate, Glucose Polymers, Dextrose, Modcarb™ [Oat Bran, Quinoa, Buckwheat, Millet], Waxy Maize [Corn Starch], Cluster Dextrin), Soluble Corn Fiber, Silicon Dioxide, Citric Acid, Natural And Artificial Flavors, Salt, Sunflower Lecithin, Acesulfame-Potassium, Sucralose, Fd&C Red No 40 |
| Third-party tested? | No |
Experience Using MuscleTech Creatine
MuscleTech Cell-Tech comes in two flavors and contains 5 grams of creatine monohydrate per scoop. It also contains some seemingly superfluous ingredients like carbohydrates from multiple sources, ranging from dextrose to quinoa. These extra carbs could certainly be useful to help the body refuel and recover after exercise, but it also sends the calories per serving through the roof by creatine supplement standards.
GGR Performance Editor Anthony O'Reilly and GGR expert panel member and USAW Level 2 Trainer Jacob Penner, who tried MuscleTech Cell-Tech creatine, had this to say: "In two scoops there's 10 grams of creatine and 76 grams of carbs—that's a lot! And probably more than most people need."
They're certainly right. Let's dive deeper.
Price Per Serving
Cell-Tech will run you about $1.11 per serving, whereas MuscleTech Platinum 100—the solely pure micronized creatine monohydrate offering—is around $0.41 per serving. The former is likely more expensive because of the extra compounds it has including BCAAs and simple carbs. And, for a product similar to Cell-Tech, the price is reasonable.
Formulation
Let's start with the basics: Cell Tech has a foundation of 5 milligrams of creatine monohydrate, which is pretty much the standard dose needed for efficacy, according to the many studies conducted on creatine2.
Now let's dive into the additional ingredients. The good news is there is a lot of good stuff in here. Beyond creatine, branched-chain amino acids (BCAAs) in a 2:1 ratio and simple carbs to help replenish glycogen stores post-workout. The bad news is, there's also a good amount of fillers and artificial ingredients.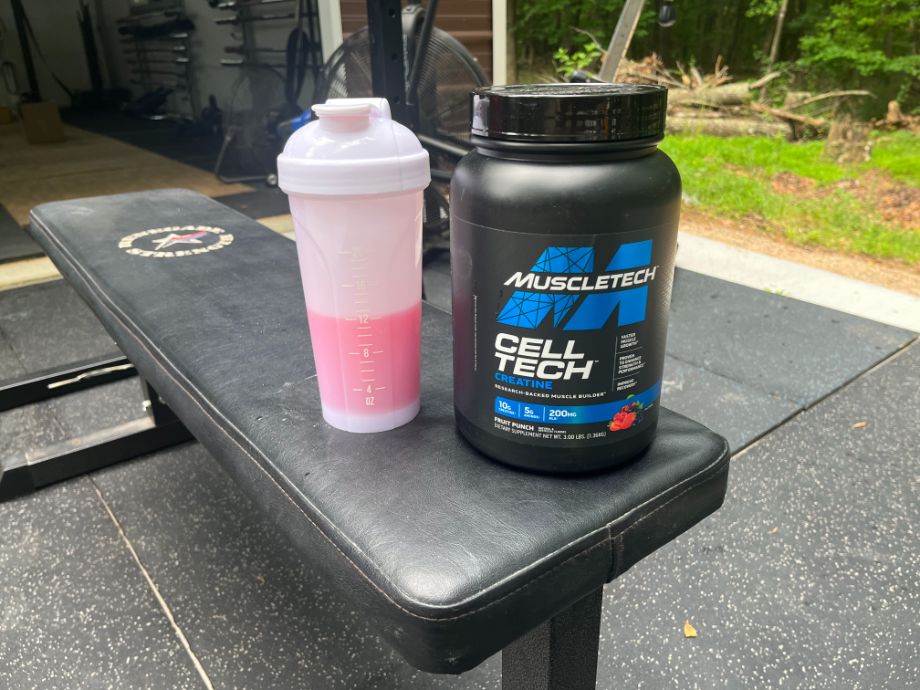 For one, it contains taurine, which actually has some benefit3 as a nootropic to boost focus. However, this doesn't help much if you don't plan to use this creatine as a pre-workout supplement. It also contains sunflower lecithin, a powder-like substance that's often used to pad the weight of powdered supplements. There is also silicon dioxide, artificial sweeteners, and colors.
Finally, the label suggests two scoops be taken, but that would provide 10 grams of creatine (which is most likely way overkill, as studies show that there are no additional benefits past the dose of 5 grams), a whopping 76 grams of carbs and 300 calories. What I will say, though, is if you are in a loading phase of creatine, this would be an ideal supplement, due to the large quantities of creatine that have to be consumed for a successful load.
RELATED: Best Creatine for Women
Now, if you're taking creatine to gain weight or muscle mass, this could be useful in boosting calorie intake. However, if you're going for weight loss or just casually using it as a creatine supplement, you'd be better off going with MuscleTech Platinum's pure creatine.
Taste and Solubility
When testing Cell-Tech, our team found the taste was pretty good and that it mixed well, but it may not be a good fit if you're sensitive to sweet flavors.
RELATED: Can You Dry Scoop Creatine?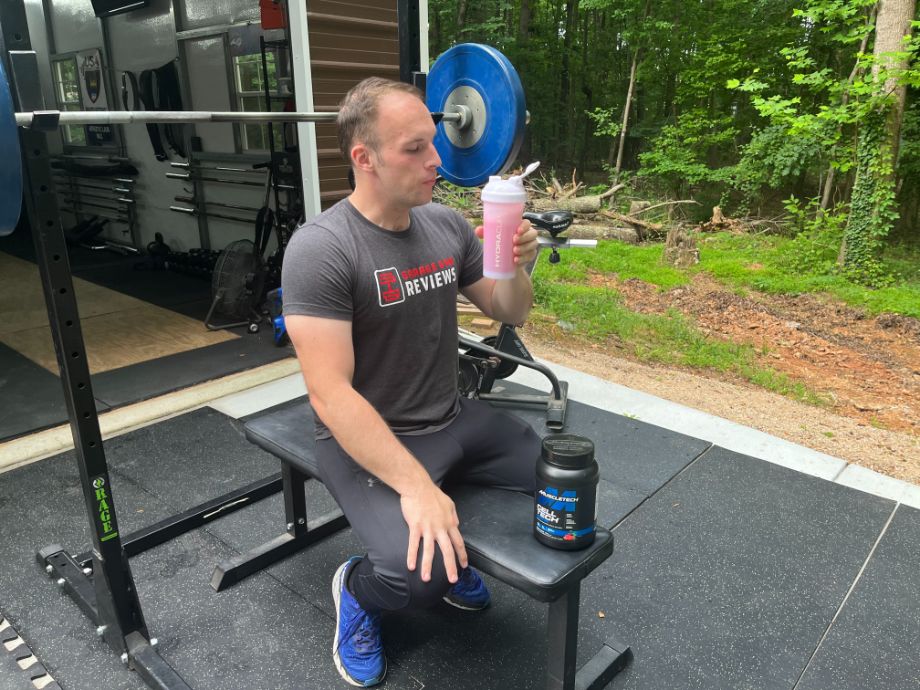 Anthony and Jacob Penner tried the Fruit Punch, and liked it overall. "You get a lot of raspberry flavor in it, and it's definitely sweet," they said. "You almost search for the flavor, so it's not a concentrated taste. Plus it produced minimal foam and was smooth."
Side Effects
When taken as directed, creatine does not have any serious side effects. The first few weeks after taking creatine, new users may experience dehydration or gastrointestinal distress such as bloating, plus temporary weight gain in the form of water weight as creatine pulls water into the muscles.
RELATED: Does Creatine Cause Hair Loss?
Those with kidney disease, high blood pressure, or liver disease should not take creatine, and people taking prescription medications should consult their physician before taking any supplements in order to rule out potentially dangerous interactions.
Also, it's worth noting that with a product like Cell-Tech, you could experience weight gain simply because even one scoop does contain calories from carbs. So, we'll echo the sentiment that if weight loss is your goal, this is probably not the right product for you.
Comparison to Six Star Creatine X3
Six Star Creatine X3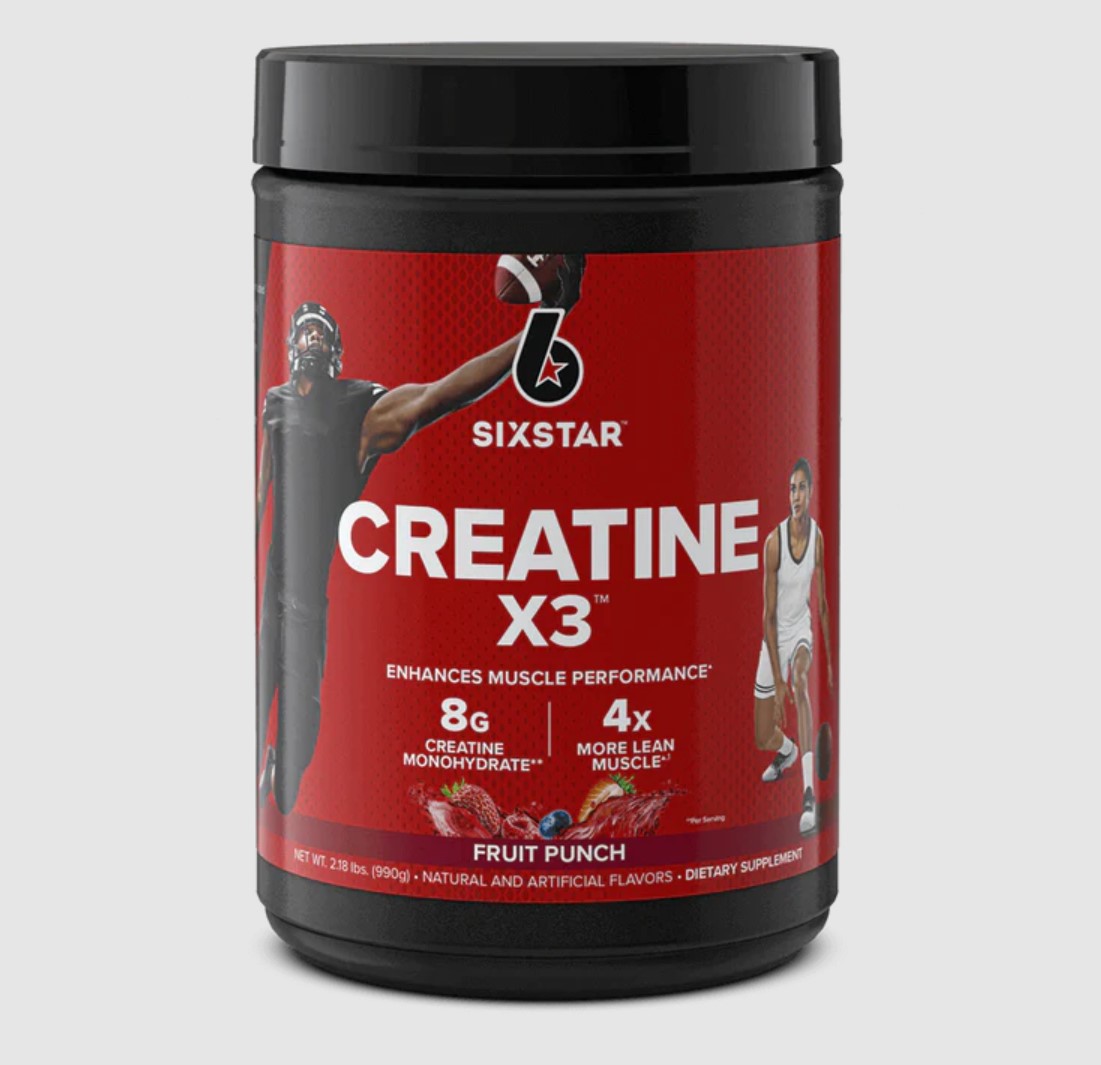 GGR Score: 3.55
Product Highlights
Combination of creatine and BCAAs  

8 g of creatine and 2.5 g of BCAAs per serving

Increased muscle and strength

Faster recovery
Pros & Cons
Pros
Combines creatine and BCAAs into 1 supplement
Subscribe and save 25% on first purchase and 20% on subsequent purchases
8 g of creatine per serving
Mixed reviews on taste
Cons
Only available in fruit punch flavor
Much larger serving size than competitors at 33 g (usually about 5–8 g)
Contains sucralose which may upset stomachs in some users
Bottom Line
Six Star Creatine X3 combines creatine and BCAAs into one supplement, providing 5 and 2.5 grams of each, respectively. Six Star shares that this product increases muscle strength and growth and helps improve recovery. This product is only available in a fruit punch flavor that has very mixed reviews. While some reviewers enjoyed the flavoring, others found it too sweet. Some customers also experienced upset stomachs, which is common with large creatine doses.
If you're looking for more of a post-workout drink with creatine and other ingredients, you may have come across Six Star Creatine X3 as well. Both Cell-Tech and X3 have BCAAs and simple carbohydrates like maltodextrin and dextrose along with artificial ingredients like dyes and sucralose. However, Six Star is lower in calories (70 per serving compared to MuscleTech's 150 per serving).
Six Star also has 8 grams of creatine and 2.5 grams of amino acids, compared to MuscleTech's 5 grams and 1 gram, respectively. However, as mentioned, a dose of 8 grams is likely unnecessarily high unless you are doing a loading phase. Finally Six Star has a smaller scoop size of 33 grams compared to a massive 50 grams you get from Cell Tech. Six Star X3 is also slightly more expensive than Cell-Tech.
While our testers generally liked both products, their pick would be Cell-Tech. However, read our full Six Star Creatine X3 review for our full thoughts on this product.
Customer Experience
If you need to contact customer service while using MuscleTech, there is no live chat or customer service number to call. However, you can send an email to shop@muscletech.com or fill out the query form on the Contact Us page of their website.
If you do need to return an item, you have to submit the query form mentioned above within 60 days of purchase. MuscleTech notes that some items cannot be refunded or replaced, but gives no further details. Thus, it's safe to assume that refunds are issued at MuscleTech's discretion. 
Ordering MuscleTech Creatine
If you're interested in discounts, you can get 20% off your first order and 15% recurring orders when you sign up for a subscription plan that will have your creatine delivered to you every 3 weeks. You can skip, reschedule, or cancel your deliveries at any time.
On the company's website, ordering is similar to that on other retail sites. You just need to add your selected products to your cart, enter your shipping and payment information, and checkout. Sign up is not required.
Orders over $50 qualify for installment plans that can be broken up into 4 payments that are billed every two weeks if you prefer not to pay all at once. The cost of the 2- to 3-day shipping within the U.S. depends on your location (it was free for me here in California), but you can calculate how much it'll cost at checkout.
Customer Reviews
At the time of this writing, MuscleTech Cell-Tech has a review rating of 4.9 out of 5 from 74 reviews on its own website, and 4.6 out of 5 from nearly 5,300 reviews on Amazon, with most reviews praising the positive results they achieved from using MuscleTech Cell-Tech.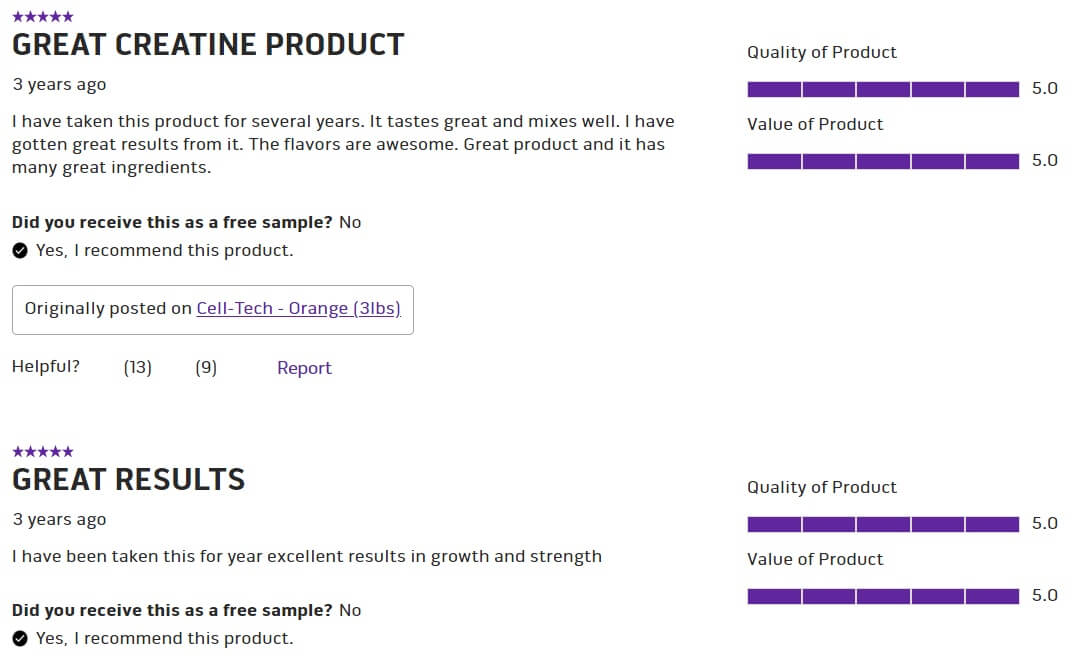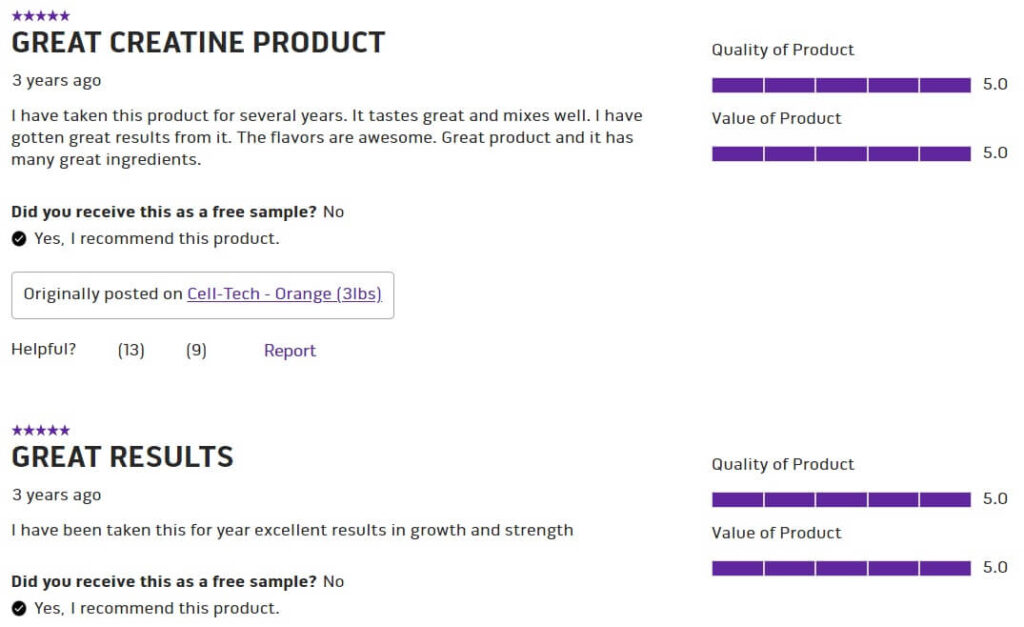 Final Verdict of Our MuscleTech Creatine Review
There are two forms of creatine offered by MuscleTech: a relatively simple formulation of pure, unflavored creatine and a beefed-up, carbed-up form of creatine. The latter would be great for gainers looking for help to increase their calorie intake and muscle size. However, the amount and number of ingredients are a little excessive.
If you want to supplement with creatine purely for the creatine benefits or want an unflavored option for more versatility, the Platinum version is the one for you. As a final note, it's important to know that neither versions are third-party tested, so I cannot recommend this brand to college or professional athletes who have to answer to WADA.
MuscleTech Creatine Rating
MuscleTech Creatine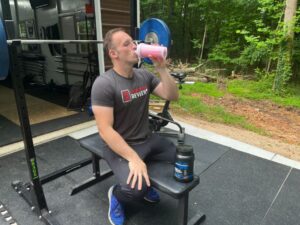 MuscleTech Creatine Review
Product Currency: USD
Product Price: 30
Product In-Stock: InStock
MuscleTech Creatine FAQs
What are the benefits of MuscleTech creatine?
MuscleTech creatine helps support muscle recovery, maintain muscular strength and endurance, aid in the production of ATP, and promote muscle growth.
Which company's creatine is best?
Most creatine products on the market are relatively comparable regardless of the brand. The best creatine supplements should contain at least 5 grams of pure creatine per serving in order to be effective.
What are the side effects of taking MuscleTech creatine?
There are no serious side effects associated with taking creatine when taken as directed. For new users, they may experience dehydration or GI distress until they become accustomed to taking creatine.
These statements have not been evaluated by the Food and Drug Administration. This product is not intended to diagnose, treat, cure, or prevent any diseases.
References
Wax B, Kerksick CM, Jagim AR, Mayo JJ, Lyons BC, Kreider RB. Creatine for Exercise and Sports Performance, with Recovery Considerations for Healthy Populations. Nutrients. 2021;13(6):1915. Published 2021 Jun 2. doi:10.3390/nu13061915
Antonio J, Candow DG, Forbes SC, et al. Common questions and misconceptions about creatine supplementation: what does the scientific evidence really show?. J Int Soc Sports Nutr. 2021;18(1):13. Published 2021 Feb 8. doi:10.1186/s12970-021-00412-w
Jakaria M, Azam S, Haque ME, et al. Taurine and its analogs in neurological disorders: Focus on therapeutic potential and molecular mechanisms. Redox Biol. 2019;24:101223. doi:10.1016/j.redox.2019.101223